New Zealand Backpacking & Tramping Planning Guide
Start planning your backpacking adventure to New Zealand with this complete backpacking & tramping guide!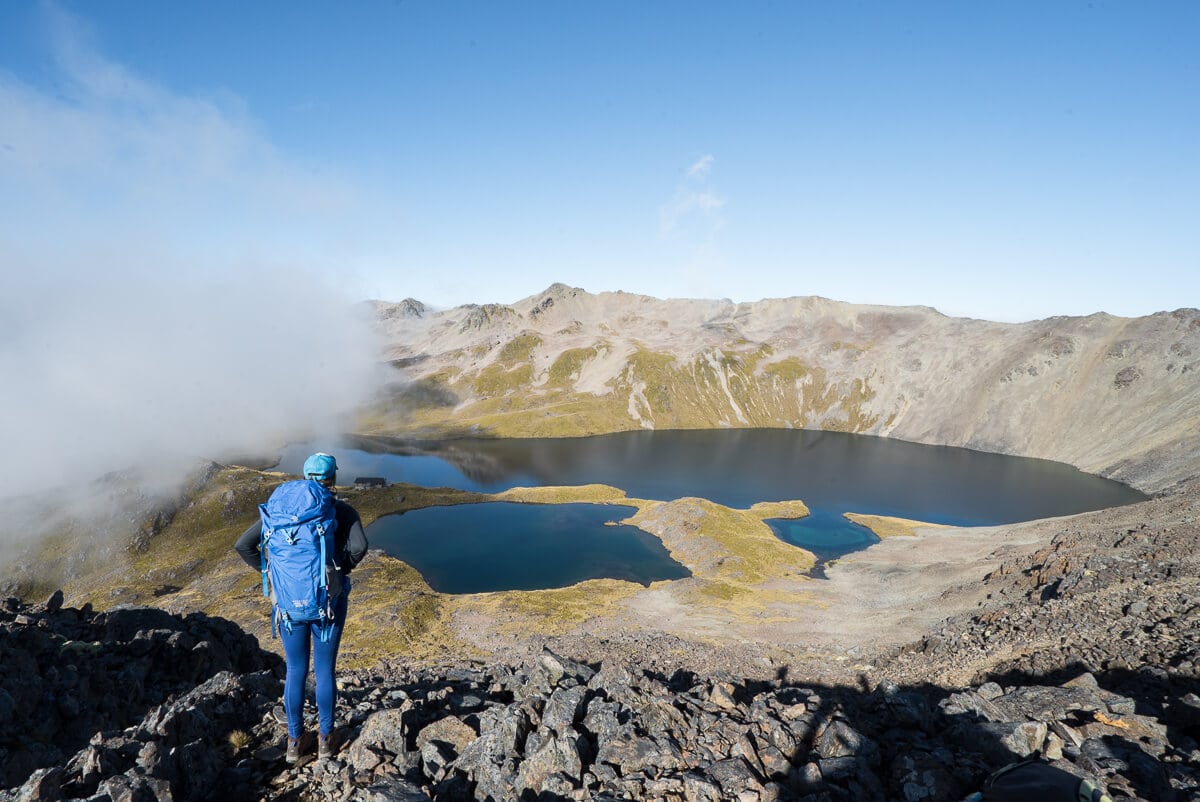 Backpacking in New Zealand is a bucket list item for many travelers and I would urge any backpacking or hiking enthusiast to visit at least once in their lifetime. Whether you visit the North Island, South Island, or any of the hundreds of smaller islands, the opportunities for hiking and adventure are almost endless.
There are many reasons why New Zealand, or to use its original Māori name Aotearoa, is such a great backpacking and hiking destination. To name a few: New Zealand has an amazing and extensive system of backcountry huts, the Kiwis (people who live in New Zealand) are known for their friendliness and generosity, and the country is full of top-notch hiking tracks.
However, the main reason that so many come to visit this great place is the varied, untamed, and beautiful landscapes. New Zealand's natural beauty is truly astounding and the best way to experience it is on the many hiking trails situated around the country.
In this New Zealand backpacking guide we share everything you need to know before embarking on a trip to this stunning country including the best time to go, what to bring, the best hikes including the New Zealand Great Walks, and more.
Hiking & Tramping in New Zealand
To start off with, New Zealand's backpacking and hiking terminology is slightly different from what you may be familiar with. In New Zealand, an overnight hike is generally referred to as a 'tramp'. Tramping is a term that is unique to New Zealand but essentially backpacking and tramping are two words that describe the same thing. So if you happen to come across the word 'tramping', it's just the Kiwi word for backpacking.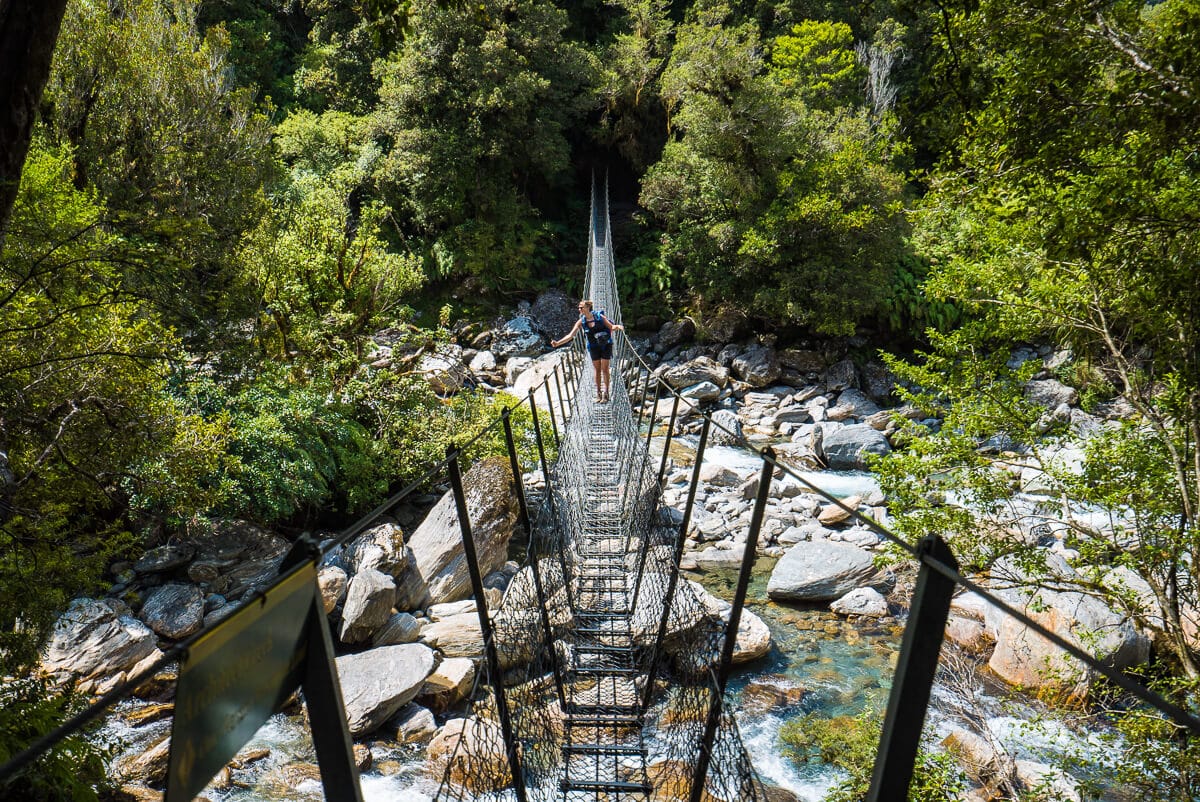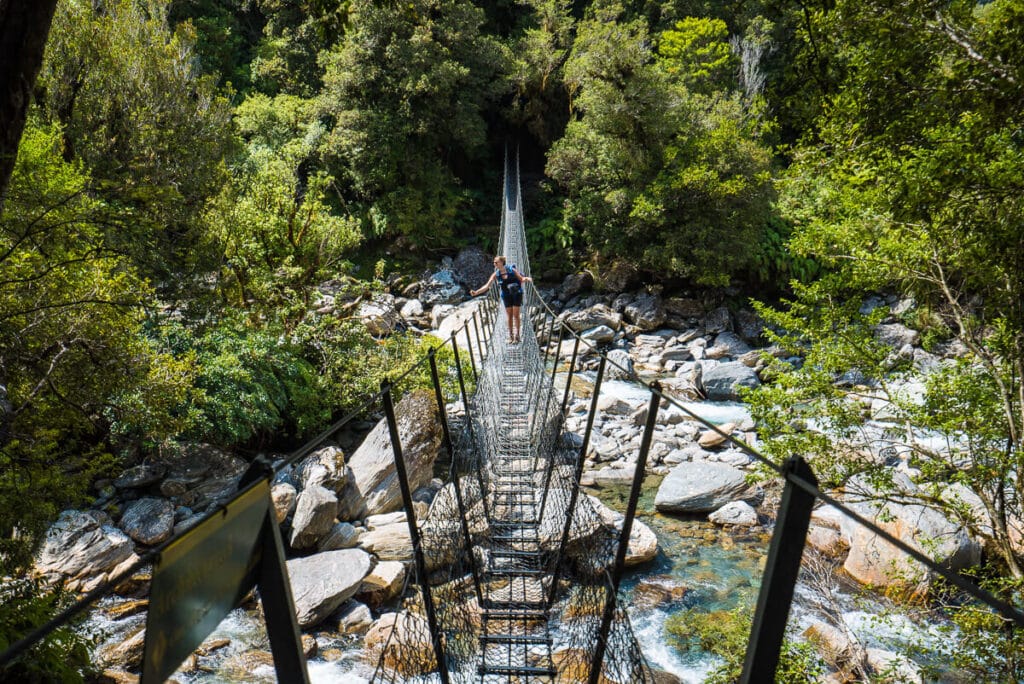 ---
Best Time to Go Backpacking in New Zealand
The best time to go backpacking and tramping in New Zealand is in the summer and autumn months when the weather conditions will be at their best. New Zealand is in the southern hemisphere, which means that the seasons occur at the opposite time to countries in the northern hemisphere. Summer in New Zealand starts in December and autumn begins in May, so it's best to go backpacking between those months.
Although the summer and autumn months are certainly the best time to plan a trip, it is possible to backpack during the winter months. This can, however, be dangerous due to snowfall and cold temperatures. You should only attempt a winter backpacking trip if you have the correct winter hiking gear and good knowledge for hiking in alpine environments.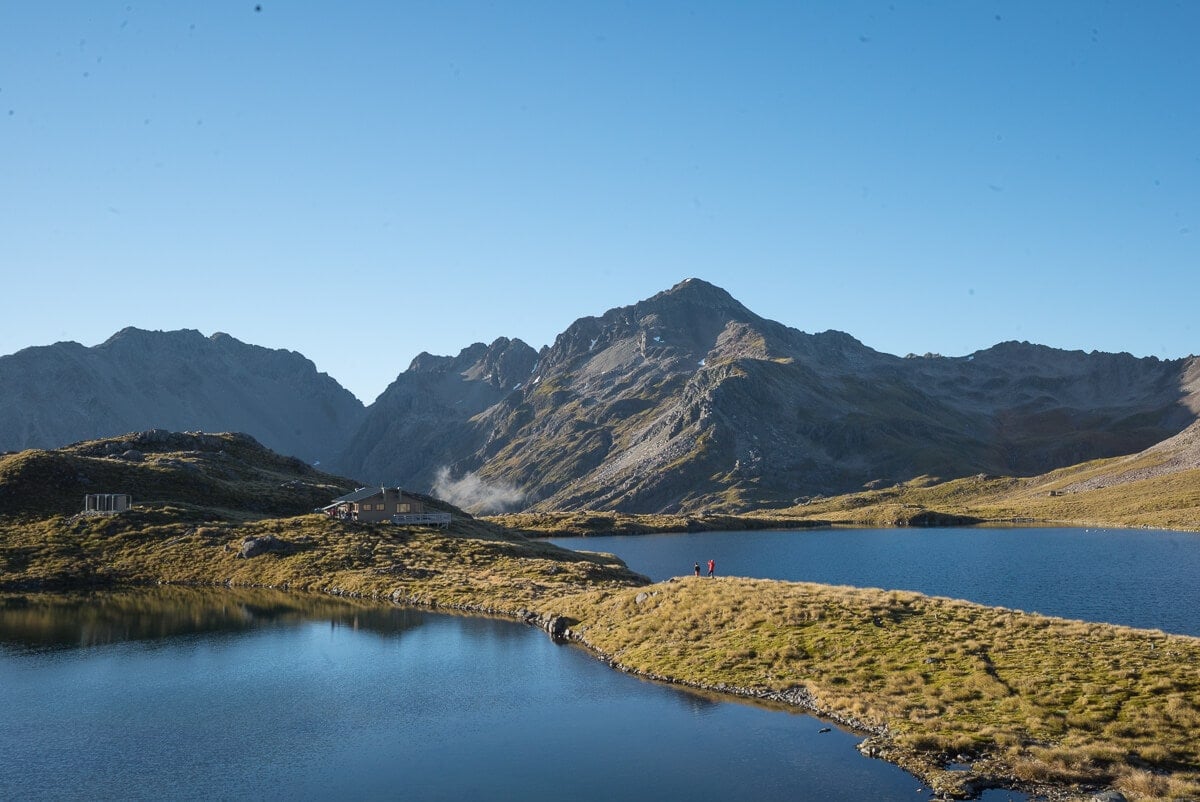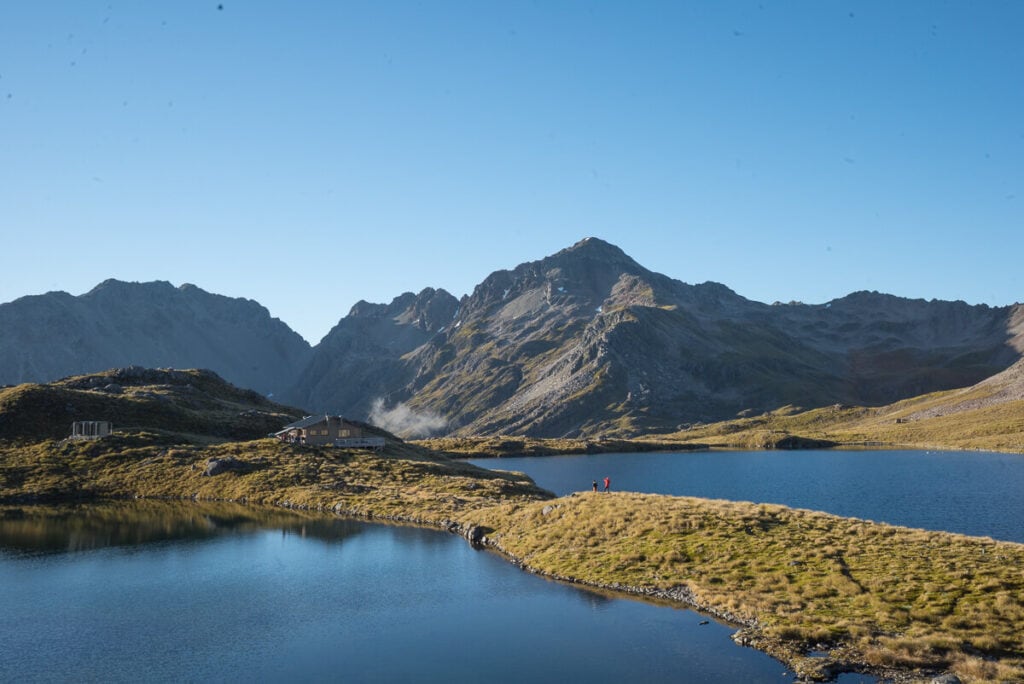 ---
New Zealand's Backcountry Huts
New Zealand backpacking is quite unique as most trails and tracks don't require a tent to spend the night in. This is thanks to the extensive system of backcountry huts across the entire country. These huts are managed and maintained by the Department of Conservation and in total, they operate over 950 huts.
The huts range in size. Some are small whereas others can house many backpackers and trampers. Most huts have been built for hikers to sleep in overnight while others are basic shelters to provide cover from bad weather.
New Zealand's backcountry huts are generally split into two sections. There is usually a room that contains bunk beds or platforms with mattresses where you can sleep as well as a separate communal space that contains an area to cook and eat in.
Most huts have a wood-burning stove which helps to keep everyone warm during cold nights. You'll also find that most huts have toilet facilities but these are usually pit toilets. However, some of the newer huts have flushing toilets which makes them feel very luxurious!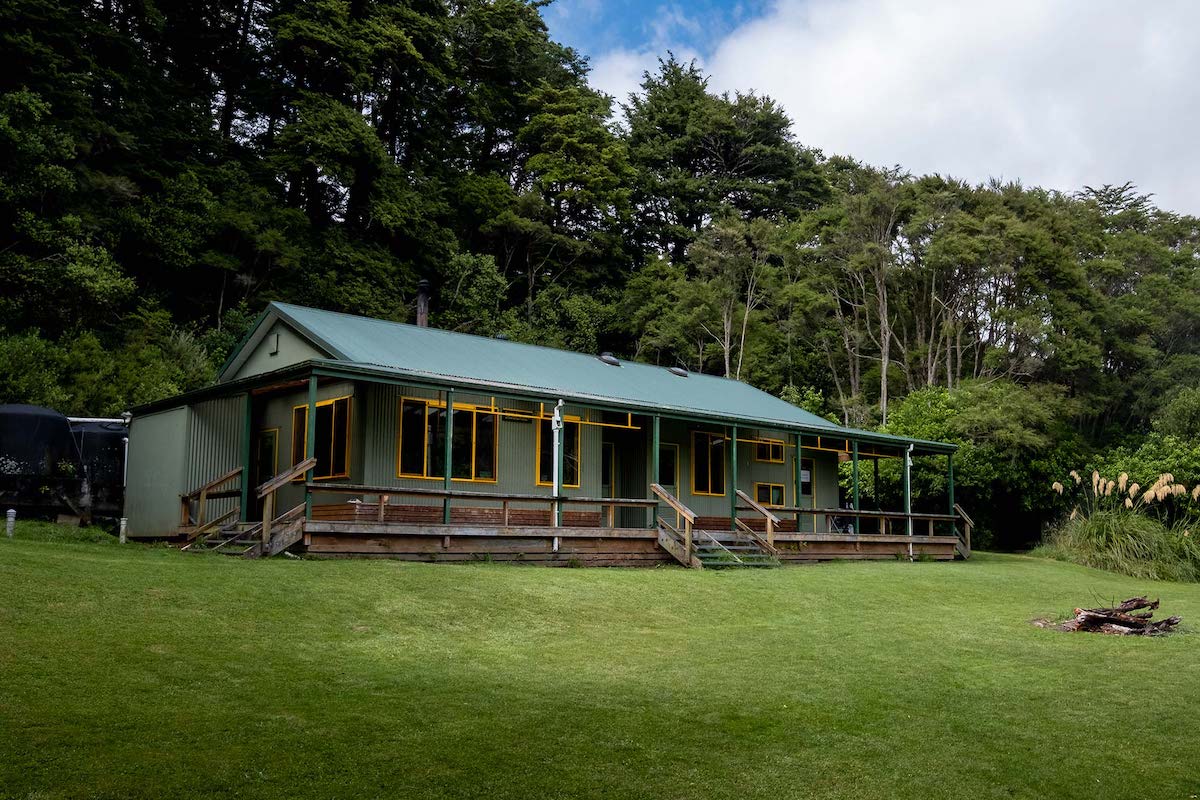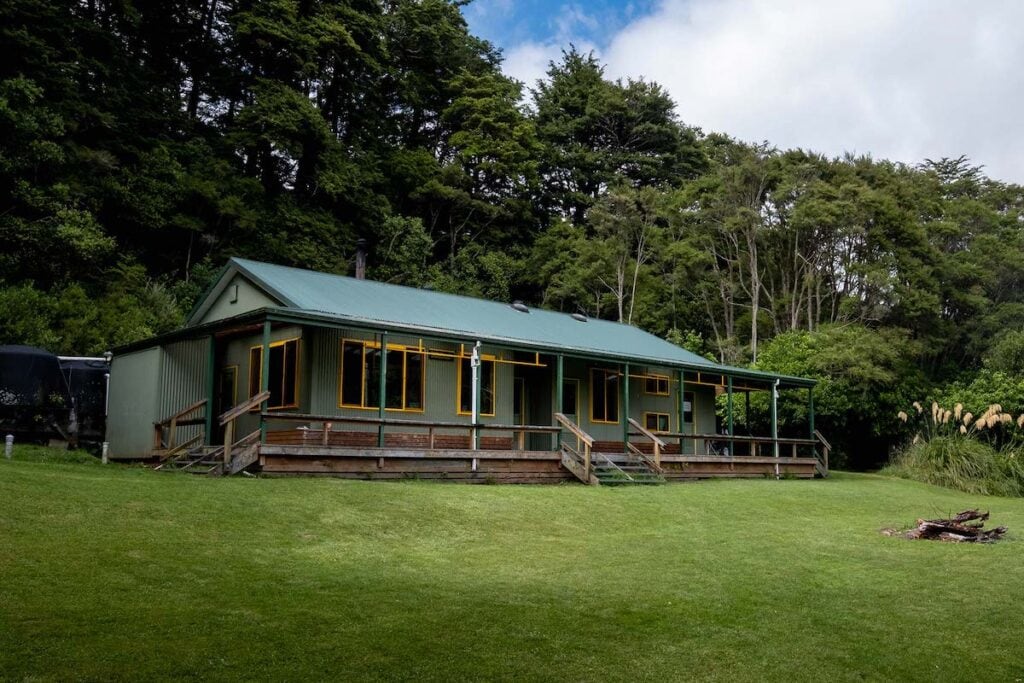 New Zealand Backcountry Hut Passes and Tickets
To stay in most New Zealand backcountry huts you will either need to have a backcountry pass or a backcountry ticket. If you will be backpacking frequently, it makes a lot of sense to buy a backcountry hut pass as this will save you a lot of money. You can get either a 6-month or 12-month hut pass depending on whether you will be backpacking year-round or just for the summer.
Important tip: Something worth knowing is that the pass does not allow access to every single hut. Some huts require you to book separately. Before you buy a pass, make sure the huts you want to stay in work with the pass.
It is also possible to buy a backcountry hut ticket which will allow you one night's stay in either a standard or serviced hut. Make sure you find out the type of hut you'll be staying in as standard huts and serviced huts require different tickets.
Some of the huts on the more popular tracks can be booked online. For instance, huts for the New Zealand Great Walks, which are 10 of the country's best tracks, can only be booked using the online system.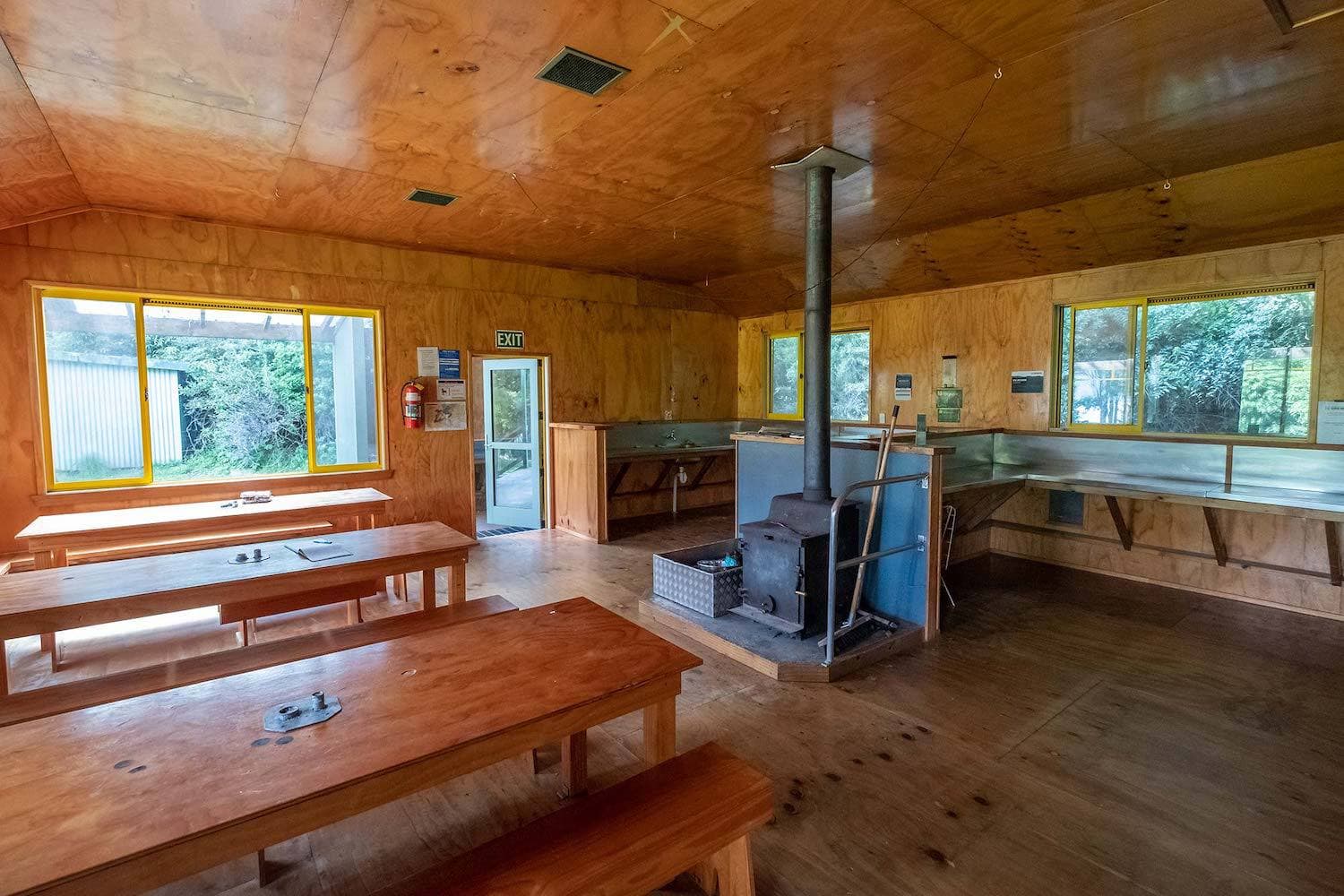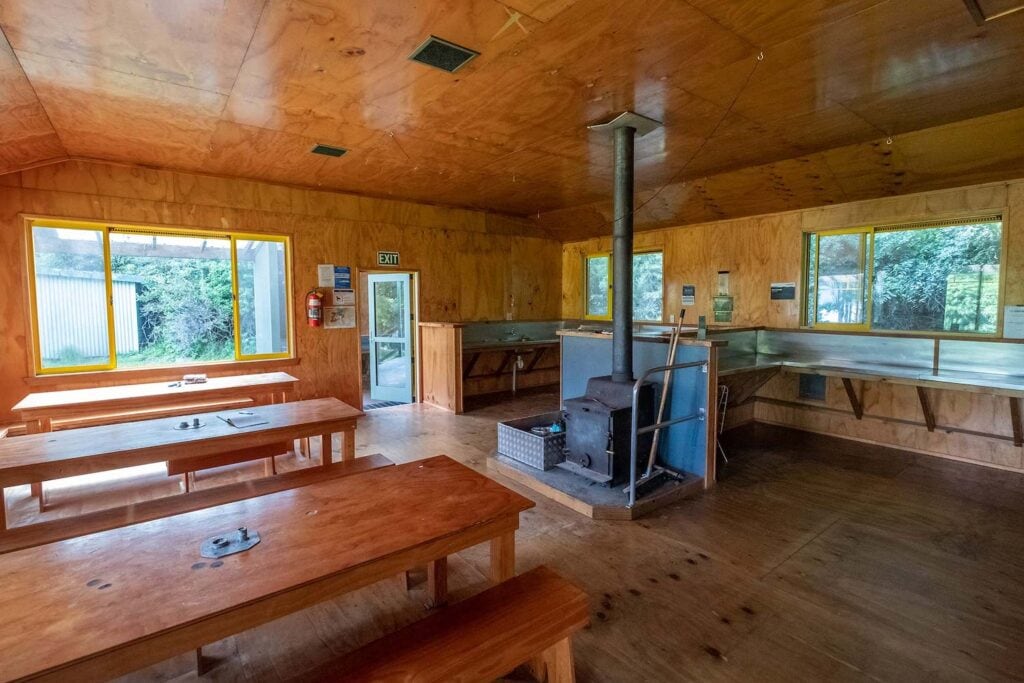 New Zealand Backcountry Hut Reservations
A great deal of the backcountry huts do not require a booking and operate on a first-come, first-served basis. However, a booking is required for huts that are usually quite busy such as the Great Walk huts and some of the popular serviced huts. Before you embark on your trip, it's worth checking to see if you need to make a booking for the hut or huts you would like to stay in.
The huts on the most popular trails and tracks, including the 10 New Zealand Great Walks, are usually fully booked months in advance. If you would like to hike some of these amazing trails, make sure you get your booking in early.
Bookings for the Great Walk huts open each year during the month of June (the exact date changes each year but is usually mid-way through the month). When these open you can book the huts for the 1st of July to the 30th of June the following year.
New Zealand Tent Camping
If you prefer your privacy, it is also possible to camp independently on your New Zealand backpacking trip. Most tracks and trails will have campsites as well as huts for you to pitch your tent. Campsites will generally have basic toilet facilities for your use.
Although many tracks have campsites, this is not always the case. For instance, if the area you will be backpacking in is a high alpine area, the only option will be to stay in a hut.
---
What to Bring Backpacking in New Zealand
The gear you pack for a backpacking trip in New Zealand will be similar to the gear you need for backpacking trips in many other countries. There are, however, a few specifics to keep in mind to ensure your New Zealand backpacking experience is the best it can be.
A waterproof pack rain cover should be at the top of your list as the weather in New Zealand can be very unpredictable at times even during the summer. There are also a few places in the country that are notoriously wet, such as the Fiordland region where some of the country's most amazing hikes are found.
While we are on the subject of weather, it's important to always pack a waterproof jacket and warm layers of clothing. Weather can change in an instant in New Zealand, one moment it's a beautiful sunny day, and the next the clouds have descended and it's pouring rain.
Here are a few more items you may want to consider taking on your New Zealand backpacking trip.
A lightweight sleeping bag for use in the huts is a good idea.
Safety should always be a priority so a personal locator beacon is good to have in case anything happens to go wrong.
The inclines and declines on some of the tracks can get pretty steep so a good set of trekking poles can be very useful.
If you prefer to camp, make sure you take along a tent and sleeping pad.
Check to see what cooking supplies your hut has. Some of them have stoves and cooking equipment and others do not.
A water filter: Some suggest that you don't need to filter your water while hiking in New Zealand but in busy areas or anywhere near farmland, it's a smart idea. Check out some lightweight water filter recommendations here.
The last item you really don't want to forget is insect repellent. Mosquitoes and sand flies can be a real problem, you will definitely regret it if you're not prepared!
If you plan to sleep in a hut, you'll want a pair of earplugs. If you're sleeping in a room with 12 bunks, someone is bound to snore. People also get up throughout the night and at different times in the morning, so if you're a light sleeper, ear plugs are a necessity!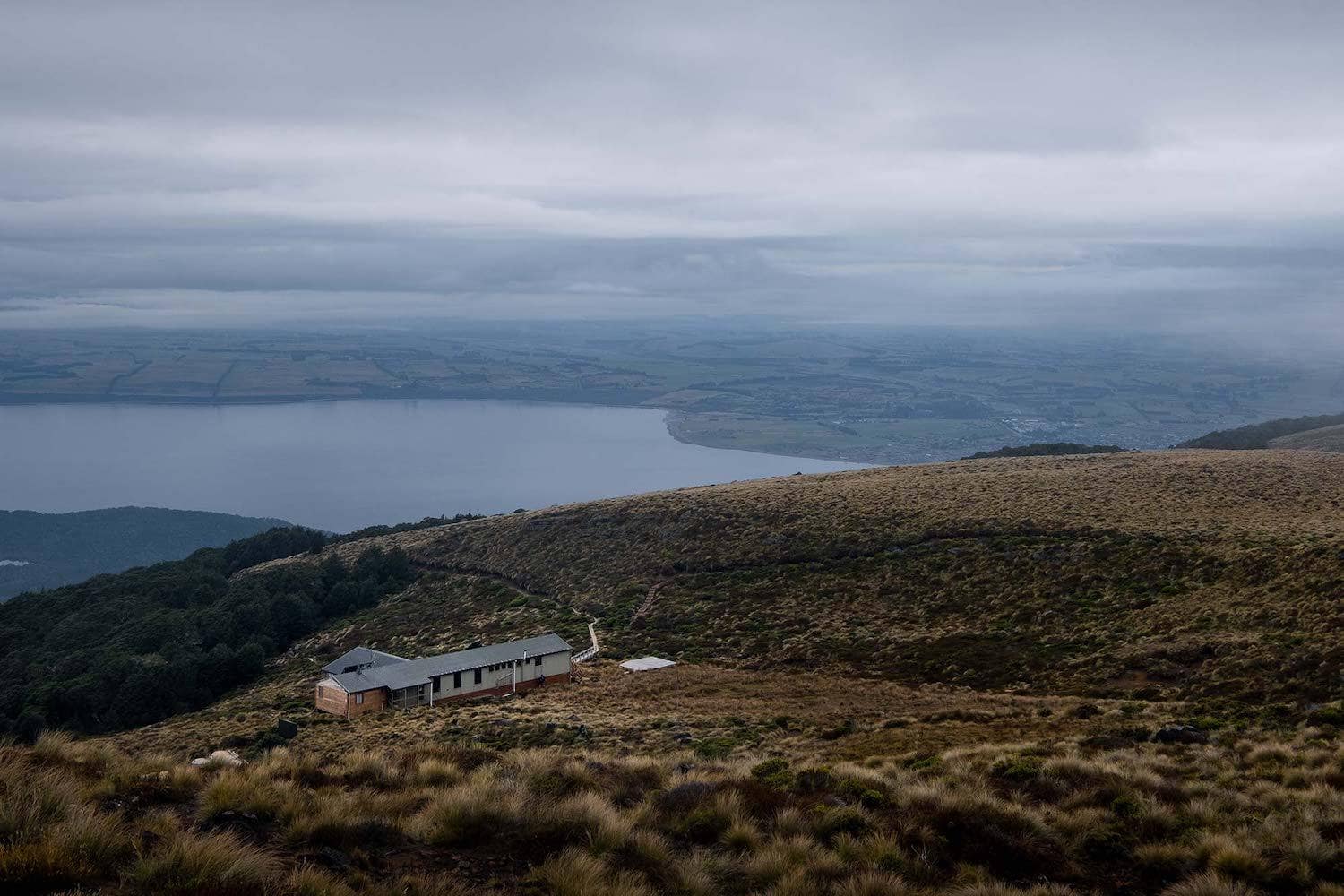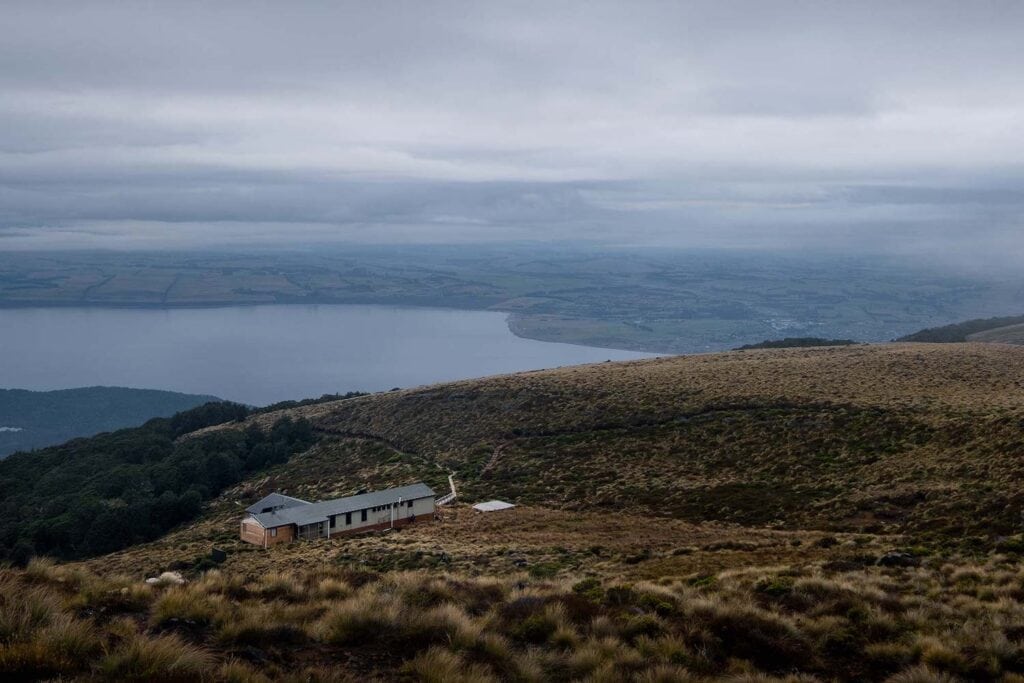 ---
Where to Go Backpacking in New Zealand
In New Zealand, you're spoiled for choice when it comes to backpacking and tramping trails. Wherever you happen to be in the country, you're never too far from a quality hiking trail.
New Zealand is quite a unique place to hike because of the diversity of landscapes across the country. From active volcanoes, stunning rainforests, alpine tracks, and coastal trails to snow-capped mountains, this country has it all!
There are backpacking trails on both the North Island and South Island however a good place to start would be with one of the 10 New Zealand Great Walks.
New Zealand Great Walks
New Zealand's Great Walks are a series of 10 of the country's best multi-day hikes. They are aptly named the Great Walks because they are premier tracks that travel through some of the country's most amazing scenery. Three of these hikes are located on the North Island, six on the South Island, and one on Stewart Island/Rakiura, which is just south of the South Island.
If you want to experience the amazing alpine environments of the South Island, try either the Kepler, Milford, or Routeburn tracks.
If you like the idea of experiencing some of the country's volcanic landscapes then you'll enjoy the Tongariro Northern Circuit.
For a coastal adventure, the Abel Tasman Coast Track is great.
The Lake Waikaremoana Track, Paparoa, and Rakiura tracks will have you traveling through New Zealand's native bush.
And finally, for a mix of coastal and native forests, the Heaphy Track is the way to go.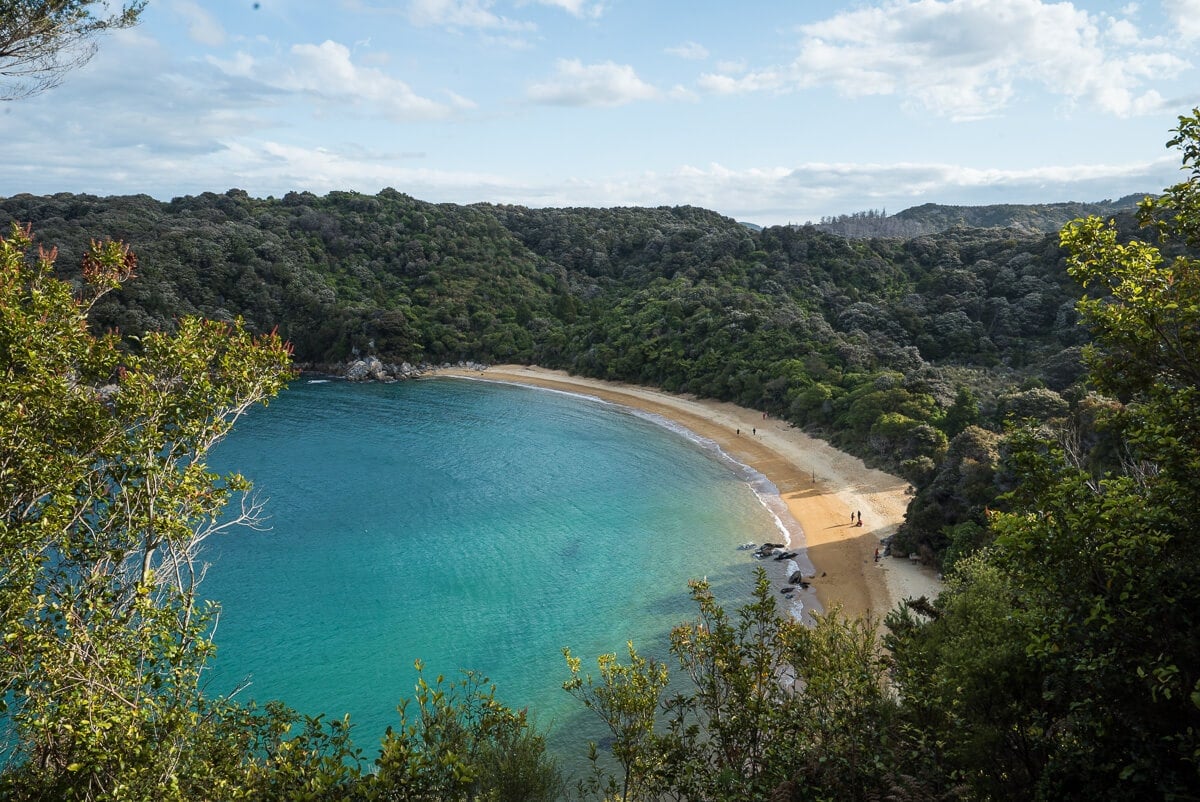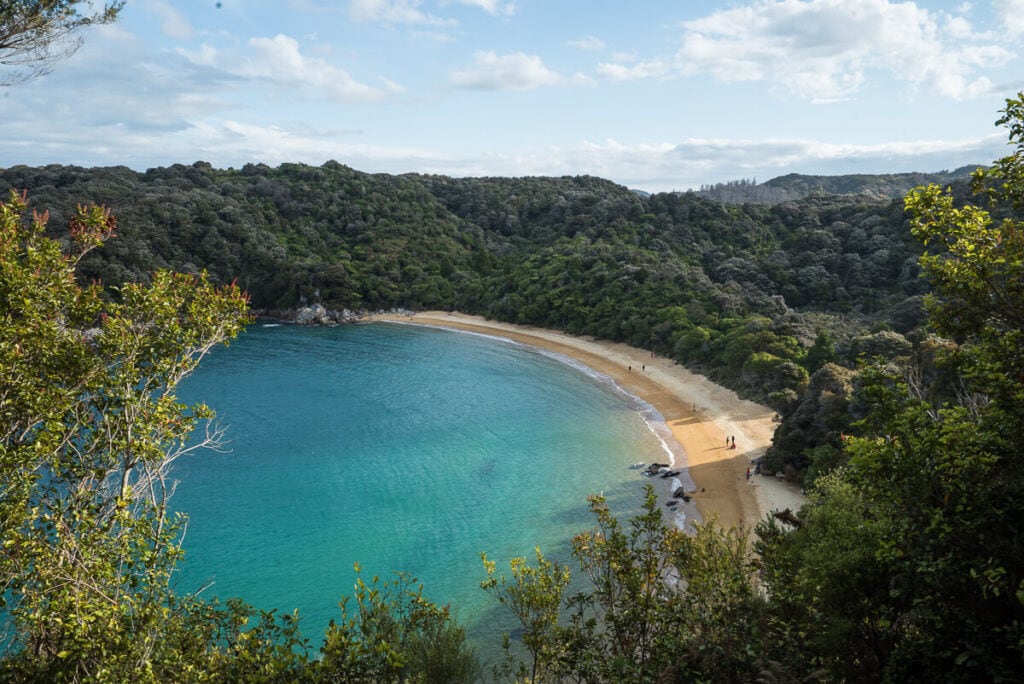 Best New Zealand Backpacking on the South Island
The South Island is home to some of the most spectacular scenery so it's no surprise to find there are some amazing backpacking trips to be had. The best hikes can be found in Mount Aspiring National Park, Aoraki/Mount Cook National Park, and the Fiordland National Park.
The Great Walks on the South Island are by far the most popular because of the amazing scenery. The Kepler Track, for instance, will have you traveling along amazing tussock-covered ridgelines in an unbelievable alpine environment. Want to learn more? Read all about the Kepler Track here.
While Great Walks are awesome, with so many trails around the country there are plenty more to try out. The Mueller Hut Route in Aoraki/Mount Cook National Park is an amazing overnight trip. This backpacking trip will allow you breathtaking views of Aoraki/Mount Cook, which is New Zealand's highest mountain.
Other notable tracks include The Old Ghost Road as well as the Queen Charlotte Track in Marlborough.
Best New Zealand Backpacking on the North Island
The North Island is where you will find volcanoes and amazing volcanic landscapes. Some of the best backpacking destinations on the North Island include Tongariro National Park, Egmont National Park, and the Tararua Forest Park. The best hike for this by far is the Tongariro Northern Circuit which takes 3-4 days to complete. Check out our detailed Tongariro Day Hiking Trail Guide here.
The backpacking trails in Egmont National Park are great because they allow you to explore Mount Taranaki and the surrounding area. Mount Taranaki is a dormant volcano well known in New Zealand because of its stunning conical shape.
The Tararua Forest Park, which is another great New Zealand backpacking destination, is home to the Tararua mountain ranges. This area is known for its beautiful untamed and rugged landscapes. The Tararua Ranges are a great backpacking spot if you want to escape the crowds found on many of the more popular tracks.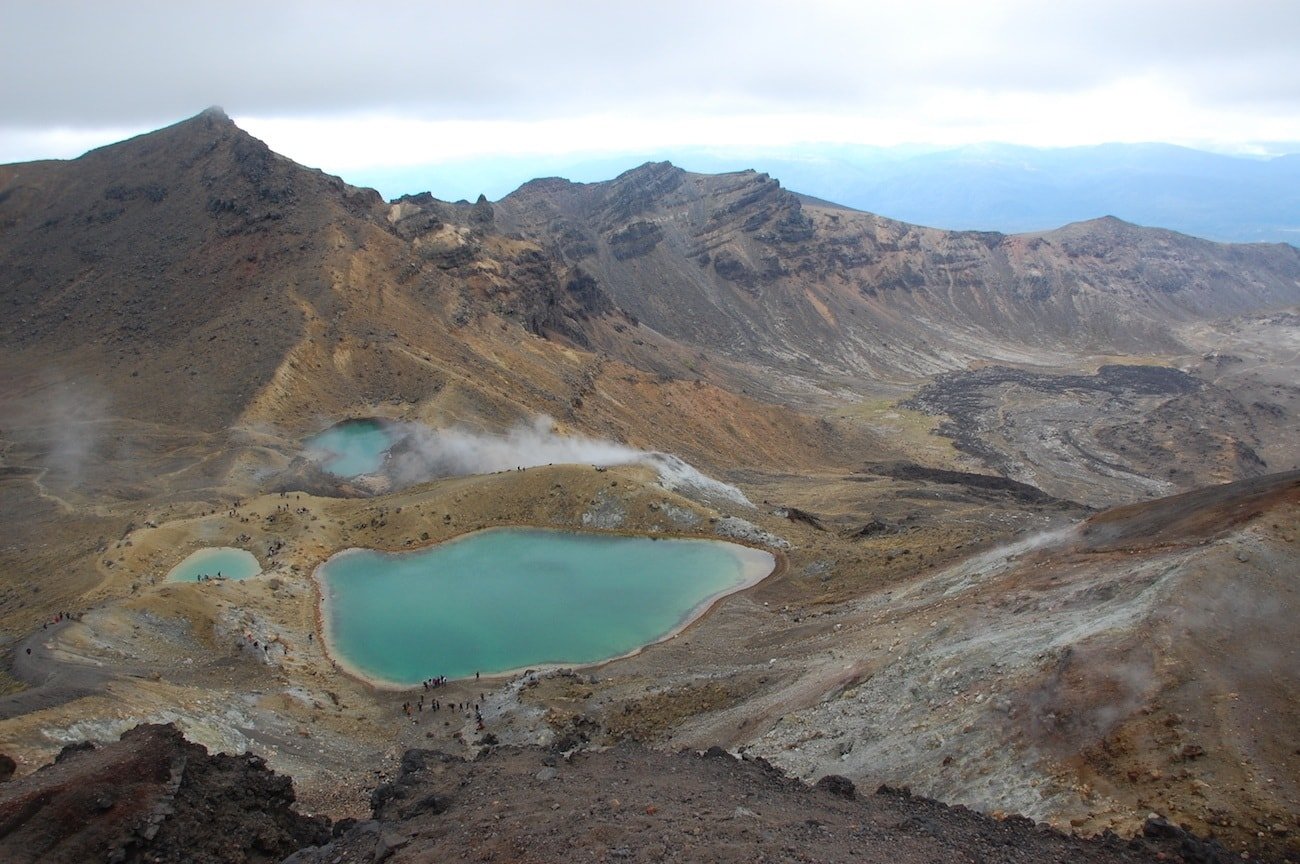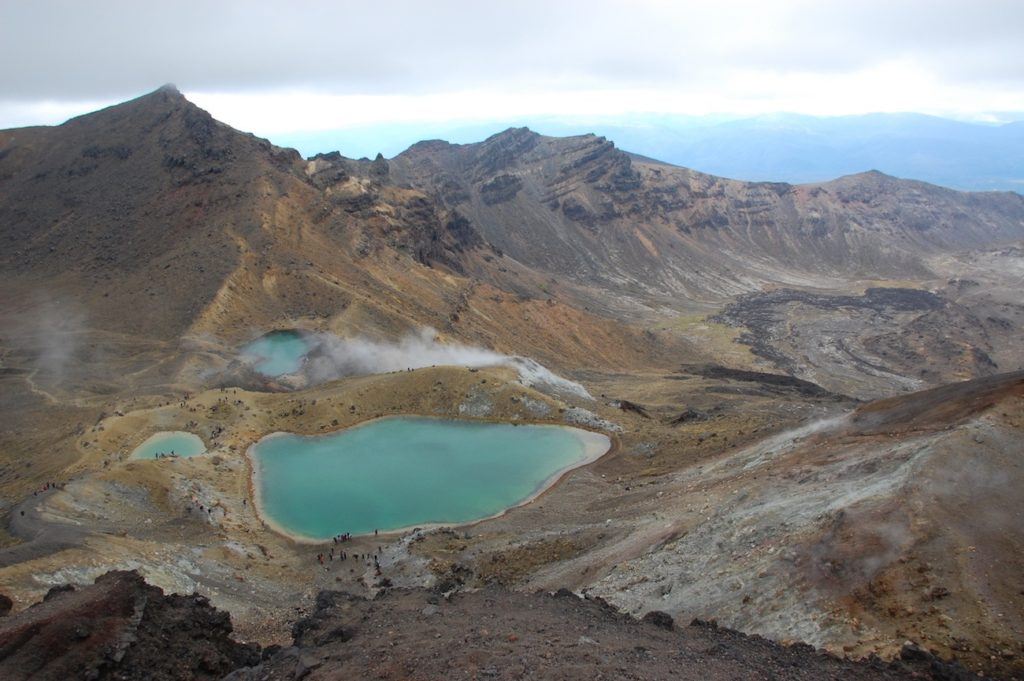 Te Araroa
Did you know New Zealand has its own thru-hike? It's called Te Araroa which means "The Long Path" in Te Reo Māori, the native language of the Māori. It's 3,000 km or 1,864 miles in length and the start and finish points are Cape Reinga at the top of the North Island and Bluff which is at the bottom of the South Island. Keen thru-hikers from all around the world travel to New Zealand to complete it over the course of 4 months.
---
What to Know Before You Go
Before you head out to go backpacking in New Zealand here are a few things you should be aware of.
Planning
Firstly, it is very important that you plan your New Zealand backpacking trip ahead of time. This is especially true if you're planning your trip during the peak summer season. As mentioned above, the huts and campsites on the most popular tracks usually get booked up months in advance. If you know the backpacking trails you want to hike, make sure you get them booked as soon as you can.
If that's not possible and you're hoping to get a reservation last minute, pay a visit to the local Ranger's Station/ Visitor Center where someone should be able to tell you your options based on availability.
Transporation
You will need to arrange some sort of transport for yourself while in New Zealand. The best option is to rent a car or campervan as there are limited public transport options.
When backpacking and tramping in New Zealand you will be walking on either a loop track or a one-way track. If your track is a loop track it means it finishes at the same place it starts. If the track is one way it means it finishes in a different location to where you began.
With a one-way track, you will have to arrange transport back to the start of the track or to your accommodation if you are staying nearby. Each hiking trail is different, but generally, you should be able to arrange a shuttle bus, boat, or plane to help transport you. A google search is the best way to find out if there is a local business that provides this service for the area you're hiking in.
Weather
The weather in New Zealand is no joke even during the summer months. As I mentioned, a pack rain cover and rain jacket are essential items the whole year through. Don't underestimate the weather in this country, it can be seriously cruel when it wants to be.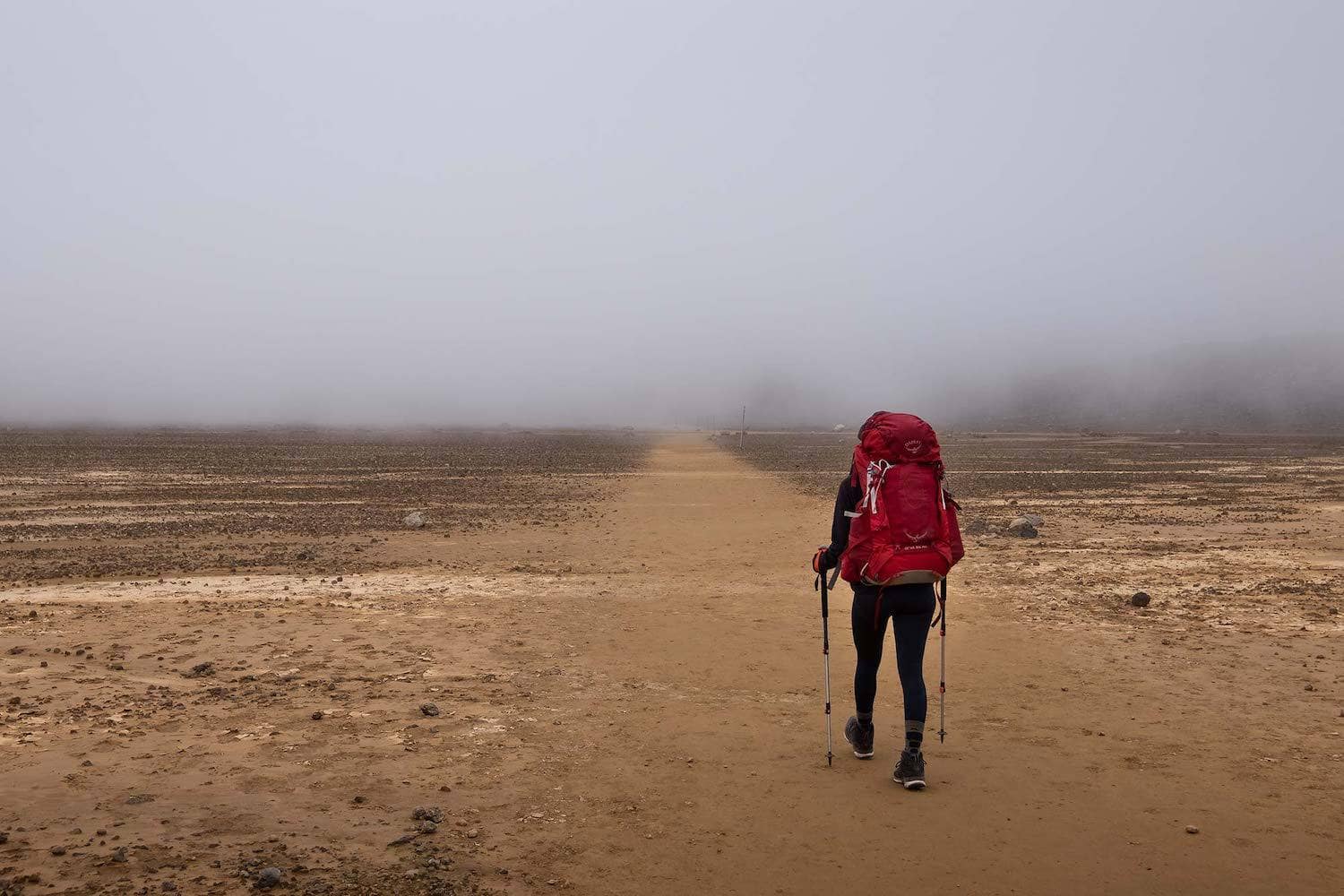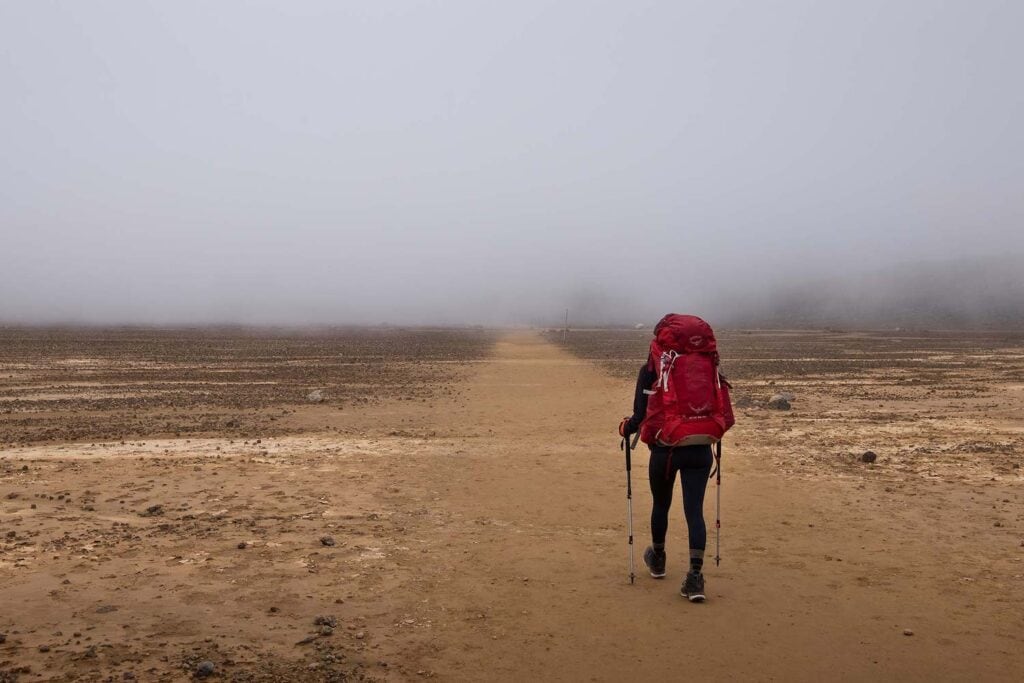 Wildlife
New Zealand doesn't have any dangerous wild animals such as bears or other large mammals. This is great because it means you can roam the tracks and trails freely without the worry of encountering a threat.
However, the country does have some pretty ferocious insects, more specifically the sandfly. These small flies can be found all around the country. The worst and most brutal sand flies are found in the West Coast and Fiordland regions of the South Island. Sandflies are incredibly annoying as they bite leaving a very itchy mark. The best way to prevent sandfly bites is to cover up with long sleeves and hiking pants, and to use plenty of insect repellent, so keep this in mind.
---
That covers all the basics of New Zealand backpacking and tramping. The country is set up to be the perfect backpacker's destination with its backcountry hut system and incredible scenery. One thing is for certain, backpacking here is an experience you won't forget in a hurry!
Related Blog Posts:
>> See All Our New Zealand Blog Posts
Do you have any questions about backpacking in New Zealand? Have you been already and do you have a favorite trek? Let us know in the comments below.