Gear List for an Overnight Kayak Trip on Lake Powell
I recently went to Lake Powell for a one night / two-day kayaking trip where I camped on the beach and kayaked up some amazing slot canyons. It was absolutely incredible, and it's a trip everyone visiting the Southwest should have on their radar. If you are just starting to think about doing an overnight kayaking trip on Lake Powell, you should start with my planning guide.
** How to Plan an overnight kayaking trip on Lake Powell **
Once you've got a route and logistics mapped out, the next thing you need to do is make a gear list for an overnight kayak trip. In this post, I share the major pieces of gear you need for an overnight kayak trip and the specifics of my gear list for a warm-weather multi-day kayaking trip on Lake Powell (or any other place with a similar climate conditions).
Kayaks
First you'll need to get your hands on a kayak, and a touring style kayak is best. They have a ton of storage, are efficient on the water, and stable enough to handle some chop. If you don't have your own kayak, check out my post How to Plan an Overnight Kayaking Trip on Lake Powell for more info about renting kayaks in Page.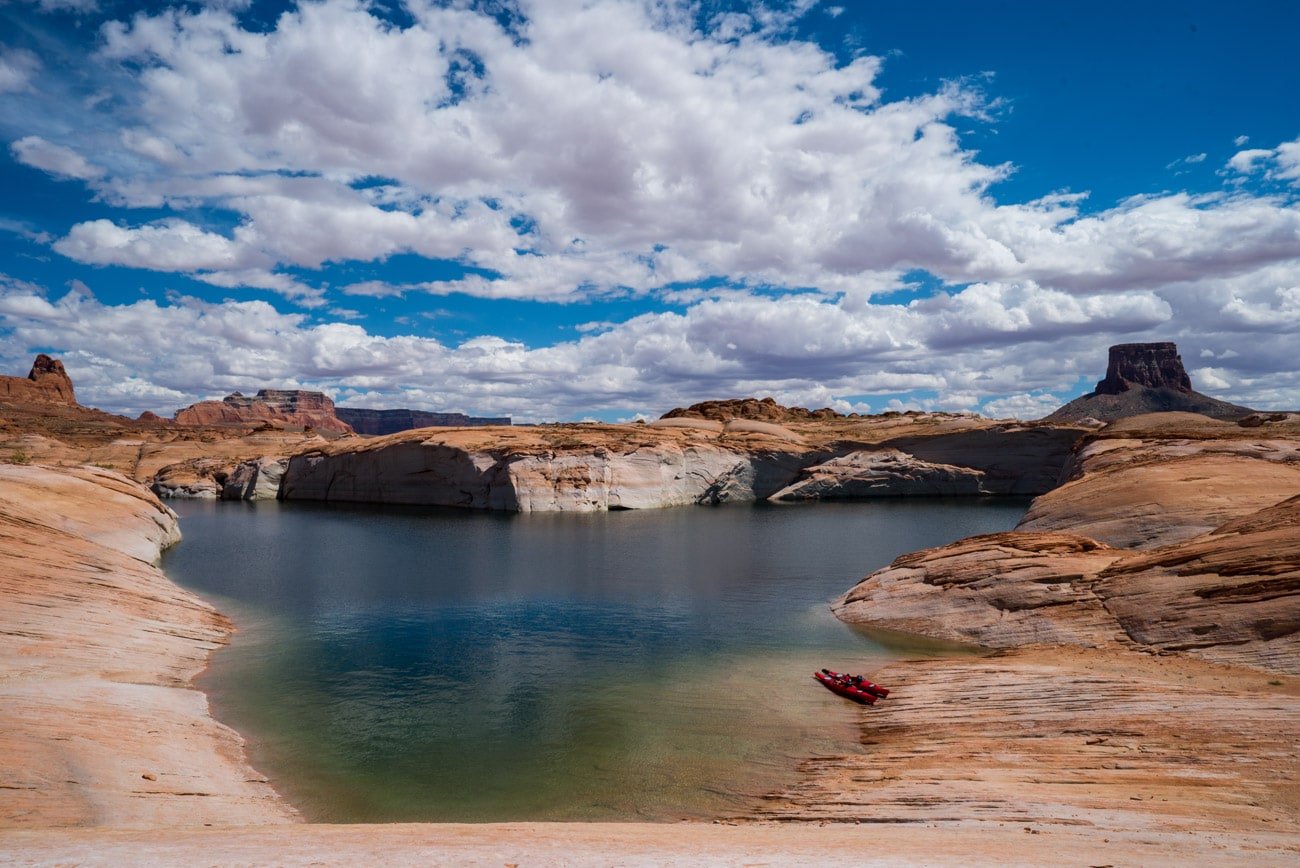 Keeping Your Gear Dry on an Overnight Kayak Trip
Dry bags: Most of your gear, including your tent, sleeping, bags, clothes, as well as food, will need to be stored in a dry bags. A few medium-sized dry bags (35-65 liters) is better than one giant dry bag since you will need to fit your dry bags in the kayak's storage compartment. I like the see-through bags because it they make it easier to dig things out of.
Fanny Pack: Yes, that's right. A fanny pack. For my phone, compact camera, SPOT GPS transponder, and other small personal items that I want super easy access to, I like this waterproof fanny pack by SealLine. It's not fool-proof, and I wouldn't want to fall in with it, but it does the trick against small splashes.
Pelican Case: For more expensive electronics, like a DSLR camera, a Pelican case is the safest bet. My Sony A7S and 3 lenses fits in the 1400 case (most people will be ok with a smaller case), and I strap it on to the front of my kayak's cockpit, so I can get in and out of if as needed.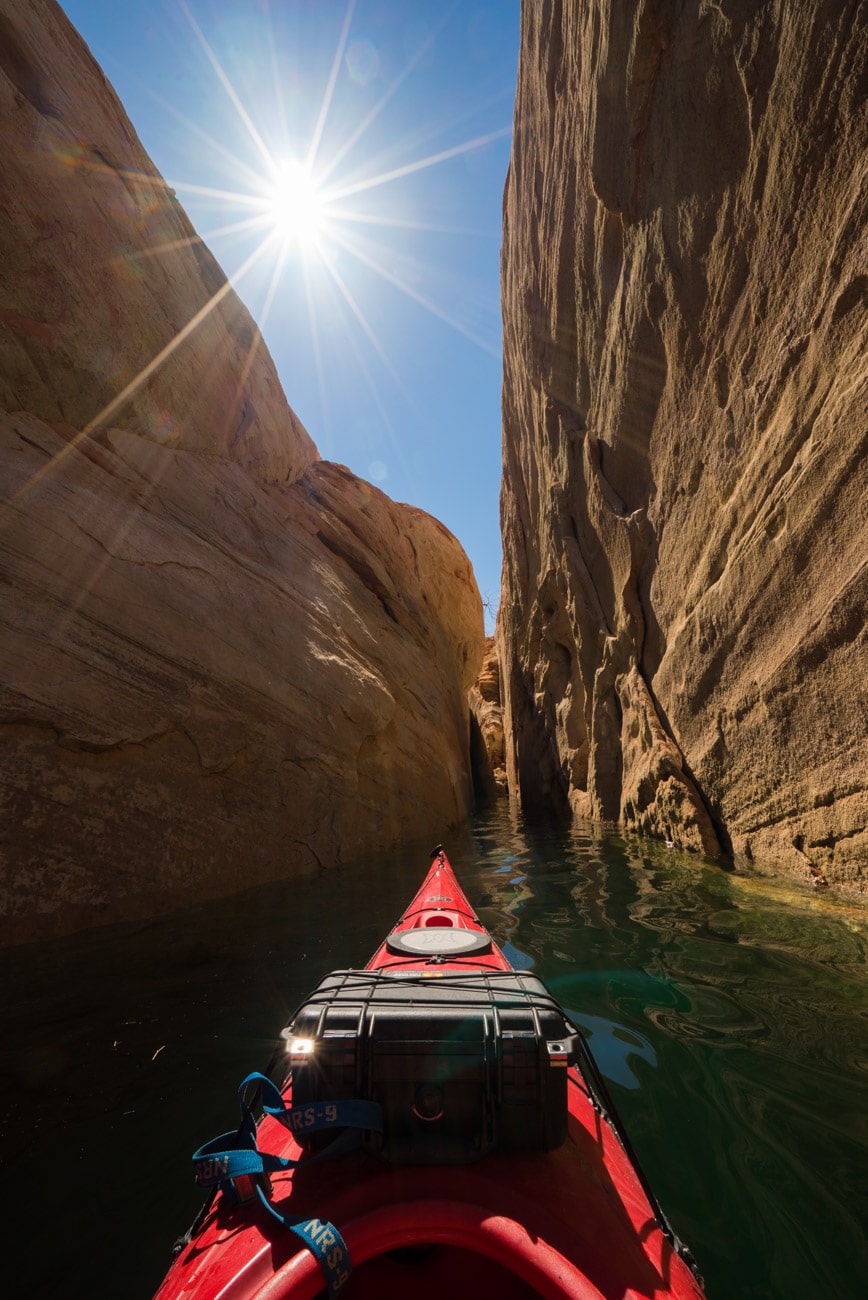 Camping Gear Essentials for Lake Powell
Tent: On a warm summer night, you'd probably be fine sleeping under the stars. That said, it's always good to be prepared in case of an unexpected storm. If you are two people, the best option is a 2-man backpacking style tent.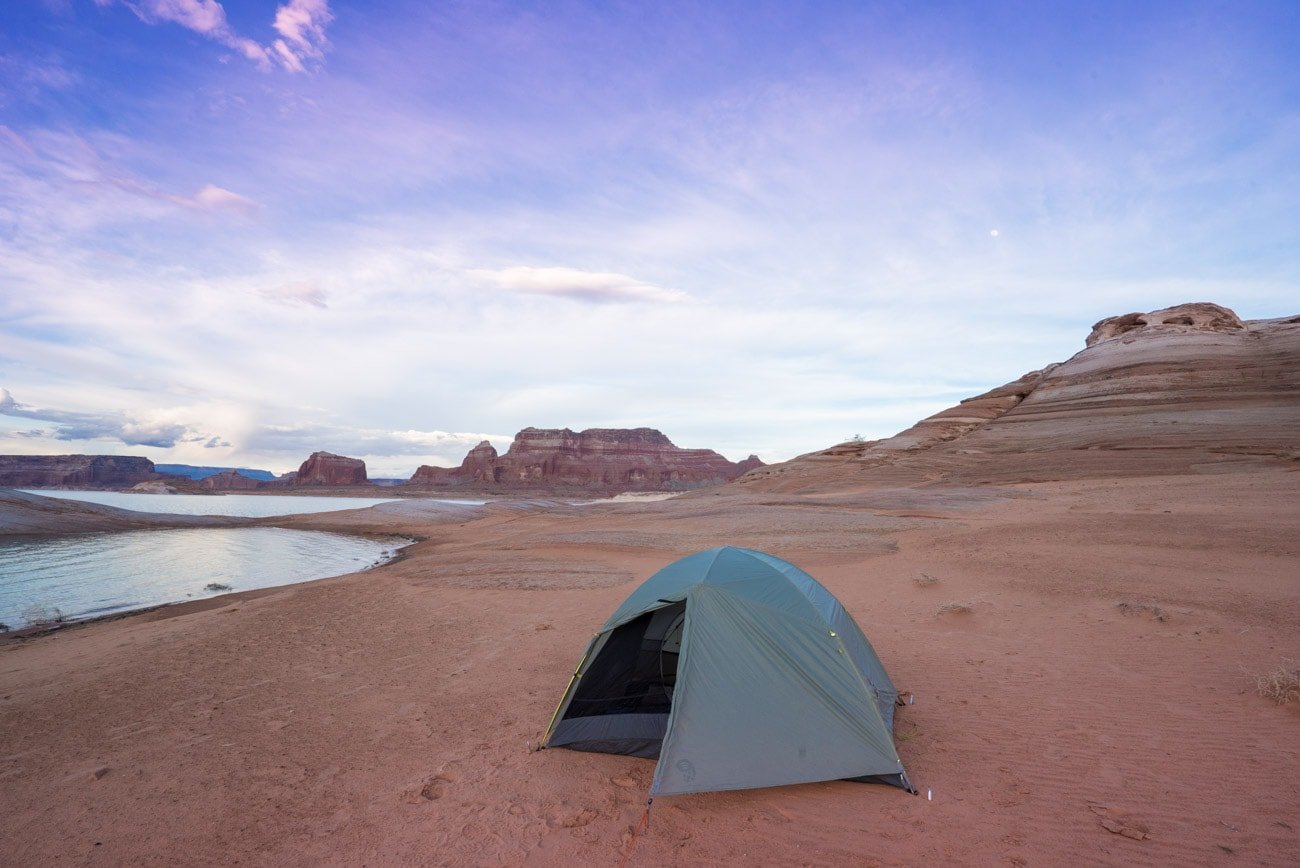 ** Read More: How to Choose a tent & the best tents for backpacking **
Sleeping Bag: What sleeping bag you bring depends on the season. Winters and even the shoulder season down in the desert can be unexpectedly cold. In spring, fall, and winter, you'll want something like a 15-20 degree bag. In summer, you'll be able to get away with something much lighter. I've used the REI Joule for years and have been very happy with it, and for a cheaper option I also recommend the Mountain Hardwear Laminina Z Flame Synthetic bag.
 Headlamp/Lantern
Sleeping Pad: The sand is pretty soft, but you'll still want an inflatable sleeping pad to give you a little extra cushion.
** Read more: How to Choose a Sleeping Pad & the best sleeping pads for backpacking **
Cookware/Stove: Since you probably won't have room for a normal car camping stove, on a multiday kayaking trip, you'll likely be eating backpacker style. However, if you are only going one night, you can get away with making something delicious at home, freezing it, and reheating at camp. I brought homemade spaghetti sauce and fresh noodles that only required a few minutes to cook. For my cooking setup, I use the Snow Peak Giga Power Auto Stove paired with the Sea to Summit X-Pot (2.8 liters). The pot is collapsible, so it takes up very little room, but you have to be careful not to crank the flame too high or you'll melt the silicon sides of the pot. The lid also has strainer holes which is super helpful if you are making pasta. I also have the Sea to Summit X-pot kettle for morning coffee and oatmeal, and it conveniently fits right into the larger pot when collapsed.
If all you are doing is boiling water and rehydrating backpacker meals, then by all means, go with a JetBoil Flash. It's light and I haven't found anything that boils water faster and uses less fuel. I've also heard great things about the Jetboil MiniMo which gives you greater control over temperature and allows you to simmer your food.
 Fuel
Cooler: If you want to bring any fresh food or a quench your thirst with a couple of cold ones, you'll want to bring a small soft cooler with ice that you can strap onto the back of your kayak.
Eating Utensils / Plate / Mug
 Lighter
Lots of water / purification tablets:  You should bring enough water to last you your entire your trip. For easy access drinking, I like to strap a 3-L Platypus hydration reservoir to the kayak right behind my seat. You should also carry some water purification tablets in case of an emergency and you need to drink water from the lake.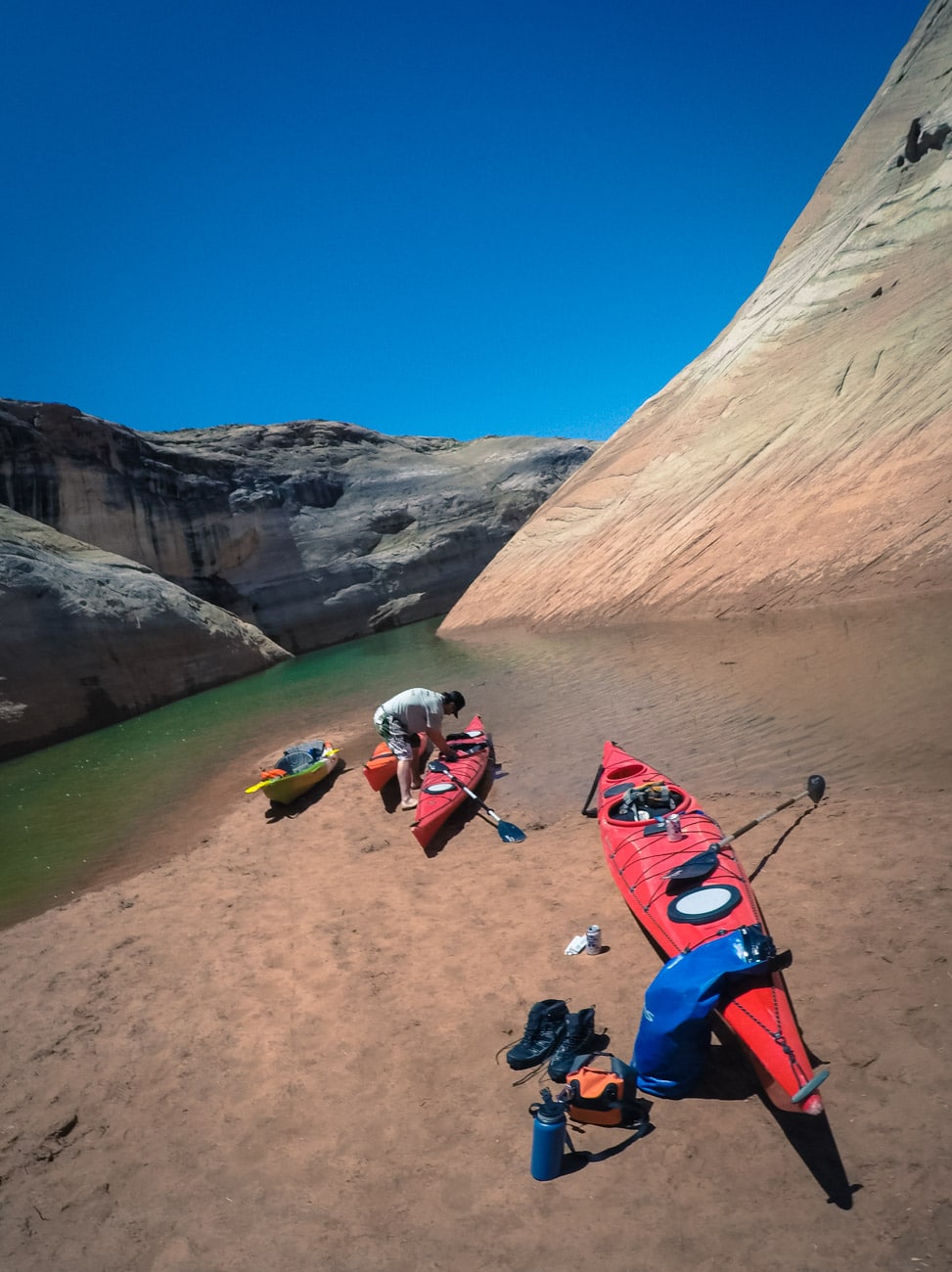 Wag Bags / Toliet Paper: If you are doing primative camping along Lake Powell's shoreline, you are required to carry out all human waste (and toliet paper) in a National Park approved waste contamination system. Basically that means you have to go poop in a bag. No one likes to do it, but it helps keep the beaches and the water clean of (toxic) waste. So bring a couple of these wag bags from REI.
 Multi-tool / Knife
Bag for garbage: Make sure to clean up after yourself and to Leave No Trace!
** Read More: Learn about the 7 basic principles of Leave No Trace **
Safety Gear for an Overnight Kayaking Trip
Basic first-aid kit
SPOT GPS transponder: Once you get away from the marina, there is no cell phone service. I like to carry a communication device such a s SPOT Gen3 transponder that I use to check in with family or call for help in case of an emergency.
For more info on how the SPOT Gen3 GPS Transmitter works, watch my video below or read my full review here.
 Lifejacket: If you are renting a kayak, the kayak company should provide a lifejacket. If not, you are required by law to have a lifejacket with you on your kayak. I purchased this Stohlquist Cruiser PFD last year for a week-long rafting trip and find it to be relatively comfortable.
Lake Powell Map: This waterproof NatGeo map shows all of the side canyons, camping areas, and beaches.
Clothing for a Kayaking Trip on Lake Powell
What clothing you bring depends on when you are going, and my Lake Powell Planning Guide has more details on the best seasons to visit Lake Powell. My trip was in May when days were warm and sunny and nights were cool. Pack as you would for a backpacking trip. Bring lots of layers and if you are visiting in warmer months, don't forget a swimsuit.
Here's some clothing suggestions (female specific) for a 2-day / 1-night visit during early summer – early fall.
1 tank top
1 pair of quick dry shorts
1 swimsuit
 Rashgaurd for extra sun protection
1 pair of long johns – top and bottom
Down Puffy
Rain Jacket / Rain Pants
Teva sandals – If you've been following me for a while, you'll know I'm obsessed with my Teva Hurricane Sandals. They are grippy enough to wear during light hiking, comfy with socks at camp, and you can get them wet.
1 pair of quick dry undies
1 sports bra
1 pair of socks
Sun hat
 Sunglasses
Shop popular outdoor apparel
Misc Gear for an Overnight Kayak Trip on Lake Powell
Waterproof Sunscreen
 Lip balm with SPF: This lip balm by Jack Black is my absolute fav!
 Hand sanitizer
 Camera: On all of my trips, I bring a Sony mirrorless camera and a GoPro Hero4 Black. The GoPro's waterproof feature and wide angle make it a particularly good option for shooting the tall canyons from your kayak. I also have the GoPro 3-way mount which works both as a selfie stick and a tripod.
** Read More: GoPro Tips and Tricks for Awesome Travel Photos **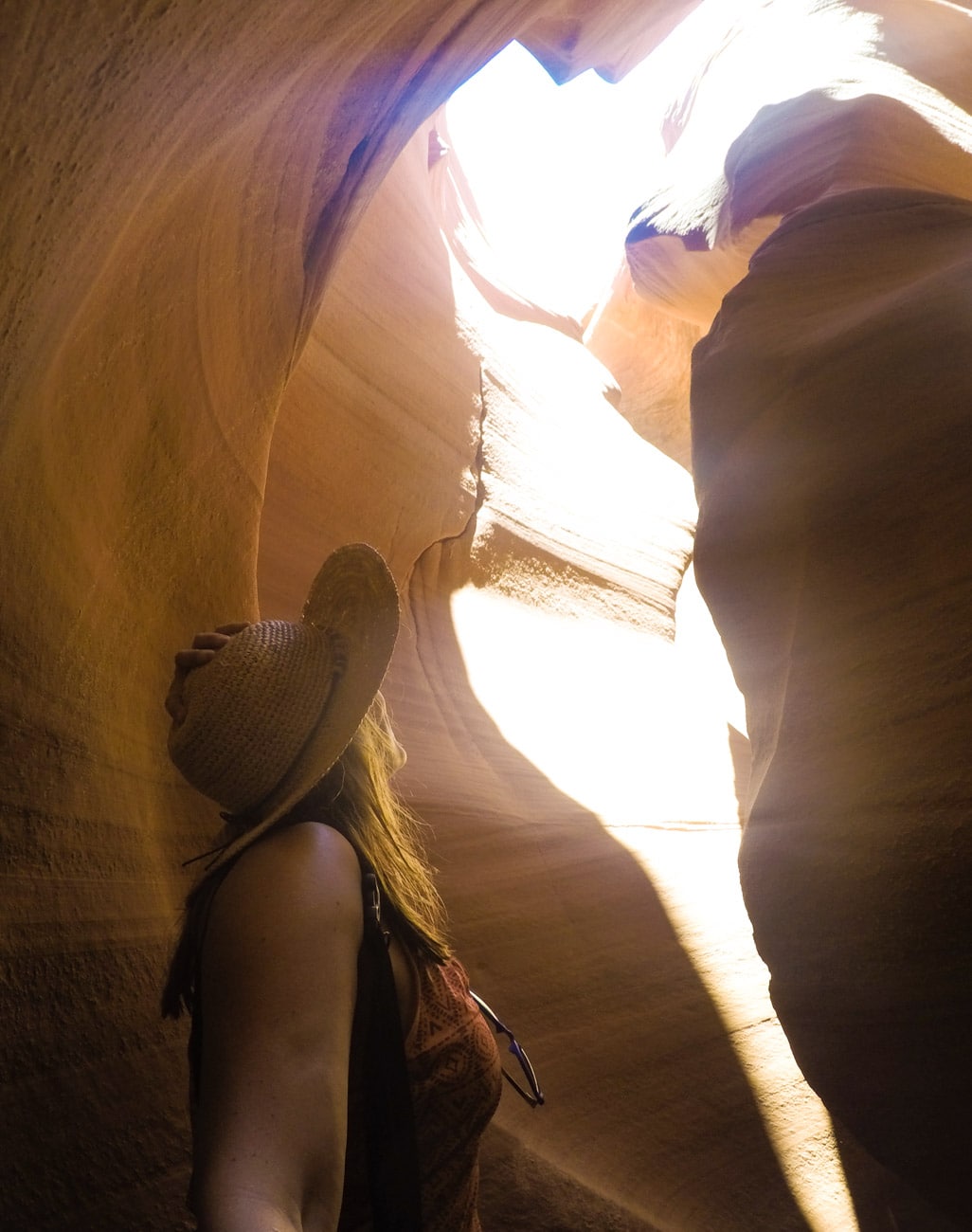 HAVE YOU EVER BEEN ON OVERNIGHT KAYAKING TRIP? WHAT QUESTIONS DO YOU HAVE ABOUT GEAR? LEAVE A COMMENT BELOW, TWEET ME, OR WRITE ME A POST ON FACEBOOK. 

Some of the links in this post are affiliate links. Any purchases you make help to support this blog at no added cost to you. I only recommend products that I stand behind, and if you ever have any questions about any of the products featured on my site, please email me. Thanks! Kristen