The Best Vanlife Gear at REI
The most useful vanlife gear that is currently in my Sprinter Van garage.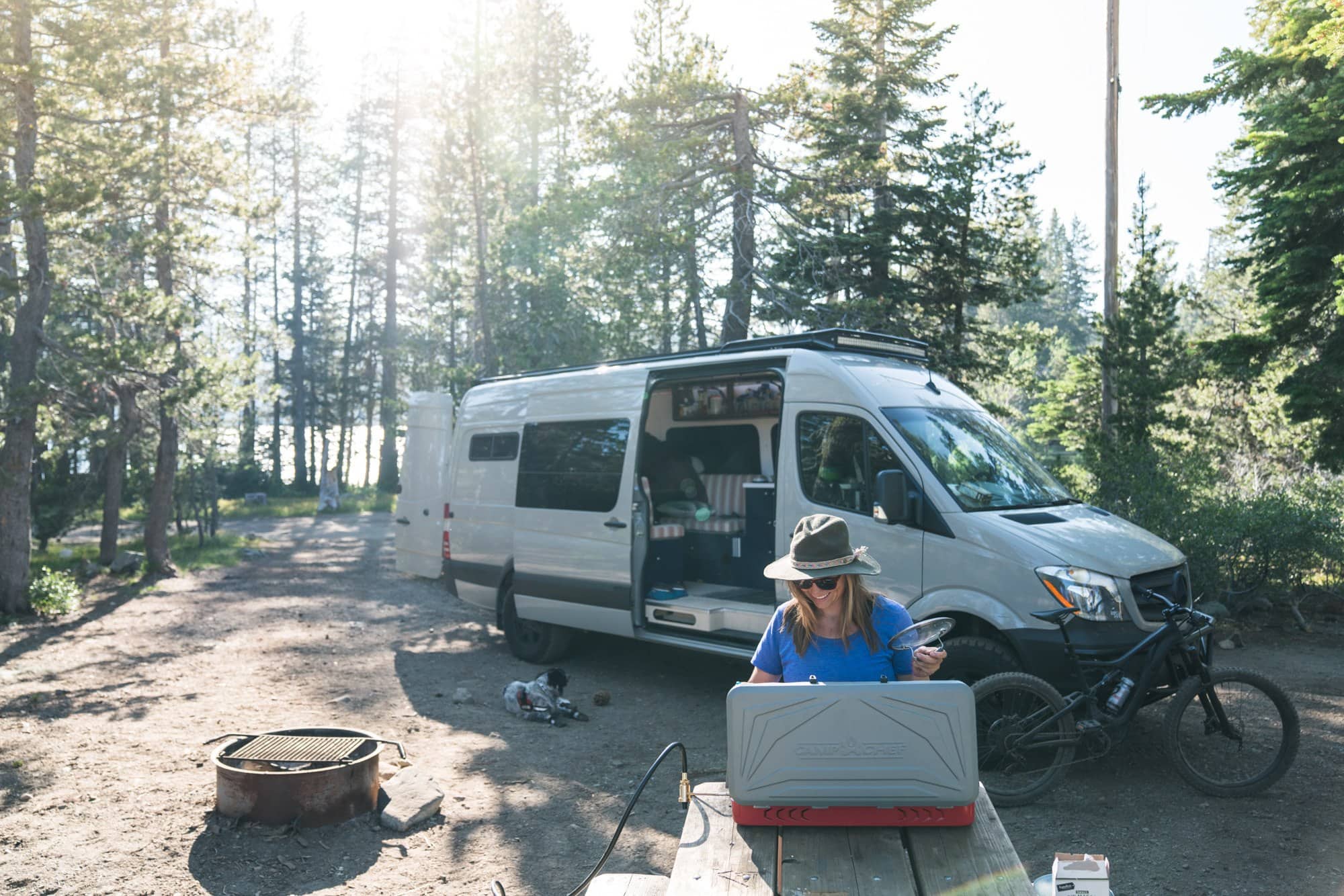 THE BEST VANLIFE GEAR AT REI
*This post is sponsored by REI
When I was packing up my first Sprinter Van in 2016 for my first long-term trip, I struggled with figuring out what type of vanlife gear I really needed to bring with me on the road. It's so easy to overpack when you are living in a small space, and if you aren't using something at least once a week, it's not really worth the precious space that it takes up. Now that I'm on my second Sprinter van (the tour is coming soon, I promise!), I've really got my gear and organization dialed.
In this new blog post, I share some of the best vanlife gear I got at REI that is currently in my Sprinter Van's garage.
And the perk of buying at REI? It all counts towards your annual dividend. Plus, if two months into living in a van, you've been lugging around something that you realize you'll never use, you can return it to REI, no questions asked.
PIN ME!

Everyday Vanlife Gear Necessities
1) Rumpl Blanket
I've been using Rumpl Blankets since I got my first Sprinter Van back in 2015, and I'm fully convinced they are the best van life blanket out there. The two-person original puffy is very warm and is slightly larger than a queen size. It spans the width of a Sprinter Van, so you won't be fighting with your traveling companion for covers. They come in a bunch of vibrant colors (I have the Wine Red in my van now)….but even better, they are machine washable and the material is perfect for those who have a dog that sheds. The dog hair doesn't stick and you can quickly give the blanket a good shake outside for a quick clean.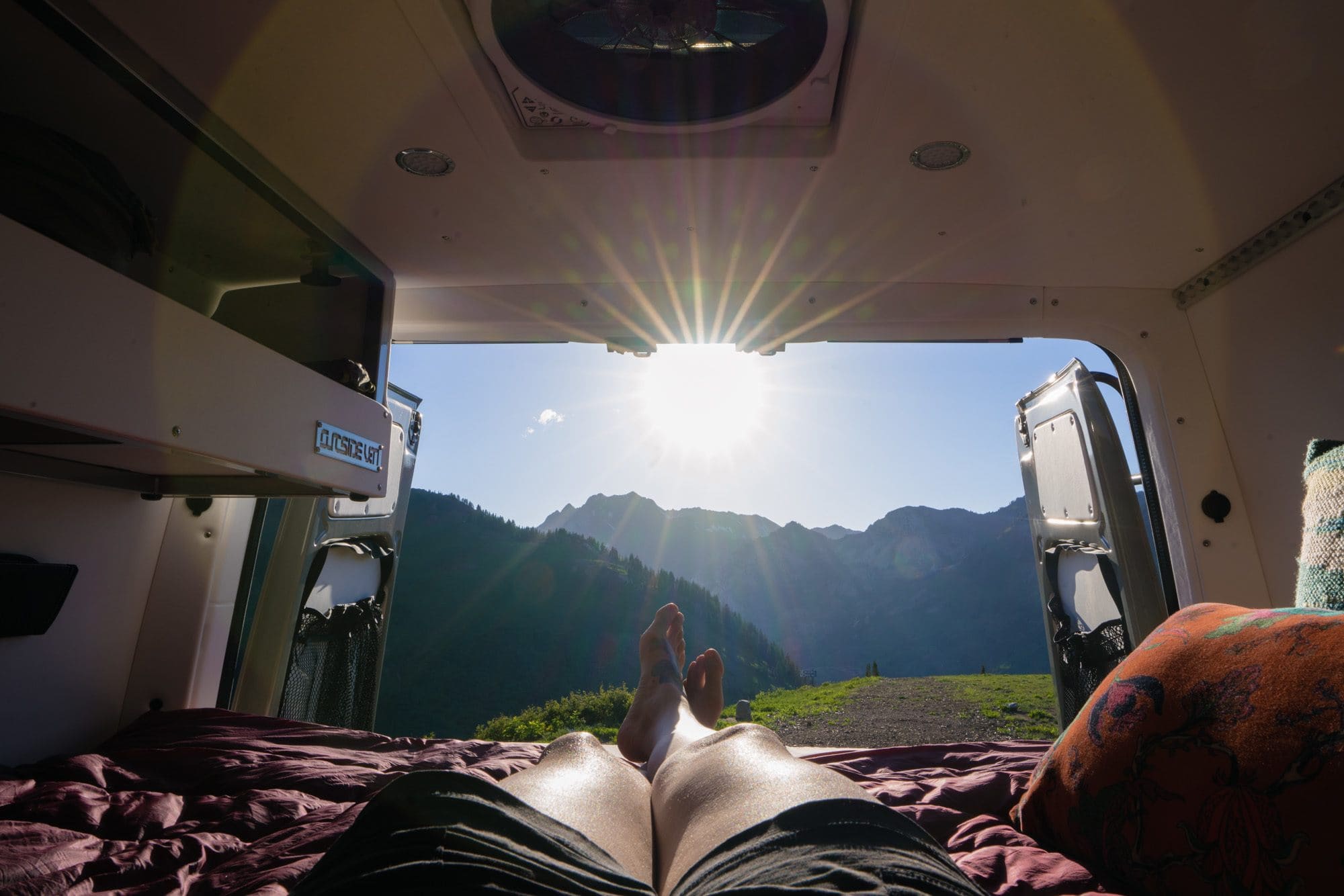 2) REI Coop Multi Quick Dry Towel (multiple sizes)
No matter what else you pack in your van, quick-dry towels are a must-have piece of van life gear. We have 5 or 6 of them stashed throughout the van in different sizes. We use them to dry dishes, our dog, our bodies, and to sit on the beach with. They don't get a funky musty smell like regular towels, and if you need to clean them, you can rinse them with a little Dr. Bronner's soap and they are as good as new. They also fold really small, so they don't take up a bunch of room like a bulky beach towel.
3) REI Co-op Expandable Packing Cube Set (Favorite Color: Marbles Landscape Print)
Packing cubes are an easy way to stay organized when you are living in a van. In my new Sprinter Van, Ryan and I each have two of these REI Coop Expandable packing cube sets in different colors for our clothing. Pants go in one large cube, shirts in another. Underwear, bras, and socks in the small cubes. Get the gist? Packing cubes mean each time you need to grab a new pair of socks, you aren't digging through a huge messy duffel bag or drawer. Another big advantage is when you are packing up your van for the first time, the packing cubes help you set limits for the amount of clothes you are going to bring. I like the fun design of these cubes and that they have handles so if you are staying with family and friends, you can easily carry them into the house.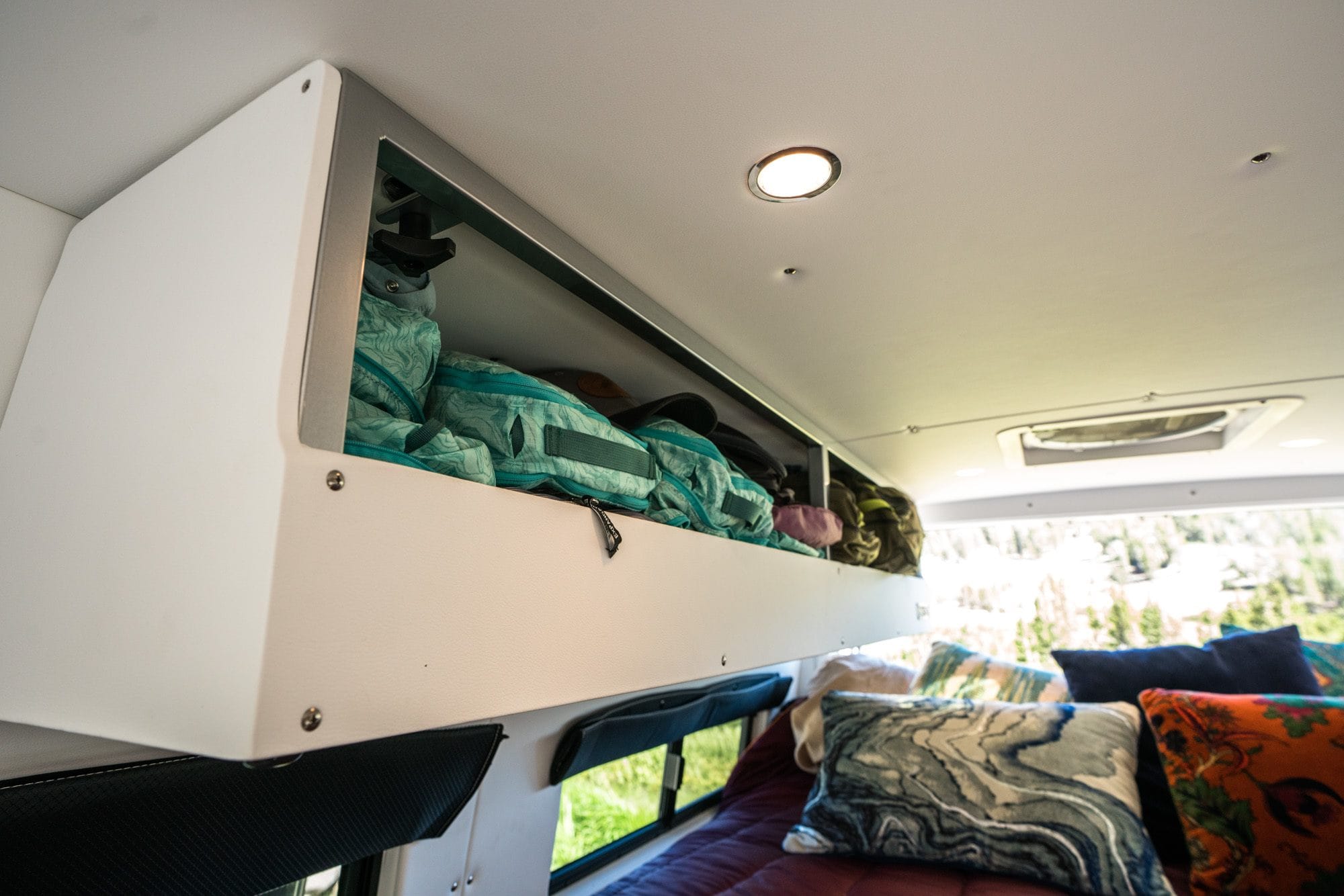 4) ExOfficio Modern Travel Bikini Briefs
Laundry in a van generally means washing stuff in the sink or spending precious time in a laundromat. And who wants that? Quick dry underwear made for athletic endeavors are a van life must-have. The problem with most of the underwear I found though is that you can see your underwear lines when you wear them with leggings, which is a HUGE pet peeve of mine. These ExOfficio Modern Travel Bikini Briefs are a new cut that do a better job at hiding lines than other outdoor underwear I've tried. And they are even a little sexy. The only thing is they run small (not sexy). I'm normally a medium (size 8-10), and in these I have to size up.
5) No Rinse Bathing Wipes
No shower, no problem. I had an indoor shower in my last Sprinter Van, but I found I rarely used it…so I scrapped the indoor shower in my new van. At least once or twice a week, we find ourselves at a campground with hot showers and swimming in lakes and rivers in between keeps the dirt at bay. These No Rinse Bathing Wipes are also a good van life essential to have around. They are gentle on your skin while wiping away the dirt and grime, making you feel just fresh enough when you've gone a few days without a shower.
6) Dr. Bronner's Mild Liquid Soap
Did you know you can use Dr. Bronner's for dishes? Normal dish soap contains a lot of nasty chemicals that can harm plants and animals where you are camping. We recently starting using Dr. Bronner's Mild Liquid Soap for our dishes and found that it cleans just as well as Dawn. And having body soap that doubles as dish soap means you only have to carry one soap bottle in the van.
Vanlife Gear Kitchen Essentials
7) Camp Chef Everest 2-Burner Stove
In my new Sprinter Van, I wanted to do a majority of cooking outside. After all, being outside is the purpose of van life. So rather than install a permanent gas stove in the van that would force me indoors, I opted for a portable camp stove. The Camp Chef Everest 2-burner stove has awesome fine-tune temp control, is quick to set up and even easier to clean.
8) GSI Outdoors Infinity Plates & Bowls
Lightweight, non-metal/glass, and easy to clean are the features you are looking for the dishes in your van. And why non-metal or glass? Glass breaks and metal makes noise. These BPA-free GSI outdoor infinity plates and bowls can be bought individually and nest in one another so they don't take up too much room in your cabinets. The only thing is they aren't dishwasher safe, but for vanlife that shouldn't be a problem.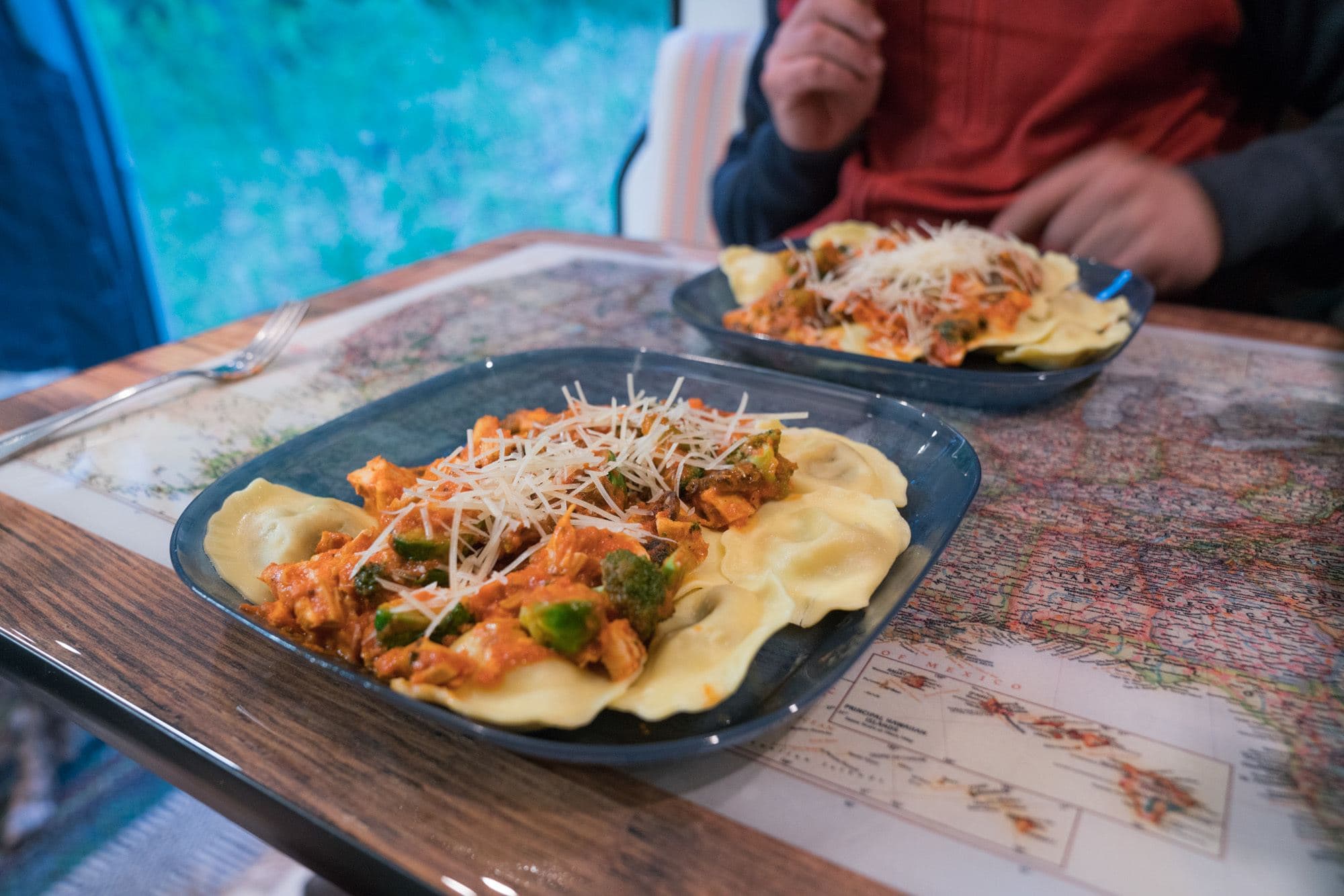 9) Klean Kanteen Wide Vacuum Mug with Cafe Cap
An insulated vacuum mug is a must-have van life essential for those early mornings on the road. It will keep your coffee hot for hours, prevent it from spilling in your dash, and save you from using disposable cups when getting your morning fix at the gas station.
See more of the van life kitchen essentials I love
The Best Vanlife Gear Must-Haves for Kicking Back & Hanging Out
10) REI Co-op Camp X Chair
Camp chairs are a necessity for vanlife. In my last Sprinter Van, I used the Big Agnes Helinox Swivel chairs. I still love these chairs (they are so compact), but in my new van, I wanted something that would be even easier to set up and take down. These inexpensive REI Coop Camp X Chairs are accordion style so you just pull the corners apart and voila! One arm has a cup holder, while the other has a spot for your phone, keys, and other small items. The mesh material also dries really quickly, so if you leave the chairs out in a rainstorm overnight, it's no big deal.
11) GCI Outdoor Compact Camp Table
If you planning on doing a bunch of off-grid camping, then most of the campsites you stay at won't have a picnic table. This GCI Outdoor Compact Camp Table is a cinch to set up, breaks down flat, and give you a place to put some appetizers and a glass of wine will you enjoy the sunset.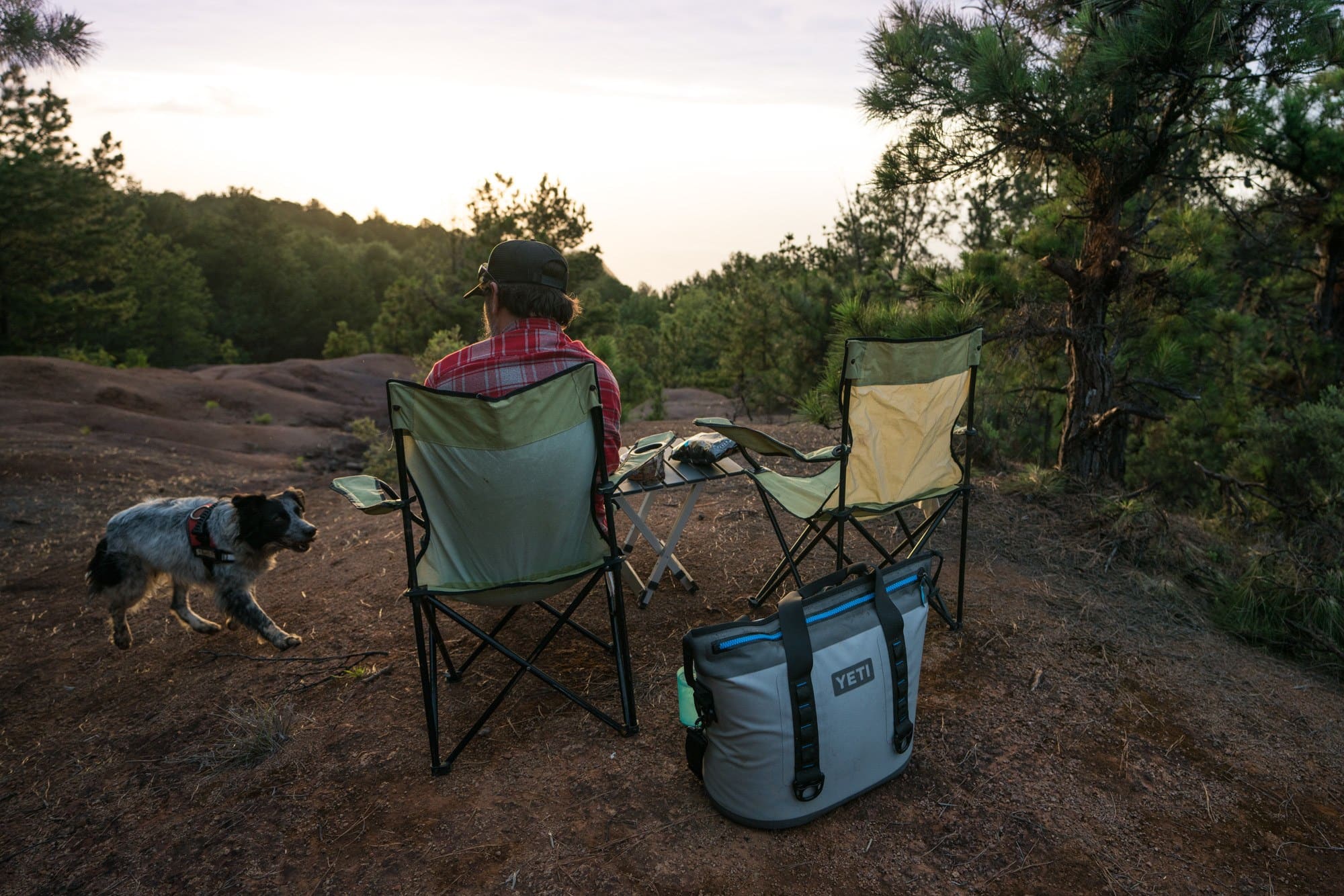 12) Spikeball
Having a fun game or two to play at camp is an easy way to make friends with other vanlifers. Spikeball is one of our favorite 4-person games that is a mix of volleyball and foursquare, and it packs down into a small backpack.
The Best Vanlife Gear For Being Prepared for Life on the Road
13) Garmin InReach
One of the best parts of van life is putting your cell phone away and going to areas far away from service. The only issue with that is what if you have an emergency – whether that be a mechanical breakdown or a medical emergency – and your cell phone doesn't work? My boyfriend Ryan is a Type 1 Diabetic, so being prepared when we are in the van or hiking is always something that is on my mind. One of our most important pieces of van life gear is a Garmin inReach. It allows us to send custom text messages no matter where we are or to call for medical help if we are in a serious situation. It also has a GPS and some helpful navigation tools for when you navigation apps on your phone won't load.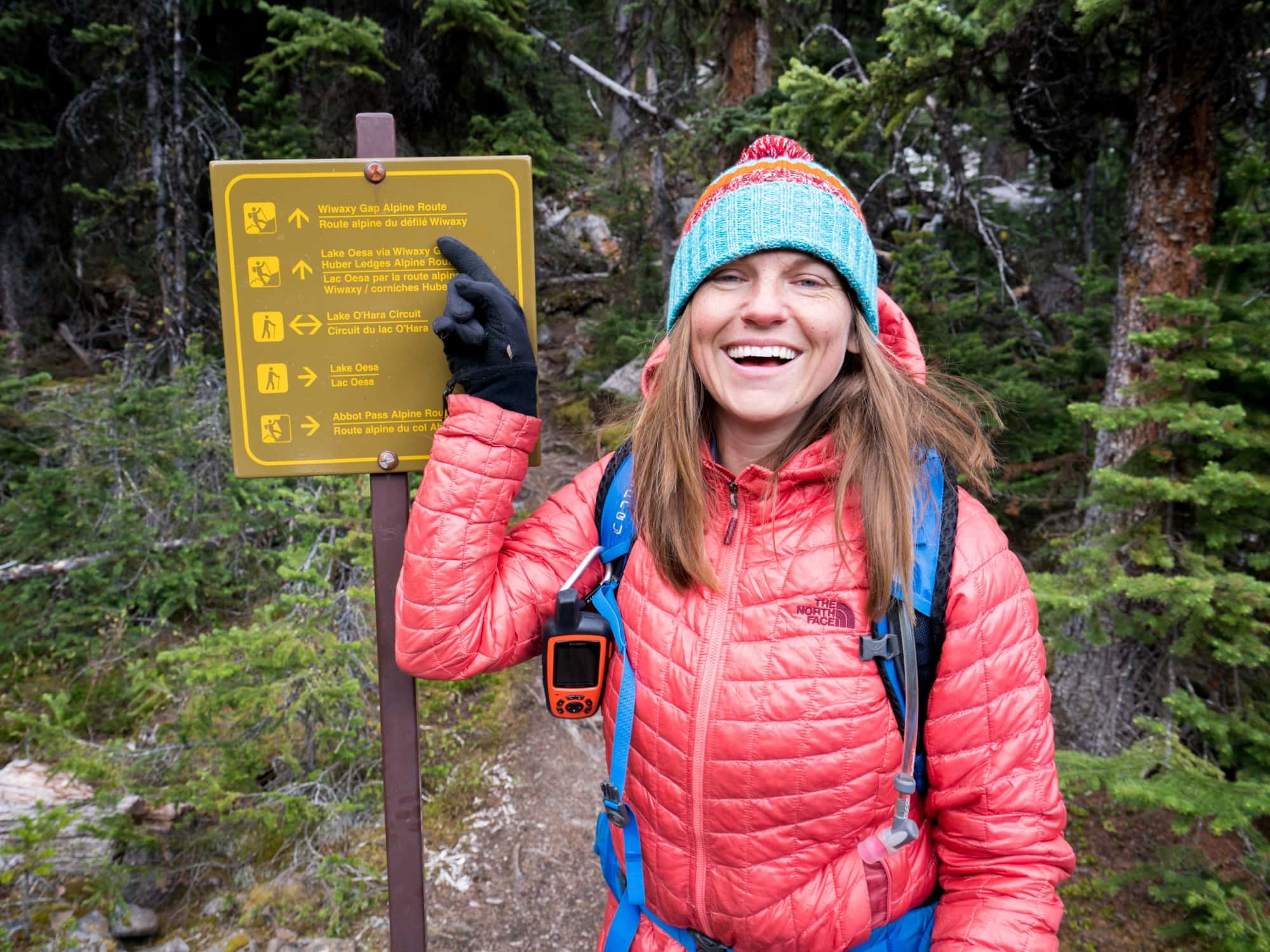 14) Adventure Medical Kits Smart Travel First-Aid Kit
Along with the Garmin InReach, having a basic first aid kit in your van is important. This Adventure Medical Kits Smart Travel First-Aid Kit is a good place to start with basic meds, blister treatments, and wound dressings. It also comes with the pocket guide: "A Comprehensive Guide to Wilderness and Travel Medicine." While this kit probably won't save your life, it could get you through a pinch until you drive your van back to civilization. In addition, it's always a good idea to supplement your store-bought first aid kit with anything that you might need for your personal medical needs.
15) GSI Outdoors Cathole Sanitation Trowel
Tools for Leaving No Trace when you go to the bathroom are essential pieces of van life gear. Unlike my last Sprinter Van, my new van doesn't have a toilet that is permanently set up. This begs the question, where do you go #2? I'm going to write an entire post about van life and going to the bathroom, but if you don't have a toilet, it means at some point, you'll end up going outside. In order to make sure you are following Leave No Trace, you need to dig a cathole using a trowel (a shovel) and pack out any used toilet paper. I like this GSI Outdoors Cathole Sanitation Trowel because 1) it's cheap! And 2) it's very light, so it also makes a good trowel for backpacking.
16) Cleanwaste Go Anywhere Portable Toilet
If you're the kind of vanlifers that like to set up shop for a few days in one location, this Cleanwaste Go Anywhere Portable Toilet is an alternative solution for going #2. It's a foldable toilet that you can set up behind a bush, and it uses a simple wag-bag system to collect waste. Once you're back on the road, you can simply throw the bags into the trash, rather than having to look for a dump to drain your portable toilet. By carrying out your waste, you can lower your impact on high use areas. The wag bags are kind of expensive, so it's not an everyday solution….but we carry this in our van as a just in case.
17) National Geographic Road Atlas Adventure Edition
GoogleMaps tells you the quickest way to your destination, but if you're looking to take the scenic route, it's nice to have a paper atlas in your van. This National Geographic Road Atlas shows side roads, public lands, camping, and other sites of interest to vanlifers and is another nice tool to have when you are out of cell service.
Any van lifers out there? What are your favorite vanlife gear essentials? Or what questions do you have? Leave a comment below and let us know!
**This post contains affiliate links. That means if you click on a product and purchase something, I get a small commission at no added cost to you. I only link to products that I stand behind, and every purchase helps keep this site going. Thank you for your support!