4-Day Sedona Itinerary for Adventure Travelers
Plan your next Sedona hiking trip with this 4-day Sedona itinerary!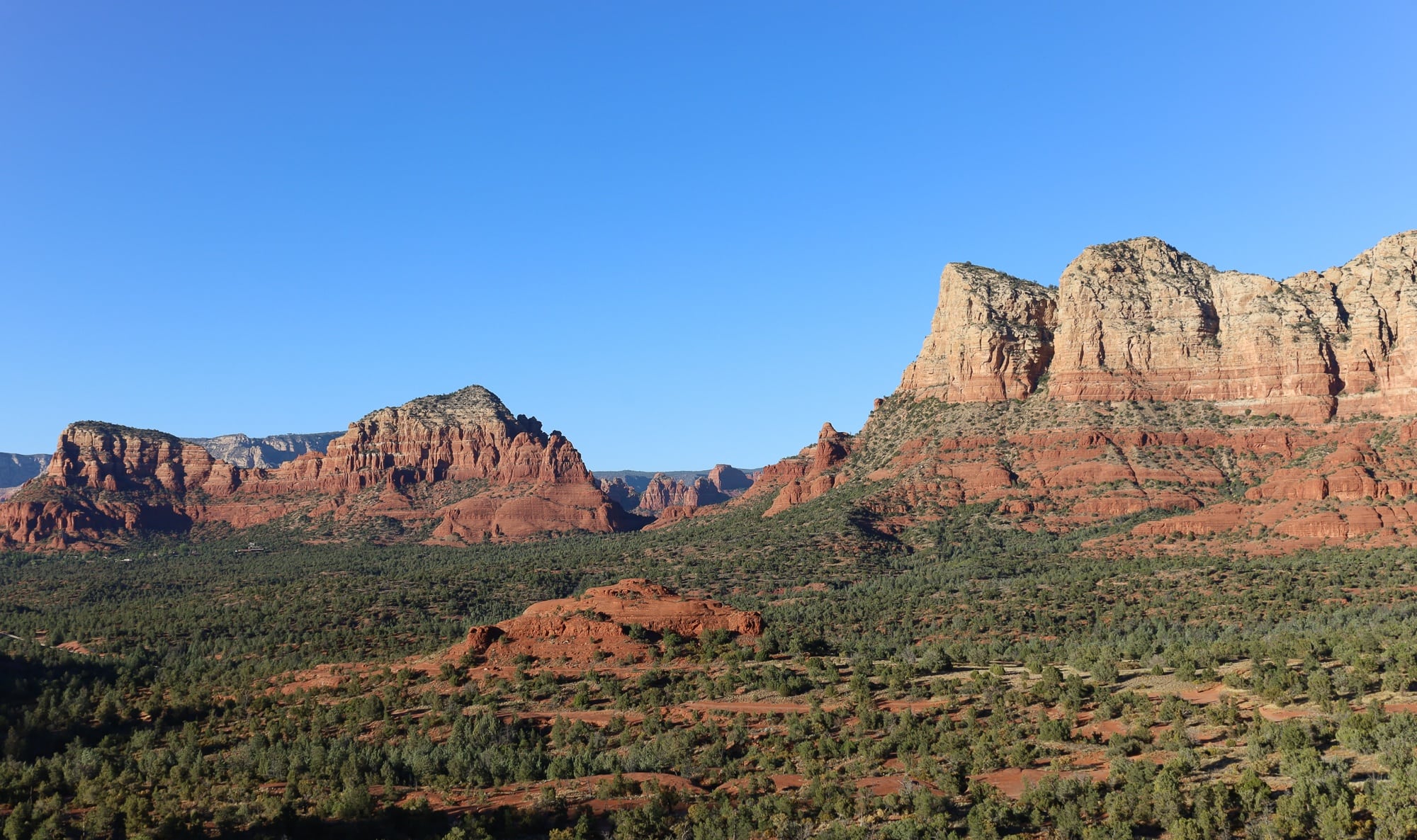 My first visit to Sedona was a quick stopover on the way home from a trip to the Grand Canyon. As we drove in on scenic highway 89, we were blown away by the immense beauty all around. We marveled at the views, squeezed in a quick evening hike before spending the night dispersed camping, and then continued on down the road – just enough for a taste that has had me wanting to go back to enjoy a full Sedona itinerary ever since.
I recently returned to Sedona with a girlfriend, this time for four days, and we had an absolute blast. When planning this trip, I wanted to maximize our fun and adventure knowing we only had four days to explore. So I did lots of research and got recommendations from as many people as I could to nail down our Sedona itinerary (a big thank you to the Bearfoot Theory community members that shared their Sedona travel tips!).
Our trip was filled with hiking, relaxing, and dining at some of the best restaurants in Sedona with views that made you want to linger as long as possible – it was the perfect mix of rugged meets luxurious.
However you do your Sedona trip, whether you're camping, traveling in a van, or staying in a hotel or Airbnb, this four day Sedona itinerary will show you some of the best of Sedona in a short amount of time.
Here is our 4-day Sedona itinerary for adventure travelers including some of the best hikes, places to eat, shops, and more.
Important Reminder: As it goes in all of the destinations we share, please practice good trail etiquette and remember to Leave No Trace. This means packing out all of your garbage (including toilet paper) and following the established rules. In the desert, this also means learning how to protect cryptobiotic soil and how it has a huge impact on our ecosystems.
4-Day Sedona Itinerary
Our main goals for this trip were to hike as much as possible, try out some of Sedona's best restaurants, and check out a little of the town as we had time (crystal shops anyone?), so this itinerary reflects all of that.
You can certainly add, subtract, swap hikes or switch the order you do these things in, but this itinerary will help you cover a little bit of everything during your Sedona trip.
Day 1: Arrive in Sedona and Hike Bell Rock & Courthouse Butte Loop
When you get into Sedona, head to the Bell Rock trailhead to hike the Bell Rock and Courthouse Butte Loop (3.9-mile loop plus a little more for the climb up Bell Rock) for some classic Sedona scenery. We started this hike around 3:30 pm during the peak heat of a 92-degree day in the middle of October – it was pretty darn hot but there was a nice breeze and we were prepared with lots of sun and heat protection. Surprisingly, there was also quite a bit of late afternoon shade on the trail as well.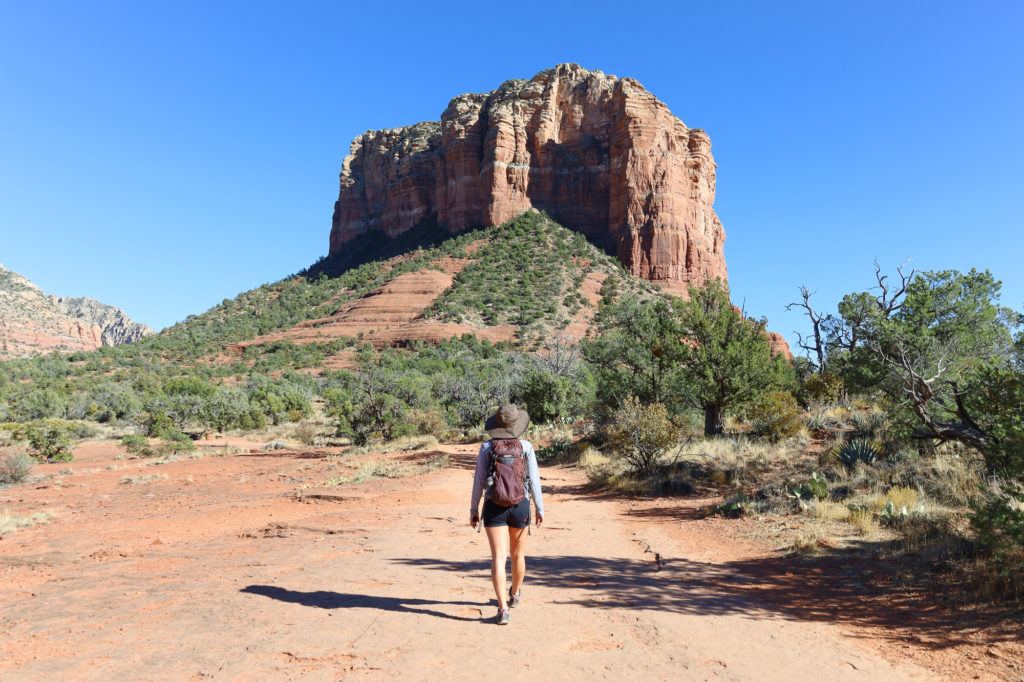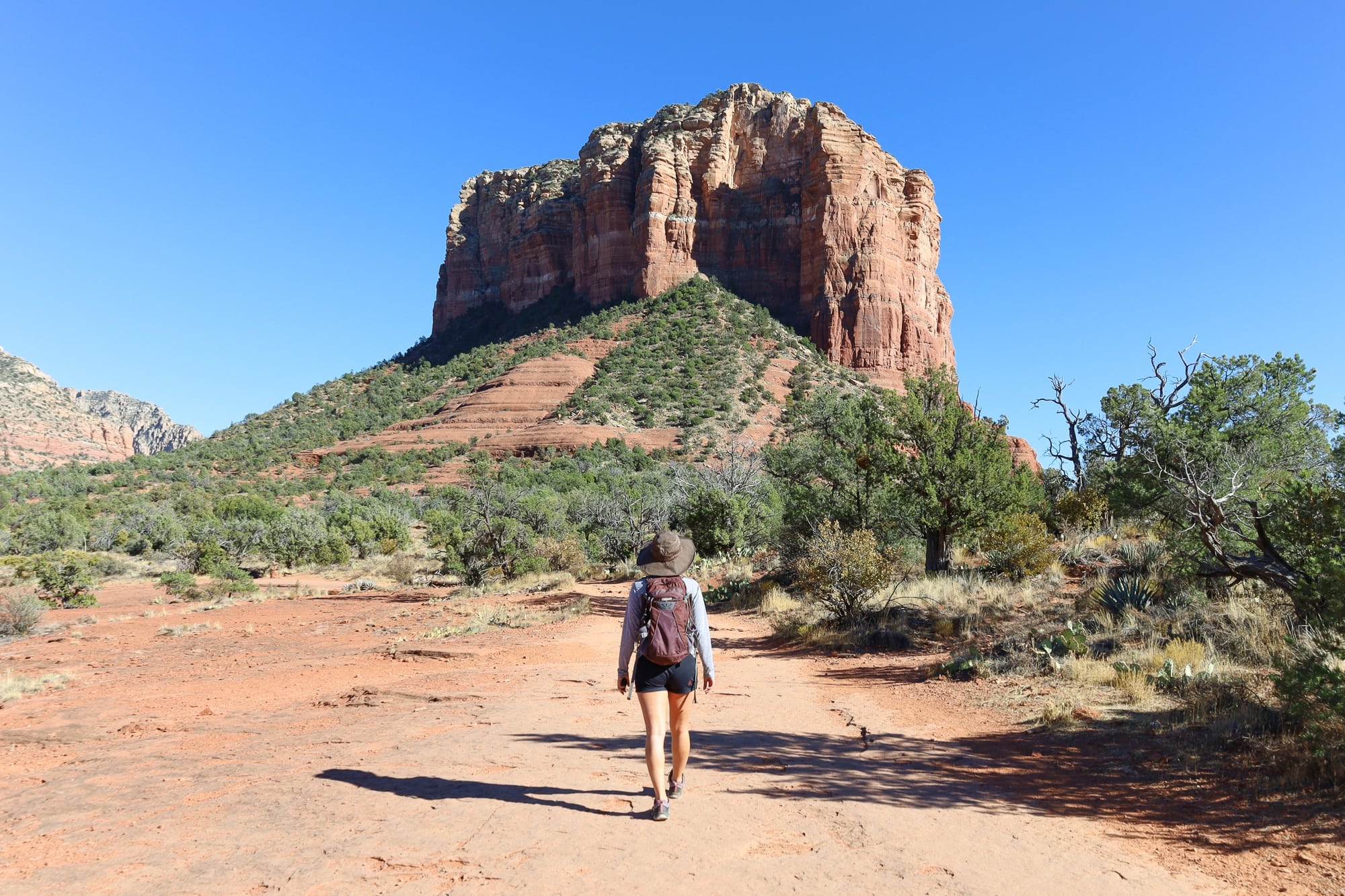 We hiked the loop clockwise, starting by going around Courthouse Butte which provided some shade, and then looped around to Bell Rock at the end. There was hardly anyone on the trail (likely because of said heat) so we enjoyed the hike in near solitude.
By the time we got to Bell Rock and started the climb up, the sun was starting to set and the views over Sedona were absolutely gorgeous. We noticed a lot more hikers starting to arrive at this point for sunset. When we got back to the trailhead parking lot, it was full and there were cars waiting for spots to open up so we were glad we started the hike early before the prime sunset hour.
After your hike, get cleaned up and excited for dinner at Elote which I guarantee will be some of the most delicious food you've ever had!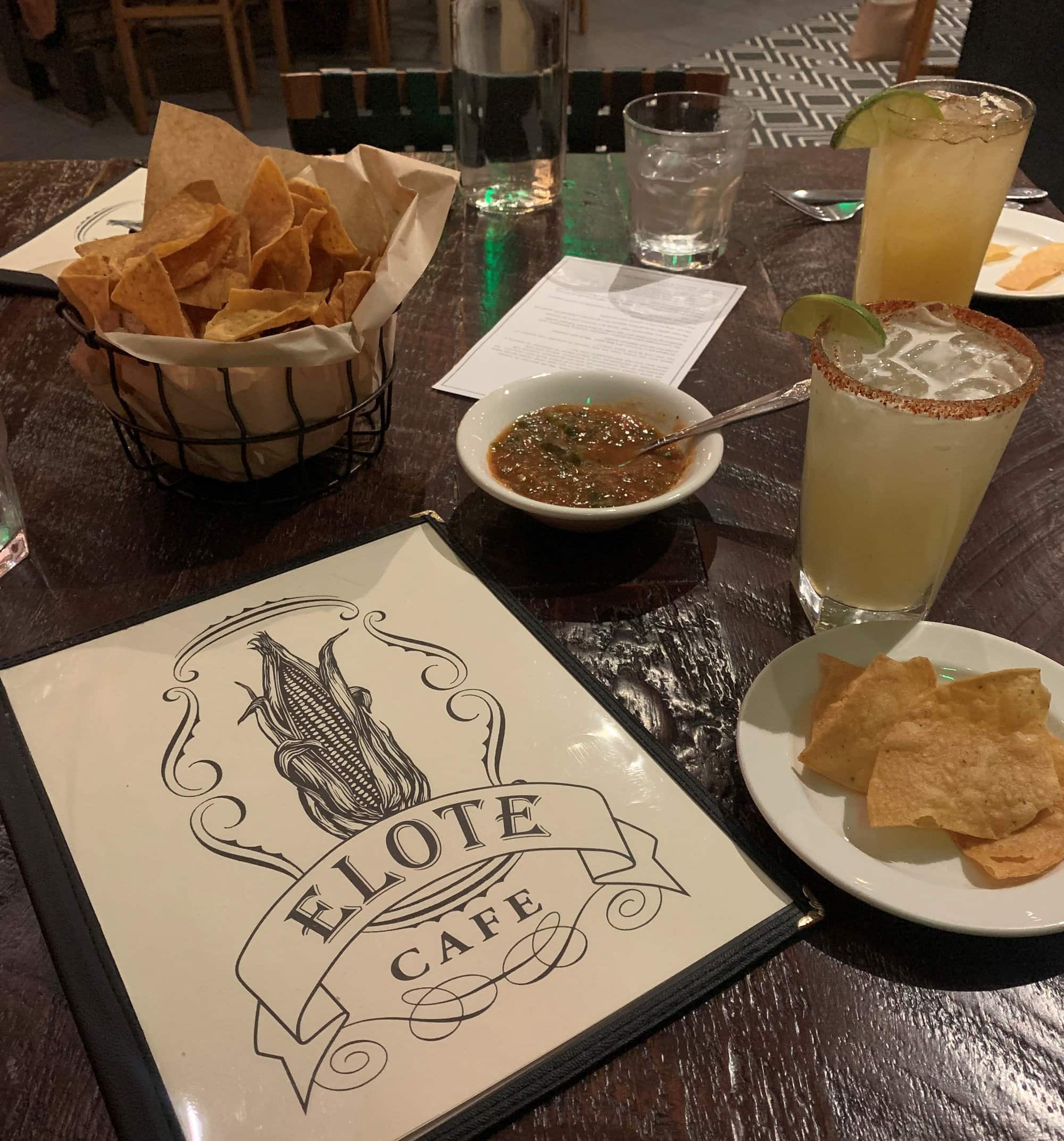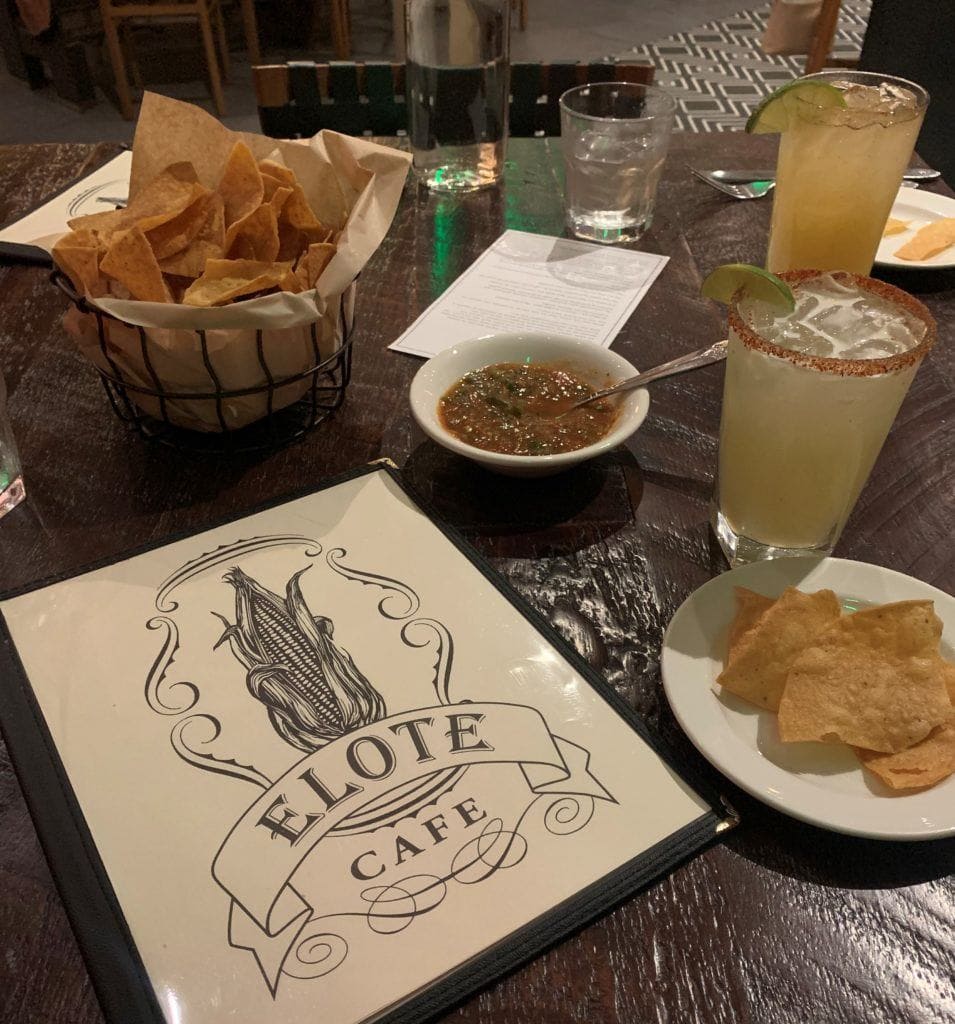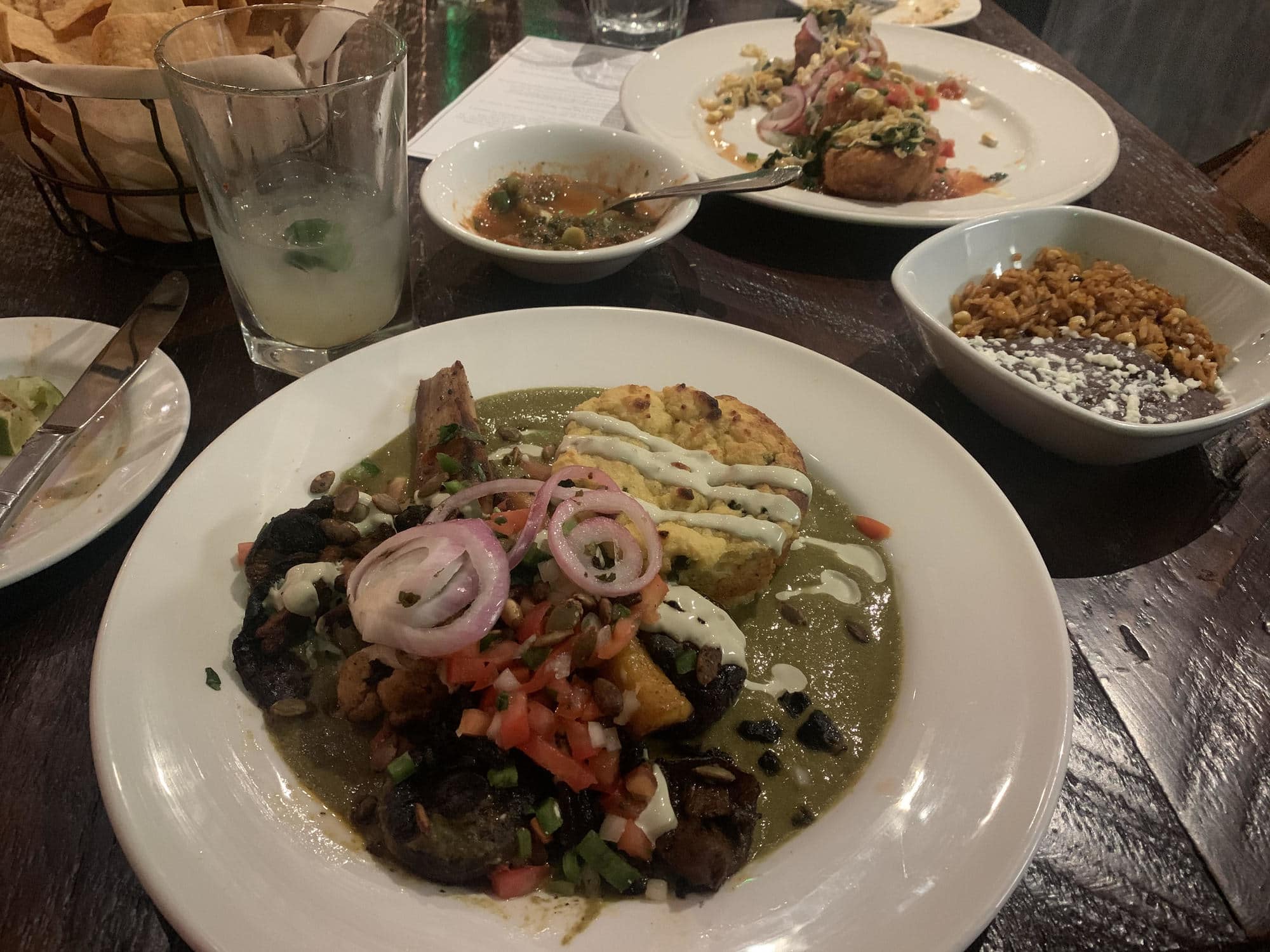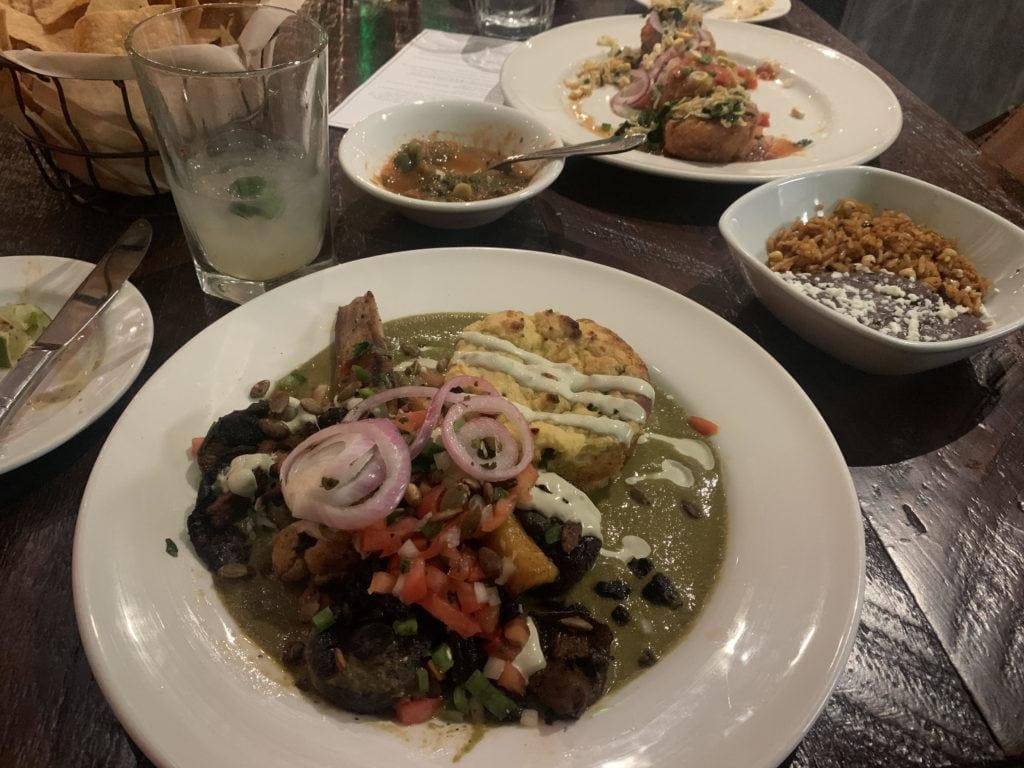 Insider tip: Elote is currently reservation-only due to COVID and often books up a month in advance so make your reservation online early. We were lucky enough to score a reservation a week prior to our trip. During normal times, however, Elote doesn't take reservations at all, so arrive early to get your name on the list.
Day 2: Hike The West Fork Trail
In my opinion, the West Fork Trail is a must-do hike when in Sedona and it's beautiful year-round. The family-friendly trail runs along Oak Creek's meandering west fork in a canyon full of trees that were bursting with fall colors when we were there in October. It's one of the most popular trails in Sedona so go early and don't expect solitude.
It's 3.6 miles each way and it's flat but sandy so the going is slow and there are numerous river crossings. The river was very shallow when we hiked this trail in October so we were able to easily navigate our way across on rocks or walk across in our waterproof boots (the water only came up an inch or two).
It took us 3.5 hours to hike in because we kept stopping to take photos, marvel at the colors of the leaves, and take in the views of the high canyon walls and all the picturesque spots along the river. It took us 2 hours to hike out when walking at a normal pace without stopping at every turn.
Bring a lunch with you to enjoy at a scenic spot along the river on the hike or grab lunch at Indian Gardens on the way back into town. It was closed during our visit, unfortunately, but it's supposed to be a wonderful little cafe and market.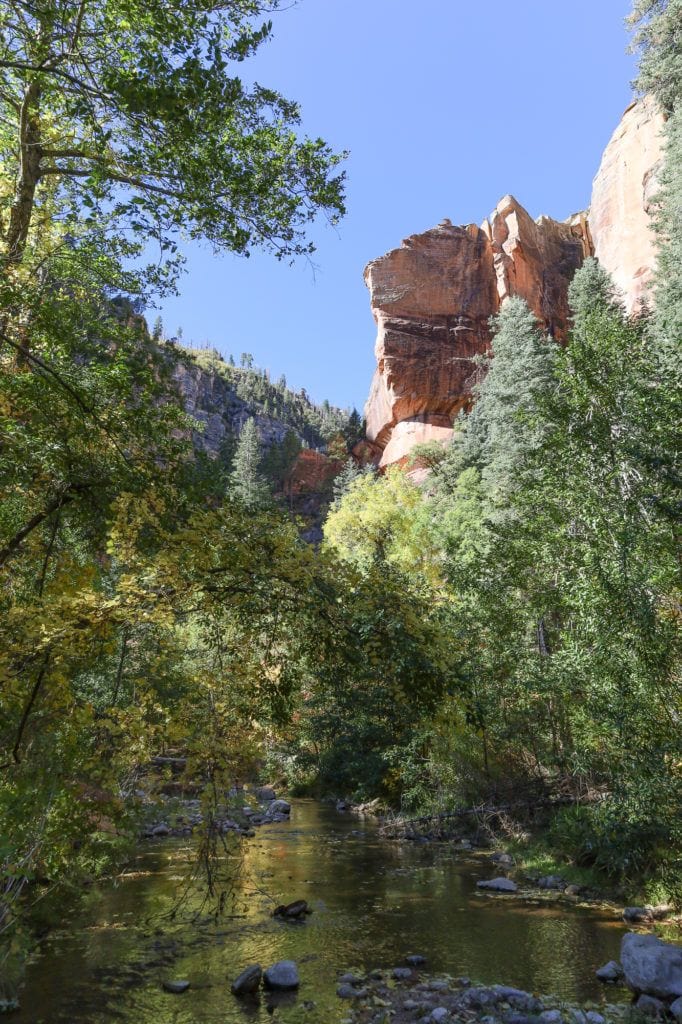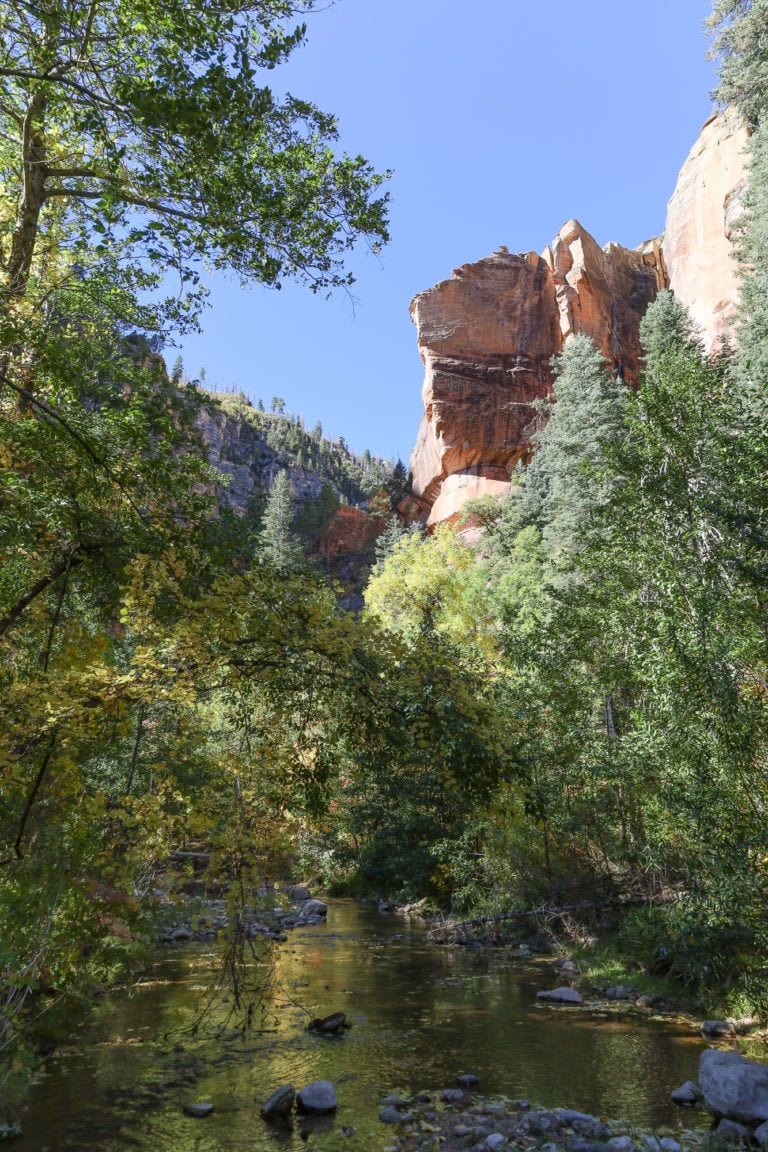 Depending on when you finish your hike, take some time to rest or check out some of the cute shops in town (Cocopah and Crystal Magic were favorites), then head to an early dinner at Hideaway House so you can enjoy the views before the sun goes down.
Insider tip: Hideaway House has an online waitlist. Get on it before you plan on heading that way as wait times are usually anywhere from 45 minutes to 2 hours.
Day 3: Hike Bear Mountain, Huckaby, or Boynton Canyon Trail
If you're looking for a challenge, get up before sunrise and hike the Bear Mountain Trail. This is a difficult 4.3 mile out-and-back trail that takes you up to a peak with amazing views.
If you want a more moderate hike, check out the Huckaby Trail (5.7-mile out-and-back) where you'll find some shade, some nice views of town, and a swimming hole.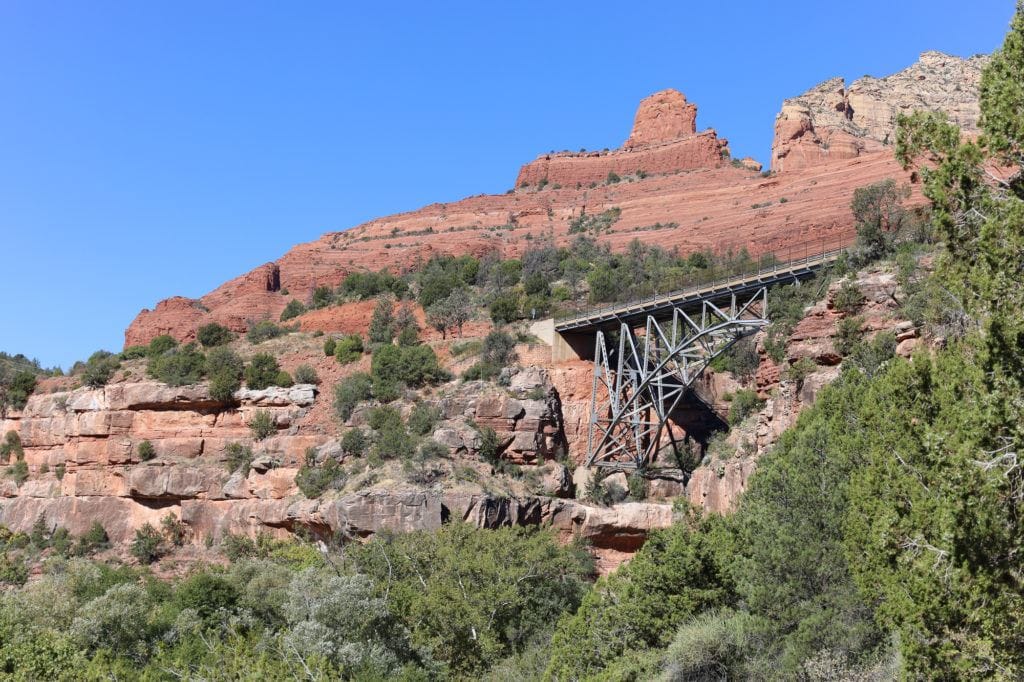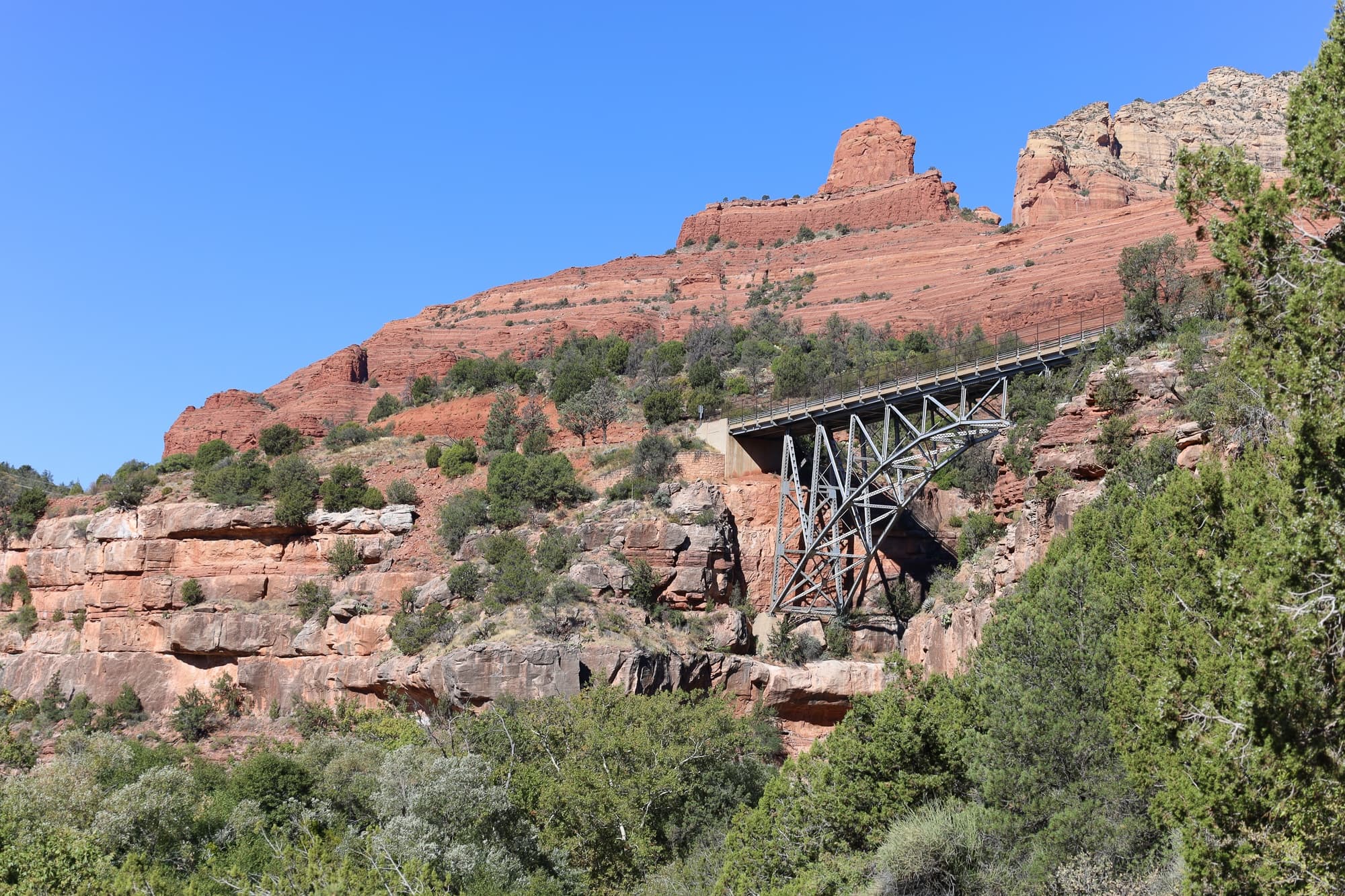 The Boynton Canyon Trail (6.1 miles out and back) is also a popular trail with beautiful views and is supposedly home to an energy vortex. Whichever trail you choose, bring a lunch or a good amount of snacks to enjoy on your hike as these will likely take half a day.
After your hike, head to The Hudson for an early dinner so you can beat the crowds and enjoy the views. Whether on the outside patio or in the dining room with enormous windows, the views are incredible and will make you want to stay for hours. The food is delicious too and the service was superb.
Day 4: Hike Cathedral Rock for Sunrise
Cathedral Rock is a beautiful hike to do during sunrise or sunset. We opted for a sunrise hike on our last morning since we had a long drive home ahead of us and didn't want to do anything too major. We started around 7am as the sun was coming up, but I'd recommend starting even earlier for the real sunrise views from higher up. You can often see hot air balloons floating over town in the early morning hours too, which is another reason for an early start!
The Cathedral Rock trail is more of a climb than a hike. It's short (only 1.2 miles round trip), but it's strenuous because you're walking/climbing uphill almost the whole way. There are areas where you'll need to use your hands to climb, so if you're afraid of heights this might not be the trail for you – or alternatively – you can just hike up to the point where you're comfortable then sit down and enjoy the views.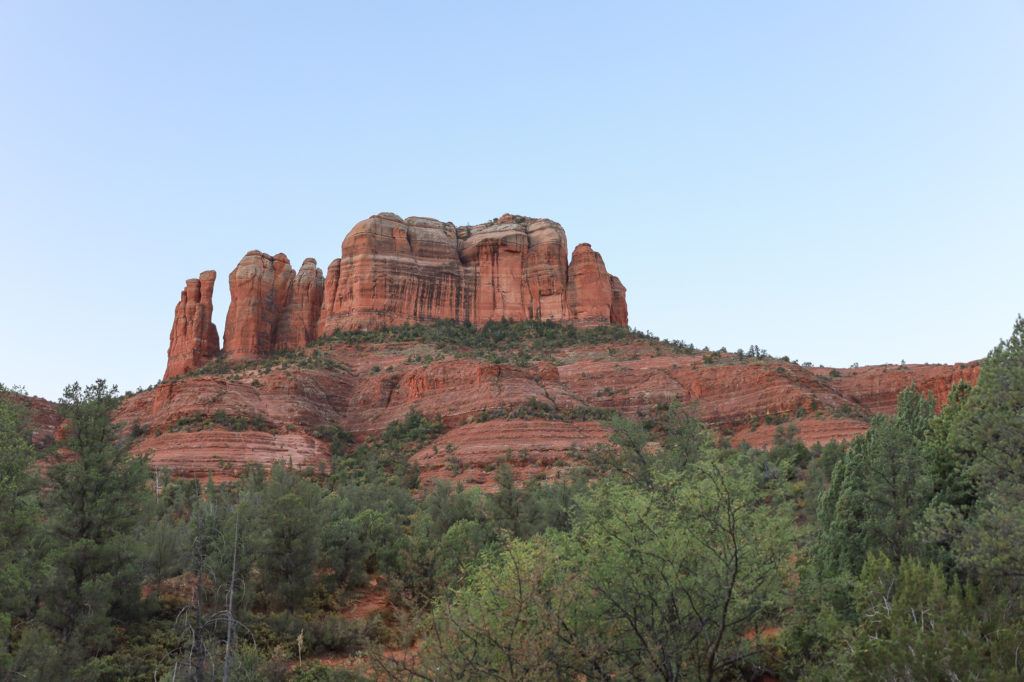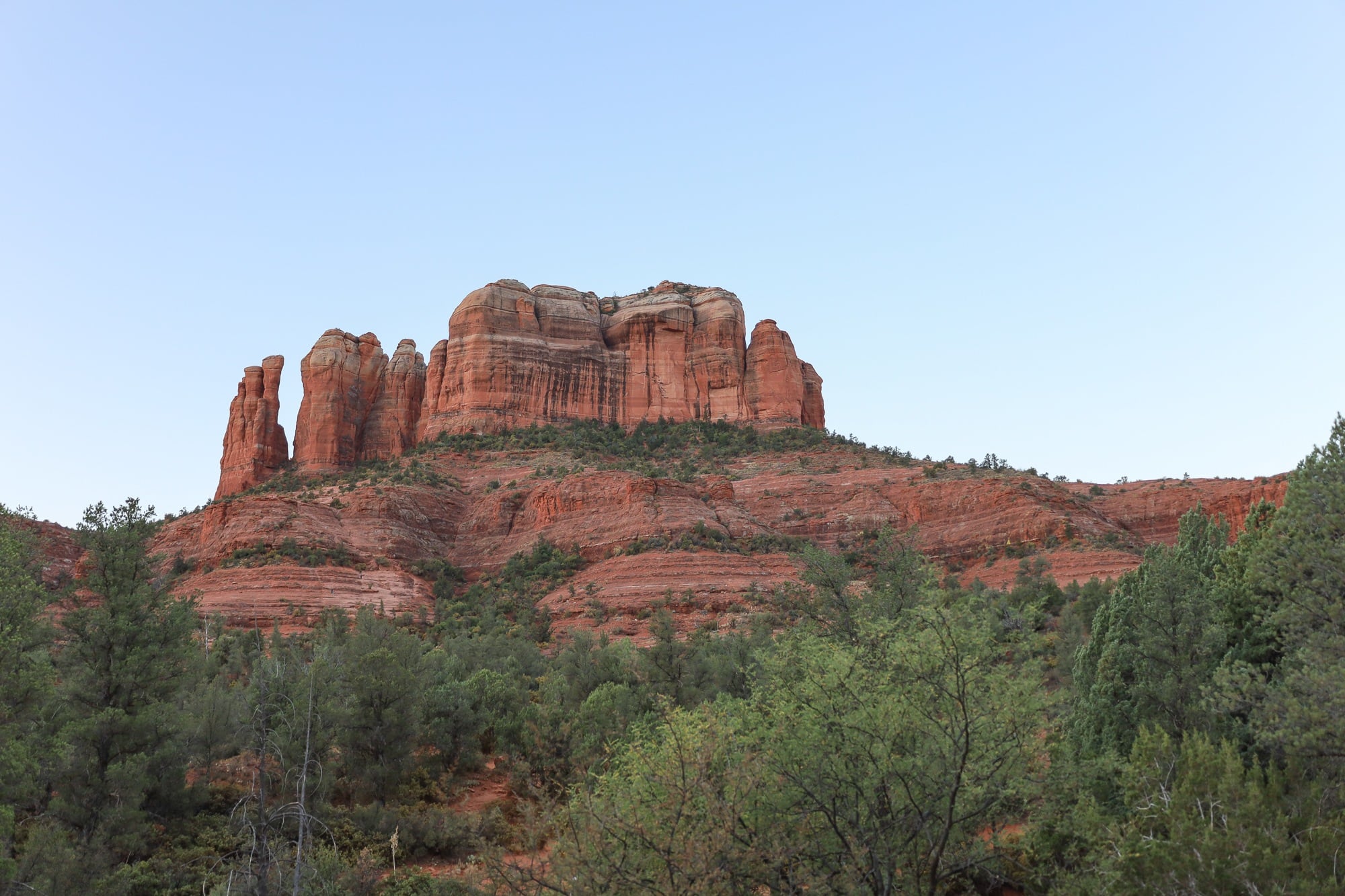 After your hike, grab a quick breakfast at Creekside Coffee, a little cafe across the parking lot from Hideaway House. They have nice coffees, teas, a small breakfast menu, and good vibes although the main event is the views. If you want a full sit-down breakfast, check out their restaurant Creekside American Bistro downstairs.
---
Additional Things to do in Sedona
If you want to stray from this Sedona itinerary or you find yourself with some additional time, here are a couple of additional recommendations for things to do in Sedona that we weren't able to fit into this trip this time around, but plan to check off when we return.
Catch the sunset at Sedona Airport scenic lookout for beautiful views out over town.
Make reservations for fine dining at Mariposa, an award-winning, female chef-owned, Latin inspired grill.
Visit the well preserved Sinagua cliff dwellings at Montezuma Castle National Monument on the way in or out of town from the south. It's around 40 minutes south of Sedona and is a worthwhile stop.
Drive the scenic Hwy 89A between Flagstaff & Sedona.
Visit the wineries in nearby Cornville and sample some of their Arizona wines
And there you have it, a 4-day Sedona itinerary for a fabulous Sedona trip! There are so many things to do in Sedona so even if you don't follow this itinerary exactly I hope that it helps you with your trip planning. Enjoy!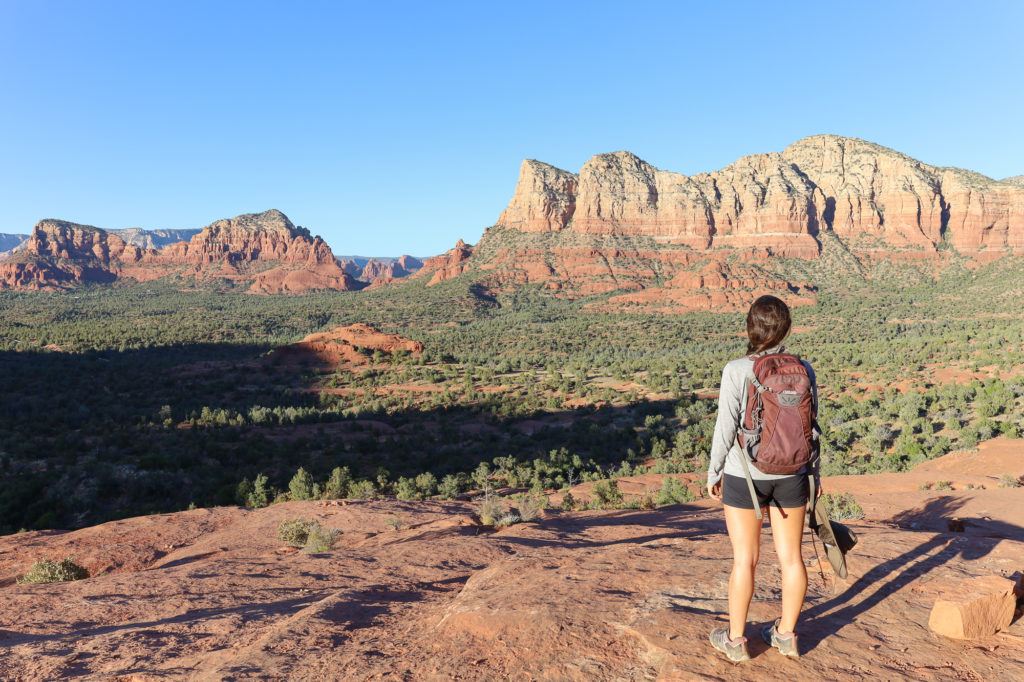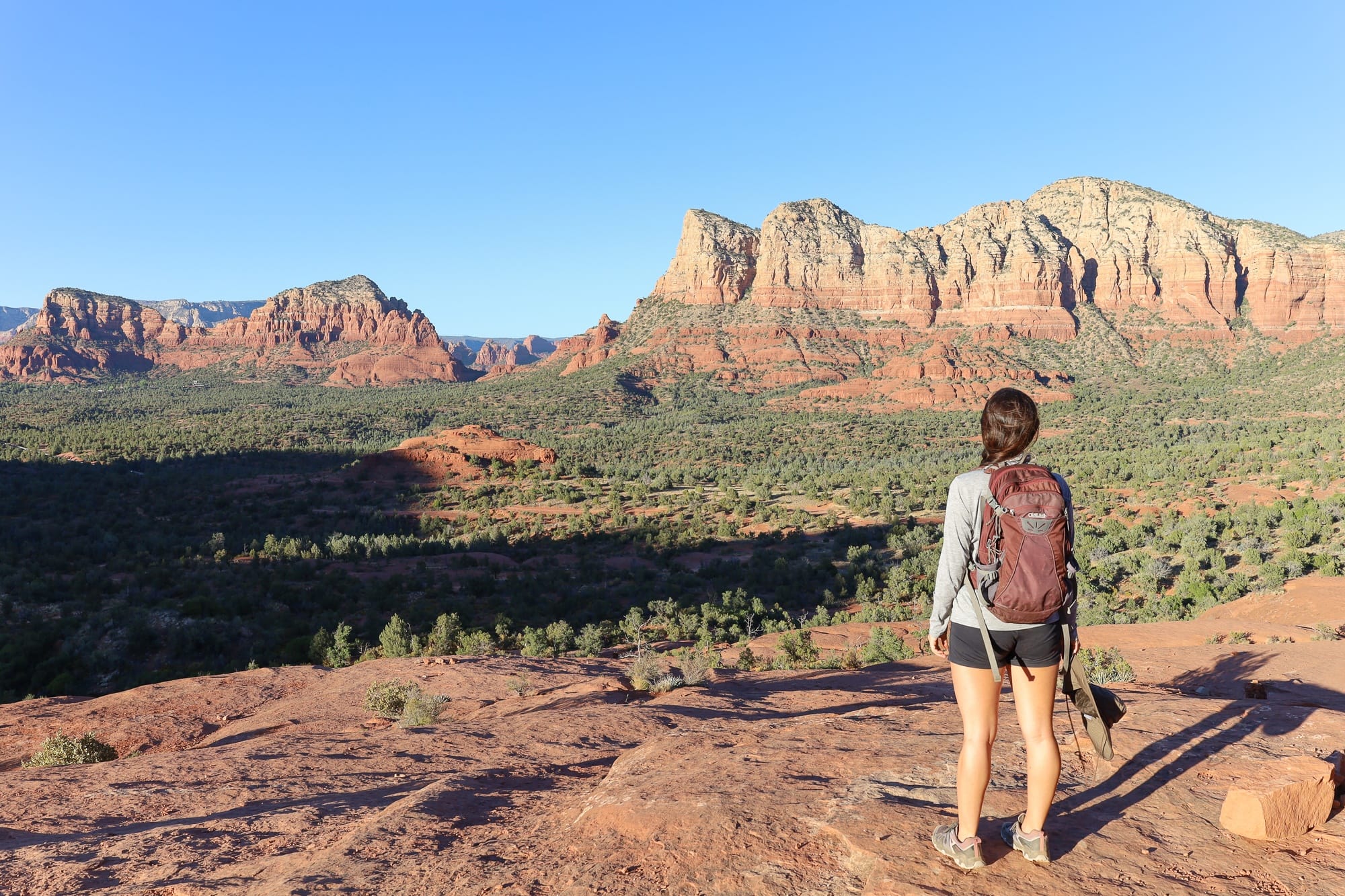 ---
Have you visited or planned a trip to Sedona? What are your favorite hikes, restaurants, and things to do? Leave us your tips and suggestions in the comments below!