ORU Kayak Review: The Go-Anywhere Foldable Kayak
I took an ORU Kayak with me on my solo road trip in New Zealand. Check out my ORU Kayak review & time lapse video to learn whether this portable, foldable kayak made the grade.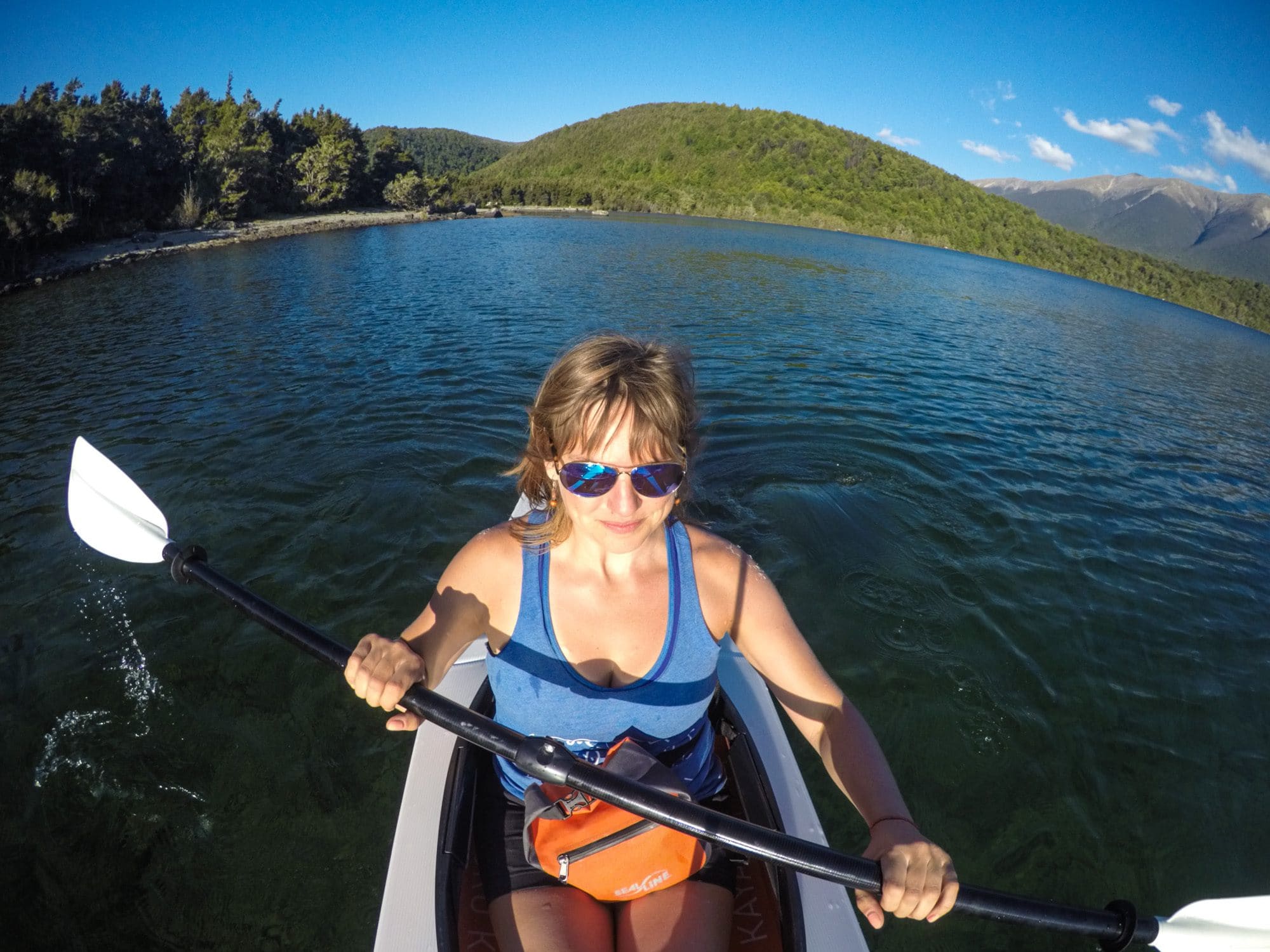 You're single. You live in a teeny apartment. You drive a Honda Civic.
Pretty much describes me…except I drive a Subaru (figures, right?)
Any one of these factors pretty much precludes you from owning a kayak. Storing and transporting them is a total pain, especially if you live alone in a small place and don't have someone to help you lift it onto your roof (assuming you even have a roof rack).
ORU Kayak, a San Francisco company, saw these obstacles and decided to create a solution for people like you and me who like to get out on the water without all the hassle.
I first saw ORU Kayak at Outdoor Retailer, a big outdoor trade show I went to last summer. I learned that ORU Kayaks fold down into a box and weigh in the ballpark of 25-30 pounds, and it only takes 10 minutes to put together – meaning you can store it in a closet, throw it in the backseat of your small car whenever you feel like going out for a paddle, and you don't need anyone to help you carry it.
In 2016, I went on a 3-month solo road tripping in New Zealand, and with all of the lakes there, it seemed like the perfect opportunity to play around with an ORU Kayak to see if it really was as easy and convenient as it sounded.
Check out my full ORU Kayak Review and time lapse video below to learn how this foldable, portable kayak works.
Important Reminder: As outdoor recreationists, it's our responsibility to know how to recreate responsibly on the water whether we're kayaking, paddleboarding, canoeing, rafting, or boating. Learn how to prevent the spread of aquatic invasive species with 3 easy steps that have a huge impact on our ecosystems. 
[separator style_type="icon" /]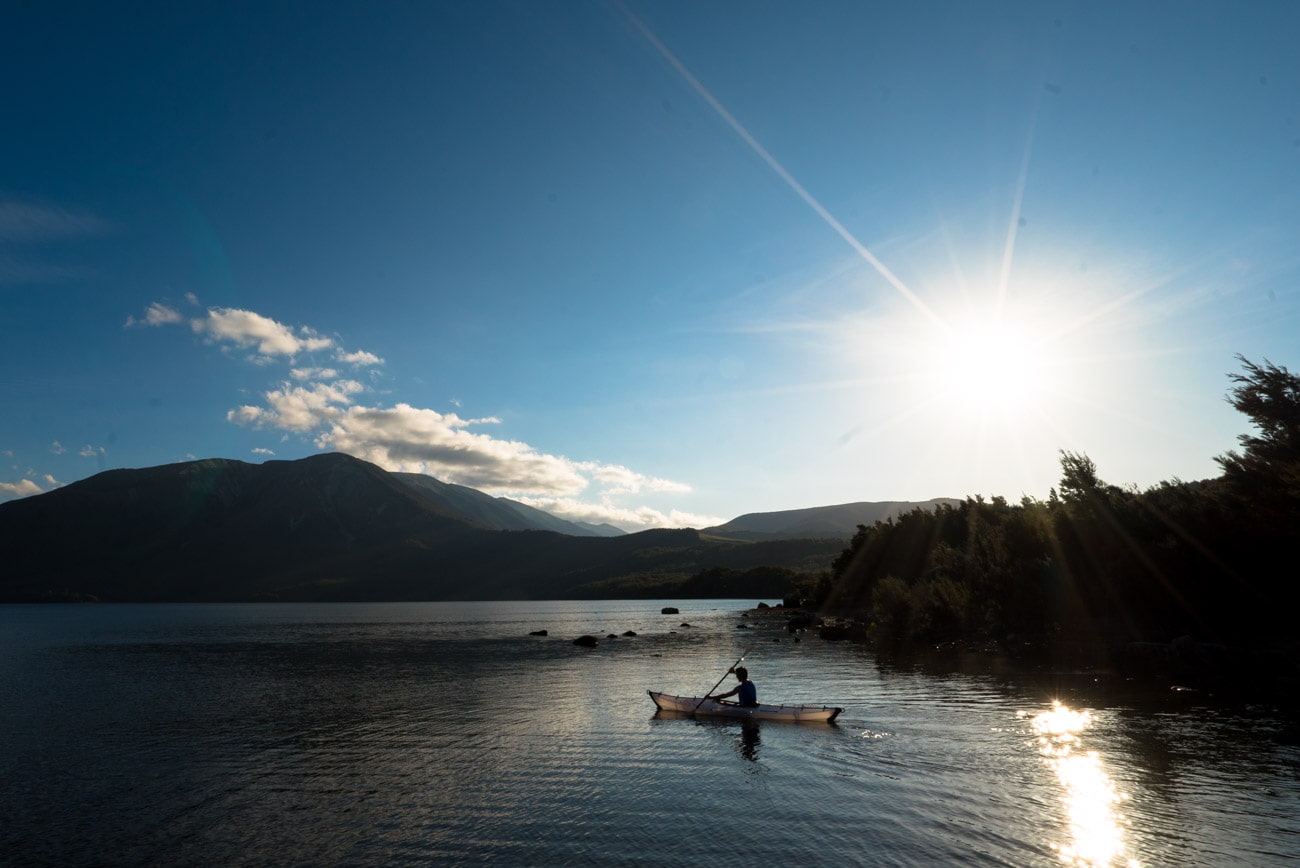 Putting together the ORU Kayak
The first time I unpackaged the ORU Kayak, I was a little overwhelmed. I turned to the interwebs and found the Assembly Guidelines page on ORU Kayak's website where there is an instructional video and a PDF document with step-by-step photos.
With some patience and a little more man-handling than I expected, I put it together the first time in about 30 minutes. For your first time, I'd suggest being somewhere with internet access (as opposed to a mountain lake where your phone doesn't work) and know you may struggle with it a bit.
That said, it gets easier each time you do it. Now after taking it out a couple dozen times, I'm able to go from the backpack to a fully assembled ORU Kayak in about 10 minutes. It also doesn't require any tools or a pump, so you don't have to worry about bringing anything extra along on your kayaking adventures.
For the nitty gritty details on how to assemble an ORU Kayak, I'll refer you to the detailed instructions on their website….but in a nutshell, the thing literally unfolds into one giant piece. Then you just connect it in the middle using the fasteners, pop in the floor board and seat, and you are ready to go.
Here's a quick one- minute timelapse I put together that shows me assembling my ORU Kayak here in Queenstown – from the van to the water.
[separator style_type="double|dotted" top_margin="20″ bottom_margin="40″]
— How the ORU Kayak Rides
I have Oru Kayak's Bay+ Model (now called the the Oru Bay ST Folding Kayak), a 12 foot boat and have found it to be efficient, smooth, and sturdy in calm conditions. Even with a bit of wind, it's pretty easy to paddle, but it's slightly more squirrely than a traditional boat so I (personally) wouldn't feel super confident taking the Bay out in rough conditions.
**ORU Kayak makes another model called the Coast that is longer and more suited for ocean-like conditions, but I haven't had a chance to try that model.
Despite being so lightweight, the boat seems very durable and can handle being dragged over rocks.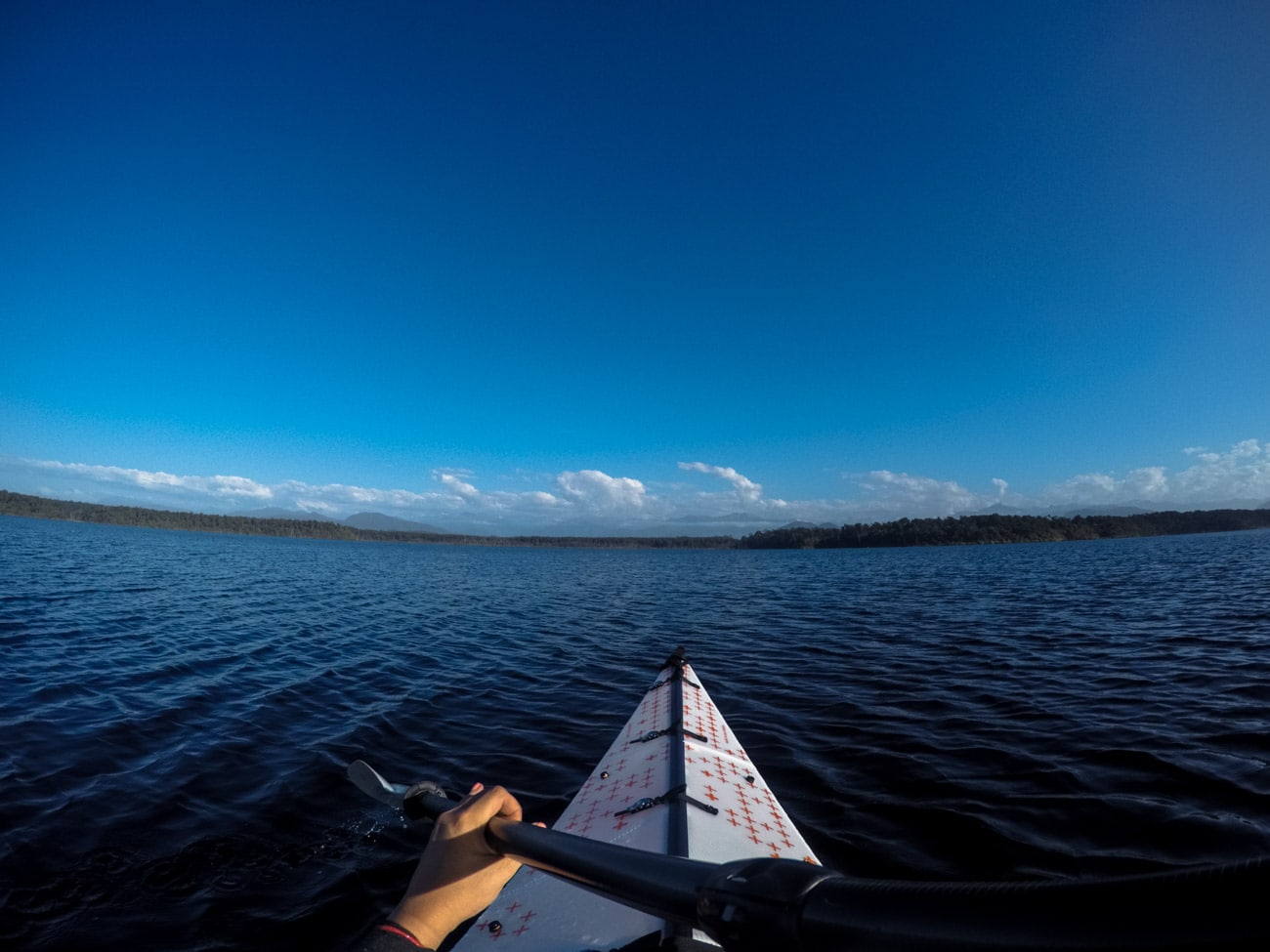 The kayak also has a skirt (purchased separately) that you can use to keep the inside of the boat (and yourself) dry in slight swells or in cold conditions.
The Bay+ Model has an adjustable backrest which provides ample support, and I can paddle comfortably without feeling lower back pain (an issue I've had in the past with other kayaks). Legroom is pretty standard for a kayak. Getting in and out takes a bit of finesse, but once you are in, you shouldn't feel too cramped. There is a bar that you rest your feet on that is adjustable based on how long your legs are. My friend who is 6 foot took it for a spin and didn't have any issues, but ORU does list 6'3" as the max height for someone in the Bay+ Model.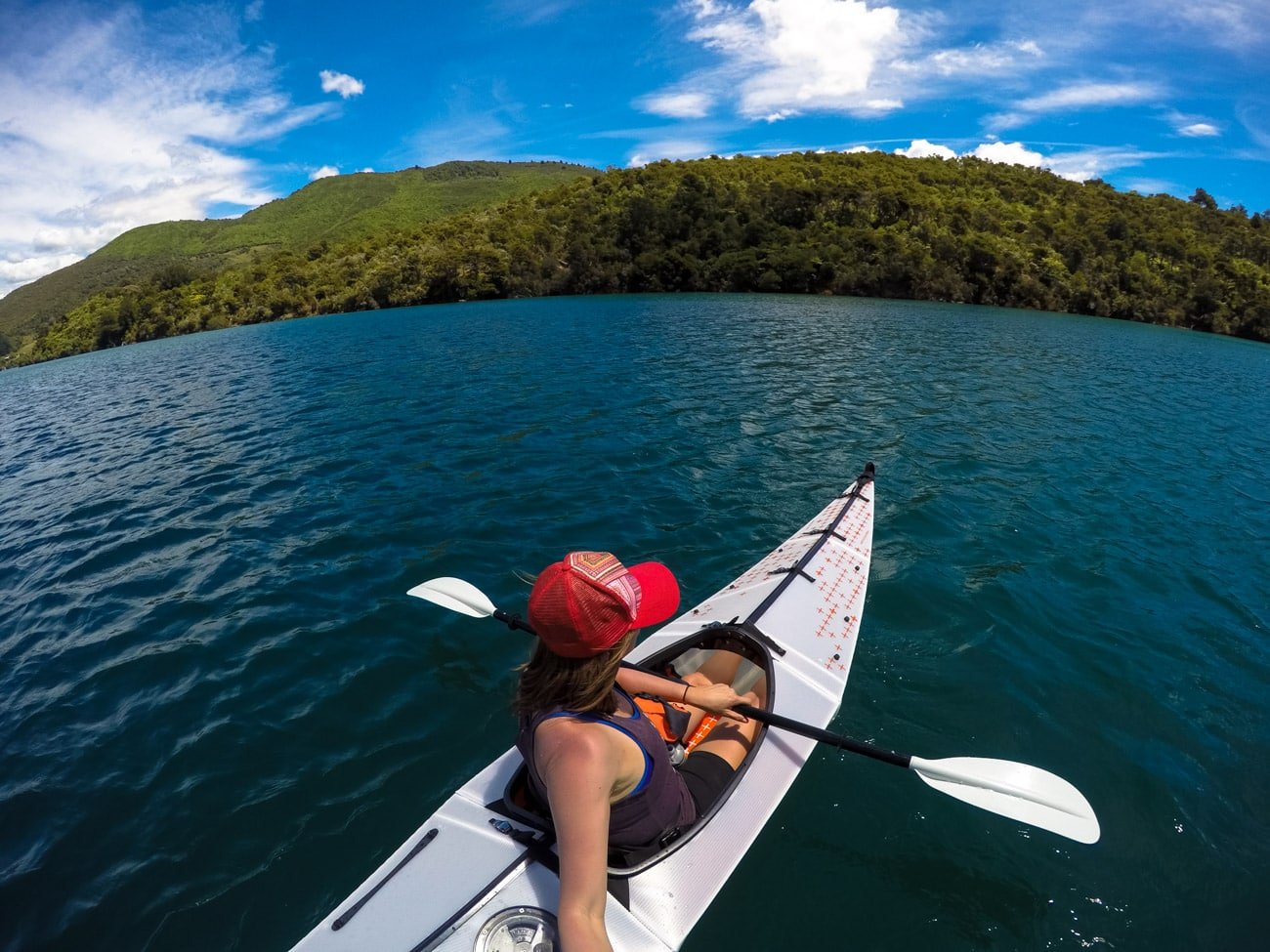 [separator style_type="double|dotted" top_margin="20″ bottom_margin="40″]
— Storage in the ORU Kayak
The Bay+ Model has enough storage for an overnighter if you are a light packer. While I haven't tried, I believe there is enough room to stow a couple of small dry bags in the bow and hull of the boat (you would place those in the kayak before fastening it together).
The boat also has some rubber straps that go across the top of the boat where you can attach small items, like a rain coat, water bottle, or anything else that you want quick access to.
[separator style_type="double|dotted" top_margin="20″ bottom_margin="40″]
— Storing and Transporting an ORU Kayak
The ORU folds down into a box (no additional container needed) and the floor board serves as the lid. The seat and other loose parts fit right in the box. Then it comes with a padded shoulder strap that you can use to carry it. If all you are doing is carrying the boat from your house to your car and then driving right up to your launch point, it's perfect.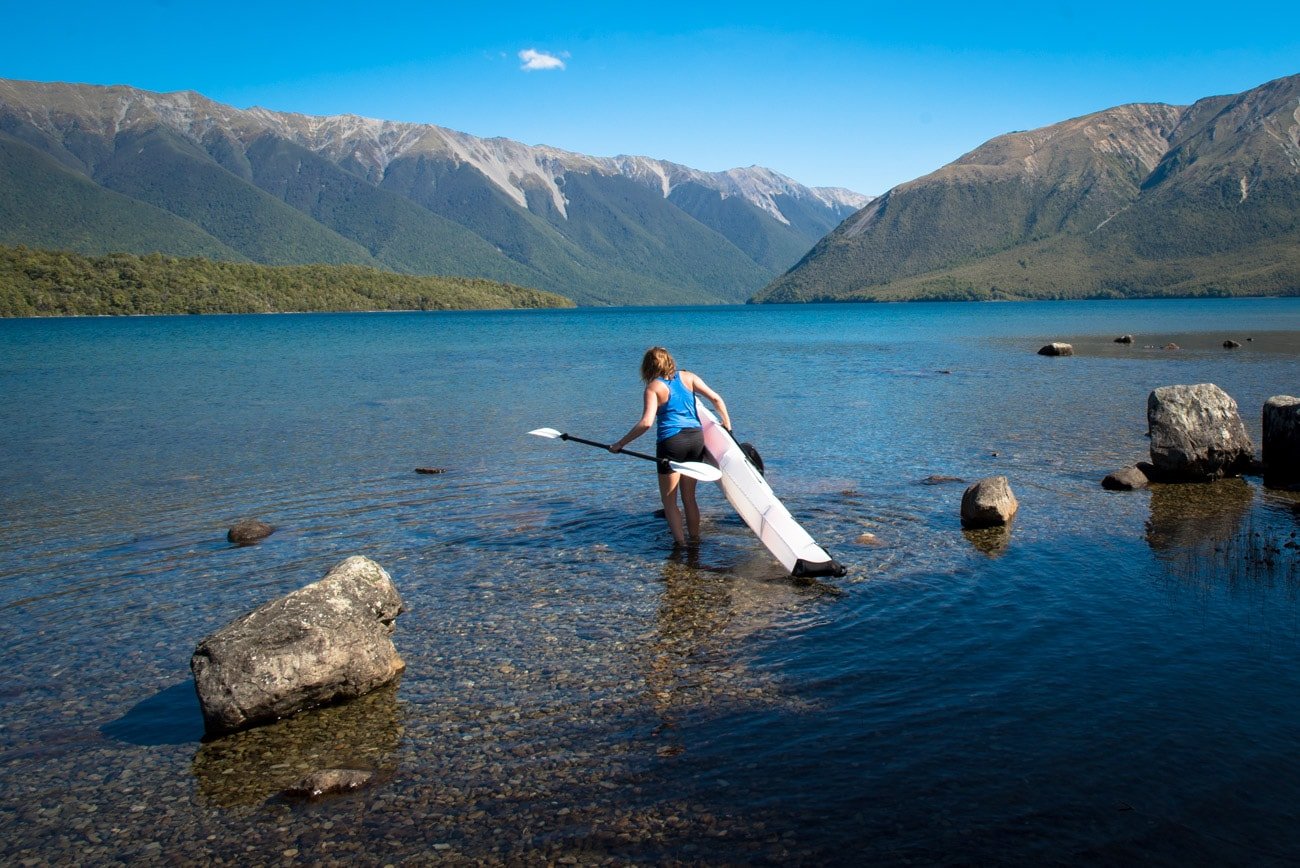 If you want to access some more off-the-beaten path paddling spots with your kayak, then you'll probably also want the backpack that ORU sells. This backpack is the exact dimensions of the stowed boat and has an exterior pocket for the paddle. The pack has comfortable shoulder straps and a padded waist belt. It's still a little clunky but totally manageable for a mile or two, as long as the trail isn't too narrow.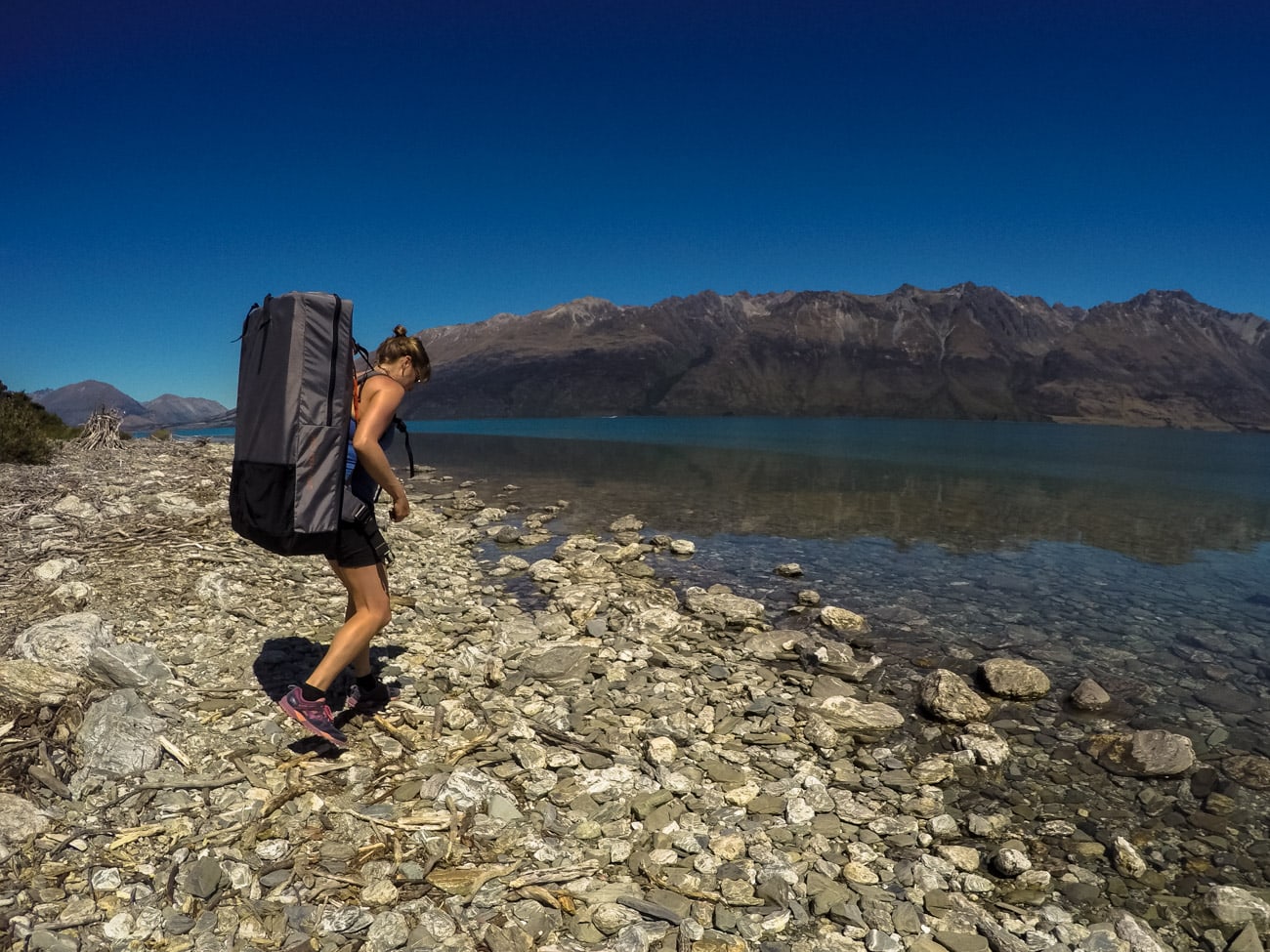 [separator style_type="double|dotted" top_margin="20″ bottom_margin="40″]
Final Thoughts
I think ORU Kayak is one of the most innovative piece of outdoor gear I've seen. For a solo, condo-dwelling van-dwelling traveler like myself, it gives me the freedom to get out on water in new places where that would otherwise be impossible. I mean…I brought a kayak…to New Zealand….on the airplane. And I've been driving around with it in my Van….And I can put it together all by myself…Whenever and wherever I want.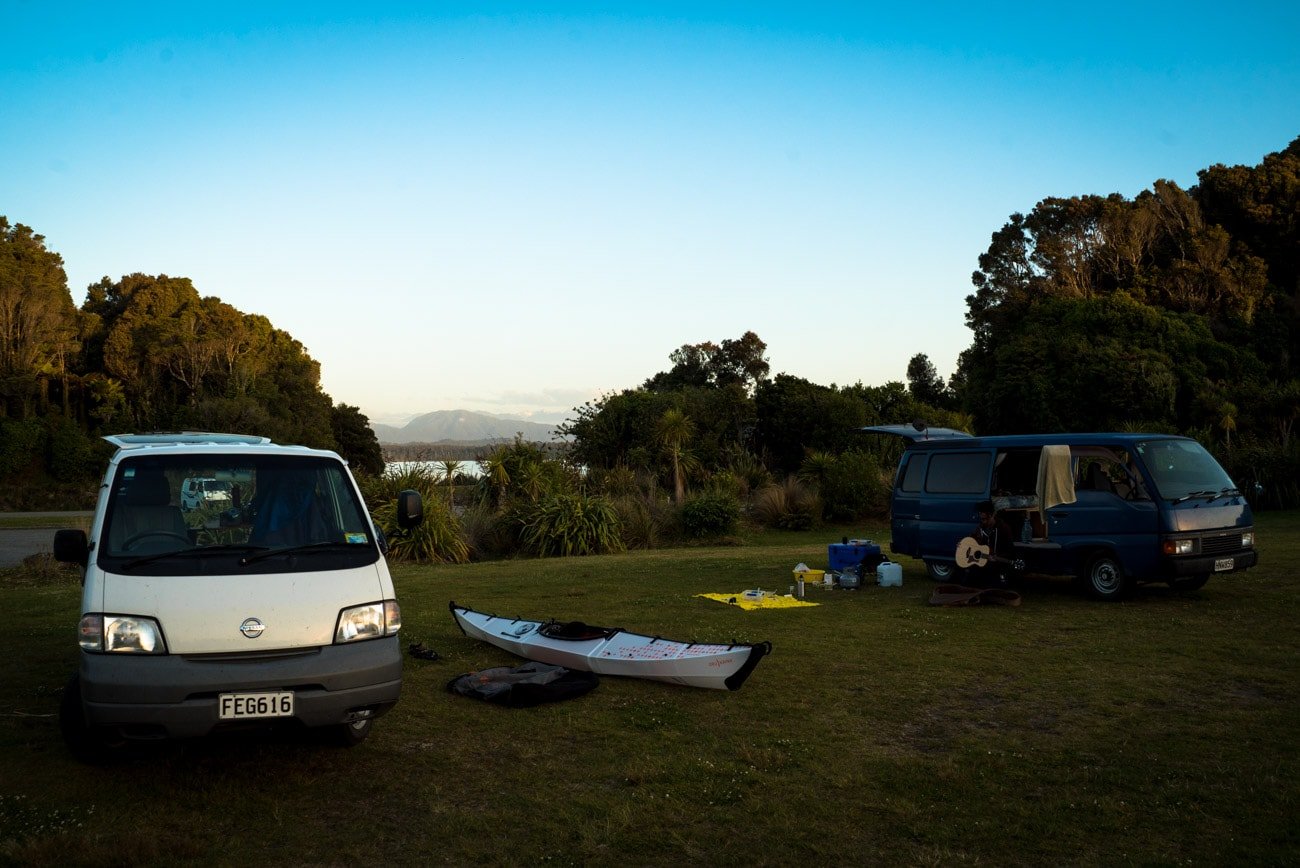 [separator style_type="double|dotted" top_margin="20″ bottom_margin="40″]
Where to find ORU Kayak
You can check out and purchase an ORU Kayak directly from their website, REI, or Amazon. If you purchase from REI, it counts towards your annual dividend.
They also have a variety of accessories which can be purchased separately or as part of a package. As I mentioned, I would definitely recommend the backpack if you plan on walking with the kayak on any sort of trail. A life jacket is also a smart thing if you are going to be paddling in rough weather or more than a short distance off shore. I've also been happy with the paddle which fits into the box when taken apart.
[separator style_type="double|dotted" top_margin="20″ bottom_margin="40″]
GOT QUESTIONS ABOUT MY ORU KAYAK REVIEW? LEAVE A COMMENT BELOW, TWEET ME, OR WRITE ME A POST ON FACEBOOK. 

*Thanks to ORU Kayak for sponsoring this post and providing the gear for this review. As always, all opinions and words are my own. If you ever have questions about any of the products featured on my site, please email me at kristen@bearfoottheory.com.*