15 KITCHEN ESSENTIALS FOR CAMPER VAN COOKING
One of the perks of traveling by camper van is the ability to cook a delicious meal at the end of the day. When I first got my Sprinter van, I filled it with pots, pans, silverware and other stuff right from my home kitchen. Then I got on the road and hit a few bumps. After a few cracked dishes, incessant metal rattling, scrubbing pots to no avail, and fighting to fit everything in such a small space, I learned that there's a few tricks to setting up the perfect camper van kitchen. Most importantly you want your kitchen essentials to be quiet when you drive, compact so they don't take up too much room, and easy to clean. In this blog post, I share my top kitchen essentials for camper van cooking.
1) Flat cutting boards
These flat cutting boards store easily and bend, so they can fit in your camper van sink when they are dirty. This set comes in 4 and each is labeled for its designated use – like cutting up raw meat vs veggies. Plus they have a grippy bottom so they don't slide when you are cutting, and they take up zero space in your cabinets.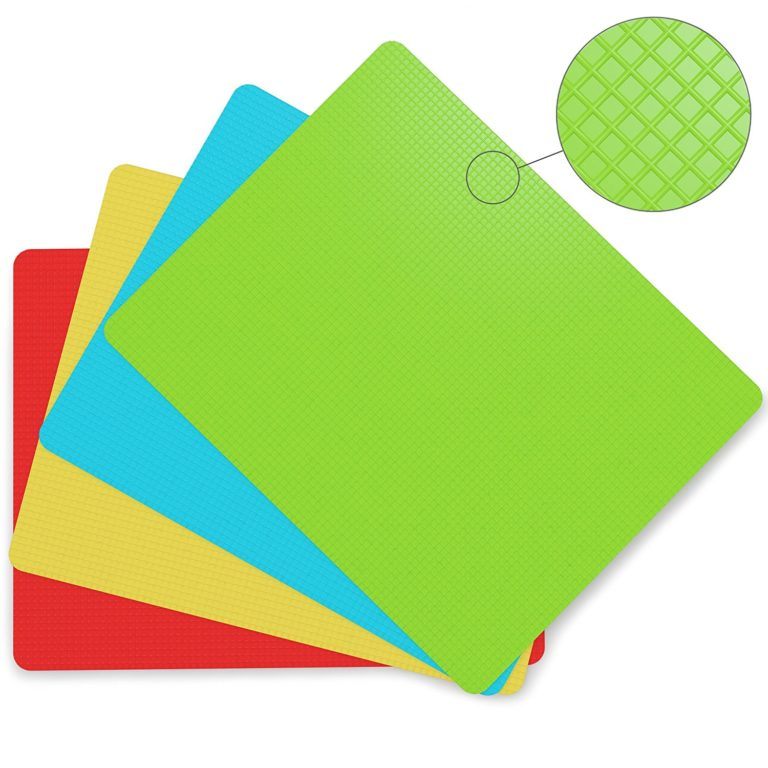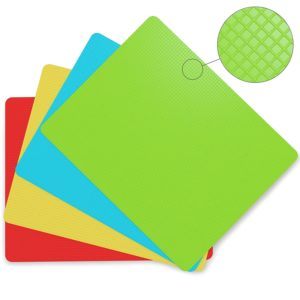 2) Good Non-stick cookware (or cast iron)
When you do dishes in your camper van, the key is getting the dishes clean with as little water as possible. This means you want non-stick cookware that is going to be quick and easy to clean, so you don't waste your next day's water supply. Plus, who wants to waste time doing dishes when you could be outside watching the sunset or playing a game of glow in the dark bocce. Depending on what size stove you have, you'll probably want a medium and small pan and a medium sized pot.
Budget saving tip: shop at TJ Maxx and similar stores for cookware, where you can get high quality stuff on the cheap.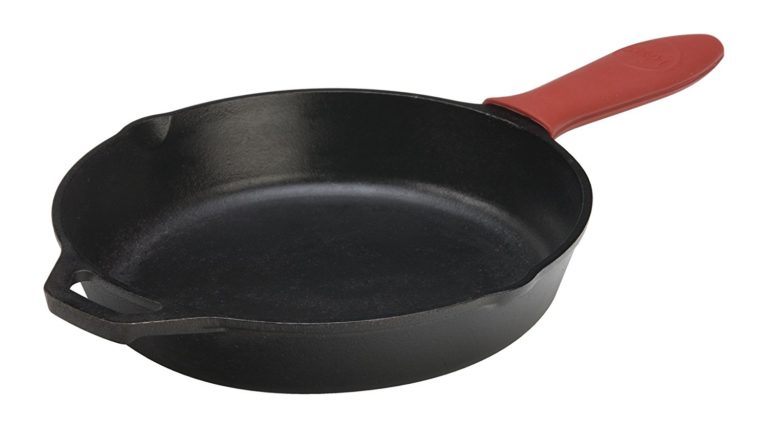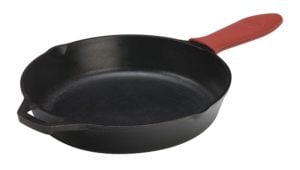 If you backpack a lot, you can also use some ultralight backpacking pots, that way you don't have to keep both in your van (but be careful with super high heat). A final option would be a cast iron skillet. Cast iron is heavy, but it's incredibly diverse and easy to clean once it's seasoned. Another advantage of cast iron is you can take it out and cook with it right over the fire.
3) Plastic plates & Bowls
Glass or ceramic dishware in a van or RV isn't a good idea. Sure, it's nicer to eat on, but it's bound to break at some point. Enamel dishware is a good alternative, but it's still noisy and rattles when you hit bumps. Plastic plates, bowls, and cups are the quietist, lightest, and most durable option for dining ware in your van. Just make sure whatever you get  is BPA free.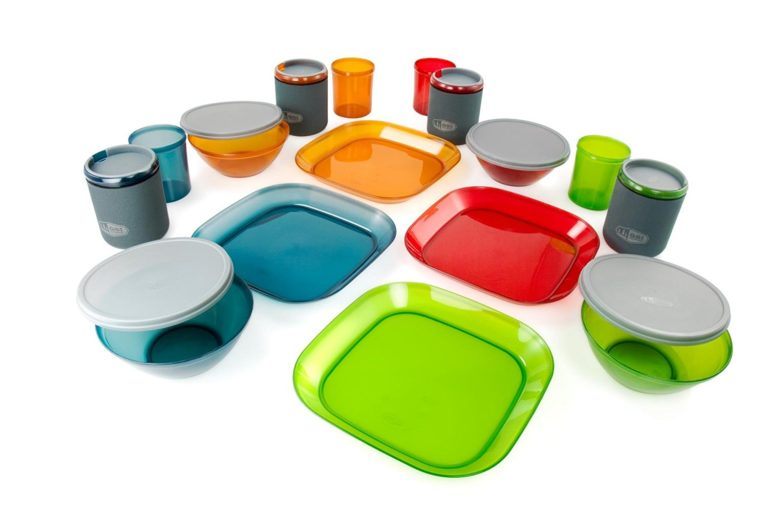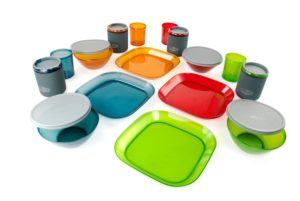 4) Bamboo Utensils
When I first got my Sprinter van, every time I drove over a speed bump, I heard incredibly loud rattles from the kitchen area. Eventually I traced those noises to the silverware banging around in my kitchen drawer. I started looking for alternatives to the metal silverware and found To-Go Bamboo utensils. They aren't quite the same as metal (I won't lie, the knives aren't awesome), but they clean easily, and swapping out for bamboo has seriously minimized the rattles in my van. They come in sets of 5, so you have enough for a small dinner party in your Sprinter Van.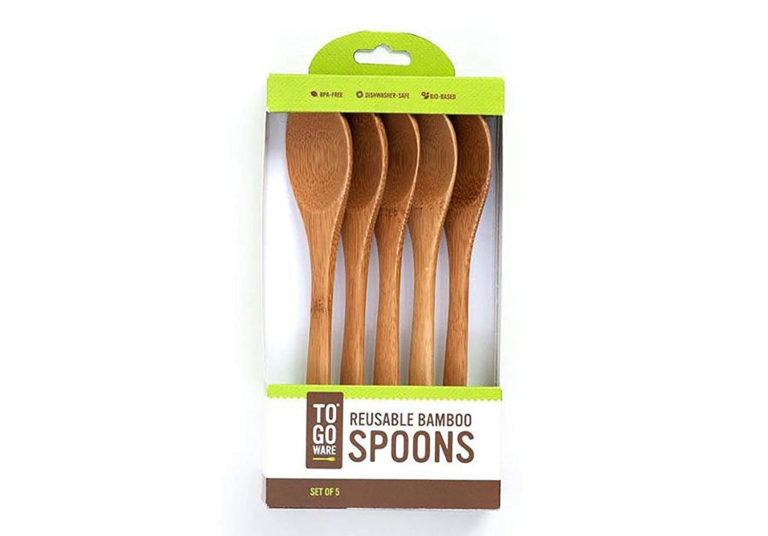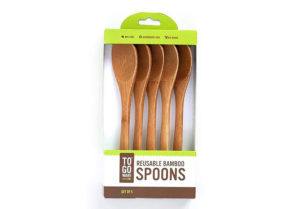 5) Drawer Liners
This is another trick to reduce rattling in your camper van kitchen. Every time you hit a bump, things are slamming up and down and up and down. Having a soft grippy drawer liner in all of your drawers will help minimize the noise and also keep things in place when you're driving.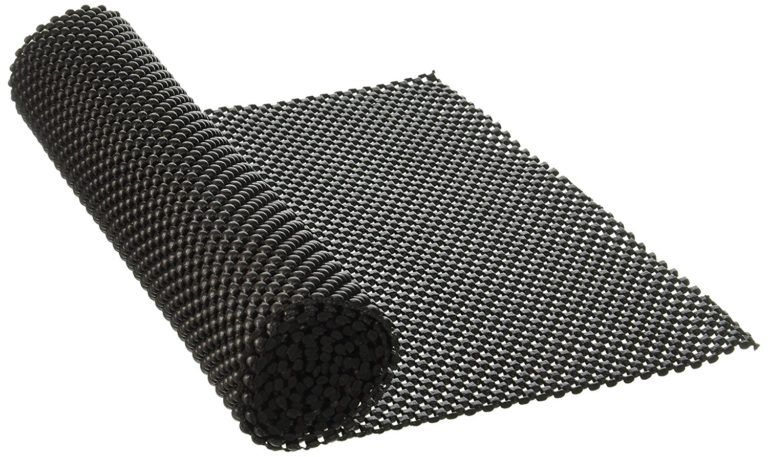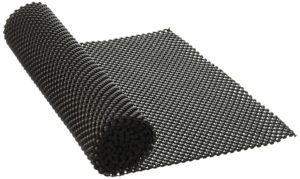 6) Plastic reusable wine glasses
Real wine glasses are delicate and take up a lot of room in your Sprinter Van. These plastic wine glasses look like the real deal but are shatterproof.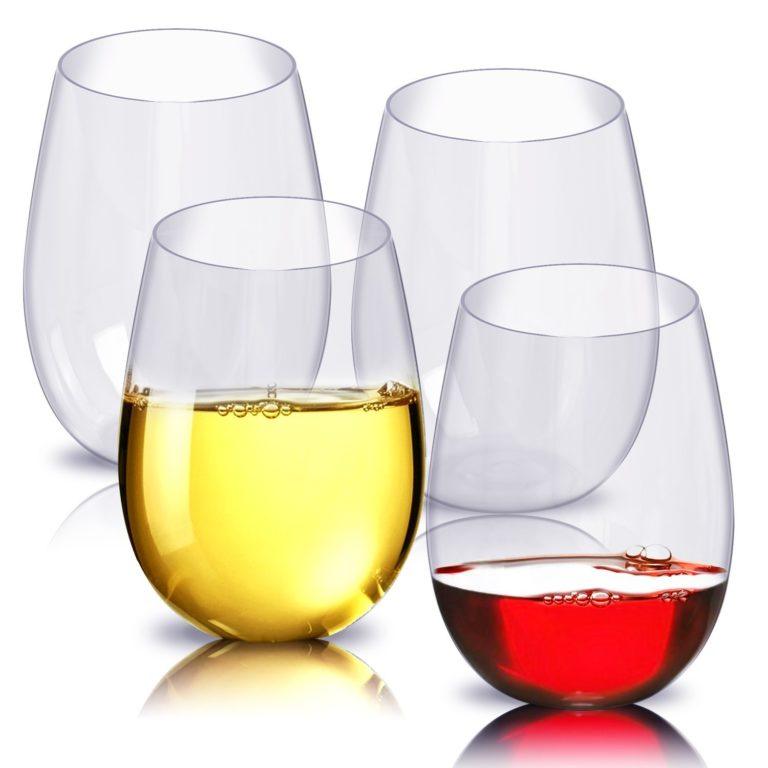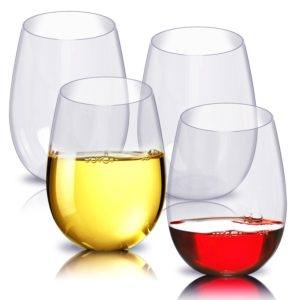 7) Grease screen
Want to cook bacon or other saucy/greasy food in your van? Avoid splattering bacon grease on your walls, curtains, and clothing by getting a cheap grease screen.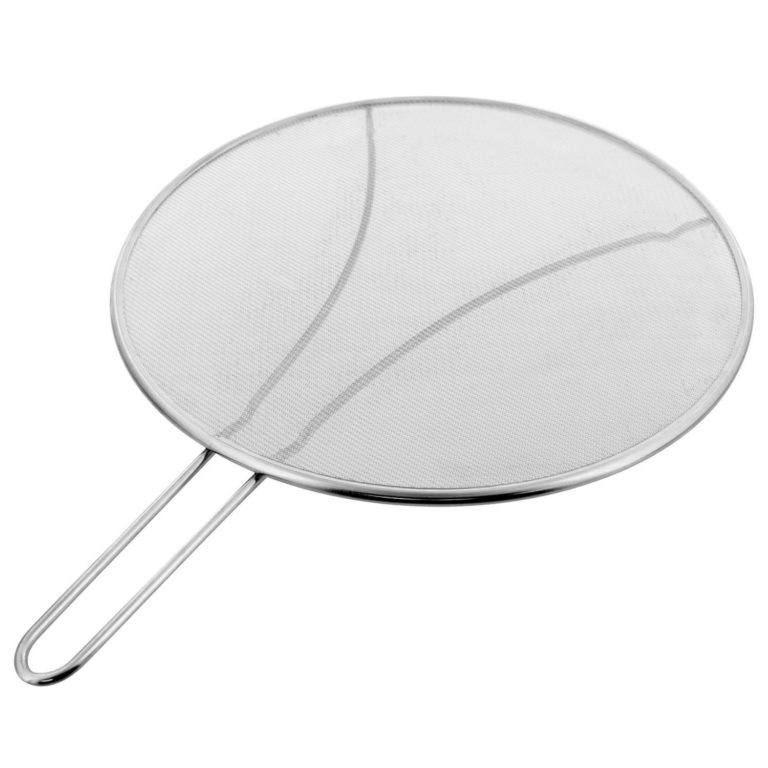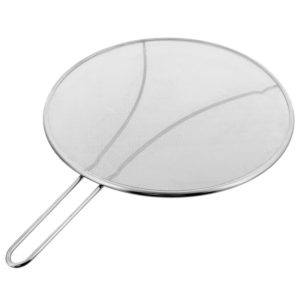 8) Collapsible tupperware
Tupperware takes up a lot of space, but you'll need it to store leftovers, especially if you are trying to avoid using single-use ziplocks. This collapsible tupperware set is a great way to do-so without sacrificing a better part of a drawer. You can also use these to pack lunch when you are out on a day hike.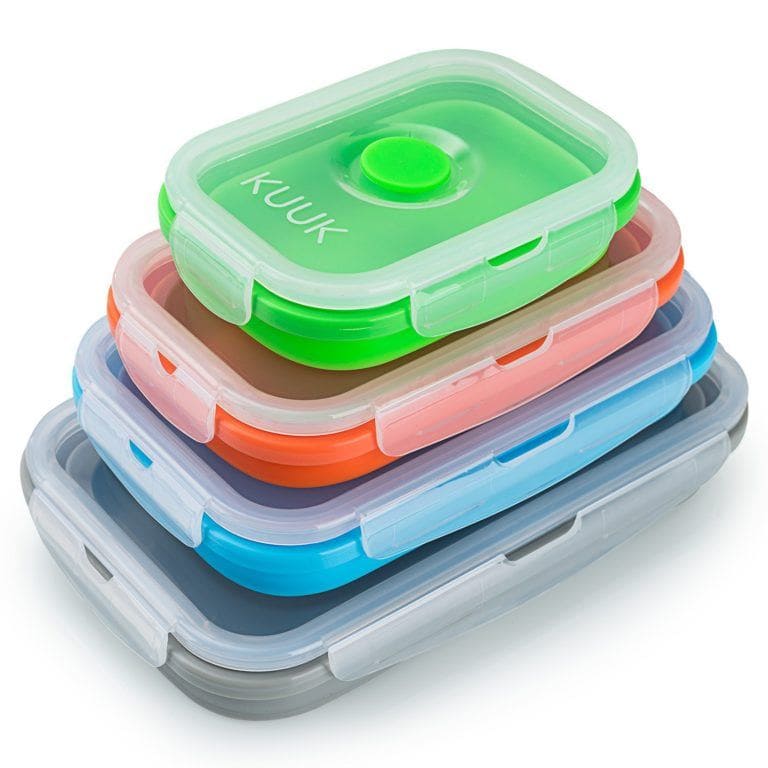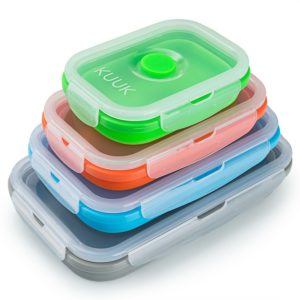 9) Quick dry towels
Quick dry towels absorb a lot more water a lot more quickly than regular dish towels. These REI-Brand quick dry towels are my go-to for drying dishes, my hands, or anything else in my Sprinter Van kitchen.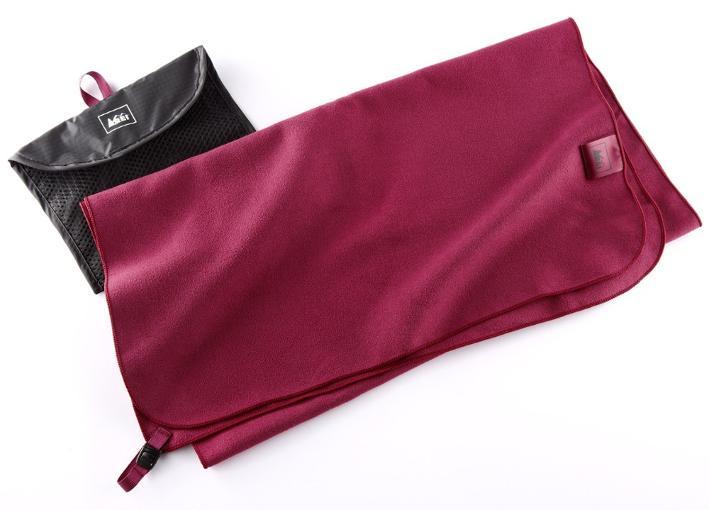 10) Spice containers
At first I had an entire drawer devoted to spices. I quickly learned I didn't actually need all of those for cooking in a camper van, and the circular spice jars took up more space than necessary. These plastic spice containers come in a set of 6 and stack nicely up against one another, taking up as little room as possible. My only gripe is that is that some spices, like basic, rosemary, and other "chunkier" seasonings, don't come out very well, and they require taking the entire lid off.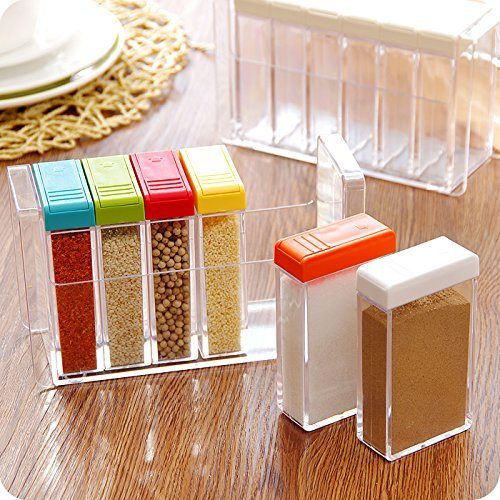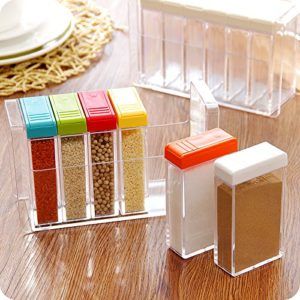 11) Plastic containers for sauces
I love having infused vinegars in the van. It's one of the easiest ways to add a punch of flavor when whipping up a sauce on the fly. The problem is, these fancy vinegars, as well as olive oil, hot sauce, soy sauce, and other condiments come in glass bottles that are at risk of breaking and make a lot of noise in your cabinets. I like to transfer these kinds of sauces to plastic containers that you can re-fill when you restock at the grocery store.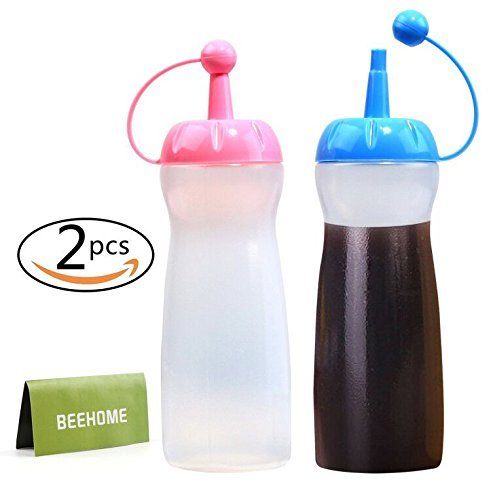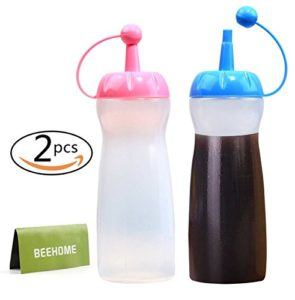 12) Aeropress
The Aeropress makes one of the strongest and smoothest cups of coffee, and I've been using one for years both at home and in the van. It's small, so it doesn't take up too much room in your Sprinter van cabinets, and it's incredibly easy to clean. It's best suited for 1-2 people, and you get bonus points if you upgrade to reusable filter. Learn more about how I use the Aeropress in this post.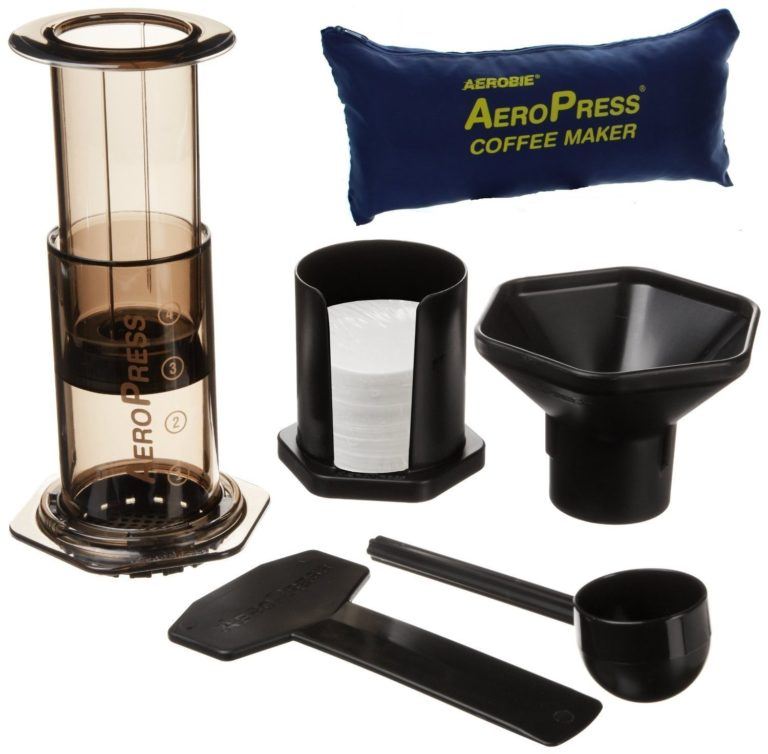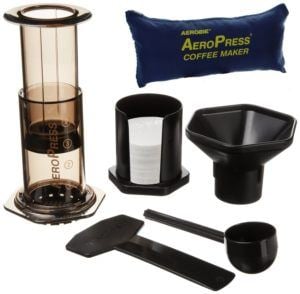 13) Collapsible nesting measuring cups
It's pretty handy having a couple of measuring cups on hand. Normal measuring cups take up room and can be too tall for your drawer even if you nest them. These collapsible measuring cups lay down flat and are a great space saving solution.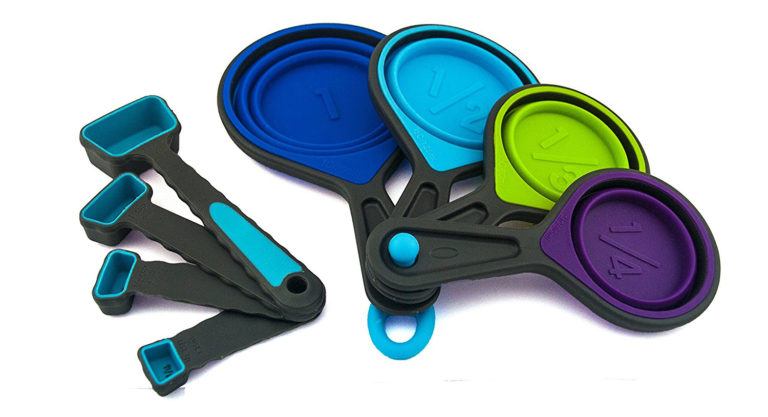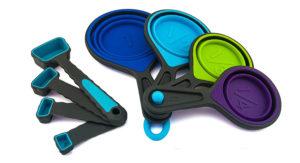 14) Soap dispenser
Doing dishes and washing your hands is more efficient with a soap dispenser that sits on your camper van counter. I found a skinny dispenser and used velcro to secure it to my counter top. It stays put on all but the bumpiest of roads, and I like that I don't have to take out a big bottle of soap every time I need to wash something in the sink.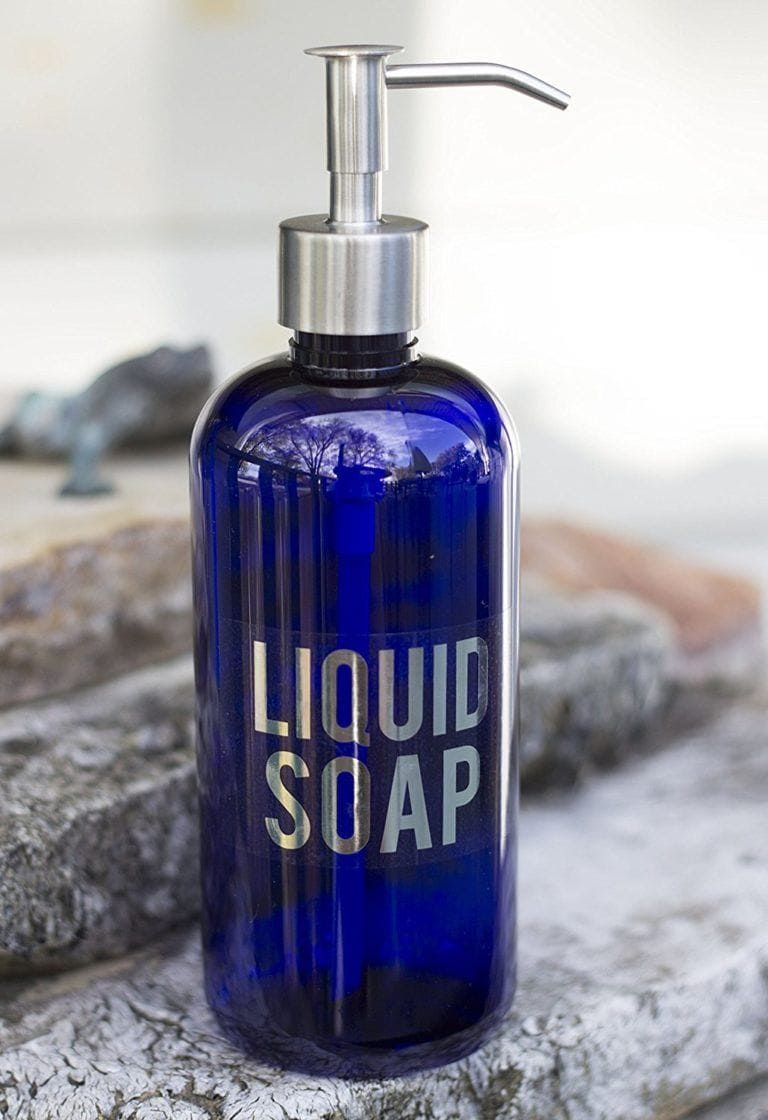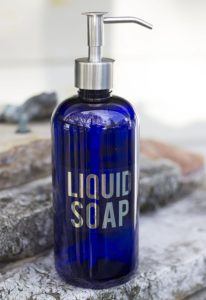 Eco-friendly tip: Use all-natural, chemical free dish soap so you don't damage the environment with your gray water.
15) Insulated coffee mug
If you are a coffee drinker or like hot drinks in general, you'll want something that you can use to keep you coffee hot on those long drives. I've been using the Stanley Classic One Hand Vacuum Mug for years. It's insulated and sealed so if it tips upside down, you don't have to worry about your coffee spilling all over the place.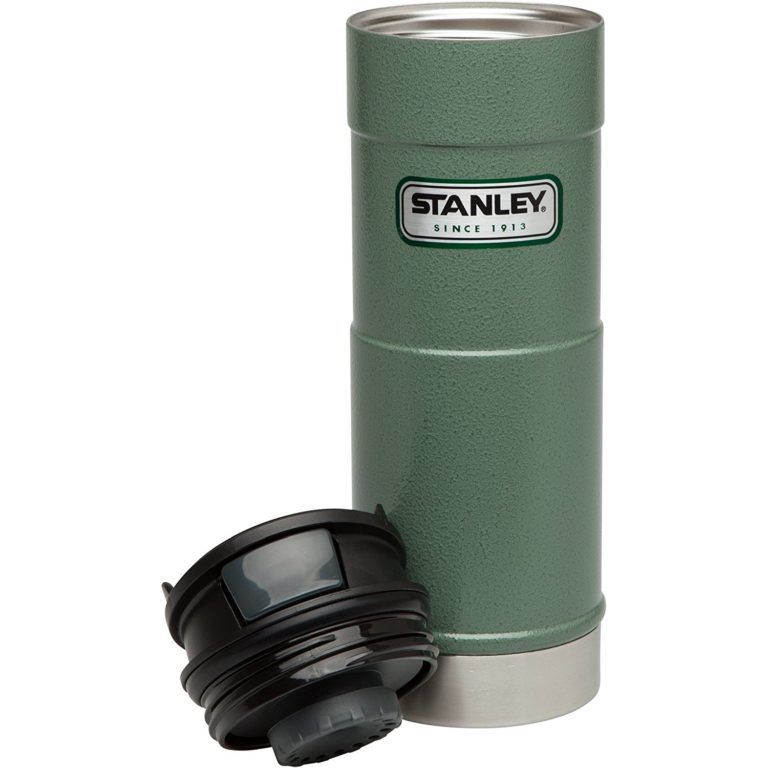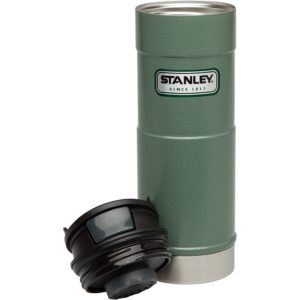 Any van lifers out there? What are you favorite essentials for cooking in a camper van? Or what questions do you have? Leave a comment below and let us know!
**This post contains affiliate links. That means if you click on a product and purchase something, I get a small commission at no added cost to you. I only link to products that I stand behind, and every purchase helps keep this site going. Thank you for your support!