Hotel Review: Fireside Resort Tiny House Cabins in Jackson, Wyoming
The Fireside Resort offers cute dog-friendly tiny house vacation cabins that are 10 minutes from the slopes in Jackson Hole, Wyoming. See the pics and check out my review from my recent winter vacation.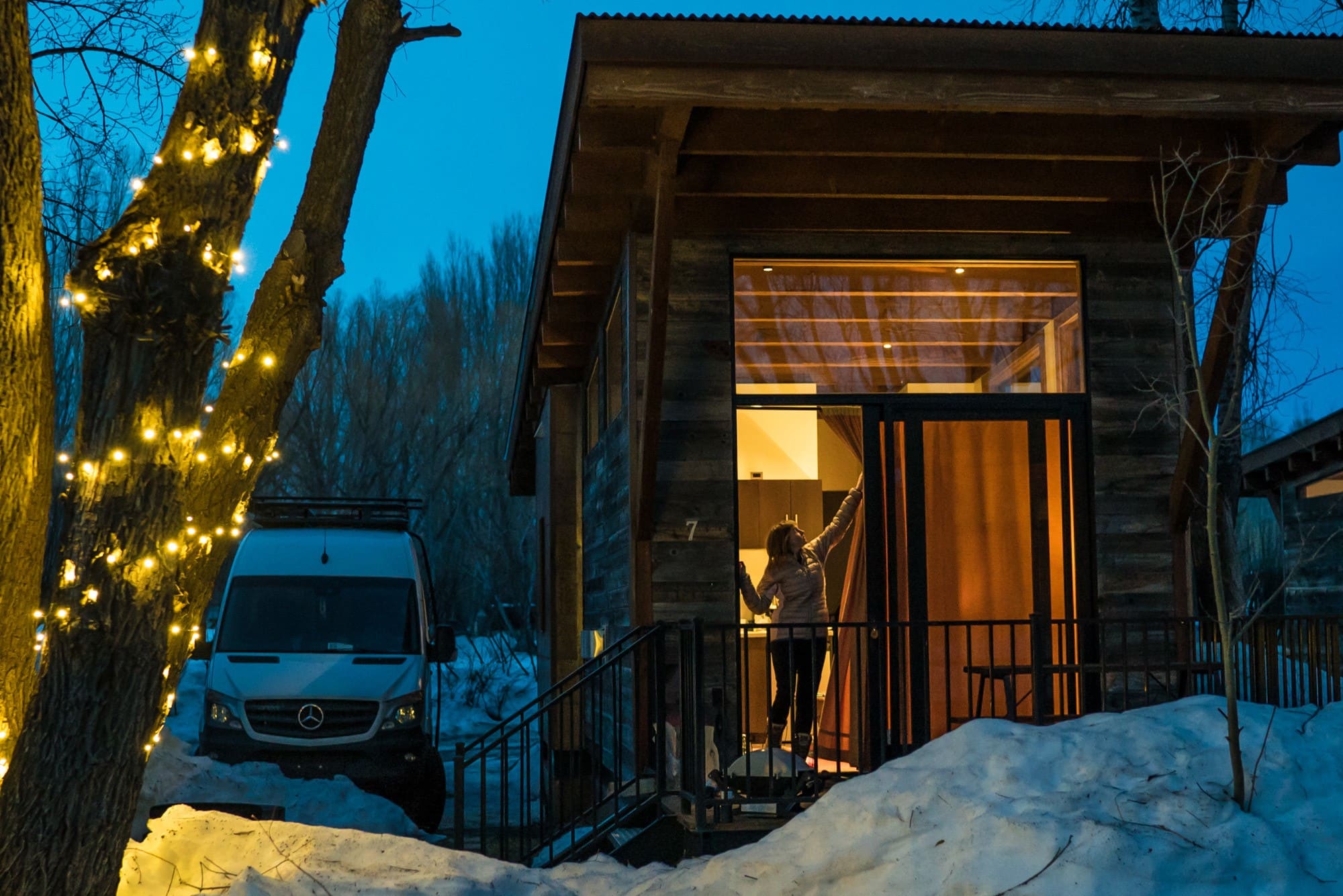 Hotel Review: Staying at the Fireside Resort
When I was researching places during a quick two-day vacation to Jackson Hole, Wyoming, I was looking for something unique and dog-friendly close to the base of the ski resort. I stumbled on the Fireside Resort, a pup-friendly property with tiny house vacation cabins that are completely self-contained. Ever since I first heard of the tiny house movement a few years back, I've been kind of obsessed with them, so this seemed like the perfect opportunity to give tiny house living a try.
The Fireside Resort Property
The Fireside Resort is a simple property with 23 stand-alone tiny homes that offer maximum privacy and everything you need for a comfortable stay. We checked in at the office and were assigned to Cabin #7. The cabin had tall ceilings and lots of natural light. Think modern meets rustic. For two people and a dog, we had more than enough space, and nothing about the tiny home felt cramped.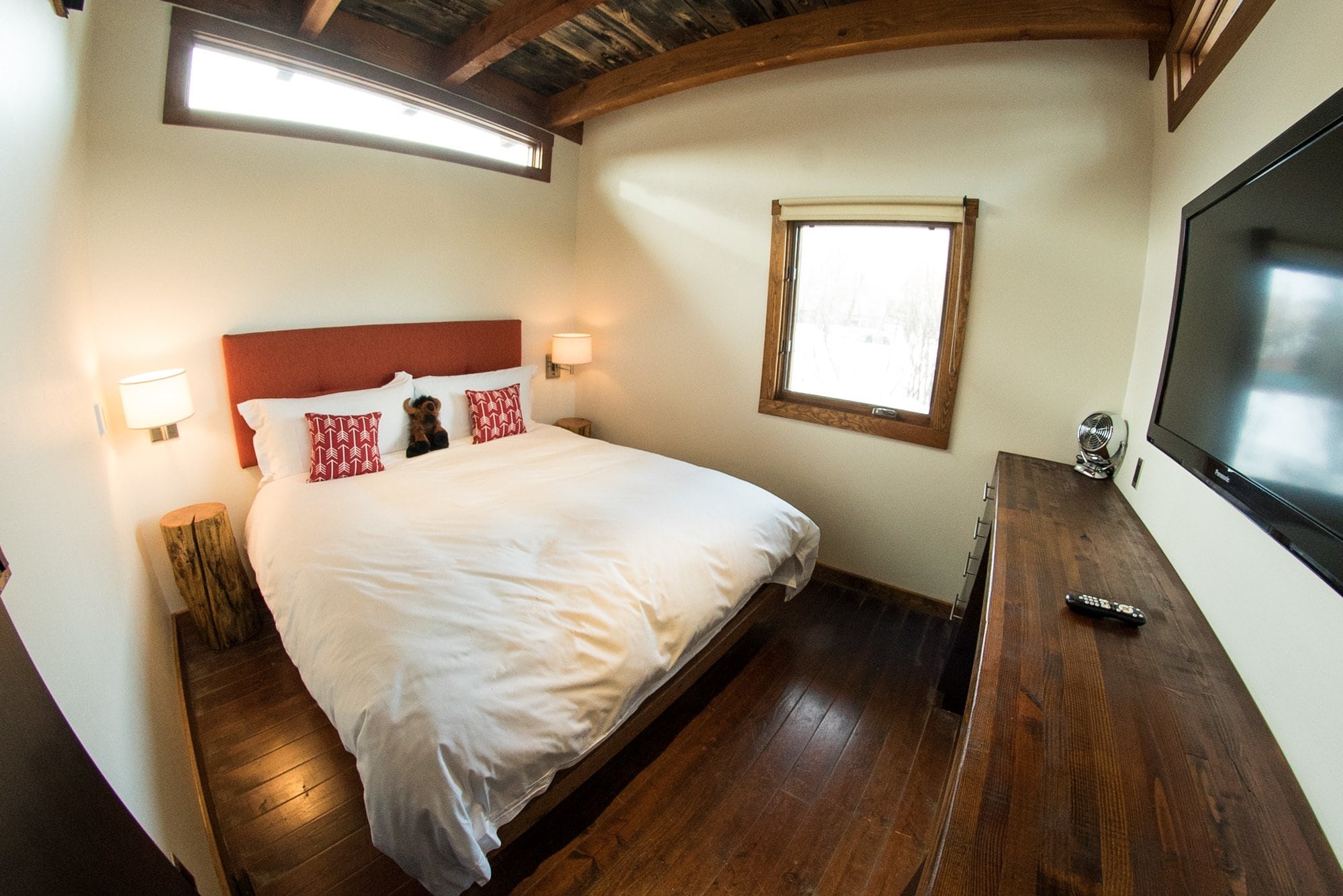 Each tiny house has its own parking spot right next to its cabin, which made unloading and loading up our car a cinch. It was so much easier than pulling up to a hotel lobby, unloading all of your gear, and taking it up in an elevator and down the hallway to your room.
Our tiny cabin had its own fully stocked kitchen with everything you need to prepare a home cooked meal. Pots, pans, utensils,  a refrigerator, dishwasher, sink, toaster, and coffee maker – the kitchen in our Fireside Resort tiny cabin was a huge draw. Coming home from skiing tired and not wanting to change to go out or spend money on dinner, we really appreciated being able to cook our own meals.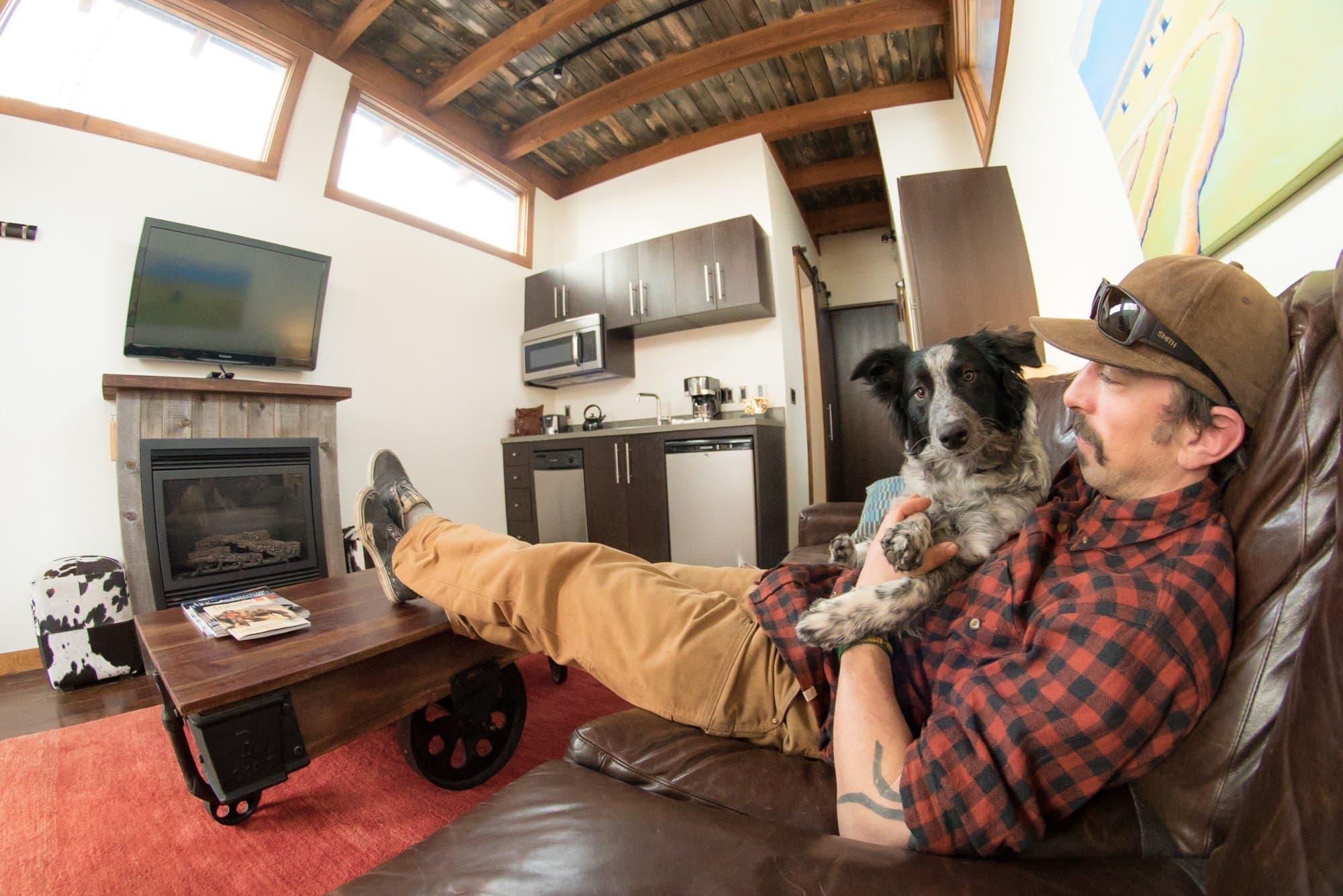 The conveniences didn't stop at the kitchen. Our living room had a plush leather couch, a warm gas fireplace, and a big tv. The shower had something like 8 different shower heads for a seriously relaxing experience, and the king-sized bed offered plenty of room to spread out.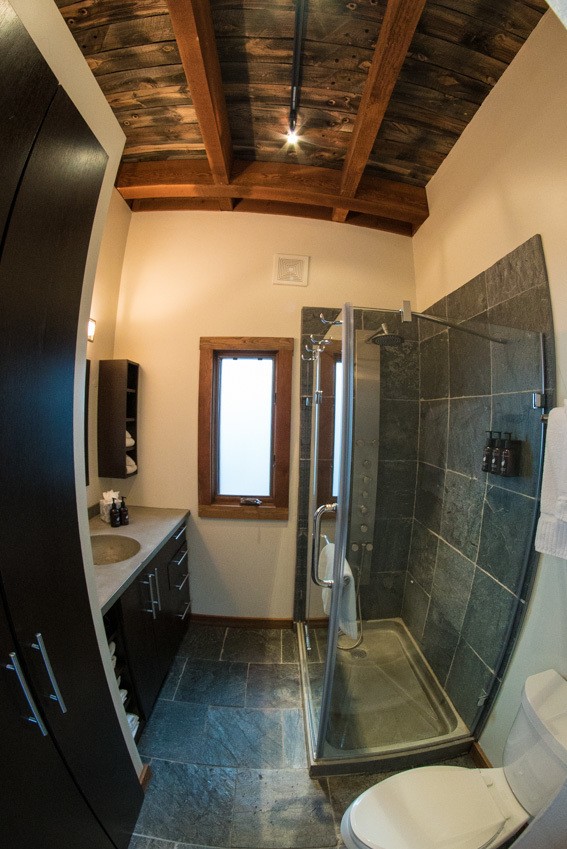 Outside of our tiny house, we had a nice big deck with a small gas grill and a picnic table, and each cabin comes with its own personal fire pit stocked with one free bundle of firewood. I imagine in the summer, it would be super fun to rent out a few tiny cabins with friends and use them as a base for exploring the Tetons.
If you are more than 2 people, the couch pulled out into a bed, or you could opt for the other model of tiny cabin, called the Wheelhouse which accommodates 6 people and is a little bigger than the cabin we had.
The New Kamp Cabin
New for 2018, the Fireside Resort just opened a new style of cabin – the Kamp Cabin – which is the tiniest cabin on the property. It's right across from the main office with a nice big porch. Inside you'll find a cozy couch, a kitchen with a fridge, induction stove, and everything you need to make coffee, a bed nook, and a surprisingly spacious bathroom.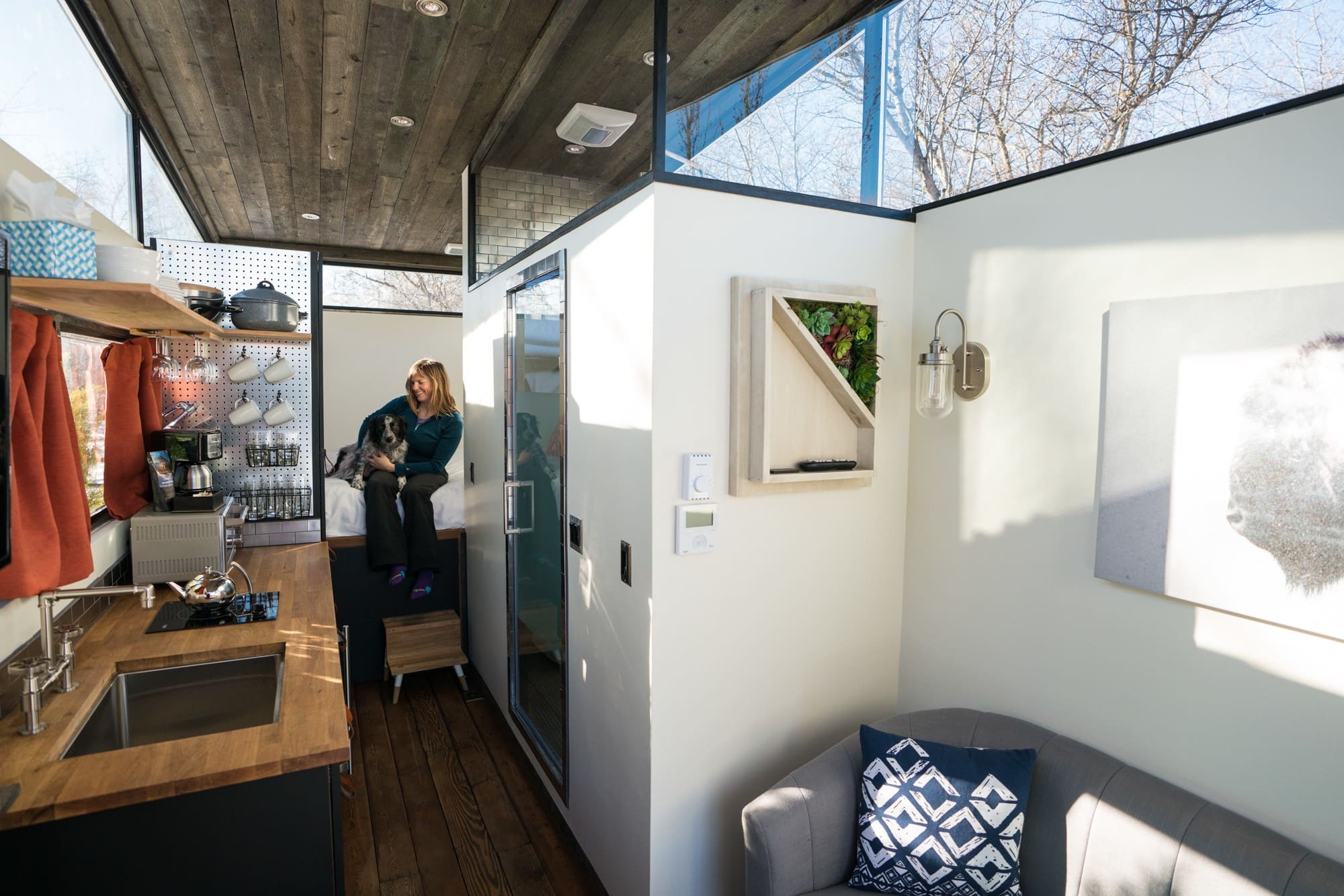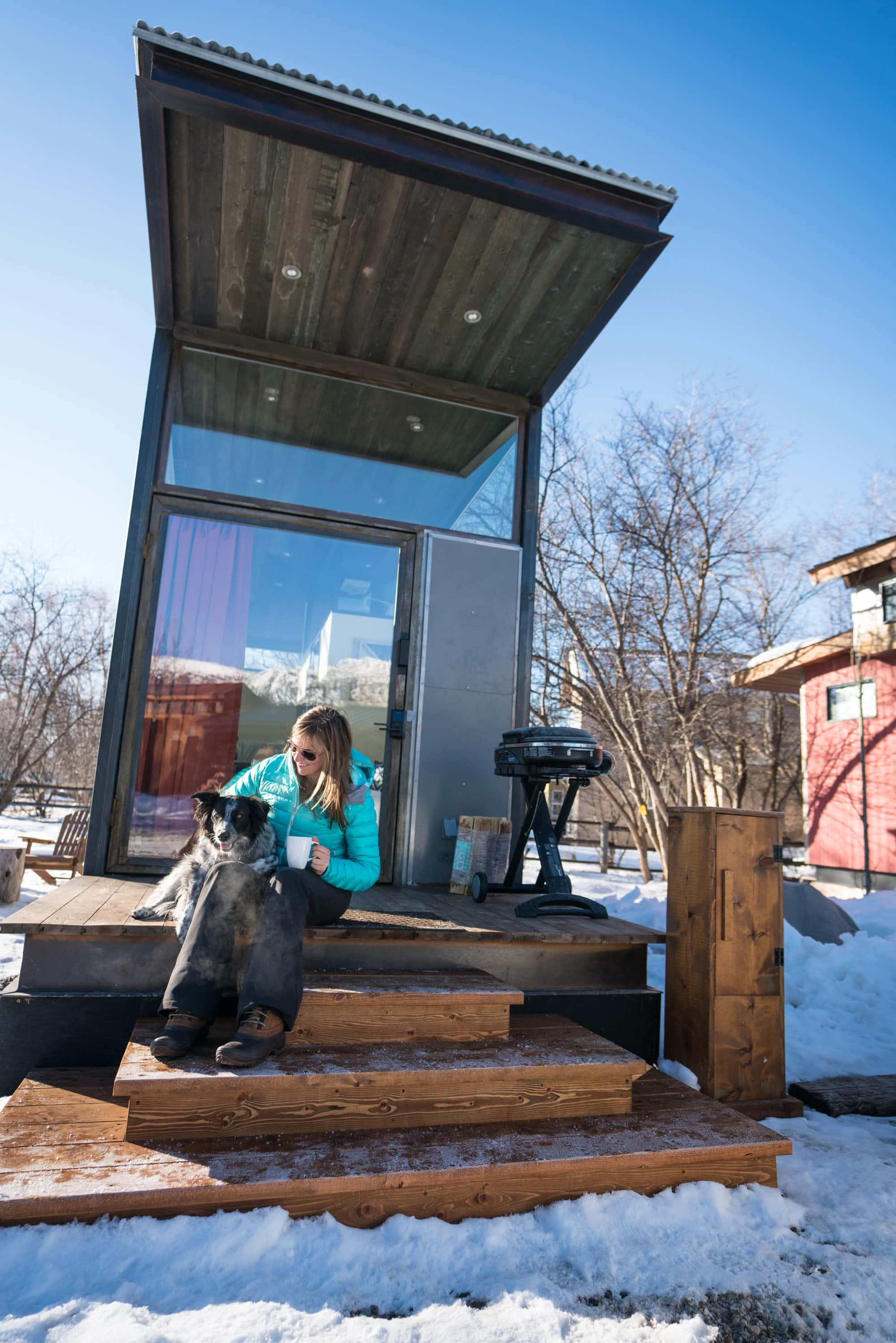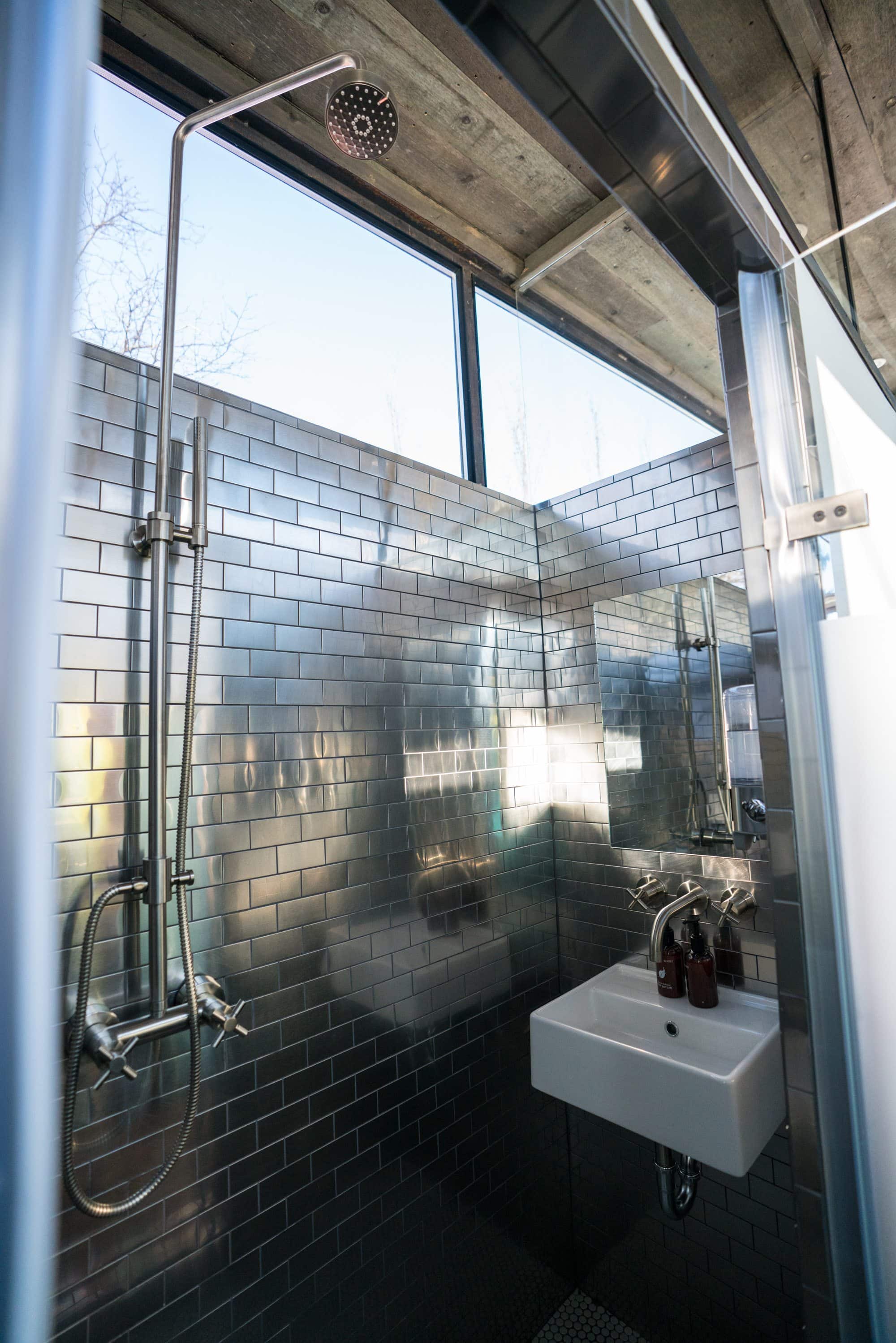 Fireside Resort Location
The Fireside Resort is a prime year-round location for those coming to explore Jackson Hole mountain. It's only 6 miles from the Tram base on Moose Wilson Road and 10 miles from downtown Jackson.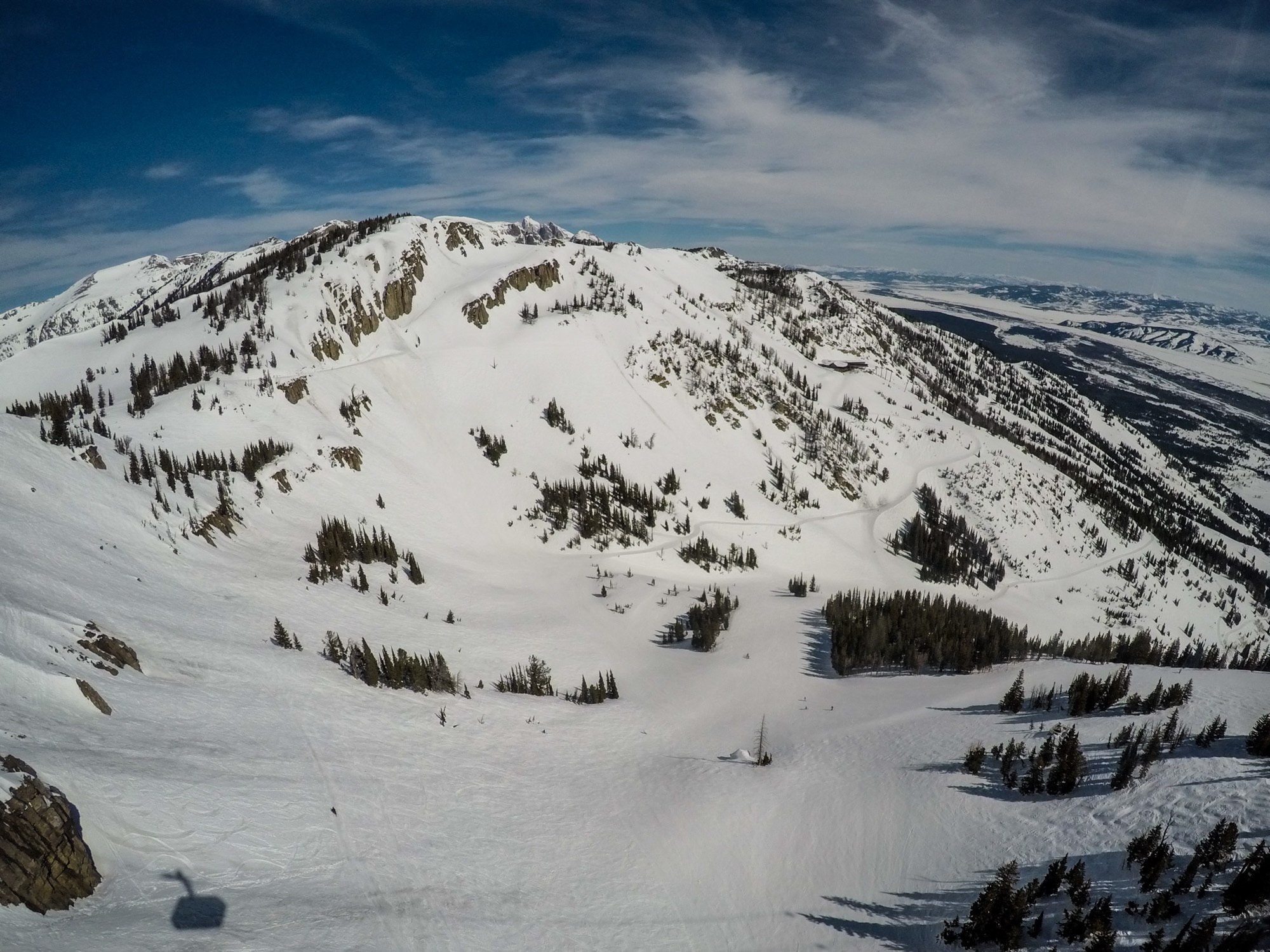 If you want to dine out, there are a few options within a 5 minute drive. One night, we ate at Calico, an Italian joint that is right next door. I wouldn't call the food amazing, but it was decent and very convenient. For groceries, check out the Aspen Market which is less than a mile away.
For dog-owners, there's a fantastic paved walking path just across the street. I suggest driving a few minutes south on Moose Wilson Road, park in the big parking lot off of Beckley Park Way, and start your walk there. We encountered a lot of other dogs, giving Charlie, our pup, a chance to play and work off some energy.
Another popular place to take a stroll with your dog is the levee path on edge of the Snake River, right behind the Fireside Resort. In the summer, you can access the path right from the resort, but in winter, you should start your walk from the same parking lot I mentioned above.  Make sure to walk out to the middle of the bridge and get a picture. Sunsets out here are also very nice.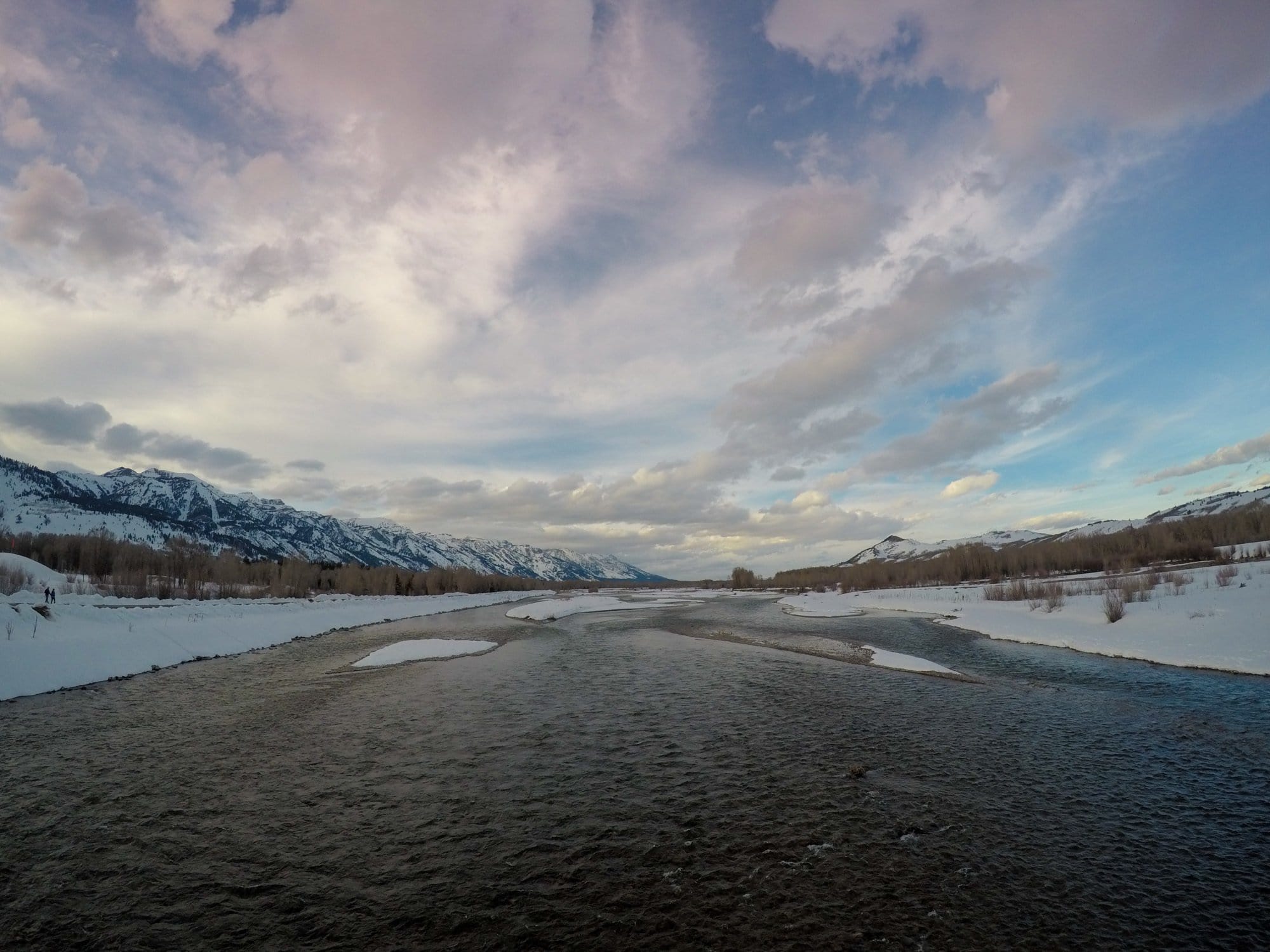 Fireside Resort Amenities
Outdoor hot tub – The hot tub was simple and clean for those who want to soak their muscles after a day outside.
Free shuttle – The Fireside Resort offers a free shuttle to and from the Jackson Hole chairlift. Parking at Jackson Hole is $10 a day, so this door-to-door shuttle is a great perk. Just make sure to call the front office and reserve your spot by 7pm the night before.
LEED certified – This isn't an amenity, but it is worth mentioning for those who are interested in sustainability.
Cleaning Service – Because the Fireside Resort isn't like a normal hotel, there isn't housekeeping that comes through your cabin each day. However, you can swap out your towels and sheets at the front desk, and if you do want your cabin cleaned, they will do it for $35. Just hang your "housekeeping" sign outside your door by 11am.
Jeep Rentals – If you want to get off-road in the Tetons, the Fireside Resort offers daily Jeep rentals.
Camp Sites – You can't see it from the tiny cabins, but the Fireside Resort also has a small RV park in the back of the property. They are actually the only local campground in the area to offer winter RV sites. We saw "NO OVERNIGHT PARKING" signs all around the ski resort, so this is a great option for those who prefer to sleep in their RV or camper van and still want close access. Sites in the winter are $59 per night and include access to a heated bath and shower house, laundry facilities, and 30 and 50 amp hook-ups. In the summer sites range from $89-$135 per night.
Dog-friendliness
The Fireside Resort is dog-friendly, and it's the perfect place to take your pup. With cabins being stand-alone, you don't have to worry about your dog bothering your neighbors. The location relative to all the walking paths made it even better for those traveling with their dogs.
The only thing to mention is when we were there, there were quite a few moose in the area, so you need to keep a close watch and always have a leash on hand just in case. The hotel asks that you crate your dog if you plan on leaving it while you are out. The fee for dogs is $35 a day or $75 for your entire stay if longer than 2 days.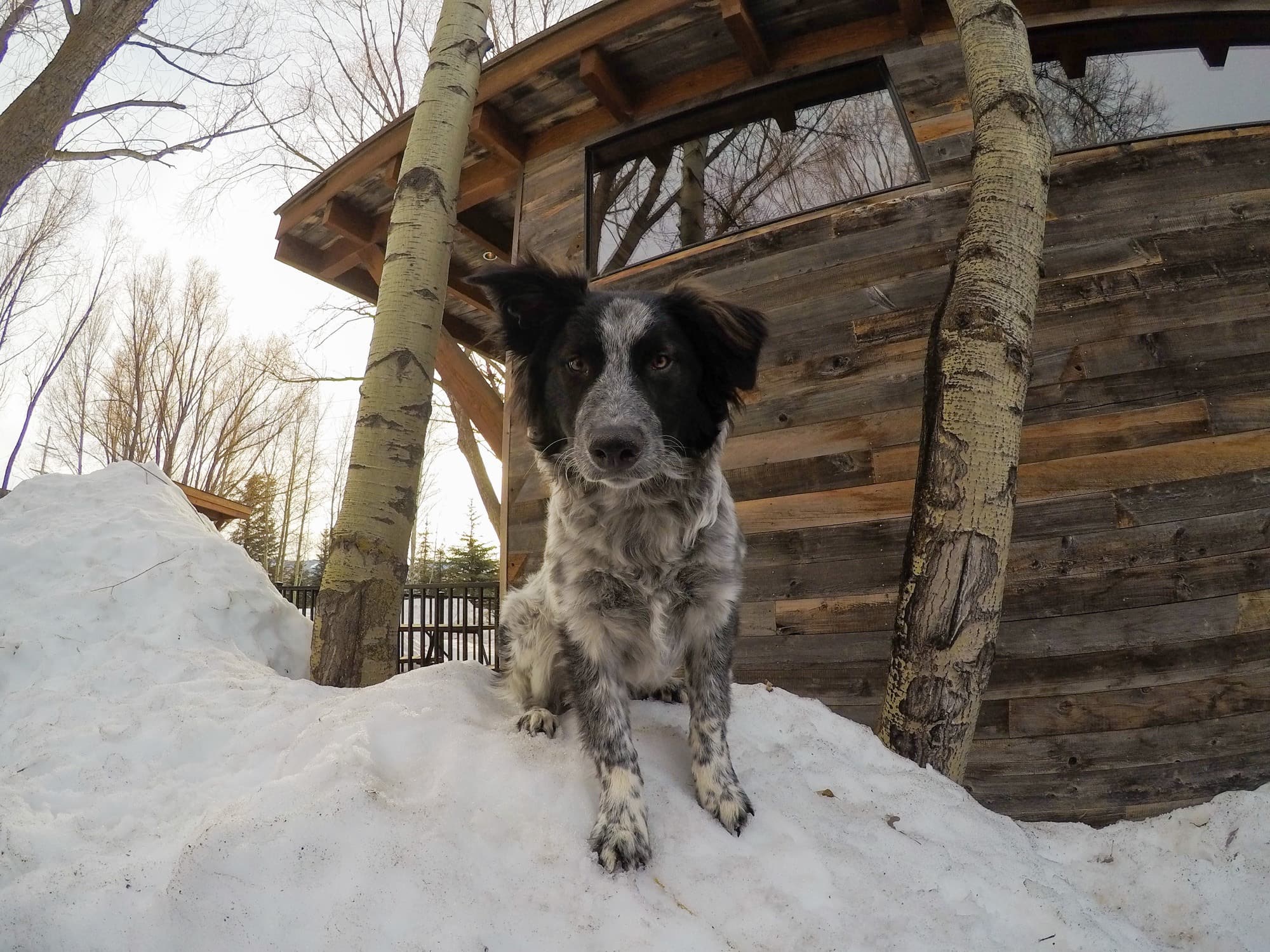 Reservations at the Fireside Resort
Whether you are curious about tiny houses and whether that lifestyle is right for you or you are simply looking for something a little more memorable than your average hotel, the Fireside Resort offers a homey and unique experience. To make a reservation, visit their website.
WOULD YOU LIKE TO STAY IN A TINY HOUSE CABIN AT THE FIRESIDE RESORT? LEAVE A COMMENT BELOW, TWEET ME, OR WRITE ME A POST ON FACEBOOK. 

Disclosure: Thank to the Fireside Resort for hosting us during our Jackson Hole vacation. As always, all words and opinions are my own, and reader trust is my #1 priority. For more information about Bearfoot Theory's sponsored post policy, visit this page.