The Ultimate Mountain CollectiveRoad Trip Itinerary
This winter I decided to get a Mountain Collective Pass. I've skied at Alta the last two winters and thought it was time to take my skills to a new location. I didn't have a ton of free time this winter, so I looked at the Mountain Collective map and chose three resorts that could easily be visited on a week-long Mountain Collective road trip. I decided to hit up Snowbird in Salt Lake, Sun Valley (Idaho), and Jackson Hole (Wyoming).  In this blog post, I talk about the benefits of the Mountain Collective Pass and the details of my itinerary for an incredible week on the slopes.
What is the Mountain Collective Pass?
With a Mountain Collective Pass, you get two days of lift tickets at each of 16 partner resorts including Mammoth, Whistler-Blackcomb, Revelstoke, Banff, Alta-Snowbird, Stowe, Jackson Hole, Sun Valley, Aspen, and a bunch of other awesome mountains. The Mountain Collective Pass gives you the opportunity to experience a variety of mountains each winter without spending a fortune on lift tickets. It's the perfect option for van lifers, frequent travelers, or folks who want to get a taste of life in different mountain towns across the country.
The pass costs $429 if you buy during summer before the season starts, and it only takes visiting 2-3 resorts to get your monies worth. For example,  on my Mountain Collective road trip, I visited Alta/Snowbird, Sun Valley, and Jackson Hole. Two lift tickets at each of these would have totaled over $700, which means the Mountain Collective Pass is well worth it. Also if you have kids, you can add them for $99 a pop.


Mountain Collective Road Trip YouTube Video
 Mountain Collective Road Trip Itinerary to Alta/Snowbird, Sun Valley, and Jackson Hole
First, you'll want to fly in and out of the Salt Lake International Airport. It's the cheapest and biggest airport on this Mountain Collective road trip and is the most convenient destination to begin your ski vacation.
Day 1 – Ski Alta
In 2017, the Alta/Snowbird Resort on the Mountain Collective pass gave you 2 days, but you couldn't go back and forth between the two resorts during the day. This is changing for 2018. They'll be considered separate resorts, and you'll get two full days at both. Each mountain is plenty big, and they are both different, so having these extra days next year will be a huge bonus.  Keep in mind that Alta is a skiers-only mountain, so snowboarders will spend both days at Snowbird.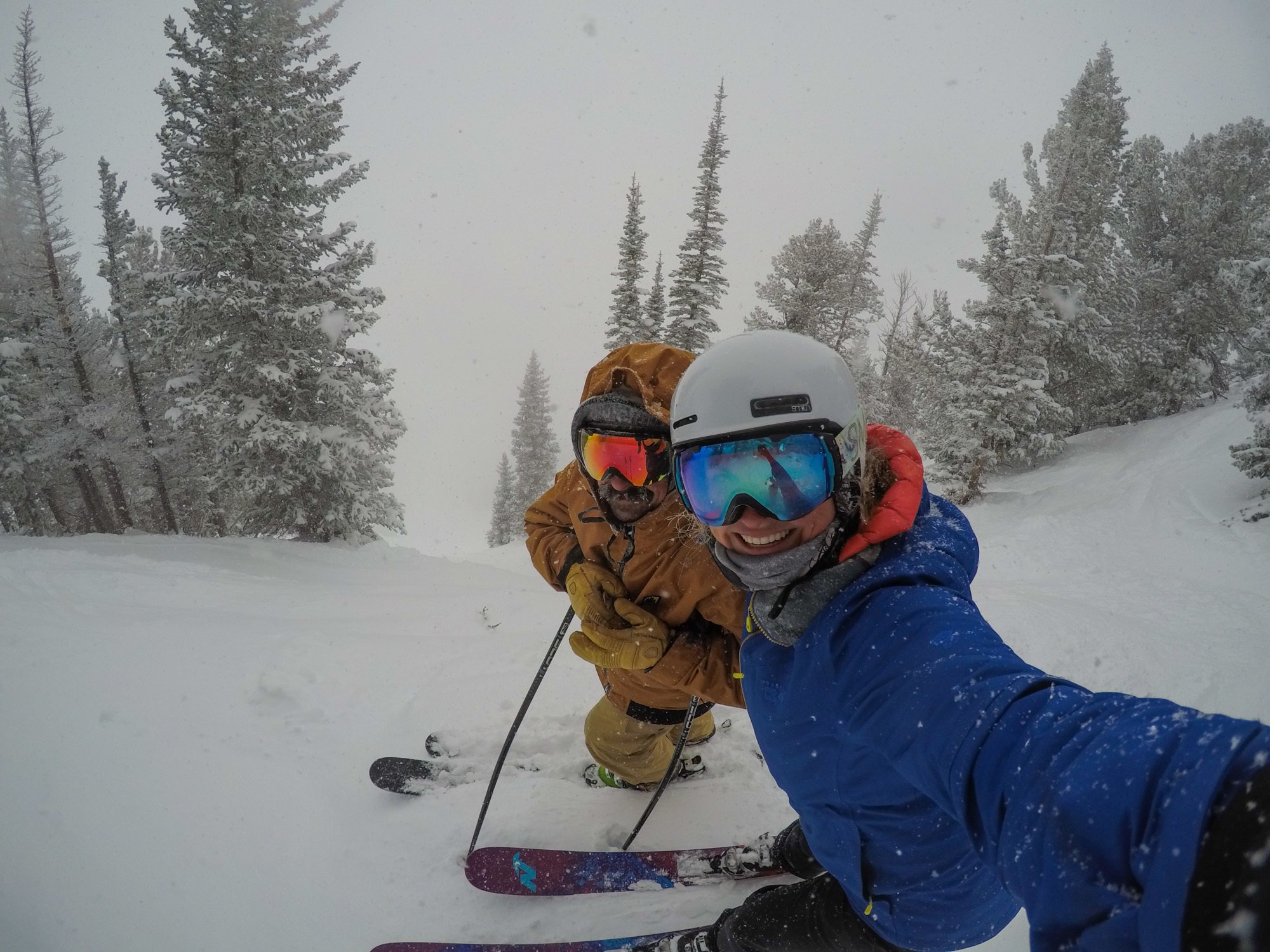 Whether you spend a majority of your time at Alta or Snowbird, you should choose one hotel and one place to rent any gear you need. Many of the hotels have ski shops on site, and both the Alta and Snowbird bases have rental shops that offer top of the line demo gear. Whether you decide to make Alta or Snowbird your base, your hotel will shuttle you to the other mountain.
If it's a powder day, I'd recommend spending that day at Alta. Alta has a lot of ungroomed terrain, and a good powder day is the best way to experience all that the mountain has to offer. I've written up an entire vacation guide for Alta, so check out that post for a detailed lay of the land. If you are a beginner skier, you'll want to start at Albion Basin, otherwise intermediate and advanced skiers, hop on Collins Lift and head to the top. My favorite spots to eat and drink at Alta are Watson's for a quick lunch, Collins Grill (which is on the 3rd floor of Watson's Shelter) for something a little fancier, and the Peruvian Bar for apres.
I've stayed the night at 4 out of the 5 Alta hotels. They are all unique and appeal to different types of travelers, and you won't be disappointed at any of them. To see which one might appeal to you most, you can read my reviews of the Rustler, the Peruvian, and the Alta Lodge. Snowbird also has several hotels. The most popular is the Cliff, the cheapest is the Inn, although I haven't stayed at either. For a full list of Snowbird lodging, visit their website.
Day 2 – Ski Snowbird
On Day 2, head to Snowbird. Snowbird is equally awesome on a powder day and the terrain is pretty similar to Alta. The main difference is Snowbird is a much bigger mountain with a wider variety of groomers to explore on a bluebird day. Snowbird is right next to Alta in Little Cottonwood Canyon and has its own set of hotels and dining options. Most people start at the Tram, but if it's busy and you are trying to beat the crowds, consider starting at any other chairlift.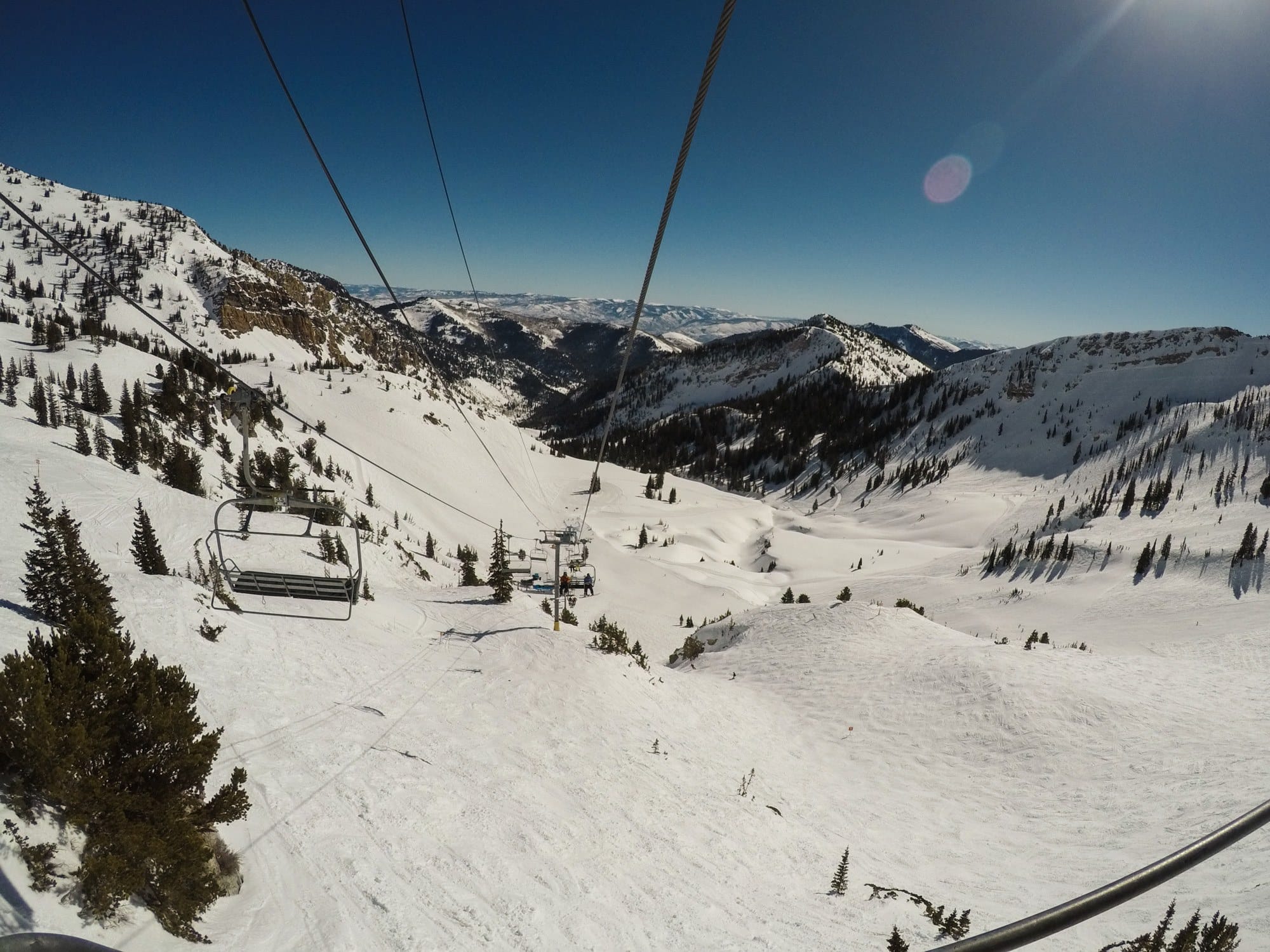 Snowbird has some amazing long and wide groomers. I like to start at one end of the mountain and work my way to the other. If it's a powder day and you're an advanced skier, Mineral Basin on the backside of Snowbird offers wide open bowls and fun terrain.
For eating, there's a brand new restaurant at the top of the Tram with sweeping views of the Wasatch Range. On a warm sunny day, this is a great place to grab lunch or an afternoon beer. The bottom of the Tram also has quite a few options with a nice sunny plaza deck full of picnic tables where you can enjoy an outdoor lunch. I'm impartial to the Grits, the first-floor deli in the tram center. They have awesome reasonably-priced subs and sell beer by the can, plus whatever snacks you might want to throw in your pocket for later.
Once the day of skiing at Snowbird is done, there are a few hot spots that I'll recommend. The Tram Club is a local's favorite. $5 buys you a shot and a beer, and the wings and the spicy cheese fries are a canyon favorite. For a more upscale experience, the Bistro at the Lodge serves up some mountain classics, and Chef RJ Peterson designed the menu to appease the business traveler and the ski bum alike. I had the elk last time I was there, which was absolutely delicious.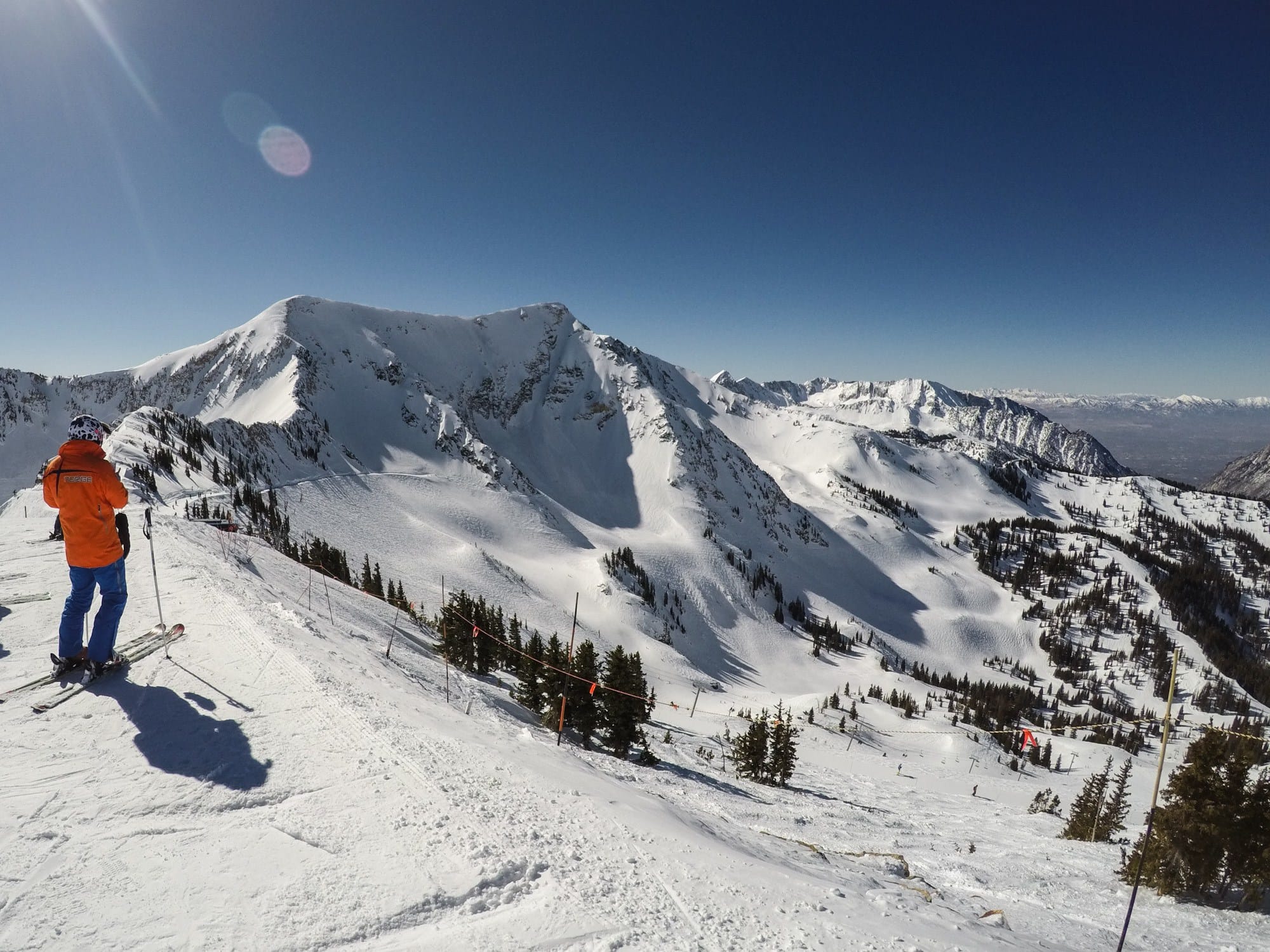 Day 3 – Drive to Sun Valley and Explore
Get up early, rent a car from the Salt Lake City airport (if you don't have one already), and drive to Sun Valley, Idaho for the next resort on your Mountain Collective road trip. The drive is 4.5 hours and pretty easy as long as the roads are clear. Check into the new Limelight Hotel, which I've already written a full post on, and if you have the time, take this day to explore the town of Sun Valley.
There's a ton of things to do besides skiing, from fat biking along the Wood River (the Limelight offers free fat bike rentals) to checking out the country's first lift, to poking around downtown Ketchum. If you need to relax those aching thighs from all of Alta/Snowbird's powder, hit up the hot tub or buy a $15 discounted pass to the Zengery Gym which has a nice steam room and massage services.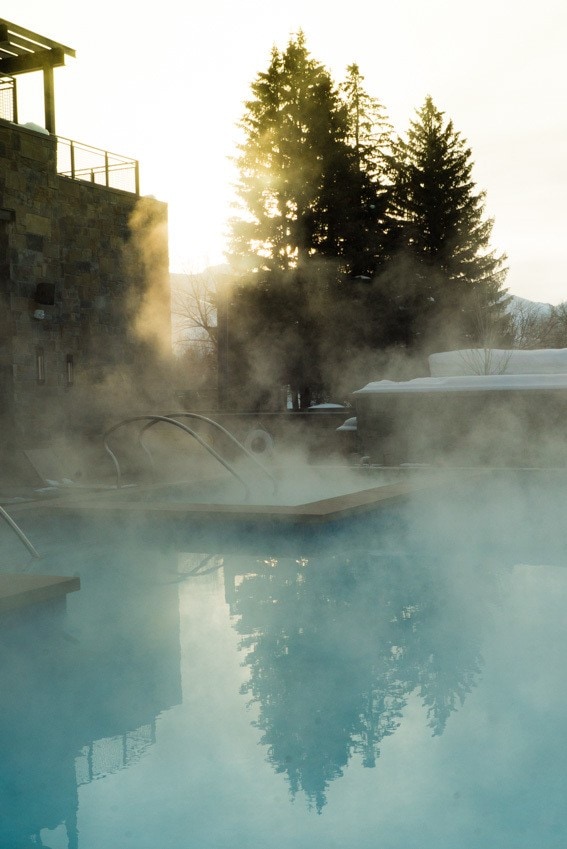 For dinner, Pioneer Saloon offers a quintessential Idaho dining experience. The menu features Idaho homestyle comfort food and wild game and is a long-time Sun Valley establishment. For something more modern, I heard great things about Enoteca which has an awesome wine menu, tapas, and wood-fired pizzas.
Day 4 – Ski Sun Valley
Start at River River Run and take the gondola up Mount Baldy. If you're staying at the Limelight like we did, they offer a free shuttle that drops you right at the bottom of the lift. Whether you start at River Run or drive over to Warm Springs, both bases have big lodges with free cubbies that you can store your shoes and stuff. So if you drive, you can wait to boot up until you get into the lodge.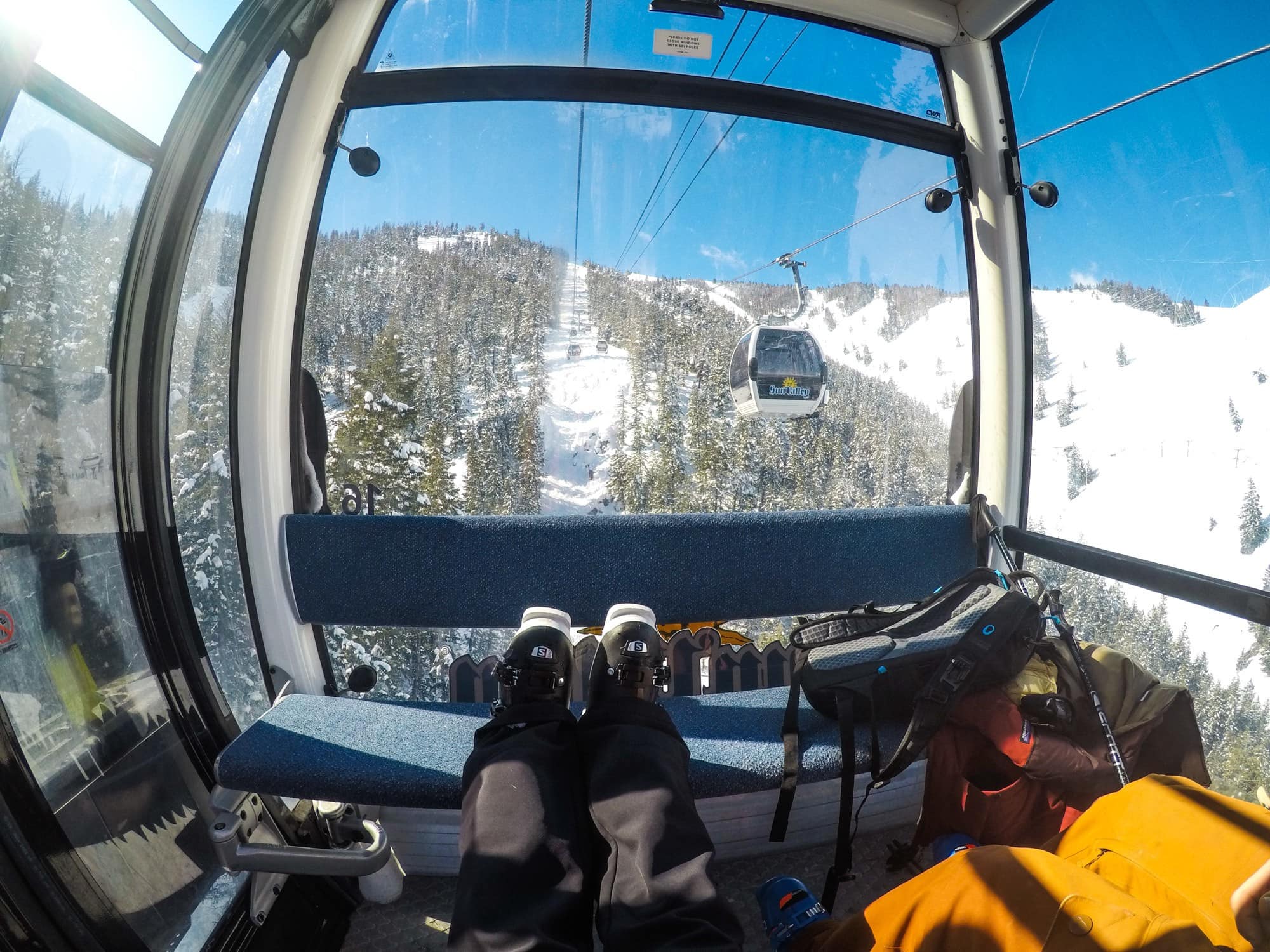 Sun Valley is a big mountain with nice wide groomers, a series of big ungroomed bowls, and plenty of tree skiing for the adventurous. The mountain also offers daily tours if you want to ski with a forest service rep who can point you in the right direction.
The cool thing about Sun Valley is no matter where you are on the mountain, it's easy to get to the top on a number of different chairs, and from the top, you can go back down to either base. From top to the bottom it's over 3,300 vertical feet, so you can cover a lot of terrain in one day.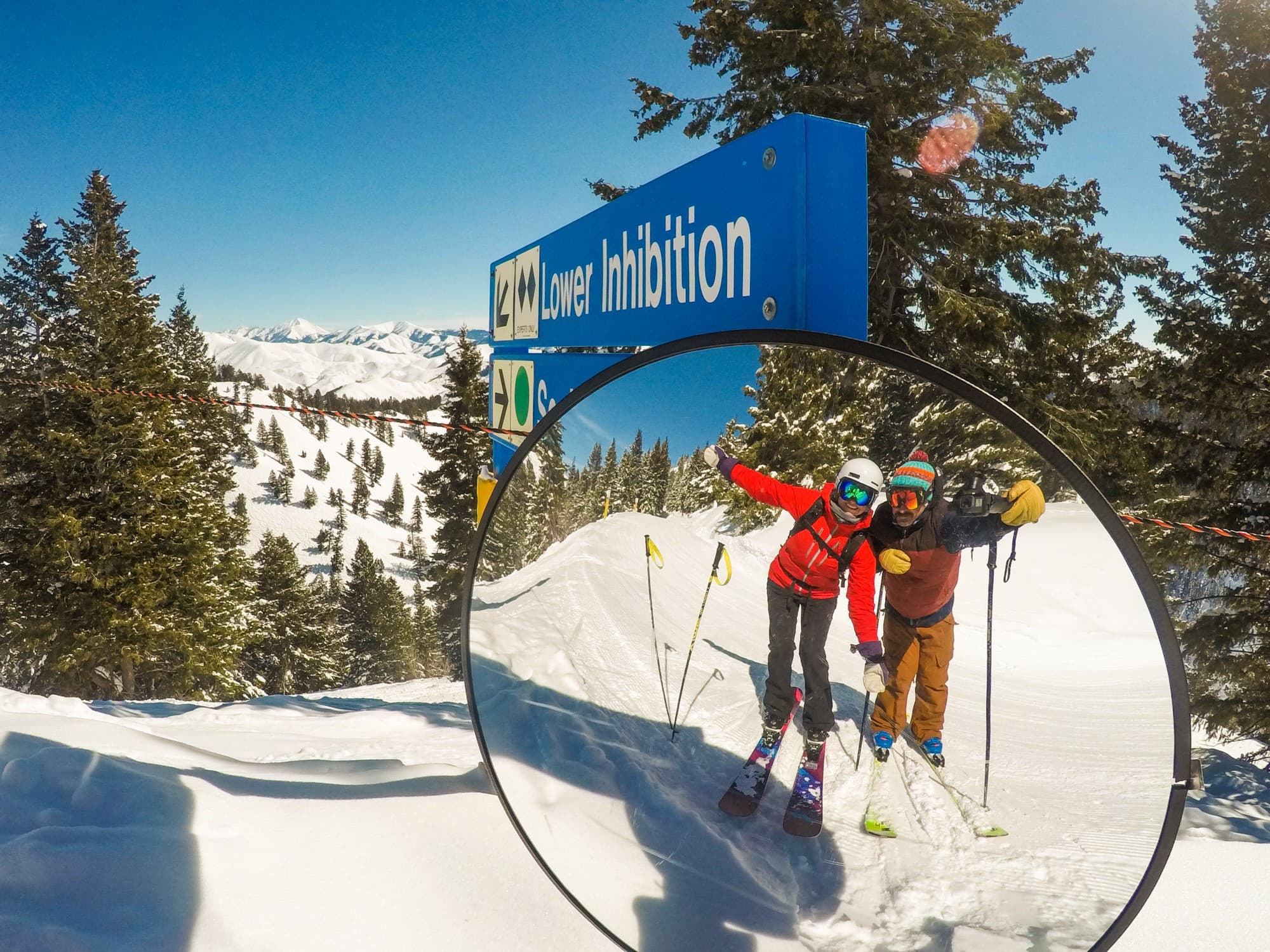 For lunch, I'd highly recommend checking out Averils at the bottom floor of the Roundhouse. It's a Mount Baldy establishment with a ton of character, a great bar, and really tasty food, with views that look right down onto town and the surrounding mountain ranges. The elk burger tops the list of food items, and the fondue is also very popular if you're willing to take the time to enjoy it.
After skiing, head back to the Limelight. Enjoy a soak in the outdoor hot tub or hit the bar for apres. They have happy hour deals, live music from Wednesday to Sunday, great food, and plenty of couches to sink into.
Day 5 – Ski Sun Valley
The second day at Sun Valley, I'd recommend starting at the Warm Springs base. Again it's easy to go back and forth from the top, and it's nice to switch things up.
Make sure to make your way over to Seattle Ridge where you'll find some fun groomers and a beautiful lodge right on the edge of the mountain. Seattle Ridge is cafeteria style, but a whole different level when it comes to quality and variety.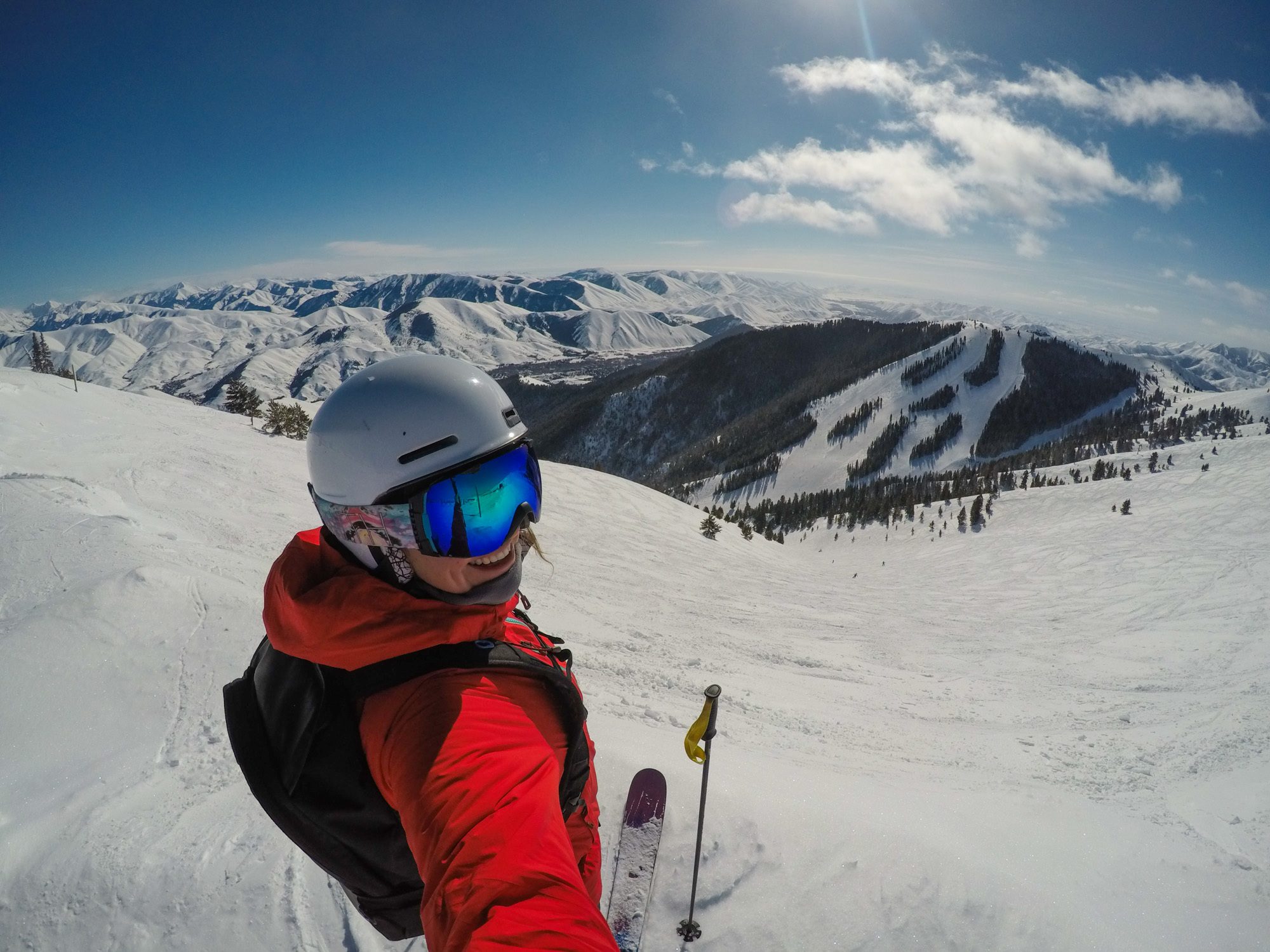 Sun Valley closes at 4, and after the mountain closes, you'll want to hit the road for Jackson Hole, the final leg of your Mountain Collective road trip. Grab a quick bite to eat at Apple's, a local's favorite that's a few doors down from the Warm Springs Lodge. They have Idaho tater tots and some pretty tasty wings to tie you over for the next leg of your drive.
The drive to Jackson Hole takes 4.5 hours. If it's snowing, it might be wise to spend one more night in Sun Valley and get an early start to arrive in Jackson Hole shortly after the first chair. The drive can be a little sketchy going over Teton Pass if it's icy, but the views are really beautiful descending into Teton Valley.
Day 6 – Jackson Hole
When you arrive at Jackson Hole, check into the Fireside Resort which offers tiny house cabin rentals that are 5 miles from the base of the mountain. The Fireside Resort has full kitchens, is dog-friendly, and you even get your own personal grill and fire pit. For a full review, check out this post.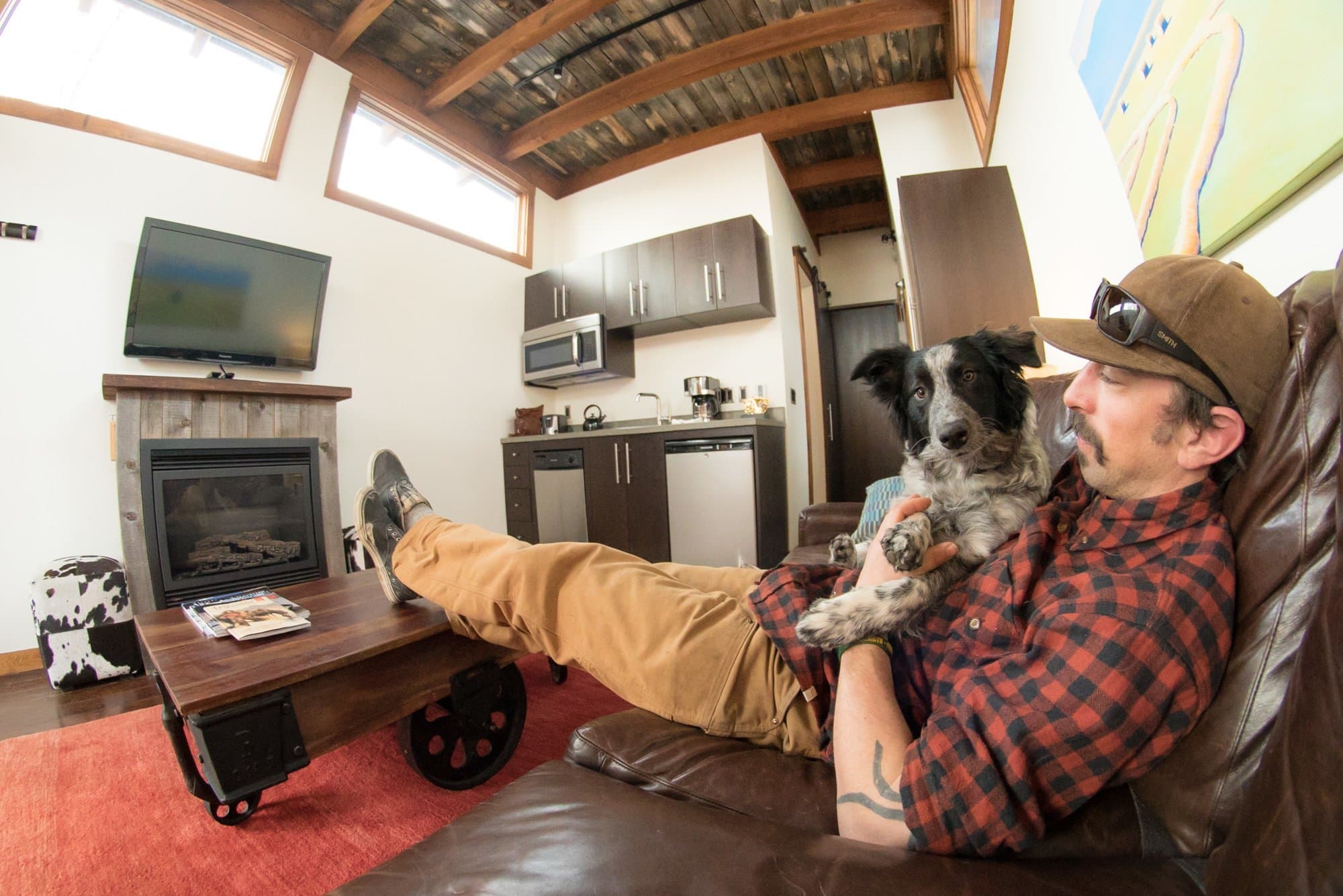 When it's time to hit the slopes, grab a hotel shuttle, take the city bus for $3, or drive over to the mountain and park in the Ranch Lot which is $10 a day. You'll want to bring only your essentials with you as there's no lodge to store your stuff. You can pay for a locker though, and if you need to rent equipment, check out Teton Village Sports.
The Mountain itself is pretty easy to navigate. All of the runs are on the east side of the range, so start with one chair and make your way to the other side. All of the groomers are well-signed, some steeper than others. If you are a beginner, the easiest terrain is located off the Teewinort Quad and Eagle's Chairlift. If you're unsure about your capabilities, this would be a good place to start.
The only way to get to the very top of the Jackson Hole is the Tram. They warn you as you are getting off that the terrain up there is Expert-Only. There was one fairly steep groomer, which was the "easiest" way down. Otherwise, all of the terrain up there is ungroomed bowls. If you get up there and realize that you're in over your head, you can ride the Tram back down to the bottom and get on a different chair.
If you're in the mood for a sit-down lunch, I'd highly recommend the Piste Mountain Bistro at the top of the Bridger Gondola. The Rosemary Chicken French Dip was fabulous, as was the cocktail menu. Alternatively, if you want to grab a quick bite, head to the Rendezvous Lodge for a cafeteria, Corbet's Cabin for a famous mountain waffle, or the Off-Piste Market for Sicilian pizza and other grab-and-go munchies.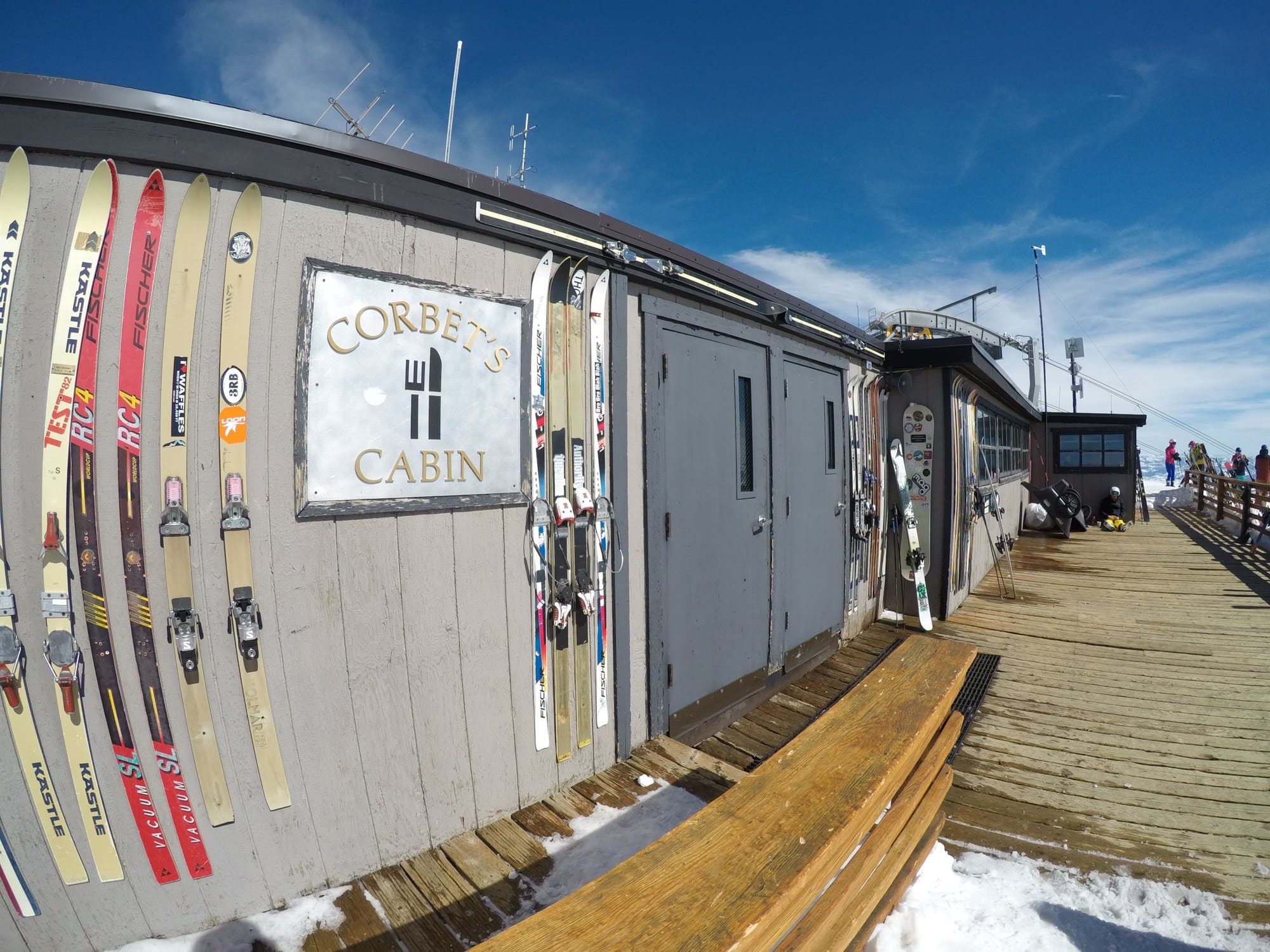 The last lifts close at 4pm at Jackson Hole. After skiing, the Mangy Moose Saloon is the liveliest spot in the village to grab a beer and catch some live music from 3:30-6 throughout the winter. Jackson Hole and the town of Jackson has a ton of restaurants if you are looking to go out. However, I suggest hitting up the Aspen Market and whipping up a tasty dinner in your kitchen at the Fireside Resort.
Day 7 – Ski Jackson Hole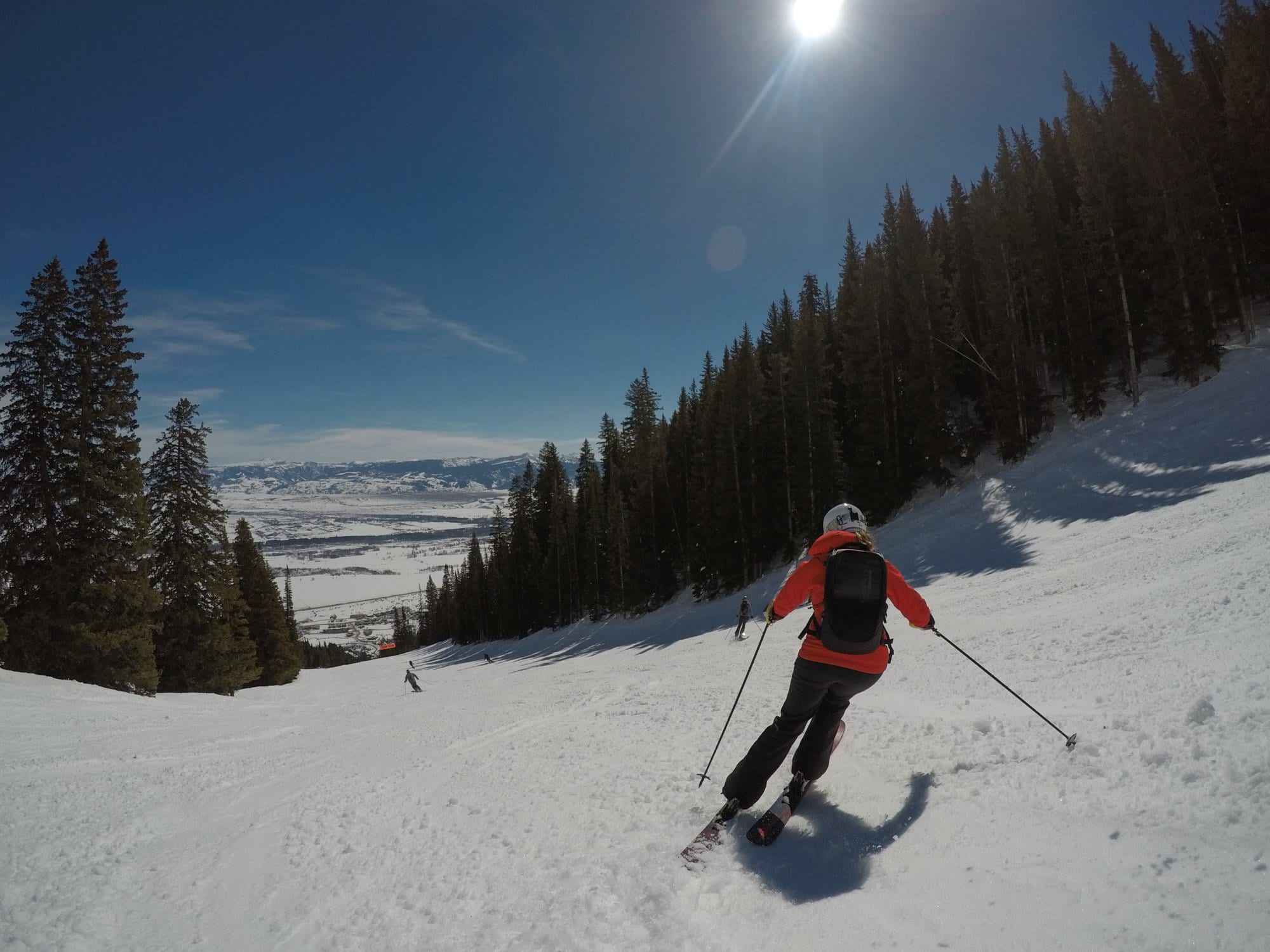 Enjoy a second day with your Mountain Collective pass at Jackson Hole. Check out the terrain you missed on the first day or head back to your favorite runs. After skiing if you plan to stay another night in Jackson before driving back to Salt Lake for your flight, stop by the Mangy Moose again to see who is playing or head to town for dinner. For something unique, hit up Lotus  which features organic meats, tasty vegetarian noodle bowls, and interesting cocktails.
I hope this itinerary gives you an idea of all you can experience with a Mountain Collective Pass. I can't wait for next season to explore another series of Mountain Collective Resorts. If you are interested in purchasing a Mountain Collective Pass for next season, they are on sale now. Head to the Mountain Collective website for more information.
WHAT MOUNTAIN COLLECTIVE RESORTS WOULD YOU LIKE TO ROAD TRIP TO? LEAVE A COMMENT BELOW, TWEET ME, OR WRITE ME A POST ON FACEBOOK. 

Disclosure:  Thanks to Mountain Collective for hosting us. As always, all words and opinions are my own, and reader trust is my highest priority. For more information on my sponsored post policy, see this page.