FIRST-TIME SKIER FAQS
If you're new to Bearfoot Theory, you might not know that I just three seasons ago I was a (defacto) first-time skier. My parents took me skiing occasionally as a kid, but I never took a real liking to it, and from my teenage years until the time I was 31, I only went skiing once. And that one time? I swore off skiing for good. When I moved to Utah back in 2015, I decided the only way I'd survive winter was if I committed at least one full season to skiing. If I still hated it after, then, well…I'd probably have to move somewhere warm.
Luckily, with equipment that actually fit, a little bit of instruction, and a lot of perseverance, I went from a first-time skier to someone who can't wait for ski season. Not only is it fun, but every time I ski, I'm physically challenged and my self-confidence grows as a result. The benefits have been overwhelming, transcending into other areas in my life.
If you're a hopeful first-time skier, you probably have a lot of questions. Questions about gear. Questions about how to learn your way around the mountain. Questions about technique. In this new blog post, I share the answers to all of the Frequently Asked Questions that a First-Time Skier might have. I hope it gives you the confidence to get out there and overcome your fears so you can start having fun.
Thank you to REI for sponsoring this post. As always with our sponsored posts, all opinions and words are my own.
What do the different signs and colors mean?
The signs with the symbols mark the difficulty of the ski run or trail. I put together this infographic about ski symbols that will help you navigate the mountain. If you are new to skiing, you'll want to start on and stick to the green runs until you feel comfortable to advance to the blues.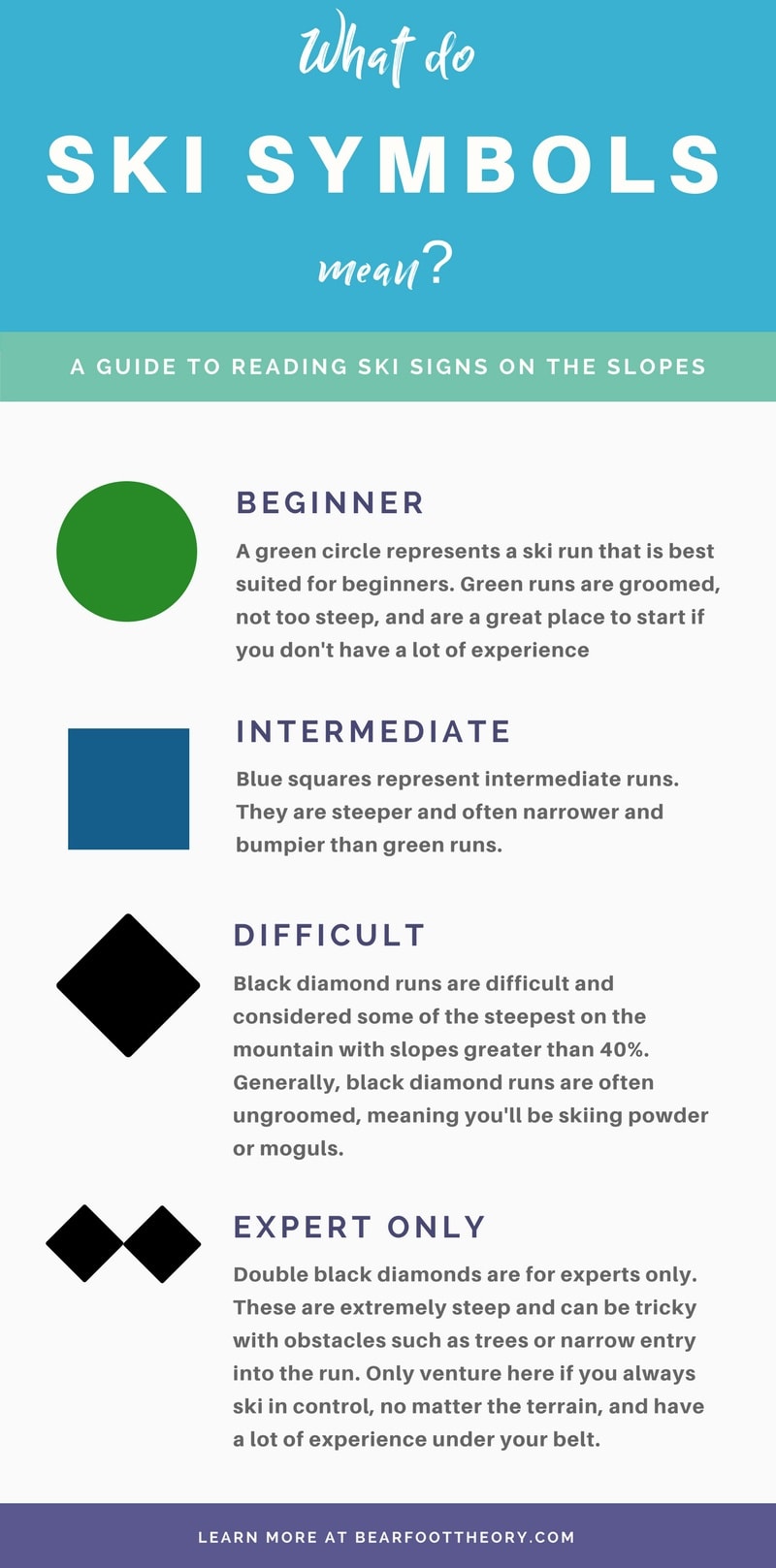 Skiing is expensive. How can I try it to make sure I like it before investing a ton of money in gear?
You're right. Skiing is an expensive sport, but once you invest in the equipment, it should last you a very long time.
Before you buy brand new equipment, I'd recommend renting at the ski resort first. Nearly every ski resort in the country has a rental shop, and renting at the mountain means if your boots don't fit right or you don't like the skis, you can swap them out after a couple of runs.
As for the clothes, most of the layers you wear underneath your ski pants and jacket are the same type of layers that you'd wear for hiking.
The outer layers, helmet, gloves, and goggles are where things can get pricey. The best time to buy skiing clothes and gear is at the end of the season when everything goes on sale. So if you know you are going to try skiing next year, start collecting your gear in March and April, right around when your REI Dividend comes out.
REI Garage is great place to score deals on last year's styles, or you can check out REI'S new used gear site. There the inventory is constantly changing, but I've seen everything from goggles to mittens in there. The benefit of buying your ski gear at REI is that if you go skiing for a weekend and decide that skiing just isn't for you, you can return that brand new ski jacket or helmet for a full refund (as long as it's not damaged).
The other place you can look for discounted ski gear is your local ski swap. These usually happen in October and November every year.
As far as resorts, look for the mom-and-pop type mountains. These are going to be cheaper for first-time skiers – not just the tickets, but rentals, lessons, and the whole shebang.
Check out these beginner-friendly ski resorts.
I get cold easily. How can I stay warm?
With skiing it's all about layering. I think you'll be surprised to see how warm your body stays when you're skiing. It's on the lift when you're more likely to get cold. My hands are usually where I feel it first. If that sounds like you, you should opt for mittens over gloves. This year, after constantly cold fingers last year, I finally invested in a pair of Black Diamond Insulated Mercury Mitts, and I couldn't be happier.  A cheaper alternative is to stuff a couple of disposable hand-warmers inside your gloves. That's not a long-term solution, but it will get you through your first few day.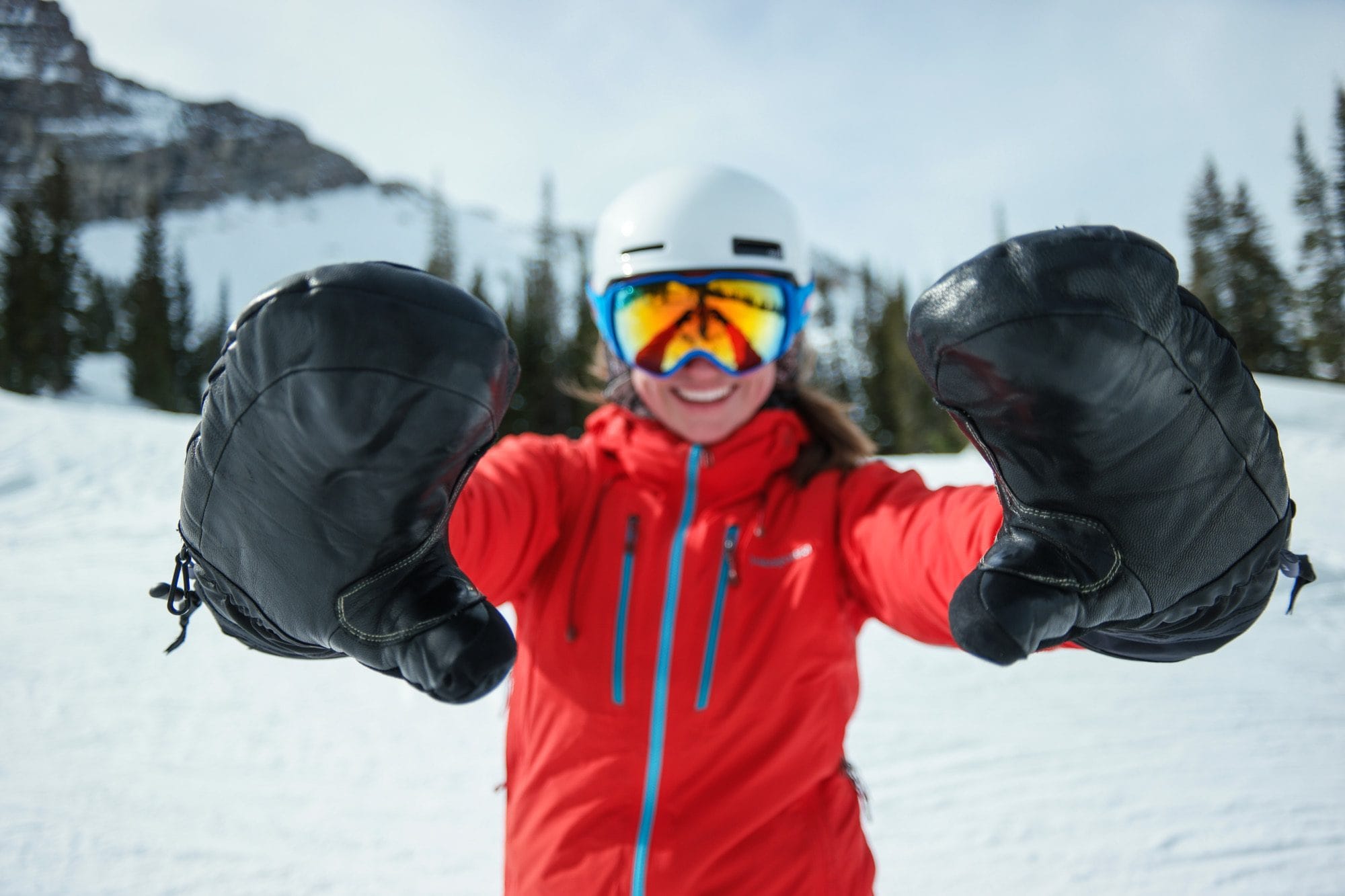 Feet are a little tricker. First-time skiers are often tempted to wear super thick socks, but I don't recommend this. Thin ski socks result in a better boot fit and will allow your foot to breath, meaning it won't get sweaty and cold. In addition, there are a couple of things you can do to help keep your feet warm.
Don't leave your ski boots in the car overnight. Putting cold boots on in the morning is an uphill battle if your feet get cold easily.
Avoid cotton socks. Pick a thinner sock made of wool.
If you get too cold, go in the lodge and unbuckle your boots to allow you blood to circulate better. Grab a coffee or hot chocolate while they warm up and go back out when you are feeling a little toastier.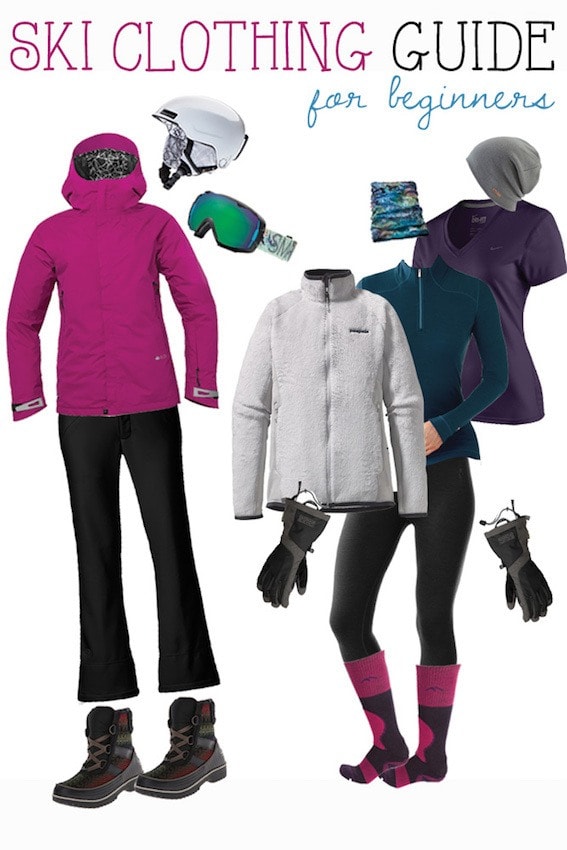 For more advice on layering, check out our post "What to Wear Skiing"
How should my boots fit?
Boots should fit on your feet like a glove would fit on your hand. Nice and snug and not a lot of extra room.
When you are putting on the boot you want to kick your heel as far back into the heel pocket and learn your shin forward. Start on the buckles on the top, as they will lock your heel into place. Then finish with the two bottom buckles. Once your boot is fully buckled, your toes should not be scrunched. Your toes should be almost flush with the end of the boot, with the slightest amount of room to wiggle your toes.  A loose boot might feel more comfortable in the rental shop, but as soon as you start skiing on it, you'll be sliding around in the boot and cramping up your feet in order to steer, which will end up hurting more than a tight boot.
If you are ready to invest in a pair of boots, it's always better to go smaller. I wear a 9.5 shoe in women's and my ski boot size is 24.5. The first time I tried them on, I thought no way. They felt way too small, but the boot fitter explained that a smaller boot can be adjusted. You can get custom foot beds, custom liners, and with many new boots, they can even mold the actual shell of the boot if you have areas that are rubbing. On the flip side, a boot that is too big, you can do nothing about.
I'd also suggest trying on a few different pairs, even if you are renting. Don't just take the first one the person at the rental shop hands you.
What's the difference between fat and skinny skis, and what kind of skis should I get?
What kind of skis you rent/buy depends on the conditions you will be skiing the most in. The three factors you need to consider are width under foot, turning radius, and length.
In the most general terms, fat skis are for powder while skinnier skis are for the groomers. If you are looking for an all-mountain ski that can handle a variety of conditions, from soft groomers to choppy snow after a storm, something in the 96-103 mm range will be a good option. The number is the width underfoot and is measured in millimeters. A skinnier ski will be easier to get an edge on if you are skiing in hard-packed, icier conditions. If you live on the east coast where conditions tend to fall into that category, you might look for something in the 88-93 mm range. If you live out west and will be skiing deeper snow, then you can go a little wider like 105-113mm.
A shorter turning radius means that the ski will be easier to make quick, tight turns. As a beginner, you should look for a ski with a turning radius that's less than 18 meters.
Shorter skis are easier to maneuver for first-time skiers. Longer skis are more stable at high speeds. As a beginner, you probably won't be bombing it down the mountain, so you'll want something on the shorter side. But don't go too short because that means the ski won't grow with you as you progress. The proper length is also determined by how tall you are.
I ski on Nordicas and love them. If I were in the market for a new all-mountain ski, some popular models I'd be looking at are:
But don't take my word for it. The best thing you can do is spend a day demoing a few different pairs so you can feel how they ski. You don't need to be an expert when you walk into the ski shop, but it having a basic understanding of the three above factors will help you have an educated conservation with the shop you are renting from. If you like the skis you rent, rental shops often offer deals on demo skis, especially late in the season.
For more information, check out REI's post "How to Choose Downhill Skis"
How do I slow myself down while skiing?
Maybe you've heard of pizza wedging? That's the method they teach first-time skiers to use to slow themselves down where you point the front tips of your skis together. This will create friction and help slow you down.
The more advanced way of slowing down is to put your skis parallel to the slope, put most of the pressure on your downhill ski and lean into the mountain with your edges.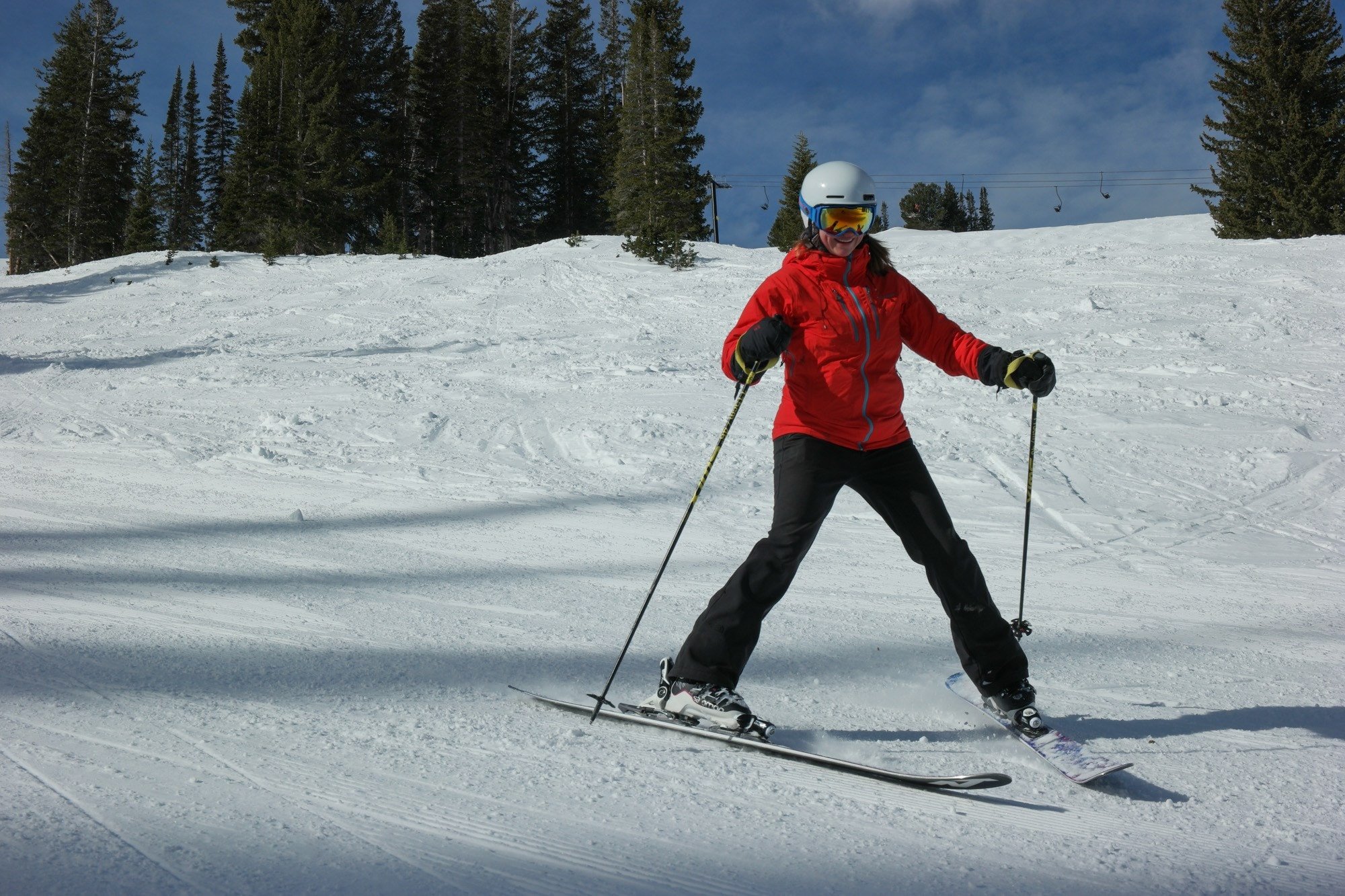 Will I have to go on a ski lift? How does the ski lift work?
Most likely yes. Some bunny hills will have rope tows – which is a good place to start as a first-time skier. Othewise, you'll take the lift up. Getting on the lift is easy. Wait until the chair before yours passes, then slowly make your way out to the loading point. There's usually a strip on the ground telling you where to stop. Put your poles in one hand, look backwards and grab the bench of the chair with the other hand, and then just sit down.
To get off the ski lift, keep your ski tips up. When the chair gets to the flattest part of the offloading point, put your poles in one hand, and use the other to stand up and push yourself off the chair.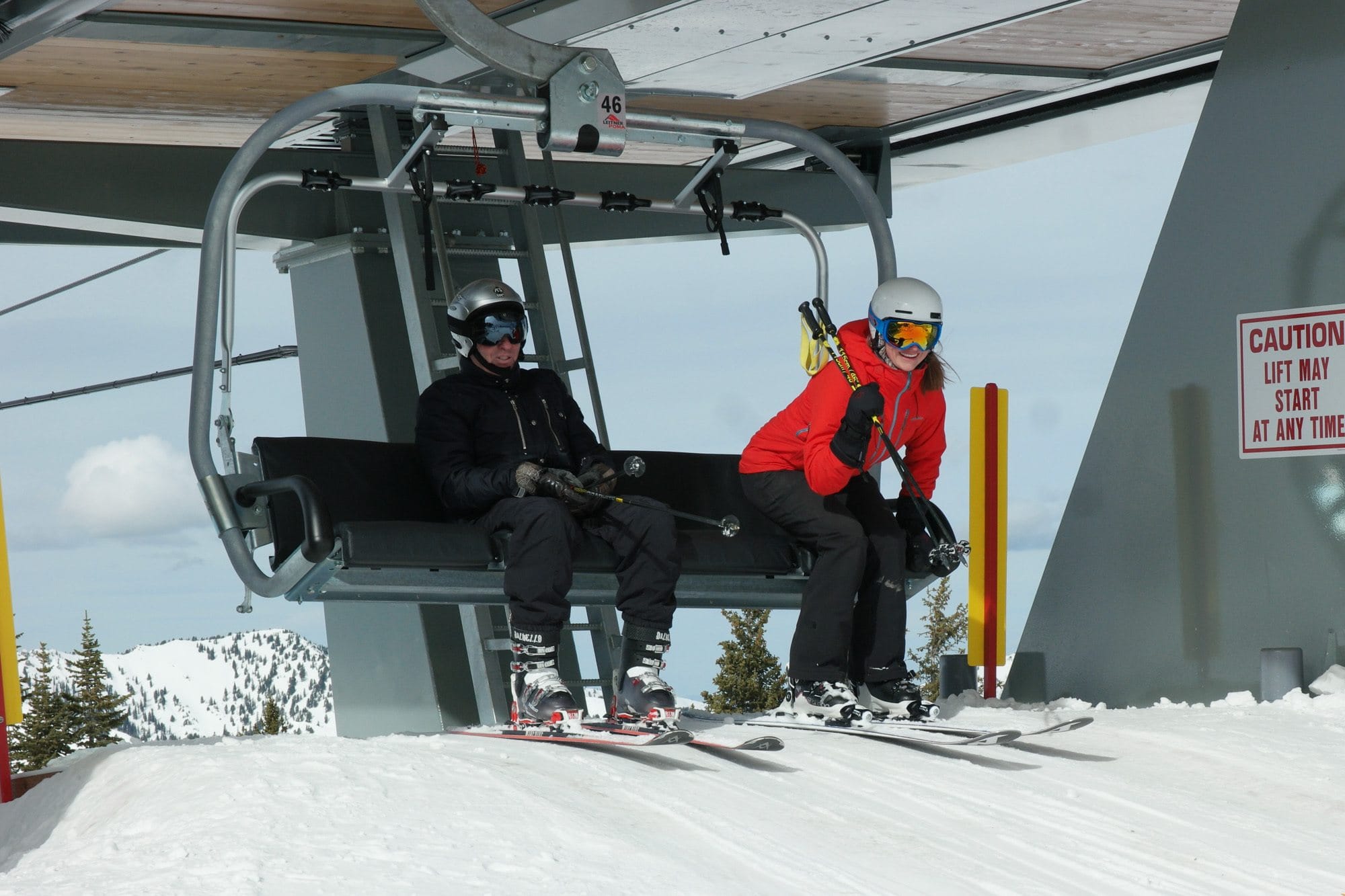 How athletic do I need to be to ski?
Skiing is an athletic sport, and the stronger your muscles are, the easier time you will have. You use muscles that you don't use for anything else, and like any new sport, you may end up feeling pretty tight after a full day. Make sure to stretch! While having healthy cardiovascular system is also important, you can ski without being in tip-top shape. Every now and then you'll have to push yourself along a cat track, which may leave you a little out of breath. However, as a first-time skier, most of the slopes you'll be skiing won't require too much cardiovascular effort.
Do I need to carry a backpack?
No, in fact, I'd recommend against it. Backpacks are distracting on the chairlift, and if you are already nervous, a backpack will only get in the way. If you have extra layers, snacks, or anything else that you want handy, grab a locker at the base to store your stuff. If you get thirsty, just stop in any cafeteria or lodge on the mountain, rather than lugging around a water bottle all day.
Should I wear a helmet?
Helmets are generally comfortable, warm, and waterproof. More importantly, they protect your head. No you won't be whizzing through the trees as a first-time skier, but a helmet gives you confidence, and if you take an unexpected spill on some hard snow, you can prevent a serious head injury.
I wear a Smith Allure helmet. It's low-profile, and I barely notice it's there. If you don't want to buy a new helmet, then most ski rental shops also rent helmets.
Should I take a lesson?
As a first-time skier, I whole-heartedly recommend you take a lesson. Most mountains have group lessons for beginners that won't break the bank, and it's a quick way to learn the basics so you can at least get down the bunny hill without falling. Furthermore, if you are unfamiliar with the mountain, it can be intimidating to figure out how to get around, and an instructor will take you to the best places on the ski hill for your skill level.
When I was first starting out, I took a lesson at Alta, and I have continued to take lessons as I've excelled. It has helped me refine my form and avoid developing bad habits.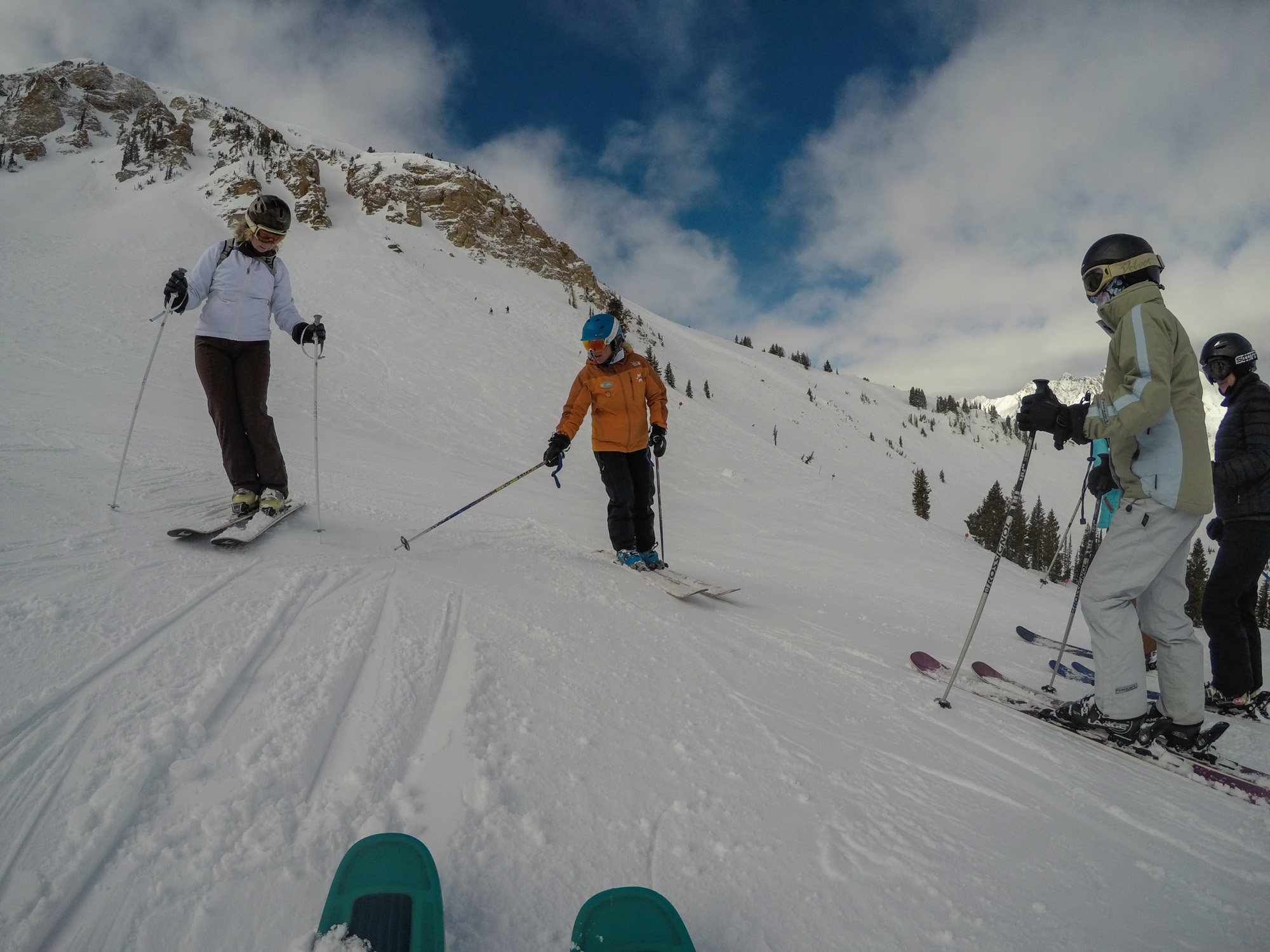 I hope this blog post encourages you first-time skiers to give it a try. If you have other questions I didn't address or tips to add, leave them in the comments.