Winter Hiking at South Moat Mountain, New Hampshire
Looking for a winter hike in New Hampshire? Our trail guide to hiking South Mount Mountain in the winter includes what to bring, trail tips and more.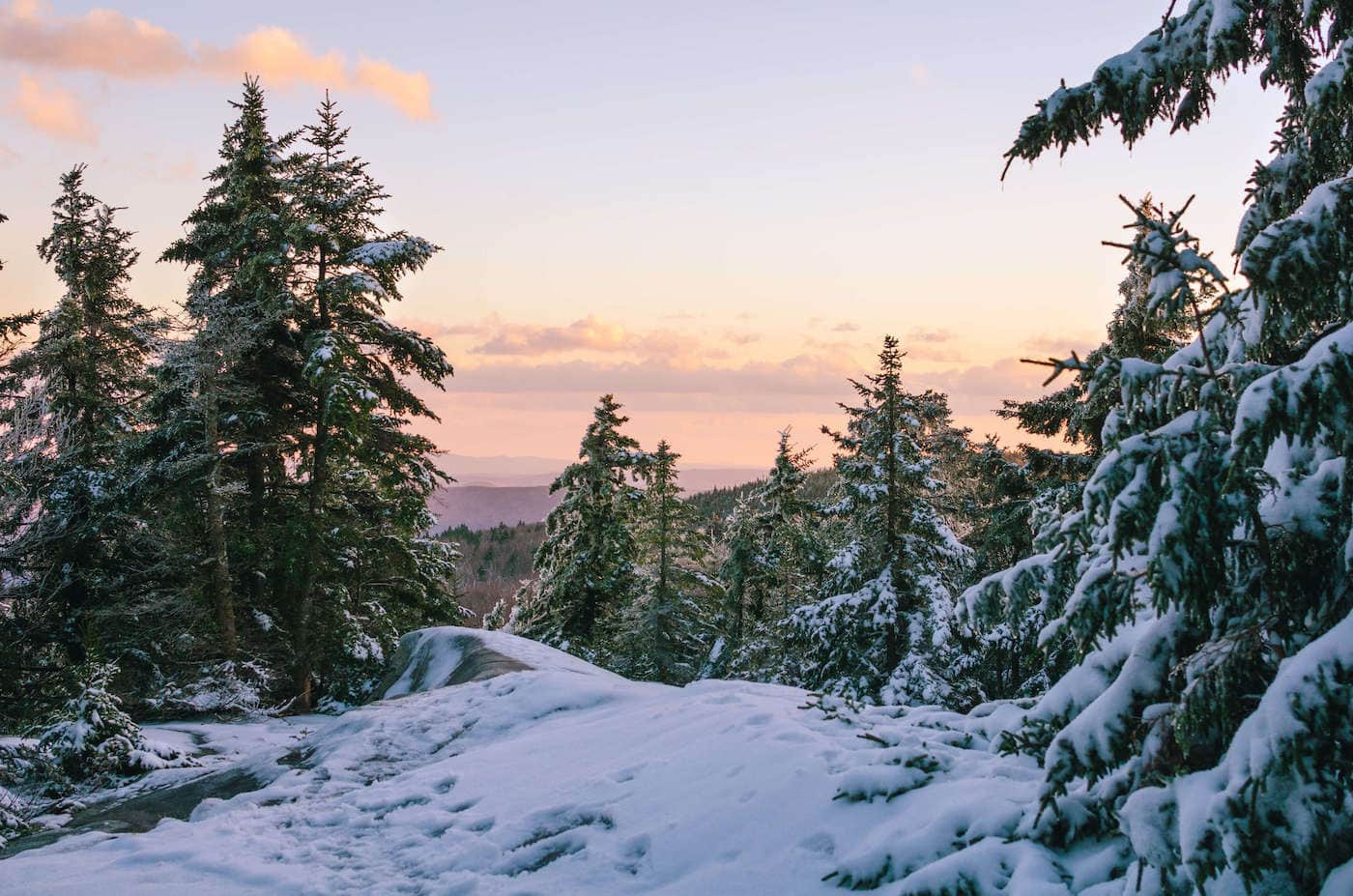 South Moat Mountain is an accessible yet challenging hike in the Northeastern corner of the White Mountain National Forest in New Hampshire. It's a good hike for anyone who is willing to gain a fair amount of elevation in a relatively short distance: 2,103 feet in 5 miles. Thanks to its prime spot at the mouth of the National Forest near Conway, it is a bright and airy hike that makes you feel on top of the world when you finally get to the top.
Hiking South Moat Mountain in the winter is an ideal time to go, especially if you're ok with being a little chilly but keen on avoiding crowds. Alternatively, trekking here during the warmer months usually means more people, dogs, and definitely fewer parking spots. In this post, we highlight everything you need to know about hiking the South Moat trail in winter.
Get out and hike the Whites this winter! Here's your trail guide for winter hiking at South Moat Mountain, New Hampshire.
As it goes in all of the destinations we share, please practice good trail etiquette and remember to Leave No Trace. This means packing out all of your garbage, being respectful to others on busy trails, and following the established rules.
South Moat Mountain, New Hampshire Basics
Just around the corner from New Hampshire's popular mountain town of Conway and a hop, skip and a jump from the scenic Kancamagus Highway is the trailhead for South Moat Mountain. It's one of the beautiful peaks that make up the 8 mile Moat Mountain Trail in the White Mountain National Forest. Expect multiple vista points, one brief (but fun!) section of scrambling, and a river that is frozen over in the winter.
Trail Type: Out and Back
Distance: 5.8 miles
Difficulty: Moderate
Dogs allowed: Yes
---
Preparing for Winter Hiking in the White Mountains
Here's the thing, everyone will tell you this trail is best hiked from May through October and while there is plenty of truth to that, the White Mountains are something to behold when they are snow-covered and well, white! That being said, winter hiking means taking a few more precautions than usual. To help you prepare, here is a list of what to bring and what to know while hiking South Moat Mountain in the winter.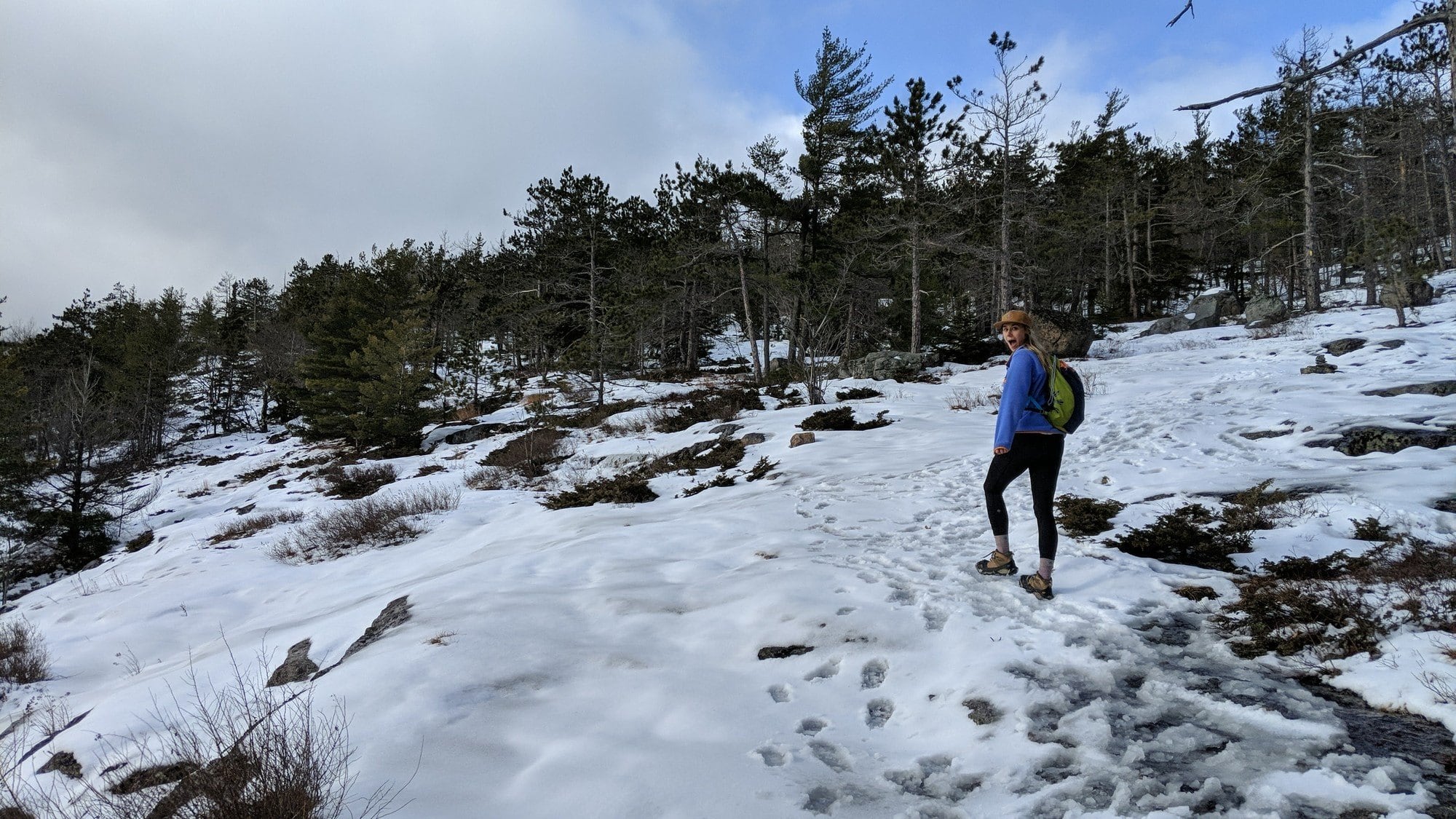 What to bring
What to know before you go:
The sun sets early during the winter so start your hike in the morning or early afternoon to avoid hiking in the dark.
Winter hiking means slick conditions. Be prepared to take it slow and steady. Microspikes and trekking poles will help with this.
The last push to the summit is a steep incline that will have you working up a sweat. Take a break, drink water or hot tea, and eat a snack before heading up to the top. It's important to dry off now so you don't freeze when you arrive at the top where it's cold and windy.
A note about winter hiking safety
It's important to take winter hiking seriously and come prepared. Check the weather and pack accordingly. Conditions can quickly change for the worse in the White Mountains and a slip on icy granite can easily cause a twisted ankle. Pace yourself, be smart, and stay on the trail. It can be easy to get distracted and miss a trail marker when things are snow-covered.
While I was out here, I saw two people hiking up the mountain late in the afternoon without proper footwear or attire. They were struggling to get up a small section and it was clear they were going to be hiking back in the dark. Not a great situation. It's crucial not to underestimate safety and preparedness in the outdoors, especially in the winter season.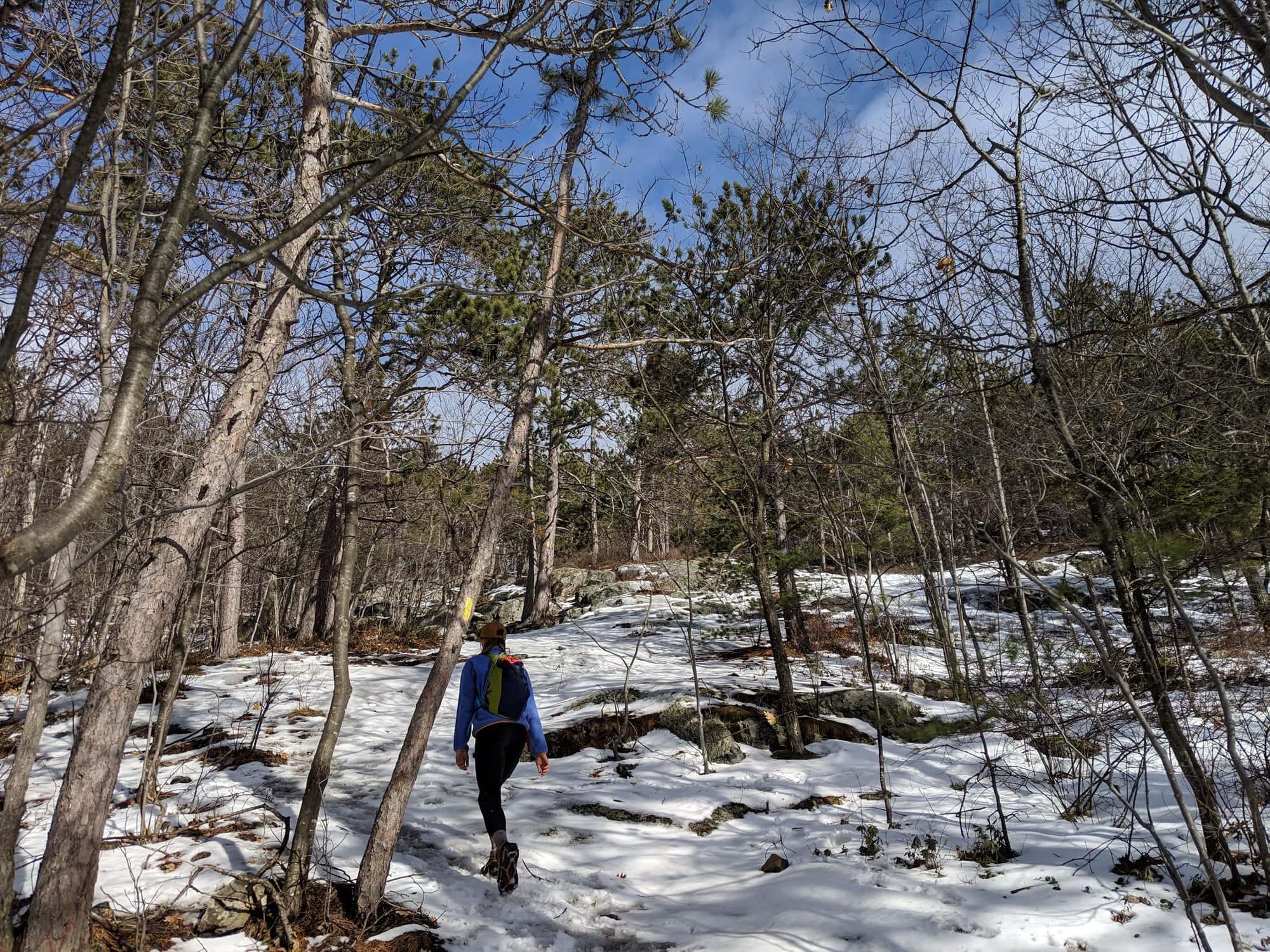 ---
How to Get to the South Moat Mountain Trailhead
There are 3 major roads that will get you to the trailhead: Route 302, Route 16, and the iconic Kancamagus Highway (Route 112). All of these will funnel you to Passaconway Road, a scenic country road that winds into the White Mountains and takes you to a clearly marked parking lot where you'll see the South Mountain trailhead directly ahead of you.
---
South Moat Mountain Winter Trail Guide
The trail begins at the parking lot, where there's a visitor's board with a map and some general information. To your left, you'll see a big field where the trail begins marked by blazes until it narrows down to a two-person wide walking path.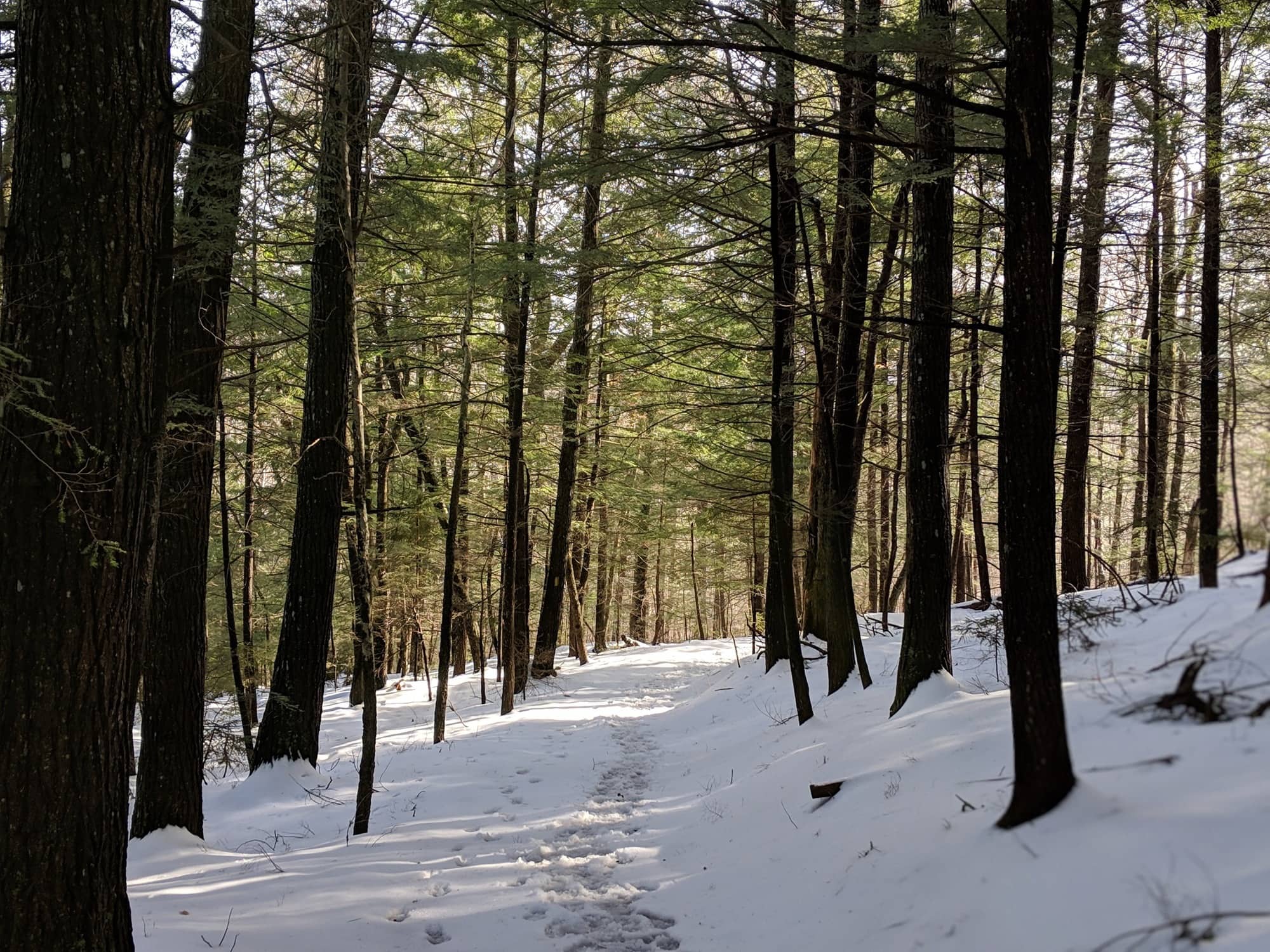 We hiked South Moat Mountain in late December when there was snow on the ground (about 3-4 inches) and the weather was fairly warm and sunny. For that reason, things were a bit more wet and slippery than usual and we were definitely psyched to be wearing microspikes.
South Moat Mountain is a pretty mellow trail for the first few miles as the switchbacks lazily wind through the pine-forested woods and take you over a small river by bridge. The good news is that there are no other trails that connect with South Moat Mountain, so you can get lost in conversation without having to pay too close attention to the trail markers.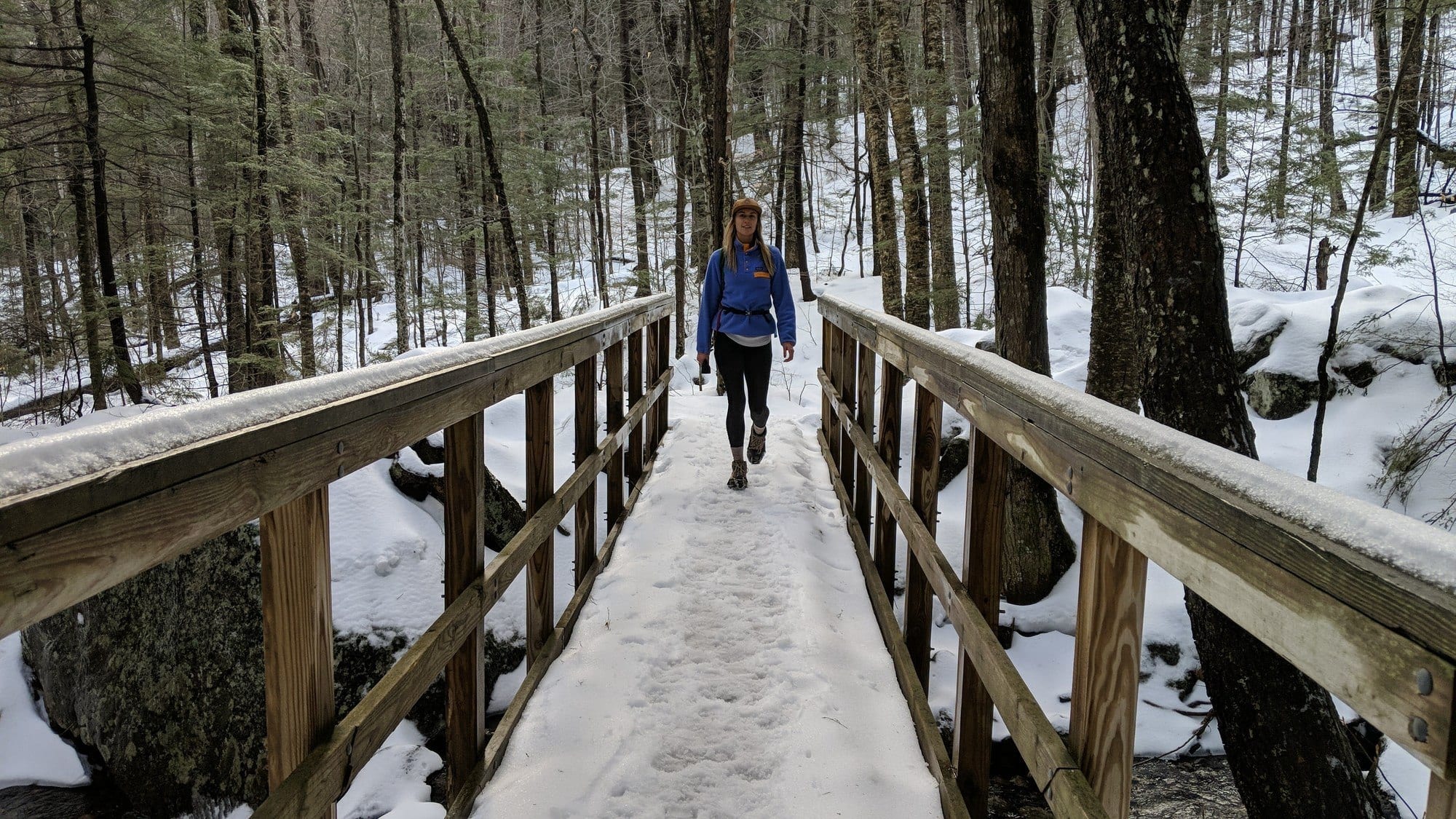 A couple of steep pitches and one very brief rocky scramble brings you up to the first vista: a wide-open field with panoramic views of Mount Chocorua, the Whites, and the Ossipee's. It's pretty spectacular but it's also just the first of many views.
Another mile or so of following the trail blazes and you'll find yourself climbing up the last few ledges before the summit of South Moat Mountain. This is still relatively warm in comparison to the windchill at the top, so we decided to pause for a few minutes to dry off, layer up, and take some pictures.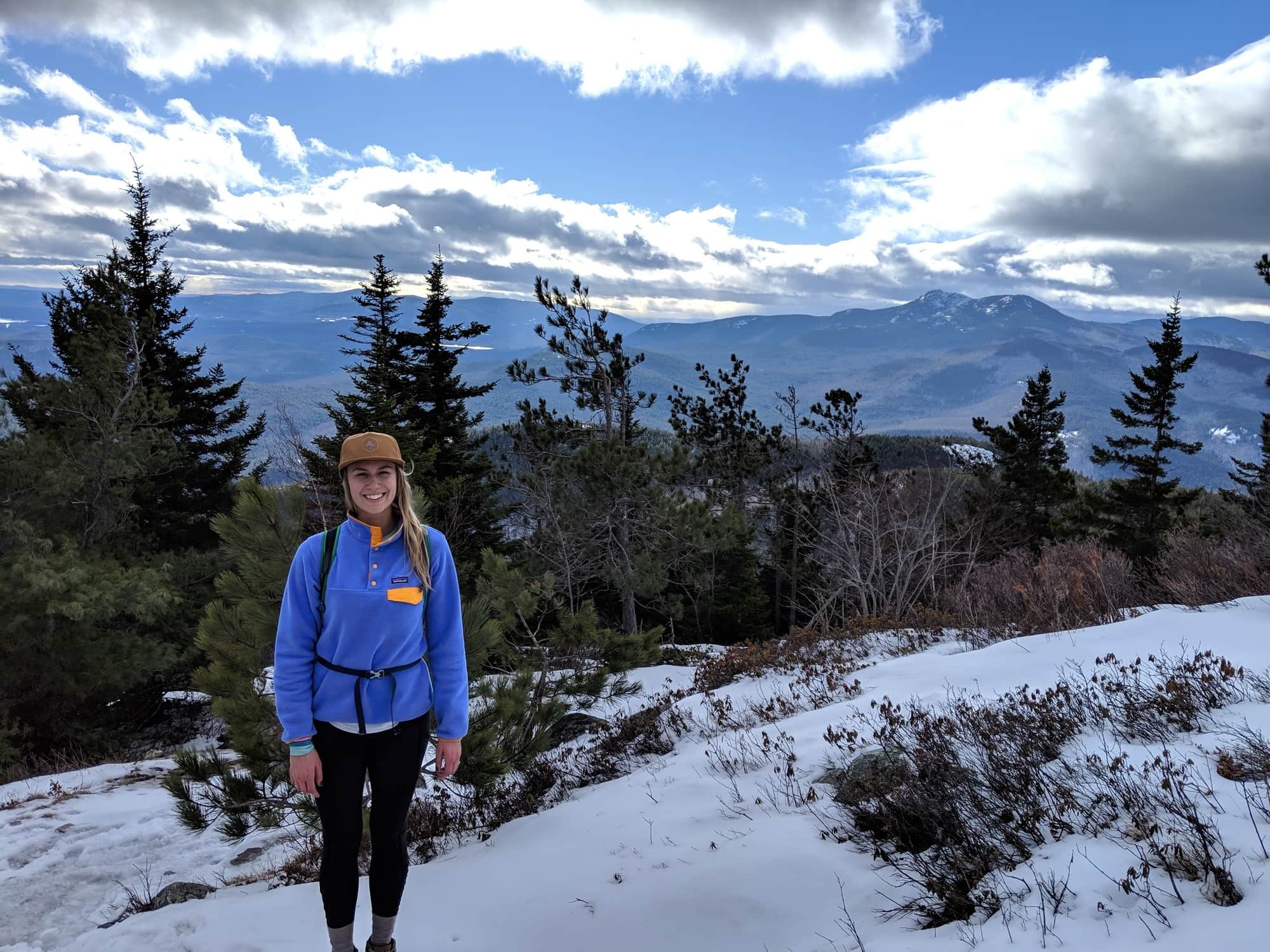 Summit views at the top of South Moat consist of the expansive White Mountain National Forest and Cranmore Mountain, a local ski hill directly to the right. Hiking South Moat Mountain in winter doesn't make for the most relaxing break at the peak thanks to the temperature but on a sunny day, the views are still amazing.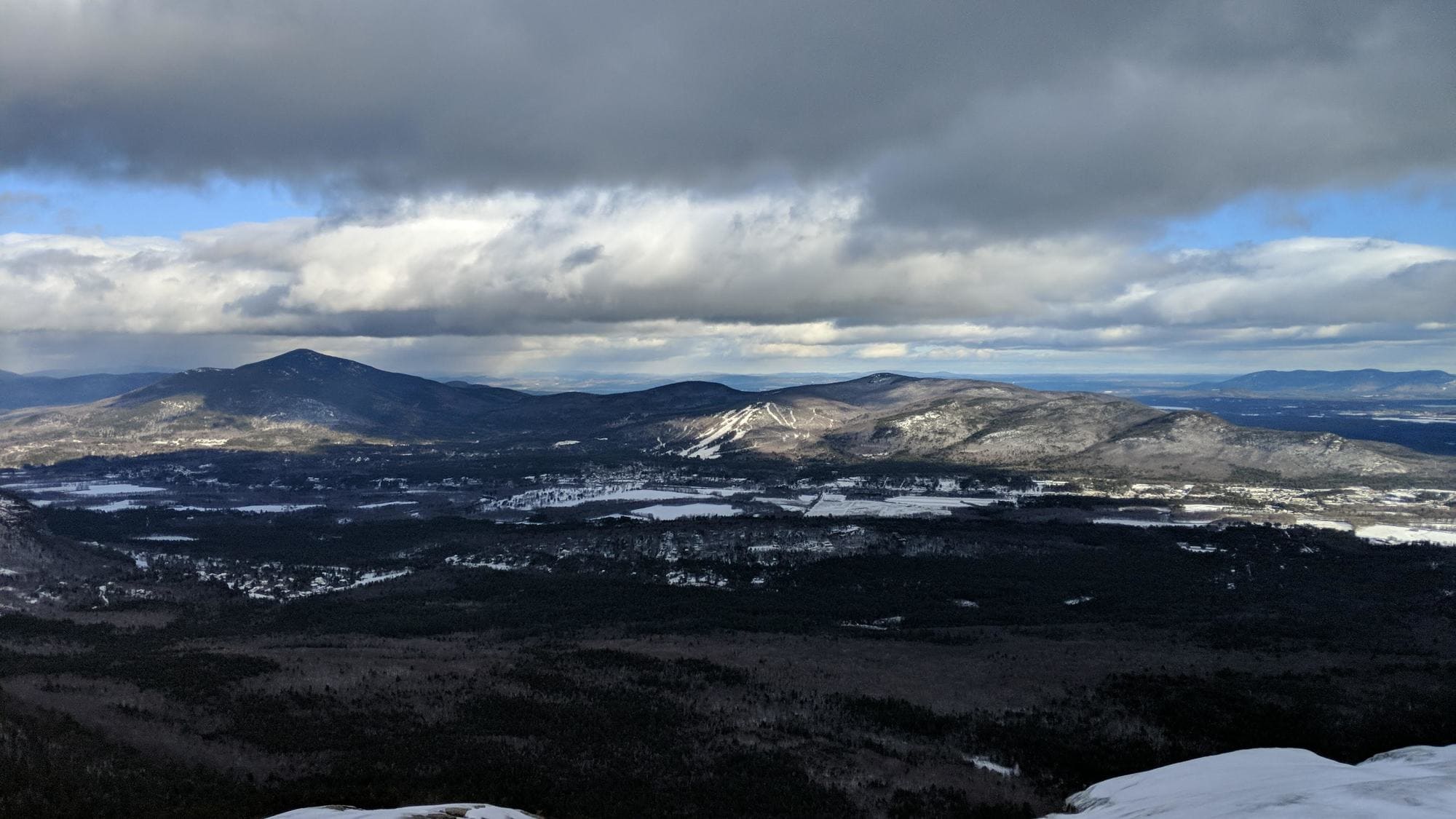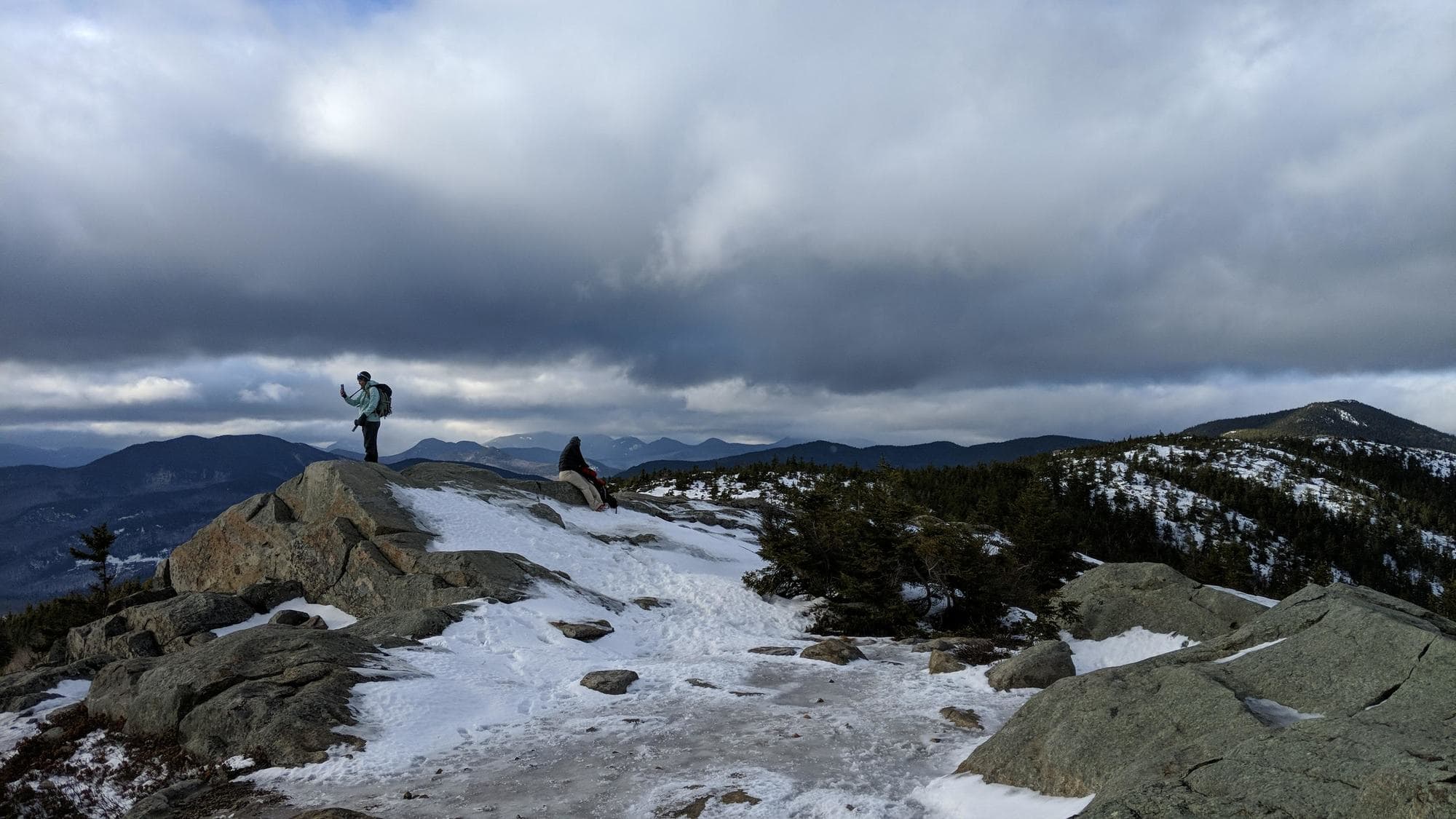 We had originally planned to eat our chili and drink some hot liquids to refuel there but there wasn't much protection from the wind. A quick walk down to a rocky ledge proved to be the right spot, where we still got to take in the views and eat some warm food.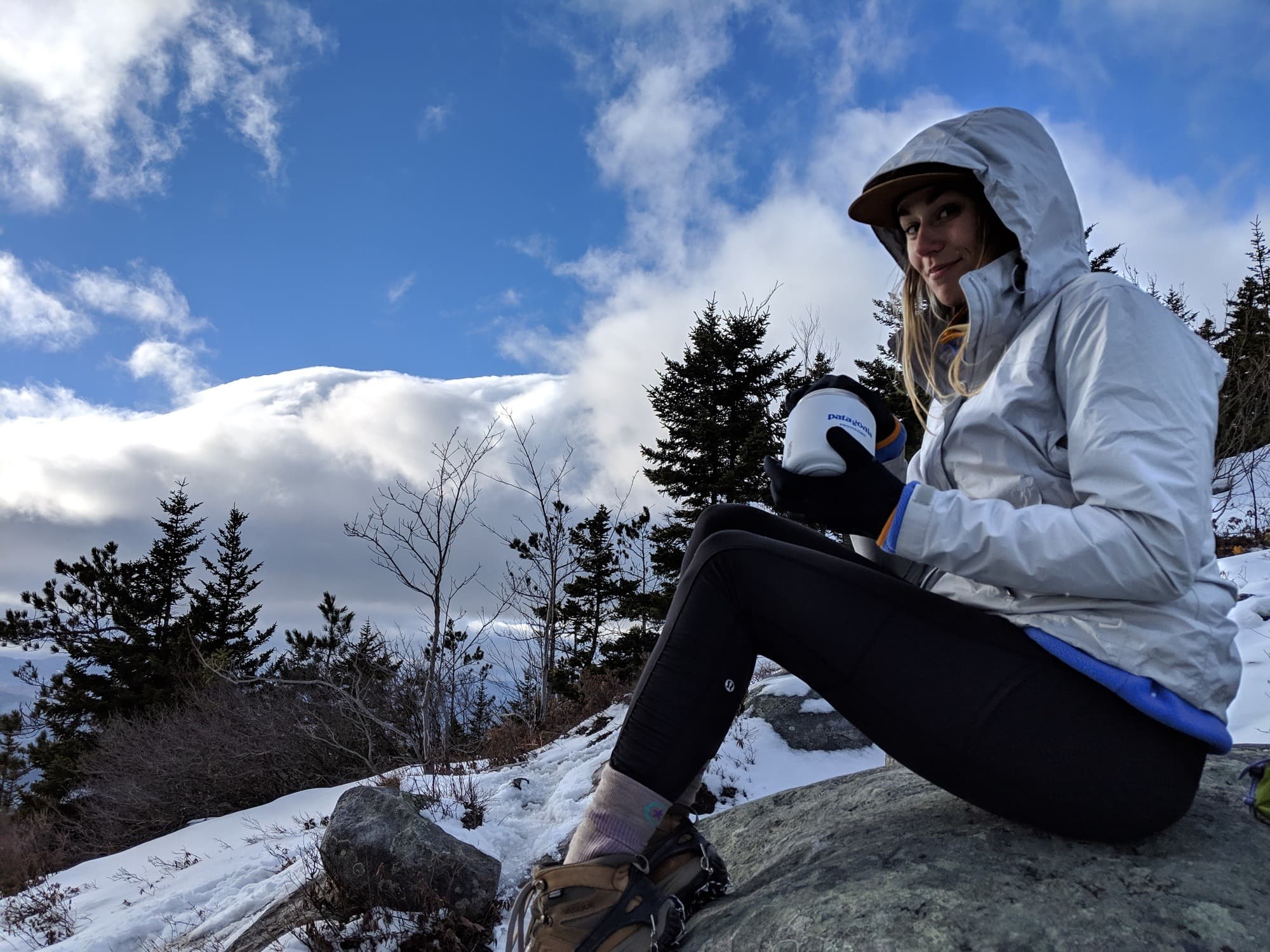 In true winter hiking fashion, the hike back down was pretty slick with a few good wipeouts along the way. Again, we were thankful for our microspikes. Although it started to get even colder as the sun began to set, it cast beautiful pale winter light through the trees and sparkled on the snow. Just another reminder of why hiking South Moat Mountain in the winter is so worth it!
---