The Ultimate Guide To Assateague Island Camping
Discover the best Assateague Island camping and explore the Island's bike paths, wide-open beaches, wild ponies, and beautiful forests.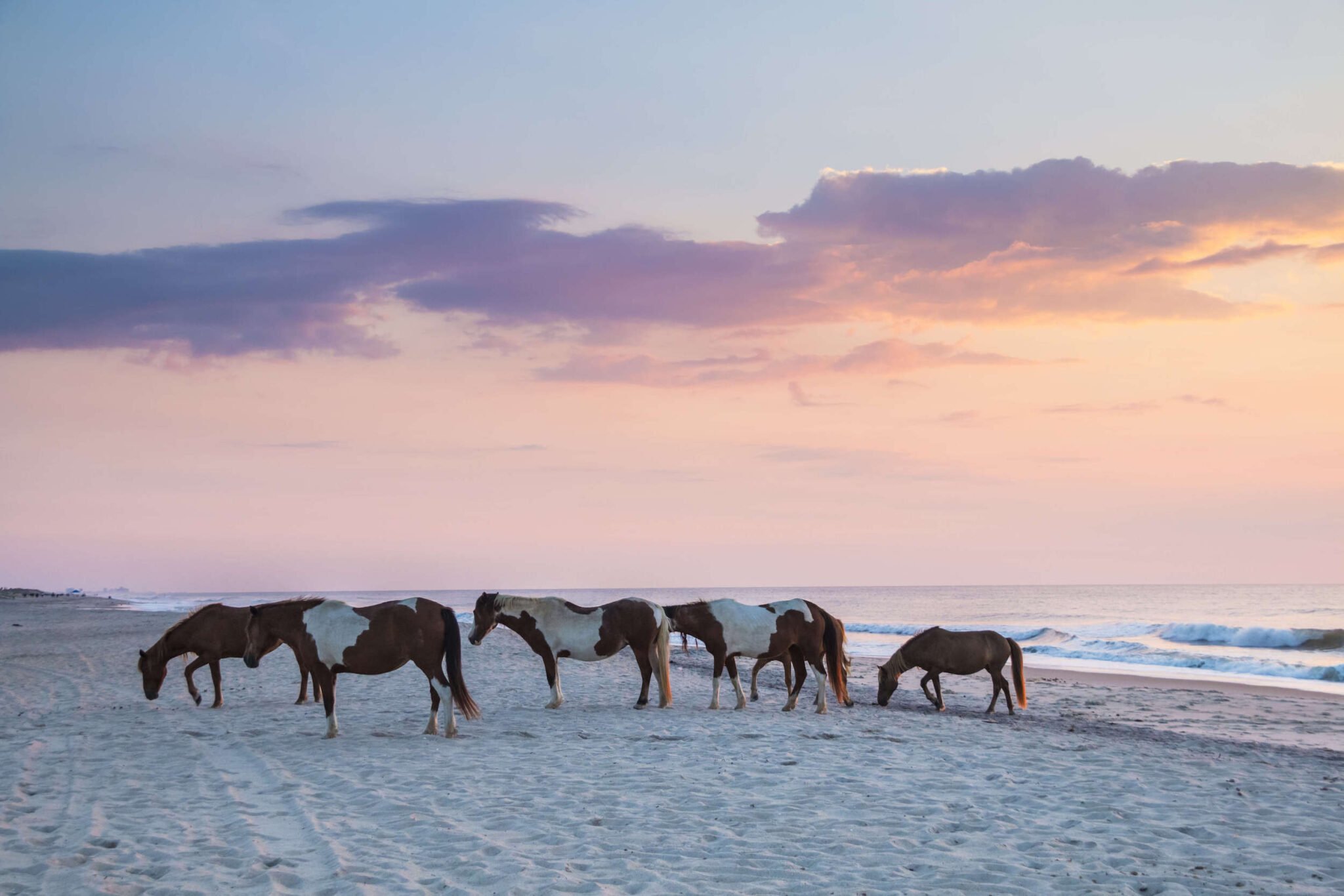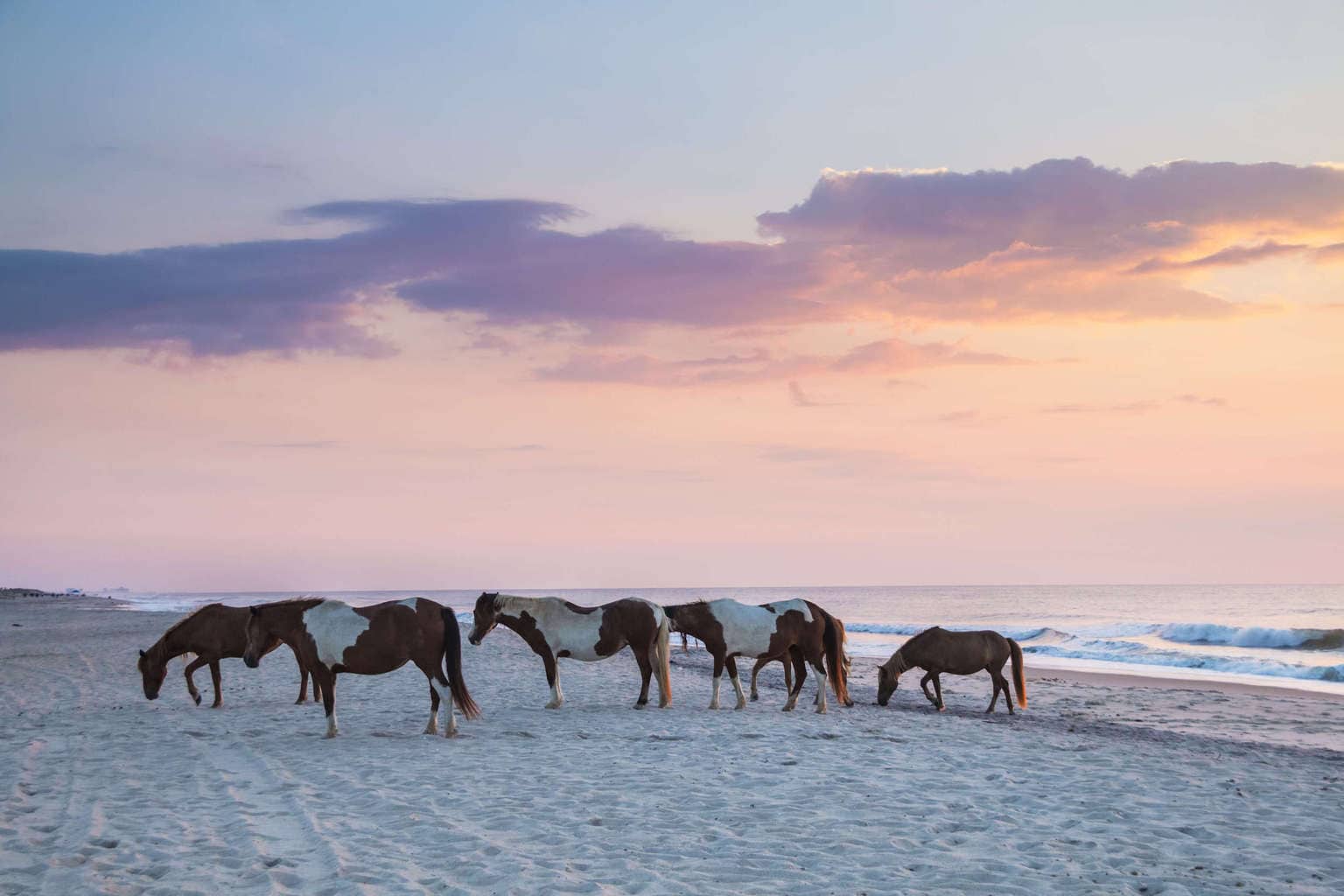 Assateague Island is a 37-mile long barrier island located off the coast of Maryland and Virginia. It's known for its wide-open beaches, herds of wild ponies, beautiful maritime forests, and stunning Assateague Island camping, right on the beach! Not too shabby, right?
Since this famous island is a National Seashore, it's a popular destination for outdoor enthusiasts and there's plenty of fun things to do on Assateague Island. So if you're ready for a true island experience, in this post, we've compiled all the info you need to make it happen.
From permits to directions and a few key items to pack, here is the ultimate guide to Assateague Island camping & things to do.
#1 campsite finder app
Try The Dyrt PRO free for 30 days
Get a FREE 30-Day membership to The Dyrt PRO, one of our favorite apps for finding campsites.
Perks include:
• 5,000+ free camping locations
• 1,000+ campground discount network
• $0 extra booking fees
• Get reservations at sold-out campgrounds, and more
Use the code BEARFOOT to get 30 days free!
Assateague Island Map
---
How to Get to Assateague Island
The best way to get to Assateague Island is to travel over the iconic 4.3 mile-long Chesapeake Bay Bridge near Annapolis, Maryland. Drive through the lower peninsula of Maryland and all the way out to Assateague Island National Seashore via US 301-N/US 50-E until you get on US-13 which will take you straight to the island.
There is also a southern entrance onto Assateague Island via Chincoteague, VA. However, there is no vehicle access between the two entrances and there is no camping in the Virginia district of Assateague Island.
The closest airports to Assateague Island are Ocean City Municipal Airport and Salisbury-Wicomico County Regional Airport, both in Maryland, but there is no public transportation to the island so you'll want to rent a car.
---
The Best Time to Visit Assateague Island
Assateague Island is best visited during late springtime through late summer. Since campsites are quite literally only a stone's throw from the beach, you'll want to visit during the high summer season (June-August) if you can to experience the best summer beach weather.
The off-season is a nice time to visit if you want fewer crowds, but the weather can be hit or miss. You might even encounter snow. Kristen once visited in March and ended up getting rained on the entire time!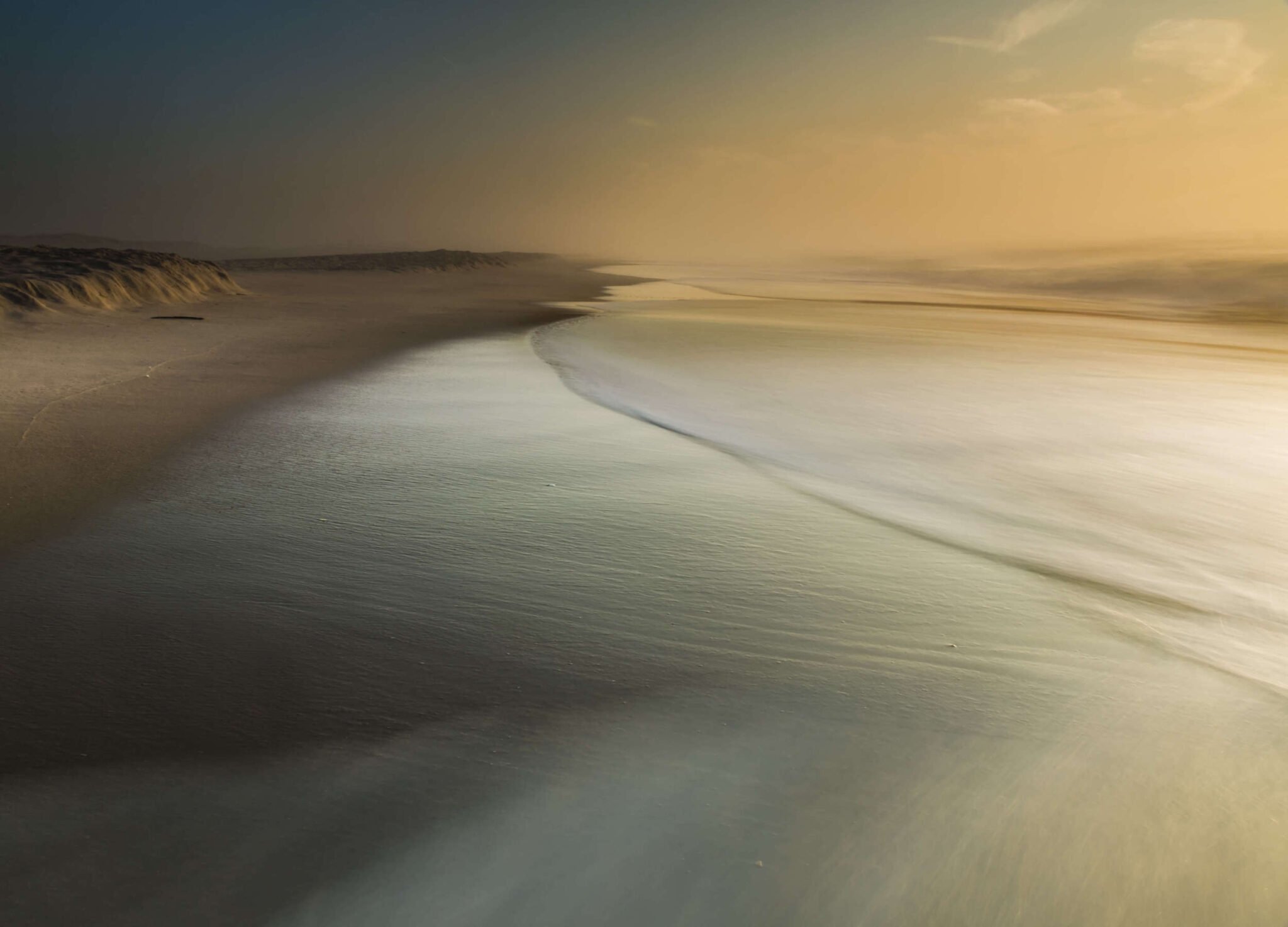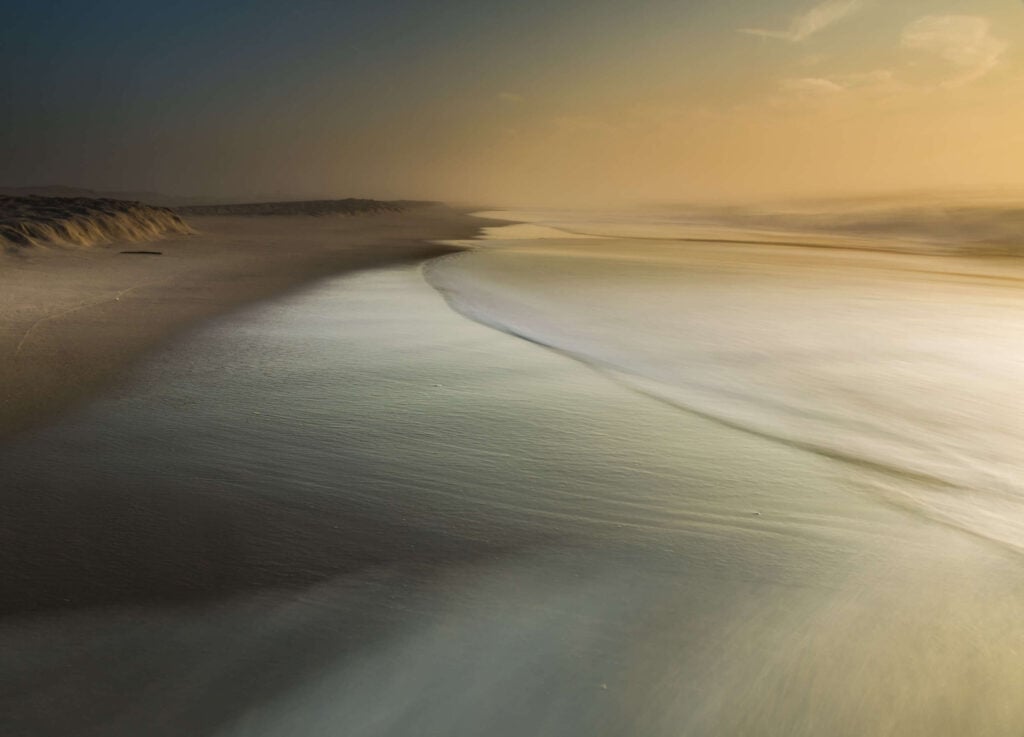 ---
Things to Do On Assateague Island
This beautiful and rural island is an oasis for outdoor lovers, especially people who love the water and the beach. Assateague Island beach camping is surely a highlight of the trip, however, you can also enjoy miles of biking and walking paths that wind around the island. Choose from the Wildlife Loop, Woodland Trail, Black Duck Marsh Trail, or others. Bird-watchers make sure to bring your binoculars since Assateauge Island is home to an amazing diversity of bird life and activity.
Visitors can even choose to bike onto the island. From Maryland, cyclists can travel to Assateague over a bicycle-pedestrian bridge and follow a paved bike path along Bayberry Drive through 4 miles of island habitat. From Chincoteague, Virginia, a paved path leads bicycles from Chincoteague to Assateague.
There are also self-guided nature trails, surfcasting (fishing from the beach), crabbing in the Bay, and of course, swimming, kayaking, and windsurfing. More information on watercraft outfitters & rentals can be found on the NPS website.
If you're traveling with small children you can also find the beach lifeguard schedule online.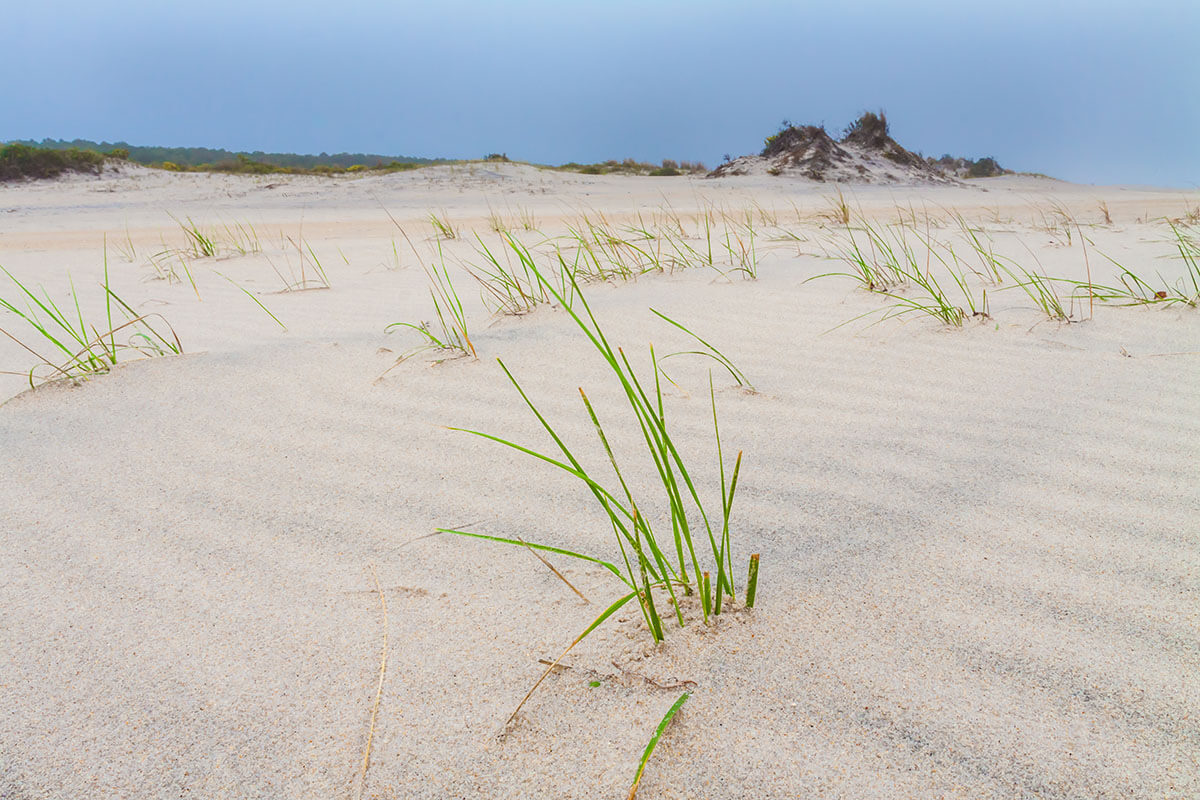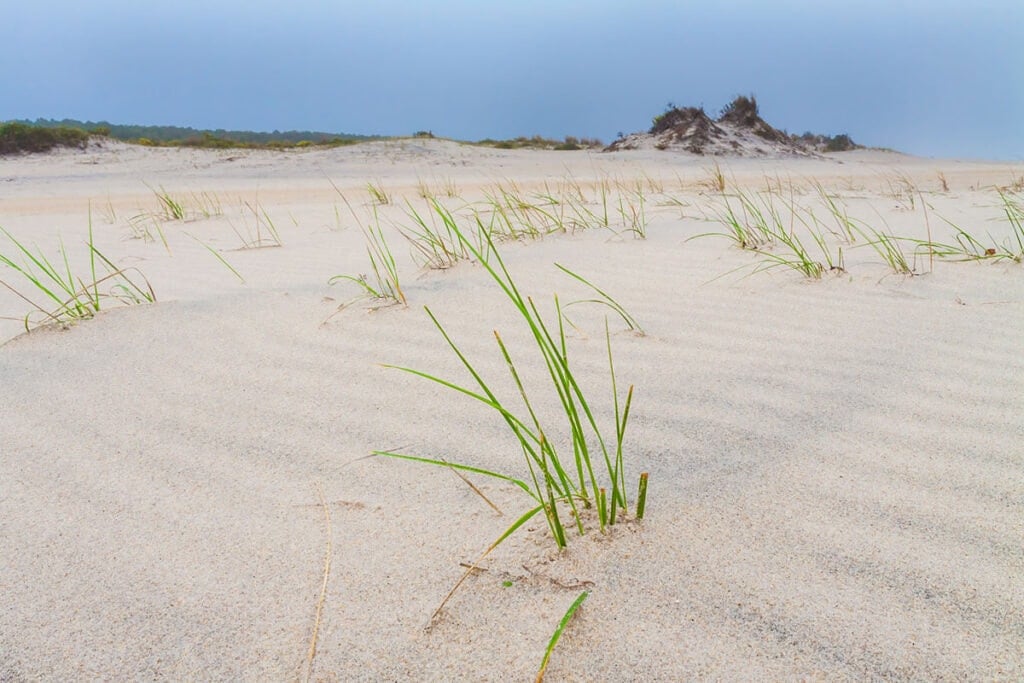 ---
Assateague Island Camping
Since Assateague and its connecting sister island of Chincoteague cross the state line of Virginia and Maryland, it's important to know that camping is only available in the Maryland region of Assateague. Campgrounds are run by the National Parks Service and campers are required to make a reservation and obtain a permit for camping. While it can be competitive, it's not too difficult to snag a prime spot.
There are several different options for camping on Assateague Island available depending on what type of camping you plan on doing while you're on the Island. These fall into one of two categories: RV camping or tent camping. It's also important to note that there are no electrical or water hookups at any of the campsites, so be prepared to bring in everything you need.
All camping facilities include chemical toilets, cold water showers, and drinking water.
Assateague Island Campground Map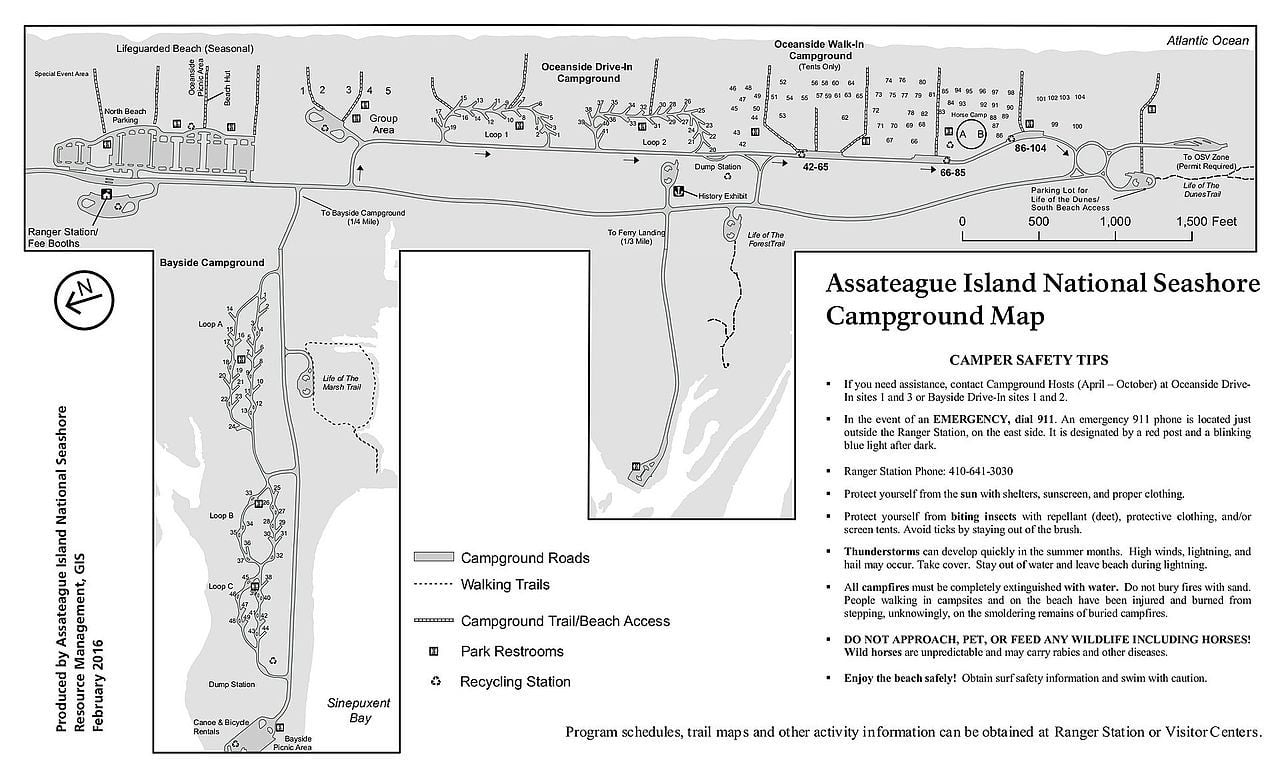 Assateague Island Camping Reservations & Permits
High-Season Camping
Camping reservations for Assateague Island campgrounds are required from March 15 through November 15. Reservations are available six months in advance, but be aware that nearly all reservations for weekends are filled the first day reservations become available.
Sites are $30 per night and can be made by calling 1-877-444-6777 (10:00 AM – 10:00 PM EST) or on Recreation.gov here.
Once you've made your reservation, you can grab your permit at the entrance of the campground upon arrival. Leave your Assateague Island camping permit in your car in the windshield or somewhere that's easily noticeable for park rangers.
Off-Season Camping
For off-season camping on Assateague Island, campsites are first-come-first-served between November 16 through March 14. Sites are $30 per night and walk-in sites are closed.
Assateague Island RV Camping
Oceanside Drive-In
For those who are planning to RV camp on Assateague Island and want to be close to the beach, you'll want to reserve an Oceanside Drive-in campsite. There are no hook-ups at these sites but there are picnic tables and fire pits available to use.
Bayside Drive-In
Bayside Drive-in is essentially the same campground as the Oceanside Drive-in and is another option for RV camping on Assateague Island, however, it is located away from the ocean and closer to the bay. A "Generator-Free Zone" is located in the Bayside B Loop.
Assateague Island Tent Camping
Oceanside Walk-In
Tent-only camping at Oceanside Walk-in is located 100-200 feet away from parking areas and just a short walk from the beach. Fire pits & picnic tables are available at each site.
Group Campsites
For larger groups, you'll need to reserve a group campsite. These tent-only sites are located 100-200 feet away from the parking area and have picnic tables & fire pits.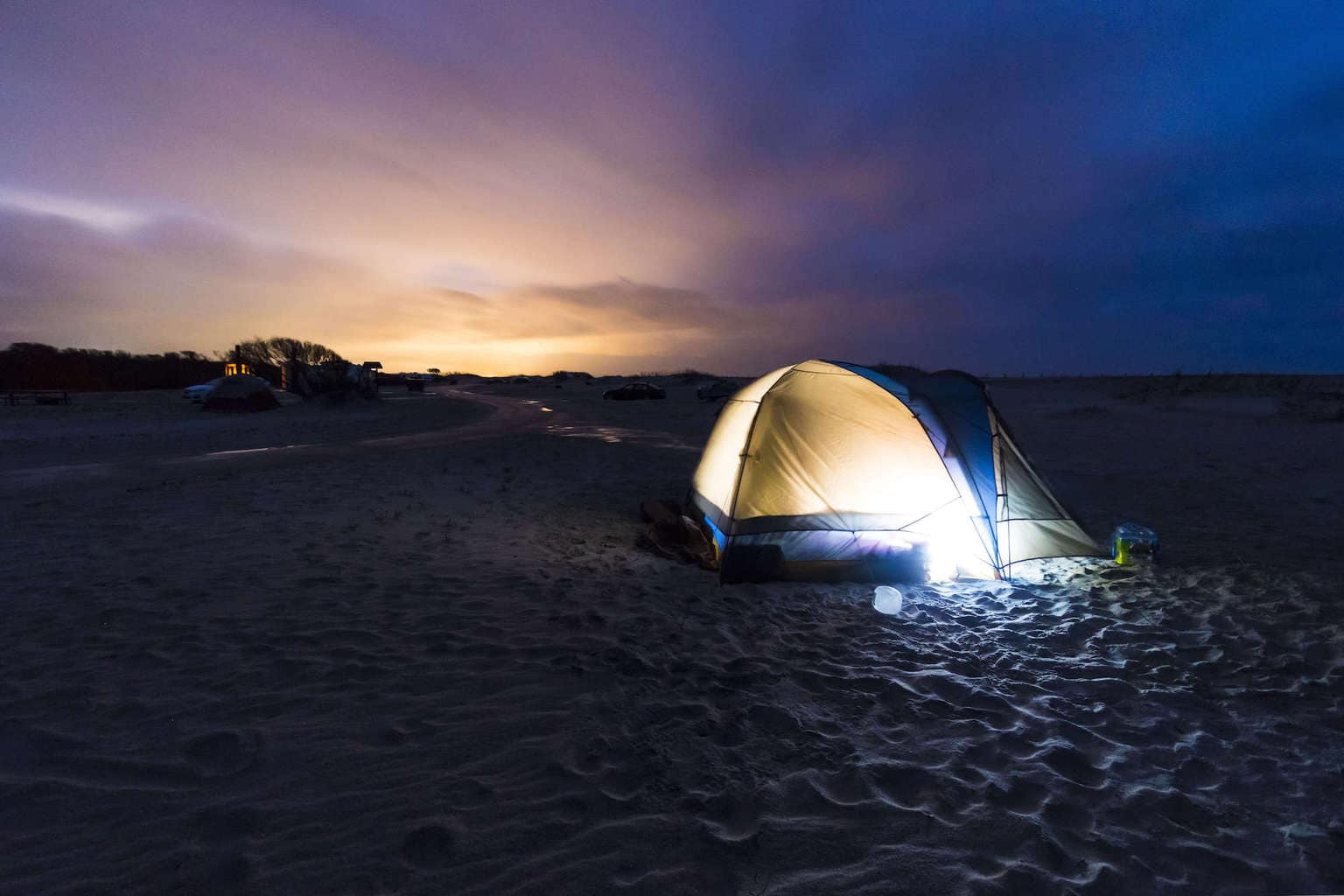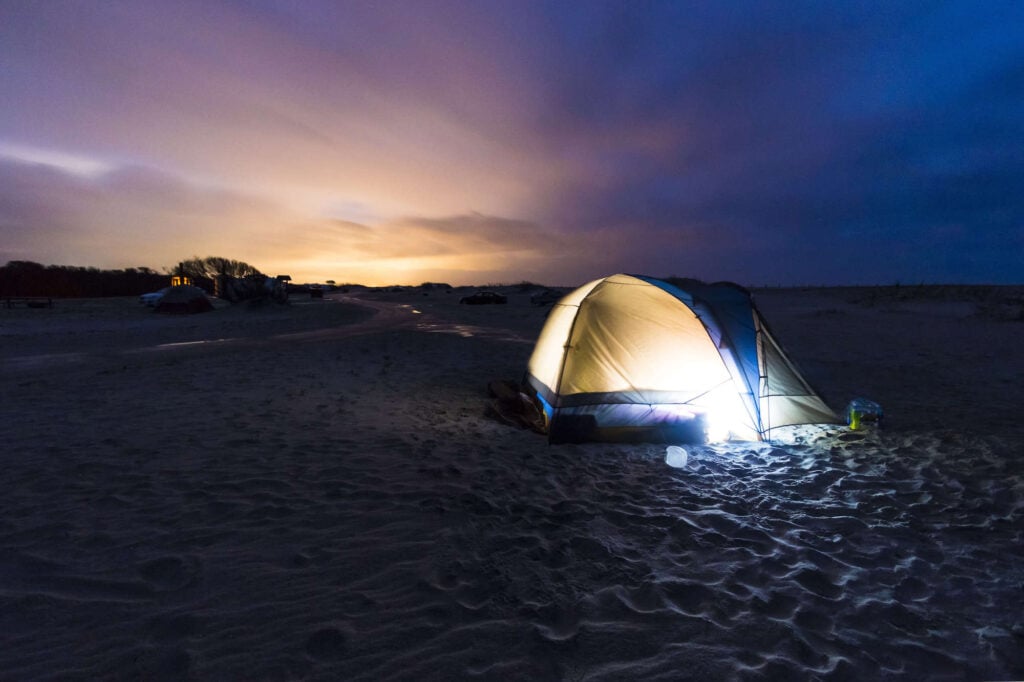 Backcountry Camping on Assateague Island
If you're up for even more of an Assateague Island camping adventure, you can opt for a backcountry campsite. These sites require a 2.5 to 13-mile hike or paddle in depending on which site you choose. There are 2 oceanside backcountry campsites and 4 bayside backcountry campsites available.
You'll need to get a 7-day backcountry entrance fee permit for $10 a person and $25 per vehicle if you're driving in. No fresh water is available at backcountry campsites and pets are prohibited.
More information on backcountry camping at Assateague Island can be found here.
Car Camping Essentials Packing List
Below are a few of my favorite pieces of car camping gear and recommendations for the road:
---
How to Prepare for Your Assateague Island Camping Trip
The National Parks Service strongly suggests planning ahead to make the most of your time on the barrier island and trust us, it's worth it. The island climate and habitat can be harsh at times whether it's the sun or the bugs so you'll want to be prepared.
Sun protection
There isn't a whole lot of shade on Assateague Island. Since you will be spending the majority of your time out exploring the area, you will be exposed to the hot sun. Bring plenty of sun protection like reef safe sunscreen, hats, sunglasses, and layers.
Some sort of shade covering is also essential for your time out on the beach. If you'll be setting up camp near your vehicle, check out our MoonShade awning review.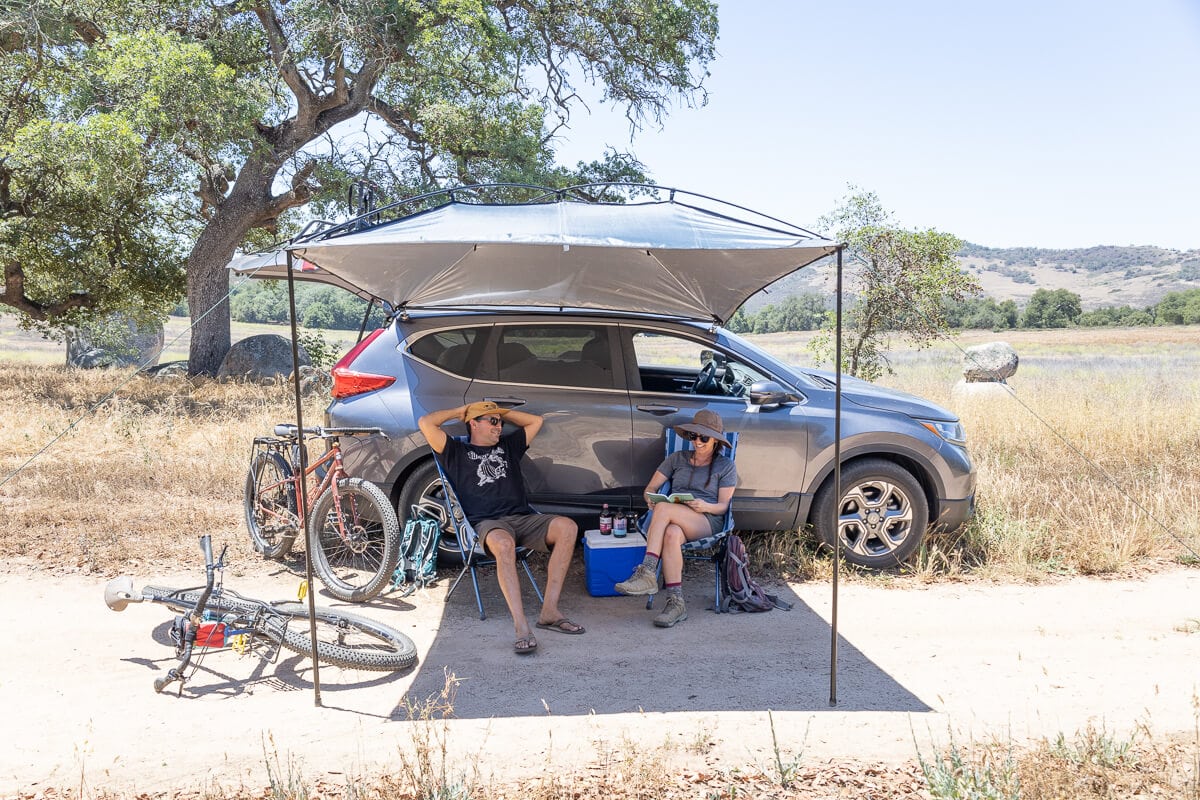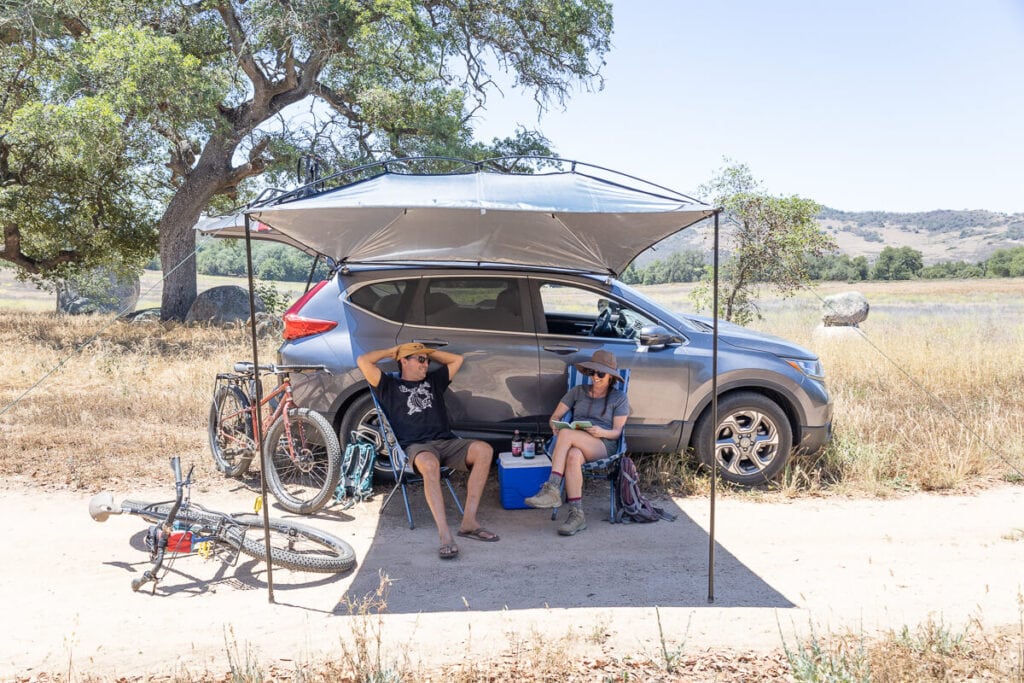 Insect Repellent
During the high summer season, it's likely that you'll encounter some relentless (and annoying) bugs. Horseflies and mosquitoes are known to plague visitors during late summer into early fall, however, if you bring good, non-toxic bug spray, you'll be in the clear.
Weather conditions
Since Assateague is a barrier island, it experiences rapid changes in weather – more than you might expect. Thunderstorms can blow in from the ocean and catch you off guard, so bring a rain jacket and warm layers with you just in case.
If you're tent camping, make sure you have stakes and a rain fly to hunker down. The island has been known to experience inclement weather from time to time, so be prepared and ready for whatever happens!
Food
The island is bare bones and you won't find any grocery stores on the island in case you forget something. The closest store is Assateague Market, located about 1 mile before the bridge onto the island. Be sure to stock up on supplies. Here are some of our favorite one-pot camping meals that are easy to make.
Firewood
You must purchase firewood locally in Maryland. You cannot bring your own firewood from out of state into the park. The island has experienced an infestation of Emerald Ash Borer Beetles that threatens the forest lands when visitors bring their own firewood. There is firewood available at Assateague Market and Assateague Farm.
Assateague Island Wild Horses
The famous herd of wild ponies that inhabit the island are just that: wild. Just as you would do for any other wildlife, keep your distance and admire them from afar. You will see them out on the beach and they might even come up close, but do not feed the ponies or try to touch them.