Best Things to Do in Fairbanks, Alaska in Winter
Are the Northern Lights on your bucket list? Head to Fairbanks, Alaska in the winter and enjoy tons of activities including chasing aurora borealis.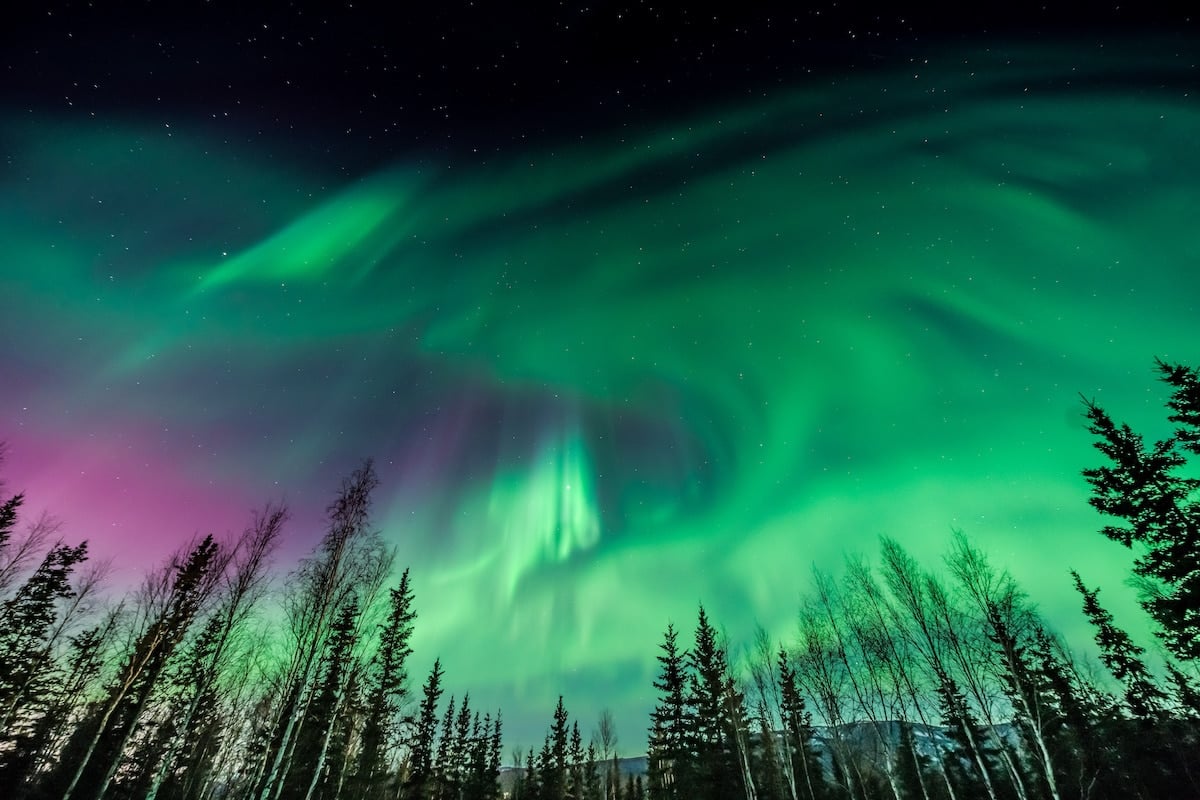 Fairbanks, Alaska is truly a winter wonderland when the snow flies. The rugged beauty of the snow-covered roads, evergreen trees, and massive mountains of the Alaskan Interior will no doubt dazzle visitors. Fairbanks prides itself in being the main US destination for seeing the aurora borealis and visitors from around the globe make a pilgrimage to Fairbanks each winter to catch a sight of the magical, dancing Northern Lights.
There are so many things to do in Fairbanks in winter that you likely will run out of time before you run out of fun activities! From snowshoeing to dog mushing to hot springs to museums and more, you won't want to miss out on a winter trip to Fairbanks.
In this post, we share our top things to do for visitors seeking winter adventure in Fairbanks, Alaska.
Getting to Fairbanks
Fairbanks is the largest city in the Alaska Interior with a population of around 35,000 in the city, and 100,000 in the surrounding area. It's pretty far north – only 200 miles from the Arctic Circle!
Alaska Airlines and a handful of other airlines have direct winter flights into Fairbanks from Seattle (3 hours 50 minutes). Delta flies directly to Fairbanks from Minneapolis (5 hours 10 minutes).
The Fairbanks airport is just a few miles outside of the city center, and many of the hotels provide free airport shuttle service, making Fairbanks a surprisingly easy-to-reach winter destination.
You can also choose to fly into Anchorage and drive down to Fairbanks on Route 3 with a one-way car rental. This is a 6.5 hour drive and it passes through Denali National Park, which stays open with limited facilities throughout the winter. Keep in mind that you'll be driving in winter conditions, so only go for this option if you're comfortable driving in winter and have flexibility in your schedule in case there is a storm.
Transportation In Fairbanks
Renting a car is a must in Fairbanks, especially during the winter. Taxis, Ubers, and Lyfts are scarce – I spent an hour one afternoon waiting for a Lyft that never arrived. Fairbanks does have a bus service (MACS), with eight lines, but if you want to chase the aurora borealis, get out into nature, or even just make a quick trip to the grocery store, the only reliable way to get there is by car.

Book the rental car far in advance, as there is often a shortage of available rentals. While all the rental cars have studded winter tires, it is helpful if you are familiar with driving on snow and ice. I also highly recommend getting extra windshield insurance because Alaska does not salt its roads for traction. Instead, they exclusively use gravel and this can cause a fair share of cracked windshields and other damage.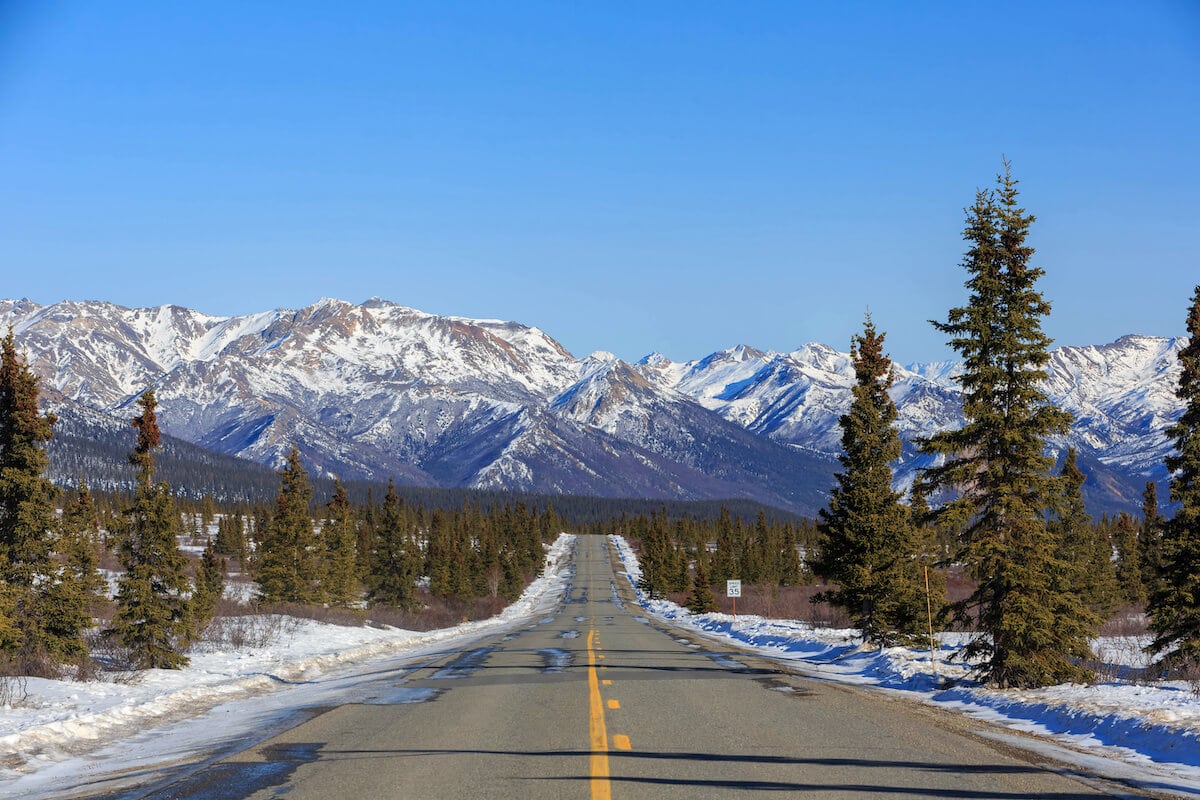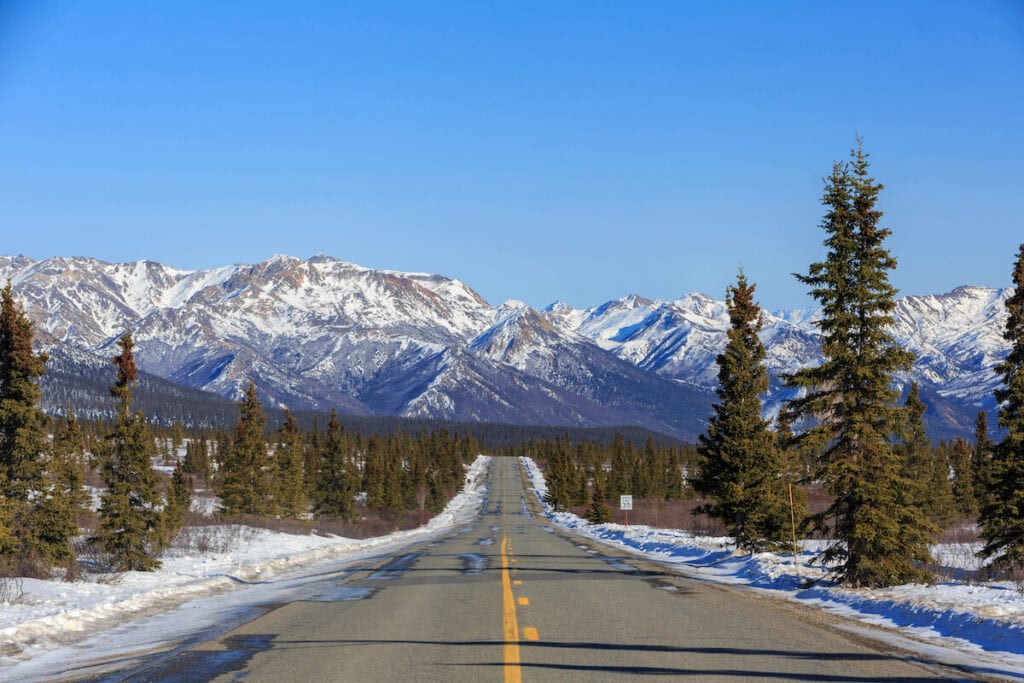 Best Time to Visit Fairbanks in Winter
The winter season in Fairbanks begins in mid-October and extends through late March. Winter Solstice typically sees about 3 hours and 41 minutes of daylight. The phenomenon known as "Civil Twilight" occurs when the sun never really rises above the horizon.
To have a higher percentage chance of seeing the Northern Lights while still having enough daylight hours to do other outdoor activities, the best time to visit Fairbanks is in February or March. By the time I left Fairbanks at the end of February, I was treated to almost twelve hours of daylight, but still had plenty of darkness to see the Northern Lights.

Timing your visit in the later part of the winter season will also give you an opportunity to experience the World Ice Art Championships that take place annually in Fairbanks from Mid-February through Mid-March.
A Note on Alaska Time:
If you plan on chasing the Northern Lights in Alaska, be prepared to shift your sleeping and waking hours drastically. Aurora chasers and midnight sun seekers will find that their sense of time shifts when visiting the far north. Build time into your schedule for rest if you are chasing aurora borealis. Naps are key. I didn't sleep through the night once during my week-long stay because I was so focused on seeing the Northern Lights which are typically most active from 11:30pm-3am.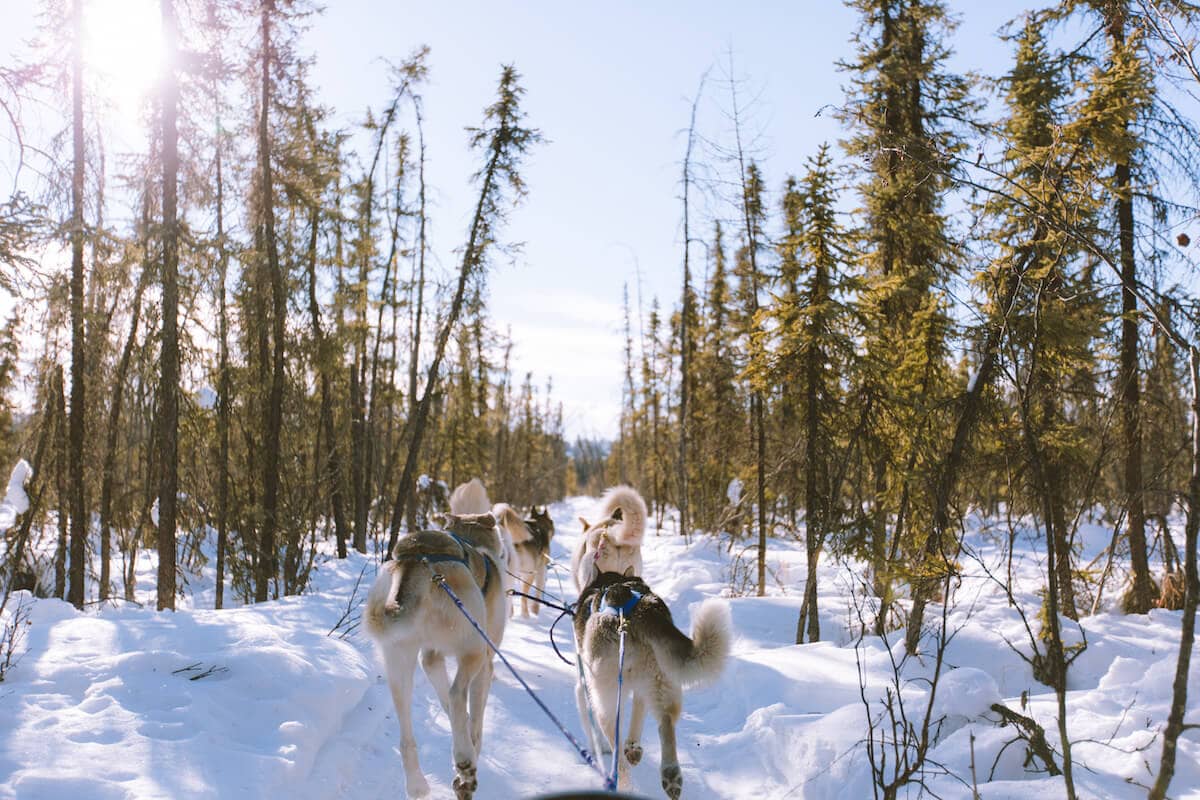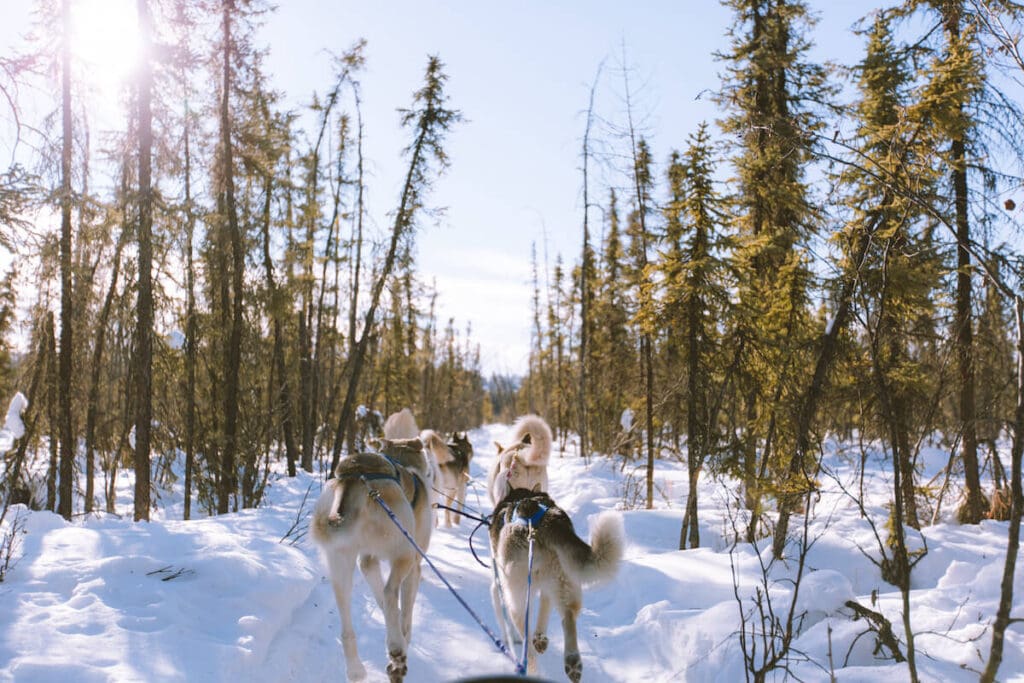 Where to Stay in Fairbanks
Fairbanks offers a wide range of accommodations for every type of traveler, including majestically scenic lodges, Airbnbs, and classic Bed & Breakfasts with knowledgeable hosts who have intimate knowledge of the area. Fairbanks also has three hostels and a plethora of hotels and motels.
During my visit, I stayed at the charming Pike's Waterfront Lodge, located at the edge of town close to the airport. The lodge is adorned with Alaskana of all sorts, from taxidermy to walrus tusk carvings, native artifacts, and a truly wonderful collection of paintings.
Pike's owner Jay Ramras' painting collection of Alaska scenes rivals any of the Alaskan Interior museum collections. I also enjoyed the aromatherapy steam room, the aurora conservatory, and walks on the frozen Chena River just outside of the property.
What to Pack for Fairbanks in Winter
Layers, layers, layers. You will need a lot of layers to be comfortable for winter adventures in Fairbanks. Fairbanks can reach temperatures of minus-40 degrees in the winter and visitors need to be prepared for extreme cold. During my stay, the temperature shifted over 40 degrees, from -10F to 30F. Avoid wearing cotton as much as possible because cotton absorbs moisture and traps it next to your skin and will make you feel colder. Stick with wool and synthetic fabrics for your winter visit to Fairbanks.
To ensure you stay warm and cozy on your winter trip to Fairbanks, I recommend packing:
Wool or synthetic base layers: a long sleeve shirt and leggings are key for staying warm.
Warm mid-layers: bring an insulated synthetic down jacket for your trip
Outer parka: my -25 degree rated parka was wonderful for all the frozen waits for the aurora and all other outdoor activities.
Heated gloves and heated socks: I was really grateful to be able to keep my extremities warm for long periods outside
Wool hat: I often found that I needed a hat along with my parka hood even when the temperature was just in the low teens.
Insulated snow pants: I loved my Columbia Women's Wild Card Pants because they weren't as puffy as downhill pants and with a base-layer underneath, I was plenty warm and could enter shops and restaurants without feeling like an awkward walking snowwoman.
Polarized sunglasses: snow is super bright and reflective when the sun comes out
Swimsuit: if you plan to soak at Chena Hot Springs
Don't want to buy a bunch of cold-weather gear for your trip to Fairbanks? Alaska Element offers rental gear for your visit to Fairbanks and they will even meet you at the airport so you don't freeze on your way to your hotel!
>> Read Next: Winter Hiking Clothes & Cold Weather Layering Basics
Best Things to Do in Fairbanks in Winter
Aurora Borealis Searching
Fairbanks is world-renowned for aurora borealis viewing because it is located under the "Aurora Oval", a ring-shaped dome over the Geomagnetic North Pole where aurora activity is concentrated. Seeing the Northern Lights in person truly is a breathtaking experience and was a highlight/obsession during my week-long visit to Fairbanks this winter.
What is the aurora borealis exactly?
The light from the aurora is caused by energetic electrons from Earth's magnetosphere striking atoms and molecules in the Earth's upper atmosphere. The green color is atomic oxygen and the red/pink is atomic nitrogen.
According to Geophysicist Dr. Don Hampton of the University of Alaska at Fairbanks, "the aurora is part of a solar system-wide phenomenon we now call space weather." It's a bit complicated but basically, when the photon energy from a previously excited atom or molecule begins to calm, that photon energy emits light and on a large scale, creates the dazzling display of the moving, shifting northern lights. If you want to learn more, Dr. Hampton has a nice explanation of the aurora phenomenon on this Science Friday segment.
You can't just look out your window in Fairbanks and see the Northern Lights most of the time. Even in such a small city, the light pollution makes seeing the aurora rather difficult, but not impossible.
Traveling away from the city lights is helpful but even more important is to find areas where cloud coverage clears.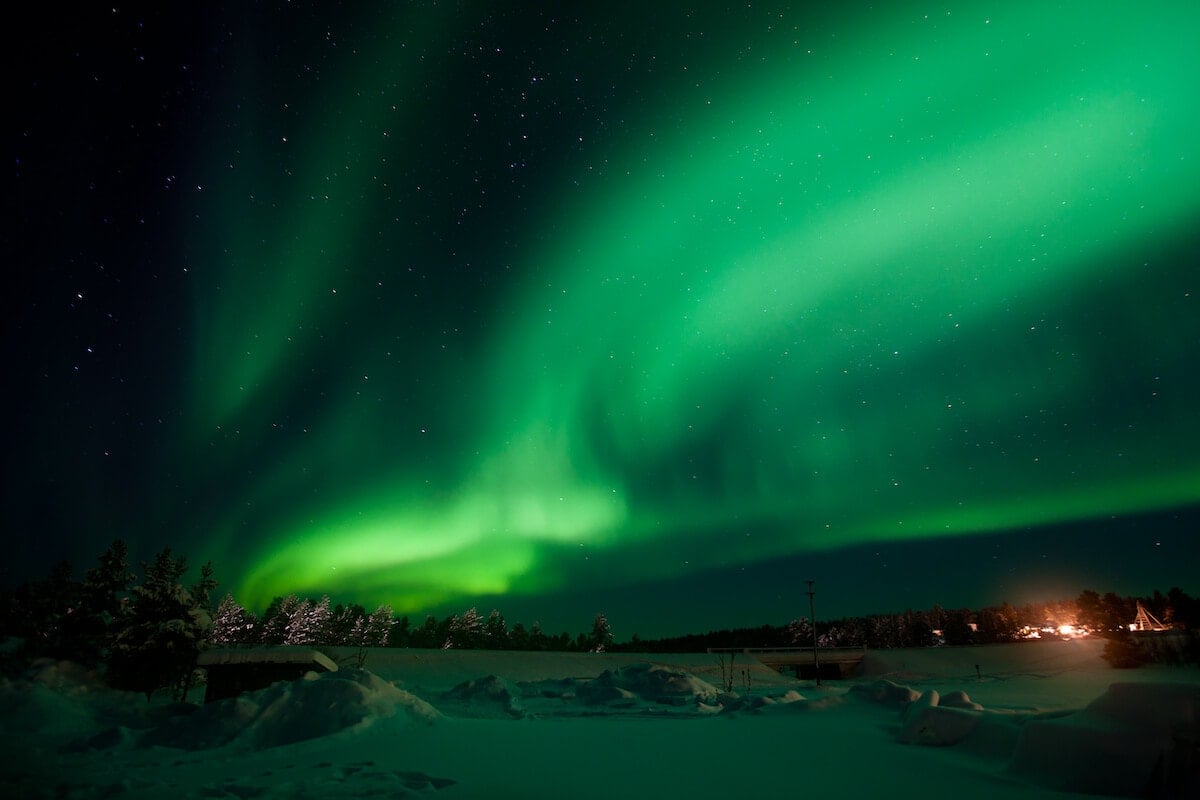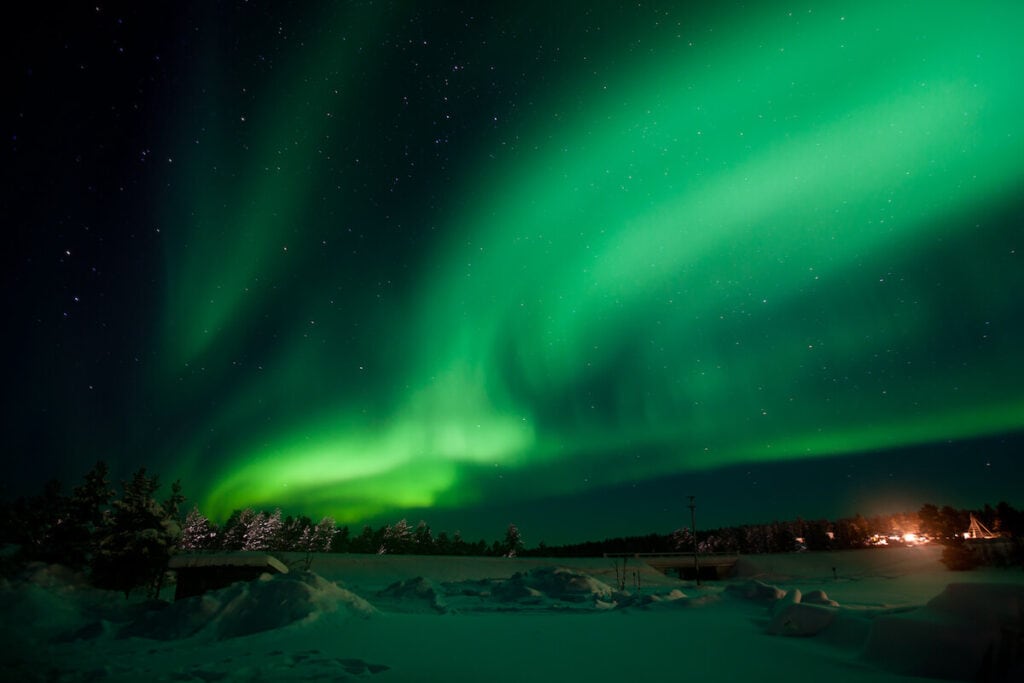 Here are some tips for seeing the Northern Lights in Fairbanks:
Find a place with dark skies, away from the city lights
Be ready to stay up late; the best auroras are from 11:30 pm to 3:00 am.
Dress warmly, and don't forget hand and feet warmers.
The Explore Fairbanks website has a very accurate aurora tracker that combines both the aurora predictions, the weather forecast, and the time of day to come up with a very accurate guess of whether or not the aurora will be visible. If you are out seeking the aurora on your own, the Facebook group Alaska Aurora Addicts is a good group to join.
Using a tour company to find the lights is really helpful, especially if you don't have a rental car. I spoke with a number of people who loved their experience with Aurora Chasers and their photographs were incredible.
It's helpful to go at least once with an experienced guide because the aurora doesn't look like the vibrant photographs to the naked eye. Sometimes it just looked like white smoke. As I learned more, I got better at spotting it but I often had to snap a photo on my phone to confirm that what I was looking at was the actual aurora borealis. Aurora hunting requires tenacity, patience, and a bit of luck.
>> For an unforgettable experience, book a Moonlight Dog Sled, Dinner, & Northern lights Tour
Chena Hot Springs
Chena Hot Springs Resort, located sixty miles Northeast of Fairbanks, offers many Alaskan winter activities including outdoor and indoor hot springs, Aurora Ice Museum tour, dog sledding, geothermal and hydroponics tours, snowmobile tours, and massages.
It's about a 2 hours winter drive from Fairbanks. Chena Hot Springs can arrange a shuttle to/from Fairbanks as part of a day-trip package or you can drive yourself if you rent a car.
The focus of the resort is on the geothermal hot springs that feature an outdoor natural pool as well as an indoor family-friendly pool house. Chena Hot Springs is an easy day trip from Fairbanks, or you can spend the night in their lodge.
It was cloudy the night I spent at Chena but I loved the idea of being in a cozy hot spring and looking up to see the Northern Lights.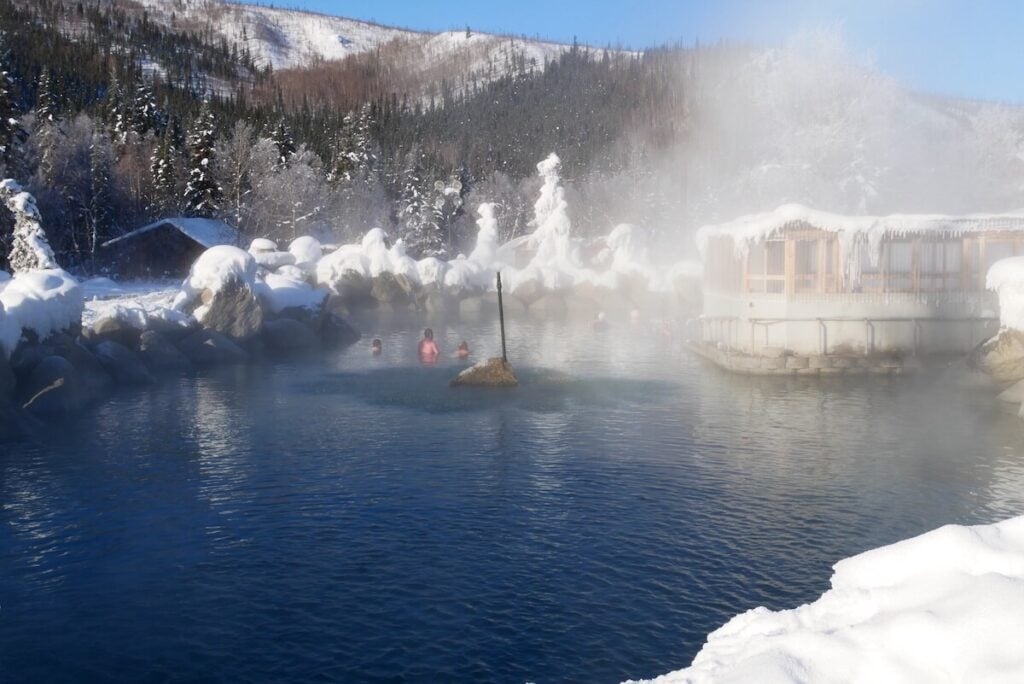 Downhill and Cross Country Skiing
Skiing was one of the things that I didn't get to during my visit to Fairbanks. But given the heavy snowfall and cold temperatures, Fairbanks hosts a great number of epic powder days. Great cross-country trails abound from the city center and there are lots of places to rent ski gear including the Fairbanks REI.
There are three main downhill ski areas close to Fairbanks: Ski Land, Moose Mountain, and Birch Hill.
Dog Mushing
Nothing says Alaska winter experience better than dog mushing. Originated by the Native people of Alaska and Northern Canada, dogs have been used to transport mail, food, and critical medicines by pulling sleds all over Alaska for centuries.
2022 marks the 50th running of the Iditarod, the 1,000-mile dog sled race across Alaska which honors the traditions and culture native to the state of Alaska. Iditarod winners instantly become Alaskan heroes as dog sledding is woven into the fabric of the place.
You can experience a small taste of the wonder and beauty of dog sledding during your visit to Fairbanks during the winter. I had the opportunity to ride with Paws for Adventure, a professionally run dog sledding business. I only went on a short tour but I would love to return to attend their "dog mushing school" where after a few hours of training, folks can guide the dog team themselves.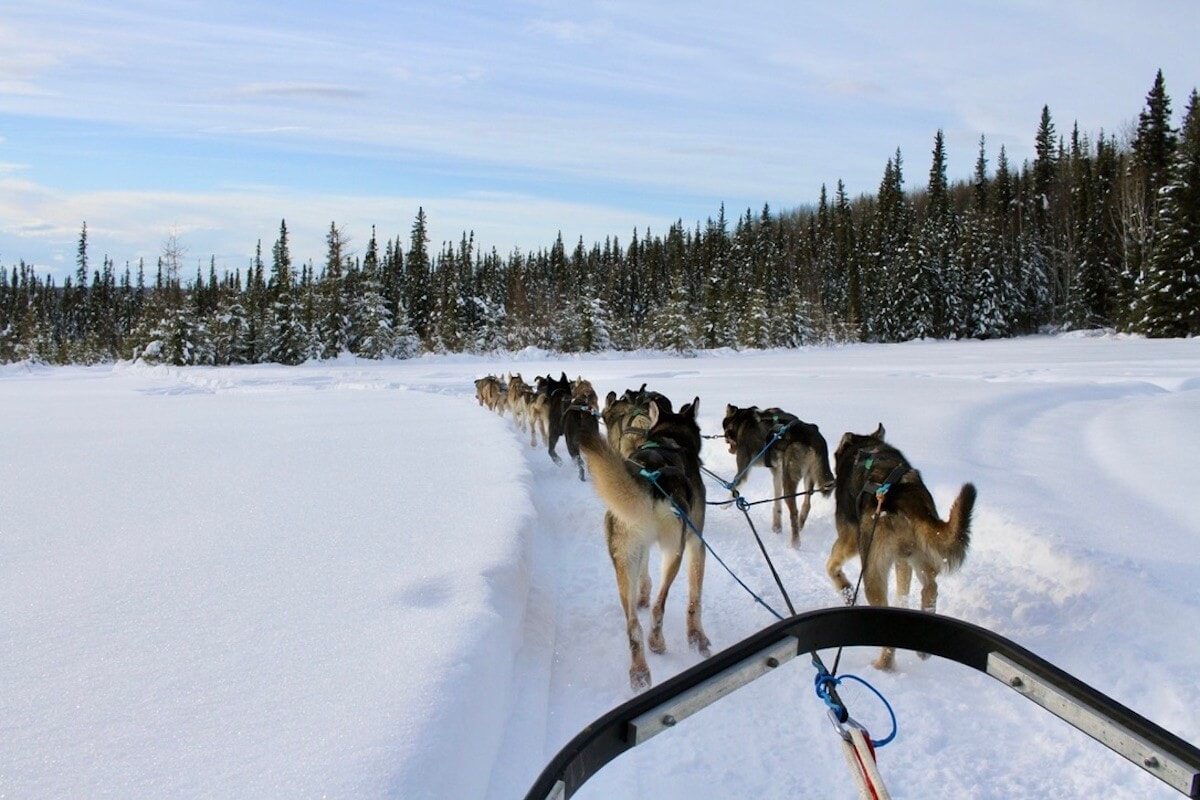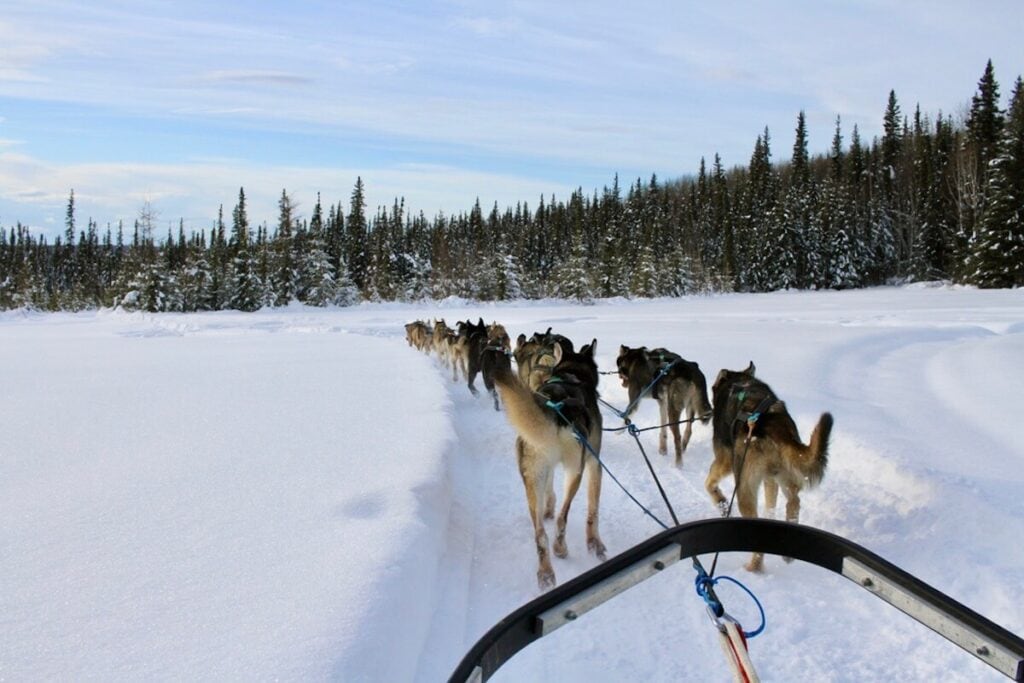 Snow Machine Tour
There are many Fairbanks tour companies that offer snowmachine or snowmobile rides. I took a snow machine tour at Chena Hot Springs but we went a bit too slow for my liking. Luckily, I was the last person on our single-file tour, so I just waited until there was a healthy distance between me and the next snowmobile so I could gun my engine.
I saw lots of snowmachines racing up and down the frozen Chena River that snakes through town.
Snowshoeing
The quiet solitude and natural beauty of Fairbanks will shine through once you get out on the snowshoe trails. If you are staying at an Airbnb or a vacation rental, there may be snowshoes you can borrow, or head over to the local REI to rent a pair.
I loved my morning snowshoe in Coldfoot up above the Arctic Circle with the soft light, the snow sparkles, and the northern quiet.
>> Learn How to Snowshoe With Our Beginner Tips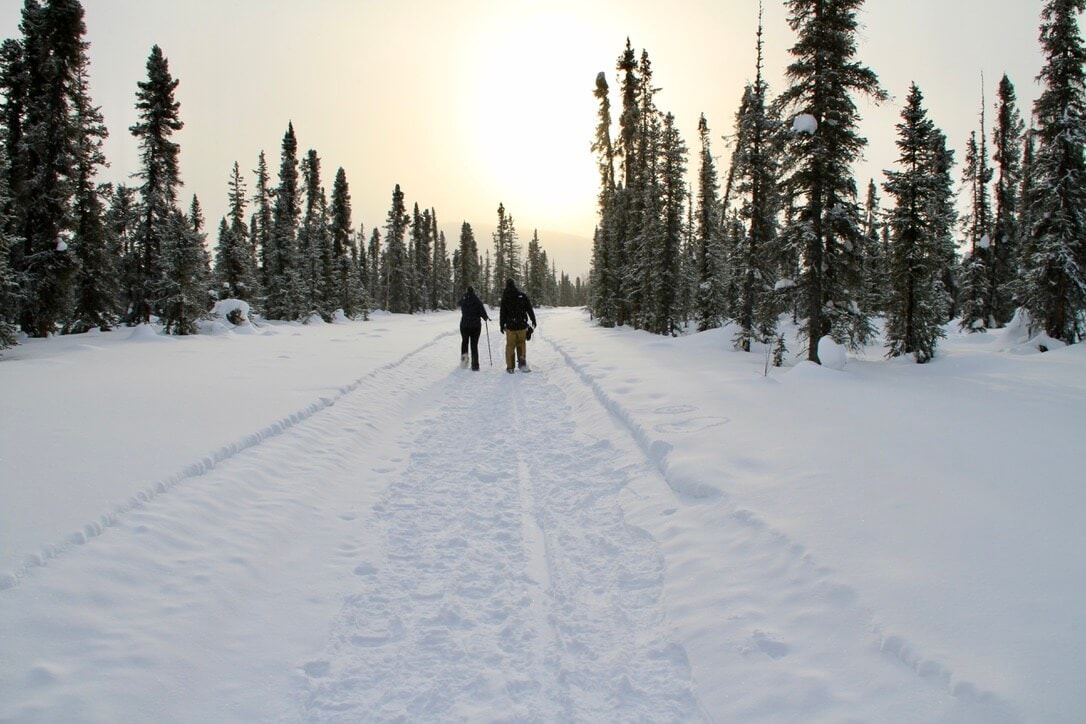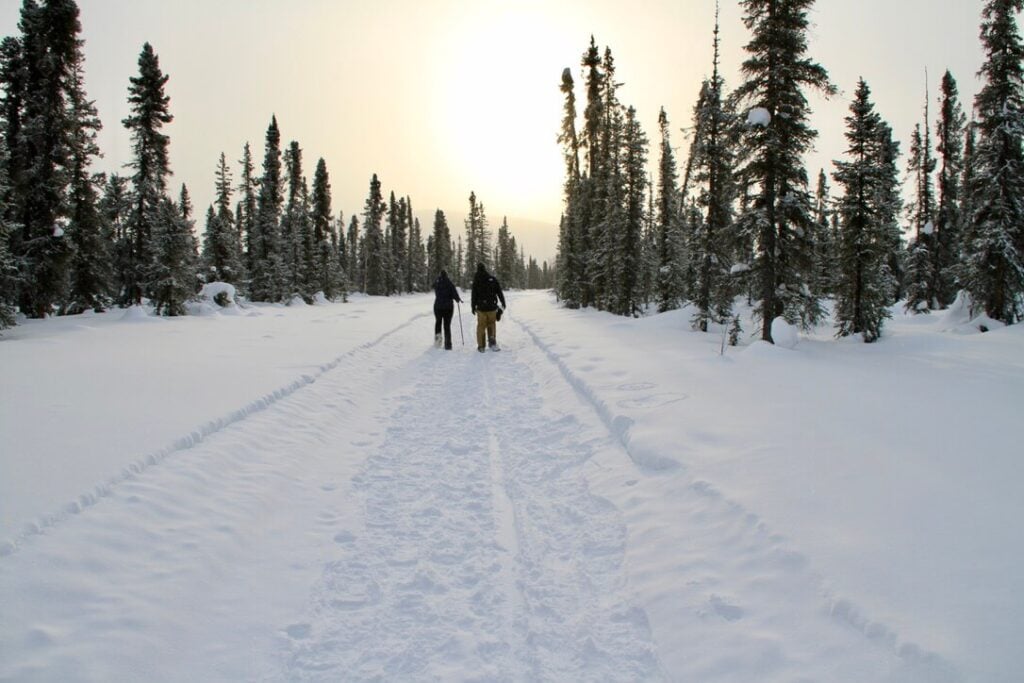 University of Alaska Museum of the North
The Museum of the North located on the University of Alaska Fairbanks campus is an art museum, natural history museum, and cultural museum. This combination of artifacts and specimens collected on public lands in Alaska makes it a leader in natural and cultural history research in the state.
I was impressed by the third-floor art gallery featuring a wide array of Native Alaskan contemporary and historical art pieces.
World Ice Art Championships
The World Ice Art Championships take place in Fairbanks each winter from mid-February through the end of March. Every year, ice sculptors from around the world compete and it's pretty amazing to see all the massive ice sculptures!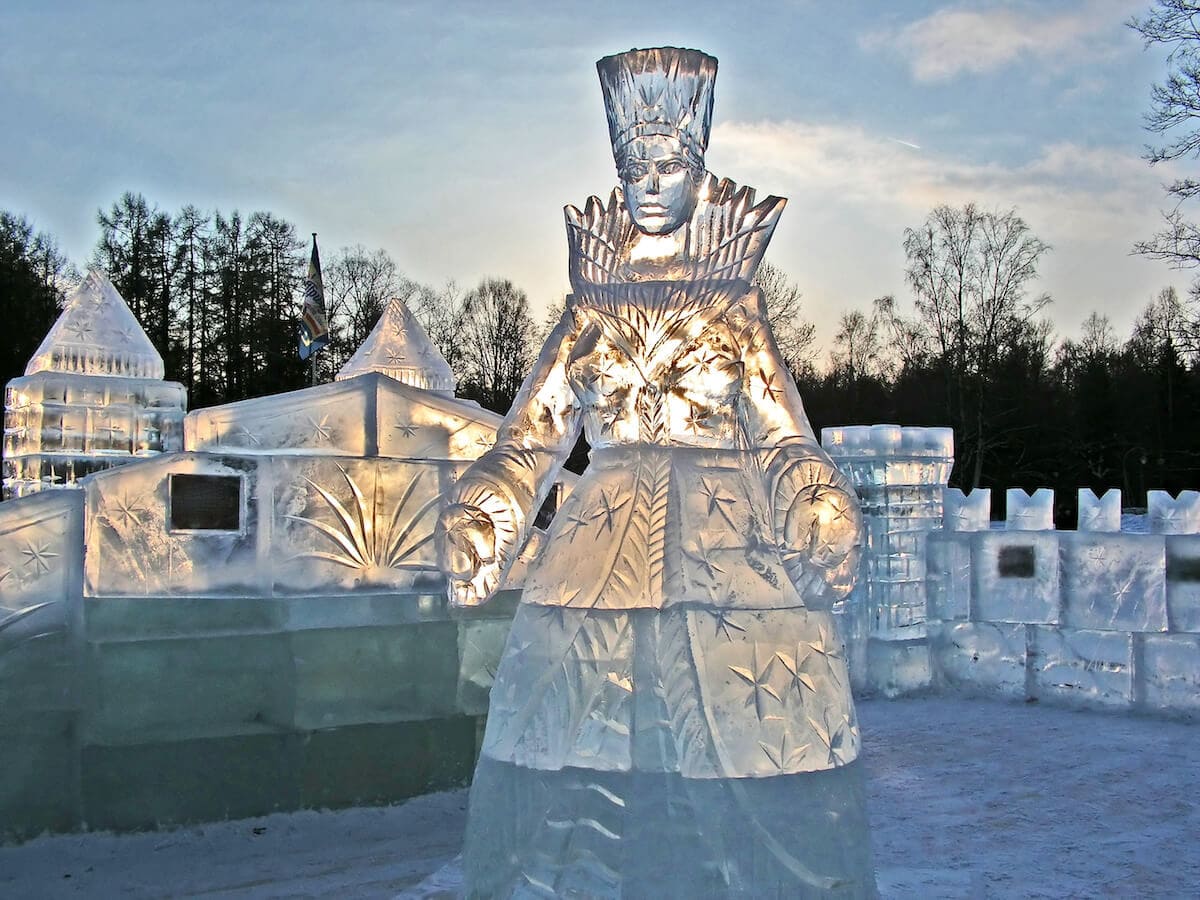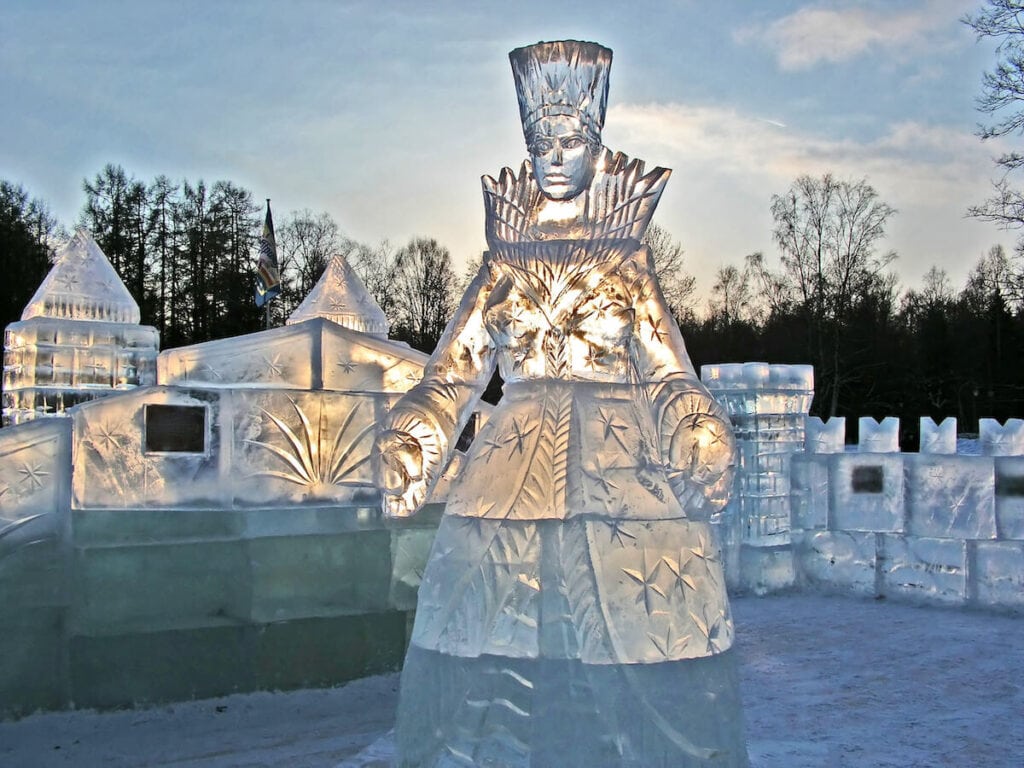 Fountainhead Antique Auto Museum
Over 95 pre-World War II antique race cars, horseless carriages, a snowmachine, and other delightful automotive treasures can be found at the Fountainhead Antique Auto Museum. Paired with many of the cars is what the museum boasts as the most extensive vintage fashion collection in the Pacific Northwest.
The combination of vintage dresses and cars makes it pretty easy to imagine what life was like during the era of each vehicle.
Go ice fishing
Just like dog sledding, ice fishing has a long and important history for people in Alaska. Natives and residents still fish throughout the winter for food, but it has also become a popular activity for tourists.
I didn't get to experience ice fishing during my visit, but if you'd like to try your hand at it, Rod's Alaskan Guide Service provides a half-day guided tour that includes access to a heated ice fishing cabin, hot drinks, grilled reindeer sausages, and more.
Visit Running Reindeer Ranch
If it's been your childhood dream to see a reindeer, then you're in luck! Running Reindeer Ranch is located about 30 minutes north of Fairbanks and visitors can join guided walking tours in the surrounding boreal forest and get up close to these gentle and graceful animals.
Reservations are required to visit the ranch and I recommend booking early because tours sell out!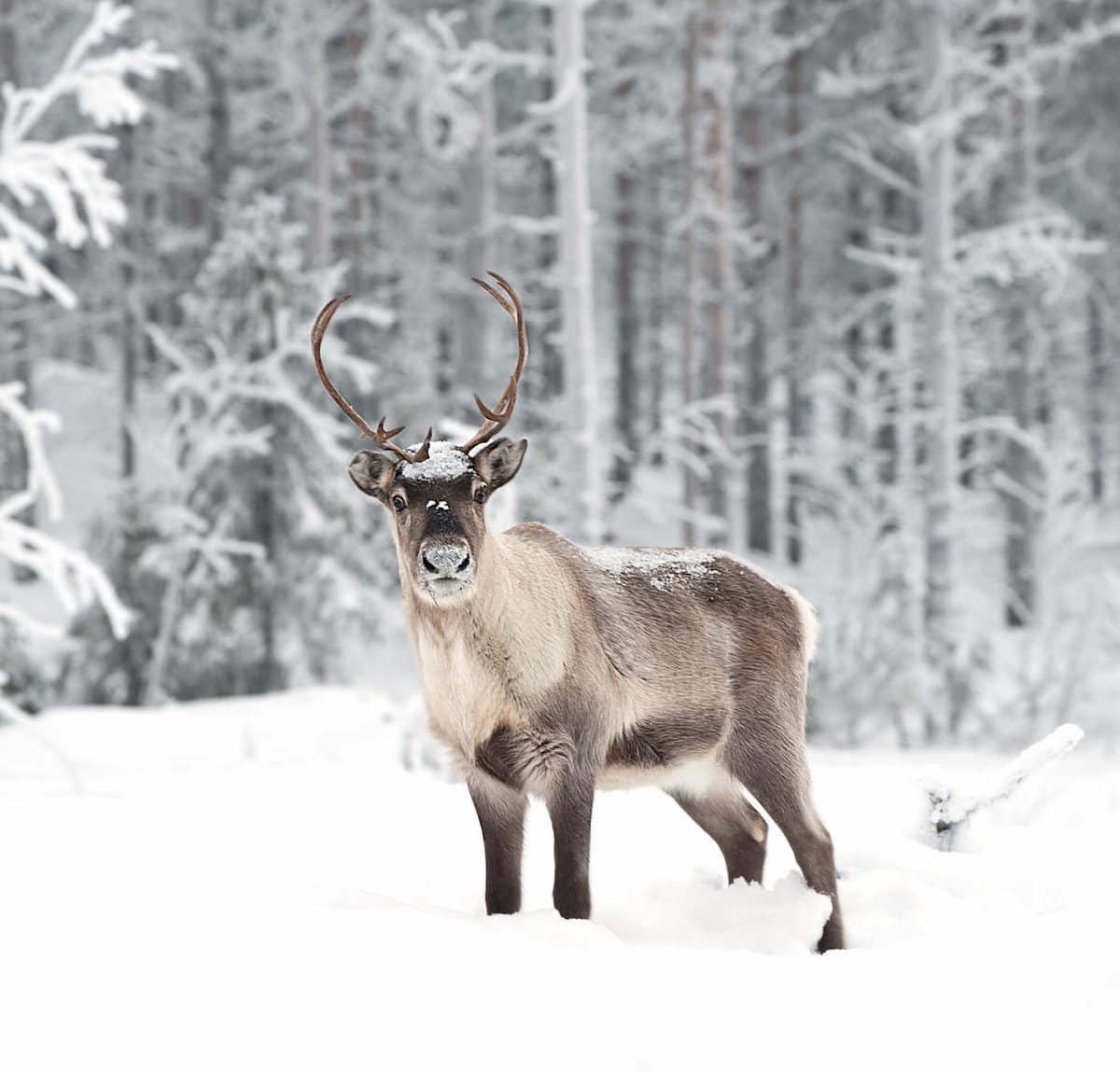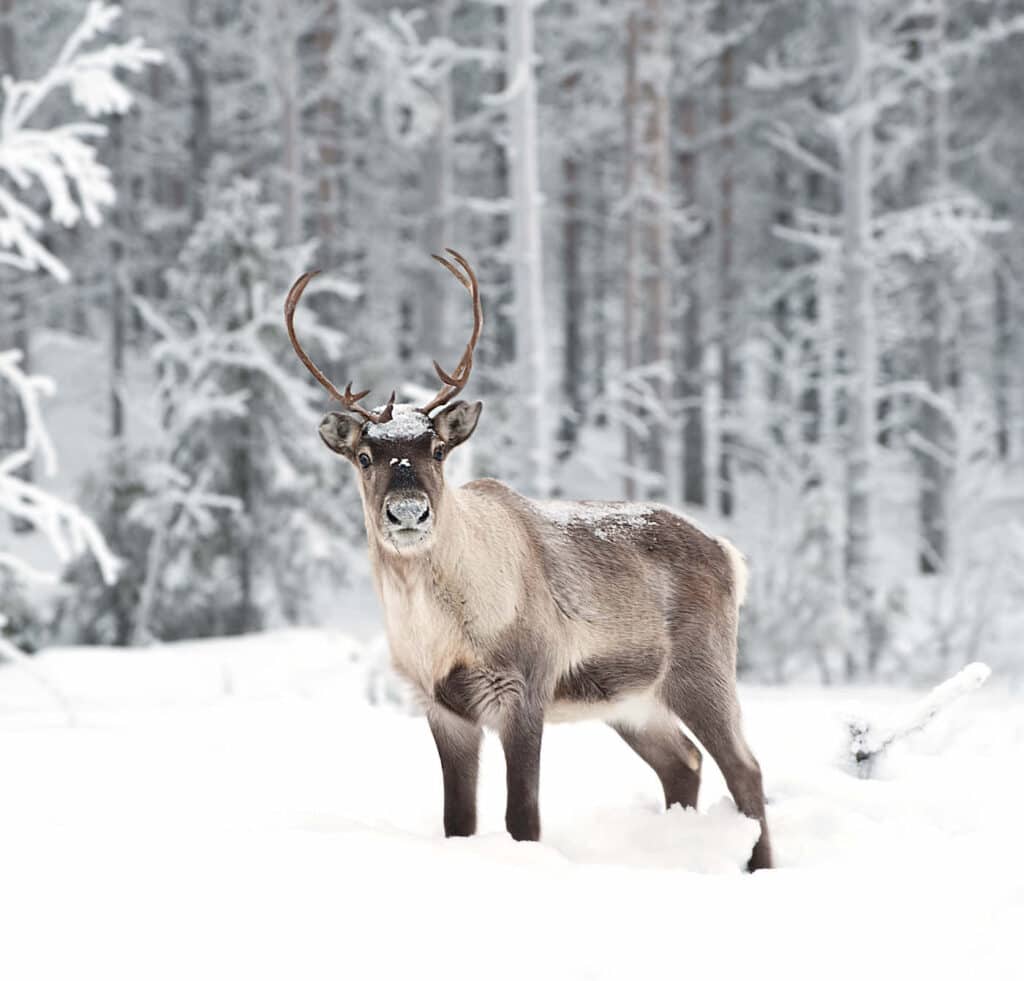 Best Places to Eat in Fairbanks
Fairbanks has a surprising amount of great restaurants to choose from. Here are some top places to eat:
Pike's Landing: the restaurant associated with the hotel where I stayed in Fairbanks. Chef Jeffery Brooks whips up classic American food with an Alaskan twist. The best things I found on the menu were the Halibut Fish and Chips and the reindeer sausage.
Lemongrass: Did you know that Fairbanks boasts 27 Thai restaurants? That's a lot of curry for 37,000 people! The first Thai restaurant opened in 1987 and the chef/owner trained his employees who then opened their own places. Lemongrass is a local favorite.
The Pump House: check this out if you want the full Alaska dining experience! This is one of the only few fine dining institutions in Fairbanks, so make sure to snag a reservation well in advance.
Soba Authentic Moldovan Cuisine: hardy food with big portions is the specialty at this authentic Slavic eatery located in downtown Fairbanks.
The Crepery: Sweet and savory crepes are packed with fresh ingredients which can be hard to come by in the Far North.
Silver Gulch Brewing: The pub fare at Silver Gulch features local Alaskan ingredients including standout pizzas, burgers, and of course – excellent beer.
Hoodoo Brewing Company: Fairbanks has a ton of great breweries and this is one of the best for their European-style craft beers and food trucks.
Are you planning a trip to Fairbanks, Alaska in winter? What activities are you looking forward to most? Leave us a comment below!