Best Heated Socks For Men & Women in 2023
Find the best electric heated socks for men and women to keep your feet warm during winter activities like skiing and hiking.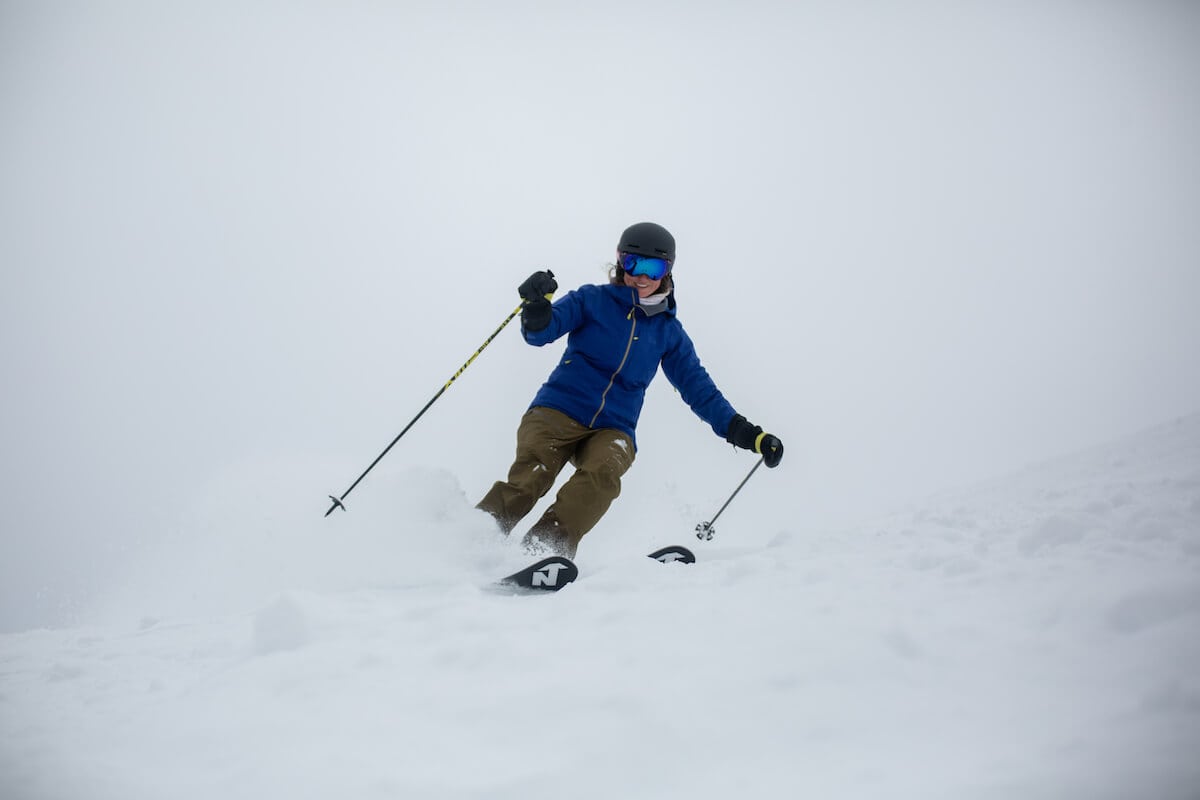 There are many options to keep our body core warm during our favorite outdoor winter activities, but fingers and toes are typically the first to turn white with cold, which can end a snow-packed day pretty quickly.
While researching gear for an upcoming winter trip to Fairbanks, Alaska, I discovered heated socks. Having tested a few pairs of rechargeable battery-powered socks, I now know heated socks are the answer to my cold winter toes woes. Heated socks can easily move from your hiking boots to ski boots, making them an incredibly versatile piece of winter gear.
Find the best electric heated socks on the market to keep your toes toasty warm for every outdoor winter activity.
Why Do My Feet Get So Cold?
It's perfectly normal for our feet to get cold during the winter months. The blood that travels all the way to our toes loses warmth during the journey. The heart must work harder to pump the blood to get to our extremities. When the temperatures drop significantly, our blood vessels constrict to keep our core body warm at the expense of our feet.
Other factors like poor circulation or Raynaud's Syndrome, a narrowing of the blood vessels in response to cold or stress, can exacerbate the problem. Cold weather gear like heated socks and heated gloves help improve blood circulation which can help prevent numbness in the toes.
What Are Heated Socks?
Heated socks rely on an electric wiring system woven into the liner to warm your feet. When connected to the rechargeable battery, a slight electric charge surges through the sock and provides warmth. Some heated socks only have a wiring system on the sole of the sock, while others have the heating system integrated throughout the footbed, providing direct heat to the toes, soles, and the tops of the feet.
The battery for electric heated socks rests in a snug little pocket sewn into the top of the sock and is easy enough to remove when it needs recharging. The knee-length socks are long enough that the battery pack is placed well above the tops of snowboard and ski boots.
Best Heated Socks – Our Picks
Gobi Heat Tread Heated Socks
I mentioned that my feet are always cold, which is due to Raynaud's Syndrome. Sometimes just a few minutes in sub-40-degree Fahrenheit can cause my toes to turn white. I tested the Gobi Heat Tread Heated Socks in several different settings from winter hikes, downhill and cross-country skiing, and standing on the sidelines during my son's soccer games. What I really appreciate about the Tread Heated Socks is that they feel like a regular pair of winter socks, apart from the wiring.
The full coverage of the heat elements kept my entire foot warm even when the temperatures dipped into the low teens. These socks are machine washable – just tuck the wire into the calf pocket so the electrical system is safe from water damage. These heated socks use a small remote control fob to adjust the heat. I was nervous about losing the fob, but this feature is much preferable to uncovering layers of ski pants and base layers to adjust the heat directly on the battery or needing to connect to a phone app.
As much as I loved these heated socks, when walking around the house I noticed the wires with each step. I forgot all about the wiring when I was outside and active, but this might not be the best pair if you want to use them indoors.
Key Features:
Machine washable
1 year warranty
Wireless remote fob temperature control
Three temperature settings
Battery Life: Low: 12 hours Medium: 6 hours High: 4 hours
$$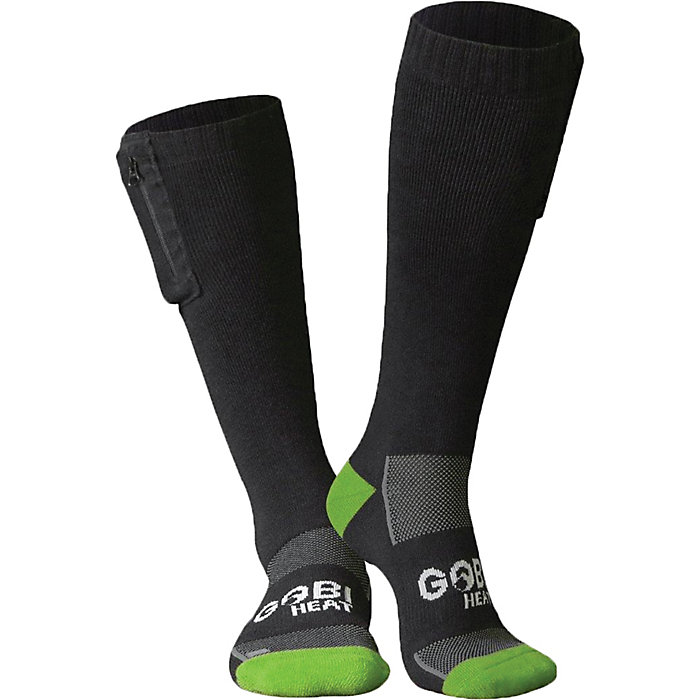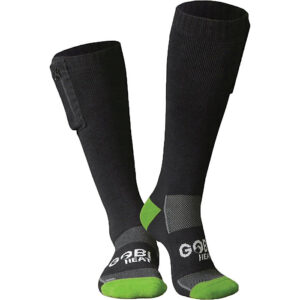 Check Price: Moosejaw / The Warming Store
Volt 3V Heated Socks
The cushy padded footbed of Volt 3V Rechargeable Heated Sock Liners makes walking with warm feet a dream. The padding covers the entire footbed and protects the electric wiring in such a way that all you feel is the sock's warm embrace. At first, on a frozen hike in New England, the cold started to creep into my toes because the Volt Heated Sock Liners don't extend the heated elements around the toes. But after no more than ten minutes on the high heat setting, the circulation returned to my toes and I was able to enjoy a cold, clear, and sunny day in the woods. I eventually turned down the heat to low as my entire body was able to stay warm.
Because these socks are designed to be liners, the stitching along the back of the calf and around the footbed feels strange, less like a sock and more like a fancy battery-powered slipper. I found the fit in my hiking boots to be a bit too tight but they were perfect in my cross-country ski boots and my downhill ski boots.
Key Features:
Battery life: Low: 8 hours Medium: 5 hours High: 3 hours
1 year full warranty, limited lifetime warranty
Made of moisture wicking material
Drawstring at the top to keep socks from slipping
$$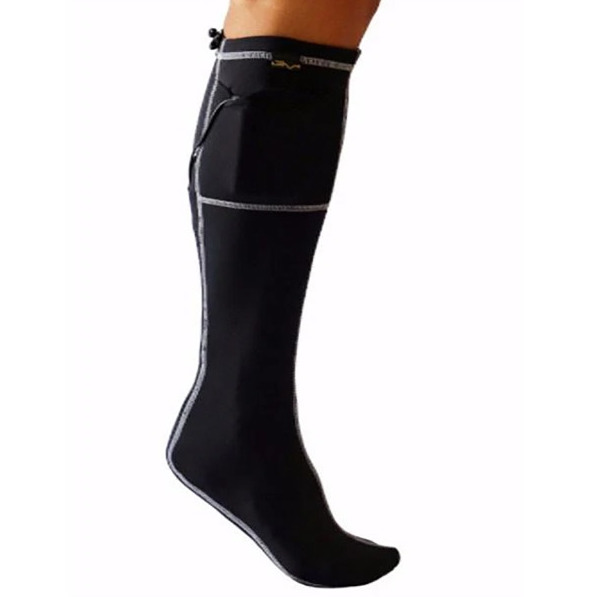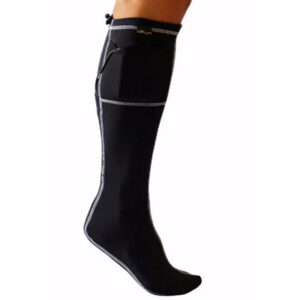 Check Price: Volt Heat / The Warming Store
Hotronic XLP Surround Comfort Heat Socks
The Hotronic XLP Surround Comfort Heat Sock boasts a synthetic and wool blend that helps wick away moisture while retaining heat. Extra padding in the sole and shin are made so using with your downhill ski boots is super comfortable. The long-lasting batteries continue to power through the cold for up to 13.5 hours when used on the low setting.
These features are paired with the Bluetooth remote phone application so you can easily monitor battery life and adjust the temperature straight from your phone – a huge bonus instead of needing to carry a separate fob or adjust directly on the sock.
Key Features:
Heat adjustable via phone app
2 year warranty
Soft compression which promotes circulation
Four heat settings and up to 13.5 hours of heat on lowest setting
Socks come with mesh bag for machine washing
$$$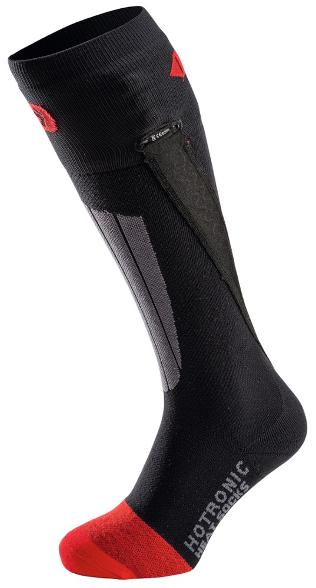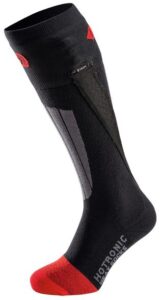 Check Price: Backcountry
Lenz Heat Sock 5.0 w/ Heated Toe Cap
The Lenz 5.0 Heated Socks are reinforced at the toe, heel, and shin, and the blended materials are optimized for keeping your feet dry and warm. If you prefer thin ski socks, these socks are the thinnest on the market. It's not ultra-thin, but thinner than other brands and models of heated socks.
Kristen wore these socks hiking and skiing and they kept her feet warm on the lowest setting with no battery issues. Plus, the socks fold over the battery so you can't feel the battery while skiing. And despite being a thin sock, she also couldn't feel the wires under her feet.
You can control the temperature of the heated socks using their free app and even set each sock to its own temperature, but Kristen did have some trouble connecting via Bluetooth to utilize this feature.
Overall, Lenz is one of the top brands for heated socks and the Heat Sock 5.0 is well worth the investment.
Key Features:
Bluetooth temperature control with Lenz Heat app
1 year warranty
Batteries can also be used as a backup phone charger
Maximum battery life of 14 hours on low heat setting
$$$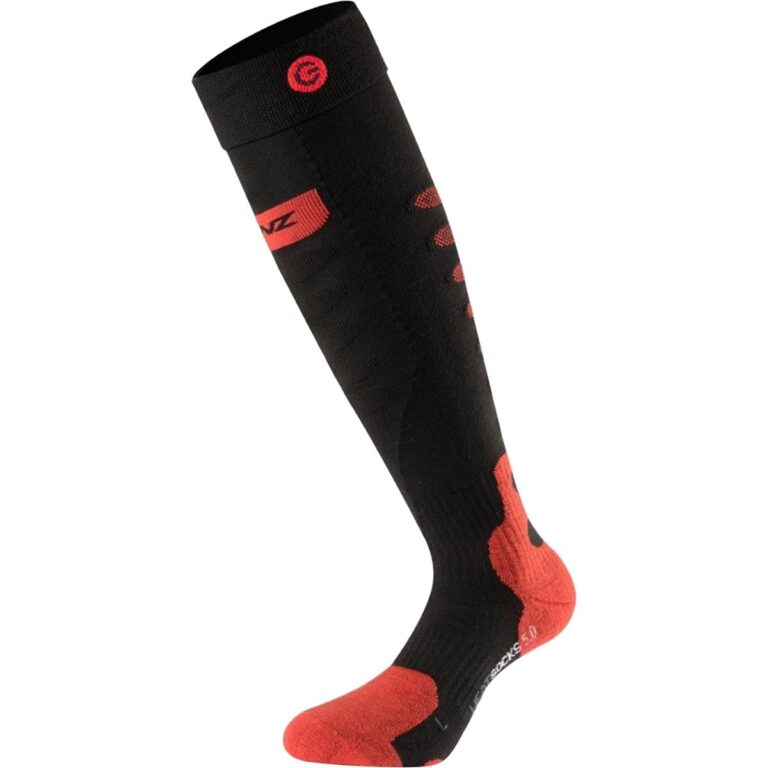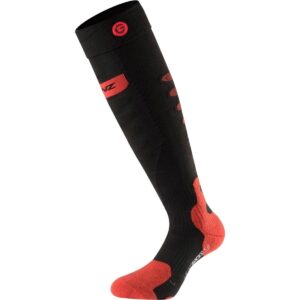 Check Price: Backcountry / The Warming Store
Therm-ic Sock Set V2 Uni
Therm-ic is one of the oldest companies in the heated gear market, starting with heated ski boots over 20 years ago. Since then, they have led the market in developing heat technology in cold weather gear. Their Sock Set V2 Uni is a high-quality heated sock that will keep your feet warm for up to 16 hours on the mountain. You can connect the socks via Bluetooth to control the temperature settings easily from your phone.
These socks are longer than most ski socks to keep the batteries out of your boots, and the batteries are detachable for easy charging. Therm-ic socks are a bit thicker than other brands which is great if you want a little extra padding and warmth.
Key Features:
2 year warranty
16 hours of heat on Low setting
Three temperature settings
Temperature control via Bluetooth app
$$$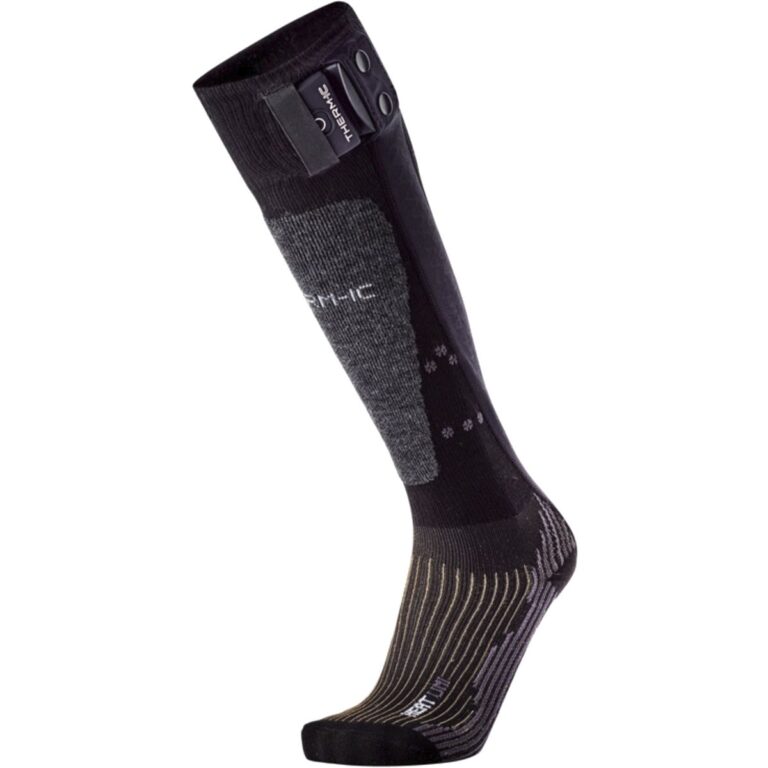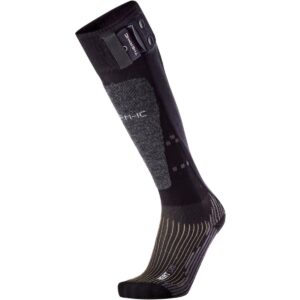 Check Price: Backcountry / The Warming Store
Snow Deer Heated Socks
The Snow Deer Heated Socks are consistently ranked as one of the most highly rated budget heated socks on the market. There are hundreds of favorable customer reviews with glowing accounts of toasty, happy feet. The Snow Deer Heated Socks are also one of the most affordable heated socks of this quality and the purchase price includes the batteries and charger.
The only downside of these socks is the temperature adjustment is on the battery itself, which can be a nuisance to reach when dressed in layers for skiing, snowshoeing, or other winter sports. These batteries don't last as long as other heated socks on our list, but if you are looking for a budget heated sock option or want to test a pair out before shelling out a lot of money, these heated socks are the way to go.
Key Features:
Battery life: Low: 6 hours Medium: 3 hours High: 2.5 hours
3-4 hours to fully charge the lithium-ion batteries
$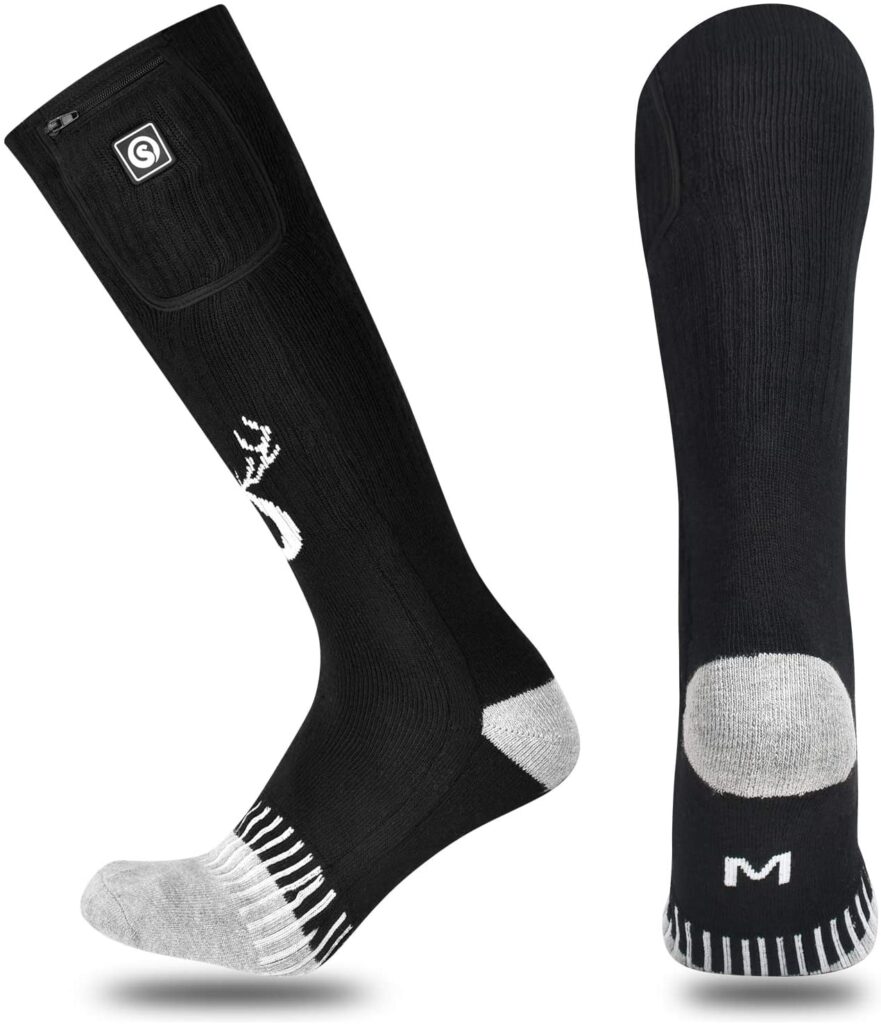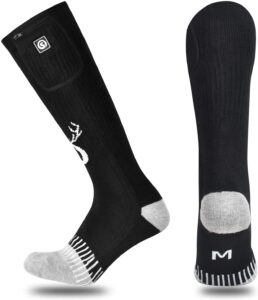 Check Price: Amazon
Hot Tips for Cold Feet
Do not wear heated socks if you plan to ski in backcountry/avalanche territory. The batteries in heated gloves will interfere with the signal in avalanche beacons.
To stretch the battery life, you can alternate using the heat and then turn the socks off for 10-20 minutes at a time.
The heated socks that use either a fob or a phone app should be paired and tested indoors prior to use.
Charge batteries the night before use. Some long-lasting batteries can take up to 12 hours to fully charge.
Some heated socks come with a mesh bag for washing. Always follow the care instructions and wash in the bag to extend the life of your socks.
Are you searching for the perfect pair of heated socks or have you tried any we should know about? Leave your questions and comments below!