Oboz has long been a favorite brand of mine for hiking shoes, and the Oboz Arete is no exception. This versatile shoe is perfect for both light and heavy hiking, and its tough construction means it can handle any terrain you throw at it. Plus, at just over 2 pounds per pair, they're some of the lightest weight hiking shoes on the market.
For the past few years, I've been testing them out on hikes of all kinds, from easy day hikes to more challenging multi-day excursions. I can confidently say that they have performed incredibly well no matter the terrain. Here's my full review of the Oboz Arete hiking shoe.
Learn why the Oboz Arete is one of the best lightweight hiking shoes on the market and one of my personal favorites!
Note: Bearfoot Theory is an ambassador for Oboz Footwear – we are huge fans of the brand and have tested out a variety of Oboz models over the years. As always, all opinions and words are my own and I only recommend products that I love.
First Impressions of the Oboz Arete
Because I spend a lot of my time living and traveling in my Sprinter van, I need to think carefully about what kind of footwear I bring with me on the road. I rely heavily on comfortable and versatile hiking shoes that can be worn on the trail, at campsites, and even around town.
The Oboz Arete checks all those boxes. While I still opt for my Oboz Sawtooth II Low ankle shoe for heartier hikes, the Oboz Arete has quickly replaced them as my go-to everyday shoe.
The Arete is lighter in weight at just over one pound each and their mesh upper makes them ultra-breathable and easy to move in. I also love the colors that they come in.
As a lightweight hiking shoe, the Oboz Arete was comfortable right out of the box with zero break-in period needed. The soles are grippy with plenty of traction to keep you from slipping on those slick sections of rock and scree. After three months of daily wear, I've found them to be durable enough to stand up to the wear and tear of the trail and to protect you from bruising as you step on rocks. The soles also allow the shoe to flex with your movements, unlike heavier hiking shoes that tend to be more rigid.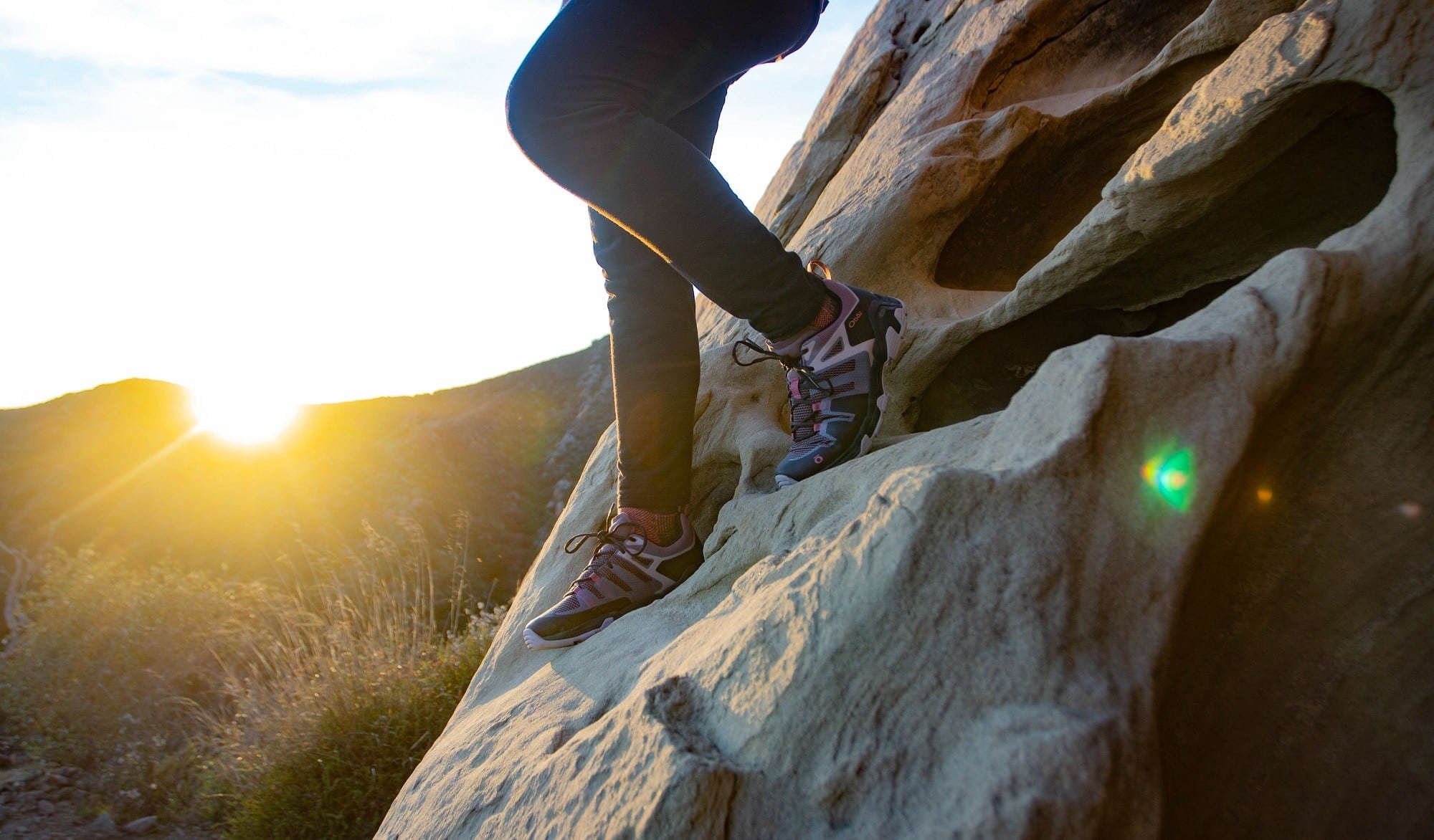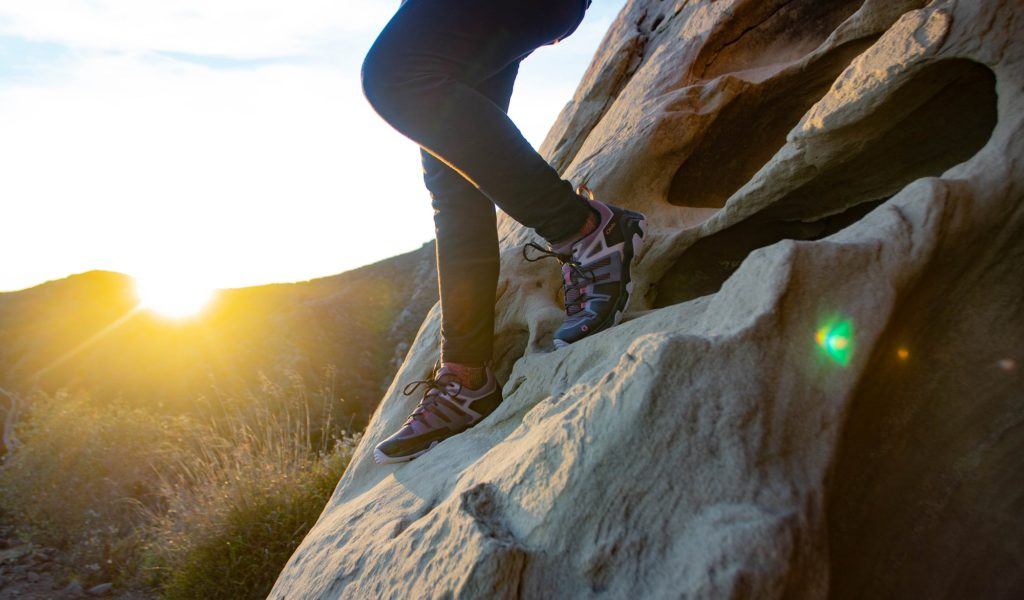 ---
Best Uses for the Ozoz Arete
What I really love about this shoe is its versatility. Whether your day includes a hike, bike ride, hanging around at camp, running errands around town, trail running, or even backpacking, this shoe is truly multi-purpose. When I first tested them, I wore them every day for 90 days and have since relied on them for a majority of my trail excursions.
My first test with them on the trail was a hike to the top of Frary Peak on Antelope Island which is 7 miles and has over 2,000 feet of elevation gain.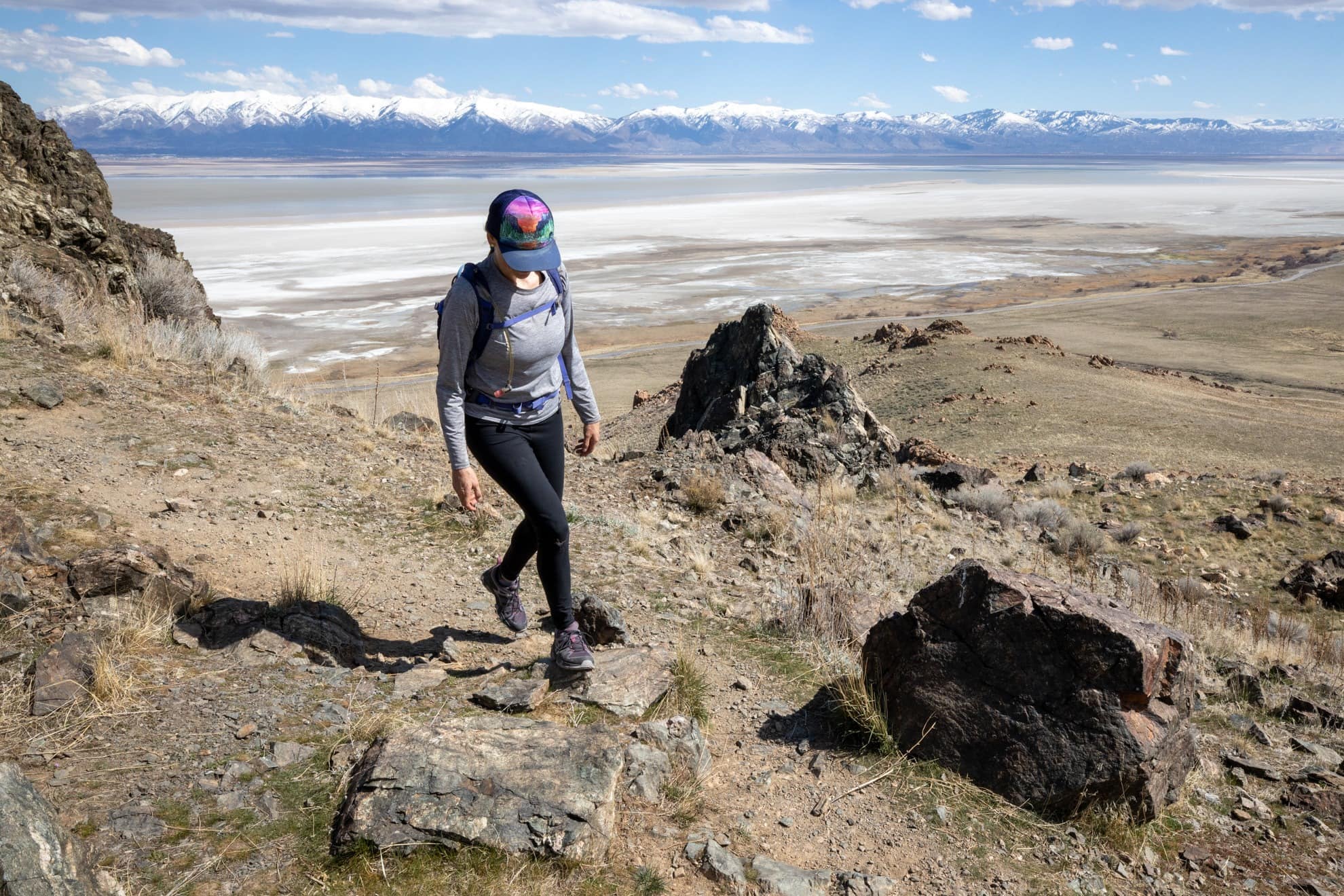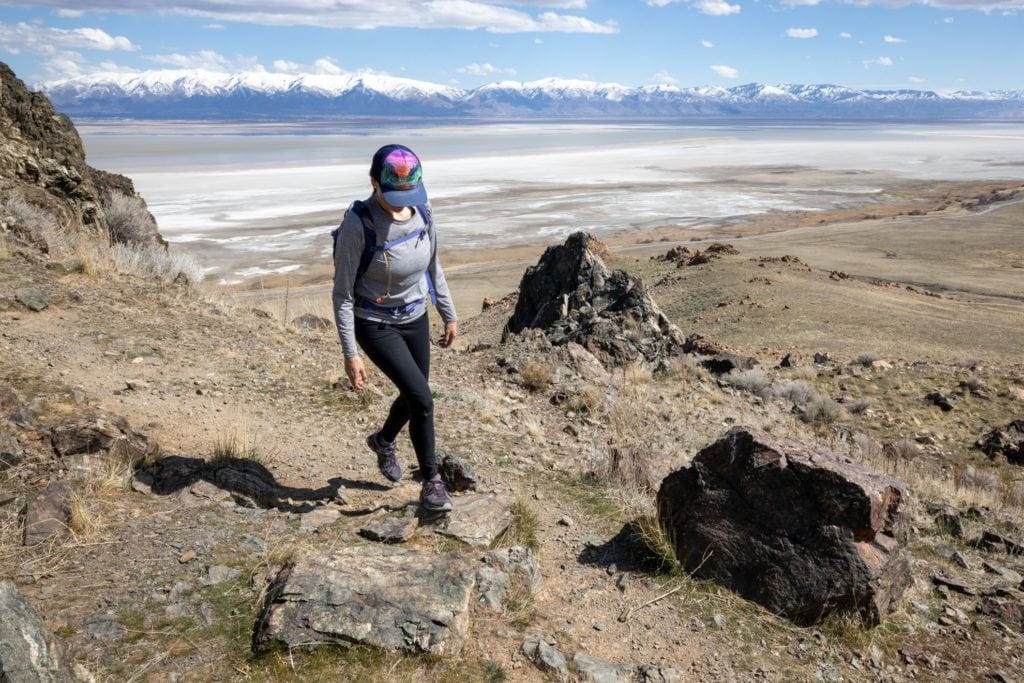 Hiking
With their low ankle and natural articulation, the Oboz Arete is designed for fast and light travel. The pair (at women's size 9) only weighs 1 lb 6 oz each and the sole provides plenty of traction for a variety of surfaces and will keep you quick on your toes. The O Fit sole has ample cushion for rocks and uneven terrain, and my feet remain comfortable on longer hikes.
Trail Running
For the average trail runner, these will do the trick. They might be a little heavier than some of the lightest weight trail runners and a bit more narrow, but if you want one pair of multi-purpose trail shoes, these could be a great option for you.
Backpacking
While I personally prefer a stiffer hiking boot for backpacking trips for more support, I know many people who prefer to hike and backpack in trail running shoes since they're so lightweight and efficient. If you fall into this category, the Arete, which also comes in a mid-ankle version (more on that below), would be an option to consider for backpacking.
Biking and Other Activities
The Arete can also be worn as an everyday shoe and would make for a great travel companion. I love wearing the Arete for daily walks around the neighborhood and on bike rides as the multi-directional grooves on the sole prevent my feet from slipping on my bike pedals.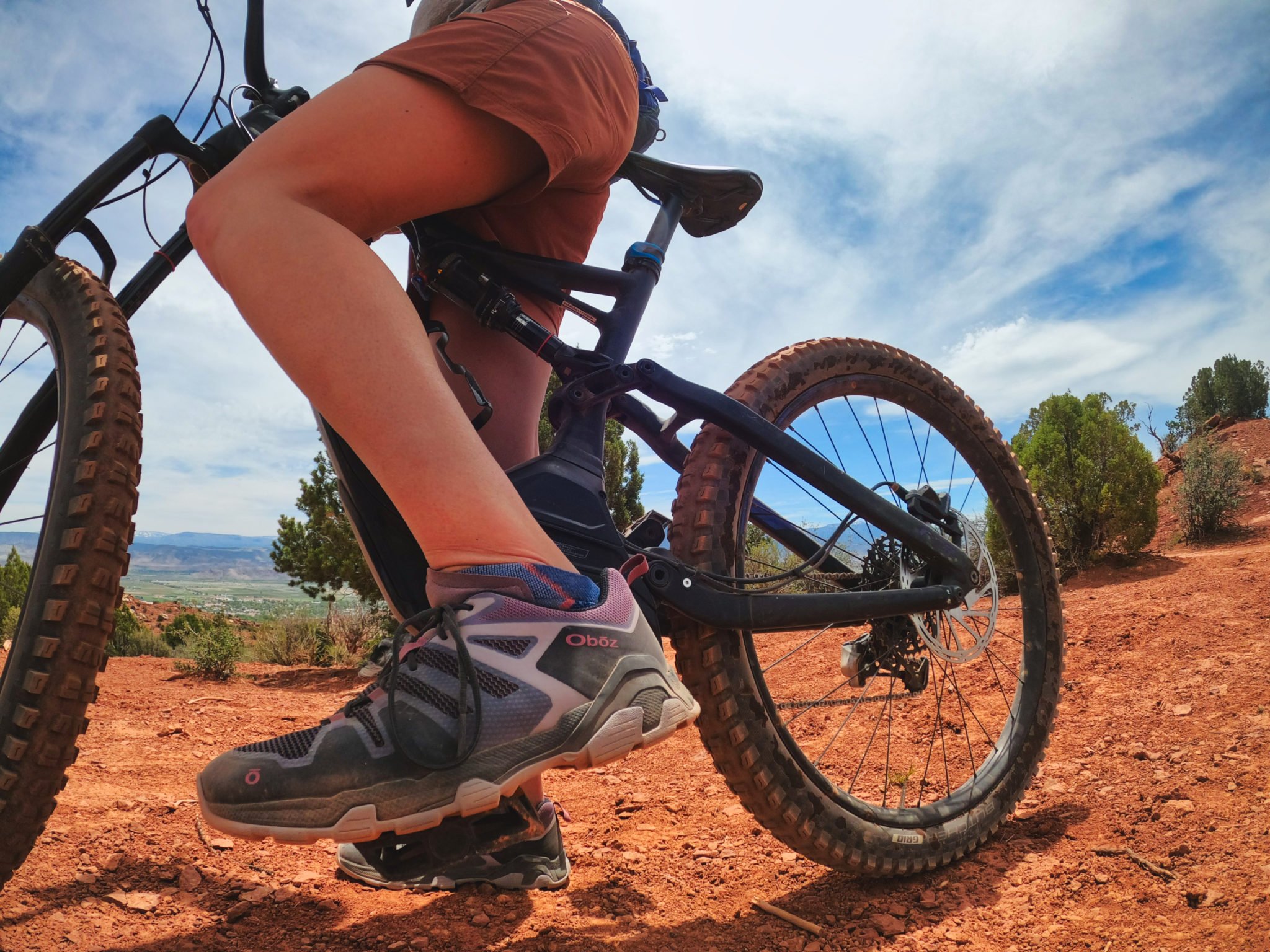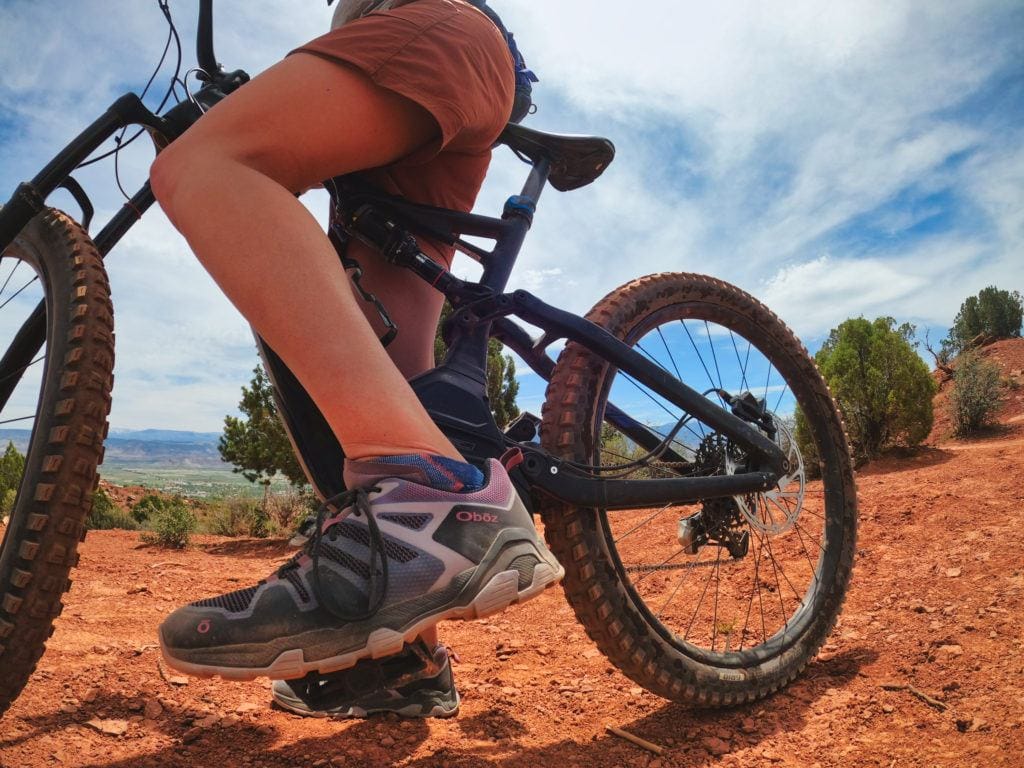 ---
Oboz Arete Fit
The Oboz Arete lightweight hiker has a wider forefoot and toe box. Since feet tend to swell when we hike, providing more space in the front increases the comfort level of hiking shoes. Everyone's feet are a little different, and what's nice about the Arete is that they fit a wide range of feet types. For example, I have a narrow heel and an average forefoot, while Bearfoot Theory's Director Linda has wide, flat feet. The Oboz Arete manages to fit us both comfortably.
One thing to note is our entire team found the Arete to run just a touch larger than Oboz's other hiking boots. Some of us had to size down ½ a size from what we normally wear in Oboz hiking boots. Perhaps it's the fact that I wear thinner socks with the Arete compared to my other hiking shoes. With my narrow heels, I also found the heel pocket to be a little wider than the Oboz Sawtooth or Bridger hiking shoes, so I need to lace them pretty tight in order to prevent heel slippage.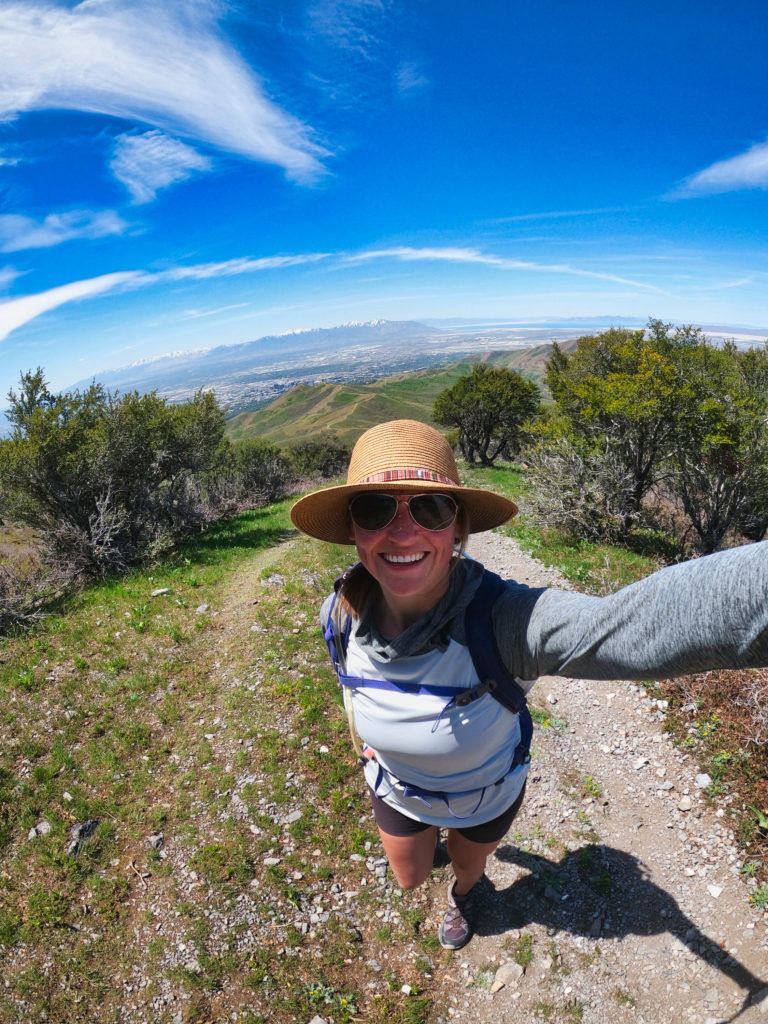 ---
Other Oboz Arete models
Non-Waterproof
The Arete comes in both a waterproof and non-waterproof version. I tested both and found that the non-waterproof version of the Arete to be much more breathable than the waterproof version (as to be expected). The non-waterproof version has a mesh upper while the waterproof Arete is covered in Oboz's BDry waterproof coating. Either version is great at keeping dust and small rocks out.
If you live somewhere where it rains a lot and you know you want your trail shoes to be waterproof, then the Oboz Arete BDry will be a great option for you. If you're looking for more breathability and something you can wear comfortably in warmer climates, we recommend the non-waterproof Arete.
Since all of my other hiking shoes are waterproof, the non-waterproof Arete provides breathability and functionality that my other shoes don't provide.
Oboz Arete Mid
The Oboz Arete comes in both a mid and a low version. Which one is best really comes down to the terrain, the load you are carrying, and personal preference.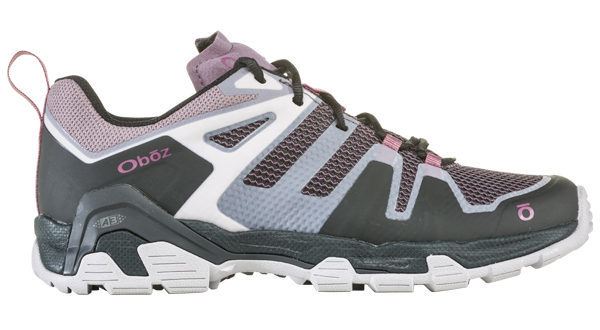 While I haven't tried the mid-ankle version of the Arete ourselves, it seems like they've found the right balance of lightweight and breathability bolstered with ankle support, which provides more stability if you are carrying a heavy pack or hiking on uneven terrain.
---
Why We Love Oboz
We love Oboz because the people behind the brand are just as awesome as their shoes. Plus, as a brand, Oboz puts the planet first. They plant a tree for every pair of Oboz sold, and they donate shoes to nonprofits that help distribute them to people in need.
100% of the energy they use in their Bozeman office comes from renewable resources like wind, solar, and biomass, and they carbon offset all their shoe shipments. Now that's the kind of brand that we want to support and stand behind, and we hope you will too!
---
Do you have any questions about the Oboz Arete? What is your experience with them? Let us know in the comments below!