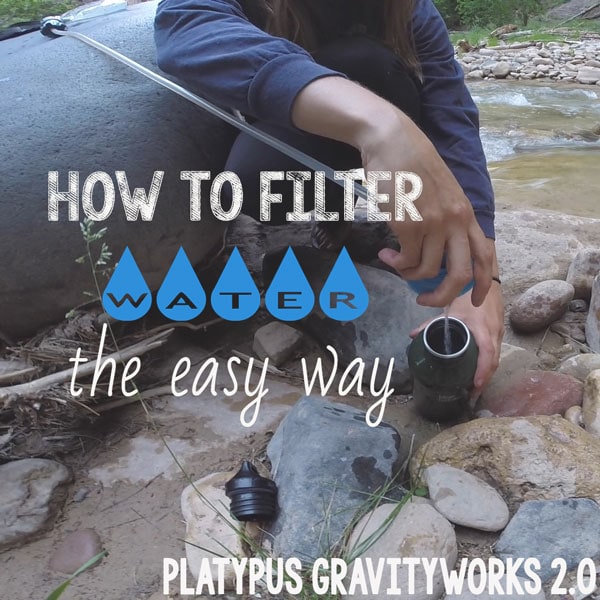 Platypus Gravityworks Water Filter Review
Why filter your water?
When hiking in the backcountry, it is always recommended that you filter your water before drinking it. Now you may think that you are way up in the mountains and there is no way that that crystal clear babbling brook is contaminated. But all it takes is a few deer to poop in the water and boom. You could end up with Giardia. For that reason, if you are doing any extended day hikes or overnight backpacking, you should always bring with you some sort of method for treating the water.
Water filter options
Over the years, the options for water treatment methods have multiplied, leaving hikers with several choices including hand-pump filters, chlorine tablets, and ultraviolet light pens. These different methods vary in speed, weight, effectiveness, and ease of use, among other variables. If this is the first you are learning about the importance of water filters, you should take a look at the detailed article, How to Choose a Water Filter, on REI's website. It goes over the pros and cons of each type of water filter and helps you determine which water filter will meet your needs.
That said, if you are hiking in the U.S., any micro filtration system you can buy at REI or other gear shops should provide sufficient protection against harmful bacteria and protozoa. So what it really comes down to is personal preference.
For years I have used the Katadyn Hiker Water Filter, which is a hand-pump water filter. This filter has served me well, and it's certainly priced right.  My only complaint is that by the time I fill up a few bottles of water, my biceps ache and I feel like I have pumped some serious iron at the gym.
The Platypus GravityWorks 2.0 Bottle Kit
Since I'm getting ready for a 25 day backpacking trip on the John Muir Trail, I decided to explore some other options and came across the Platypus GravityWorks 2.0 Bottle Kit. This is a filter that relies on gravity to push water through, eliminating the need to pump water by hand. I was already familiar with Platypus products because I own a Platypus hydration reservoir that I love for biking, day hikes, and music festivals.  So I decided to give it a test run during an overnight backpacking trip in the Zion Narrows.
Here's what the GravityWorks 2.0 Bottle Kit comes with.
The whole kit weights 9.5 ounces, which is a few ounces less than my Katadyn filter, and setting it up is very easy. After using it in the field, I am convinced that this is one of the best water filters out there.
Platypus GravityWorks PROS
It is very lightweight and takes up little room
It is fast. Platypus claims that it filters 1.5 liters per minute. I didn't time it, but my 40 ounce Klean Kanteen filled up in a jiffy
You can connect it directly to a standard hydration reservoir, including CamelBak reservoirs, and fill it up without removing the reservoir from your backpack. Major points for that!
No hand pumping is required, so you can save your energy for the trail
It is reasonably priced ($99)
Platypus GravityWorks CONS
Super ultralight hikers who are used to chemical tablets may find this filter bulky
If you are hiking in very dry desert areas where water availibility is limited to small trickles, it would be difficult to fill up the collection reservoir. In that case, you would likely want a filter that can pump water directly from the spring.
The video below, which I recorded in the Zion Narrows, provides a detailed review and step-by step instructions for how the Platypus GravityWorks filter works.
To recap the steps in the video:
1) Fill the collection reservoir with water. Zip it closed and either hang it from a tree or set it high up on a rock.
2) Slide the hose clamp over the bottom filter hose and squeeze it shut to prevent the flow of water (I did not do this in the video, but this would be necessary if you wanted to hook everything up in camp and let people filter water as they need it)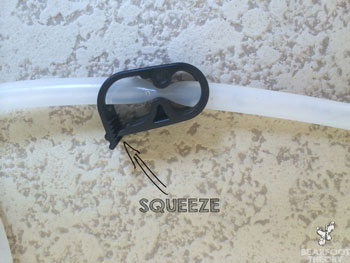 3) Insert the gray piece on the end of the filter hose into the collection reservoir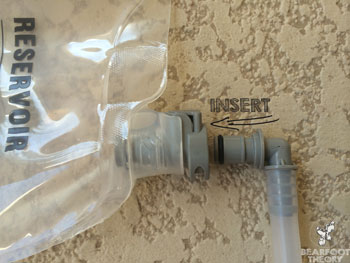 4) Attach the filter hose and bottle adapter to your water bottle. Alternatively you can attach the hose directly to a hydration reservoir by removing the mouthpiece. Release the hose clamp, and then just sit back and let the water flow.
I was very impressed at how easy and quick the Platypus GravityWorks 2.0 Bottle Kit was to use. I would highly recommend it for anyone who is looking for a new water filtering solution. Get yours now on Amazon for $99 (Amazon prime eligible)!!
What do you use to filter your water in the backcountry? Do you have any questions? Share your thoughts in the comments below!