Transitioning into life on the road and packing up for van life can be a mixed bag of emotions: excitement, anxiety, more excitement, fear, joy, confusion – all in one day! Downsizing your life into less than 100 sq ft. is a big deal. Making the move to travel in a van at all whether part-time or full-time takes both mental and physical preparation for a smooth transition.
If you're used to moving, camping, and traveling around frequently, then transitioning into van life might feel natural, but it certainly comes with its own unique set of circumstances. If you've got a 2500 sq. ft. home with pets and kids, then packing up for van life and moving into a tiny space will bring some challenges. Either way, the point is that it's a process, so be easy on yourself.
In this module, we'll be discussing all things packing and prepping for life on the road – from clothing to health insurance and everything in between. We'll get into how to pack, what to pack, and what to do with all your stuff. Plus, where to get mail, how to pay bills, and types of insurance for both you and your van.
My goal is to set you up for success as much as possible so you're well equipped with knowledge that will better prepare you for the road so you know what you need, where to go, and what to do in the early stages of van life.
What Clothes to Pack for Van Life
When getting ready to make the transition and pack for van life, minimizing your wardrobe is a good place to start. It'll be a big thing on your to-do list, and having this task checked off will be a nice accomplishment. If you've been on extended road trips or have a pretty minimal wardrobe already, this might come easier for you. Otherwise, it's safe to assume you probably have more clothes than you'll need once you're living in a van for several months at a time. Even if you only plan to take your van out on weekends or short trips, this lesson still applies.
When I packed up my apartment and moved into my first Sprinter Van back in 2016, I had no idea where to start with my wardrobe. The result was clothing overflowing out of every cabinet and a lot of excess stuff that I never wore. My van felt cluttered, and all that space could have been used for something else that brought me more joy.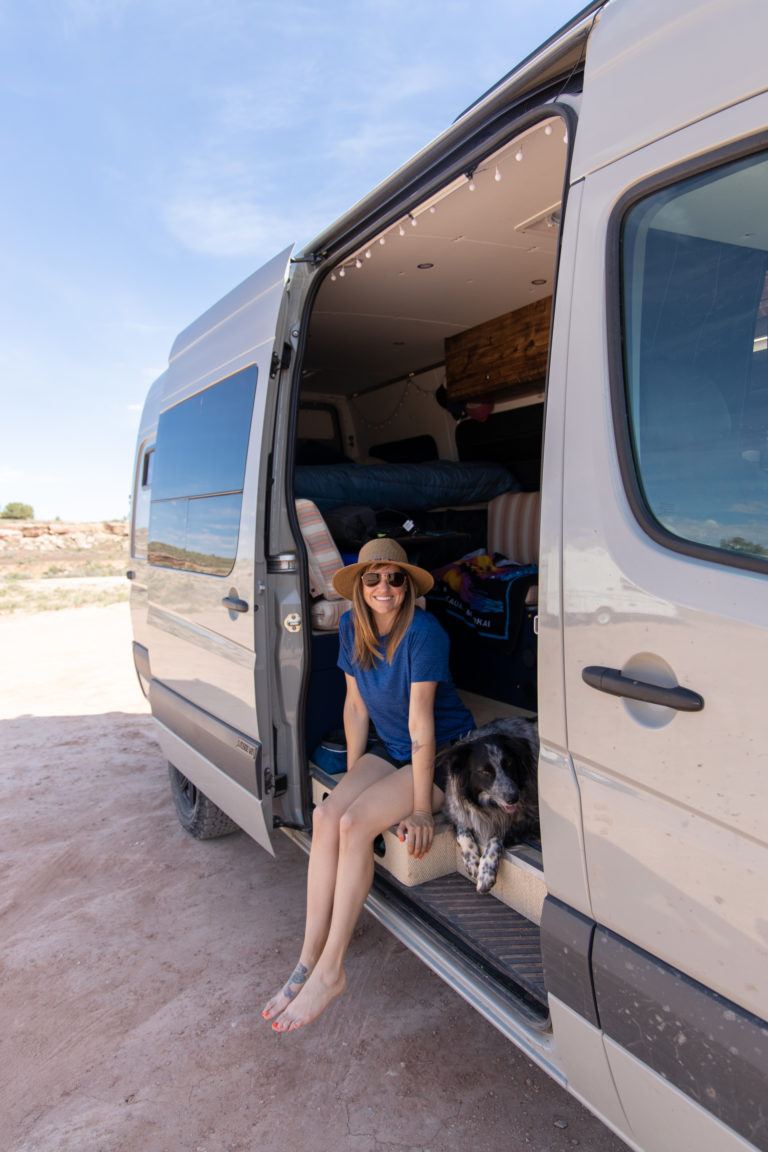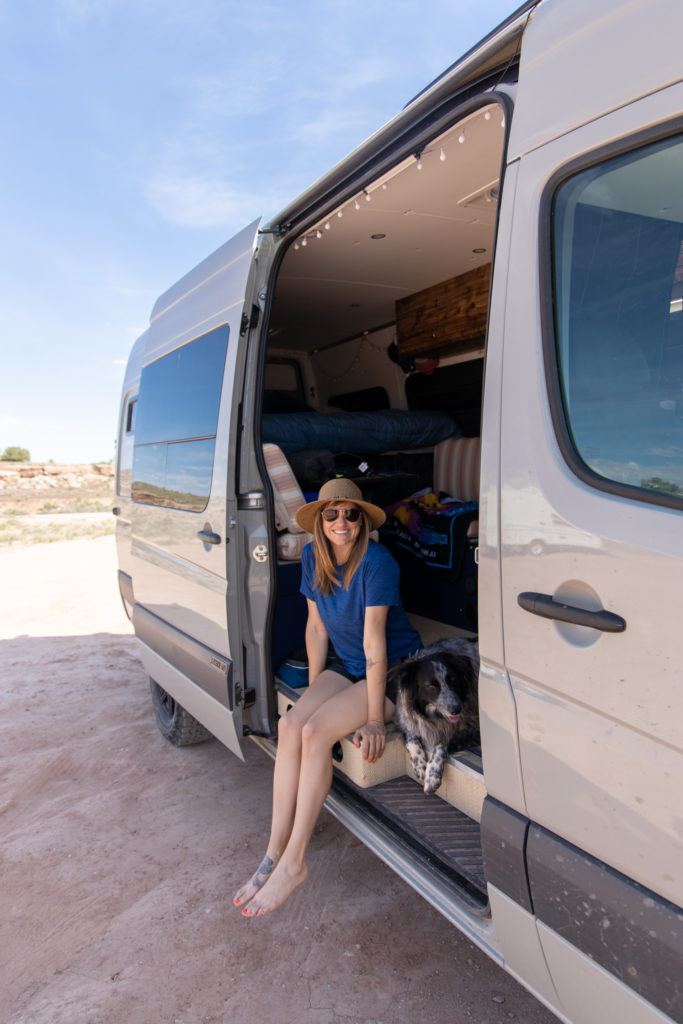 Van Life Clothing Considerations
The kind of lifestyle you'll be living will impact the sort of clothing you need to bring. If you anticipate spending a lot of time in urban areas, you might feel inclined to be more fashionable over functional. I understand that fashion brings some people a lot of joy, but I'll be talking less about fashion and more about functional, comfortable, packable clothing that will make your life on the road easier.
Of course you might have a situation that requires you to have specific clothing, like if you'll be working from the road for example, so the idea is that after reading these packing tips, you'll be able to discern what items you need to bring, including some special pieces if that's important to you.
A good rule of thumb to follow is if you don't wear it a lot at home, you'll probably never wear it on the road. You're going to be spending a lot of time in the clothing you do bring, so it's important that you really love it and that it's comfortable. Otherwise, it will just end up taking up space in your van and collecting dust.
Another consideration when packing for van life is that you'll also want to pack for the specific activities you enjoy. If you want to hike or bike a lot, bring the clothing and shoes you need to be comfortable doing that. Same goes for any other activity you enjoy and plan on doing on the road.
Van Life Clothing Tips
For fabrics, if you plan to spend a lot of time doing outdoor activities, quick-dry, athletic style fabrics are great because you can give them a quick rinse and hand wash them when needed, and they don't get super stinky after one use. It's okay, and actually expected, to wear things multiple times between washes, as this will reduce the amount of time you have to spend in the laundromat or hand washing your laundry.
Generally, easy to clean, machine washable, wrinkle-free materials are best. For me, dry cleaning items are a no-go. With undergarments, you'll also want to pay attention to fabrics. Again, quick dry means you can easily hand wash, which can help buy you a few extra days in between trips to the laundromat.
In addition to easy to wash fabrics, I recommend keeping things simple by sticking to solid colors and patterns that coordinate with your other pieces so you can mix and match. That way, you'll also easily be able to layer your items as the weather gets colder so you can be prepared for all seasons.
Think multipurpose and versatile, you'll save space and time getting ready, too.
And finally, choose pieces that aren't bulky; your storage space will quickly seem even smaller once you start packing your stuff in. This is especially noticeable with jackets and larger sweaters.
Clothing Organization
Now that we've gone over some clothing basics for the road, how will you keep your clothing organized? The answer is compression style packing cubes – these help keep things organized, especially if you share a closet with your partner or family.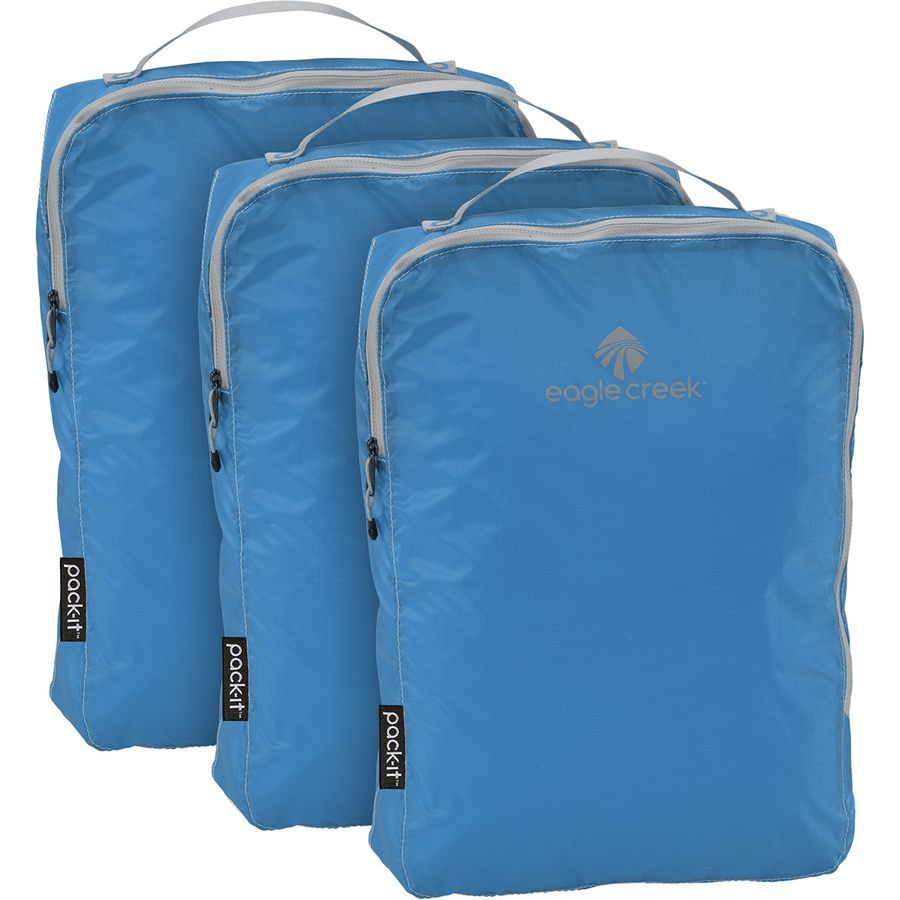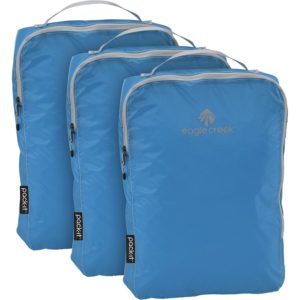 I've been using packing cubes for a while, and they're great for categorizing different types of clothing. You can keep tops in one, bottoms in another, and city-style clothes in a third. Then have another one for underwear and socks.
The cube limits the amount of stuff you can squeeze in – once it's full, that's it, and it prevents you from having to dig through everything to find what you're looking for. Besides the packing cubes, I do keep one small duffel bag in the garage with seasonal wear – like warmer wintery stuff – that I will swap out when the weather starts to turn.
Shoes for Van Life
Next, let's talk about shoes. Shoes take up a surprising amount of room. To give you an idea, we have a large rectangular hamper for our shoes in our van and it's full.
The shoes you'll need depend on the types of activities you want to do on the road. If you're an avid hiker, allot enough space for hiking boots and trail runners or a daily hiking shoe. If you're big into watersports, biking or climbing, make sure there's room for the footwear you need for those activities too.
I suggest keeping one pair of nicer shoes for the occasional night out where you want to "dress up" a little. And if you plan on showering at gyms or campgrounds, you may want to bring along a basic pair of flip flops or sandals you can wear in the shower.
Because shoes take up so much room and aren't able to be compressed down, it's especially important to only bring what you need and will actually wear when packing for van life.
I've covered more details on clothing for van life in a blog post which includes a breakdown of what I have in my van – you'll find it linked in the resources section below as well.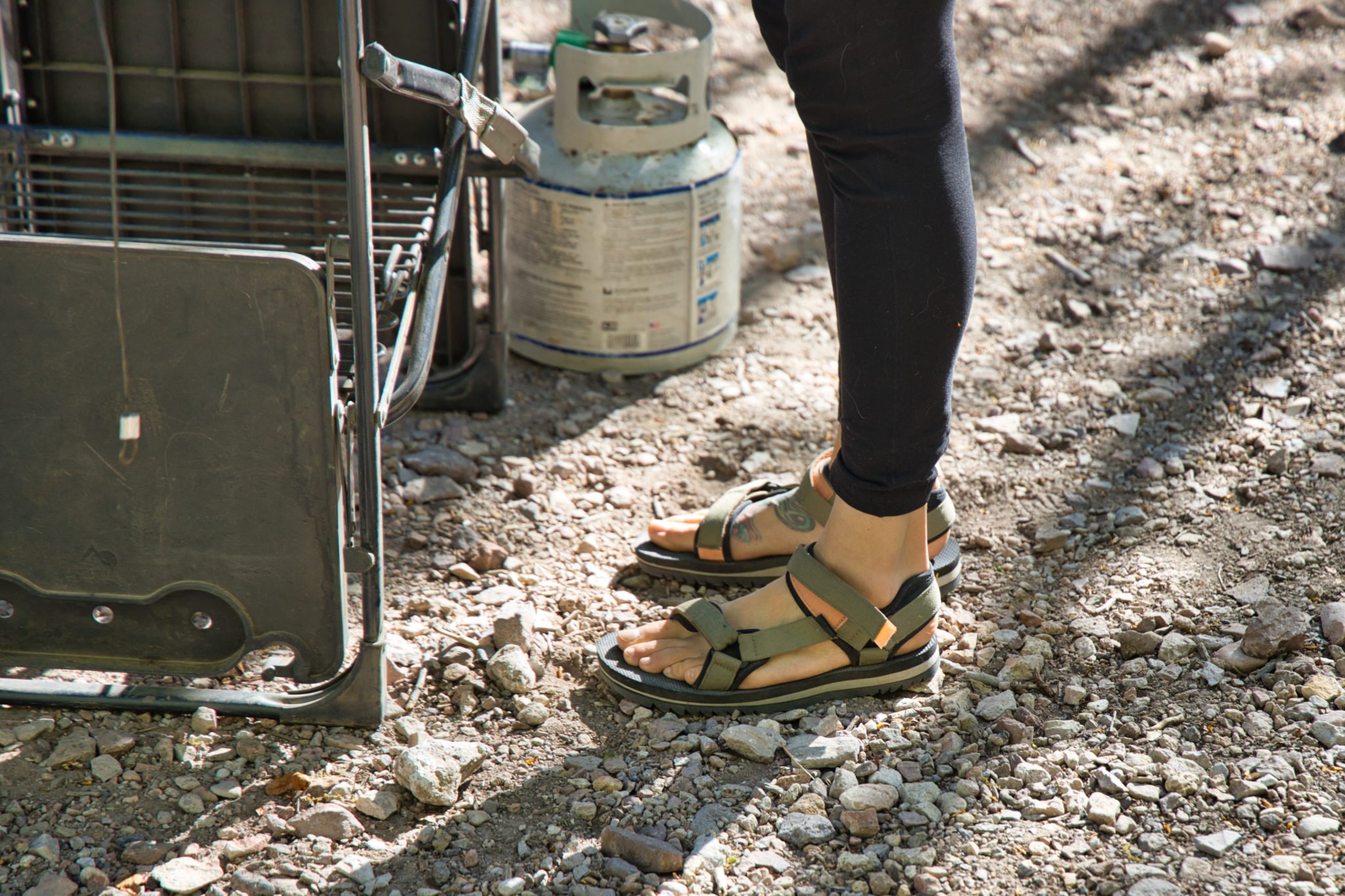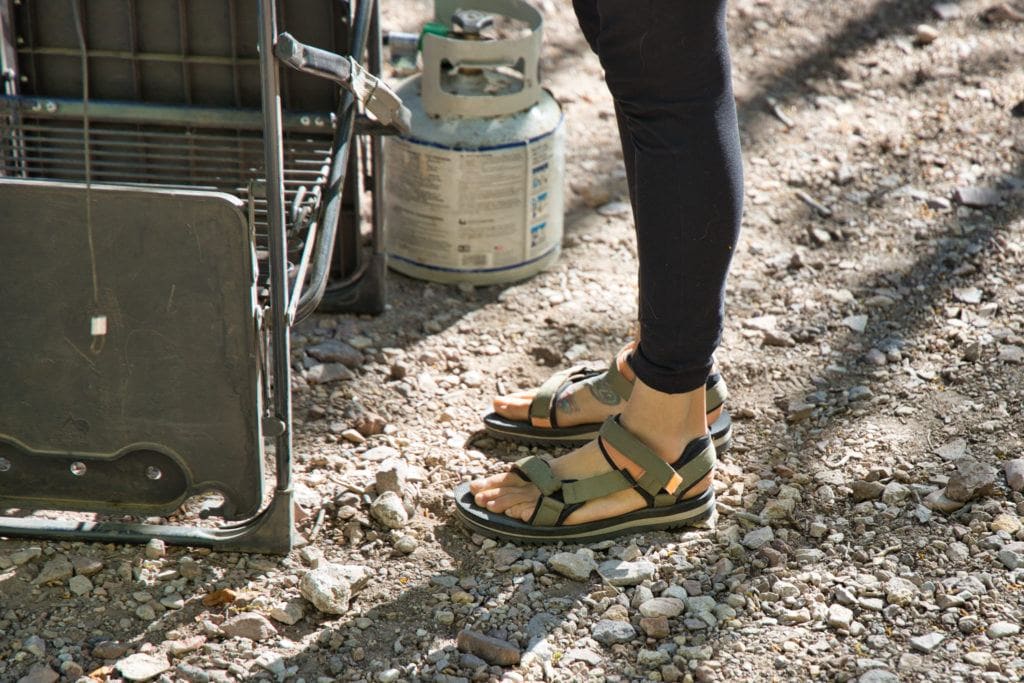 Outdoor Gear for Van Life
Now that we've covered clothing, let's move onto gear. Think back to the previous lessons where we discussed prioritizing the things you'll need and want in your van. Hopefully, you've been able to think this through, narrow it down a little, and cross a few things off your list, leaving just your top priorities. As a reminder, when narrowing down the gear to bring along as you pack for van life, I suggest focusing on your favorite activities and remember that typically, the longer it takes to set something up, the less likely you'll use it regularly.
Because you thought long and hard about this in the last module and are planning your build to accommodate your most important gear, packing up your van will be much easier. You'll already have a place in mind for the main gear items you'll be bringing along.
If you opted for a floorplan that doesn't accommodate bigger items, like bikes or paddleboards, now is the time to figure out if you need any additional van accessories like roof racks, a bike rack or straps to bring anything else you want along.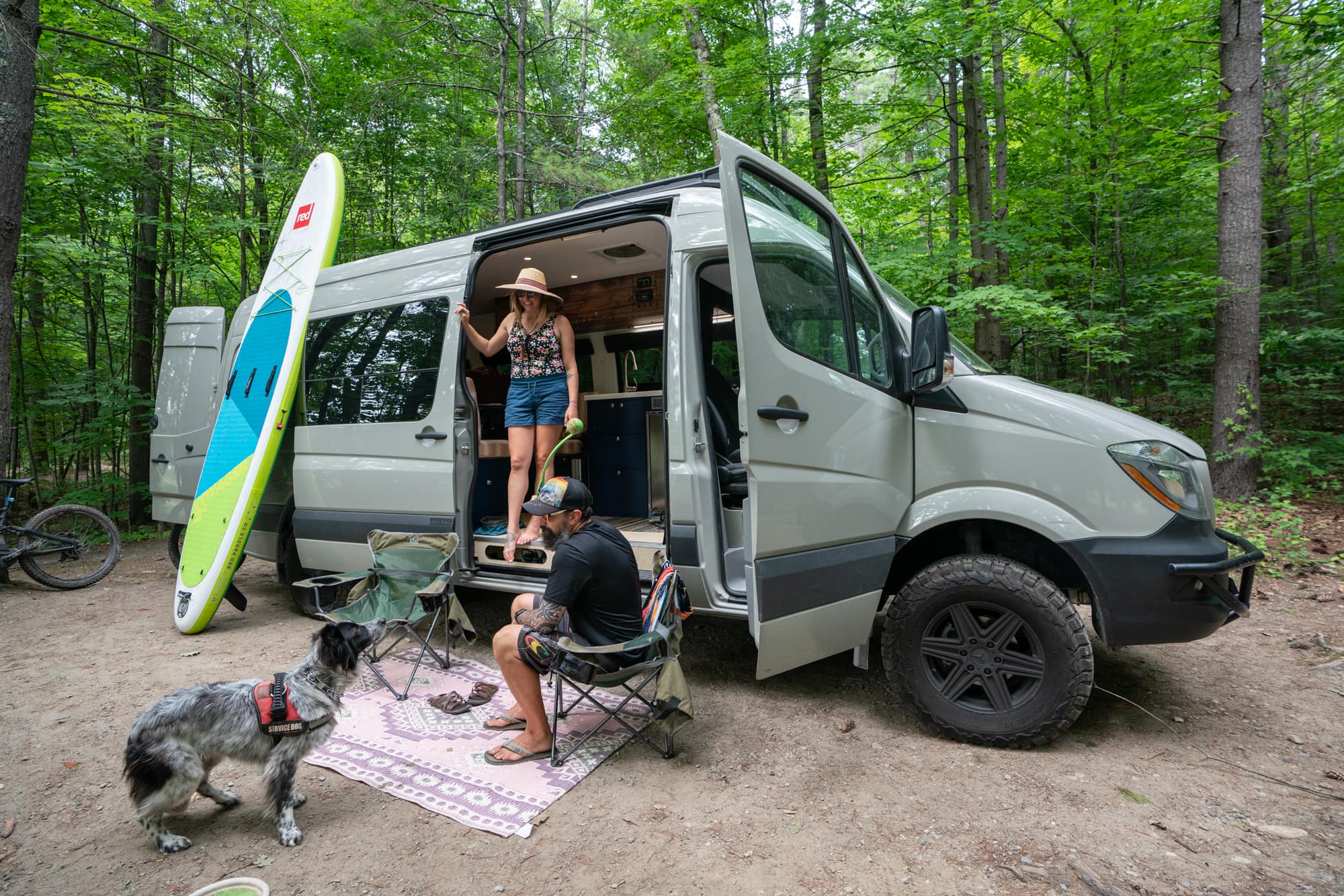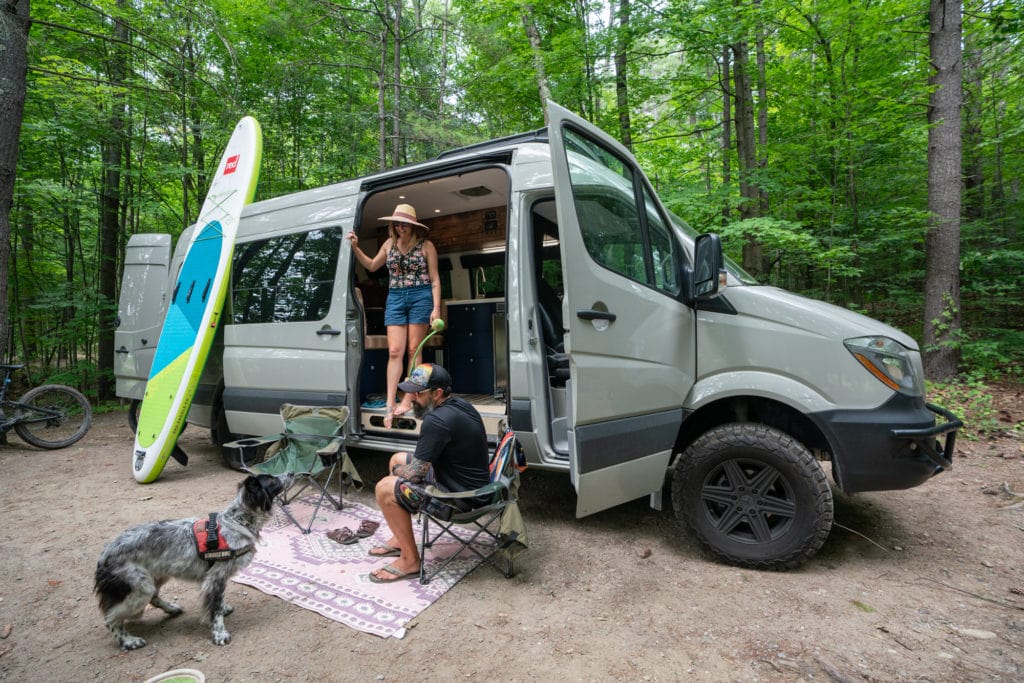 How to Stay Organized in a Van
Organization is key to making living and traveling in a small space work. Keeping things orderly will reduce stress when you're trying to look for that one thing you need in that moment. I find it's best to group similar items or items that are used for a specific reason together. Designate specific compartments for certain items and stick to it, unless you find a better place for those items after being in your van for a while, which will likely happen.
Everything moves and shifts while underway, so I recommend storing all of your loose items in bins. We touched on this a little in the last module when we covered cabinetry and storage.
Measure all the compartments in your van and find the perfect sized bins that will fit the different spaces. If you live near one, I personally love the Container Store and found their staff to be very helpful when I shopped for my van. They actually let me bring the containers I was looking at out to the van to see if they fit in the different cabinets before I bought them. And they suggested a few little hacks that I wouldn't have thought of myself.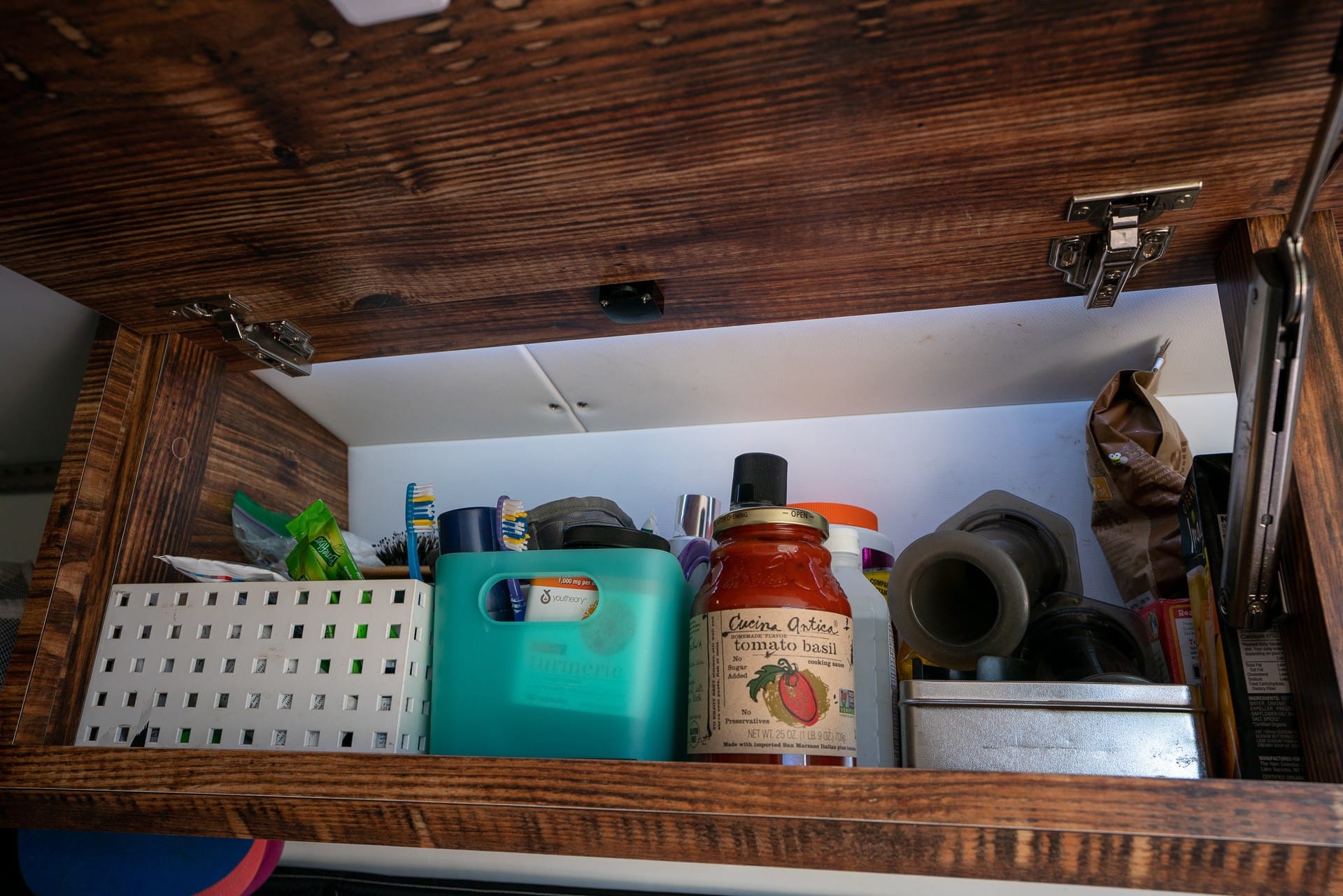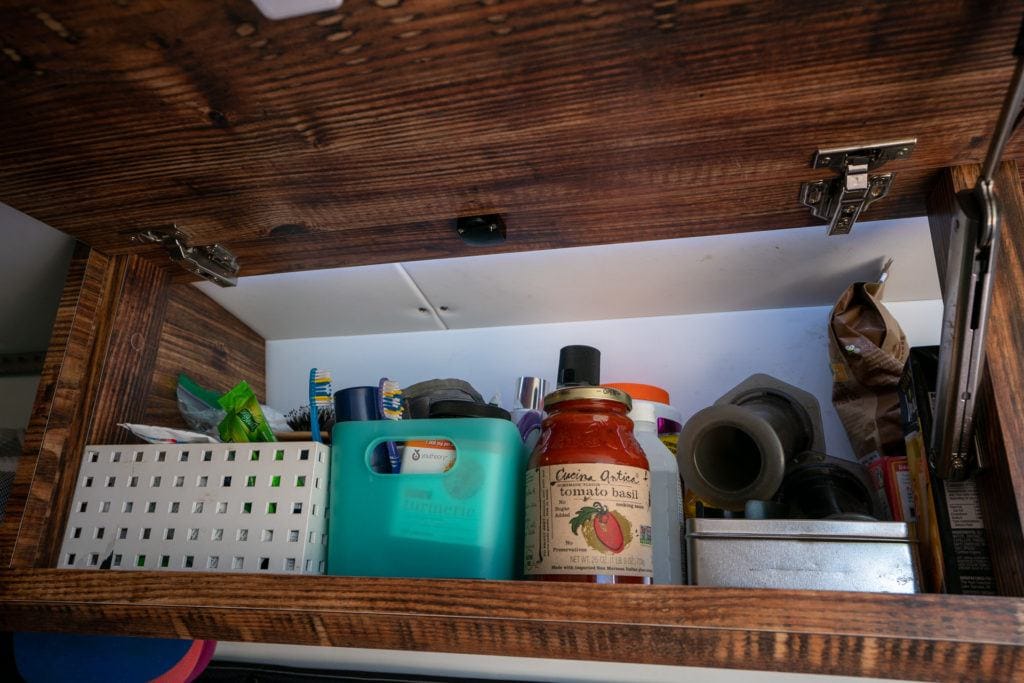 I'm also a big fan of compression sacks and packing cubes, as I mentioned earlier. In my van, I have a specific drawer for my work stuff, Charlie's dog stuff goes in another, and we have a bin for books and maps. My partner and I each have our own toiletry bins, and we also have a junk drawer for all of the misc stuff that accumulates and every so often, we clean that out.
For our gear, we have two big plastic bins in the garage. This year one of them had our camping and backpacking stuff and the other had our packrafting stuff.
While I've shared some examples, how you organize your van will be specific to whatever you bring and what works for your lifestyle. Be prepared to experiment and play a bit of Tetris, but over time, you'll find little ways to improve how your van is organized and you'll get it all dialed in.=
Resources Section
Helpful articles
Recommended Products
Download my packing checklist PDF
Explore more van life posts in Module 3
Are you nervous about moving into a van? Share your questions, tips, and experiences down in the comments, and make sure to sign up for course updates here.