9 Best Hikes in Bend & Central Oregon
Discover the best hikes in Bend, Oregon from the high desert to the Cascade Mountains to make planning your Central Oregon hikes easy.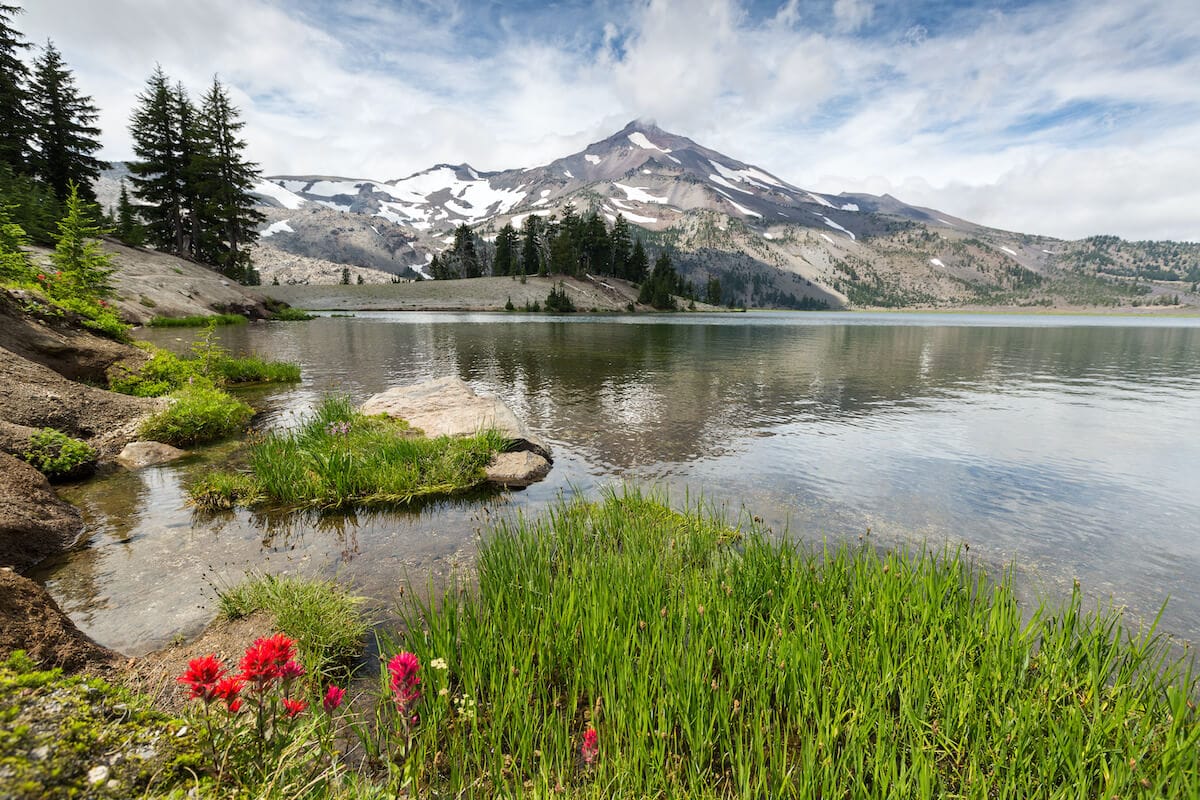 Bend, Oregon, sits on the edge of the Cascade Mountains, right before Central Oregon turns into a vast desert. This area offers a plethora of outdoor activities and the town of Bend itself is a hub for outdoor-focused people and outdoor brands. One of our favorite things to do in this region is explore on foot, with the best hikes in Bend, Oregon offering everything from waterfalls, lakes, and pine forest to snow-covered peaks and desert treks.
There's something about the quiet ponderosa forests, sagebrush-covered buttes, and ~300 days of sunshine that fills me up in a way that the rain-soaked western Oregon forests of my youth cannot. And the hiking is top-notch.
Whether you want to visit the desert and volcanic tuff rocks of Smith Rock State Park or head into the mountains in search of summits and alpine lakes or strolls by the river, read on to learn about some of the best hikes in Central Oregon.
Looking for the best hikes in Bend and Central Oregon? Our hiking guide has you covered.
Important Reminder: As it goes in all of the destinations we share, please practice good trail etiquette and remember to Leave No Trace. This means packing out all of your garbage (including toilet paper), being respectful to others on busy trails, and following the established rules.
Where is Central Oregon?
When you think of Oregon, do you think of constant rain, lush greenery, and cascading waterfalls? Did you know that only a fraction of Oregon looks like this? The majority of Oregon's landmass is desert!
Central Oregon sits on the eastern (dry) side of Oregon's Cascade Mountains. The biggest and most well-known town in Central Oregon is Bend. The area is known for its outdoor recreation, including hiking, skiing, rock climbing, and fishing, making it one of the best stops on an Oregon road trip.
Bend is about 3 hours south of Portland and the closest major airports are Redmond Municipal Airport (20 minutes north) or Portland International Airport (3 hours northwest). It is a beautiful drive from Portland through the lush Cascades to reach the ~90,000 person town that sits on the edge of the mountains and the desert.
Volcanic activity shaped the landscape of Central Oregon, and you can see evidence today in the rocks, peaks, and valleys that still exist.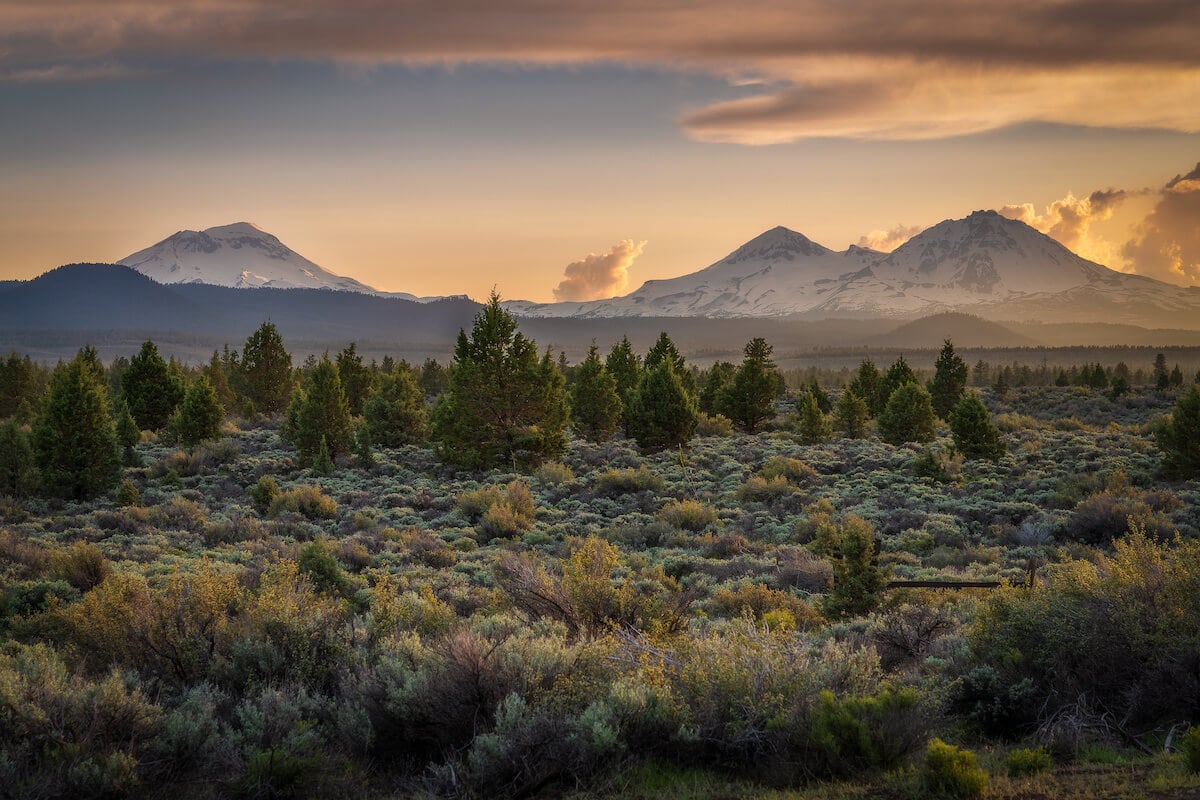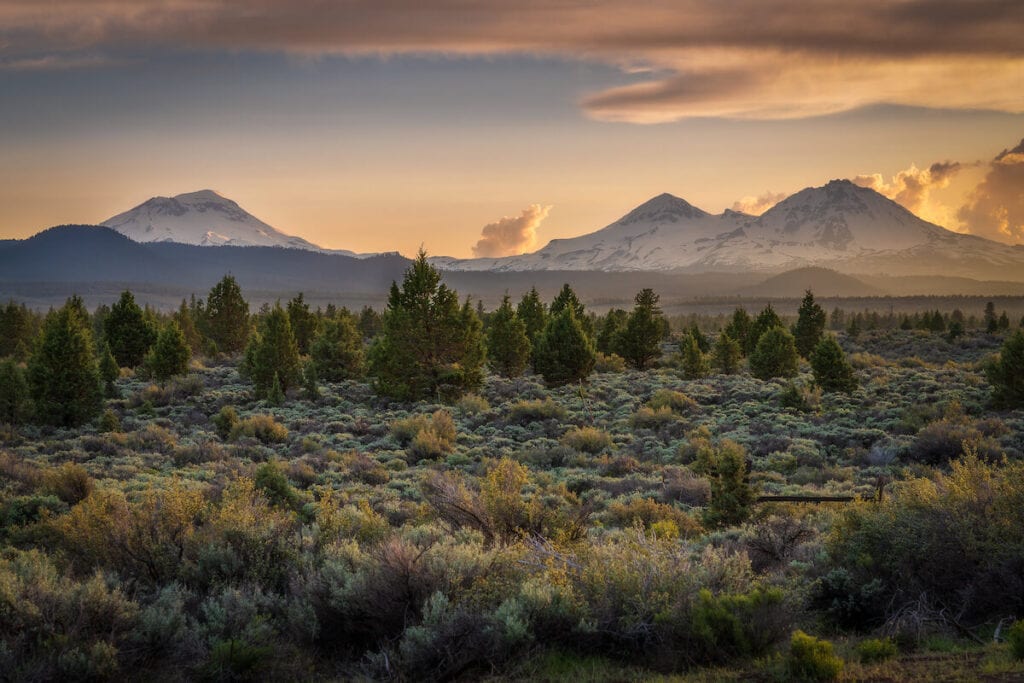 When is the Best Time to Visit Bend, Oregon?
Bend is truly a year-round hiking destination. Because it does tend to be hot in the summer and certain areas of Central Oregon get blanketed with snow in the winter, you have the most hiking options available in spring and fall.
During the summer, you may want to head to the mountains for cooler hiking temperatures, while during the winter, the desert is a better place to hike since the mountains receive lots of snow, leaving them mostly inaccessible.
If you're looking for things to do (outside of hiking) during winter, Bend is also known for its winter sports, such as downhill skiing, cross country skiing, and snowshoeing. Mount Bachelor Ski Resort, only about a 20-minute drive from Bend, is the 6th largest ski resort in the country and features 360-degree skiing on the dormant volcano – it's also one of the best ski resorts for beginners.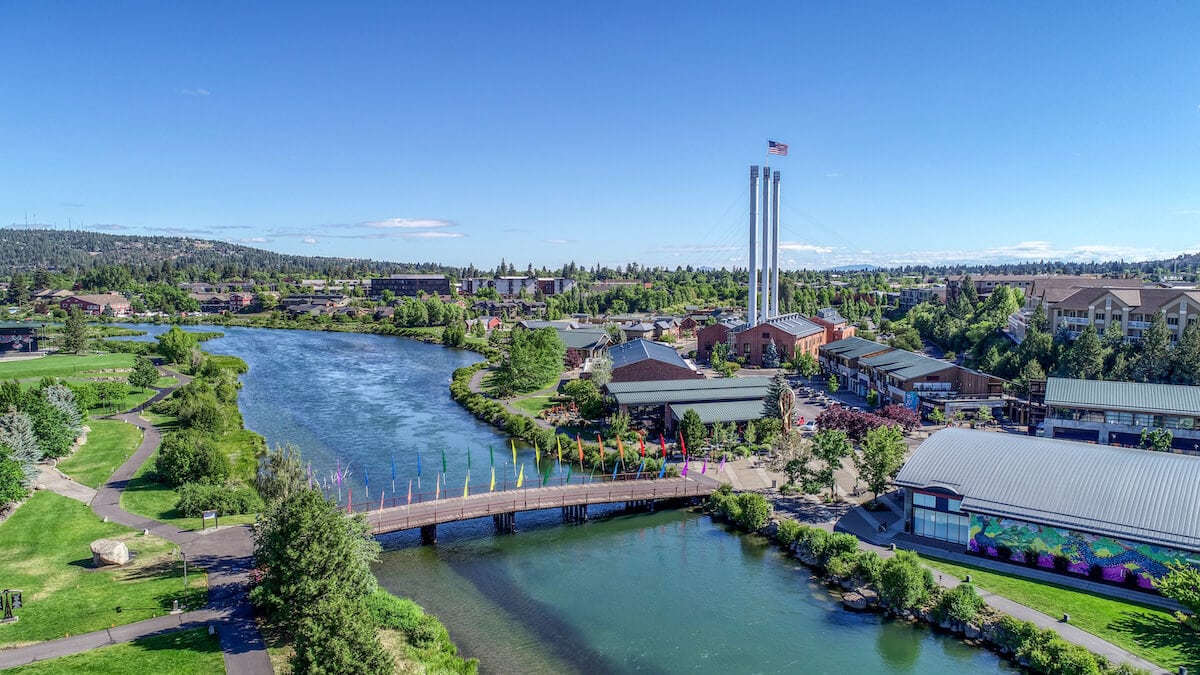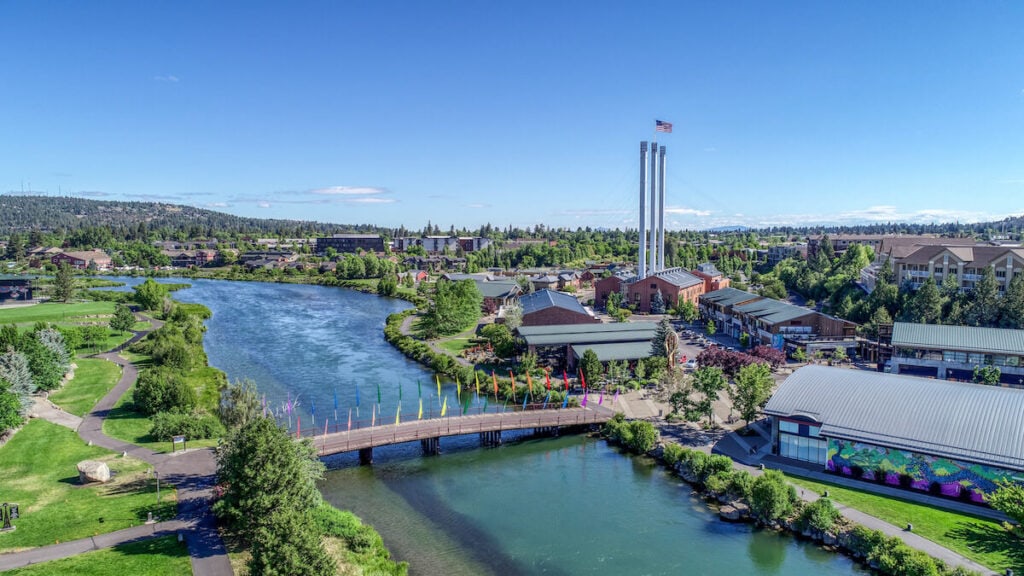 Hikes Near Bend, Oregon – Mapped!
Best Hikes in Bend & Central Oregon
Sparks Lake Loop (Ray Atkeson Memorial Trail)
Length: 2.5 miles
Elevation Gain: 20 feet
Difficulty: Easy
Dogs Allowed: Yes
Trailhead: Sparks Lake
Sparks Lake is worth visiting, even if you don't want to hike, but this easy hike near Bend is worth the walk. Located off the Cascades Lakes Scenic Byway, Sparks Lake provides stunning views of South Sister, even reflecting her glacier-covered slopes if the water is still enough. You will also be able to see Broken Top as you hike along Sparks Lake's eastern shore.
Two separate loops can be connected to form the whole 2.5-mile loop or cut off through Davis Canyon, a cleft in the volcanic rock that lines the lake. Sparks Lake is only accessible in the summer, as the Cascades Lakes Highway is closed at the ski resort in the winter.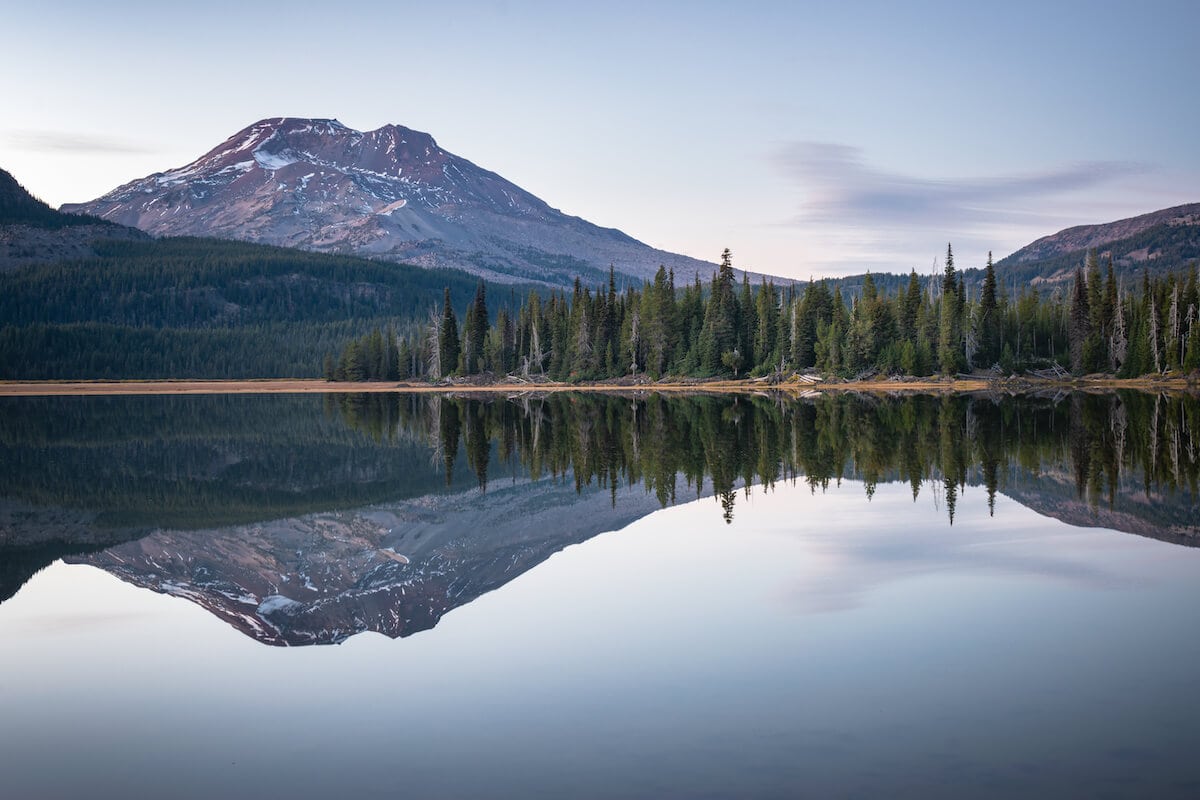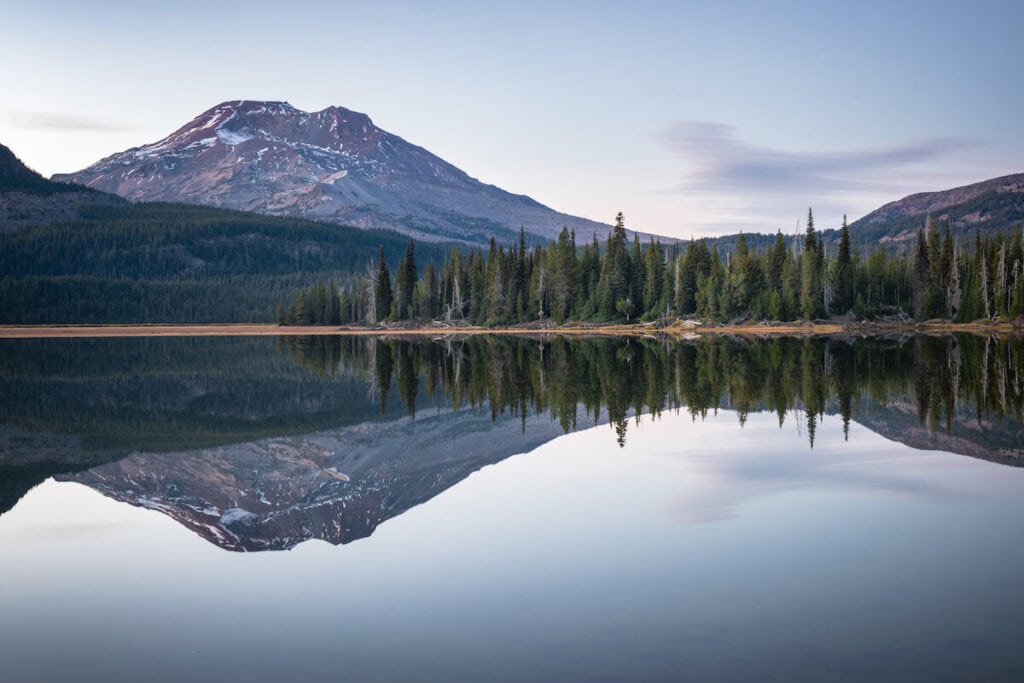 Green Lakes (Soda Springs Trail)
Length: 9 miles
Elevation Gain: 1187 feet
Difficulty: Moderate
Dogs Allowed: Yes
Trailhead: Green Lakes Trailhead
Green Lakes is a well visited and beautiful alpine lake between South Sister and Broken Top mountains. I hiked this trail as part of a longer backpacking trip years ago, and the whole area is incredibly worth a visit. Many backcountry campsites are available at Green Lake and nearby, making this an accessible beginning backpacking trip. Green Lake makes for a refreshing alpine swimming pool when you arrive sweaty and ready to relax with great views of the mountains surrounding the lake.
Day use and backcountry use are limited by permits, from Memorial Day until the last Friday in September during the summer season. Make sure to plan your trip ahead of time, as it is hard to get a last-minute permit for this area!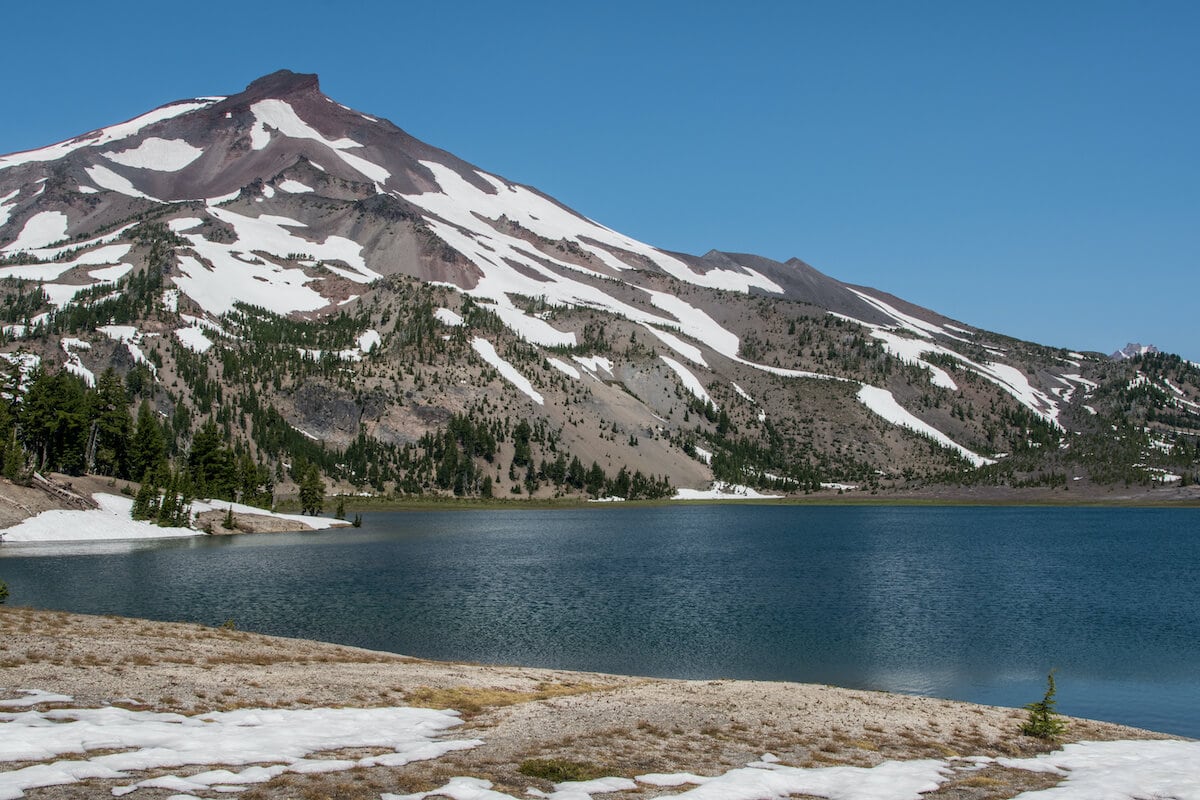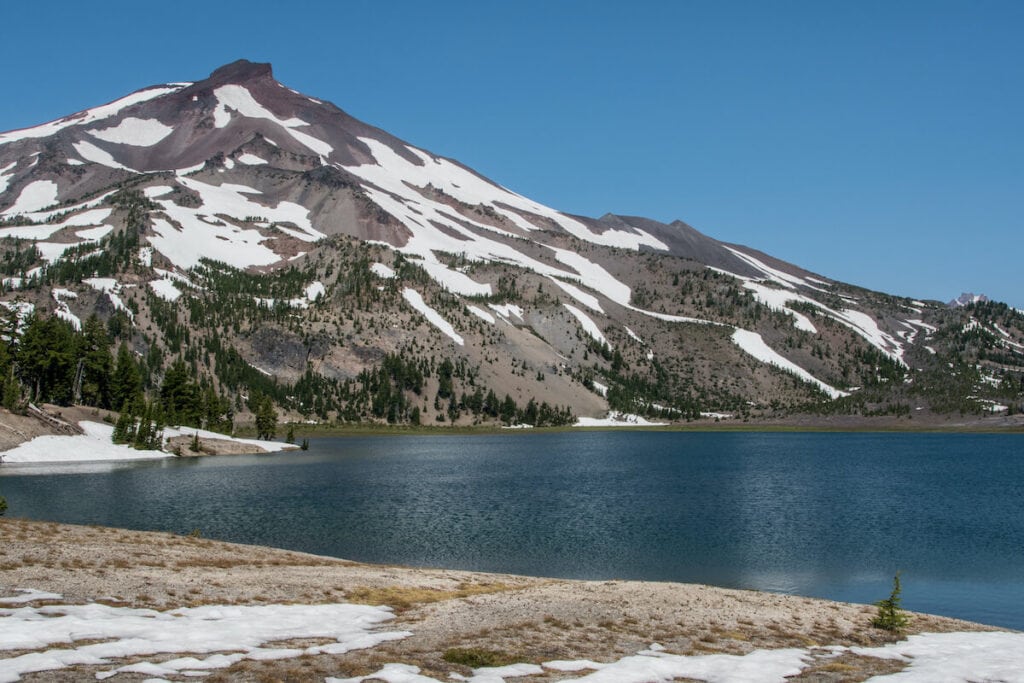 Misery Ridge — Smith Rock State Park
Length: 2.2 miles
Elevation Gain: 1100 feet
Difficulty: Hard
Dogs Allowed: Yes, on leash
Trailhead: Smith Rock State Park Parking Area
Smith Rock State Park, located 45 minutes north of Bend, is a must-see for any visitor to Oregon. Misery Ridge is the classic Central Oregon hike, although the steep trail is not for the unprepared. Make sure to bring lots of water and use proper sun protection on this hike as you are in the desert and there is very little shade.
There are also lots of options for loops combined with the Misery Ridge trail like the Summit Trail or River Trail. Or, if you don't feel like a strenuous hike, hiking the Crooked River Trail at the bottom of the gorge provides great views from a different angle.
This hike provides interesting views of the volcanic tuff stone cliffs and the iconic Monkey Face formation. See if you can spot rock climbers scaling the delicate pockets and textured stone of the golden walls.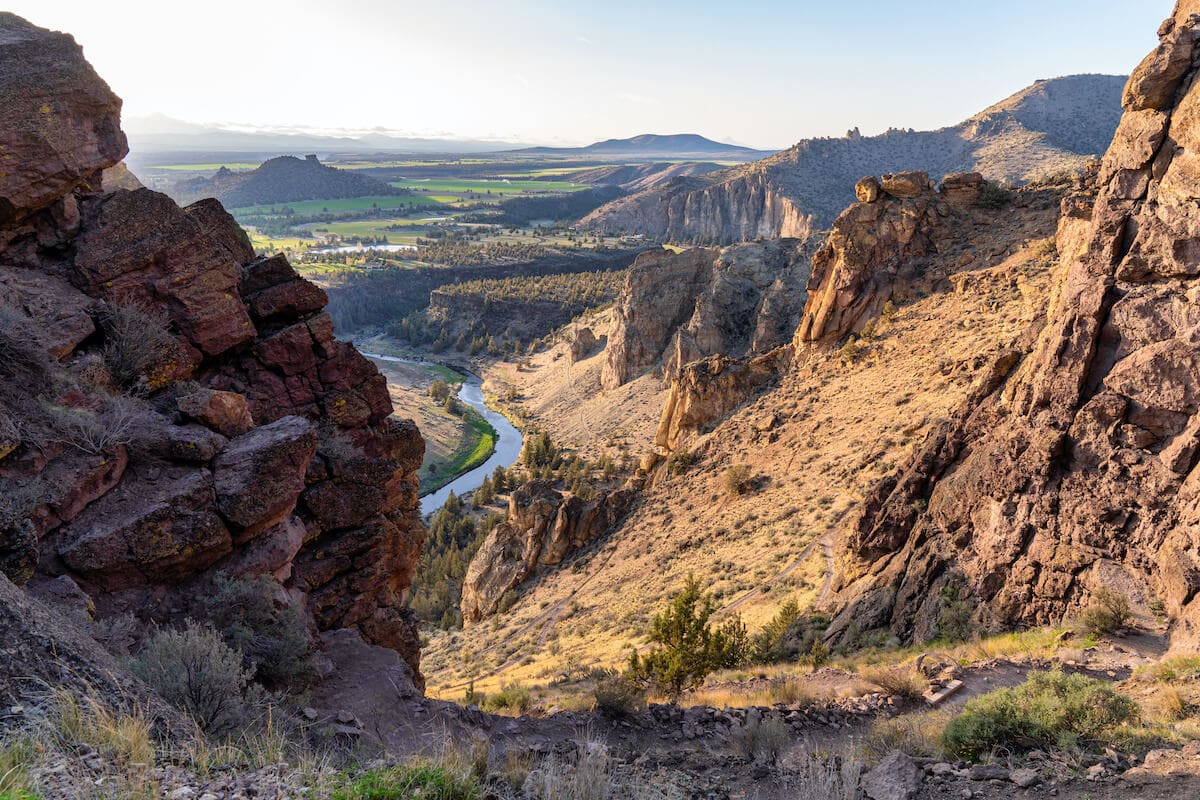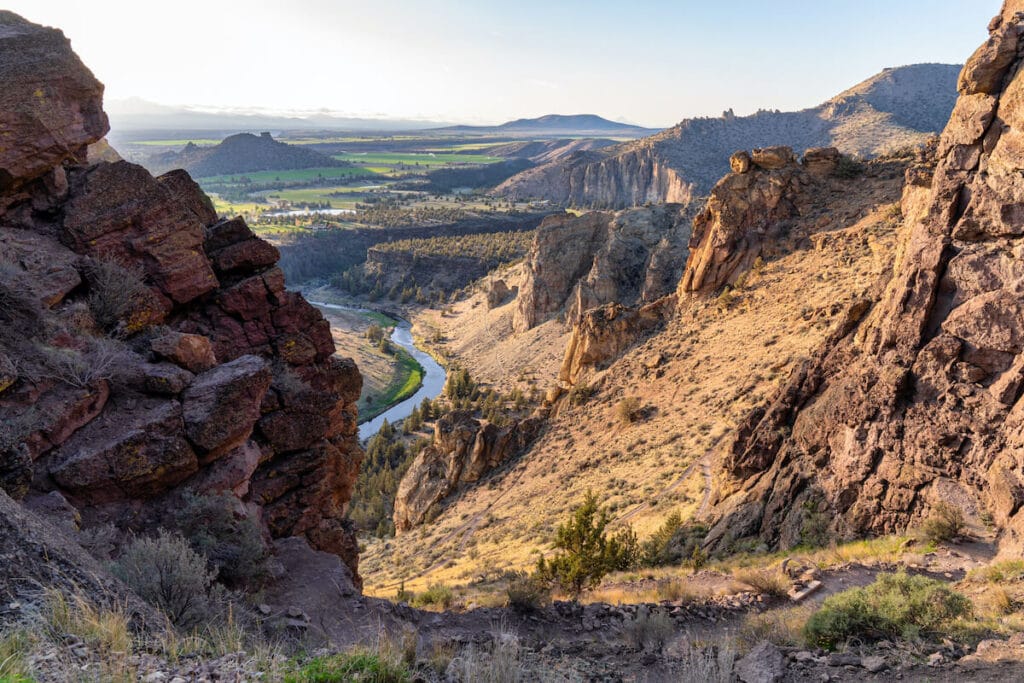 South Sister Summit
Length: 12 miles
Elevation Gain: 5000 feet
Difficulty: Hard
Dogs Allowed: Allowed on leash
Trailhead: Devils Lake Campground
This non-technical summit to South Sister makes for a great introduction to climbing volcanoes. And, it happens to be the third tallest peak in Oregon! The typical route to the summit starts at the Devils Lake Campground and climbs steadily up to the mountain's south ridge. Although much of the trail is loose rock or dirt in the summer, crampons or ice axes can be necessary for the early season due to snow on the route. Trekking poles are also highly recommended since this hike is steep and has lots of uneven terrain.
The trail starts out at the Devils Lake Campground on the scenic Cascades Loops Highway. The highway is closed at the ski resort in the winter so unless you want extra hiking (or biking), wait until the road opens. Permits are also required during the summer.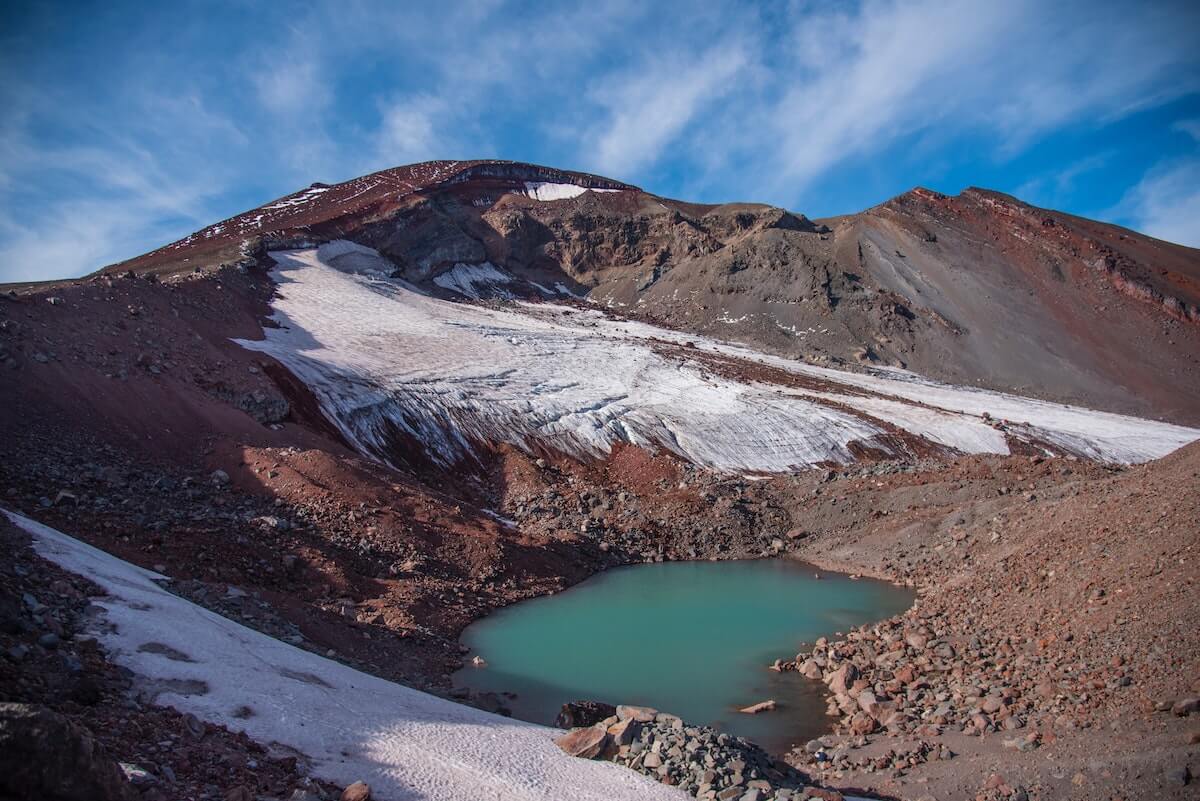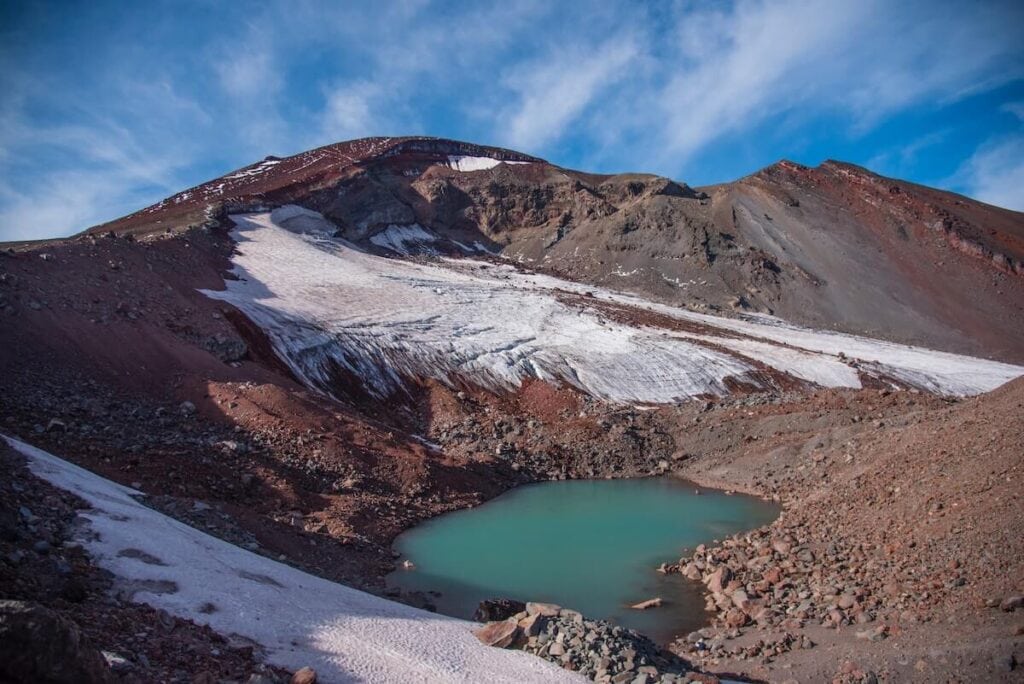 Tamolitch Blue Pool
Length: 3.6 miles
Elevation Gain: 285 feet
Difficulty: Easy
Dogs Allowed: Yes, on leash
Trailhead: McKenzie River Trailhead at Tamolitch
Located just over an hour away from Bend, the Tamolitch Blue Pool is one of my favorite Central Oregon hikes. At the end of your hike, you'll find a gorgeous clear blue pool in the middle of the forest. It's definitely worth the short and not-too-strenuous hike through the forest to see its depths.
The pool formed after a volcanic eruption buried part of the McKenzie River. Now the water seeps from an underground lava field, forming the dramatic blue pool. Sometimes, a waterfall also feeds the pool, but during drier times of the year, the pool is fed through water seeping through the lava rocks surrounding the water.
Despite looking like a great place to swim, the water stays at a consistent 37 degrees year-round. A quick dip could be fun if you like cold water, but it isn't the swimming pool that it might look like. Because this hike is known as one of the best hikes near Bend, Oregon, make sure to get there early as parking can fill up quickly.
There are two waterfalls close by that are worth checking out – Sahalie and Koosah – both are a quick 3 mile (roundtrip) flat hike from the parking lot, rounding out a few of the best hikes in Central Oregon.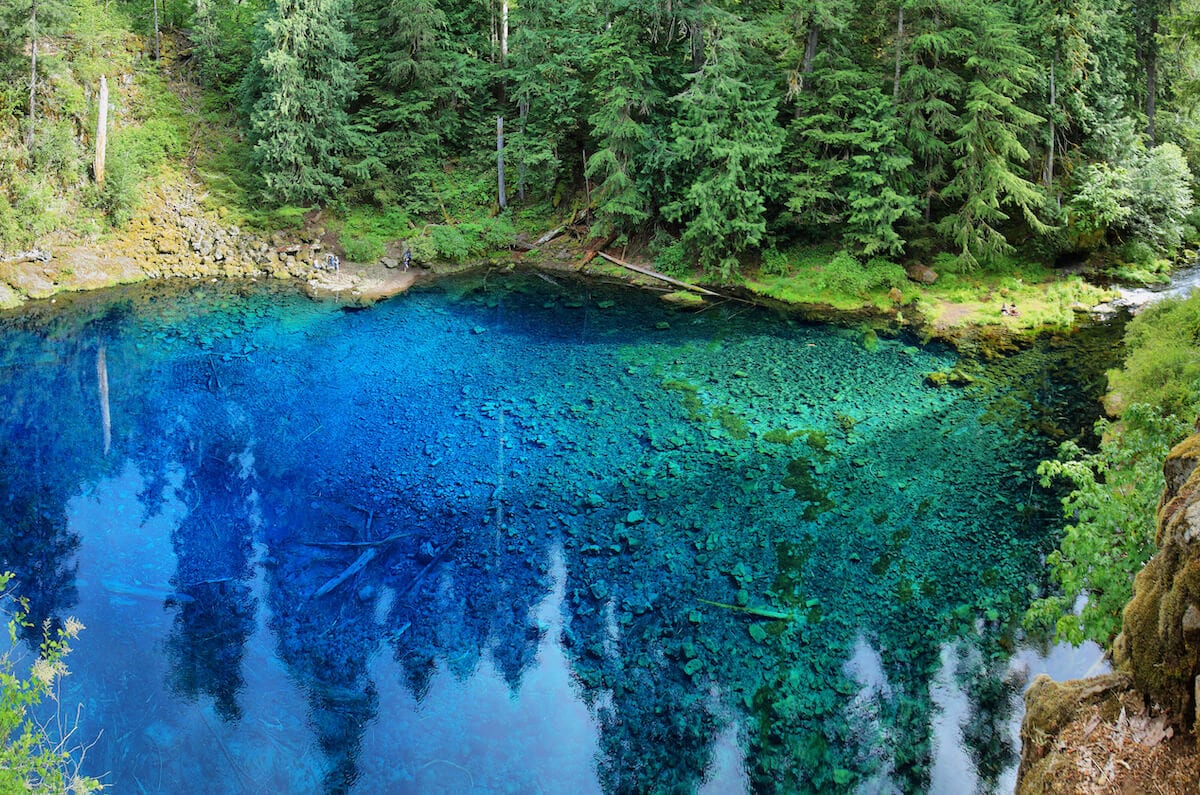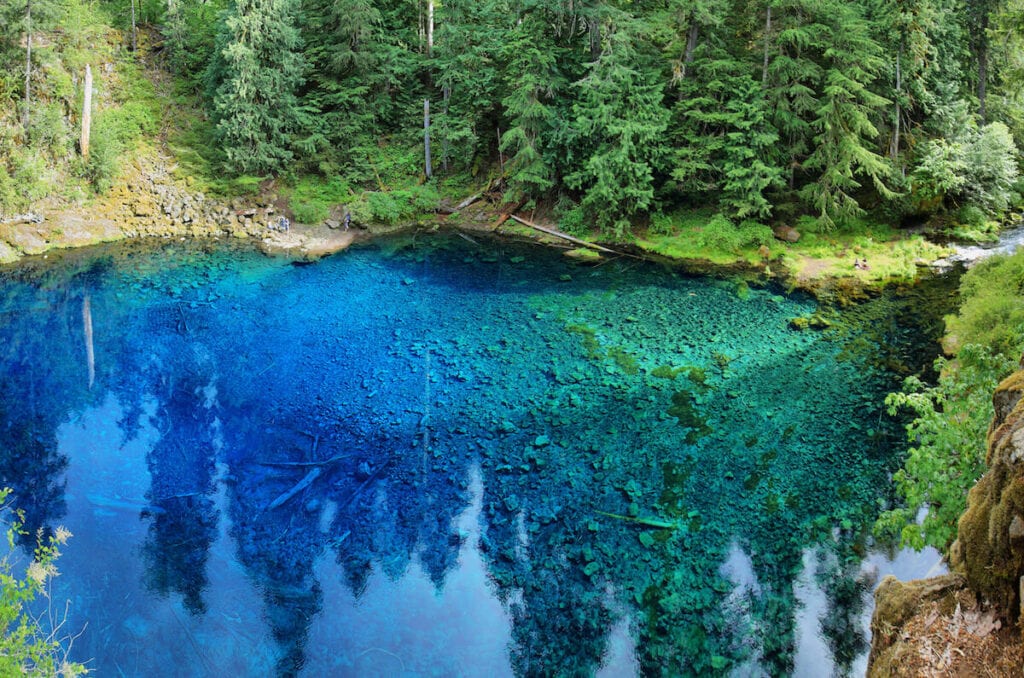 No Name Lake & Bend Glacier
Length: 5.5 miles roundtrip
Elevation Gain: 1,420 feet
Difficulty: Hard
Dogs Allowed: Yes, on leash
Trailhead: Broken Top Trailhead (4×4 required)
For those with 4WD or a high clearance AWD vehicle, hiking to No Name Lake vis the Broken Top Trailhead should definitely be on your Bend hiking bucket list. Just getting to the Broken Top trailhead, located up a super rough dirt road off the Cascade Lakes Highway, is half of the fun!
This 5.5-mile hike weaves through the high desert until your final climb up to the jaw-dropping No Name Lake, a glacier-fed aqua-blue lake surrounded by gorgeous, multi-colored mountains. Continue onward to reach the Bend Glacier & a unique viewpoint of the lake. This hike requires advance permits during the summer.
Note: No Name Lake can also be accessed from other trailheads, such as Crater Ditch and Todd Lake, but the mileage will be much higher.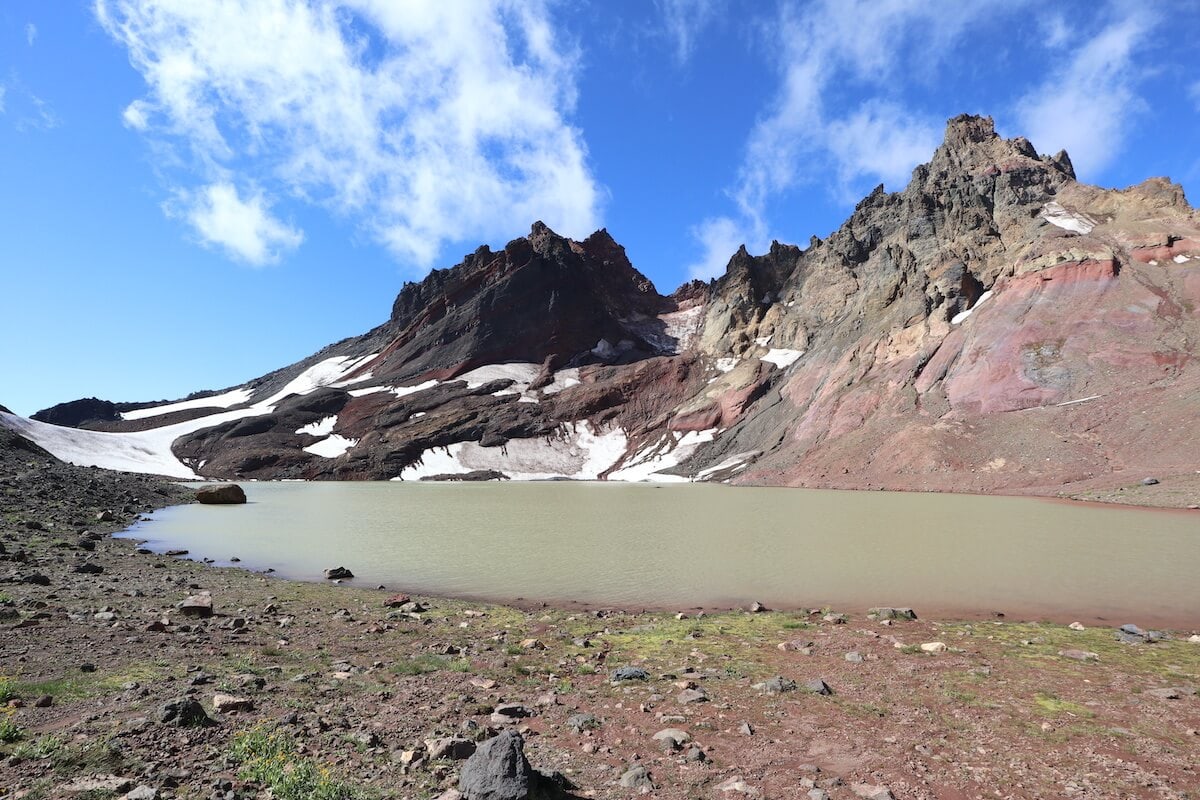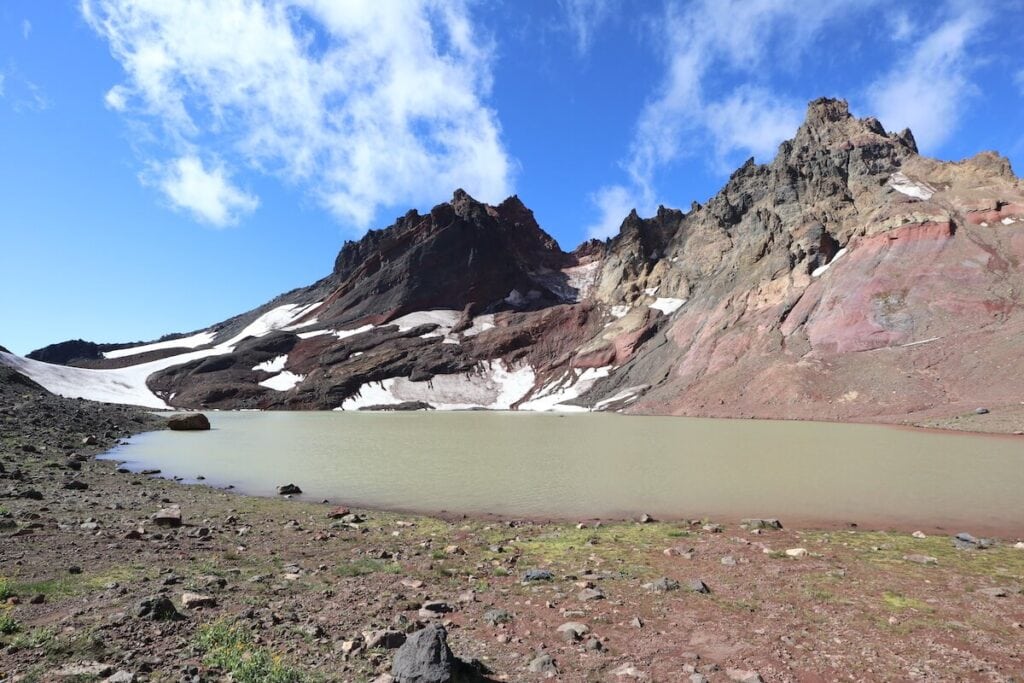 Deschutes River Trail
Length: .5-12 miles
Elevation Gain: Variable
Difficulty: Easy-Moderate
Dogs Allowed: Yes
Trailhead: Many options; I like Farewell Bend Park
The Deschutes River Trail is a system of city trails that follow the Deschutes River through Bend. Whether you're visiting the area or live there, the Deschutes River Trail is a great place to get some miles in. When I lived in the area, I used the riverside trail to train for a half marathon. The whole route runs about 12 miles along the river, sometimes on both sides, with many footbridges providing loop options.
One of my favorite loops starts at Farewell Bend Park, crosses the river, turns left, and follows the river as the trail turns to dirt. It meanders past basalt cliffs and provides plenty of riverside picnic opportunities. Cross the bridge at the end of the trail and follow the path on the other side of the river bank to your parking spot to make a great ~3 mile loop. Make your hike longer by heading north first and choosing one of the other footbridges to cross up the river. If you head north, see if you can spot Bend's Whitewater Park, where people river surf!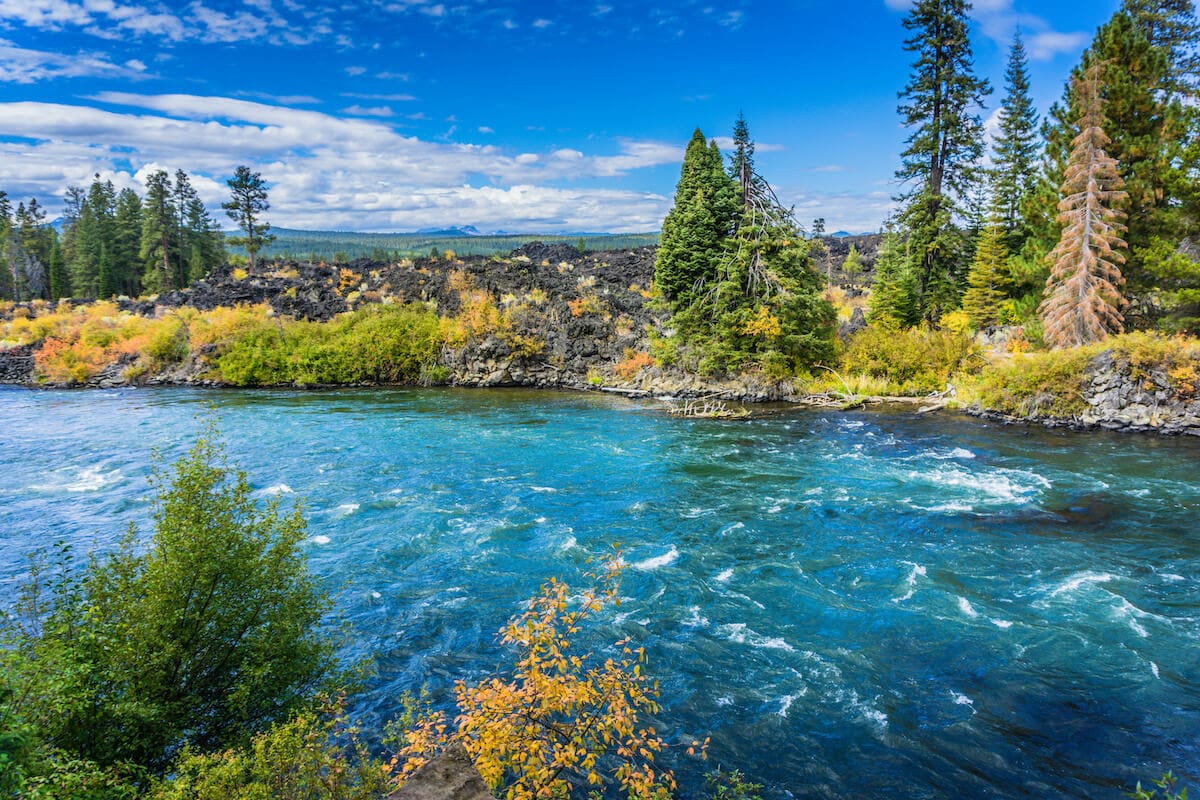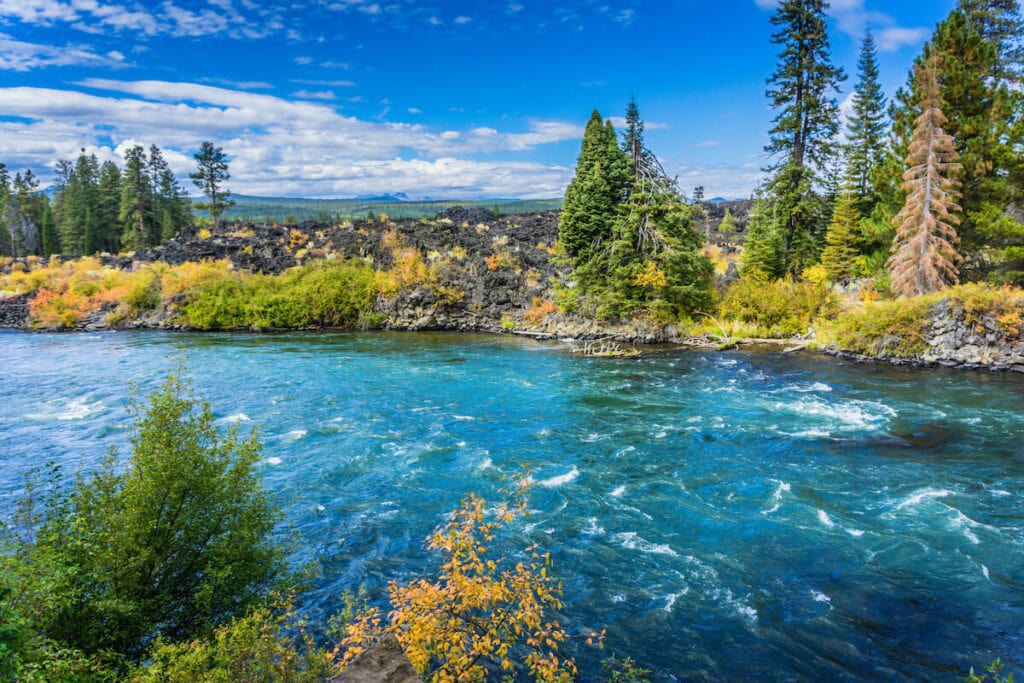 Recommended Hiking Packing List
Below are a few of my favorite pieces of day hiking gear and recommendations:
Tumalo Mountain
Length: 4 miles
Elevation Gain: 1400 feet
Difficulty: Moderate
Dogs Allowed: Yes, from May 1 to November 1
Trailhead: Dutchman Flats Sno Park
Close to town, Tumalo Mountain is one of the best hikes in Bend, Oregon, for mountain views. And, it is accessible in the winter, making it a popular snowshoe and backcountry skiing area. Because it is a short trail with great views, it's popular year-round. I have only ever done this hike in the winter, but imagine that the summer views are just as good, and the trail is probably easier to find!
You will pretty much head uphill the whole way, gaining elevation quickly over the two miles to the summit. The last bit to the cinder cone's broad, flat summit is brutal, heading straight up, but the trail is well maintained and free of many roots and rocks. From the top, expect 360-degree views of Mount Bachelor, Broken Top, and South Sister.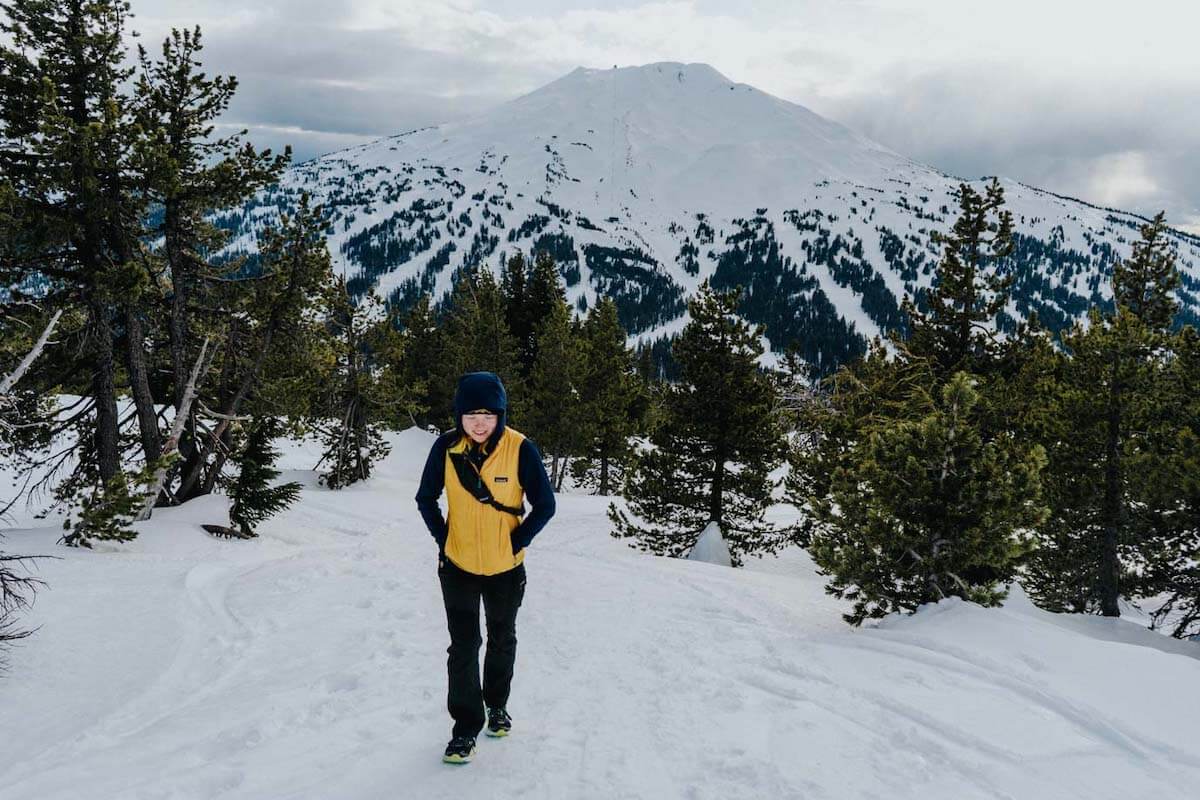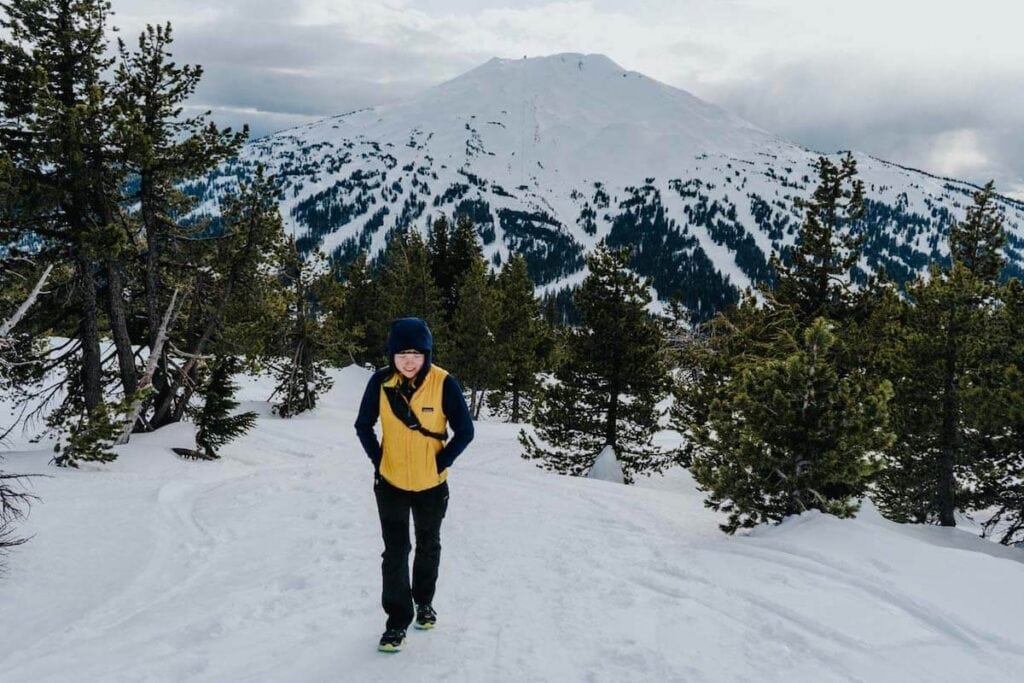 Oregon Badlands — Various Trails
Length: Variable
Elevation Gain: Variable — not much
Difficulty: Moderate
Dogs Allowed: Yes
Trailhead: Various
If you are looking to get off the beaten path and enjoy some solitude when looking for hikes near Bend, Oregon, head to the Oregon Badlands, a wilderness area about 16 miles south of Bend. While it might not provide the drama of high alpine views, there's something about peaceful, ancient juniper forests, sagebrush, volcanic rocks, and quietly beautiful flora and fauna that make this one of my favorite areas to explore in Bend.
The Trail of Ancient Junipers is a 3-mile loop through trees that are 1,000+ years old, and it makes a great evening walk. Another favorite trail in the area is the Flatiron and Castle Rocks Trail, which visit basalt cliffs that were formed from lava that flowed from the Newberry Volcano about 80,000 years ago.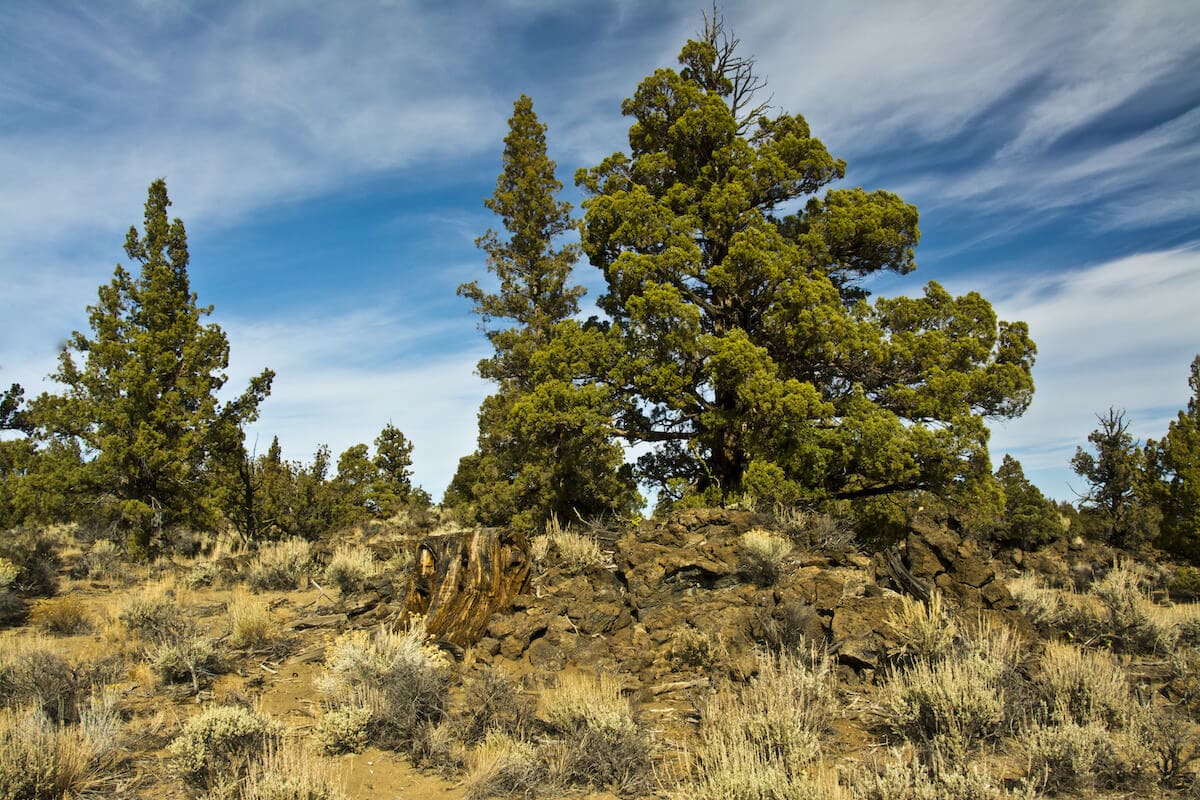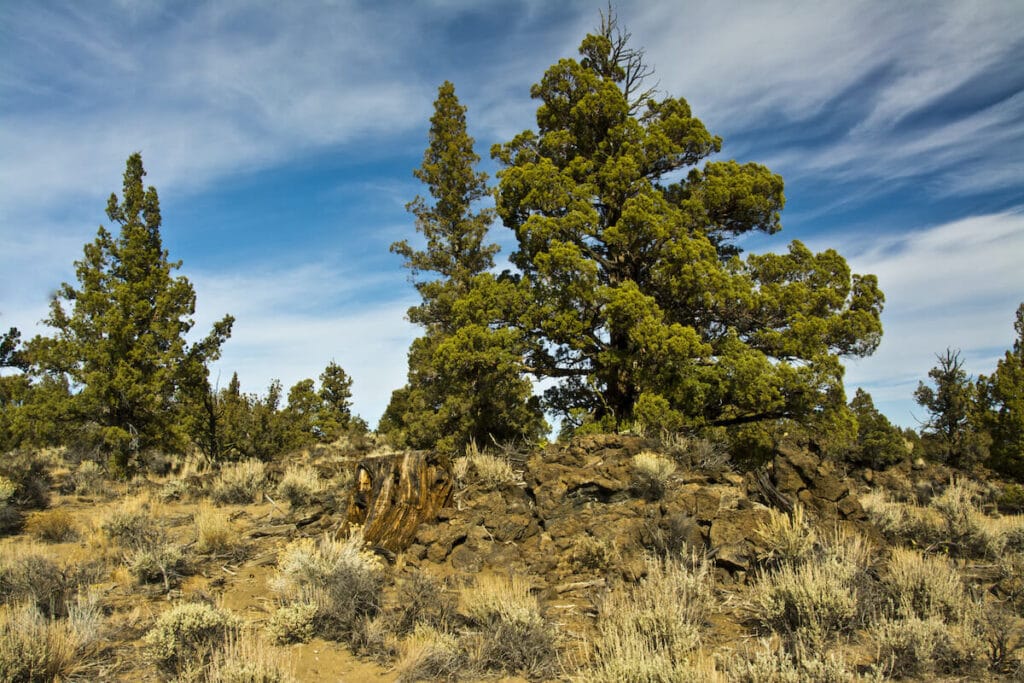 What are your favorite hikes in Bend, Oregon, or what is on your Central Oregon hiking bucket list? Leave us a comment!