Stand-up Paddle Boarding at the Causey Reservoir
Learn everything about stand-up paddle boarding at the Causey Reservoir – a peaceful, boat-free lake just over an hour from Salt Lake City.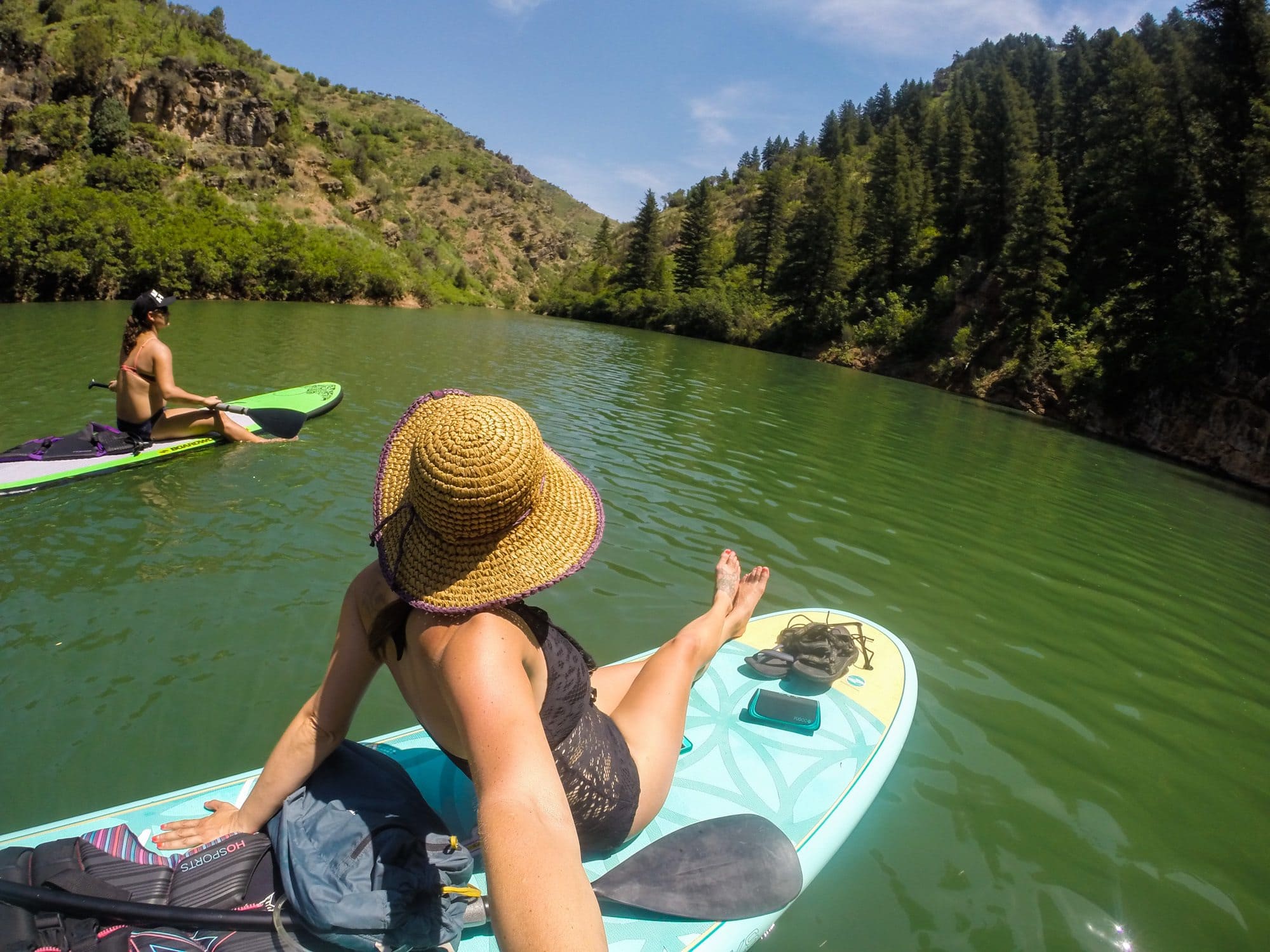 Stand-up Paddle Boarding at the Causey Reservoir
Since taking my first stand up paddle boarding lesson in Huntington Beach, I have been itching to get back out on the water. So I started doing research to see where I could rent a board and go SUPing around Salt Lake City. Turns out there are quite a few options, and the one that really caught my eye was stand-up paddle boarding at the Causey Reservoir.
The Causey Reservoir is a beautiful three-fingered lake set in a deep canyon about 15 minutes northeast of Huntsville. What makes the Causey Reservoir unique compared to other SUPing spots in the Salt Lake City area is that there are no motor boats are allowed. The water temps are also perfect for summer swimming, and it's a popular cliff jumping spot.
Important Reminder: As outdoor recreationists, it's our responsibility to know how to recreate responsibly on the water whether we're kayaking, paddleboarding, canoeing, rafting, or boating. Learn how to prevent the spread of aquatic invasive species with 3 easy steps that have a huge impact on our ecosystems.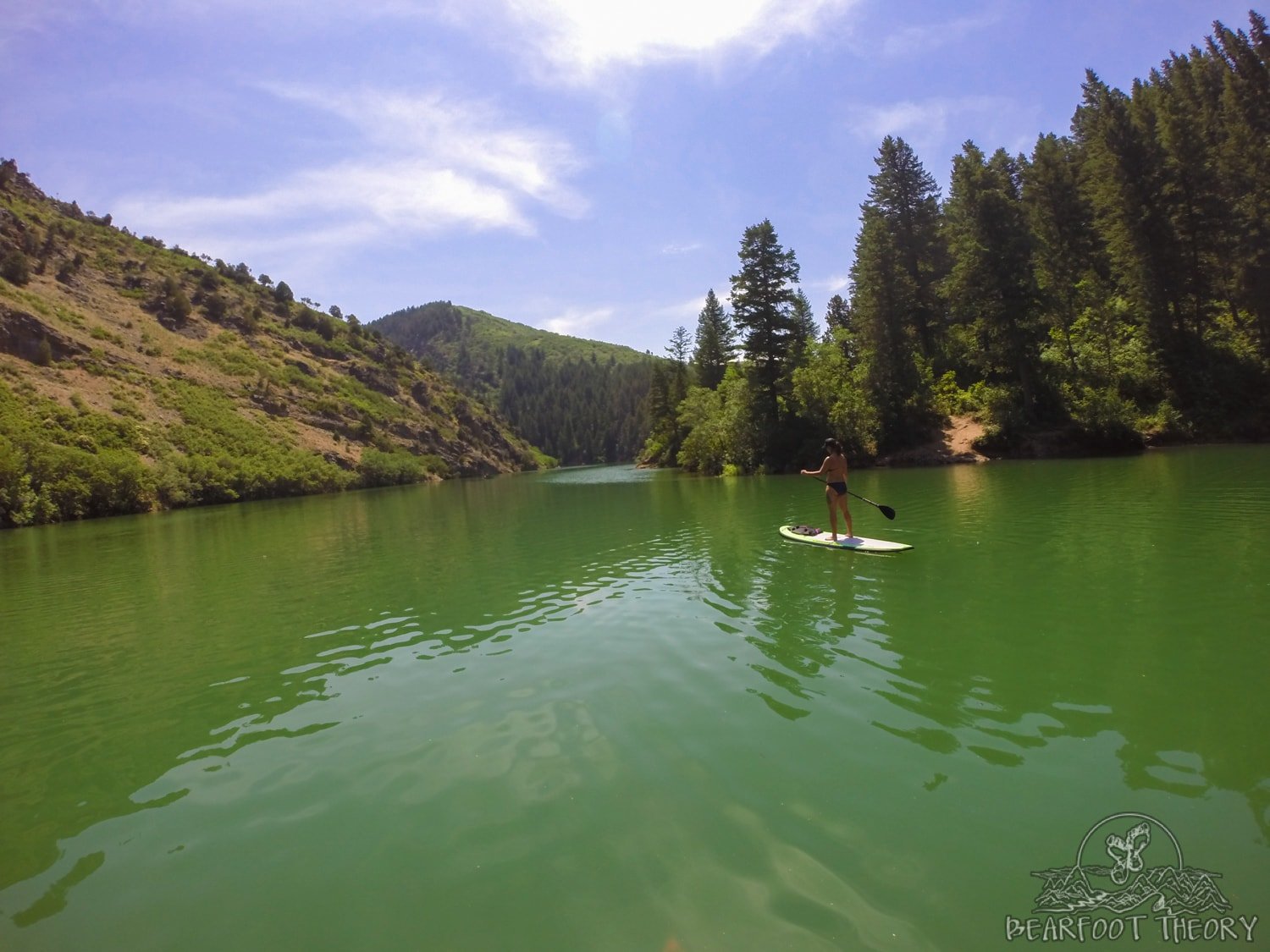 The most scenic area of the reservoir is the center finger that runs east to west from the main parking area (shown by the arrows in the map below). Depending on your pace and how much you want to relax, you could probably paddle this part of the reservoir in 1-2 hours.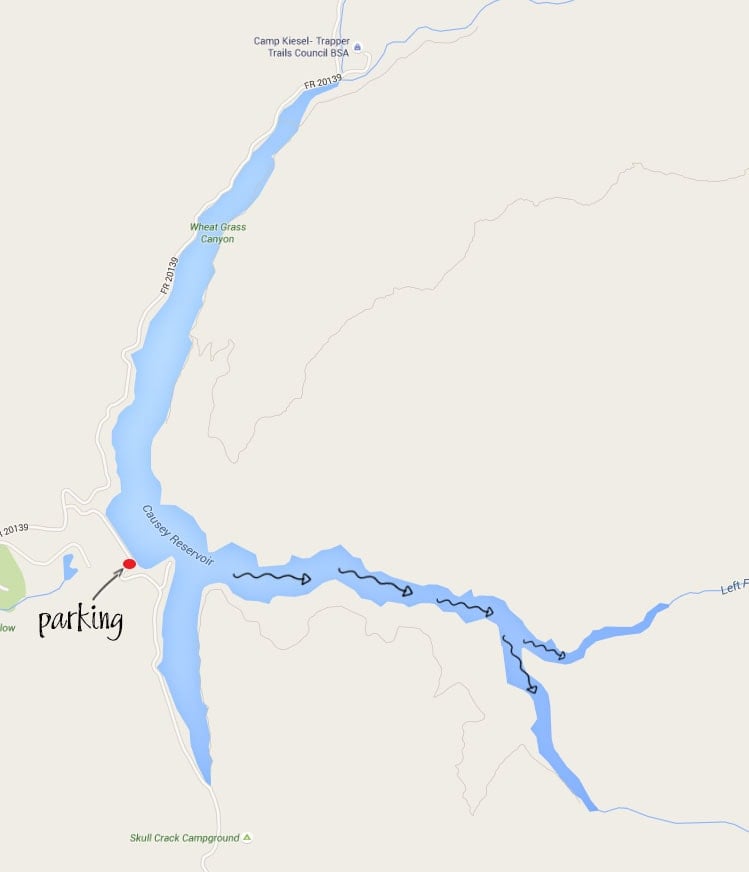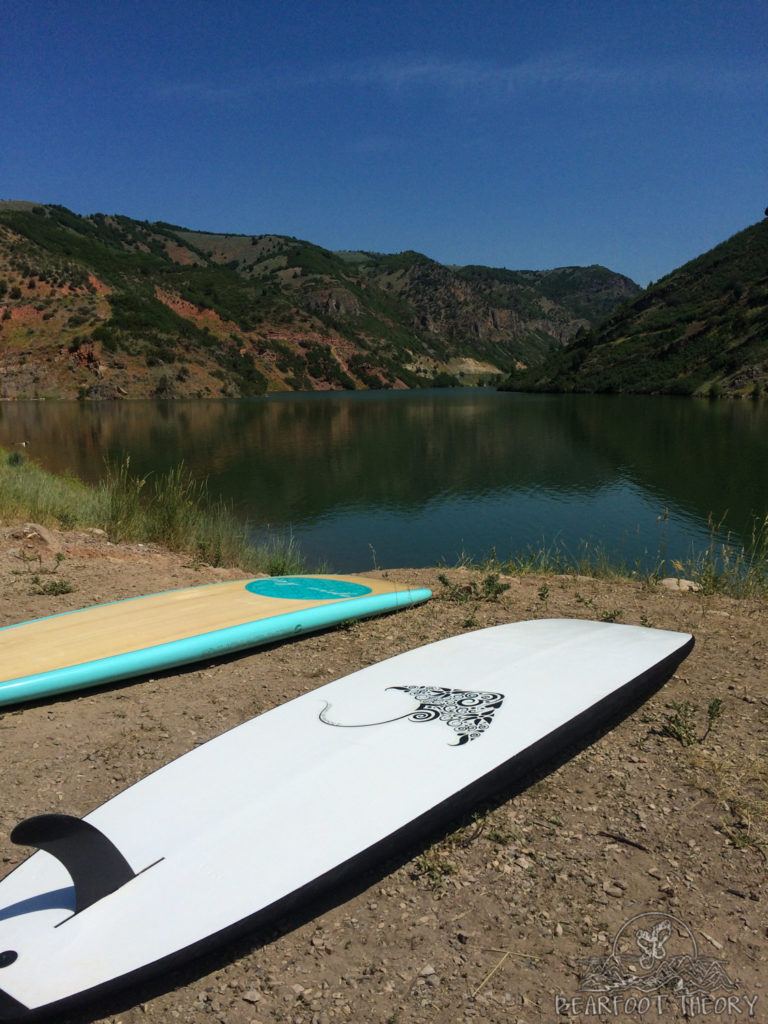 We decided to take our time and spent a couple of hours alternating between paddling, laying out on the boards, and swimming. If you have extra time, the other fingers branch out from the center and are also worth exploring. You can also pull over and do some hiking or cliff jumping. If you do choose to cliff jump, be very careful. The clarify of the water made it very difficult to tell how deep it was.
The Causey Reservoir ended up being the perfect choice for stand-up paddle boarding. The lack of motor boats resulted in a peaceful setting where we didn't have to worry about dodging boats or avoiding wakes. And the beautiful canyon scenery wasn't diminished by roads and cars which are visible from the water at many of the other reservoirs around Salt Lake City.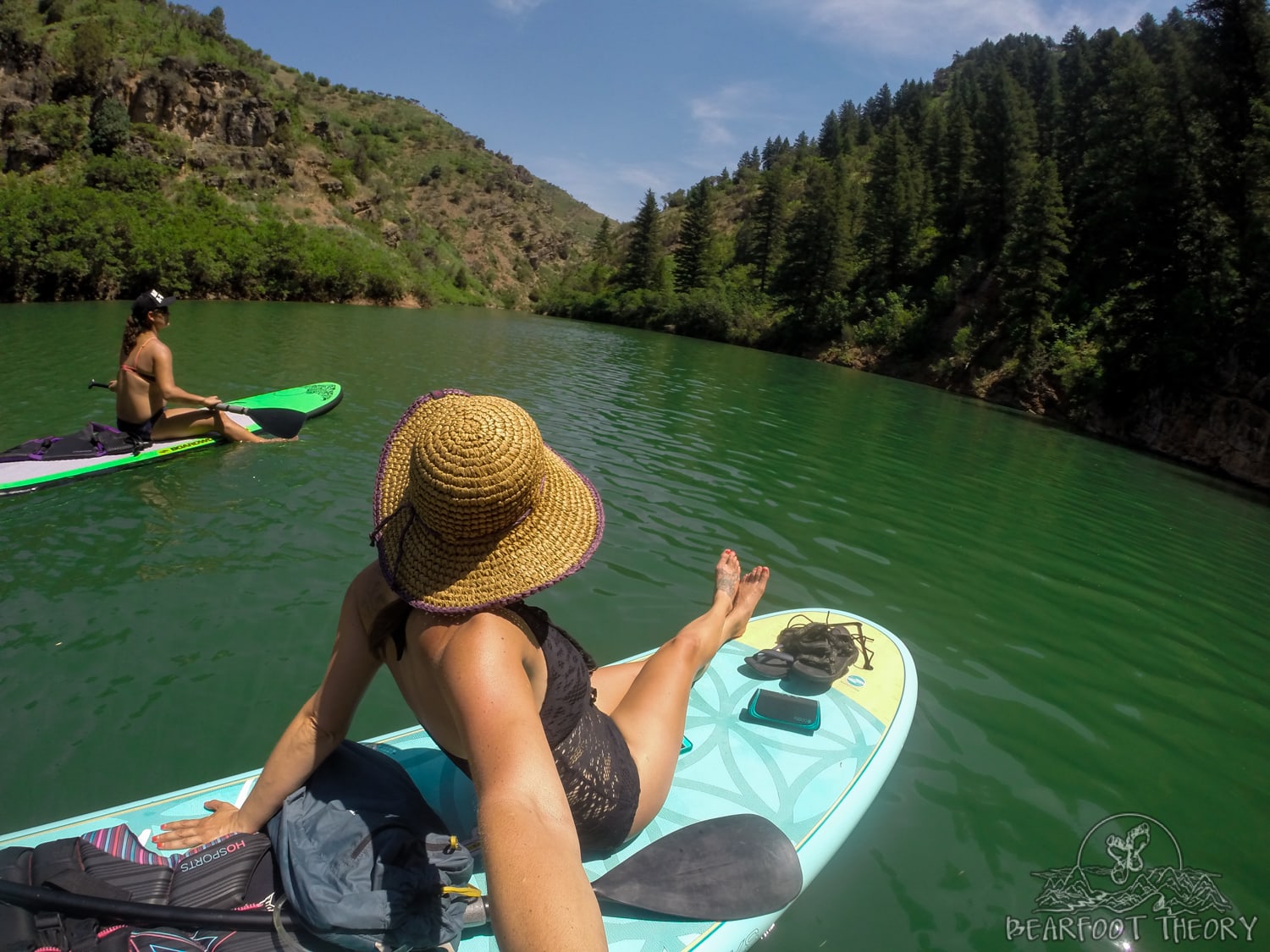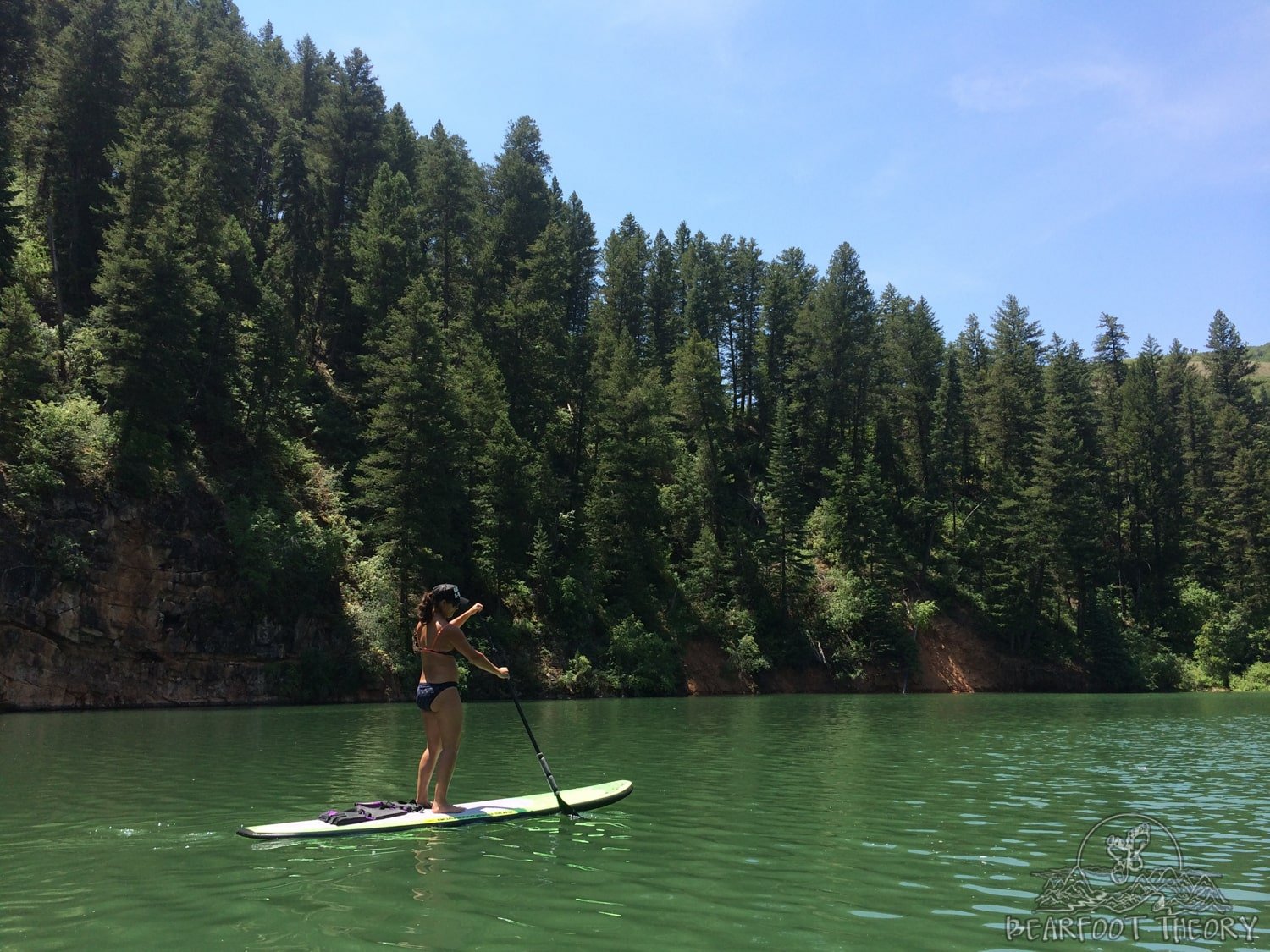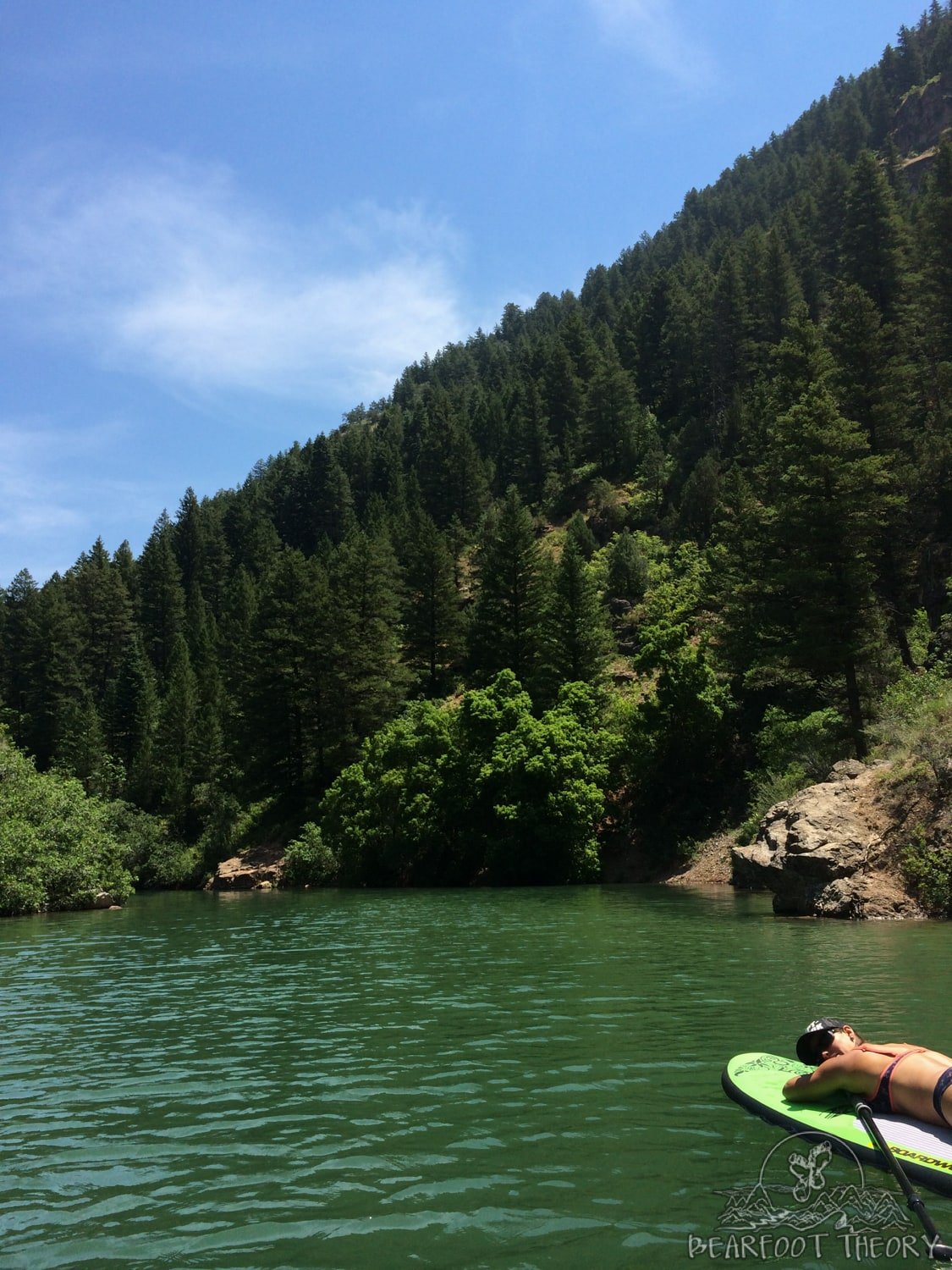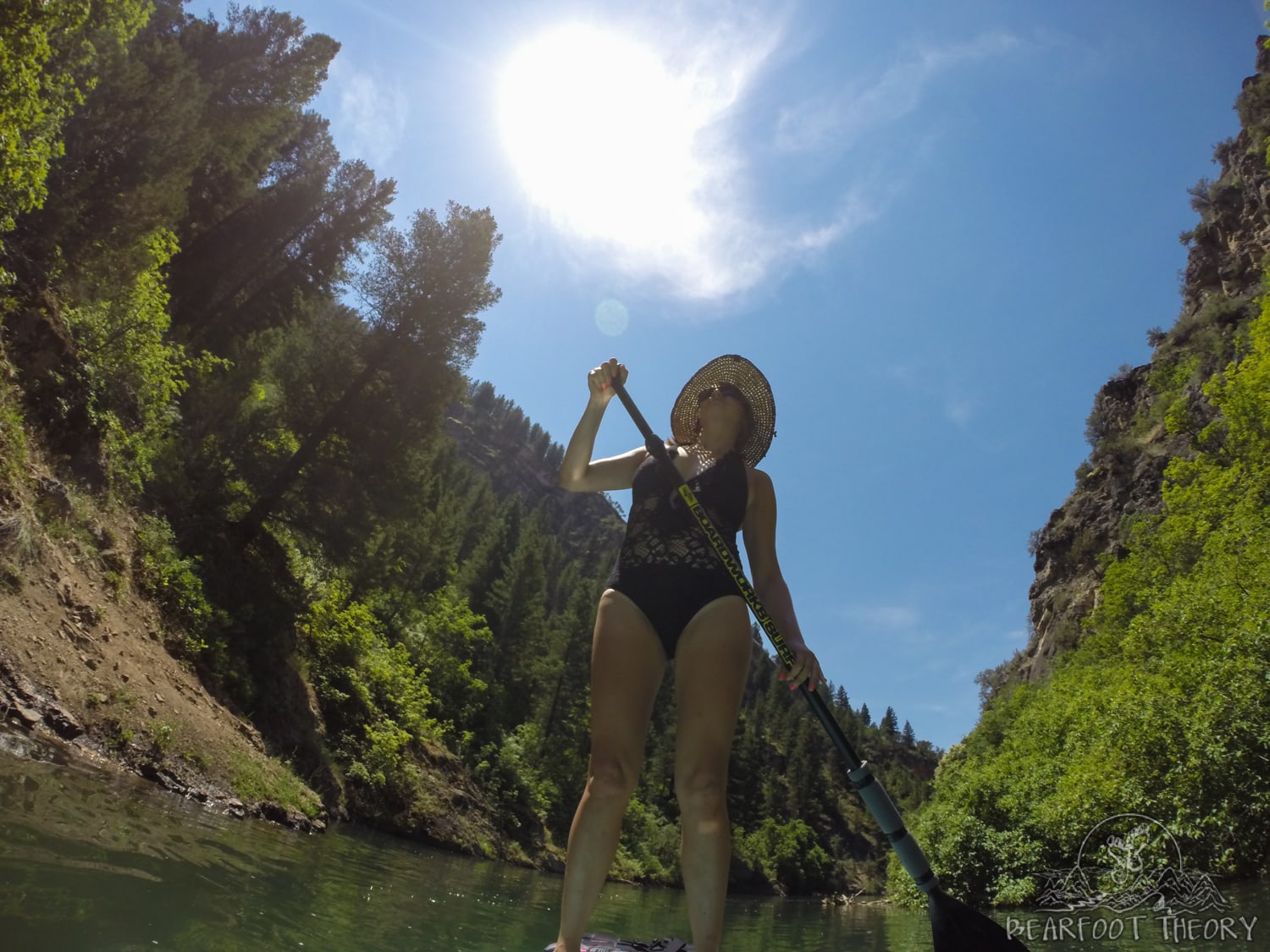 Where to Rent a Stand-up Paddle Board
On the way up to the Reservoir, we stopped by Detours SUP Rentals in Huntsville to rent a couple of boards. This cute family owned and operated shop has a variety of boards to choose from depending on your skill level, as well as boards designed specifically for females. Since my friend and I were confident in our abilities but still fairly new to the sport, they recommended a wide, sturdy board that would still glide efficiently over the water. The boards also have handles, so despite being big, they were fairly easy to carry.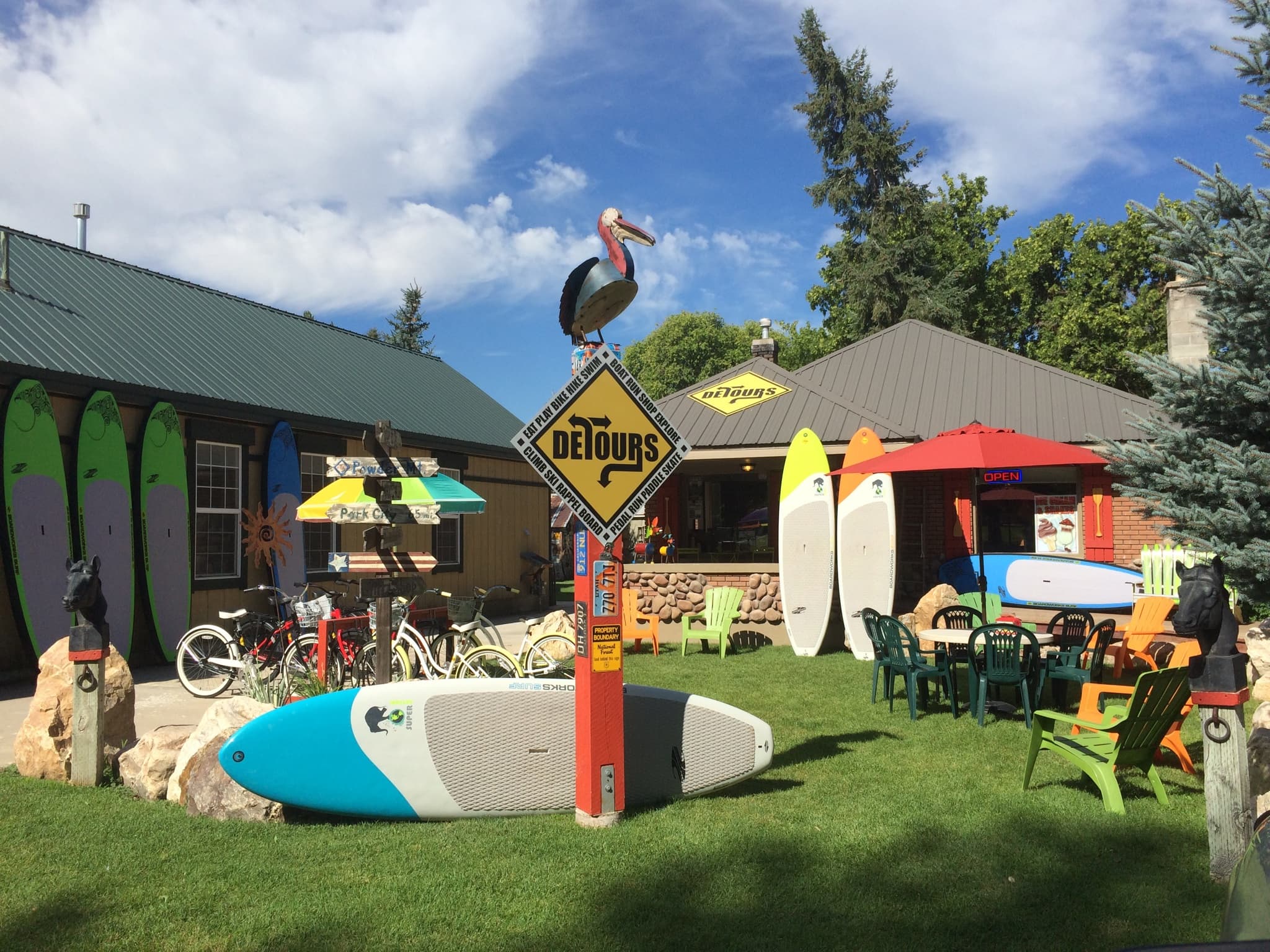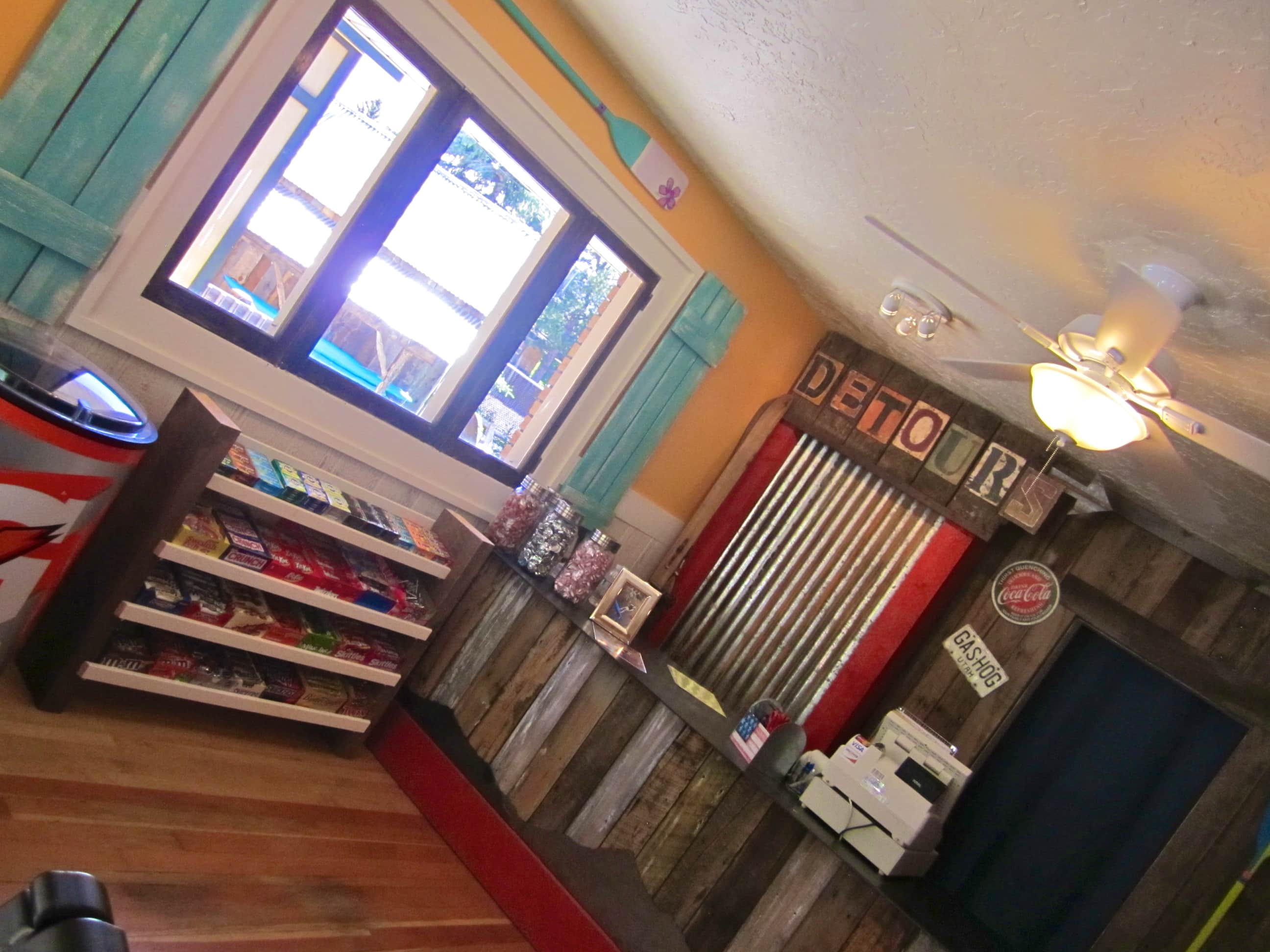 One thing I was concerned about was how to transport the stand-up paddle boards, but the folks at Detours provided plenty of straps and showed us how to tie the suckers to the roof of my friend's car. They also provided us a map of the Causey Reservoir and gave us the details about parking and where to go. From Detours it is about a 15 minute drive to the Causey Reservoir.
Detours is open from Wednesday through Saturday 10am – 6pm. They offer both half-day and full-day rentals and prices vary from $25-80 depending on the board and length of rental. All prices include a paddle and a life vest.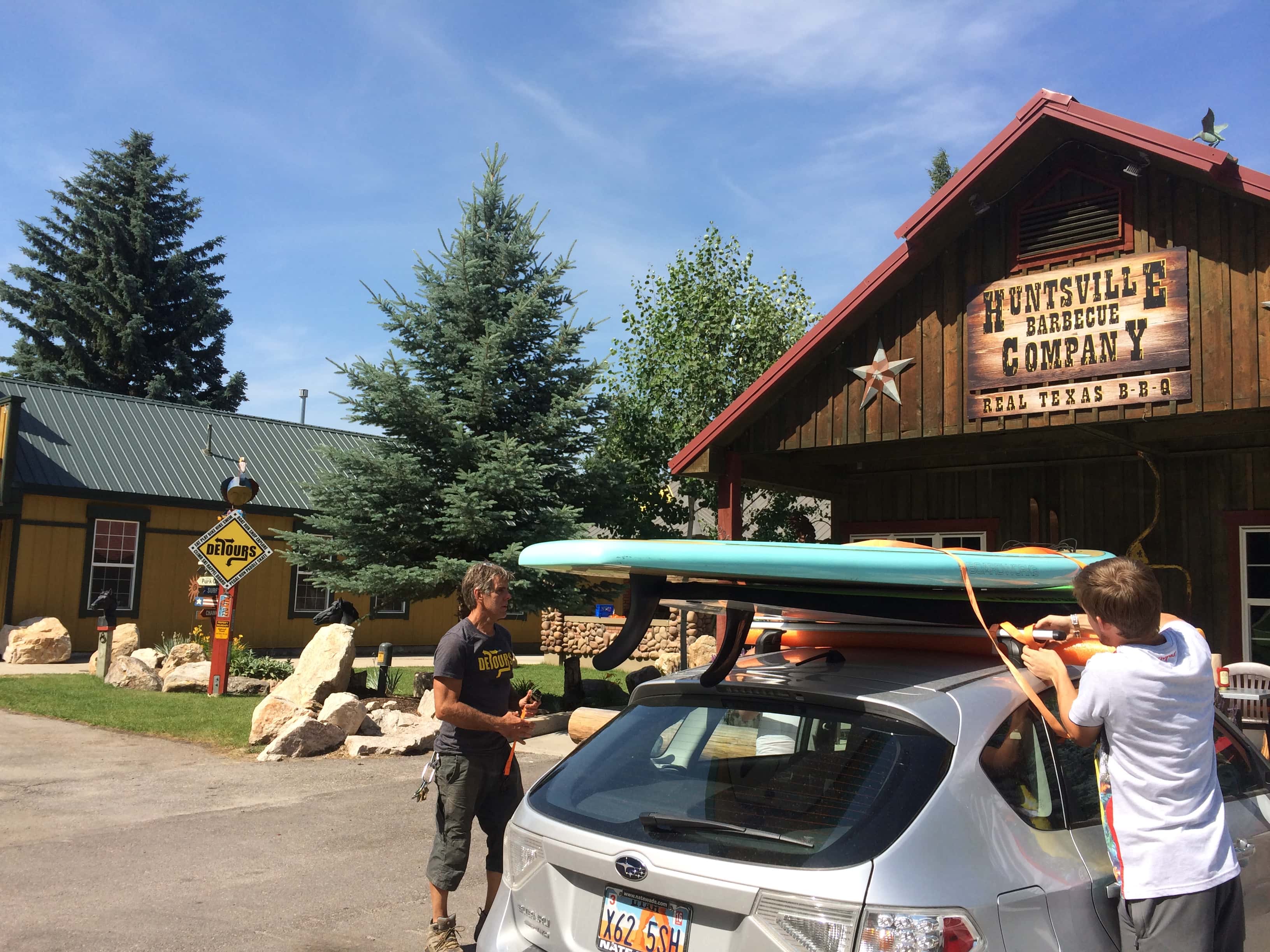 Other tips
If you plan to do any hiking or cliff jumping, wear a pair of water sandals, like Tevas or Chacos, or an old pair of tennis shoes that you don't mind getting wet.
Life vests are required at the Causey Reservoir, so if you choose to not wear one, do so at your own risk. The folks at Detours told us that people do get ticketed.
The Causey Reservoir does get busy on the weekends with other paddlers and cliff jumpers, so be prepared to share the space with others.
How to get to Detours and the Causey Reservoir
To get to Detours from downtown Salt Lake City
Head Northbound on I-15 all the way to the 12th street Exit in Ogden (roughly 36 miles). Turn right onto 12th street and drive until 12th street becomes canyon road and continue up Ogden Canyon to Pineview Reservoir. Stay on the road (UT-39) and wind around the south side of the reservoir until you reach 1st street in Huntsville (15 miles). Turn left on 1st street, drive a few blocks and make a left on 7400 E. Drive one block and Detours will be on your right.
From Detours to the Causey Reservoir
Head east on Main Street and cross Ogden Canyon Road. Main Street turns into US-39 E. Follow this road for about 9 miles. Then turn right onto Causey Drive/FR 20139. Drive 1.7 miles and make a right on a dirt road called Skull Crack Canyon Road. Drive over the dam and park in dirt parking area on the left.
If that parking lot is full (and it does get busy on the weekends), continue down towards the Skull Crack campground where there is additional parking and a launch point.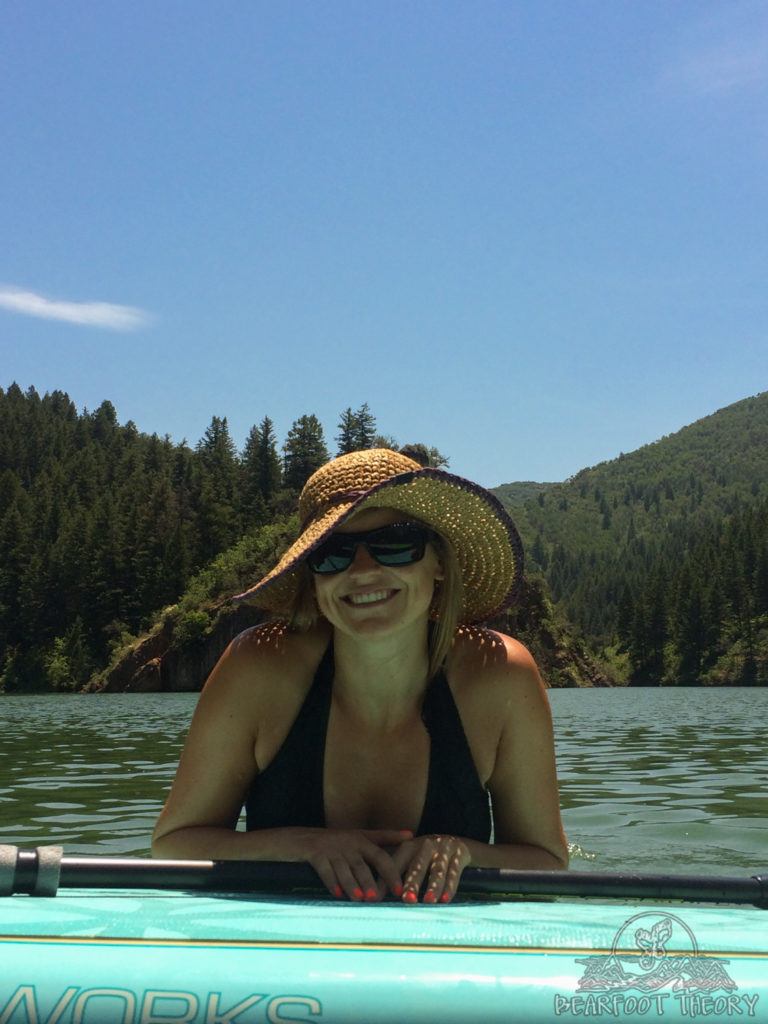 HAVE YOU TRIED STAND-UP PADDLE BOARDING? HAVE QUESTIONS? LEAVE A COMMENT BELOW, TWEET ME, OR WRITE ME A POST ON FACEBOOK.