Progressive RV Insurance Review for Camper Vans
Learn about Progressive RV insurance, including what types of vehicles are covered, different coverage options, & tips for insuring your van.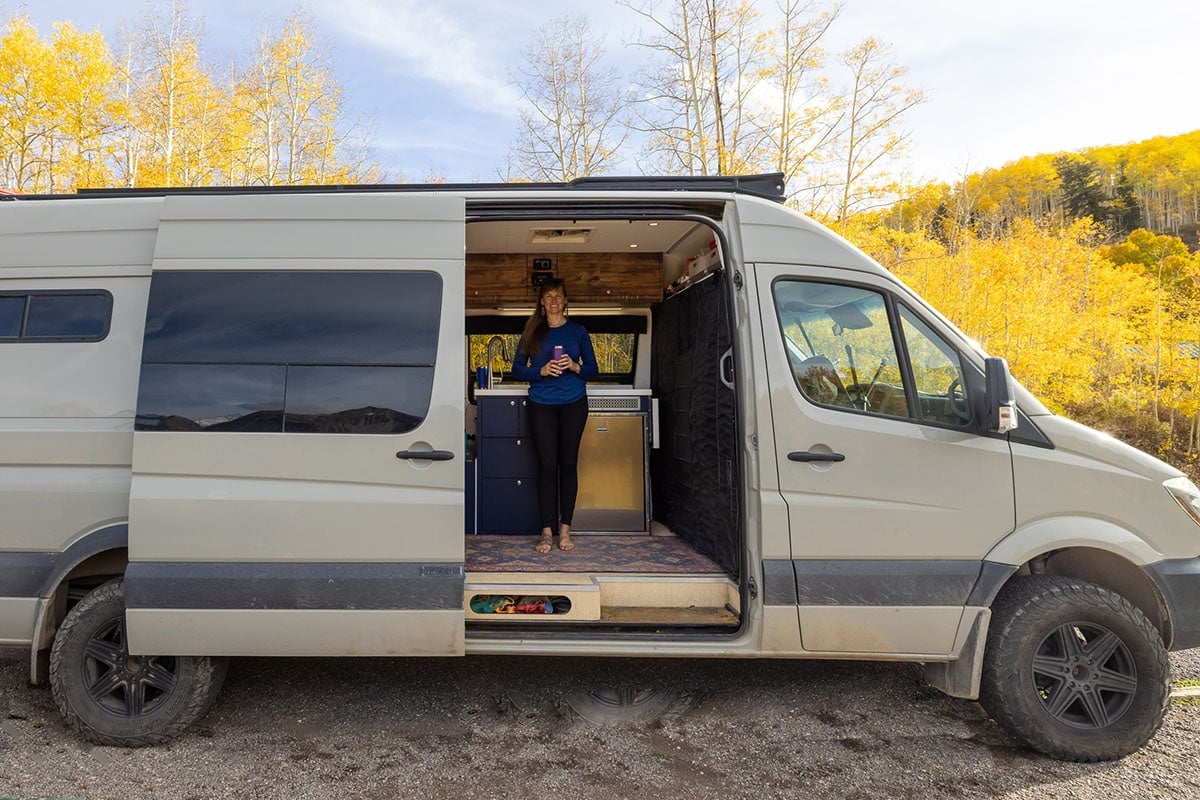 Insurance isn't the most glamorous of van life subjects, but it's a really important one. Years ago when I got my first camper van, I did a lot of research on this topic. After spending every penny of my savings on a converted Sprinter Van, I knew I needed to protect my investment, and not just the van itself, but the conversion on the inside as well. I decided to go with Progressive RV insurance and have had it for over 5 years now, including on all three of my Sprinter Vans. In this blog post, I share everything I've learned about insurance for converted vans, as well as my experience with Progressive RV insurance.
Note: Campervan insurance requirements vary state by state and we've heard an increasing number of people having issues insuring their camper vans with Progressive. I can only speak from my personal experience insuring my professionally-built Sprinter Van in Utah and hope that the information below is helpful no matter which company you insure through.
.
What Type of Vehicles does Progressive RV Insurance Cover?
RV insurance can apply to a variety of types of vehicles beyond what you think of as an RV, including:
Class A motorhomes: large, heavy-duty motorhomes
Class B motorhomes: camper vans, which we'll be focusing on here
Class C motorhomes: mid-range or mini motorhomes (between class A and class B)
Pop up and truck campers
Travel trailers
For a vehicle to qualify as an RV, it generally needs to have sleeping, cooking, and bathroom facilities at a minimum. In some cases, this can be something as simple as a mattress and a camp stove, although the definition of RV and corresponding insurance requirements differ by insurance company and varies by state. It's also important to note that Progressive does not require your camper van to be registered as an RV at the DMV in order to qualify for an RV insurance policy with them.
Depending on your vehicle type and what you use it for, some insurance companies will require you to get RV insurance rather than automobile insurance. For example, Progressive will not offer standard automobile insurance as an option if you are using your van as a camper. It's important that you share these details about how you use your van and what's inside to ensure you have proper coverage. Requirements vary by company, however, so do your research before deciding what's right for you.
Does Progressive RV Insurance Cover DIY Camper Van Conversions?
Progressive does not insure DIY camper van conversions at this time. They do insure professional conversions, but coverage options vary state by state. Click here to start a quote and see a full list of van conversion companies they will cover. If you don't see your van builder listed, you can also select "Other". No matter what, be honest and upfront with your insurance company about your van builder to ensure you're not left without coverage if something happens to your van.
There are insurance companies out there that do insure DIY camper van conversions, however. We also recommend doing some research in the Sprinter Source Forum and other Sprinter and camper van-related Facebook groups for tips on insuring DIY conversions.
>> Read Next: Complete Guide to Campervan Insurance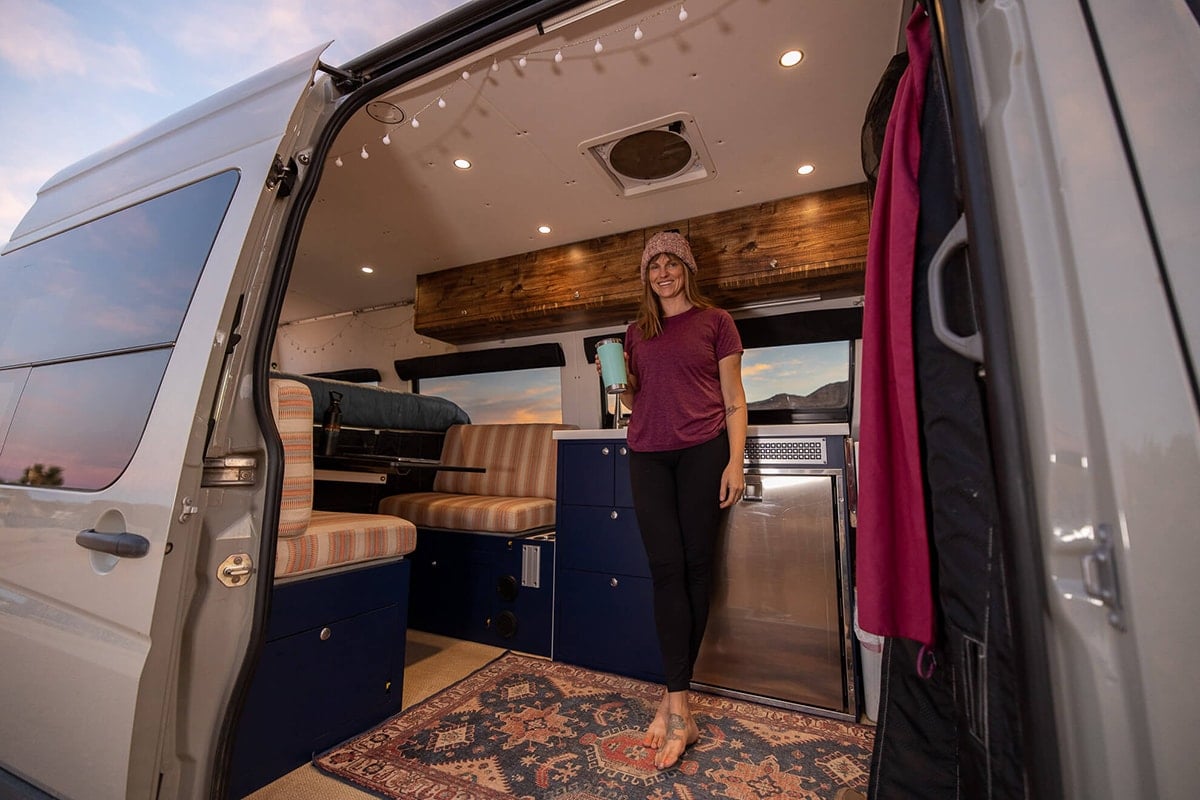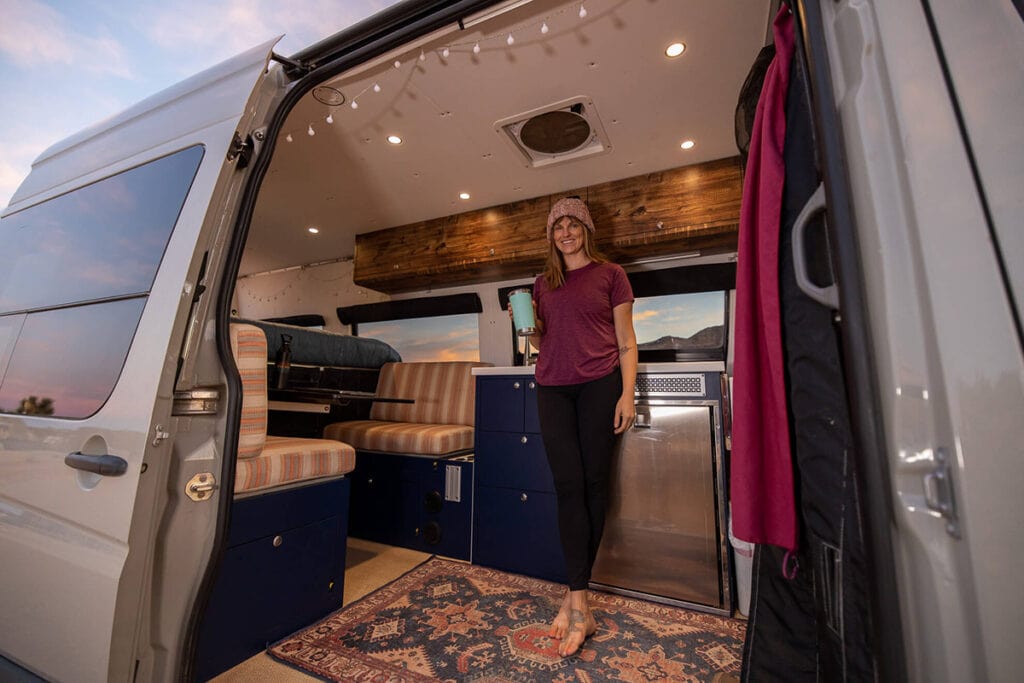 Why Is RV Insurance For Campervans Important?
When I first got my van, someone told me if I wanted to save money on insurance, I should just get a normal auto policy. But after researching this myself, I learned that normal auto policies typically don't cover the inside of your van conversion. So if I were to get into an accident or hit an animal while driving and total my van, all of the money I spent on my van conversion would go down the drain. I'd be scrapping my van for materials and parts, and I'd be saying goodbye to van life and my remote job.
Depending on your coverage, RV insurance can cover not only the value of the vehicle in case of damage or an accident, but you could also get protection for your actual conversion and personal belongings inside. If you spent a lot of money on a professional conversion, having good RV coverage is key. If you travel with camera gear, a laptop, or other valuables, adding on insurance for your personal effects is likely worthwhile as well.
A professional camper van conversion is a huge investment, so the smartest option for me was to get RV insurance. I've had Progressive RV insurance for the last 5 years, and have total loss replacement coverage for the value of my fully converted van. That means, if I totaled my van, I could take my insurance payout and get a brand new custom converted van.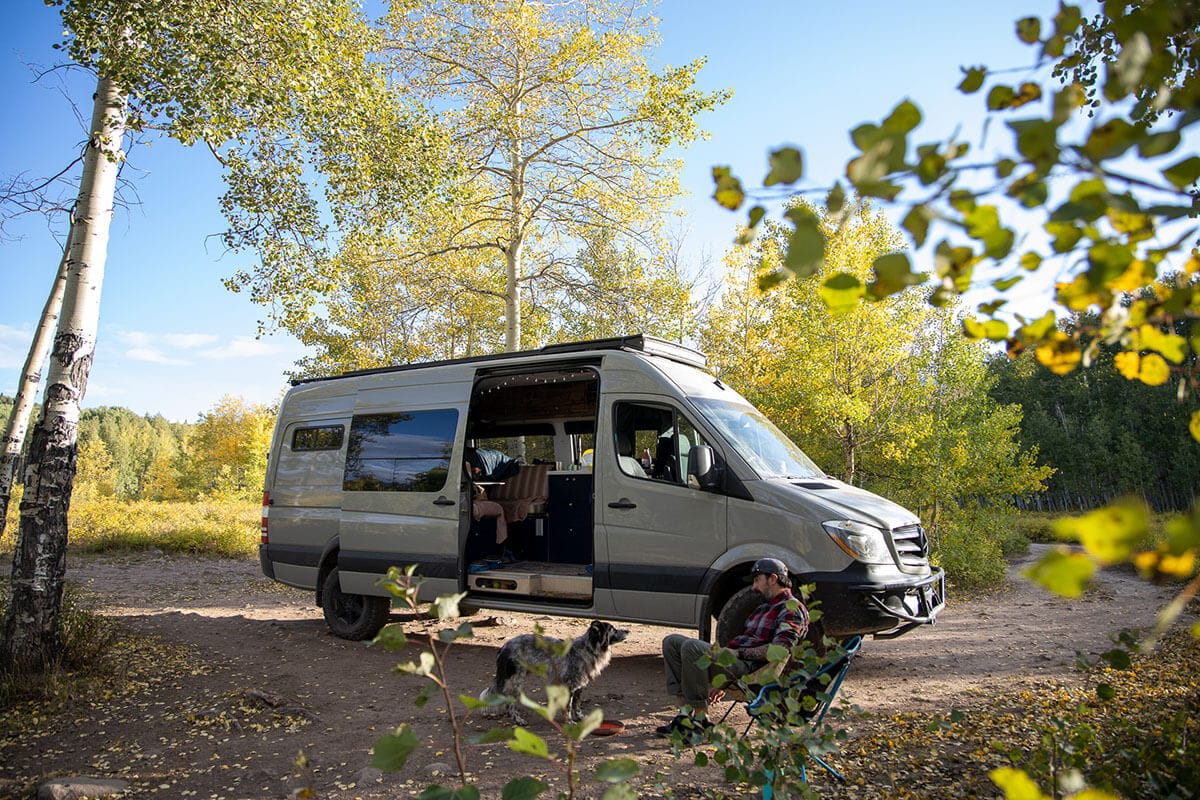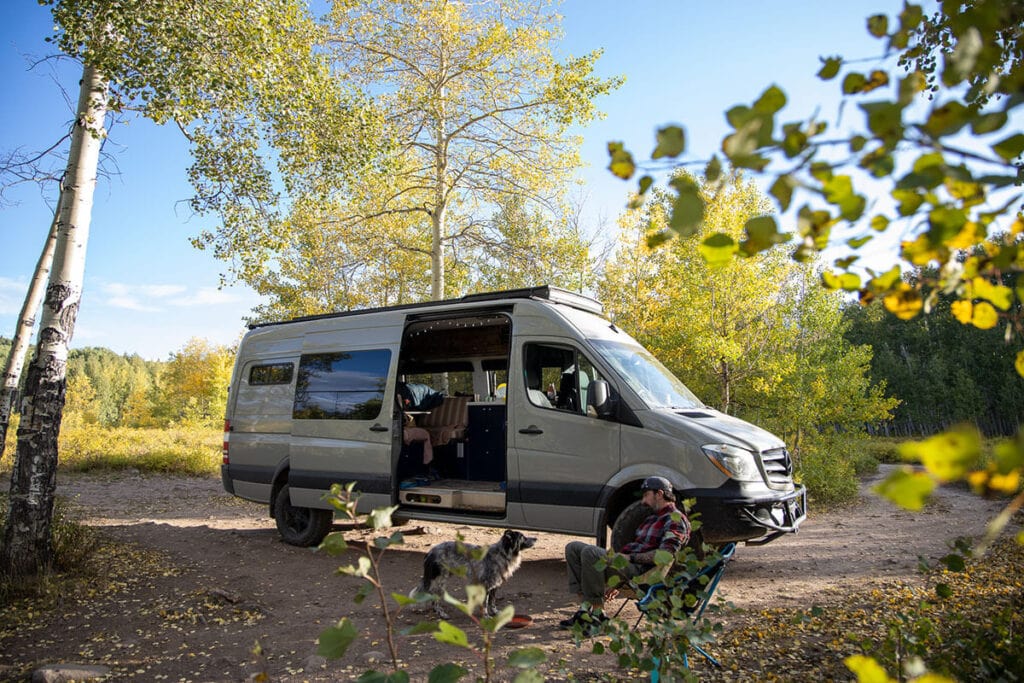 What's the Difference Between Part-Time and Full-Time Coverage?
If you use your camper van as your permanent and primary residence, you'll want to consider full-time RV insurance. This is typically defined as you living in it more than 6 months out of the year in your RV and not owning or residing in another dwelling. If you live or travel in your van less than 6 months out of the year, part-time RV insurance coverage should be sufficient. I tend to travel in my van about 6 months out of the year and have a house in Salt Lake City that I'm based at the rest of the year, so I have part-time RV insurance coverage.
For more on this topic, see our blog post on choosing an RV insurance policy for van life.
What Does Progressive RV Insurance Cover?
Here is a breakdown of the different coverages offered by Progressive for professionally converted vans and RVs. The coverages below are standard and are the most commonly selected, although all are optional with the exception of liability insurance which is generally required for any vehicle being driven.
Standard Progressive RV Insurance Coverages
Comprehensive & Collision
Comprehensive covers your van or RV for events beyond your control like theft, vandalism, fire, glass breakage, weather-related incidents, and collisions with animals.
Collision covers your van or RV if damaged in an accident with an object or another vehicle, no matter whose fault it is.
What's nice is that physical damage protection while traveling in Mexico is included as well, as long as you purchase a Mexico liability policy for your trip. If you plan on traveling in Baja California or any other part of Mexico with your van this is highly recommended.
Progressive also provides free Pet Injury coverage if you purchase both Comprehensive and Collision coverage which pays up to $1,000 towards veterinary bills if your pet is injured in an accident.
Liability
Liability coverage is required by law for most vehicles and pays for any damages and/or injuries that you cause. So if you're at fault for an accident, for example, liability insurance may pay for the other driver's vehicle repairs and medical bills up to your policy's limits. However, this does not cover any damage to your vehicle which is why comprehensive and collision coverage are important to have as well.
Uninsured/Underinsured Motorist
UM/UIM coverage protects you if you're hit by a driver with no insurance or not enough insurance. It can pay for your injuries, damages to your van or RV, and even lost wages if you can't work as a result.
Medical Payments
This covers medical bills for you and your passengers if you're in an accident in your van or RV, no matter whose fault it is.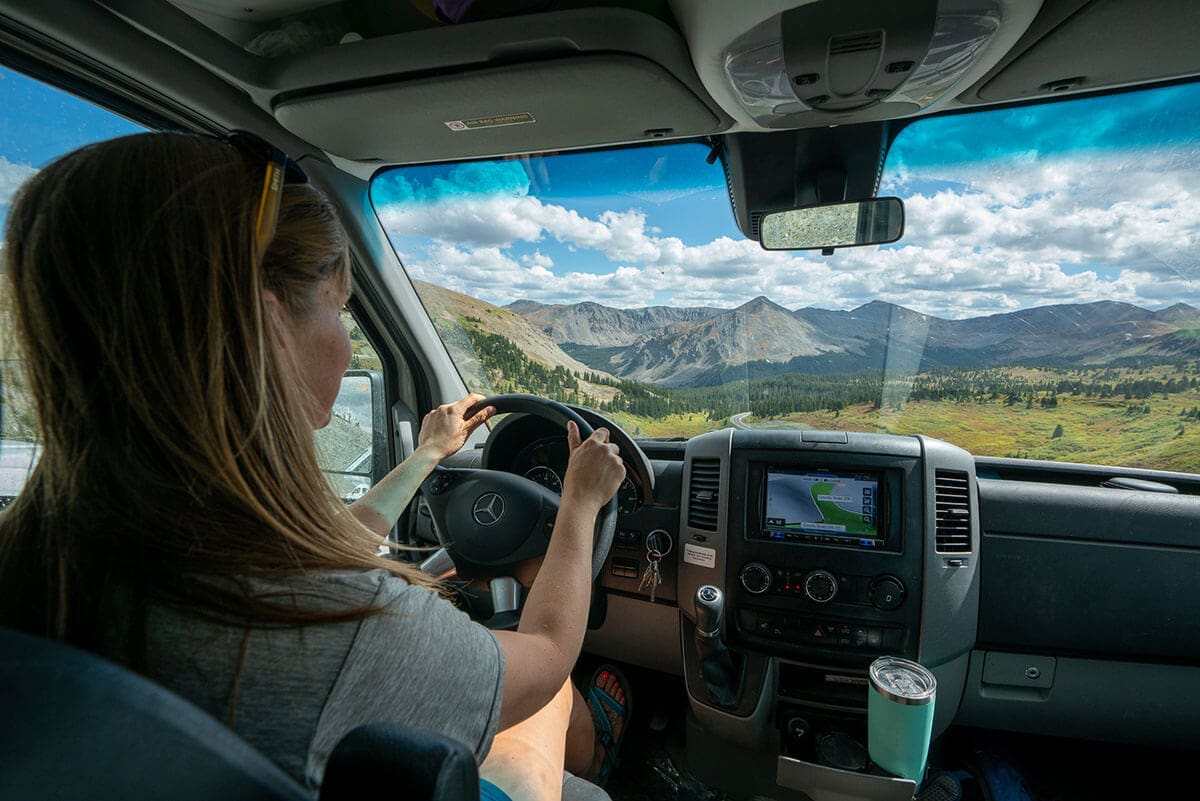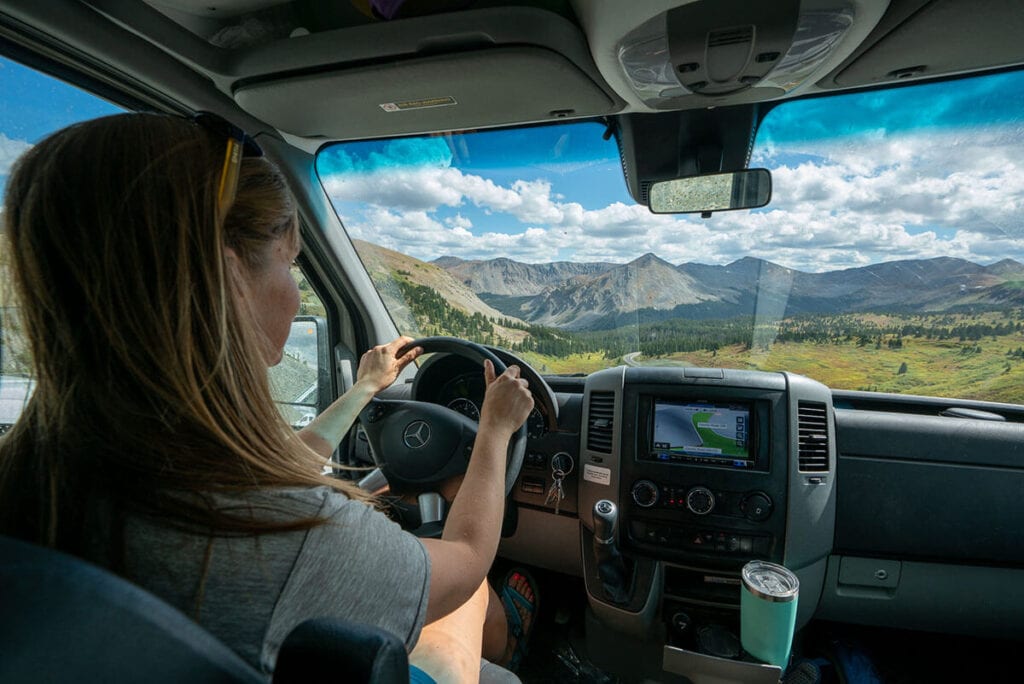 Extra Progressive RV Insurance Coverages
The optional coverages below can be selected in addition to the standard coverages highlighted above. I have all the coverages Iisted above plus roadside assistance, emergency expense, total loss replacement, and personal effects replacement – all of which I highly recommend, especially if you spent a lot of money on your build and if you travel with any valuables.
Roadside Assistance
This covers towing your van or RV to the nearest repair facility if you're having issues, the most common being a breakdown, running out of gas, a flat tire, a dead battery, or getting locked out of your vehicle.
Last winter when we were dispersed camping in Sun Valley, the battery in my van died. It was 2 degrees outside and I had no cell phone signal, but luckily I was able to message my dad through my Garmin inReach GPS satellite communicator and he was able to help me get in touch with roadside assistance. They came out within an hour and jump-started my van – whew!
Emergency Expense Coverage
If you're traveling and your campervan or RV is disabled in a covered incident more than 50 miles from home, this covers transportation and hotel costs. Say your van has a breakdown and needs to be at a mechanic shop for a few days, this would cover a place to stay and transportation fees so you can get around while your van is being repaired. You can select the amount of coverage you want – between $750 – $2,000 if your RV is considered recreational and up to $7,500 if your RV is your primary residence.
Total Loss Replacement
This is one of the key differences of RV coverage vs standard automobile insurance, although it's not available in all states.
If you purchased your converted van or RV new, total loss replacement will cover the cost you originally paid.
As an example, if you purchased your professionally converted van for $80,000, have total loss replacement, and your van is totaled, Progressive will reimburse you for the original purchase price (in this example, $80,000) or replace it with a new one of the same model year or later, fitted out to the same level or better, even if it costs more than what you originally paid. This is what I have in my van and it gives me peace of mind that my investment is 100% protected in the case I were to total my van.
If you didn't purchase your camper van or RV new (you're not the original owner), you can set an agreed value. That way, in the event of a total loss, you'll know exactly what your vehicle is worth.
This coverage is based on the original purchase price or the agreed value set in your policy, so if the value of your camper van/RV changes significantly and you'd like to adjust the amount covered you'll need to contact Progressive to update your policy.
Replacement of Personal Effects
This covers the cost of replacement or personal items inside your camper van or RV, like camera equipment, your smartphone, or any other valuables you travel with up to a specified amount.
Say your van gets broken into at a trailhead while you're hiking and your laptop, camera, and other valuables are stolen. Or say your personal belongings are damaged due to an accident – this coverage will reimburse you so you can replace those stolen or damaged items.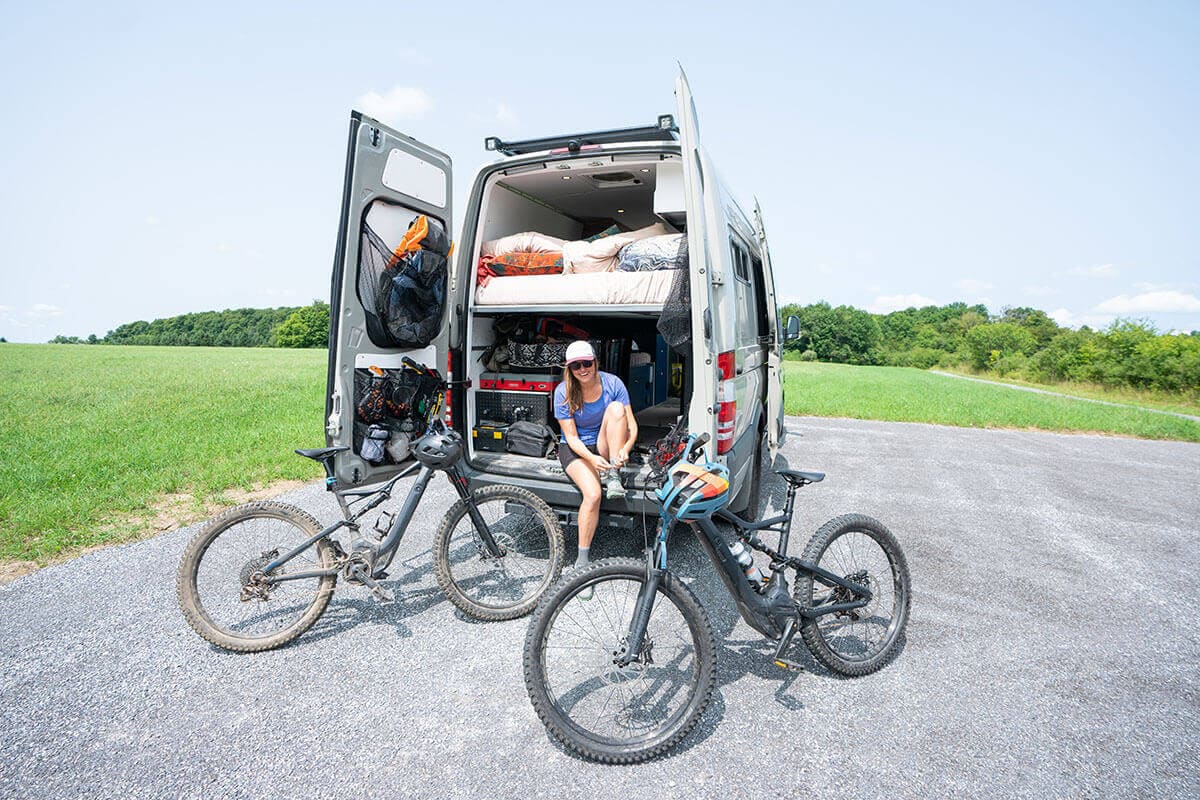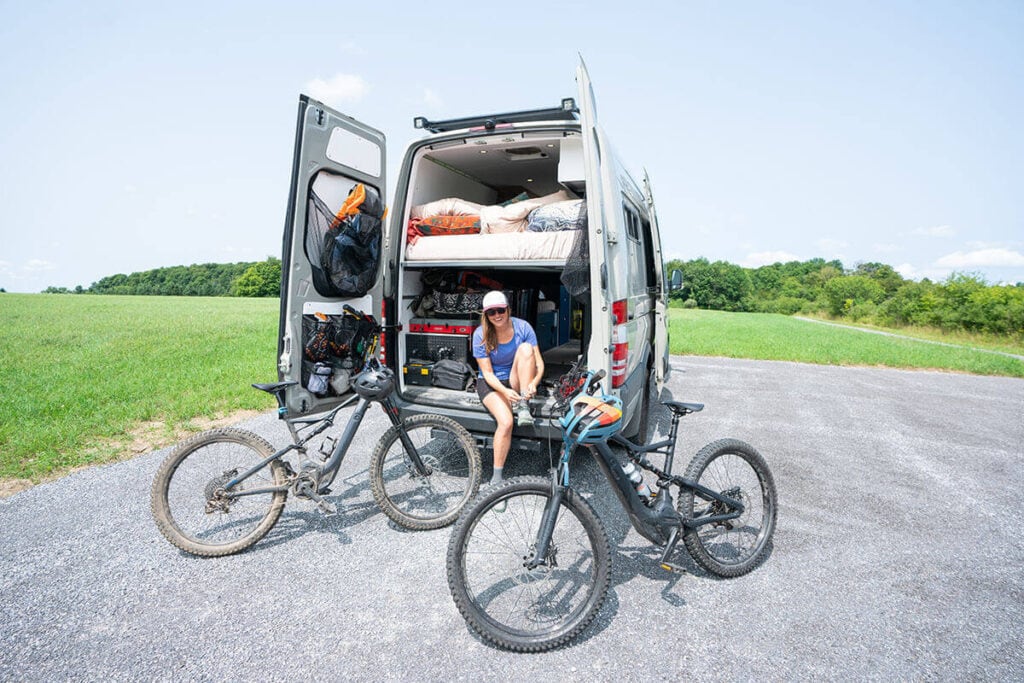 Pest Damage Protection
If you worry about mice stowing away in your camper van or other critters causing damage, pest damage protection may be a good idea.
Here's one example: marmots are known for chewing up car wiring and radiator hoses to the point of disabling a vehicle at the trailhead for the Mineral King Loop in Sequoia National Park. Pest damage protection could cover this.
There are a few additional extra coverage options that Progressive offers for camper vans and RV that you can learn more about here, but the ones mentioned above are the ones I find to be the most important. Keep in mind that a deductible may apply and coverage may vary by state.
Here is the coverage I have in my Progressive RV insurance policy for my converted Sprinter camper van:
Total Loss Replacement
Liability Insurance
Uninsured Motorist
Personal Injury Protection
Medical Payments
Comprehensive
Collision
Emergency Expense
Vacation Liability
Replacement Cost Personal Effects
Roadside Assistance
For comprehensive and collisions, I have a $500 deductible so anything beyond that is covered by my Progressive RV insurance.
Note that the lower your deductible, the higher your monthly premium will be, and you can choose a deductible anywhere from $250-5000.
Tips for Insuring Your Camper Van
To insure your camper van, you'll need to know the value of your vehicle, inside and out, as well as the approximate value of your personal belongings. Aside from the obvious like your personal information and vehicle make, model, and year, you'll need the following information:
Whether your vehicle was purchased new or used
How much the vehicle is worth (i.e. how much you purchased it for and/or how much it would be sold for today)
Whether it was professionally converted or DIY
What you use it for (camping trips, etc.)
Whether you use it full time or part time
What state you live in and primarily use it in (each state has different insurance requirements)
You'll also want to:
Keep invoices, receipts, and/or billing statements from your professional camper van conversion as well as the proof of purchase that shows the total sum you spent
Take pictures of the inside of your van to document different aspects of your converted van, including major appliances, in case anything happens
If you want to insure your personal belongings inside the van, you'll need to have a good idea of the cumulative value so you can select the appropriate level of coverage (Progressive offers different levels of personal effects coverage depending on how much coverage you want). You'll want to:
Keep copies of receipts for your valuables that you travel with (think camera equipment, laptop, smart phone, jewelry, etc.). I recommend taking photos of your receipts in addition to creating a spreadsheet or document that lists the items you travel with and their value.
Take pictures of your valuables that you travel with
Keep all this in a folder on your computer (or in Dropbox or Google Drive) so you're prepared in case you need to file a claim
I have a Google Drive folder where I keep photos of my van (inside and outside), photos of my valuables, and receipts for my van and valuables so I have everything ready in case I have to make a claim. I keep this online instead of on my computer in case my computer were to break or get stolen.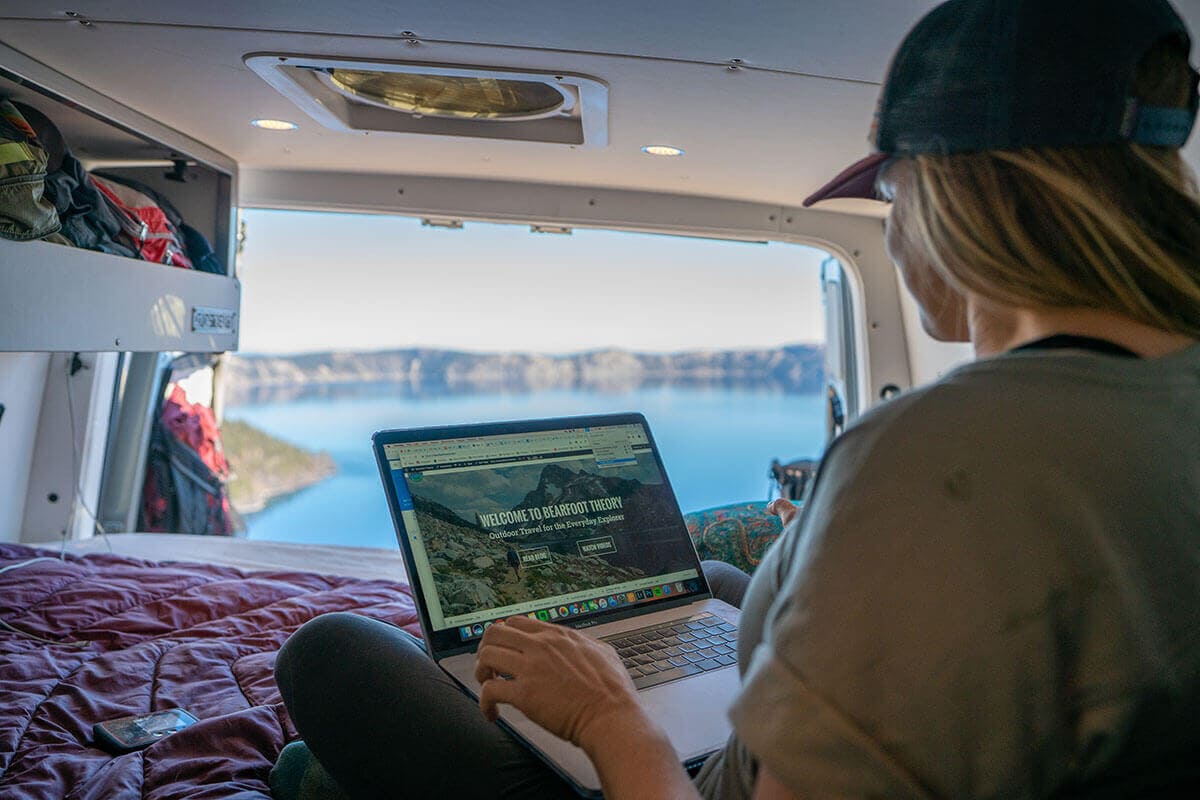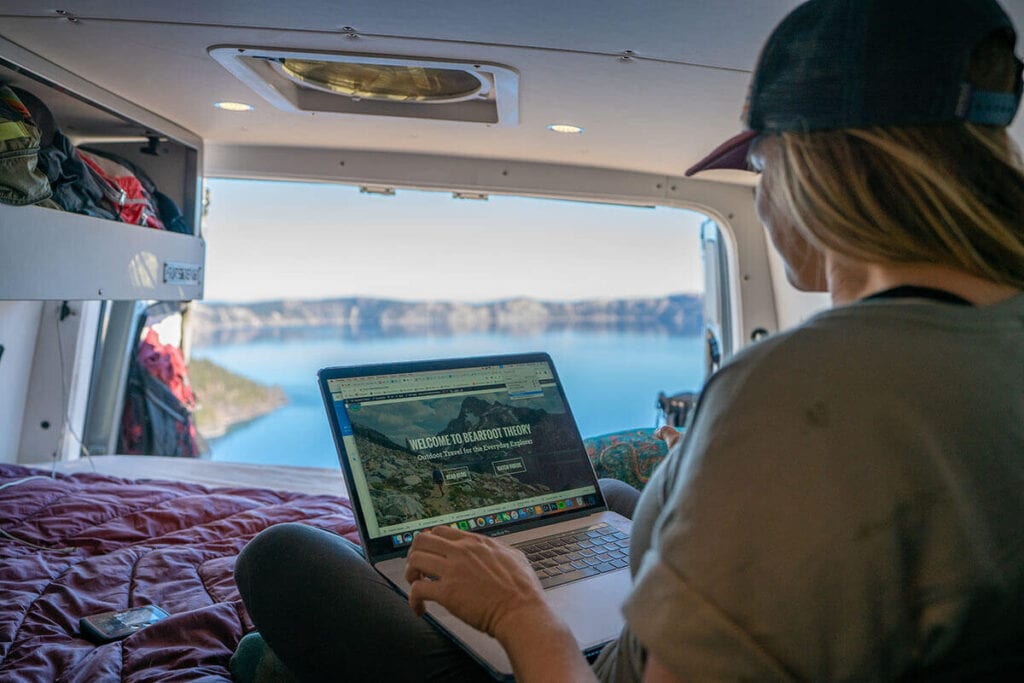 Why I Chose Progressive RV Insurance For My Camper Van
I first found out about Progressive through USAA – as a USAA member, I get a discount on Progressive insurance so getting a quote from them was a no-brainer for me since USAA doesn't offer RV insurance. After looking into it further, I found that Progressive's coverage for RVs better fits my needs than other options out there.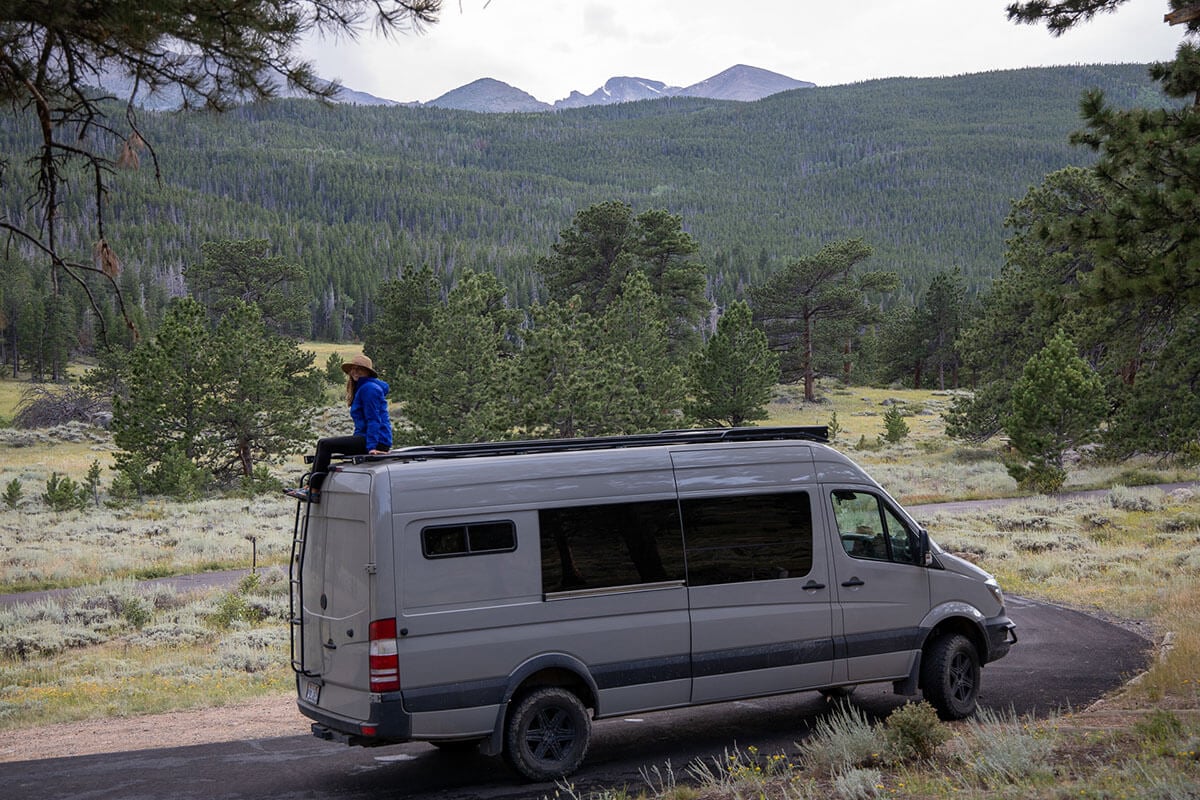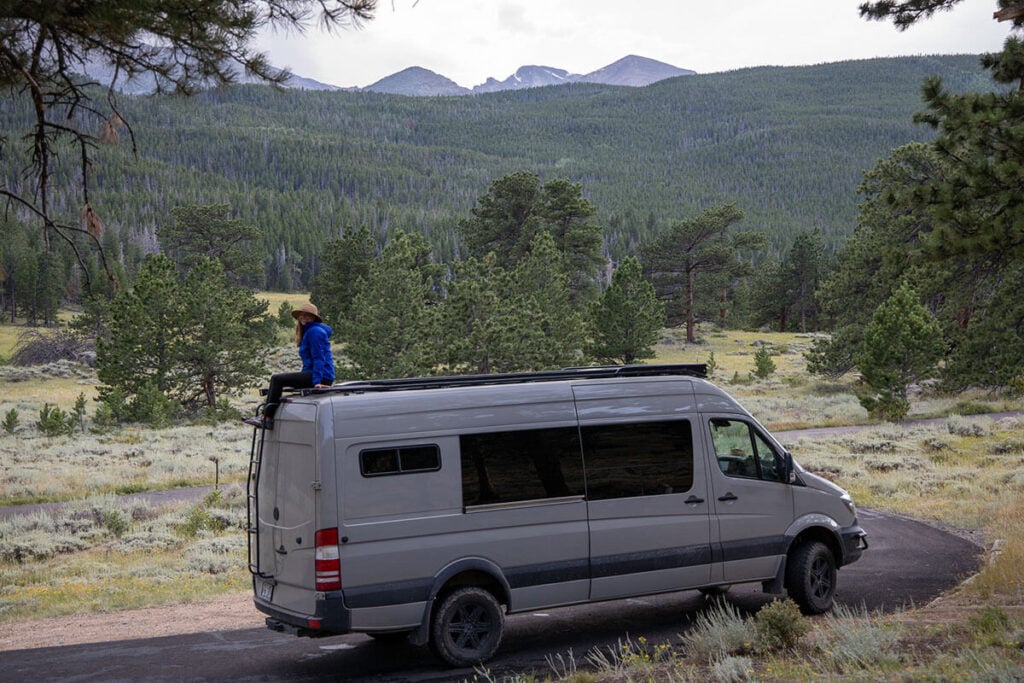 How To Make The Most Out Of Your Progressive RV Insurance Policy
If you decide that Progressive RV insurance is right for you, you may be able to lower your insurance payment with all the discounts they offer. Here are all the different ways to save:
Original owner: If you're the original owner of the converted van or RV
Responsible driver: If you have a clean driving record free of tickets or accidents in the past 3 years
Advanced quote: If you get a free quote ahead of time (even just 1 day before signing up with them), you'll be eligible for a discount
Paid in full: If you pay your total annual premium at the start of the term rather than monthly. This is what I do, and I save a couple hundred dollars a year. Also, if you pay in full and you sell your van and cancel your insurance before the year is over, they give you a refund for the difference.
On-time payment: If you've paid your payments on time over the last year. If you don't pay in full at the beginning of your term and want to make monthly payments, I highly recommend setting up automatic payments so that the payment is automatically deducted from your bank account each month and you won't have to worry about remembering to pay on time.
Claim free renewal: If you haven't filed a claim in the last year, when you renew your insurance you'll get a discount
USAA member: If you're a USAA member, you get a discount
Multi-policy: If you have more than one policy with Progressive. For example, if you or your spouse have another vehicle in addition to your camper van, you'll get a discount if you use Progressive for your auto insurance policy as well. Same goes for home, renters, condo, boat, and motorcycle insurance.
Homeowner: If you own your home
Not all discounts are available in all states and certain restrictions may apply in some situations, but these are all worth looking into.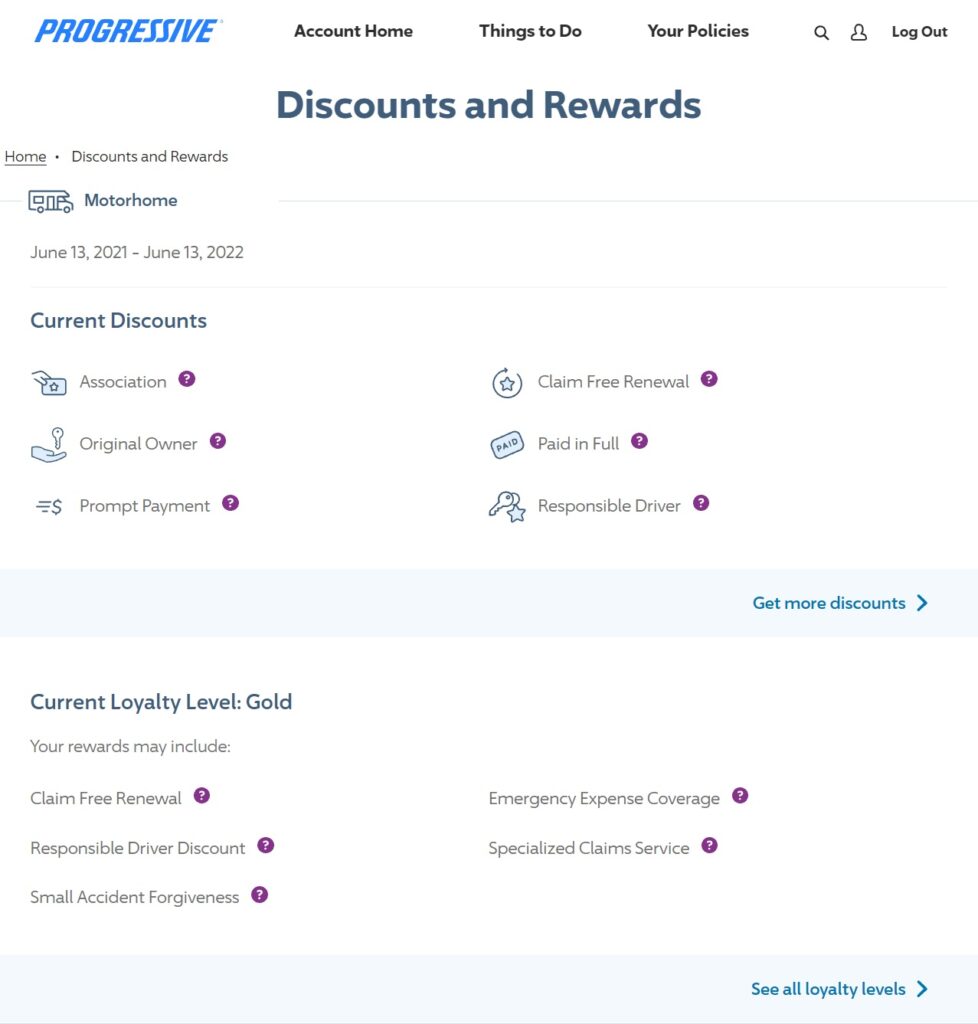 Take advantage of the Progressive app as well. You can view your entire profile and use the app to get policy information, check your payment status, print ID cards and other documents, request roadside assistance, and even file a claim.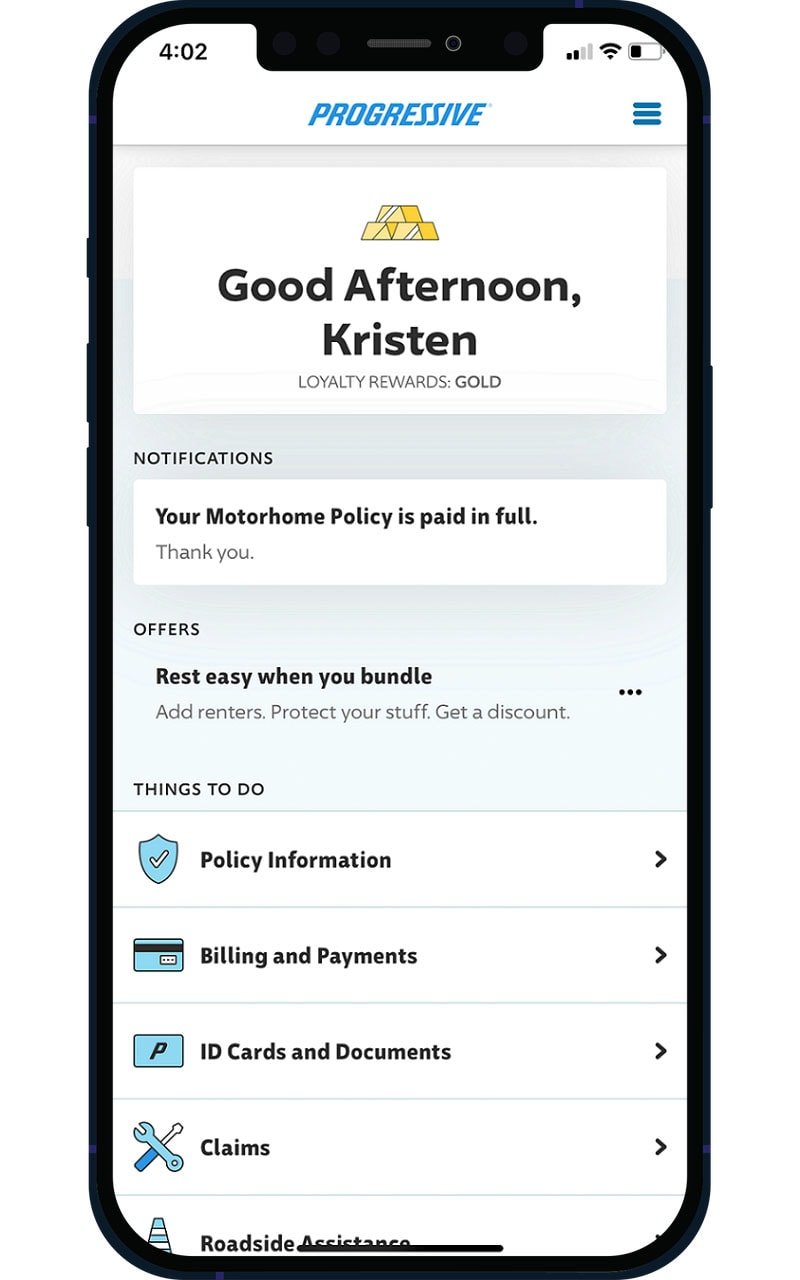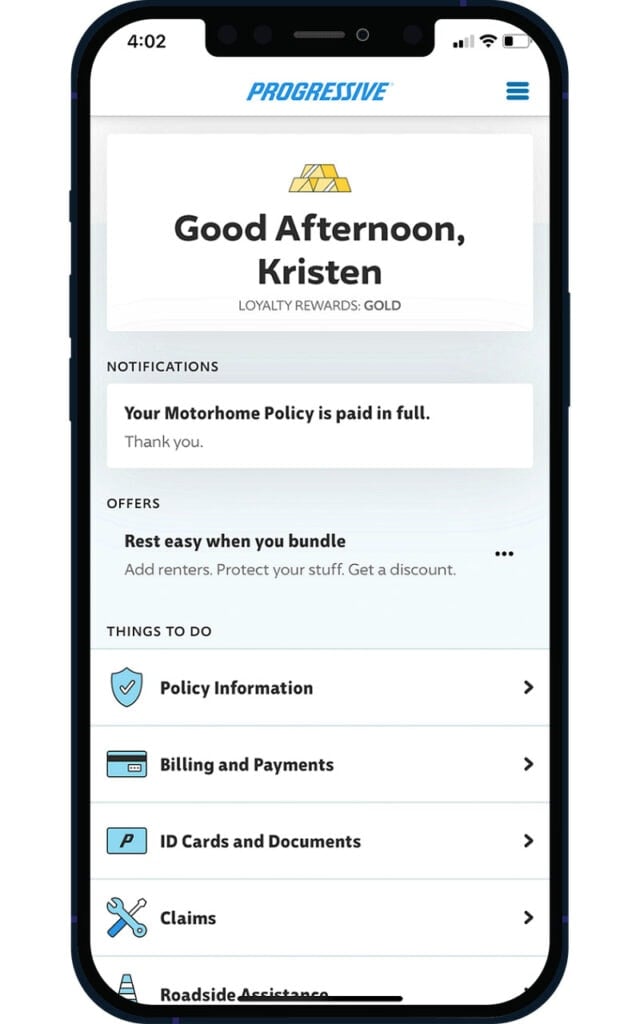 How to Get a Progressive RV Insurance Quote
You can get a free Progressive RV insurance quote here. It's quick and easy, and all you'll need for a basic estimate is:
Your zip code
Type of motorhome (Class B, truck camper, etc)
Name, DOB, Address
Vehicle details like the make, model, year, builder/manufacturer, purchase price, and year purchased


Then Progressive will give you a quote right then and there, taking your eligible discounts into account. What's nice is that they show you rates for 3 different levels of coverage: basic, choice, and plus.
Basic includes the bare minimum such as liability and uninsured/underinsured motorist.
Choice is more comprehensive and also includes coverage for medical bills if you're in an accident, comprehensive and collision coverage, coverage of the actual cash value of your RV, personal effects coverage, and more.
Plus is even more comprehensive. With any of these options, you can customize as needed to get exactly what you need for your vehicle and lifestyle.
Once you get a quote, you can purchase your policy online, save the quote for later, request a call to refine your coverage and ask any questions you have or call Progressive directly to discuss.
Progressive RV insurance starts at as little as $125/year for a basic liability policy which excludes travel trailers and isn't available in all states, although that's the bare minimum and you'll likely want more coverage if you've invested in a professionally converted van or RV.
How to File a Claim
The good thing about filing a claim with Progressive is that they have 24/7 customer support available. So no matter when your accident or issue happens, you can get on the phone with someone who can help you.
You can also report a claim online through the Progressive website or through the Progressive app. When reporting a claim online, you'll just need to fill out the basics like where and when the accident happened and a representative will be in touch with you within 1 business day to collect more details.


If you do get into an accident or there's another issue with your camper van that may be covered, be sure to take thorough photos and notes to document what happened right away. You can even take a video on your phone.
Other than roadside assistance for the time I had to get my van jumped, I've luckily never had to file a claim in the 5 years I've had Progressive RV insurance on my two converted vans. However, in speaking to other van lifers and Progressive policyholders, we've gotten great feedback on the claims process.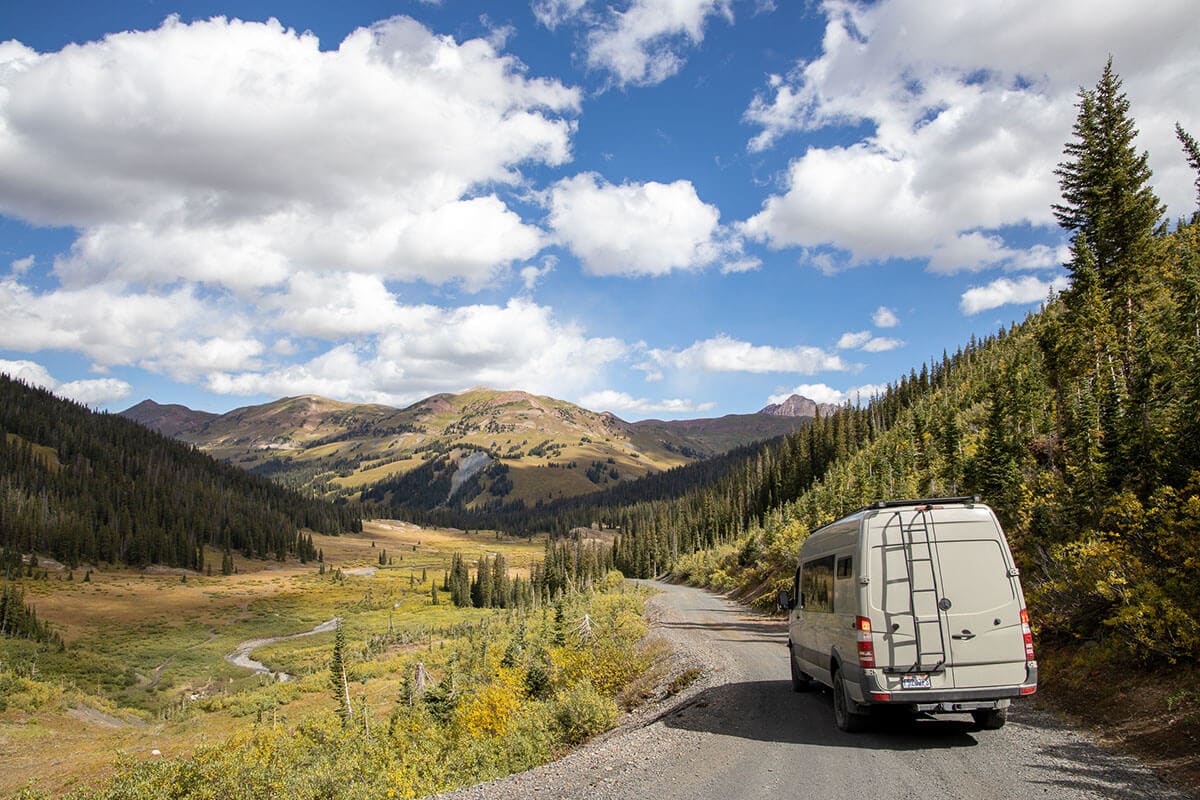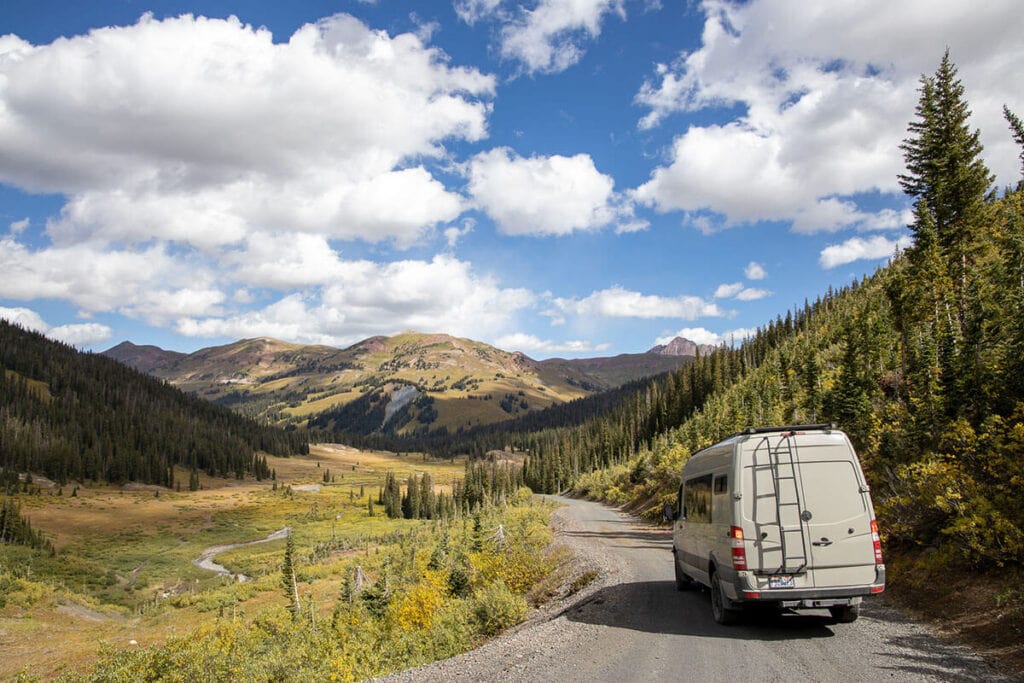 Van Life Essentials Packing List
Below are a few of my favorite pieces of van life gear and recommendations for the road:
I hope this provides some useful insights into RV insurance for converted vans and what Progressive offers. If you have any questions or your own experiences to share, we'd love to hear them! Leave a comment below.