11 Minnesota Road Trip Stops for Outdoor Adventure
See the top Minnesota road trip stops for outdoor adventure including State Parks, scenic drives, waterfalls, and day trips from Minneapolis.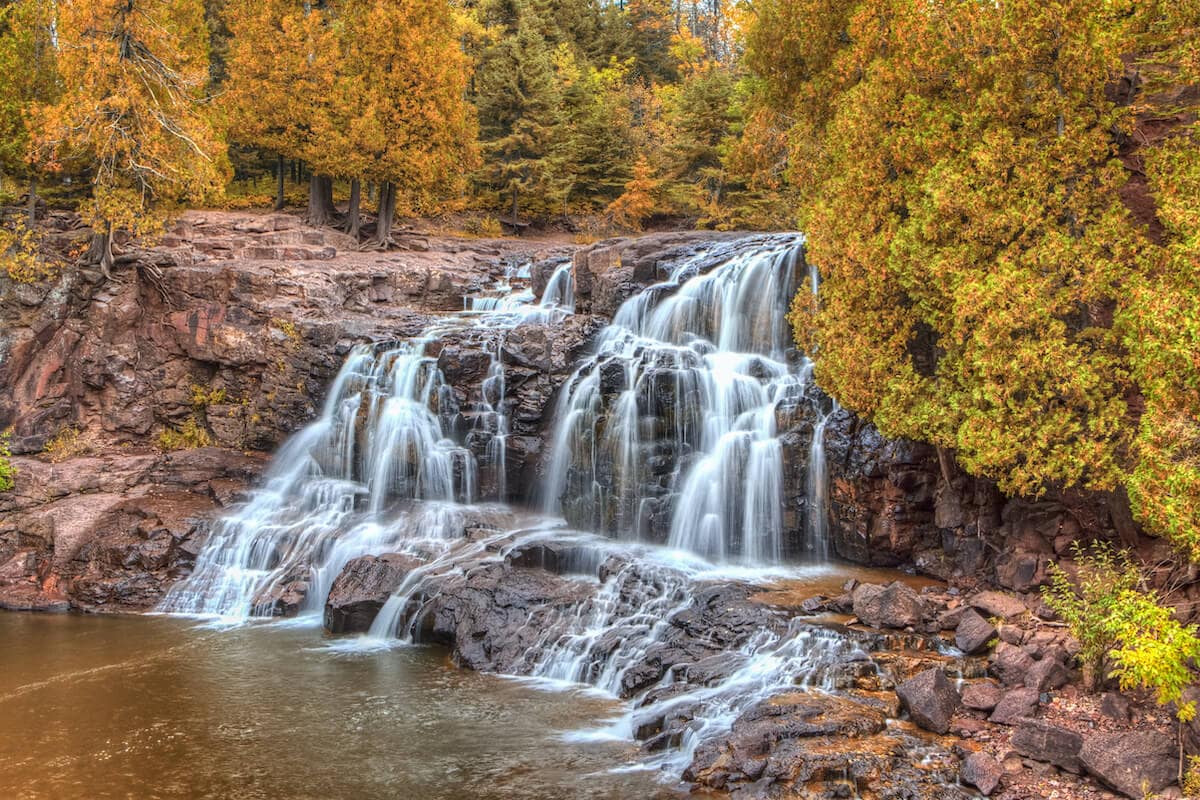 Minnesota is the Land of 10,000 Lakes, which makes it an obvious choice to visit for outdoor enthusiasts that love the water — but it's also great for backpacking, camping, and biking, too. From the rocky and wild North Shore along Lake Superior to the rolling hills of the Driftless Region of southeastern Minnesota, Minnesota has a surprising variety of beautiful landscapes that'll keep the most avid outdoorist busy for years.
I've spent most of my life adventuring in Minnesota, and I'm still finding amazing new areas to explore. So whether you're looking for a perfect summer getaway or want to embrace the cold of winter, you'll be sure to find what you're looking for.
Looking for your next road trip destination? Here are the best stops for outdoor adventure on a Minnesota road trip.
Important Reminder: As it goes in all of the destinations we share, please practice good trail etiquette and remember to Leave No Trace. This means packing out all of your garbage (including toilet paper), being respectful to others on busy trails, and following the established rules.
#1 campsite finder app
Try the Dyrt PRO free for 30 days
If you're going to be camping on your road trip, get a FREE 30-day membership to The Dyrt PRO, one of our favorite apps for finding campgrounds (use the code "Bearfoot" if you're signing up on mobile!). You can read reviews, view photos, save your favorite campgrounds, view maps offline, plan a route, and more!
Northern Minnesota Road Trip Stops
Boundary Waters Canoe Area Wilderness (BWCA)
The pride and joy of Minnesota, the Boundary Waters is the nation's most-visited Wilderness Area, located along the northeastern Minnesota-Canada border. A labyrinth of lakes and islands, the BWCA canoe trip is a rite of passage for many Minnesotans. With routes perfect for day trips or month-long journeys into the rugged backcountry, the Boundary Waters is a must-visit for anyone visiting the state.
Check out our complete guide to plan a Boundary Waters canoe trip if you're interested in visiting. We recommend visiting in late summer for a week of canoeing between isolated campsites in the ice-cold lakes. If you want to visit in the winter, be sure you are prepared for extreme cold and have the proper cold weather camping gear. There are also a number of resorts along the threshold of the BWCA that you can book in advance to enjoy the cold during the day and a cozy cabin at night.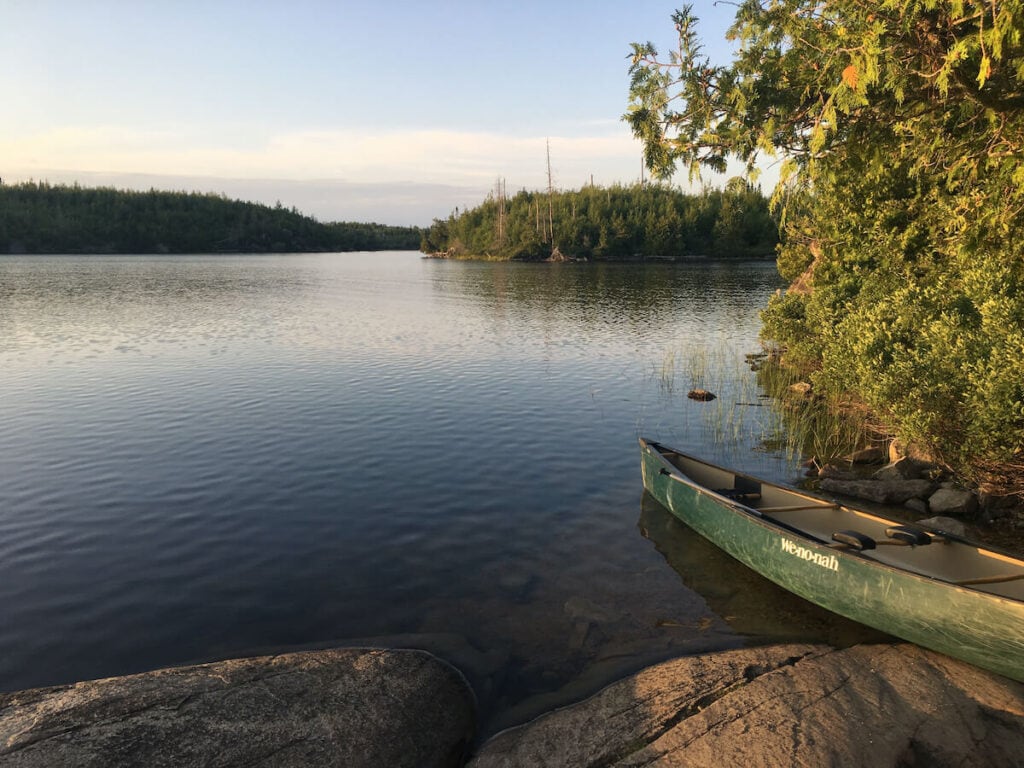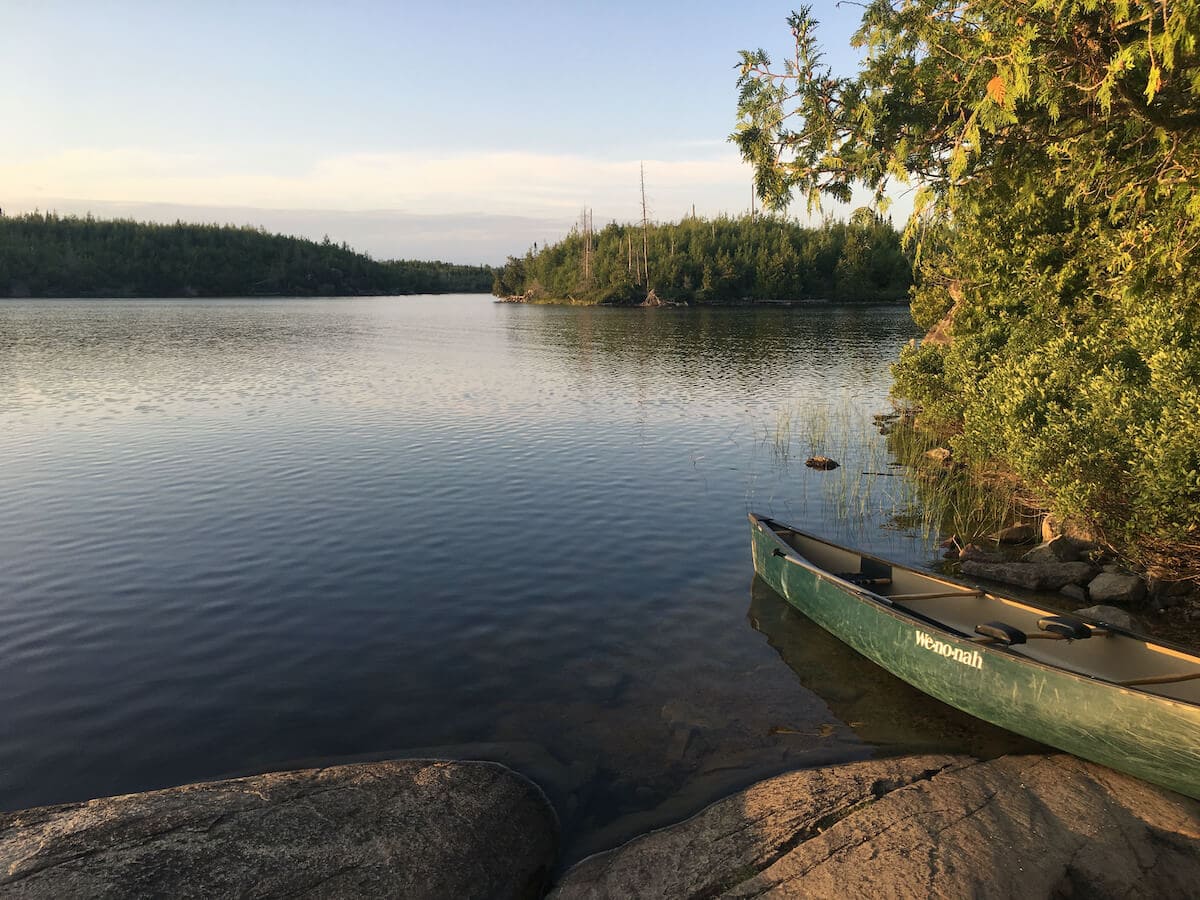 Ely
Ely is one of the main resort towns on the edge of the BWCA, but it easily warrants its own spot on this list thanks to its wide array of outdoor adventures. Not only is it the perfect place to start your BWCA trip, but you can also find some great biking, hiking, fishing, and more.
The town itself is home to the International Wolf Center and the American Bear Center, as well as some historical museums about the area's rugged history.
There's an abundance of campsites in the nearby Superior National Forest — just stop in the town's ranger station for a catered list perfect for your trip. We took our van down a road to Whisper Lake and had the whole place to ourselves.
One of the best times to visit is in the fall when the leaves are turning and the air is brisk. Enjoy a short hike to Kawishiwi Falls (1 mile, easy) or a longer loop around Bass and Dry Lake (6.3 miles, moderate) to see some incredible fall colors. Then, take out your mountain bike to visit Fernberg Tower, Nickel Lake, or Fenske Lake Area. They're super accessible from Ely and provide a variety of terrain for different skill levels.
If you want to experience the iconic Minnesota cold, come to Ely in the winter and take a guided dog sledding trip. Just be sure to stop in at Steger Mukluks to get yourself a super-warm pair of winter boots first!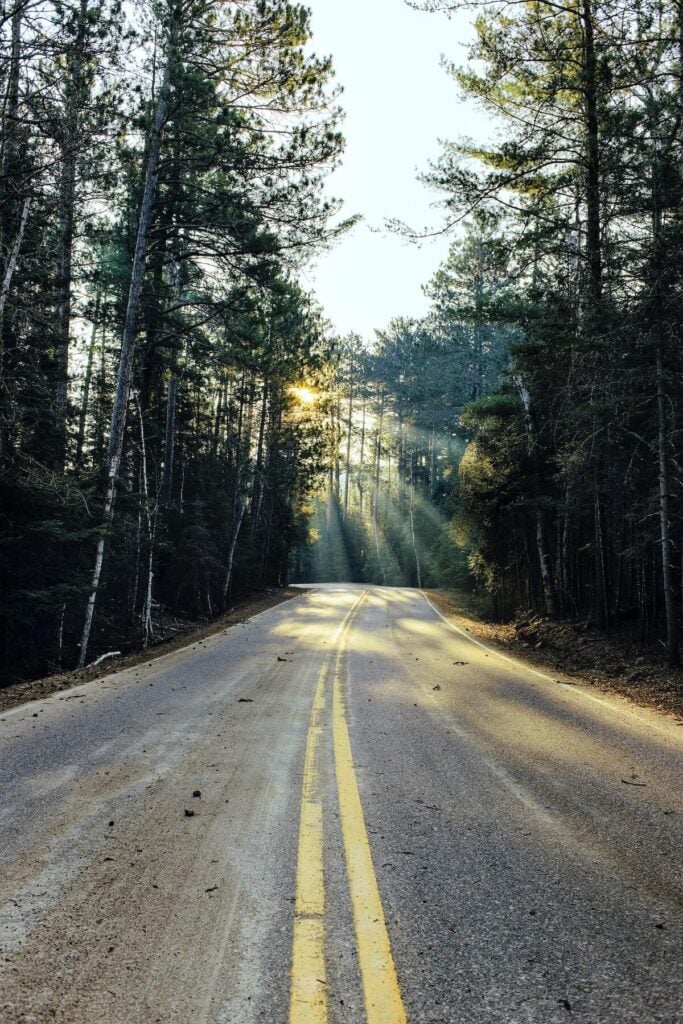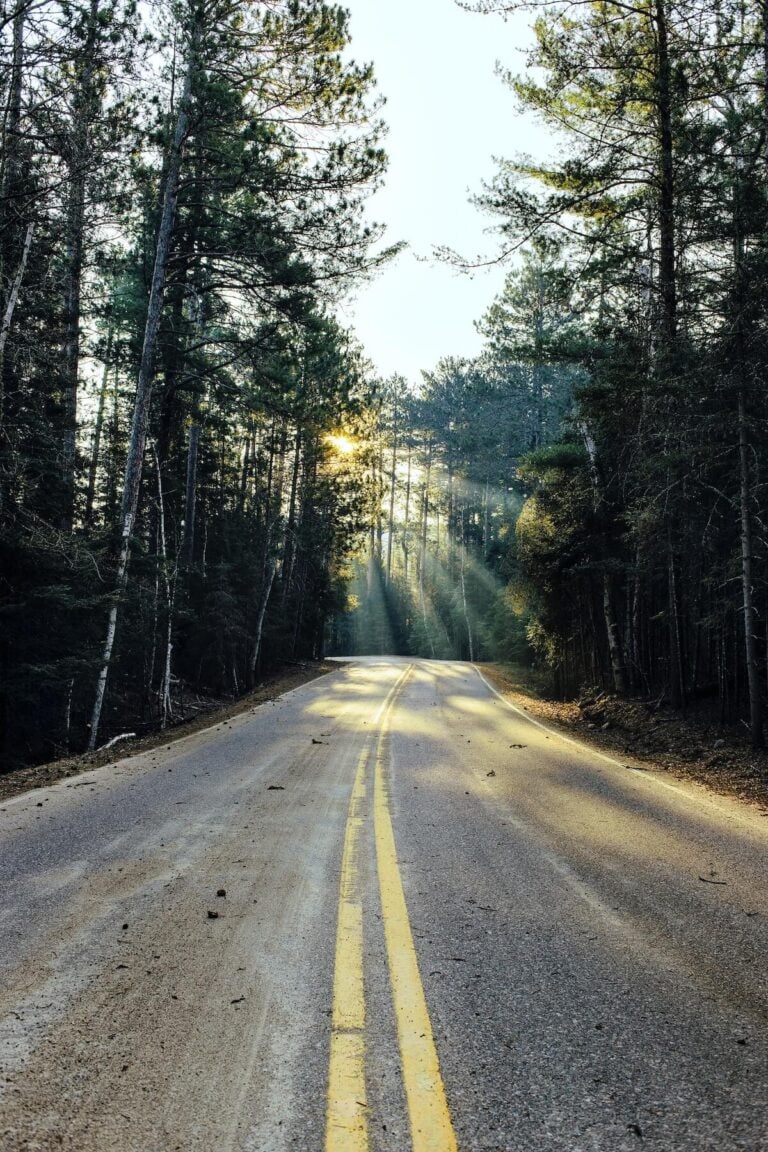 North Shore Scenic Drive in Minnesota State Parks
One of the most accessible ways to enjoy the state is to take a North Shore Scenic Drive in Minnesota along the shores of Lake Superior north of Duluth and stop in the State Parks along the way.
Start your North Shore State Park road trip at Split Rock Lighthouse State Park to get a taste of the shoreline's rocky cliffs and the cold waters of Lake Superior. You've got to visit Pebble Beach to skip rocks into the lake and follow the shoreline north for a perfect view of Lake Superior and the 53-foot lighthouse.
Next, drive up to Gooseberry Falls State Park to enjoy jaw-dropping cascading waterfalls (shown in the photo at the top of this blog post) and great trout fishing. If you want to bike, visit in August to join the annual Gitchi-Gami Trail Association North Shore Bike Ride, offering 28-mile, 34-mile, and 55-mile rides. I've completed a handful of bike tours throughout the state, and this one is by far the most scenic and fun.
Finally, you can't miss Tettegouche State Park — my favorite state park in Minnesota, period. Camp in the Baptism River Campground, hike up to High Falls along the Baptism River and catch the sunrise at Lake Superior Beach.
Looking for more adventure? Hike part of the Superior Hiking Trail! This trail stretches along the north shore from Duluth to the Canadian border and weaves through all the State Parks listed above along the way. You can't go wrong with the Fifth Falls Loop right in Gooseberry State Park (3 miles, easy) or the well-loved Bean and Bear Lake There-and-Back Hike (6.3 miles, moderate).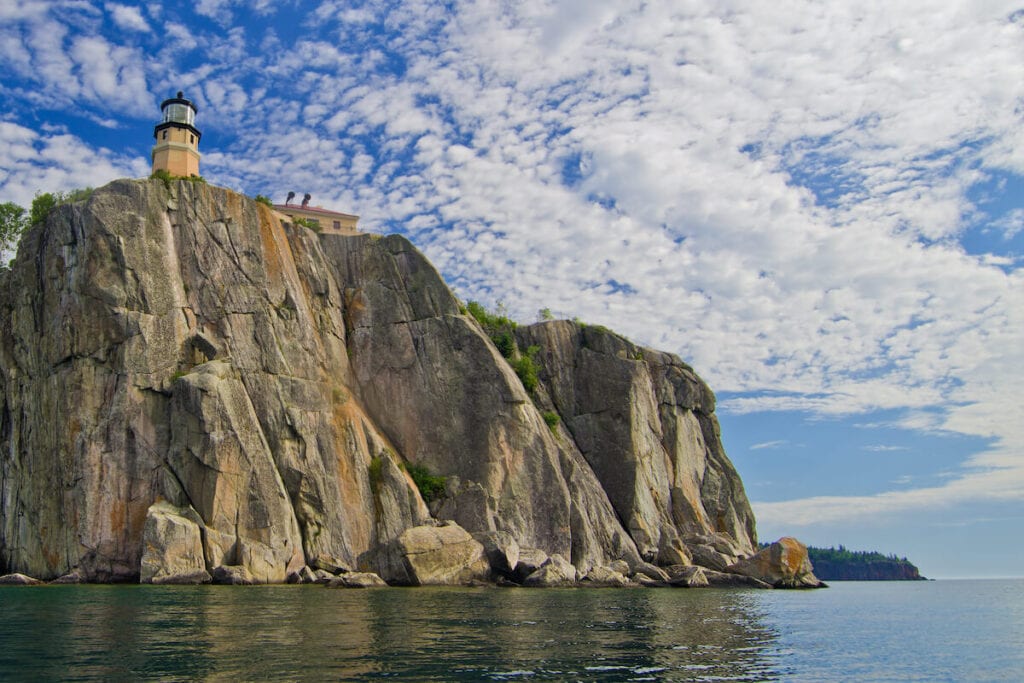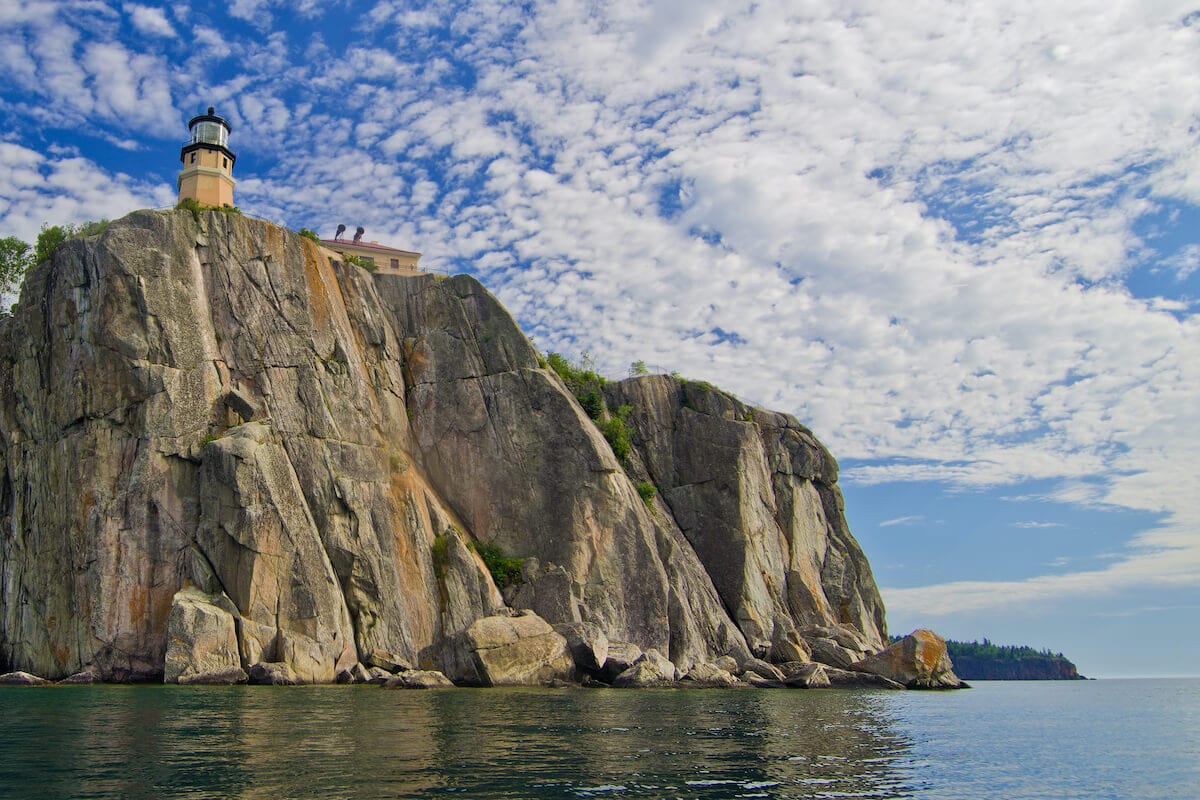 Voyageurs National Park
Similar to the Boundary Waters, Voyageurs National Park is located in Northeastern Minnesota and is the state's only National Park. It's also a great stop on your Minnesota road trip to tack on after a North Shore scenic drive.
Voyageurs National Park is made up of four major lakes and 500+ islands that visitors can canoe, kayak, and boat through. The park has 655 miles of rocky shorelines and bluffs that are home to boreal woodlands and temperate forest.
If you want to camp, try to get a campsite over the weekend. For hiking, consider the short Echo Lake Trail (2.8 miles, moderate) or take the 27.9-mile Kab-Ash Trail for a strenuous backcountry hike from Kabetogama to Ash River.
If you want to take advantage of the water, canoeing and kayaking is a must — but you can also book a houseboat during your stay and even take a boat tour to Ellsworth Rock Gardens, a terraced garden on a rock outcrop filled with flowers, lilies, and abstract rock sculptures. Although Voyageurs National Park is remote, it's a great area to add to your Minnesota road trip.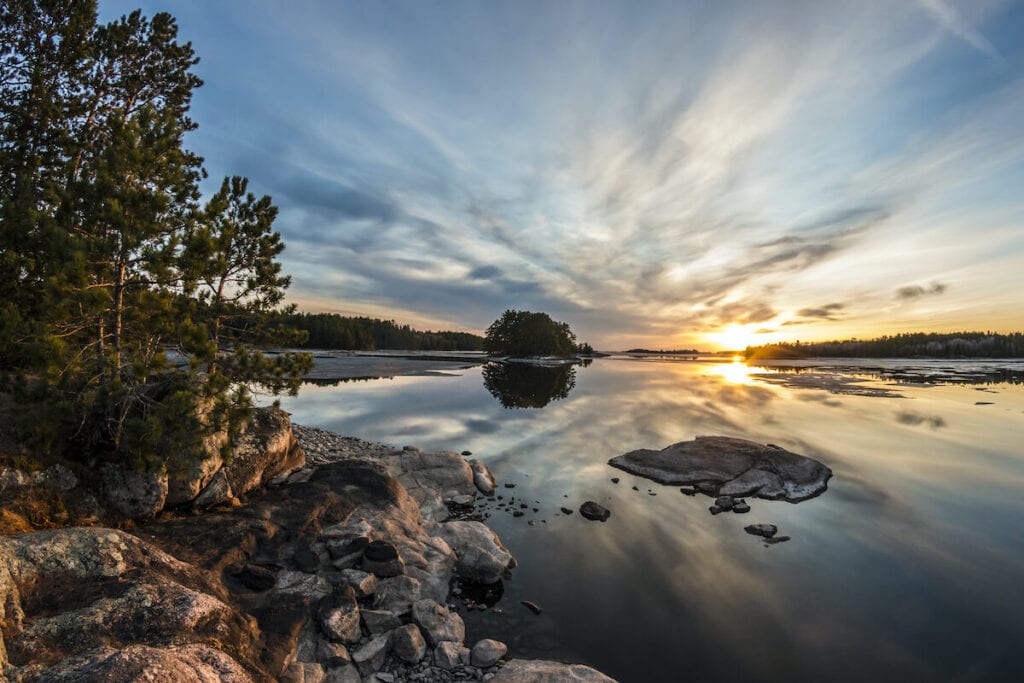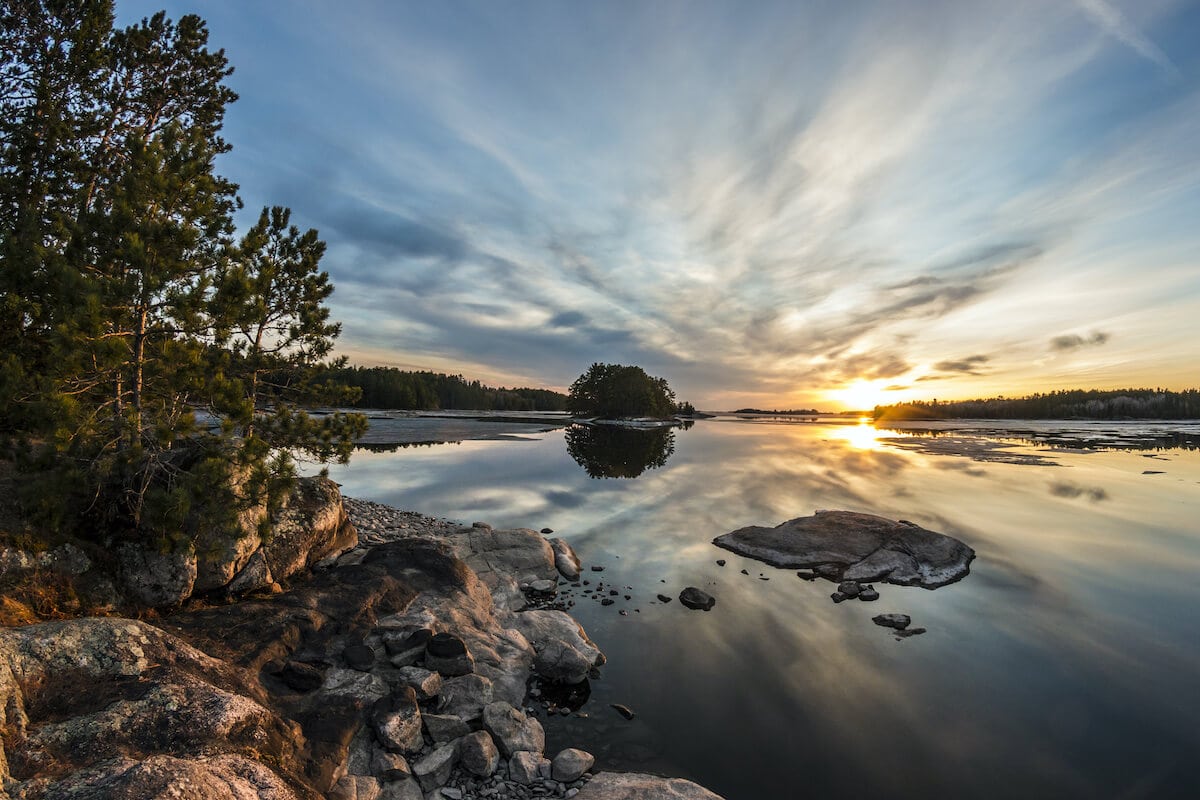 Itasca State Park
Itasca State Park is one of the premiere Minnesota State Parks, and for good reason: it's the headwaters of the Mississippi River. No road trip in Minnesota would be complete without visiting Lake Itasca and walking across the headwaters.
Just a short walk from the Visitor's Center, you can see the headwaters for yourself and wade through 18-inch deep water to cross from the east to west side that marks the beginning of the Mississippi before it flows 2,552 miles to the Gulf of Mexico.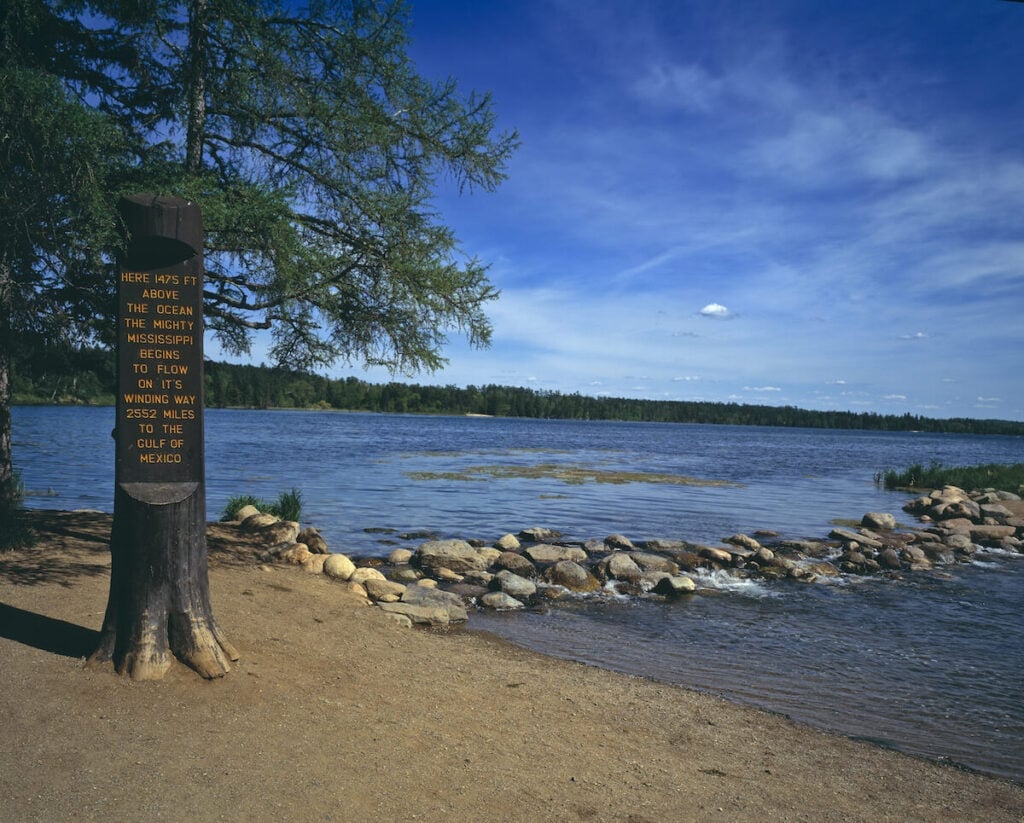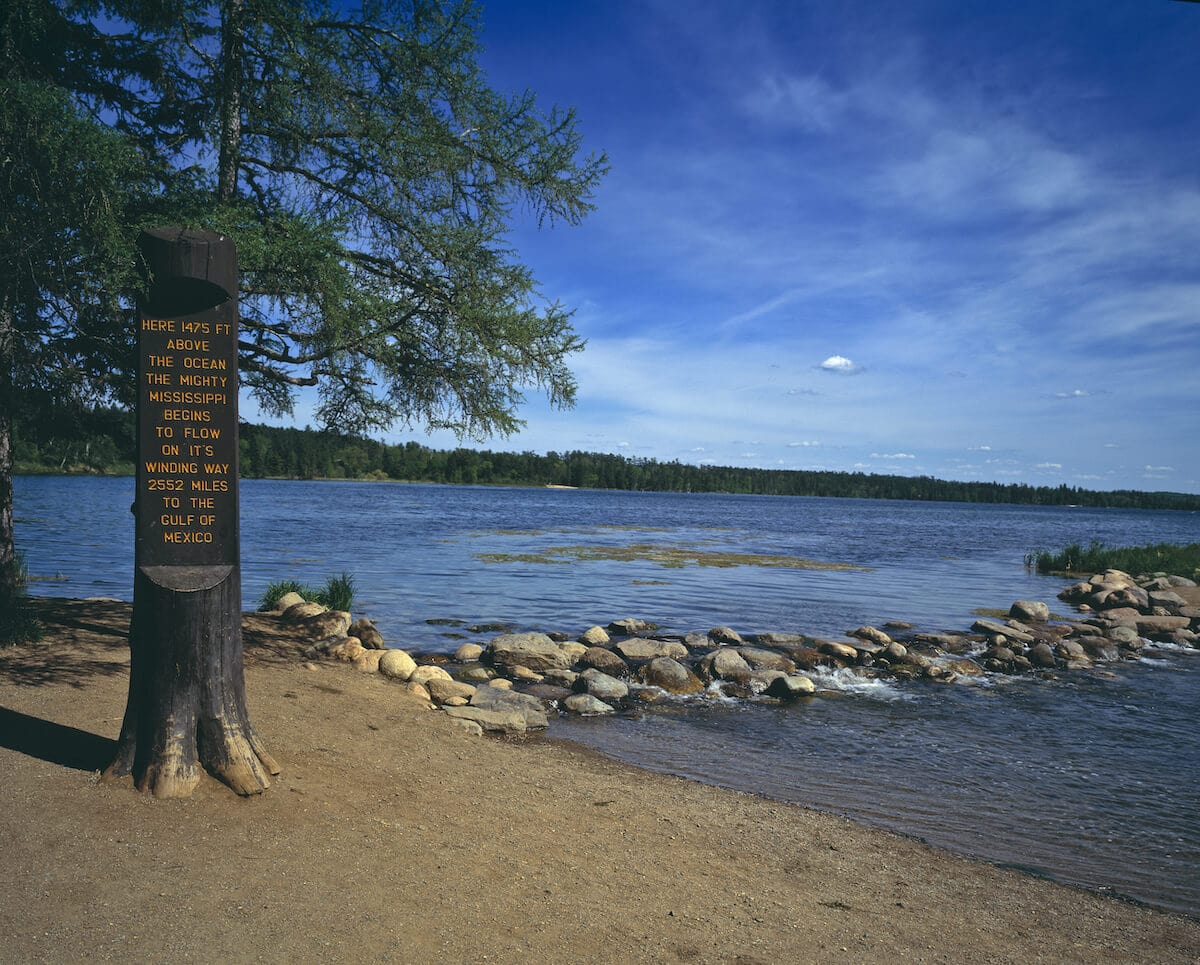 Day Trips from Minneapolis / St. Paul
Minnehaha Falls
Located right in Minneapolis, Minnehaha Falls is a gorgeous 53-foot waterfall plunging alongside limestone bluffs, deciduous trees, and prairie wildflowers. The best part is that it's nestled in Minnehaha Park, Minneapolis's oldest and most popular park that's right in the city. It's even exciting to see it in the winter when it's frozen — but if you visit in the summer, you can grab a bite to eat at the Sea Salt restaurant right next door. This is a great way to start your road trip from Minneapolis.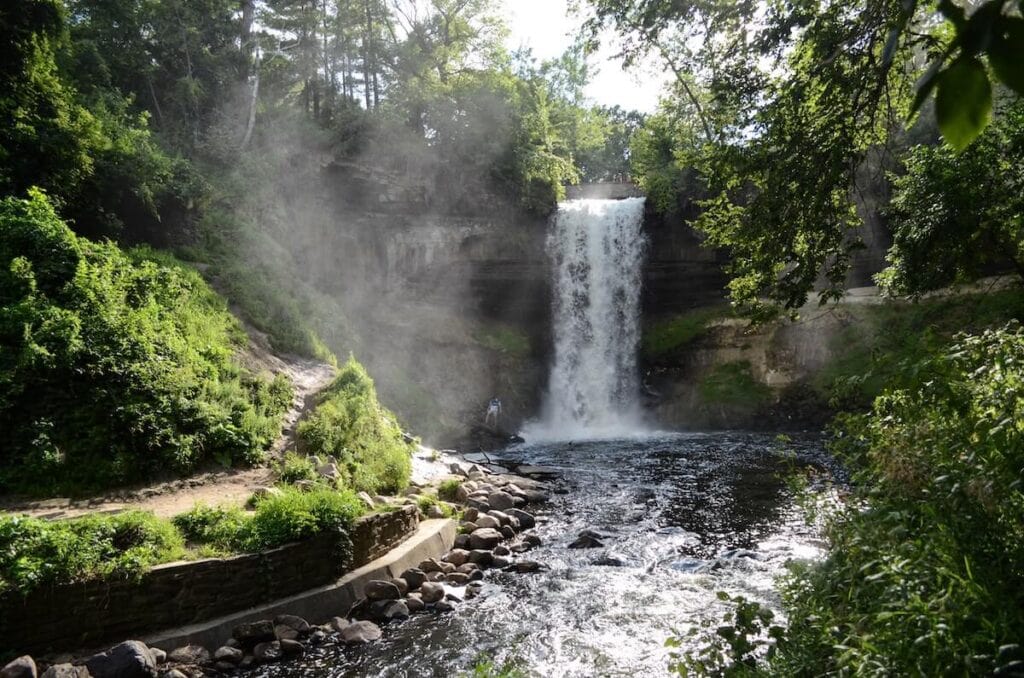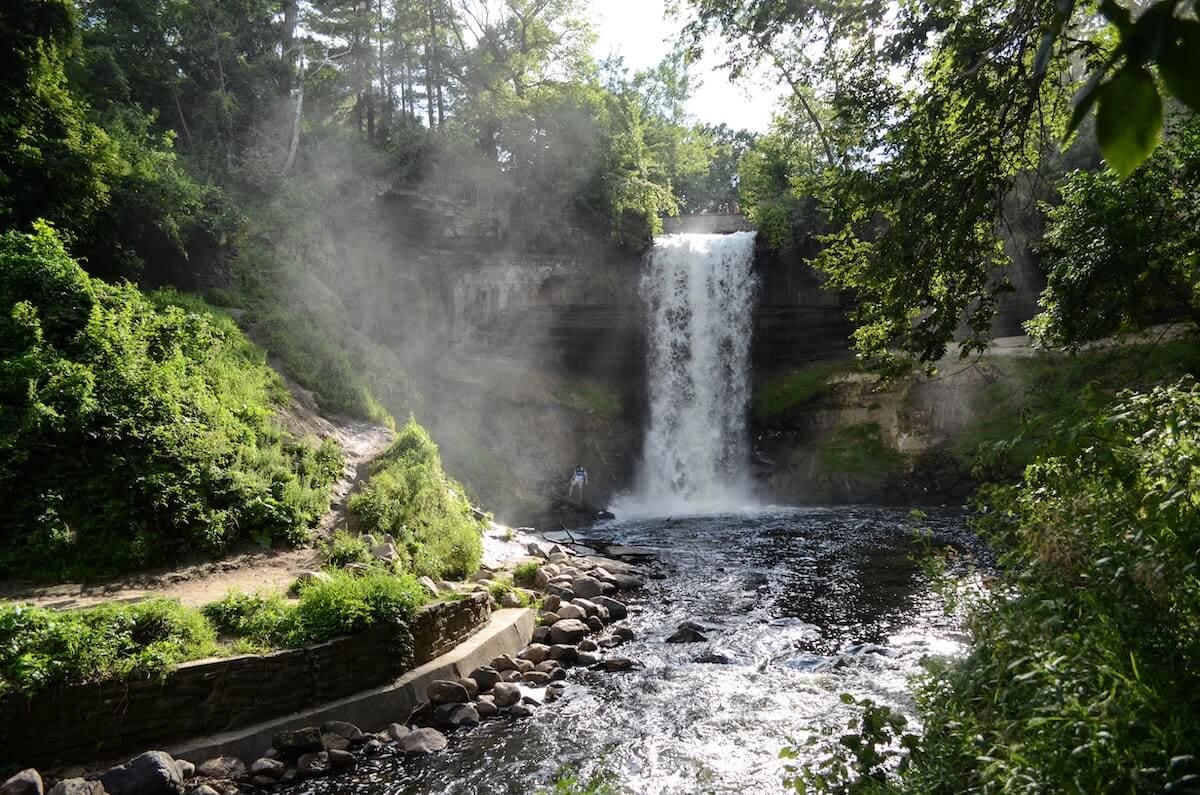 Interstate State Park
Interstate State Park is one of the best day trips from Minneapolis, especially if you want to enjoy some great Minnesota rock climbing. Interstate State Park near Taylors Falls is only an hour from Minneapolis, and it's got some gorgeous pitches on one-billion-year-old basalt.
Interstate is on the border of Minnesota and Wisconsin (hence the name) and is located on the St. Croix River. The river-carved basalt offers great climbing in comparison to the sedimentary rock in Minnesota's southeastern Driftless Area — and because it's so close to the Twin Cities, it's one of the most popular rock climbing scenes in the state.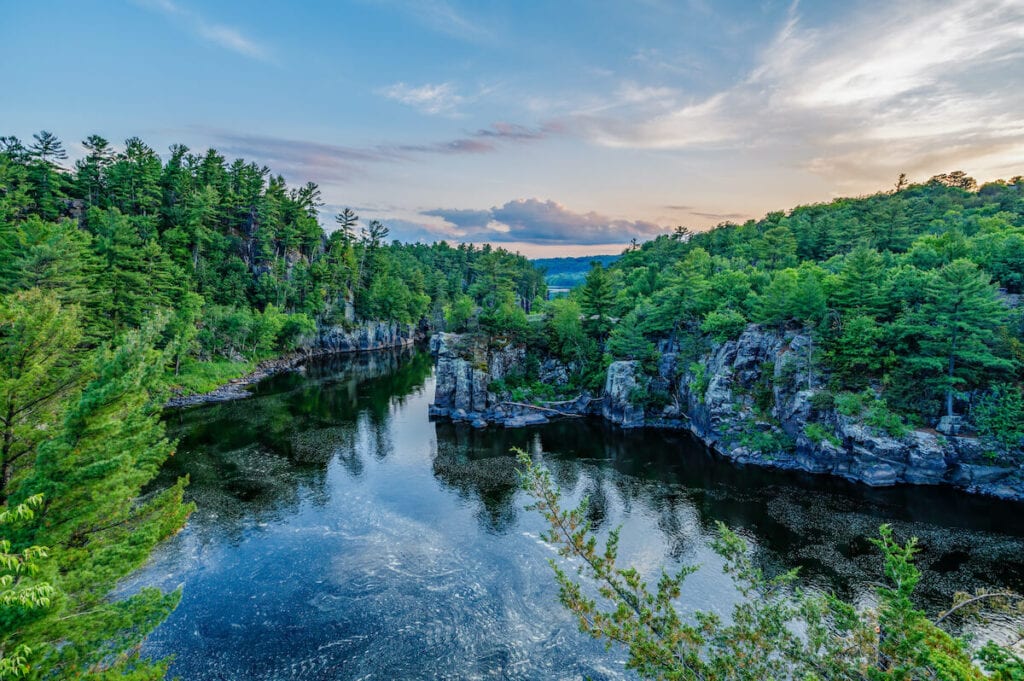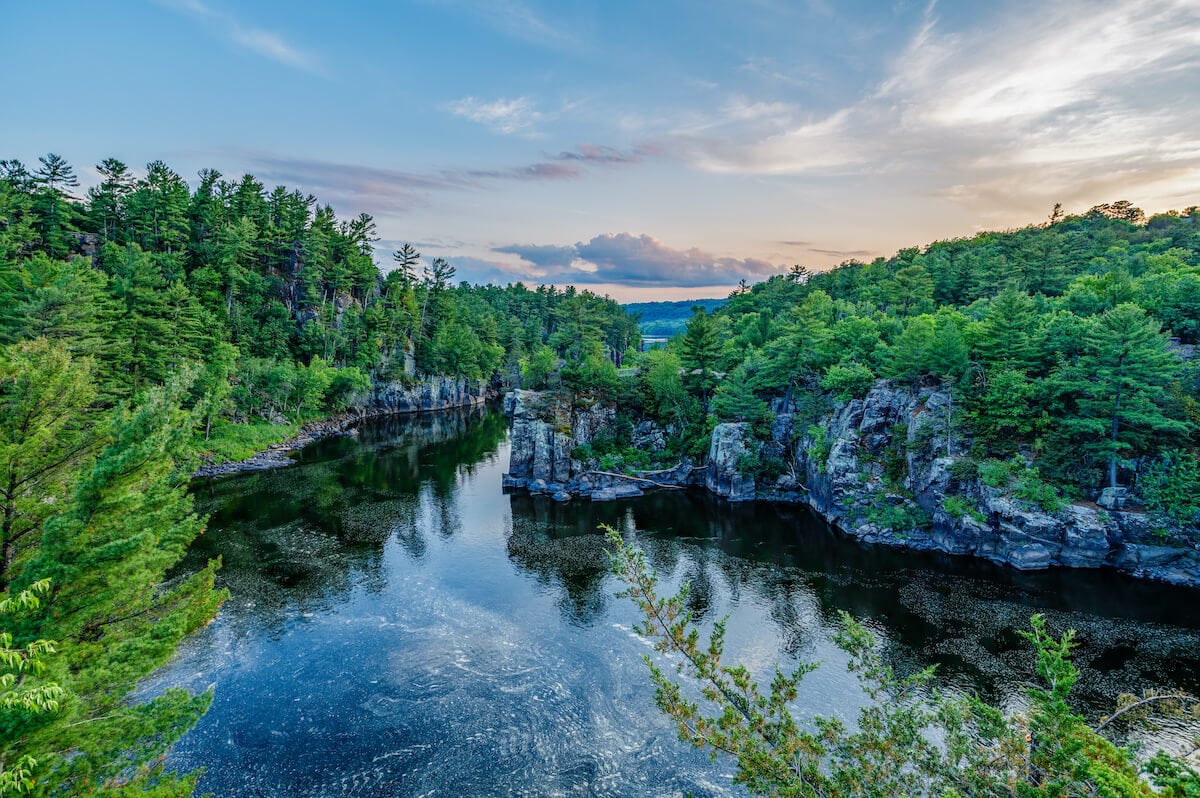 Forestville/Mystery Cave State Park
The longest cave in Minnesota is only 2 hours from Minneapolis, which makes Forestville/Mystery Cave State Park a great day trip from Minneapolis. With over 13 miles of underground passages, you can book a guided tour of the cave based on a variety of topics, including a lantern tour, a tour focusing on the cave's geology, another for photography, and even a wild caving tour. Whichever cave tour you choose, you'll get to enjoy stalactites, stalagmites, fossils, flowstone, and underground pools.
This state park is also in Minnesota's Driftless Area, a landscape of forested ridges, bluffs, and spring-fed waterfalls that were left behind when glaciers missed the area during the last Ice Age. The area has great, rolling hills that are perfect for biking and cold-water trout streams for fishing — making it a perfect stop when researching road trips in Minnesota.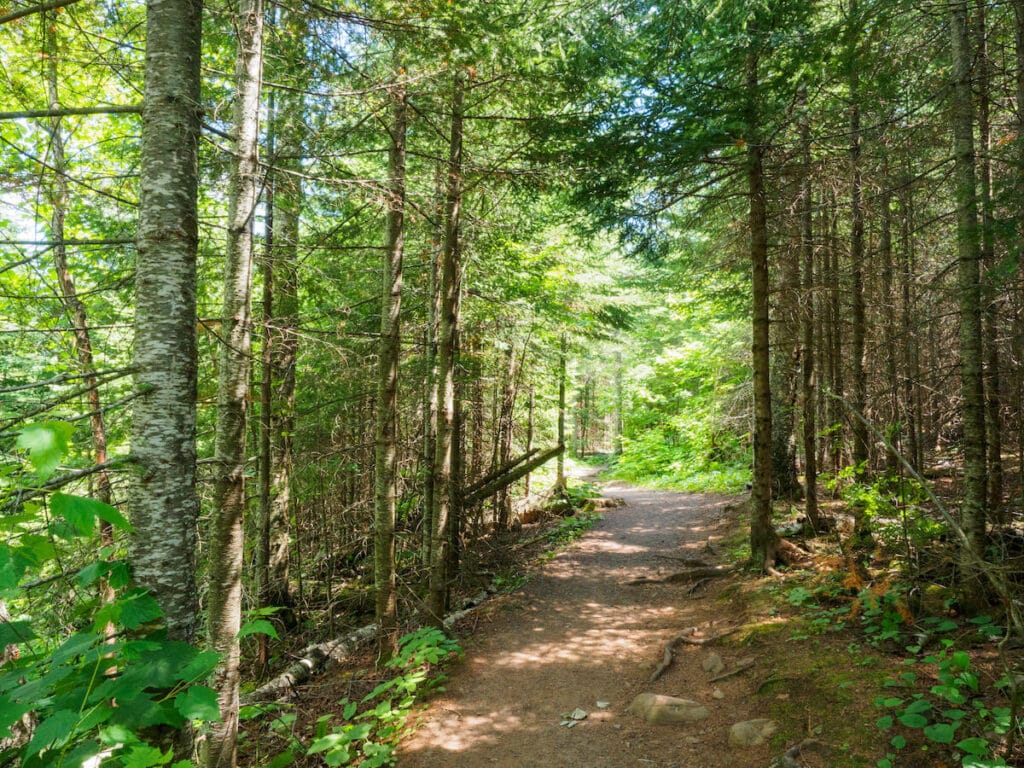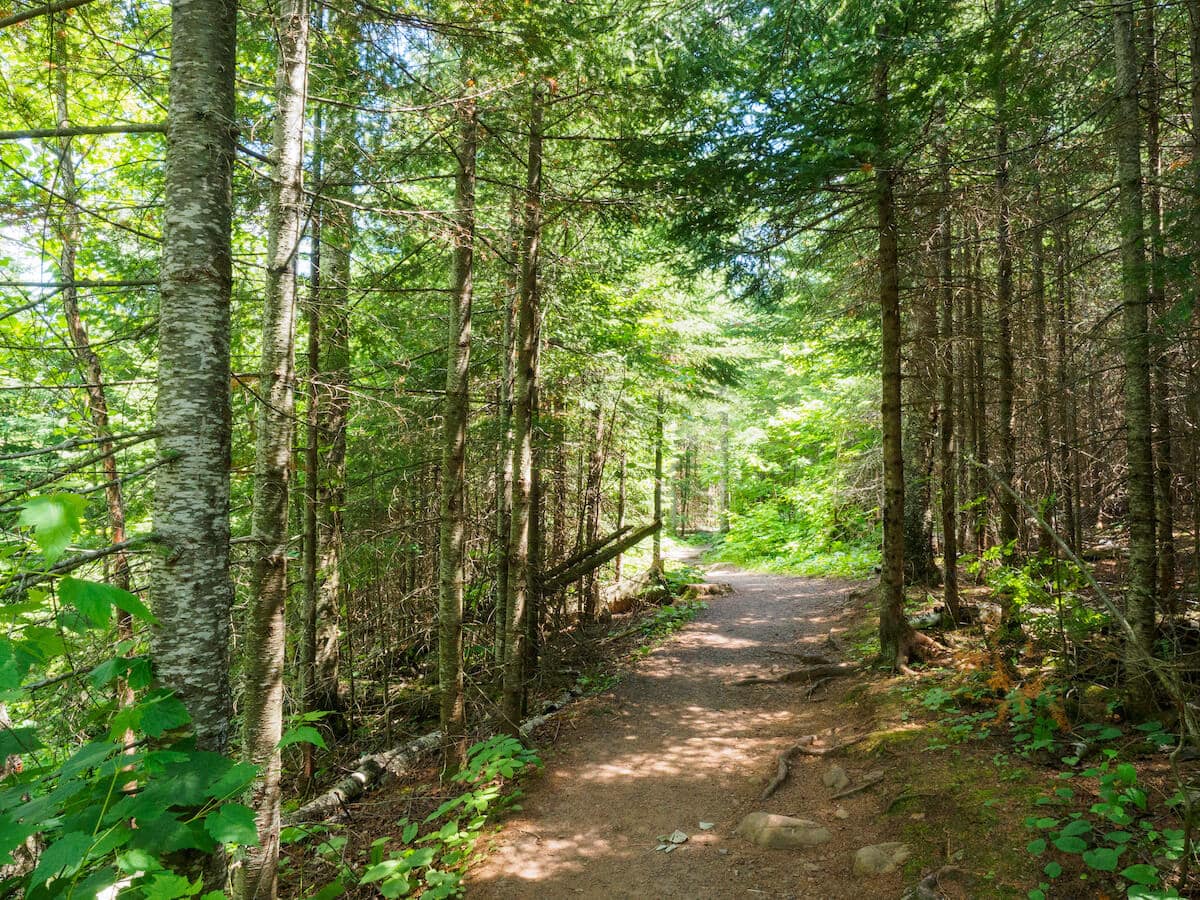 St. Croix State Park
Minnesota's largest State Park, St. Croix State Park is another great day trip in Minnesota or weekend trip from Minneapolis since it's only a 90-minute drive. There's great camping alongside the St. Croix River, canoe and kayak opportunities on the St. Croix and Kettle Rivers, as well as plenty of hiking, skiing, and snowmobile trails, too.
St. Croix State Park has 211 drive-in campsites total spread across three campgrounds, but there are also 2 backpacking campsites (5-mile hike to screened adirondack buildings), 4 walk-in sites, and 10 canoe sites that are only accessible from the Kettle or St. Croix Rivers. The park can be very popular in the summer and fall, so be sure to book your campsites or other lodging in advance.
Be sure to visit the fire tower, which was built by the Civilian Conservation Corps back in 1937. You can even climb the 100-foot-tall tower for a great view of the trees and river that stretch to the horizon. Visit in autumn for the best view of the changing colors!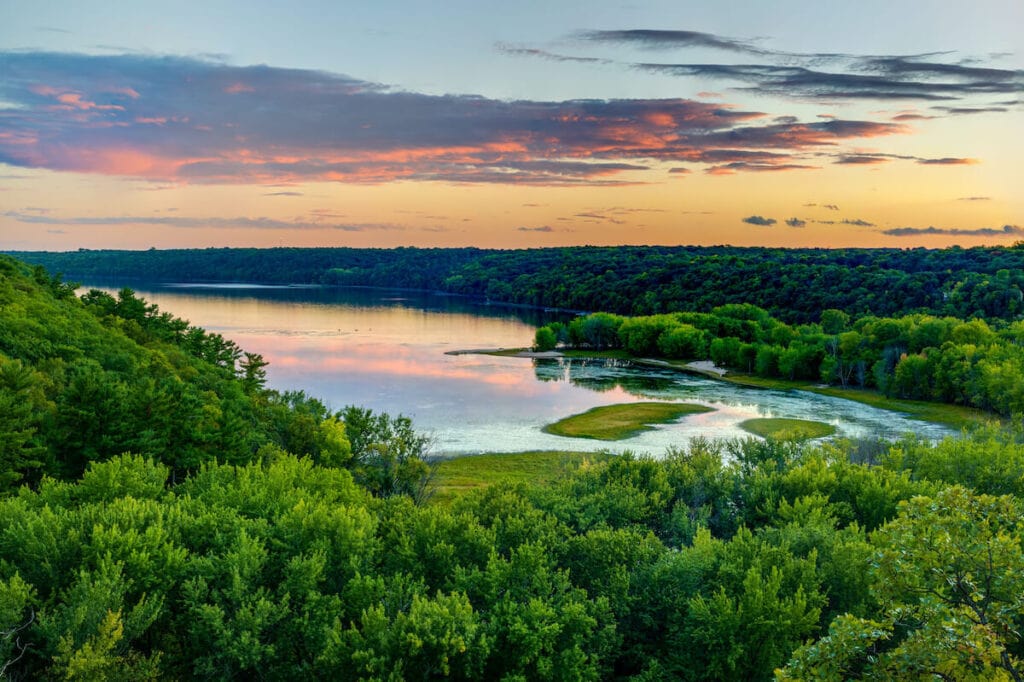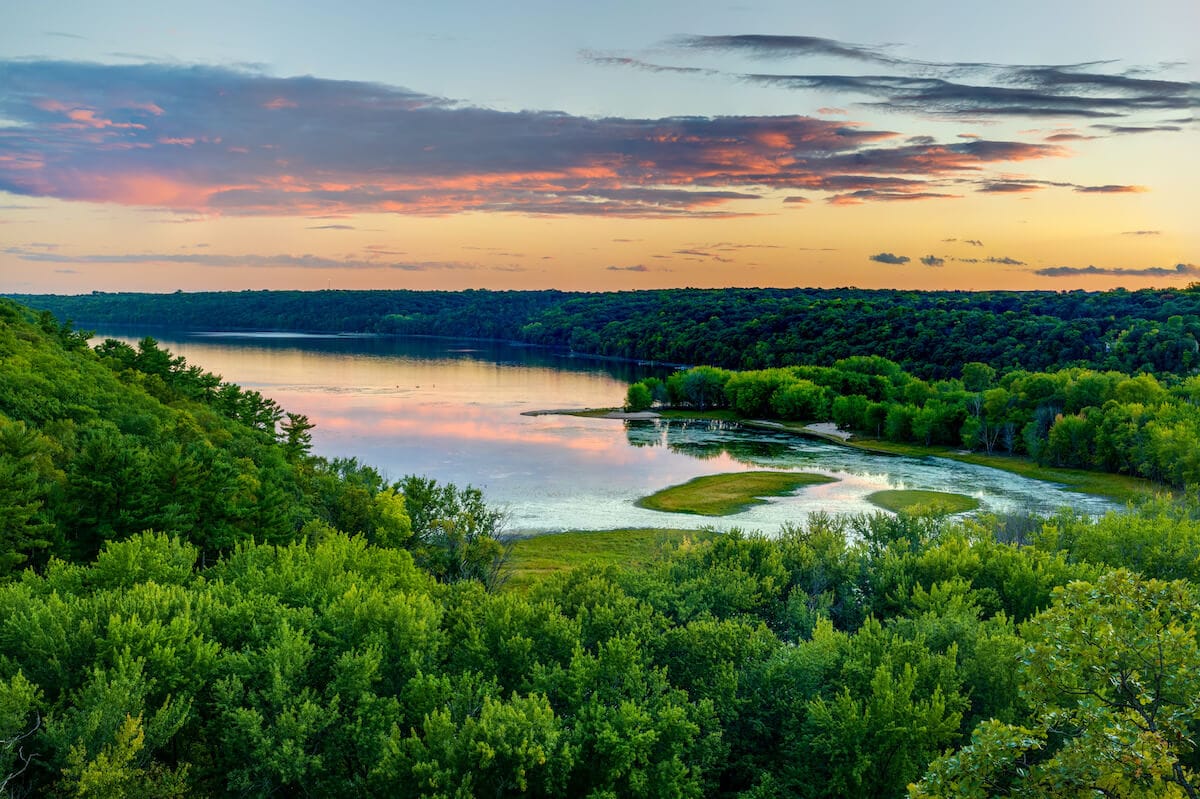 Southern Minnesota Road Trip Stops
Pipestone National Monument
The red pipestone rock formations in this southwestern Minnesota monument are one of the raddest landscapes in the state, making it a perfect Minnesota road trip idea. Pipestone National Monument is a sacred site for many Native American tribes who quarried and carved the red stone into pipes for prayer ceremonies. Today, the soft red pipestone is preserved for tribal use only, but visitors can visit the mile-long quarry line on the 3/4-mile paved Circle Trail.
That's not all, however — visitors can hike through the monument's tall-grass prairie that once made up most of southwestern Minnesota. Other stops include visiting Winnewissa Falls, having a picnic at the Three Maidens, and visiting the monument's Interpretive Center.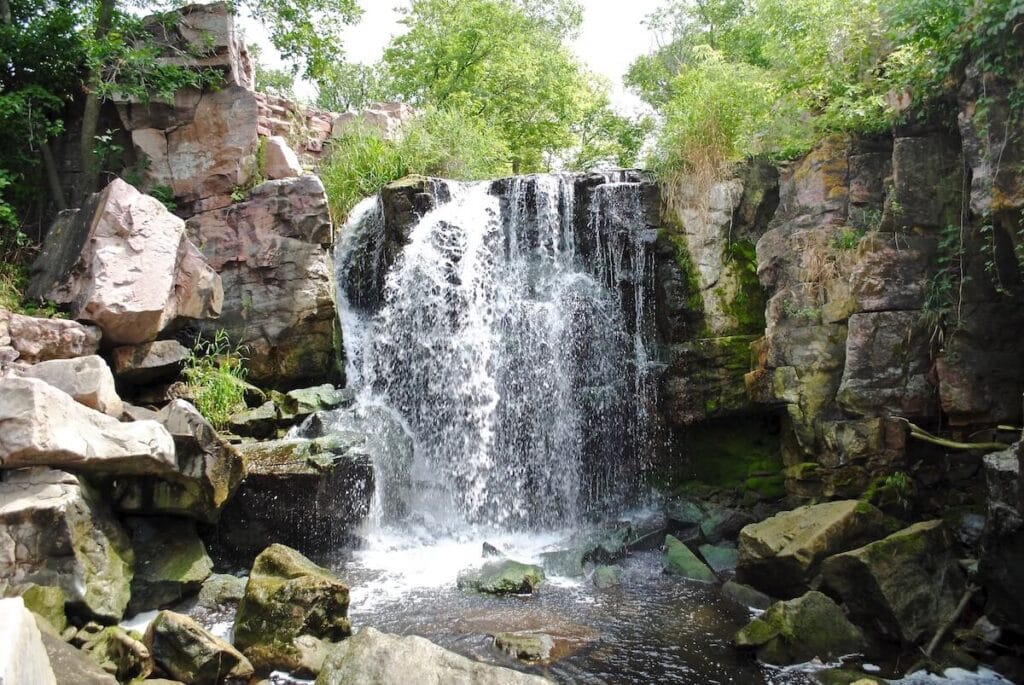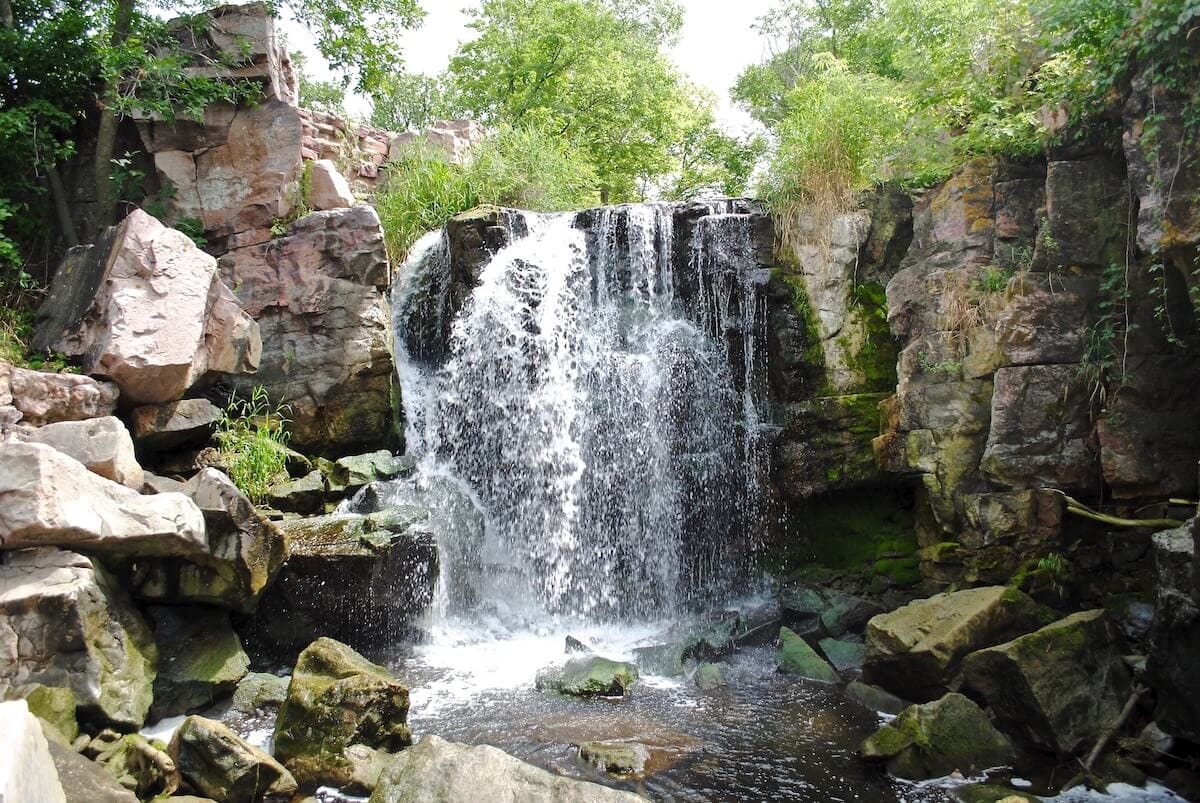 Paddle the Minnesota River
The Minnesota River starts along the Minnesota-South Dakota Border at Big Stone Lake before flowing east across southern Minnesota until it flows into the Mississippi River near St. Paul. This is a great road trip idea if you love kayaking or canoeing, and while I used to be a river guide in the Montevideo-Granite Falls stretch of the river, I'd recommend paddling near Mankato, Minnesota from May – September. One great route is to start at River Front Park and end at 7 Mile Creek Park, which will take 3-5 hours depending on speed and river levels.
Check out Bent River Outfitter to rent a canoe, kayak, tandem kayak, or stand-up paddleboard for your Minnesota River paddle trip (plus shuttle services!). They also have plenty of guided trips at different spots of the river throughout the week, which is a great way to enjoy the river with other paddlers. They even have a free Happy Hour Float every Friday at 5. End your trip by heading to Mankato Brewery or LocAle Brewery for a great nightcap!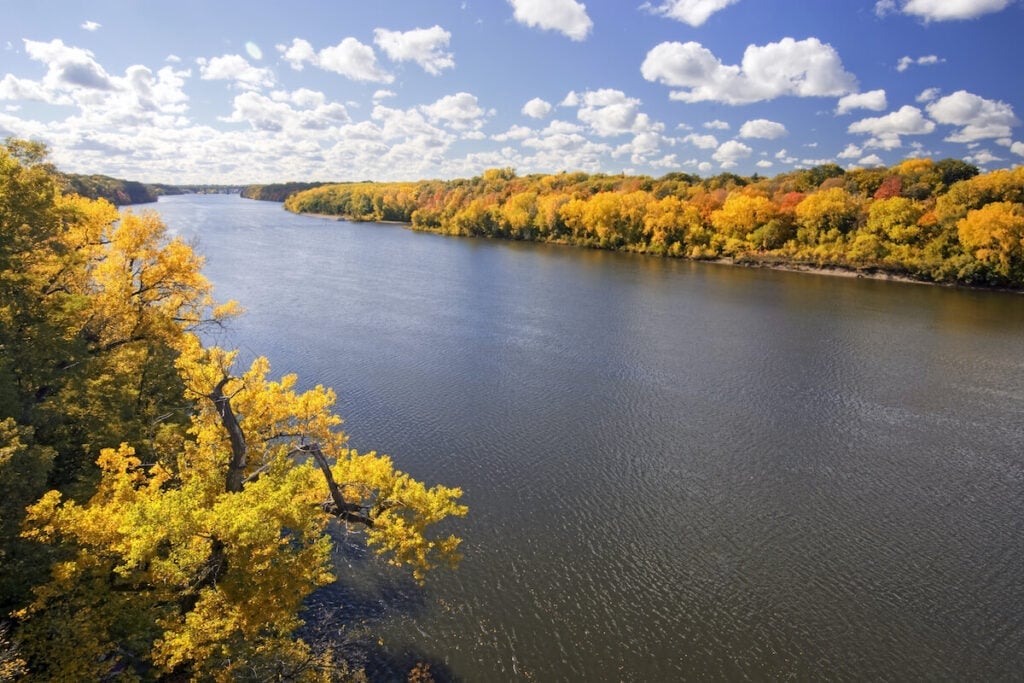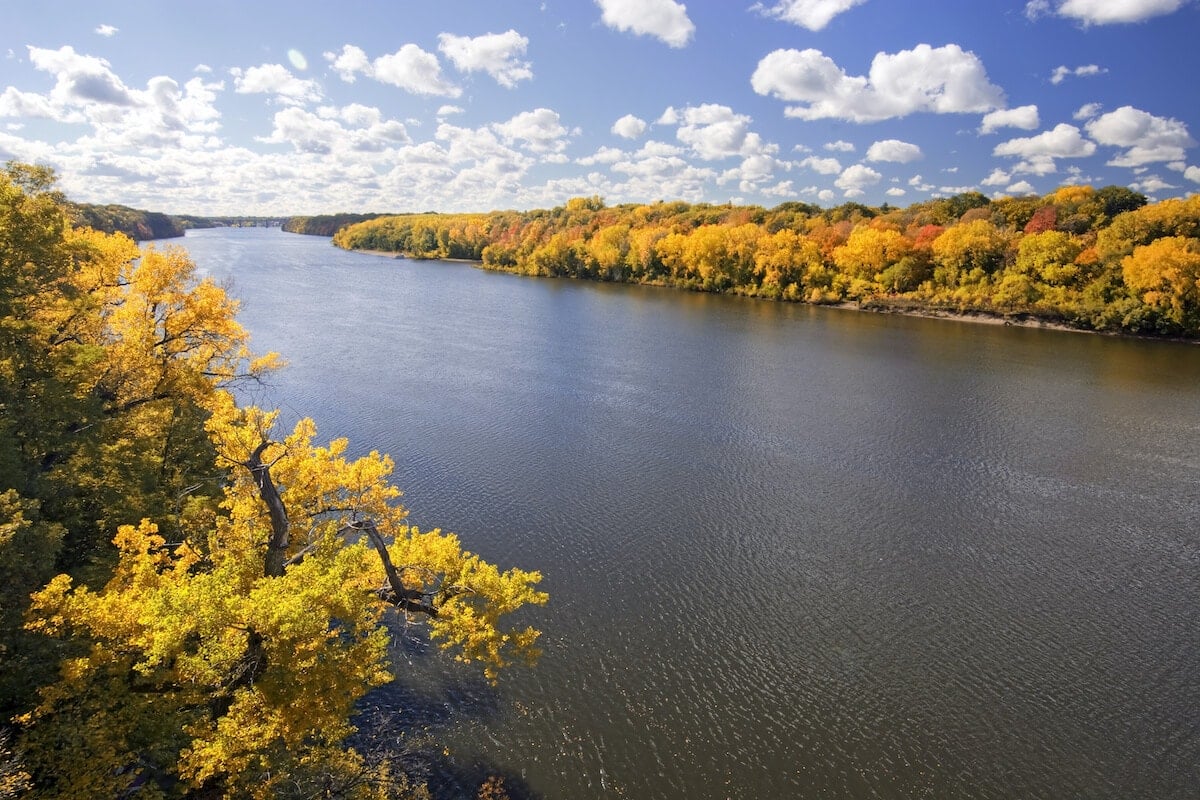 What are your favorite Minnesota road trip stops? What other outdoor adventures would you recommend? Let us know in the comments below!