— Gear Review: Cotopaxi's Luzon Del Dia Pack —
I first heard of Cotopaxi two years ago when I was launching my blog. I learned that they were a new Salt Lake City-based gear company whose aim was to give back to a variety of causes around the globe. I dug a little deeper and ended up interviewing one of the Cotopaxi founders, Stephen Jacob, to find out more about their mission to use gear sales to fund education, clean drinking water initiatives, and other projects that help alleviate poverty around the world.
Following my Cotopaxi interview, I had the chance to try out some of their gear and immediately fell in love with Cotopaxi's Luzon day pack. It's a simple pack perfect for day hikes or for stuffing into the bottom of your suitcase or a larger backpack when you are traveling. If you look back at many of my early Instagram posts, you'll see that this was one of my go-to day packs for the trail, traveling, and music festivals.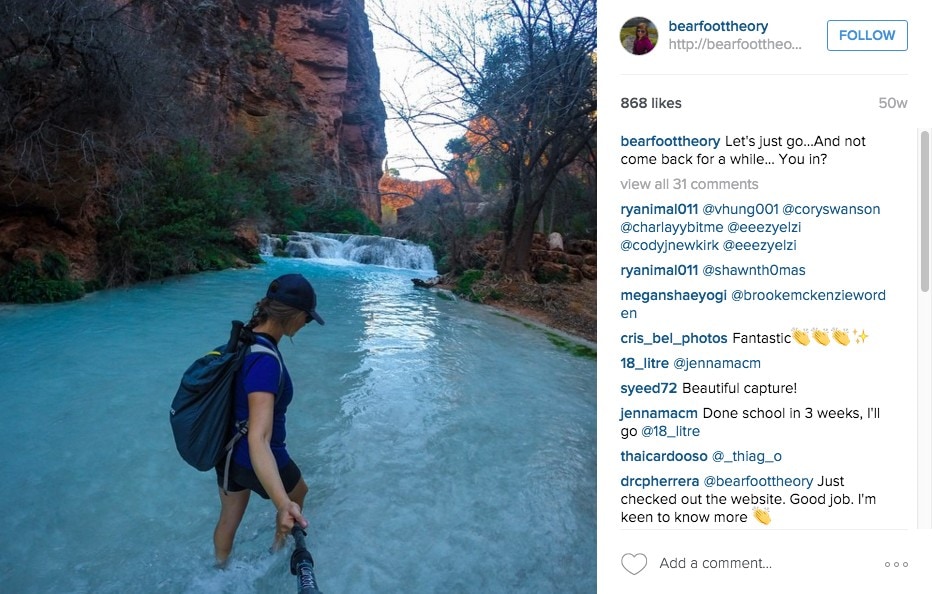 That said, the earlier version of this pack was missing a few key features. One of my biggest complaints was that the pack didn't have any sort of waist or chest belt to prevent it from shifting on your back. Not a deal breaker for an inexpensive, super lightweight pack, but I would say that it was a downside. Fortunately, the gear designers at Cotopaxi listened to this and other's feedback and recently released an improved and way more colorful (which I LOVE) version Luzon Del Dia 18-liter pack.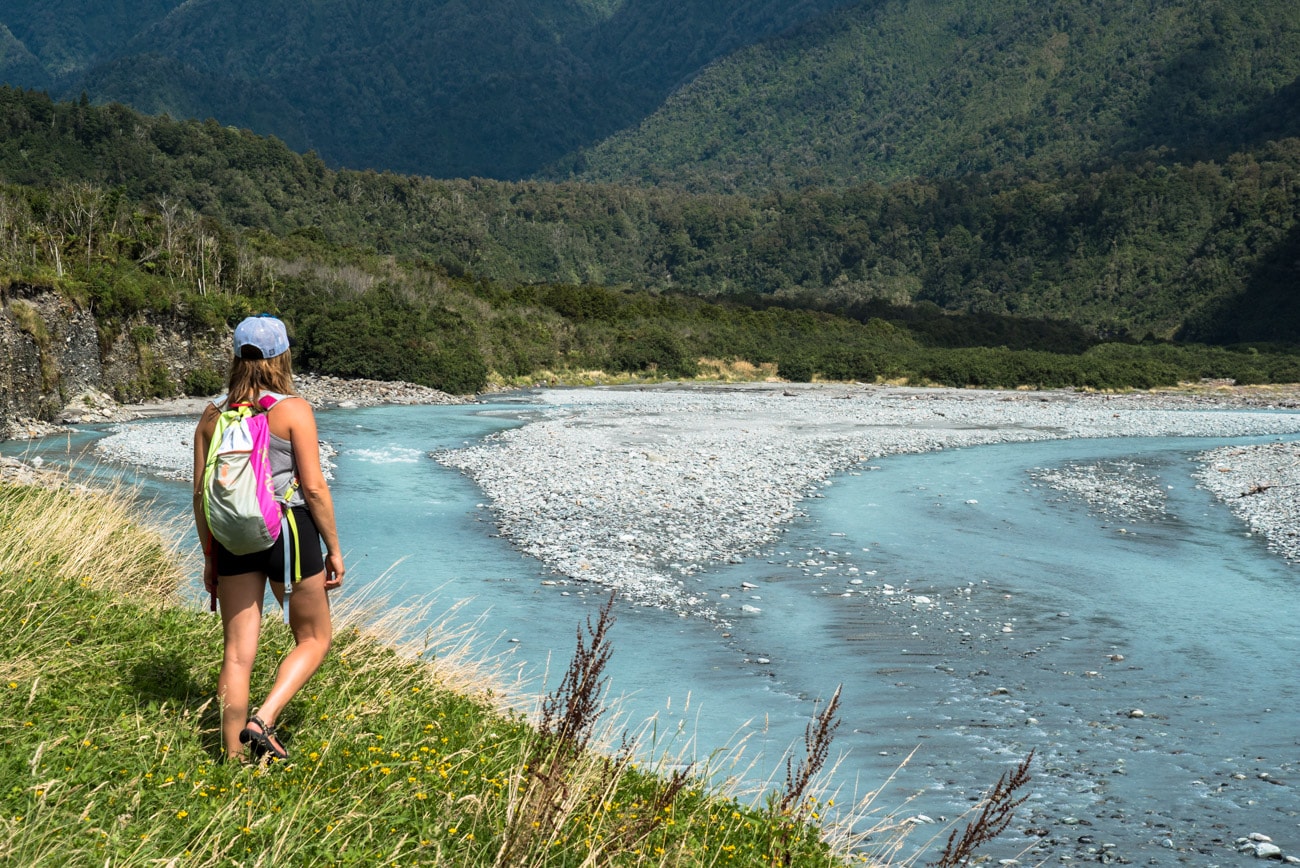 I had the chance to test out the new Luzon pack during my New Zealand trip and found that the new features make a huge difference. While the new waist belt isn't intended to help distribute the weight to your hips like a heftier waist belt would (and frankly this pack isn't intended for super heavy loads anyways), it keeps the pack in place as you move, whether that be traveling along a well-trotted trail or boulder-hopping up a river.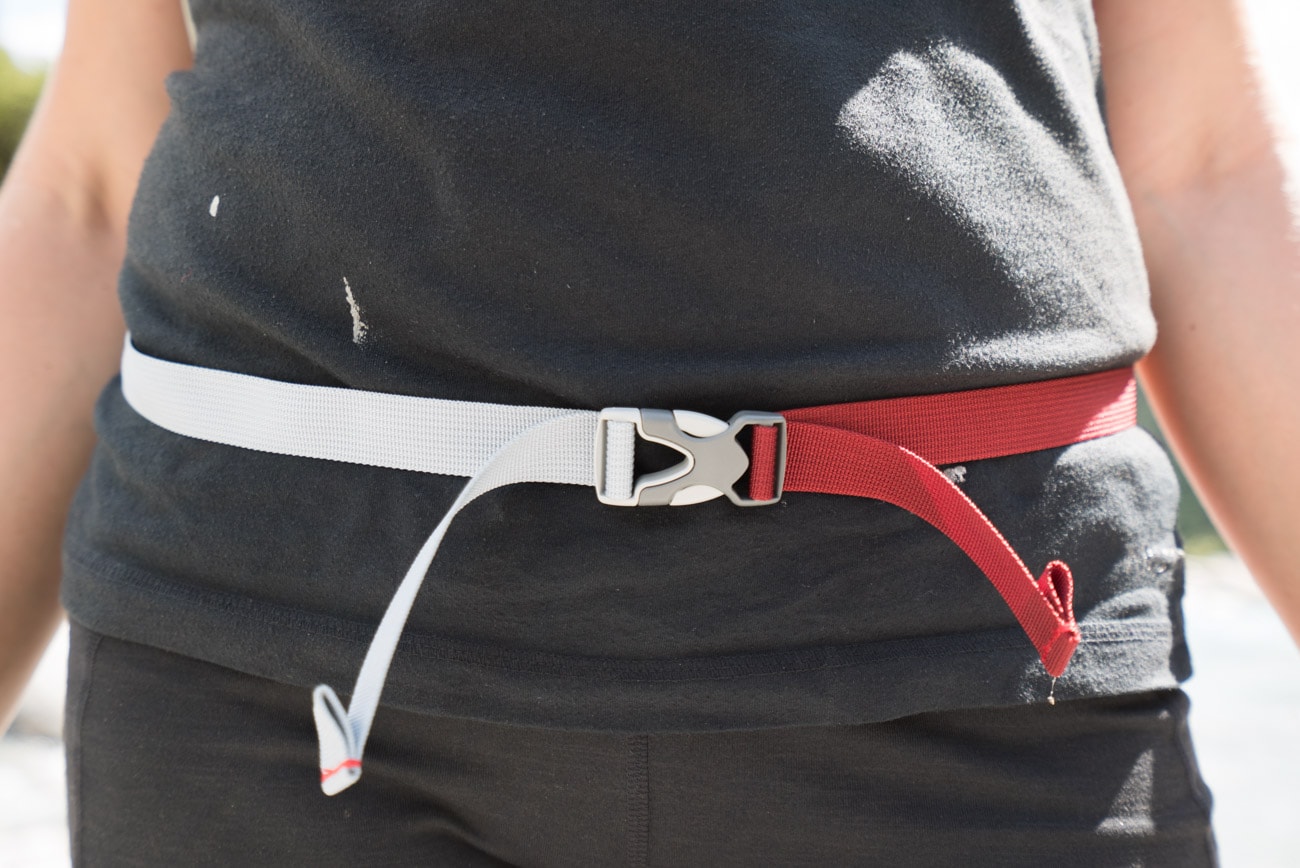 Even with these new features, the pack retains it's original simple and lightweight design making it super portable. For my New Zealand trip it ended up being the perfect little daypack. When I wasn't using it, it easily stowed away in my larger backpack, and when I needed it, all I had to do was throw in my essentials, pull the drawstring, and go. With an 18-liter capacity, it offers more than enough space for water, food, an extra layer, and your camera plus any other essentials.
As for the other features, the internal hydration sleeve easily fits a 2-3 liter water bladder, such as those made by Platypus (my favorite) or CamelBak. Or if you prefer to not carry a hydration bladder, this internal pocket can be used to separate the stuff in your pack. The pack also has a small external pocket which is great for keys, your phone, a GoPro, or other items you want to keep handy. The comfortable straps are made of a soft mesh, but have enough substance to provide adequate padding.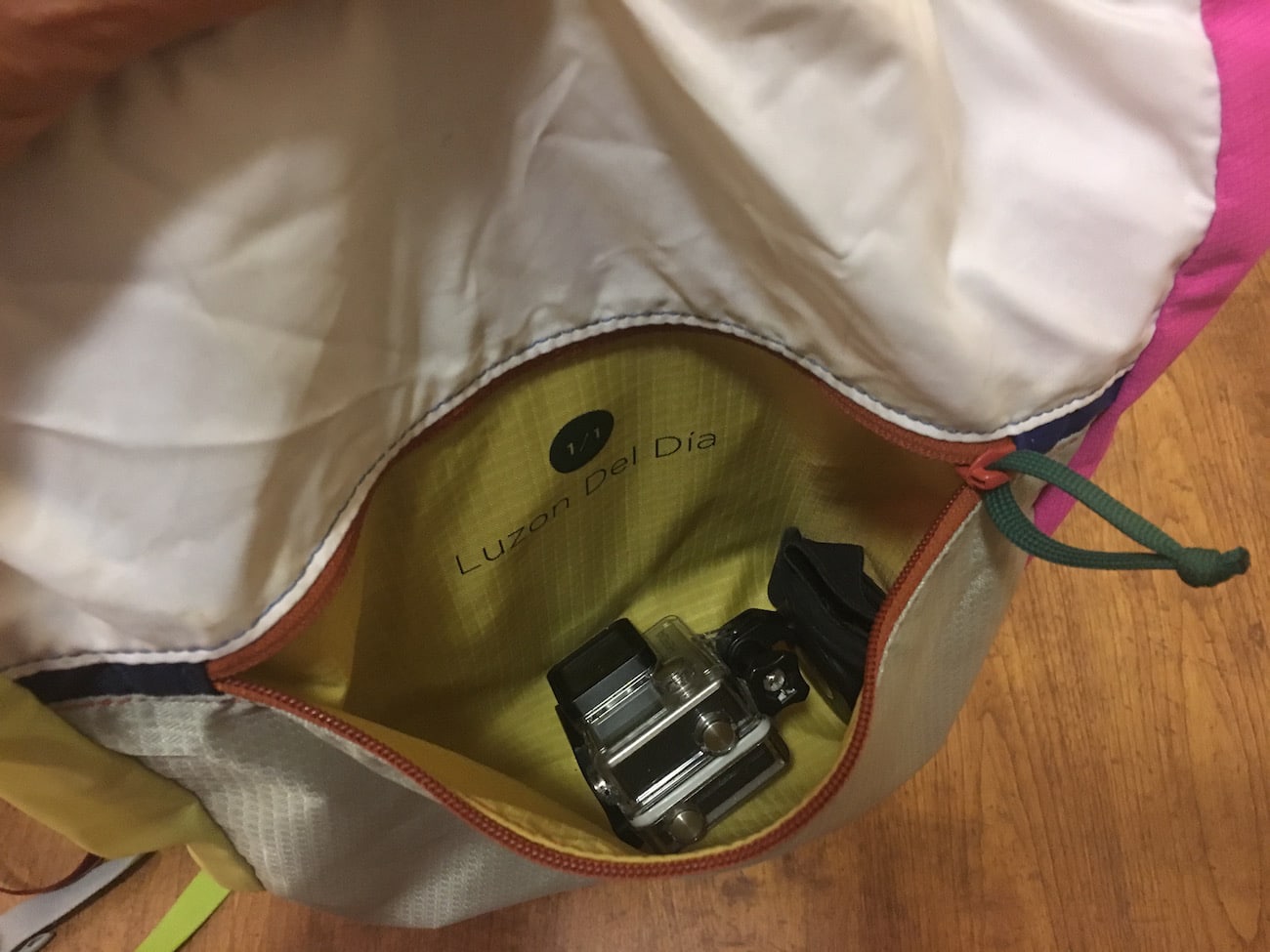 — How the Cotopaxi Luzon Del Dia Pack is Made —
Not only does the pack have improved features, Cotopaxi has aimed to make the pack more environmentally friendly. Each of the new Luzon packs is made using all of the leftover material scraps that would otherwise go to waste. This means that each pack is one-of-a-kind, and even cooler, the color scheme and design of each individual pack is decided on by the person sewing it in their factory located in the Philippines.
I also like that Cotopaxi makes an impressive effort to be transparent in all of its operations. For more details on their factory, you can check out this video that shows exactly where and how the Luzon Del Dia Pack is produced.
— Where to Purchase the Cotopaxi Luzon Del Dia Pack —
Cotopaxi products are only available for sale directly through the Cotopaxi website and by clicking the image below.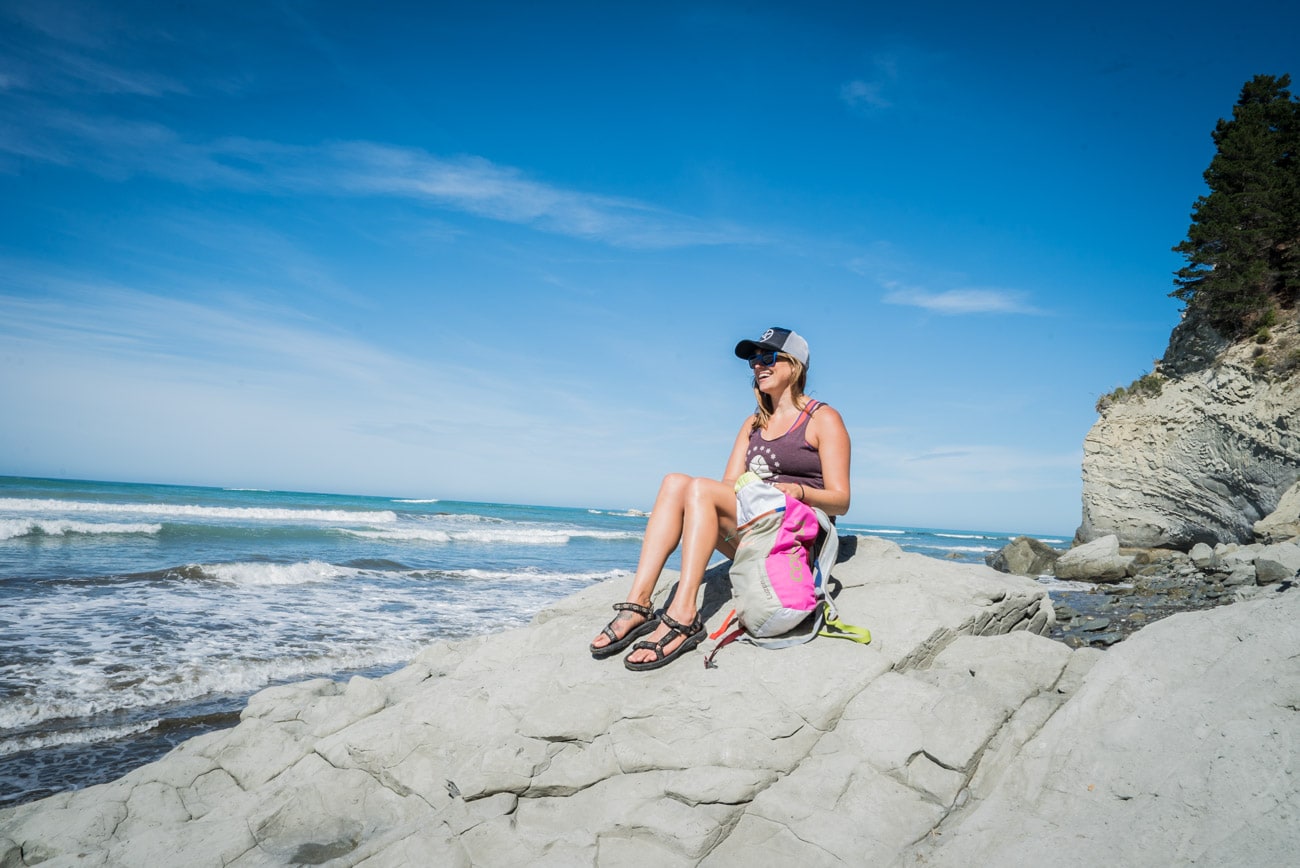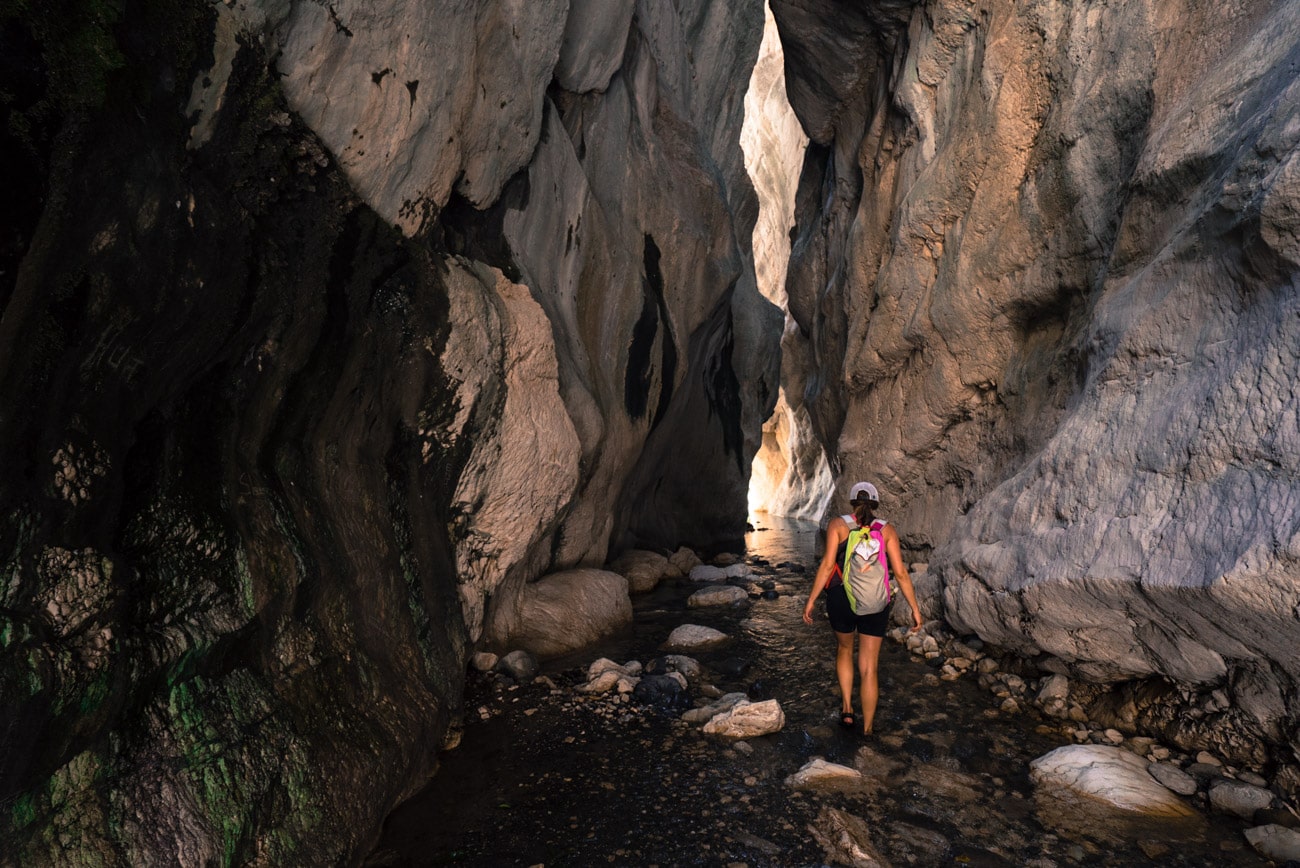 GOT QUESTIONS ABOUT MY COTOPAXI LUZON DEL DIA REVIEW? LEAVE A COMMENT BELOW, TWEET ME, OR WRITE ME A POST ON FACEBOOK. 

*This post was sponsored by Cotopaxi and contains affiliate links, which means by making a purchase you are helping to support this blog. As always, all opinions and words are my own. If you ever have questions about any of the products featured on my site, please contact us.*