5 Best Fall Hikes in Southwest Colorado
Learn about the best fall hikes in Southwest Colorado near Durango, Telluride, and Great Sand Dunes National Park with trail stats and more.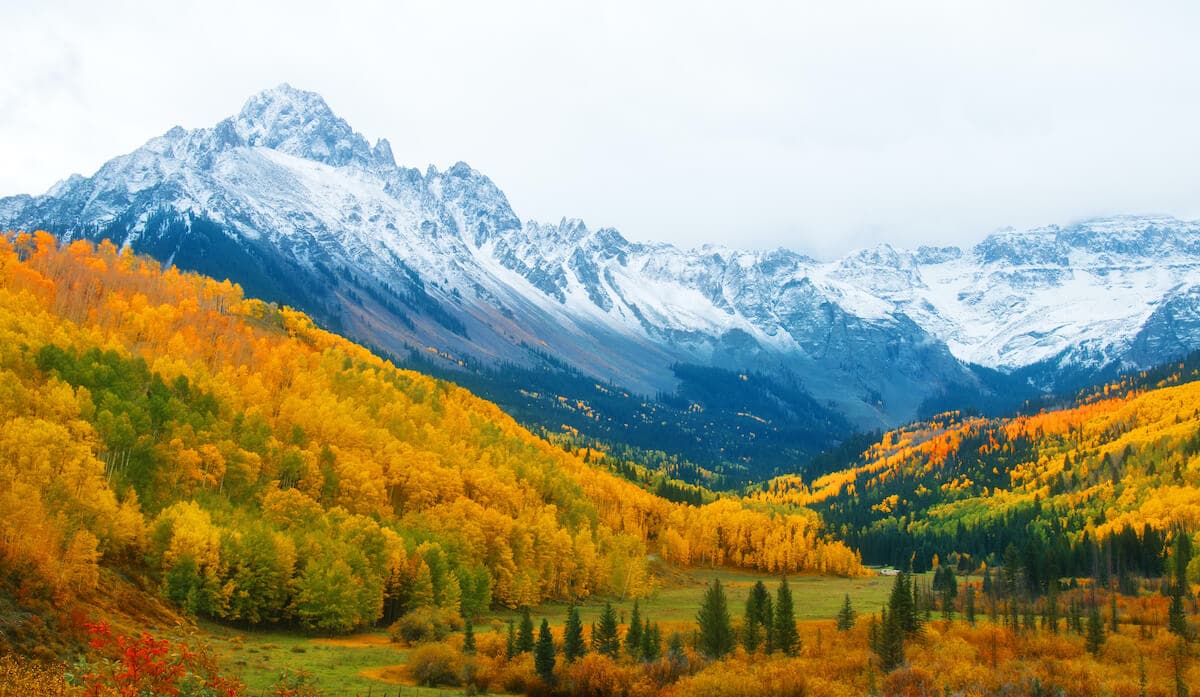 It's hard to beat hiking in the fall, and that is especially true in Southwest Colorado. Crowds lessen, colors pop, and the chill in the air is invigorating. We've rounded up 5 of the best fall hikes in Colorado from Great Sand Dunes National Park to familiar mountain towns such as Durango and Telluride.
Each hike has its own unique features, but they all possess impressive views, fall foliage, untrammeled flora, and the chance to see native wildlife around every corner that you won't want to miss on your trip to Southwest Colorado.
Hit the trails with our guide to the best fall hikes in Colorado!
As it goes in all of the destinations we share, please practice good trail etiquette and remember to Leave No Trace. This means packing out all of your garbage, being respectful to others on busy trails, and following the established rules.
Best Fall Hikes in Southwest Colorado – Mapped
Best Fall Hikes in Southwest Colorado
Potato Lake via Spud Lake Trail
Length: 3.1 miles roundtrip
Elevation gain: 420ft
Trail type: Out & Back Loop
Difficulty: Moderate
Dogs allowed: Yes
Spud Lake (aka Potato Lake) is nestled under two 13ers, a wanna-be 13er, Engineer Mountain, and the lake's namesake, Potato Hill.
Driving in on the Old Lime Creek Road offers a glimpse of what this hike will entail. Quaking Aspen line the bumpy road (doable in a car with good tires and some clearance). Once at the parking lot, head north for 1.2 miles on the gradual climb through beaver ponds, meadows, conifers and plenty of aspens, then enjoy a bit of respite at the calm waters of Spud Lake.
On your way, be on the lookout for wildlife including beaver, deer, elk, endless numbers of birds (don't forget your binoculars) and if you're an angler, there are plenty of fish willing to eat.
This family-friendly hike is great during fall as the colors of the changing aspens delight the eyes. Fall offers the last gasp of shocking yellow before winter. Given all of these features, crowds do tend to form. Enjoy fewer people during the week, and don't forget the camera.
How to get to Spud Lake trailhead:
Follow Highway 550 north from Durango for 28.5 miles. Take a sharp right onto Old Lime Creek Road and the trailhead is on the left 2.8 miles in.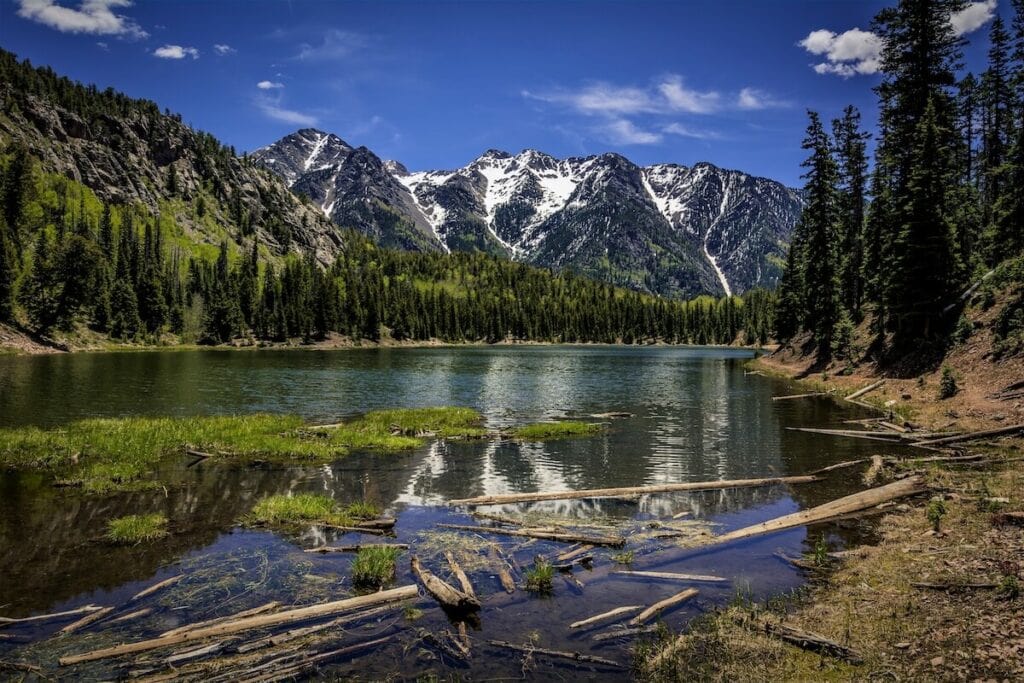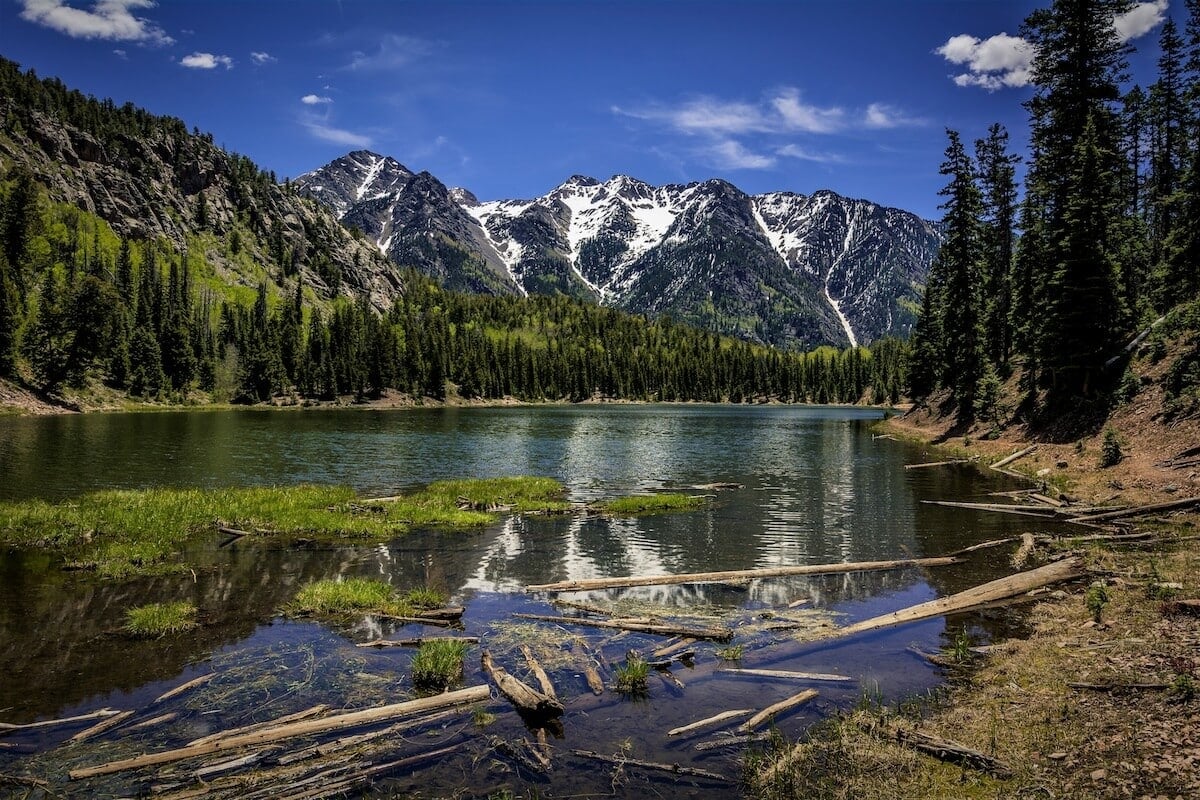 Pass Creek Trail
Length: 2.7 miles roundtrip
Elevation gain: 988 ft
Trail type: Out-and-Back
Difficulty: Moderate
Dogs allowed: Yes
Another great fall Colorado hike is the Pass Creek Trail near Durango, just past Spud Lake. This hike is the quickest way to access the base of Engineer Mountain. This forested hike doesn't have the fall colors of the aspens, but once you reach the meadow, the incredible vistas afford turning leaves of many other high mountain plants like Osha with its yellows and Columbine with its reddish leaves.
This hike starts at 10,702 feet and finishes at 11,661 feet, so from an altitude perspective, it is tough, but a pond on the way up is a great stopping point and some social trails lead to giant rocks, perfect for a break and a snack.
Once you've reached the meadow, enjoy nearly 360 degree views of the surrounding San Juan Mountains. Trails diverge from here in multiple directions, so feel free to continue exploring to see the alluring views to the north, east, and south.
How to get to Pass Creek trailhead:
Drive north from Durango for 33.8 miles to the top of Coal Bank Pass. You can park at the top of the pass just off the highway on the right or continue just past that and take the next left to park closer to the trailhead.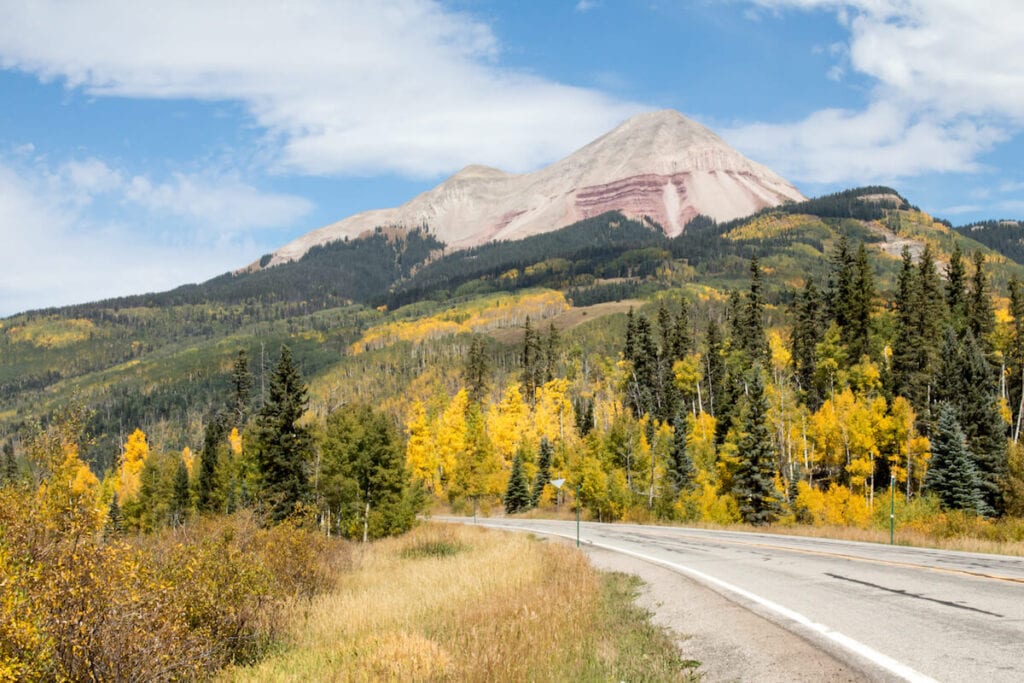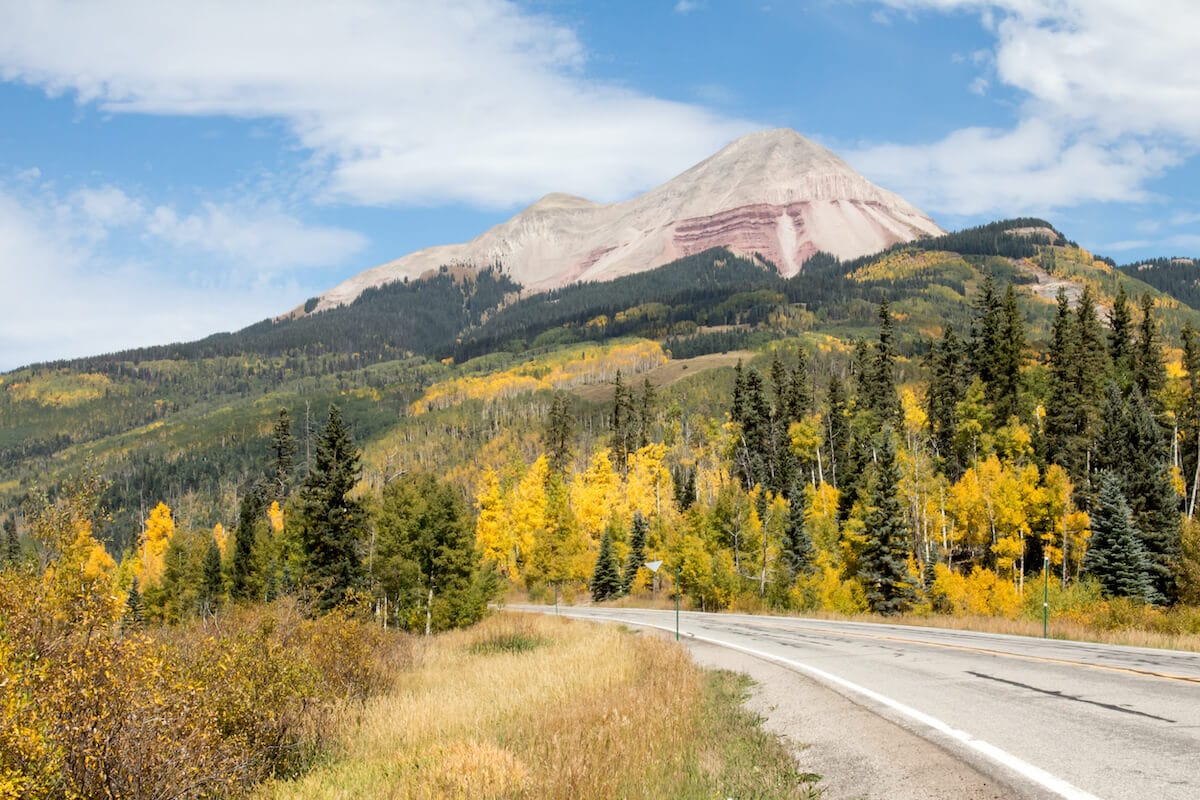 Highland Mary Lake
Length: 4.9 miles out-and-back or 7.8 miles as loop
Elevation gain: 1,477 ft
Trail type: Out-and-Back or Loop
Difficulty: Difficult
Dogs allowed: Yes
The hike to Highland Mary Lakes (there are seven of them) near Silverton isn't for the faint of heart. Starting out at 10,834 feet, this hike climbs 2.5 miles and gains 1,477 feet of elevation. But it's worth it.
Views abound as you climb and once at 11,800 feet, the trees give way showing the Rocky Mountains in all their splendor. High alpine tundra, with its unique flora and fauna, offer hikers plenty of eye candy. Colorado's state flower, the Rocky Mountain Columbine gives way to king's crown, varied colors of paintbrush, and more wildflowers dotting the sensitive landscape. You'll hear pica and marmots and see plenty of birds.
The trail continues past the lakes where you can continue on to do the full loop. This is where the trail can be difficult to discern thanks to little use and tough tundra grasses, so be sure to download a map on your favorite hiking app and bring a map and compass.
This hike is great for fly fishing so if that's your thing, be sure to bring your fly rod.
How to get to Highland Mary Lakes trailhead:
Head north out of town towards Howardsville on County Road 2. Just before Howardsville, turn right on County Road 4 following the signs for the Old Hundred Gold Mine. Follow this road up Cunningham Creek until it dead ends at the parking lot a little over 4 miles in.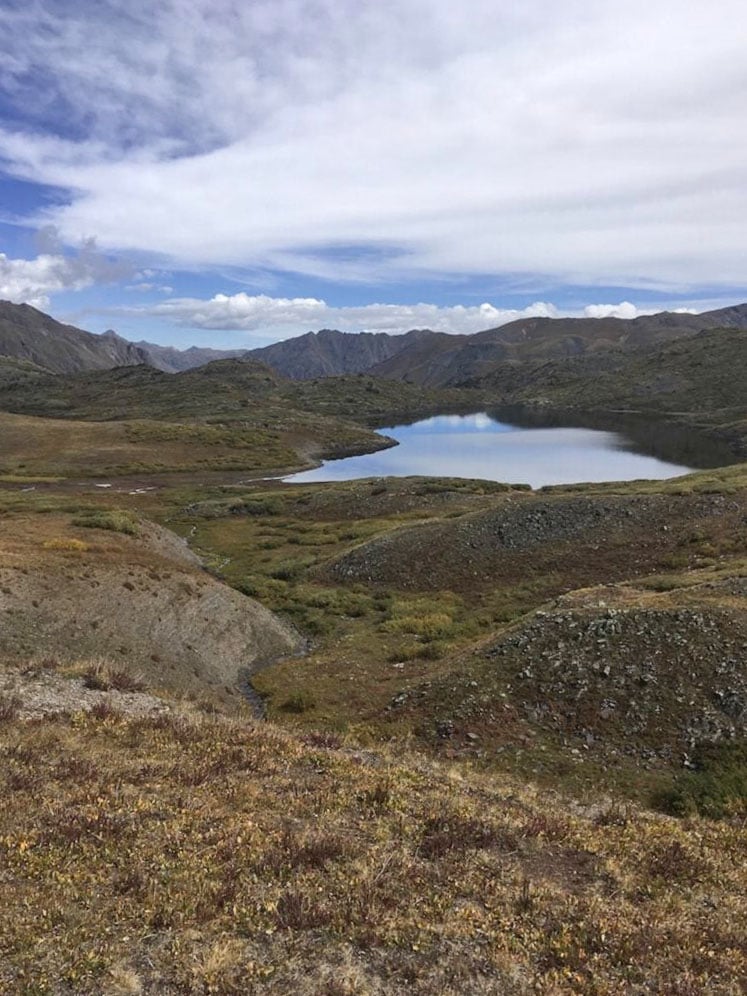 Sand Dunes Loop
Length: 3.6 miles roundtrip
Elevation gain: 301ft
Trail type: Loop
Difficulty: Easy
Dogs allowed: Yes
Although not your typical fall foliage Colorado hike, the Sand Dunes Loop in Great Sand Dunes National Park allows you to remove your shoes and feel like a kid in a giant sandbox again.
This simple loop will take you near the foothills of the Sangre de Cristo mountains where you might run into deer, antelope, rabbits, coyotes and see plenty of birds such as sparrows, jays, ravens, magpies, and many more.
As you loop around, be sure to stop and look around frequently for great views of the dunes, changing aspens in the foothills, as well as the more desert-like landscape near the trail. With lots to offer, this family-friendly hike is a great quick intro to Great Sand Dunes National Park & Preserve. This is also a great fall Colorado hike since the temperatures are mild compared to the hot summer months.
How to get to the Sand Dunes Loop:
Out of Alamosa, Colorado, head west on Highway 160 for 14.4 miles and turn left (north on Highway 150 for another 19.4 miles.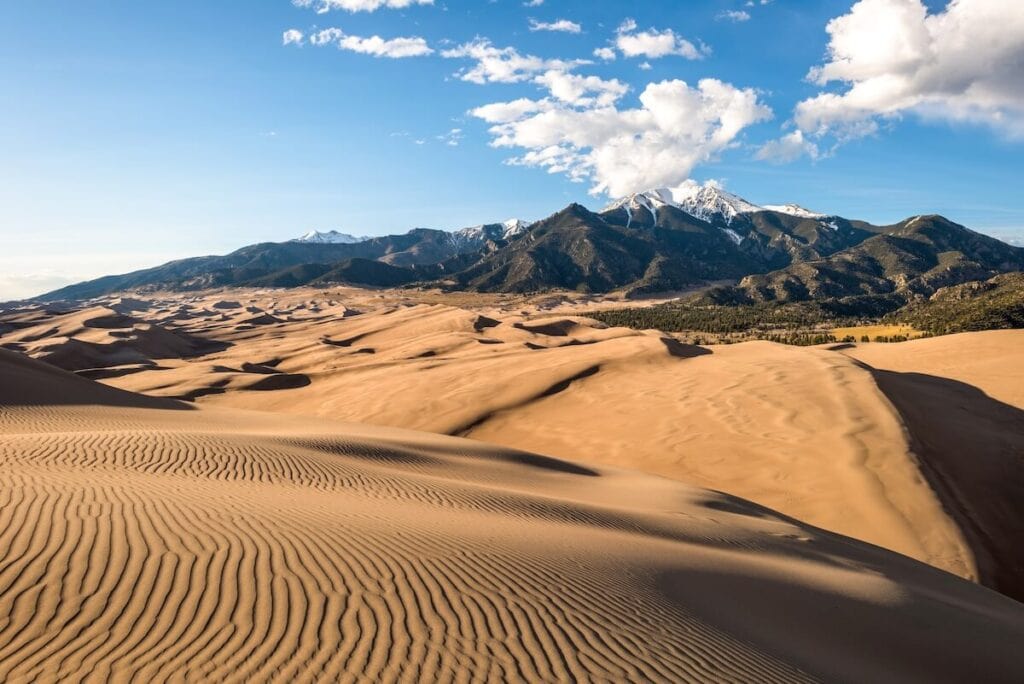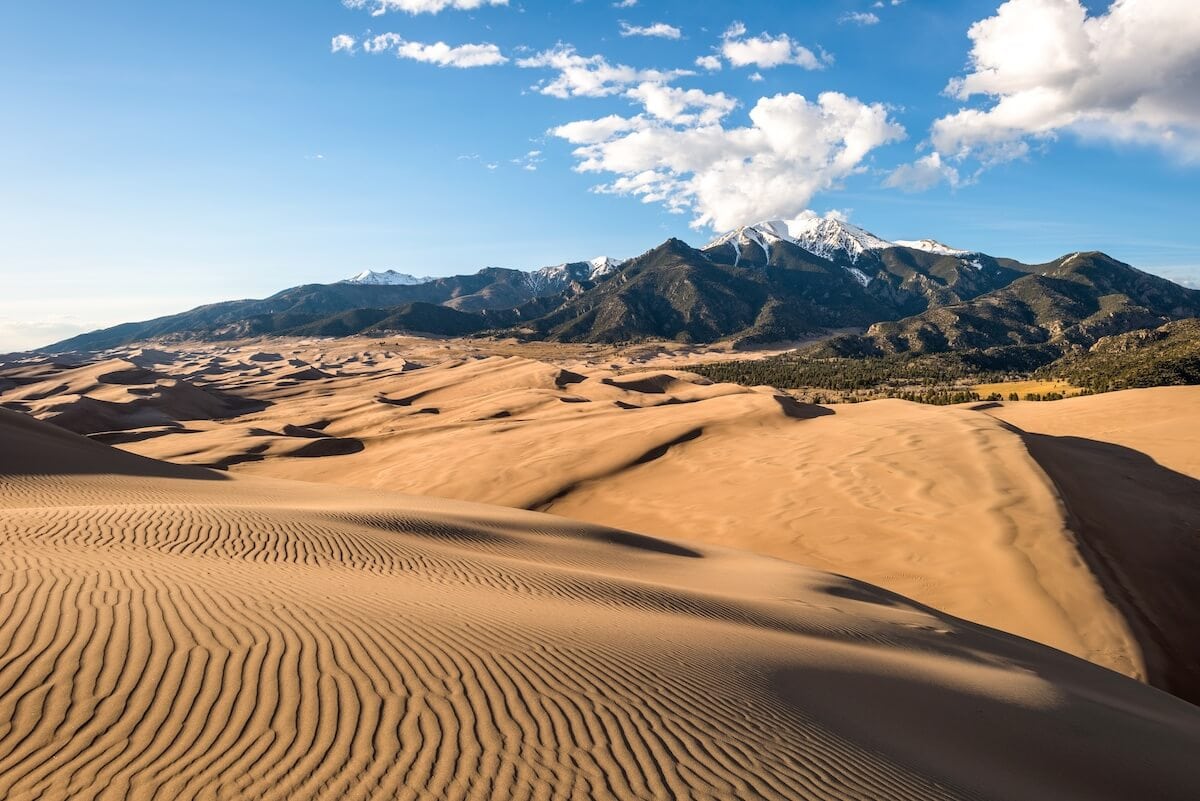 Deep Creek
Length: 10.9 miles roundtrip
Elevation gain: 2,831ft
Trail type: Out-and-Back, or Point-to-Point (with shuttle)
Difficulty: Moderate to Hard
Dogs allowed: Yes
The Deep Creek Trail near Telluride meanders through amazing aspen forests as their vibrant yellows, oranges and the occasional red in the fall excite our retinas, while the shimmering leaves of the Quaking Aspen soothe our ears.
This trail can be hiked as a point-to-point hike, but you will need to shuttle cars if you do so. Otherwise, you can start at either end and hike until you want to turn around and return to your vehicle. I prefer hiking west to east to take in the best views at a break in the aspens. A bit challenging at the start with rocky steps, this trail mellows and levels out with great spots for rests and some water. The elevation gain on this hike will help you improve your hiking lung capacity and get your quads ready for ski season.
Bring your wildflower identification book as elephant heads inhabit the wet landscapes and everything from showy goldeneye and asters dot the hills later in the season. Elk, deer, and the occasional bear peep behind the white bark of aspens, and be sure to keep an eye out for mountain bikers who share this trail. For more hikes near Telluride, click here.
How to get to Deep Creek trailhead:
Head west on Highway 145 then turn right on Airport Road/Last Dollar Road. The trailhead is 1 mile past the airport.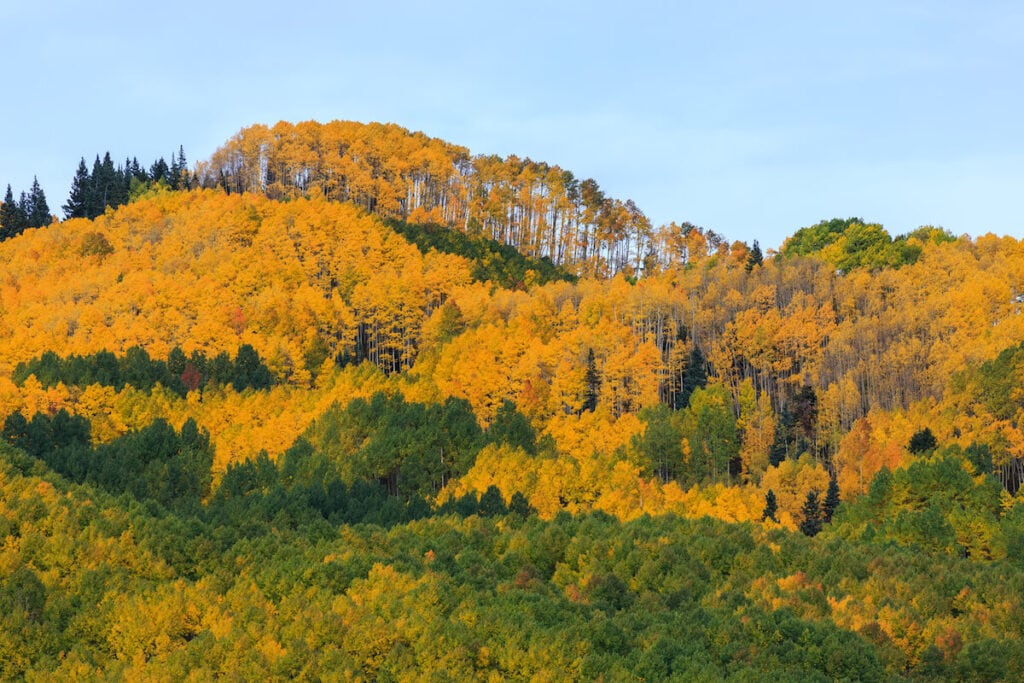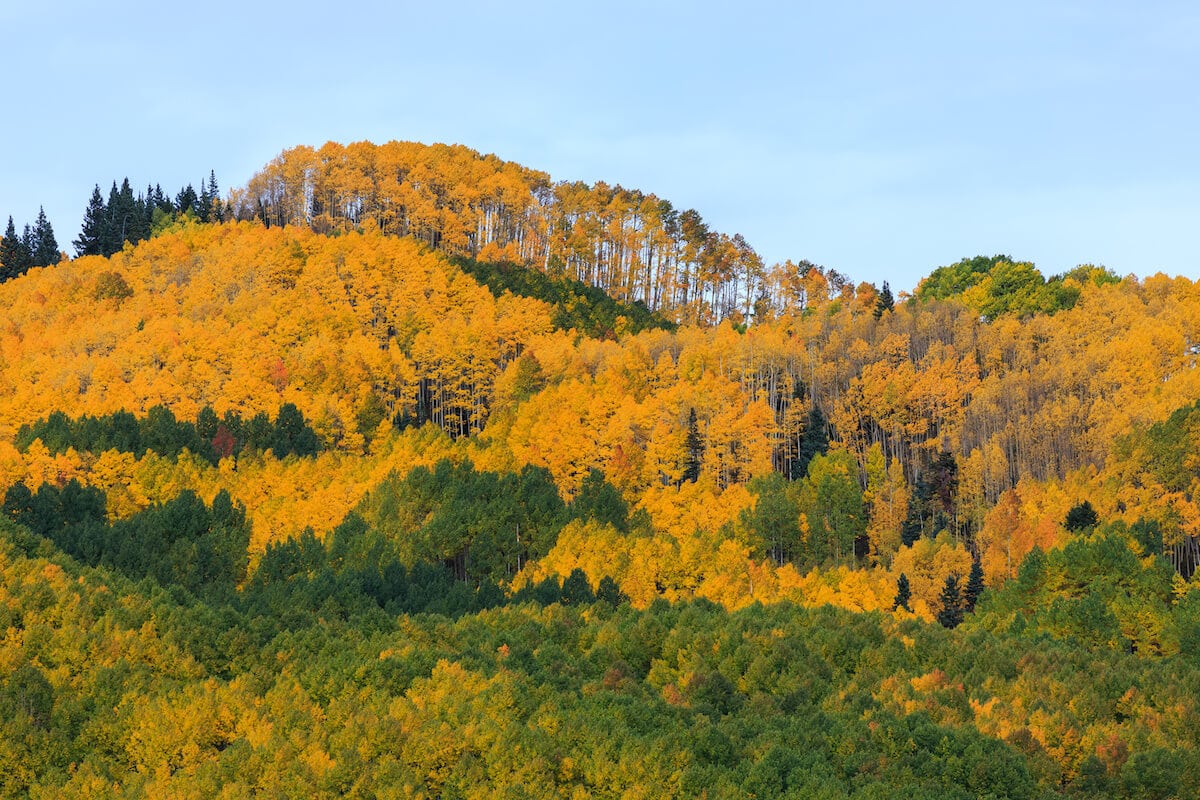 Tips for Hiking in Colorado During Fall
Get an early start since parking lots at popular trails tend to fill up early on busy fall foliage weekends
Pack day hiking essentials, and plenty of layers since fall weather can change quickly. Read our guide on what to wear hiking in fall here.
Be mindful of sunset times – the days are getting shorter, and if you get a late start, be sure to pack a headlamp in case you end up hiking in the dark.
Have you done any of these Southwest Colorado fall hikes? What are we missing? Let us know in the comments!