*This post is sponsored by REI.
Recently REI has come out with a whole new lineup of travel bags, and over the last couple of months, I've had the opportunity to test them out on trips to California, Dallas, Portland, and Vegas. What I've found is that the best travel bags by REI offer durability, smart design and function, while being priced much lower than competing outdoor brands. In this blog post, I share what I love about each of these REI brand travel bags and accessories and how they can help you stay organized during upcoming holiday travel, weekend trips, and big adventures abroad.
REI Ruckpack Travel Backpack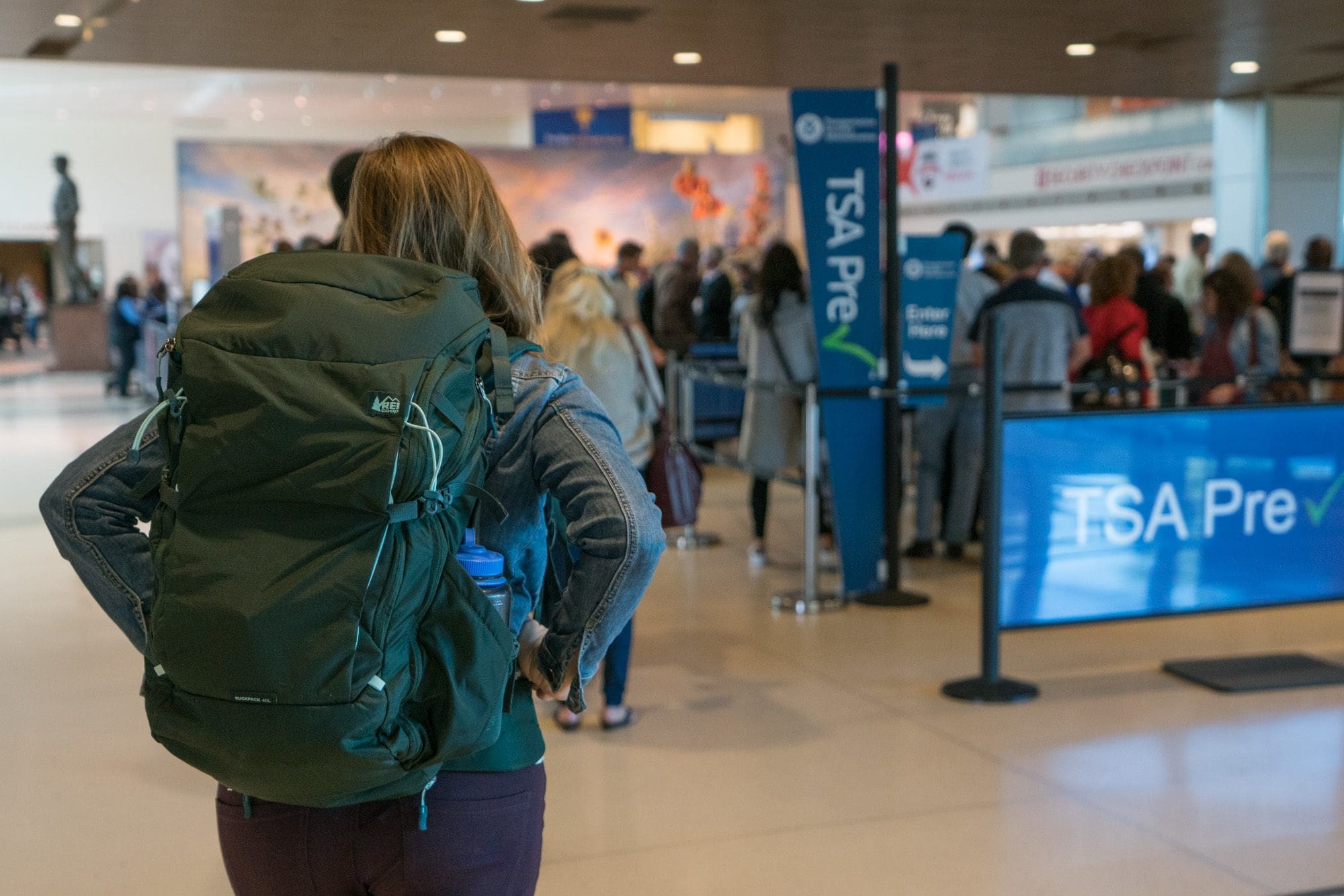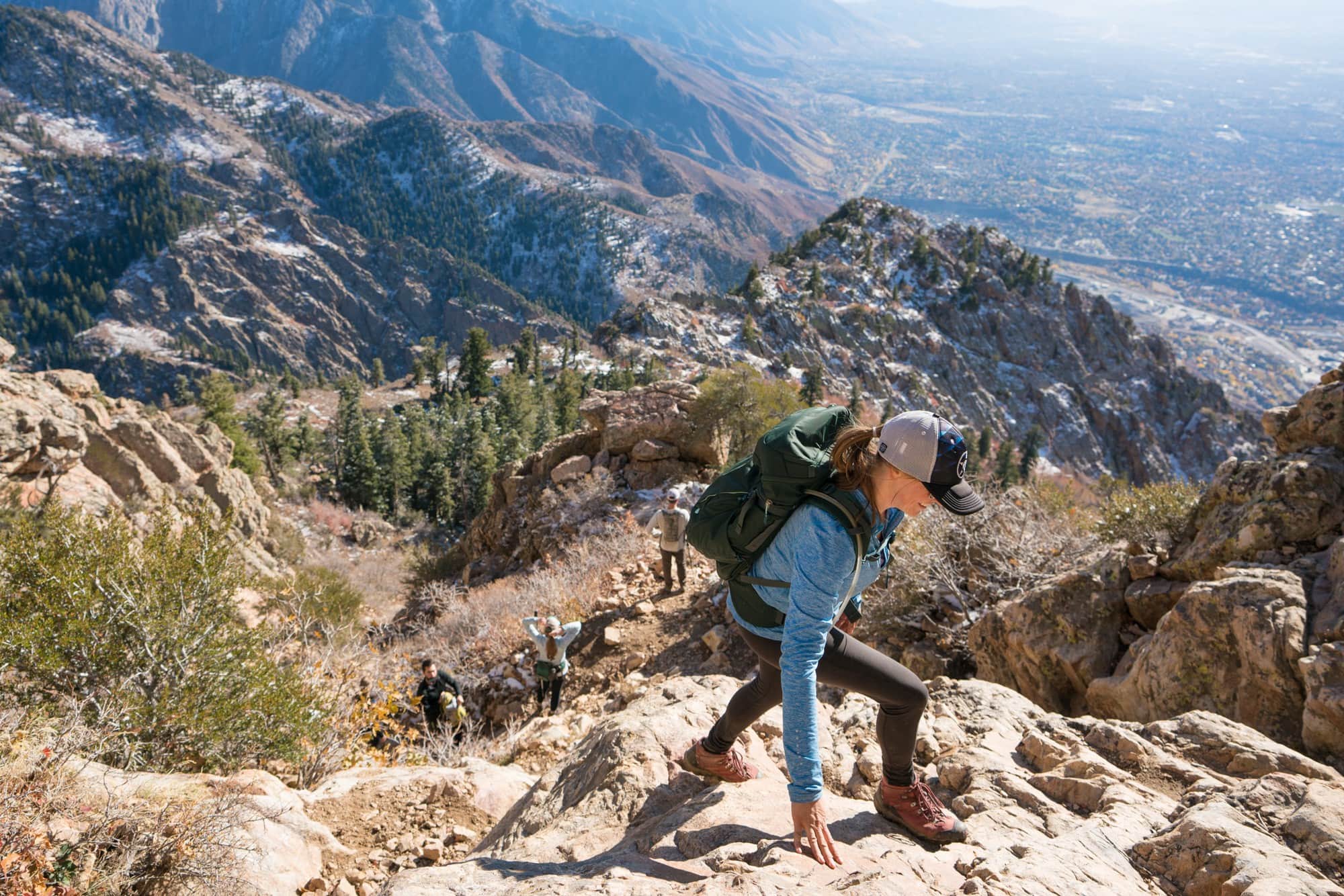 Best for: The Carry-on Traveler
The REI Ruckpack is now my go-to travel backpack when I want to carry on. I have the 40-liter version, and I can't believe how much stuff I'm able to fit in there while still staying organized. I used the packing cubes I mention below, and I was able to pack everything I needed for a three-day conference last month, including an extra pair of shoes, toiletries, my computer, hard-drive, and other necessities. I cruised right through security, and this bag easily fit in the overhead compartment on Southwest (note that it is slightly bigger than the dimensions of an allowed carry-on, but it should fit on all but the smallest planes).
There are a few features that make this travel bag different from other carry-on backpacks I've used.
The zipper for the main compartment fully unzips allowing you to access stuff at the bottom of the bag without taking everything out.
Organization: The side pocket has tons of organization where you can stash your phone, ID, boarding pass, point and shoot camera, and other small items. There is another pocket on the top of the bag and two mesh pockets on the inside panel, allowing you to separate your different travel items.
When you get to your destination, this bag is equally good on the trail as it is in the airport. It has a laptop sleeve that doubles as a hydration reservoir, a built-in rain cover, a sturdy hip belt, two expandable water bottle pockets, compression straps, and loops to attach your trekking poles.
The only thing I'd change about this REI travel bag is I wish the hip-belt had a pocket for your phone, and I'd make the trekking poles loops a different color than the zippers since it's easy to get them caught on each other.
The Ruckpack also comes in a Men's version.
REI Big Haul 30″ Rolling Duffel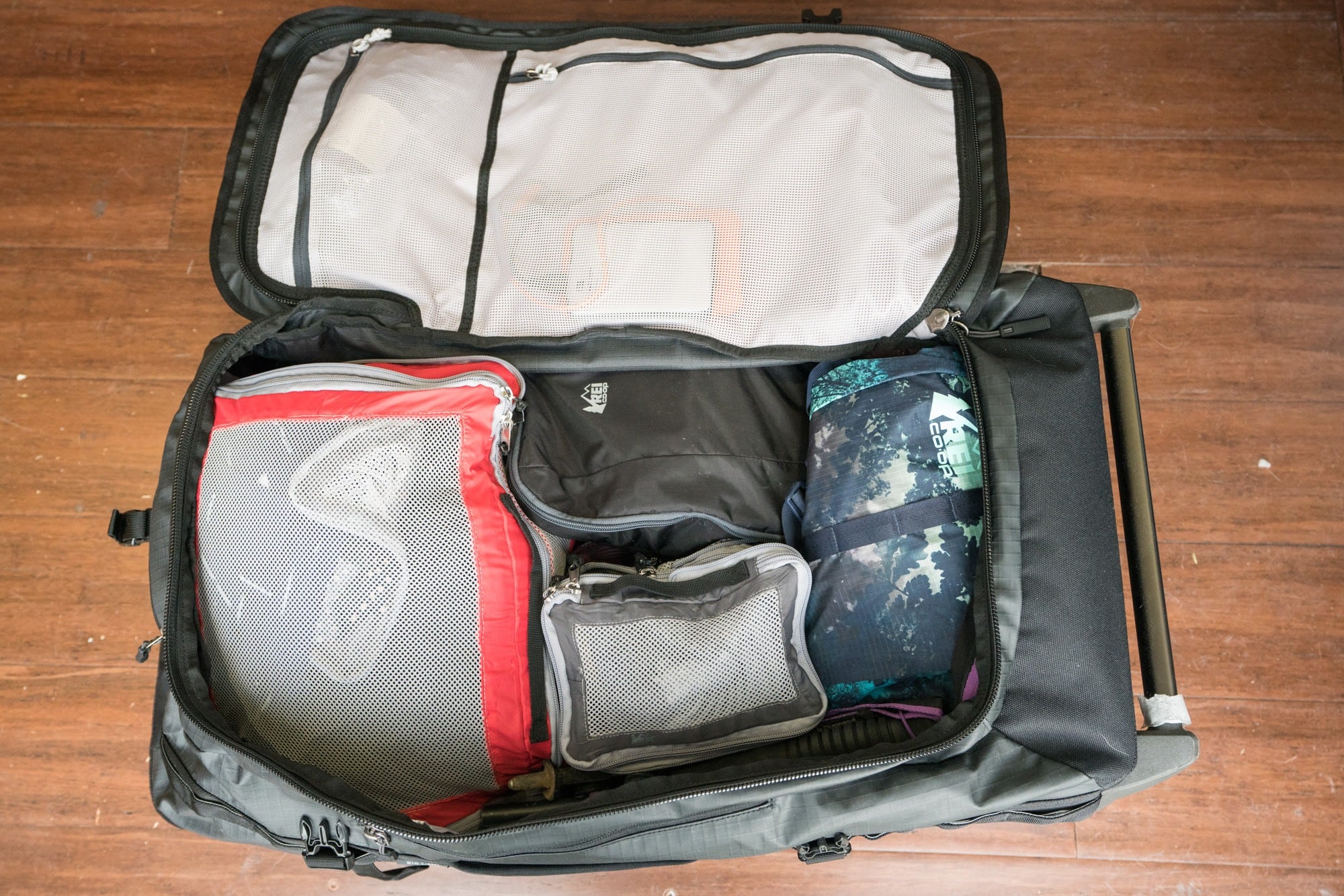 While I prefer to carry-on, sometimes checking luggage is necessary. Maybe you're going abroad, or you're traveling somewhere where you need to pack for all kinds of weather, or you're mixing business with play. In those situations, a small carry-on is not going to cut it.
The REI Big Haul Rolling duffel comes in two different sizes – 30″ and 34″. I have the 30," which can hold 87 liters. In 99% of cases, this is plenty big for me, especially when you can carry anything that won't fit in here in a carry-on.
With a bag this big you want wheels, and the wheels and handle on this bag are impressively rugged. You can easily drive the bag over curbs, rocks, and steps, unlike with other wheeled luggage where you feel like you don't have a lot of control.
This duffel bag consists of one big compartment and two mesh pockets inside the lid. If you are the kind of person who needs to compartmentalize your stuff when you travel,  consider using the packing cubes I talk about below.
The REI Big Haul Rolling Duffel is water-resistant, so you don't have to worry about your stuff getting ruined if you get caught in a rainstorm
Multiple handles for easy lifting – this bag has two handles on the front of the bag, one on the side, and another on the top. That makes it very easy to pick up and toss in the trunk or on the scale at the airport.
Cinch straps make the bag fairly low profile despite its volume
The base of the bag is sturdy so even fully loaded, the bag stays upright, rather than toppling forward.
There is a clip on the top of the bag that you can use to attach things like a neck pillow or a laptop case.
REI Big Haul 40-liter Duffel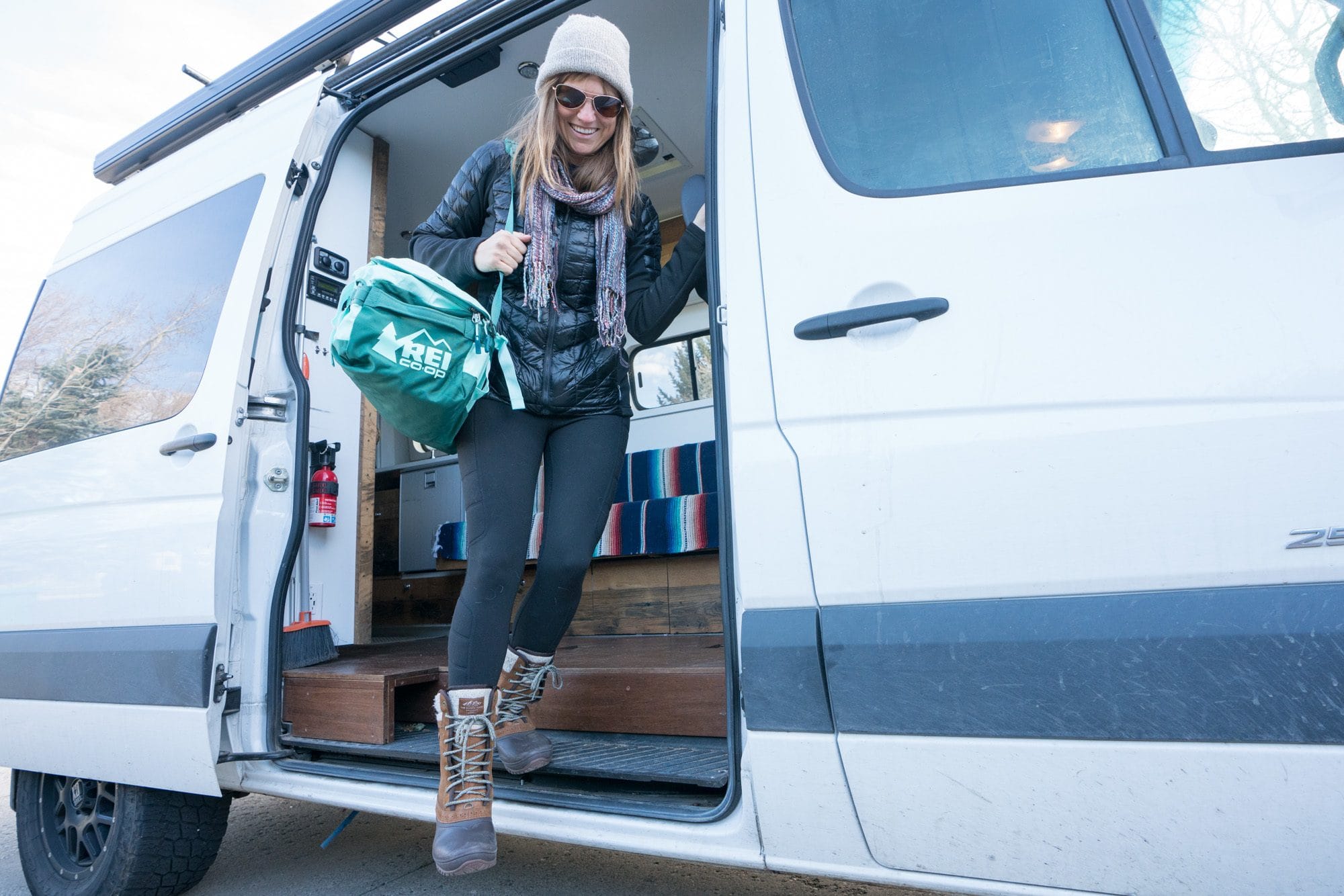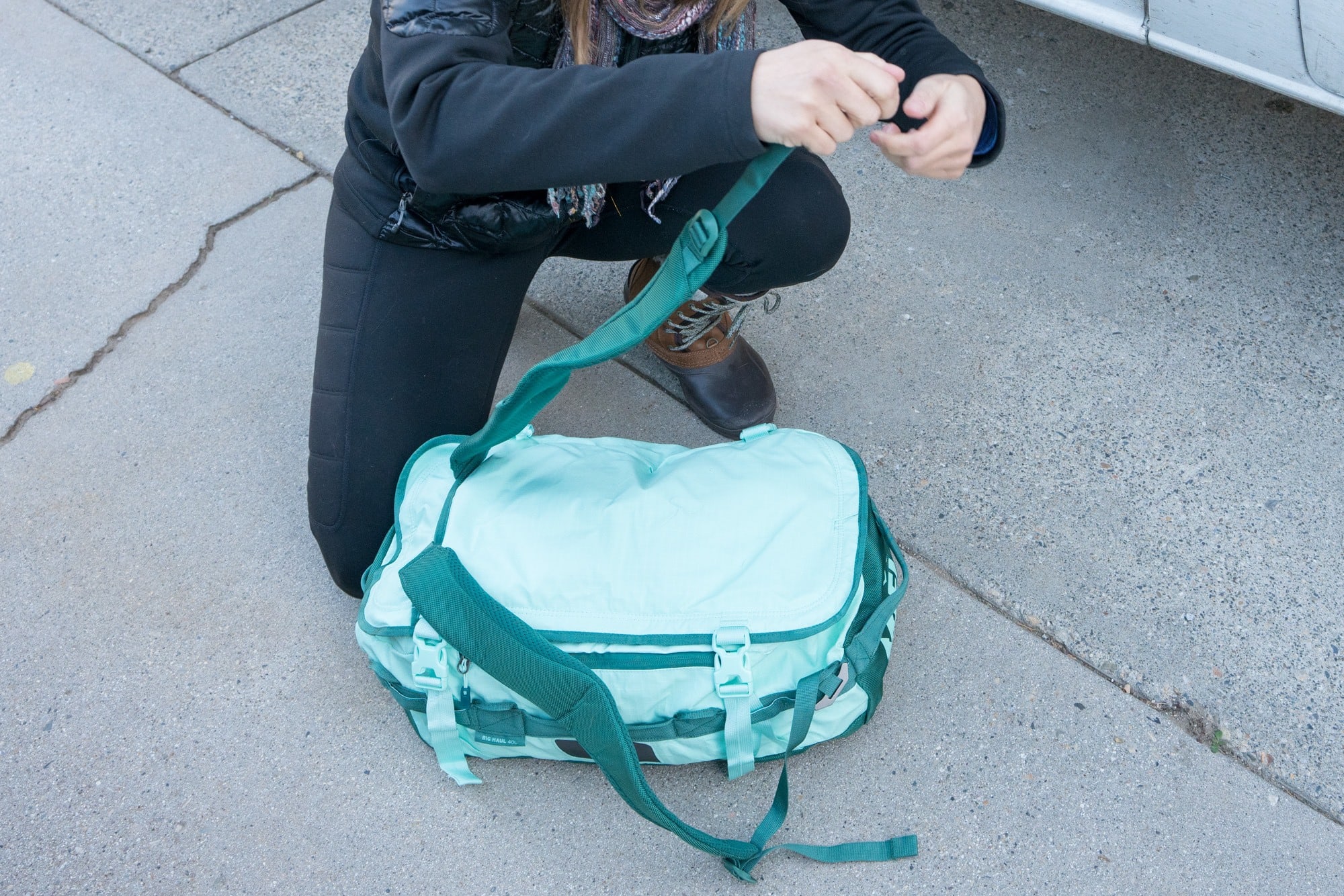 Best Use: Weekend Trips / Camera Gear
If you prefer duffels or you need something in addition to a backpack that you can carry-on, then this REI travel bag is for you. The REI Big Haul 40 liter duffel can be carried as a duffel or worn as a backpack, and it is $30 cheaper than the major competitor. It has become my go-to for camera gear when I need to carry it on the plane, and my stuff would otherwise slide around in a normal backpack. Even in my van, this duffel bag comes in handy for keeping my regularly used camera gear easily accessible.
This duffel can be worn three ways. It has two straps and can be worn as a backpack when you are cruising through the airport, or you can convert the backpack straps to a longer strap and carry it over your shoulder or cross-body. Finally, it has normal handles. If you need to check it, all of these straps can be removed so you don't have to worry about them getting stuck on the conveyer belt. The shoulder straps are surprising comfortable with light padding.
Like the roller duffel, this 40 liter Big Haul has 4 different handles on each side of the bag for easy lifting, as well as a number of daisy chain straps that you can use to hook things to the duffel, such as a water bottle.
The zipper is solid and runs along the very edge of the bag providing full access to everything inside.
Things I'd change? The bottom of the bag, while made of a very strong ballistic nylon, is thin and offers no padding. So if you are using it for camera gear, a computer, or other electronics, you'll want to pad your stuff inside the bag and take care when you are setting the bag down.
Also, there is no hip belt or minor adjustments you can make to the straps, so while it can be worn as a backpack when you're jetting through the airport, it's not going to be comfortable for heavy loads over long periods of time.
REI Flash Pack – 18 L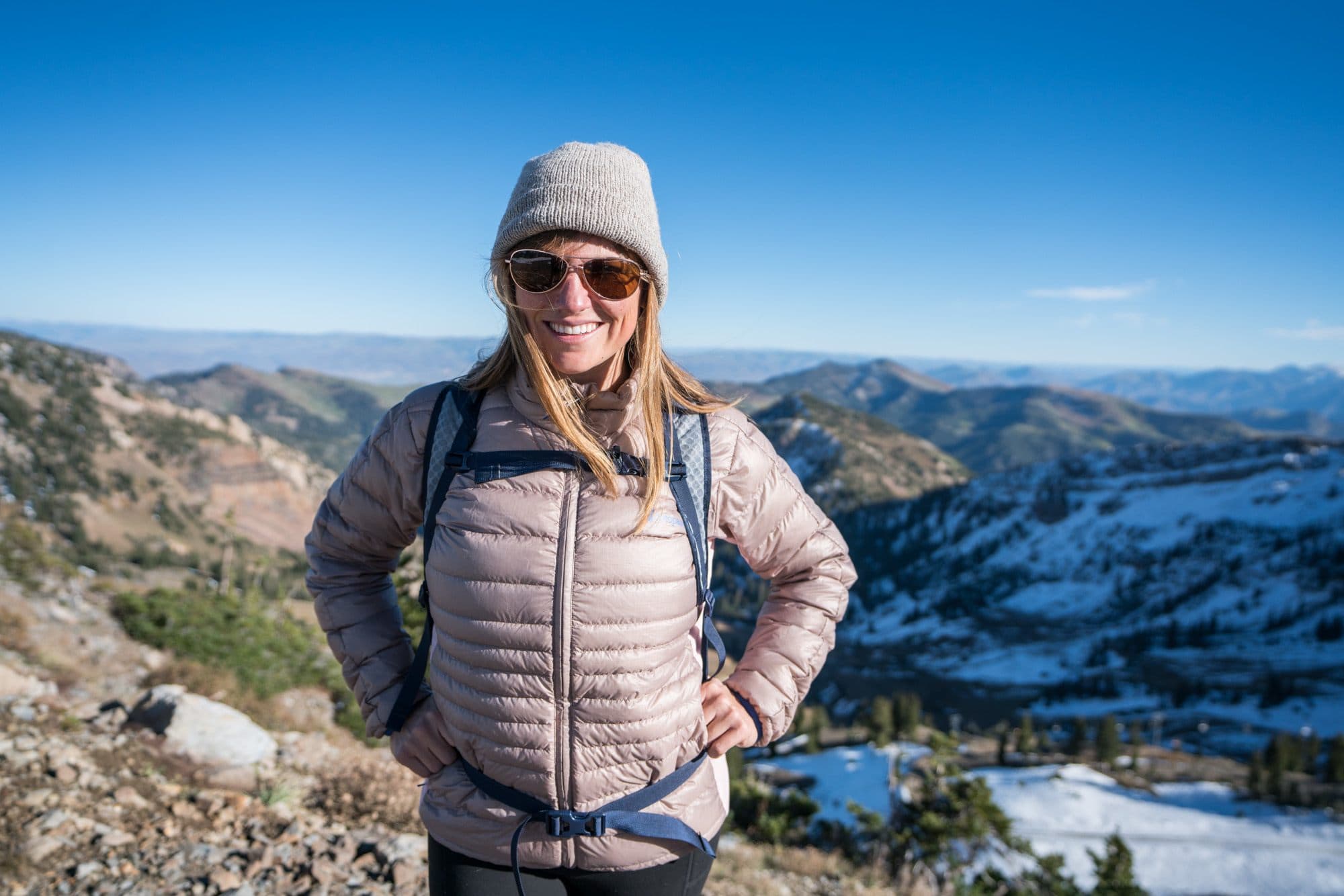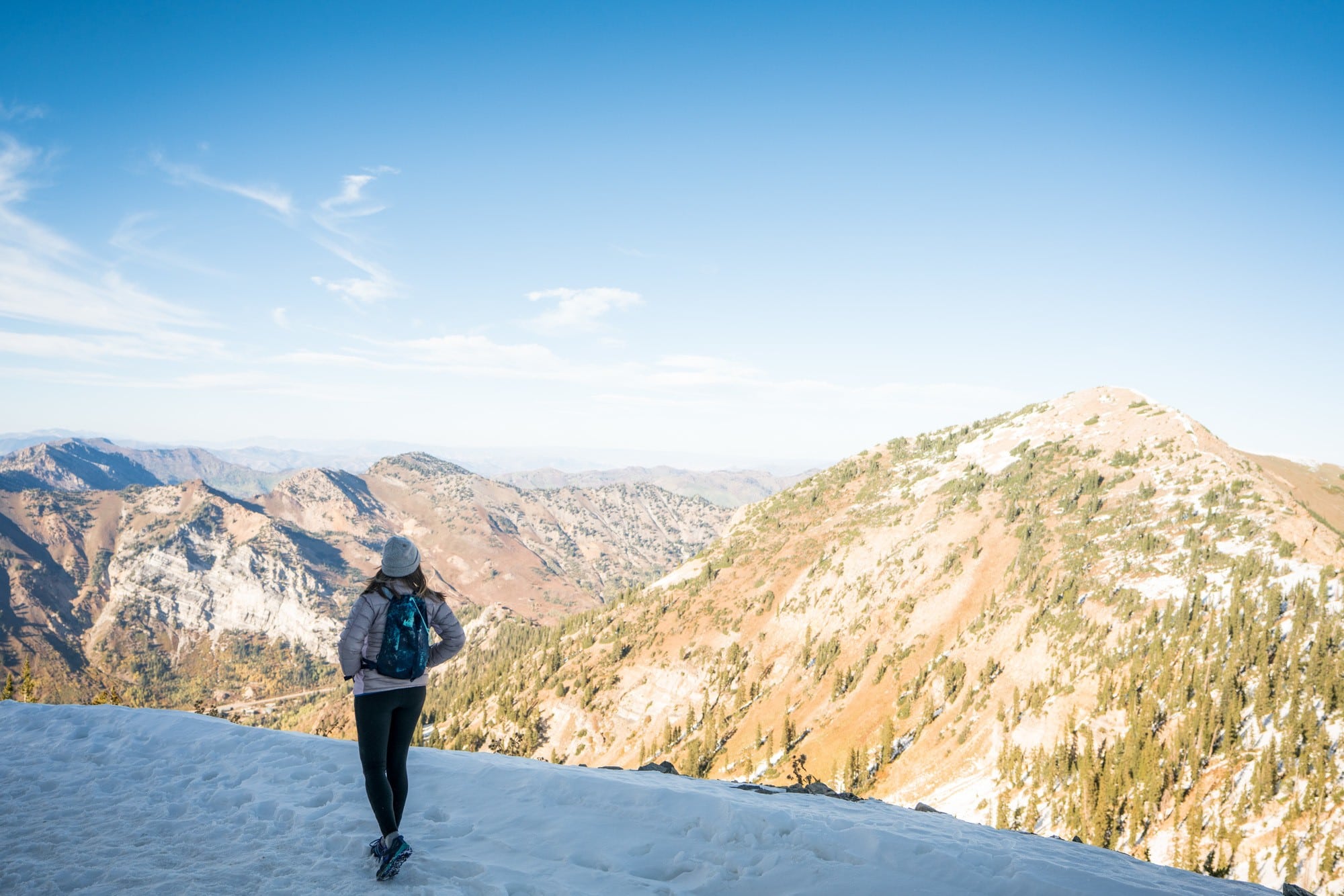 Best Use: Day-hikes & Exploring on your vacations
Ever traveled with two backpacks? It's a total pain when you are going through security or walking around your destination. This 18 Liter REI Flash Pack is the solution to that. At 10 ounces, it's one of the lightest and most packable day-packs I've found. Just throw it in your luggage without sacrificing space for the important stuff like hiking boots, and you have a comfortable extra day-pack for easy hikes, shopping at farmer's markets, or walking around new cities. I've also brought this pack on backpacking trips where we are setting up base camp for a day or two, and it gives me something to carry my camera in when we set off to explore.
It has a low-profile chest strap and waist-belt. These don't offer support, but they keep the bag from shifting on your body as you walk.
The back panel is lightly padded to provide a layer between you and the pokey things in your backpack.
The draw-string and the location of the side pocket make the bag a little more difficult to pick-pocket than a typical drawstring backpack if you are traveling somewhere that is a concern.
The REI Flash Pack comes in a bunch of different colors.
REI Expandable Packing Cube Set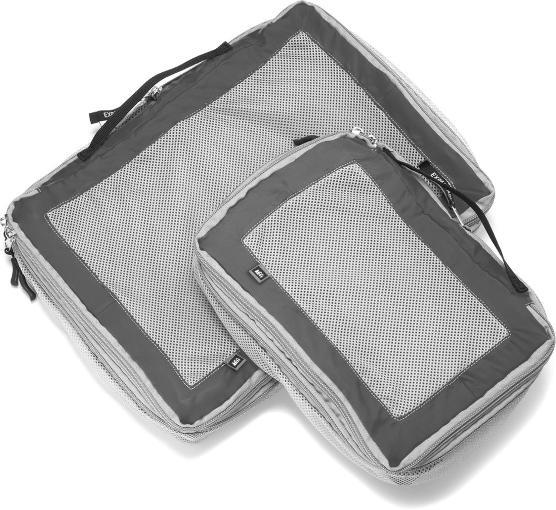 Best Use: Keeping your Luggage Organized
I used packing cubes for the first time a few years ago during a three week trip to Belize. We were constantly on the move, going to a new hotel almost every day. Without the packing cubes, my bag would have been a total disaster. Now I won't go on a trip without them. In addition to compartmentalizing my stuff, packing cubes help prevent me from overpacking. If I'm going on a week-long trip, I know I should be able to fit all of my athletic and hiking clothes into one large packing cube, while my jeans and evening wear go in another. I then keep my socks and underwear in the small packing cubes. This system means that if all I need is a clean t-shirt or a new pair of undies, I don't have to unpack my entire bag looking for them.
These REI Packing cubes weigh just a few ounces. That means you won't notice the added weight.
They are expandable, so you can expand or compress them based on how much you need to pack
They are mesh, making it easy to see what's in each packing cube and to quickly find what you are looking for.
REI Grande Shower Kit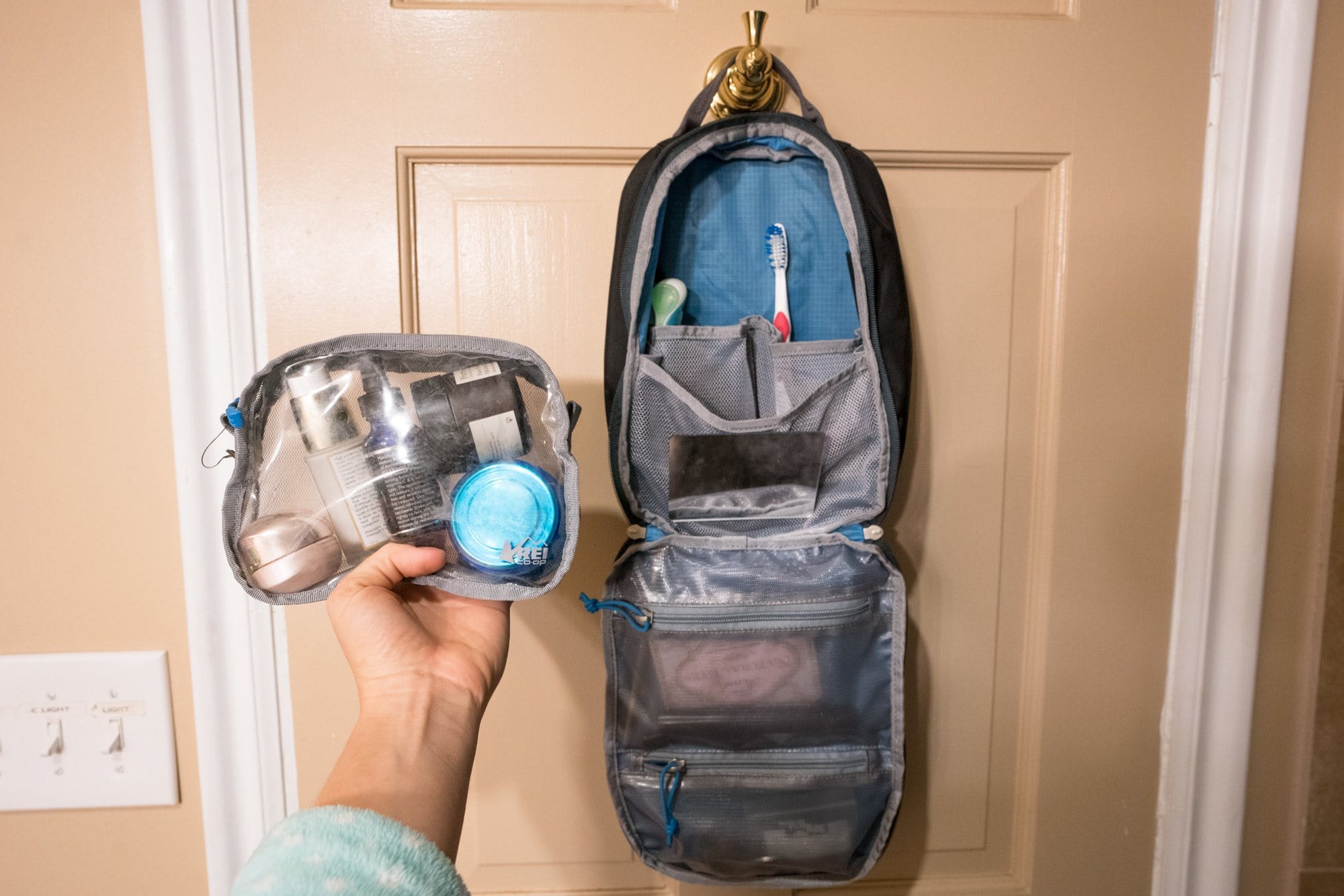 Best Use: An all-in-one toiletry kit
I have to be honest. I've been using the same toiletry kit for years, and I was skeptical that I would like this one more….but now I'm sold. I've taken the REI Grande Shower Kit with me on two trips now and even used it at home to keep my most commonly used toiletries organized. It comes with a clear TSA-friendly case for your liquids (read this post to learn how to skip the long TSA lines and screenings), and it has a few different compartments to keep your makeup, jewelry, toothbrush, razor, and other things organized. It also has a hook you can use to hang it, or it will stand upright when leaned against a wall.
Thanks to REI for the gear and for sponsoring this post about the best REI Brand travel gear and accessories. What is your go to suitcase or favorite piece of luggage?