Kayaking Myrtle Beach: Best tours, rentals, and insider tips
Add some adventure to your South Carolina vacation. Head to the Waccamaw National Wildlife Refuge on a kayaking tour where you'll have the chance to encounter alligators, birds, and other wildlife.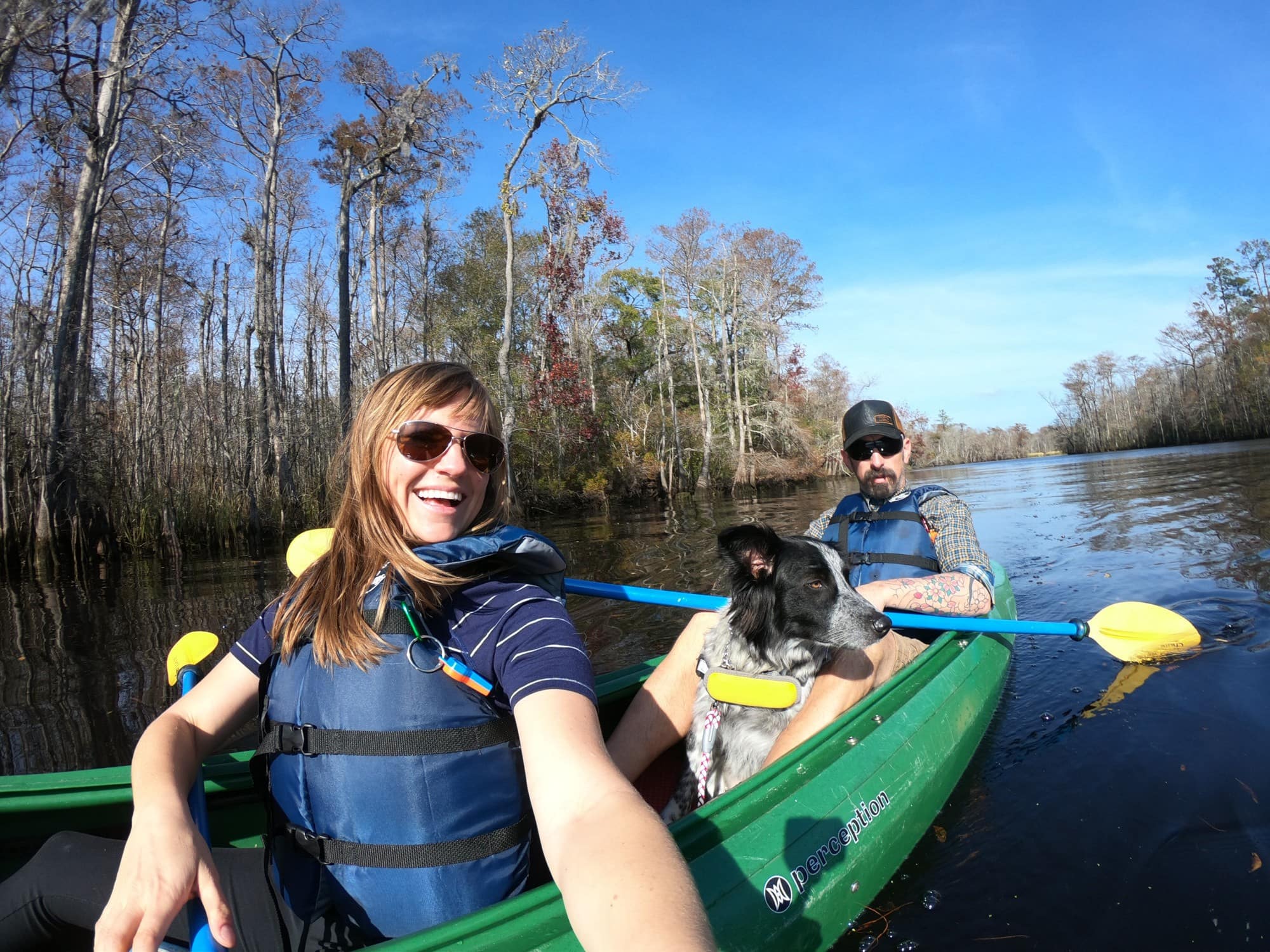 I spent this past Thanksgiving in Myrtle Beach, South Carolina and was searching for a fun outdoor activity I could do with my family. I stumbled on Gator Bait Adventure Tours, a local guiding company that leads kayaking tours in the nearby 29,000 acre Waccamaw National Wildlife Refuge. The two owners, a couple named Chris and Jane, offer a variety of paddling excursions in the area where you have the opportunity to experience the wildlife and nature of the South Carolina wetlands. We choose the 2-hour Waccamaw National Wildlife Refuge kayaking tour, which is a great option for nature lovers and families in Myrtle Beach, who want to do something other than sit on the beach.
Get all of the details of this Myrtle Beach kayaking tour with Gator Bait Adventure Tours in this blog post
Important Reminder: As outdoor recreationists, it's our responsibility to know how to recreate responsibly on the water whether we're kayaking, paddleboarding, canoeing, rafting, or boating. Learn how to prevent the spread of aquatic invasive species with 3 easy steps that have a huge impact on our ecosystems.
[separator style_type="icon" /]
Where is the Waccamaw National Wildlife Refuge?
The refuge is 15 miles west of Myrtle Beach, South Carolina. There is no public transportation available to the refuge but you could hire a taxi, Uber or Lyft. Car rentals are available in Myrtle Beach, and there are numerous places west of the coast worth exploring for a day trip. If you're visiting one of the bigger neighboring cities, the Refuge is a 3.5 hour drive from Charlotte, NC or a 2-hour drive from Charleston, SC.
[separator style_type="single" /]
Waccamaw River Kayaking Tour Trip Recap
We went kayaking the day before Thanksgiving, when winter trips run from 12-2pm. When we made our reservation, we had the option of choosing single or double kayaks. We chose double as it was a pretty mellow paddle, and we thought it would be fun to pair up. We met Chris and Jane at Jackson's Bluff Landing on the banks of the Waccamaw River, where they were waiting with the kayaks already in the water ready to go. They typically don't allow dogs, but they made an exception for Charlie (Ryan's Diabetic Alert Dog), and they even brought Charlie a life vest.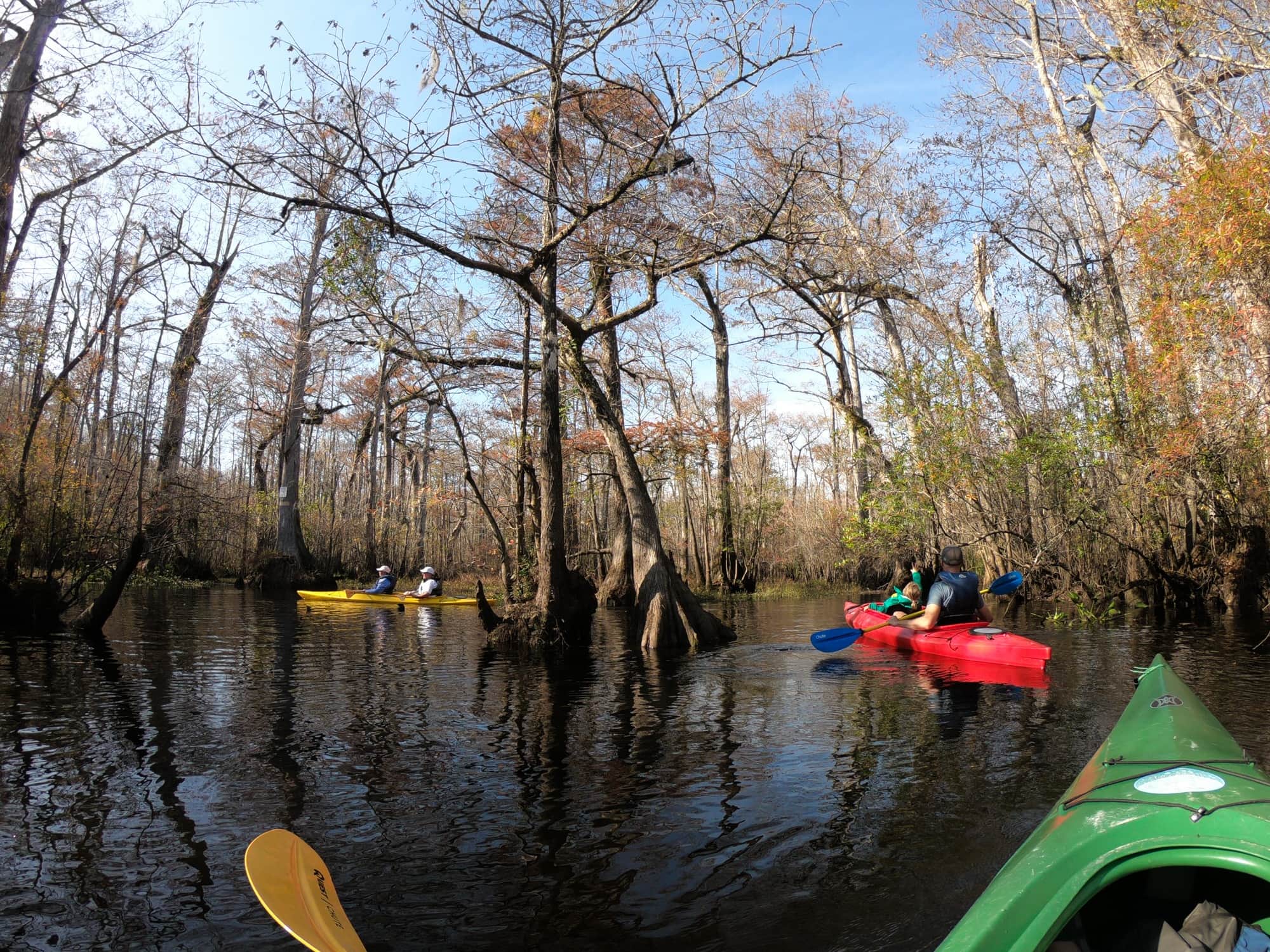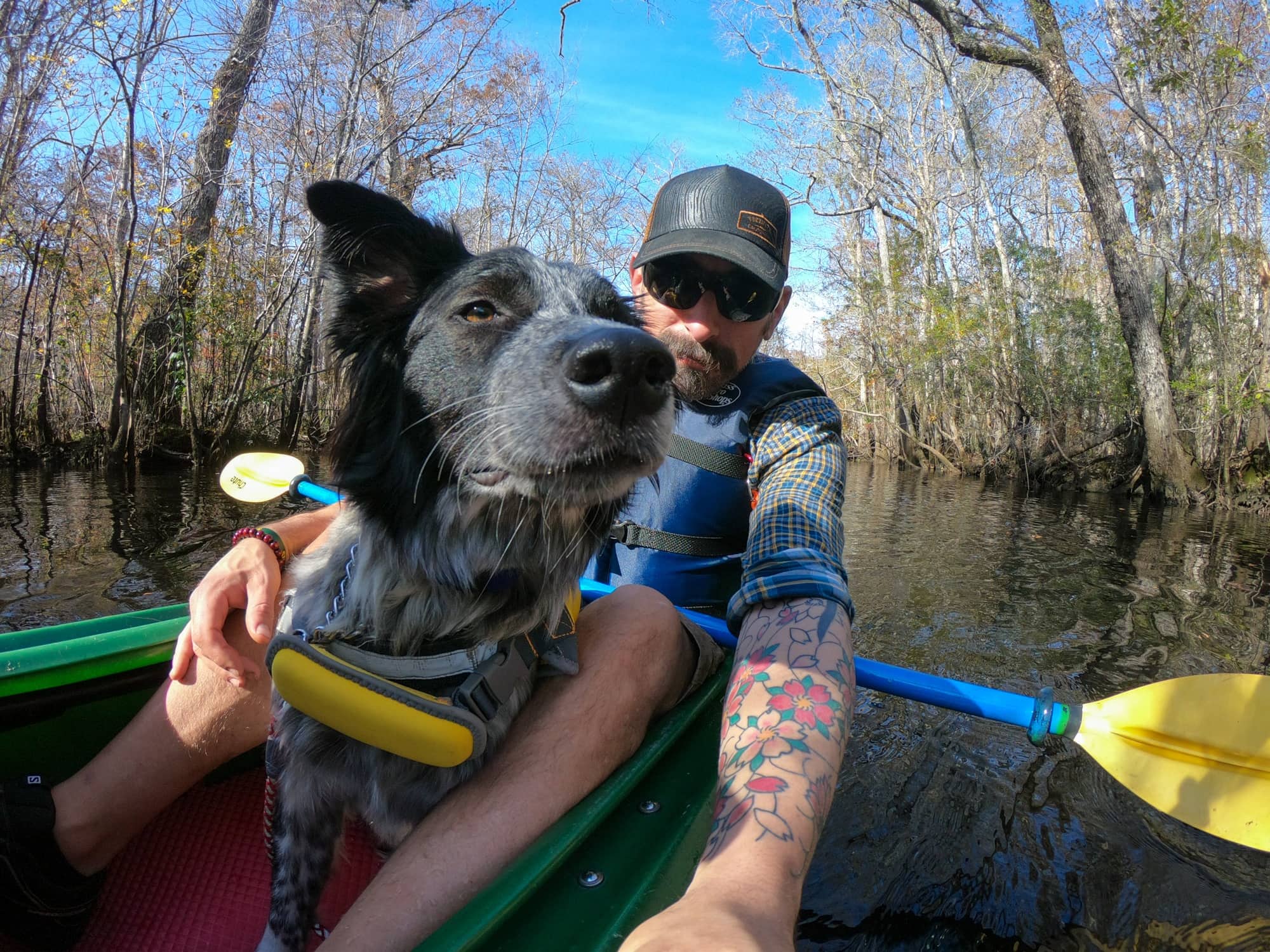 For a few people in our group, it was their first time paddling. Before getting in the kayaks, Chris and Jane gave us some basic instruction on how to paddle and maneuver efficiently, especially since we'd be navigating through forested wetlands .
The first 10 minutes on the river, the banks were lined with homes, but once you get past them, it's was all wild.
Bird lovers can watch for ospreys, egrets, herons, bald eagles and even the endangered swallowtail kite. In fact, the refuge and nearby wetlands are home to the highest density of nesting swallow-tailed kites in South Carolina. We saw a number of birds and quite a few turtles perched up on logs.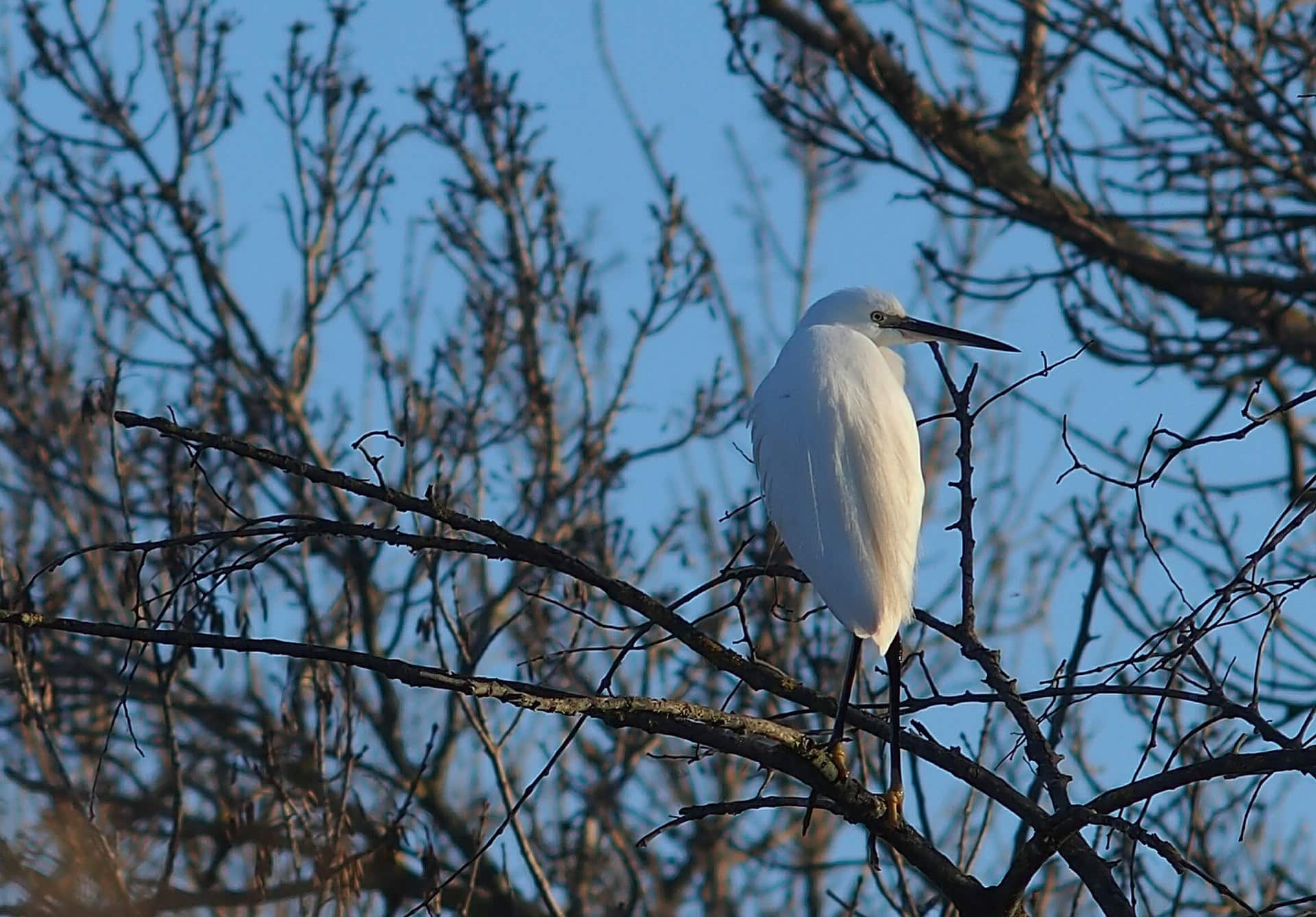 If you're lucky you might see snakes, and alligators are very common in the warmer months. By the time we visited in November, most of the alligators were in a state of brumation, which is an adaptation technique that allows them to live in cold water. When alligators brumate, they slow their metabolic activity, dig a burrow in the mud, and basically stay there all winter until it gets warm again.
The owners Chris and Jane had a wealth of knowledge about the wildlife, vegetation, and terrain in the Waccamaw Wildlife Refuge. To me, the river seemed like a giant maze which endless twists and turns and deep corners to explore. Without their guidance, we surely would have gotten lost. I also loved their enthusiasm for the Refuge, which really made the tour enjoyable.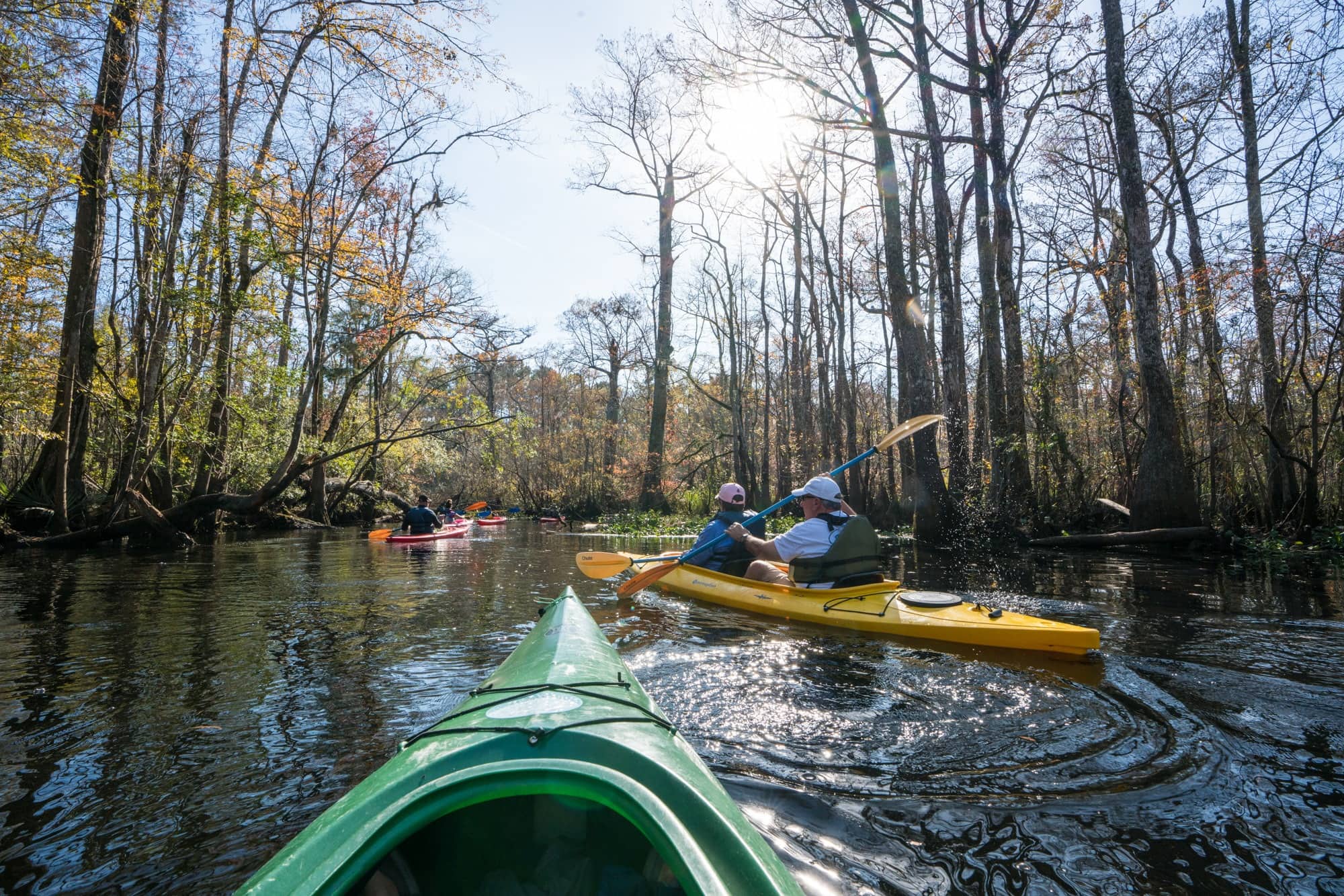 I also appreciated their style of guiding. They had a lot of information to share, but the tour was very casual. They let us spread out and move at our own pace and didn't try to keep us stacked on one another. They also brought snacks for anyone who got hungry halfway through the tour and offered to take photos of everyone. Finally, they talked about the importance of Leave No Trace to make sure their tours and guests aren't leaving a negative footprint in the refuge.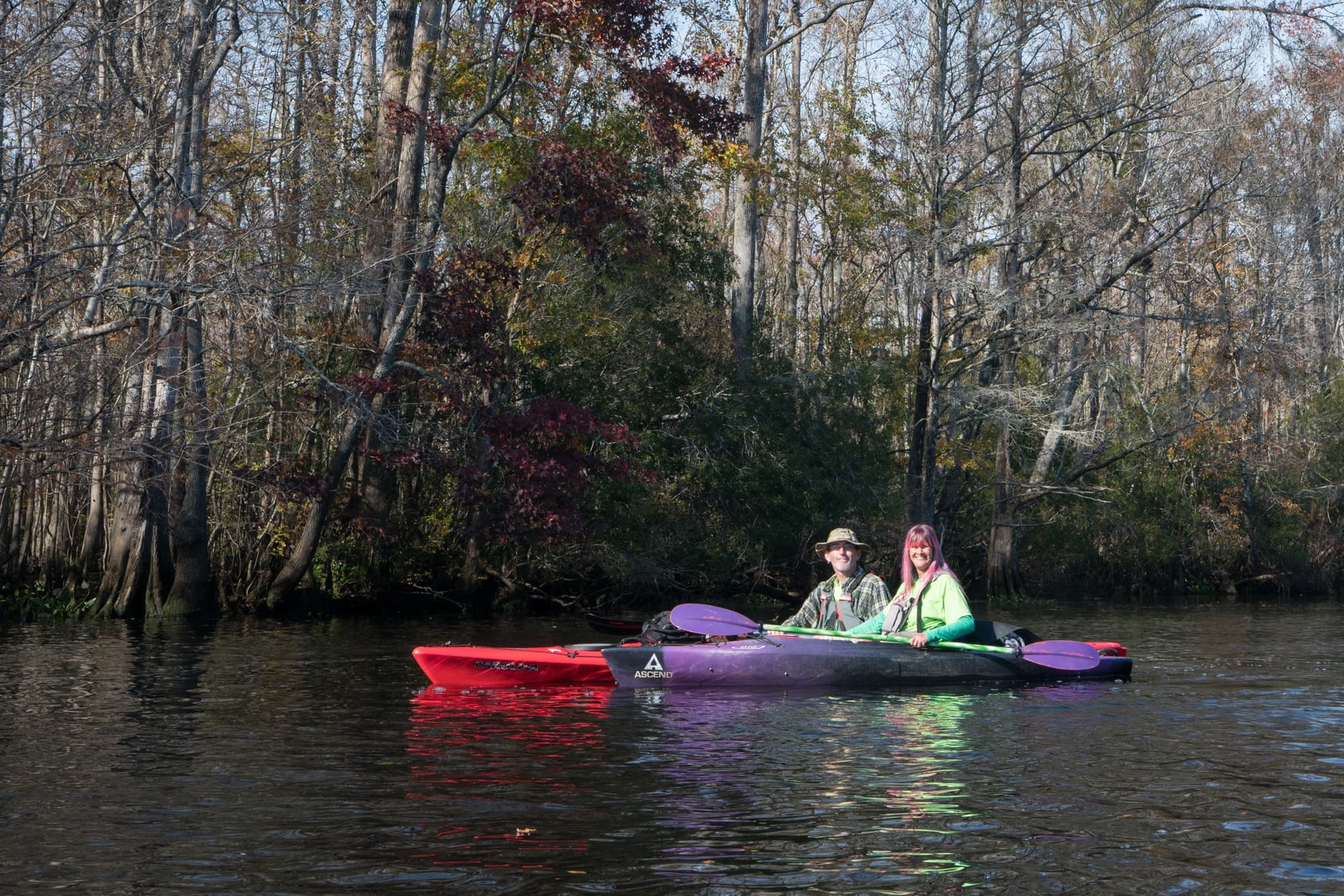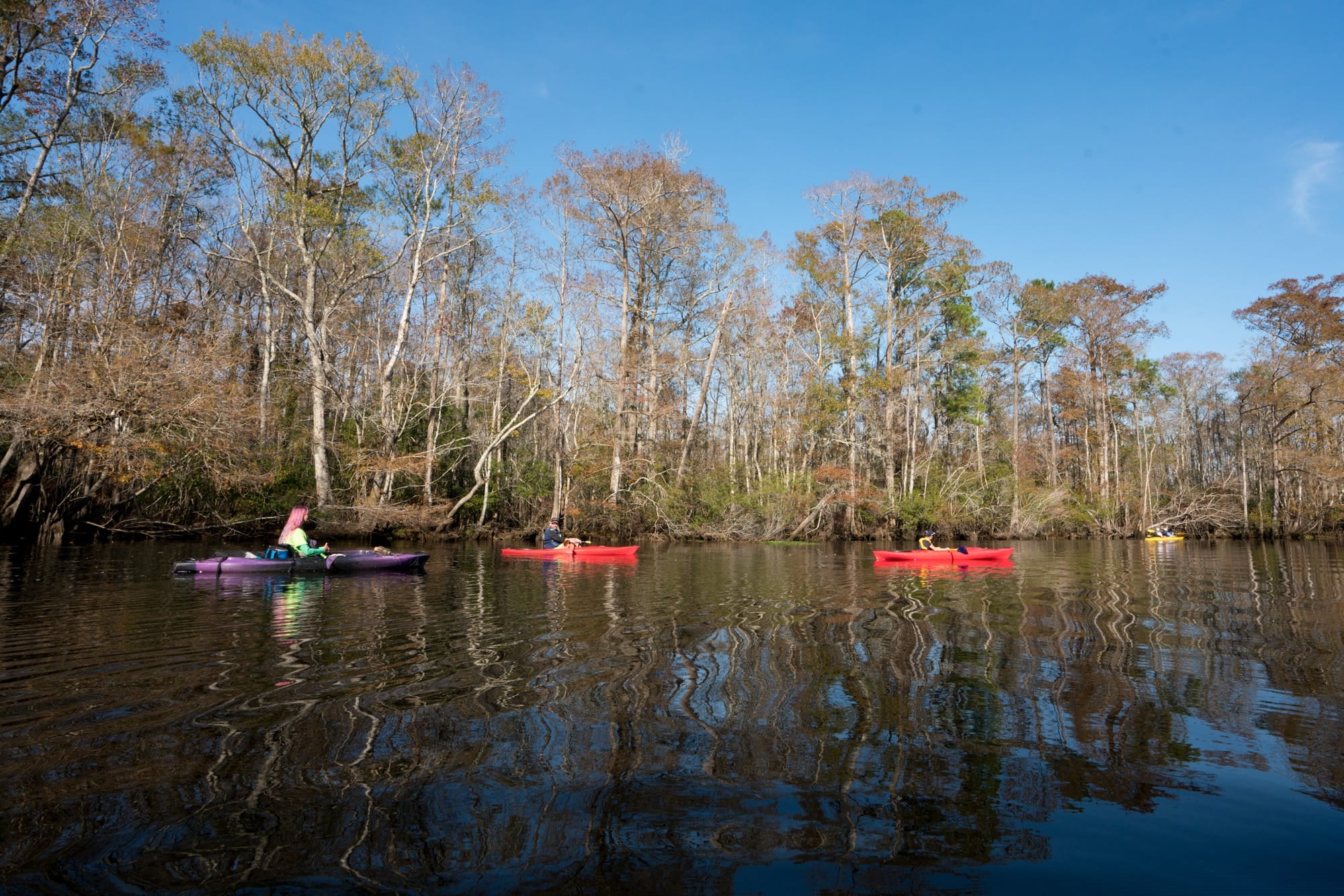 The tour lasted just over 2 hours, and our whole family had a blast. It was a fun way to get away from the tourist attractions of Myrtle Beach, and see a different side of South Carolina. Next time, I'd love to go kayaking on their sunset tour. I can't imagine how pretty the reflections would be in the Refuge at the golden hour.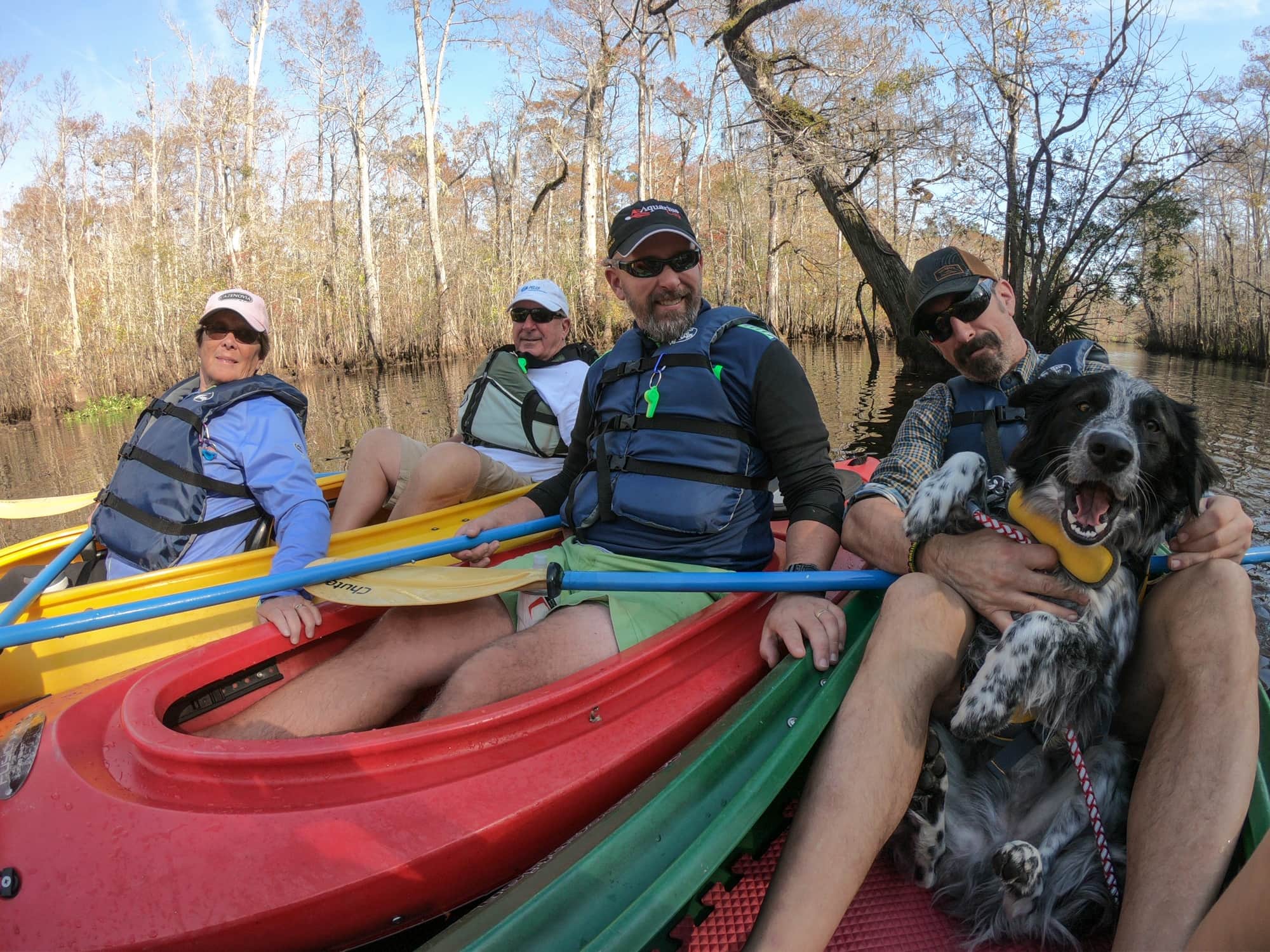 [separator style_type="single" /]
Best Time to Kayak in Myrtle Beach
[bulleted_list icon="fa-arrow-right"]
 Spring
[/bulleted_list]
March through May offers warm temperatures and lower humidity. Average temperature range from 70-80 degrees.
[bulleted_list icon="fa-arrow-right"]
 Summer
[/bulleted_list]
From June-August, South Carolina weather is hot and humid, perfect for enjoying the beach. This also the busy season both on the beach and in the Waccamaw National Wildlife Refuge. Believe it or not, people do swim in the refuge. Our guides told us that the alligators are timid and are unlikely to approach swimmers…swim at your own risk though 🙂
[bulleted_list icon="fa-arrow-right"]
  Fall/Winter
[/bulleted_list]
From Nov-February temperatures are cooler, making for great kayaking weather. Generally, temperatures range from mid 50s to upper 60s. When we were there over Thanksgiving, the beach was fairly empty and we didn't see any other kayakers in Waccamaw National Wildlife Refuge. This meant we were able to hear all of the different birds, and we also got lucky with t-shirt weather.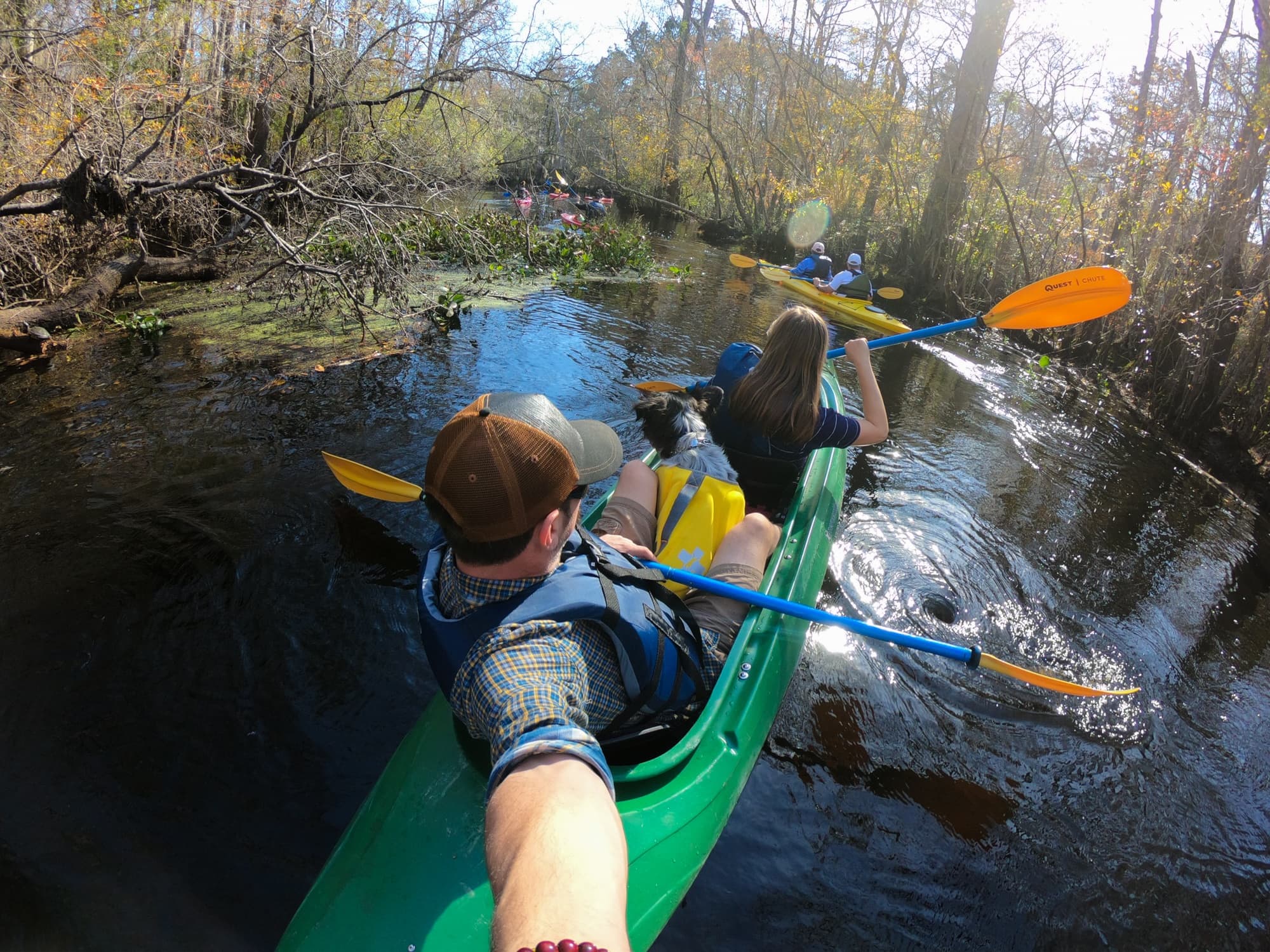 [separator style_type="single" /]
What to Pack for Trip with Gator Bait Adventure Tours
You don't really need much for your tour with Gator Bait Adventures. They provide life jackets, paddles, the kayaks, and dry bags. You only need a few small items (mostly plenty of water & sun protection), and you'll be ready to go.
Sun protection (hat, sunglasses, and sunscreen)
Bug repellent – we didn't have any bugs in November
Water
Camera or iPhone in a waterproof phone case – they provided dry bags at no charge
Any additional snacks you might want
Shoes you can get wet (old sneakers are fine)
Dress in synthetic layers so as the day warms up you can stay cool on the water
Rain is pretty common in South Carolina so you might want a light rain jacket. Check the weather forecast before you head out.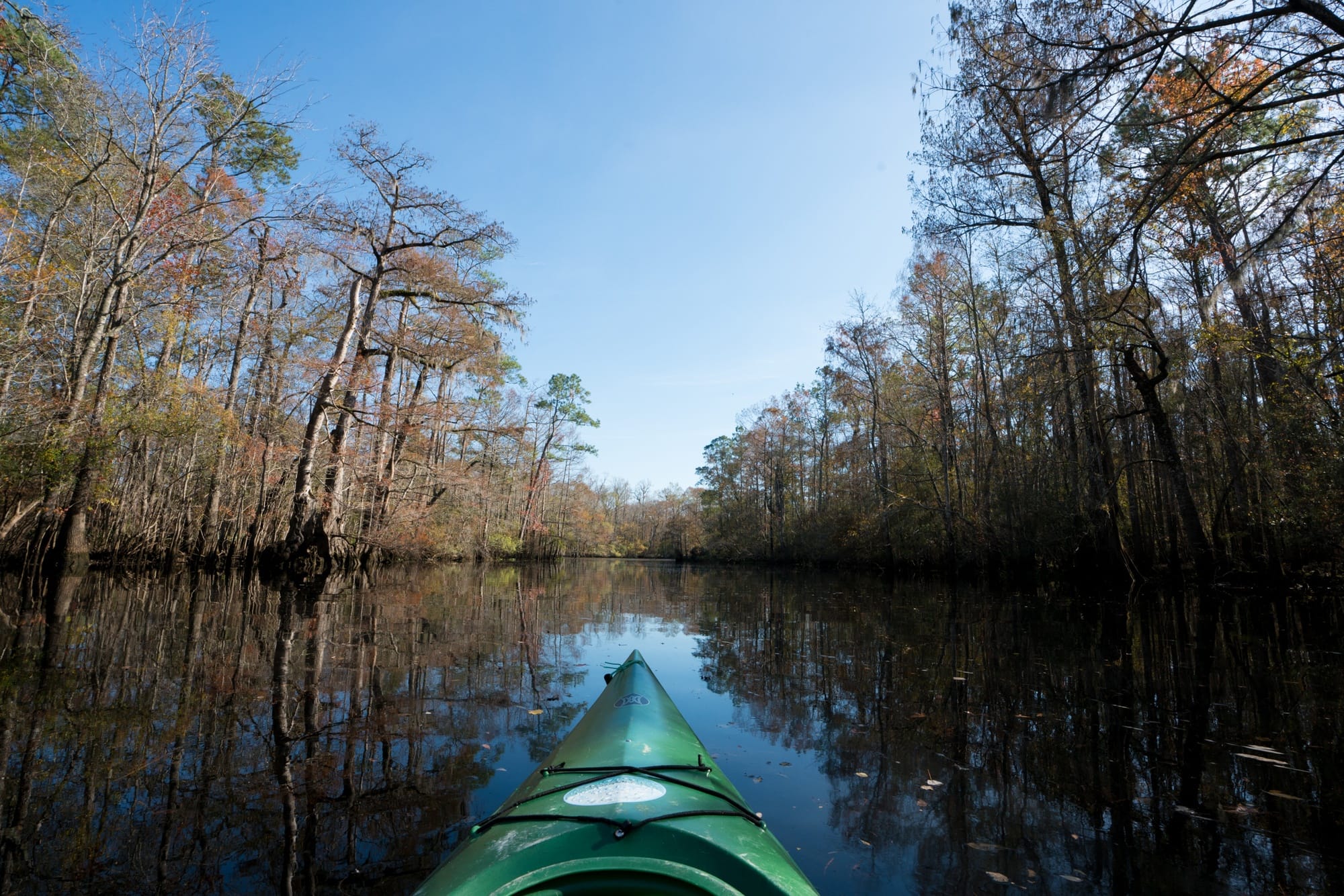 [separator style_type="single" /]
For more information on Gator Bait Kayaking Tours
For more information on Myrtle Beach kayaking trips, times, and rates, visit the Gator Bait Adventure Tours website.
Here are a few important details about their tours:
Tours are 2-2.5 hours. They offer two trips each day in spring, summer, and fall and one daily trip in winter.
No prior kayak experience is required.
Pets aren't allowed but service animals who are comfortable with water can join.
Public & private tours are available. Their public tour rates are known as "group rates" since you'll be in a group with others. We were joined by one other family
In addition to the wildlife refuge kayak tour, they also offer a kayak tour of Historic Conway & Big Cypress in Kingston Lake on Sundays & Thursdays.
[separator style_type="single" /]
Where to Stay in Myrtle Beach
Myrtle Beach is only 20 minutes from the Waccamaw National Wildlife Refuge, and there you'll find a huge variety in accomodation. Airbnb's are plentiful, and in the off-season you can score a beach-front condo for as low as $50 a night. If you're looking for a place to stay that is a bit less crowded, check out North Myrtle Beach. Save $40 off your first Airbnb stay when you sign up at this link.
Thanks to Chris and Jane for hosting my family and I. As always, all opinions and words are my own.