Full Pacific Crest Trail Gear List for 2023
Looking for lightweight backpacking gear recommendations? Start with this complete Pacific Crest Trail gear list that includes every single item I packed for a 5-month thru-hike from Mexico to Canada.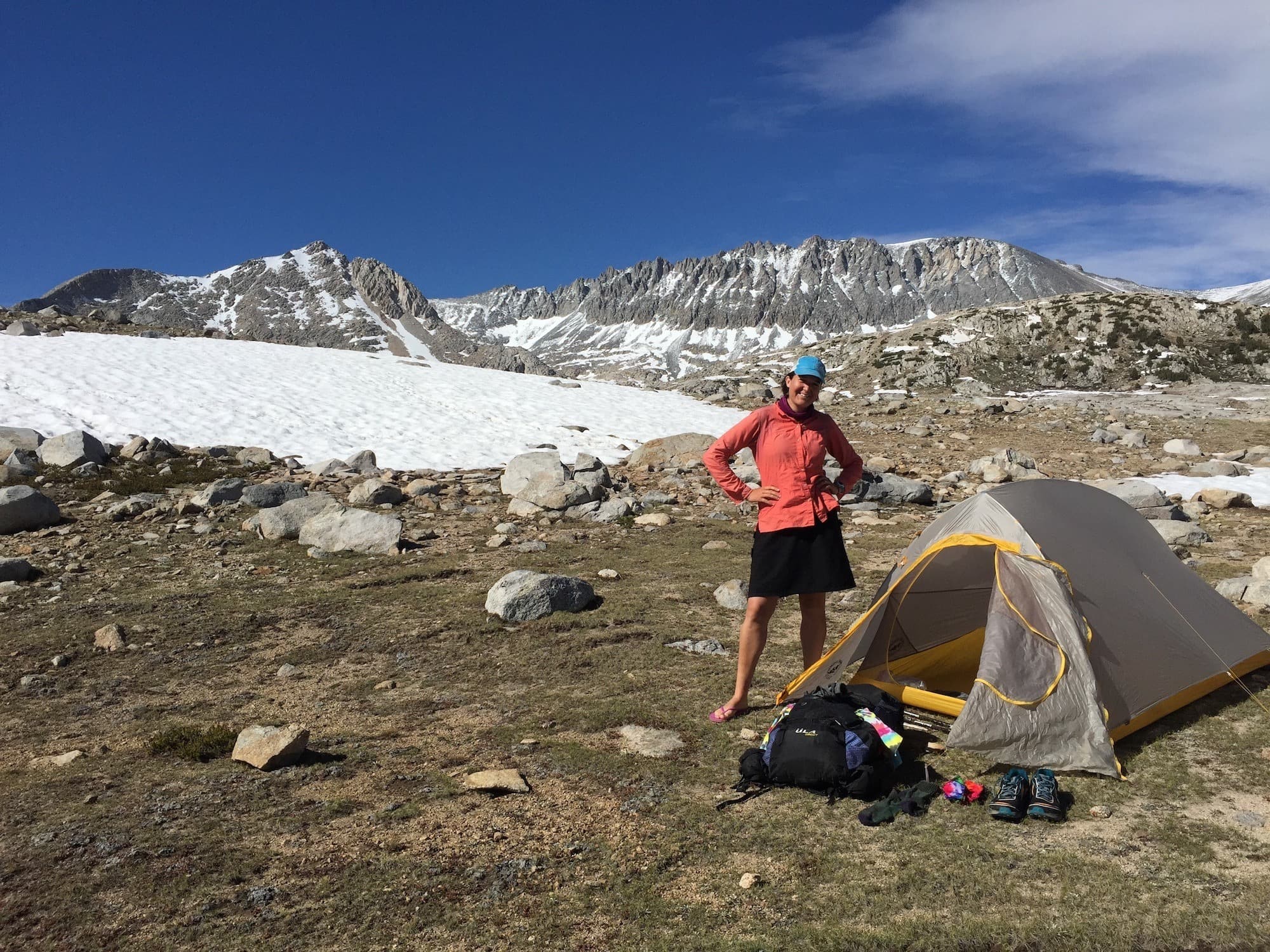 Figuring out what to include on your PCT gear list is a big undertaking. Thru-hiking the entire Pacific Crest Trail takes about 4-6 months, so it's important to really put a lot of thought and energy into doing your research, testing your gear, and making smart decisions. The majority of your days on the trail will be spent carrying everything you pack, so you'll want to keep your load light, yet it still needs to provide comfort and safety for your entire PCT hike. Functionality and durability are key.
For the most part, I was very happy with my Pacific Crest Trail gear choices and am still using much of the gear several years later. In this post, I share every piece of gear I packed for my PCT thru-hike from the big items like a tent, sleeping bag, bear canister, and water filter all the way down to the little knick-knacks like sunscreen and a watch. I also shed some light on what to be mindful of when making final decisions as you pack.
In this complete PCT gear list, I share every piece of gear I packed for my Pacific Crest Trail thru-hike.
Basic Backpacking Gear
Durability, functionality, and weight should be central to all buying decisions for your PCT gear list. Here are the big-ticket backpacking gear items I took with me on my thru-hike. For additional backpacking gear recommendations, check out our 3-day backpacking trip packing list.
Backpack
I opted for the ULA Circuit Backpack. With a maximum weight limit of 35 lbs, this was one of the best gear decisions I made on the trail. The weight limit kept me from overloading my pack and ULA customer service was great when I lost body weight and needed a smaller hip belt. They sent one overnight to my next trail town. If I hadn't bought a ULA, I would have used a Granite Gear pack such as the Blaze 60, which has a removable day pack and has a 50lb load rating.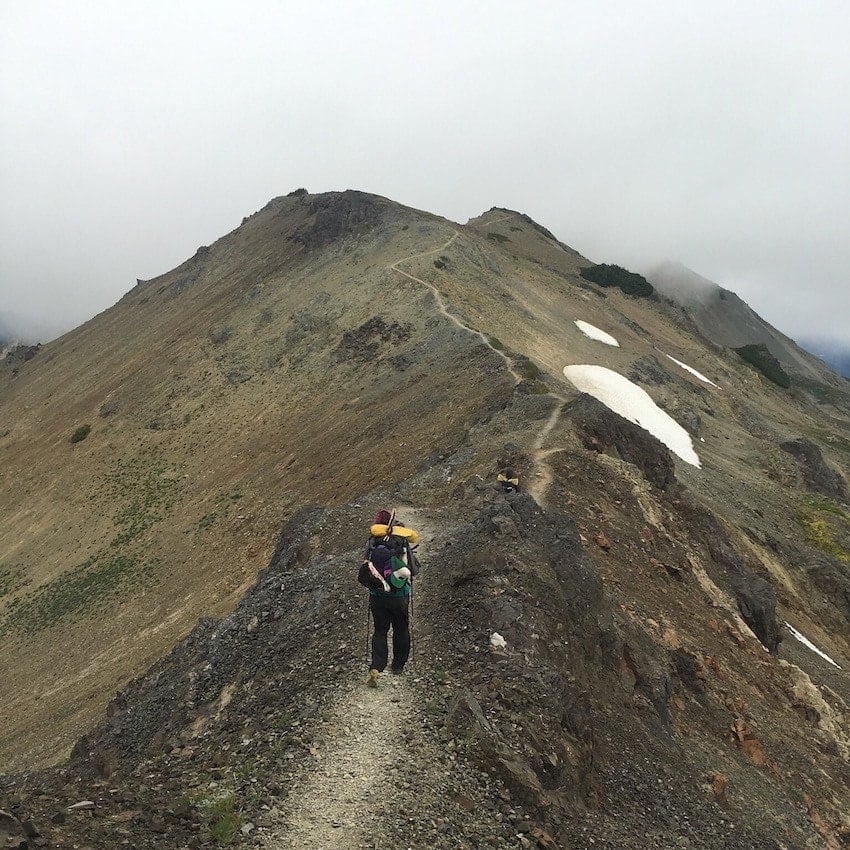 Pack Cover & Liner
I definitely needed my ULA Pack Cover (hello rain!) and a heavy-duty trash bag liner in Washington. The trash bag liner was great for town stops. I could easily pull everything out of my bag, shake it out and even use the trash bag as a laundry bag. I packed extra liners in my resupply boxes to periodically swap out.
Tent
I originally started my PCT hike with a 3+ pound REI Quarter Dome 2 person tent. However, I upgraded to the Big Agnes Fly Creek HV UL2 tent (2 lbs. 5 oz.) when it was discounted during REI's Memorial Day Sale. The weight differential was noticeable and even more noticeable was how small the Big Agnes packed down. Don't forget to pick up a coordinating ground tarp for your tent to protect the bottom.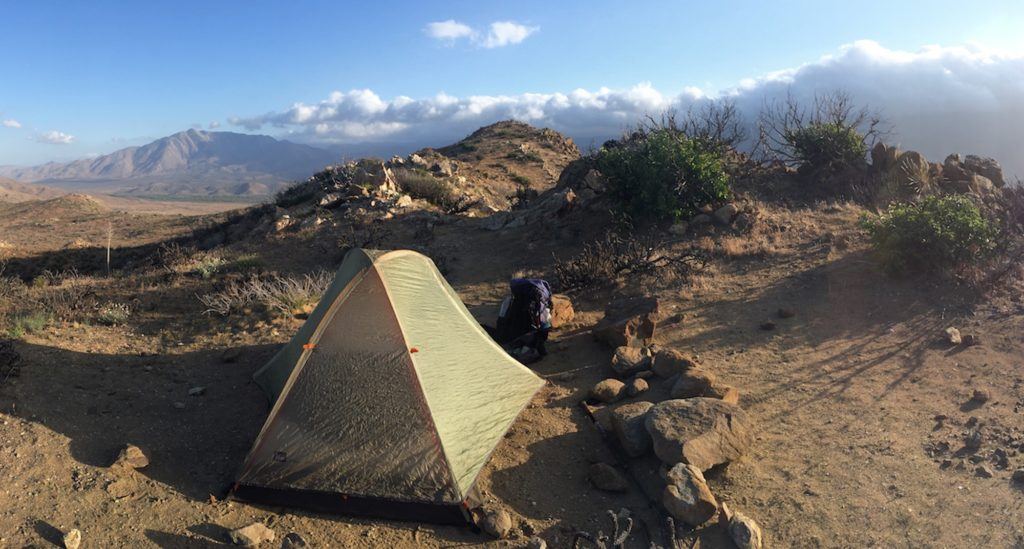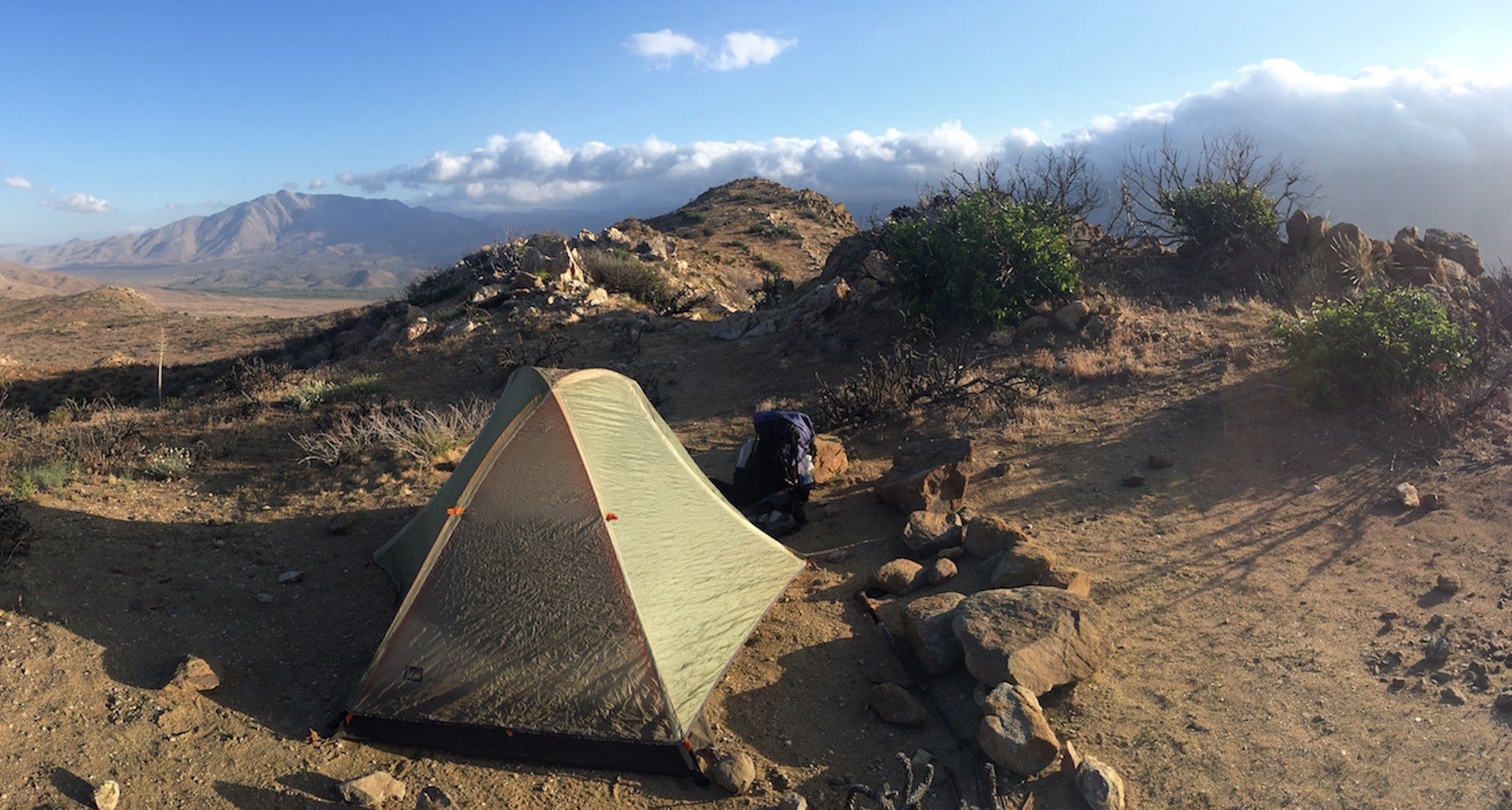 Sleeping Bag
The sleeping bag that made it onto my PCT gear list is no longer available, but the REI Magma Sleeping Bag is very similar (and a little bit warmer!) You'll want a warm, comfortable bag, and the Magma delivers both especially for its size and weight (2 lb, 4oz). I did have a few cold nights in the Sierras, so in Washington, I purchased an extra liner to keep me warm.
I also recommend getting a lightweight compression sack to compress your sleeping bag if it doesn't come with one for added space in your pack. It also acts as protection from moisture and wear and tear.
Sleeping pad
This was the gear decision that took me the longest. I bought and returned a lot of sleeping pads before finally settling on the Big Agnes QCore SLX Sleeping Pad. I still love and use it to this day! Big Agnes's customer service was also impeccable from the trail when my pad got a small leak. They immediately mailed me a replacement to my next stop.
Trekking poles
Don't skimp on the quality of trekking poles for your PCT hike. You will need poles that are strong and durable, especially if you're going to be hiking in deep snow in the Sierras. I saw a lot of people with lower-quality trekking poles that were broken or bent.
The poles I decided on were the Black Diamond Trail Ergo Cork Trekking Poles and I loved the quality and ergonomic grips. I'm a big fan of cork handles vs. foam handles. I lost a section of one pole early on in my hike and Black Diamond mailed me a replacement part on the trail.
If you prefer foam handles, the Black Diamond Distance Carbon Z Trekking Poles are comparable.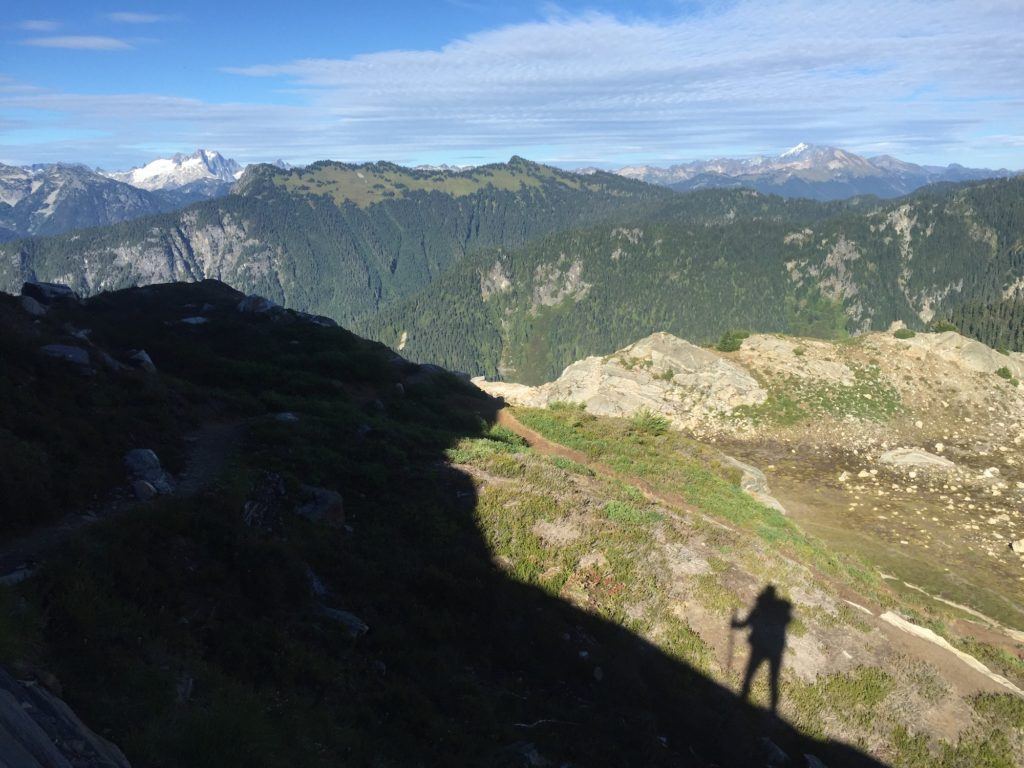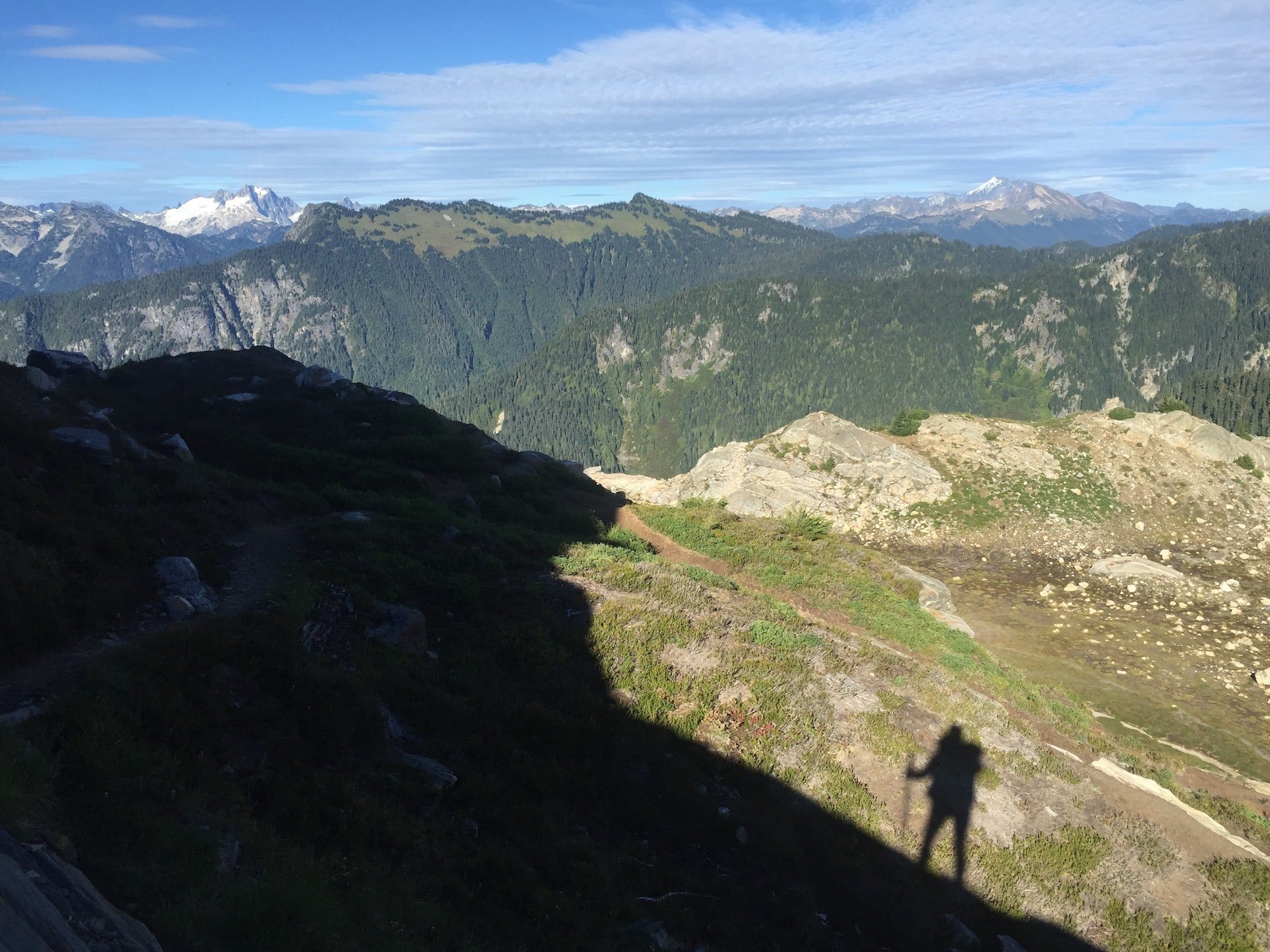 Gear organization pouches
These small Granite Gear organization pouches helped keep me organized throughout my whole trip so I'm glad I had them on my PCT gear list. I'm a big fan because they're lightweight, durable, and help keep clothes clean and organized.
---
PCT Cooking Gear
Camp stove
I used the Jetboil MiniMo Cooking System and fuel canisters for my thru-hike. Personally, I like the MiniMo better than the Flash because it's smaller. I didn't have a lot of experience with backcountry cooking and I knew enjoying hot meals would be a significant part of my happiness on the trail, so I'm glad I packed a stove. On the flip side, I had numerous hiking friends go stoveless and survive.
Pro tip: one small Jetboil fuel canister lasts over a week, so keep that in mind when creating your PCT gear list.
Utensil
The Snow Peak Titanium Spork is lightweight, durable, and versatile. Most importantly, it lasted the entire trail.
Water Filter
This is the only piece of PCT gear that I would 100% change what I used. Whatever you do, don't buy the Sawyer Mini water filter. I started my hike with the Mini and quickly upgraded to the Sawyer Squeeze, which was still painful to use. A better PCT gear list choice is the Platypus GravityWorks.
A few trail friends had the Platypus gravity system and I was always jealous at the trailside watering hole. Filtering water by hand for 5 straight months day in and day out is exhausting. But I did develop some nice forearm muscles!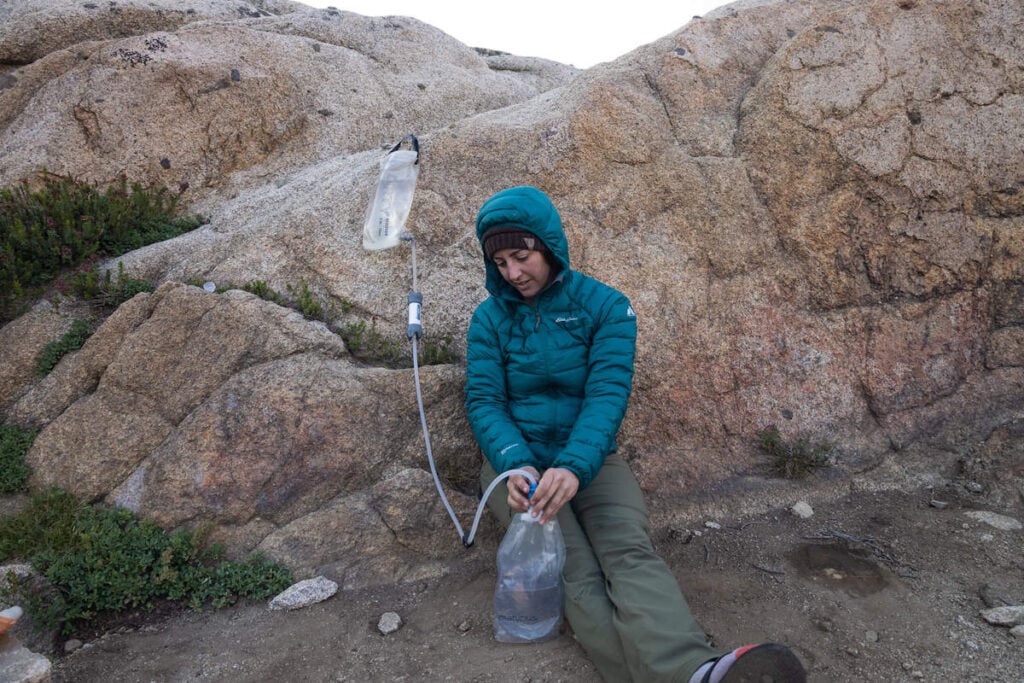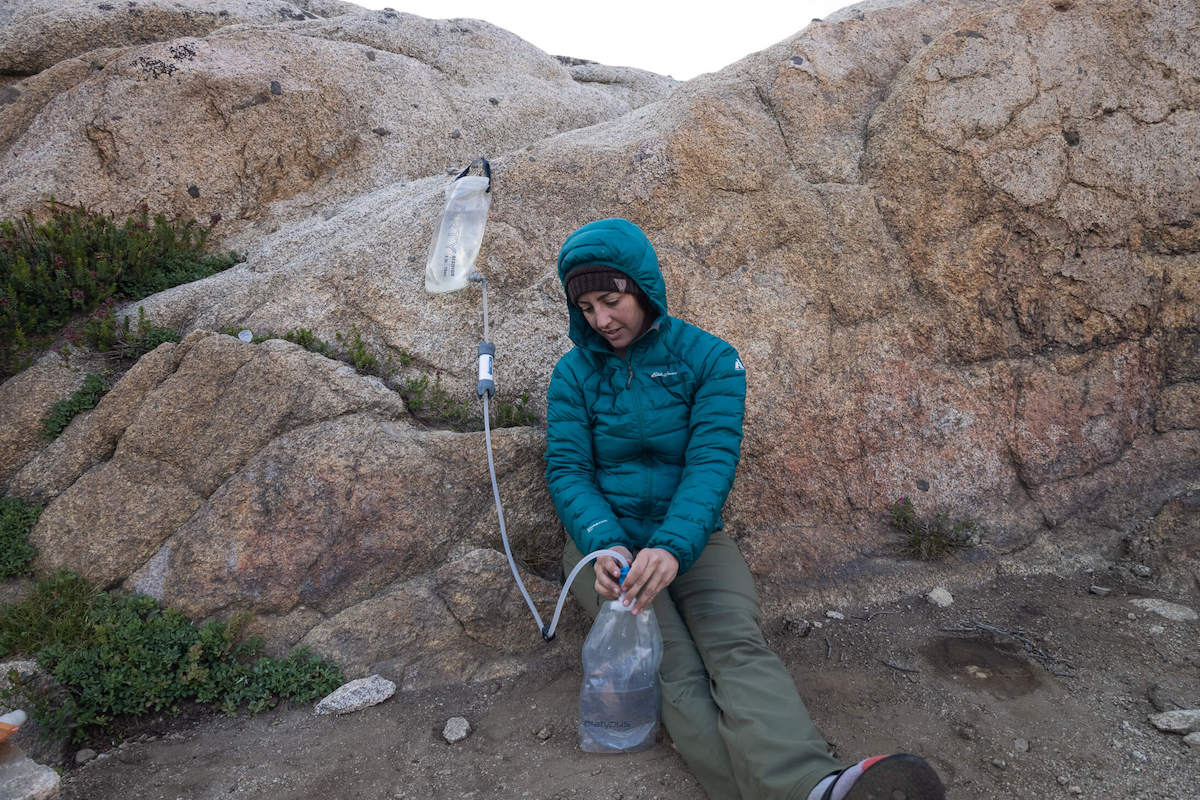 Water bottle
I used 4 of these SoftBottle Water Bottles. They're tall and slender so they don't take up much room in the pockets of your pack and they're compatible with the Platypus GravityWorks filter above. If they get dirty or develop holes, you can easily replace them in any trail town with clean fresh ones.
Bear Canister
I carried the Garcia Bear-Resistant Container (which isn't available anymore) and liked it except for the fact that you can't see in the container like you can with the BearVault.
Kristen loves the Wild Ideas Bearikade Weekender, which she used on her JMT hike. She raves that it's the best bear canister out there. It's much lighter than its competitors and super durable. Rental canisters are also available via their website.
Your bear canister is one piece of gear you want to practice packing and carrying. It does add significant weight and takes some practice packing into your pack.
---
PCT Gadgets & Tools
Knife
I started with a Leatherman Skeletool CX and quickly realized it was ridiculously heavy at 0.5 ounces (every ounce matters!). I quickly switched to a small locking knife.
Headlamp
I used a Petzl headlamp but wasn't sold on it. Instead, I'd recommend the Black Diamond Spot 350 for your PCT gear list because it is built for surviving long-distance thru-hiking. It is waterproof and has a red night vision mode for late-night reading in your tent that won't kill your eyes. It uses 3 AAA batteries and shows battery life remaining when switching on the headlamp.
Lighters
Pack 1-2 lighters. These are essential for starting fires, lighting stoves, or burning the ends of shoelaces if they begin to fray.
Watch
My Armitron Sport Digital Watch took a beating and survived. You will want a watch on the PCT because pulling out your phone to check the time is annoying. Plus, having a backup alarm and time source is great in case you run out of phone battery or your phone stops working.
I would advise against getting a fancy watch or one that needs to be recharged.
Phone + phone charger
I started with a Suntactic Solar charger which broke and their customer service was terrible. I switched to a lightweight power bank that you can charge when you stop in trail towns which I think is the way to go.
GPS Transponder
This was a requirement by my mom since I was going to be hiking the trail solo. The Garmin InReach Mini, fits in the palm of your hand and allows you to send AND receive custom text messages. In the case of an emergency, you can send for help with the press of a button.
Pro tip: Note that most GPS devices including the Garmin inReach require an additional subscription in order to use.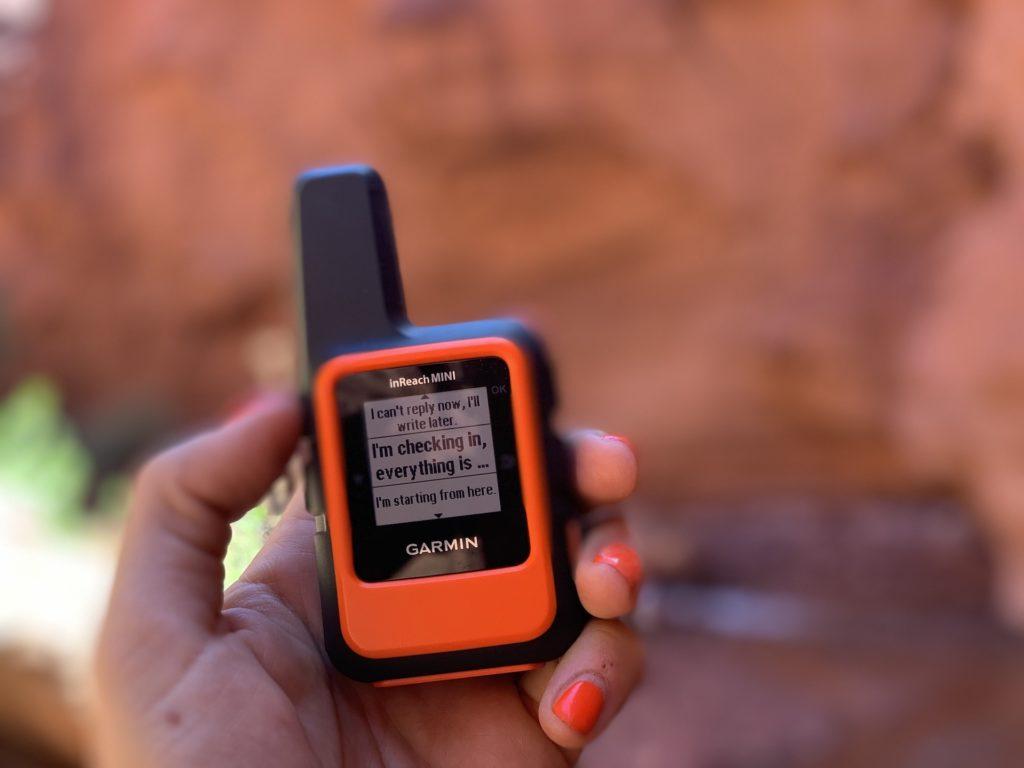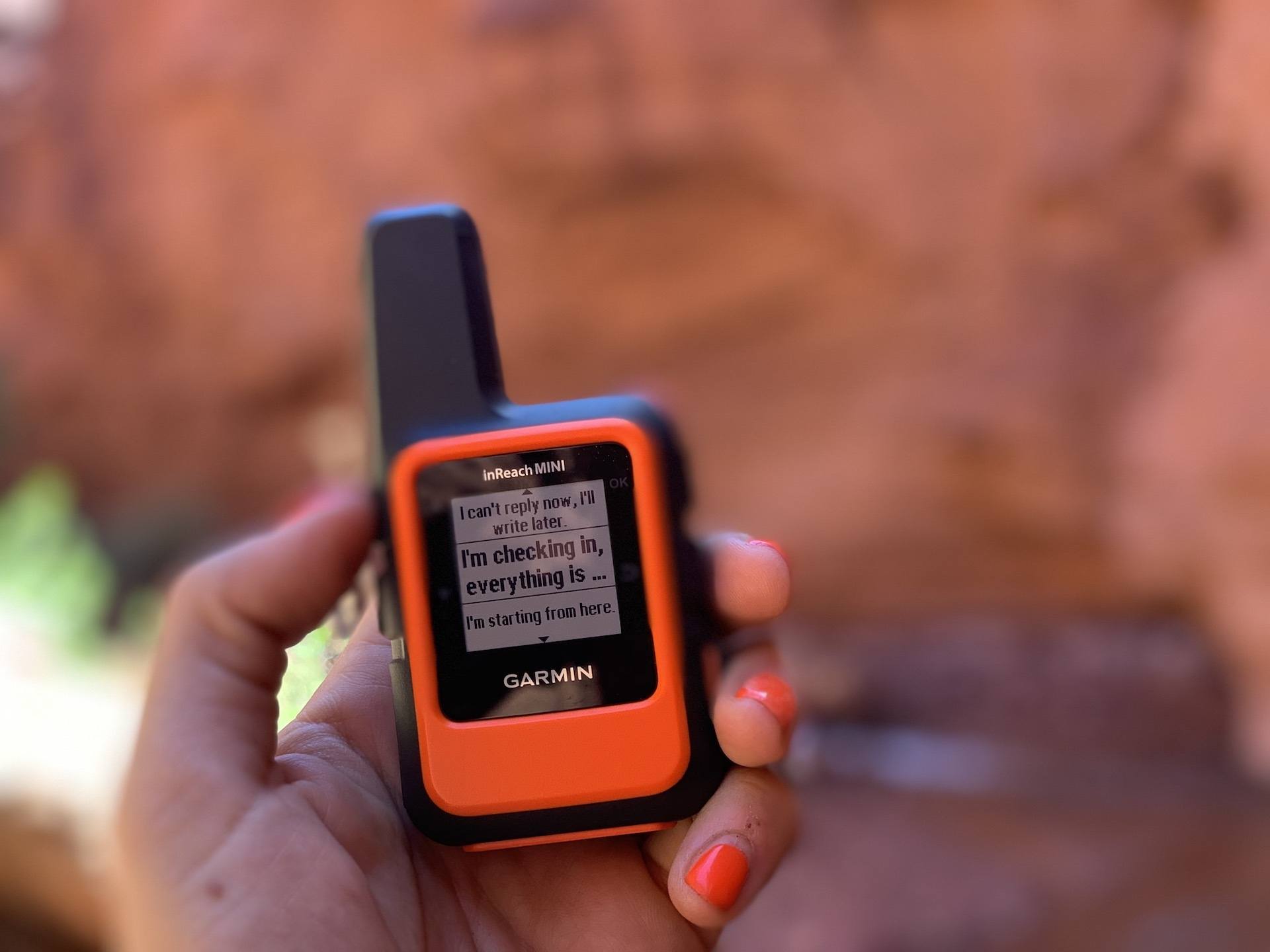 ---
PCT Toiletries
I'm telling you right now, you don't need deodorant (no, you don't!), shampoo, conditioner, etc. You'll find all those items in town re-supply boxes, at every trail angel house, and even at most hiker-friendly hotels. You can use whatever you need and then put them back in the hiker box for others to share.
You're going to get dirty and yes, you'll smell, just get over it. It's not worth including these on your PCT gear list for the room they take up and the weight they add to your backpack.
That being said, here are a few toiletries I do recommend adding to your PCT packing list:
Bug spray
UltraThon Insect Repellent lasts for 12 hours and resists rain as well as sweat. It's 34% DEET but honestly, you'll need it in some places depending on the weather.
Sunscreen
I really like the ThinkSport Sunscreen – SPF 50. Kristen uses the same sunscreen as me and this sunscreen was awesome. It's non-greasy and you'll only have to put it on once in the morning because it lasts all day.
Homemade First Aid Kit
For each of the items in my first aid kit, my parents would frequently pack resupply in small quantities in my 22 resupply boxes. This was helpful so I never had to buy a large quantity in town. Here are the items included in my homemade first aid kit.
Tylenol*
Claritin*
Benadryl* (seriously a godsend on a few specific nights I was scared and couldn't sleep)
Individual packs of kleenex
Emergen-C (great for ensuring you get your vitamins on the trail & helps with electrolyte balance)
Green Goo (it's ointment for cuts/scrapes, chaffing, bug bites and perfect as lotion for dry, cracked hiker hands)
Leukotape (this is the best stuff out there for blisters precautions, my dad cut a pencil in half and would wrap a bit around the pencil to mail to me)
2 Safety Pins
*For all the pills, don't pack bottles; just take 10-15 pills of each in a small plastic bag. If I started running low, I'd ask my parents to put more in my resupply boxes.
Chapstick
I was constantly losing my lip balm and buying a new one in every other trail town. They are all good but the Jack Black Intense Therapy Lip Balm SPF 25 is moisturizing and has SPF.
Hand sanitizer
Pack a small bottle or tube of hand sanitizer to use before you eat and after going to the bathroom. Get travel-sized ones with a clip so you can clip them to your pack.
Wet wipes
Summer's Eve Fragrance-Free Wipes – These are adult baby wipes for ladies that are gentle and help you stay fresh. They aren't for wiping down your entire body, just for keeping your lady parts clean and fresh. I kept a few handy in a Ziploc bag & had extras sent in resupply boxes. For a full-body wipe down, people love Sea to Summit Wilderness Wipes.
Trowel & Toilet Paper
Cheap was the name of my game when it came to buying a trowel for my PCT gear list. I used this GSI Outdoors Cathole Sanitation Trowel. If you're worried about weight, check out this new ultralight trowel that weighs less than an ounce.
To the people who say just use your trekking pole or a rock as a trowel, I tried and it just didn't work for me at all.
Also, don't run out of TP, and always check your supply before leaving each town. If you're nervous about pooping in the woods, check out our Step-by-Step Guide to Going #2 in the Wilderness.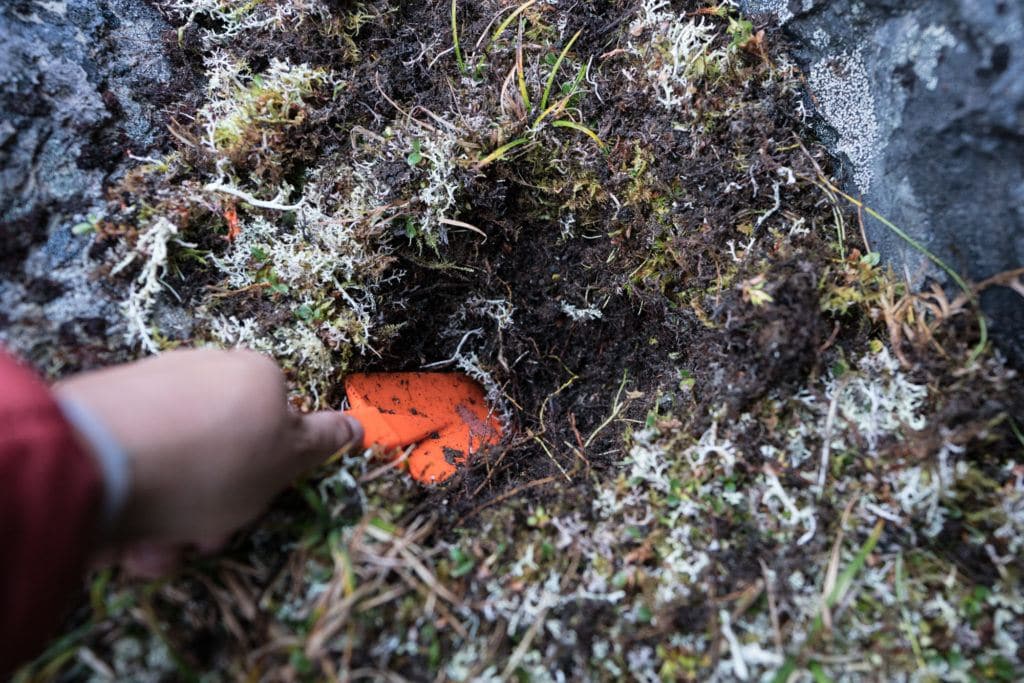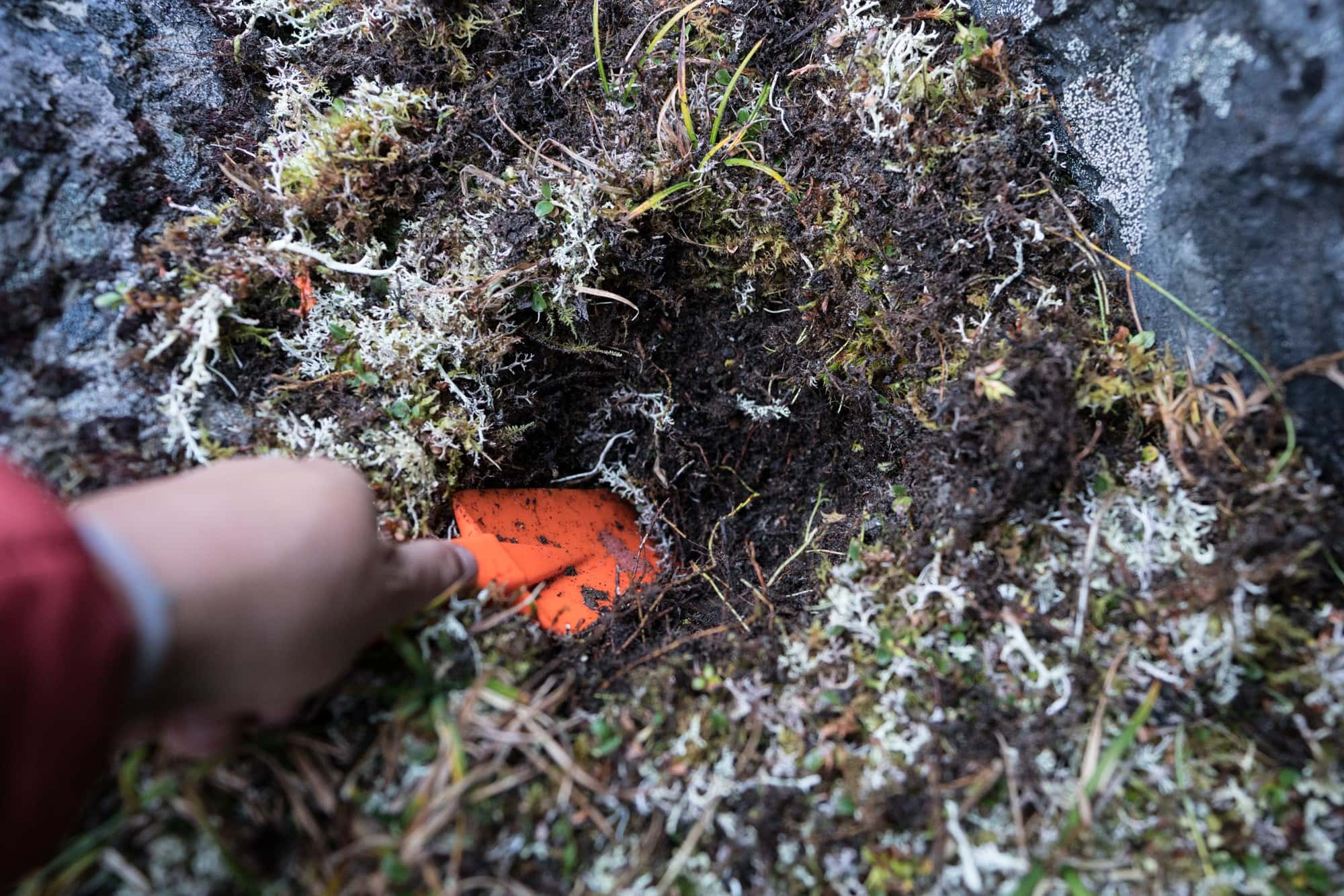 Toothbrush and travel-sized toothpaste
Keep your pearly whites clean on the PCT by carrying a toothbrush and a small travel-sized tube of toothpaste.
---
PCT Miscellaneous Gear
This category of your Pacific Crest Trail gear list is where a lot of people add weight. Be careful, you need to evaluate how functional and essential every item will be to your everyday happiness on the PCT.
Notepad
I brought a Moleskine notebook + pen with me on my thru-hike. I like handwritten journaling and having the memories of written word vs. using my phone to journal. These notebooks are small, lightweight, and soft-covered yet durable.
Kindle + Waterproof Bag
I loved being able to read and not carry the weight of an actual book. The Kindle Paperwhite weighs 7.2 ounces. I used it a lot in California but by the time my mileage increased in Oregon and Washington I wasn't reading as much and I sent it home. The waterproof cover was just to keep it safe in my pack. Honestly, if I was to hike the PCT again, I'd probably just read on my phone.
Trail guide & Map
Yogi's Trail Guide and PCT Half-Mile maps (now PCT National Geographic maps) were a must for me and I was very happy with both. Personally, I liked having physical copies of both. Every night in my tent I'd read about the upcoming miles and plan my next town stop. I divided the trail guide and maps into each of my resupply boxes, so I was only carrying an ounce or two of paper at a time.
---
PCT Clothing List & Accessories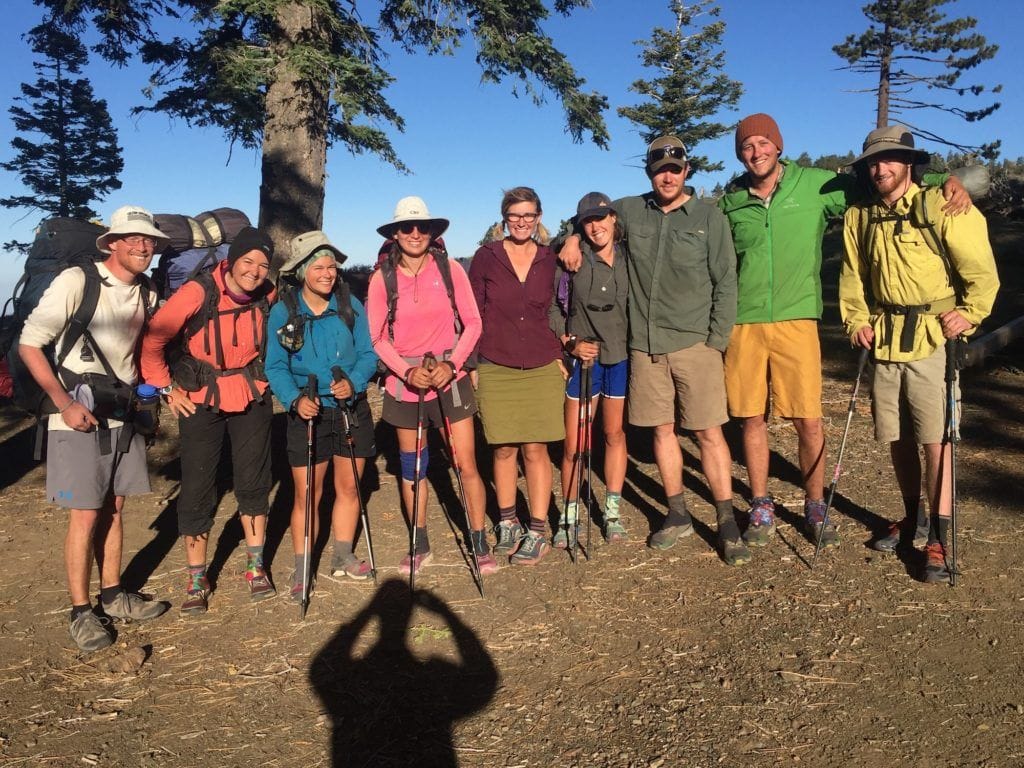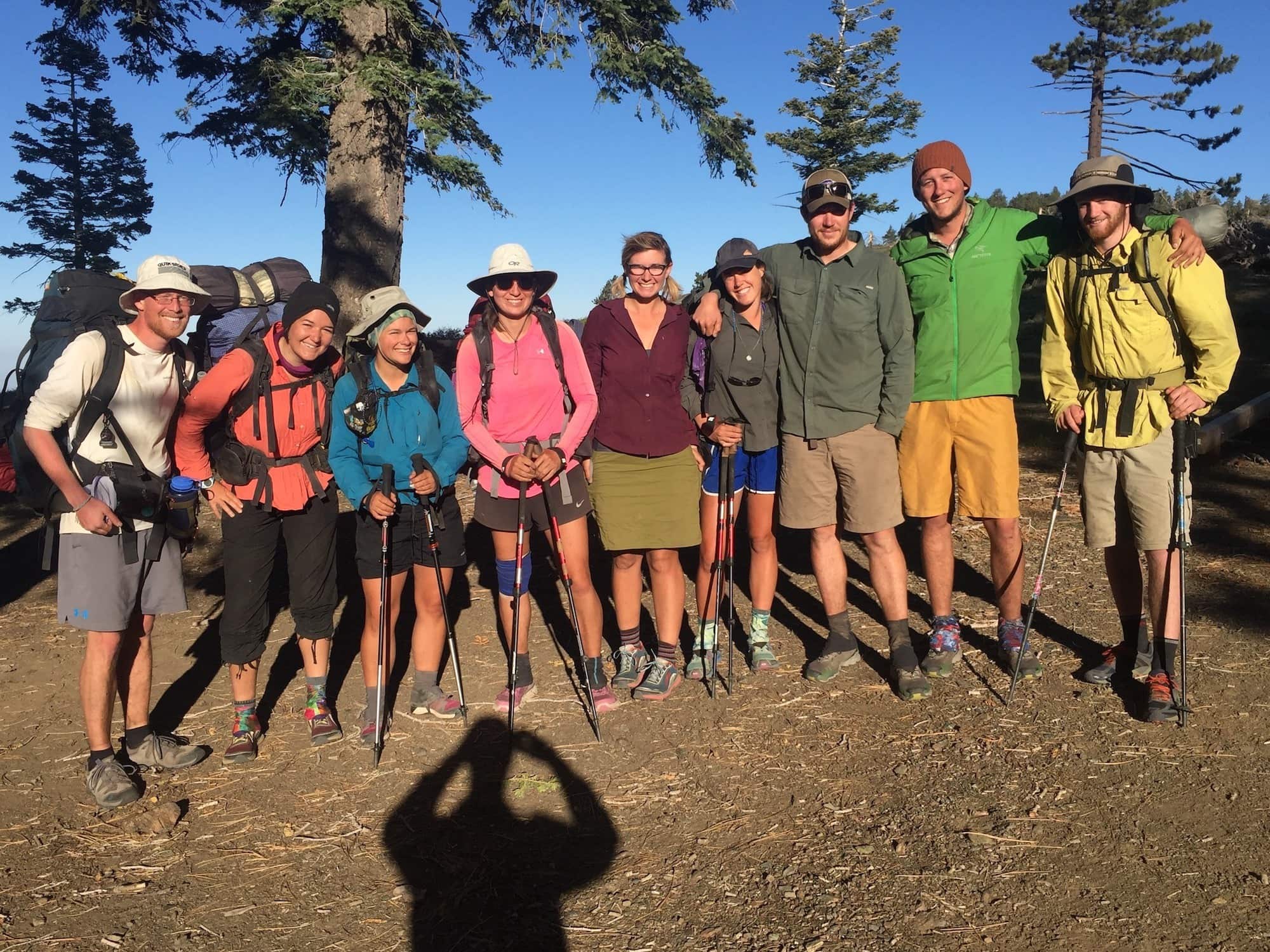 1 pair Hiking Pants
I rarely wore pants on the trail and ultimately sent my pants home after the Sierras. The pants I did have were REI Co-op brand, similar to the REI Savannah Pants. After I mailed my pants home, if I was cold I'd wear my base layer leggings.
1 Pair Hiking skirt or shorts
I started the trail with a pair of Nike spandex shorts that became my lifeline. I also hiked in a PurpleRain skirt. I loved the fit and the big pockets for carrying items. In the photo above, you'll see my friend, Pinkie, wearing a green PurpleRain skirt.
2 Short-sleeve shirts
I am hands-down obsessed with Icebreaker shirts. Check out their Tech Lite Short Sleeve shirts. I switched shirts a little after halfway and never once did I feel like they smelled. They also do a great job of wicking moisture and sweat.
1 Long-sleeve shirt
You'll be thankful to have long-sleeves for sun protection. I wore an Exofficio long-sleeve button-down that's no longer available, but here are two similar options: Columbia Silver Ridge Lite Shirt or REI Co-op Sahara Long-Sleeve Shirt.
My long-sleeve shirt was one of the only pieces of gear that was beyond filthy by the end of the trail. I ultimately threw it out, but I did get 5 months of daily use out of the one shirt!
1-2 Midweight base layers
I loved my base layers. For California, I carried two pairs of midweight bottoms: the REI Co-op Midweight Base Layer Tights and the Smartwool Midweight Base Layer Bottoms. For Oregon and Washington, I only carried the Smartwool Midweight Base Layer Bottoms. It was helpful in the Sierras to have two pairs so I could hike in one and have a clean pair for night.
For my base layer top, I carried a SmartWool Midweight Longsleeve Zip Top. For the most part, I chose to wear my base layers for added warmth I never wore them outside my tent. It was nice to have "clean" clothes for bed.
1 puffy jacket
Definitely put a down or synthetic jacket of some sort on your PCT gear list. Nights and early mornings are very cold. You want something that is lightweight, packable, and durable. I had planned to purchase a Patagonia Hooded Nano Puff, which Kristen loves, but found a NorthFace ThermoBall Jacket on sale at REI, so I opted for the money-saving option.
The ThermoBall survived the trail, but I am looking to upgrade now to the Patagonia Nano Puff as I do think it's significantly warmer, especially since it has a hood to trap your body heat.
2 pairs underwear
For underwear, you'll want ones that are easy to hand wash, dry quickly, and can also be used to swim in. The Ex Officio Give-and-Go Sport Bikini Briefs are my favorite "outdoor" underwear. I'll be honest though, since the trail I've discovered Patagonia's Active Briefs and I am slowly converting.
1 Sports bra
The Patagonia Wild Trails Bra is seriously the only athletic bra I've ever bought that didn't stretch or get loose after extended use.
Rain Pants & Jacket
I started my hike in Mexico with rain pants and a jacket, but they ripped by the time I hit Julian, CA. I threw them out and roughed it all the way to Washington with no rain gear. We almost changed my trail name to Tinman after I picked up matching silver rain pants and a jacket in Seattle.
I'm still to this day in love with my OR Helium rain pants and OR Helium rain jacket. They are pricey but weigh less than 6 ounces each and pack into a pocket for easy storage. The elastic waist with drawcord is great for putting on over other pants as well as the zip ankle bottoms for getting over your shoes.
3 pairs of socks
Don't skimp on sock quality or the number of socks you pack. I changed my socks every 3-4 hours if it was hot or wet outside. I hiked for 5 months, 2,650 miles without one blister, so… change your socks! Use safety pins to attach freshly changed socks to your pack to dry out. I packed 2 pairs of Darn Tough Hiking Socks and one pair of Injinji 2.0 Midweight Socks.
1 Hat
I wore a random Gregory hat I had gotten for free at PCT trail days. I ended up ditching it because I'm not a huge hat person. Kristen loves Patagonia hats, though. Check out the Patagonia Interstate Hat – it's breathable and stays on even with strong winds.
1 pair of sunglasses
You need something durable with polarized lenses to protect those eyeballs like Native Eyewear or Smith sunglasses.
1 Buff
Not only did I wear a Buff CoolNet UV+ headwear every day either as a headband or around my neck, I used my Buff every single night stuffed with clothes as a pillow.
Wool beanie & Gloves
I wore a merino beanie every morning and night that I had gotten free from PCT trail days the year prior. For gloves, I loved The North Face Etip Gloves. They were necessary, especially for Mt. Whitney and cold mornings.
My beanie was similar to SmartWool's lightweight merino beanies.
---
The Best Shoes for Thru-Hiking the PCT
Hiking Shoes
I trained in Brooks Cascadias, then started my hike in La Sportiva Synthesis Mid GTX hiking shoes but they were just too heavy at the end of the day. In Mount Laguna, CA I picked up a pair of Altra Lone Peak Trail-Running Shoes and it was a love story for the rest of the trail. They have an extra-large toe box which is great for swollen hiker feet. I went through 5 pairs and still to this day, I am buying Altras.
Gaiters
Before hiking the trail I thought gaiters were a little overkill. Post trail I think they're one of the best hiking inventions ever. My mom got me a pair of Dirty Girl Gaiters, and I'm still rocking them today. They do a killer job of keeping dirt, rocks, twigs, and anything else out of your shoes. Nothing is worse than getting a rhythm down and then having to stop to shake out your shoe.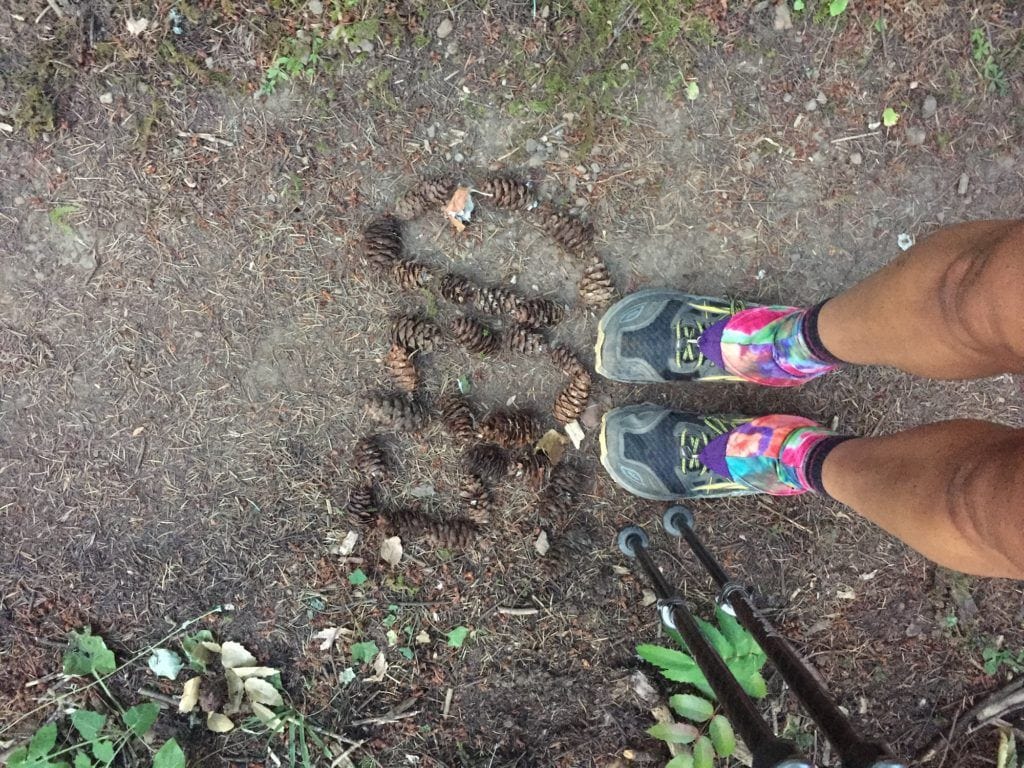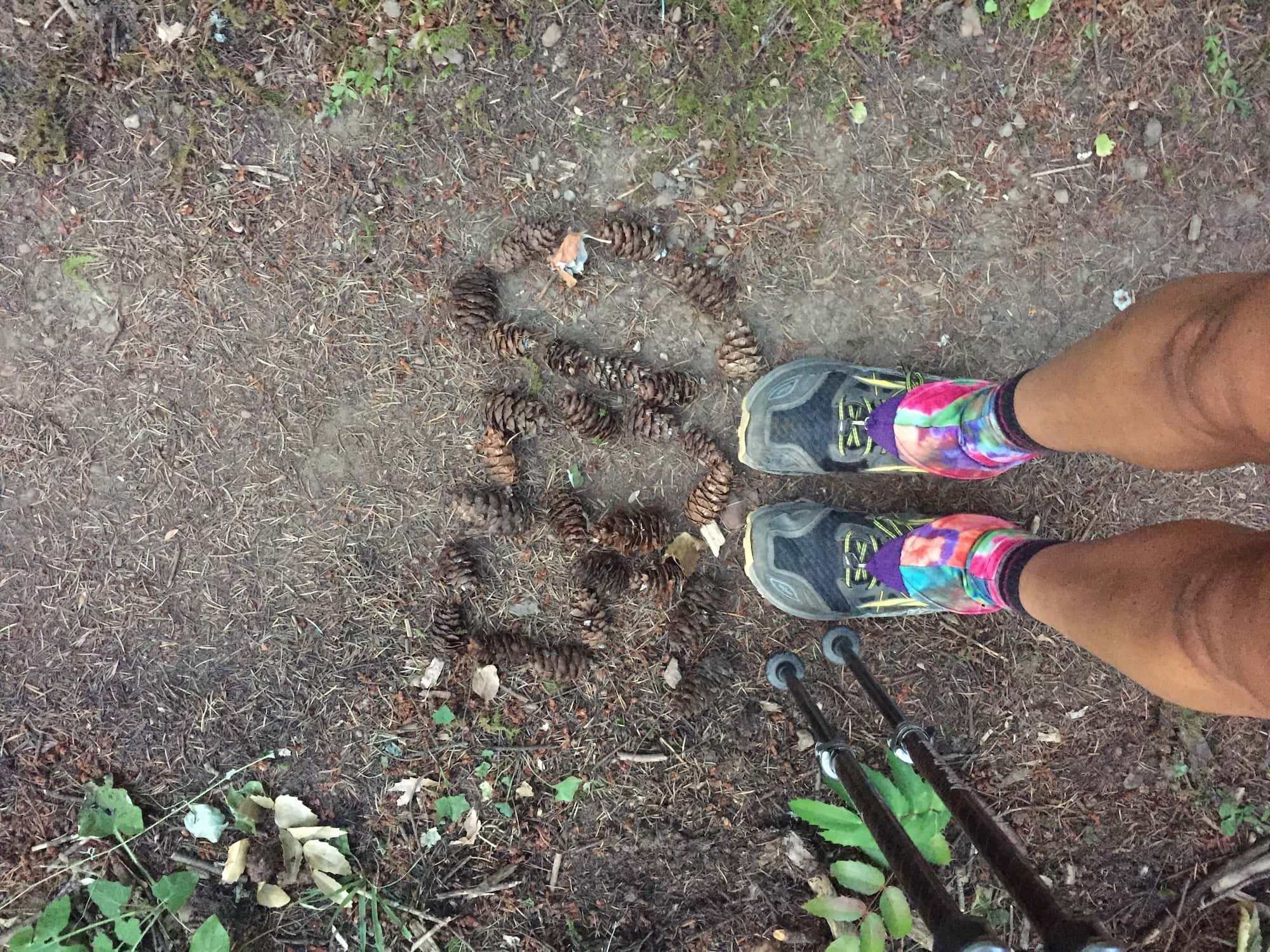 Microspikes
I mailed myself a pair of MICROspikes to Kennedy Meadows that I used for the entire Sierras and then mailed home. They were perfect for giving me extra traction and security on ice and snow.
---
Do you have questions about my PCT gear list? What do you plan to pack for your thru-hike? Leave a comment below!