A Local's Guide to Aspen
When you think of Aspen, you may think of ritzy hotels and decadent parties. But it's also surrounded by some of North America's most beautiful wilderness and is a natural basecamp for some incredible hiking, biking, fishing, skiing, and even paragliding—just about anything you can do outdoors. And there's no reason you can't enjoy this classic mountain town when you're on a budget; after all, that's exactly what the locals do (you think ski bums are getting paid the big bucks? Think again!).
Hiking
West Maroon Pass: this hike starts below the Maroon Bells at Maroon Lake, one of the most photographed spots in the country, and the first few miles are about as busy as you'd expect. But once you pass the picnicking families at Crater Lake, the trail becomes infinitely less crowded. It's six and a half miles one-way to West Maroon Pass, but you can turn around whenever you like (or you can keep going, descend the other side of the pass, and walk all the way to Crested Butte!). The views are unbeatable the whole way. Check out this page on Backpacker.com for more info.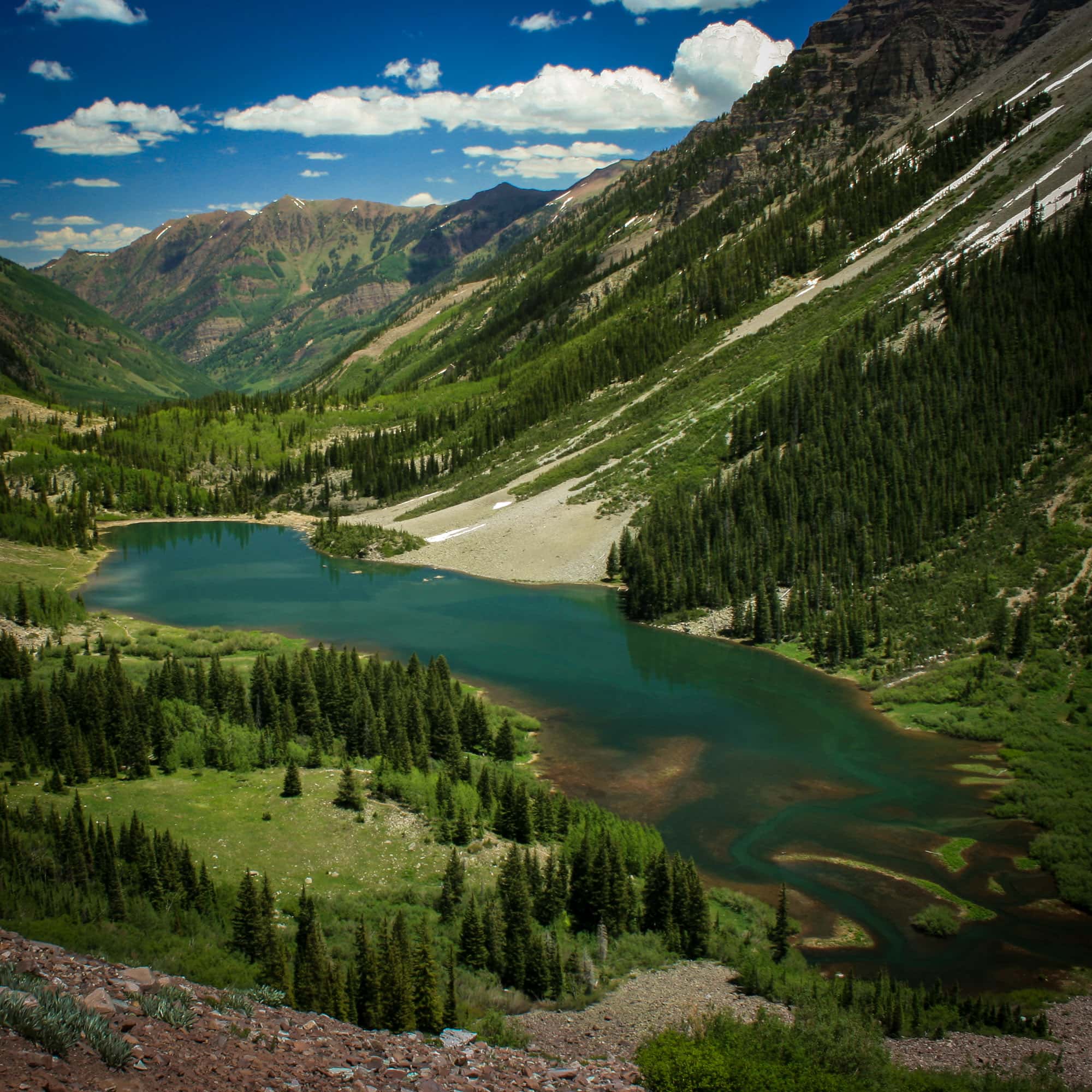 Crater Lake, West Maroon Pass Trail (Photo: Ben Thomas)
Triangle Peak: You'll have to drive a few miles down valley to get to this trailhead, but it's a lesser-known hike that reaps big rewards in a short distance. You hike up a jeep road for two and a half miles to the summit of Triangle Peak, and from there you have a view of the entire Roaring Fork Valley, the whole Elk Mountain Range, and almost all of Aspen-Snowmass's four ski areas.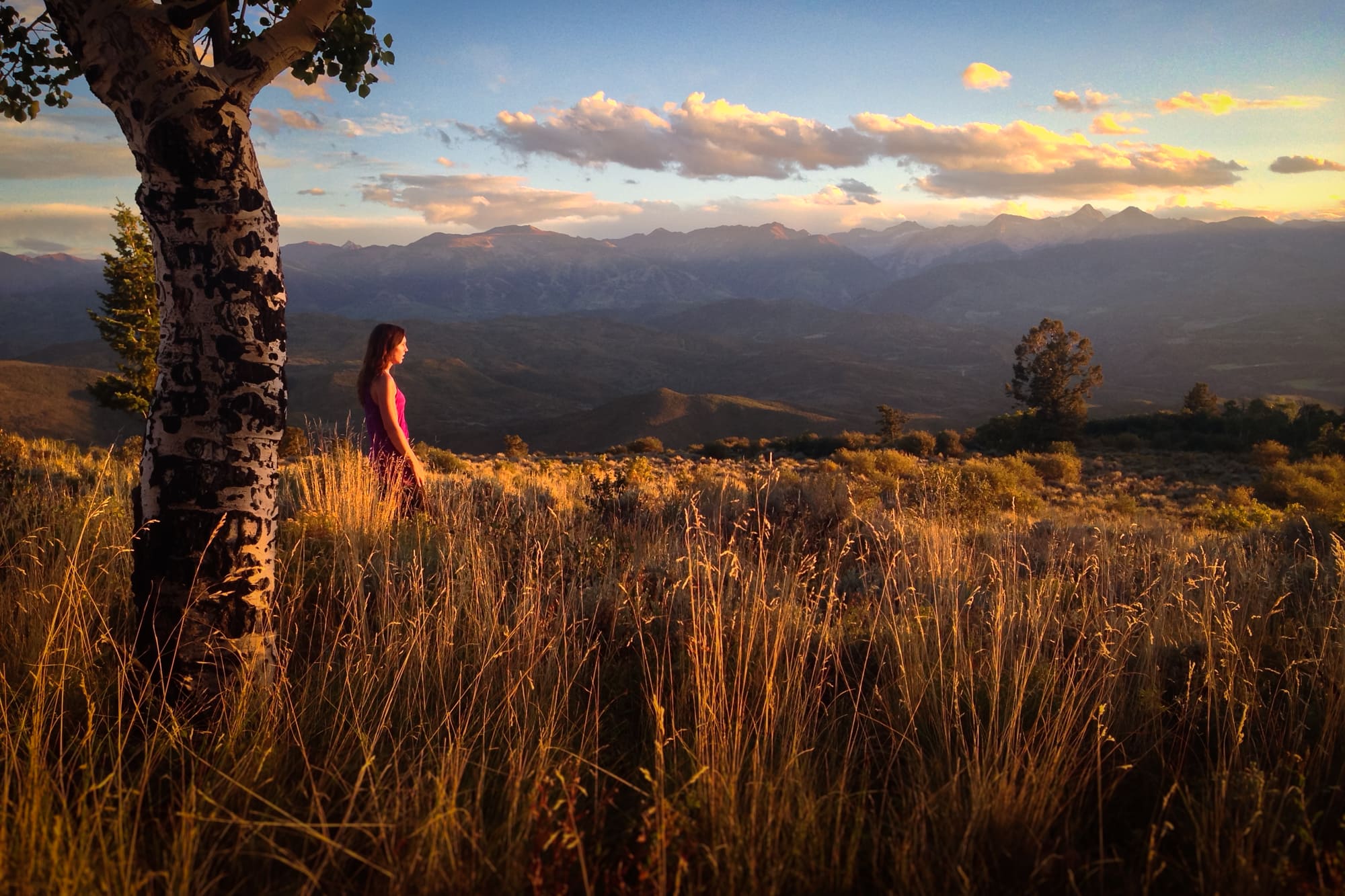 Sunset from Triangle Peak in Aspen, Colorado (Photo: Ben Thomas)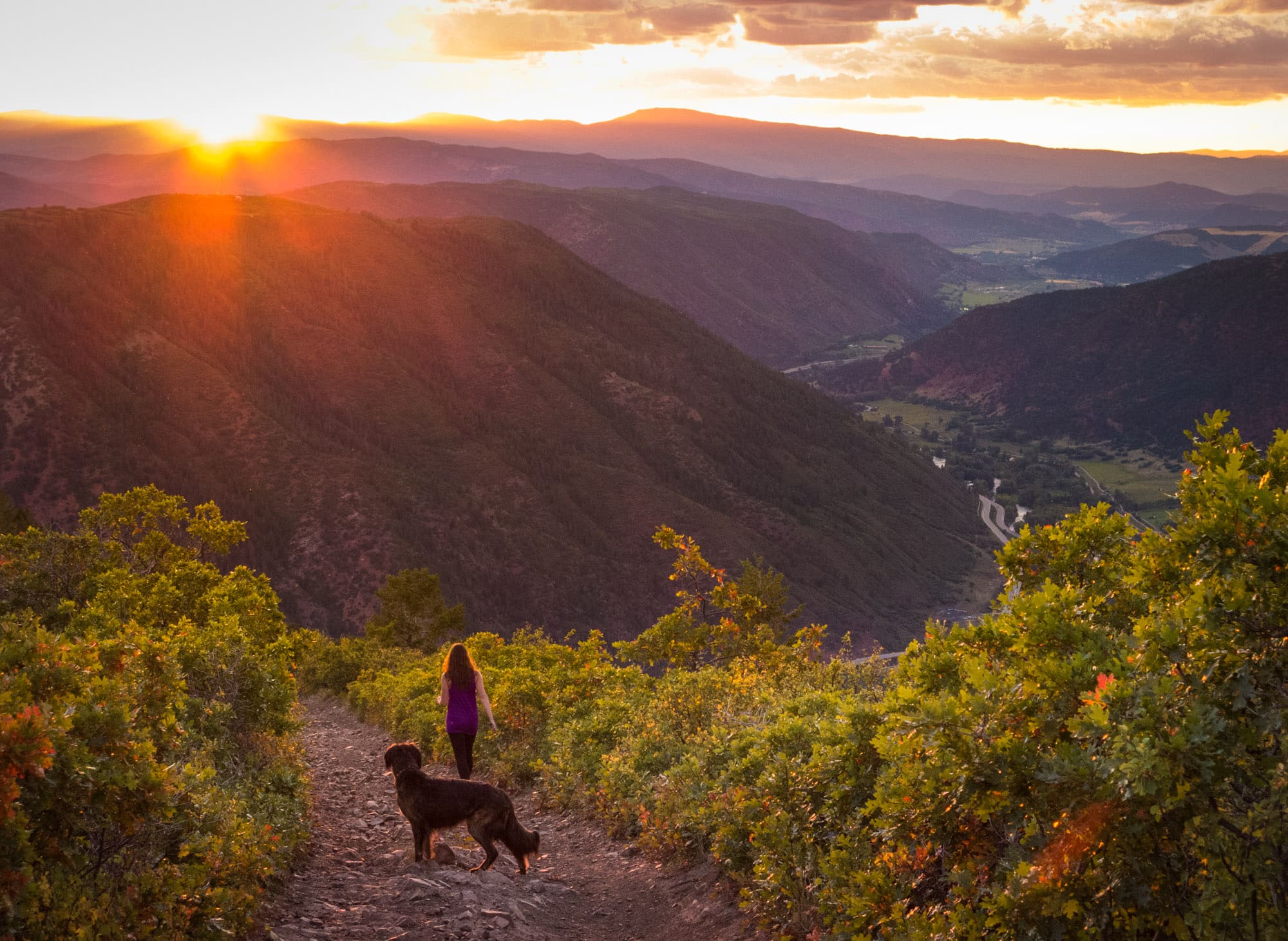 Sunset from Triangle Peak in Aspen, Colorado (Photo: Ben Thomas)
Ute Trail: You can follow this trail all the way to the top of Aspen Mountain, and while it's steep at first, it's much less busy than the popular road up the face of the ski hill. If you're totally exhausted when you get to the top, you can take the gondola back down to town for free!
For additional hiking options, check out the AllTrails app. It's a free app that is really helpful for finding a local hiking trail on the fly.
Also, if you are thinking about climbing a 14er in Colorado this summer, there are a number near Aspen and here's some tips to prepare.
Biking
Aspen has biking options for everybody. From lung-busting road rides, to rollercoaster single track, and even family cruiser rides – it's all there.
Road biking: A couple classics are Independence Pass, a lung-busting climb to 12,065 feet above sea level, and Maroon Creek Road, a comparatively flat (but in reality, steady uphill) ride to the iconic Maroon Bells.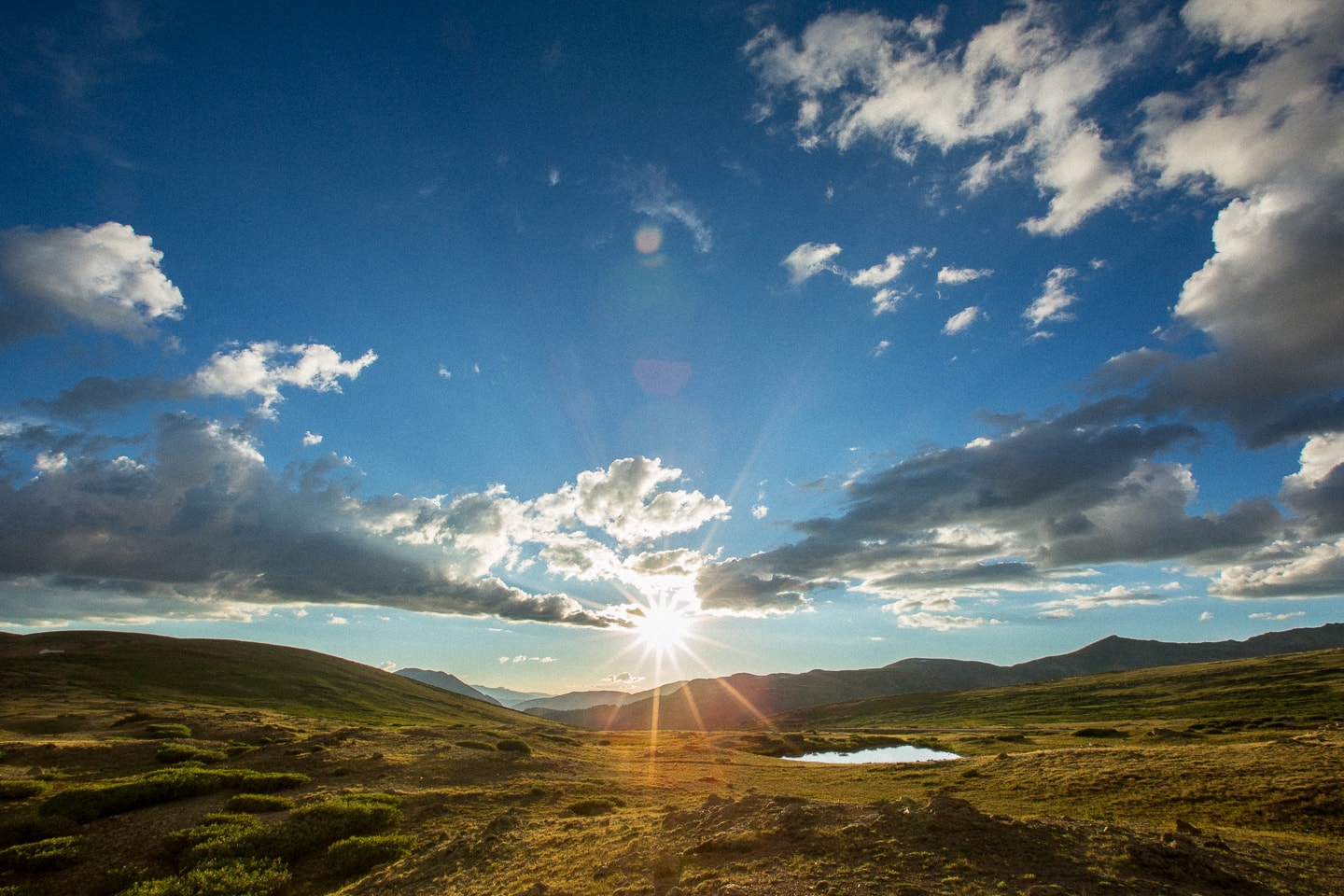 The Top of Independence Pass in Aspen, Colorado (Photo: Ben Thomas)
Mountain biking: Head up the face of Aspen Mountain on the forest service road and enjoy single track on the way down, or take one the trails across town, above the old Smuggler Mine. Feel like getting out of town a bit more? Nearby Snowmass Mountain has more singletrack, downhill, and enduro riding than your legs could ever handle. For a dynamite single track shuttle, take the free bus from Aspen to Snowmass Village, then combine the Rim Trail, just west of Snowmass Village with the brand new single track of Sky Mountain Park, cutting back to Aspen on the hillsides above Aspen airport.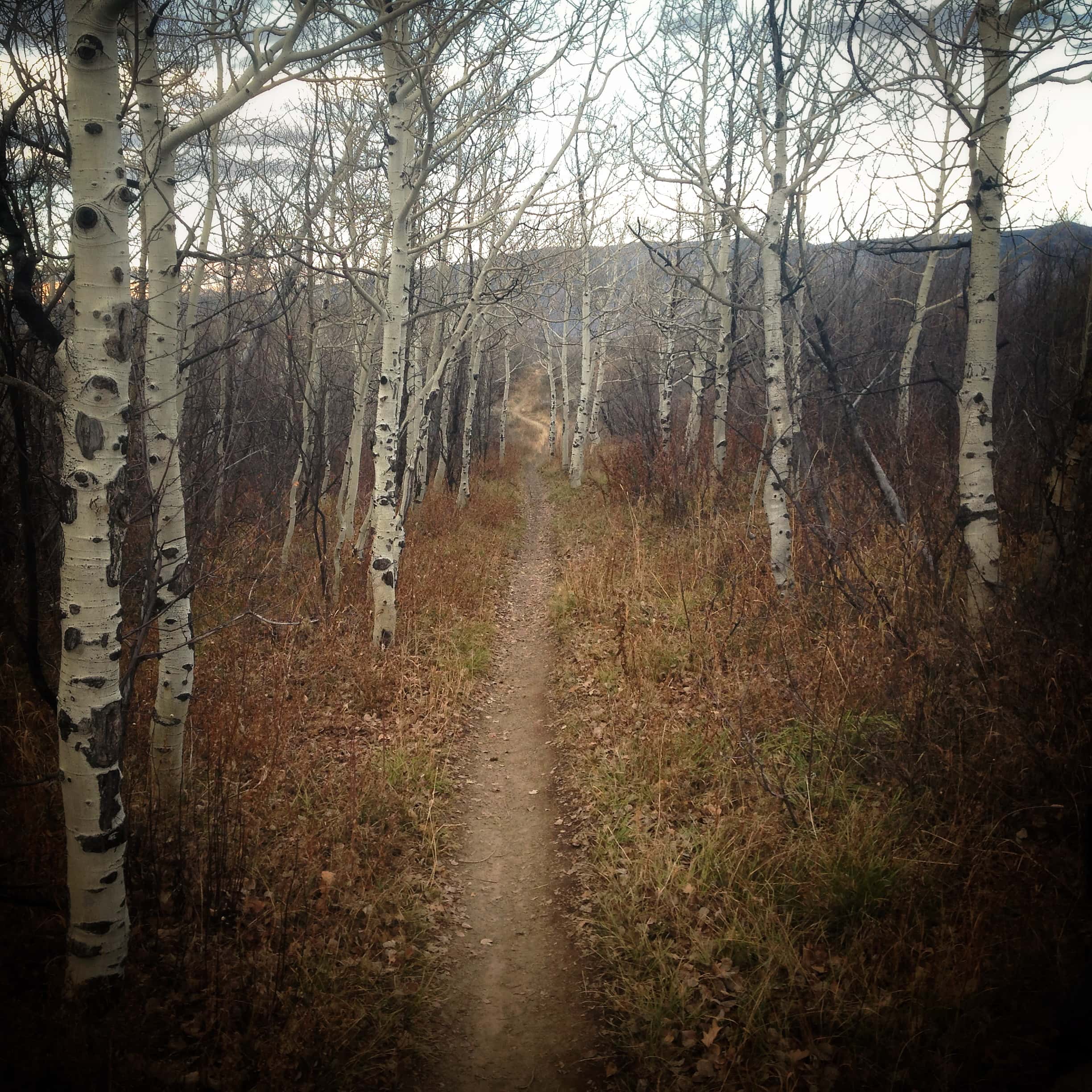 The Rim Trail in Aspen, Colorado (Photo: Ben Thomas)
If you've got kids, or don't fancy riding with traffic or through the trees, cruise down valley on the Rio Grande Trail, a former railroad track turned multi-use pathway that stretches 40-plus miles all the way to Glenwood Springs along the Roaring Fork River. A mid-morning ride to Woody Creek Tavern for lunch is tough to beat; it's about 10 miles from Aspen, just long enough to earn that burger and brew.
Fishing
There may be no better place on earth for fly fishing. The Roaring Fork River, a gold-medal fishing river, flows right through town. Fifteen minutes down valley, it's joined by the Fryingpan River, another gold-medal river. Fifteen minutes past there, the Crystal River joins the party—another world-class fly fishing river. You can hire a guide to take you to their favorite secret spots, or you can just grab your rod and head out there—it's hard to go wrong in this area and you can see the current fishing reports here. Just make sure you're not venturing onto private property and make sure you pick up a Colorado fishing license! You can snag one online, from City Market in the center of town, or in the fly shops in Aspen, Basalt, or Carbondale.
Restaurants and bars
Believe it or not, you can have a solid dinner in Aspen for less than $15. Here are some good options:
Zane's Tavern—A sports bar that's popular with locals, especially when the Denver Broncos are playing. The food is typical pub grub, but it's solid and inexpensive. And you can't go wrong with anything fried, right?
Big Wrap—get stuffed on the Valley's best burritos. Our favorite? The Pesto Wrapture.
Jour de Fete—the French name might sound fancy, but this is a no-frills deli with great sandwiches and salads.
Main Street Bakery—packed to the gills on weekend mornings, and popular for good reason! A classic spot for breakfast in Aspen. Donuts after a trail run is a particular guilty pleasure of ours…
Other options
Have more time to fill during your trip to Aspen? Here are some of our favorite random things to do:
Hike up Aspen Mountain for a game of frisbee golf. There is a disc golf course right at the top of the ski area. Discs are available at the top to rent or feel free to bring your own. If you are in Snowmass, there is a course on the mountain there as well.
Tube or paddle board through Northstar Nature Preserve. The current is gentle, the water is shallow (and cold!), and there's no better way to spend a summer afternoon.
Go for the coldest swim of your life at the Grottos. These snowmelt-fed pools and waterfalls east of town look like a scene from an enchanted fairy tale, but the water temperature feels more like a wintry nightmare. If you decide to jump in, be prepared for the icy water to take your breath away—literally.
Catch some free shows: The Aspen Music Festival takes place every summer, all summer, and students can be found giving free performances on street corners around town. Also check out the live music calendar at the Belly Up.
Where to stay/camp
The Locals' Secret
Fall is by far the best time to be in Aspen. Yes, summertime is full of festivals, and wintertime boasts all the skiing and snowboarding your heart could possibly take. But fall in Aspen? That's the closest you'll get to heaven on earth. September temperatures are warm during the day, the trails are blissful, and the aspens are changing. It's hard to nail down a date for the best fall foliage, but late September/ early October is your best bet. Even better, the local hotels do offseason deals in October, especially on weekdays.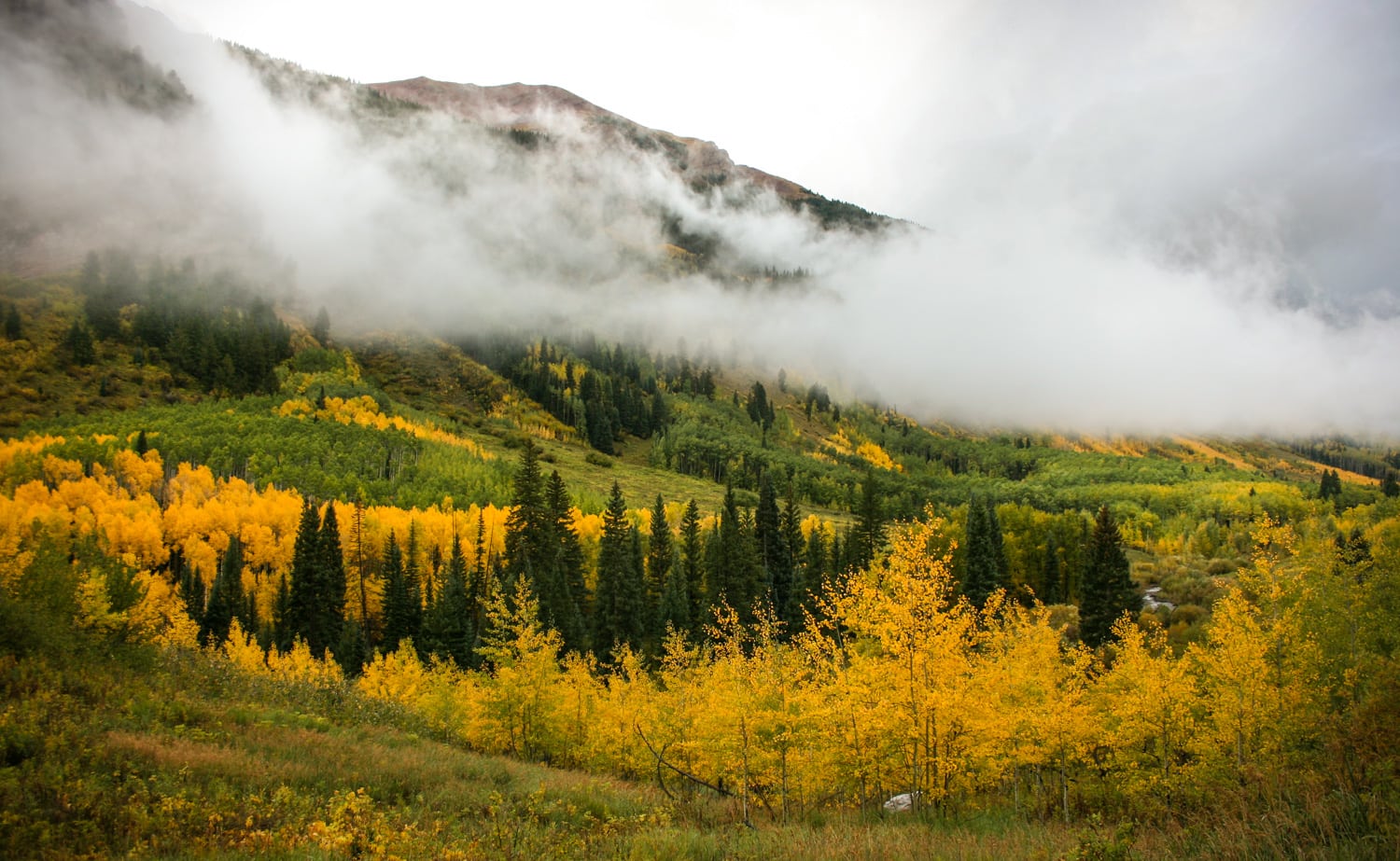 SO…WHO WANTS TO GO TO ASPEN NOW?!? LEAVE A COMMENT BELOW, TWEET ME, OR WRITE ME A POST ON FACEBOOK.