The Ultimate Hot Springs National Park Travel Guide
I've only been through Arkansas when I was in the middle of my move to Washington DC, and I remember seeing signs for Hot Springs National Park. I didn't have time to stop, but I've been curious about this place ever since.
In this new guest post by Mara Kuhn, she shares a complete travel guide to Hot Springs National Park, including tips for exploring the geothermal bathhouses, trails, and landscapes in this unique and cultural National Park.  – Kristen
First and foremost, let's start by acknowledging that Hot Springs National Park in Arkansas is different from some of the big name National Parks, like Yellowstone, Yosemite, and Acadia. You might not find the same dramatic scenery, but Hot Springs National Park is instead alive with culture and history. Many know Yellowstone National Park to be the first national park in our country, but Hot Springs National Park in Arkansas was the first land set aside for recreational purposes by the United States Government. Congress established Hot Springs Reservation on April 20, 1832. That's 84 years BEFORE the National Park Service was even created.
The area was known as the "Valley of the Vapors" due to the numerous free flowing 143-degree hot springs in the Ouachita Mountain and earned its National Park designation on March 4, 1921. National Park Week is actually celebrated on the anniversary week of the Hot Springs designation. As people began to settle the area in the early 1800s, they capped the springs and piped them into bath houses. Today there are three thermal pools where you can experience the hot water.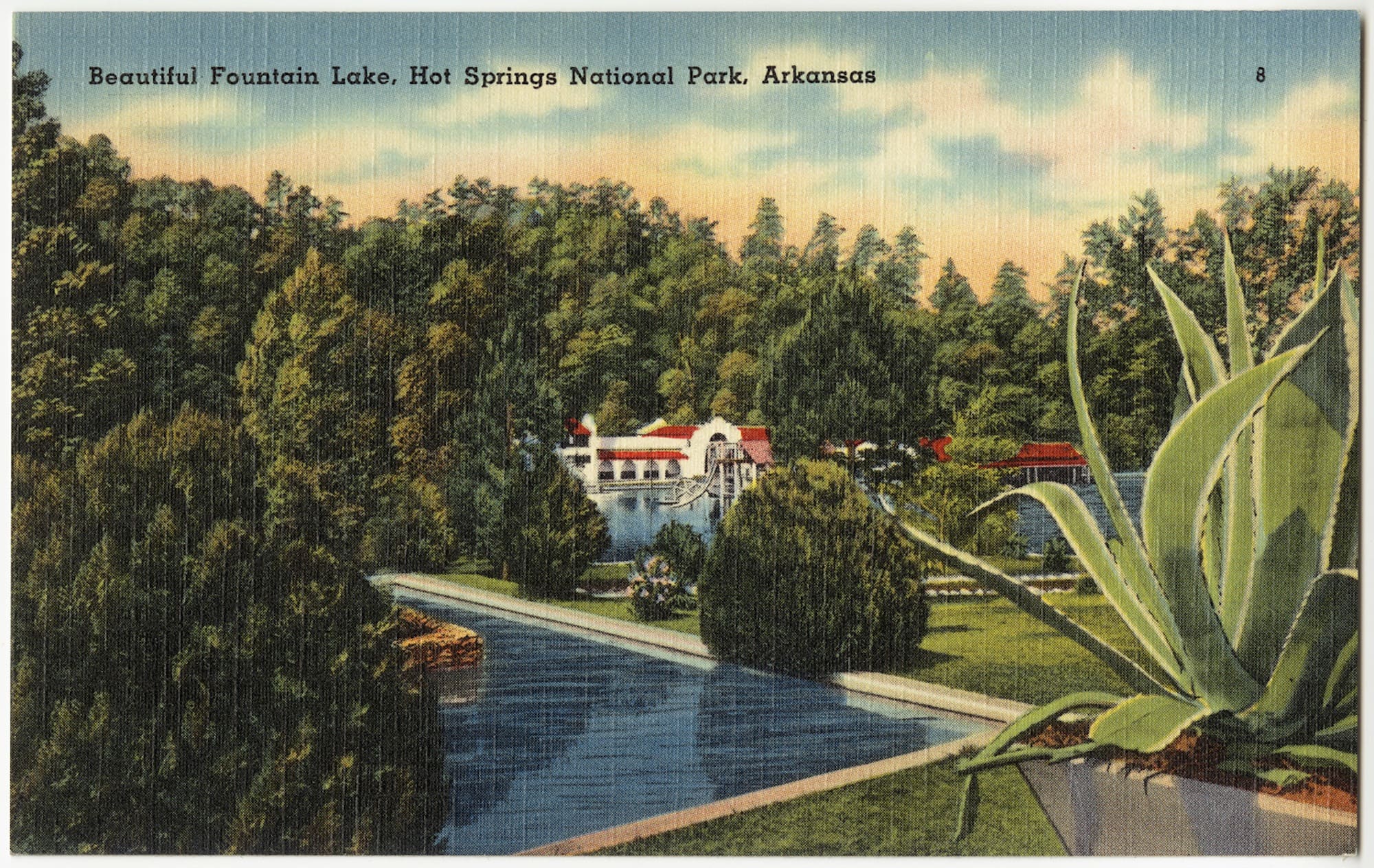 Where is Hot Springs National Park?
Hot Springs National Park is located in Hot Springs, Arkansas, which is about an hour southwest of Little Rock. To get to the National Park from Little Rock, take I-30 towards Dallas. From there take exit 111, or Highway 70, toward Hot Springs (there is a big sign). Highway 70 takes you right into town. At the intersection of Spring Street (first stoplight) take a right toward downtown. When you get to the Y in the road, stay to the right. That will become Reserve Street. In two blocks you will come to Central Avenue and Hot Springs National Park will be on your right.
You might not feel like you are in a national park when you visit due to the fact that Hot Springs National Park is located right in the town of Hot Springs. Once you get into downtown on Central Avenue and drive north, the shops and buildings to your left are the city of Hot Springs. The buildings to your right, which are historic bath houses that make up Bathhouse Row mark Hot Springs National Park. This is why Hot Springs National Park is a great destination for those who love exploring cities AND enjoying hiking trails side-by-side.
Things to Do In Hot Springs National Park
Hot Springs National Park is a great place to visit for an hour or a full day. Just an hour in the park will give you enough time to learn the historic importance of the area with a guided tour of the Fordyce Bathhouse. If you have a little bit longer catch the park film, Valley of Vapors, and pick a trail to explore. Below are more details to make you make the most of your time in the park.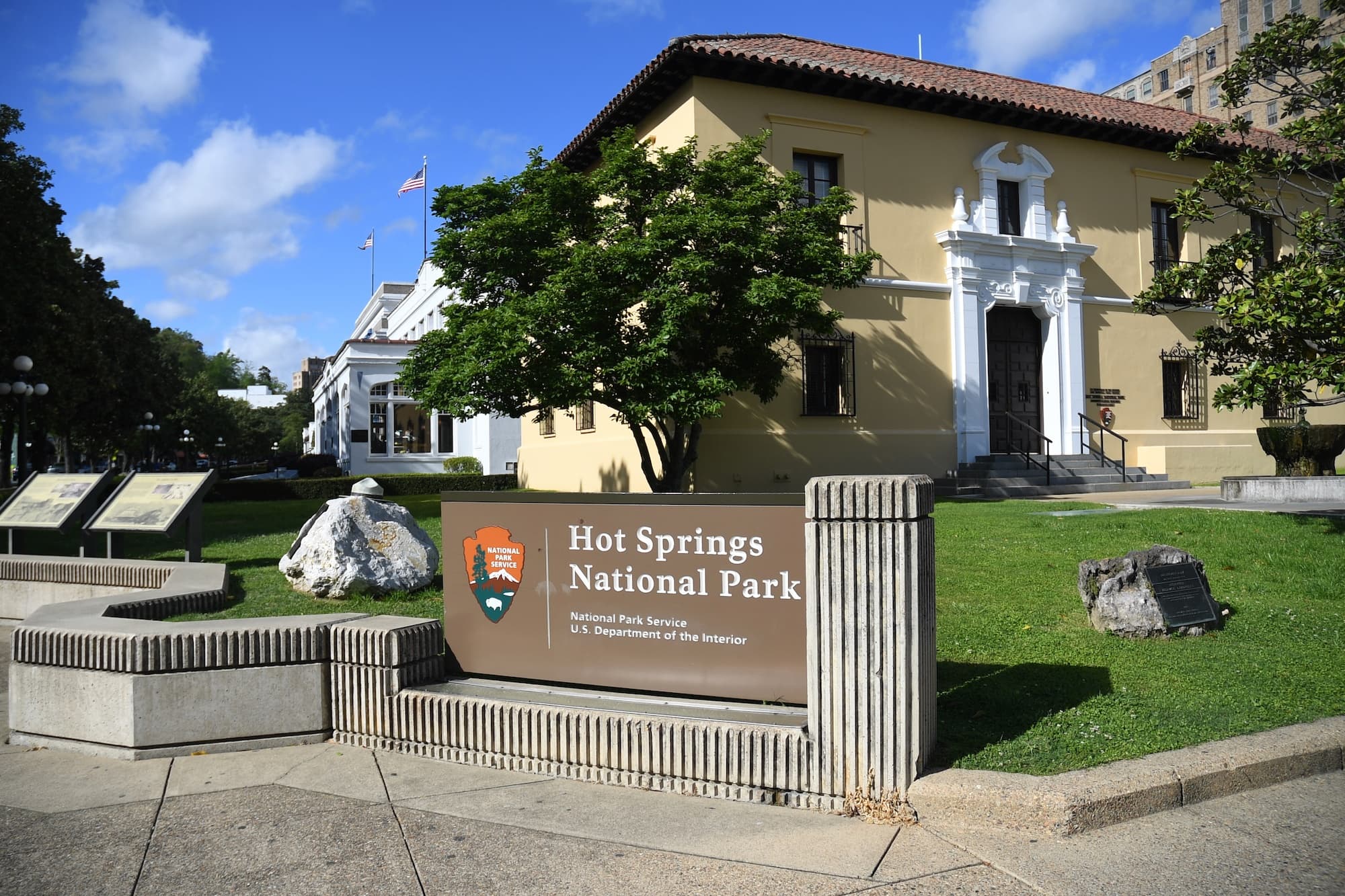 Hot Springs National Park has 26 miles of hiking trails that make for great day hikes. From the streets of downtown Hot Springs, you can be on a national park hiking trail within a five-minute walk. Guided outdoor tours are also offered during the summer season with a Ranger. Also because the park is surrounded by the city, after your hike you can easily walk right into a restaurant for dinner or to grab a beer.
Map Credit: NPS
Check out the longest trail, Sunset Trail, which is nine miles long and can be accessed at several points along the way and snakes around the majority of the park. The trail begins at the Gulpha Gorge Campground and ends at the West Mountain Summit. This trail bypasses the downtown area, but if you want to make it a loop, you can connect to other trails that will lead you through downtown and back to Gulpha Gorge Campground.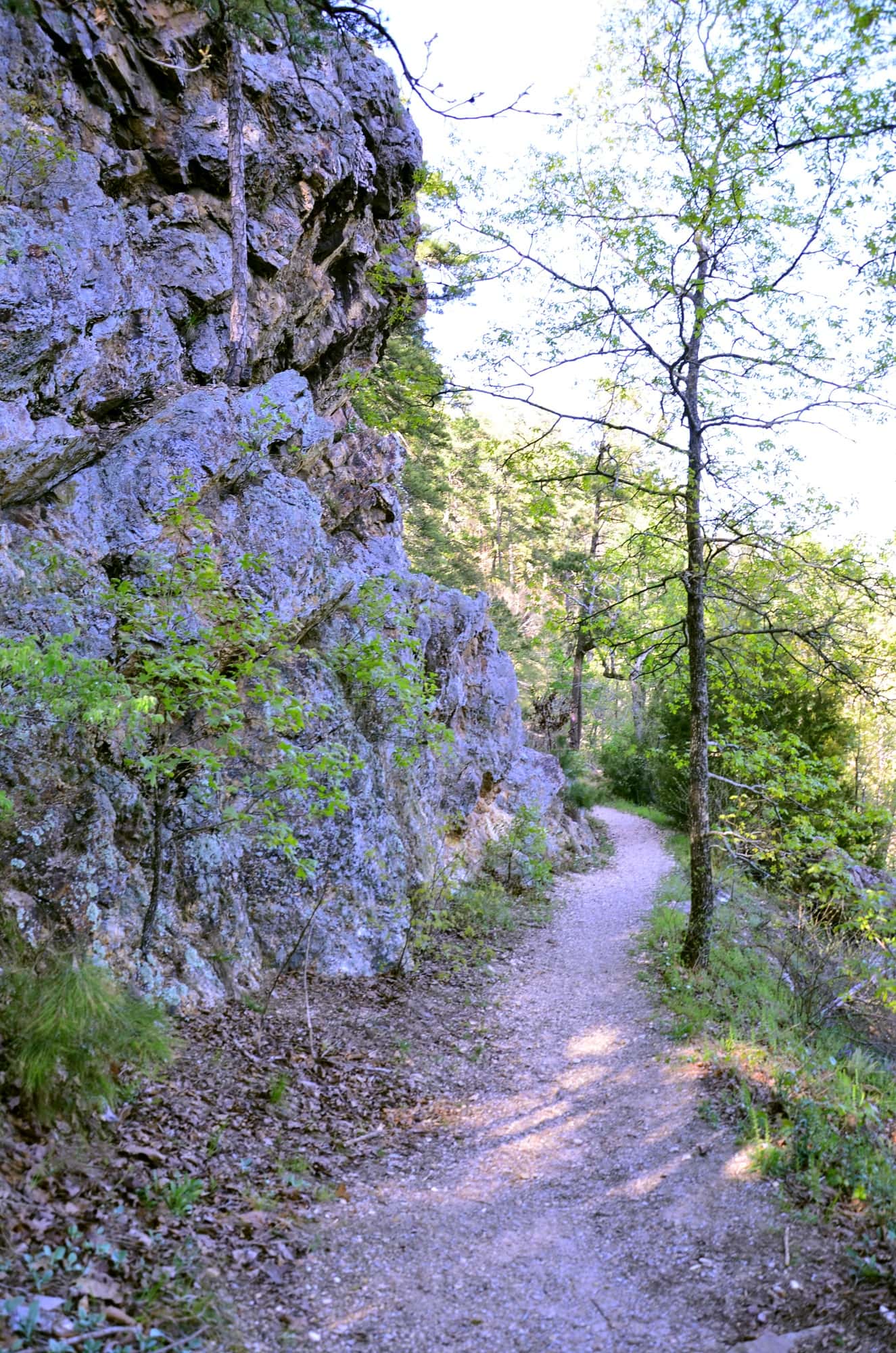 Another favorite is the Goat Rock Trail. You can either access this trail from the North Mountain overlook or from Gulpha Gorge Campground via the Gulpha Gorge Trail. The Gulpha Gorge Trail can get steep, but I love the view to the north from the Goat Rock.
Keep in mind, in Hot Springs National Park there is no backcountry so multi-day backpacking trips are not possible. If you would like to backpack, the Ouachita National Forest is fairly close and has many opportunities for backpacking.
Not up for hiking to the top? Hot Springs National Park has not one, but TWO scenic drives that take you to the top of West Mountain and Hot Springs and North Mountains. From the vistas on West Mountain, you can look south over the town of Hot Springs. There are three overlook pullouts located on West Mountain Drive where you can stop and take pictures.
For a great view of the nearby Ouachita Mountains and the city of Hot Springs, you can also visit the top of the Hot Springs Mountain Tower. If you have a park pass you get a discount on admission! A glass elevator will take you 216 feet from the bottom to the observation deck. Feeling energetic? You can also climb the stairs to the top. From the observation deck, you get a 360-degree view of the area.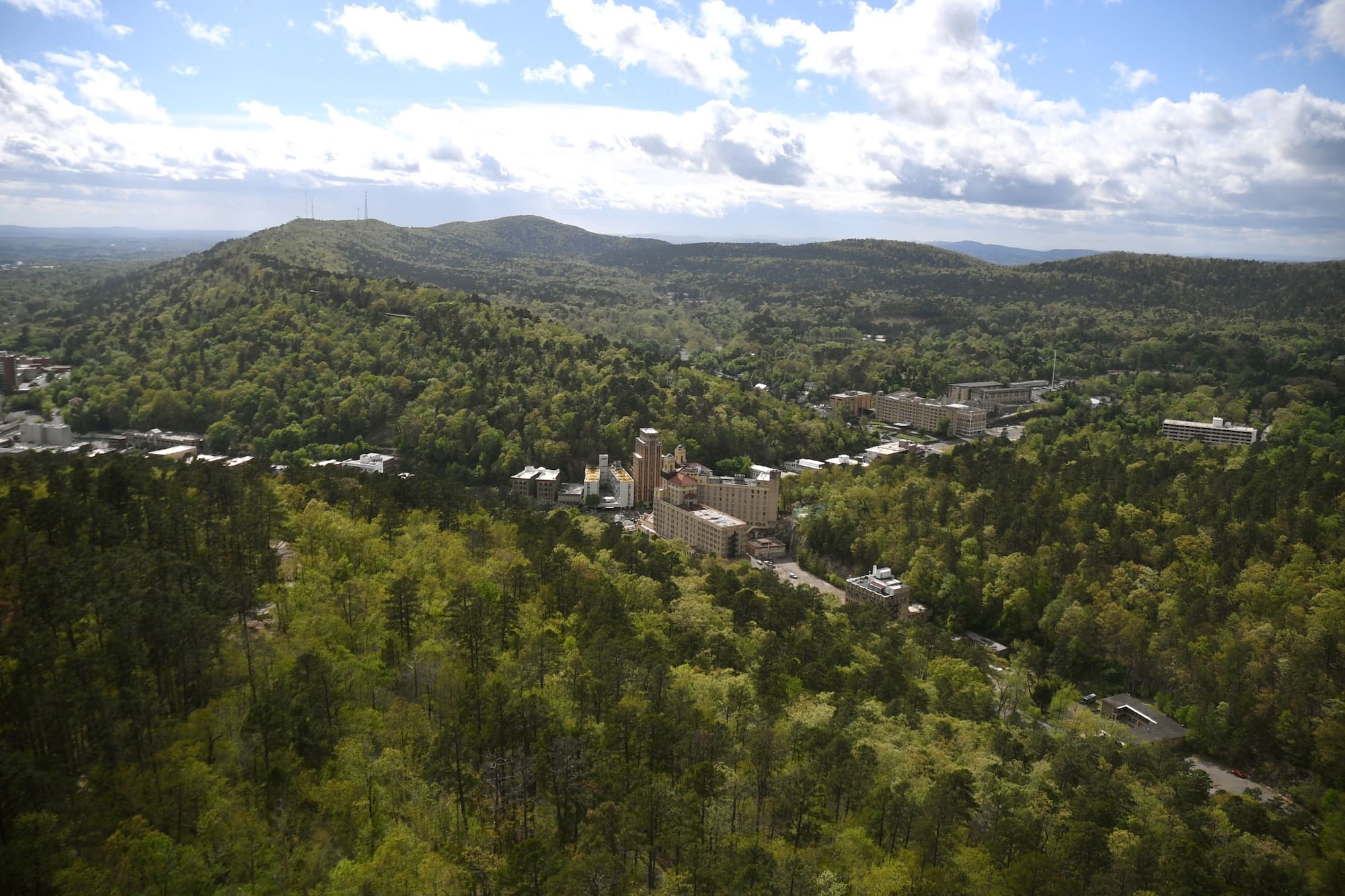 Stained Glass Photo Cred: Roland Klose
Learn at the Visitor Center & Museum
There used to be several bathhouses located in Hot Springs but today, historic Bathhouse Row is home to eight remaining bathhouses with only two that are still used for the purpose of bathing. The non-spa bathhouses have been renovated and repurposed. The Fordyce Bathhouse is home to the national park's visitors center and museum. Guided tours are offered daily.
Ready for some spa time?
Of course in a park called Hot Springs National Park, you are going to find some spas. The Buckstaff Bathhouse has been continually operated as a bathhouse since Feb. 1, 1912 and offers individual soaks patterned after European spa in the early 1900s. The Quapaw Bathhouse is home to the Quapaw Baths & Spa and offers a more modern spa experience.
Looking for gifts?
The Lamar Bathhouse is home to Bathhouse Row Emporium where you can find unique and interesting gifts from Hot Springs National Park. The Ozark Bathhouse has been converted into an art gallery. Here you can enjoy works of art created by the artist in residence program.
Thirsty?
If all that exploring has gotten you tired, you can have some down time and enjoy a craft beer at the Superior Bathhouse. The Superior Bathhouse Brewery offers several varieties of craft beer on tap. You can also get a tasty meal if you are hungry.
Just a heads-up, the remaining two bathhouses, the Maurice Bathhouse and the Hale Bathhouse, are still in the processes of being renovated and converted.
In addition exploring Bathhouse Row, don't miss walking the Grand Promenade. The half-mile walk is a brick pathway that takes visitors through some of the prettiest parts of the Park. You can see the caps that cover the springs and walk next to a hot springs cascade. The cascade which flows into Arlington Lawn is left untouched and gives visitors a glimpse of what the springs looked like before the bathhouses were built. If you are looking for more, explore nearby Whittington Park (located on the north side of West Mountain), which is a manicured park with a gravel walkway that surrounds a creek.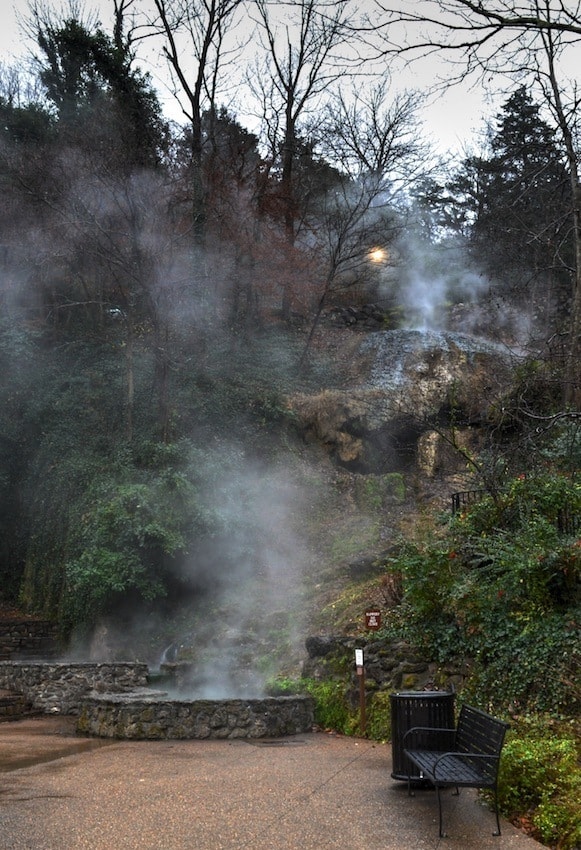 Camping and Lodging in Hot Springs National Park
Hot Springs National Park only has one campground, Gulpha Gorge Campground. All sites have full hook-ups, 30 and 50 amp, and are on a first-come-first-serve basis. If you don't want to camp, there are plenty of hotels in the downtown area that put you just steps away or within the national park.
We hope you enjoy exploring Hot Springs National Park in Arkansas and learning more about the rich history of this area.
HAVE YOU BEEN TO HOT SPRINGS NATIONAL PARK? WHAT SPOTS DID WE MISS? LEAVE A COMMENT BELOW, TWEET ME, OR WRITE ME A POST ON FACEBOOK.