Winter Hiking Clothes & Cold Weather Layering Basics
Learn the essentials of winter hiking clothes and how to layer for outdoor adventures in cold, snowy weather.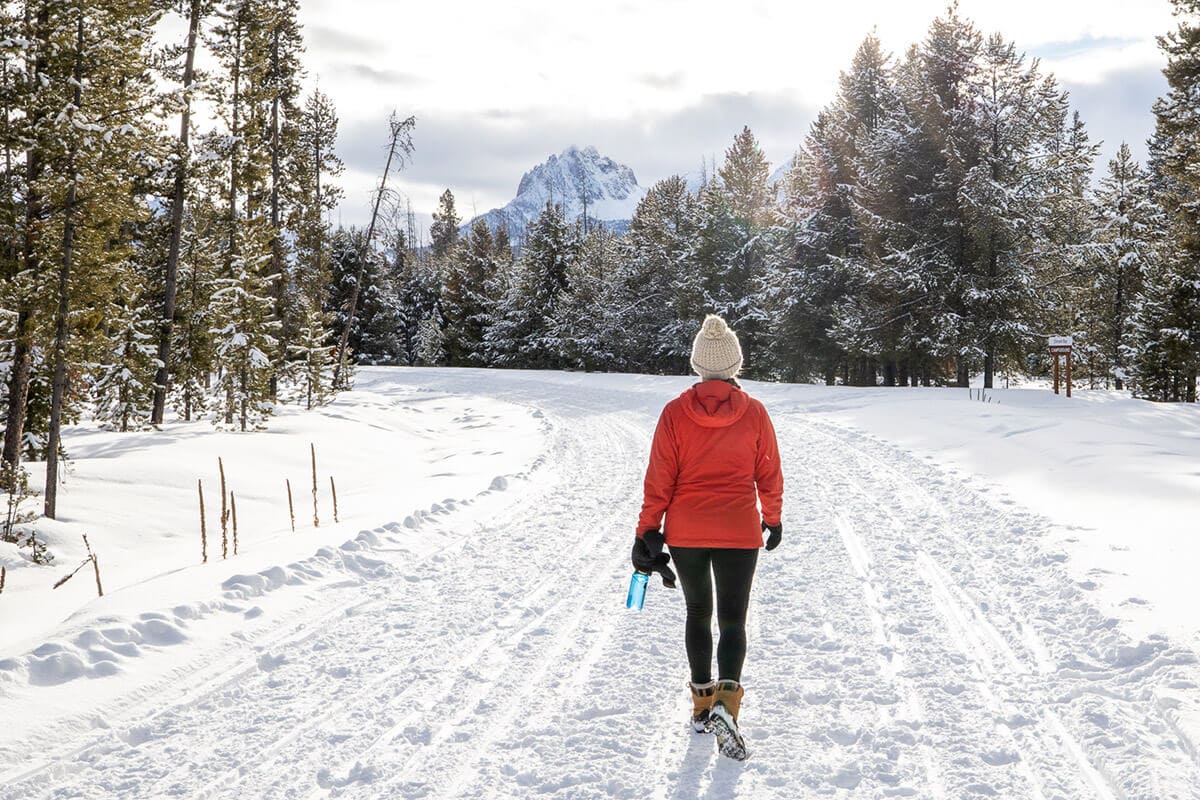 Choosing the right winter hiking clothes is important for comfort and safety out on the trail. But layering properly for cold weather is a fine balancing act. If you overdress for a winter hike, you end up hot and sweaty (which ironically can leave you cold). On the other hand, if you don't wear enough layers, you could end up cold and miserable, which is no fun at all.
When I first moved to Salt Lake City I didn't know what to wear hiking in winter. The first few times I went out for a snowy hike, I wore my ski clothes and ended up a hot sweaty mess.
After many years in Utah, I've learned from my initial mistakes and now have my layering system dialed so I'm both comfortable while hiking AND prepared if the weather takes a turn for the worst.
In this guide, I share the best winter hiking clothing, gear, and essentials I've discovered over the years that will help you layer properly for cold, snowy weather so you can enjoy those winter days outside in comfort.
Sponsored by REI Co-op
REI Co-op is our favorite outdoor gear retailer and a long-time supporter of our work here at Bearfoot Theory. We appreciate their 1-year return policy, their Member-only coupons, and the fact that REI Members receive 10% back on their purchases every year. We only recommend products we truly love and think you will love too.
---
Winter Hiking Clothes Layering Basics
The key to dressing for winter hiking is to wear layers that will keep you both warm AND dry – that means from the elements as well as your sweat. Depending on the difficulty of the trail and weather conditions, you may find yourself needing to take off and put on layers throughout the hike in order to stay comfortable.
For example, on the uphill sections, if you start getting hot, stop and shed a layer before you get sweaty since sweat can ultimately make you feel wet and cold.
Once you reach the high point of your winter hike and start going downhill, you might need to add a layer since you won't be producing as much body heat. It might feel annoying to have to stop and adjust, but you'll thank yourself later and it's easy if you keep the layers you need easily accessible.
You may choose to wear your next-to-skin base layer and your insulating layer or maybe just your base layer and your weatherproof shell. Or you may wear all three. It just depends on the conditions and your body temperature.
Ideally, you want to choose layers that are light and packable so you can stuff them in your backpack if you decide to take one off.
Once you have a few winter hikes under your belt, you'll see how much heat your body generates, and then you can adjust your cold-weather hiking clothes accordingly.
Winter Hiking Clothing Checklist
Upper body layers:
Next to skin base layer
Insulating layer
Weatherproof shell
Lower body layers:
Next to skin base layer
Weatherproof shell pants
Warm hiking socks
Waterproof hiking shoes
Accessories:
Hat
Gloves
Buff
Microspikes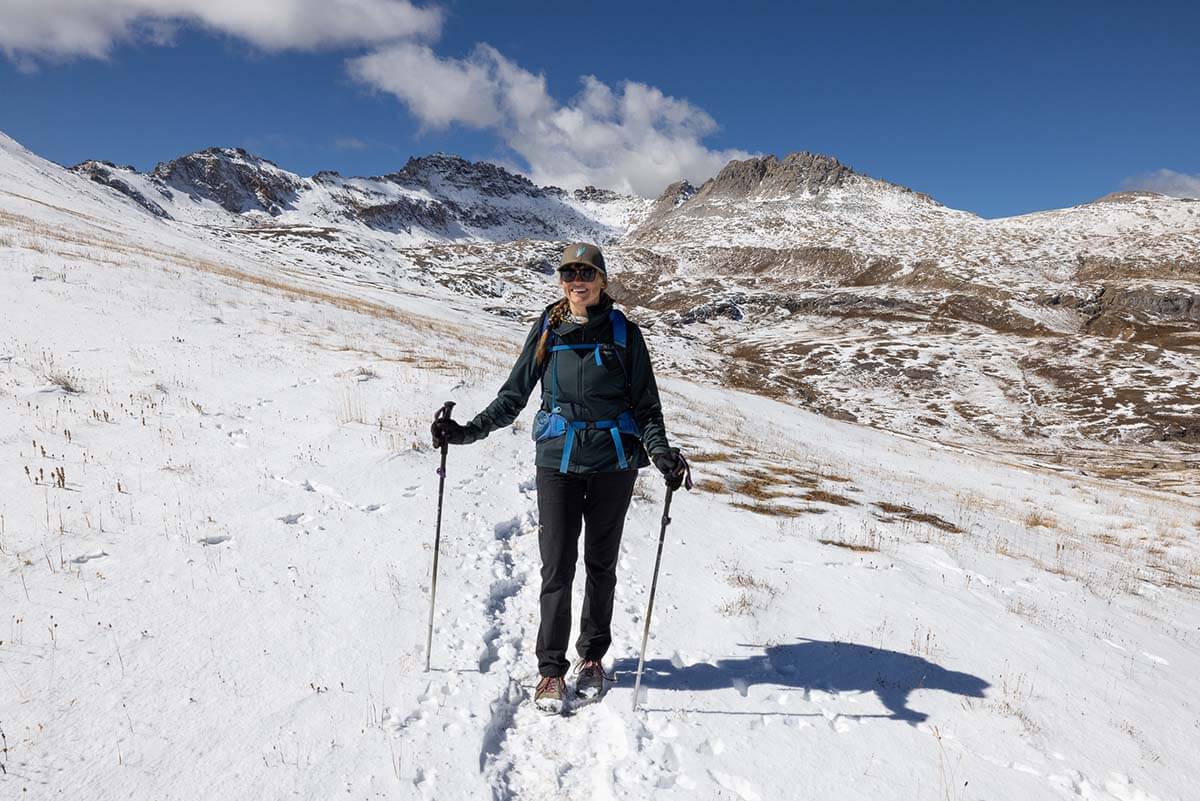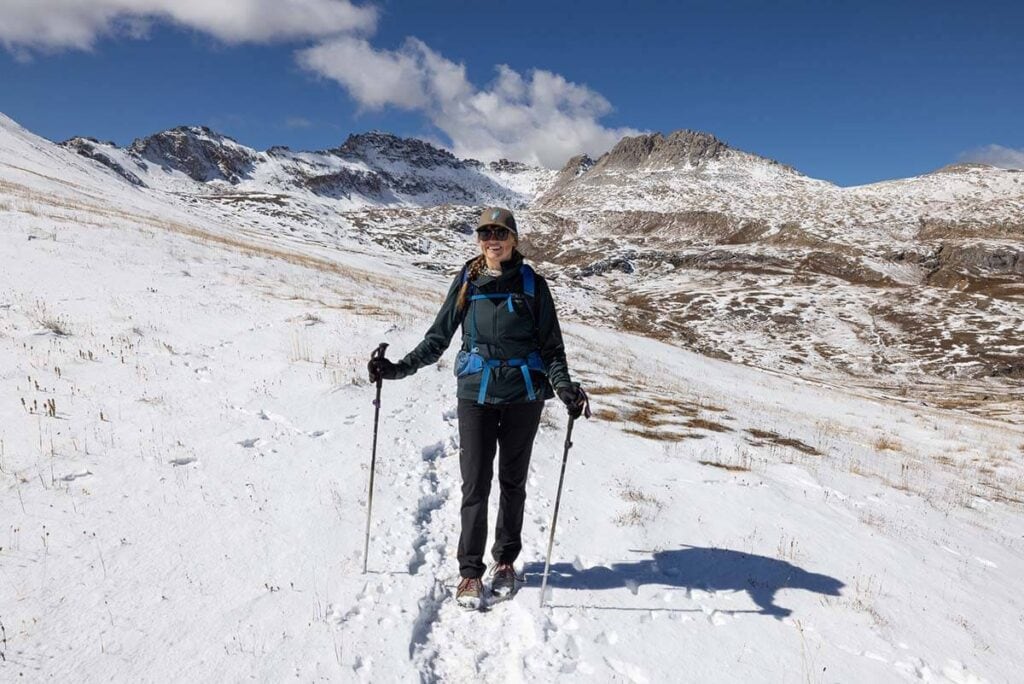 It's also always a good idea to throw more than you think you'll need into your hiking daypack. If you end up walking mostly in the shade with the sun behind the mountains or the wind picks up, you'll be happy to have extra layers.
Below we go over the details of each winter hiking layer and include recommendations.
---
Upper Body Winter Hiking Layers
Baselayer Top
Your next-to-skin winter hiking base layer is all about regulating your body temperature while also wicking sweat. You sweat when you're active, and in winter months it's extra important that your winter hiking clothes help move the perspiration away from your skin so you stay dry, rather than damp and cold.
Base layers should be made of synthetic fabric or merino wool that wick moisture and dry quickly. Avoid anything cotton (cotton t-shirts, cotton sweatshirts) because cotton stays damp and heavy and loses its insulating properties when wet. This also applies to your sports bra.
The thickness of your next-to-skin baselayer depends on how cold it is outside and is also based on personal preference. Some people prefer to wear a lightweight synthetic hiking t-shirt underneath a mid-weight base layer. Others are fine with a single lightweight baselayer. You may have to experiment a bit until you find the system that works best for you.
Midweight Base Layer Shirt
Icebreaker 260 Tech Base Layer Top
If you tend to run colder, you'll want to go with a mid-weight base layer, like this Icebreaker top, for your next-to-skin hiking layer.
Shop Here
Budget-Friendly Base Layer Shirt
REI Long-Sleeve Crew Top
This REI Long-Sleeve Crew top a is great budget-friendly lightweight base layer shirt for those of you who run warm or are hiking in mild winter climates.
Shop Here
Winter Hiking Jacket
This middle-insulating winter hiking layer is critical for maintaining body heat by trapping air close to your body and providing insulation. Generally, a warm insulating layer will be made of down, synthetic down, or fleece.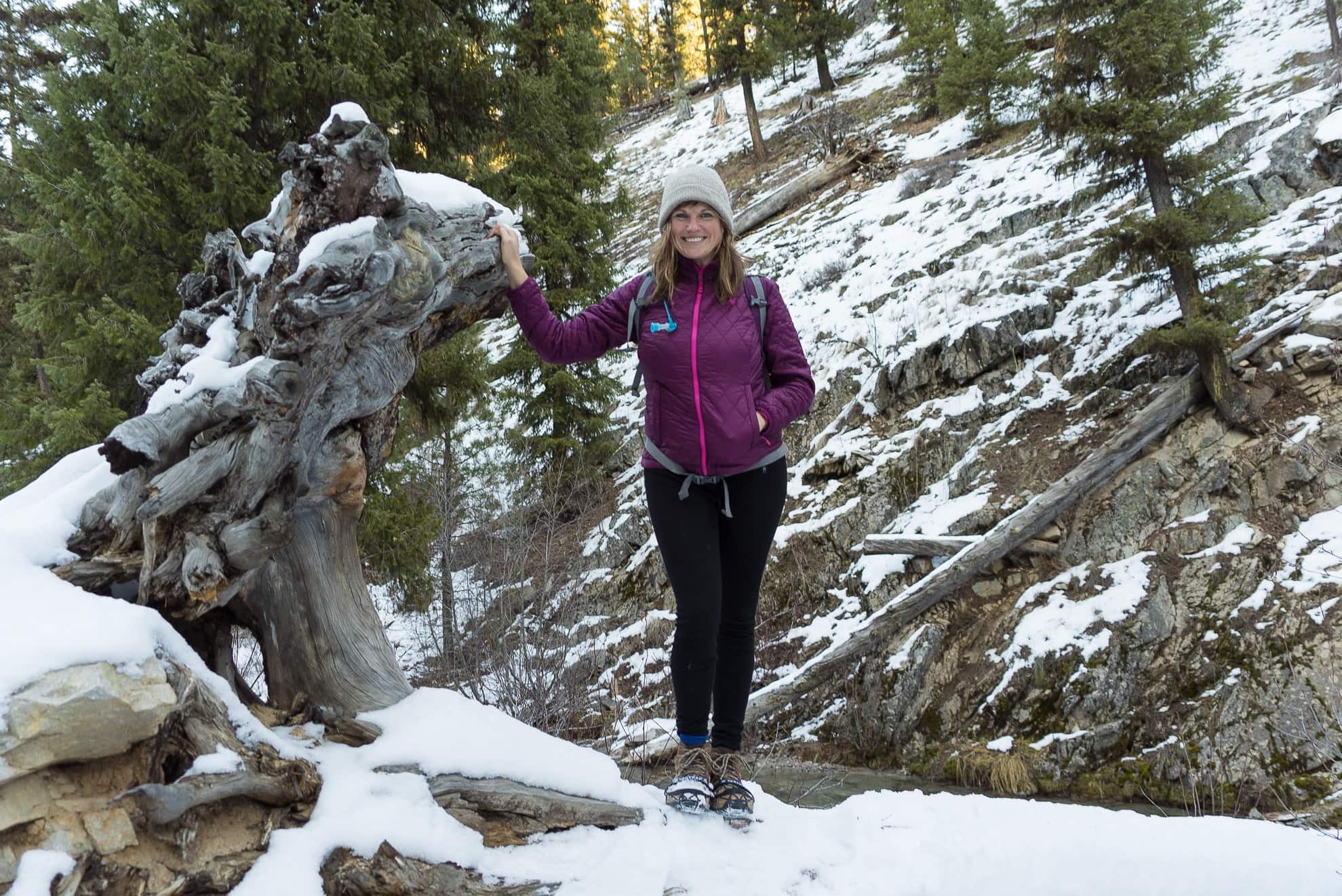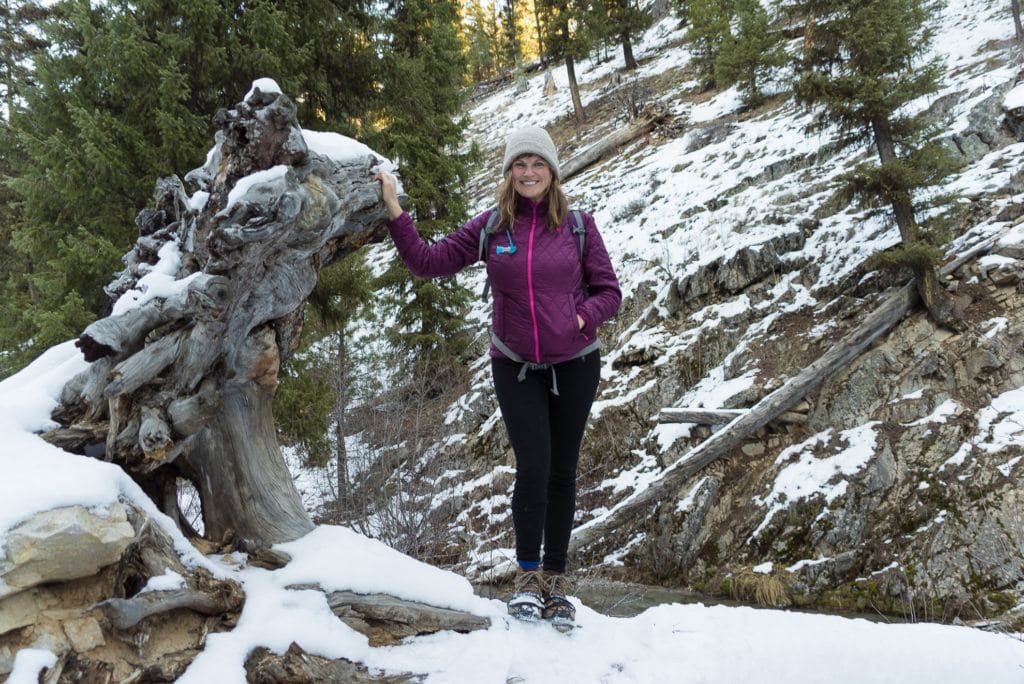 Keep in mind that down isn't warm if it gets wet, and synthetic holds up better in wet weather. If you live in a wet or humid climate, opt for a synthetic alternative to down, like the Patagonia Nano Puff listed below.
Synthetic Insulated Puffy
Patagonia Nano Puff Hoody
This insulated jacket is warm, wind-proof, water-resistant, and made from 100% post-consumer recycled polyester. It's also lightweight and packs down small making it perfect for hiking. This also comes in a non-hooded version if that's your preference.
Shop Here
Budget Friendly Down Puffy
REI Co-op 650 Down Jacket
Lightweight, warm, and one of the best deals you'll find on a down jacket, this REI down puffy is ultra comfy and packs down into its own pocket. The down is also certified by the Responsible Down Standard which means the animals weren't subject to cruel and unnecessary practices.
Shop Here
Winter Hiking Shell
If there is a chance of sleet, snow, rain, or wind, you'll want to add an outer shell over your winter hiking clothes. This will protect you from the elements and keep your other layers dry. Look for an outer layer that is waterproof but still breathable as well as packable so you can stuff it in your backpack when you aren't wearing it. You don't want a super heavy insulated ski jacket.
One nice feature some weatherproof shells have is armpit vents that zip open when you get hot in order to provide better airflow. You'll also want to take into account the layers you might be wearing underneath when figuring out what size shell you need.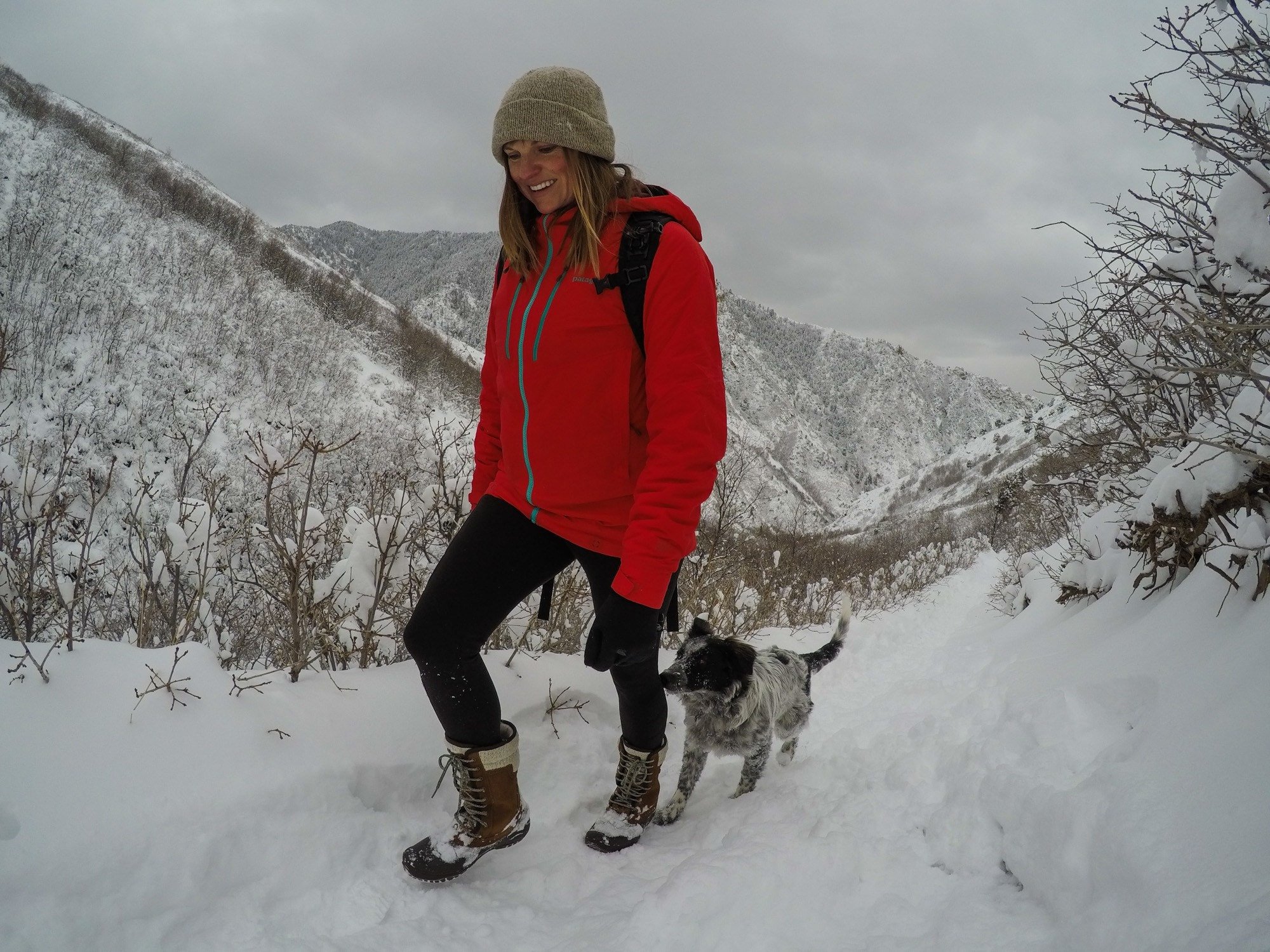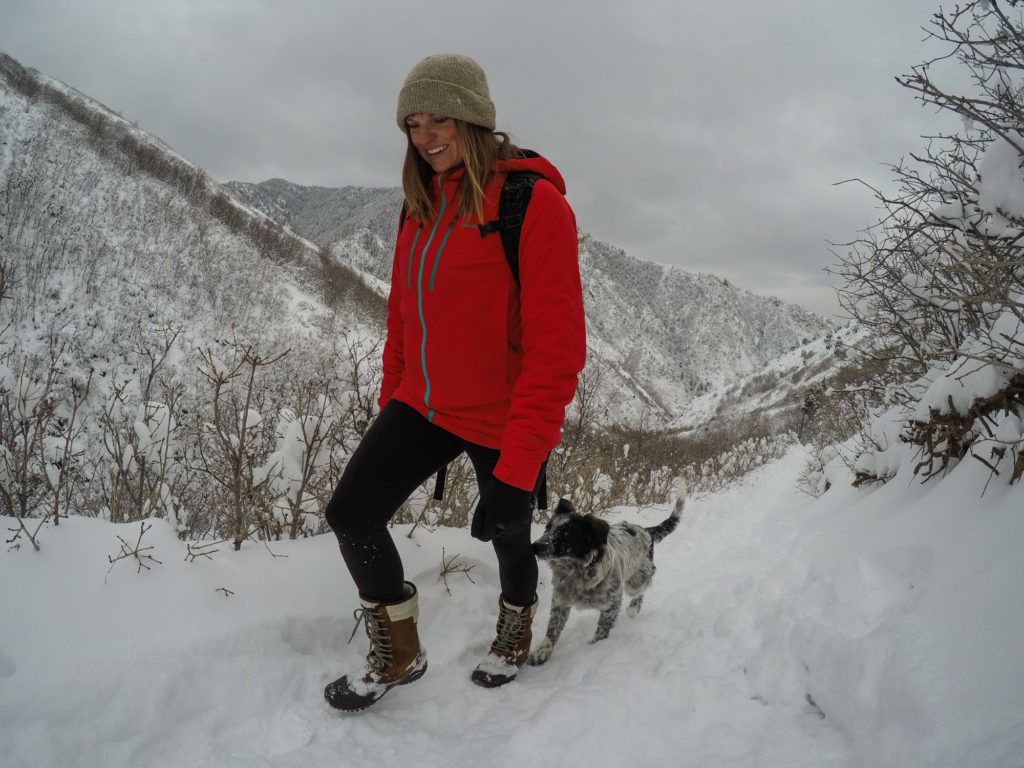 It's important to note that high-quality outer layers can be pricey, but keep in mind that these waterproof layers can double as ski jackets or cold-weather raincoats and they should last you for years.
For those of you on a budget, I've included a great value REI Co-op brand shell as well. You can also use your normal raincoat. It might not protect you from the wind as well as a winter shell, but it will work as long as your other layers are warm enough.
Backcountry Shell
Outdoor Research Skytour AscentShell
This is a ski touring jacket that is also perfect for winter hiking. It's waterproof, breathable, and stretchy so you can wear layers underneath, and it will stand up to whatever wind and weather you might encounter.
Shop Here
Budget-Friendly Shell
REI Co-op Rainier Rain Jacket
If you aren't ready to drop a bunch of money on outerwear, this rain jacket will keep you dry if it starts to rain or snow, plus it's lightweight and packable. It's not necessarily intended for winter climates, but as long as you layer properly underneath, this jacket provides a versatile solution for all 4 seasons.
Shop Here
---
Lower Body Winter Hiking Layers
Baselayer Bottoms
Just like on your upper body, the next-to-skin base layer on your lower body should help keep you warm while wicking sweat. As with all of your winter hiking clothes, you'll want to stick to synthetic fabric or merino wool and avoid cotton.
Also, the thickness of your base layer depends on the temperature. On a warm and sunny winter day, a simple pair of hiking leggings might be adequate. On a cold, dry day, a pair of warm winter tights could suffice. But if you'll be hiking in snow or there's a chance you could get wet, you'll want to wear a pair of long john bottoms (recommendations below) underneath a pair of weatherproof pants.
Midweight Merino Base Layer Bottom
Icebreaker 200 Oasis Base Layer Bottoms
For hikers that prefer wool or want serious warmth, these Icebreaker 200 Oasis leggings are a go-to piece in my winter hiking clothes. They are so soft, warm, and the wool is certified by the Responsible Wool Standard.
Shop Here
Budget-Friendly Base Layer Bottoms
REI Co-op Lightweight Base Layer Tights
These lightweight, inexpensive long underwear bottoms from REI are made of a comfy polyester blend that stretches as you hike and can be layered under a pair of waterproof pants.
Shop Here
Weatherproof Shell Pants
If it's wet, windy, or extra cold, you'll want to layer a second pair of pants on top of your next-to-skin base layer bottoms. You can choose a pair of soft-shell pants that are water and wind-resistant or use rain pants if you're on a budget.
Winter Shell Pants
Outdoor Research Trailbreaker II Snow Pants
These breathable snow pants are water-resistant on the thighs and waterproof on the lower leg where they are most likely to touch the snow. The zippered thigh vents help regulate your temperature if you start to heat up. These pants are also awesome for backcountry skiing, making them a versatile investment.
Shop Here
Budget-Friendly Weatherproof Pants
REI Co-op Activator Pants
These pants are breathable and stretchy but are made with soft water-resistant fabric which will keep you dry and warm except on really wet days. You can wear a base layer underneath for extra cold days.
Shop Here
---
Winter Hiking Clothes Accessories
A warm hat, gloves, Buff, and other winter hiking accessories are just as important as the rest of your winter hiking clothes for keeping you comfortable. As you warm up, you can adjust, and when you get cold, you'll be happy you have these extra accessories to layer on.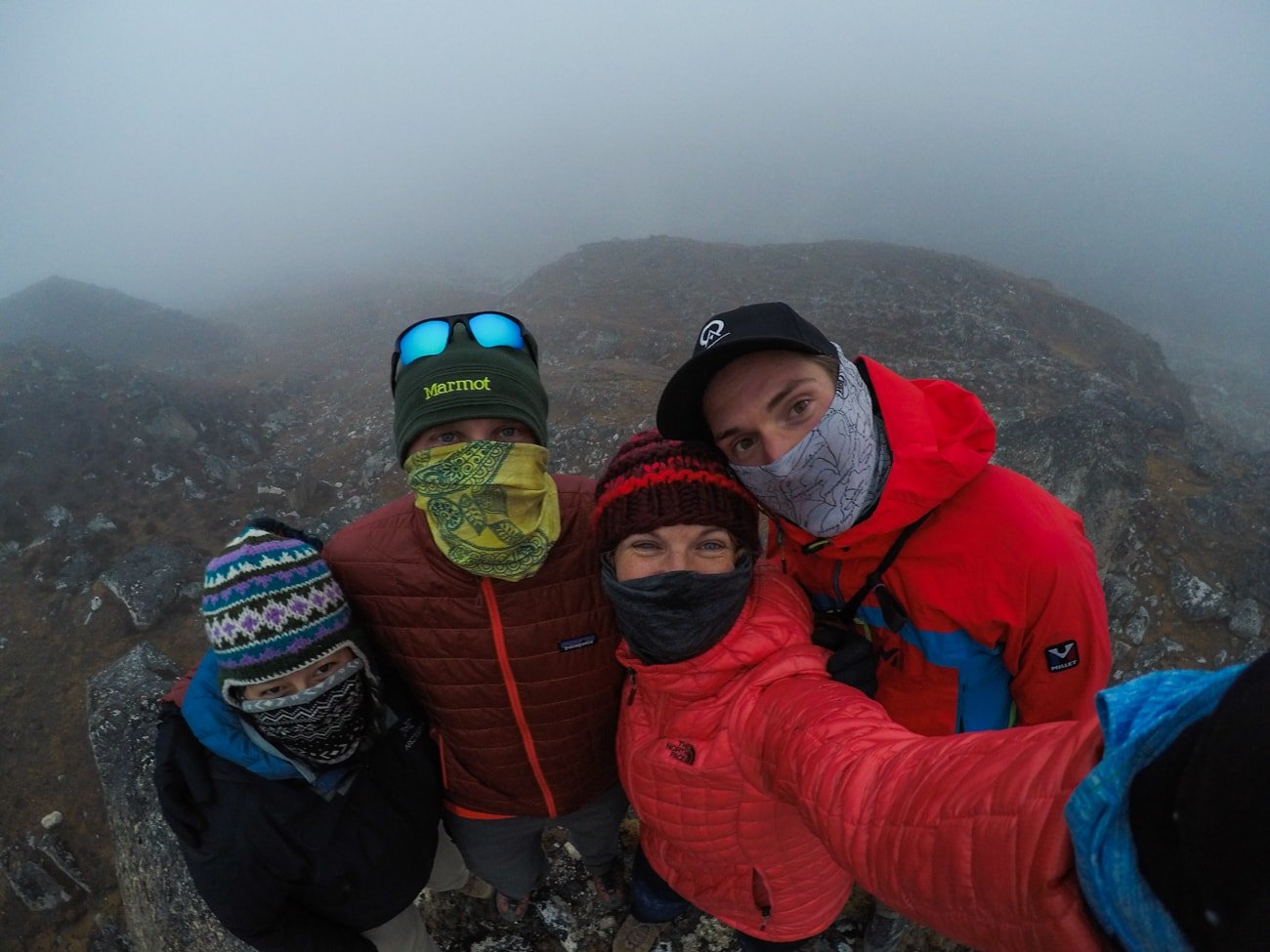 Below I share my favorite winter hiking accessories that I always pack in addition to my cold weather hiking layers.
Neck Gaitor
Buff Polar Multifunctional Headwear
A buff is always a good idea for keeping the wind, cold air, and sun from hitting your neck and face directly, and this one's got cozy fleece at the base. This is great for skiing too.
Shop Here
Sunglasses
Sunski Treeline Polarized Sunglasses
Sunlight reflects off the snow so it's smart to protect your eyes with polarized sunglasses when hiking in the winter. Sunglasses are also useful for keeping wind and snow out of your eyes. These are specifically designed to keep you comfortable in high-glare conditions.
Shop Here
Gloves
Outdoor Research Flurry Sensor Gloves
My hands tend to get hot when I'm hiking uphill, but as soon as I turn around and start to go down, my fingers get really cold. These fleece-lined gloves keep them warm, and they are touchscreen compatible allowing me to take photos on my phone without having to take them off.
Shop Here
Hat
REI Co-op Logo Beanie
A hat is especially important because you lose a significant amount of heat through the top of your head. This is a simple, versatile beanie that can be worn on any type of winter adventure and can be easily stuffed in your pack.
Shop Here
---
Winter Hiking Footwear
Wearing appropriate winter hiking footwear is super important for keeping your toes warm and your feet nice and dry as you walk through the snow. Here is what I wear on my cold weather hikes.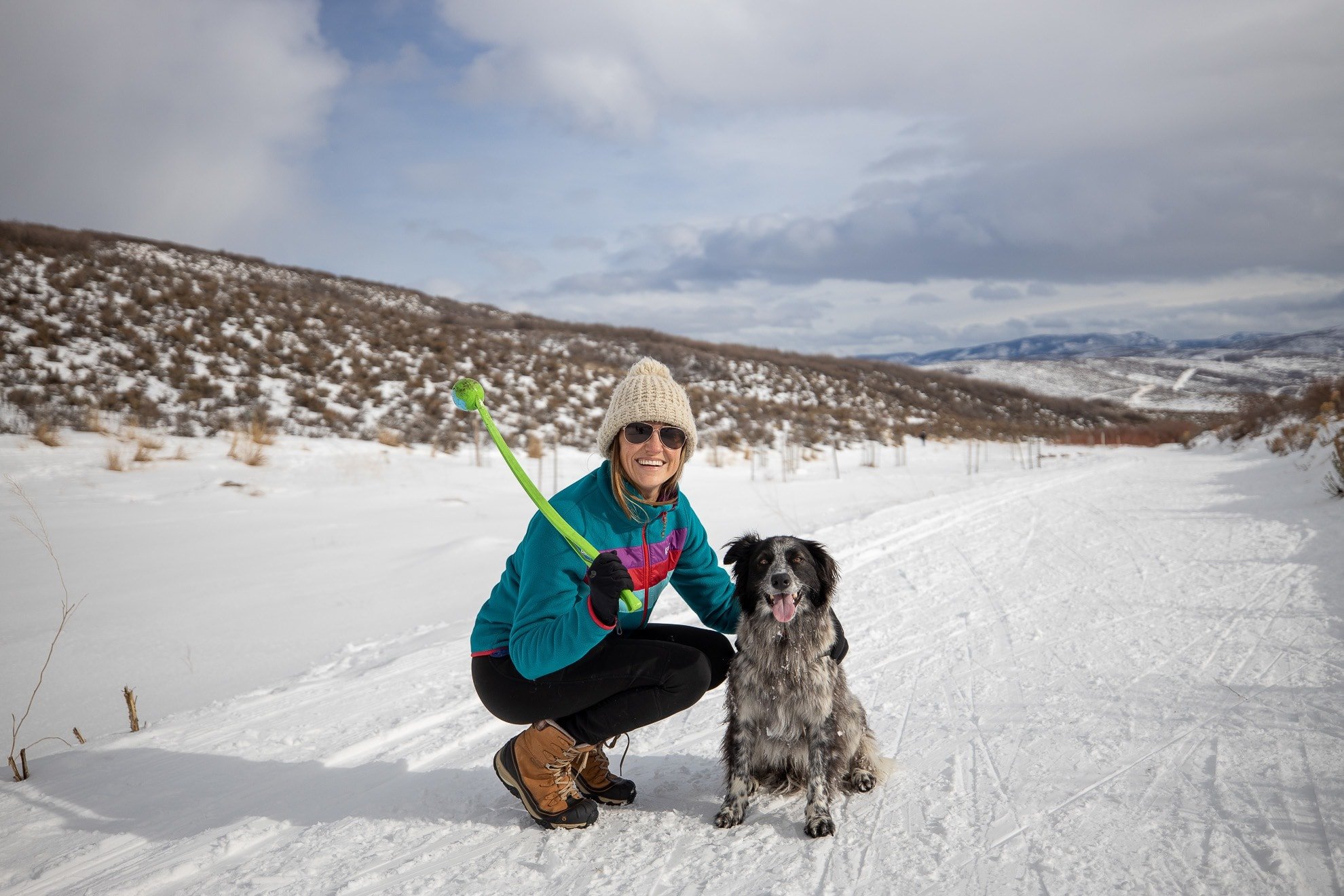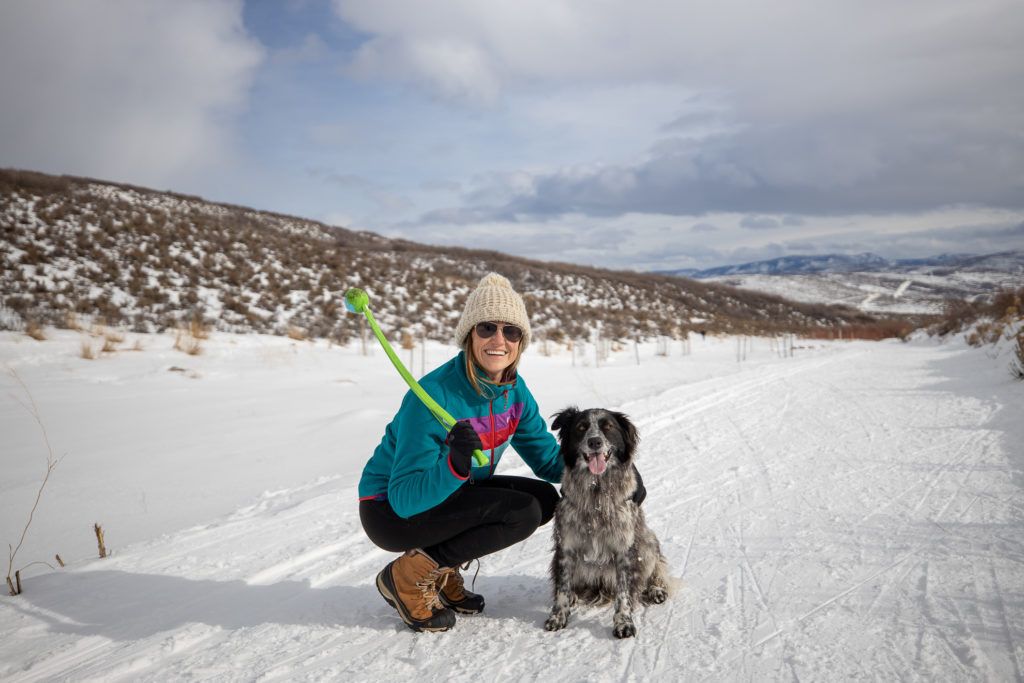 Winter Hiking Boots
Oboz Bridger Insulated Waterproof Boots
These hiking boots provide essential traction, plenty of support, and are insulated and waterproof to keep your feet as warm as possible. With the high cuff, they also keep snow out making them a great option in wintery climates.
Shop Here
Winter Hiking Socks
Darn Tough Mountaineering Socks
Just like the rest of your winter hiking clothes, you'll want to avoid cotton when choosing socks. Instead, pick wool or synthetic material that wicks sweat. Darn Tough is my favorite sock brand – their Mountaineering Socks go over the calf and are thicker than normal hiking socks for added warmth.
Shop Here
Gaiters
Black Diamond GTX Front Point Gaiters
Depending on how high your boots go and how deep the snow is, you may want to wear a pair of gaiters, like these. They slip over your shoes, and their purpose is to keep the snow out of your shoes and socks.
Shop Here
Microspikes
Kahtoola MICROspikes Traction System
If you're anticipating the trail being icy, I highly recommend packing microspikes. These easily attach to the bottom of your shoes and help grab on to slick and icy terrain to help you feel more confident. You can purchase burlier crampons, but those are typically only needed for mountaineering or ice climbing.
Shop Here
Snowshoes
MSR EVO Trail Snowshoes
If you will be hiking in deep, ungroomed snow, a pair of snowshoes can make all the difference. Snowshoes are designed to keep you on top of the snow rather than post-holing with each step. These top-rated snowshoes get rave reviews, are budget-friendly, and are perfect for snowy hikes and moderate winter adventures.
Shop Here
Save this post to Pinterest
Excited to go winter hiking? Get prepared with these additional winter hiking blog posts:
I hope these tips and recommendations for winter hiking clothes help you plan and prepare for an awesome cold-weather hiking adventure! Got questions? Leave them below in the comments.