Photo: vikapproved
Bikepacking 101: 5 Essential Bikepacking Tips for your First Tour
So you wanna go bikepacking….
Me too! Ever since I heard about the new Hot Springs bike route in Idaho, I've been thinking more and more about going on my first bikepacking trip. Yet, I've found myself overwhelmed by the gear and doubted the strength of my biking legs. However, in editing this guest post by Jeffrey Lin who just finished a two-week completely self-sufficient bikepacking trip, I've learned that it's actually not that different from backpacking. Just throw in a bike, a couple of frame bags, and a basic bike maintenance class and you are good to go.
If you're like me and considering your first bikepacking trip, here's 5 essential bikepacking tips for your first tour.
by Jeffrey Lin
There's something about the idea of being self-sustaining on the road, traveling miles and miles with nothing but your own energy and tools to rely on. It may reveal that sense of adventure and self-reliance you forgot you had. As for me, I've been itching to test myself both physically and mentally and find that sort of serendipitous simplicity of wandering the countryside. There's always been something therapeutic about cycling.
Packing for travel on a bicycle is similar to setting up for a backpacking trip – you will be considering the weight and functionality of every piece of equipment, and you'll need to be prepared for the challenges that come with hours of solitary riding and any adverse weather you might encounter.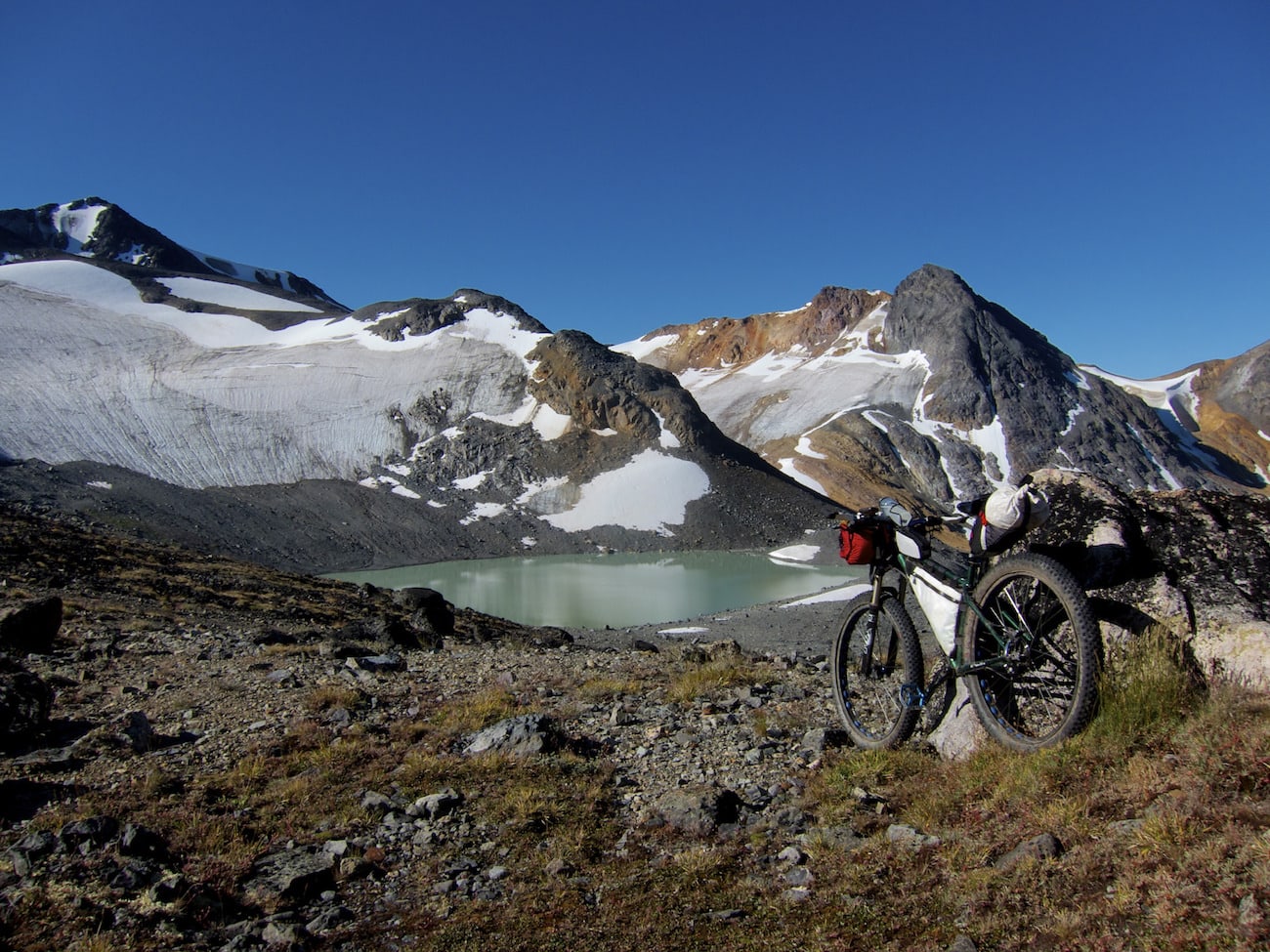 Photo: vikapproved
••• Know the Rules of the Road •••
Cycling follows special laws that are a bit different from vehicles and vary between locations. Read up on the cycling laws in the state or country that you'll be touring in so you can be as informed and safe as possible. In 2013 there were close to 500,000 cycling related traffic injuries in the United States, 900 of which resulted in death. Always remember to take your time, anticipate the traffic around you, and ride defensively.
Another bikepacking tip is to bring along your health insurance card, along with your other emergency information (list of medical allergies, emergency contact info, etc). Look into the types of insurance coverage you have to ensure that you are properly prepared if you ever find yourself with a medical issue. If you are traveling abroad, considering getting an international medical plan offered by a company such as World Nomads.
••• Find a Good Route & Don't Go Overboard •••
There's a bunch of good resources on the web for choosing an awesome bike route. A couple to start with include The Adventure Cycling Association & Bikepacking. For your first trip, pick an easy to moderate trail (or gravel road) that you can do in a weekend. There's no need to tackle something super strenuous your first time around, especially when you are still figuring out how to get your setup dialed.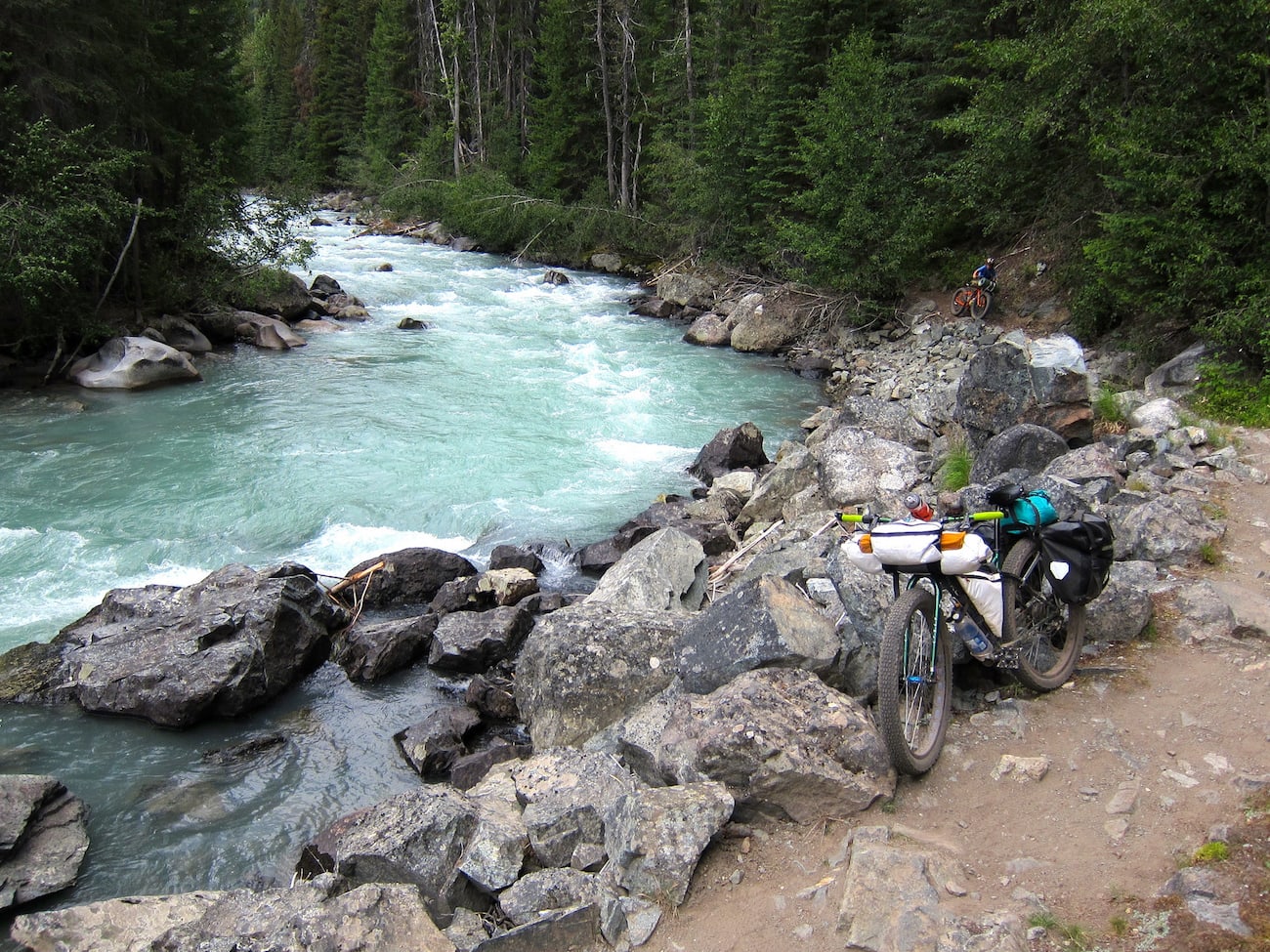 Photo: vikapproved
••• Bring the Right Bikepacking Gear •••
A lot of bikepacking gear overlaps with backpacking gear. Kristen has an excellent 3-day backpacking checklist that details her favorite camping gear, so here I'll talk about the stuff that specific to bikepacking.
 The Bike
For your first bike tour, the best bike is the mountain bike or hardtail sitting in your garage. The primary consideration is whether the frame is strong enough to handle the extra weight of the gear. If you don't have a bike that will work, rent one for your first bike tour. Check out REI or local bike shop in the area you'll be touring to see what they have available.
Racks / Bags
You have a lot of different options as far as containers for carrying your equipment. The general idea is to avoid carrying anything on your body to allow for more flexible movement while riding and reduce strain. I'm a bit biased and prefer some heavy duty 100% waterproof panniers. The Ortlieb panniers are probably the most well-rounded set, which you can pick up at most shops that carry bike touring gear. Panniers, however, will require your bike be outfitted with a rack.
If you don't want to install special racks on your bike, you can also get bags that clips right to the frame, handlebars, and seat post. This is a great solution if you want to use your everyday bike for bikepacking, or if you will be riding over bumpier/dirt roads.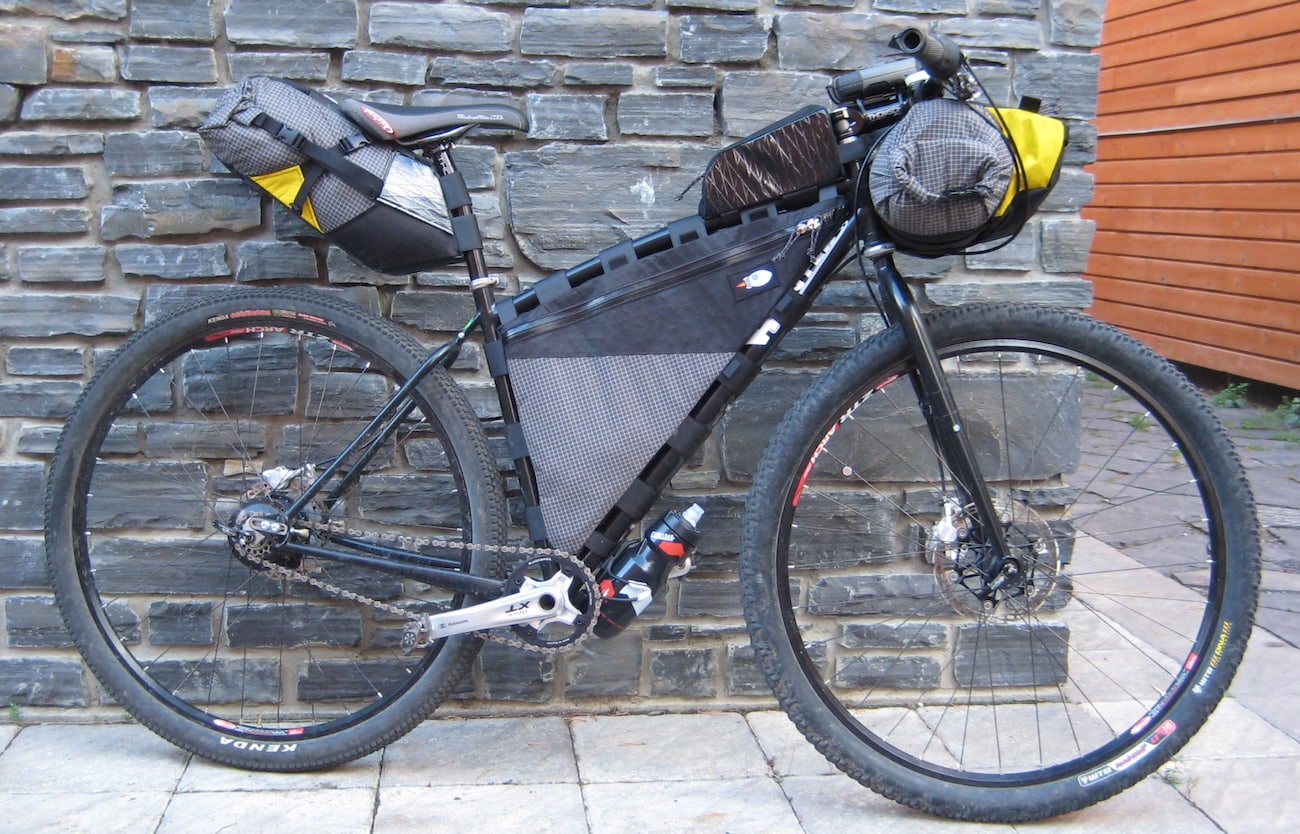 Photo: vikapproved
The final option is a cargo trailer, although the latter makes climbing hills or going off-road a bit more difficult.
Tent
Think about the environment you'll be finding yourself in most often. Also remember: you're in this for the long haul, and you want something that'll survive whatever mother nature decides she's in the mood for that day.
I'm going to strongly suggest a ultra-light double-walled tent, similar to what you would use for backpacking. These are easy to pitch and offer excellent protection from the elements.
** Read More: How to Choose a tent & the best tents for backpacking **
If you are looking for something even lighter, tarp tents and hammocks (if there are trees) are a great option. The downside is they take a bit more finesse to set up, and they aren't going to perofrm as well in inclement weather.
Sleeping Bag / Pad
Having a sleeping bag that isn't warm enough can ruin the trip. When choosing the right sleeping bag, you have a few factors to consider.
First look at the temperature rating. The temperature rating is the absolute minimum temp you would want to be using the bag in. Remember that bag ratings assume that you've eaten properly before going to bed, that you have a sleeping pad for insulation, and that you have some sort of shelter around you in addition to the bag.This mean in 15 degree temps, you'll survive in a 15 degree bag, but you won't necessarily be warm.
Second, look at how much the bag weighs and how small it packs down. Down sleeping bags are going to be the lightest option but they are pricier than synthetic bags. Synthetic also does better in wet environments.
You'll also want a sleeping pad to provide cushion and insulation. Check out this post for some of Kristen's favorite lightweight sleeping pads.
 Clothing
Wear the padded shorts. You'll feeling like a waddling duck walking in them, but your butt will thank you after dozens of miles in the saddle.
Also wear gloves to protect your hands, and always wear a helmet.
 Cookware
I have a special place in my heart for wood burning stoves, like the titanium Vargo stove, since you don't have to carry gas or fuel which cuts down on weight. If you plan on using a wood-burning stove, make sure to check up on any fire restrictions before heading out on your adventure.
If you are going to the desert where there is no wood or a place where fires aren't allowed, I'd recommend a small stove such as MSR's WhisperLite stove which can run on a variety of different fuels.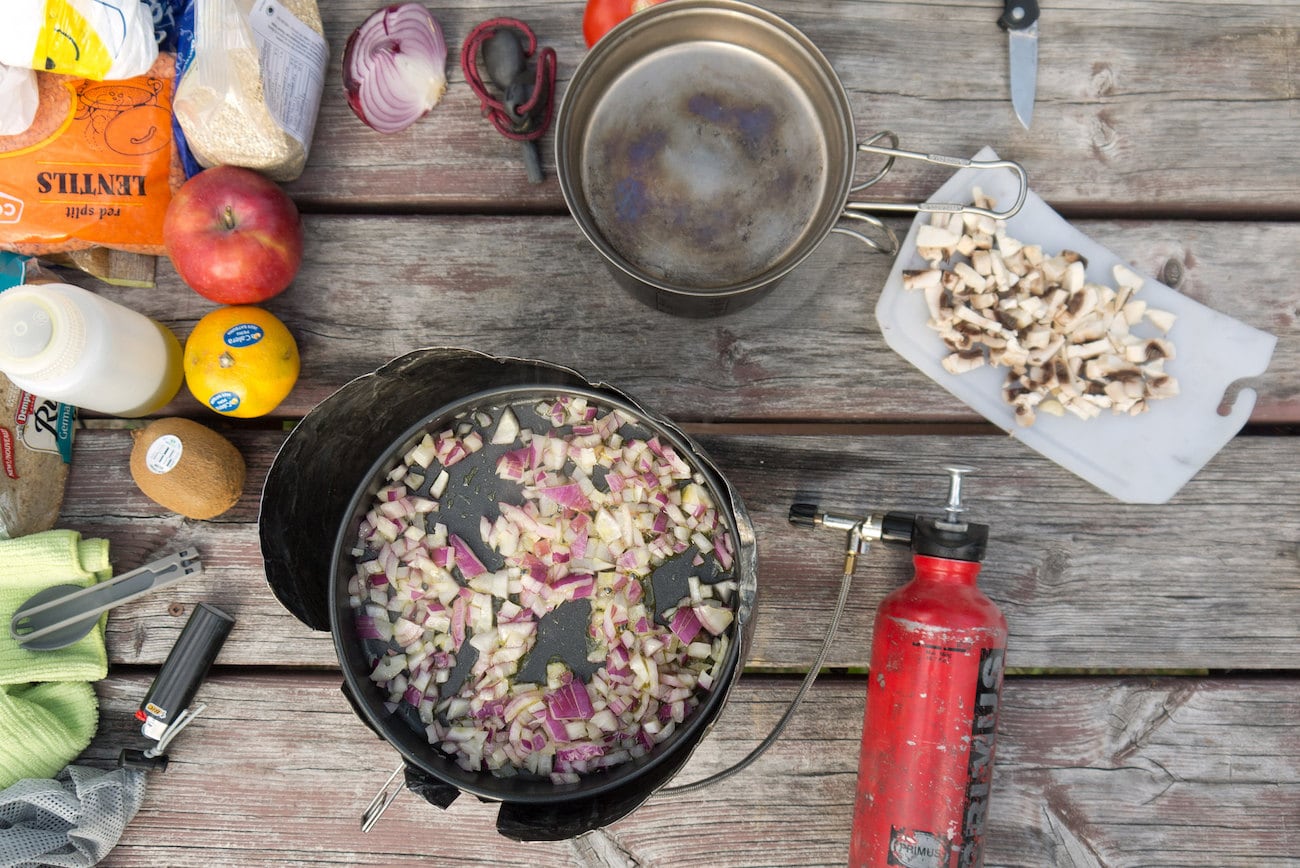 Photo: Matsen75
Bike Tools & Other Gear
As far as bicycle tools go, you'll want to bring a number of things:
Cycling multi-tool
Spoke Wrench
6" adjustable wrench
Chain tool
Replacement Chain Links
Brake cables
Duct tape
Spare tube(s)
Tire levers
Bringing these tools is essential but only if you know how to use them. That's why before you head out on your first bike tour, it's critical that you brush up on your skills.
••• Brush up on your Skills Before your Bike Tour •••
There's a number of skills you should study up on before heading out on your own.
Brush up on your first aid – Keep a medical kit handy at all times, and consider taking courses either online or from a local class.
Know how to start a fire. If you normally have trouble, bring some waterproof matches or a flint striker to help.
Learn basic bike maintenance. Knowing how to use every tool in your kit can be a lifesaver between stops. Check out REI or your local bike shop for classes.
Bring a map and know how to read it.
Have knowledge of the locale – You need to have a reasonable understanding of the local environment and its dangers before you carelessly meander about. These dangers can range from the bears to lack of water availability to something that is seemingly trivial, like the distance between towns.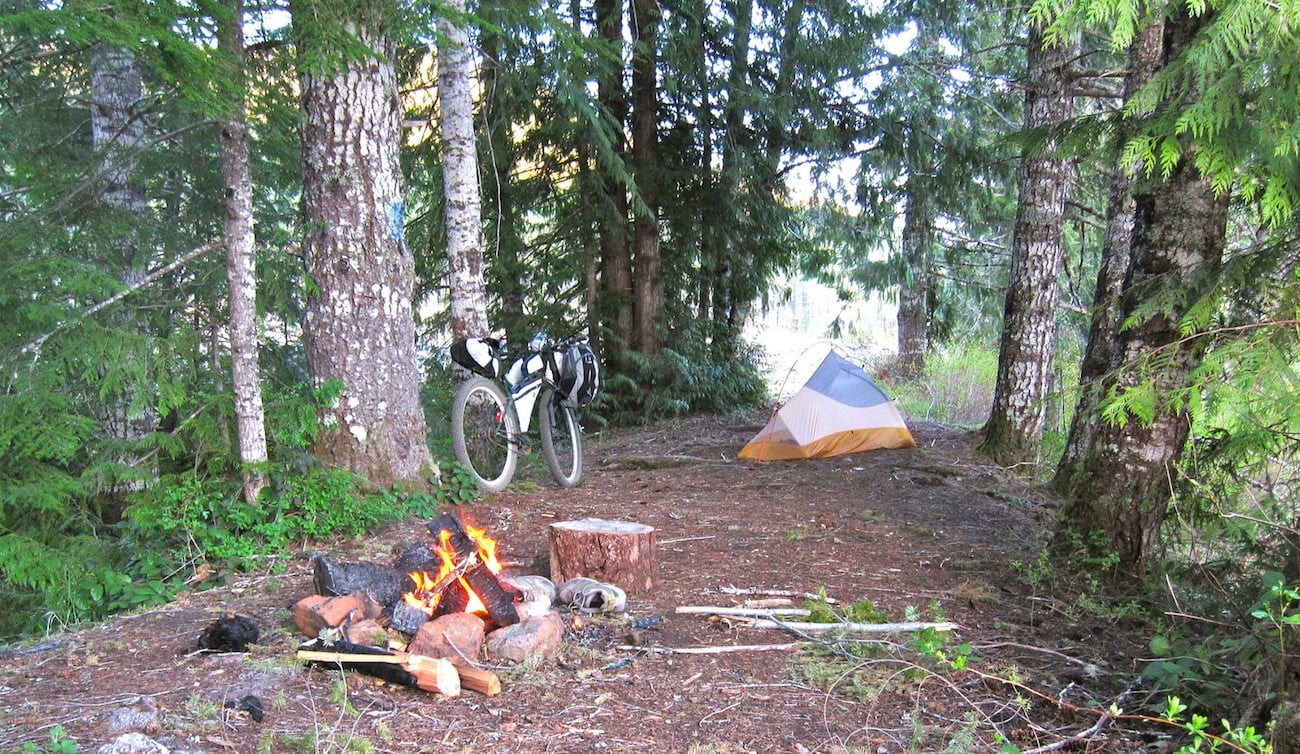 Photo: vikapproved
HAVE YOU BEEN BIKPACKING? WHAT BIKEPACKING TIPS AND QUESTIONS DO YOU HAVE? LEAVE A COMMENT BELOW, TWEET ME, OR WRITE ME A POST ON FACEBOOK. 

Disclosure: Some of the links in this post are affiliate links. This means if you make a purchase, I receive a tiny bit of compensation at no added cost to you. I only recommend products that I have tried out and truly love, and any purchases you make help keep this blog going. Thanks for all of your support, and if you ever have any questions about any of the products featured on my site, please email me. Thanks! Kristen