How to Float the San Rafael River in Utah
Plan an epic packrafting or kayaking trip on the San Rafael River through Utah's San Rafael Swell, with info on flows, camping, gear, and Leave No Trace.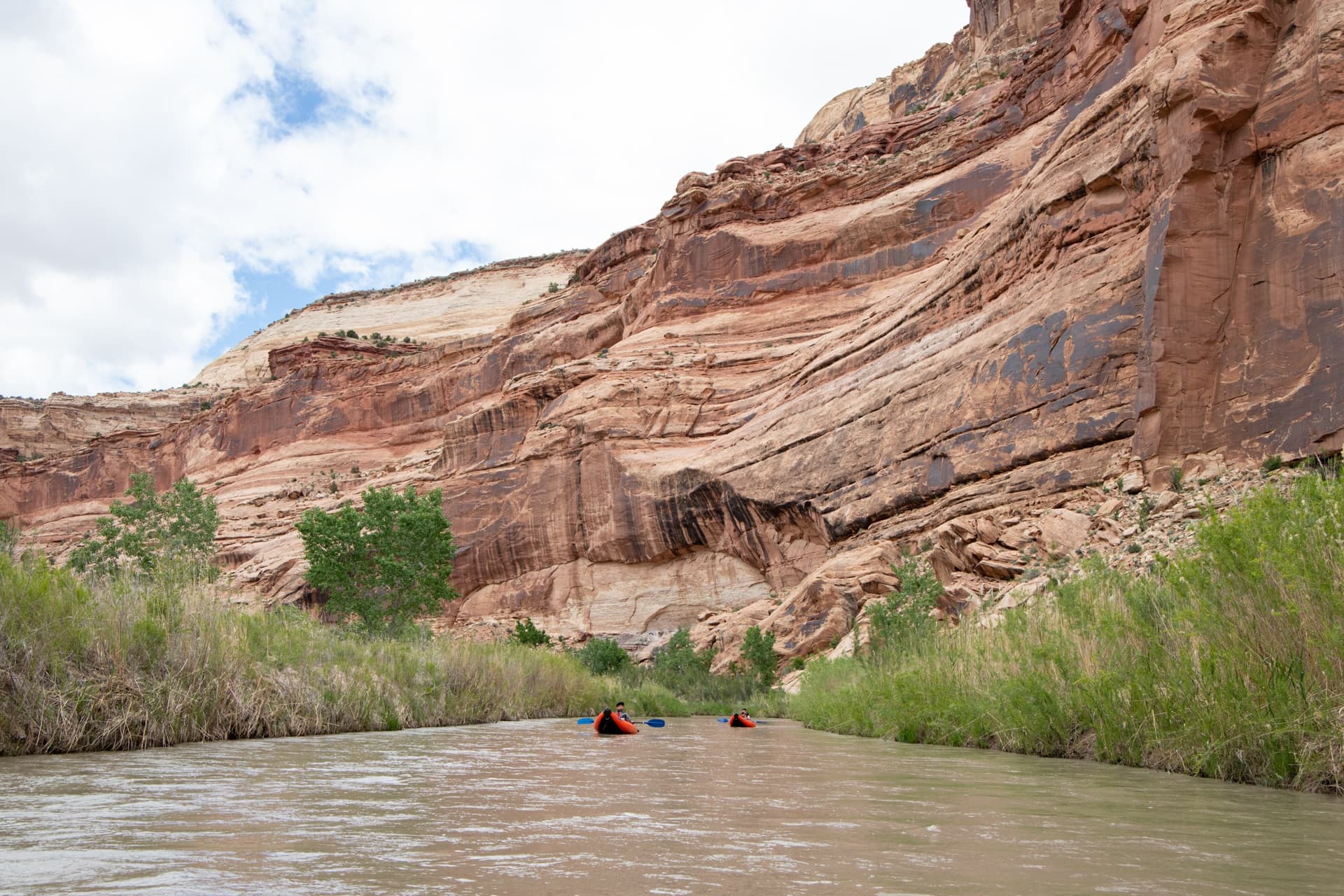 Have you ever floated down a river on a raft? It's a ton of fun! Imagine doing it in the stunning landscape of Utah. The San Rafael River is just the place for that. It's one of the most popular rivers in the state for good reason—it's gorgeous!
The 15-mile stretch that flows through the Little Grand Canyon and the famous San Rafael Swell is one of my favorite places to relax and unplug on the water. And, since it's not too difficult to paddle or raft down, it's perfect for beginners and experienced paddlers alike. So grab your friends and family and head on over to Utah for an adventure you'll never forget!
In this blog post, I share all of the details about my trip and how to plan your own packrafting or kayaking trip on the San Rafael River.
Important Reminder: As outdoor recreationists, it's our responsibility to know how to recreate responsibly on the water whether we're kayaking, paddleboarding, canoeing, rafting, or boating. Learn how to prevent the spread of aquatic invasive species with 3 easy steps and review the Leave No Trace principles.
About the San Rafael River
The San Rafael River is a 90-mile tributary off of Utah's Green River. The 15-mile stretch that flows through Little Grand Canyon and the famous San Rafael Swell is a popular place to explore by raft, canoe, or kayak. There are lots of places to get off the water and explore by foot including slot canyons and petroglyphs.
The river can only be floated for a short period of time in late spring or early summer during peak snowmelt.
San Rafael River Basics
River difficulty
The San Rafael River is mellow with a few class 1 ripples. It's a great beginner-friendly float that doesn't require any paddling experience.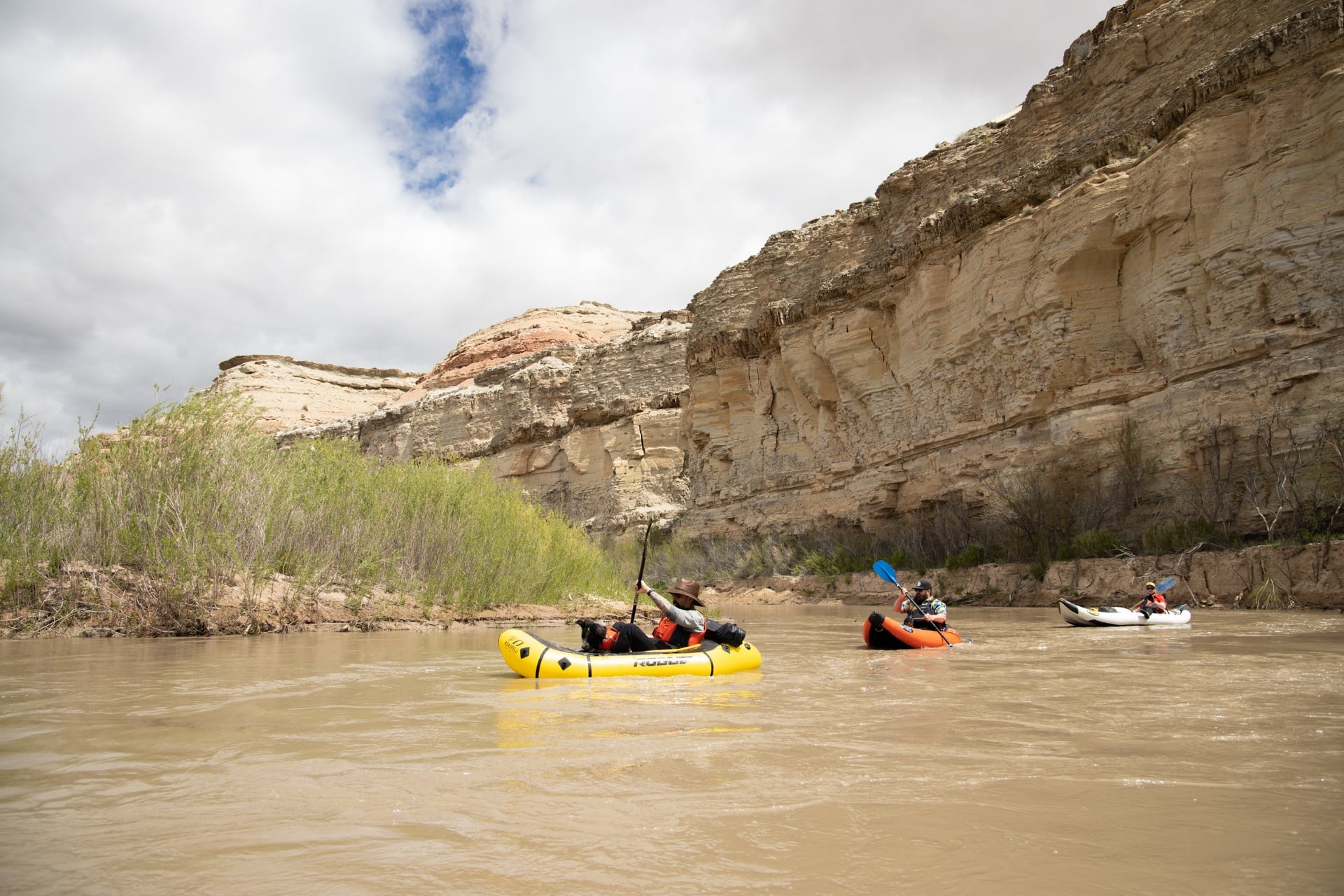 ---
What Boat to Use When Floating Down the River
The river is constantly winding and twisting through the canyon, so you want a boat that is easy to control and maneuver.
We floated it in Kokopelli Rogue-Lite packrafts, which really were the perfect boat for the San Rafael. Small, nimble, light and responsive, they handled all the sharp turns and the few minor obstacles with ease. Our friends floated in inflatable kayaks (also known as duckies), which is another great option.
I don't recommend floating the San Rafael River in a canoe or on a stand-up paddleboard (unless you don't mind going for a swim!). The current isn't very strong, so if you're in a less maneuverable boat, you can easily get pushed up against the walls and banks of the river.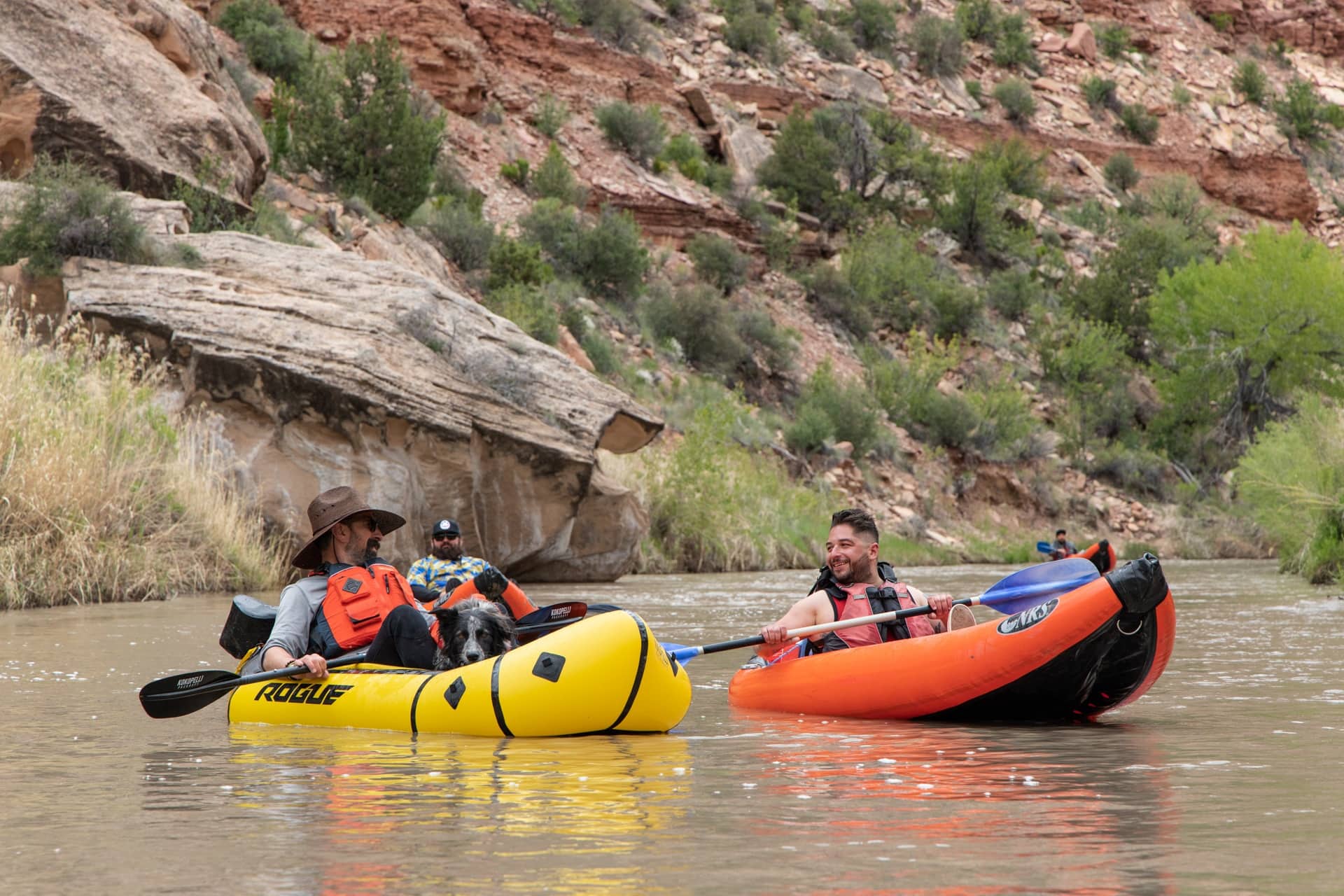 ---
How to Prepare for Your Trip Down the San Rafael River
1. Check Current San Rafael River Flows
The first thing you'll need to do before floating down the river is to check the current San Rafael River flow status. The data you need to pay attention to is the flow rate in cubic feet per second. As I mentioned above, the absolute minimum is 100-150 cfs. If the flow rate is any lower, your raft will hit bottom and you'll be better off hiking it.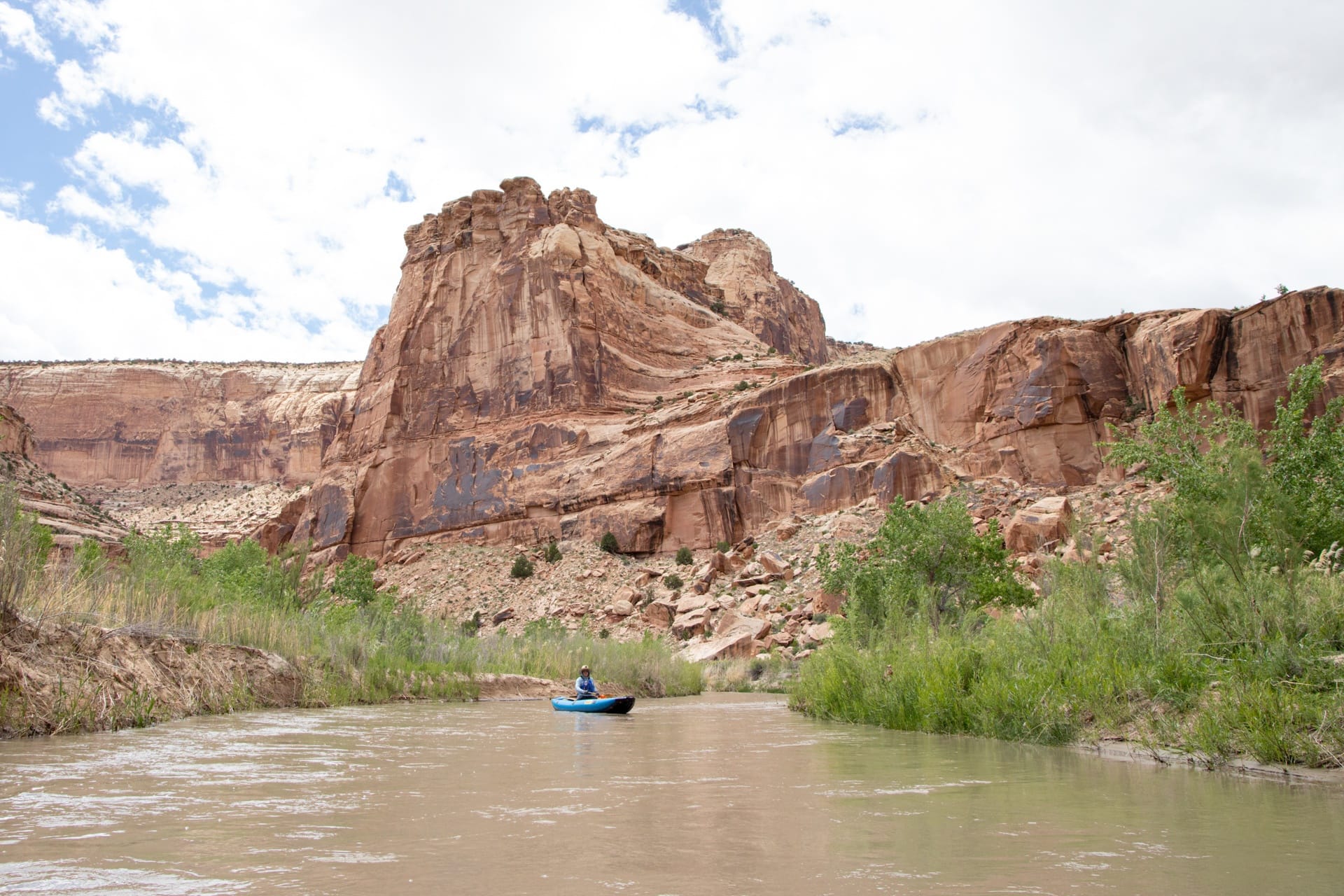 2. Plan Your Car Shuttle
You will need two cars if you plan on floating the San Rafael River unguided. It takes a little over an hour to drive between Fuller Bottom, where you launch, to Buckhorn Draw, where you take out. The entire road is dirt and was in good shape when I drove it. However, I have heard that it can be impassable after heavy rain, so check the weather forecast conditions before planning your trip.
There are no bathrooms or established camping at the launch point at Fuller Bottom, but the take-out at Buckhorn Draw has a ton of campsites with a bathroom.
Before launching, we camped at the Wedge Overlook, which was about halfway between the launch and takeout. It required a little bit of extra driving, but it was worth it for the views.
3. Decide Between One Day vs an Overnight Trip
At 550cfs, it took us about 6 hours to float the entire stretch. There was also rain in the forecast, so we decided to do it in a single day, rather than camping overnight.
The first half took us about two hours, while the last half had a lot more bends in the river and moved slightly slower, taking us about 4 hours. The most scenic part of the river is the middle section where the canyon is the deepest.
With lower flows, it could mean a very long day on the river. In this case or if the weather is stellar, you might consider camping on the river. There are sandy campsites all throughout the canyon, including one at mile 9, which is just over halfway through the trip.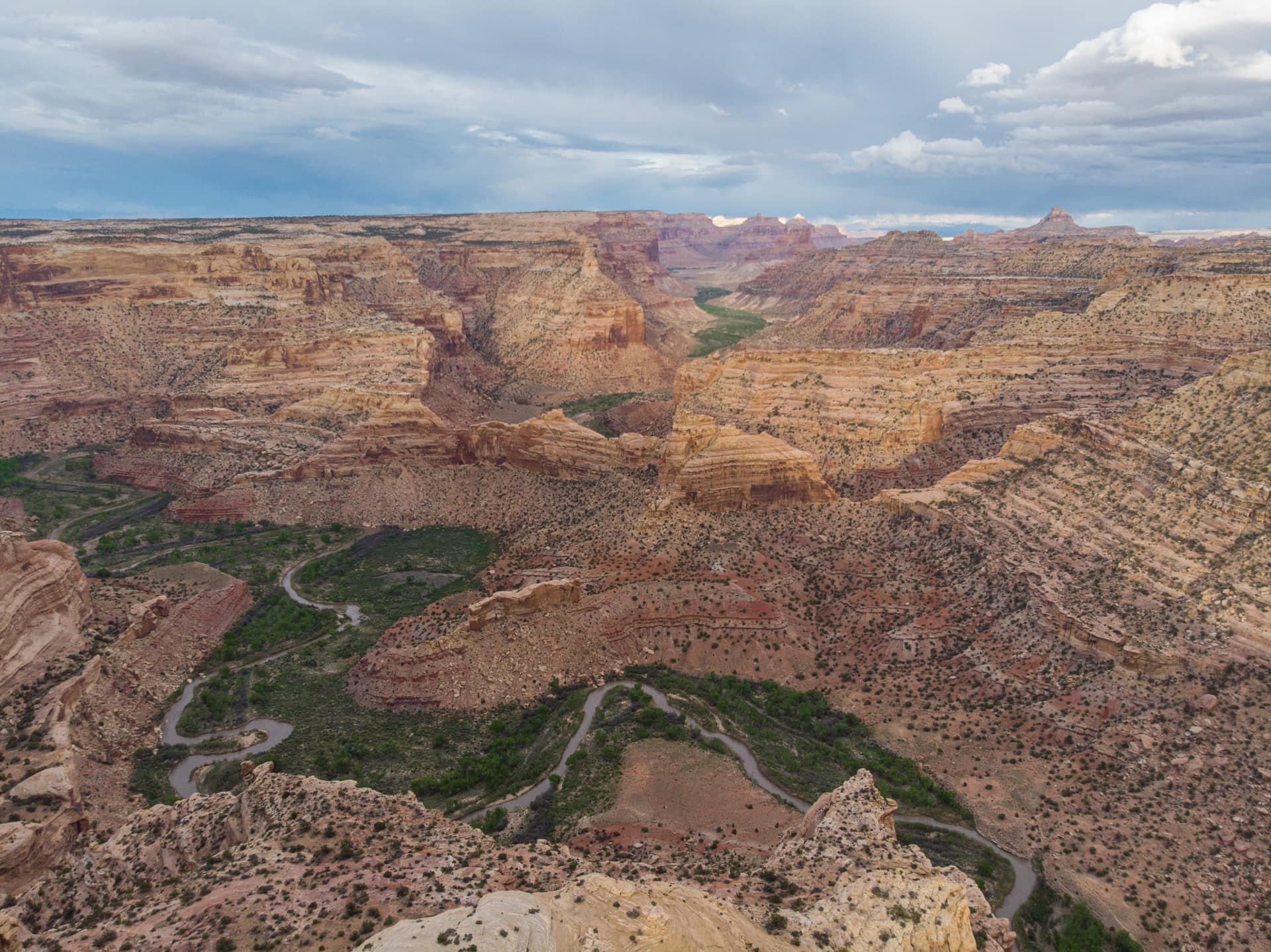 ---
Gear for Floating the San Rafael River
What gear you need is very much weather-dependent. The San Rafael River is very cold and when we floated it in May, the air temps were in the 60s (so it was very chilly!). We saw a lot of people who were very unprepared. In these types of conditions, I highly recommend wearing:
I even brought a rain shell, which I was very happy about. You can always take these extra layers off if it ends up being warm, but if you end up falling in, you'll be stoked that you have the right gear!
If the weather is warmer with no rain in the forecast, a rashguard for sun protection and some board shorts should suffice.
Other things you'll want to pack include:
Make sure you strap any gear down in your boat so it doesn't fall out if you accidentally tip your boat. You'll also want a dry pair of clothes waiting for you at the takeout.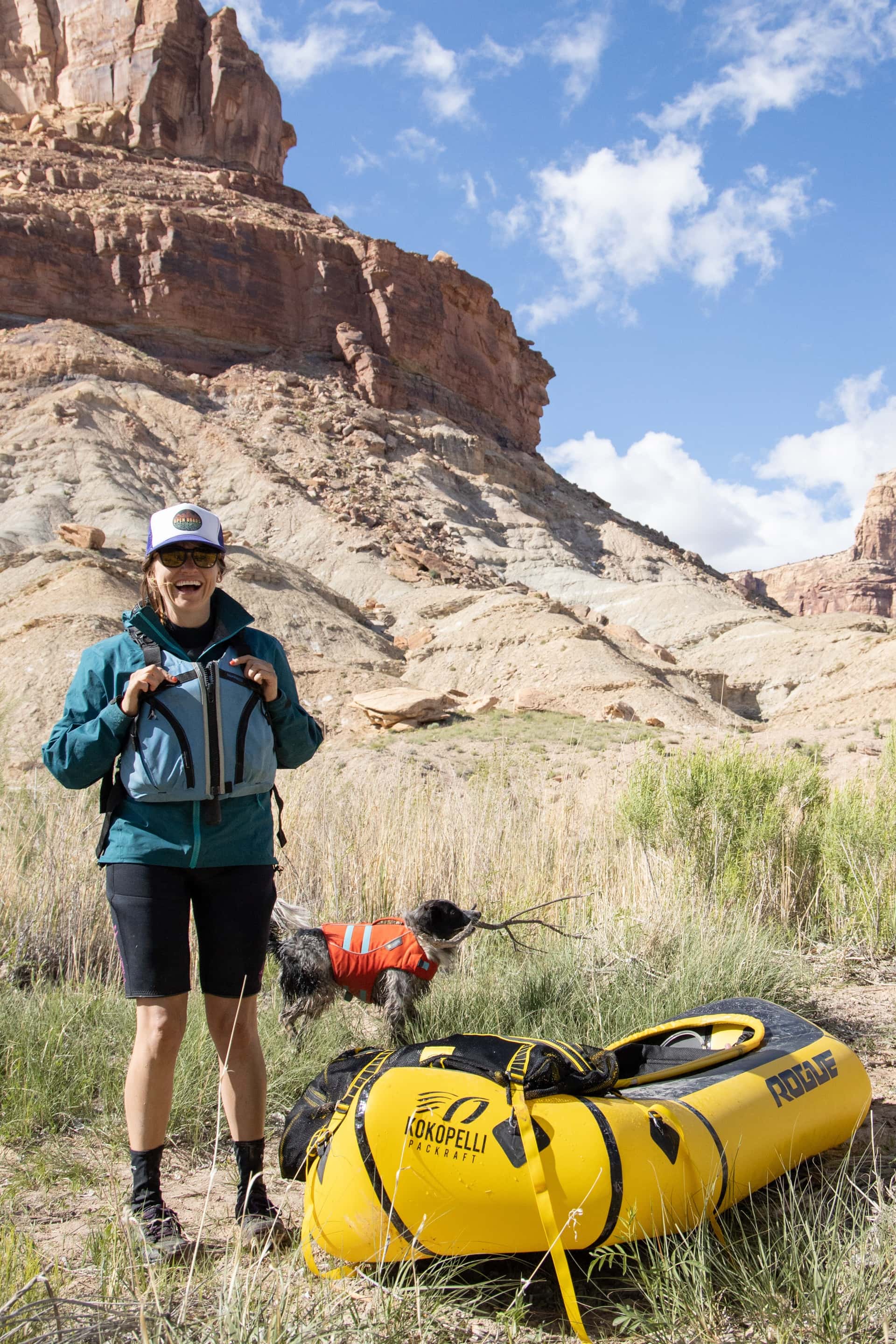 ---
Tips for a Safe and Enjoyable Float Down the San Rafael River
Before you head out on your trip, here are a few tips to help ensure you have a safe and enjoyable float down the San Rafael River!
---
What questions do you still have about floating the San Rafael River in Utah? Is this an adventure you'd like to go on? Let us know in the comments!