Trail Guide: Hidden Lake Lookout Day Hike in the North Cascades
Hidden Lake Lookout is an awesome day-hike / overnight backpacking trip in North Cascades National Park in Washington. Get our full trail guide & add this hike to your summer hiking bucketlist.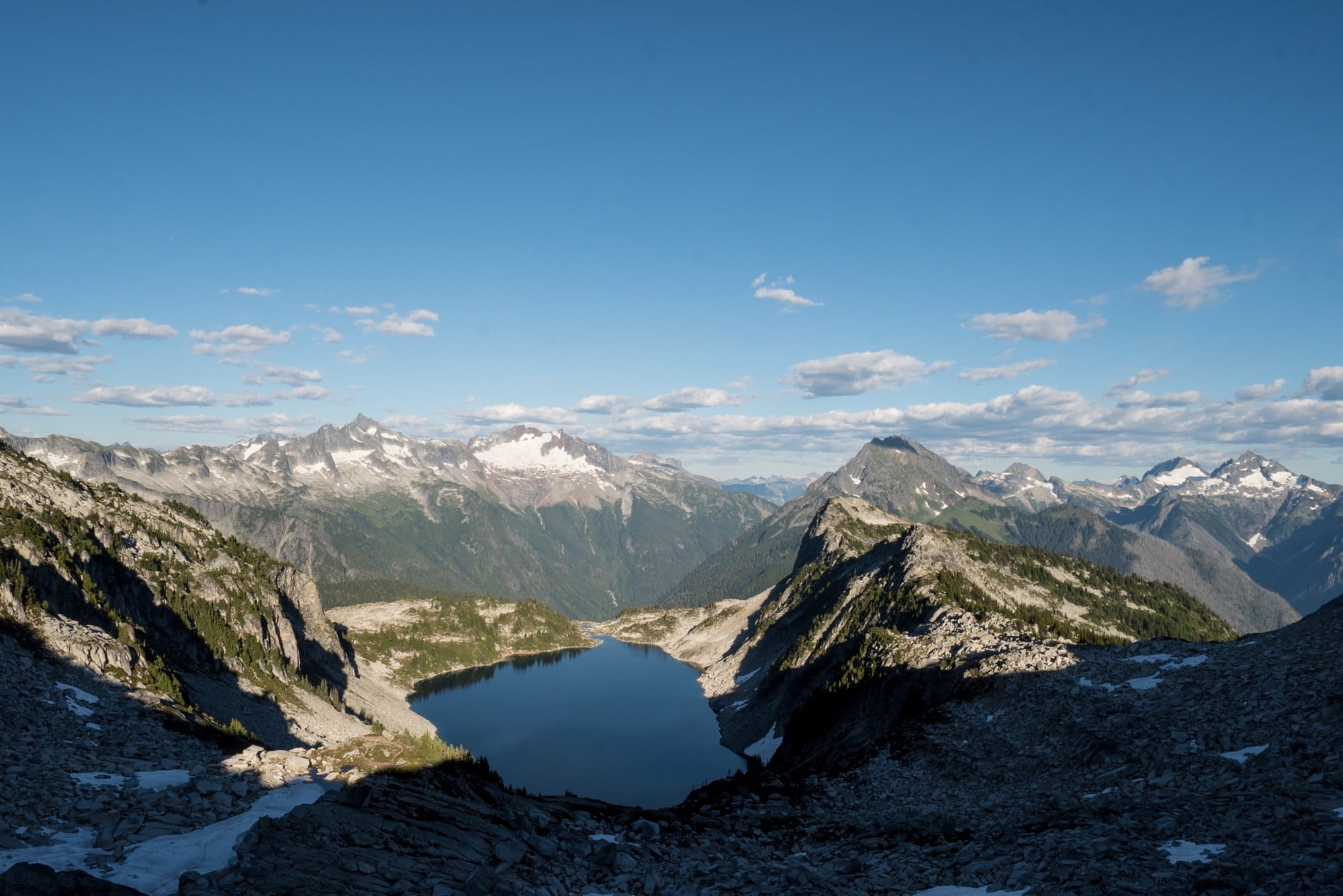 Trail Guide: Hidden Lake Lookout Day Hike in the North Cascades
North Cascades National Park in Washington is home to one of the most beautiful mountain ranges I've ever explored. Last August I hiked up to Hidden Lake Lookout on a hearty day-hike where I watched the sunset before hiking down in the dark, and it was one of the best hikes of my summer.  Hidden Lake Lookout can either be done as a day hike or an overnight backpacking trip. It surprises adventurers with a large variety of backdrops, from sprawling wildflower filled meadows, to big granite slabs, to snowfields bursting with small tumbling waterfalls. I only had a few days to explore the North Cascades, and this trail inspired me to head back as soon as I can. If you are headed up to the Pacific Northwest this summer, the North Cascades and the Hidden Lake Lookout Trail should be very high on your list of things to do.
In this Hidden Lake Lookout Trail Guide, you'll learn everything you need to know to plan an awesome day hike in the North Cascades!
Best Time To Hike to Hidden Lake Lookout
Hiking in North Cascades National Park is very weather dependent, and it is important you check trail conditions before heading out. The best time to hike to Hidden Lake Lookout is generally mid-summer to October, depending on snowmelt and early season snow. The mosquitos can be really bad in the summer months. I hiked to Hidden Lake Lookout mid-week in late-August and had clear weather, limited bugs, and encountered very few people on the trail.
Check the North Cascades National Park website for current conditions or stop in the nearest rangers station in Marblemount before heading up to to the trail.
Hidden Lake Lookout Details
Trail type: Out & Back
Distance: 4.5 miles each way; 9 miles roundtrip
Difficulty: Moderately Strenuous
Elevation Gain: 2,900 feet of elevation gain
Dog friendly! Dogs are allowed on the trail and at the lookout. They are not allowed down at the lake itself.
Please remember to Leave No Trace
What to Know Before You Go
Hidden Lakes Lookout can be hiked in a single-day or you can camp at the Lookout or along the trail. If you want to stay at the Lookout, you can do so on a first-come, first-served basis. That means if you are planning on sleeping there, but there is already another group occupying the shelter when you arrive, you should be prepared to hike down below the saddle and set up your tent.
If you are camping, food canisters are required in the Hidden Lake area between June 1 – Nov. 15
Campfires are prohibited but cooking stoves are allowed
Backcountry camping permits are REQUIRED past the saddle and down to Hidden Lake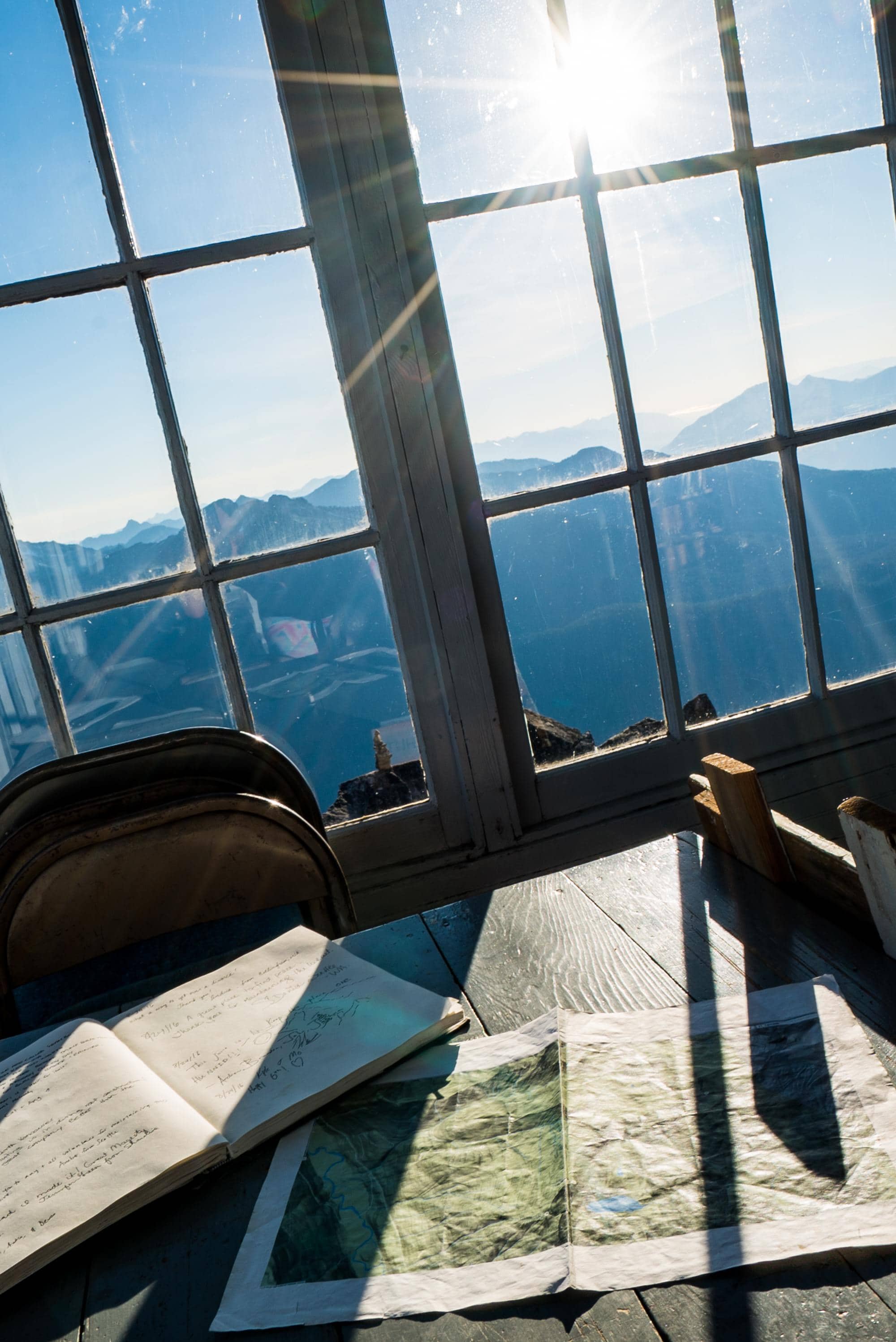 Getting to Hidden Lake Lookout Trailhead
Hidden Lake Lookout trailhead is 30 minutes east of the small town of Marblemount and is about 2.5 hours from Seattle, WA. The trail begins in the Snoqualmie National Forest and enters North Cascades National Park. There is no parking pass required at the trailhead.
To get to the trailhead, drive State Route 20 to the town of Marblemount, mile 106. Cross the Skagit river on a large steel bridge to access the Cascade River Road. Drive Cascade River Road 10 miles and turn left onto Sibley Creek Road ( FS 1540). The road will be signed for the Hidden Lake Trail. Drive the steep, rutted, rocky road 4.5 miles to the road end and trailhead. It is important you check road conditions before heading out as this road is prone to washouts. My Sprinter Van made it up there, but there were a few sketchy moves and a ton of very large potholes.
If you are backpacking, you can pick up your Backcountry permits near Marblemount at the North Cascades National Park Wilderness Information Center.

Hidden Lake Lookout Trail Guide
The first mile of the trail is through dense forest before crossing Sibley Creek. This is the last shade on the trail and is a great place to stop and drink some water before starting to climb switchbacks. Even in August there were still wildflowers in bloom as we entered the clearing.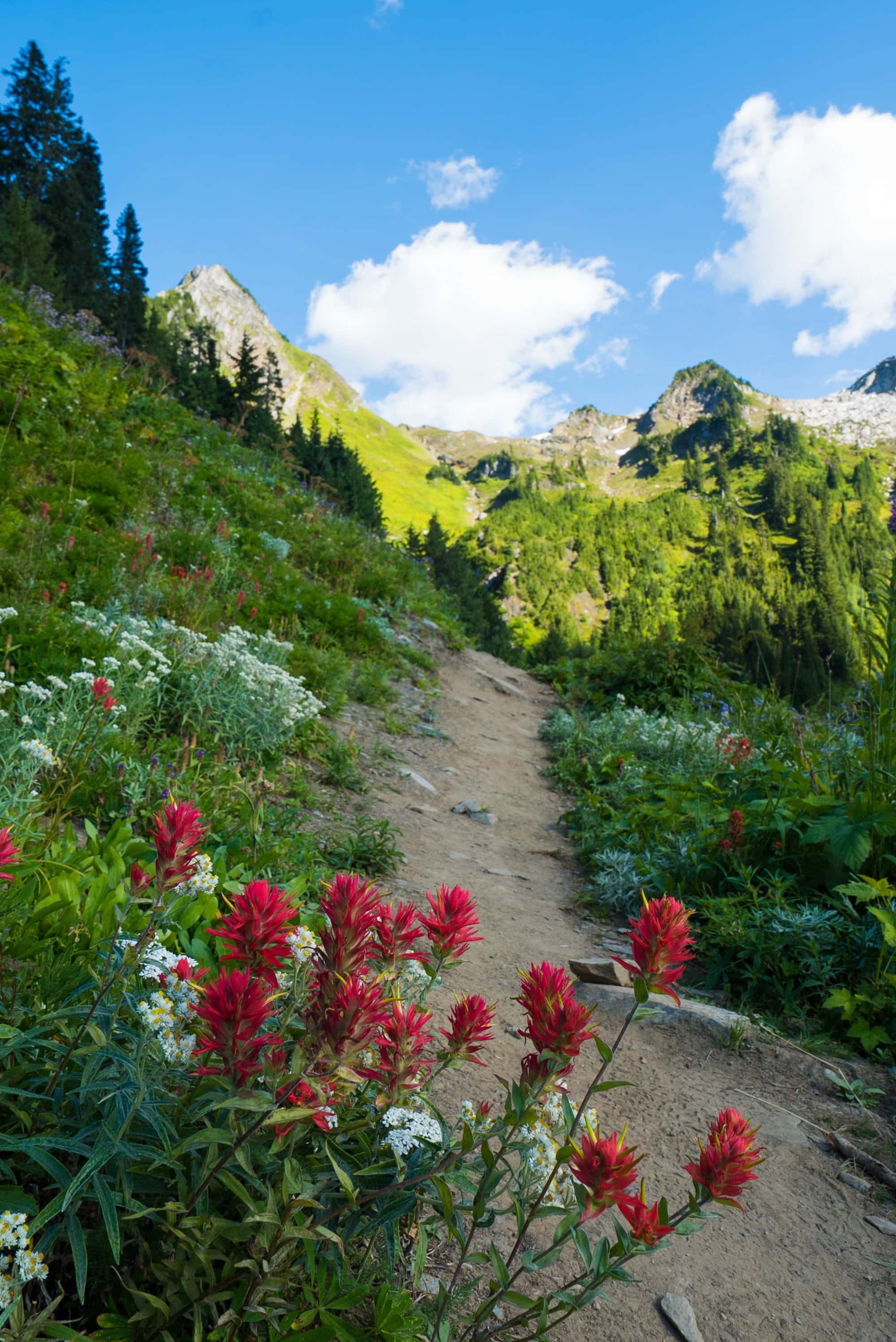 The trail will cross Sibley Creek again at a higher elevation, make sure here to look back down the valley for views of the icy volcanic dome of Mt. Baker to the northwest. You'll continue upwards until you begin reaching the base of the rocky summit. A few small streams and snowmelt found around here offer your last available water source, so make sure to fill up if you are staying overnight.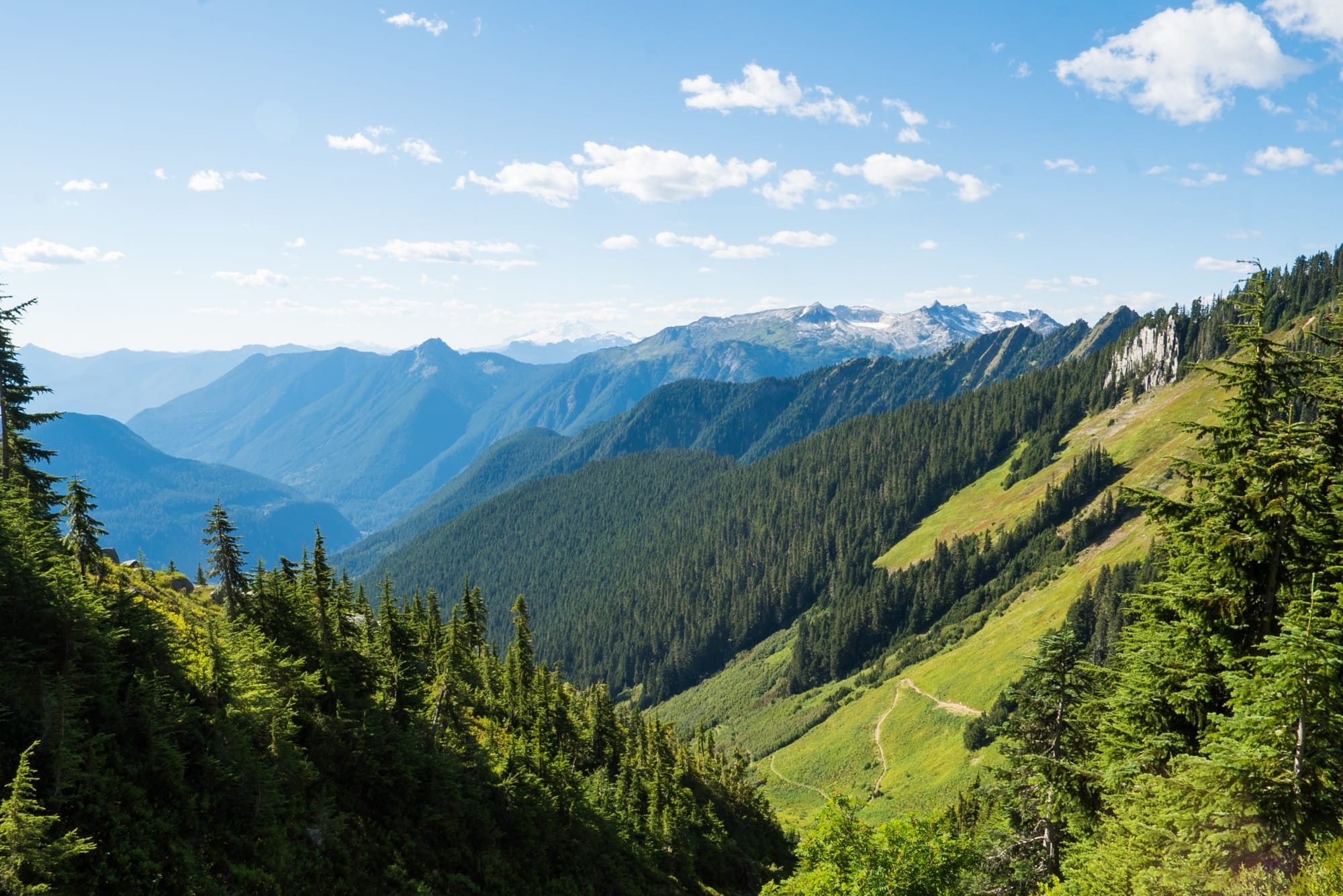 As you near the saddle the trail can become difficult in areas to follow. Watch for cairns which are small stacks of rocks marking the trail, or if you are in snow (like we were) look for footprints from previous hikers). At the saddle you'll be able to see Hidden Lake. To reach the lake edge it is a very steep, half mile boulder scramble down, and there is no trail. Pets are not allowed down to the lake. It was already pretty late in the day when we arrived at the saddle, so we had to pass on going down there.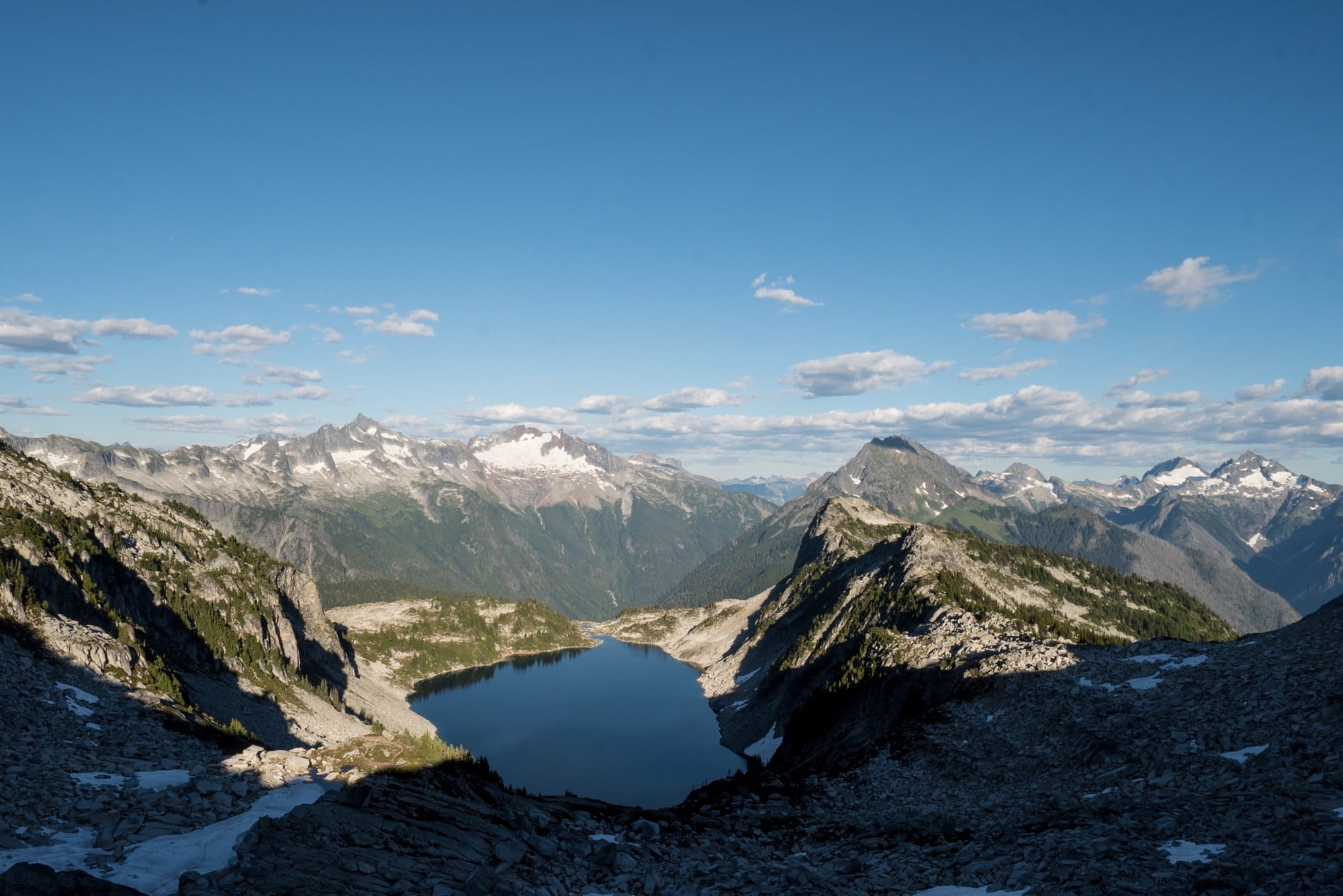 The lookout cabin is just a half mile above the saddle. From the saddle, follow the trail up with the peak on the right above you and the lake to your left. The final approach requires a little bit of scrambling but is nothing too difficult. From the lookout you'll be able to appreciate views of nearby Mt. Rainier, Mt. Baker, and the Olympic Mountains. The lookout was originally built in 1931, and it was restored by Fred T. Darvill of the Skagit Alpine Club in 1961. It is free to stay in the 10×15 building and is first-come, first-serve. Be prepared on the weekends to camp outside the building as it gets very crowded.
When we got to the summit at Hidden Lake Lookout, there was a trail crew working on the cabin. We took a look around, ate a snack, and enjoyed the views before heading back down.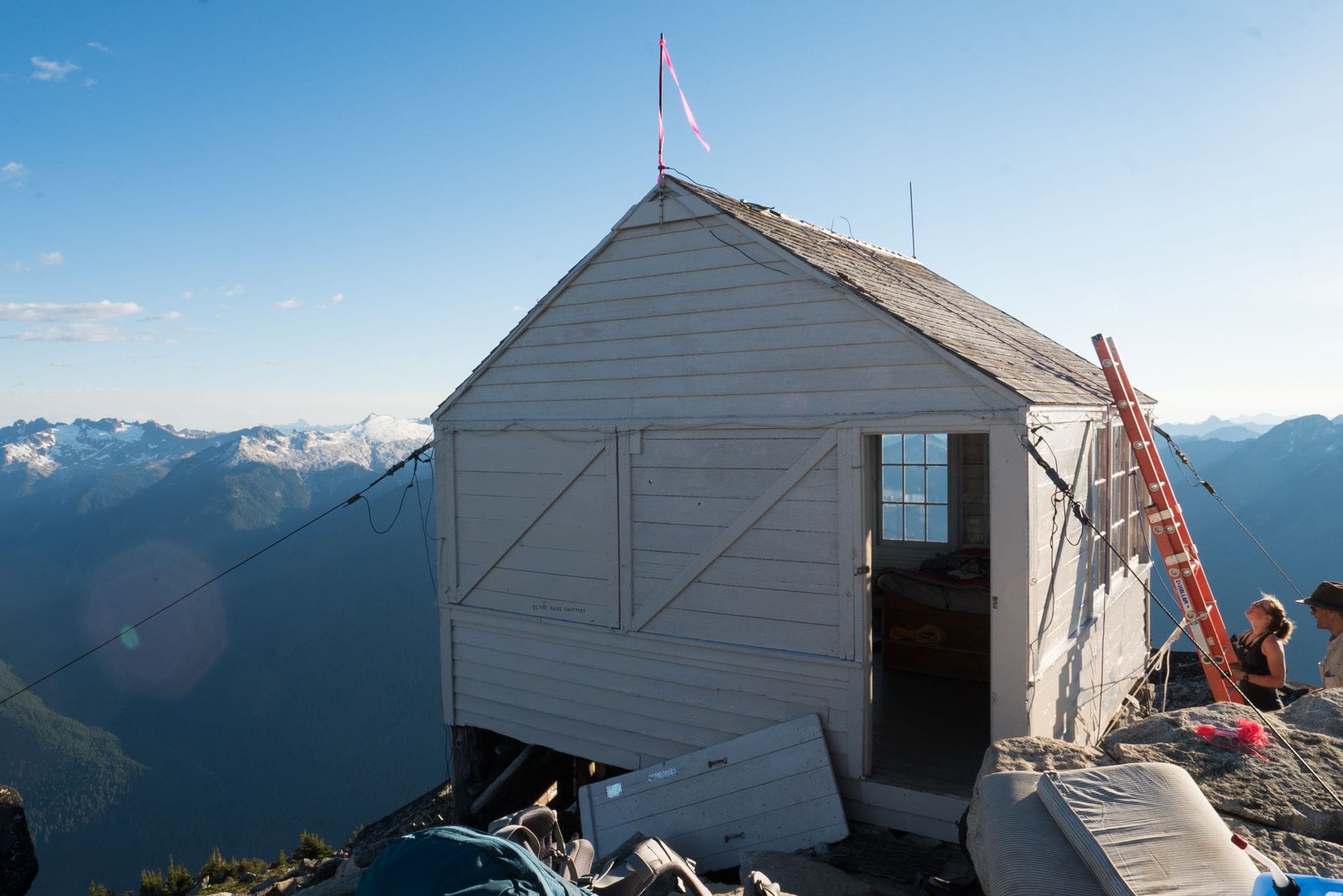 Since we got a late start, the sun was going down during our descent. The views were incredible in every direction, and if you don't mind hiking in the dark, it's worth staying up there for. Just make sure you bring a headlamp, plenty of water, and warm clothes as it got pretty chilly on the way down.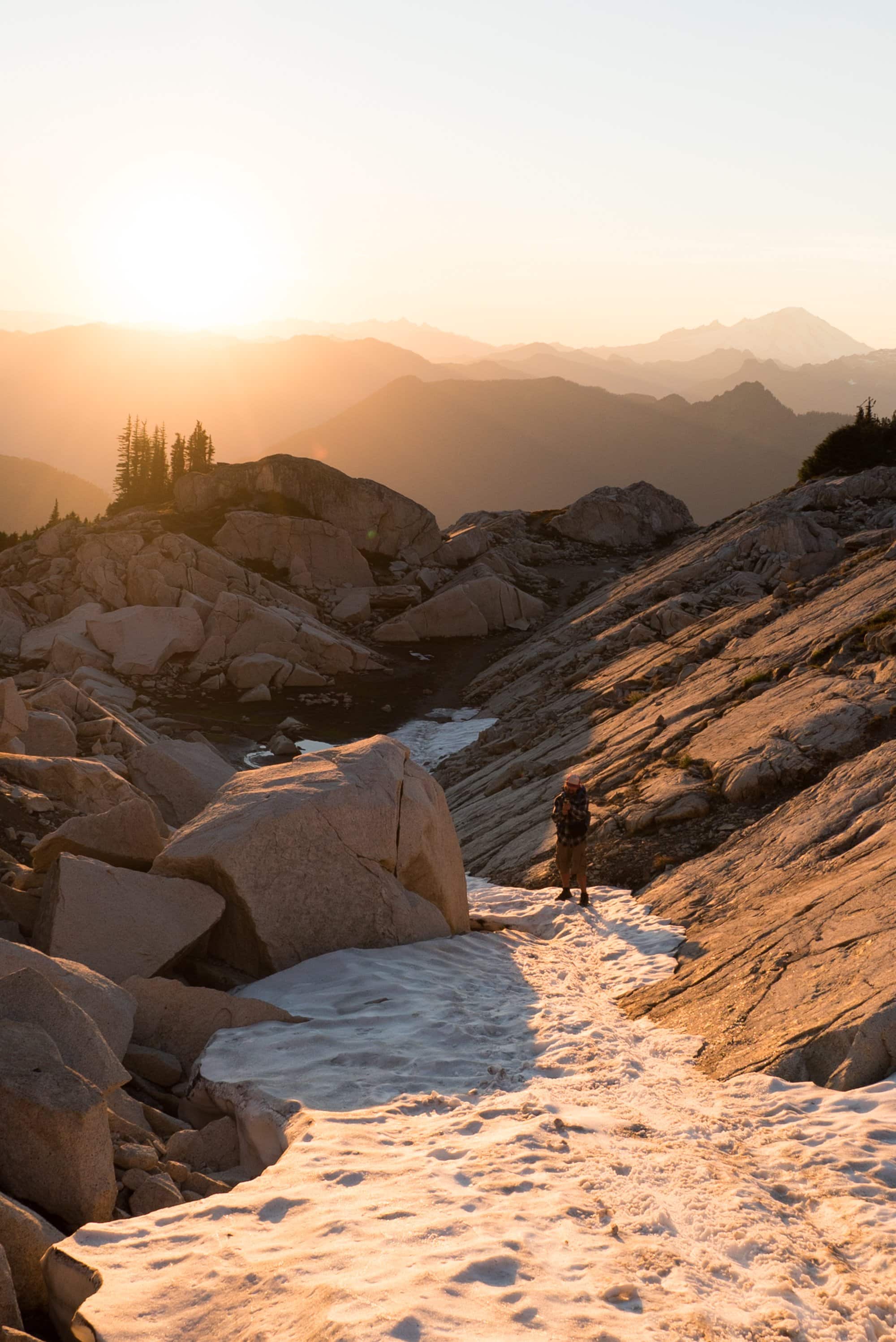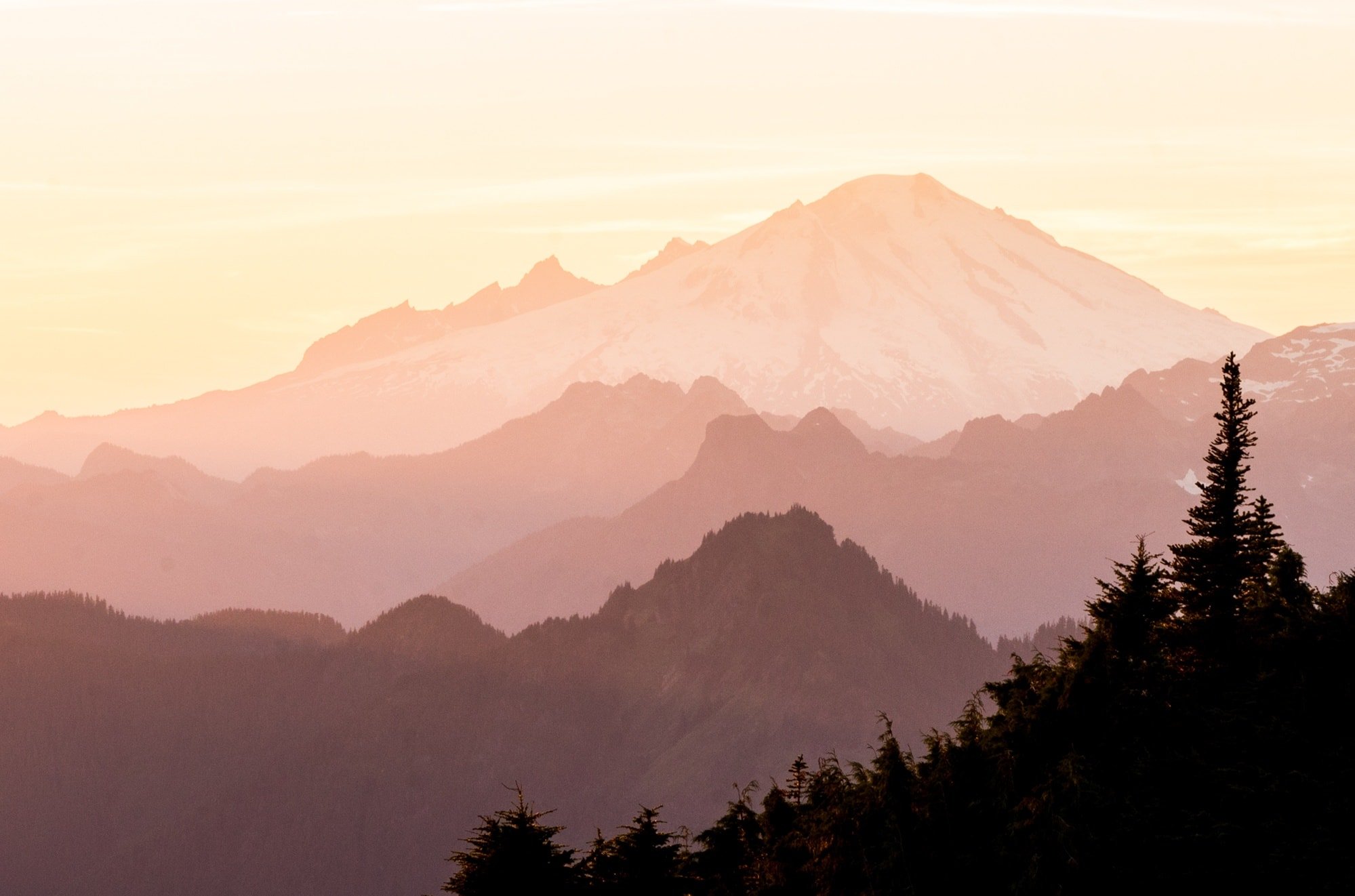 Campsites Near Hidden Lake Lookout Trailhead
Marble Creek Campground  and Mineral Park Campground are two nice campgrounds very close to the Hidden Lake Lookout trailhead, both of which are situated on the banks of the scenic Cascade River. The campgrounds are open the end of May to early September and have reservable campsites as well as first-come, first-serve campsites. Campsites range from $12-$24 dollars per night. We showed up without a reservation and found that there were several sites open.
The Snoqualmie National Forest is also a great area for free, remote off-the-beaten path dispersed camping.
GOT QUESTIONS? HAVE YOU BEEN TO HIDDEN LAKE LOOKOUT? WHAT IS YOUR FAVORITE NORTH CASCADES HIKE? LEAVE A COMMENT BELOW,
TWEET
ME, OR WRITE ME A POST ON
FACEBOOK
.