New Mexico Hot Springs: The Best Natural Pools in the State
Learn about the best natural New Mexico hot springs, including hiking distances, things to know, and a map.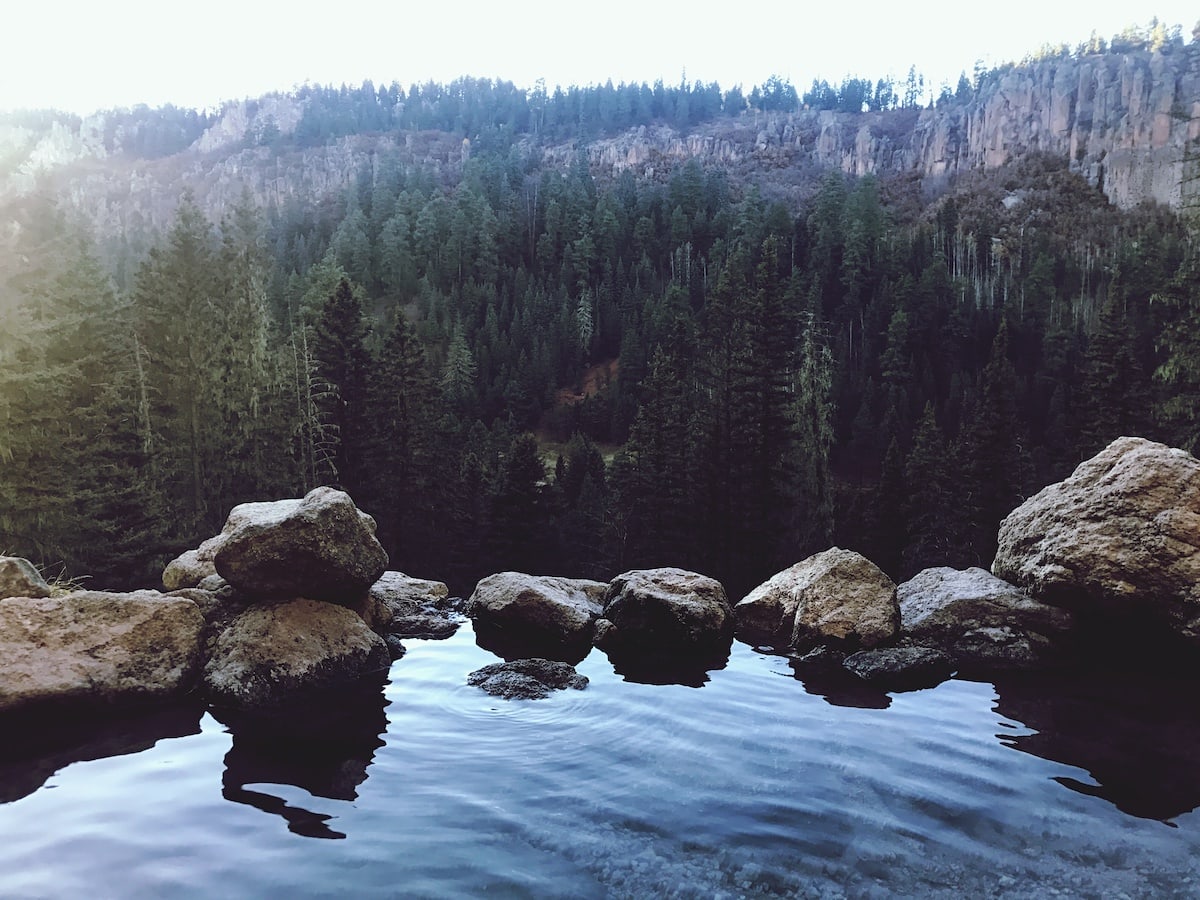 New Mexico is teeming with geothermal activity, making it a great state for some wonderful, natural soaks. These New Mexico hot springs range from desert gorges to lush, alpine environments and most of these hot springs are easily accessible via a short hike, although some require a longer, harder hike to reach them. All of these springs are natural and located within the wilderness, and most are free which also means no amenities such as bathrooms or water spigots, so plan accordingly.
I recommend visiting New Mexico's natural hot springs in the spring or early fall, when the weather is mild and you won't freeze getting out of the pools. New Mexico's climate is generally mild with low levels of precipitation, but the North gets snow in the winter, so make sure to check the weather before you go, as some of the springs are difficult to access in the rain or snow. Some hot springs are clothing optional, so also bear that in mind.
Ready to get outside and explore some natural pools? Read on below for our favorite New Mexico hot springs!
New Mexico Hot Springs Map
Here's a handy map of all of the hot springs we mention below to make planning your New Mexico hot springs adventure a breeze:
**Click on the icon on the top right of the map to see a bigger version and get driving directions in Google Maps. And double-check your coordinates before heading out, as some of these locations are approximate**
---
Northern New Mexico Hot Springs
Northern New Mexico boasts beautiful natural hot springs along the Rio Grande river and in the Jemez Mountains. Whether you are planning a trip to Taos, Santa Fe, or Albuquerque, these hot springs are worth the trip outside of town. Here are our favorite Northern New Mexico Hot Springs:
1. Manby Hot Springs
Located just outside of Taos, these springs are a great, quick stop if you spent the day skiing at Taos Ski Valley or exploring the town. The dirt road leading up to the springs was pretty rough (potholes, bumpy, rocky) and would be difficult to access in rainy or snowy weather. My car is a 4×4 and I made it no problem, and I did see a few brave sedan's making it through, so it is possible! When you get about a mile into the dirt road you'll see a sign pointing towards the hot springs – follow that, and you'll get to a large parking area where you'll most likely see other cars (it's a popular place for a reason)! Consider an early morning or late night soak for solitude.
Once here, you'll find a trail leading straight down the Rio Grande Gorge. The views are spectacular, and even if you aren't looking to have a soak, the hike is gorgeous in and of itself. There are technically three pools available, but the smallest one isn't hot enough to thoroughly enjoy. The pools are right on the river, so if you're brave enough, take a swim in the frigid river to feel properly refreshed!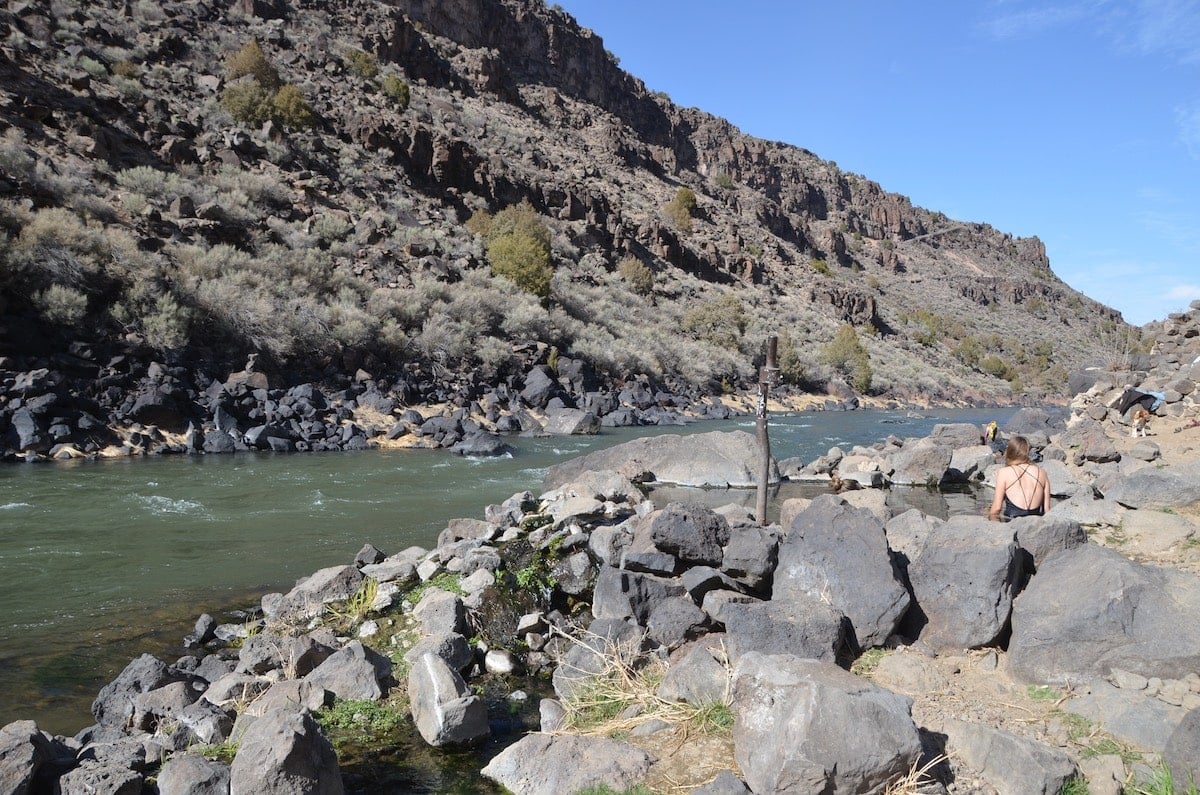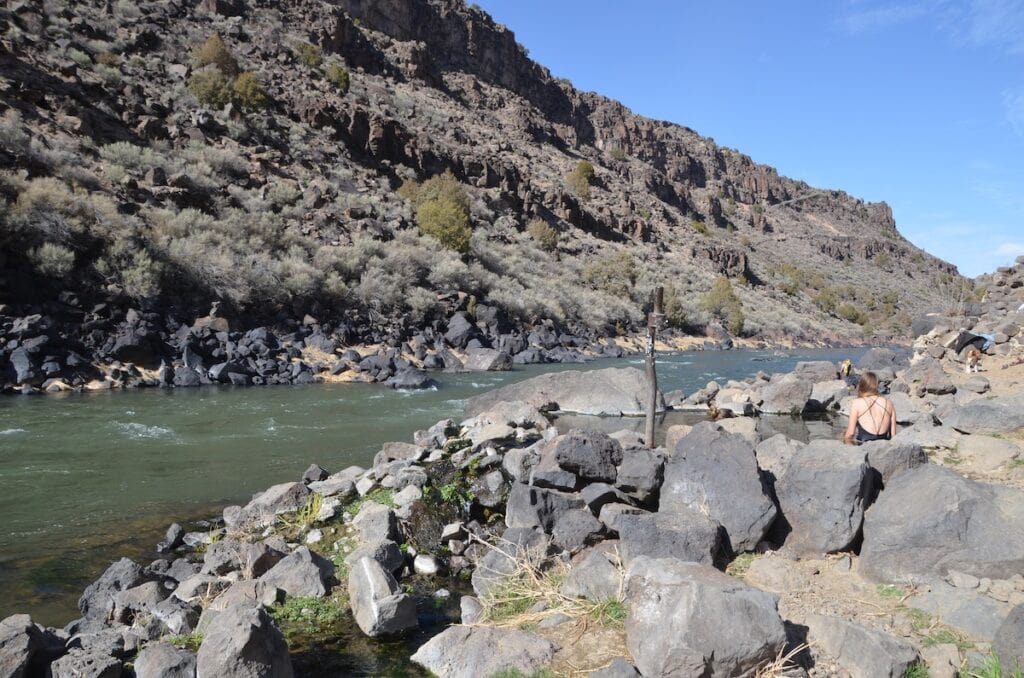 2. Black Rock Hot Springs
This is the slightly smaller and less popular sister of Manby Hot Springs. Located on the same river, Black Rock Hot Springs offer a more secluded experience. The hike down is short, and you'll be rewarded with a pool (most likely) to yourself. A great alternative to Manby, just keep in mind that most people at these springs soak in the nude.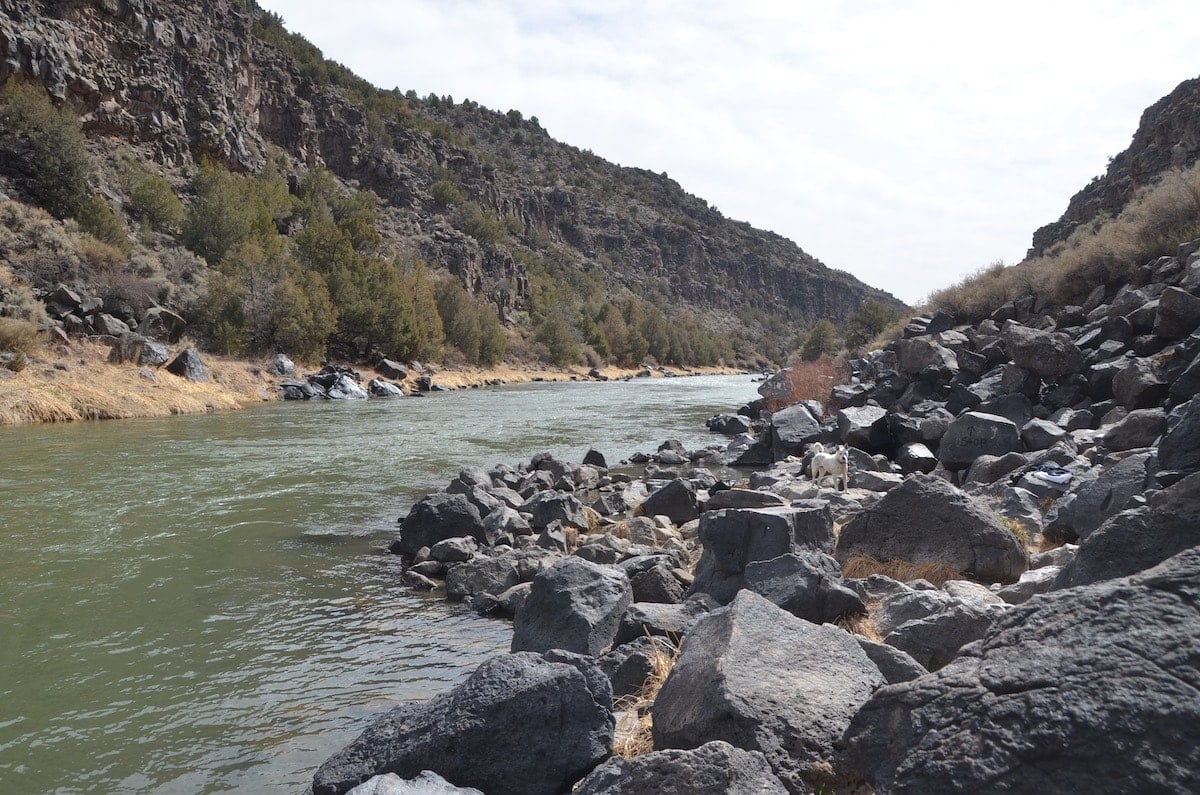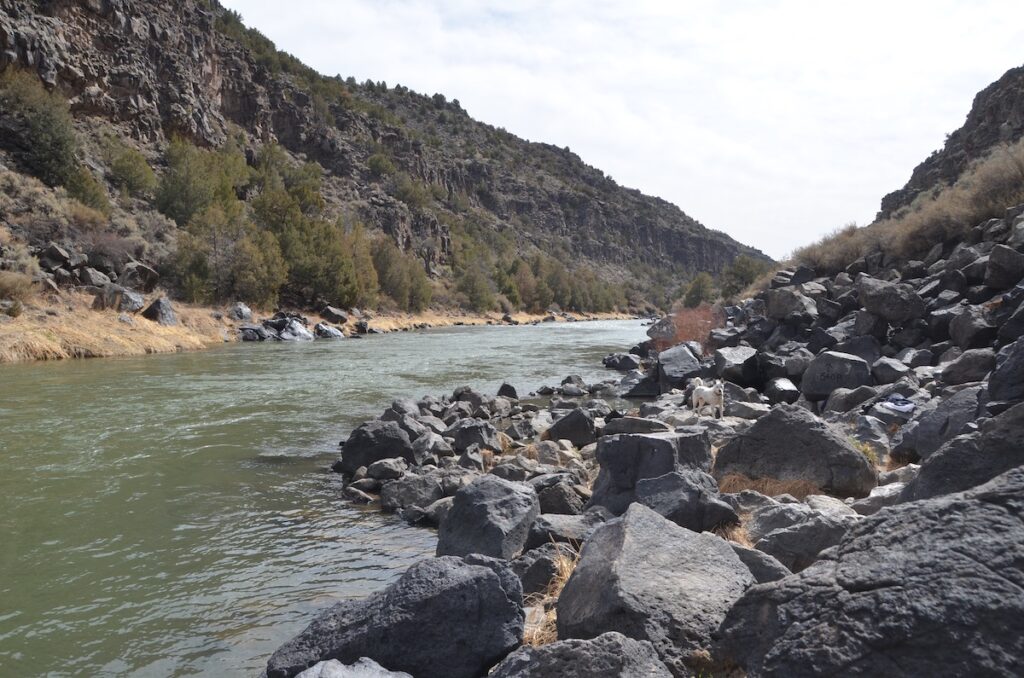 3. Spence Hot Springs
Unlike the other two springs, Spence Hot Springs are surrounded by lush, mountain greenery. Located an hour and a half from Santa Fe in the Jemez Canyon of Santa Fe National Forest, these springs are a welcome change after the dry desert scenery. The springs are accessed via a 0.7 mile hike that may be muddy if its rained or snowed recently. When you reach the end of the hike, you'll be greeted by majestic views of the forest and mountains. I recommend going to these hot springs during sunset, as the feeling of soaking in the 98-degree pools while the sun sets is unbeatable.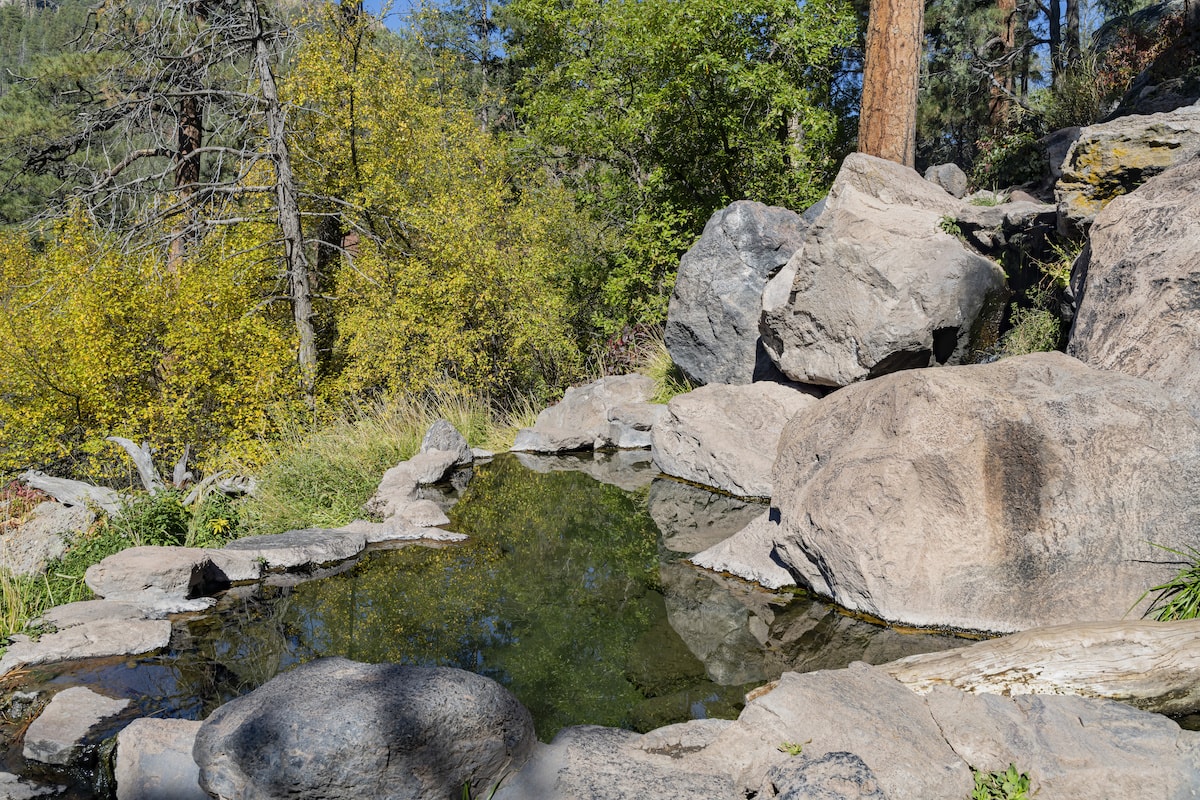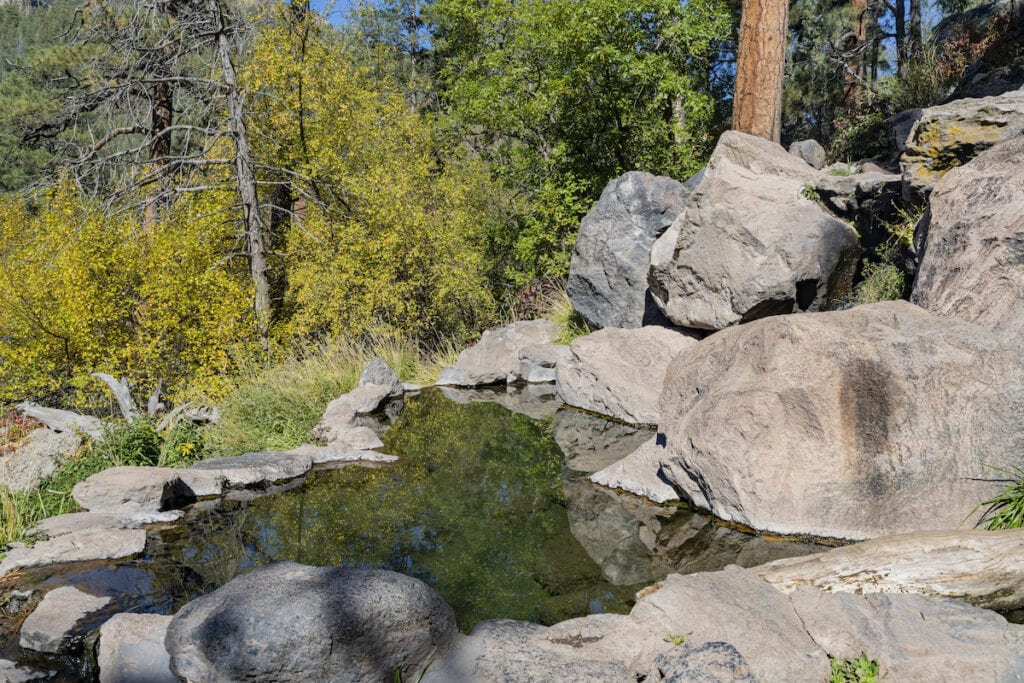 4. San Antonio Hot Springs
These hot springs are the most beautiful, in my opinion. Nestled into the mountainside, soaking at San Antonio Hot Springs provides incredible views and a great reward for the hike in. If you have a 4×4 vehicle, you should be able to make the drive closer to the hot springs, as long as it hasn't recently rained or snowed. If you're planning to go in the winter or early spring the road is inaccessible, although you can still hike in from the road turnoff (this makes it a 10-mile round trip hike, so bear that in mind). This is a really cool experience and you'll have the springs virtually to yourself!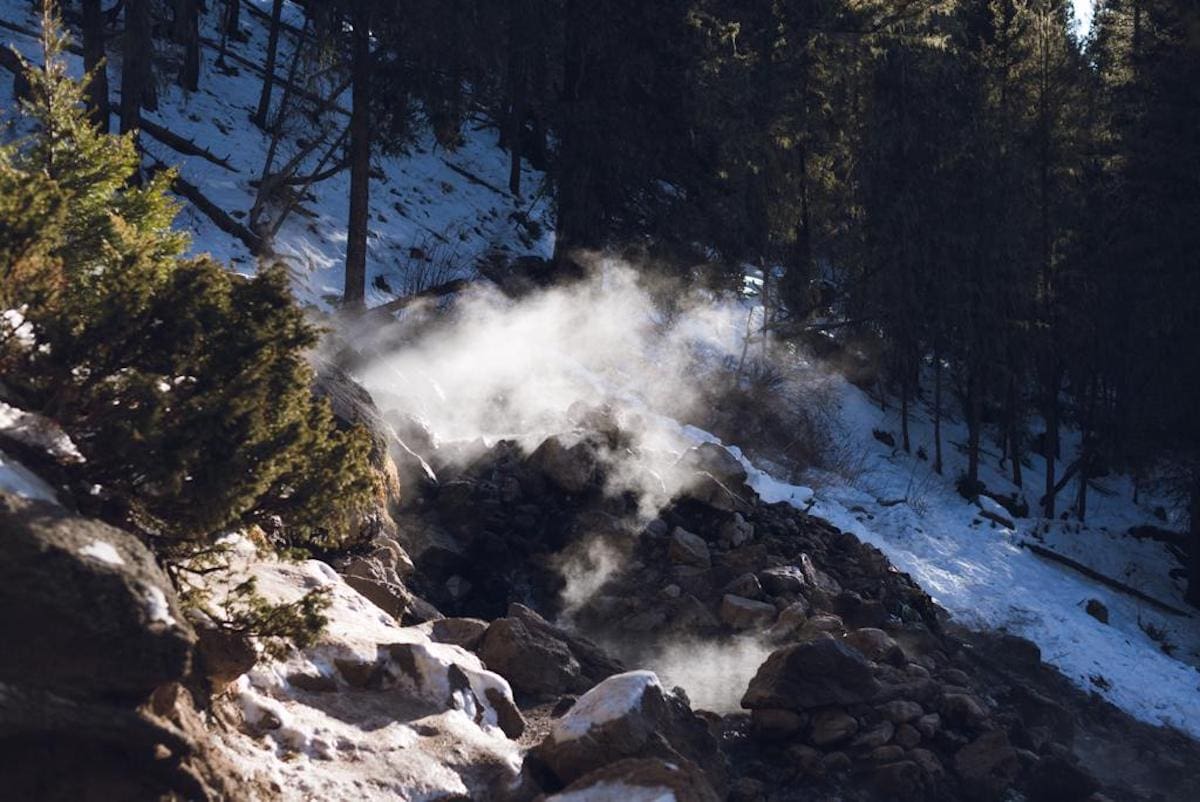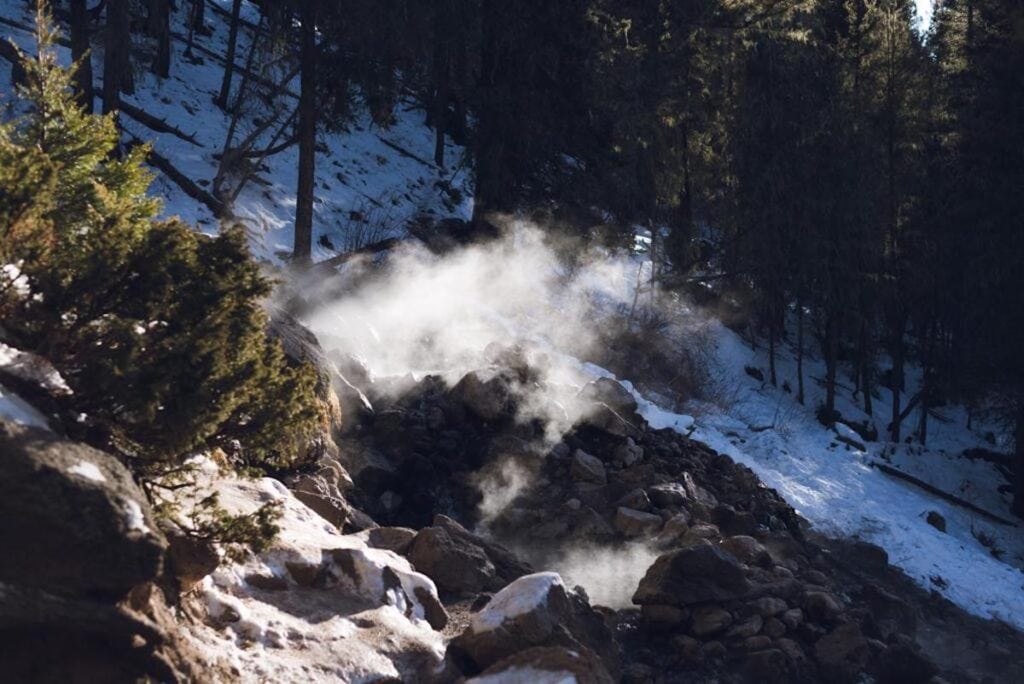 ---
Southern New Mexico Hot Springs
New Mexico hot springs in the southern part of the state require a little more distance hiking, but that means these hot springs are often less crowded than ones in the North. Here are our top picks for Southern New Mexico hot springs:
5. Jordan Hot Springs
The town of Truth or Consequences is known for its geothermal activity and boasts a large array of established hot spring resorts. Located two hours West from the town, the natural Jordan Hot Springs require a 13-mile round trip hike to reach. Many people opt to backpack this route as there are campsites located right above the hot springs, but this hike can also be a day trip if you start early enough. The trail starts with about a one-hour hike uphill, followed by a downhill journey into Little Bear Canyon. The long trek makes these hot springs a less crowded option for those wishing to soak in solitude. Once there, you'll be greeted by crystal clear pools in the middle of the forest.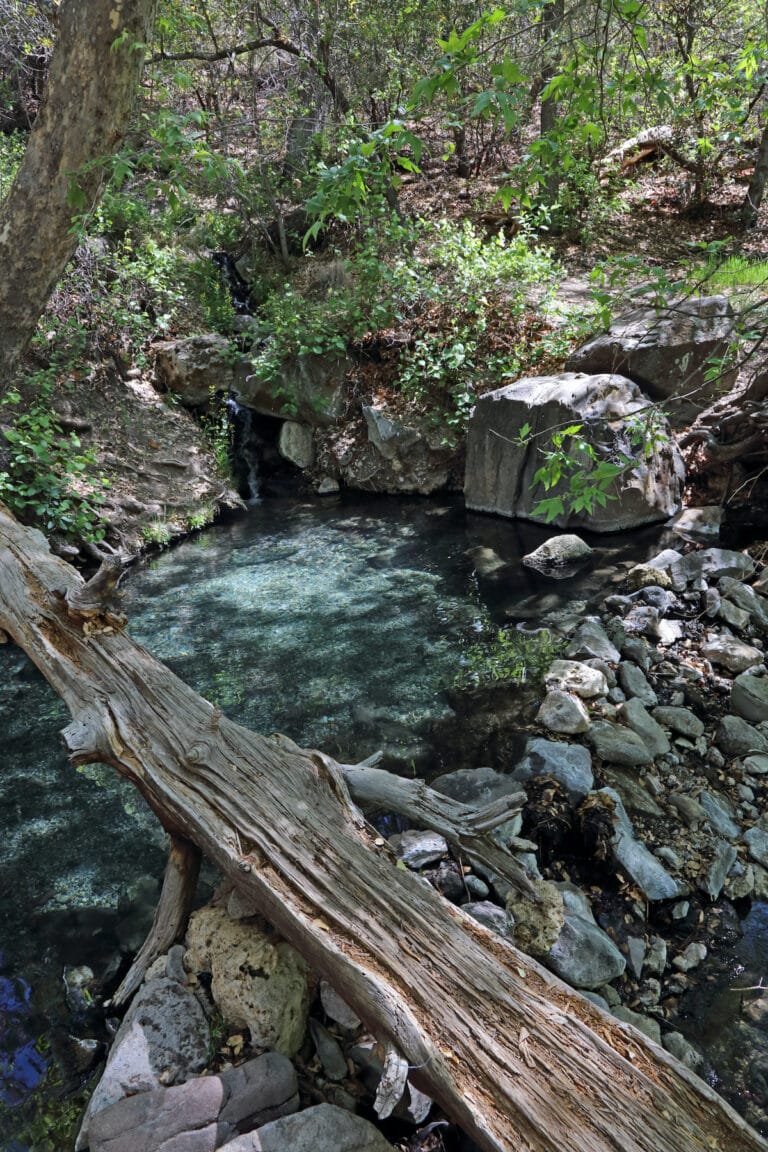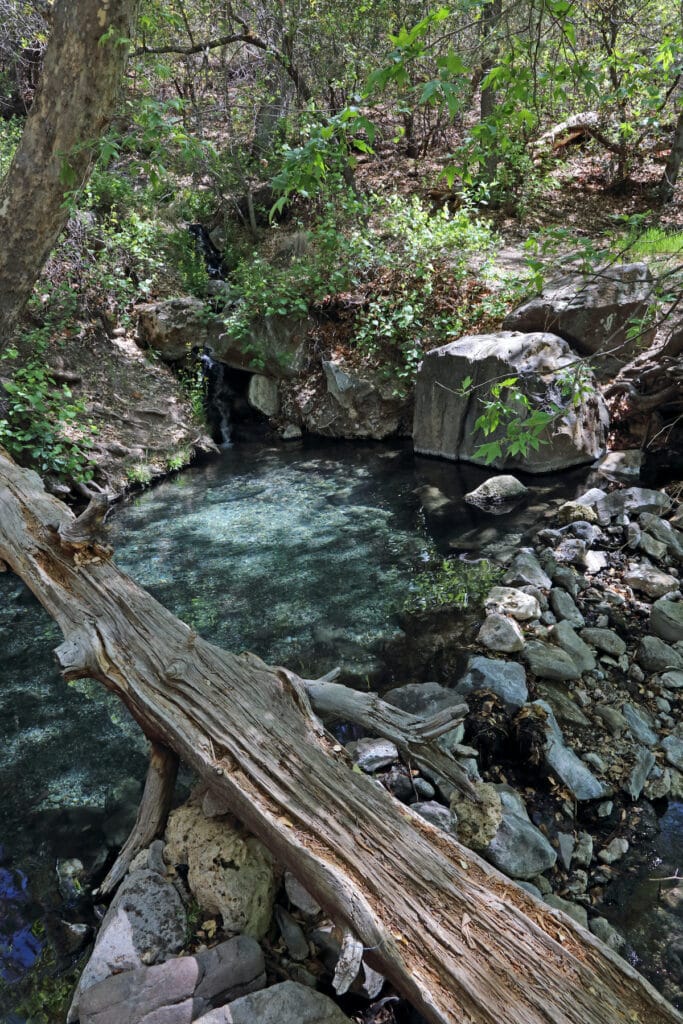 6. Lightfeather/Middle Fork Hot Springs
These hot springs also require a strenuous hike to reach – although not quite as bad as Jordan Hot Springs. Lightfeather Hot Springs are located in the Gila Wilderness, about an hour and a half's drive from Silver City. Park at the Middlefork Trailhead and begin the 2 mile round trip hike, starting with a steep quarter mile uphill. Two river crossings are required to reach these springs, so be prepared with waterproof shoes. The river crossings are about calf-deep in the springs, and ankle deep in the summer. I hiked this trail in Chacos and was completely fine, but if you're going in the winter months I would recommend waterproof hiking shoes as the water is pretty cold.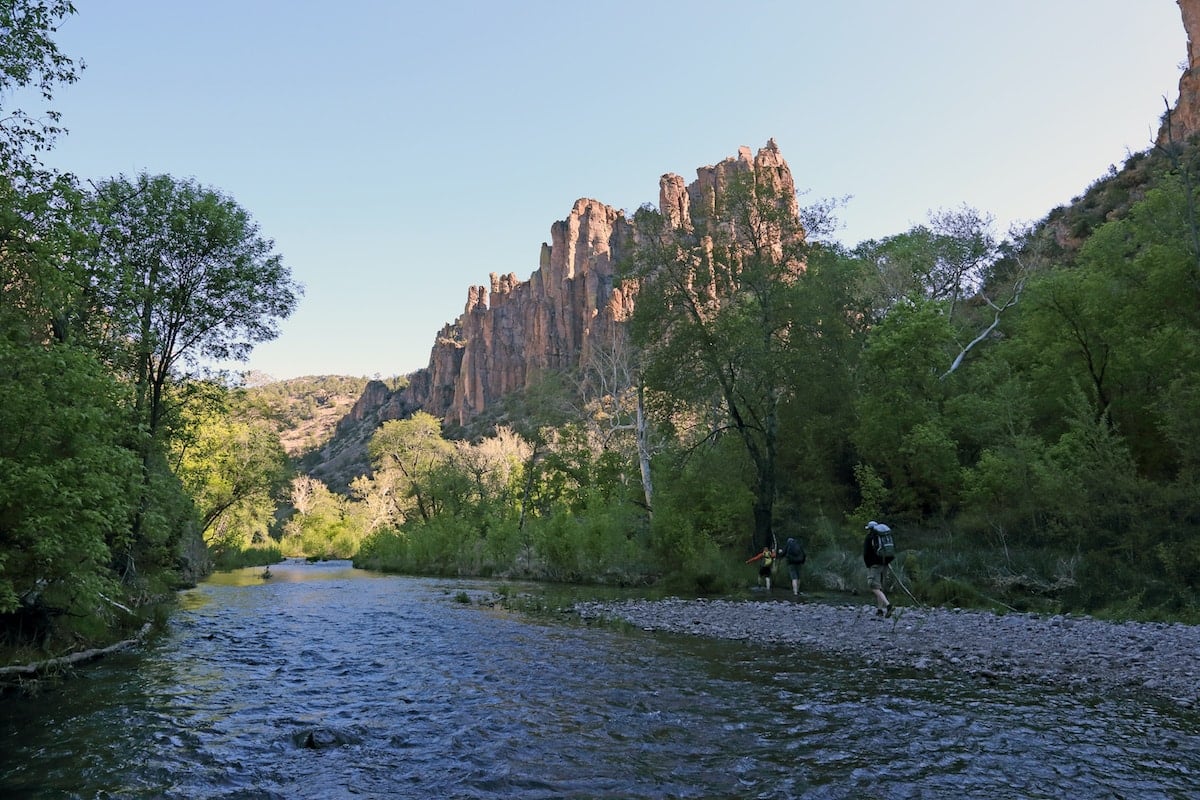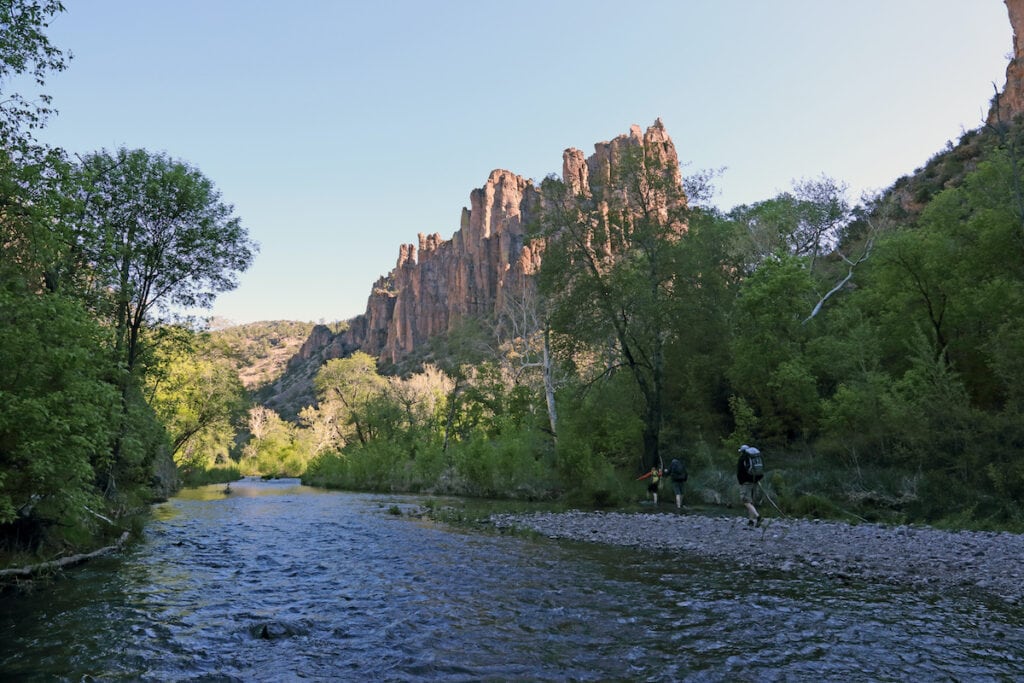 7. Gila Hot Springs
Gila Hot Springs are located 40 miles north of Silver City in southwest New Mexico on the Gila River in the Gila National Forest. There are two camping options if you are visiting Gila Hot Springs: Gila Hot Springs Ranch and Gila Hot Springs Campground. The springs are very hot and range from 147 degrees to 157. This is a great option for those not looking for a hike, as they are easily accessible by car. If you're not planning on camping, the cost is $5 per person to soak. If you plan to camp at Gila Hot Springs Campground, soaking in the springs is free but the campground costs $8 a night per person. Bathing suits are required at these hot springs, so keep that in mind. Make sure to check out Gila Cliff Dwellings National Monument, as it's only 4 miles away from the hot springs.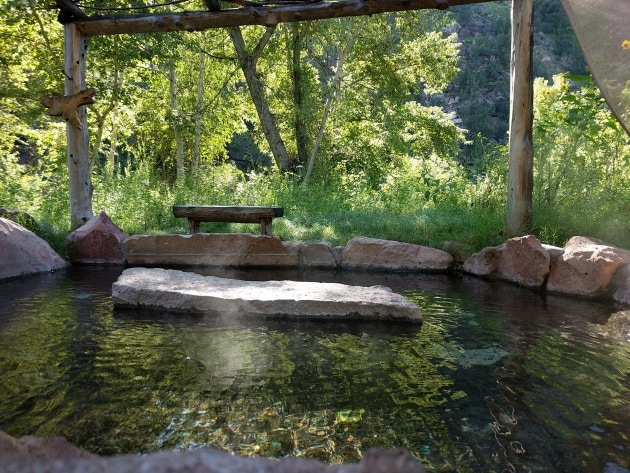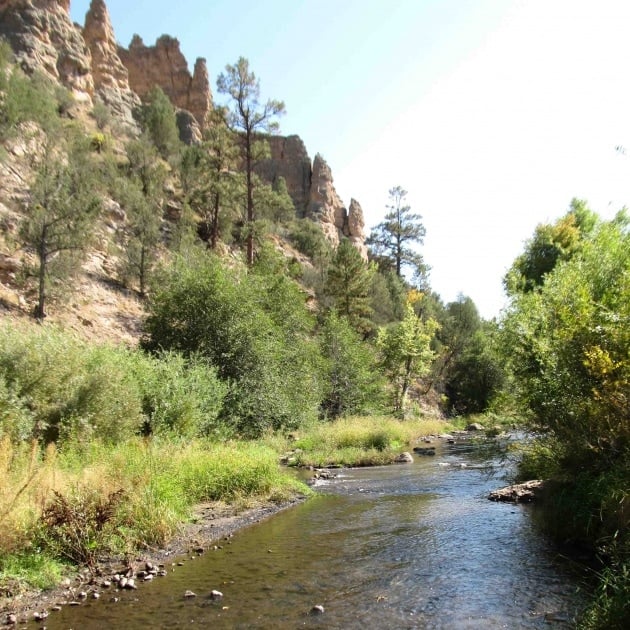 Photo Credit: Gila Hot Springs Campground
---
What are your favorite hot springs in New Mexico or which would you love to visit? Leave a comment below!