A Full Review of the Summit Series Adventure Photography Workshop
If you've been following along on my Instagram account, you may have noticed a few shots that are out of the ordinary. Mountain bikers, kayakers…the kind of action photography that I am not well-versed in…until now. In late September I spent 6 days up in Jackson participating in the Summit Series Adventure Photography workshop put on by Clarkson Creative.
I first came across the Summit Series workshops earlier this year when I was researching photography courses. Photography had always been a fun hobby that I enjoyed, but I never received any kind of formal training. Since starting my blog, I knew that if I wanted to stand out in this increasingly-competitive online and social media world, it was time to up my game.
What really drew me to the Summit workshop was its focus on the outdoor lifestyle since that's exactly what Bearfoot Theory is about. There would be the chance to shoot climbing, biking, rafting, camping, and trail running, all in the shadow of the Teton Mountain Range. After comparing the Summit workshop to some other nature-focused photography courses, I decided this one would get me out of my landscape/still photography comfort zone and offer the me the most opportunity to grow.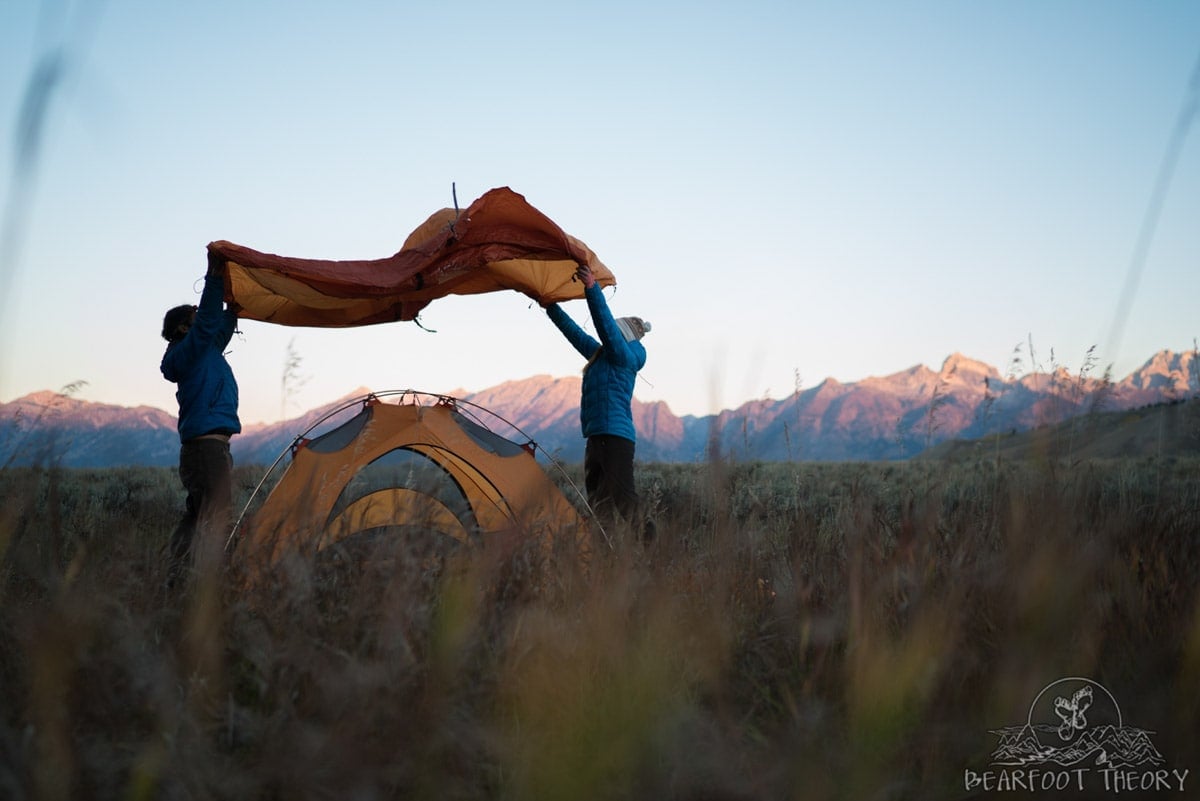 I'm gonna give you the whole scoop below, as well as share some of my favorite shots from the week…but in a nutshell, I'm so happy with my decision to attend the course. Not only did I have the chance to learn both technical and business skills from some of the best minds in the adventure photography world, I was also incredibly impressed by my fellow students and the supportive environment that everyone fostered. There's nothing more inspiring than being surrounded by a bunch of super creative, motivated, and talented people to get those gears turning. And finally and just as important, it was wicked fun.
Adventure Photography Workshop Location
The Summit Series Adventure Photography Workshop is held at the base of the mountain at Jackson Hole Ski Resort. The best part about the location of the course was its convenience. There was a large classroom on site, as well as several hotels and restaurants to choose from. First I'm going to talk about the actual course, and further down in this post, I'll also discuss some options for sleeping and dining.
Adventure Photography Workshop Instructors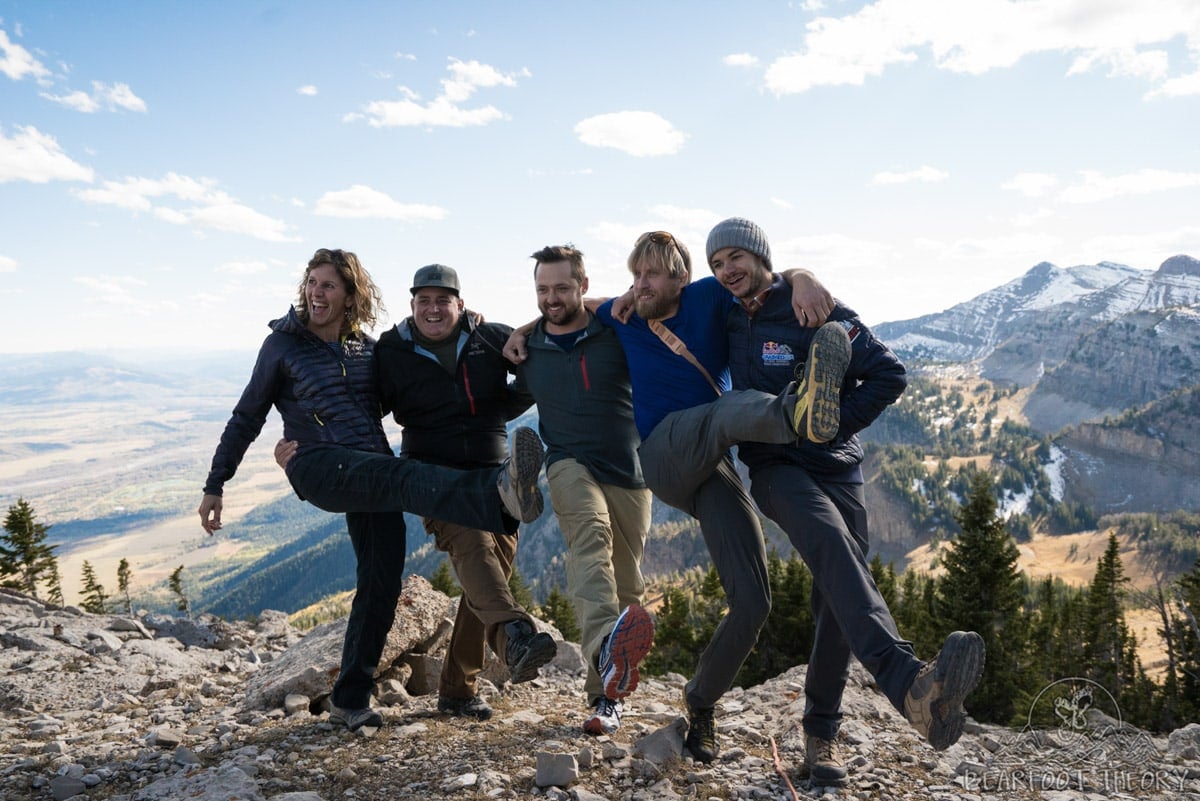 Sadie Quarrier – As a Senior Photo Editor at National Geographic, Sadie works with the world's top photographers and provided us with inside advice about pitching magazines and what editors are looking for. She emphasized the importance of showcasing details in order to tell a story from start to finish through photography. This is something I feel like I've struggled with in my own photos. Her advice made me think about how to take shots more creatively so I can fill in the gaps in between those big landscape shots.
Ben Moon – Ben is one of the go-to photographers for Patagonia. He also produced one of the all-time top films on Vimeo about his pup Denali and shoots portraits that you just can't take your eyes off of. He's a Sony guy, had a full lens kit that he kindly let us Sony people use, and was full of tips on how to get the most out of my Sony A7S. But what I really learned from Ben was the importance of staying authentic and finding my own voice in my photos. I'm still trying to figure out exactly what that voice is (he said it takes years), but thanks to Ben I feel like I'm one step closer.
Ryan Taylor – Ryan is a master at shooting action sports, which is why he's landed so many contracts with Red Bull. If you want to work with pro-athletes, he's the guy to learn from….from BMX bikers to pro-snowboarders, Ryan has worked with some of the best sponsored athletes in the game. He has a talent for capturing unique perspectives both in stills and film and was very hands-on with us when we were out in the field. I had some one-on-one time with him during the critiques, and his insightful feedback helped me see my photos in a new light.
Lucas Gilman – I love Lucas's style of photography. Epic landscapes with epic action. He's traveled all over the world capturing some pretty outrageous moments for some even bigger clients. He taught us that if you want the shot, you REALLY have to be willing to work for it, even when that means bushwhacking through the jungle or getting up at 4am when it's freezing cold. Apart from his photography, what I appreciated about Lucas was that he really gets what I am trying to accomplish with my blog. He looked at my website and Instagram feed and had invaluable advice about how use my photography to catapult my business to the next level.
Jen Edney – Jen's drive is something you don't come across very often. In less than three years she's gone from a sailing newbie to one of the most well known sailing photojournalists. And it all started with her spending 20 days at sea on a Volvo Ocean Race boat, where she played both crew and photographer. Once a student of the Summit Series Adventure workshop – Jen was super encouraging and easy to relate to despite her tremendous accomplishments. One day I talked to her about some of my mental struggles with photography. She helped me set some new goals for the remainder of the workshop, and as a result I saw an improvement in the final days.
Scott Willson – Scott's resume includes positions as the Photo Director at both Patagonia and The North Face, and he's now the Managing Director at Sandbox Studios. His wealth of experience means he knows exactly what commercial brands are looking for in terms of product photos. Things like how prominent the logo should be, what clothing the models/athletes should wear, and how to choose the right outdoor setting were all topics of discussion that anyone wishing to shoot commercially needs to understand.
Ron Taniwaki – Ron is the Nikon rep for the Summit Series and has an astounding amount of technical knowledge. He's a whiz when it comes to lighting and also comes with a ton of the latest and greatest Nikon equipment that you can try out.
Bob Smith – The nature and wildlife guru of the instructors, Bob has traveled all over the world for Nat Geo, Nikon, and the Conservation Society. He was also the course expert on digital workflow…and if you've seen my desktop, you'll know that I'm in need of serious help. He shared his secrets of keeping your images organized, efficient processing, and how to protect your photographs from data loss. I'm absolutely planning on putting his tips to practice as I move forward.
We also had a little surprise visit from…oh you know….Jimmy Chin! Jimmy Chin is an award-winning photographer and athlete for the North Face who has participated in some of the most incredible (and some might say crazy) adventure expeditions of all time. His recent mountaineering film Meru is in theaters now and won the Audience Award at Sundance this year. If you don't know his work, you must check him out.
Adventure Photography Workshop Format
The course was split up between in-class presentations, photography shoots at Jackson Hole and other field locations, and critiques. The schedule was full on – like all day every day. So come well rested and ready to rock.
In-class
Presentations spanned from lighting and digital workflow to pitching stories and setting up commercial shoots. There was also a session on social media for photographers. There was a big emphasis on how to work with professional athletes since those are the stories and photos that magazines and brands tend to be most interested in. One of the key take-homes was that if you want to shoot a particular sport, you need to be an active member and participant of that community.
Each evening after dinner, the instructors shared some of their favorite photos and each gave a presentation about their career path. Then in addition to the classroom presentations, we also got to sign up for 4 one-on-one sessions with the instructors.
The thing to be aware of is that the in-class portion had very little emphasis on how to use your camera. There was also no instruction on post-processing in Lightroom – something I would have liked. We talked about things like shutter speed and aperture, but if you are a total beginner, you may find yourself overwhelmed. While you can get something out of the workshop no matter your skill level, you really should come with some familiarity about how to shoot in manual mode.
Field Sessions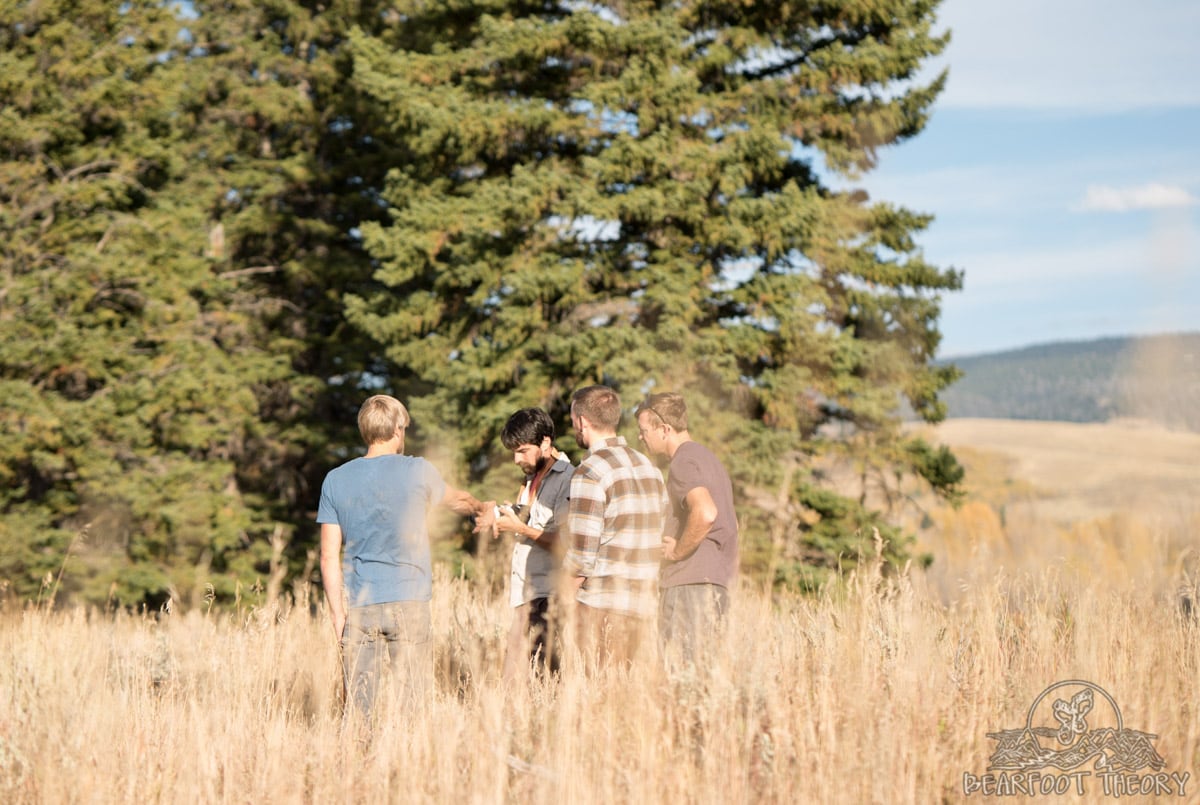 Over the course of the week, we had seven different field sessions that each lasted a minimum of 3 hours, and all of the shoots had athletes or models that we worked with. We first spent a couple of days shooting around the ski resort. The first sessions were mountain biking, yoga, and trail running and all took place at the base of the mountain. I found these shoots challenging for several reasons. First, I am still getting to learn the ins and outs of my camera. Second, despite what you might expect, the backdrops for these shoots weren't the most scenic. I only brought a wide angle lens with me – it's the only one I own – and I quickly learned that in order to blur any unwanted background, to capture details, or to get in tight on my subject I needed a lens with a different focal length and aperture.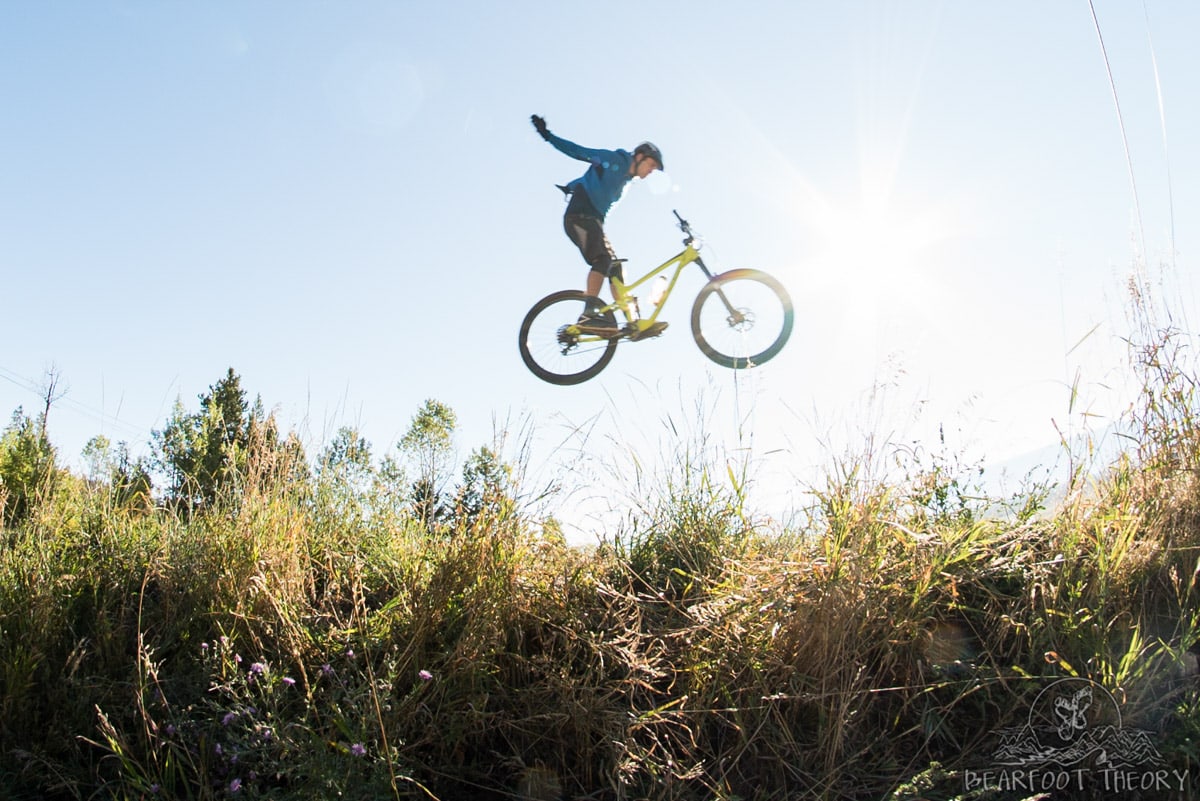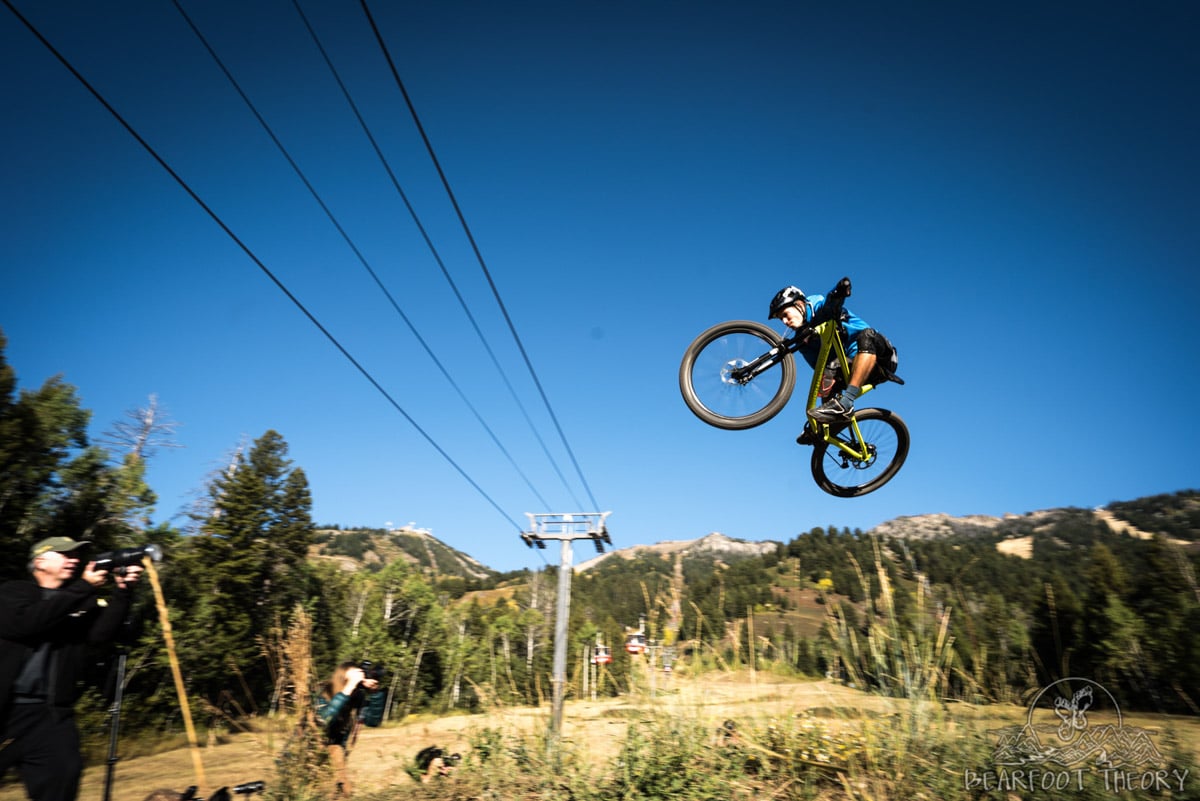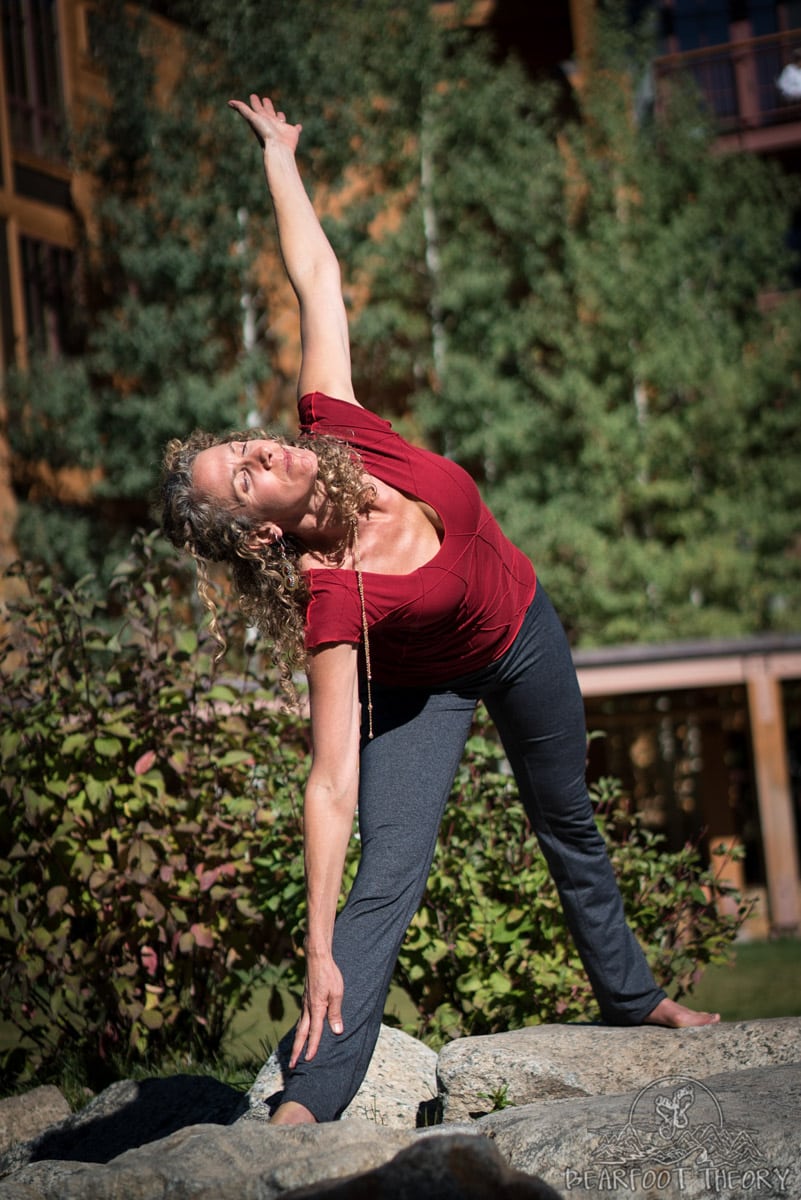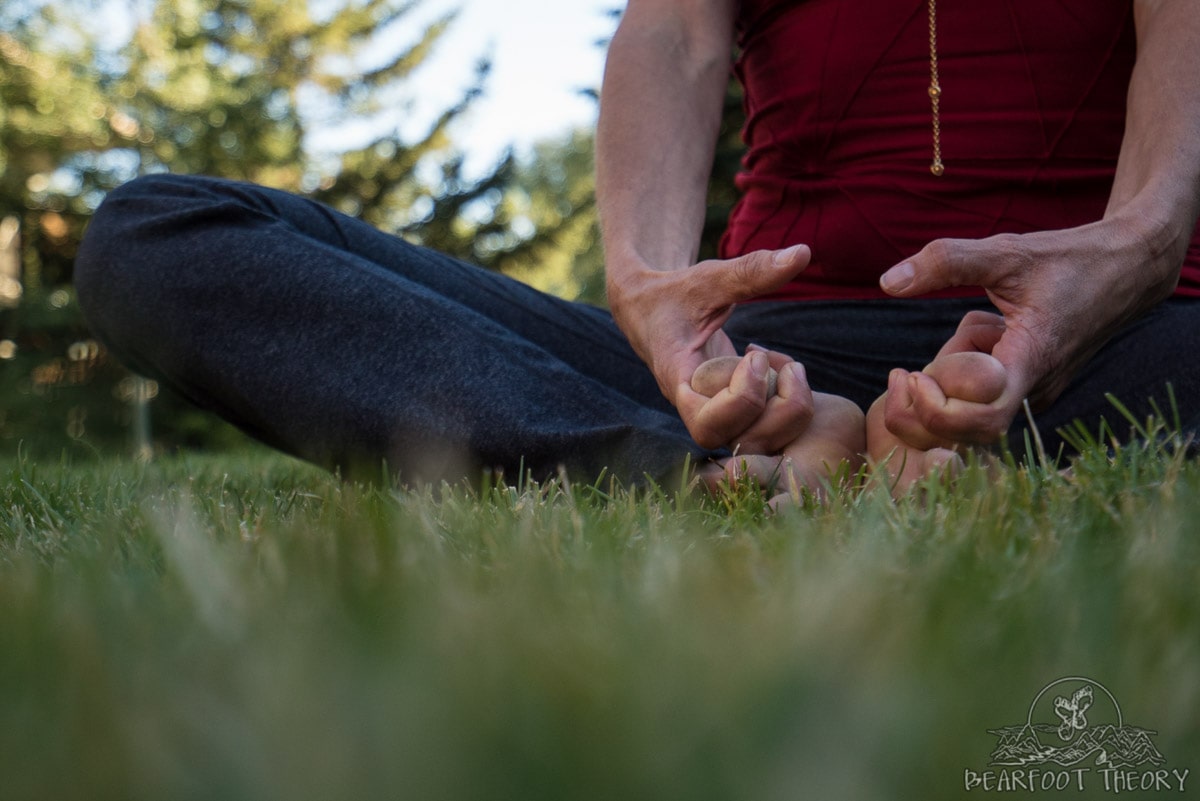 On day 3, we all took the tram up to the top of Jackson Hole for a climbing shoot. Not only were the views from the top stunning, but we had the opportunity to get harnessed up and get on the ropes to photograph the climbers.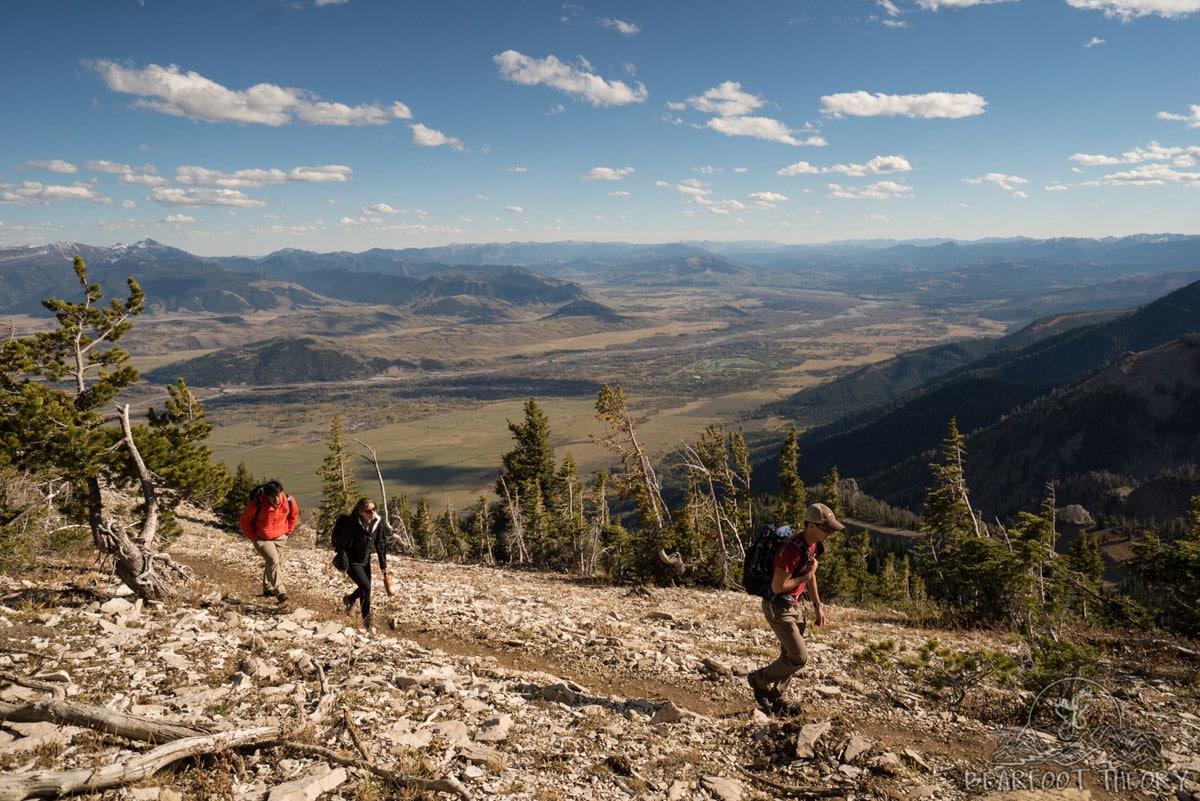 I was feeling adventurous that day, so I was the first one to jump at the chance. This made me realize how hard being a climbing photographer is. The positions I had to hold myself and my camera gear in were so awkward, and it gave me a new found respect for how difficult it is to get these shots. Turns out, being a pro-adventure photographer often requires having similar physical abilities as the athletes.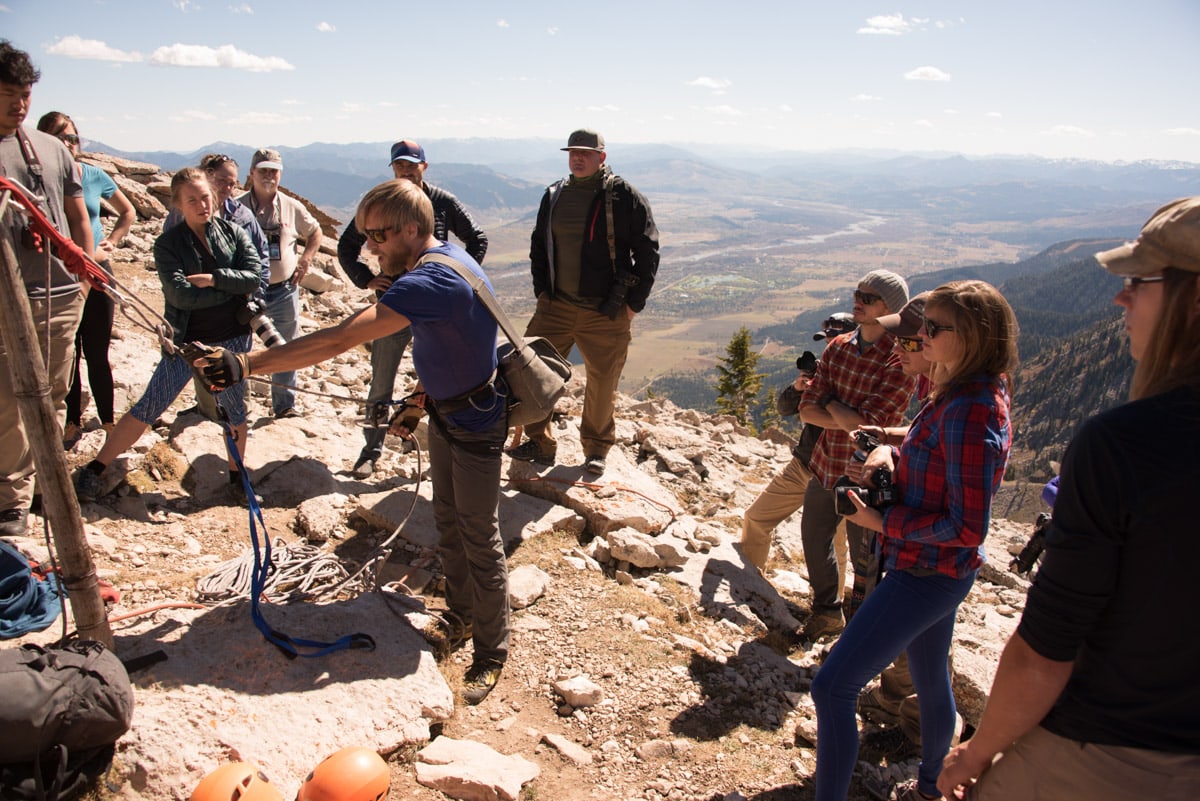 Photo: Jody Dixon
Photo: Seth Webster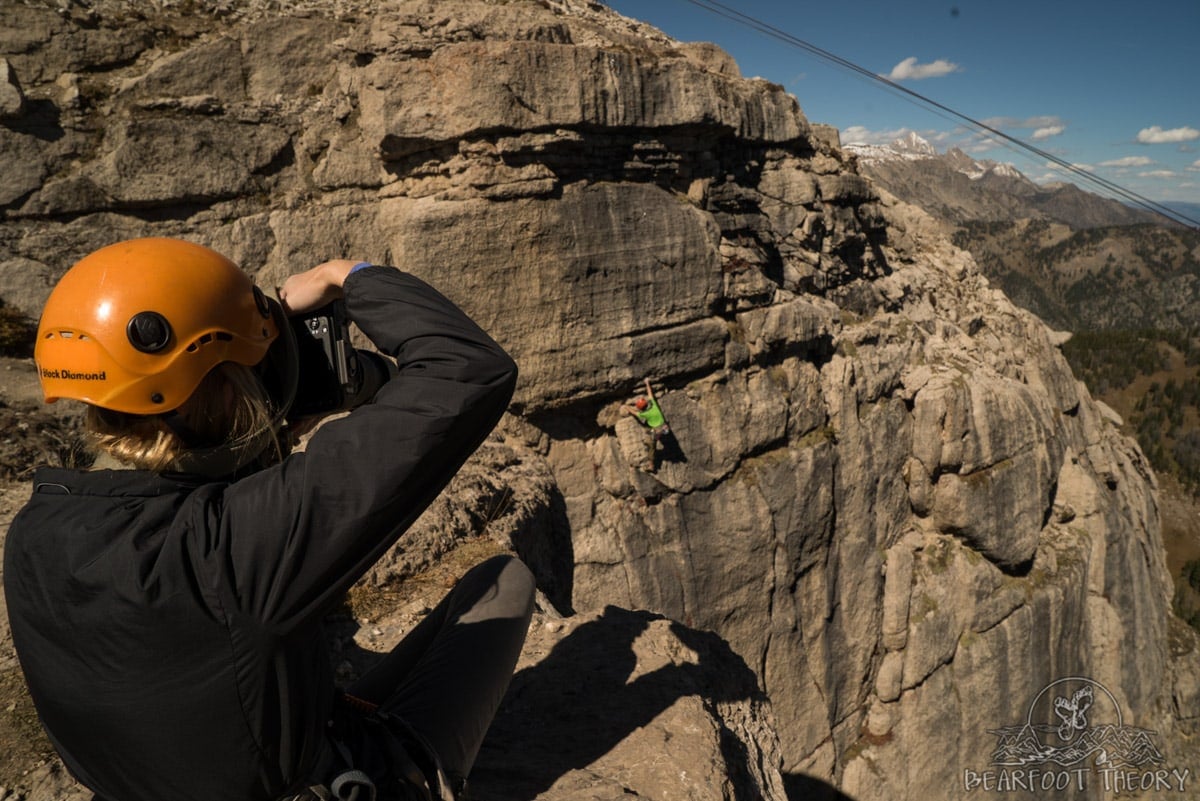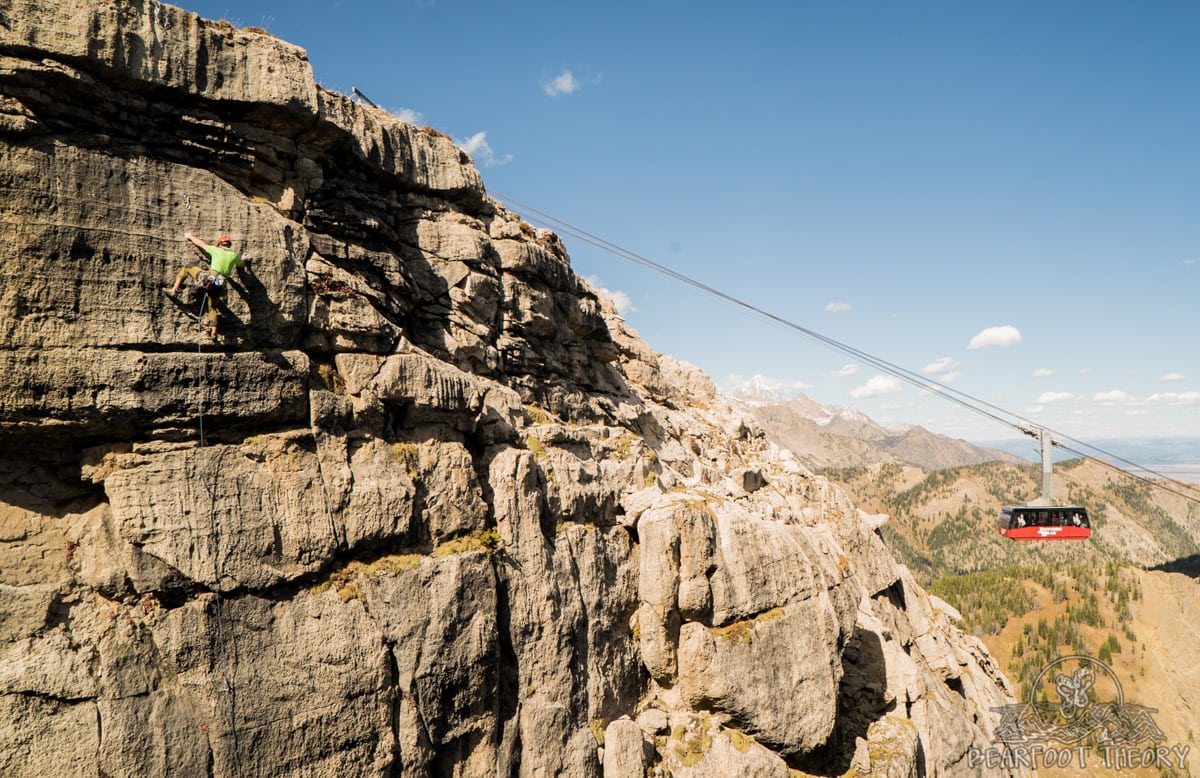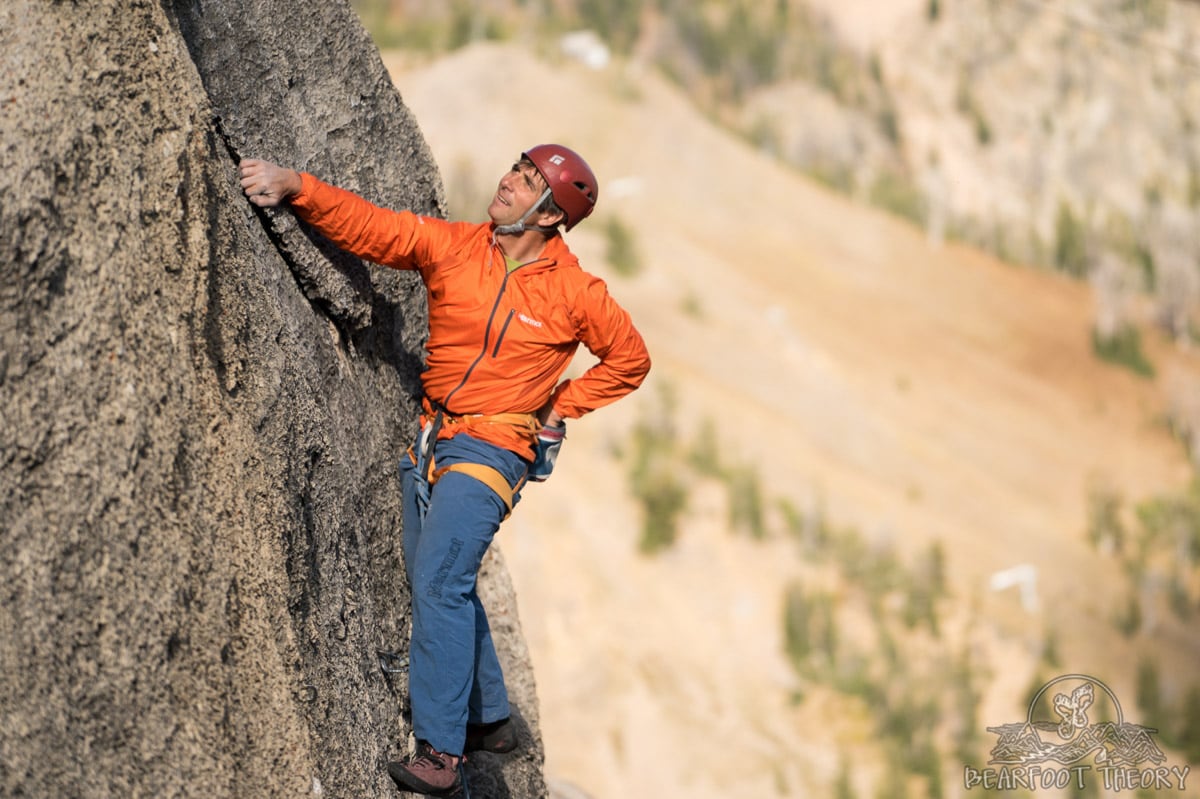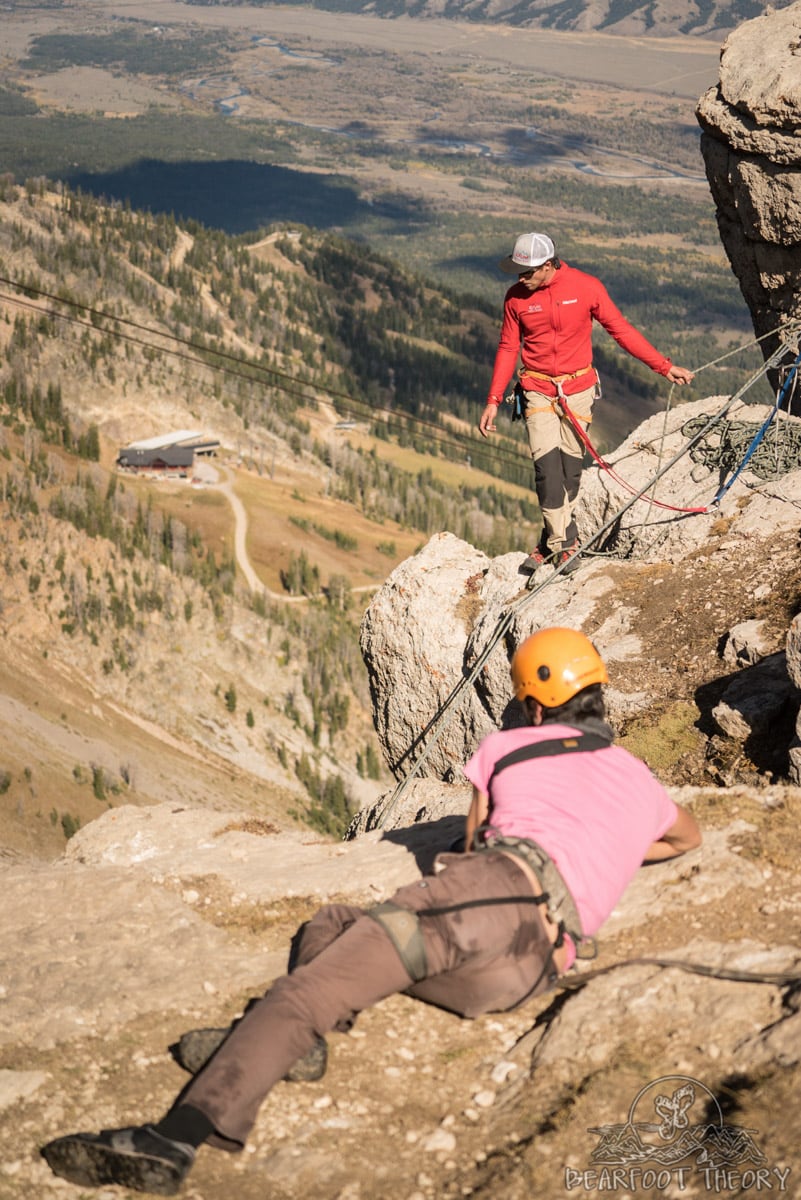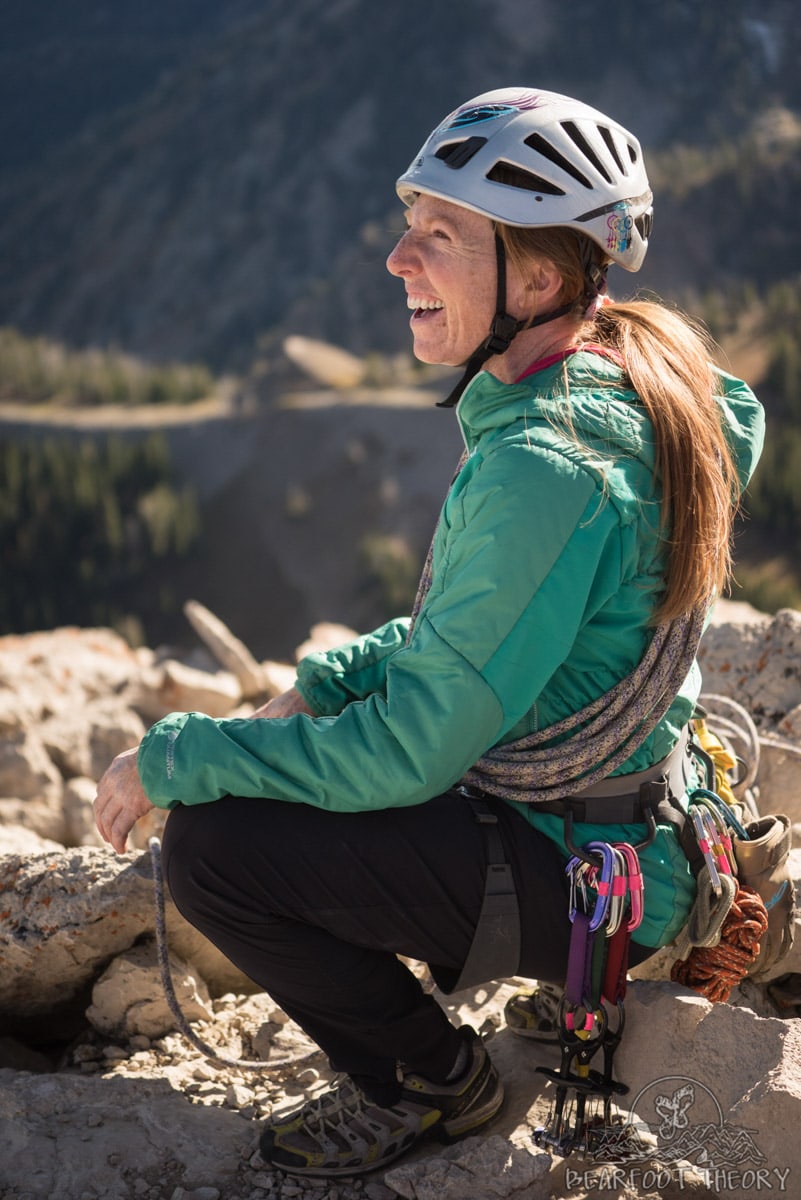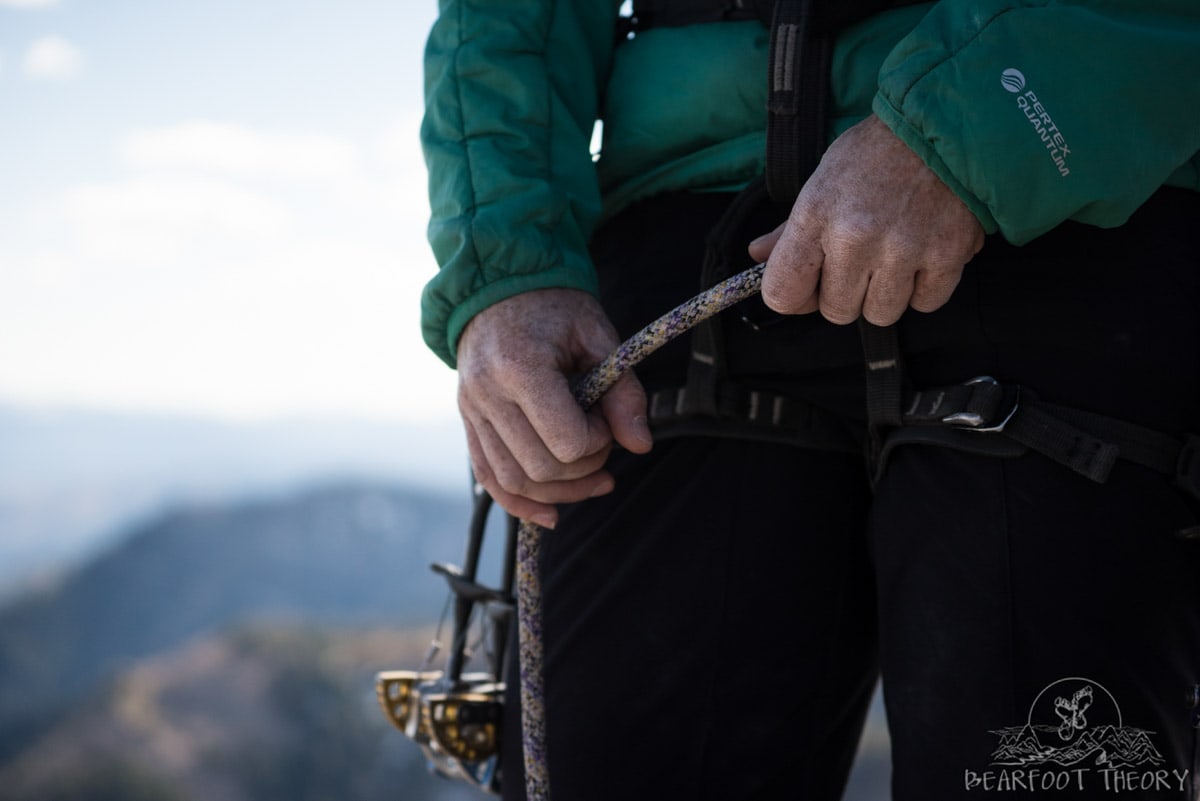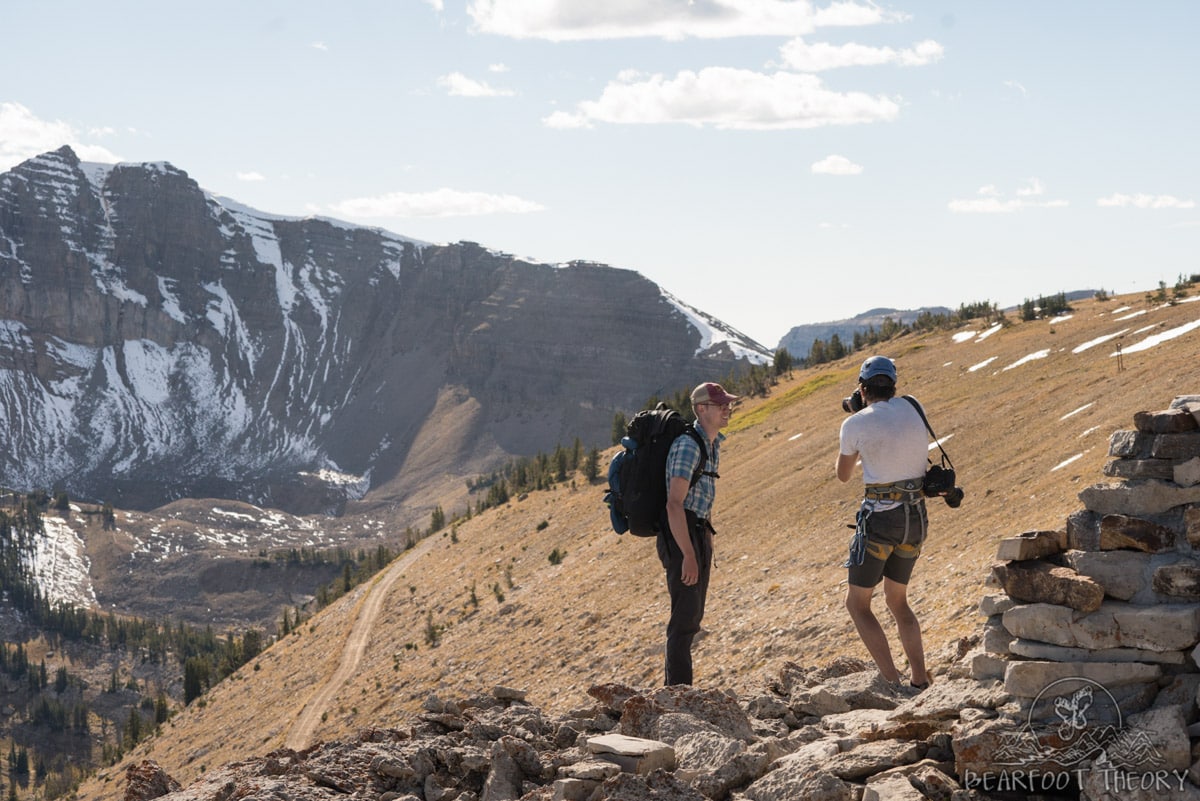 Day 4 was probably my favorite day. Departing the hotel at 6am, we made our way to the Snake River where we loaded on rafts for a day of floating. The lighting and the fog coming off the river couldn't have been more perfect. There were several kayakers and stand up paddle boarders who were with us the whole day, and at lunch we stopped at one of the rapids and had the chance to shoot them from shore.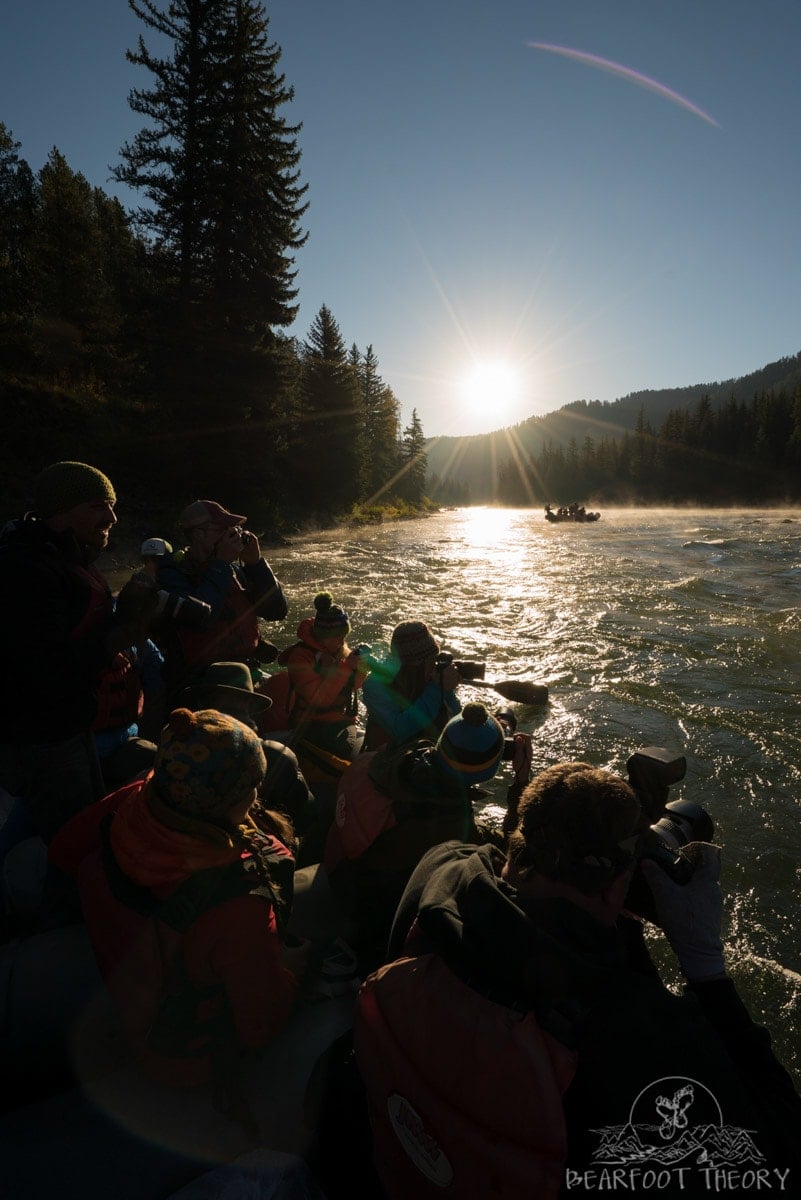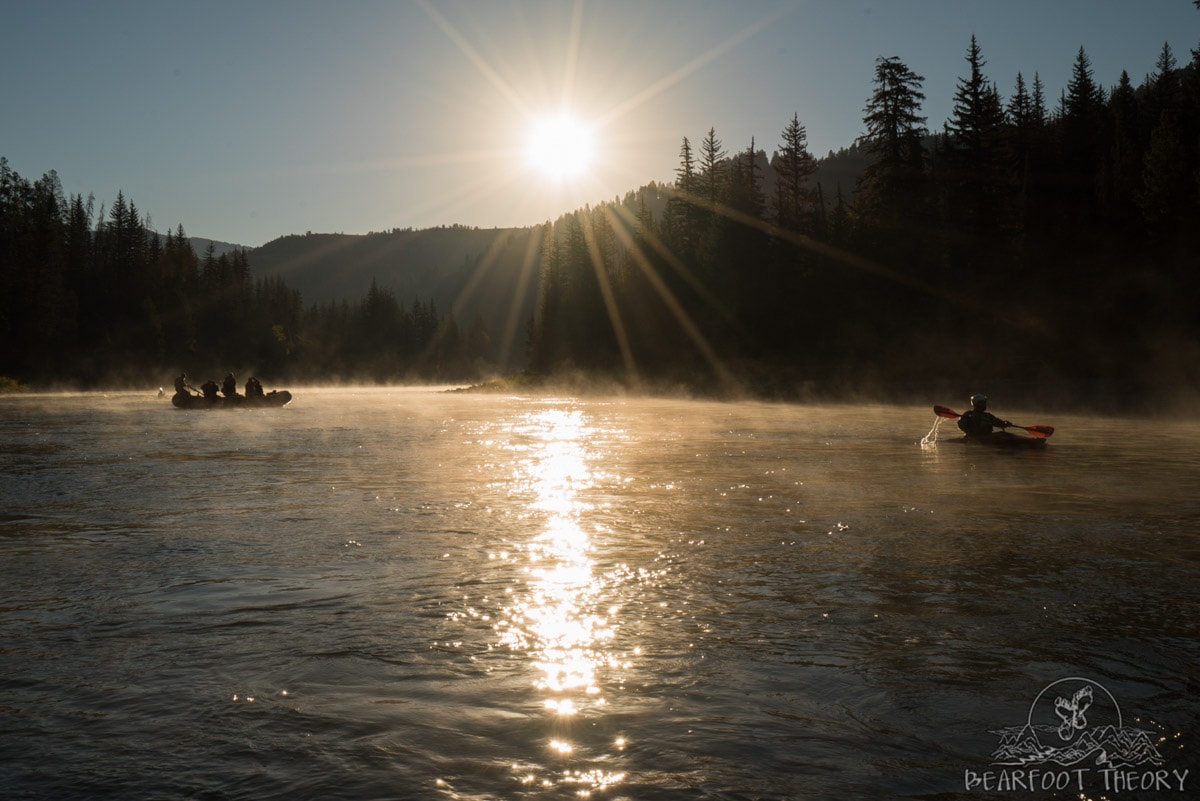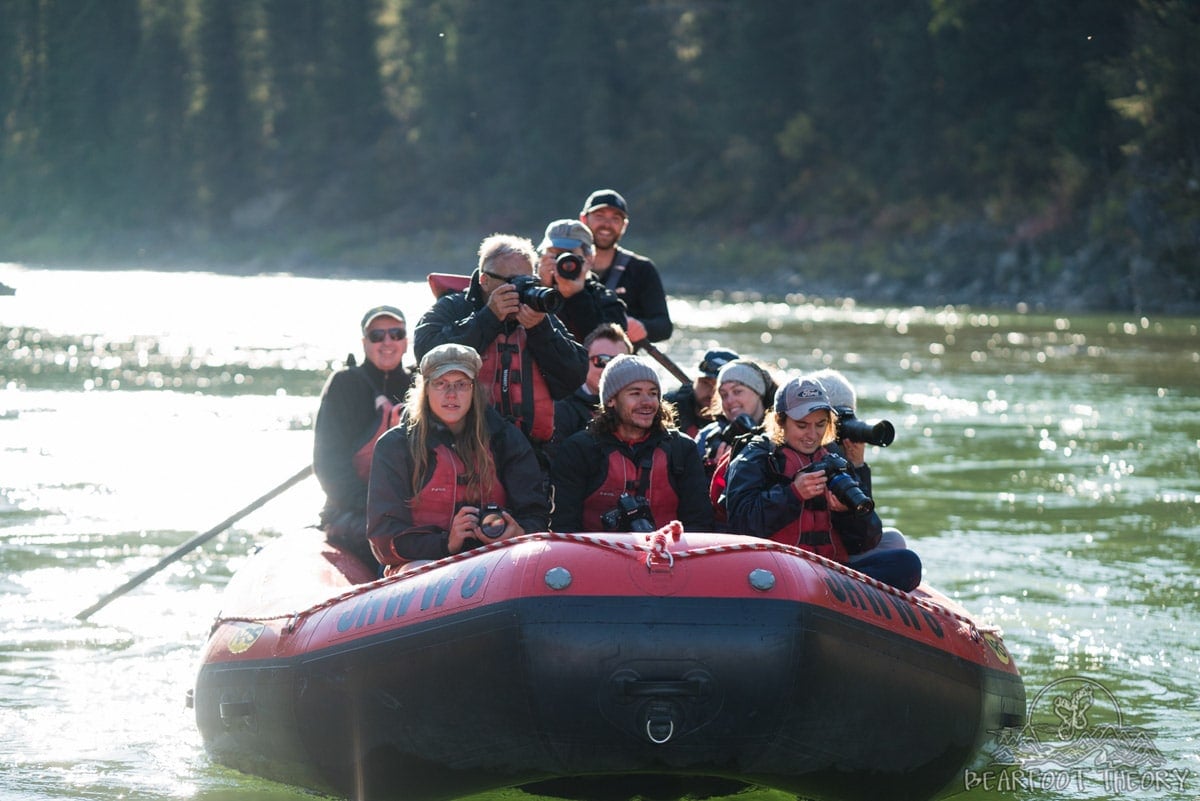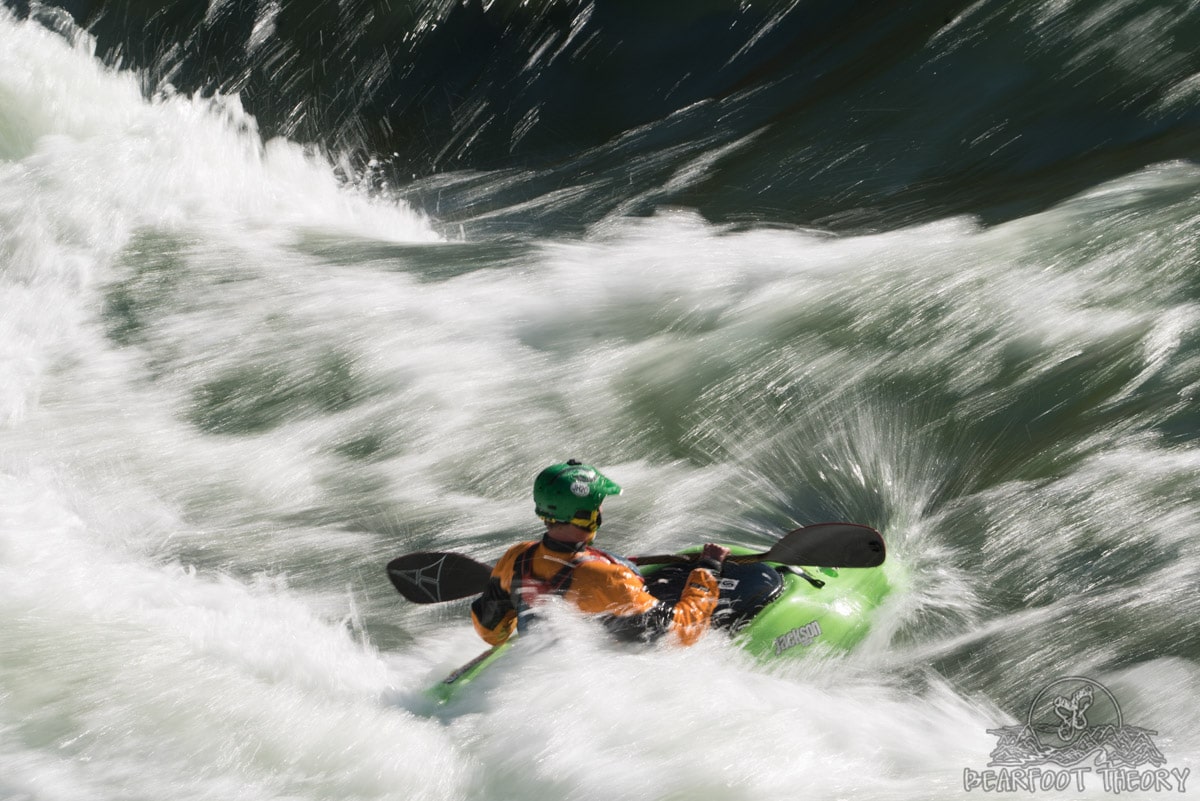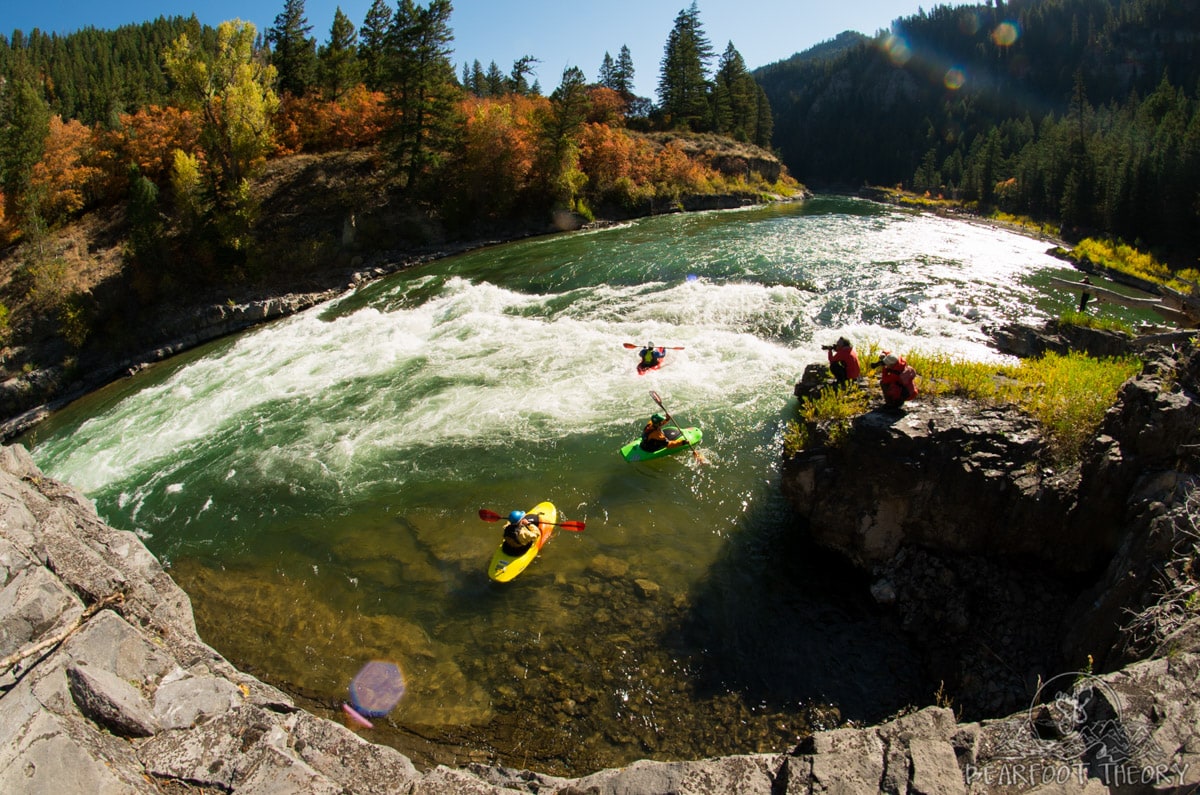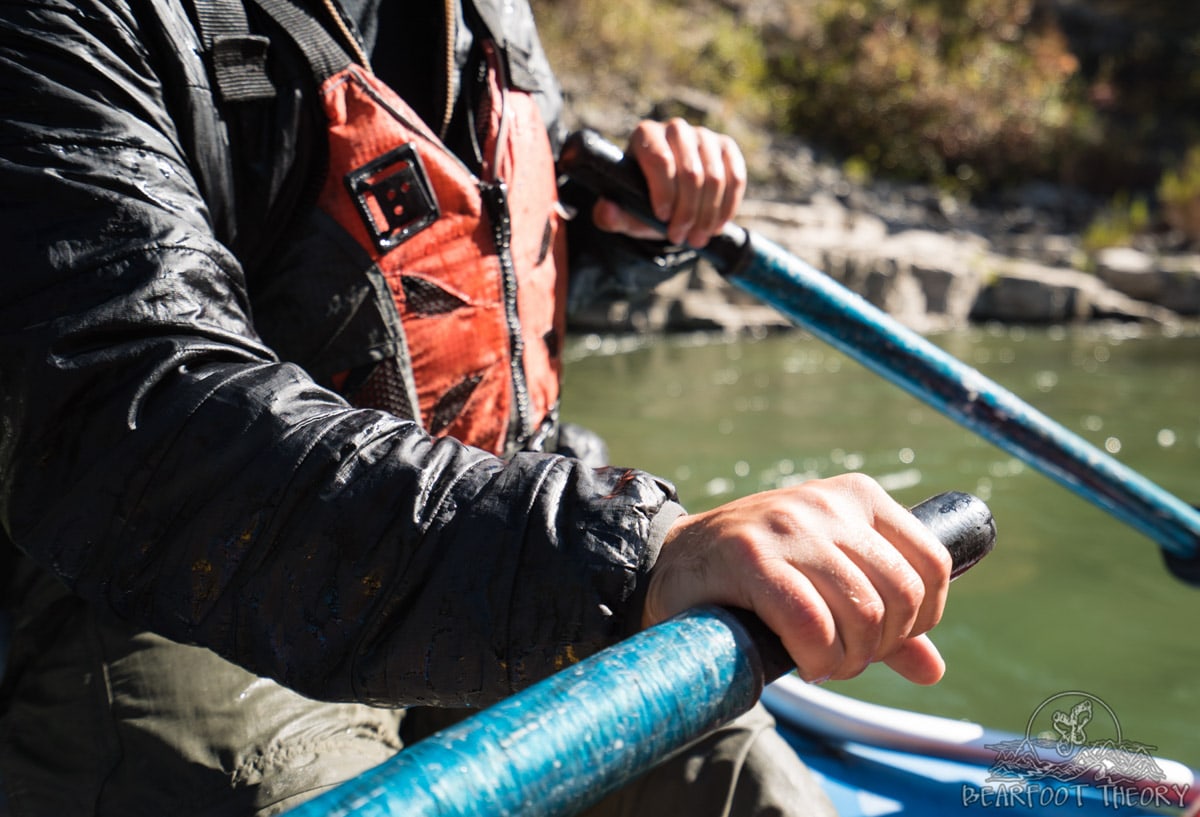 The last two days were spent at the Gros Ventre campground directly next to Grand Teton National Park. Here we staged a camping setup with a couple of models. Since camping is my bread and butter, I spent all my time at this scene, but there was also the opportunity to shoot fly fishing and trail running.
One thing I really wanted to focus on was being more creative during the camping shoot. So many of my shots are just nice tent pics with a pretty background, and my goal was to produce something new. At home, I'm usually taking pictures when I'm out hiking or camping with friends when I have the tendency to feel rushed. One thing that was really cool about the camping shoot was we had plenty of time to mess around and experiment. One big take home for me was that sometimes you just gotta click that shutter. Some of my favorite shots were the in between moments that I didn't expect to turn out. I think I came home with over 2,000 pictures from the camping session. Most of them were flops, but I did get a couple of good ones that I'm really proud of.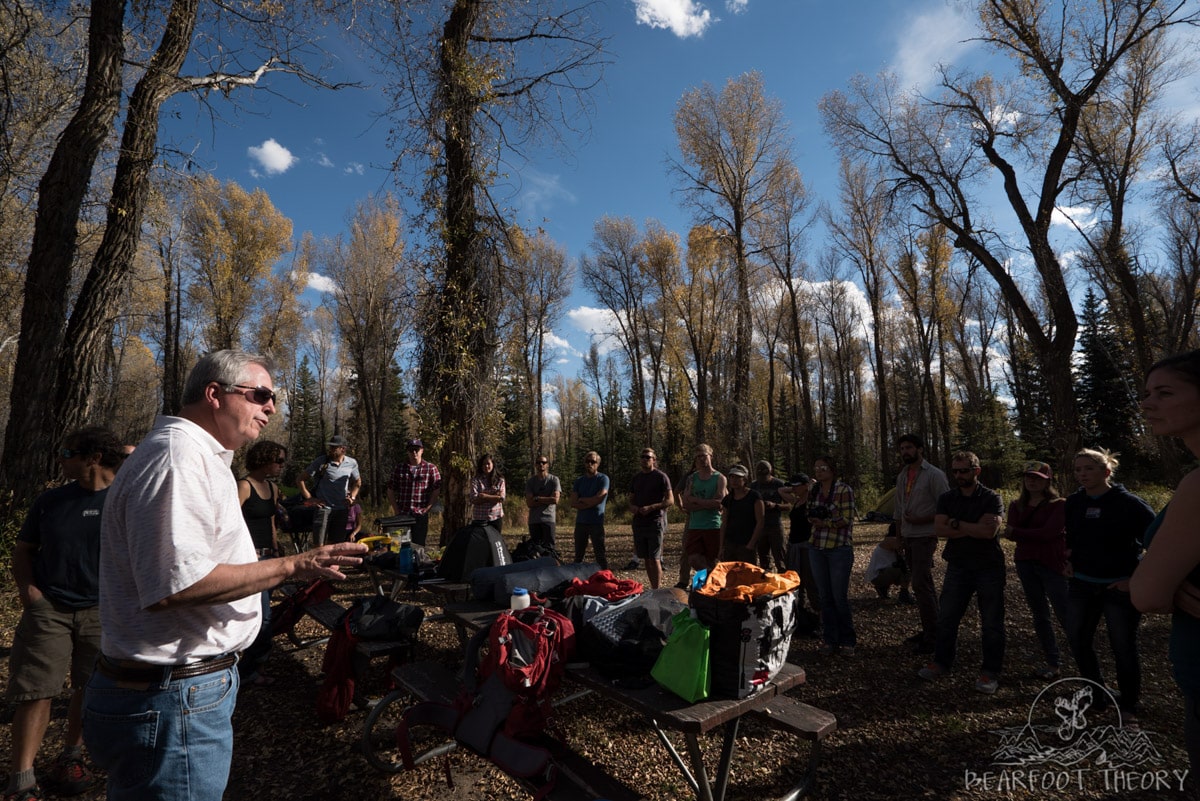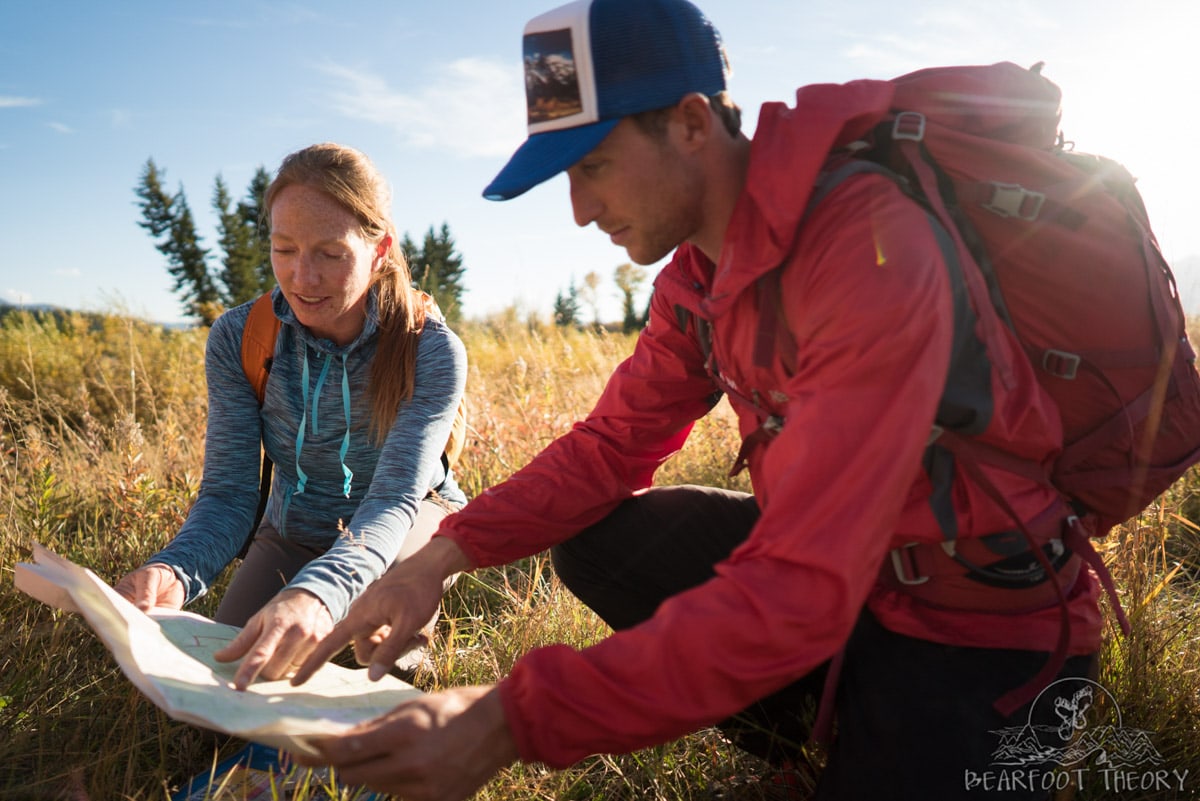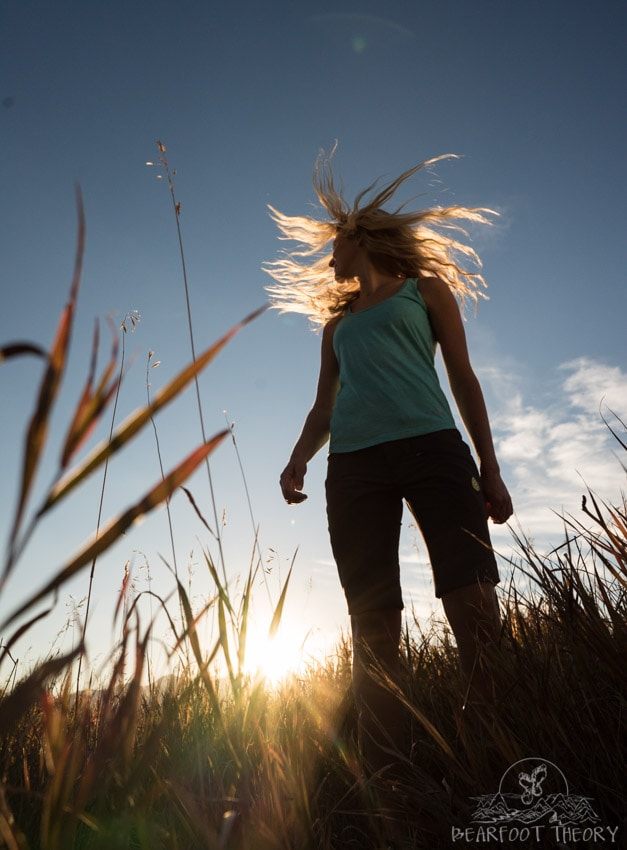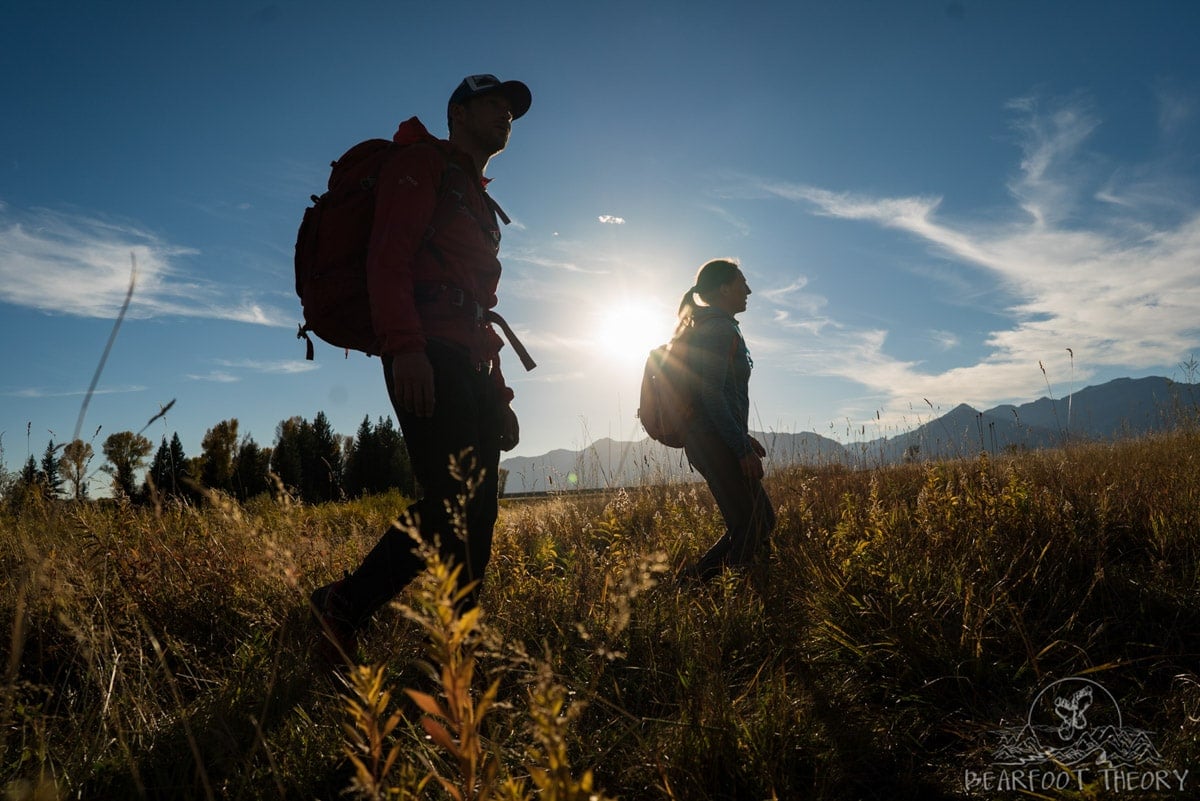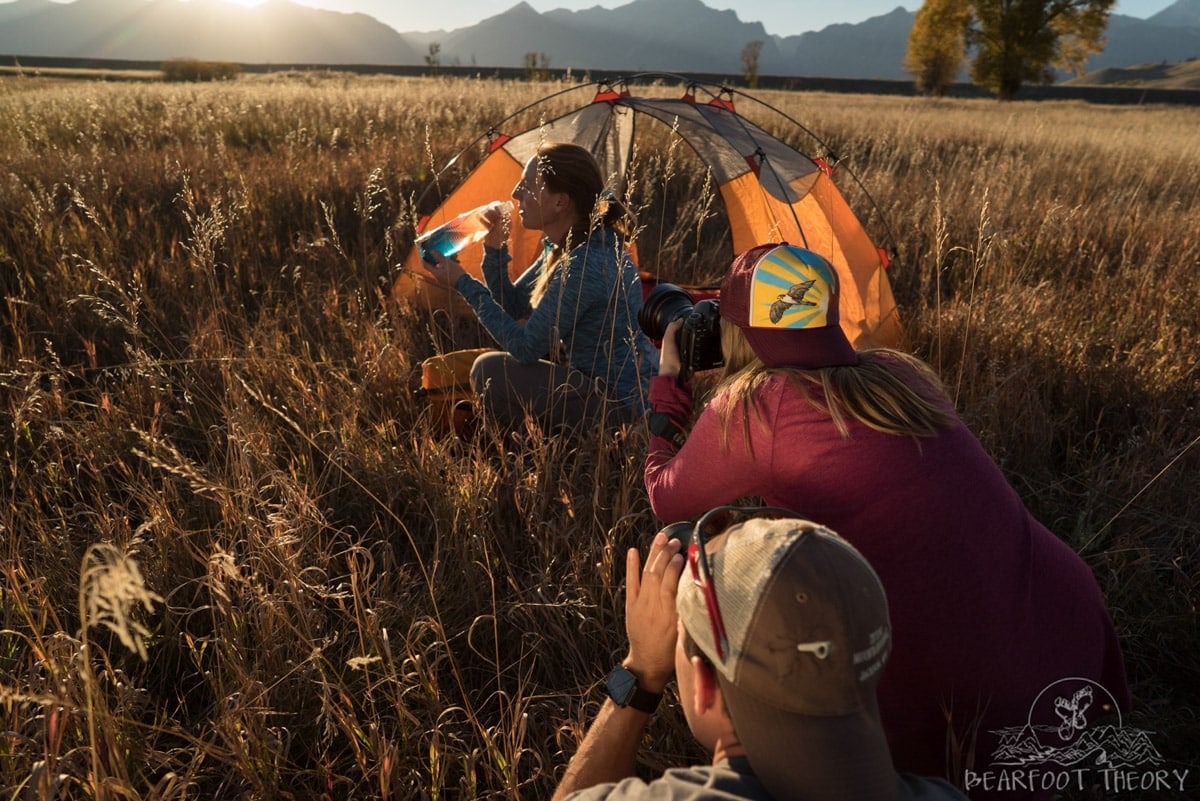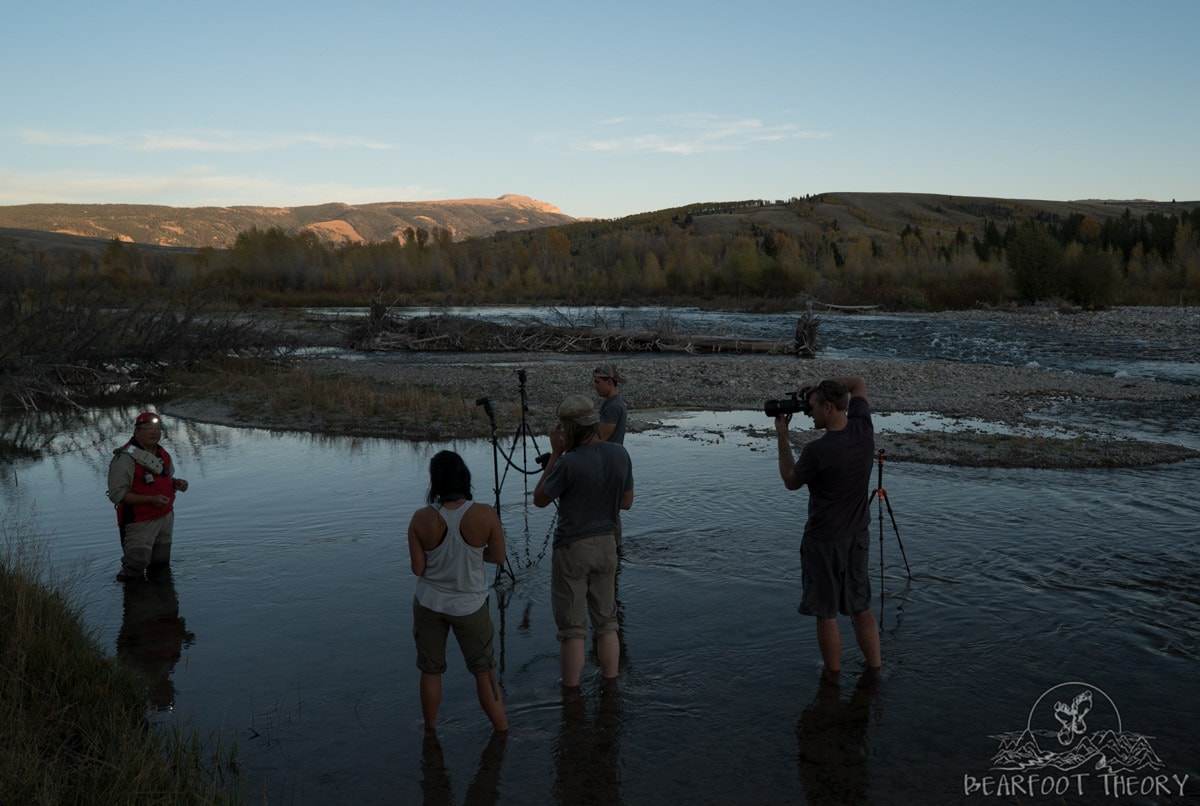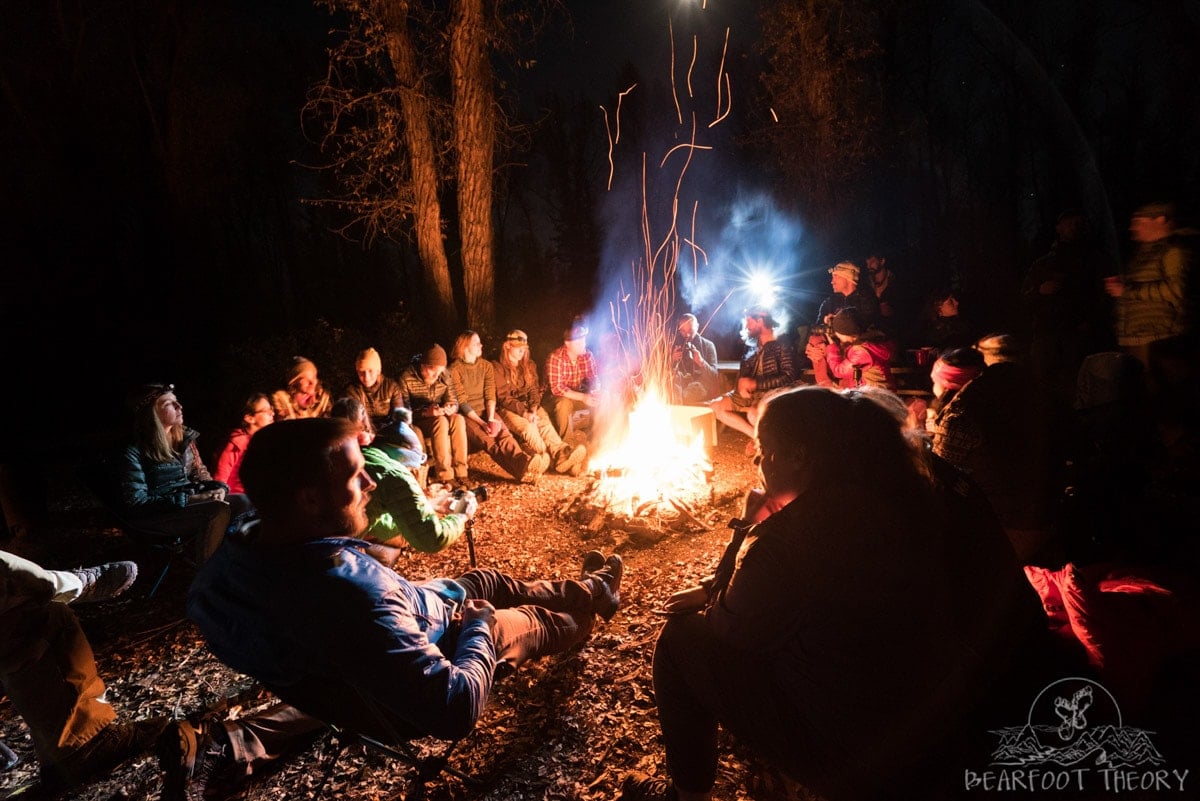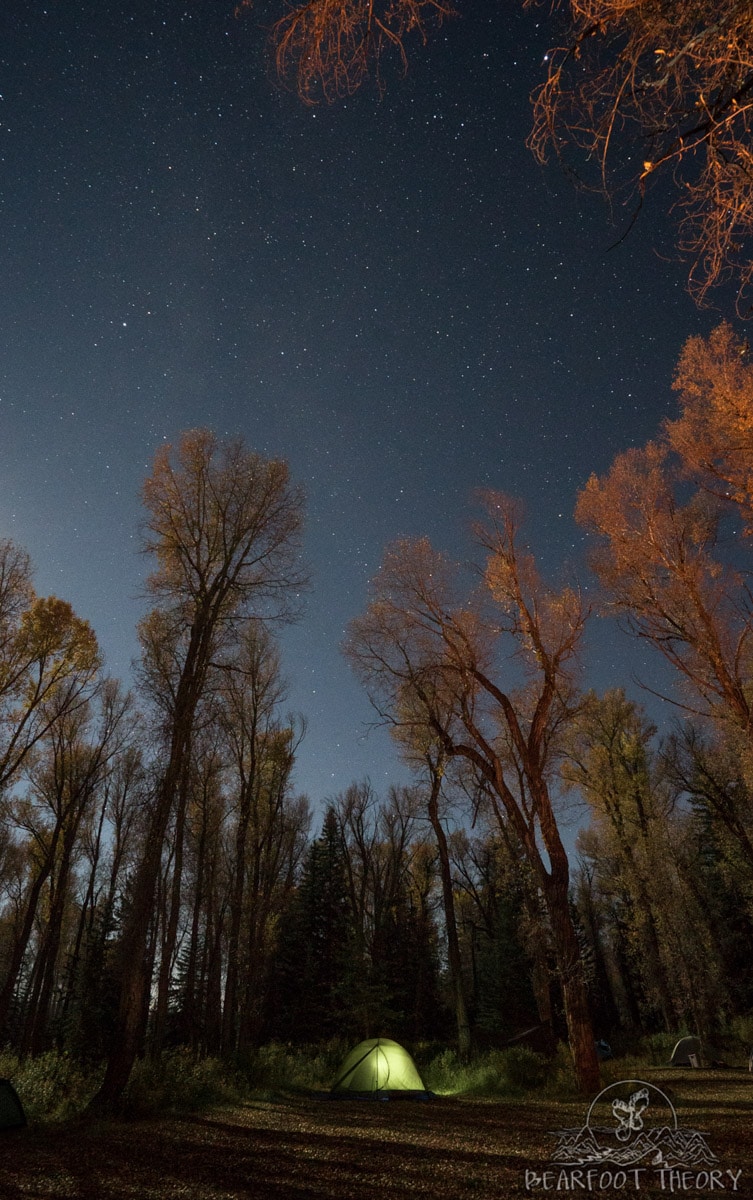 There were a few things I might change about the field sessions. First, I would have liked to have a bit more formal instruction. It was pretty much a free for all and there were times where I would have liked to hear more about how the instructors would have photographed a scene – whether that be the camera settings or the angle. The instructors were there to answer questions, but sometimes I didn't know the questions to ask. My guess is they didn't want to undermine the creative process and with too much instruction, everyone's images might have looked the same. Since every shoot was several hours long, perhaps we could have shot for an hour. Then those of us who were interested could break off for some guidance, and then spend the final hour trying to improve our shots.
The other thing that got a little frustrating was the number of photographers on each shoot. Sometimes it was hard to get a clean shot without another photographer in the frame. So smaller groups would have been helpful. That said, everyone had a great attitude and did their best to take turns so people could get the shot they wanted.
Finally, If you are a Nikon user, you will be right at home at the workshop. They bring a ton of the latest Nikon equipment that is available to try out and all of the lighting and other accessories are made for Nikon cameras. If you are a Cannon user, you also won't be alone. Since I use a Sony, there were a few things I missed out on, such as the professional lighting that they brought to many of the shoots – which wasn't compatible with Sony. Luckily, there were three other Sony users in the course, as well as our instructor Ben, so I was able to share lenses with them. But not knowing how many Sony users will be in the class, you might consider renting a few lenses that you want to try out. And I'll just reiterate…bring more than just a wide angle!
*On a side note – this workshop made me so happy that I have a Sony. Sony makes the sensor technology that is used in Nikon and Cannon DSLRs, and my Sony A7S is about half the size.
Critiques
After every field session, we would have an hour to choose our three best images from the shoot. Then the images got uploaded into a slideshow, and the instructors provided feedback on each photo. What I really liked about the critiques was that we weren't allowed to edit or crop our photos. I'm so used to taking a rushed picture in the field and saying "I'll just fix it in Lightroom when I get home." Since we weren't allowed to do this, it really made me think about getting my exposure and composition right in the camera.
All of the critiques were anonymous so the teachers and other students didn't know who each photo belonged to. Skill level varied among the students, and some of the photos were crazy impressive. A few times throughout the course, I found myself being too self-critical when I compared my images to others, but I had to remind myself that this was not productive. Instead of getting down on myself, I was better off looking at the other images and learning how I could improve my own.
While I learned a lot listening to the instructors critique the photos, I would have liked more feedback out in the field. That way there would have been the chance to fix the shot before it was too late.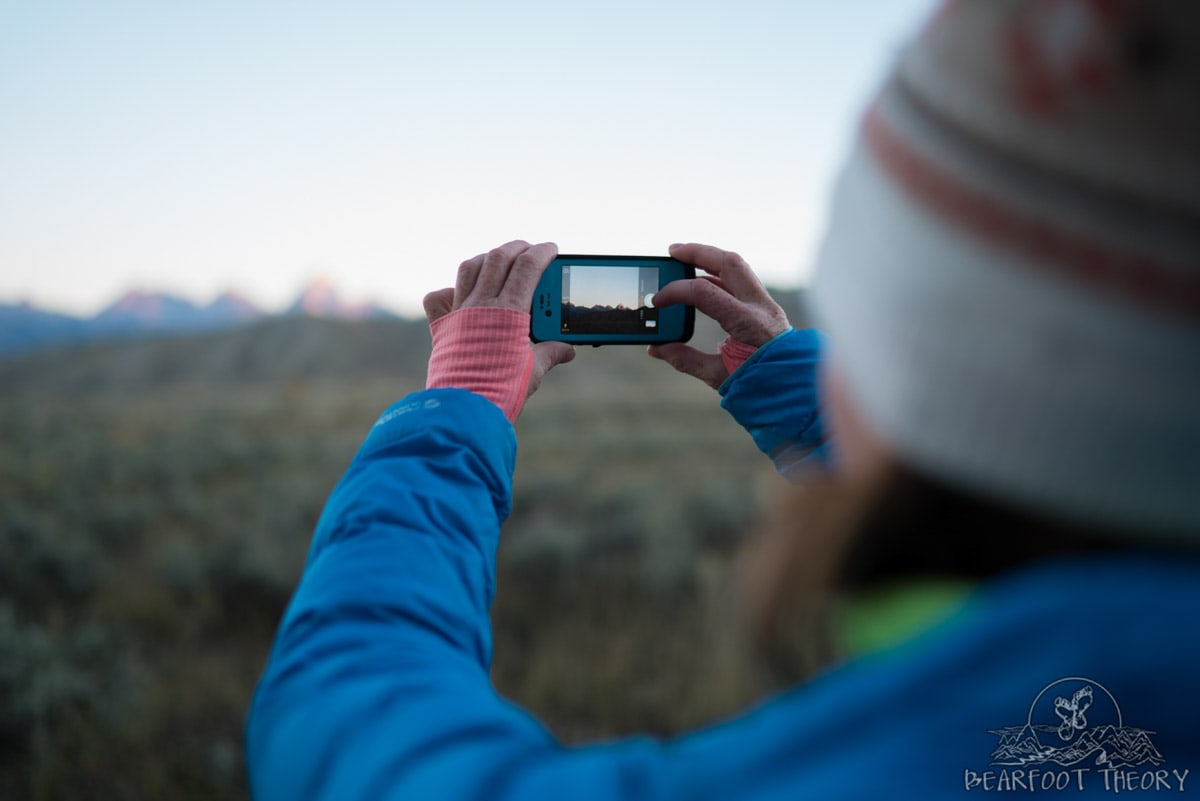 Travel Logistics
Lodging
The official Summit Series Adventure Photography Workshop hotel was the Inn at Jackson Hole which is where I stayed and split a room with another female student. Even with the workshop discount offered by the hotel, the rooms were still quite pricey at $160 per night. The rooms were a bit dated, but the beds were comfy, there was free wi-fi, and it was very quiet when we went to crash at the end of the night.
The other popular option that many students stayed at was the Jackson Hole Hostel which was a much more economical option. They have both private and shared rooms, and the private rooms with private baths were literally half the price. The Hostel also had a kitchen that you could use which would have been a good way to save some money on meals. Had I known that the Hostel was literally next door to the Inn, I think I would have stayed there.
Finally, some students had camper vans and slept in the parking lot, and for $5 you could take a shower at The Hostel.
Dining
Jackson Hole has a number of restaurants, which was nice because lunch and dinner breaks were mostly limited to 1-2 hours. That made it easy to grab a quick meal with a group of friends from the class. I should note that none of them are cheap…so be prepared. I'd also recommend bringing some snacks. Some mornings we left the hotel super early and didn't have a breakfast break until several hours later.
A couple of notable meals: The BBQ nachos (which were enormous) and the spicy marg at The Spur were delish. I also enjoyed the acorn squash/quinoa dish and the burger at the Mangy Moose. While I didn't make it there, other students who ate at Teton Thai just down the block said it was excellent.
If you end up having a bit of extra time to head to Jackson proper during or at the end of your course, the Lotus Cafe, the Kitchen, Cafe Genevieve, and Persephone Bakery were all really great..
Final thoughts
Now that I'm home, I'm really excited to take everything I learned and apply it when I'm out with my camera. I'm also looking forward to staying in touch with everyone. It's an incredible network of people, and the instruction aside, making new friends was one of my favorite parts of the week. We've already started a Facebook group to stay connected and shared a google drive where people can drop their images of each other from the week.
I also want to give a shout out to Chris Steppig and Steven Jacobs who were the Summit Series staff who kept things running smoothly. Herding 25 photographers with different goals and interests is no easy task, and they did a fantastic job all while keeping their cool.
While the Summit Series Adventure Photography Workshop was tailored towards folks who have career aspirations, I think a serious hobbyist stands to get a ton out of the class too. At $1950, the course is certainly an investment, but for everything I got out of it I have no regrets.
If you are interested in adventure photography and considering the Summit Series course, feel free to get in touch with any questions you have. I'd also love to hear feedback from any of you who decide to sign up.
*And finally, if possible, tack on an extra day at the end of the trip and practice what you've learned in the National Park. If you are looking for ideas of places to check out in the area, see my post: the Ultimate Teton/Yellowstone Road Trip Itinerary.
*** RELATED POSTS ***
3 Reasons to Rent a Camera Before Buying
Camera Pointers with Adventure Photographer Kat Carney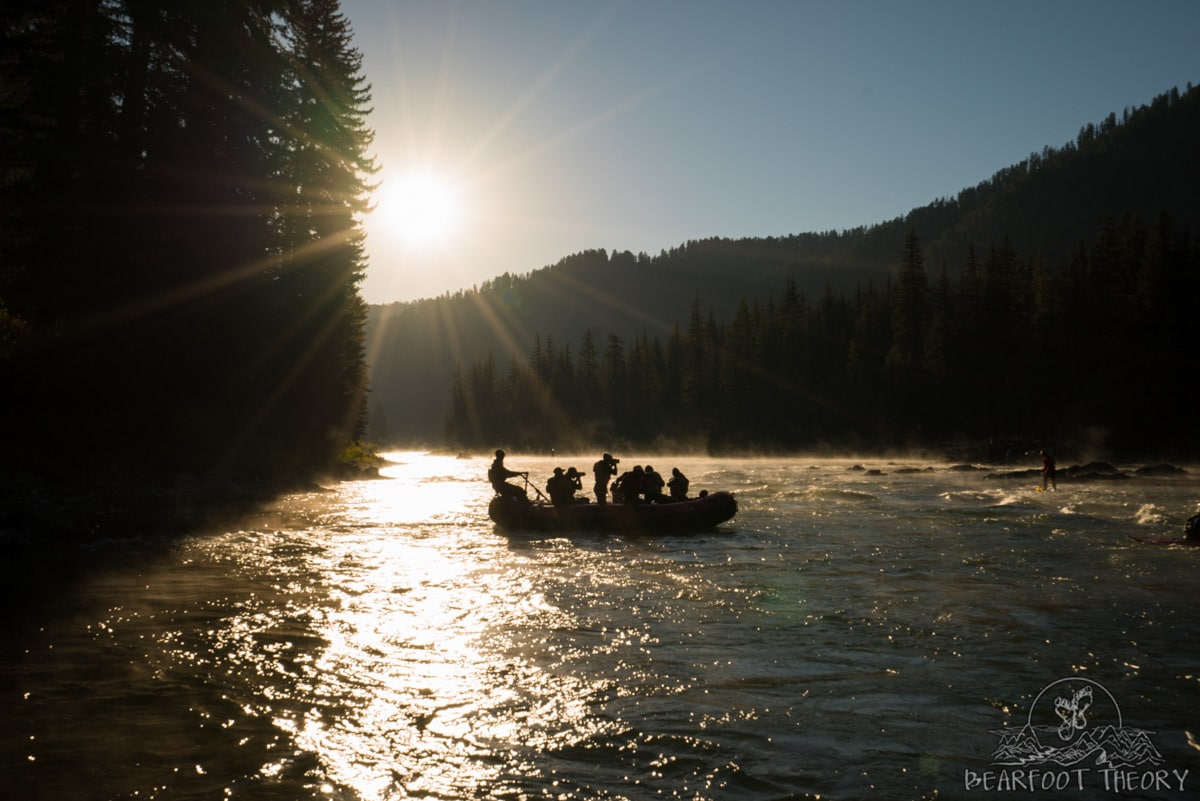 WHAT PHOTOGRAPHY QUESTIONS DO YOU HAVE? LEAVE A COMMENT BELOW, TWEET ME, OR WRITE ME A POST ON FACEBOOK.