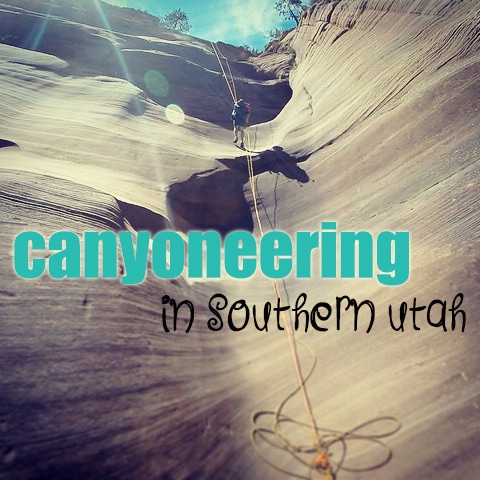 Last month I went on a solo trip to Zion National Park. I had a lot of firsts during that trip. It was my first time going on a big hike alone, and I also camped by myself…well not really by myself since I was in a campground full of other people, but still…baby steps.
In addition to these solo adventures, I went out to Zion to try my hand at canyoneering. Canyoneering is kind of like climbing, but instead of going up, you go down. Then depending on where you go, canyoneering can involve swimming, hiking through very narrow slot canyons, and exploring some incredible topography.
Canyoneering is a technical activity and requires going with someone who is properly trained, so for my canyoneering adventure, I chose Zion Mountain School located in Springdale, Utah. They offered a variety of trips from half-day to multi-day trips. I chose the Ultimate package which was a 10 hour day and would allow me to travel the entire length of a canyon. This trip involved 8-10 large rappels and several hours of hiking. Part of the purpose of my trip was to challenge myself and get over some fears, so I thought, why not.
I met up with my guide Ethan at Zion Mountain School at 7:30 and he got me set up with a canyoneering pack, shoes, a dry bag, and a harness. I would also be carrying a bunch of rope since collectively we had to bring along over 200 feet of rope, and it was just going to be the two of us.
Ethan gave me the option of doing a dry or wet canyon. A wet canyon would require swimming through chest deep water, and since the temps that day were supposed to hit 100, the wet canyon seemed like the way to go. Plus it just sounded more fun and adventurous.
So we hit the road and headed for Water Canyon, a remote canyon located on BLM land about an hour a way. Once we arrived, we set off with our gear and began the hike to the top of the canyon. The hike took about an hour and a half and was all uphill, but it was really beautiful. Ethan was also super knowledgeable about the geology and plants in the area and pointed out a lot of interesting stuff along the way.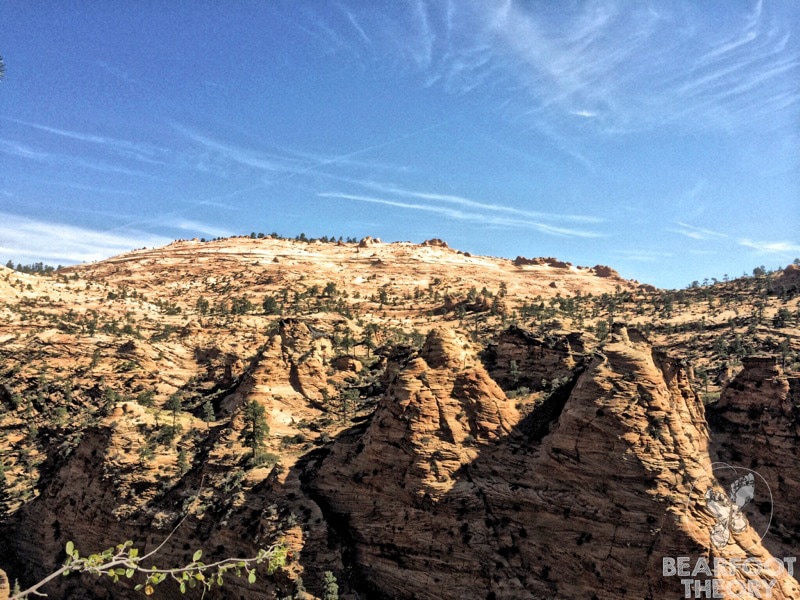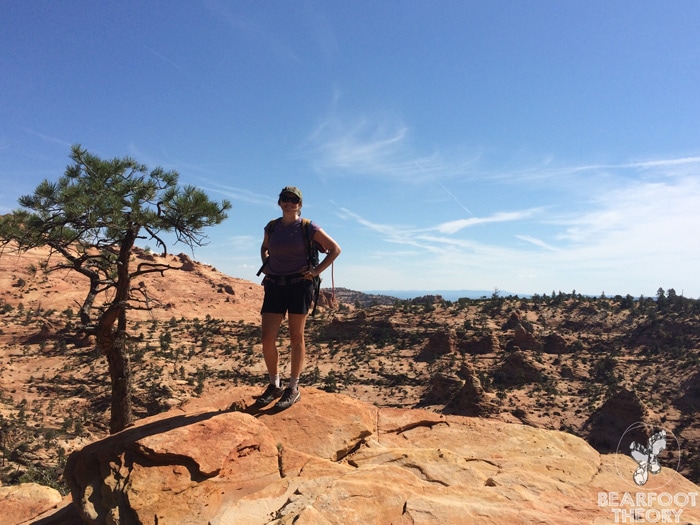 Once we got to the top, Ethan gave me a thorough run-down of how everything was going to work. For some of the rappels we would be tying our ropes around large trees and using that as our anchor as we rappelled. For others, there were already bolts set in the canyon walls. Then we put on our gear, did a safety check, and that's when the real fun began.
It didn't take long before we were in a super narrow slot canyon with nowhere to go but down.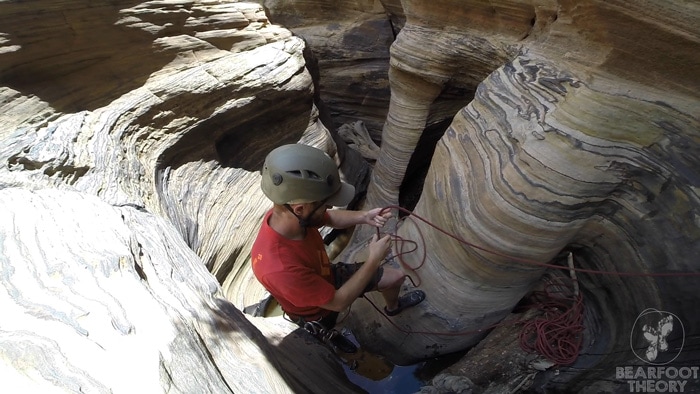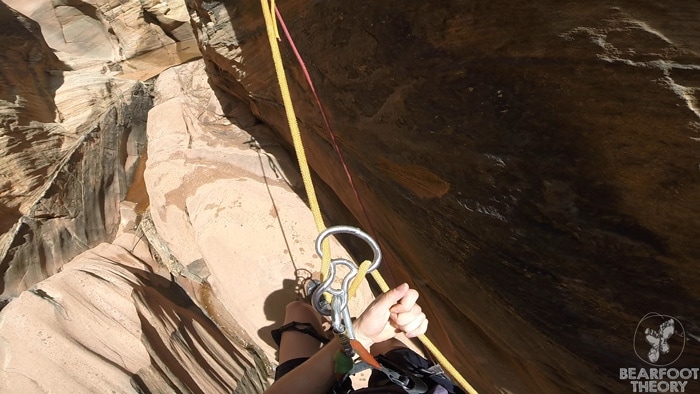 It also didn't take long before getting wet was unavoidable. Ethan did a good job at scaling the sides of the canyon walls to stay dry. I on the other hand didn't even attempt it. I just rappelled straight into the water. It was cold, but it felt so refreshing. Amazing actually.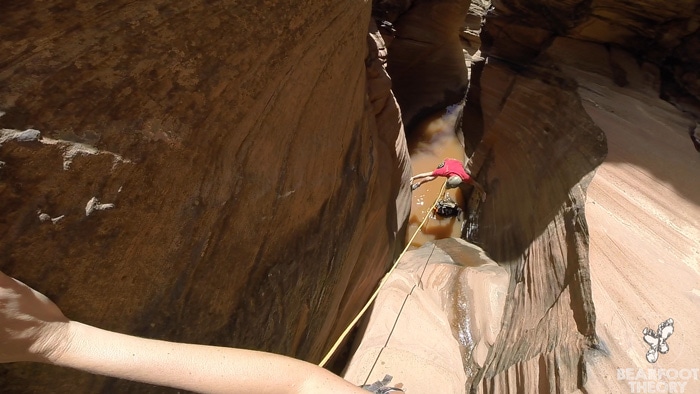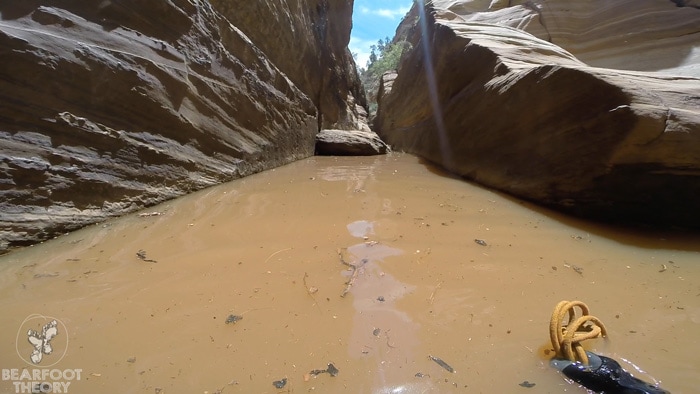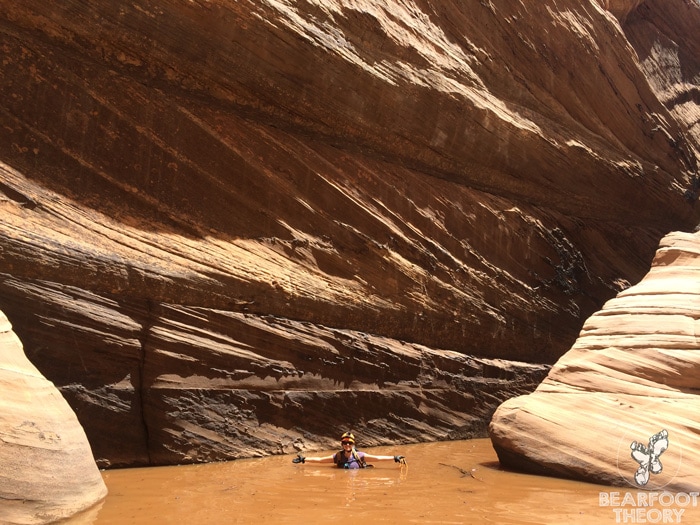 One of the shorter but more exciting rappels of the day was the one pictured below. When I got a few feet from the bottom, Ethan instructed me to jump back from the wall, falling in the water and letting the end of the rope slide through my gear. I was nervous about the jump, but I trusted that Ethan had done this a zillion times. So I took the plunge and got completely submerged.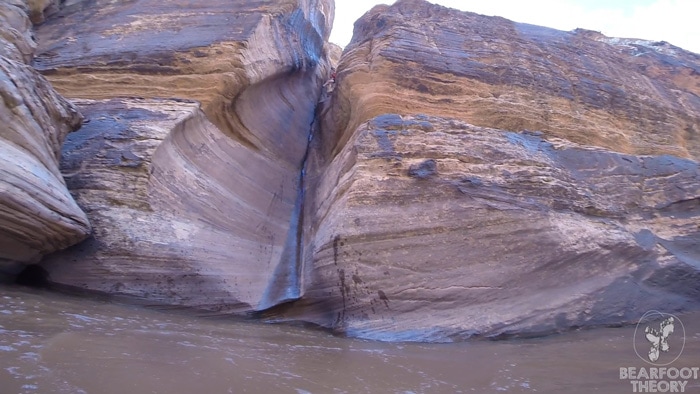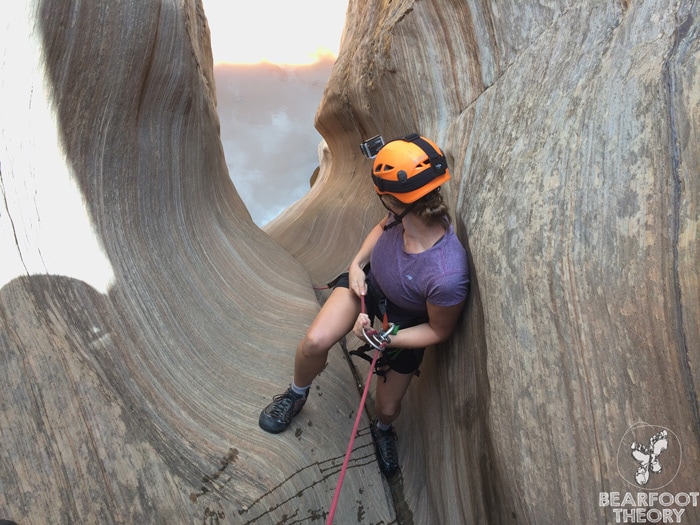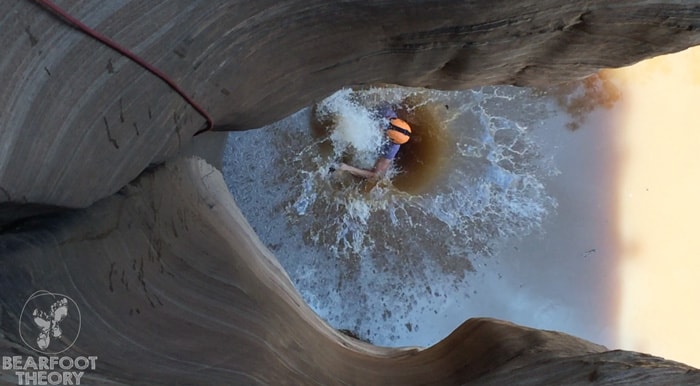 Then right before lunch came the biggest rappel of the day. A whopping 180 feet. Going over the edge of a cliff that huge makes you feel REALLY small.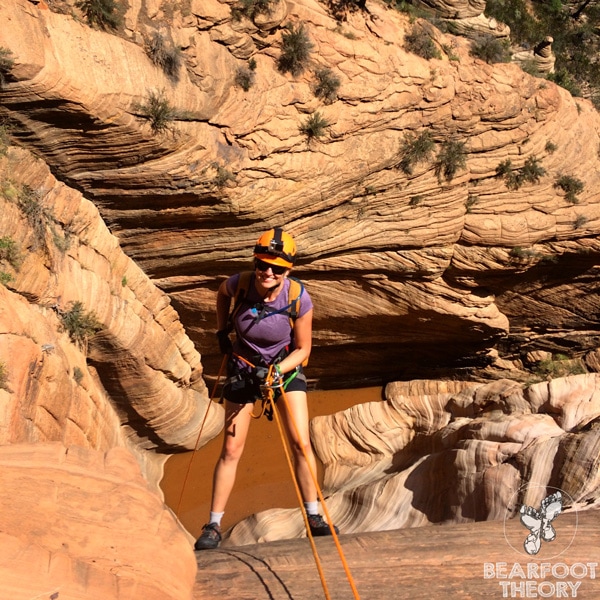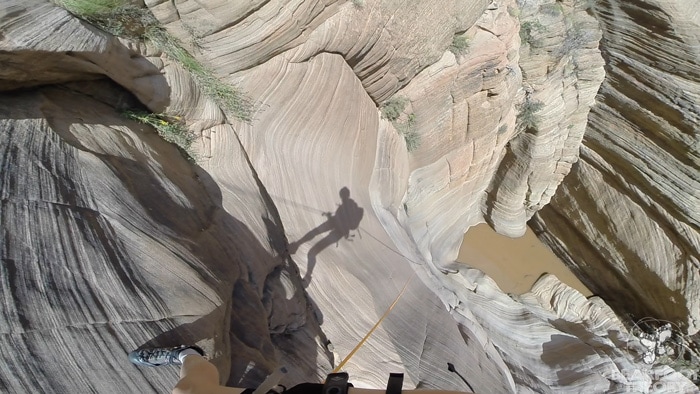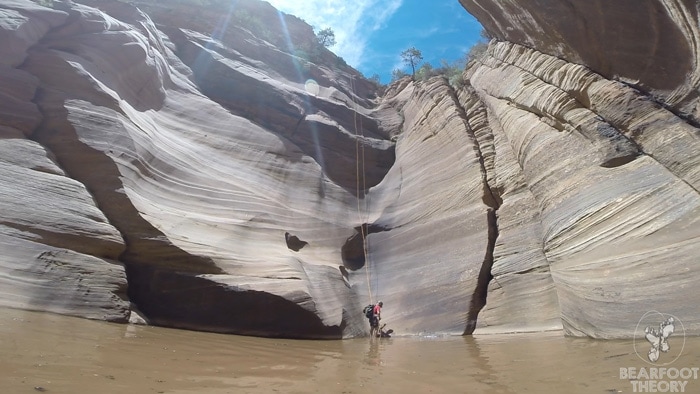 We finally decided it was time to take a little break, so we found a place with a nice view to relax.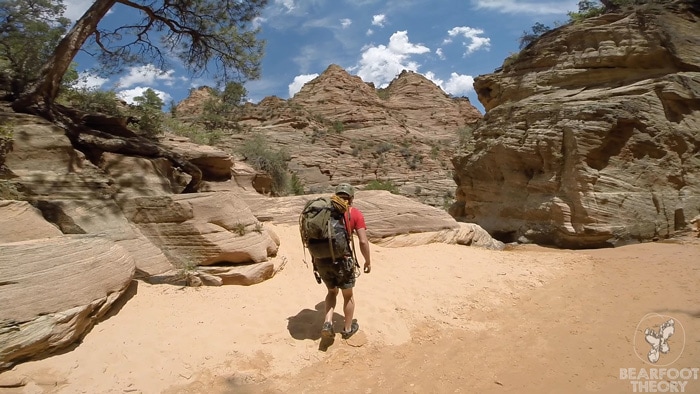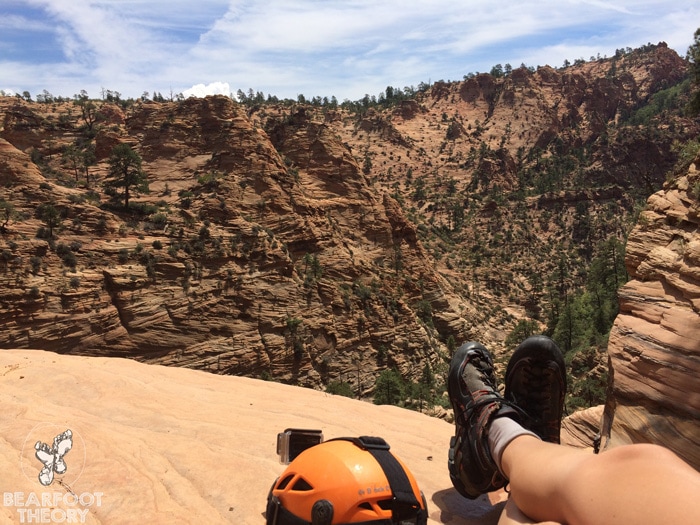 After lunch, we did several more rappels, but the real highlight was traveling through these crazy slot canyons. Every time I come to this area of southern Utah I'm more impressed away by the mind-blowing geology.
At the end of the day, we returned to where we began the hike, a lush oasis at the bottom of Water Canyon.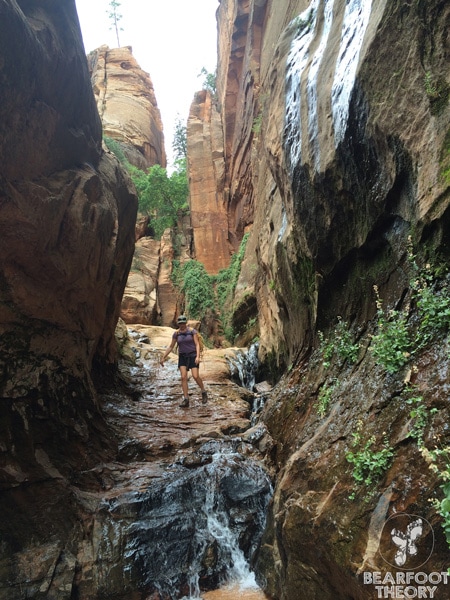 My first experience canyoneering was just plain awesome. I feel like I really lucked out with Zion Mountain School and Ethan as my guide. He was smart, professional, and a great conversationalist. He also made me feel extremely safe.
If you are interested in giving canyoneering a try, I would highly recommend the Ultimate Canyoneering Package with Zion Mountain School. They also offer all kinds of other outdoor trips, and after my positive experience with Ethan, I'm definitely considering one of Zion Mountain School's climbing or mountain biking excursions.
Would you try canyoneering? Or do you have questions about my experience? Just leave a comment below and I'll get back to ya!