WAYS TO TRAIN FOR THE OUTDOORS WHEN YOU'RE STUCK INSIDE
This post is sponsored by REI. Right now, REI is offering free shipping on ALL online orders.
If you're reading this now, it's probably because you're homebound and will be staying indoors for the time being. Currently, we're all in the middle of a global pandemic known as the coronavirus (COVID-19). Towns across the US are temporarily shut down; people are being asked or required to stay home for weeks or longer. And, you might be feeling like you're going a little stir-crazy. (Is cabin fever part of the virus?)
Earlier this week, I shared my personal tips for managing stress and anxiety in the face of this crisis. I also realize that our mental, emotional, and physical states are interconnected. So, in this blog post, I share my tips on how to stay physically active at home during this crisis. Plus, it's a good time to train for hiking season in the comfort of your own home. That way you'll be ready to hit the trail as soon as this is behind us.
If you're reading this when the time has passed, and we're on the other side of this, keep reading. The tips I share below are applicable to any time when you want to stay active and keep moving indoors. Maybe the weather is lousy outside or you're not feeling well. Maybe you're caring for a loved one at home or you're just not able to get out the door today. Whatever the reason is that you're home – these tips will help you stay active indoors.
Here are my 5 tips to stay active when you're stuck inside, including suggestions for props and tools you can use to keep moving.
---
Practice Yoga at Home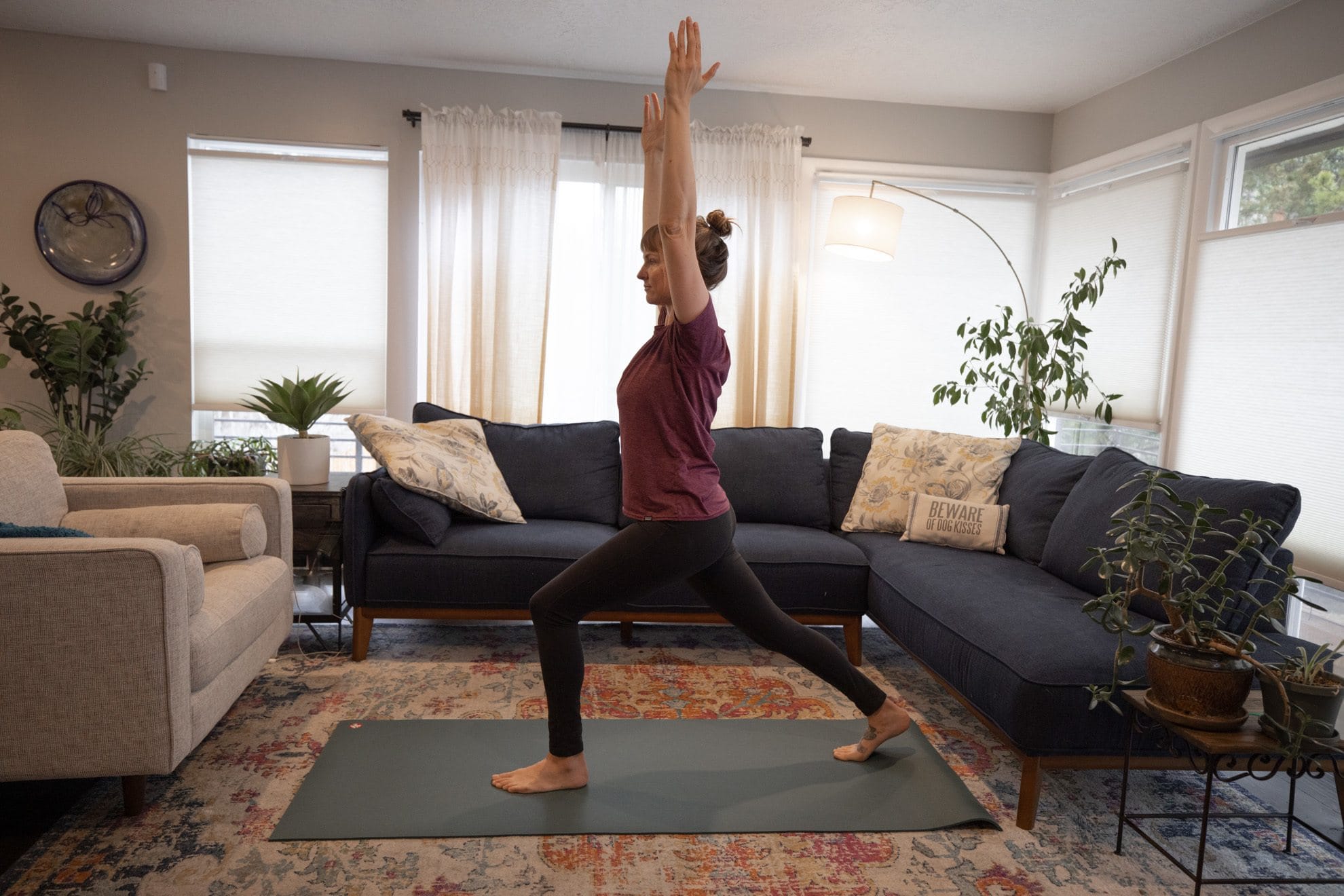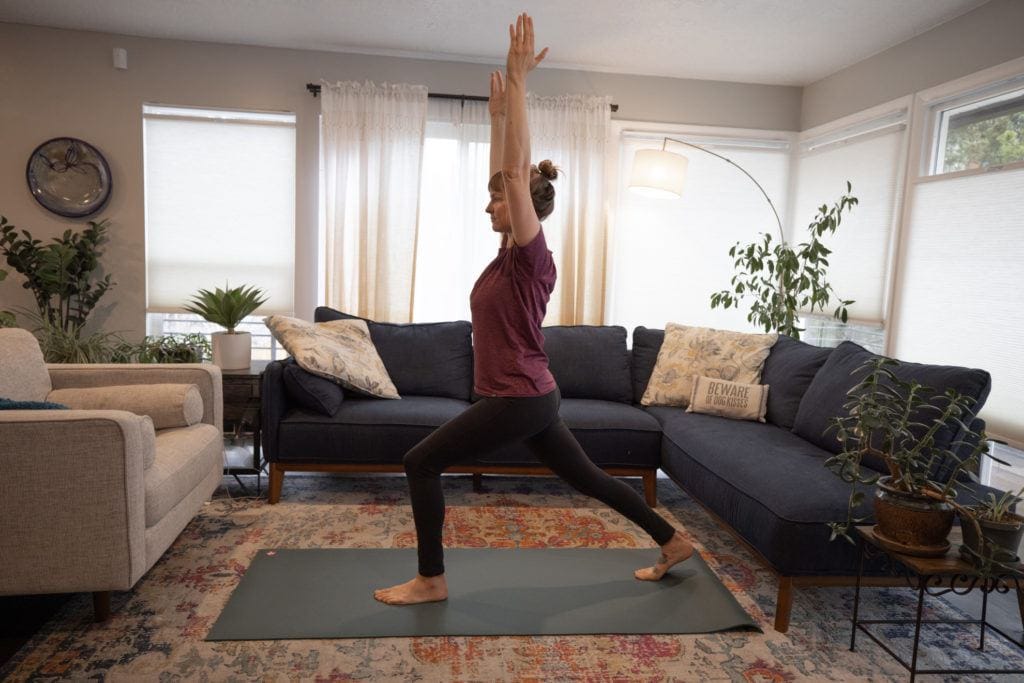 Whether you're a seasoned practitioner or have never done it before, now is a great time to start a home yoga practice. I recently started my own regular practice and, I've got to say, it's been making a positive impact on my overall mental and emotional health.
Thankfully, we live in an age where we've got access to online classes at our fingertips. And since we're being advised to practice social-distancing for a while, this is a good opportunity to try yoga out if you haven't yet. Or, work on your home yoga practice if you're a practitioner already.
It's more simple than you might think – all you really need is a small space that's big enough for you to move around in and an open mind. If you're feeling inspired after you finish this, check out our blog post on the best yoga poses for hikers. I also highly recommend The DownDog Yoga App, that allows you to take fully customized yoga classes where you choose the length, style of yoga, level, voice, music, and more. It's perfect for beginners!
There are a few helpful props that make your home yoga practice a little easier (and more fun!) Here are some of my favorite yoga props that I've found to make the postures more accessible and/or help you deepen the pose.
Yoga Mat
Using a good quality yoga mat makes a big difference. I have the Manduka Pro yoga mat (pictured below), and I love it. It's really thick, so it provides a good cushion for my knees. And, the more you use it, the less slippery it is. It's made with the highest quality PVC and is manufactured emissions-free. Take your pick of a few different colors – I love the sage green one. This is one of the pricier yoga mats out there, but it's built to last for many years (and has a lifetime guarantee!) So, if you're looking to invest in a well-made, long-lasting yoga mat, I'd recommend this one.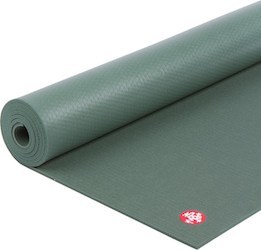 Check price: REI
For a more budget-friendly and super eco-friendly option, my second recommendation is the Manduka eKO Lite yoga mat (pictured below). It's biodegradable, latex-free, PVC-free, and made with non-toxic foaming agents/dyes. Plus, it's made in a zero-waste manufacturing process that reuses all post-industrial scraps for other materials. At the time of writing, it's on sale in the REI Outlet!

Check price: REI Outlet
Yoga Block
A yoga block is a great tool that enhances your practice, whether you're a beginner or have more experience. Blocks make certain poses more accessible and can even enhance or deepen a pose. They can be used in all sorts of postures, standing, sitting, lying down, backbends or forward bends – really, it's a good tool to have in your yoga closet that can be used in a number of different ways. Oh, and it can even act as a little seat the next time you get out camping.
The two common types of blocks are made of rubber or cork. So, I included a recommendation for both of them because you might prefer one over the other.
The Manduka recycled foam block is made with 50 – 75% recycled post-industrial and post-consumer EVA foam. It's pretty firm yet feels comfortable underneath your body. Foam blocks tend to be pretty lightweight.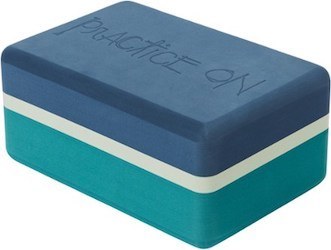 Check price: REI / REI Outlet
The second option is a cork yoga block, like the Jade cork yoga block. Cork blocks are extra-firm and feel super stable. This block is made with cork that was sustainably harvested; it's antimicrobial and water-resistant. Keep in mind they are super firm, so some people like to lay a blanket down on the block in poses where all your body weight is on it, for a little extra comfort.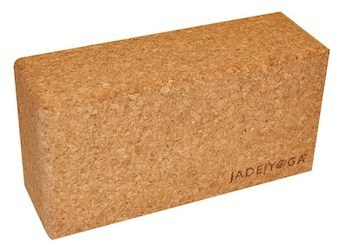 Check price: REI
Yoga Strap
My final suggestion for a handy yoga prop is a yoga strap. Straps are similar to the block in that they can either make a posture more accessible or deepen a posture. No matter what age you are or limitations you may be living with, using tools like a strap and/or a block are beneficial for all bodies.
My favorite strap is the Manduka Align yoga strap. It's made with 100% unbleached cotton and is designed to withstand a lot of tension and pulling, so it's super strong. Plus, it has a motivational message on it that says, "Practice on," for those moments you need an encouraging boost.
A strap specifically designed for yoga differs from other straps because it's made with an interlocking system, so you can adjust the strap right where you need it to be and lock it in place. This is helpful for many types of poses, but especially when practicing arm balances, working on your postural alignment in chest-opening poses, and hip opening poses too.
But, if buying a yoga strap isn't your top priority, I get it. Though it is a good tool to have. So, if you're looking for an alternative, I recommend using a scarf or tie – whatever you have laying around the house. It won't function exactly the same as a yoga strap, but it can still be used for deepening stretches.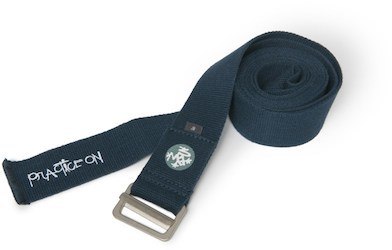 Check price: REI
---
Get Moving with Resistance Bands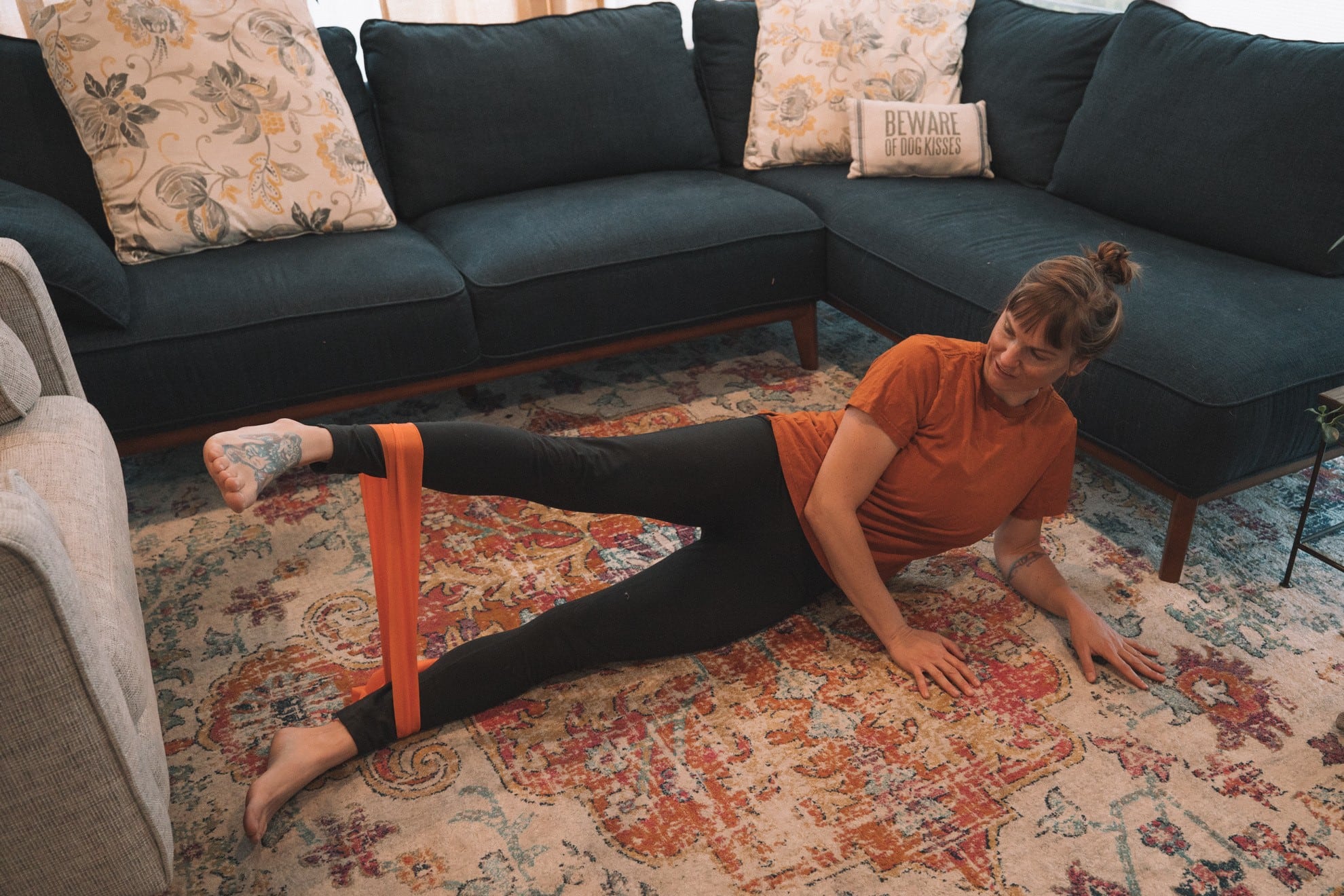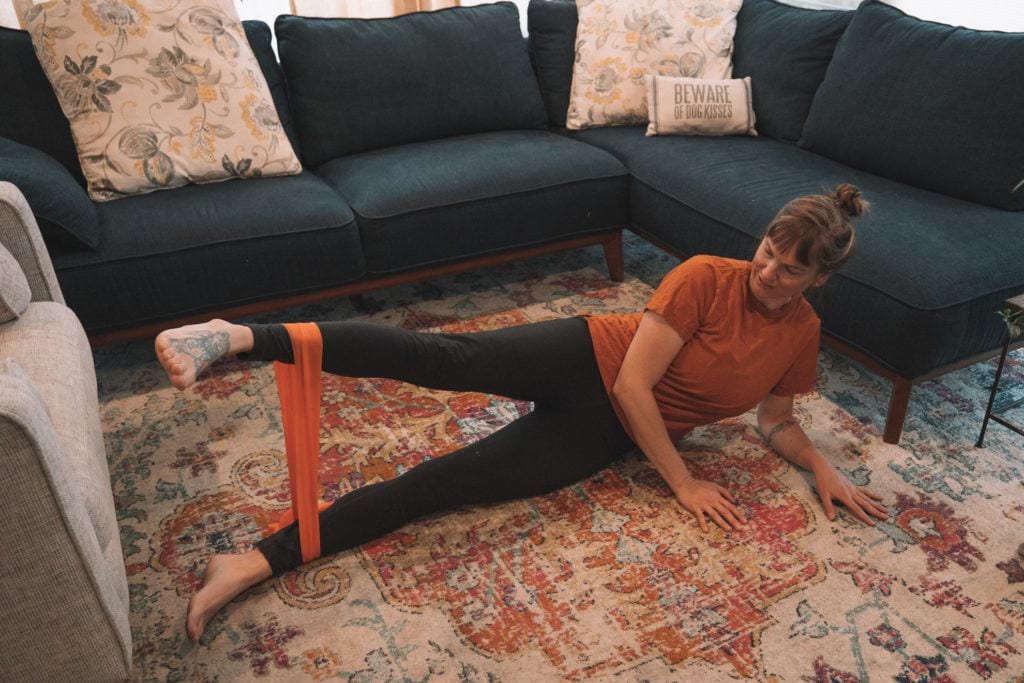 Resistance bands are another effective item to include in your home exercise routine. If you want to stay active indoors with an awesome workout for strengthening, toning, and increasing mobility – this is it. You can use them for every major muscle group in the body.
Basically, as the resistance band stretches it builds up tension which causes your muscles to contract. The more it stretches, the harder it becomes, all the while building more strength and control.
Another major perk of using resistance bands is they don't apply pressure on the joints in the same way weights do. So, they're often used in injury rehabilitation to aid in muscle strengthening and regaining mobility without any worry of straining the joints. It's a lower impact strength training exercise that will keep you in shape and moving until you can get outside on the trail again.
The Pro-Tec Athletics resistance bands are a good choice and come with 3 levels (light, medium, heavy) so you can switch things up. They're made with fairtrade latex that can withstand the stress, so it won't break easily.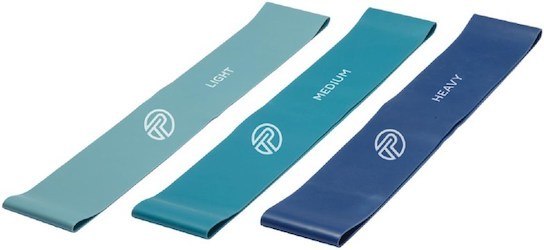 Check price: REI
---
Hang Out (and Work Out)
Install a pull-up bar or training board in your doorway, like the Metolius Project training board. These are awesome for building strength throughout the whole upper body, including the wrists and fingers. Use it to practice pull-ups, increase grip strength, build finger strength, and exercise your core.
I like that you can install it in any doorway in your house, so anytime you walk underneath it just jump up (or pull yourself up) and do a couple of moves. It's a good way to make sure you stay active and get some exercise in throughout your day.
For a super effective core exercise, secure your hands on the board with your elbows bent at about 90°. Then, lift your legs above hip height and lower back down. Repeat. This can be done with knees bent (easier) or legs straight (more challenging). Add in a twist motion to target the obliques by drawing your knees toward the opposite shoulder, then lower, and repeat on the other side. Integrating leg lifts into your daily routine will increase core strength in no time. Plus, with this specific training board, you'll also be building hand, wrist, and grip strength too. Keep a log of how many you're able to do to track your progress over time.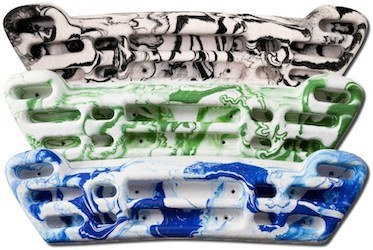 Check price: REI
---
Ride Your Bicycle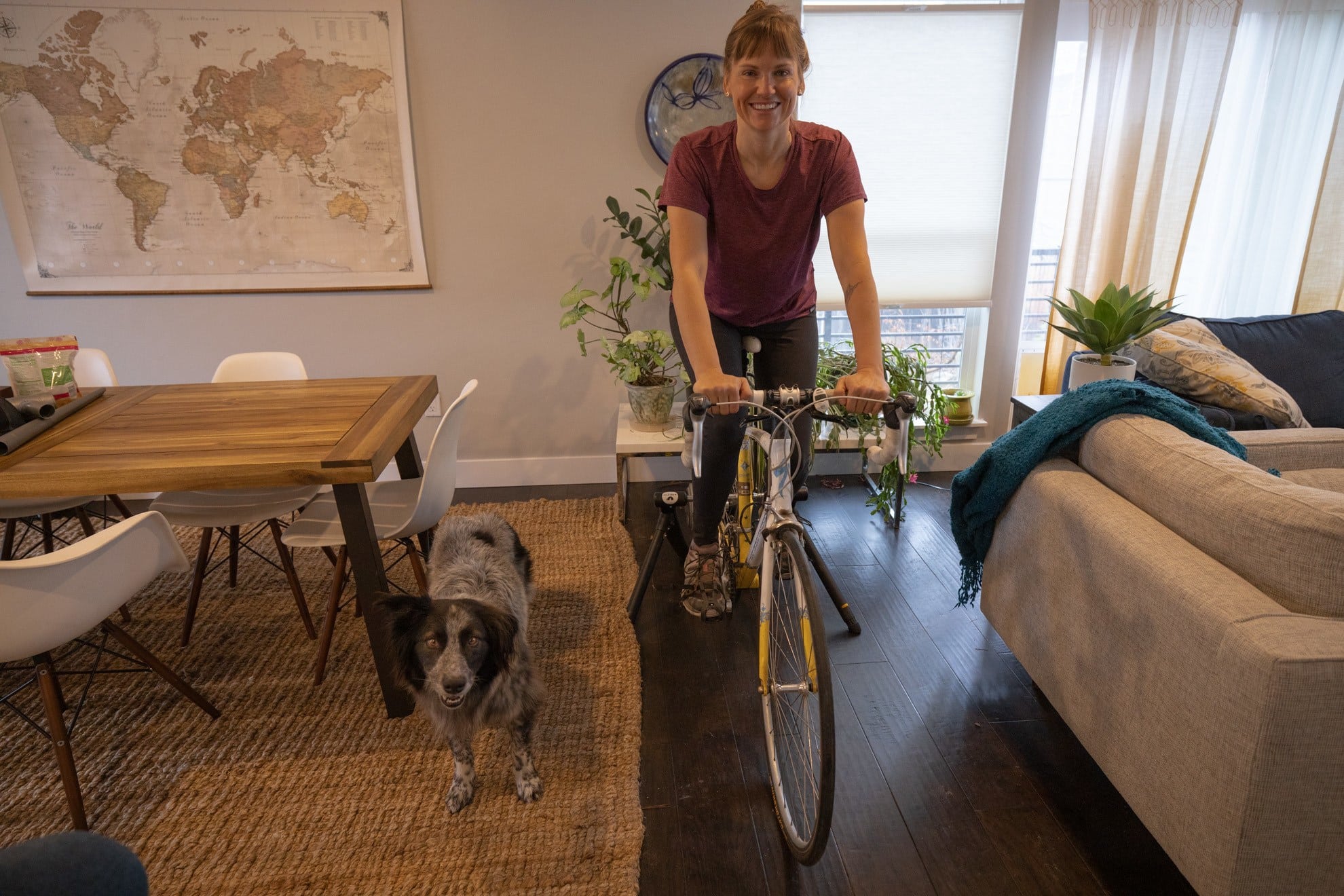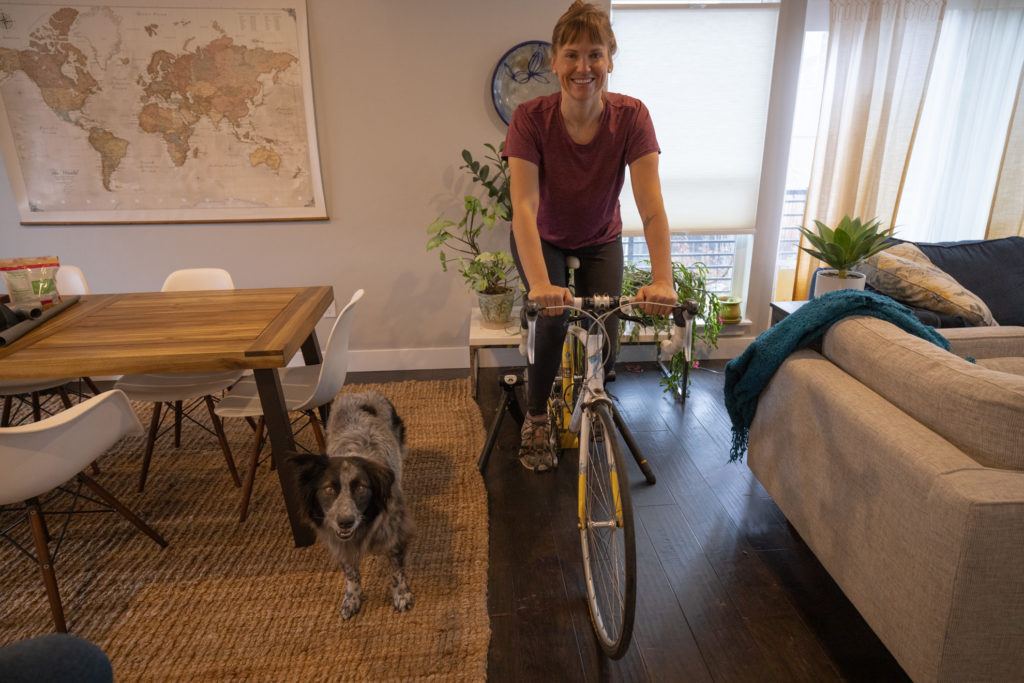 Riding my bike is one of the ways I love to stay active. But, if this global crisis gets to a point where we're unable to leave our home (as it is in some places already), consider making your bike stationary with the Saris Fluid2 Trainer. We actually already have something similar in our house that my roommate got to recover from an ACL injury. How it works is that it attaches to your regular bike so you can ride stationary. Set it up in your house or backyard and you'll be able to train, stay active, and keep moving even when you're stuck at home.
This trainer is designed to provide fluid resistance training for most road and mountain bikes. At 21 pounds, it's said to be stable and secure so the rider gets the same feeling as you do on the road.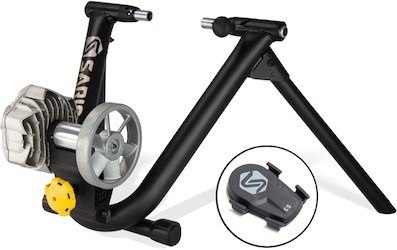 Check price: REI
---
Roll it Out with a Foam Roller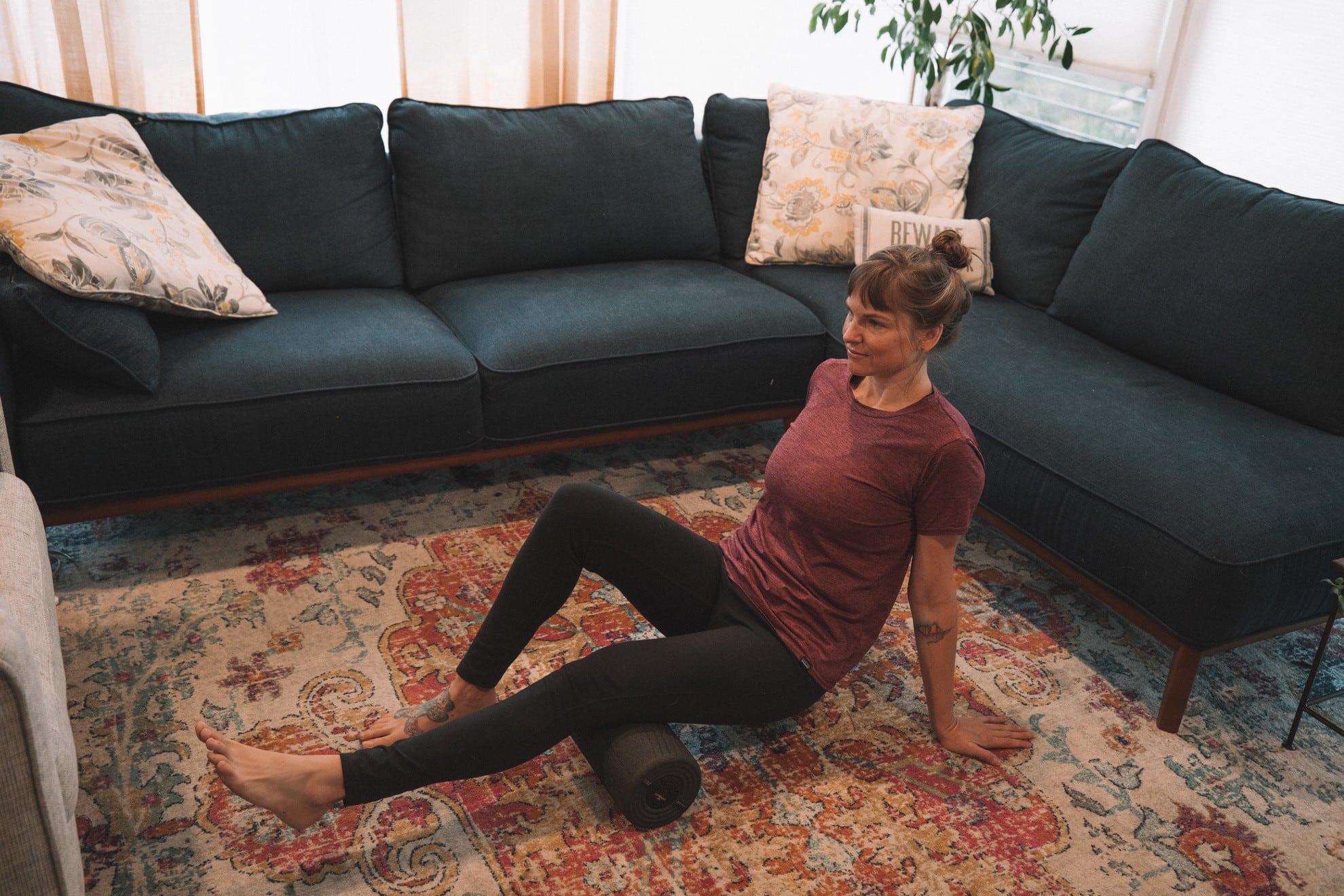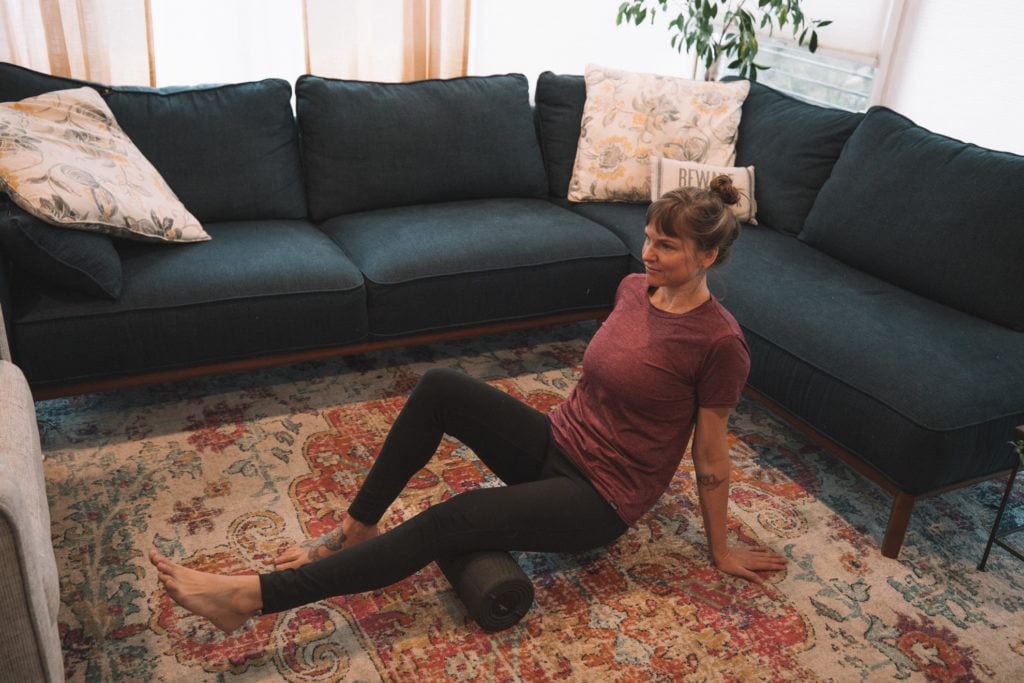 Once you've finished your home exercise routine, it's time to roll it out on a foam roller. Some people prefer to use it as a warmup, so that's an option too. Either way, foam rolling is a technique that reduces tension, and increases flexibility and circulation throughout the body. It's said to help your body recover faster after a workout, and it just feels really good.
I have the Hyperice Vyper 2 vibrating foam roller. It has three speeds of high-intensity vibrations and it's amazing, seriously. It feels like I'm getting a real massage, and since we probably won't be getting professional massages any time soon, this is the second-best thing. The Hyperice is pricey, but if it's within your budget I think you'll love it.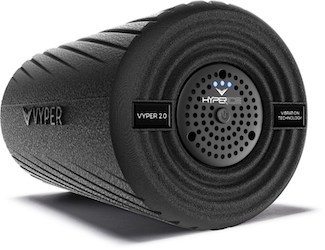 Check price: REI
While I do love the Hyperice foam roller, it's not necessary to spend that much money if you want to start foam rolling. So, for an effective budget-friendly option, check out the Addaday Nonagon roller. It's about $35 and is designed to provide varying pressure as you're rolling. The texturized surface targets specific pressure points without being too firm or uncomfortable. This way, you'll be able to reap the benefits of foam rolling and save money.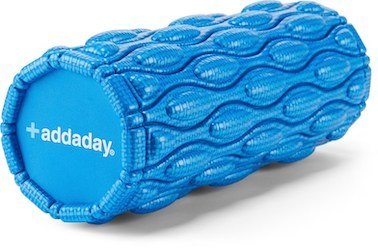 Check price: REI
If you don't have a foam roller, you don't have access to one right now, or it's not in your budget – you've still got options. You can use a tennis ball, a pool noodle, a lacrosse ball, or something like that. But, keep in mind, using a ball isolates a smaller area and can be even more intense.
Whether you use a foam roller or one of these other suggestions, please remember to only do what feels okay on your body. (And, if you have any specific limitations, injuries, or concerns consult your health care providers.)
---
We may not have control over what's going on in the world right now, but we do have control over how we respond, and what we do for ourselves and our neighbors. So, thank you for being here. I hope that you feel connected to this community and know that we are here with you.
I hope my tips to stay active indoors have inspired you to keep moving even when it feels like you can't. How do you like to stay active at home? Share with us in the comments below.