Vegan Backpacking Recipe: Senegalese Peanut Soup
By guest contributor Inga Aksamit When I started backpacking, I did what a lot of people probably do. Instead of making my own…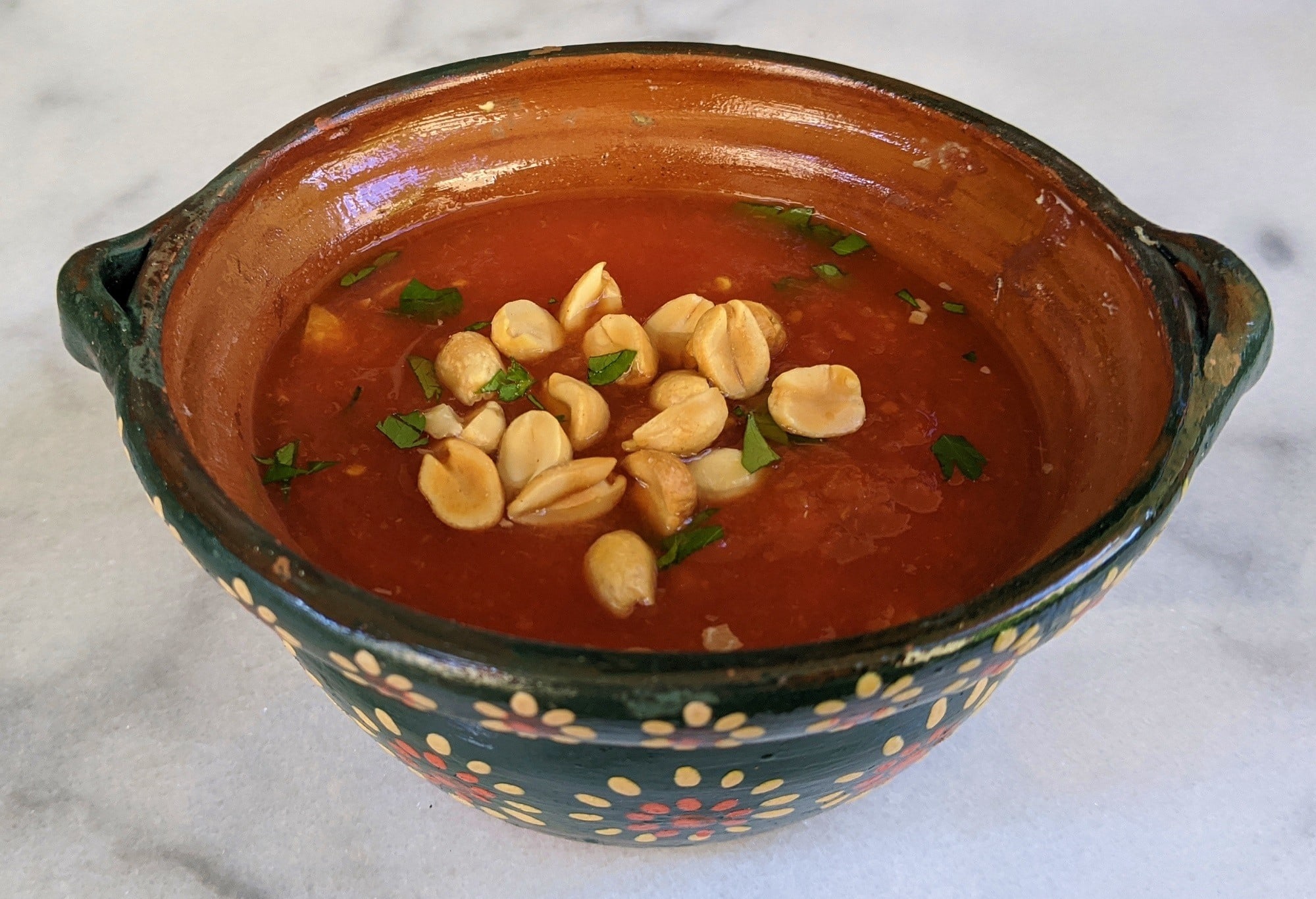 By guest contributor Inga Aksamit
When I started backpacking, I did what a lot of people probably do. Instead of making my own backpacking recipes, I headed to REI, looked over the selection of Mountain House packages, examined the brightly colored, aspirational photos, and considered meal planning done for dinners.
Breakfast was instant oatmeal (day after day… after day.) And lunches were often snacks, which led to afternoon bonking, or ramen, with all the hassle of setting up the stove and cleaning up.
As time went on, I figured out a different way to handle backpacking food.
First, I learned to supplement the packaged meals with extra dried veggies and grains to add calories and flavor. Then I branched out into assembling dried ingredients into my own vegan backpacking recipes with the international flavors I was used to eating at home. I started making spice blends and sourced specialty products such as True Lemon crystals, avocado powder, mushroom powder, and coconut cream powder.
Suddenly, a world of flavors opened up. When I saw how easy it was to cook and dehydrate tri-color quinoa and chickpeas, I was inspired to keep going. Between home-dehydrated and commercially freeze-dried foods, there is no limit to the variety of DIY backpacking recipes that can be created.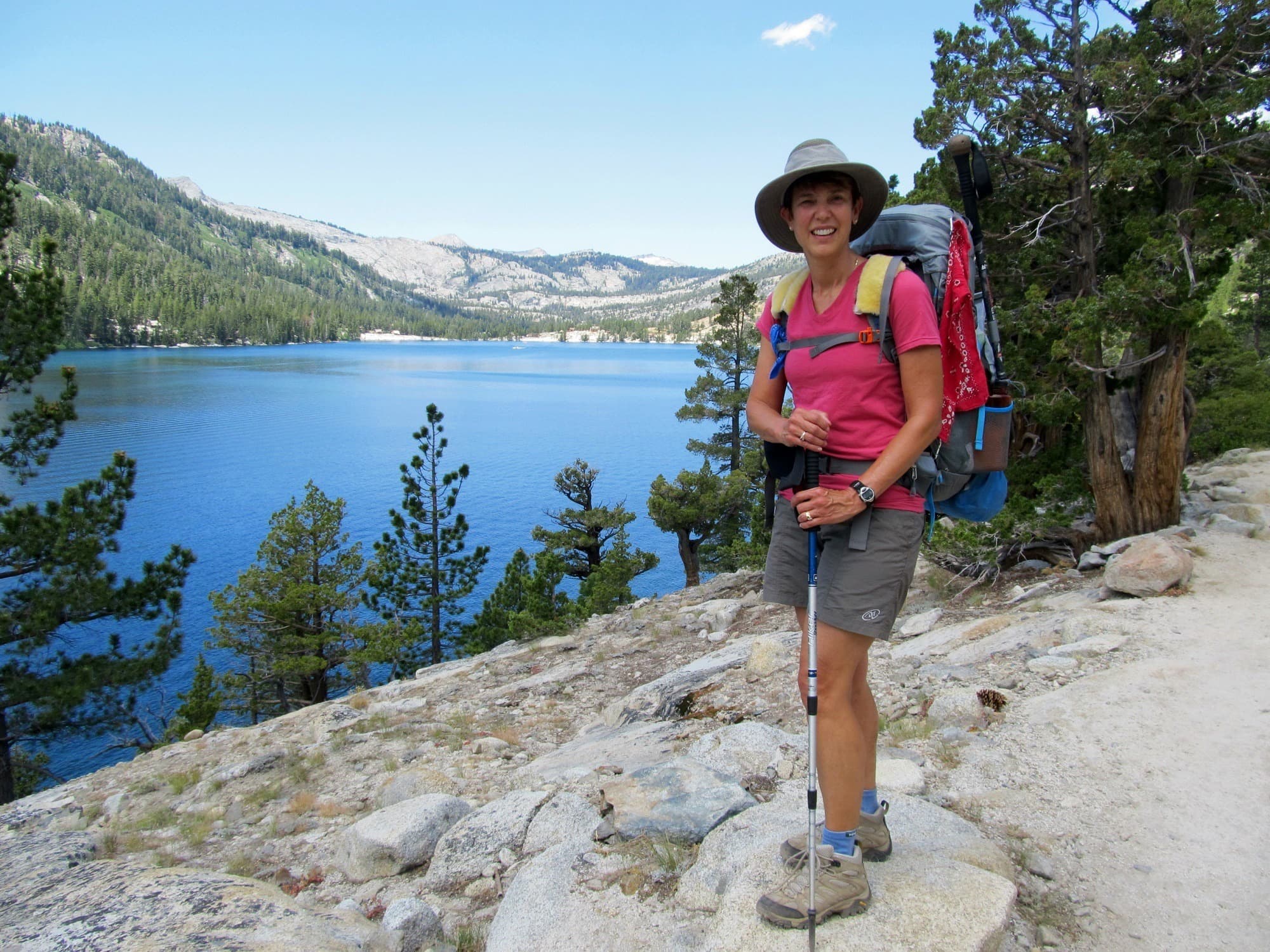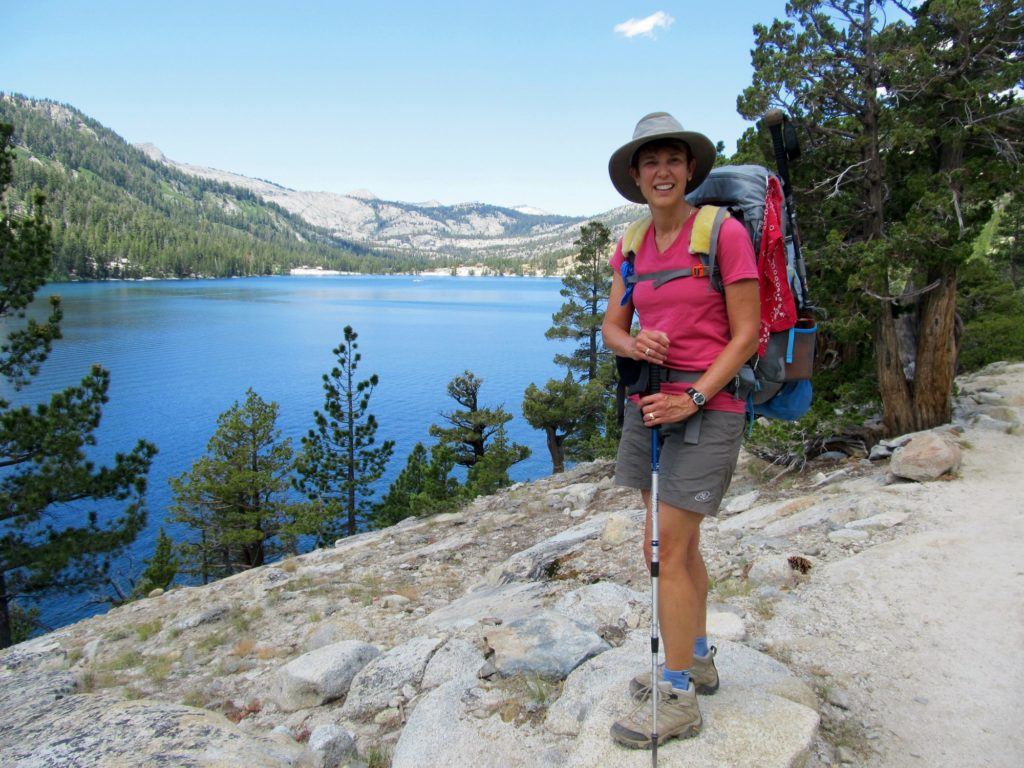 In my book, "The Hungry Spork: A Long Distance Hiker's Guide to Meal Planning," I focused on nutrition, equipment, and planning for long-distance hikes with one chapter of starter backpacking recipes. I found that I couldn't stop analyzing recipes for adaptation to backcountry cooking. Every time I'd see a recipe, the wheels would start turning and I'd jot down notes for substitutions or alterations to be able to create shelf-stable dried ingredients.
When I sat down to expand the chapter, I realized that I had enough backpacking recipes for another book, "The Hungry Spork TRAIL RECIPES." When I thought about how to organize the book, I decided to make it an around-the-world journey. I arranged recipes starting in the Pacific and worked my way east until I ended up in Asia. When I saw the recipe for Senegalese Peanut Soup, I realized it would be perfect to fill in the missing African recipe. I'm pleased that every major cuisine in the world is represented.
Gear You'll Need for this Recipe:
---
Vegan Backpacking Recipe: Senegalese Peanut Soup
I love the ingredients in this soup for the different flavors they bring together. Peanuts are the primary crop in Senegal, along with couscous, rice, sweet potatoes, lentils, and black-eyed peas.
This meal incorporates both peanuts and peanut butter. It took a lot of tinkering to balance the flavors for a no-cook backpacking recipe (only a hot water soak) so I was pleased that it was a hit with testers.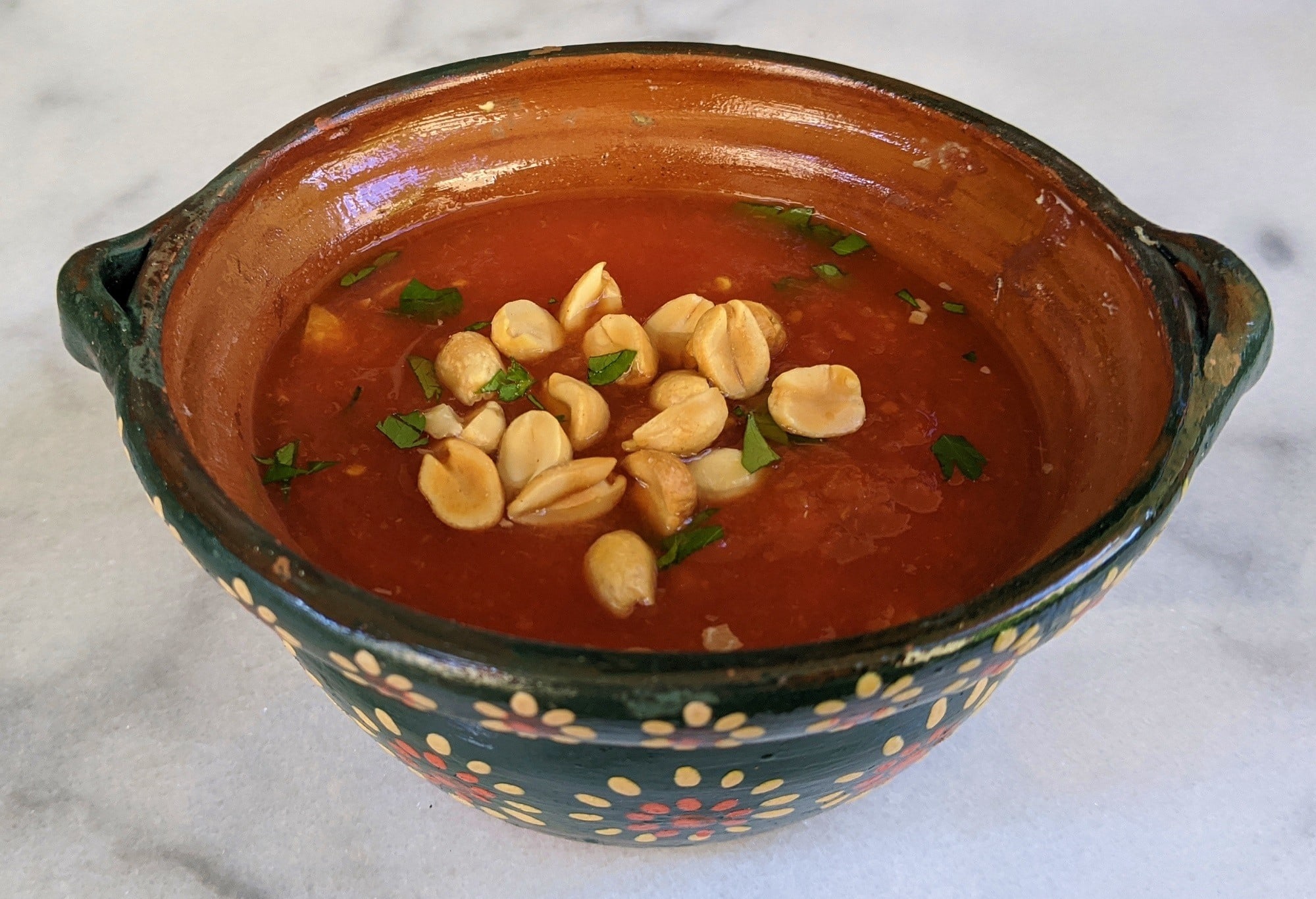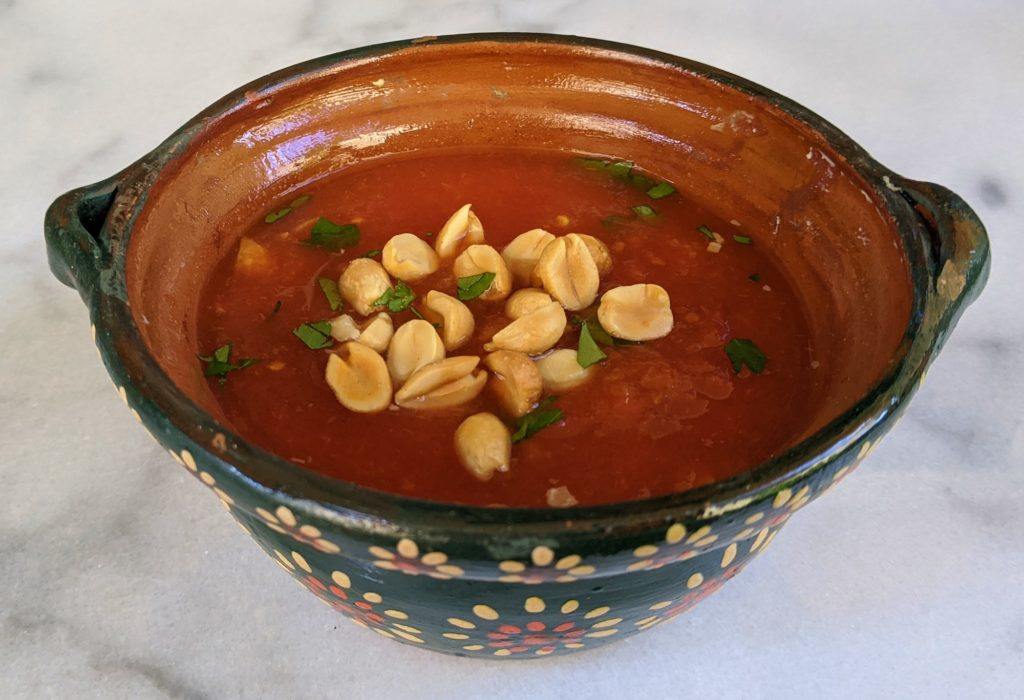 Ingredients
¼ cup peanuts, chopped
4 tablespoons peanut butter powder
1½ tablespoons tomato powder
½ teaspoon vegetable bouillon (see below)
1 teaspoon ground ginger
1 teaspoon dried cilantro
1 teaspoon minced dried onion
¼ teaspoon garlic powder
⅛ teaspoon salt
Black pepper to taste
1 tablespoon olive or coconut oil (optional)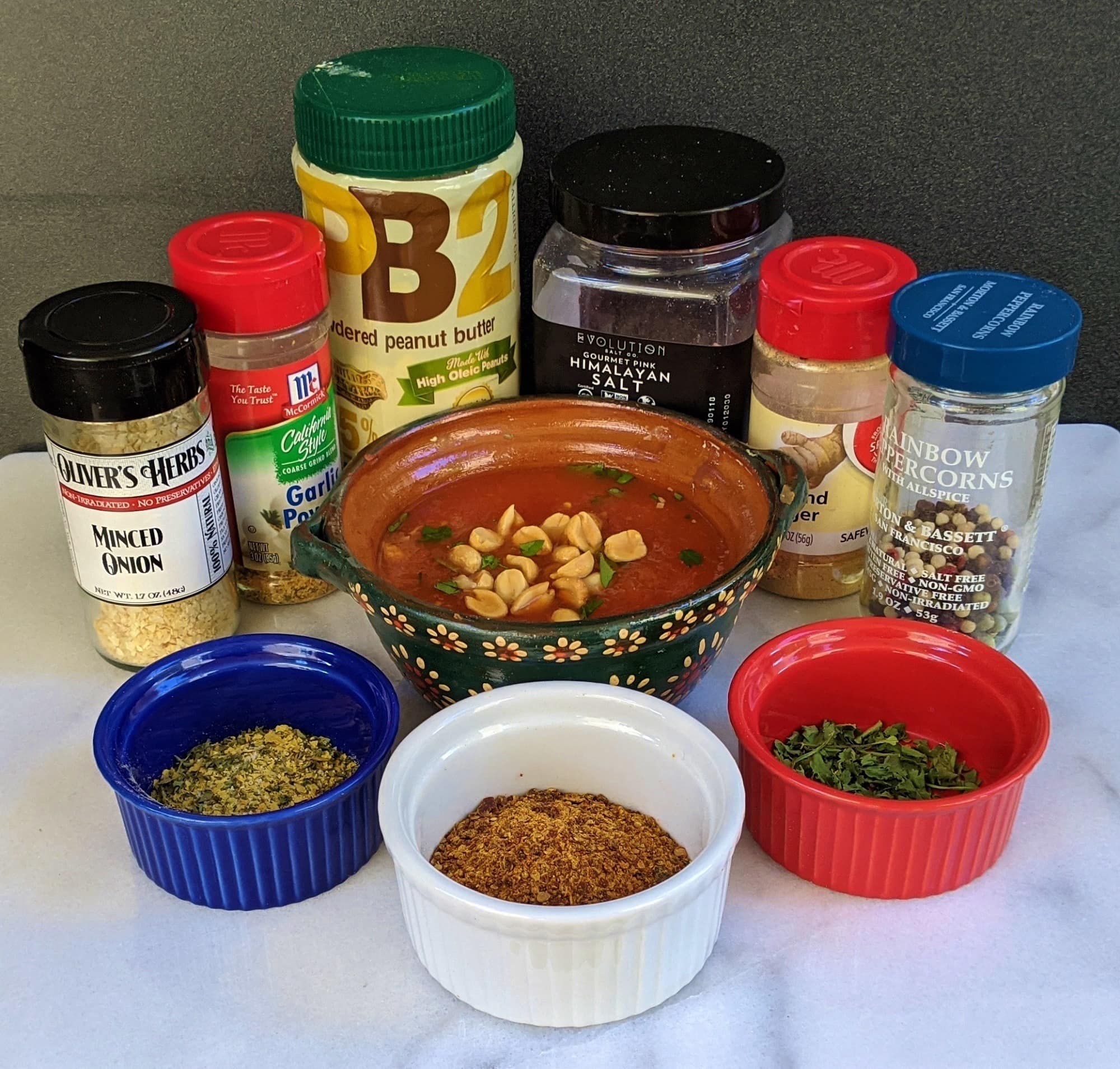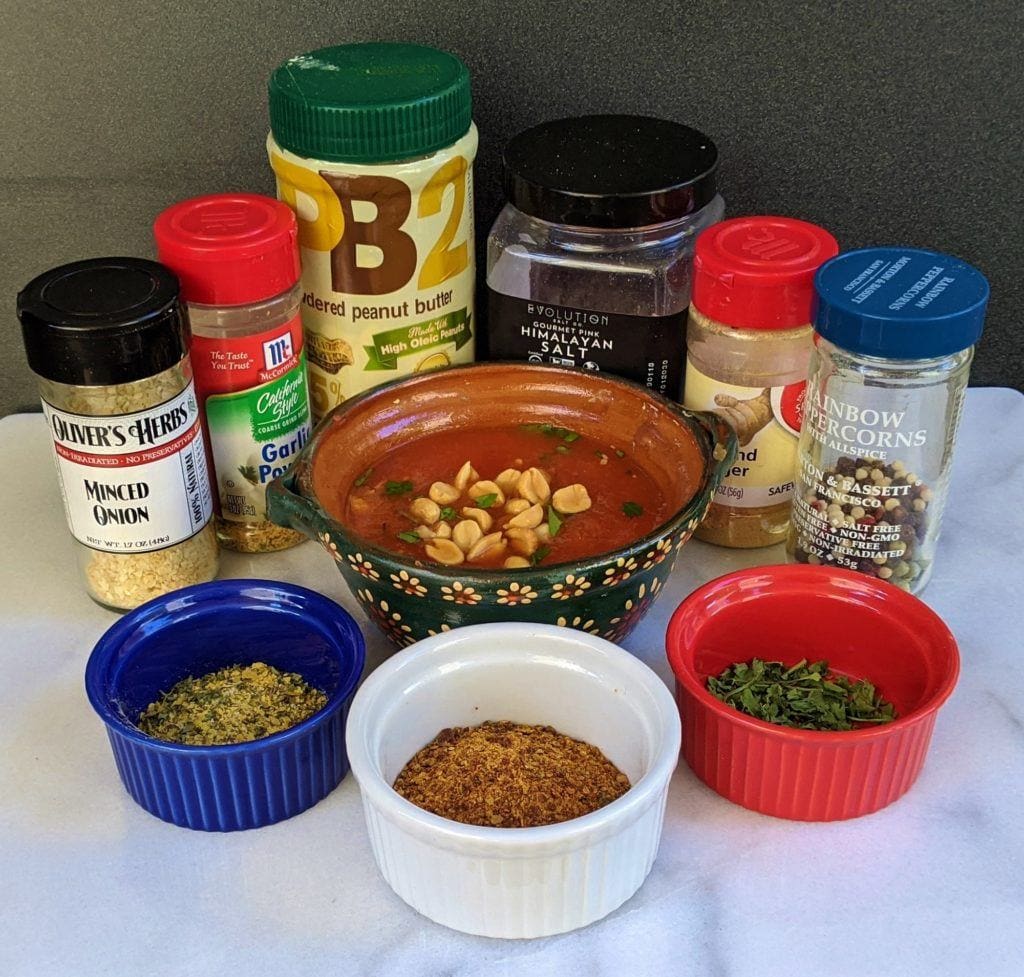 Instructions
At Home
Combine all the dry ingredients into a bag (everything except the olive or coconut oil)
At Camp
Add 1 cup of hot water to dry ingredients.
Add olive oil.
Stir well to moisten throughout.
Rehydrate for 10-20 minutes until softened.
Add more hot water to taste if desired.
Makes 1 serving. Nutrition (per serving): Calories 776; Carbohydrate 36 g; Protein 27 g; Fat 64 g; Sodium 1018 mg
Notes & Variations
Eat as soup or serve over mashed dehydrated sweet potatoes, couscous, or instant rice.
Add dried spinach or other greens.
Use ½ – 1 tablespoon curry powder instead of ginger, or add a pinch of curry in addition to the ginger. Try toasting the curry by swirling it in a medium-hot, dry skillet until it becomes aromatic and turns a darker shade. Double bag it to prevent all of your food from smelling like curry.
Add hot sauce, red pepper flakes or Sriracha sauce for more heat.
To reduce sodium, use unsalted peanut butter and reduce or omit salt from recipe and bouillon blend.
---
Vegetarian Bouillon for Backpacking
This vegetarian blend is an easy backpacking recipe that can be used wherever bouillon is called for. It makes a refreshing savory drink by itself, especially if all the ingredients are powdered. It could be used as an electrolyte replenishing drink blend if potassium, which can be found in salt substitutes, was added.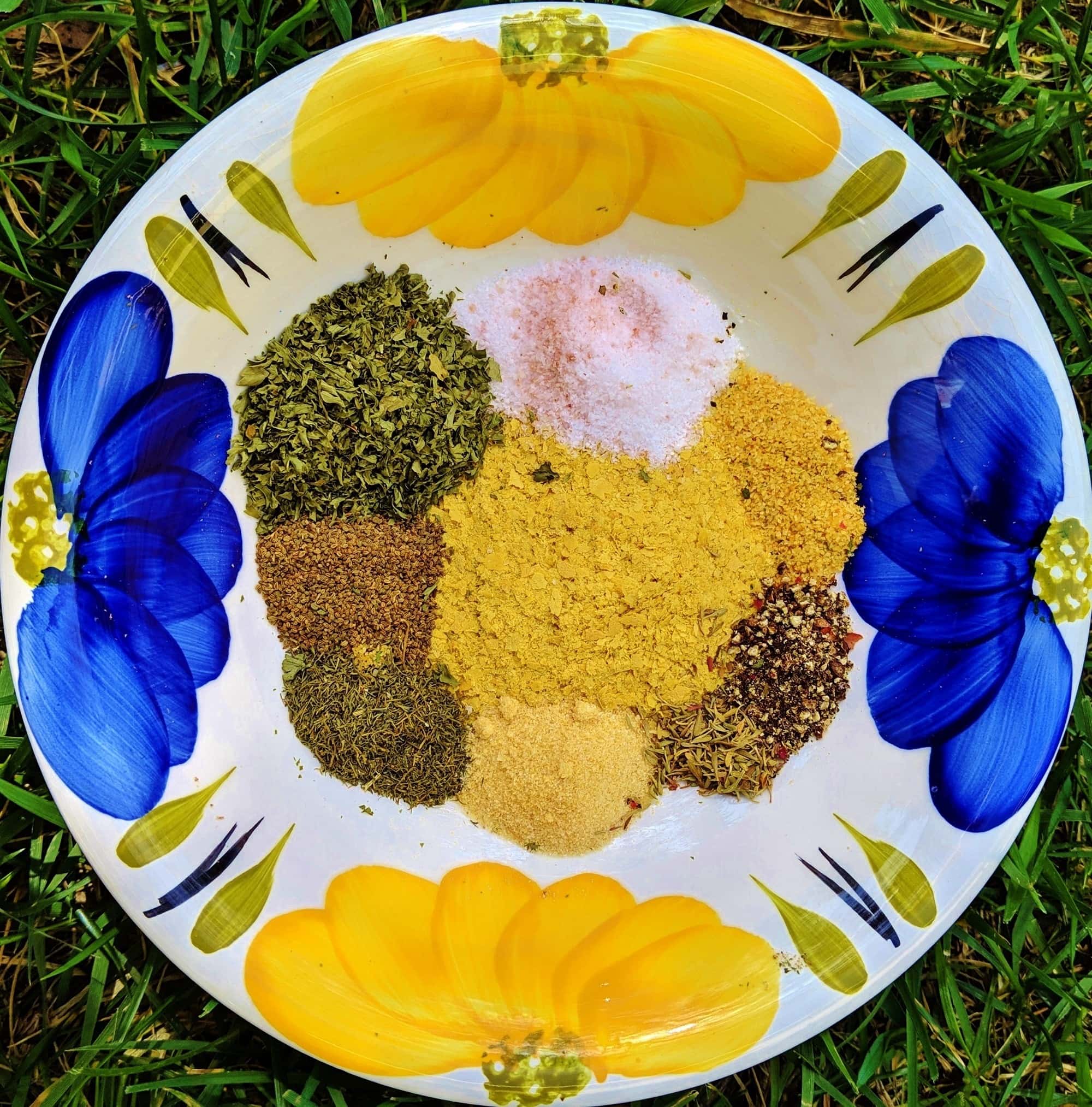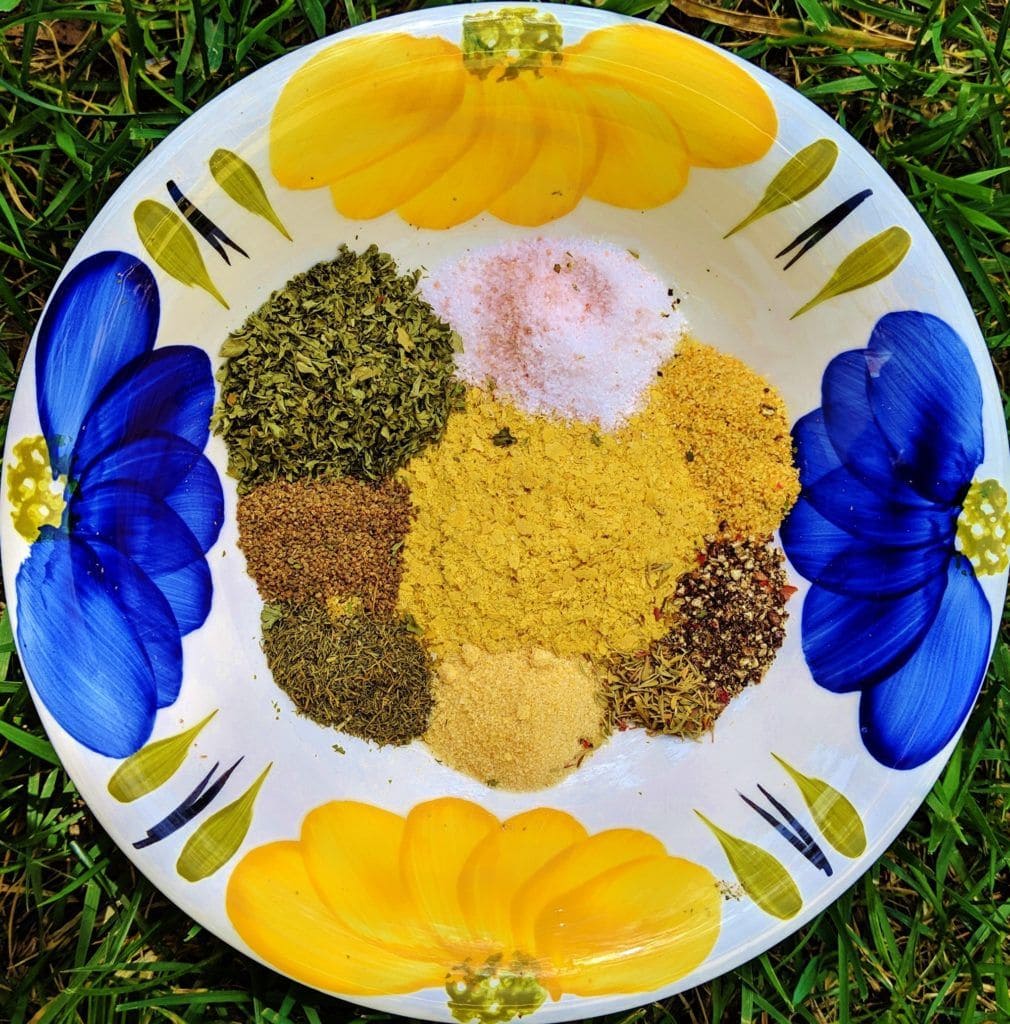 Ingredients
2 tablespoons nutritional yeast
1 tablespoon sea salt
1 tablespoon dried parsley
1 teaspoon celery seed
1 teaspoon dried dill weed
1 teaspoon onion powder
½ teaspoon thyme
½ teaspoon garlic powder
½ teaspoon black pepper
Nutrition (per serving): Calories 4; Carbohydrate 0 g; Protein 0 g; Fat 0 g; Sodium 423 mg
Notes & Variations
Use 1 teaspoon per 1 cup (8 oz) of water.
All ingredients are optional. Add any vegetable powders or dried vegetables you may have such as carrot, tomato, leeks, fennel, or greens. Grind into a powder if some ingredients are not powdered already.
Other ingredients to consider are oregano, turmeric, paprika, or other herbs and spices that appeal to you. Start with adding small amounts (¼ – ½ teaspoon) of ingredients with strong flavors.
Mushroom powder or miso powder (1 tablespoon) are options.
To reduce sodium, reduce or omit salt.