The Triangle X Ranch Property
I recently spent a winter weekend exploring the mountains around Jackson, and when I was planning my trip, I wanted to stay somewhere that provided immediate access to Wyoming's outdoor recreational opportunities. I had hoped to cross country ski, see some wildlife, snowmobile, and enjoy views of Grand Teton, all without having to drive too far from where I was staying.
In terms of lodging, there were a few different options. The first was to stay in the town of Jackson. While this cute western town has tons of restaurants, bars, and is close to the ski resort, you can't actually see the Teton's most magnificent peaks from town. For that you have to get in your car and drive a little ways north.
The second option was to stay outside of Jackson, up in the mountains, at one of the region's historic ranches. This sounded like fun, but many of these are difficult to get to in winter and can be very expensive.
As I was doing my research I came across Triangle X Ranch, an old cowboy homestead built in 1926 and the only winter lodging within the boundaries of Teton National Park. The view from this all-inclusive ranch looked spectacular and being right on the edge of the mountains meant the outdoors could be enjoyed right from its doorstep. It was also located right off the highway, just 25 miles north of Jackson – so if I wanted to spend any time in town, I would still be close. The rates seemed very reasonable, so I decided to book a cabin for two nights and use this dude ranch as my home base for exploring the Park and Rocky Mountains.
Upon my arrival, I was greeted by the Ranch's caretaker named Robert who was born and raised on the Ranch. The warm and homey vibe was immediately apparent. The main area of the lodge had large windows with a gorgeous view of Grand Teton and the neighboring peaks. In the dead of winter, it was great being able to cozy up on the couch with a glass of wine while watching the sun set behind the Tetons. The lodge also had a pool table, a large wood fire place, a book collection, and a beautiful dining room where 3-course meals were served.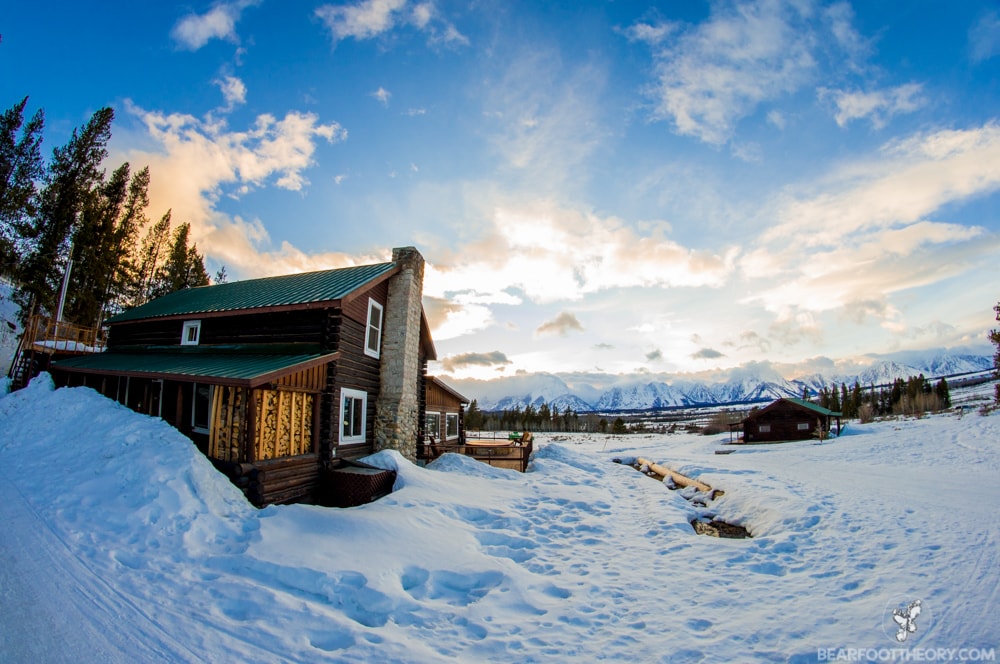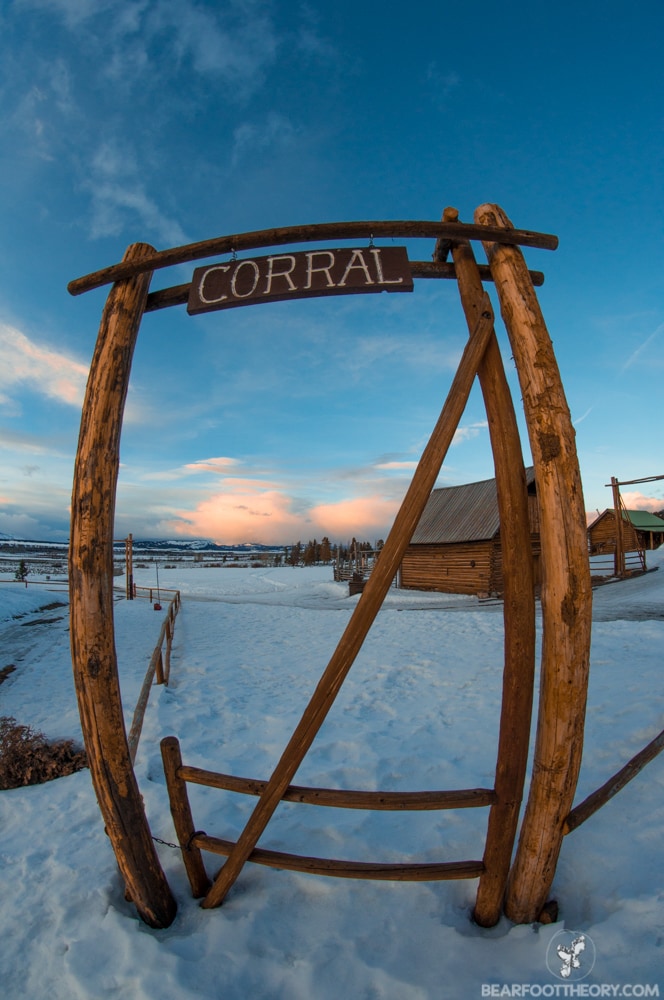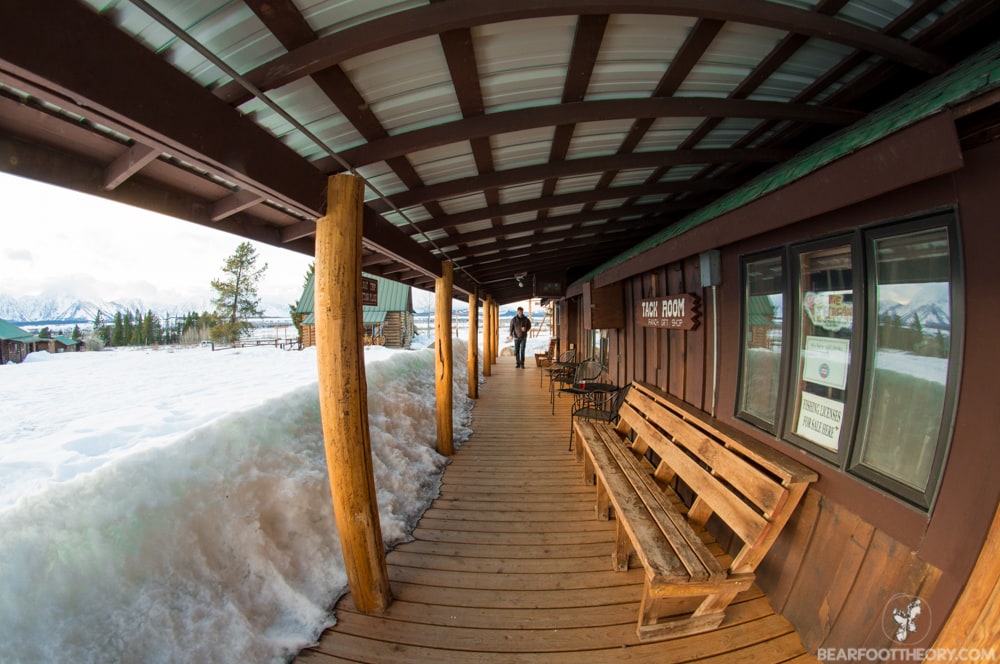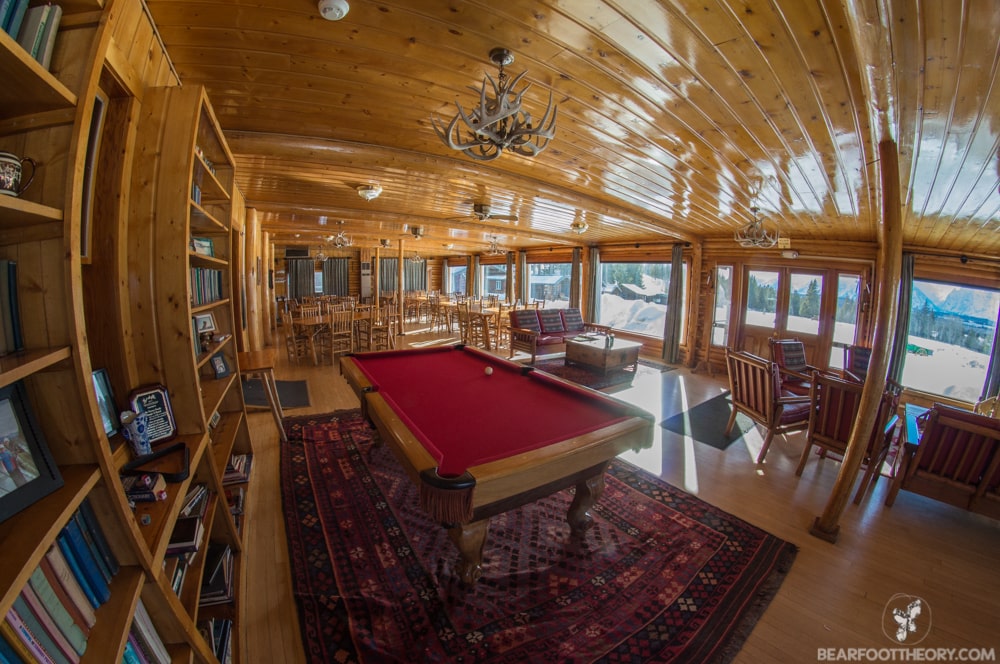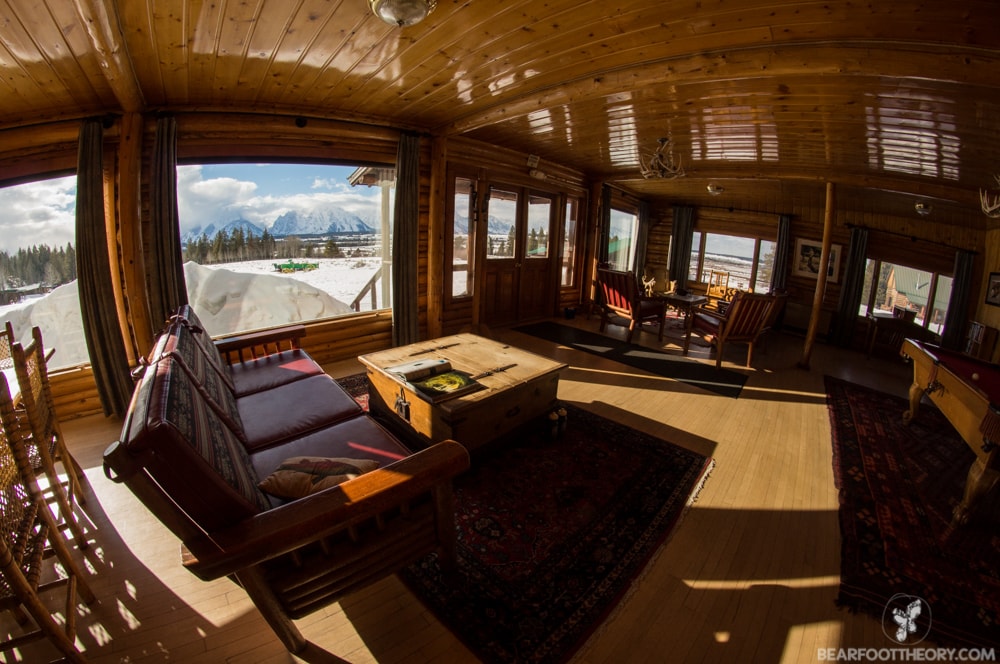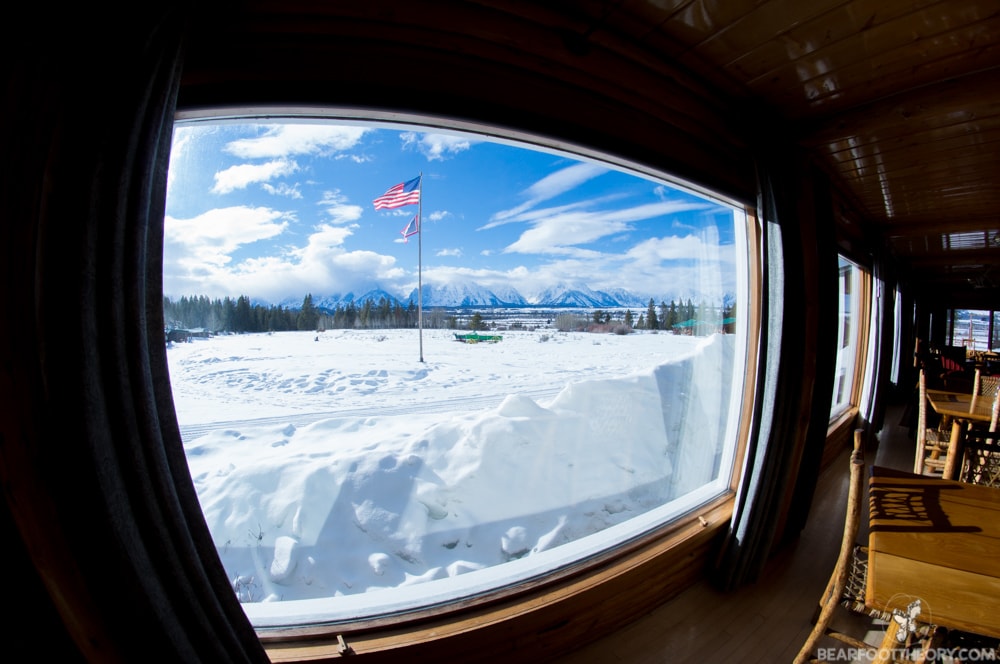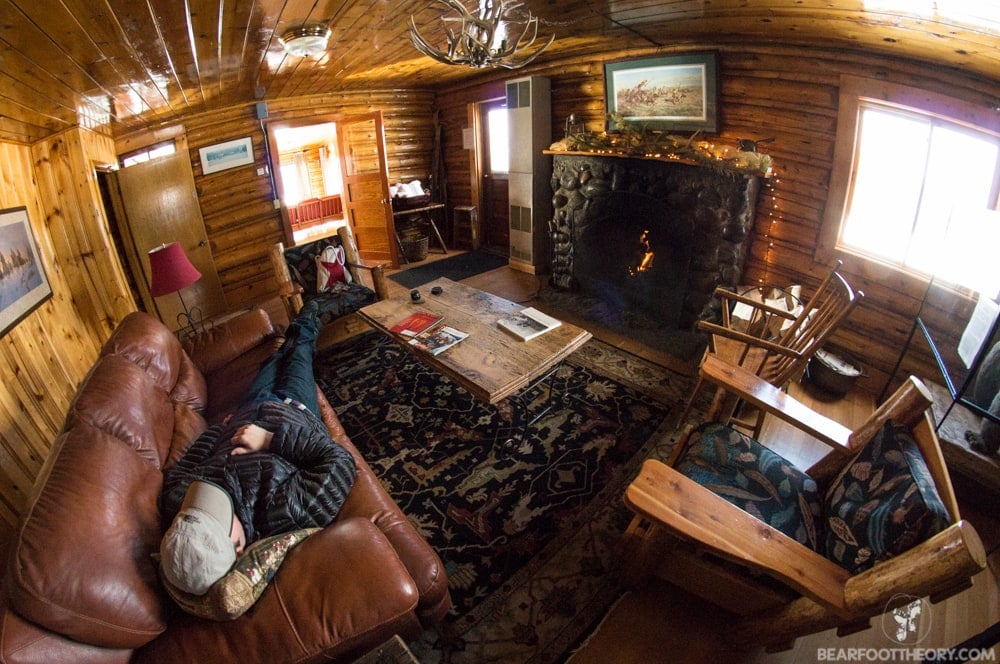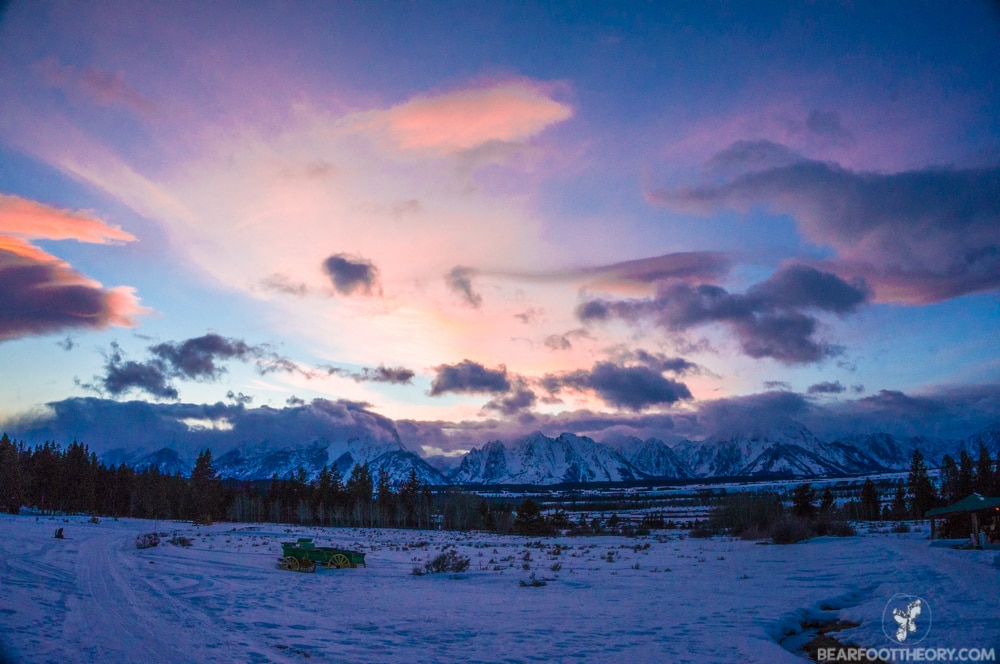 The Cabins
All of the rooms at Triangle X Ranch are stand alone, private log cabins. They vary in size, and cabins are assigned based on your preferences and the number of people in your party. For families, there were larger cabins with adjoining rooms, or for couples, there were cabins with a single queen bed. The cabins felt very authentic with log furniture and old western touches. They weren't luxurious by any means, but they were warm and comfortable. All of the cabins had porches, many with views of the Tetons, although it was way too cold outside to make use of them. Doors on the cabins could only be locked from the inside, but given the family nature and location of the Ranch, I was never worried about the security of my belongings when I was out exploring.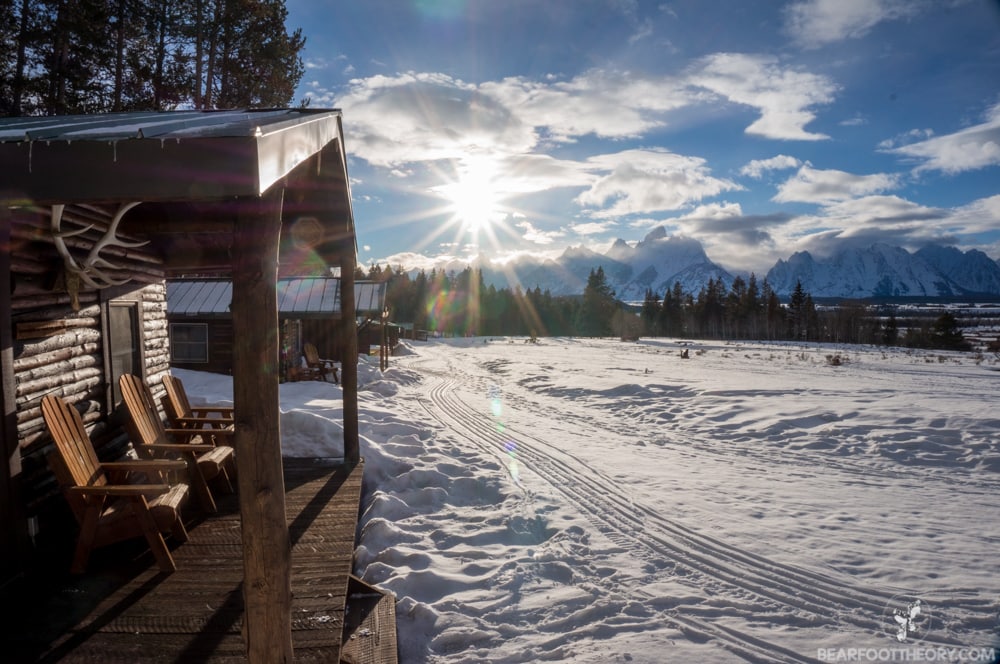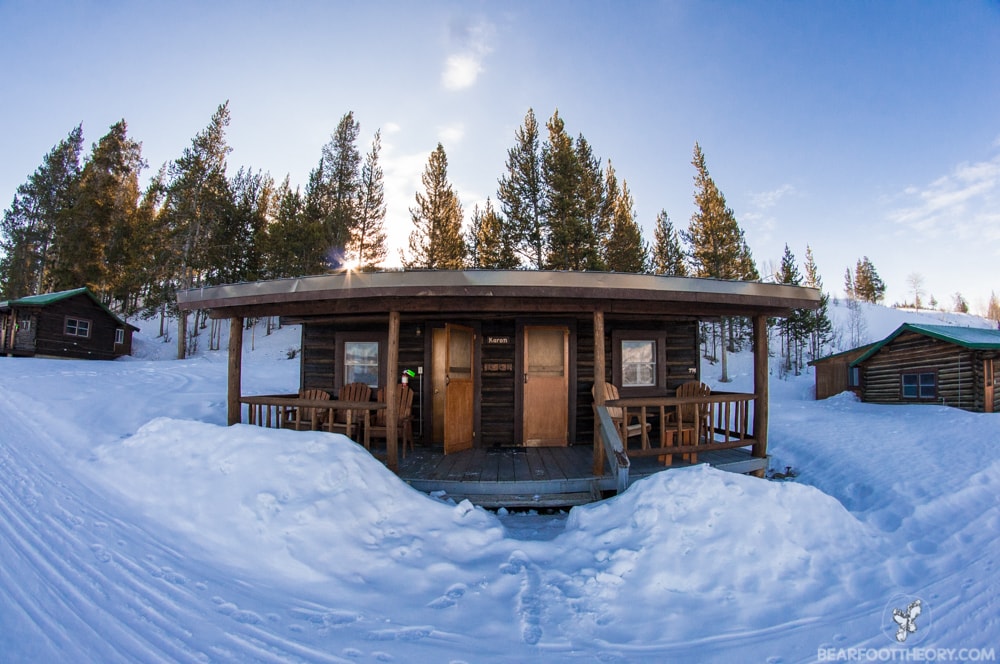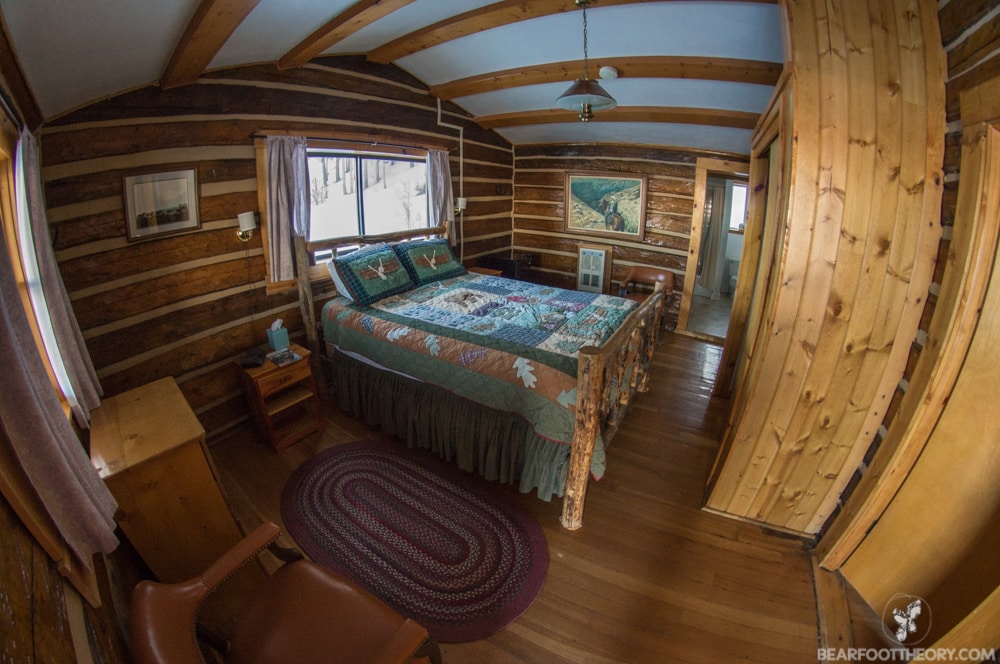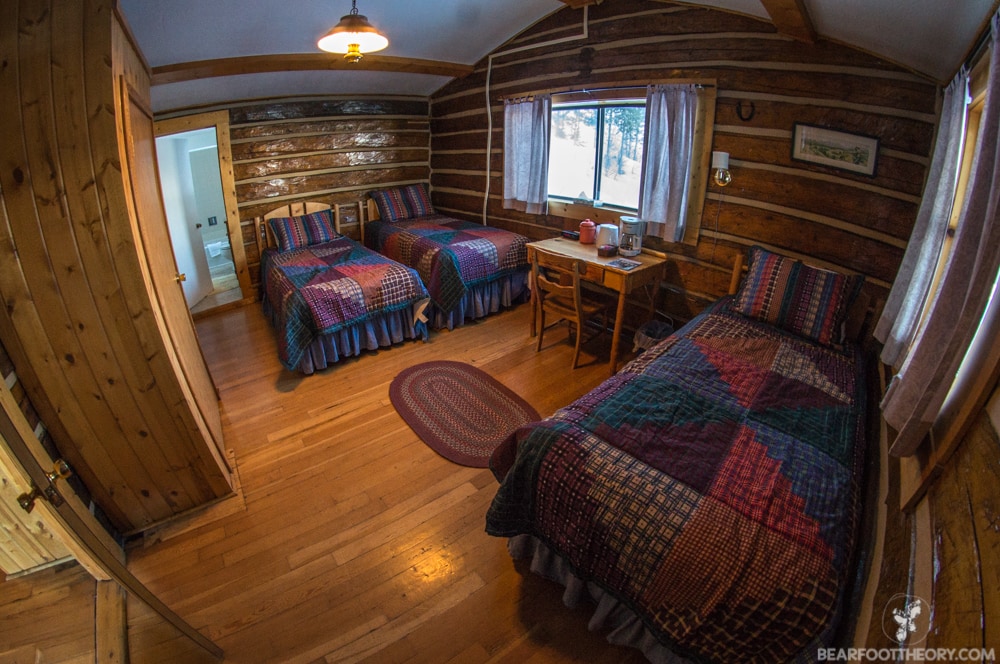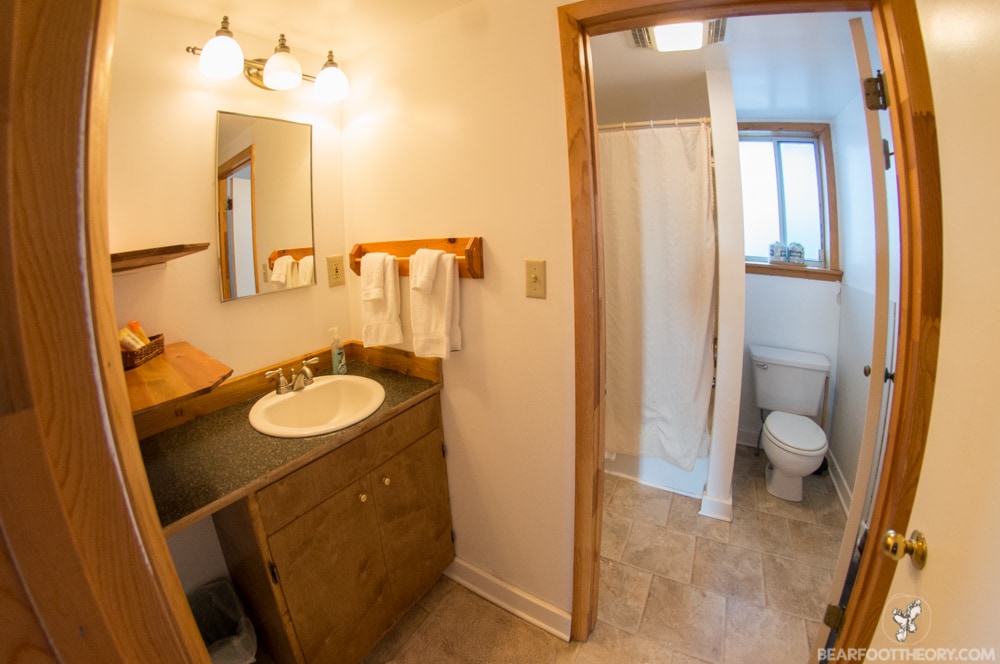 The Service and Dining
Unlike summer when the Triangle X Ranch is at capacity and fully staffed, during my stay, there was only one couple and a small Sierra Club group staying at the Ranch. There were just a few staff running the place, but they were attentive, friendly, and welcoming. At the same time, things felt casual, which I appreciated. We were told to help ourselves to coffee, tea, and snacks, and if there was ever anything we needed, we were asked to give the staff a shout. Staff also provided tips about cool places to check out near the Ranch.
As for food, three meals were included in the price each day. At breakfast, there was a full menu that included omelets, french toast, fresh fruit, oatmeal, a breakfast sandwich, and more, plus all the coffee and OJ you could drink. At dinner time, there was both soup and salad available as an appetizer and then the choice of three entrées. Main courses included things like prime rib, pork tenderloin, seafood cakes, and salmon, followed by desert. Overall, I was pleased with the food. The portions were hearty, and everything was tasty. They also had beer and wine available for purchase at a reasonable price.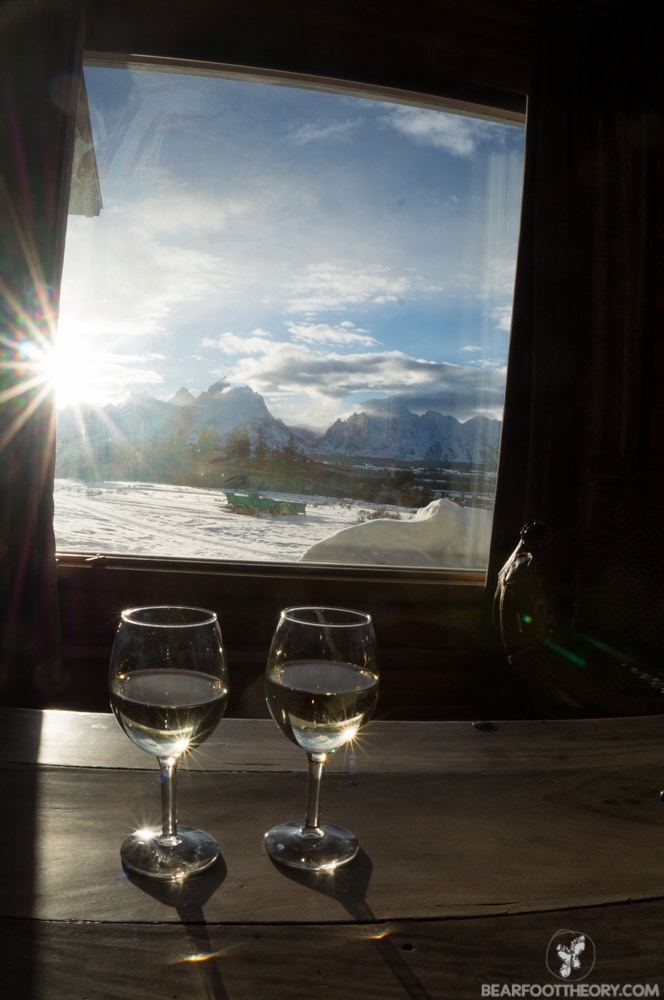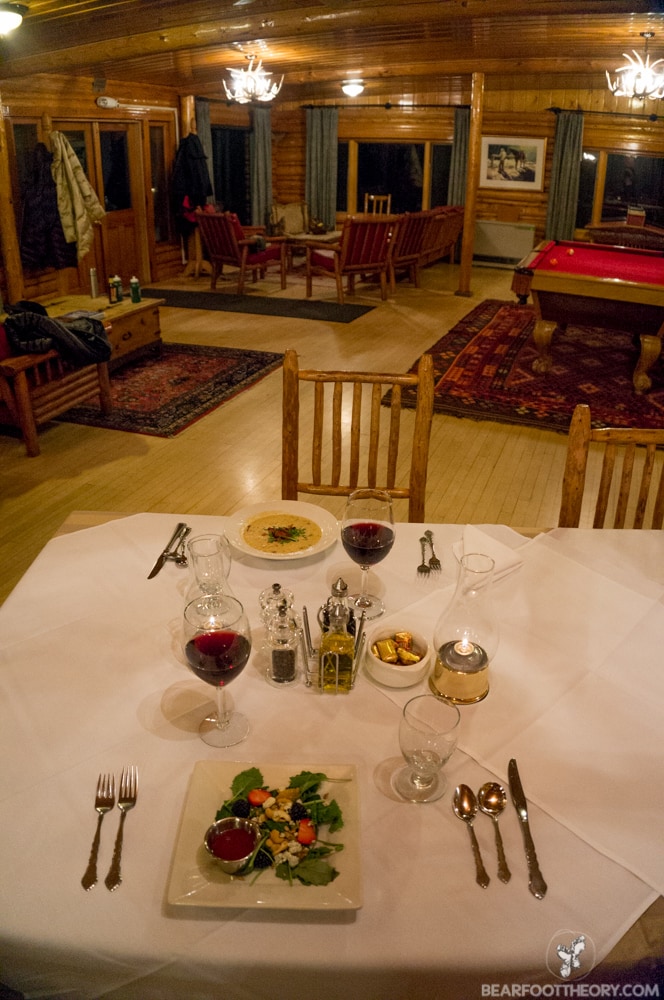 Another thing that I really liked is that you can order a brown bag lunch if you are going to be out and about during lunchtime. All you have to do is request a to-go lunch the night before. My lunch included a huge italian-style sandwich, an apple, trail mix, a snickers bar, and a few other snacks – more than enough to keep you sustained on a very active day.
Activities near the Ranch
The Tack Room at Triangle X Ranch has a full selection of decent cross country ski and snowshoe equipment, and rentals are included in the price. There was no one staffing the shop, so I was allowed to go in and just pick out the gear I needed. There was no paperwork or formal check out process. Since I wasn't sure if I was going to cross country ski or snowshoe, I just took both when I went out for the day.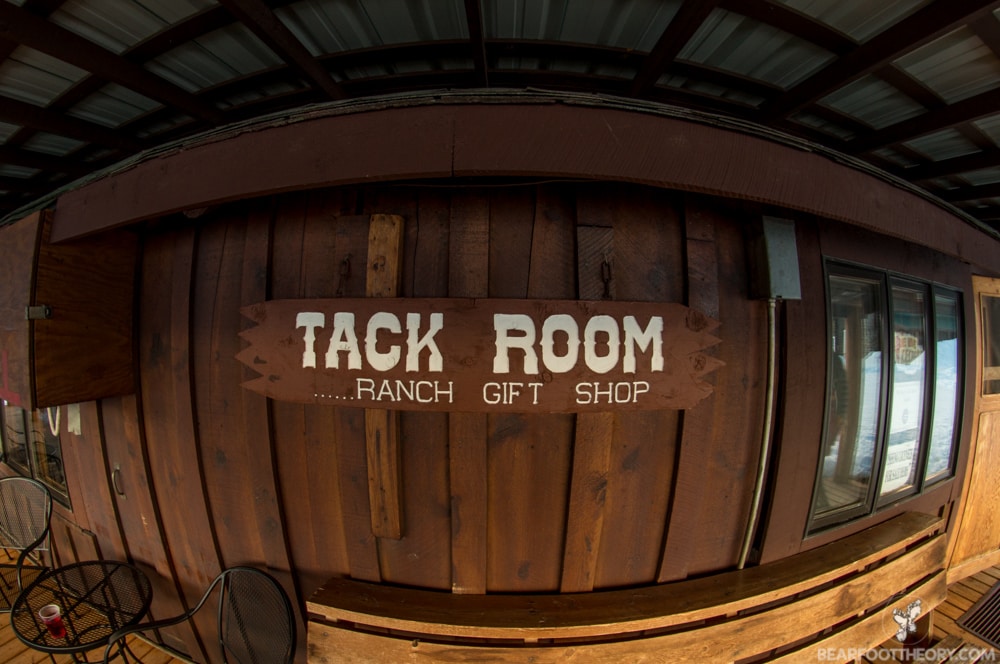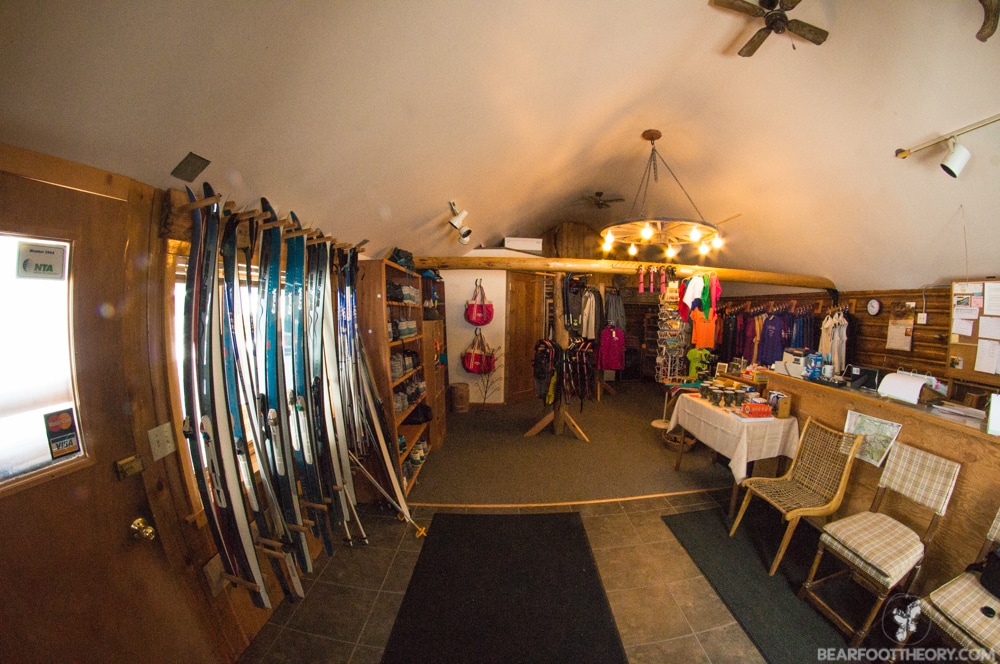 Being directly across the road from the Snake River and Teton National Park, skiing to Jenny Lake is a popular activity. The Ranch also is within close proximity to some of the best snowmobiling in the country up near Togwotee Pass.
For those who want to just stay around the Ranch, there was plenty to do including a 5 mile snowshoeing trail that leaves directly from Triangle X Ranch. On the deck outside, there was also large hot tub that was open 24 hours a day. My late night soak under stars was a highlight of my stay. I also got to experience some of Wyoming's wildlife from the porch of the lodge. Right around sunset on my first night, 3 huge moose came strolling through. Apparently they are common visitors and live up on the hill right behind the Ranch.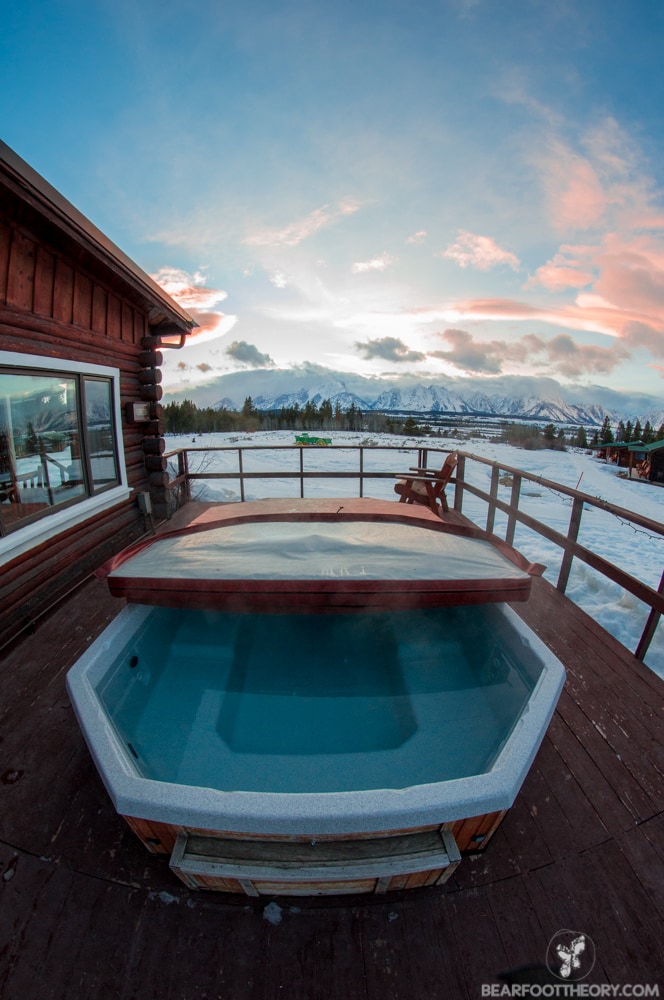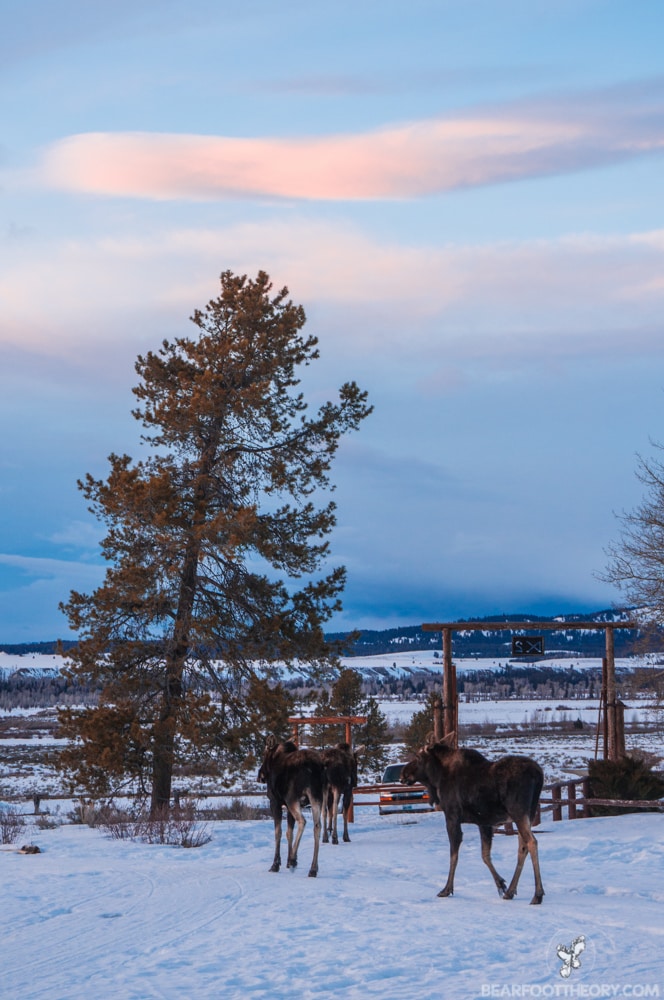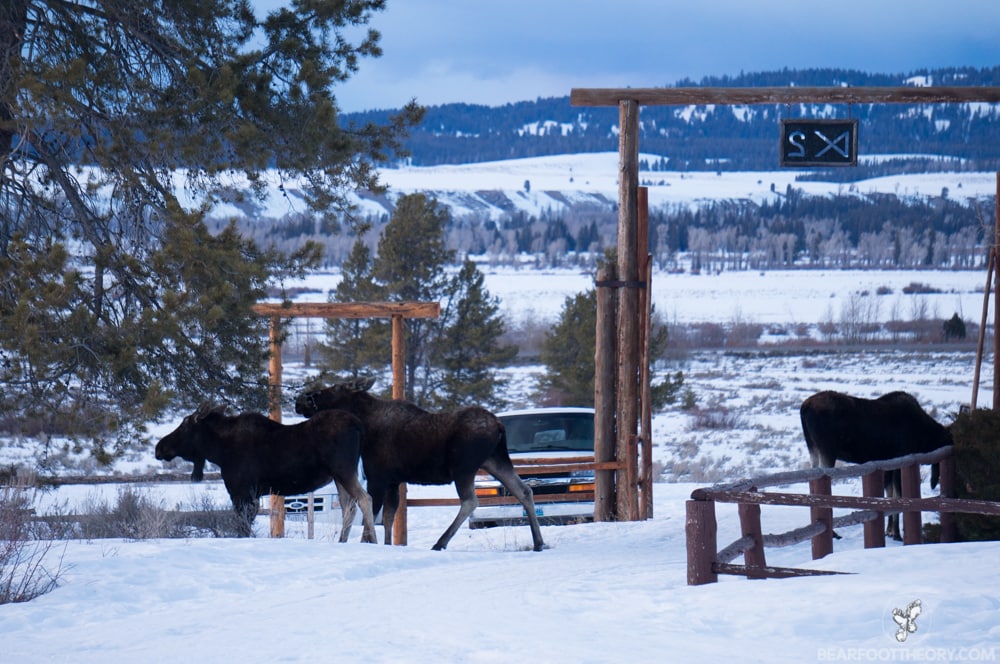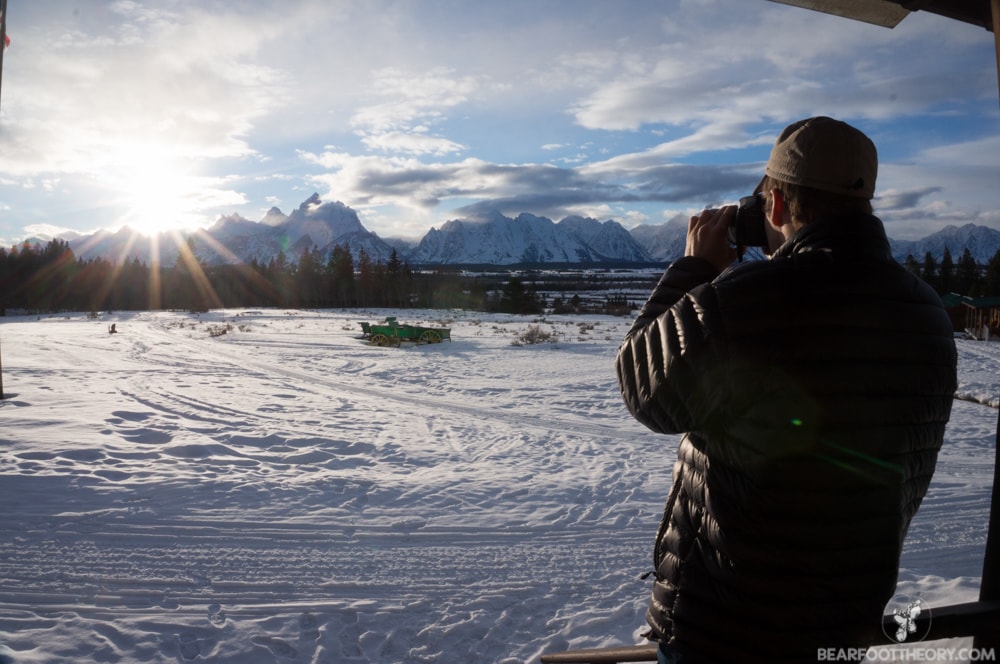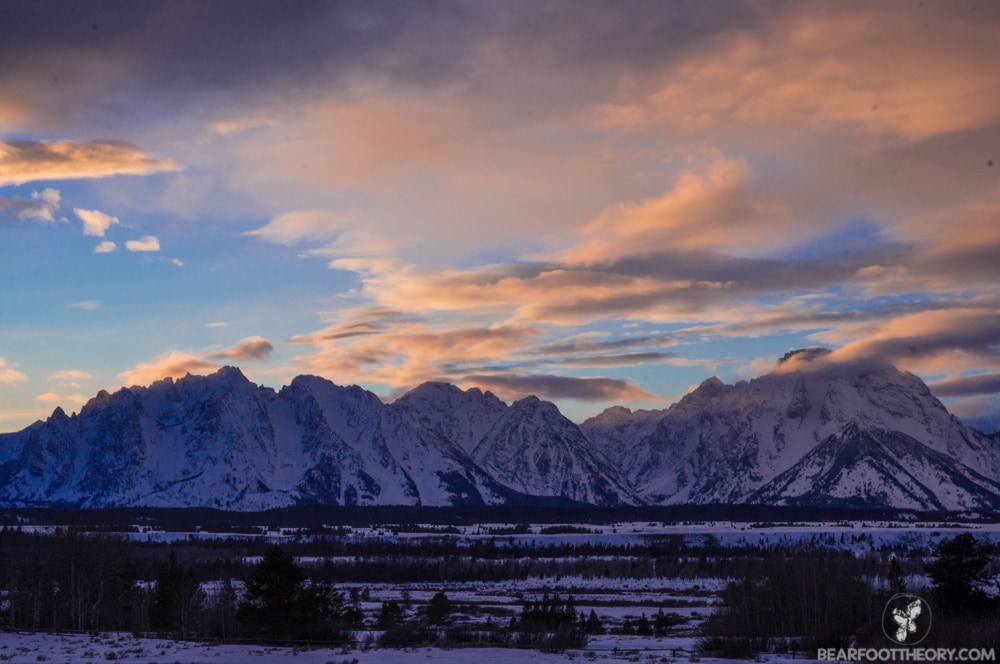 More information
If you are looking for convenient, comfortable, and unique accommodations in the Jackson area, Triangle X Ranch is perfect for a nature escape or even a romantic getaway. Winter is also a great time to visit Triangle X Ranch. Crowds are thin, and the prices at Triangle X Ranch in the winter are significantly less than summer when their horseback riding and family programs are in full swing. The winter season at the Ranch runs through Mid-March.
Website: Triangle X Ranch
Location: 2 Triangle X Ranch Rd, Moose, Wyoming 83012
Winter Price: $140 per person per night, including all meals and non-motorized activities
For Reservations: Call 307-733-2183
Would you like to stay at a dude ranch?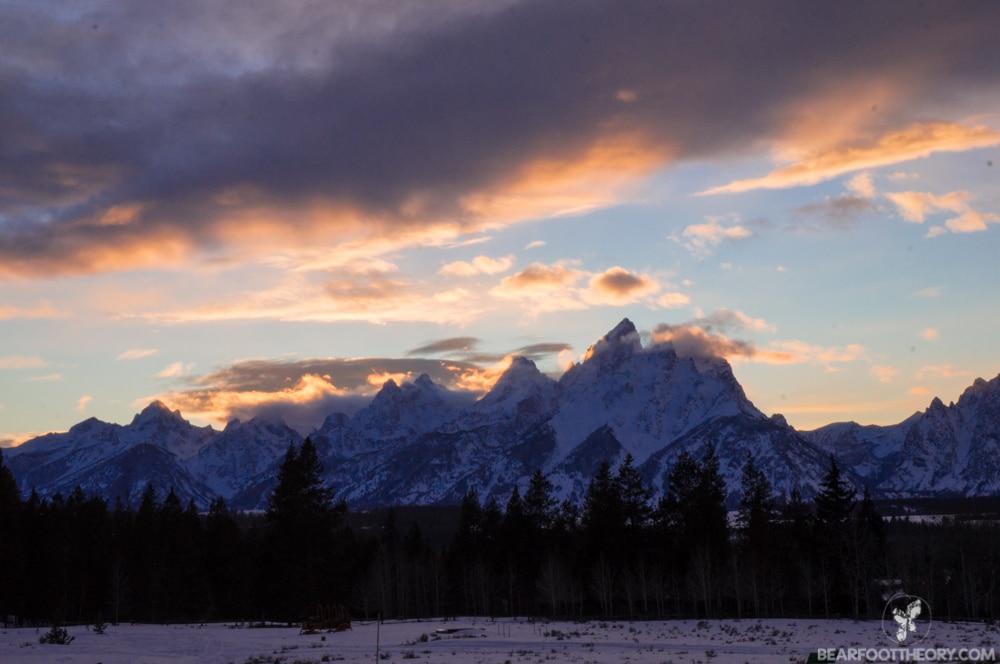 A special thanks to Triangle X Ranch for hosting me as their guest. As always, the content and opinions expressed here are entirely my own.