Togwotee Mountain Lodge: Snowmobiling through Wyoming's Backcountry
Snowmobiling with the Togwotee Mountain Lodge Snowmobiling is one of the best ways to explore Wyoming's beautiful backcountry, so when I planning my…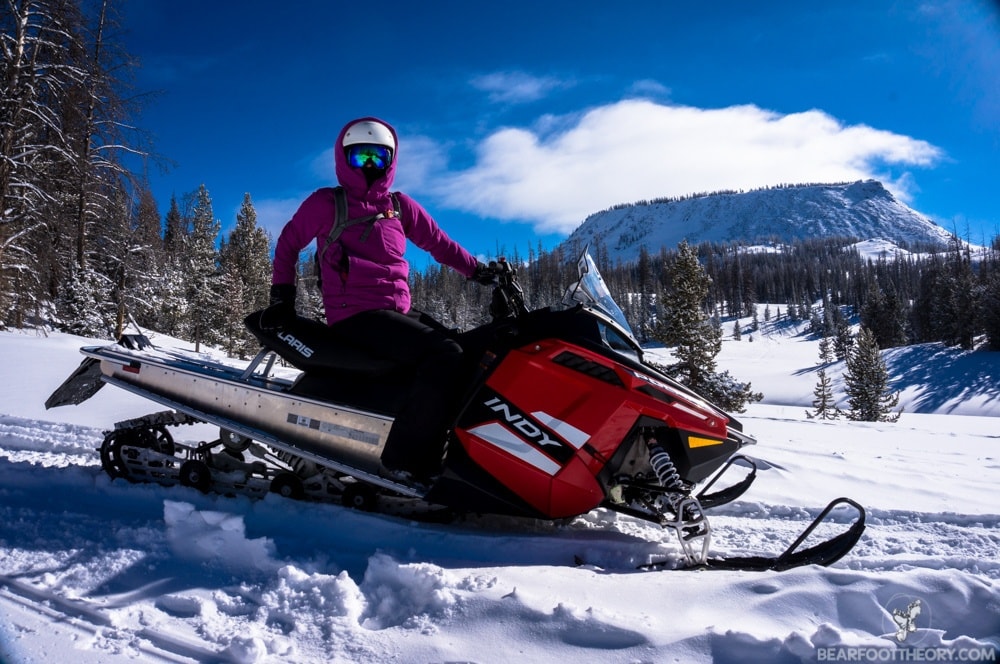 Snowmobiling with the Togwotee Mountain Lodge
Snowmobiling is one of the best ways to explore Wyoming's beautiful backcountry, so when I planning my trip to Jackson, snowmobiling was at the top of my list.
As I started researching companies in Jackson, I quickly got overwhelmed by my options. I knew that I preferred to go off on my own, rather than be part of a guided tour, but I wasn't sure how we would get the sleds from the rental shop to the trailhead. While some of the rental shops in town did provide transportation and trailer rentals, it kinda seemed like a hassle.
Then I came across Togwotee Mountain Lodge, a snowmobile lodge and rental shop located 30 minutes from the Triangle X Ranch, the dude ranch north of Jackson where we would be staying. Near the Bridger-Teton National Forest, the Togwotee Mountain Lodge sits right at the top of the Continental Divide Trail System. This expansive trail network offers over 600 miles of groomed snowmobile trails and vast fields of fresh powder. By renting there, it meant that we could drive our snowmobiles directly from the shop onto the trails and have endless territory to explore without the need of a guide. Done!
[separator style_type="icon" /]
The Togwotee Mountain Lodge Rental Shop
We arrived at the Togwotee Mountain Lodge around 10am, and upon arrival it was apparent that this place was a snowmobiler's mecca. The parking lot was packed with trailers and professional-looking snowmobile riders all decked out in hardcore gear.
We went into the shop to get set up with our sleds and helmets. If you forget something, Togwotee Mountain Lodge also rents things like face masks, jackets, and gloves – basically all the essentials to ensure that you stay warm out on the trail.  Then we headed outside and the shop staff gave us a thorough run down of how to work the machines, including the hand warmers which you will likely have cranking the whole day.
Choosing a Sled
When I made my reservation, I wasn't sure which type of sled would be most appropriate. I had driven a snowmobile once before and was comfortable on groomed runs. I thought it might be fun to explore a little powder, but I knew I wouldn't be doing anything too crazy. If this sounds like you, the basic snowmobile they rent is the 2014-2015 Polaris 550 Shift and should be more than adequate. If you are looking to get into some deeper powder, they have a wide variety of more advanced sleds to choose from. Either way, you should discuss your experience with the staff at Togwotee Mountain Lodge before deciding on a machine.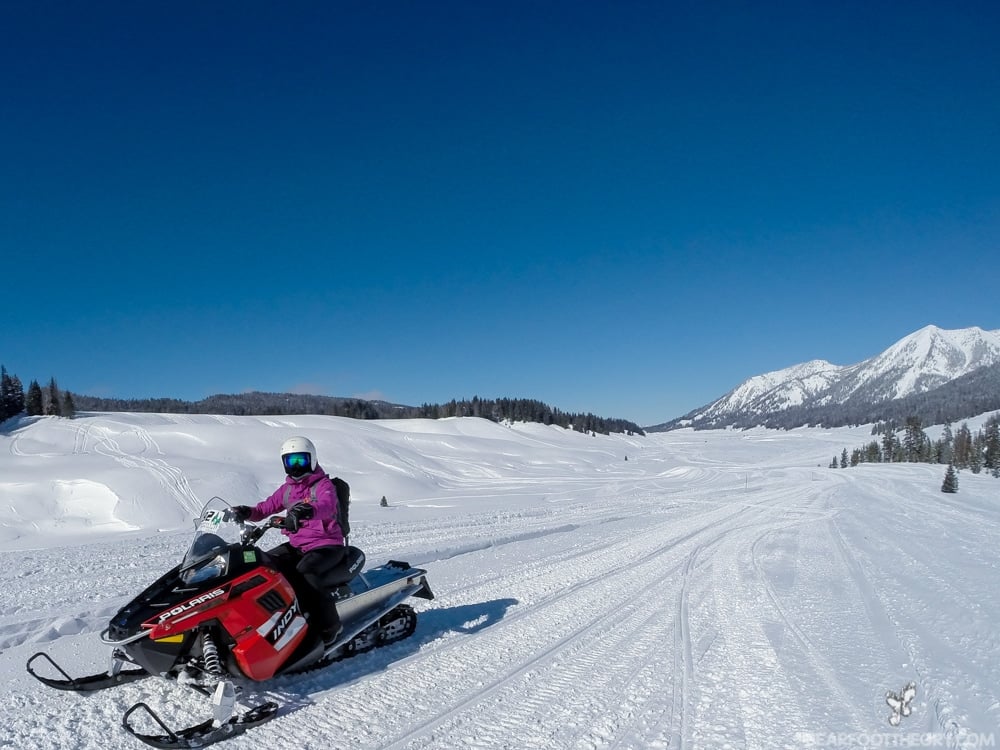 The Trails
Before heading out, we discussed potential routes with the guys in the shop. They were friendly and full of information about the trails. I had heard good things about the ride up to Brooks Lake Lodge, an old ranch in the Shoshone Forest where we could grab lunch. The shop staff told us the ride to the lodge was about 20 miles and would take about an hour of constant riding. We decided to take the CD trail and then the X trail on the way to the lodge. Then in the afternoon, we would make a big loop, taking a different trail home.
Once we set off, it was clear we were in for a cold, but fabulous day. The first few miles of trail hugged the highway, but as soon as we turned off, the terrain varied from wide open powder meadows backed by the Rocky Mountains to thick evergreen forests covered in pillowy blankets of snow.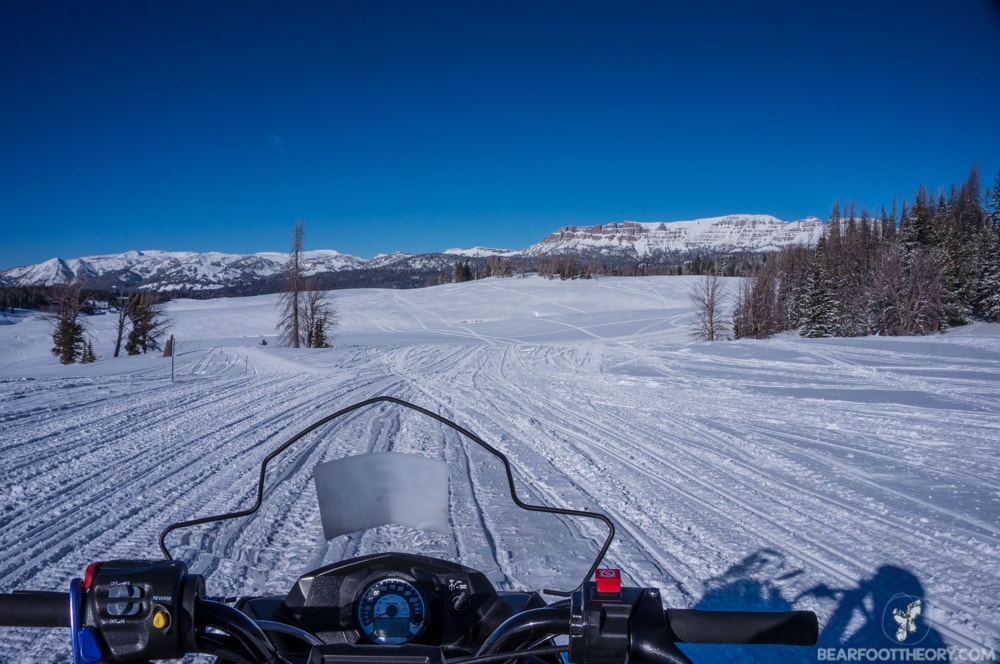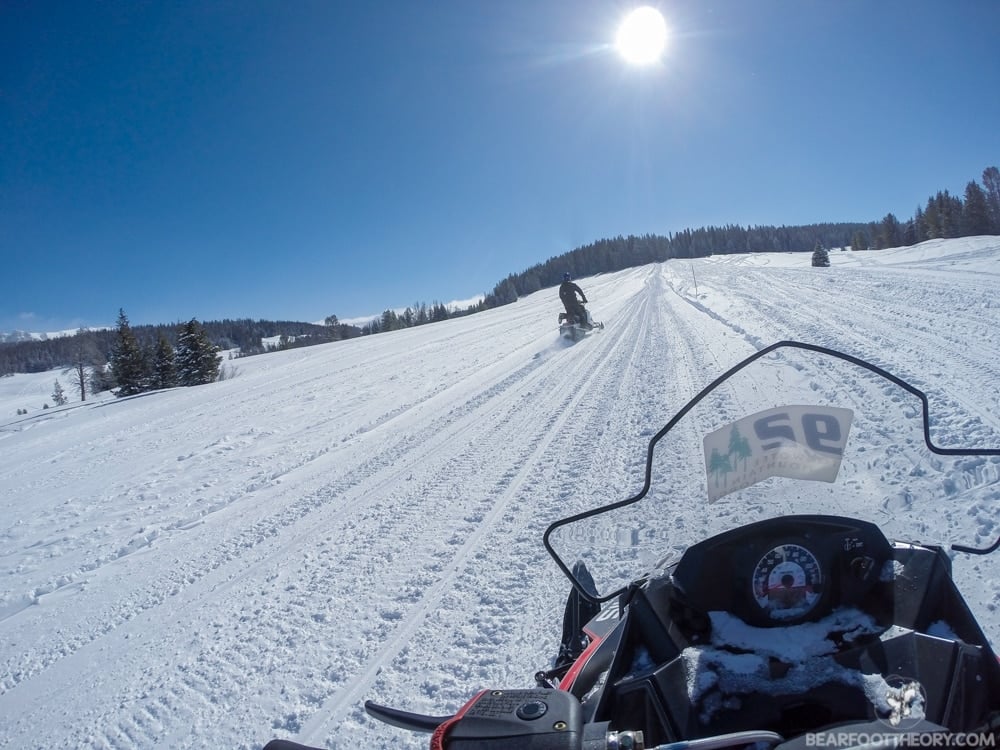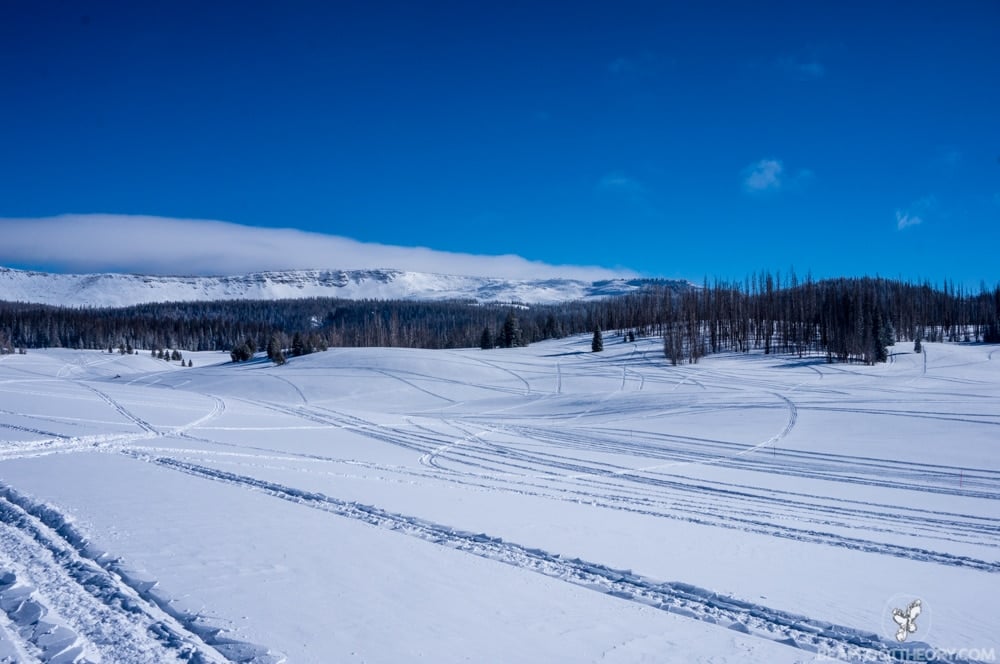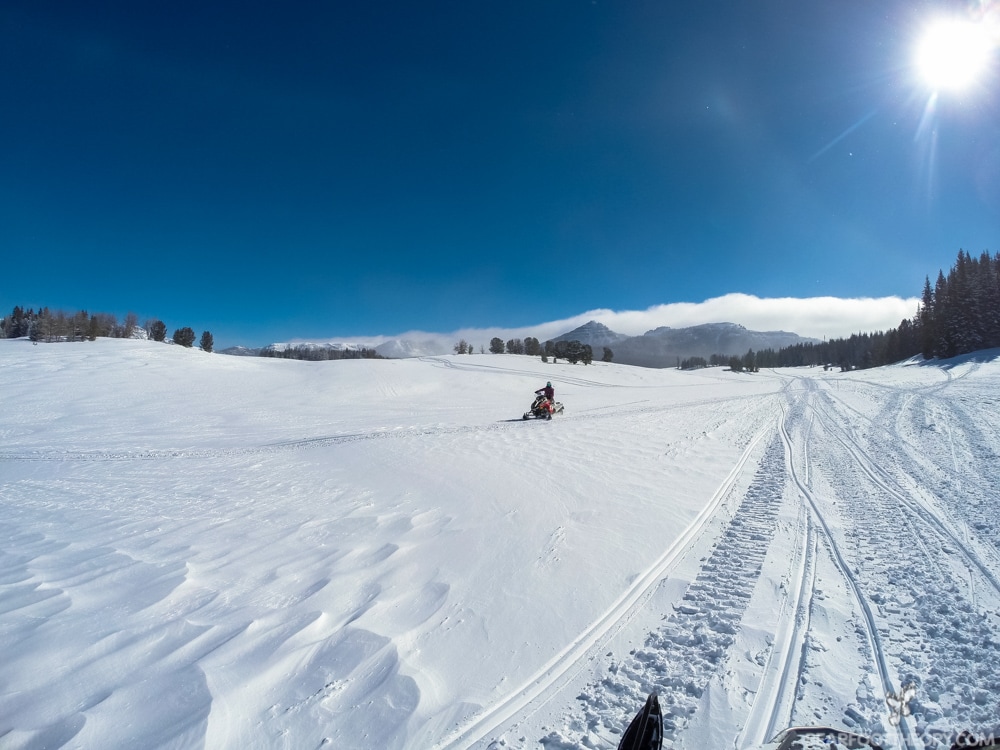 Given the number of cars in the parking lot at Togwotee Mountain Lodge, I figured there would be quite a few other snowmobilers out on the trail. However, we were surprised to find that our encounters with other riders were pretty infrequent. Still it's always good to be cautious around those tight bends.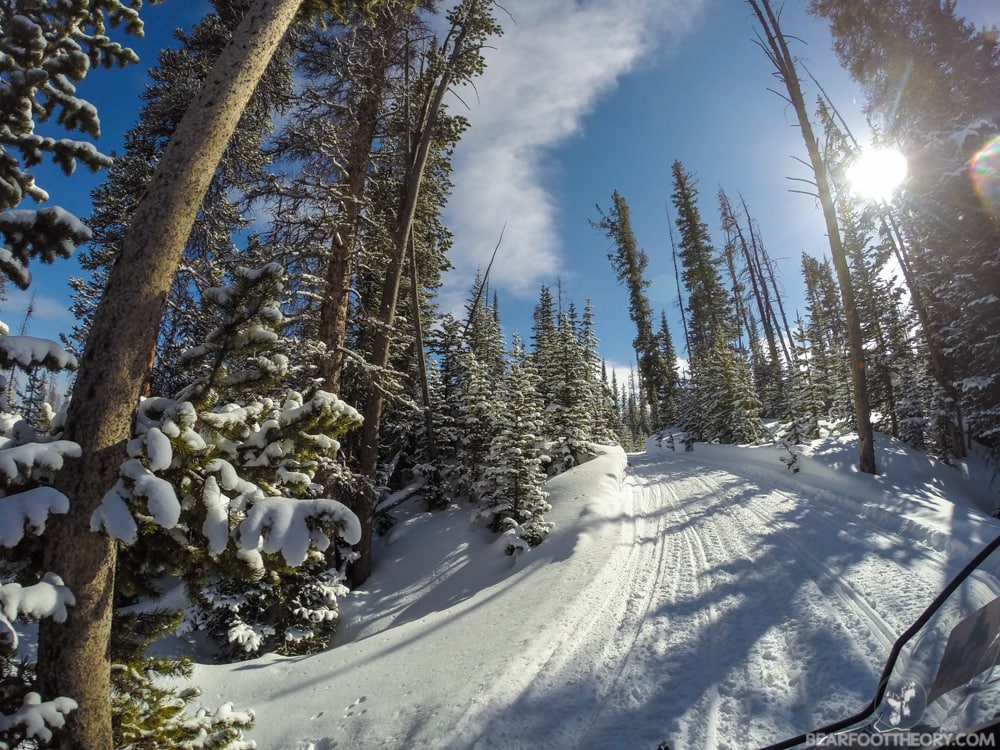 When we made it to the lodge an hour or so later, we were more than ready for a break. With the wind chill, it was pretty cold, and we were hoping that after lunch, things would warm up a bit.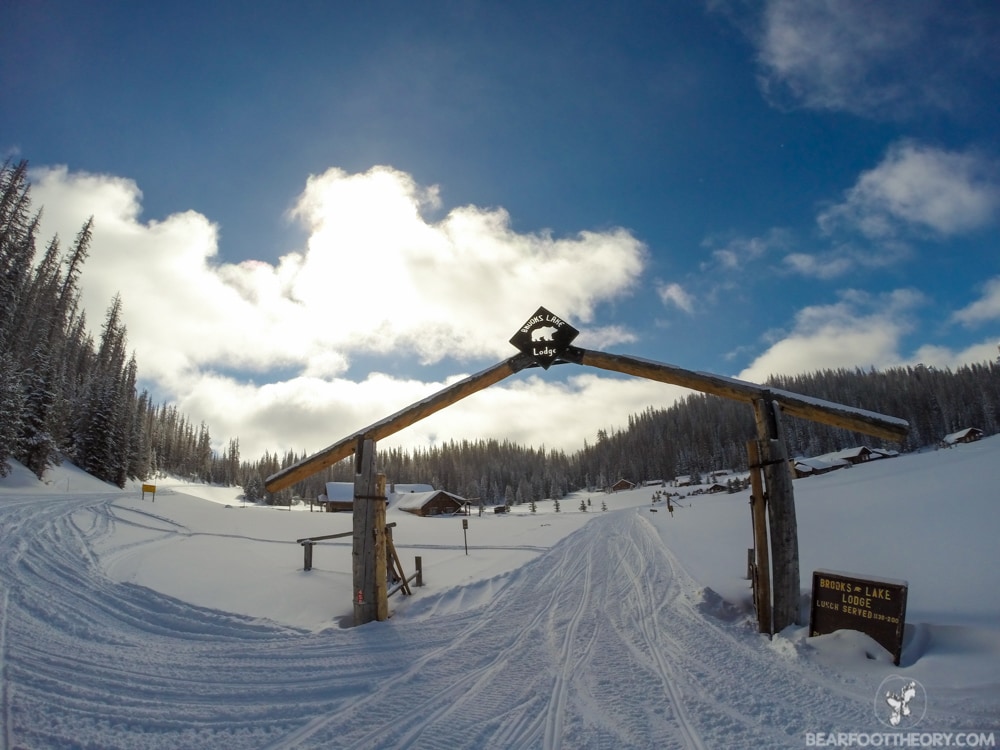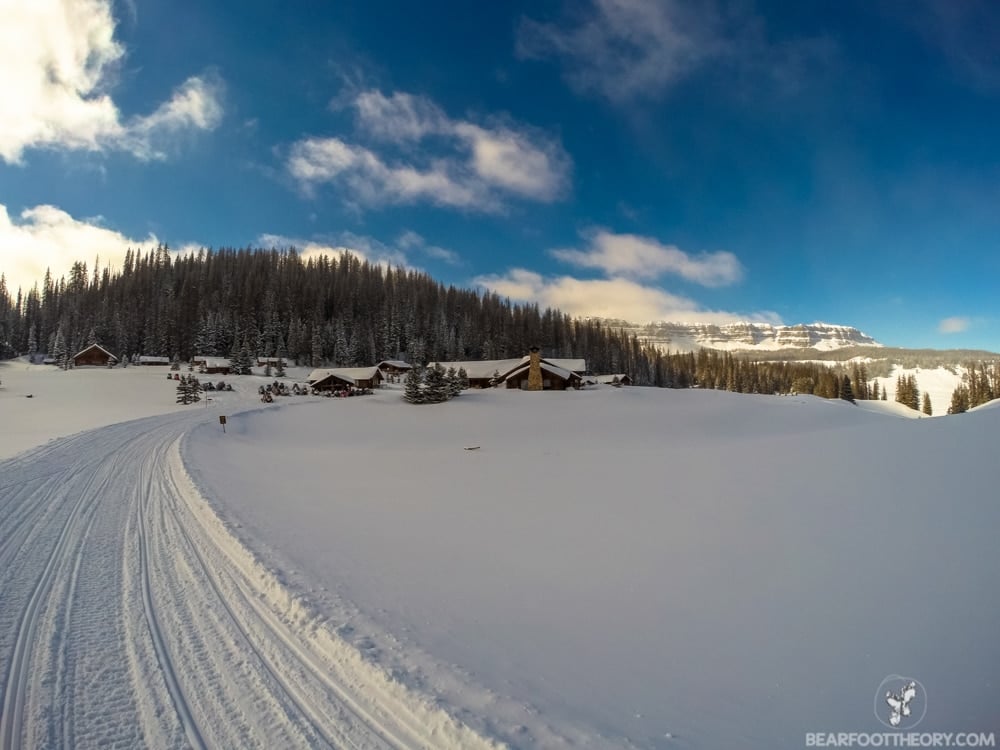 The Brooks Lake Lodge was a perfect pitstop. As soon as we got inside, I ordered a hot apple cider from the bar and set up shop next to the large fireplace, while other riders started to stroll in for lunch behind us. We didn't realize but the dining room was filling up, and by the time we were ready to grab some grub, there was actually a wait. It was no big deal since we were enjoying the cozy atmosphere, but for those who want to make the most of their day out on the trail should keep that in mind. Also, the food at Brooks Lake Lodge was a bit expensive (think $15-20 for sandwiches and burgers), but we left with warm, happy bellies, so we had no complaints.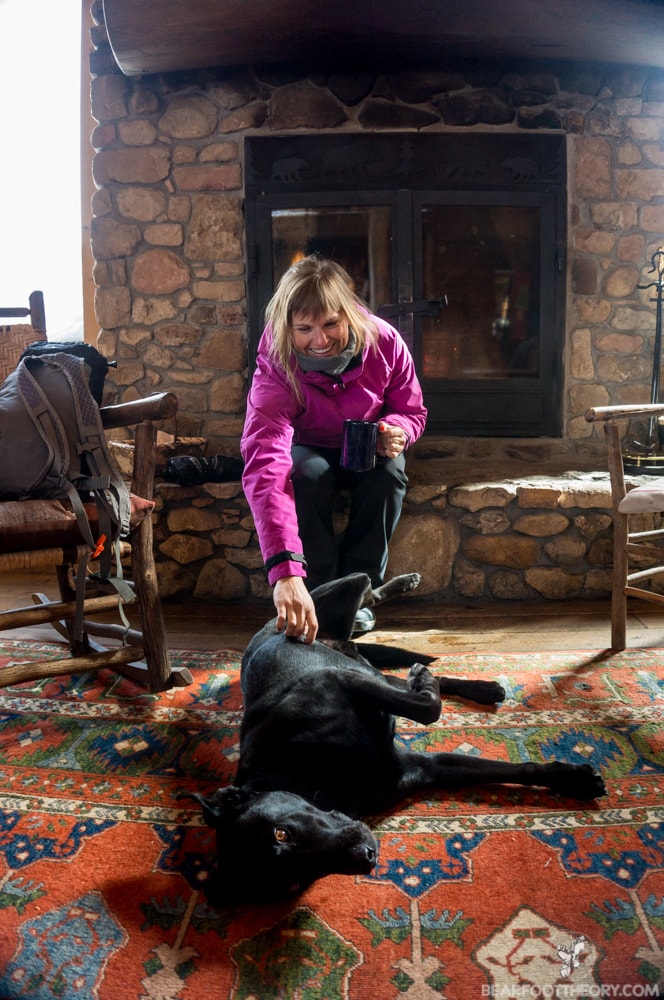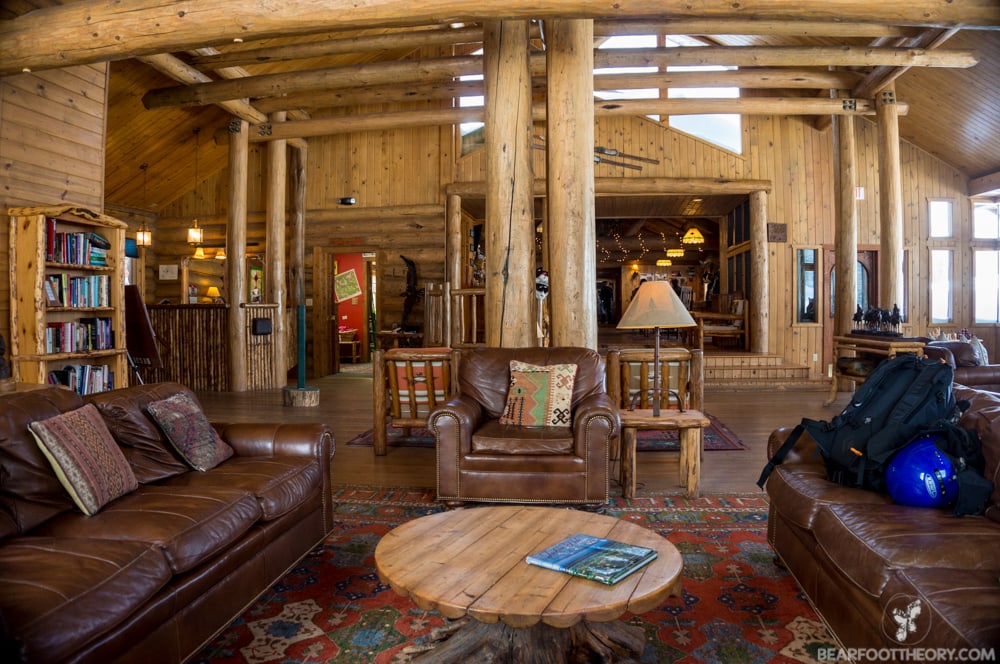 After lunch we donned all of our layers, and when we got outside the sun was out. With the increase in temperature, we were ready to tear it up. We took out our map and decided to continue down the X trail and then make a big loop back utilizing the XA to V to CD trail. One thing that was really great about the Continental Divide Trail System was that the trails were really well marked. At every single junction there was a map indicating our location, so navigating was very easy. The only way you might get off track is if you are off in the deep powder and you don't notice the trail junctions.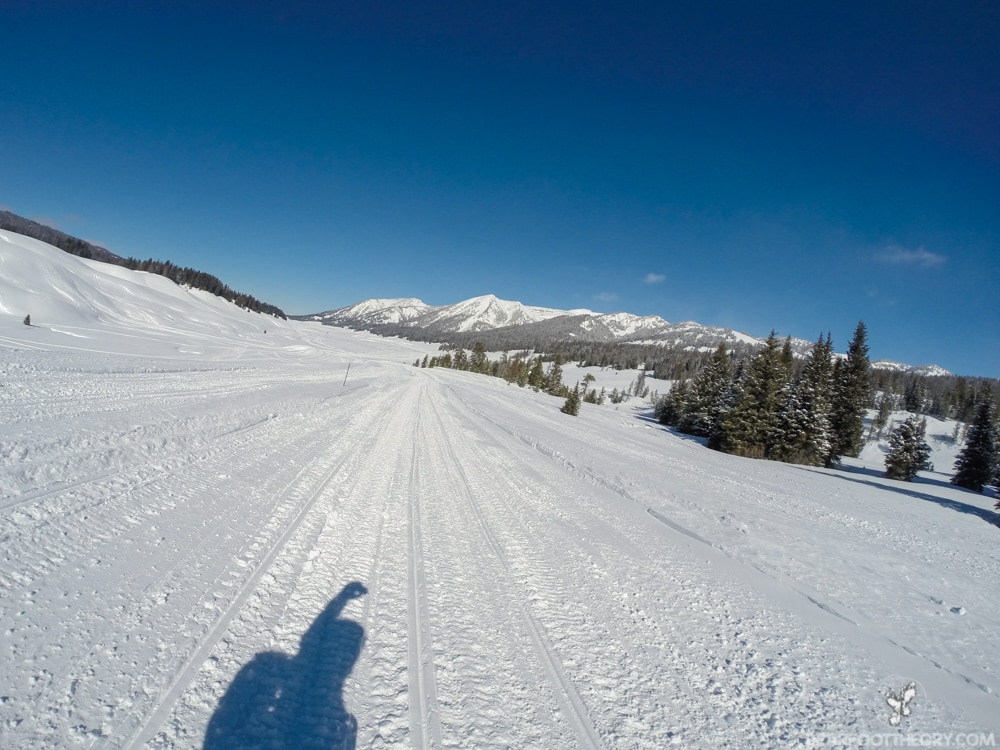 On the way back, we got even further away from the road, and at some points the trail felt very remote. At one point my friend even spotted a moose drinking from a river…unfortunately I was ahead having too much fun on the throttle, and I missed it.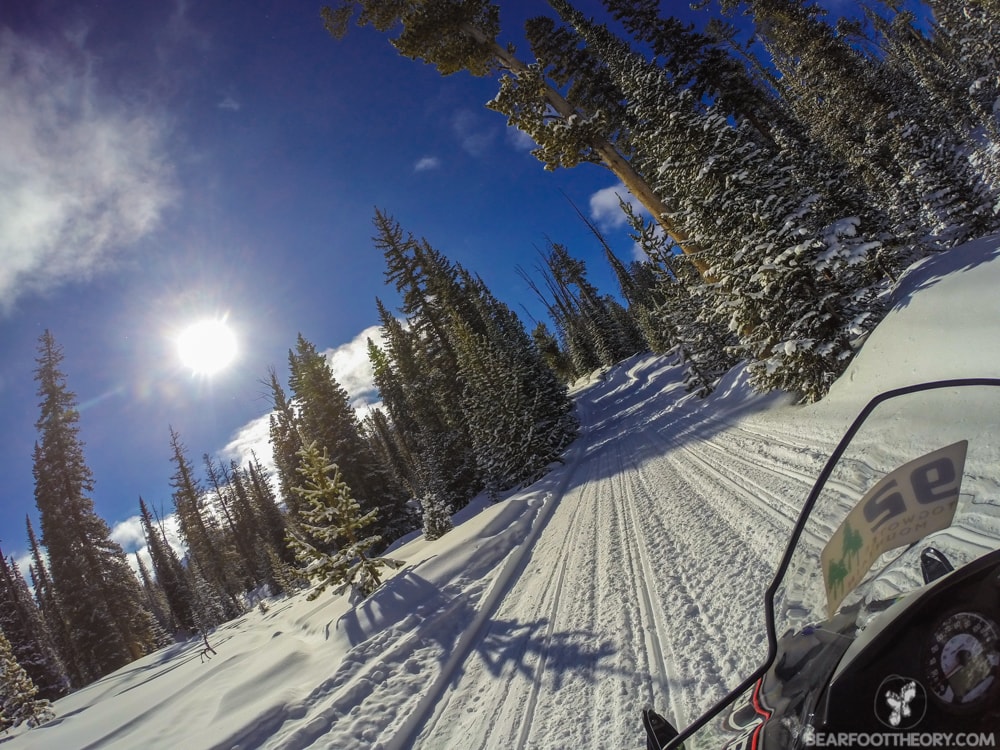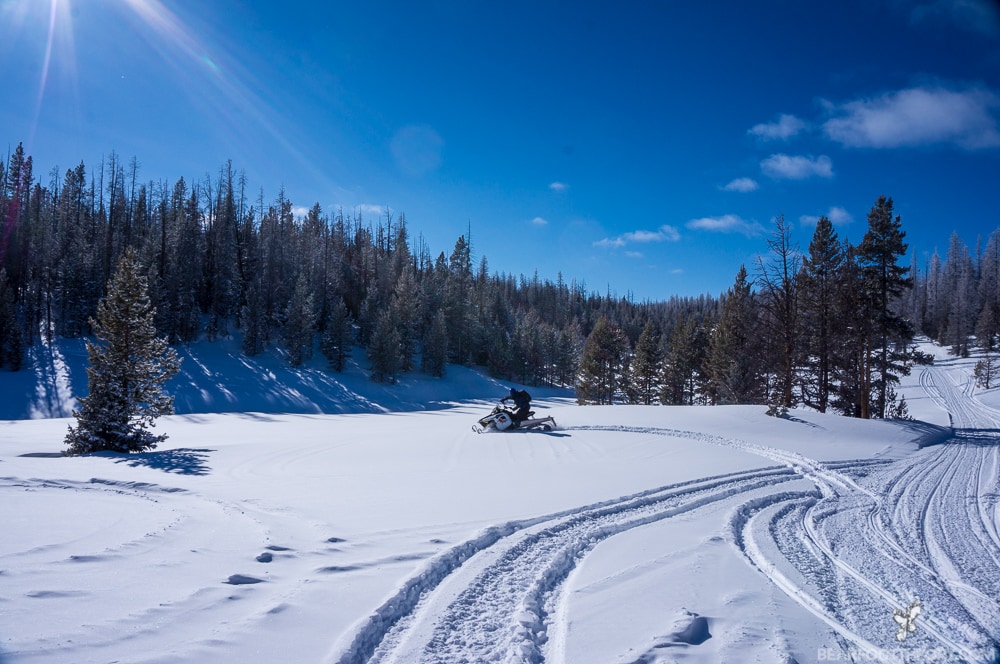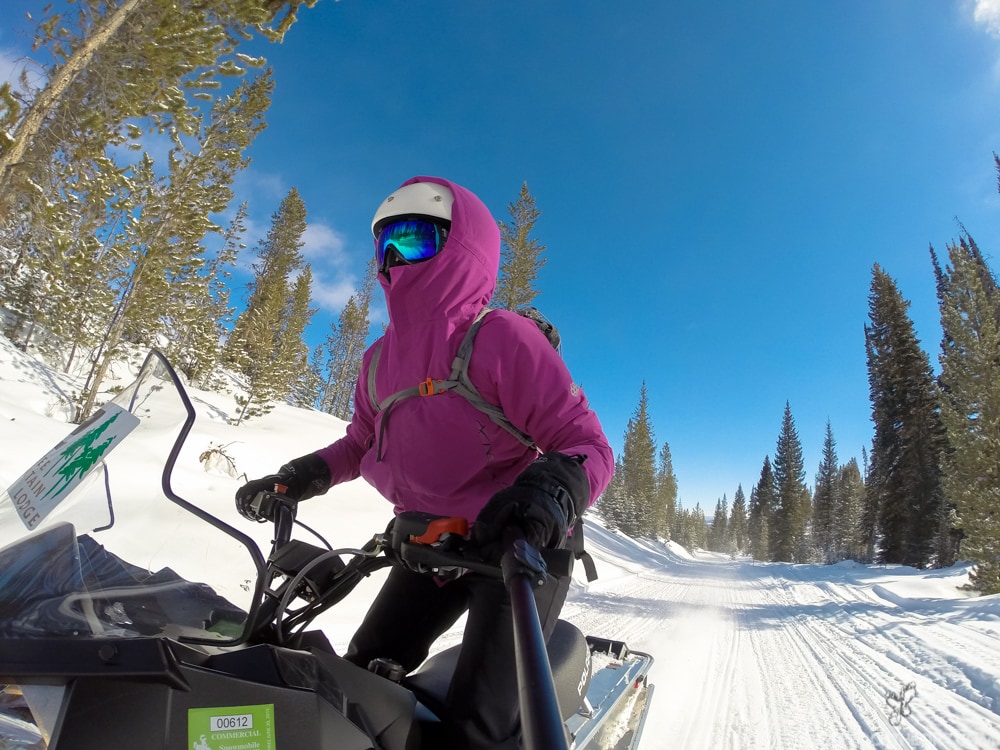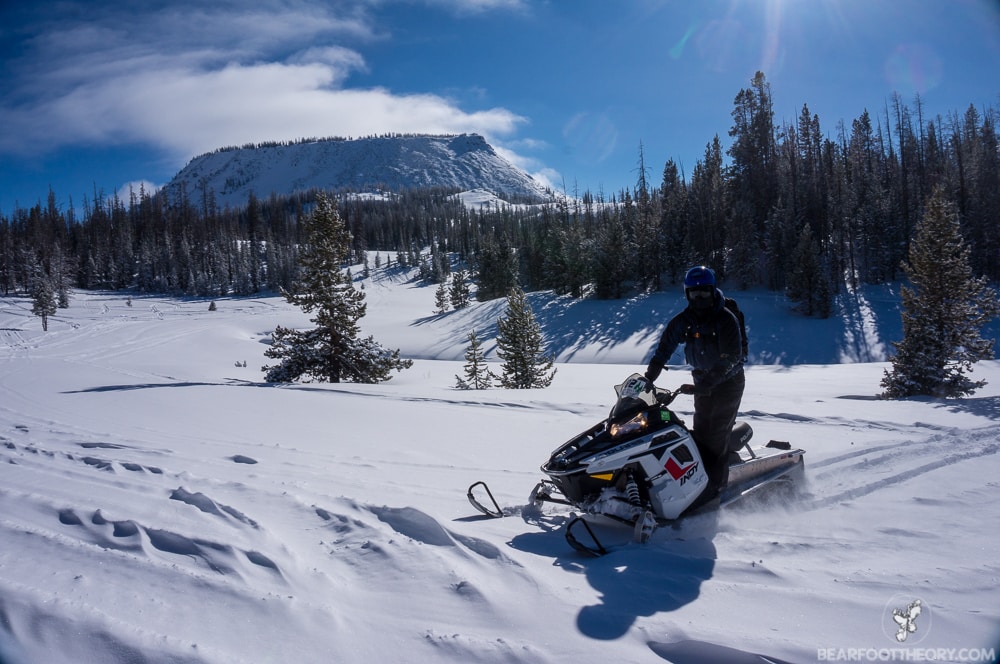 Towards the end of the day, as we got closer to Togwotee Mountain Lodge, we noticed parts of the trail were developing deep ruts. The last thirty minutes of riding were rough and required a lot of standing, but luckily the rest of the groomed trails we rode that day were pretty smooth.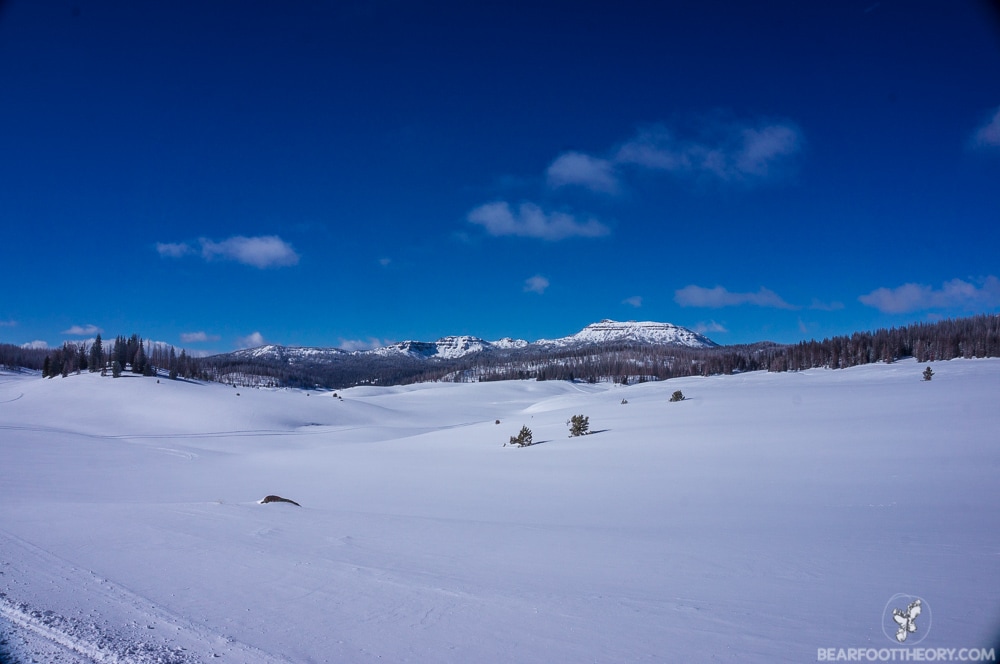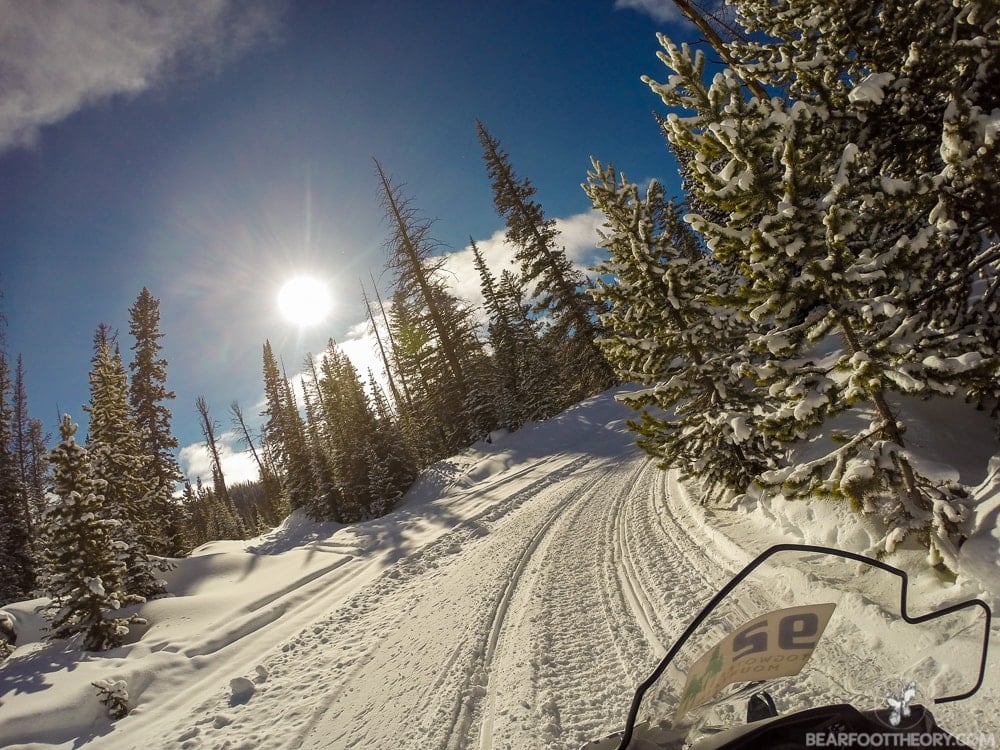 More details
While there are other popular snowmobiling destinations in Jackson including Granite Hot Springs and Gros Venture, I was very happy with our decision to head up to Togwotee. Given snow pack all across the West has been light this year, Jackson proper was looking pretty dry. Togwotee, on the other hand, is about 2000 feet higher in elevation, and there was plenty of fluffy stuff to have fun in.
If you are headed up to the Jackson area, I'd highly recommend Togwotee Mountain Lodge as the base for your snowmobiling adventures. They offer both rentals and guided tours and can cater to all experience levels. Thanks to the well-marked trail system, even beginners can feel confident going off on their own. There are plenty of groomed trails to keep you riding all day, and once you have a handle on your machine, you can experiment a bit in the flat powder fields.
If you are looking for nearby winter lodging, absolutely check out the Triangle X Ranch which is open until Mid-March. This authentic, cozy cowboy ranch is about 30 minutes south and offers some of the best views of the Tetons right from your doorstep.
If you want to snowmobile multiple days or are visiting later in the season, Togwotee Mountain Lodge also has a range of accommodations, as well as a restaurant and saloon on site. I didn't stay here so I can't comment on the value or quality, but rooms get consistently good reviews on Trip Advisor.
Things to know:
Full day rentals run from 8:30am to 4:30pm
Cost: A full day rental is $199+ depending on your machine. Half days are $144+. Insurance runs $25+, and rental clothing is extra.
Be sure to wear lots of layers and bring more than you think you will need. Ski or motorcycle goggles are also recommended to protect your eyes from the wind.
Contact Info:
Would you like to try snowmobiling?