10 TRAVEL TIPS FOR FLYING LIKE A BOSS
Long TSA lines, unhealthy and overpriced food, running late, and dealing with checked luggage are just a few things that can cause stress when you are flying.  Anyone who's had a bad flight knows that it can leave you feeling tired and disheveled at the beginning or end of a vacation, and that's never a good way to start.
Whether you are flying home for the holidays or halfway across the world for an epic adventure, being prepared and organized are key to a good flight.  In this blog post, I share 10 travel tips for flying that will help you move smoothly through the airport, stay comfortable on your flight, and get you to your destination in one happy piece.
Pack Healthy Snacks
Almonds, apple slices, dried fruit, carrot sticks, and protein bars are great for holding you over when flying. If you pack snacks, you're less likely to splurge on airport food that is often unhealthy and overpriced, plus you won't arrive at your destination starving. Check out some of our favorite lightweight backpacking snacks that are easy to throw in your carry-on for when you are feeling hangry mid-flight.
Bring a Sleeping Kit
Landing at your destination well rested will help set your trip off to a great start. Whether you're stuck in a middle seat, leaning against the cold hard window, or winging it on the aisle, bringing a few small items with you will make your flight much more comfortable. Invest in a comfy travel pillow or better yet, use a backpacking pillow for flying. While you're at it, carry an eye mask and earplugs too – both are small, easy to carry, and may come in handy, especially if you are changing time zones or end up sitting next to a screaming baby. If you forget earplugs, noise-canceling headphones work great to drown out surrounding noise as well.
Organize Your Daypack
Take time to organize your daypack, purse, or other carry-on BEFORE YOU LEAVE HOME, so you aren't scrambling at the airport and lugging around more than you need to. Have a special compartment for important documents, such as your boarding pass, ID, and reservation documents so you'll know exactly where to find them when you get to the front of the TSA line. Take time to stock up on flying essentials like a book, your favorite magazine, snacks, and your sleeping kit BEFORE getting to the airport.
Charge Up your Devices before your Flight
Make sure to have everything charged before heading to the airport. This may include your phone, laptop, camera, and any other electronics you travel with. You never know if you'll be able to find an open outlet or if security might take longer than usual leaving no time to charge up. You may even want to consider carrying a small backup battery for your phone or other devices you use heavily when traveling. I also always carry one of these wall chargers which allows you to charge up to 4 devices off of one outlet and comes with worldwide adapters for those of you traveling abroad.
Move on Your Layovers
Layovers are a great time to stretch, walk around, and do anything but sit to counteract all those hours on the plane. Be sure to locate your next gate and check to confirm your flight is on time before you take a stroll. You can keep an eye on your flight status on monitors located throughout the airport as you walk around. Believe it or not, some airports have indoor gardens, art displays, massage chairs, and even movie theaters. Explore the airport to get your steps in. Your body will thank you later.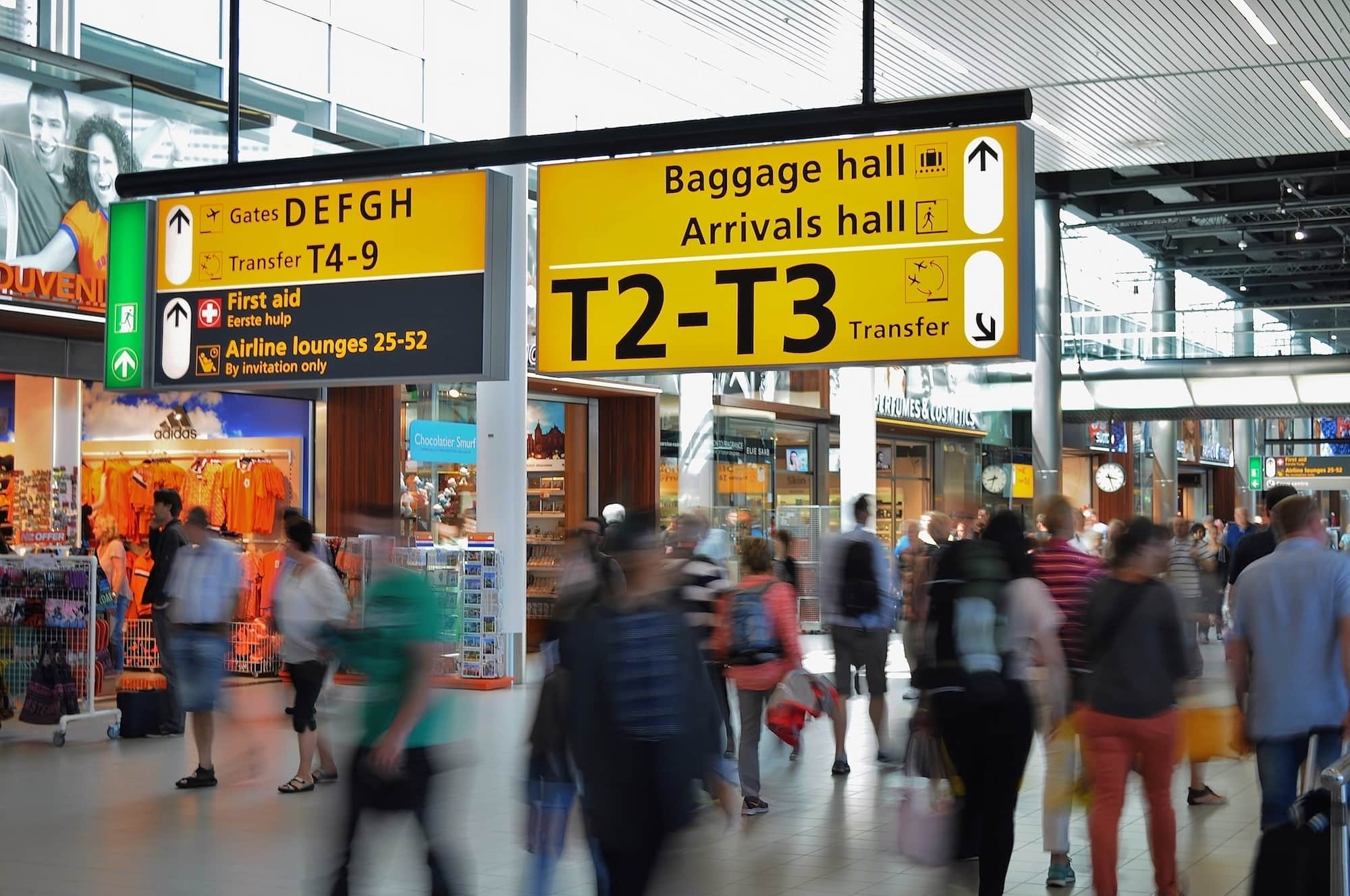 Pack a Reusable Water Bottle
You can't take water through the security checkpoint, but you can take an empty reusable water bottle. Most airports have water fill-up stations so you can fill a bottle post-security. Drinking lots of water is an important tip for flying because the added elevation and recycled air can result in dehydration. Having a refillable water bottle on your trip will likely come in handy too, and you'll save money by not having to purchase plastic water bottles every time you're thirsty.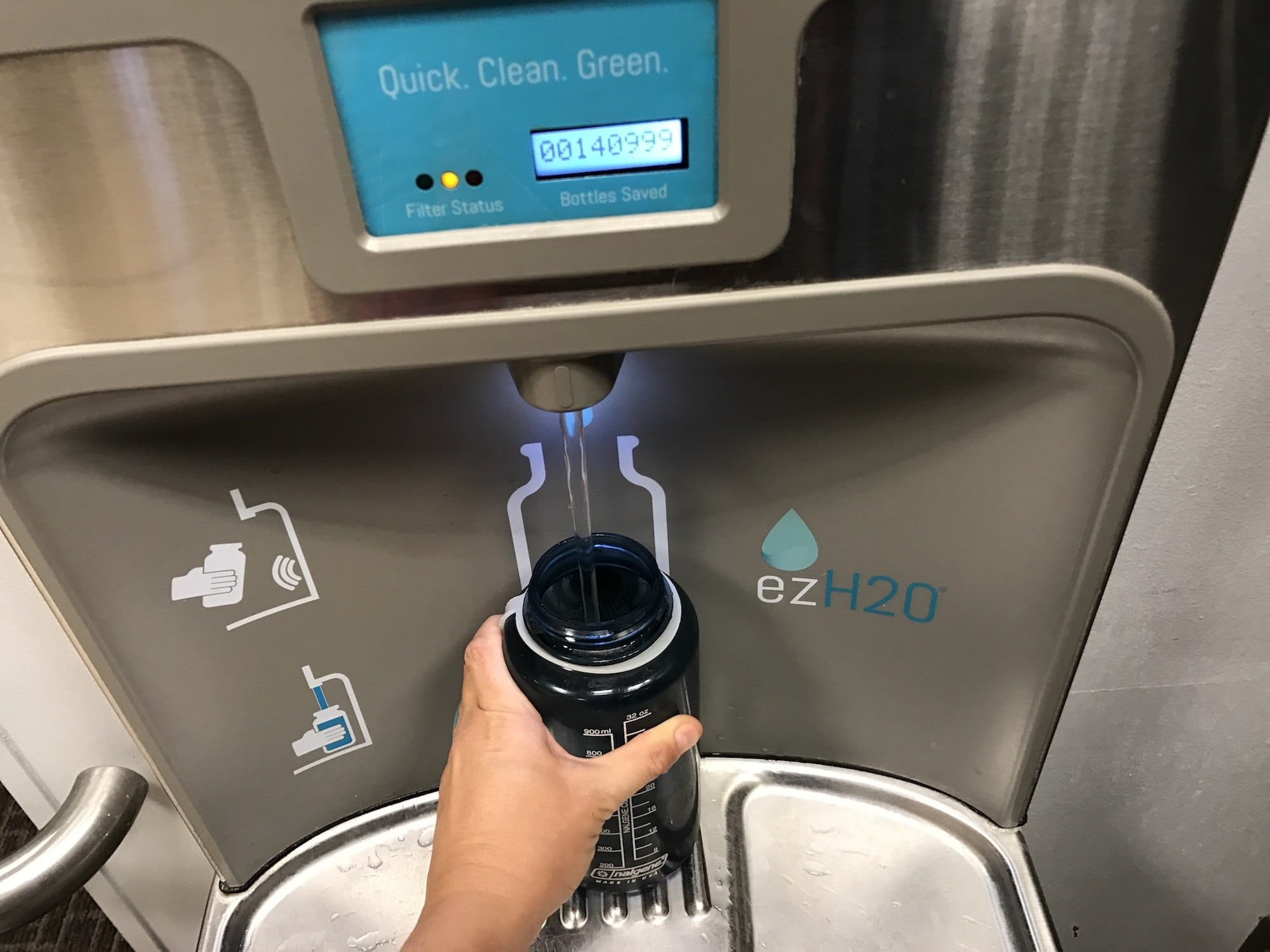 Take an Immune Supplement
When you fly you are sharing oxygen with 100+ people, who have recently shared air with another 100+ people. Get the idea? Plus you touch items that a high volume of other people touch such as security bins, seatbelts, tray tables, and door handles. Give your body a boost to fight off the germs with an immune supplement. We love Airborne, which can be found online and at any drug/grocery store. Nuun also makes handy vitamin tablets with immune boosting properties.
Dress in Layers
Plane temperatures can range from unbearably stuffy and hot to practically Arctic cold. Be prepared for both. Dress in a base layer that you'll be comfortable hanging out in for the duration of your flight and bring an extra layer or two on top. I like to wear a tank-top as my bottom layer just in case there's a tarmac delay without air circulation. Socks and a beanie are always helpful to pack in case your flight does end up being surprisingly cold, especially on those early morning flights.
Invest in CLEAR or TSA PreCheck
My #1 tip for flying is if you fly at least 2-3 times per year, it is worth signing up for CLEAR or TSA PreCheck to save yourself some serious time. I got TSA PreCheck years ago, and I can't believe how much more enjoyable flying is. You breeze through the security line, and you don't have to remove your shoes, laptops, liquids, belts or sweaters. CLEAR is an annual membership while TSA PreCheck is good for 5 years once you are approved.
Download E-books, Music and Movies
WiFi on board can be expensive and slow, and not all routes offer in-flight entertainment. If you have a favorite tv show or a movie you've been wanting to watch, download it before boarding so you can watch it during your flight. Same goes for E-books and podcasts. If you have Netflix, it allows you to download movies and shows for offline viewing. If you frequently travel with a friend, your partner or kids, you may want to consider getting a headphone splitter so you can watch together. I also have Spotify Premium which allows you to listen to your playlists when you are traveling and offline. It's $10 a month and worth it if you like variety in your music.
We hope this post gives you some helpful tips for flying to make traveling easier.
WHAT ARE YOUR FAVORITE TIPS FOR FLYING? SHARE YOUR EXPERIENCE IN THE COMMENTS BELOW.