Soaking at The Springs in Idaho City
Idaho is home to hundreds of hot springs. Some are way off the beaten path and require quite a trek to get to. Others are right off the highway and are well known among both locals and out-of-towners. Then there are commercial hot springs resorts where you pay to soak, and the quality can vary drastically.
I was back home in Boise over Thanksgiving, and my mom and I were looking for something fun we could do together. Soaking in some hot springs sounded like a nice a nice way to pamper ourselves. However, my mom isn't too much of a hiker, so I wasn't about to take her to some of the more difficult-to-reach spots that I would normally go to on my own. I also imagine the hilarity that would occur if I were to run into some skinny dippers with my mom in the backwoods.
I had recently heard about The Springs in Idaho City, a new commercial hot springs resort less than an hour away from downtown Boise. With a quick glance at their website, it appeared to be quite luxurious, so we hit the road to check it out.
The Facility at The Springs
From the moment you walk into the Springs in Idaho City, it feels swanky. The lobby where you check in has tall ceilings, a wood burning fireplace, a beautiful chandelier, and a couple of comfortable couches.
When you check in, you are given a towel and key to a locker where you can store your belongings.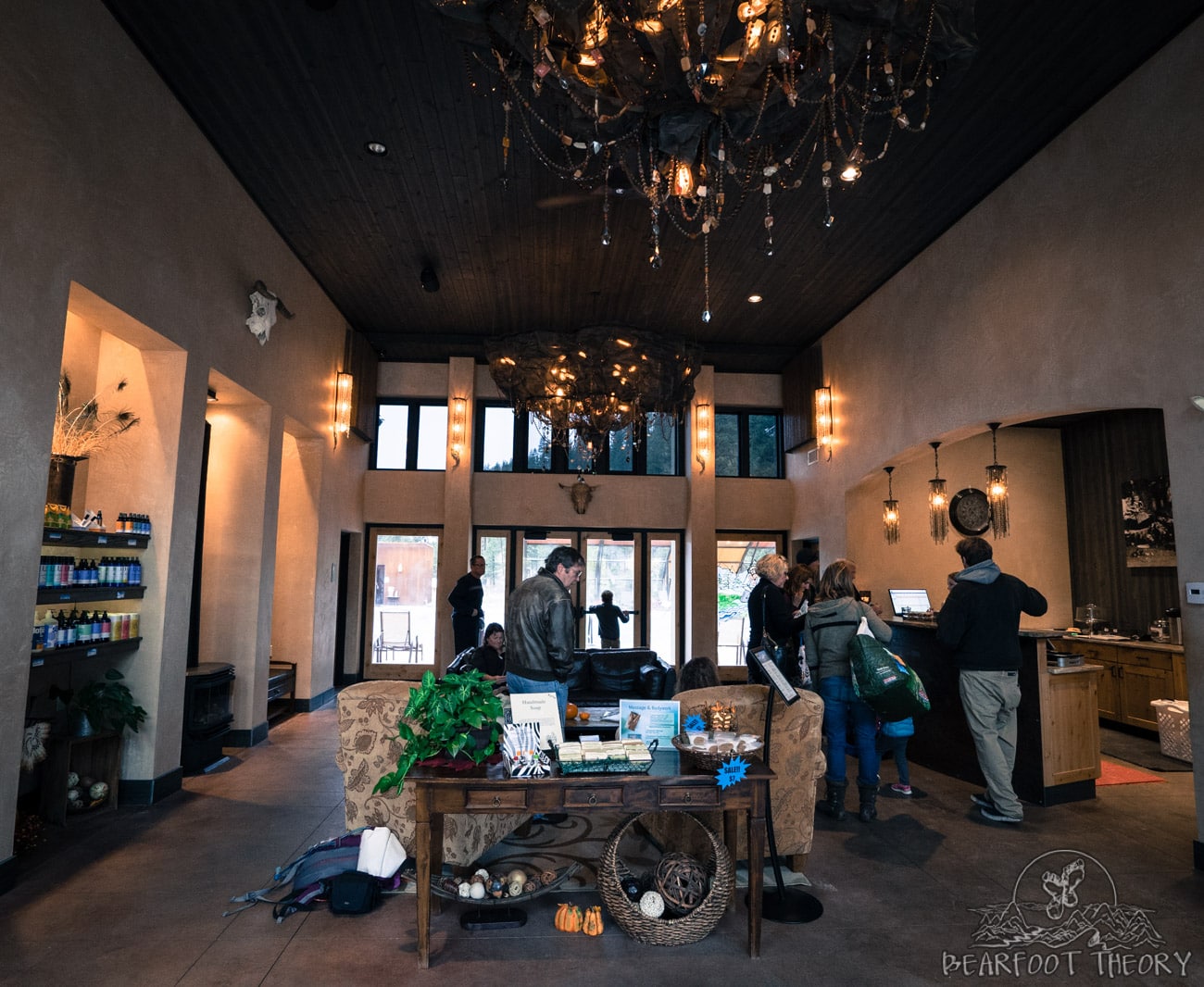 There are separate locker rooms for men and women, and I found the locker rooms to be small, but very clean. The Springs provided high quality shampoo, conditioner, and bath gel for your post-soak shower, as well as hair dryers and other toiletries.  The doors from the locker rooms lead directly out to the large soaking pool.
In order to manage the crowds, The Springs has a maximum number of people that they allow into the facility each day.  We made our reservation (which I'll get to in a bit) for the earliest time slot in the day which meant we started with the pool all to ourselves.
The outside area consists of a huge soaking pool, as well as a smaller hot tub, both surrounded by Idaho's beautiful forest. There are a ton of lounge chairs, although it was too cold during our visit to sit anywhere but in the pool.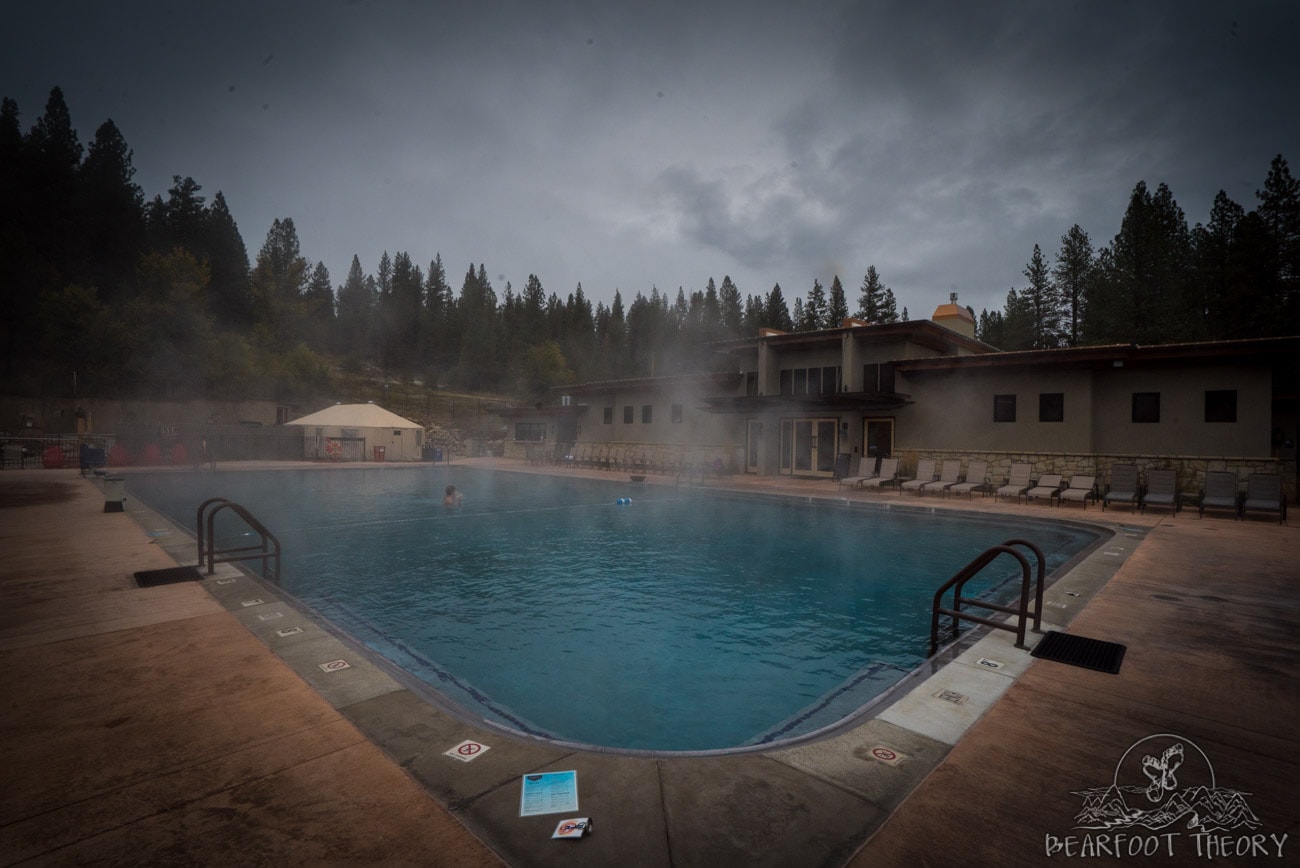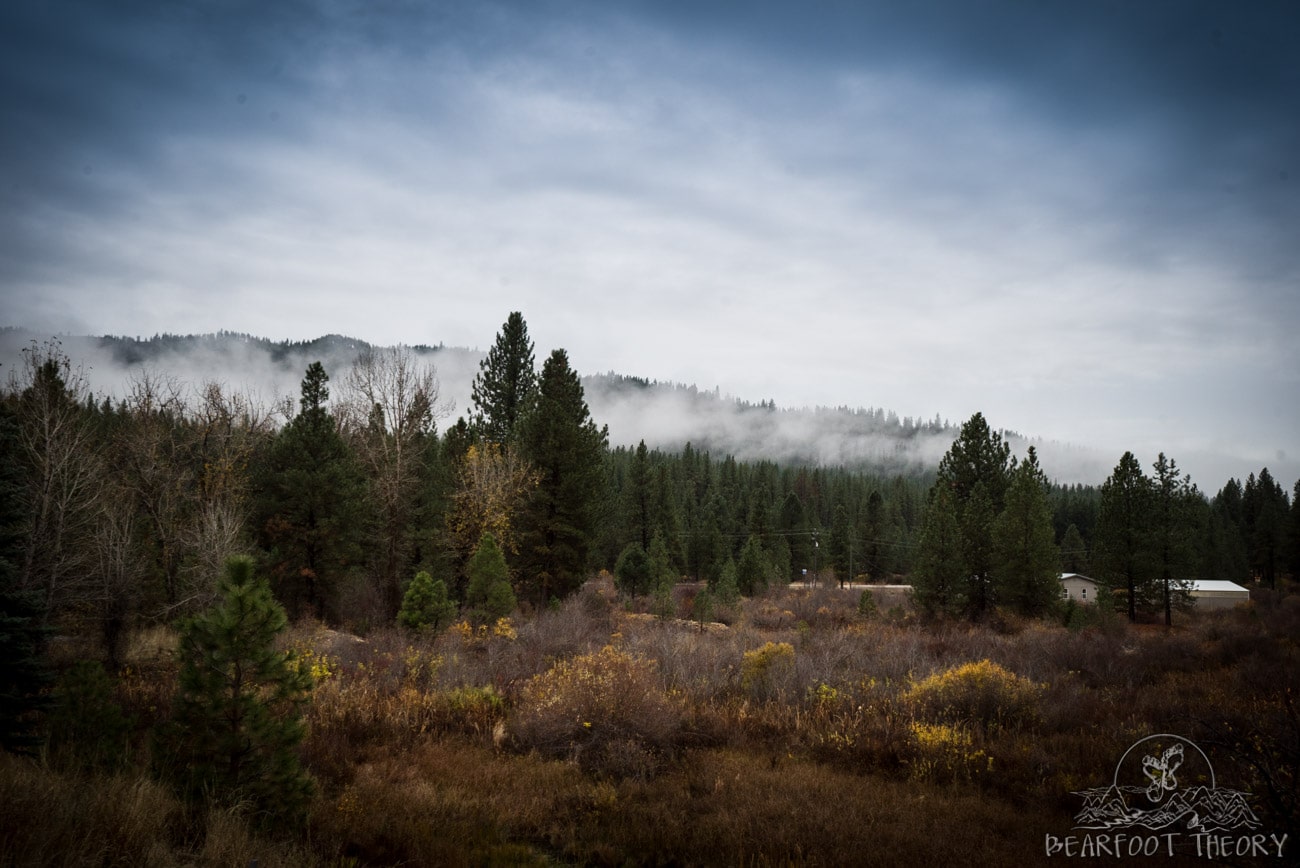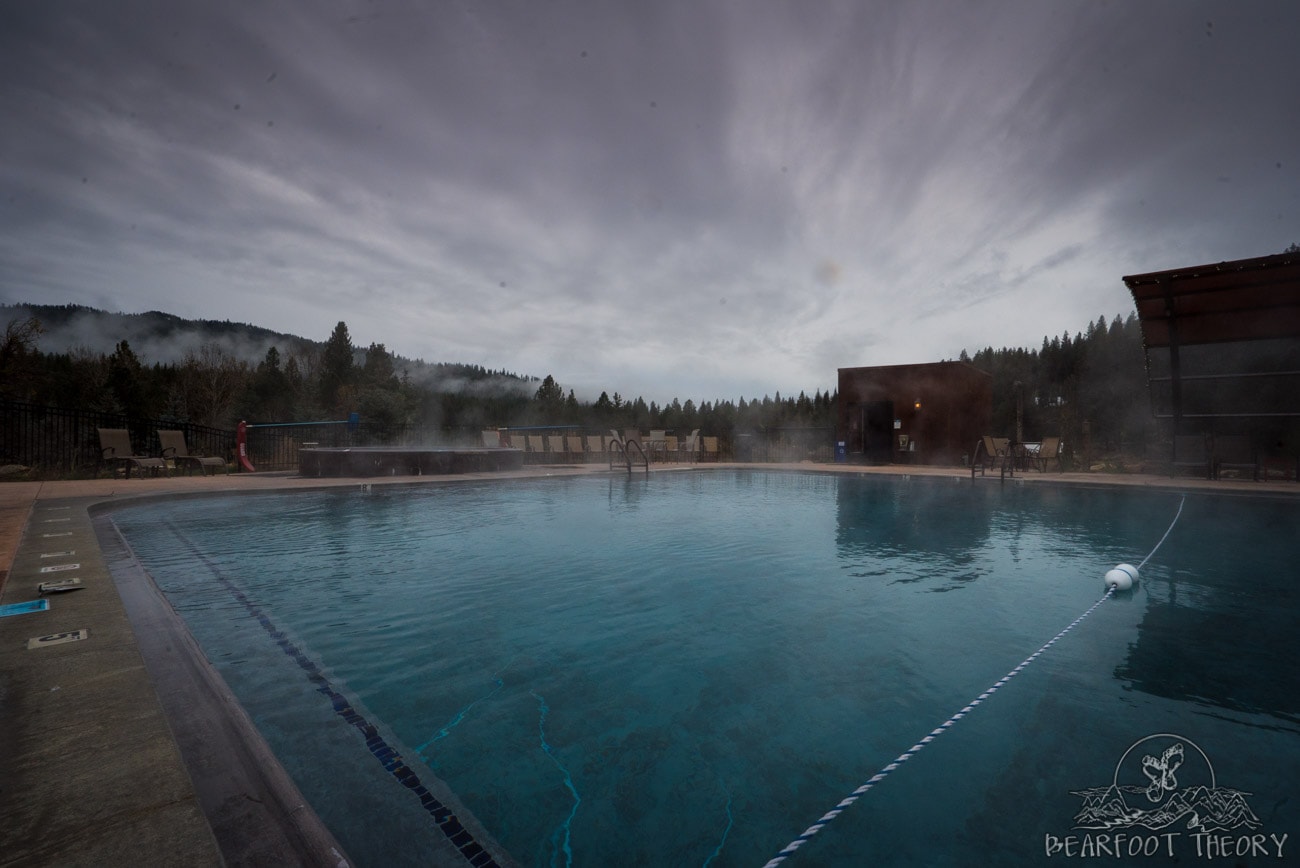 In addition to the pool, there is also a very nice co-ed steam room and a heated yurt where they serve food.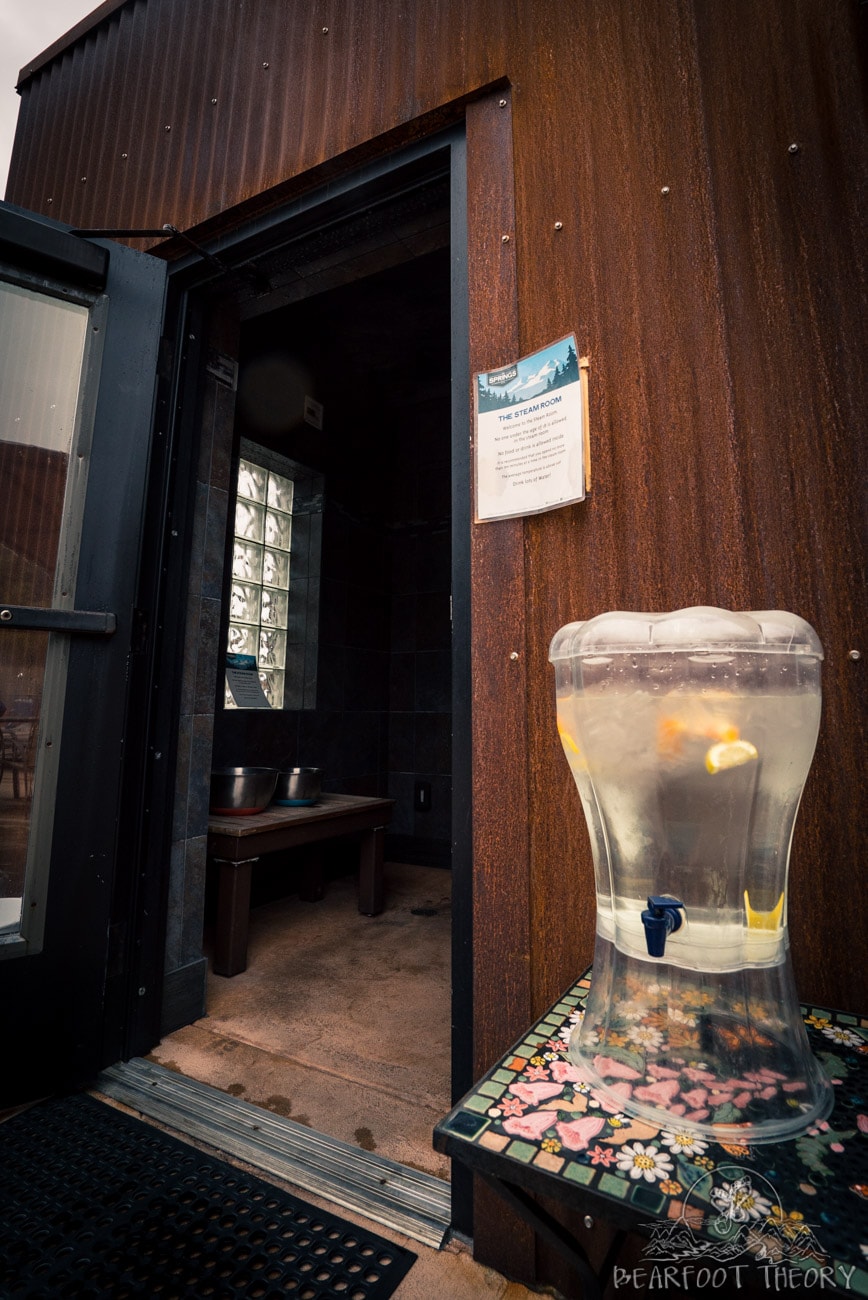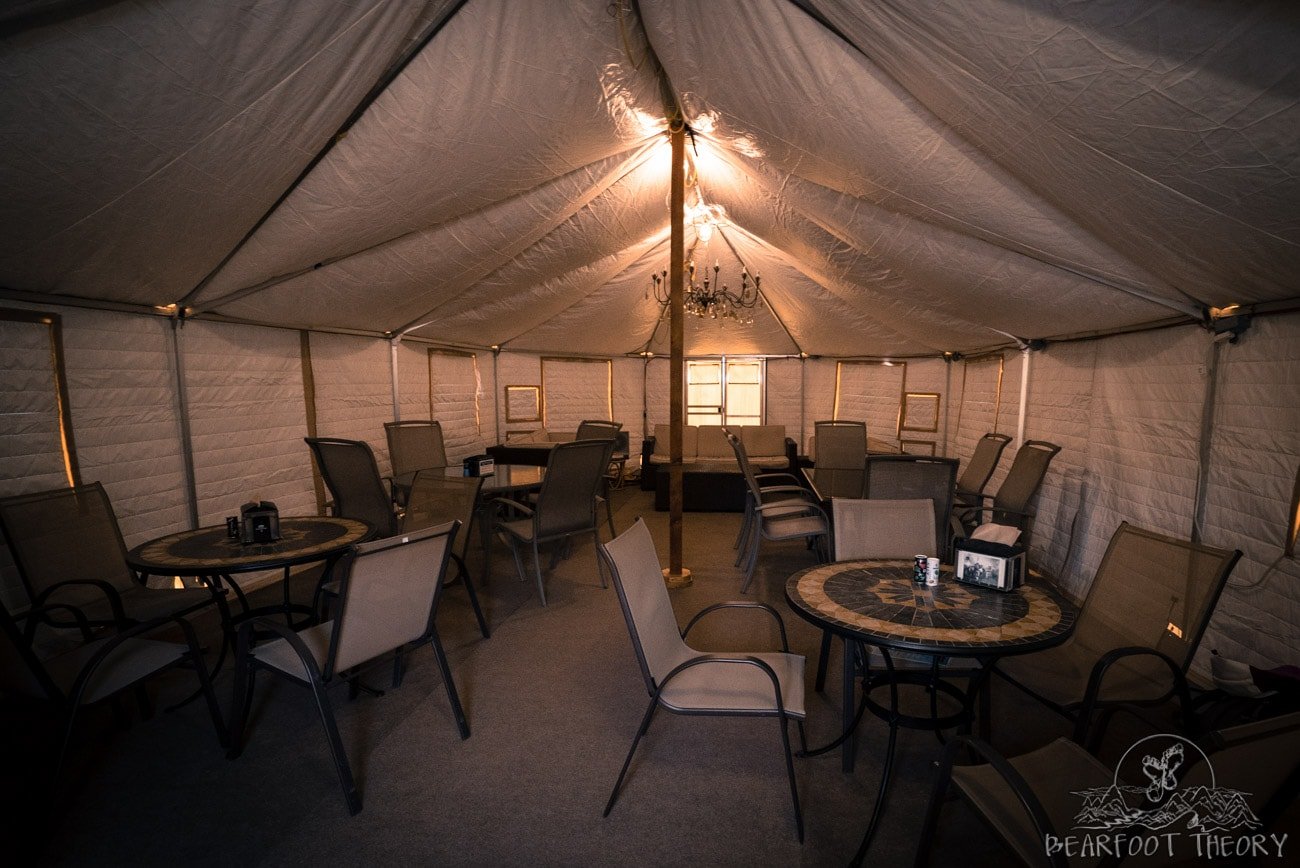 The menu is simple consisting of salads, sandwiches, and small plates.  I had the grilled portobello sandwich which was tasty (except for the bread which was not thick enough to hold up to the fillings.) What was better than the food (in my opinion) was that The Springs also serves a variety of drinks, including Irish coffee, mimosas, and local microbrew which they will bring to you poolside. (Be aware that they do have a strict one drink per hour rule…so don't plan on coming here and getting smashed).
Making Reservations at The Springs in Idaho City
The Springs does fill to capacity, so it's a good idea to make a reservation so you don't drive all the way out there and get turned away. Reservations can be made online or by phone. Pay attention to special hours and events. It's adults-only (18+) on Wednesday, Thursday, and Friday night, while family day is Sunday.
When you make your reservation, you choose an arrival time, and you are allowed to stay as long as you want. A day pass is $16 for adults and $10 for children. If you end up staying less than 2 hours, The Springs offers a discounted rate which you pay when you leave.
The Springs also offers fully-customized body massage which you should also book in advance.
Getting to The Springs
Coming from Boise, The Springs in located on the left side of Highway 21 just after mile marker 37. The town of Idaho City – one of Idaho's coolest small towns – is located about a mile further up the road.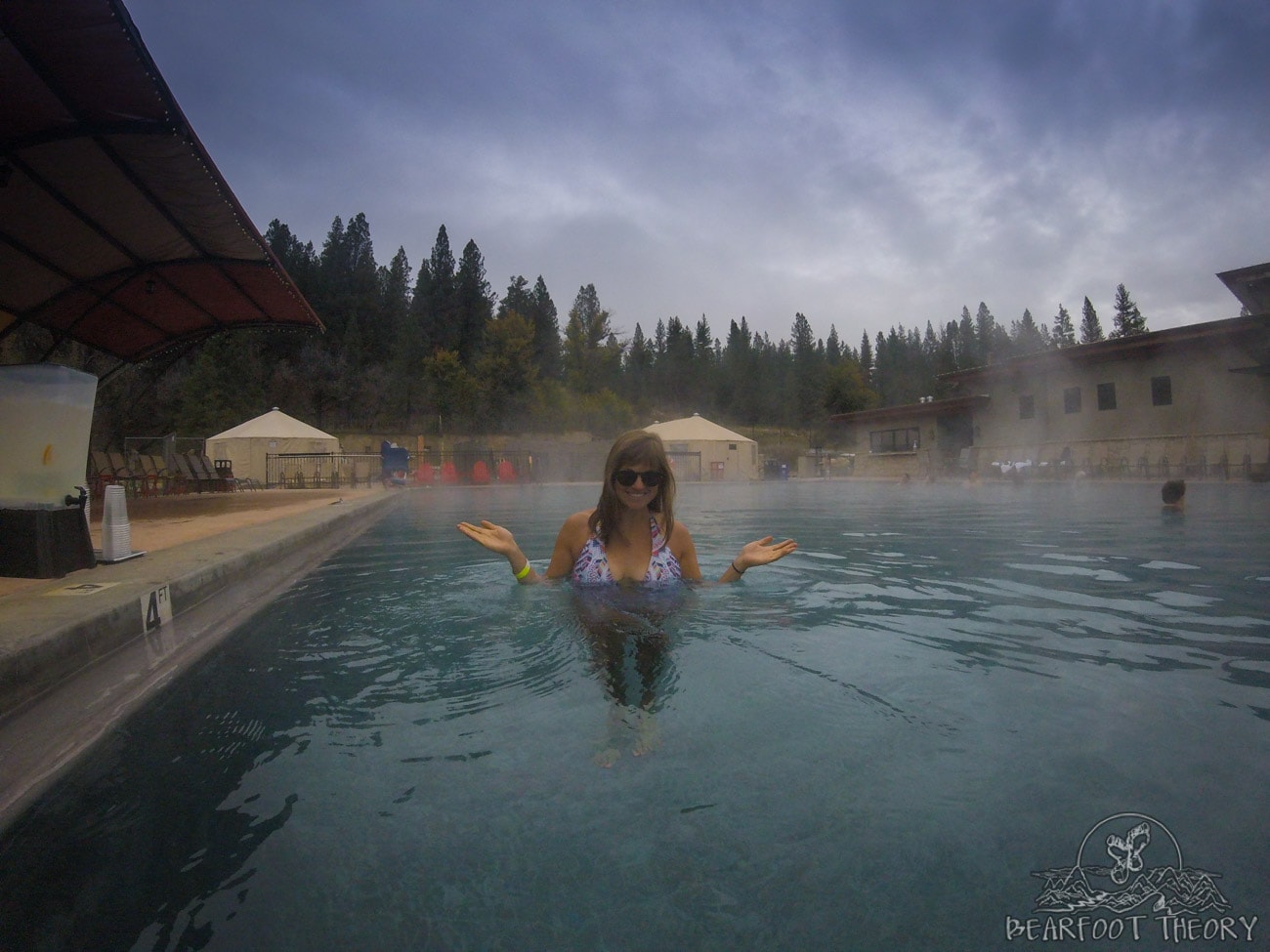 My first experience at the Springs at Idaho City was super relaxing and now that it's all snowy up there, it's the perfect time to visit. And for $16, it's great a great value that will leave you feeling like you spent a LOT more at a fancy day spa. So head up there with family, friends, or that hot date to unwind and indulge.
– Read More on Idaho –
WOULD YOU LIKE TO VISIT THE HOT SPRINGS IN IDAHO CITY?
LEAVE A COMMENT, TWEET ME, OR WRITE ME A POST ON FACEBOOK.