Photo: James Marvin Phelps
The 5 Best Sand Dunes in the Western US
The West is home to some huge and surprisingly diverse sand dunes with options for hiking, sand boarding, wildlife viewing, and more.  From the desert dunes of Death Valley to the coastal dunes of Oregon, here's my picks for the best sand dunes in the West.
••• Kelso Sand Dunes, Mojave Desert (California) •••
Halfway between Vegas and LA, Kelso Sand Dunes are an easy escape for those in the Southern California area. Yet because these dunes are absolutely HUGE covering a whopping 45 square miles, it is likely you will have a large area all to yourself to explore. I highly recommended taking a hike to the top of the dunes at sunset, as the desolate desert landscape explodes with colors like you've never seen.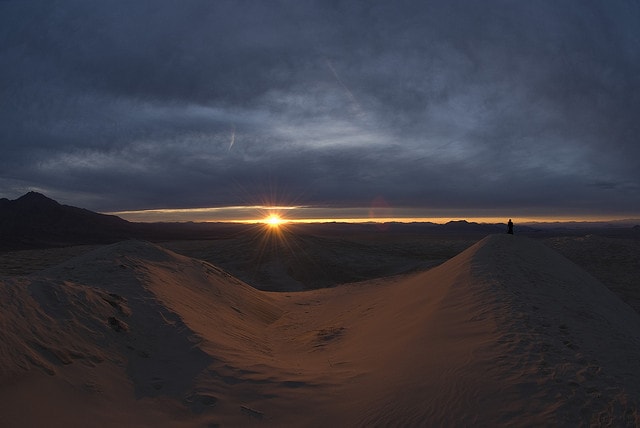 Photo Credit: Jason Pier
••• Eureka Sand Dunes, Death Valley (California) •••
Eureka Sand Dunes in Death Valley National Park rise an impressive 600 feet above the valley floor and are backed by the even taller Last Chance Mountains, creating a stunning Mars like landscape. Despite being the hottest and driest place in North America, these dunes support a surprising amount of plant life, including species so rare that they are found nowhere else on earth. Getting there requires a 40 mile drive down a dirt road, and those who are willing to make the trek will be rewarded with desolate camping, hiking, and stargazing opportunities.
••• Great Sand Dunes National Park and Preserve (Colorado) •••
Nothing beats the view from Great Sand Dunes National Park. Unlike many other dunes located in the driest of deserts, the diverse landscapes surrounding these southwest Colorado dunes includes 13,000 foot peaks, tunda, alpine lakes, wetlands, and grasslands. Because most of the visitors limit their time to the dunes themselves, those venturing into the surrounding ecosystems experience solitude and spectacular wildlife viewing opportunities. Big horn sheep, bison, black bears, and mule deer are just a few of the species you might encounter.
••• Bruneau Sand Dunes State Park (Idaho) •••
Bruneau Sand Dunes State Park is an hour drive from Boise and is located right along the Snake River. The dunes themselves are small but still quite tall and are worthy of a day trip. Stop by the visitors center where you can rent a sand board and check out the prehistoric fossils that have been found in the area. You can also bring along a fishing pole and test your luck at catching some trout in the lake below.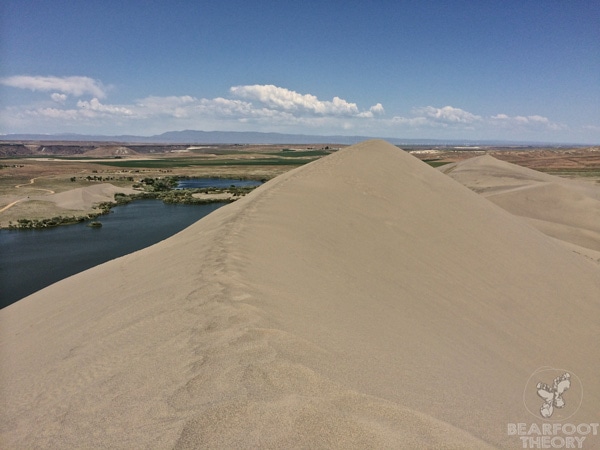 ••• Coral Pink Sand Dunes State Park (Utah) •••
Located in Southern Utah's canyon country, just east of Kanab, these dunes are formed by red sandstone erosion, resulting in a beautiful reddish-pink hue. This sandy playground is especially popular amongst ATV enthusiasts. You can avoid some of the crowds by visiting in late winter or early spring when the landscape is dusted with snow and conditions are perfect for winter tubing.
••• Oregon Dunes National Recreation Area •••
These ocean-front dunes span 40 miles of central Oregon coastline and offer something for everyone. Dunebuggy enthusiasts get their thrills driving over the steep, endless hills. Water lovers can enjoy a picnic at one of the dozens of lakes or take a chilly dip in the Pacific ocean. Hikers can get lost exploring the thick coastal forests. Or you can simply sit back and enjoy the magnificent view as the sun sets over the horizon.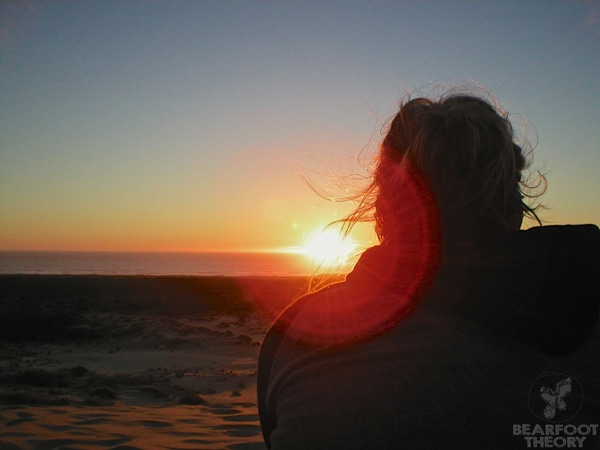 WHAT SAND DUNES WOULD YOU LIKE TO VISIT? LEAVE A COMMENT BELOW, TWEET ME, OR WRITE ME A POST ON FACEBOOK.