Curious about #vanlife and how to make it work? I get a lot of the same Sprinter Van questions over and over again and decided to answer all of them in a big Sprinter Van FAQ. I've broken my Sprinter Van FAQ into 2 parts. In this blog post, I answer all of the questions I get about van life. Where do you do laundry? How do you shower? Do you feel safe? etc.
If you are looking for answers to questions about my build or the vehicle itself, visit the other part of this Sprinter Van Conversion FAQ.
If you have any additional questions, leave a comment at the bottom, and I'll add them to the FAQ.
What's the best thing about van life?
Van life allows you to be spontaneous. I'm a planner by nature. I read reviews, look at maps and check out too many pics before I go almost anywhere. The van is slowly chipping away at the type-A me and teaching me how to go with the flow. Some of my best experiences in the van have been the ones that have been unplanned and unexpected, and often it's the little things. Eating a van-cooked dinner during an amazing sunset, listening to loon calls, watching the stars, meeting cool people, finding a secluded campsite with amazing views. That's what you live for out there, and van life allows you to do those things every single day.
What's the hardest thing about van life?
It's not always as glamorous as it looks on Instagram. Van-lifers on Instagram are usually only showing the best parts — the beautiful vistas, the fun adventures, a just-cleaned and organized van. They aren't showing the late night (and sometimes stressful) search for campsites, gas-station bathrooms, McDonald's wi-fi, greasy hair, dirty clothes and how cluttered and cramped these vans can really be. Van life is awesome, but sometimes social media sets unrealistically high expectations without showing people the real day-to-day life.
Van life is also one decision after the next. If you are an indecisive person, like I can be, you can suffer from decision paralysis. Where to go, where to camp, what to eat. When nothing of your life is planned and you are in charge of every minute, you have to be willing to step up and steer without hesitation.
How do you support yourself financially while on the road?
I make a full-time living from this website. My income comes from four major sources.
Banner ads – I don't like the banner ads, but they pay the bills and I appreciate you putting up with them
Affiliate ads – when I link to a product I recommend on REI, Backcountry, Amazon, or a few other sites and you decide to make a purchase, I make a small commission at no added cost to you.
Sponsored posts – sometimes I partner with brands to promote products I love, like this sponsored post I did with Rad Power Bikes.
Tourism board and tour company partnerships – a few times a year I do press trips to destinations I've been eyeing. On these trips I produce written, photo, and video content and share them on my channels and sometimes the brand's channels. Here's an example from a collaboration I did with OARS Rafting company this summer, and this winter I have press trips lined up with Tourism Jasper and McCall, Idaho. These trips are a blast, but it's still work, as I'm usually swinging three different cameras around my neck at any given time.
I also make a little ad revenue from YouTube, and I occasionally sell my photography or video footage. All-in-all it's a hustle, but it can be done if you are motivated enough.
All of these sources combined add up to a pretty decent salary, which I talked about in a recent interview with Forbes. To make all of this happen though, I have two employees, a web development team, and work pretty insane hours when I'm not on the move. All of this is a challenge to balance when you are traveling full-time, which is why I set up a home base in Salt Lake City during the winters. Spending my winters in one place (mostly) gives me an opportunity to catch up on big projects, so when summer comes around being on the road full-time is less work and more play.
Want to learn how to run a successful blog? Learn more about my One-On-One Blog Coaching Program.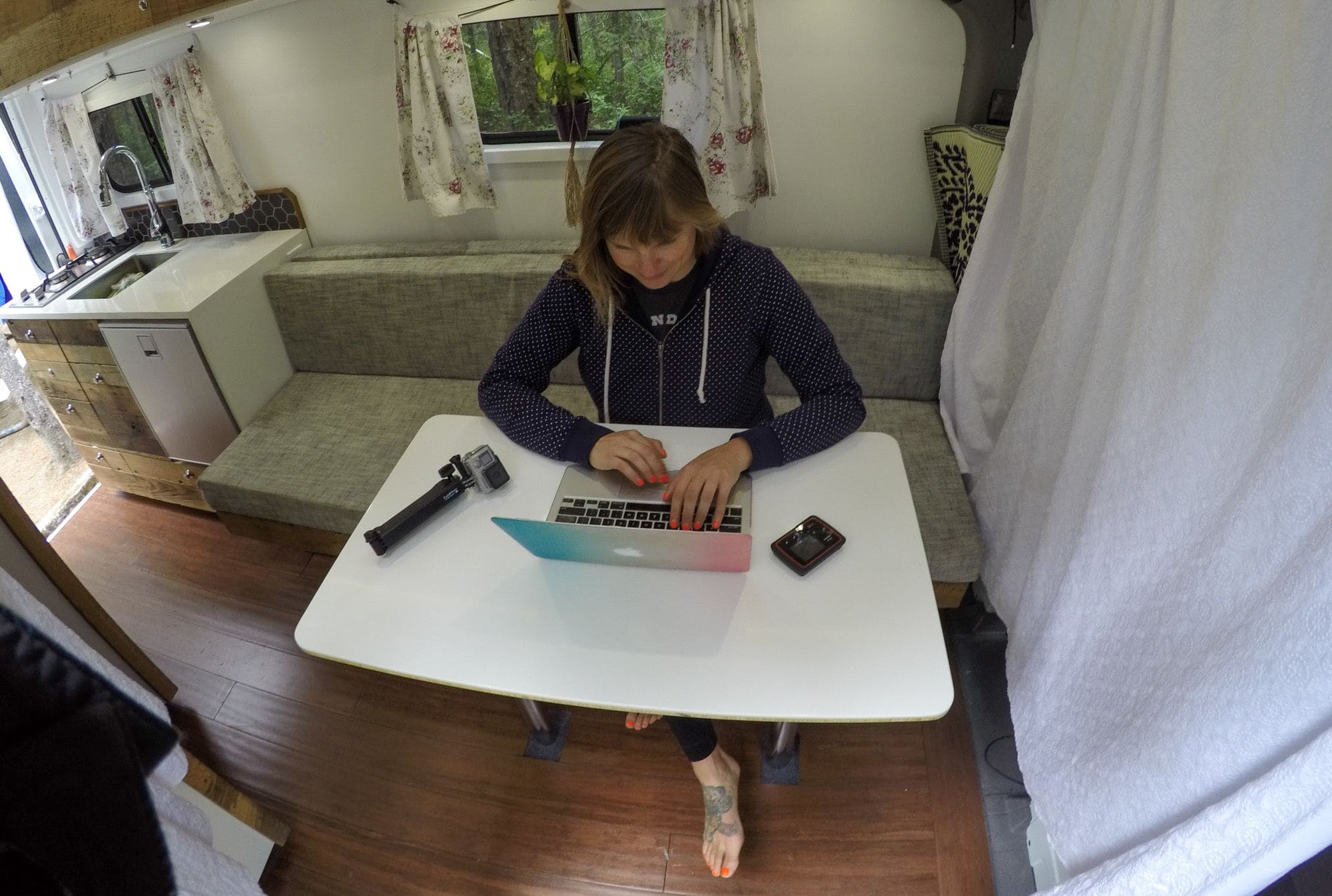 Should I sell my stuff or get a storage unit?
It depends on how long you think you'll want to do van life for, as well as how attached you are to your stuff. When I got my van, I decided to get a storage unit rather than offload everything. My storage unit cost $120 a month and made it so I didn't have to buy a bunch of new stuff when I wanted to settle again. While I would have loved to save the money on storage, I figured I'd end up spending more money, as well as a lot of time, shopping for new furniture.
That said, if you plan on spending a year or more on the road and your furniture isn't worth a whole lot, then selling it might make more sense.
How do I choose what to bring with me on the road?
My first entry into van life was in New Zealand. I spent three months driving a little camper van around, all by myself. As soon as I started unpacking my luggage and organizing the van, I realized I had way too much stuff. All that stuff just becomes clutter, and you spend your time moving it from one side of the van to the other. In general, my rule now is if I'm not using it at least once a week – think things like bikes, kayaks, stand-up-paddle boards, and fancy clothes, then it's not worth the room it takes up.
Is there anything you couldn't live without in your van?
I used to say it was the porta-potty. As a female who often travels alone, it was essential for me to not have to get dressed and go outside in the middle of the night to go pee. I try to only use the porta-potty for #1, and as long as you use some good deodorizer, it doesn't result in any odors in the van.
However, now that I'm thinking about my next Sprinter Van, I'm thinking I'll ditch the porta-potty and find some other small container to go into during the middle of the night. The porta-potty is pretty bulky, so it's a sacrifice in terms of space.
The things are my priority in the van now are things that contribute to the fun.
What insurance do you have for your Sprinter Van?
A regular car policy will only cover the van itself and will not cover the value of your conversion. For that reason, I have an RV policy with Progressive which covers both the exterior and the interior build of my Sprinter Van, as well my personal belongings. It costs about $2,000 a year. I'm searching around to see if I can find anything cheaper, but so far I haven't found many companies that provide insurance for converted vans.
Where do you get your mail?
Currently I have a home in Salt Lake City that I live in when I'm not traveling. Before when I didn't have a homebase, I had a PO Box here where all of my mail is sent. Another option is to have your mail sent to a family member. Then when you are going to be in one location for a bit, that family member can send you all of your mail in one batch.
Do you have health insurance?
Yes. I have insurance on the Health Care Marketplace (Obamacare). If you are looking for health insurance, pay attention to out of network costs since many plans on the exchange don't cover out of network, except for emergencies.
What do you use for internet in the van?
Right now I'm using a Verizon MiFi device and am on an unlimited data plan with Verizon. You have to have at least a 3G connection for the MiFi to work, and it uses the data off of your cell phone plan. I'm looking at getting a booster which will improve the connection when I'm in rural places.
How do you find good campsites?
My van isn't that stealth, so I try to not park too often in places I'm not supposed to. There are a couple of different tools I use to find campsites on the go. For a bunch of tips, check out my blog post about how to find awesome free campsites.
One of the major reasons I chose a Sprinter Van over a trailer or a truck camper was I wanted to be completly self-contained. I wanted to be able to hop out of bed directly into the drivers seat if I ever needed to make a getaway. That said, generally I feel pretty safe. I pay close attention to my gut and don't park anywhere I don't feel comfortable. If I'm traveling solo, I don't go too far off the grid, and I try to stick to established campgrounds, even if that means I have to pay. I have a GPS transponder that allows me to send emergency messages when I have no cell phone service. I always keep my doors locked, and I have a knife right by my bed. For a full post about van life safety tips, go here.
I have a shower in my van, but I've only used it a handful of times…mostly at weddings. Campgrounds, friend's houses, and gyms are good options for showering when you live in a van. Some hotels also offer day passes that give you access to the pool, hot tubs, and showers. Before I got my van, I also used this NEMO solar shower which is very simple to use and has surprisingly good water pressure.
Really though, you just shower a lot less, swim in lakes and rivers when the opportunity presents itself, and learn to be ok with being dirty. It's better to conserve your water for drinking and dishes, so you can stay off the grid longer.
Laundromats and friend's houses are where I do laundry when I'm traveling in my van. However, no one wants to spend van life in a laundromat, so the key is having clothes that you can wear many times without having to wash. For me that means 95% of my wardrobe consists of athletic-type clothing. I avoid cotton and choose quick dry material for almost everything (especially underwear). This kind of material dries fast if you need to wash it in the sink and doesn't hold smells like cotton. I also avoid anything that wrinkles. That way if I don't feel like folding my clothes at the end of the day, they will look exactly the same tomorrow.
Like the last question about showering, you really just learn to be ok being dirty.
Where do you dump your porta-potty?
Truck stops and campgrounds often have RV dumps. The All Stays Camp & RV app has a filter that allows you to search for nearby dump stations. These same places also often have potable water that you can use to refill your water tanks.
Do you feel lonely? How do you find community?
In general, I'd say the van life community is a very welcoming place. In my experience, van-lifers tend to be curious about other people's vans and are very willing to hang out and share tips and information. So it's pretty easy to meet people if you put yourself out there. Campgrounds are a good place to make friends, as are trails and beaches. When I pull into a campground, I drive around and try to pick a spot that looks like it might have friendly neighbors.
The online van life community is also an awesome place to connect. Check out my @sprintercampervans Instagram page where you can see what other Sprinter Vanlifers are up to. Maybe you'll find some other Sprinter folks that are in the same area as you and want to meet up.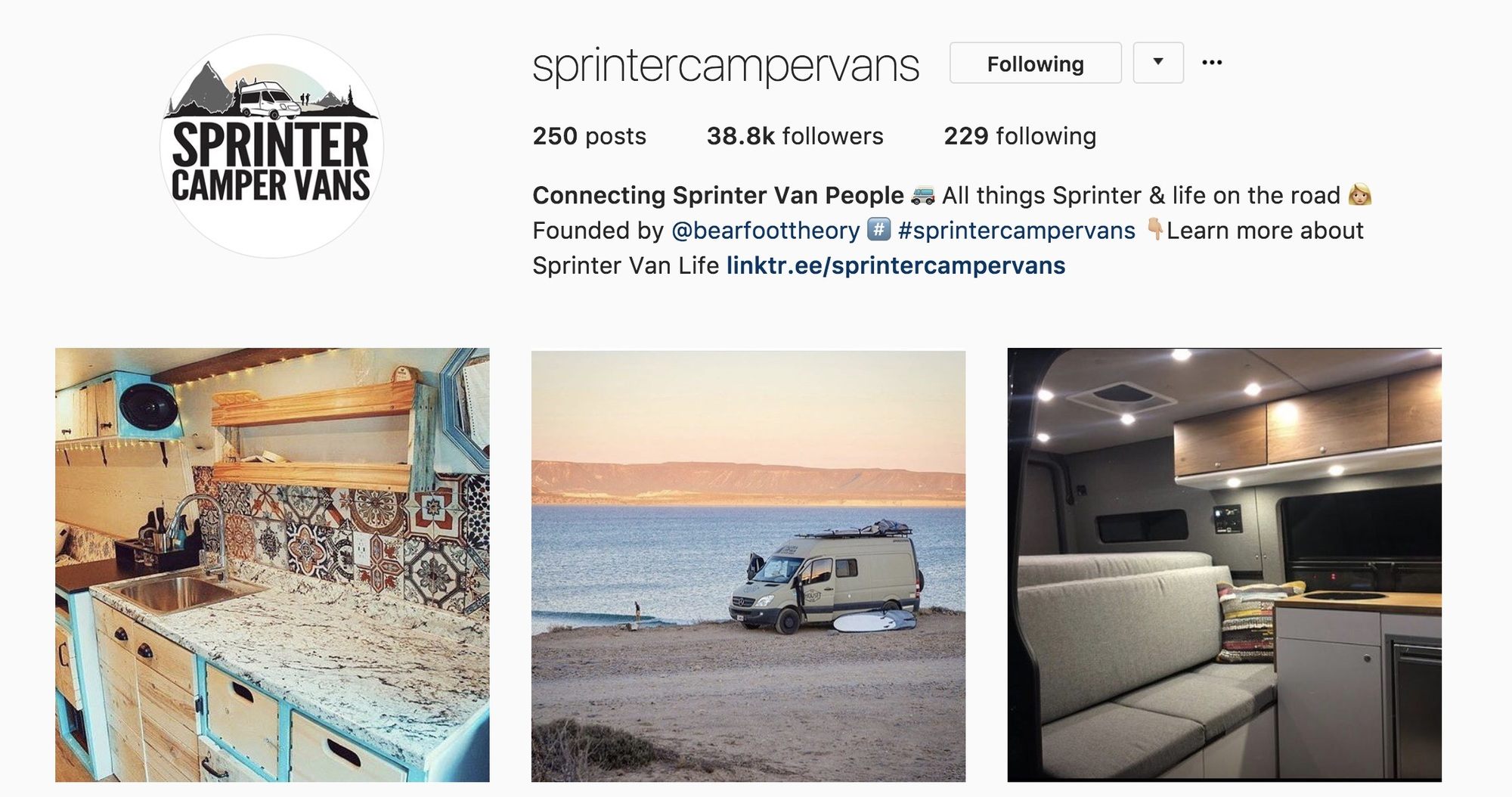 Is it easy to travel with your dog? What do you do if you are somewhere that's not dog-friendly?
Van life dogs are basically living a dog's dream. They get to be outside and explore with you and generally get more exercise than most dogs living at home. That said, it comes with some considerations. There are many places that aren't dog-friendly, and the temperature is also a concern. You never want to leave your dog in your van for extended periods of time if it's super hot out. I wrote a post with some tips on how to road trip with your dog that you can check out here.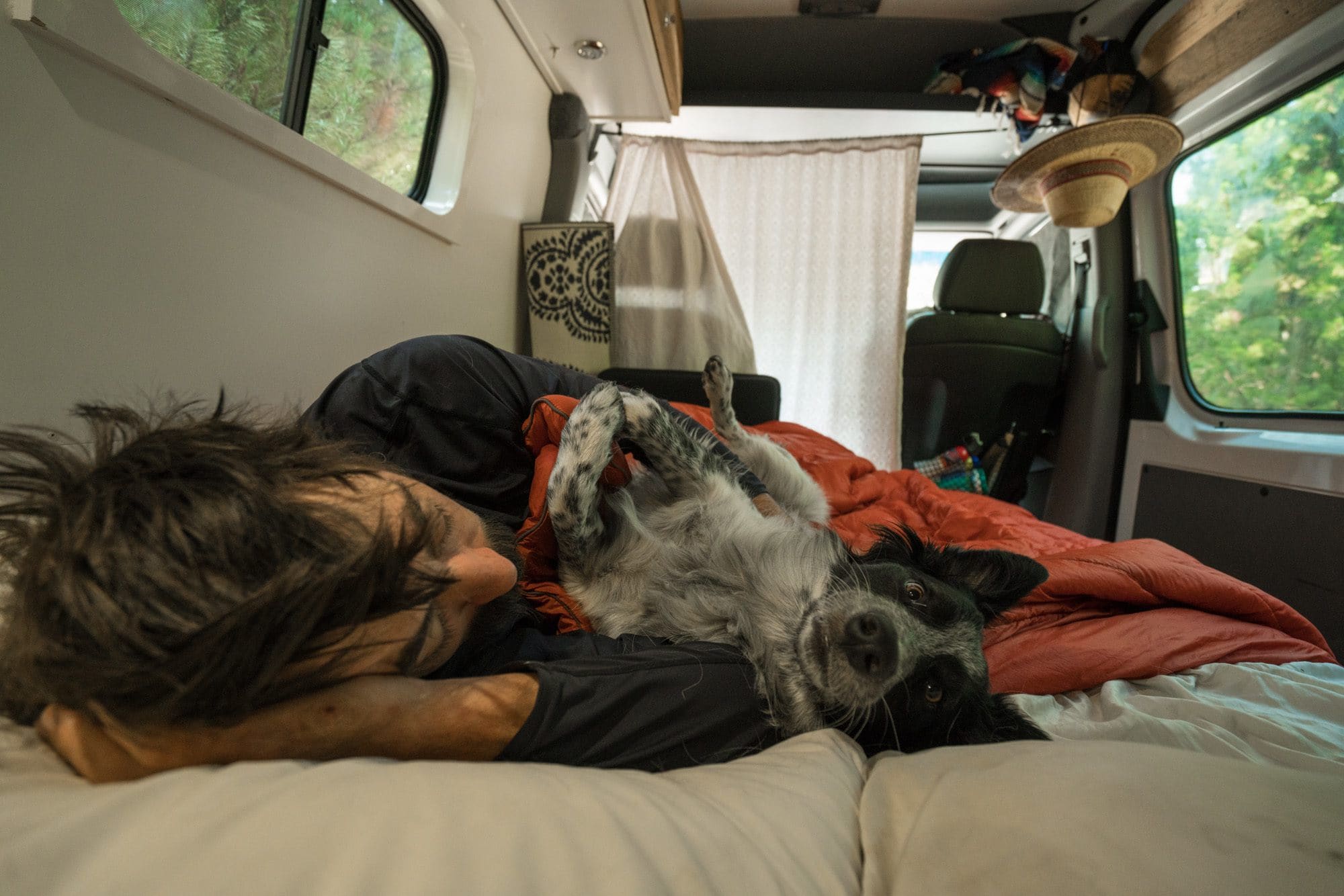 What do you cook in your van?
One of the best parts about vanlife it is convenient to cook just as good as you can at home. You can have a fridge full of fresh veggies and a two-burner stove to whip up something delicious. I try to cook things that aren't going to have loads of dishes though, since water supply is always something to consider. For breakfast, it's usually eggs, cereal, bagels, or oatmeal. Lunch is sandwiches. Dinner is usually a protein mixed with veggies and a grain. Infused, flavored vinegars are an easy way to spice up a meal, and I also like those pre-mixed kale salads as an easy addition. For a bunch of awesome one-pot camping recipes, check out this guest post by my friends from Fresh Off The Grid.
What's winter like in the van?
To be perfectly honest, I don't love van life in the winter. It's cold and it gets dark early, so you spend a lot more time cooped up inside the van. I tried to do van life last winter, but I ended up spending most of my time at my parent's house or my boyfriend's house. As I mentioned above, this year I'm taking winter off from the van. Instead, I'll be basing myself in Salt Lake City for ski season, and then when summer hits, I'll be back doing full-time vanlife. That's the balance I've found works for me. I guess you can call me a part-time full-time van-lifer.
If you don't care about skiing, then year-round van life offers a ton of options for flocking south towards the sun.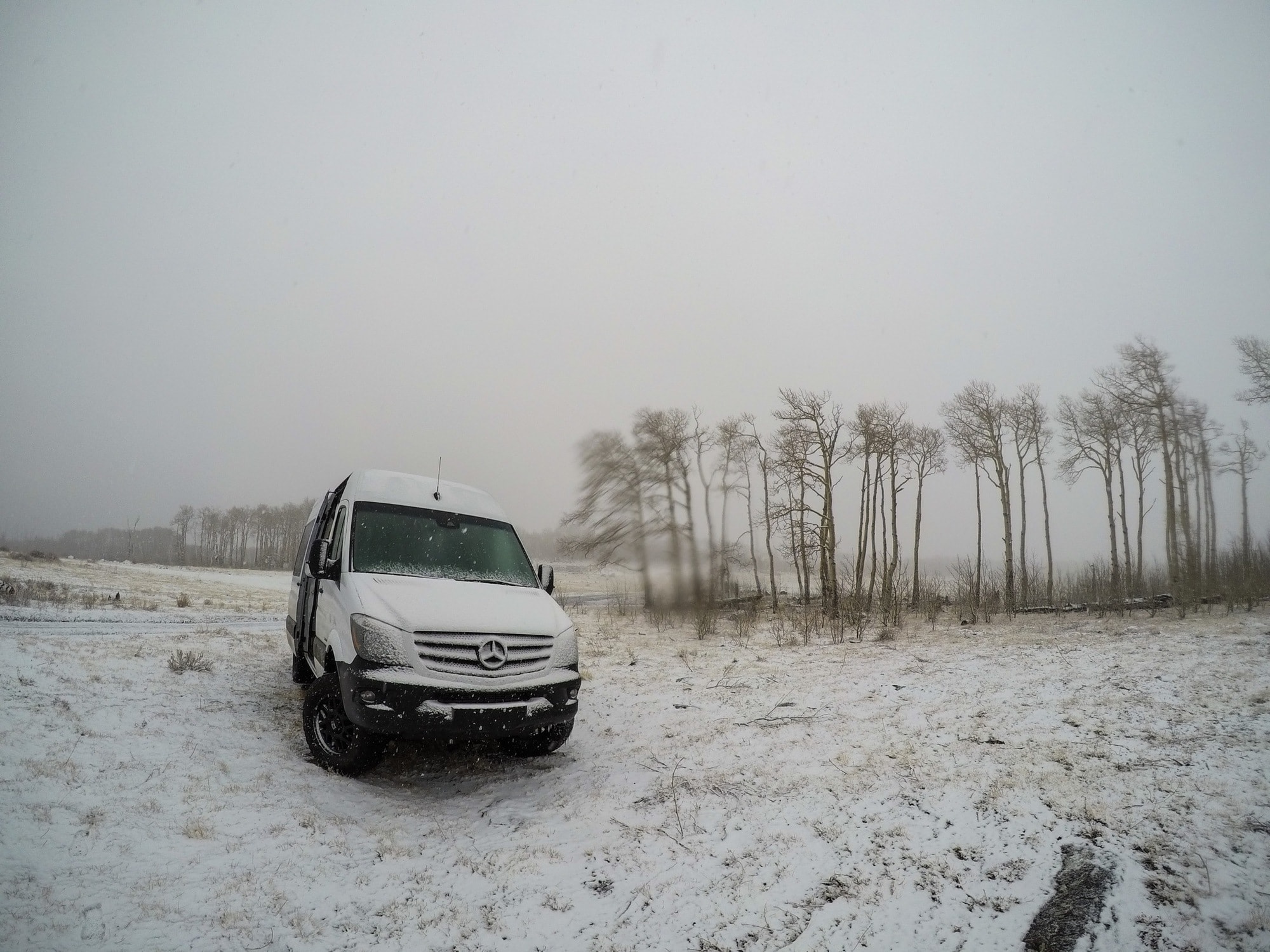 Hope this gives you a better sense of what vanlife is like. If you have other questions about vanlife, leave them down in the comments, and I'll add them to this FAQ.