HOW TO SAVE MONEY FOR TRAVELING
Everyone's financial situation is unique but chances are good that many of us have experienced the dreaded vacation hangover. No, not that kind of hangover — the kind that involves a too-high credit card bill or nearly drained bank account that leaves you feeling sick to your stomach. It's no fun returning from a trip only to find out that you blew through your budget. Conversely, it is also tough to sacrifice outings with friends or a fun night at the new brewery around the corner in order to save money for traveling and that next big outdoor adventure trip you have your eyes set on.
After reading the results from our annual survey we heard from many of you that money was is one of the barriers that prevents you from traveling. Since we prefer to focus on building bridges rather than the barriers that hold us back at Bearfoot Theory, we thought it'd be useful to focus on how to save for that next big outdoor adventure trip. We ladies put our heads together and put together a list of our favorite tips that we've all used over the years to save up for our dream trips.
Here are some tips on how to save money for traveling & that next big adventure you're dreaming up.
Keep a 30-day spending journal
One of the most effective ways to better understand your spending habits and save money for traveling is to keep a spending journal. This means keeping track of your expenses — every single one — to provide an honest depiction of your current financial situation as well as your spending habits. It will also help you set a healthy and realistic budget based off a real number, rather than the one you have in your head so you can learn to save the right amount for that big trip.
Here's how it works:
For 30 days, write down every single purchase made and bill paid. Get a notebook and pen to designate as your Spending Journal and write down every expenditure including,
The date
The item
The cost
What is was for and if it wasn't a necessity how you felt about the purchase
THEN, grab three highlighters in different colors that you can use to correspond to different types of expenses. At the end of each week review your journal and highlight the necessities in one color (gas, bills, food, etc), the things you could cut back on (clothing, eating out, movies) in another, and the big budget busters in a third color. Your goal is to mostly see the color responding to "essentials" in your spending journal, and this will help you tease out where you can cut back temporarily or permanently. Each week write down the trip you're saving for to remind yourself what you are saying yes to in favor of all the things you are giving up.
There are lots of ways to adapt this practice, the key idea is to create a Spending Journal that works for you. Kim, Bearfoot Theory's former Community Manager, used a similar practice to help her save over $15,000 in 1 year for a thru-hike of the Pacific Crest Trail. Just a note, it doesn't take $15,000 to hike the PCT but Kim budgeted $5,000 for her hike and wanted $10,000 as a safety net for when she returned from her hike. That $5,000 includes having all of her personal belongings in a storage unit for 1 year & also car payments. Below is an example of a month in her journal.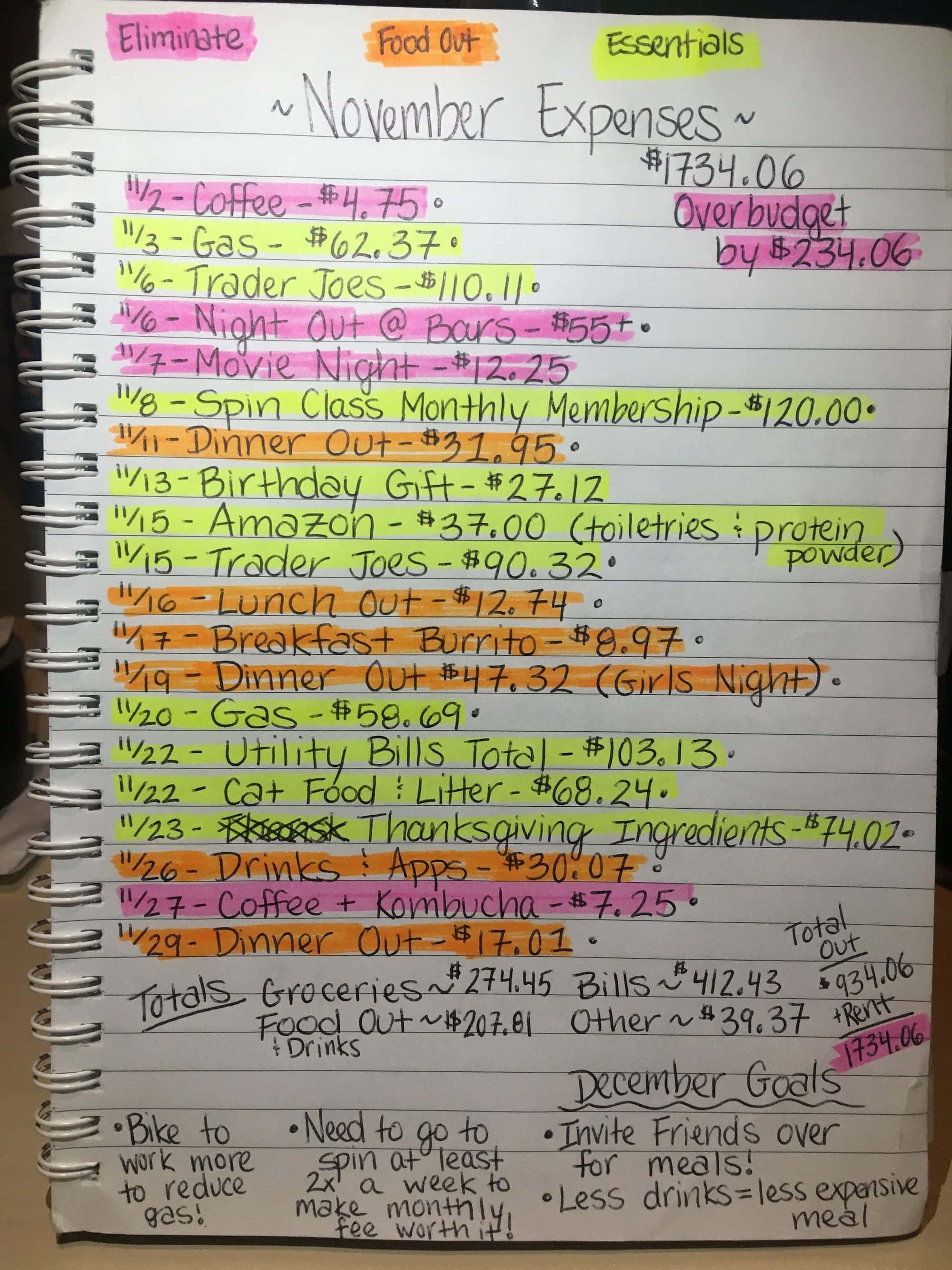 You'll see her color coding – pink for purchases to eliminate, orange for meals she ate out (a personal goal she was working to reduce expenses on) & yellow for essential expenses she couldn't avoid (for the most part). Kim's monthly expenditure goal was $1,500 a month. She summarized her expenses into categories to see where she was spending most of her money, and then goal set for the month ahead. You'll note she didn't write how expenses made her feel as this made her not want to necessarily log her expenses daily, instead she summarized at the end of the month & planned for the next.
For Kim, highlighting in one color the amount she spent on meals out was eye-opening. In one month she was spending on average several hundred dollars eating out. Gradually she was able to get this down to only about $50 every month by inviting friends over for community dinners instead of going out to eat, using coupons from the local paper, and by avoiding expensive drinks at restaurants.
Who knows? A spending journal might even help YOU become a savvy spender in the long run. Give it a try for 3 months to find a structure that works for you.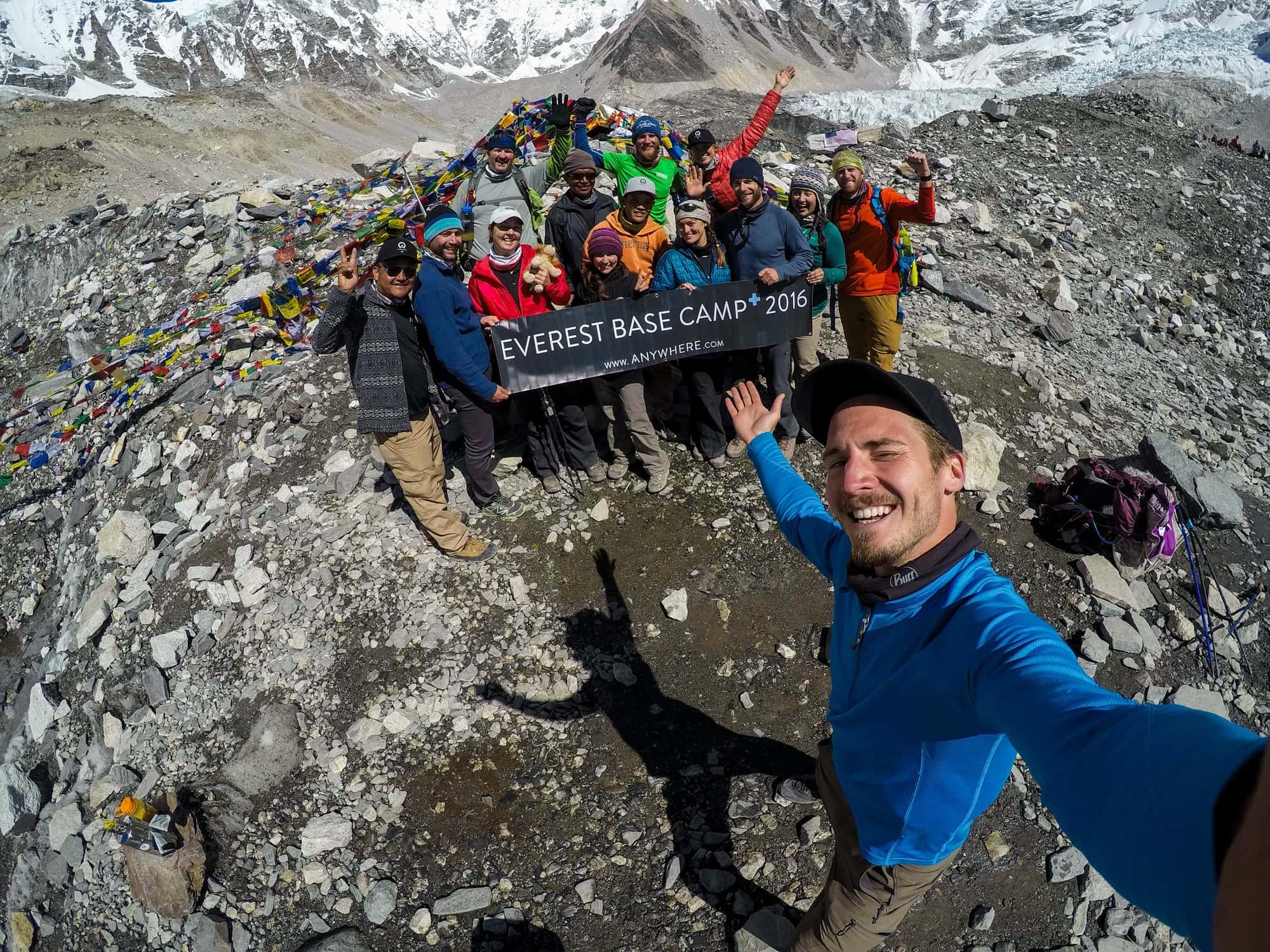 Continually remind yourself why you're budgeting and what you're working towards. It makes the sometimes painful process of evaluating your finances easier.
The Latte Factor
Maybe you've heard this one before, but in case it's unfamiliar, the phrase "The Latte Factor" refers to all of the little things in your life that add up financially, for example, a $5 latte every morning. If it's not a pricey coffee, perhaps for it's the Kombucha Factor, the Fro-Yo Factor or whatever your guilty indulgence is, consider where you can tighten up your purse strings while you save money for traveling and that next big adventure. Full disclosure: It's much easier to notice these trends after you've completed the 30-day spending journal (or during if you're feeling especially ambitious) so give yourself a grace period before diving in to make sure you have a sustainable plan of action moving forward.
Here are a few more ideas to help kickstart your saving plan and cut costs quick:
Plan out your meals for the week to save money for traveling. If you know what's already on the schedule for dinner you're less likely to eat out or stop to pick up food on the way home.
Figure out how much you need to save for this trip, then do the math and set aside a reasonable amount each week to help you work towards that goal
A sticky note on your fridge with the number or name of the place is a good motivator when you need to remind yourself why you're doing this in the first place
Keep yourself busy with work, being active outside, and hobbies at home. The less free time you have to shop online or go out, the less money you'll spend.
Have a potluck and invite friends over for a big dinner.
Monthly subscriptions like Netflix, Hulu, Amazon, Audible, etc. can really add up. See where you can cut back or better yet, split them with friends
Do more research on saving money! The more ways you can save the better and knowledge is empowering. Go to your library and check out a book or two or read up about saving online.
Check out our tips & tricks for planning a cheap road trip.
Calculate your Travel Costs
Let's be honest: you simply can't know every single expenditure you'll have on your trip. And if we are being even more honest, one thing that every traveler knows for sure is that an overly strict budget that holds you back isn't any better than a budget that doesn't exist. The ideal budget is one that includes all the necessary costs and leaves a little room to be spontaneous.
1) Book a Cheap Flight and Hotel
To start, calculate the costs of your transportation and accommodations. These are almost always the most expensive expenditures and will help you, a financially savvy traveler of course, lay the groundwork to plan out the remainder of your travel budget.
Here are a few ideas to help you save money on flights & lodging:
Scout out good deals for flights on websites like scottscheapflights.com, Kayak, Expedia, Kiwi, Momondo, JetRadar, and Google Flights. Also, use SkyScanner to help you find the cheapest day to fly out and make sure to keep your browser incognito.
Book a cheap accommodation at Airbnb, VRBO or check booking.com for affordable bundles on flights and hotels. See our coupon below to save $40 off AirBnB.
Go camping instead of staying in a hotel! This is by far one of the cheapest accommodations you can find and if you ask us, the best way! Check out our guide to finding FREE, dispersed campsites.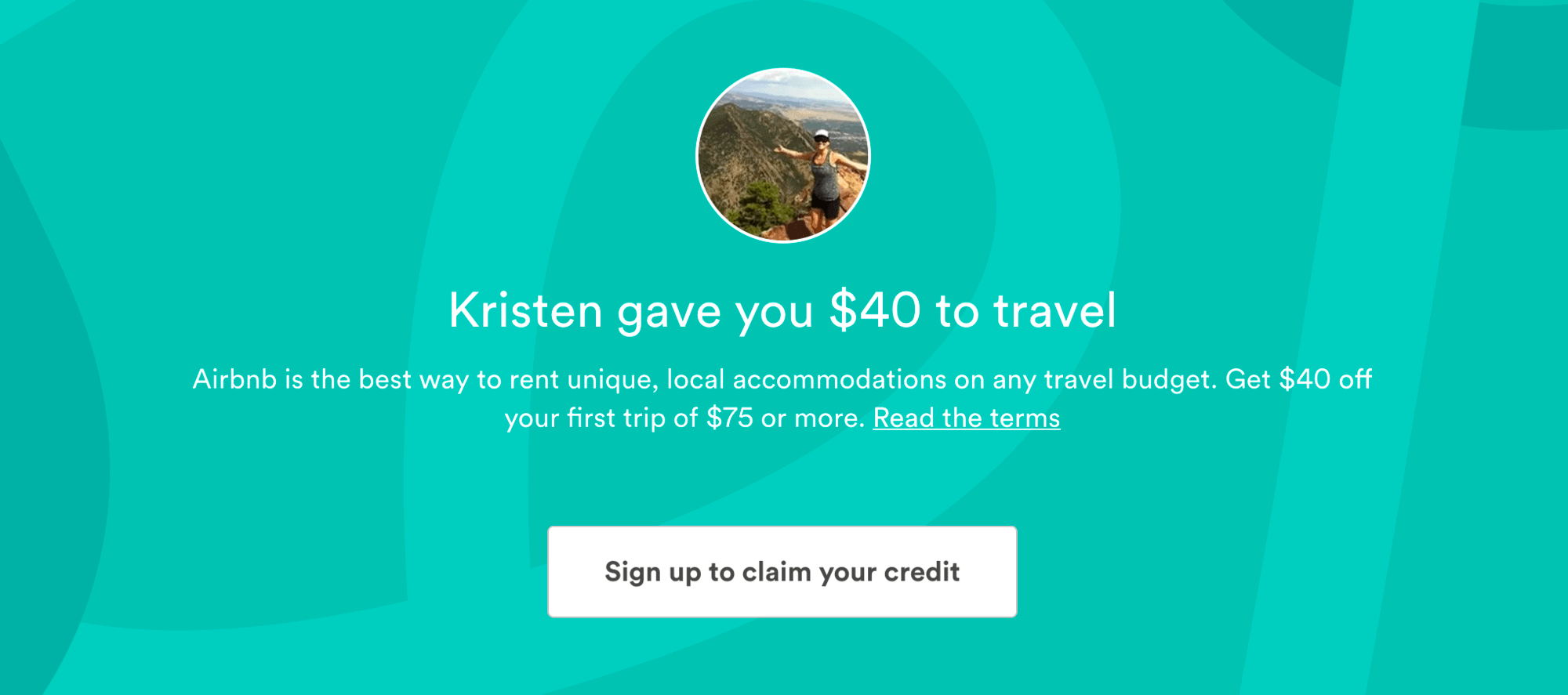 2) Save on the Essentials
Backtrack a little and think about what other fees are involved in the planning of your trip such as travel insurance, shots, immunizations and even visas depending on how long you're staying. If you need to spend money on outdoor gear that you don't have, consider borrowing from a friend or buying from one of these discounted outdoor gear retailers to save money for traveling. Factor these costs into your overall trip expenditures as well to make sure you've covered the necessities.
3) Eat and Drink Cheap
Once that part is settled, it's time to think about the cost of your meals. If you have an itinerary for your trip, imagine (the best you can) where and when you'll be during breakfast, lunch, and dinner. How much does lunch cost? Are there cheaper street food options that you can visit to save for that fancy dinner place you've read all about? Try to get a sense of what you'll be spending on food and drink so that you aren't shocked by the bill every time and have a bit more wiggle room for the occasional splurge — 'cause, come on, the best memories always include what you ate.
More budget-friendly food and drink ideas are:
Visit a local grocery store for lunch specials or stock up on low-cost foods in bulk like bread, peanut butter and jelly to make a lunch or bring it with you for the day
Buy breakfast foods and snacks at the grocery store to avoid spending money on food throughout the day
Alcohol can certainly add up over time but rather than forget about it, our Community Manager, Kim goes to the liquor store instead! "Get dinner and then hit up a liquor store and grab some local beers to enjoy back at your hotel room while you plan out the next day of adventures. I do this everywhere I travel and find really awesome places that showcase all the local breweries."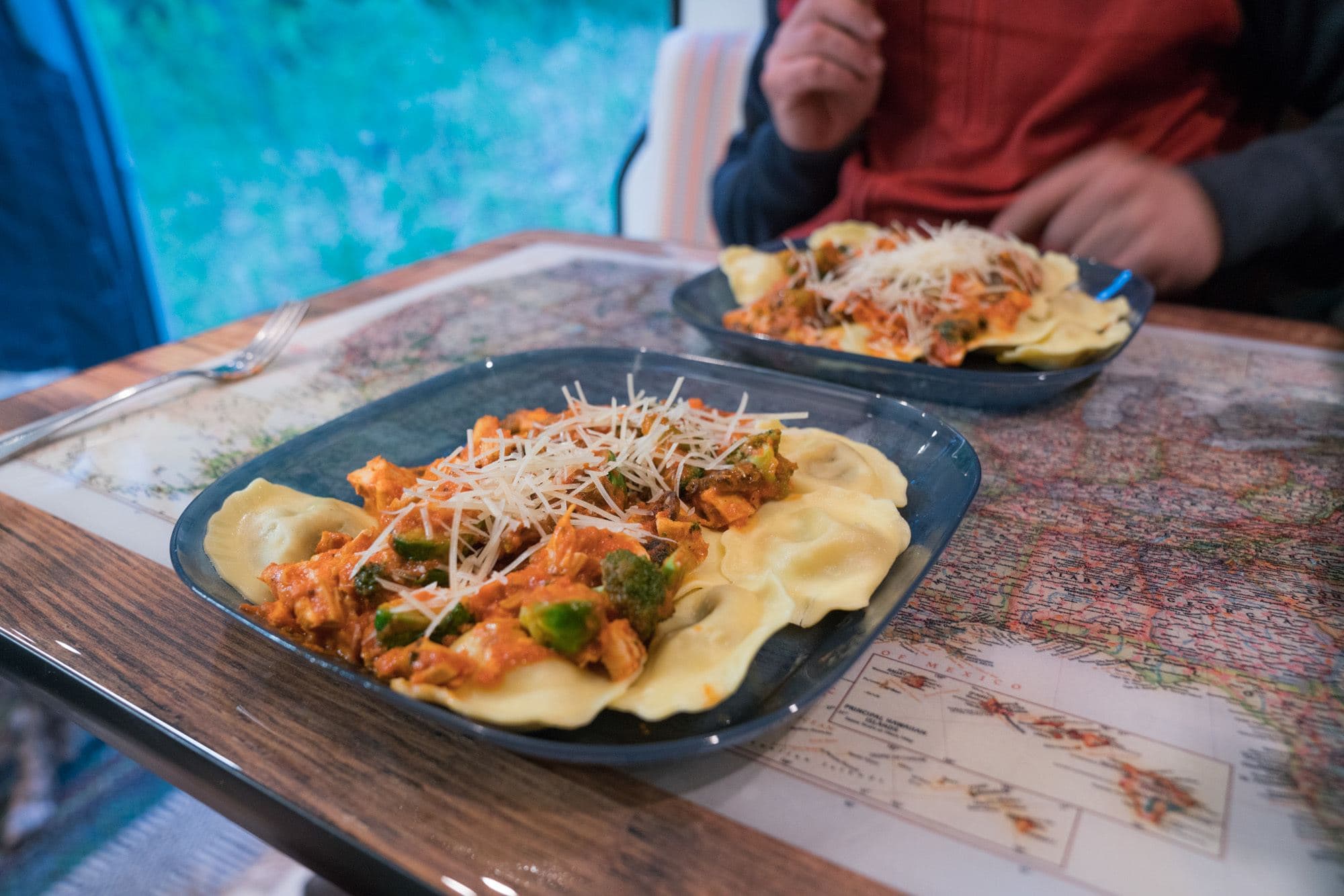 Eat in & have fun trying out new recipes. You could even attempt to cook some ethnic recipes related to where you're headed!
4) Find free activities
One of our favorite things about hiking is that it's FREE! All you need if your hiking boots and some basic gear, and you can plan a full-day of adventuring on the cheap. For additional ideas, check out the local tourism board's website to see if they have a list of free things to do in your destination.  Planning ahead with a list of things you can do for free when you are traveling will prevent you from signing up for paid tours and activities in the spur of the moment because you aren't sure what else to do.
5) Spend on the Splurge
After you've crunched the numbers and figured out the nuts and bolts of your travel budget you now get to think about the fun stuff. THINK: That day of scuba diving or unique gifts you might want to bring home. The occasional splurge is ok, and can make for a really memorable trip, as long as you set some boundaries. See what you can afford to set aside for splurges, along with the cash you'll want to keep on hand for those times when something inevitably just pops up or goes wrong.
The bottom line is that travel is worth your hard-earned money, so don't be afraid to spend it! Budgeting and smart spending habits go a long way in ensuring a great trip without the money hangover at the end.
Hope these tips help you begin to save for your big trip. Are you a penny-pincher? Share your tips in the comments to add to the discussion.