San Juan Island Kayaking Tour
Last month I was up in Washington's San Juan Islands for a bachelorette party, and we wanted to do something a little more adventurous than brunch and champagne (not that we didn't want that too 🙂 ).
The San Juan Islands are known for marine life and rugged green coastline, and one of the best ways to explore this part of the Pacific Northwest is by kayak. The local Friday Harbor company San Juan Kayak Expeditions offers a sunset kayaking tour, and that seemed like the perfect fit for the group of girls I was with.
Here's the details on our San Juan Island sunset kayaking tour in Griffin Bay and the other paddling options (like looking for whales!!) available for those visiting San Juan Island.
Important Reminder: As outdoor recreationists, it's our responsibility to know how to recreate responsibly on the water whether we're kayaking, paddleboarding, canoeing, rafting, or boating. Learn how to prevent the spread of aquatic invasive species with 3 easy steps that have a huge impact on our ecosystems.
— San Juan Islands Kayaking Video —
For a quick recap, check out my latest travel video of my tour with San Juan Kayak Expeditions shot with my GoPro Hero4 Black.
— San Juan Kayak Expeditions Sunset Paddle Tour —
San Juan Kayak Expeditions has a kiosk about two blocks from the ferry terminal in Friday Harbor. We arrived around 5:45pm for our sunset kayaking tour and were greeted by our guide Brandon. He gave us the scoop on what we'd be doing, we loaded into the van, and then drove about 5 minutes down to the beach where we'd be launching.
We all helped out unloading the kayaks, and then Brandon gave us some basic instruction before hitting the water. He also gave each of us a dry bag, spray skirt, life jacket, and therm-a-rest seat cushion which made the kayaks way more comfortable than most boats I've paddled in.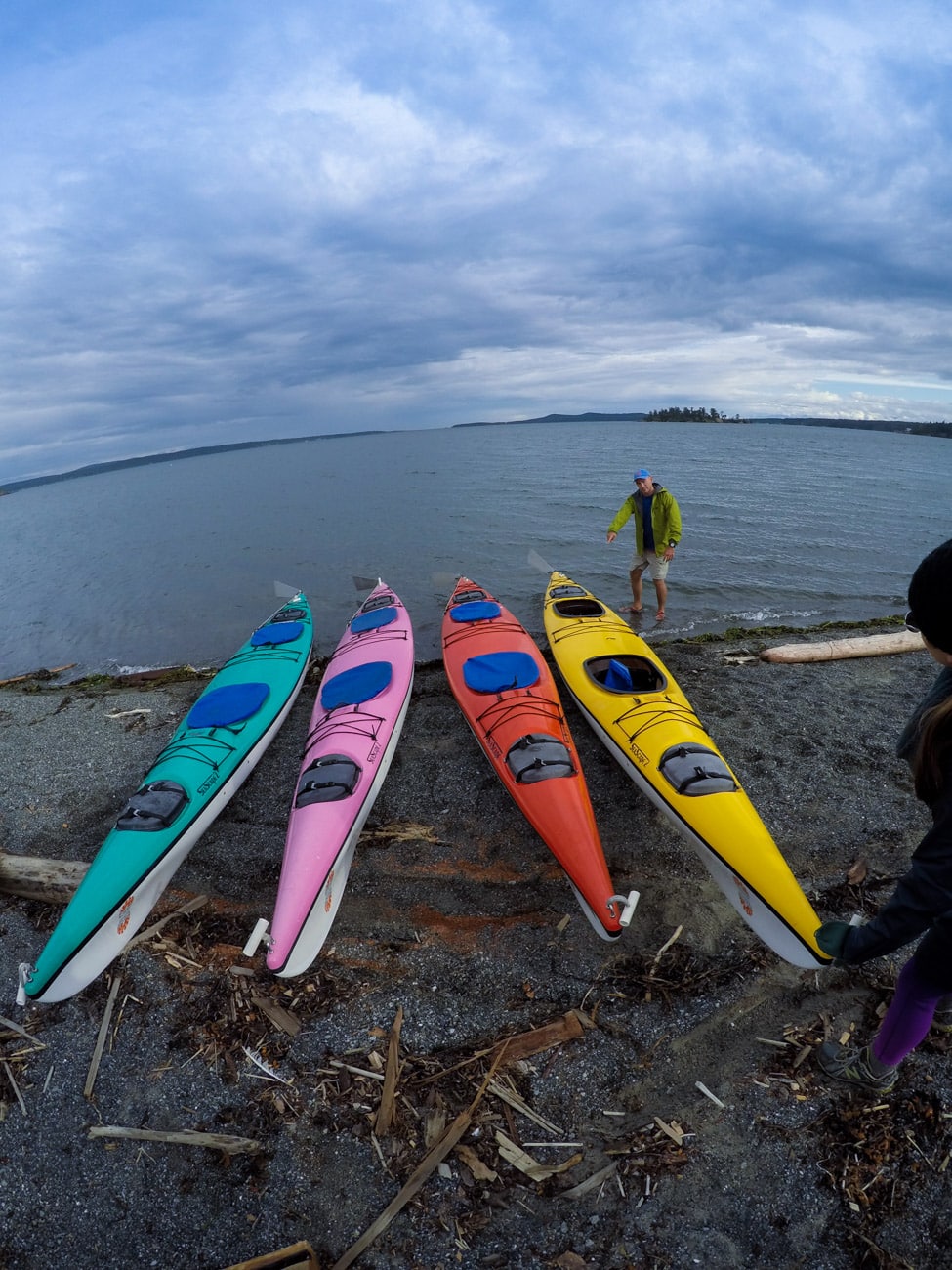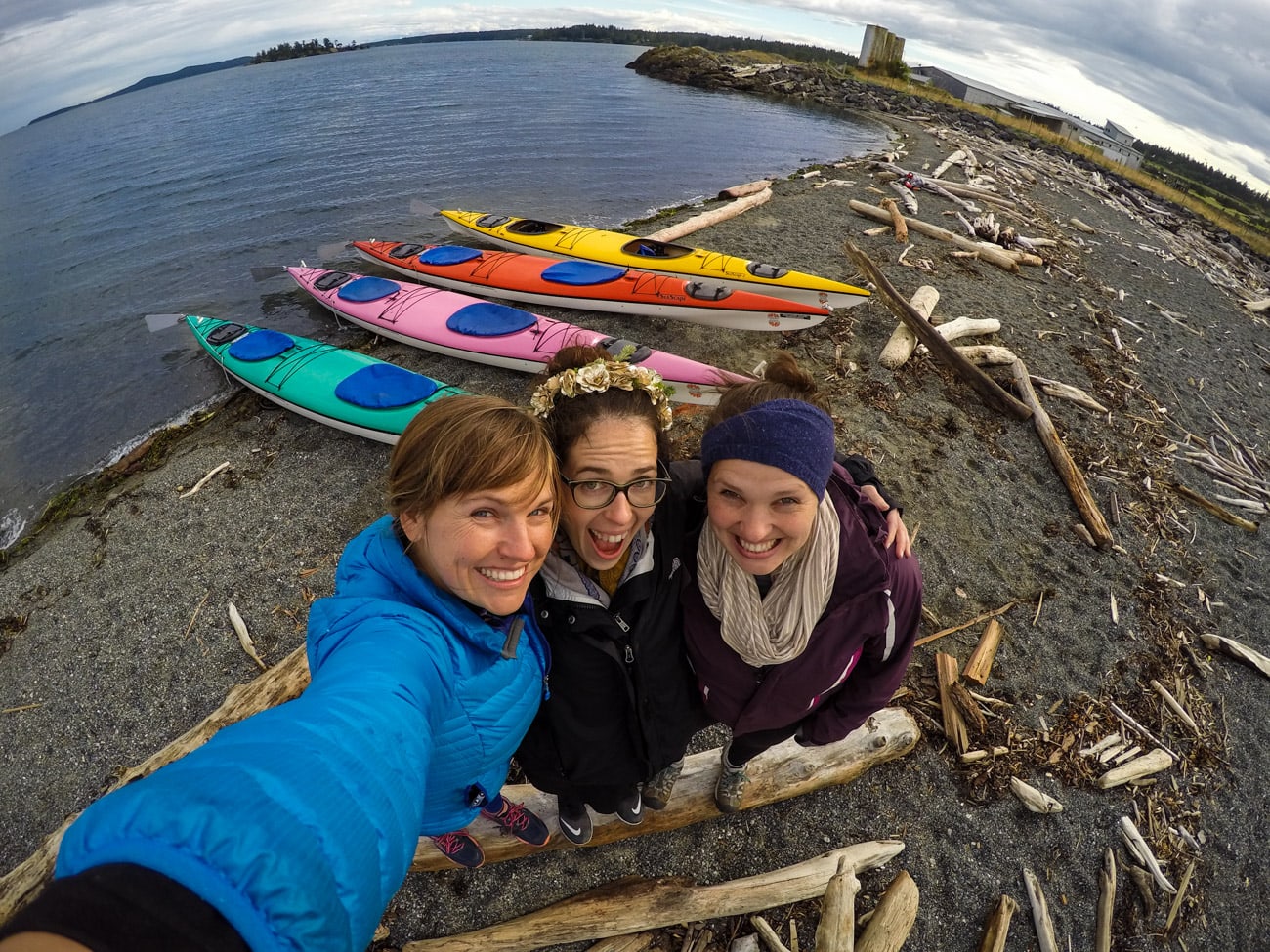 From the beach, we paddled up the coastline which was dotted with cute homes and Washington's evergreen trees. It was Brandon's first season guiding with San Juan Kayak Expeditions, but he was full of interesting tidbits about the area, including the history of the nearby National Historic Park and the diverse marine life that the San Juan Islands are known for.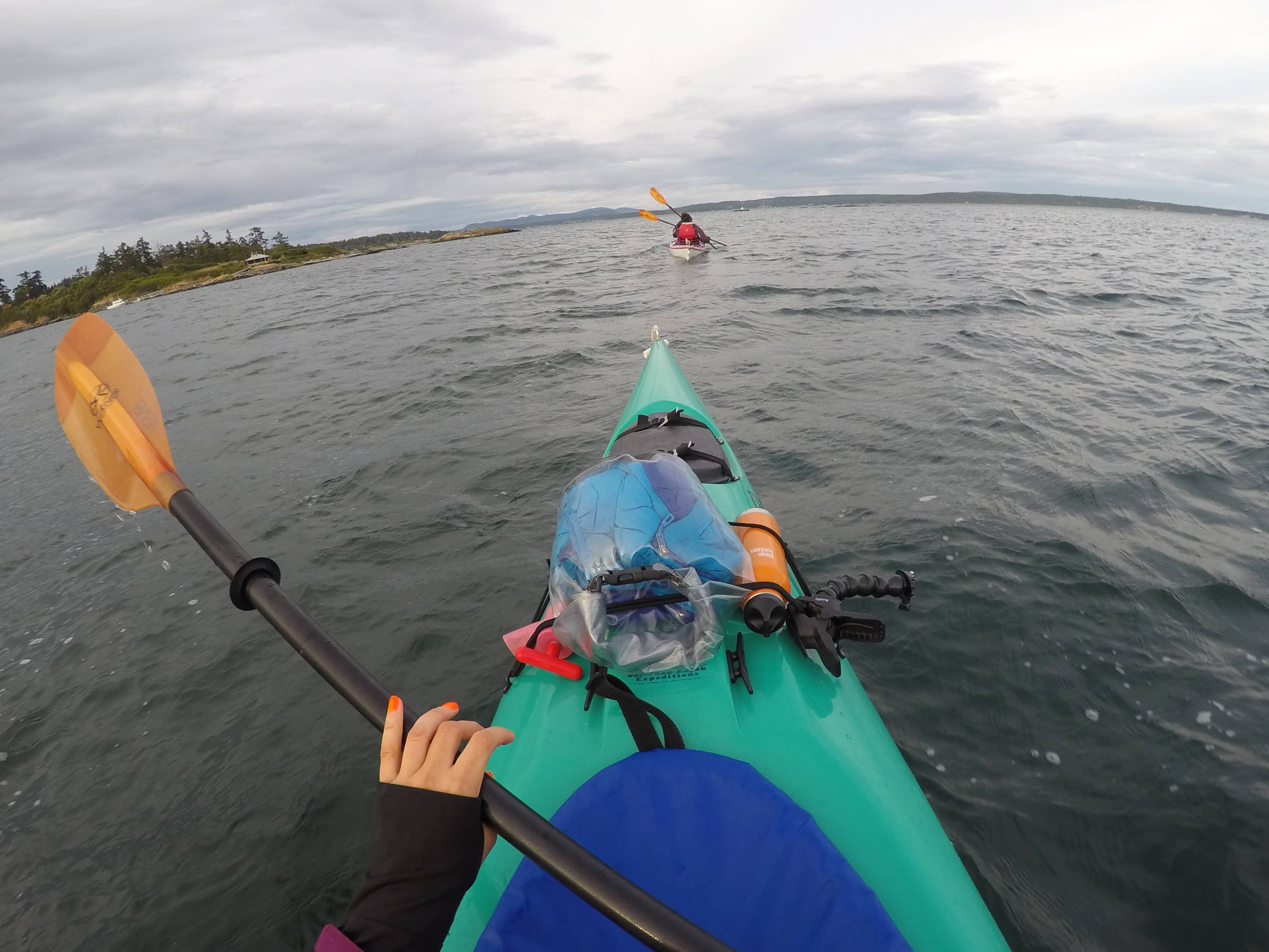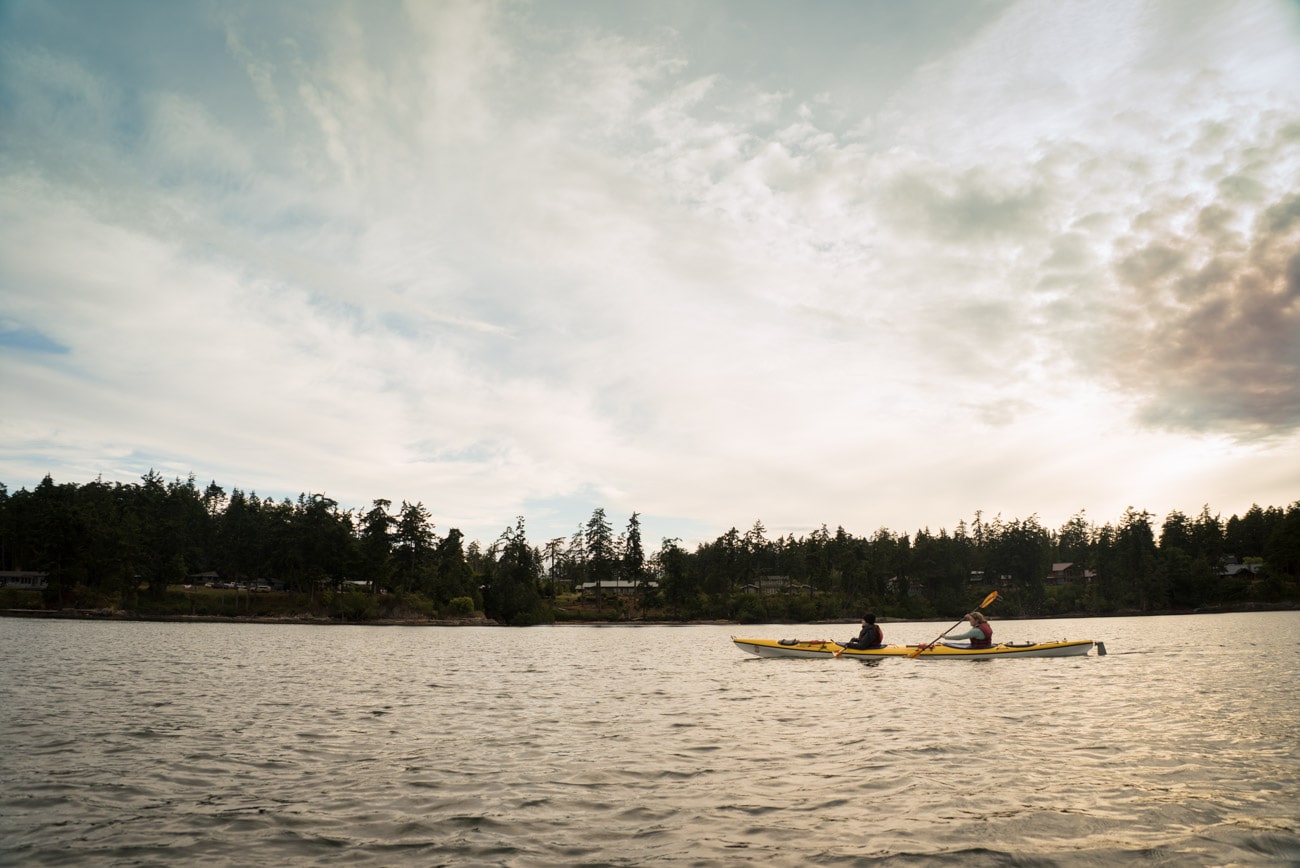 The pace of our sunset kayaking tour was pretty mellow….just how we wanted it. We cruised up the coast for over an hour. Brandon never rushed us and did a great job corralling our group while still giving us freedom to explore as we pleased.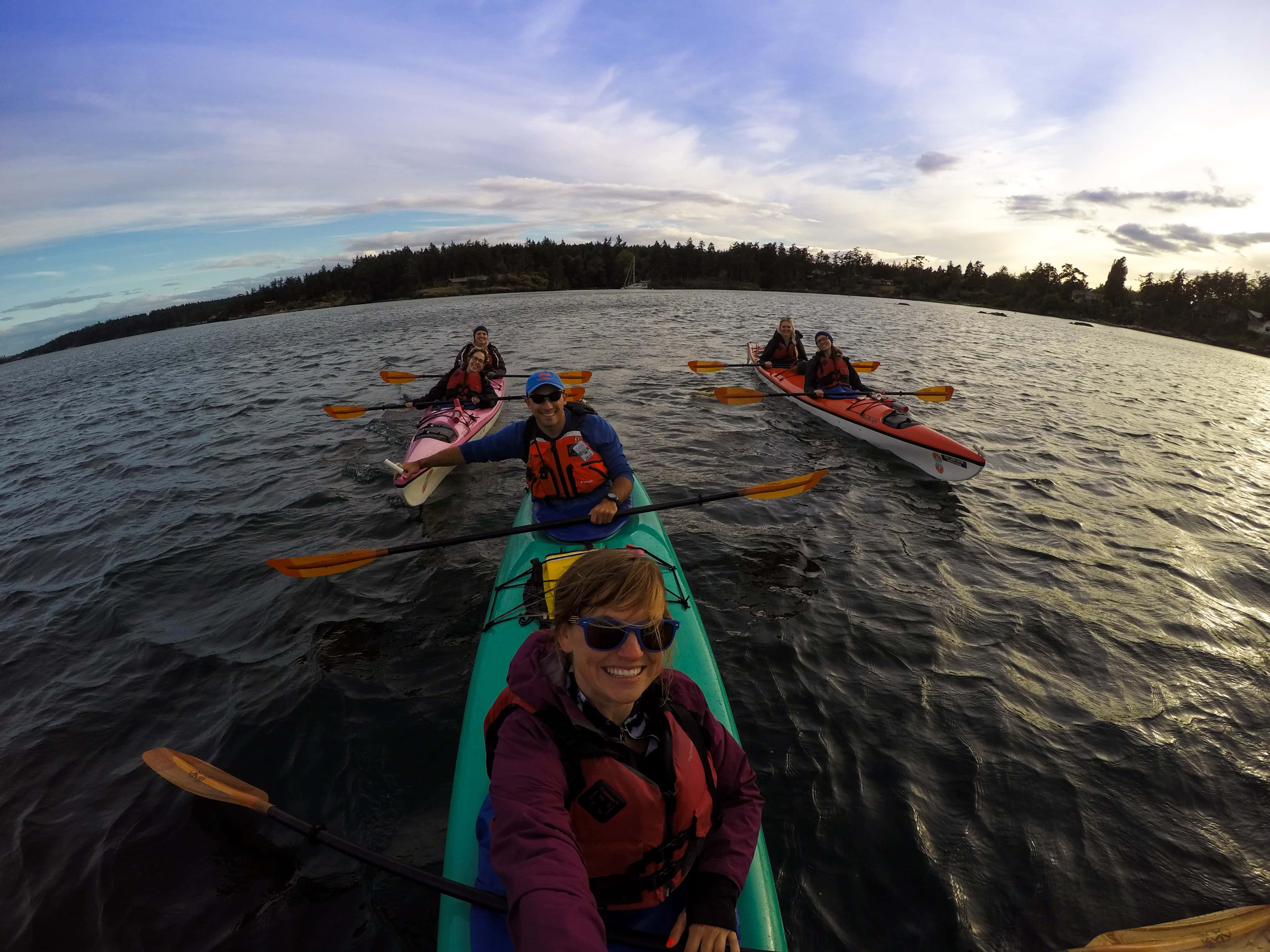 It had been raining earlier in the day, so we weren't sure if we were going to get a sunset or not. As we turned around and faced west however, there was just enough break in the clouds to give us that color that we were hoping for. We circled an offshore island and then slowly made our way back to our launch point, taking in the beautiful scenery along the way.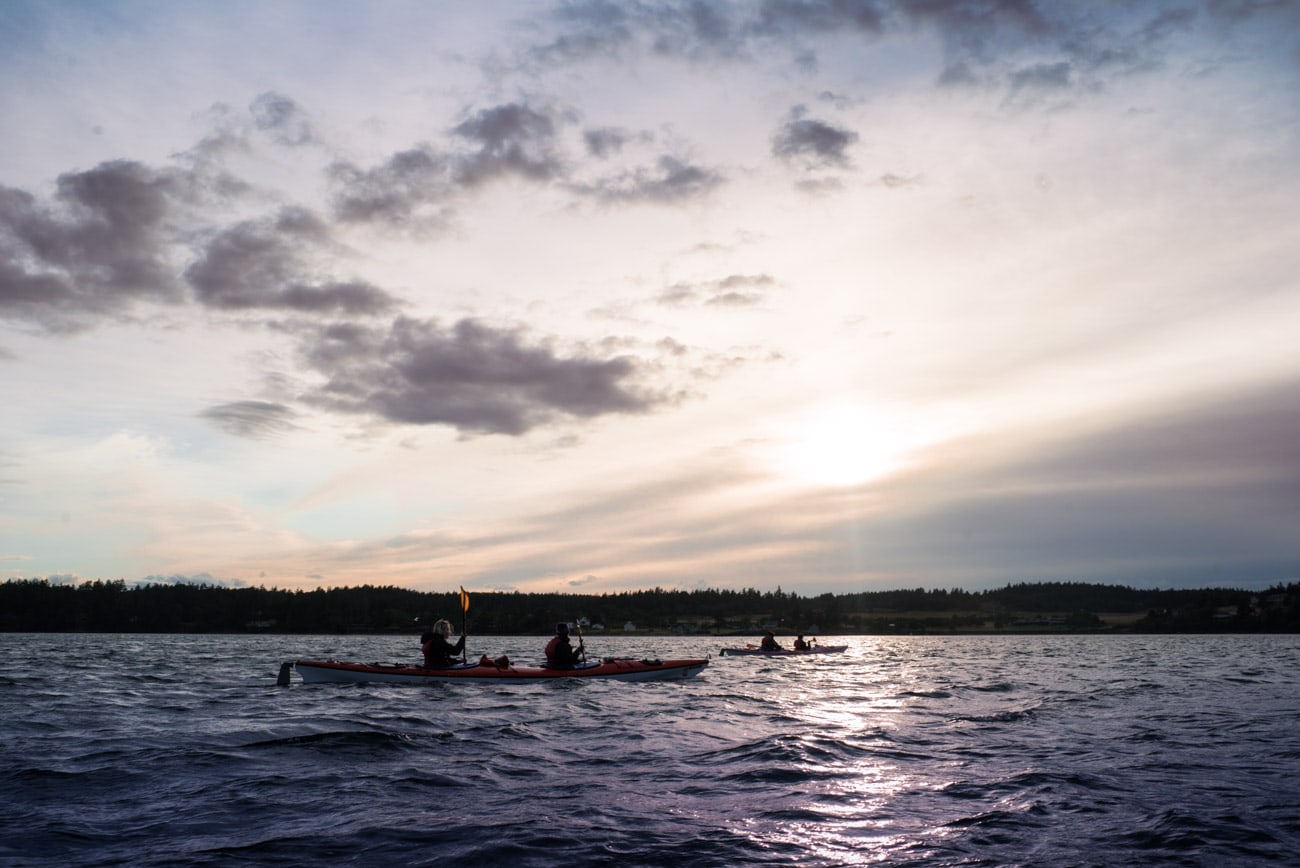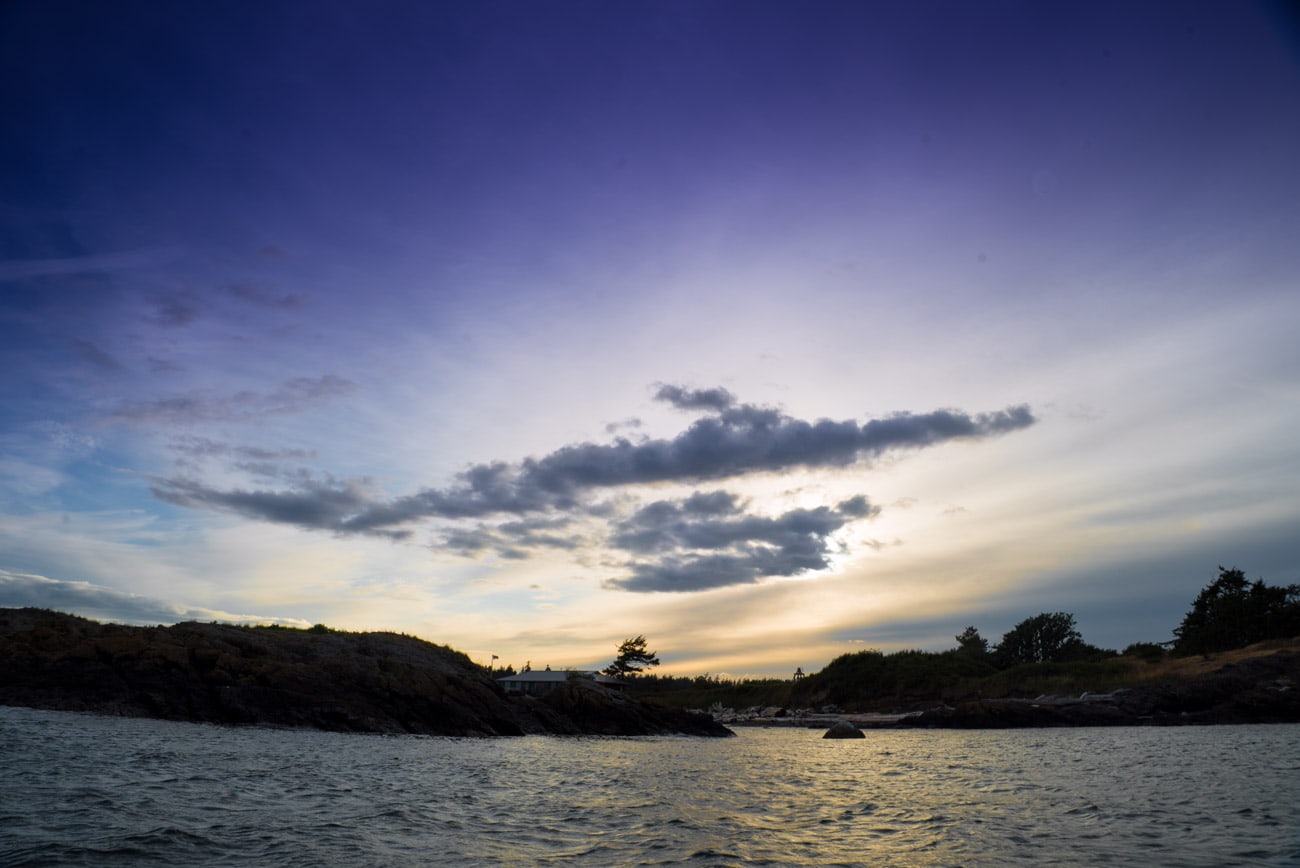 — Other Kayaking Options in the San Juan Islands —
We chose the sunset tour because we wanted something mellow where we could enjoy each other's company. For the group of girls I was with, we definitely made the right choice.
If you are looking for something more adventurous with the chance to see some whales (how epic would that be?), San Juan Kayak Expeditions offers a bunch of other trips including full and half day tours in the San Juan Islands Federally Designated Whale Sanctuary. If you want the best chance for encountering some exciting marine life, consider this option! They also offer multi-day paddling trips, which I think would be an awesome way to explore and get off the beaten path in the San Juan Islands. (**Note – prime whale season is late May through early September).
If you'd rather not do a guided tour and want to paddle on your own, San Juan Kayak Expeditions also offers kayak rentals.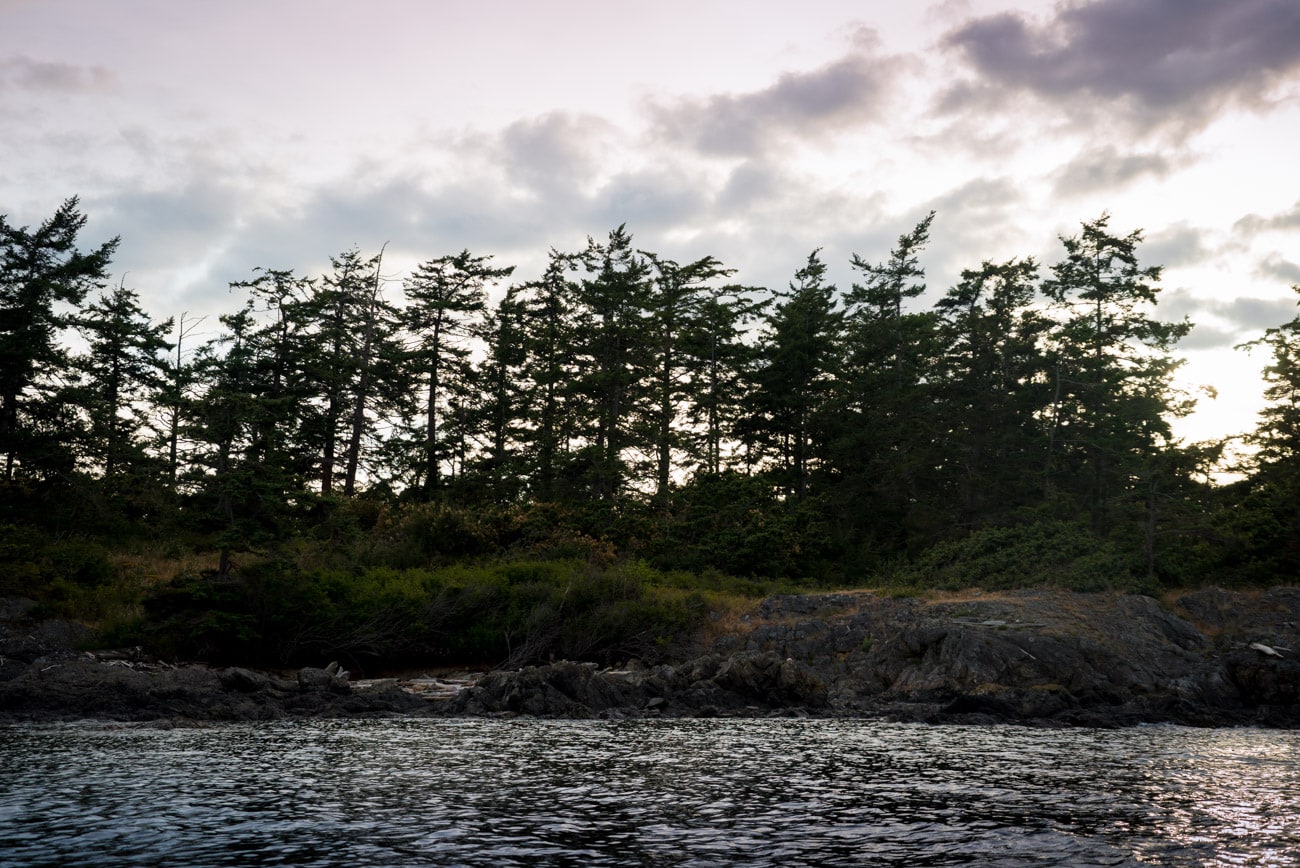 — What to Bring on your San Juan Islands Kayaking Tour —
Clothes: Even summer in the San Juan Islands can be chilly, so you need to dress in layers. You'll be given a spray skirt which will keep your bottom half warm and dry. On the top, I'd recommend a long-sleeved base layer (avoid cotton if possible!), a light fleece or down jacket, and a rain coat. You may not need them all, but it's good to have and then you can decide once you are out there. For the sunset tour, I'd also suggest bringing a beanie and maybe even a light pair of gloves (once the sun goes down, it gets cold pretty fast).
Shoes: Ideally you want to wear shoes/sandals that you can get wet since your feet will probably be in the water as you are getting in and out of the kayaks. I'm a big fan of my Tevas for all water-related sports.
 Camera: Make sure to have a camera handy. The photos here were taken with a Sony mirrorless camera and my GoPro Hero4 Black (using the head strap and the 3-way mount).
** Read Next: GoPro Tips and Tricks for Awesome Travel Photos **
— Sign Up for a San Juan Islands Kayaking Tour —
If you are already on Friday Harbor and interested in a kayaking tour, just visit the San Juan Kayak Expeditions kiosk located on 275 "A" Street two blocks up from the ferry terminal.
To book in advance, visit the San Juan Kayak Expeditions website. The 3-hour sunset paddle runs at $75 per person.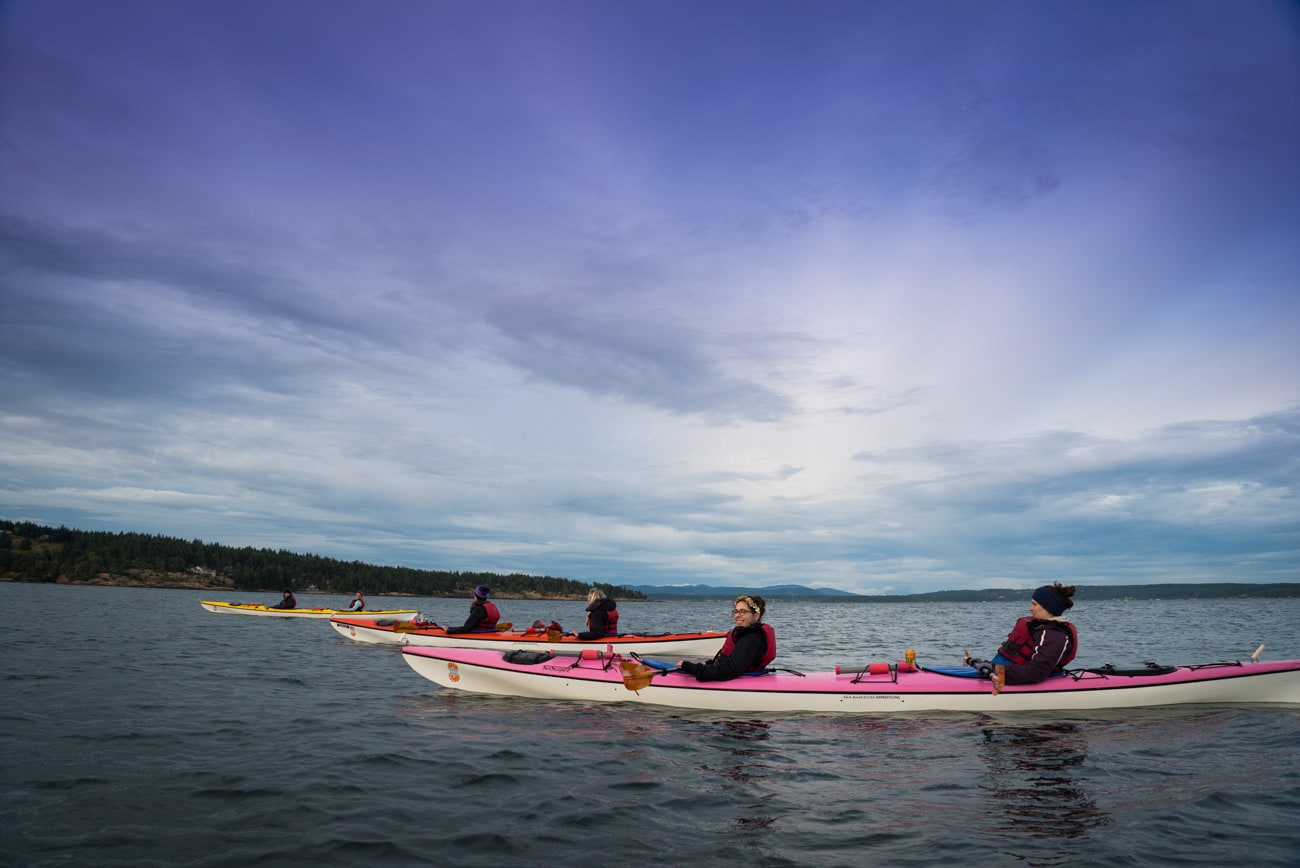 WOULD YOU LIKE TO KAYAK IN THE SAN JUAN ISLANDS? LEAVE A COMMENT BELOW, TWEET ME, OR WRITE ME A POST ON FACEBOOK. 

Thanks to San Juan Kayak Expeditions for hosting us. As always, all opinions and words are my own.