RAD POWER BIKES ELECTRIC BIKE REVIEW
Thinking about getting your first electric bike? RadPower Bikes is a Seattle-based company that makes stellar electric bikes that are super-efficient, great on power, and very comfortable to ride. I was first introduced to RadPower Bikes a few years back by someone cruising around on one at the Overland Expo. He absolutely raved about it, and I knew I had to try one myself.
So Rad Power Bikes sent me a pair of e-bikes for my partner and I to test out. We had so much fun on them that quickly logged a couple hundred miles, clocking 20mph, and we found a great new way to exercise our dog Charlie. In this blog post and in my new YouTube video below, I share a RadPower bikes review, with a focus on the RadRover and the RadMini foldable electric bike.
Check out my review of RadPower electric bikes in this blog post.
Rad Power Bikes YouTube Review
Watch my Rad Power Bikes YouTube review to see the RadMini and the RadRover electric bikes in action.
How Rad Power E-Bikes Works
As of January 2020, Rad Power electric bikes come in 5 different major models. All of them have beefy tires and a pedal-assisted motor powered by a lithium-ion battery that gives you a nice boost of speed. This means you can pretty much take them anywhere – from the steep hills of San Francisco to the back roads of Southern Utah. Each of the Rad Power E-bikes have a different purpose and different ergonimics, so you first want to determine what you plan to use the bike for.
I tested out the RadMini, a foldable electric bike, and the RadRover, which is their closest version to a traditional fat-tired mountain bike.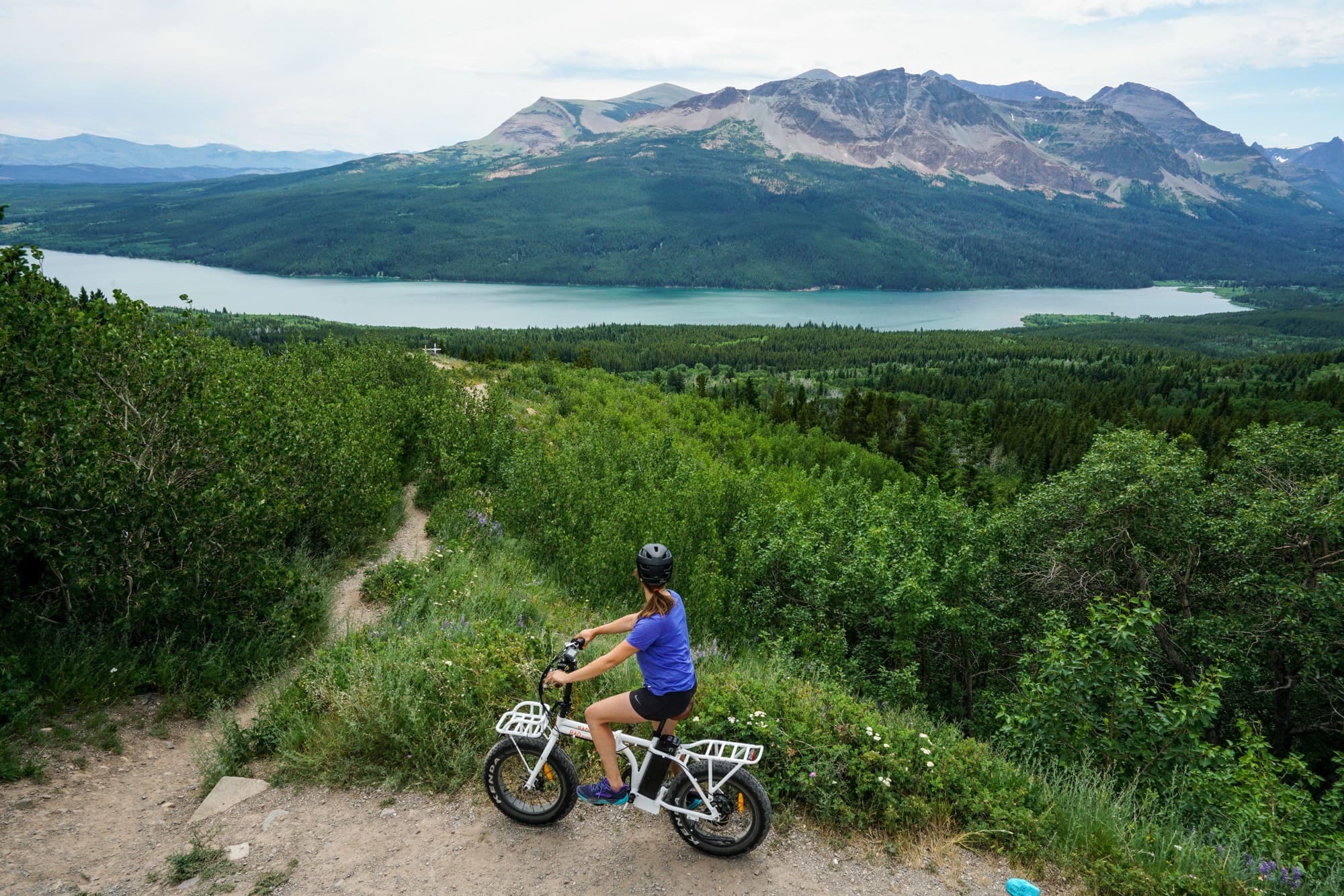 All of the models work in the same fashion. You plug them into a wall outlet for about 5 hours to reach full charge and then they are ready to go.
The Rad Power Bikes operate on pedal assist. That means that you still have to pedal, but the battery-operated hub motor gives you a boost. How much boost depends on which of the 5 power levels you have the bike set to. At full pedal assist (level 5), you can go as far as 20 miles on a single charge, and speed maxes out at about 20mph, although I've seen my speedometer read higher. They go wicked fast.
In addition to the 5 settings, you have a throttle – just like a scooter – which you can use to get going if you are stopped on a hill and need to quickly accelerate. The RadMini & RadRover electric bikes also have 7 gears for shifting when you are going up and downhill.
What's cool about these bikes is that you can still get a workout. The pedal assist is only there if you want it. You can make it as difficult or as easy as you want simply by turning the pedal-assist down or up.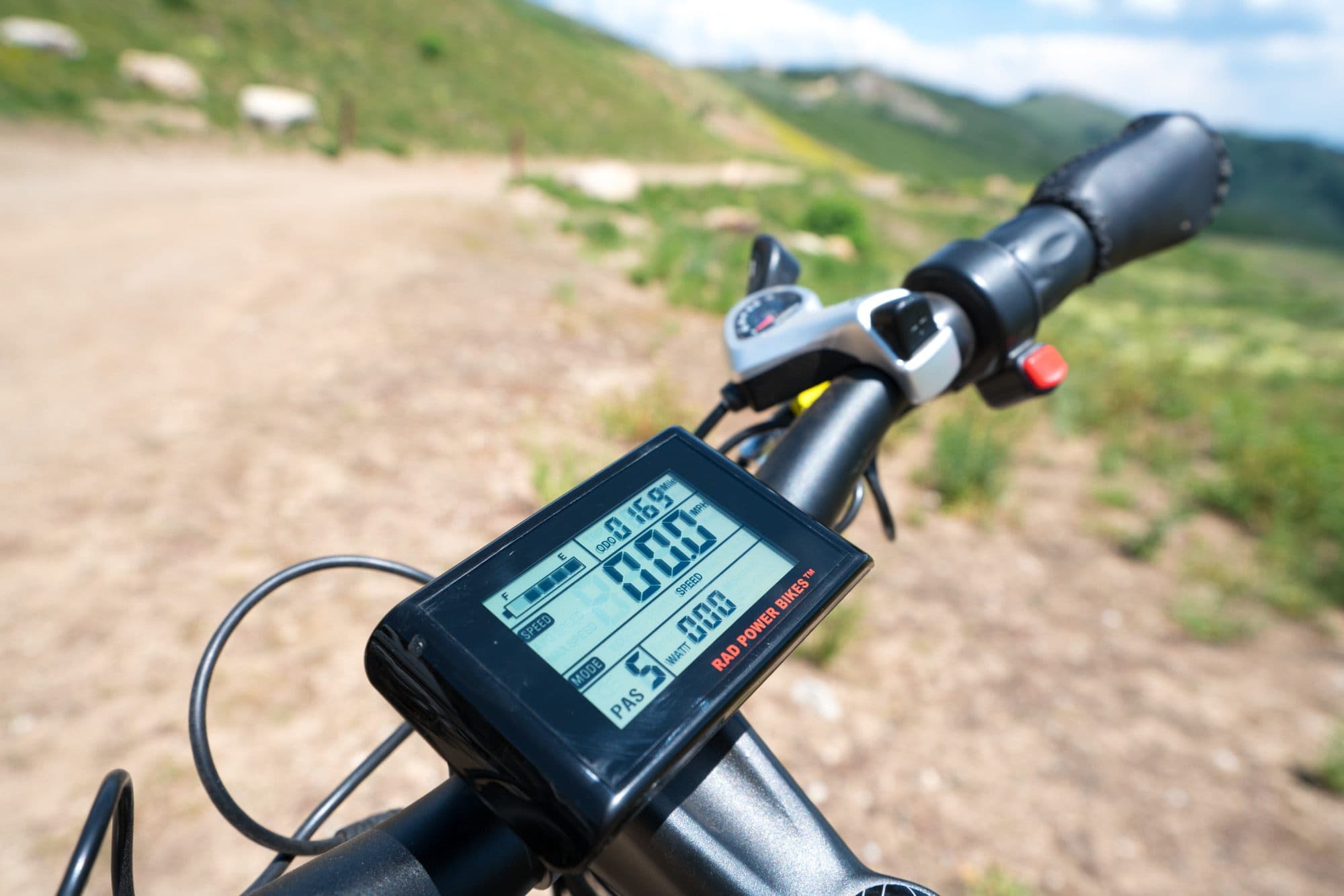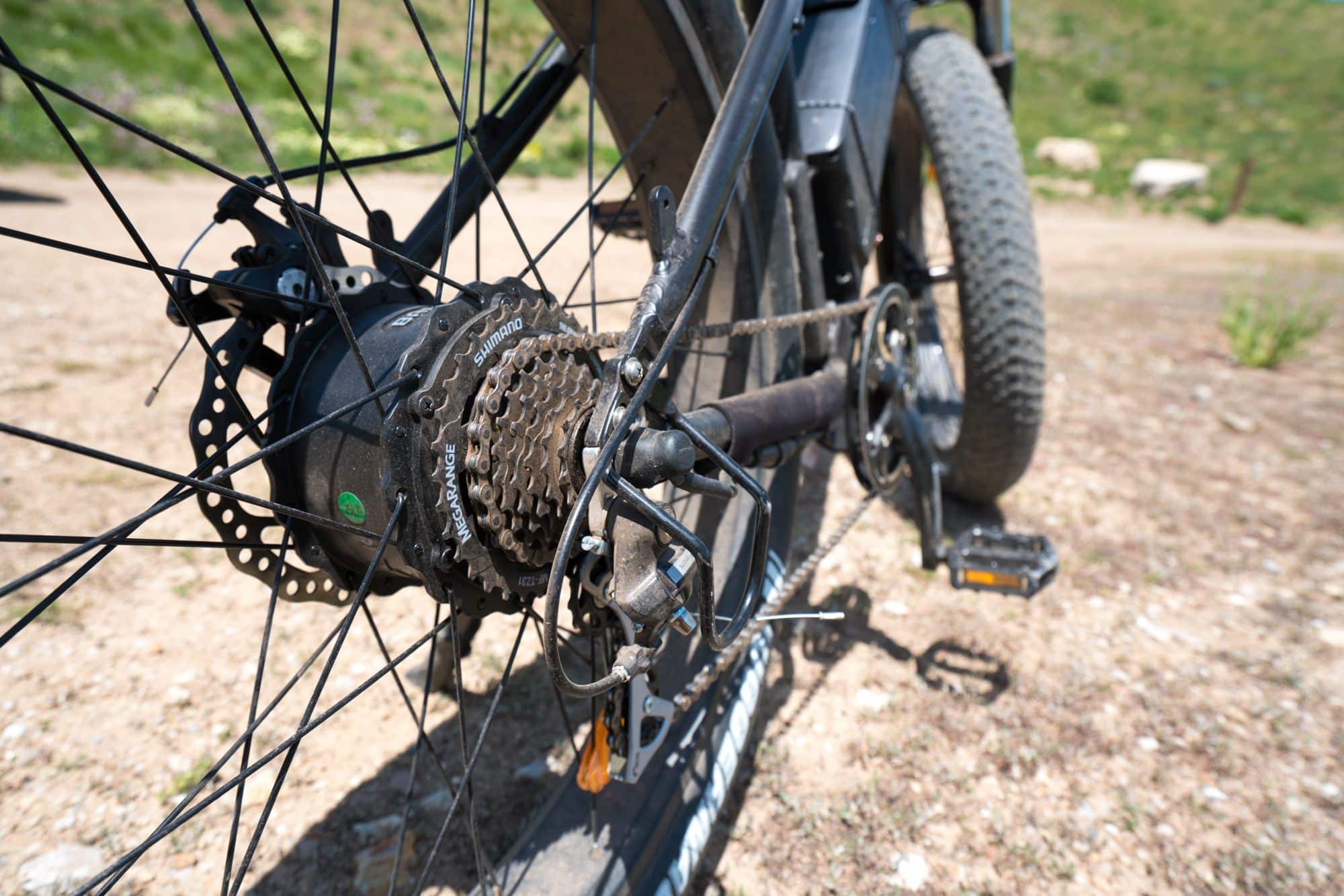 RadMini vs the RadRover
Either one of these would make for a great commuter bike, and with the fat tires, either can also handle a variety of terrain. The major differences lie in the size of the bike, front shocks, and storability. Like most electric bikes, the RadMini and the RadRover are quite heavy….about 69 pounds to be exact, so they take a bit of muscle to throw in your van or on a bike rack.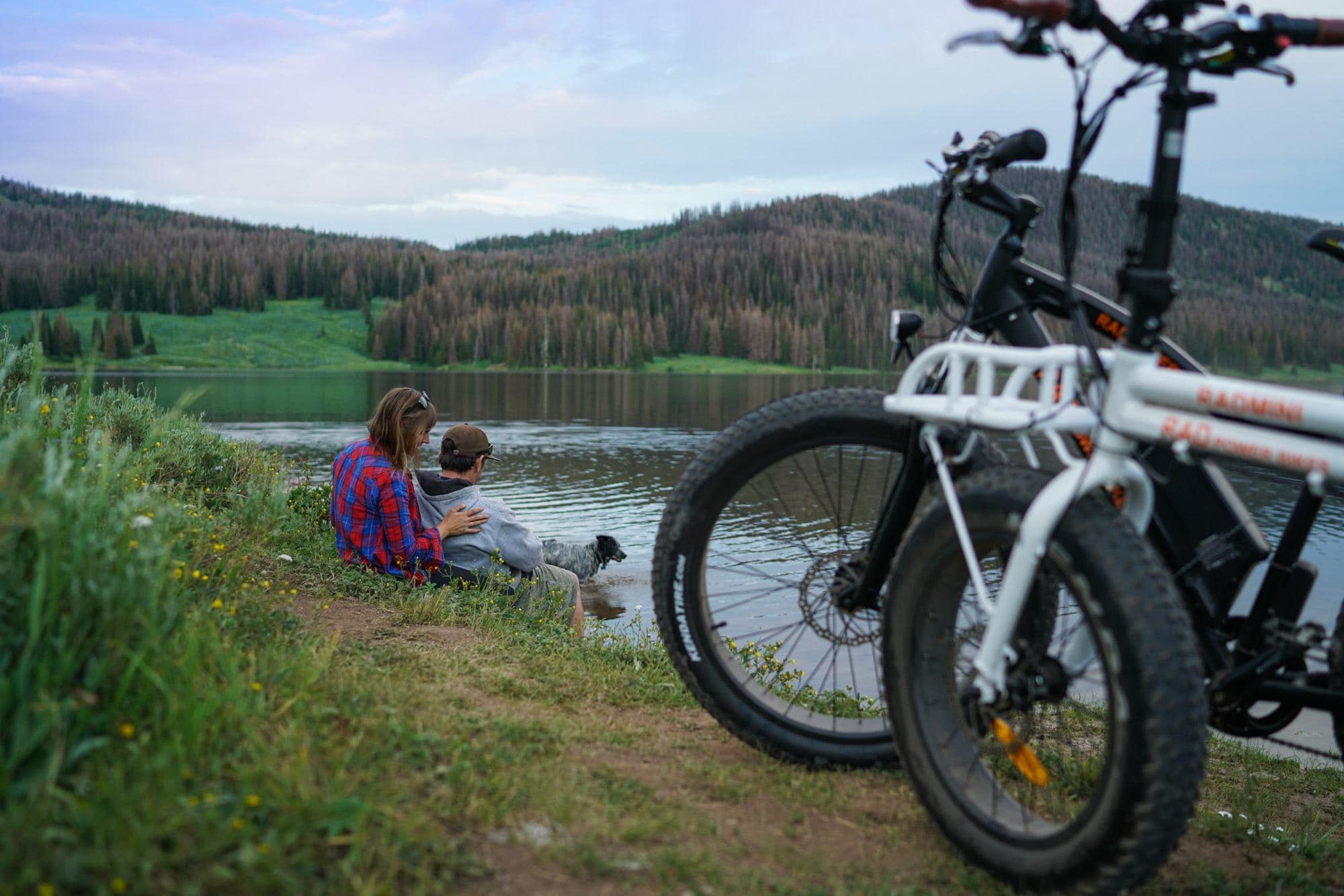 Who is the Rad Mini Electric Bike good for?
The RadMini is a foldable electric bike and is perfect for people who are limited in storage space. I just spent a month driving around Canada with the RadMini in my Sprinter Van. While it did take up some room, I was able to store it in a corner it was much less cumbersome to store than a full-blown mountain bike, which my van was not designed to carry.
The RadMini rides really comfortably, and you are almost sitting upright like a beach cruiser. It lacks suspension and is more of a city bike than the RadRover with its smaller frame and wheels. You can take it on gravel, but anything gnarly is going to result in a pretty bumpy ride.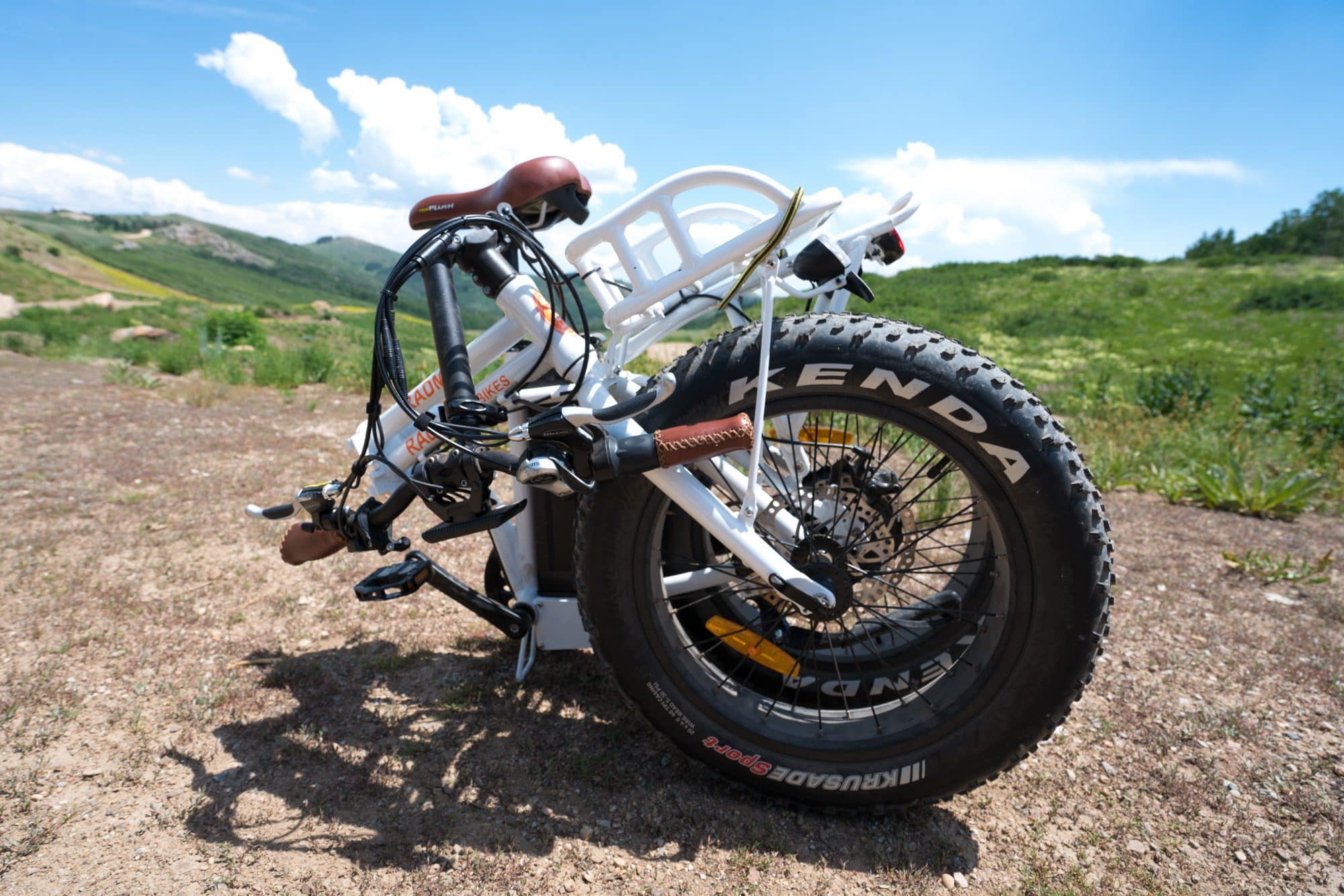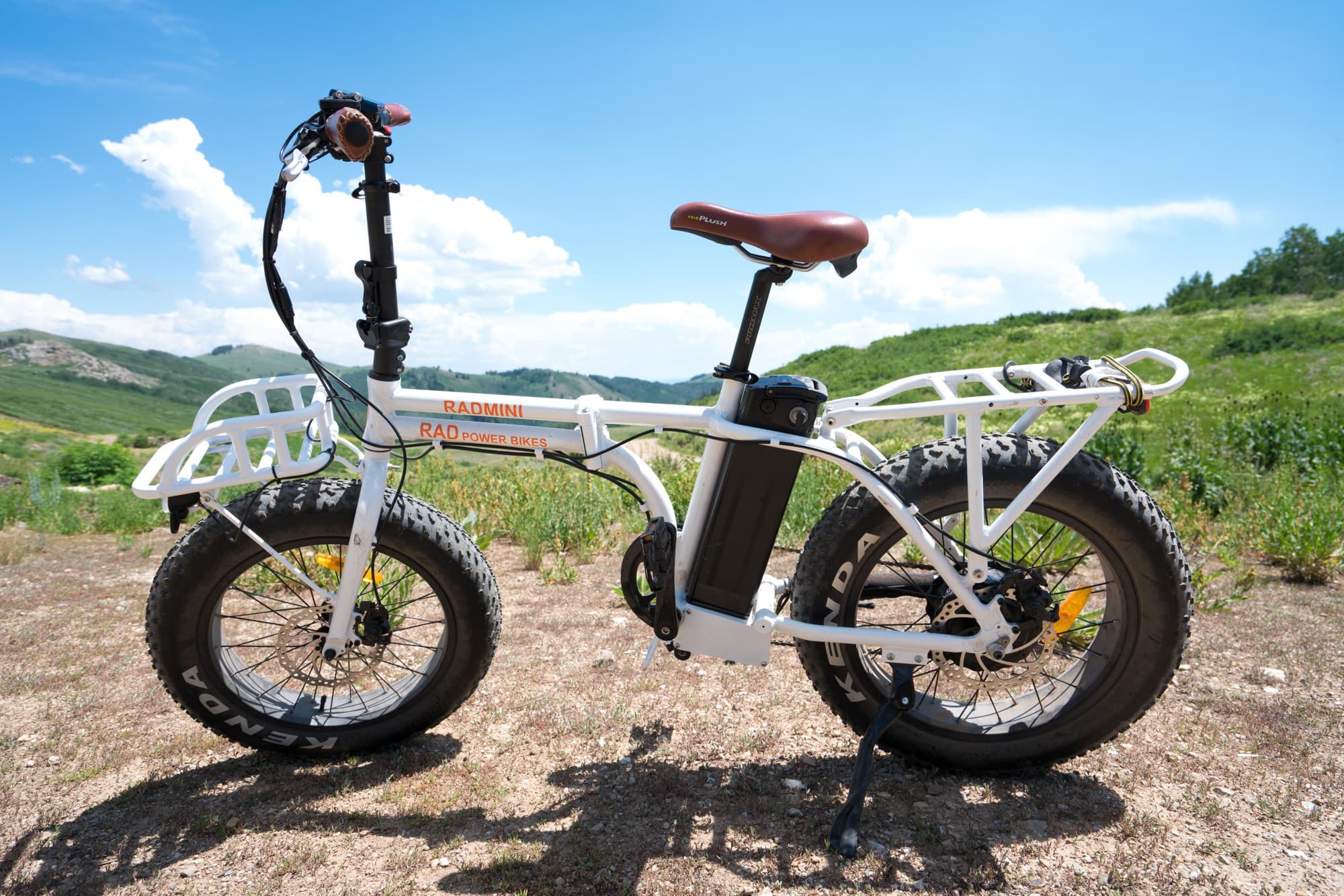 Who is the RadRover Electric Bike good for?
The RadRover has a bigger frame with much larger tires and is a little bit more bike to handle. At the same time, with its front suspension, the RadRover is better suited for off-road travel. The RadMini can easily handle gravel, sand, snow, and gentle bumps, but if you plan on using your electric bike for rougher mountain, off-road biking, you'd better off with the RadRover. The exception would be people with smaller frames who the bike might simply be too large for. I'm 5'6" with fairly long legs, and I could handle it, but someone who is 5'2″ might struggle a bit.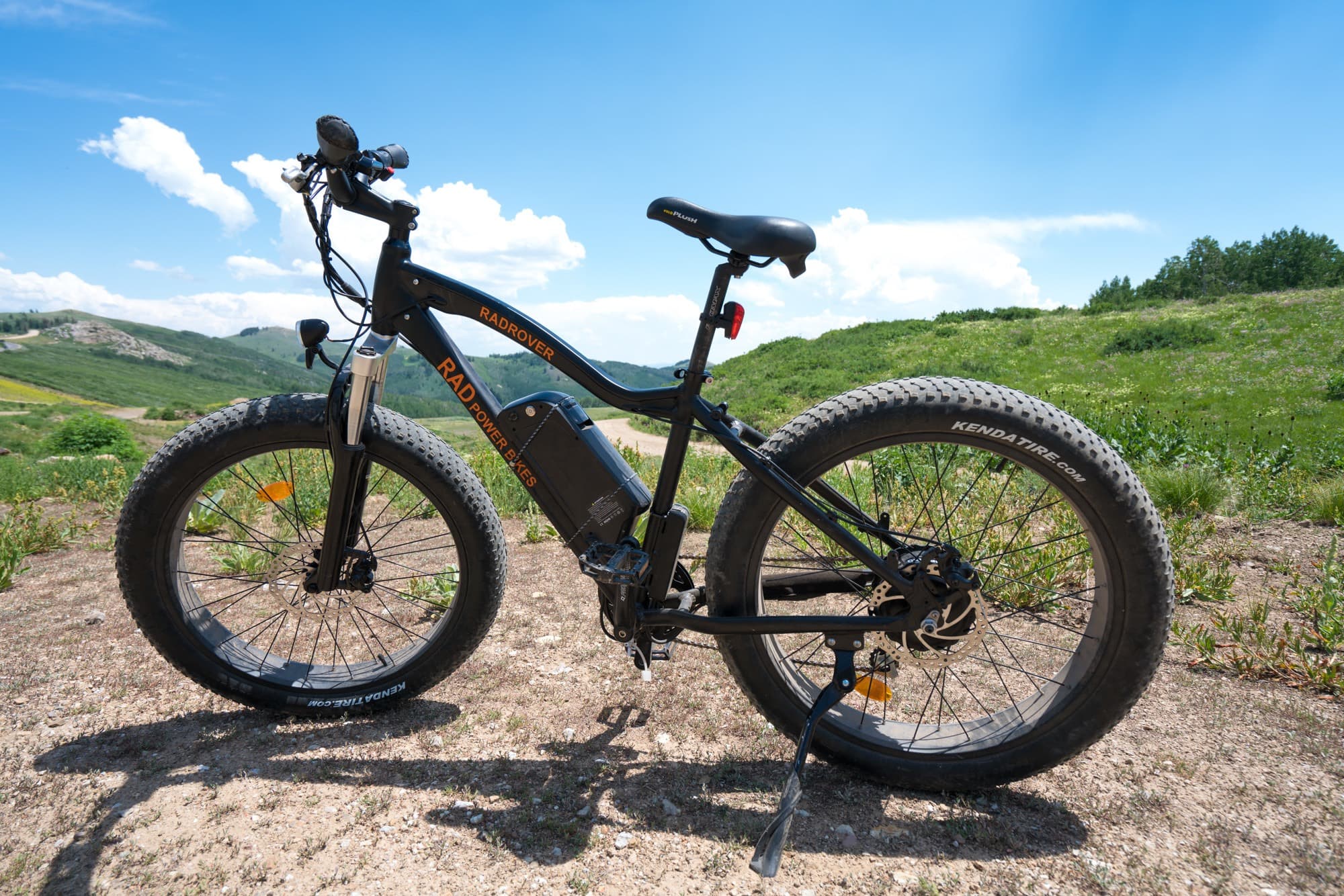 4 Ways We've Been Using our Rad Power Bikes
Electric Bikes are Great for Commuting Around Town
What drew me to Rad Power Bikes is that they are zero emissions. When I'm back in Salt Lake, I don't need to be driving my Sprinter Van everywhere I go. Now, I can take my RadMini to the store, out to dinner, or to meet up with friends, which is a much more environmentally-friendly choice, and the fat tires give me a lot more confidence than a normal bike when it comes to stability.
Ryan is using his RadRover to ride to and from work everyday. What's great about commuting on an electric bike is you typically won't get all sweaty riding to work, and you can save your workout for your ride home. Also, in daily life, the idea of commuting 5-10 miles on a bike might sound overwhelming, but on a RadPower bike, that commute is nothing. An electric bike versus a regular bike helps overcome those mental obstacles that prevent a lot of people from riding a bike for transportation.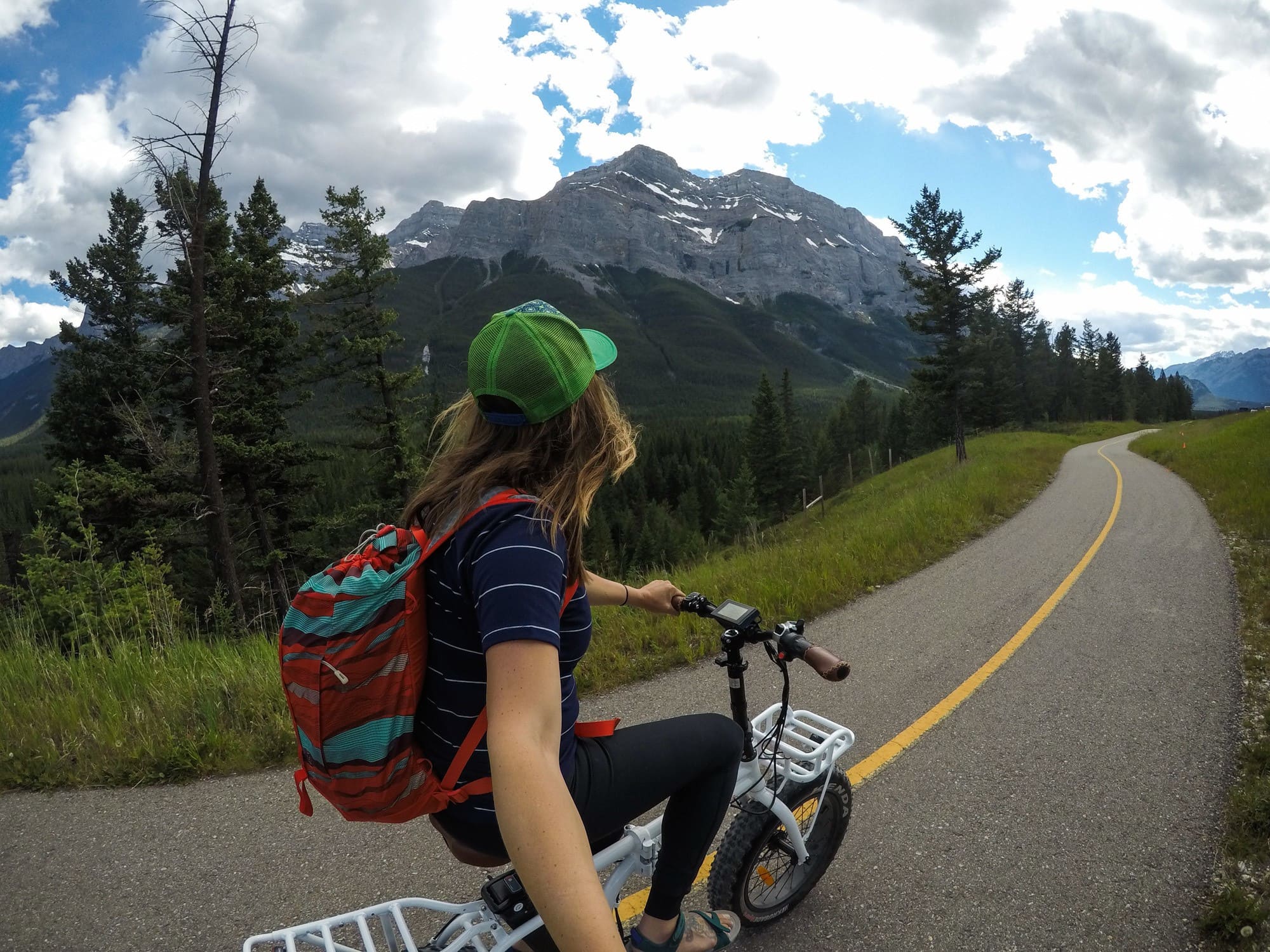 Electric Bikes are an Efficient Way to Get Around on Camping Trips
When I was in Canada in my Sprinter Van, I'd have my campsite all set up, and I'd want to go check out the sunset or ride into town. Instead of breaking down camp and securing everything in my van, I could easily hop on my bike and cruise around to take pictures or to hang out by the lake.
Also in Banff, many of the parking lots for the popular tourist attractions were full. One day I wanted to go to Moraine Lake, but the parking lot was absolutely crazy. Instead of waiting and dealing with that situation, I drove back down the hill a few miles, parked at a turnout, and laughed as I sped past all of the cars angrily waiting for parking.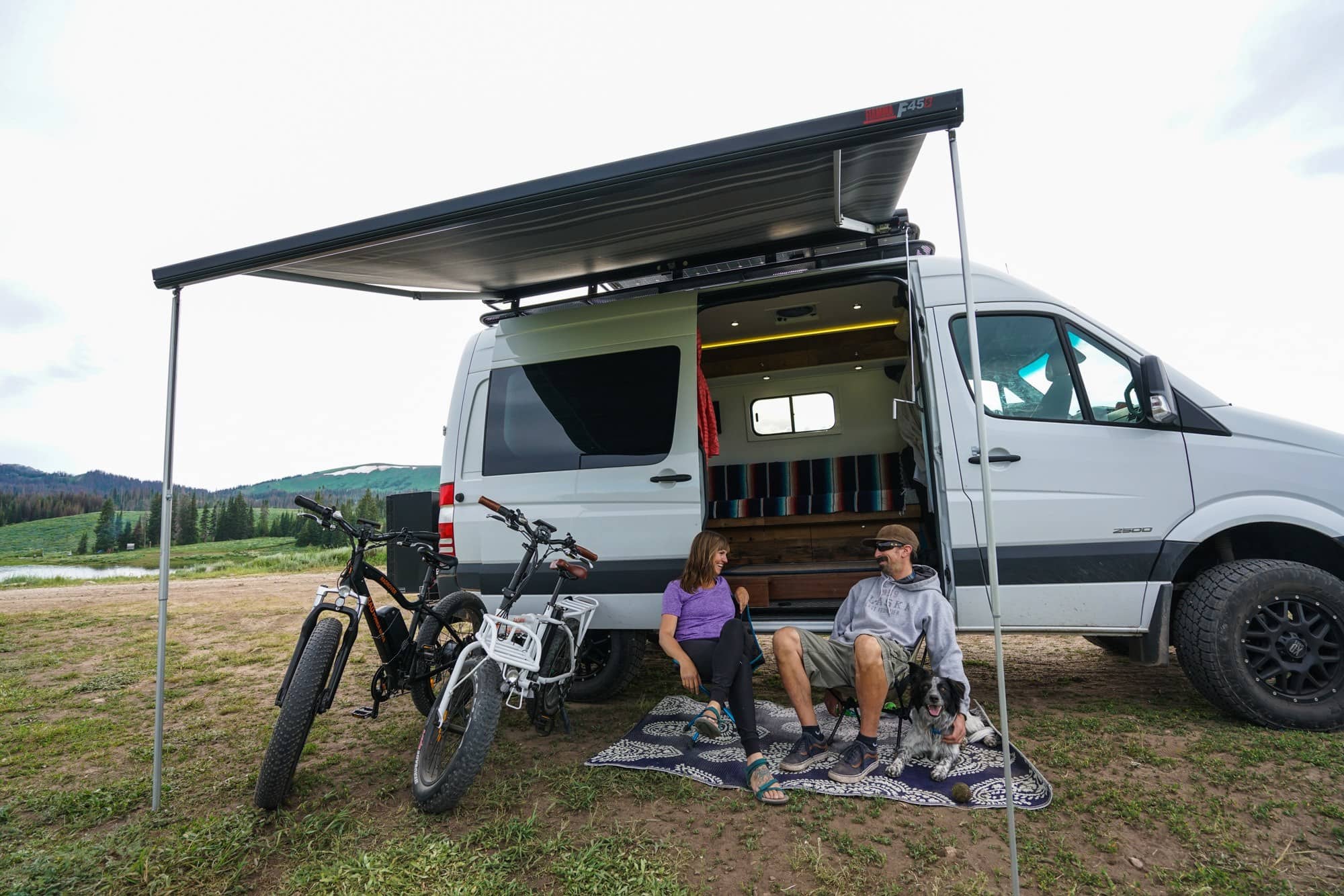 Electric Bikes are AMAZING for Exercising your Dog
We have a border collie / mini-Austrialian shepherd mix that has more energy than we know what to do with. A casual walk down the street or 30 minutes of fetch does not cut it. So every night before bed when the streets are empty or when we are out camping, we get on our RadPower Bikes and let Charlie chase us down until he's pooped and ready for bed.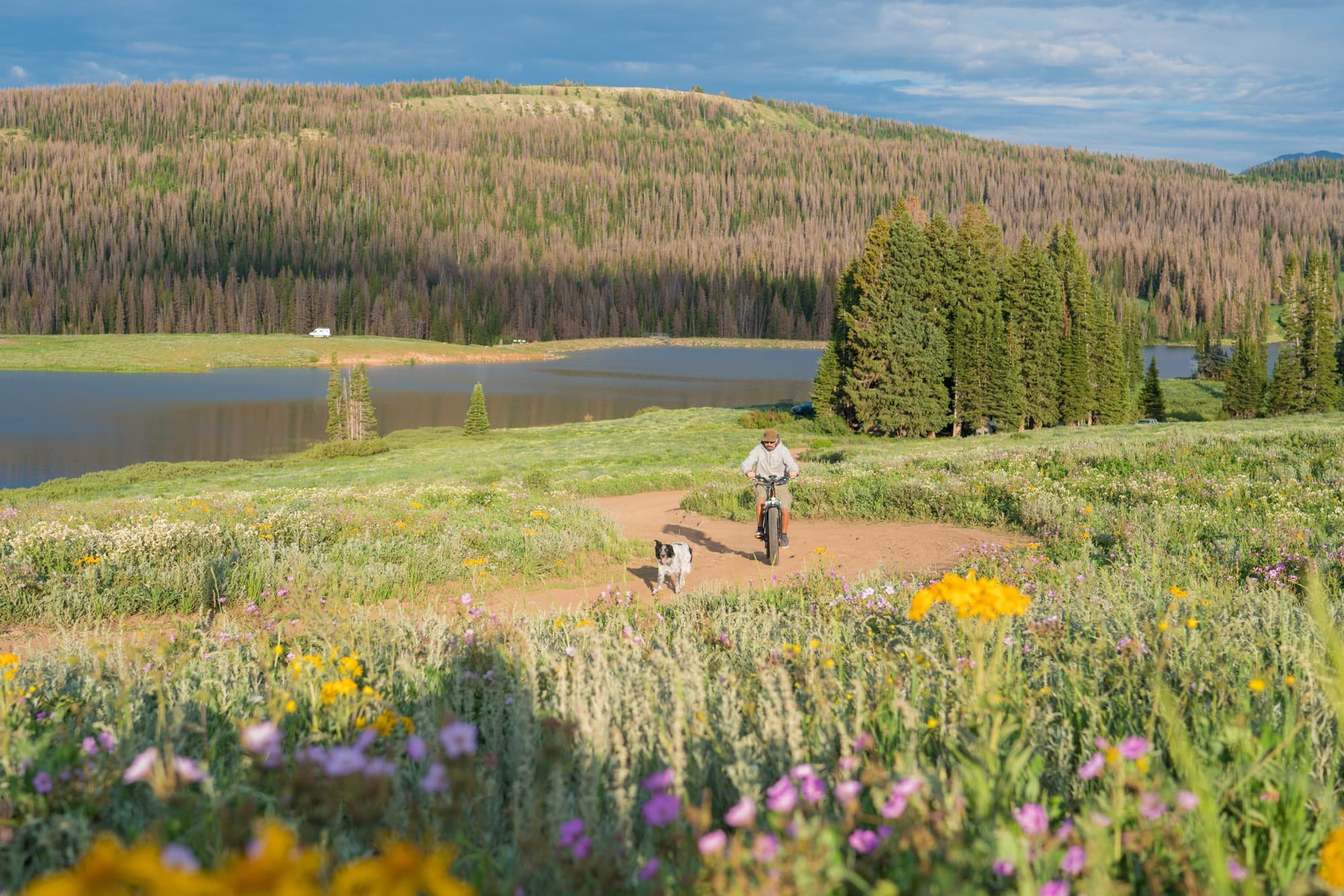 Electric Bikes are FUN
The first time I rode the RadMini was on a dirt road around Payette Lake in McCall, and I couldn't stop laughing. I was flying! I got to see a lot more scenery in less time than I would have on a normal bike. The RadPower bike was also a great conversation starter on my recent road trip since everyone was so curious about it.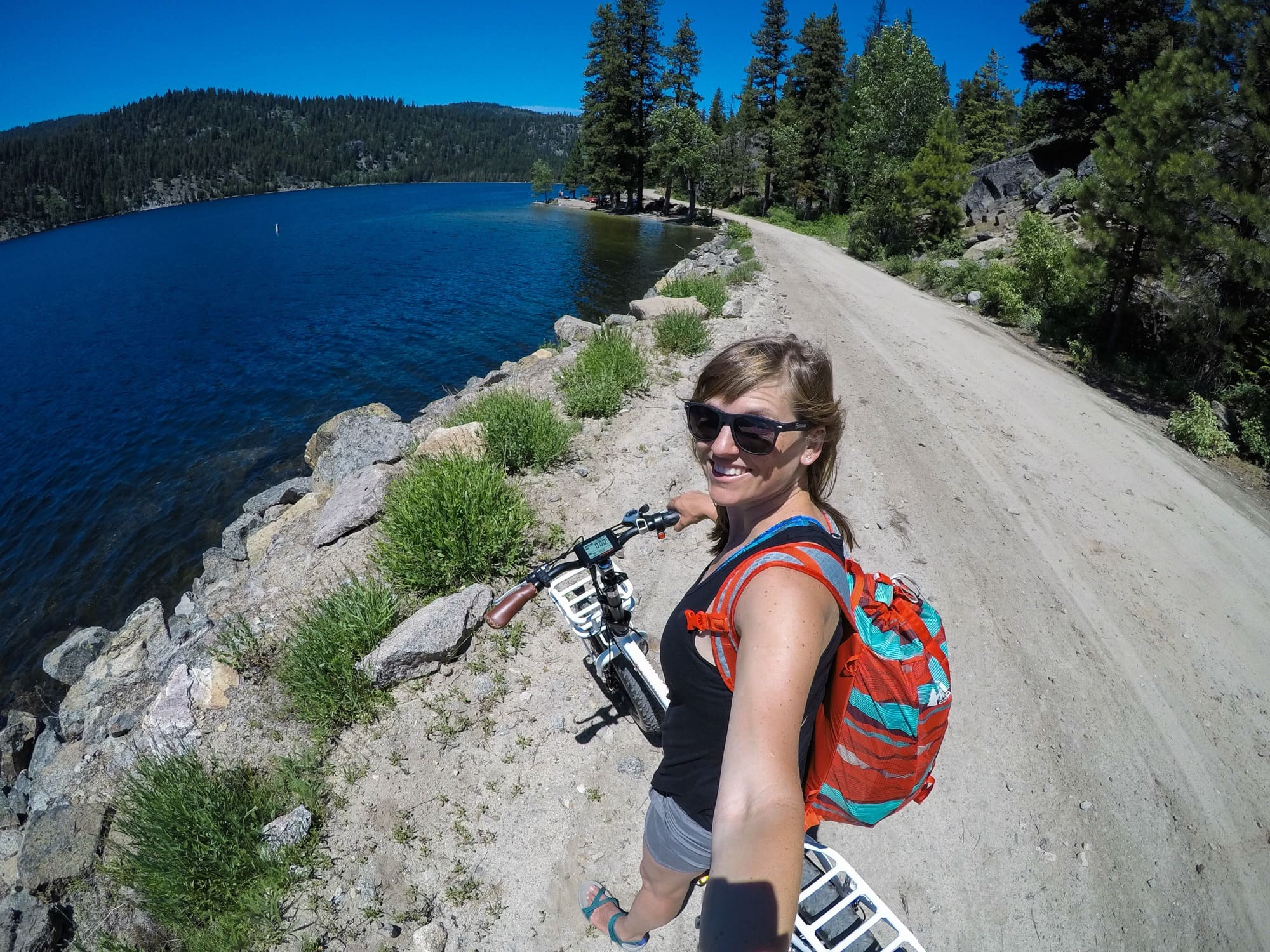 See All of the Rad Power E-Bike Models Here
Thanks to Rad Power Bikes for sponsoring this post and for providing all of the bikes for the review and giveaway. If you have questions about our sponsored post policy, please see this page.