In August, I took a trip to Salt Lake City to check out the outdoor industry's largest trade show, the Outdoor Retailer Summer Market. It was my first time attending this event, and needless to say it was both overwhelming and totally awesome. It was booth after booth of the latest outdoor gadgets, gear, and lifestyle products, and I was able to connect with some really inspiring brands.
I was especially pumped that I got to meet with the friendly folks from the Parks Project – a new company that is working to save and restore some of our nation's most beautiful parks by selling some really cool park-specific apparel.  At the time of our meeting, I was just gearing up for my thru-hike of the John Muir Trail which passes through Yosemite, Kings Canyon, and Sequoia National Parks, so this concept really struck a cord.
I was grateful to sit down with Sevag Kazanci, one of the co-founders of the Parks Project, to learn more about his company and how park enthusiasts like you and I can get involved.
Thanks for taking the time, Sevag. I was so excited to cross paths with you at the Outdoor Retailer Summer Market. Tell me about the Parks Project. What is your mission?
The original vision was to get friends out volunteering in our parks, so we could make a difference and support our favorite places. We got out as a group, did work, felt good about it, and would celebrate after a day's hard work with a cold one or two. Then from our experience in apparel, we thought it would be cool if people could wear this cause, so the project evolved into t-shirts. Now, we think the Parks Project has come full circle because we are still driving volunteer events, but we are also using apparel as a way to tell the stories that need support across all of our favorite national parks. Our mission is to spark more park ambassadors who will take responsibility for these places during this challenging time.
You state on your website, "Becoming emotionally and physically invested in our national parks is the most effective way to implement park conservation." Can you elaborate on this point?
We think it's a public resource that people take for granted and it's time to turn that around into engagement and celebration. For the past several years the budget deficit has taken a toll on staff, hours, and other park operations programs, while park attendance has fallen. This affects the entire system and even the surrounding economy. We believe that getting out and volunteering just once can flip someone's perspective on the parks entirely. It creates a personal connection and a genuine interest. Time out in the parks helps provide an understanding of the status of our parks and what we can all do to preserve these places for generations to come. We love the saying "healthy parks, healthy people" and have even made a tee to support that motto.
So each one of your t-shirts supports a different project. What kind of projects do you have going on right now?
One of our favorites that is close to home for us is the Muir Woods project. We have learned how many of the redwoods are having a hard time propagating in the park because non-native species are stealing "real estate" in the park. That means many redwood seeds aren't making it to the ground because Scottish bloom and other shrubs blossom earlier in the year and catch the redwood seeds before they have a chance…bummer. So our project there is to support the nursery where they grow redwood seedlings that are then transplanted in the park. The tee graphic has redwoods next to one another to tell that story. We also hosted a volunteer day months ago up there and got involved first hand. We would like to think that this is a way for us to make an impact on the long-term sustainability of the park.

How do you choose your partners and the projects that you contribute to?
It really depends on the park, but for the most part there are prevailing conservancies or friends of groups who have been around for a long time and understand the space better than we do. We don't try to act like we know everything, and we really do rely on these groups who are in the parks every single day. We work with them to understand some of the initiatives and needs for coming years and then talk about it internally and see what resonates. Often there are projects that have been going for decades that people have never heard of.  We want to package up projects for our followers that are time-bound, feasible, and will feel good to wear as a story.
You guys seem like an awesome crew. And are their opportunities for your customers to get out in the field and get their hands dirty with the Parks Project team?
We love trying to make what we do available for anyone and everyone, big or small, and projects in any park. The Parks Project website gives you an idea of how to jump in and become an ambassador.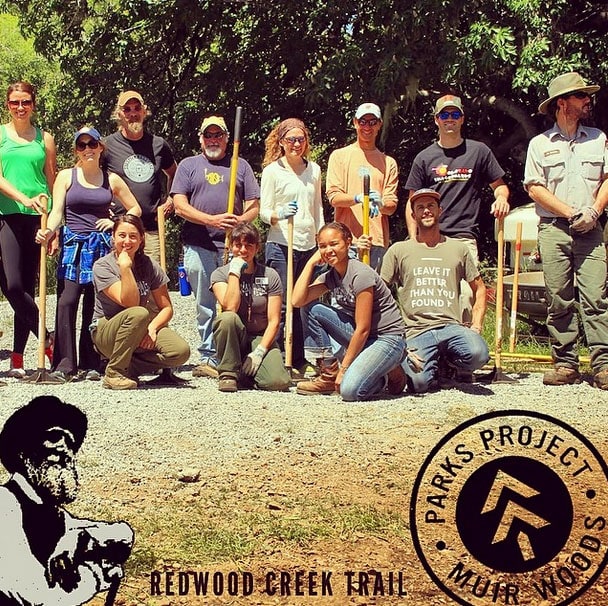 Besides volunteering, what else can people do to help protect the parks?
Well, definitely vote and have a voice. We have representatives that make important choices on the future of our parks, but sometimes government decisions can seem so intangible. On a smaller level, people should get educated on leaving no trace when visiting the parks. Obviously we stand behind our mission to leave it better than we found it so with any visit, do something that takes that into consideration. The small things can add up in the end, and we often think of how amazing it would be if everyone just pitched in a little bit. There would be change, more connection to the outdoors, and a better sense of community around these open spaces.
Well…that's a wrap! If you want to look good AND feel good, make sure to check out the Parks Project current apparel line. I myself am going to pick up the Denali racerback, which will help support the purchase of bear-proof canisters for Alaska Geographic – a non-profit that conducts outdoor education classes in Alaska's wilderness areas. But don't stop with your purchase, follow Sevag's advice and get vocal! Write your Congress people and tell them why they should care about our parks. Find out who your Congressional Representatives are here.
What do our nation's parks mean to you?