How to Plan Your Pacific Crest Trail Resupply Strategy
Learn how to plan your PCT resupply strategy step-by-step including resupply strategy options, how to select resupply points, and more.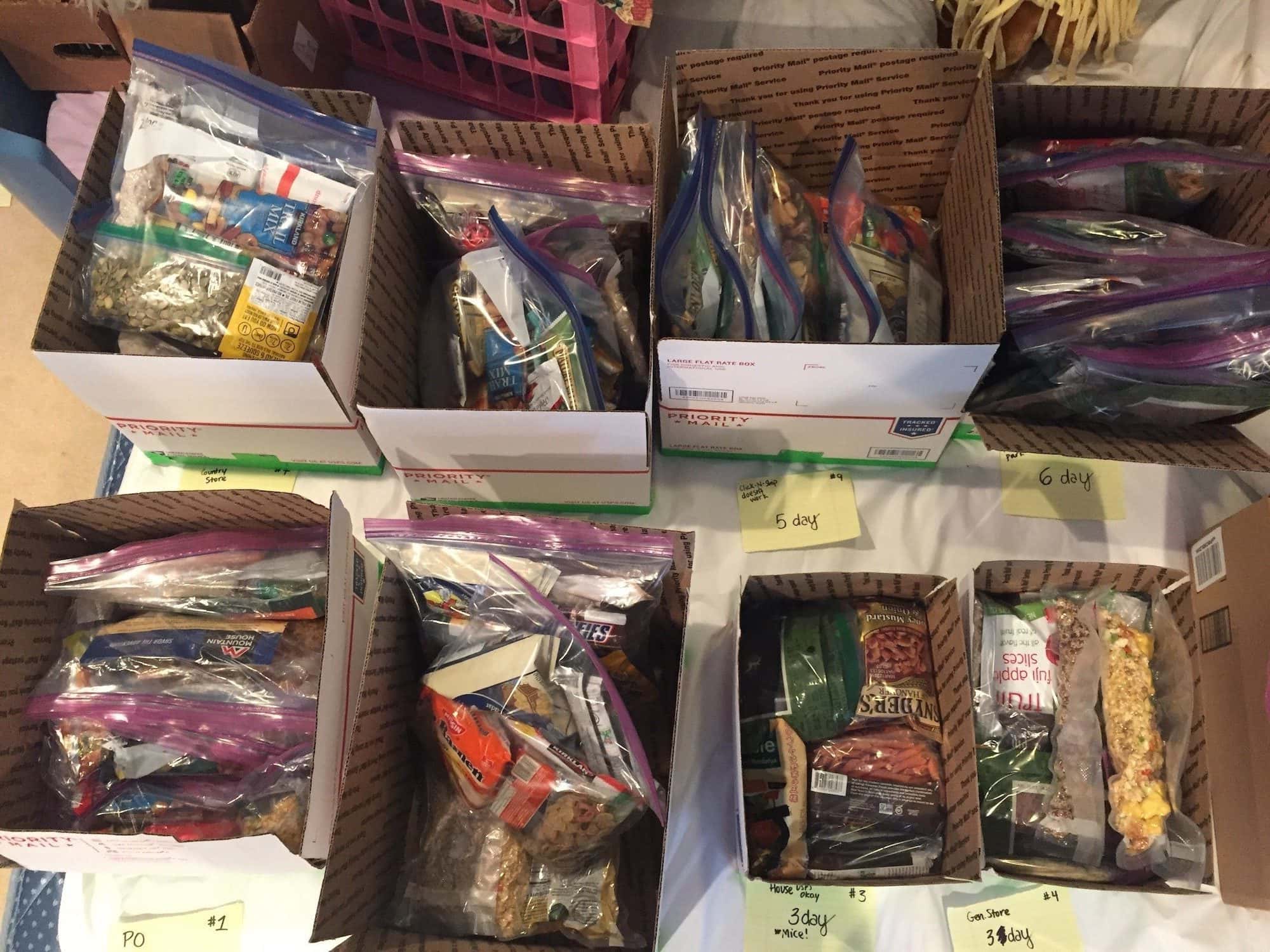 Planning your PCT resupply strategy is one of the most difficult & daunting parts of getting ready for your thru-hike. Yet carefully planning your Pacific Crest Trail food resupply strategy is critical to accomplishing a thru-hike.
Kim Vawter, BFT's former Community Manager, completed a PCT thru-hike in 2016. During her 5-months on the trail, she resupplied more than 30 times; including 22 boxes that were sent to her along the trail. In this blog post, she shares her strategy for resupplying on the trail.
Learn how to create your PCT resupply strategy with this step-by-step planning guide.
Step 1: Determine How You'll Resupply
Without any side trips, the entire Pacific Crest Trail is 2,650 miles from the Mexico border to the Canadian border. You should start wrapping your mind around the idea that you are going to be hiking 3,000+ miles after adding in mileage to access resupply locations.
There are numerous options for designing your Pacific Crest Trail resupply strategy:
Option 1: Mail Yourself 100% of Your Resupply Packages

This would be a very daunting task. The only reason I would do this is if you have any serious dietary restrictions.

Option 2: Pack Resupply Boxes As You Go & Mail To Yourself On Trail

This is the option often chosen by international hikers who don't have someone locally to mail resupply boxes to them.

Option 3: Buy As You Go

There are numerous sections on the trail where you'd need to haul food for a significant number of miles if you only bought in town.
Here are some important things to consider when weighing the pros/cons of each strategy:
Mailing resupply boxes is fairly expensive so you'll need to keep that in mind when saving & budgeting for your trip.
You'll be traveling through some really small hiker friendly towns where I encourage you to support local restaurants & stores by eating out or buying supplies.
You'll need to be cognizant of post office opening/closing times if you're picking up resupply boxes, you won't always have service so make sure to take note of this somewhere.
Given that some of the trail towns are rather small, resupplying in towns can be very expensive.
So which strategy is the best? According to the Class of 2016 thru-hiker survey, "75% of hikers mailed some resupply boxes, 16% mailed all their resupply boxes, and 9% mailed none." Most people do a combination of the three options listed above. We'll assume that's your plan and the rest of this blog post will walk you through planning for a combination of resupply strategies for your 2,650-mile thru-hike of the Pacific Crest Trail.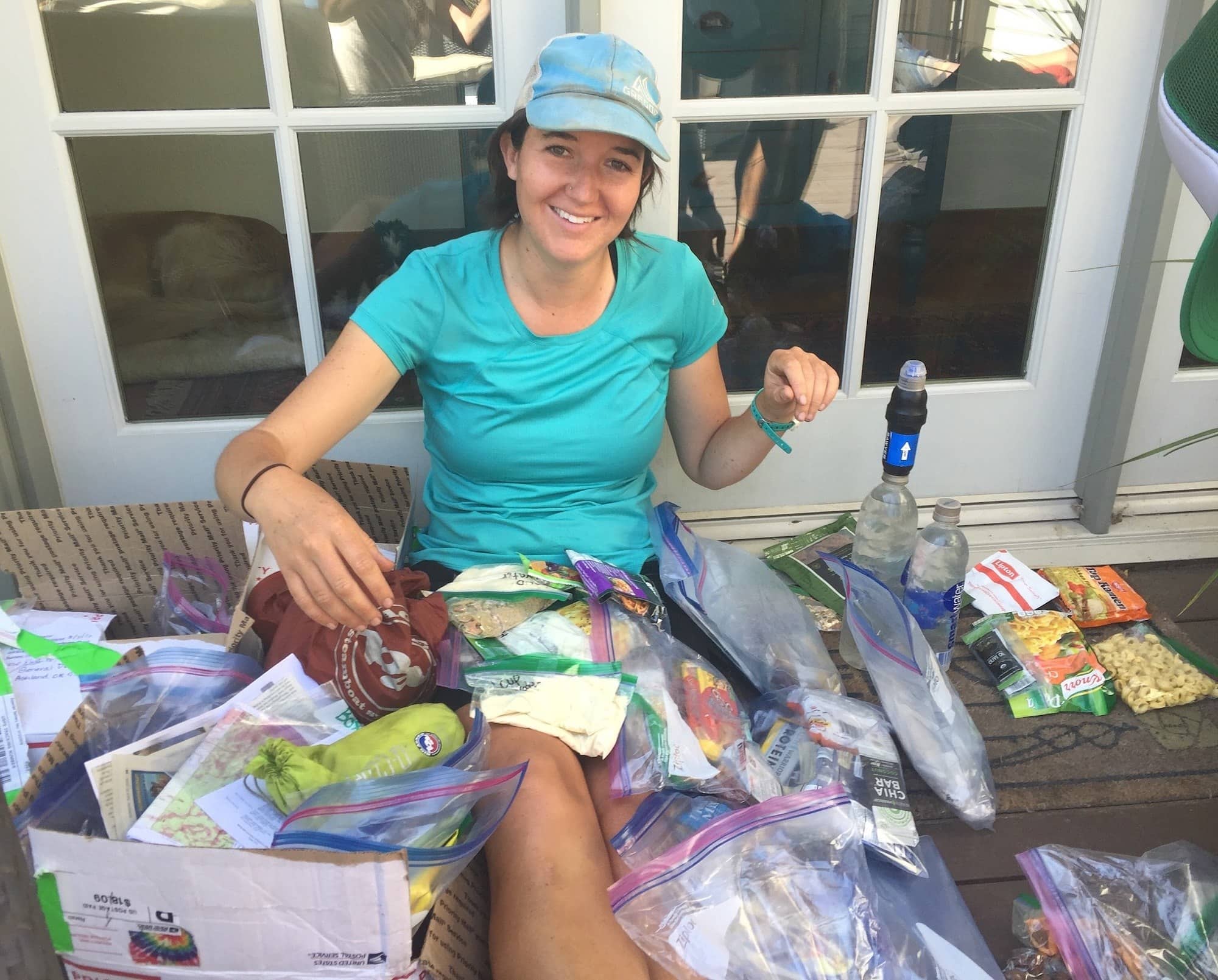 Step 2: Determine What Your Average Daily Mileage Will Be
In order to break down all 2,650 miles of the Pacific Crest Trail into resupply sections, you need to figure out how many miles you plan to cover in a day. This means you'll need to determine your hiking pace. To assess my hiking pace, I timed myself on a training backpacking trip in Joshua Tree National Park on the Hiking & Riding Trail. I concluded my average pace was 3 miles/hour; essentially 1 mile every 20 minutes. Next, you'll need to figure out how many hours you plan to spend hiking a day. I assumed I would hike for 8 hours a day.
8 hours a day x 3 miles an hour = an average of 24 miles a day.
2,650 miles a day divided by 24 miles a day equals about 110 days.
24 miles a day is a lot of miles, and I knew there was NO WAY I was going to do that many miles in numerous sections of the trail (the beginning, the Sierras, in Washington, etc.). Elevation gain/loss will impact your hiking pace. So this was a high average. I also knew in 5 months that I'd have numerous zero (rest days) & nero (nearly zero) days.
Most people, including me, don't work seven days a week so I knew realistically I wasn't going to hike 7 days a week. I added in 30 zero days. I picked 30 because this was 1.5 zero days a week for 5 months. I wanted to provide myself with numerous zero days in case I suffered an injury & needed to rest.
So for planning purposes, hiking for 110 days with an average of 24 miles a day + 30 zero/nero days = 140 days on trail. So then 2,650 total miles divided by 140 days equals an average of 19 miles a day.
I decided to be very safe and pack my boxes based on a 15 mile per day estimate. Plus, I was preparing for elevation, heat & even snow to slow me down. I'd rather have extra food than not have enough food; especially given that I was prepared for hiker hunger. If I packed for less mileage I'd have extra food so as my hunger and appetite increased I'd be okay. You can also use Craig's PCT Planner to help you with figuring out an estimate of what trail towns you'll be passing through based on your starting date, your average hiking pace, and the number of hours you plan to hike per day.
I finished the Pacific Crest Trail with an average of 18 miles a day, which explains why in a few locations I had a bit of extra food. I didn't mind this though because it meant I had more variety to chose from vs. having to eat everything in my resupply boxes. Plus, numerous people I hiked with were more than happy to take some of my excess food vs. random, unlabeled food in hiker boxes.
Step 3: Determine Where to Stop On the Pacific Crest Trail to Resupply
For Kristen's John Muir Trail Resupply Guide she included 3 recommended locations to resupply with location addresses & hours of operation, mileage charts, and thorough mailing instructions. Keep in mind the PCT is 12 times longer than the JMT so I won't be going into as much detail.
Where should you start? You'll want to start with getting a list of all potential trail stops and their PCT mileage. You can find this online in numerous locations. I inputted that data into an Excel sheet listing how many days of food I'd need to survive from Point A to Point B based on an average of 15 miles per day.
In the charts below, you'll note in YELLOW cities that I mailed a resupply box to. Other cities listed I chose to resupply in town. Being local in California, I was familiar with the towns of Big Bear, Wrightwood, & Agua Dulce and knew there were plenty of options to buy food locally in town, so I chose not to mail a package to any of those locations.
My PCT Resupply Locations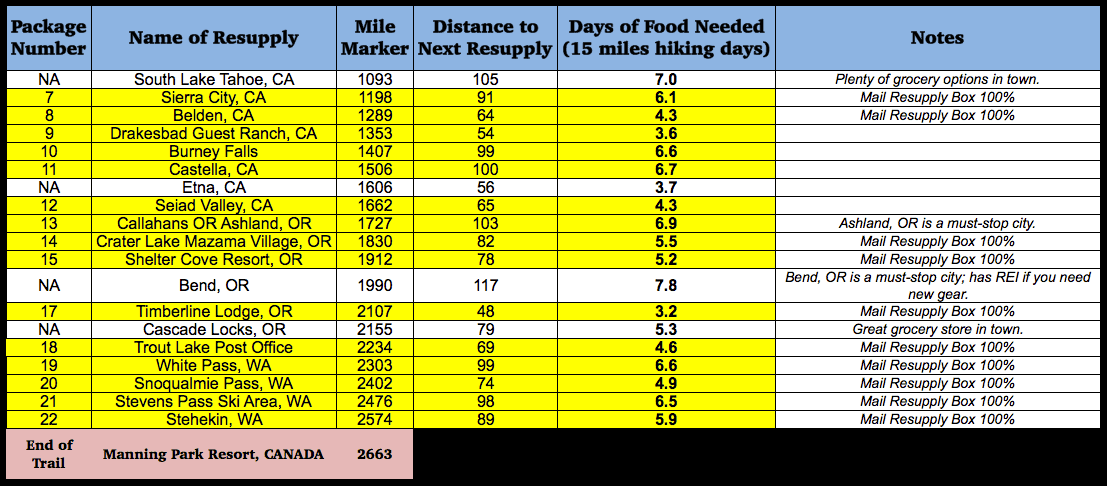 Based on research and suggestions, I selected 22 cities where I would mail resupply packages and 15 additional locations where I planned to resupply in town. That's a total of 37 resupply locations. If I were to hike the trail again, I'd most likely only send 15-18 packages and I'd opt to buy more food in trail towns. I made additional notes on the charts to help you with your resupply strategy. There are some locations where you'll 100% want to mail a box.
One thing to keep in mind with buying food in town is that it takes time. You have to get to the store, shop, and then deconstruct packaging and repack your food bag. Sometimes I'd only want to go into town for half-day but by the time I had finished errands and fully resupplied it was almost dark, so I often opted for meeting other thru-hikers at a local watering hole (aka bar), having a nice hot meal in town, and splitting a room before heading out early the next morning.
In Wrightwood, I was lucky to stay with a family friend who provided transportation to the store as well as two helpers to deconstruct packaging & restock my food bag.
2022 Resupply Note: Tuolumne Meadows (Mile 942) is a common resupply stop for PCT hikers because of the nearby Post Office, grill, and store. However, the Campground and Grill are closed for renovations for the 2022 season, and hikers should expect modified Post Office and store operations as well. Northbound hikers may want to plan to bypass Tuolumne Meadows and resupply at Kennedy Meadows or Bridgeport instead. Southbound hikers should plan to resupply at Mammoth Lakes.
Step 4: Shop For All of Your PCT Resupply Food
By far the best part of planning my PCT resupply was actually doing the shopping. I'm the type that likes variety in what I eat and was determined to have variety in my meals on the trail. I shopped Amazon, Costco, Target, GFS (Gordon Food Service), Minimus, Meijers, and individual vendor websites.
Most people suggest buying more than you think you'll need. You will be burning a ton of calories and will be hungrier than you think. I wasn't too worried about this since I was packing my boxes based on a 15 mile per day average yet planned to do more like 18 miles a day, I felt I'd have more than enough food.
For each day I packed 1 breakfast, 1 lunch, 1 dinner, & 5 snacks.
So a 5-day box would have 5 breakfasts, 5 lunches, 5 dinners & 25 snacks.
5 snacks per day allowed for 2 snacks between breakfast & lunch and then 2 snacks between lunch & dinner as well as 1 after-dinner sweet snack.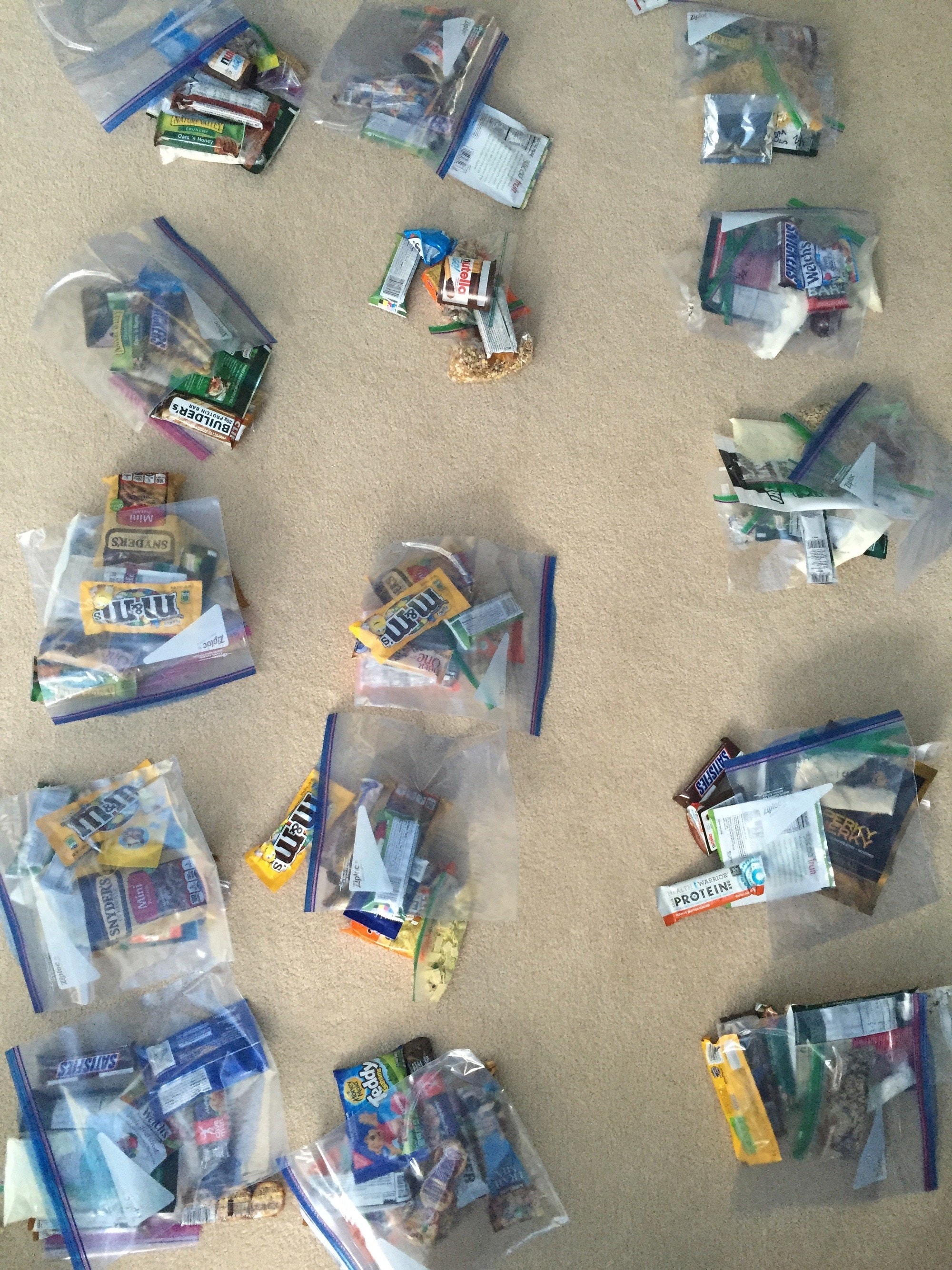 Here are ideas of what I purchased for my resupply boxes. Anything with a * denotes something I purchased in bulk quantity and then divided into individual servings. You can generally find really good bulk purchases on Amazon or at Costco.
Breakfast Options
Lunch/Dinner Options
Snack Options
Nutrition Notes
I researched a lot about thru-hiker nutrition and learned that ideally, a thru-hikers diet should consist of 50% carbs, 35% fats, and 15% protein. Remember you also want the most number of calories and nutrients in the smallest and lightest package to maximize the value of each food item.
By the end of the trail, you'll become a pro at adding these 3 elements to any thru-hiker meal: flavoring, salt, and calories. I purchased small individual packs of Kikkoman Soy Sauce and Thai Style Chili Sauce, Mrs. Dash seasoning blends, and Marconi Olive Oil. I scattered these throughout my resupply boxes to add flavor to various meals. By the time I got halfway through California, I had opted to carry a bottle of Sriracha, a small bottle of olive oil & a shaker of seasoning mix. It was worth it. My mouth still waters thinking about some of the yummy creations I enjoyed on the trail, largely thanks to these three critical additions to almost every meal.
I also wanted to stretch the money I'd saved for the trail as much as possible so I price-shopped around for the best deals. I borrowed from a friend a Food Saver vacuum sealing machine so I could vacuum-seal individual servings. Mountain House sells a large number of their meals in #10 cans which have 8-10 servings per can and cost a lot less per serving. This is also a great strategy if you have to pack your boxes far in advance of starting your thru-hike.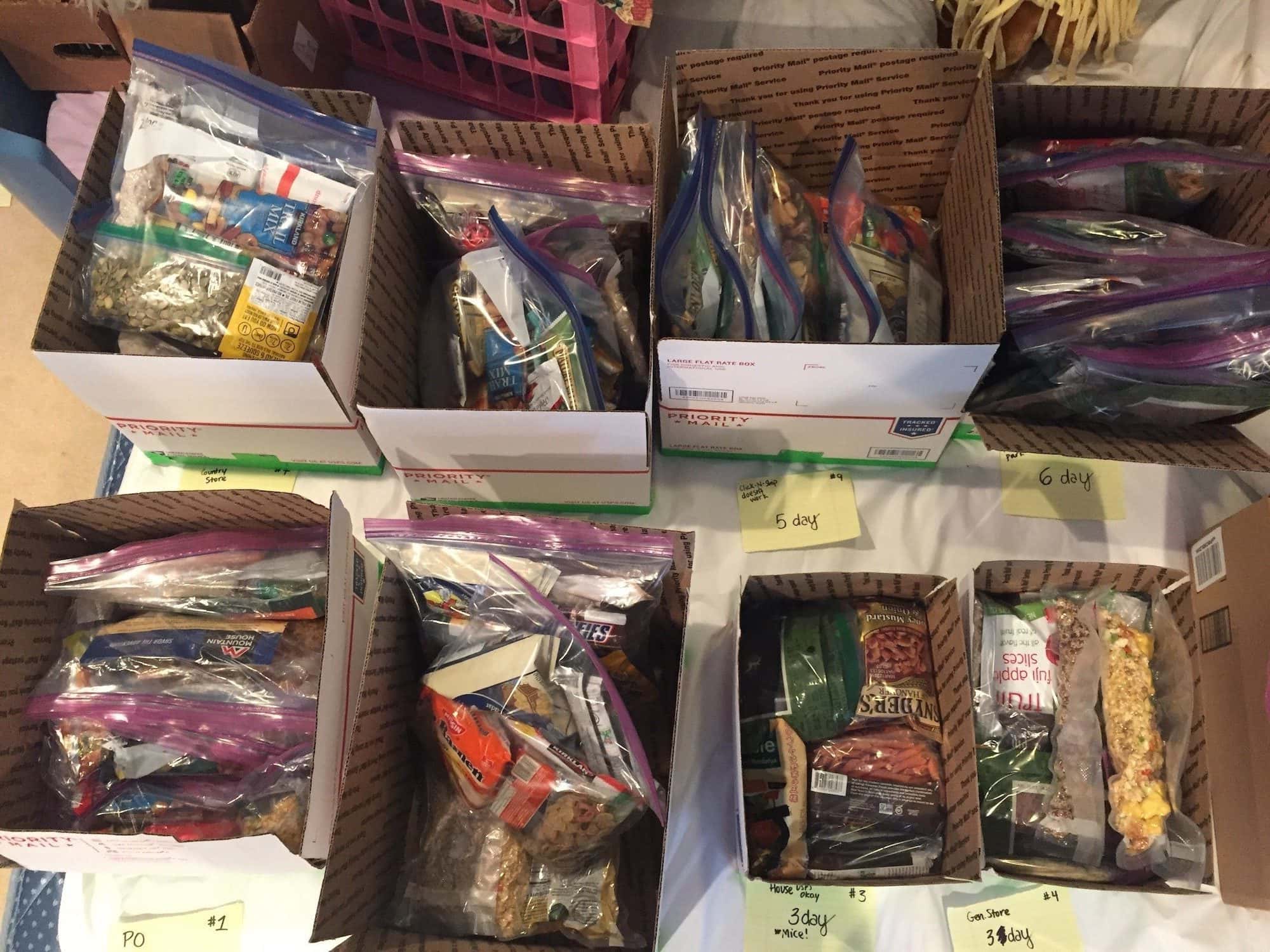 Step 5: Packing Your PCT Resupply Boxes
Here are the basic steps to packing your resupply boxes:
To begin, you'll need a large space for assembling & packing your resupply boxes.
Construct every box using unique & easily identifiable duct tape and label every side of the box.
Mark each box with a post-it listing city of pick-up & the number of days of food that should be packed in the box.
Using large 1 gallon Ziploc bags, separate food into piles each containing 1 days worth of food. Once you have a pile of these food bags, you can start packing your boxes with the listed number of days on each box. I created a pile of breakfast options, a pile of lunch/dinner options, and a pile of snack options in a large open space. We then created an assembly line to make things easy.
Think back to all the gear purchasing you've been doing for your thru-hike. Don't forget when packing your resupply boxes to remember "lightweight & packability" are key when it comes to food as well. Deconstruct as much packaging as you can.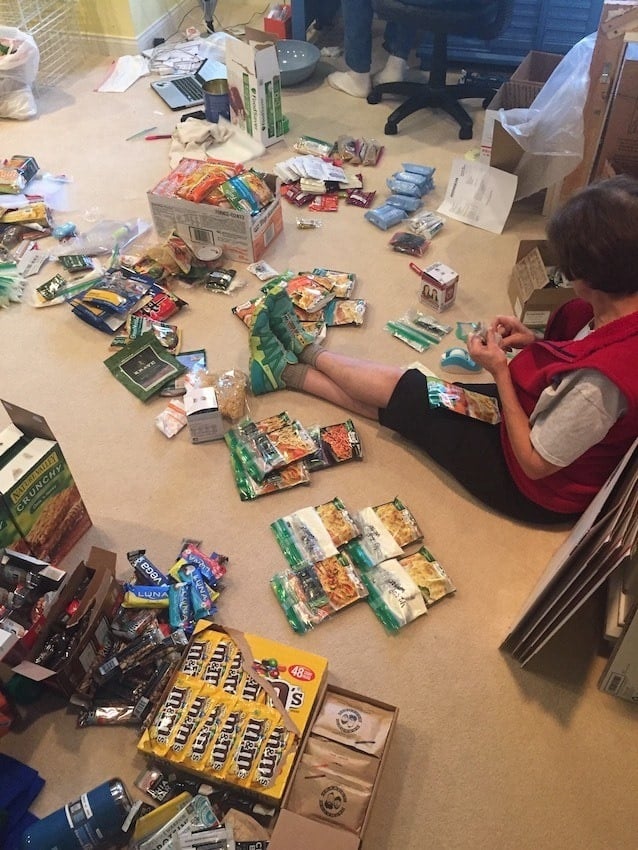 Other Items to Pack in Your Boxes
Apart from my food, I had a pile of necessities that I wanted to be included in specific boxes. You'll want to include any extra supplies in your packages that you think you'll need to replenish. Here are some examples:
Minimus.biz is a great place to buy travel sizes of your favorite toiletries and food items to include in your PCT resupply boxes.
I also had gear items I wanted for the Sierras and needed to be packed in my Kennedy Meadows box. My first Oregon box included a fresh hiking t-shirt and a new pair of underwear & socks. Finally, I added broken-in hiking shoes every 500-750 miles.
Step 6: Shipping Your PCT Resupply Boxes
USPS Priority Mail Regional Rate Boxes are a low-cost shipping option if you purchase and print shipping labels online. I opted for these boxes as much as possible to save on shipping. Keep in mind even if you only save $1 or $2 dollars per box you're shipping 20+ packages, so that's $20-$40. They do though have a maximum weight to watch out for. You can't always pick these boxes up at your local post office; you'll need to decide how many boxes you want of each type, order online (free), & have them delivered ahead of time.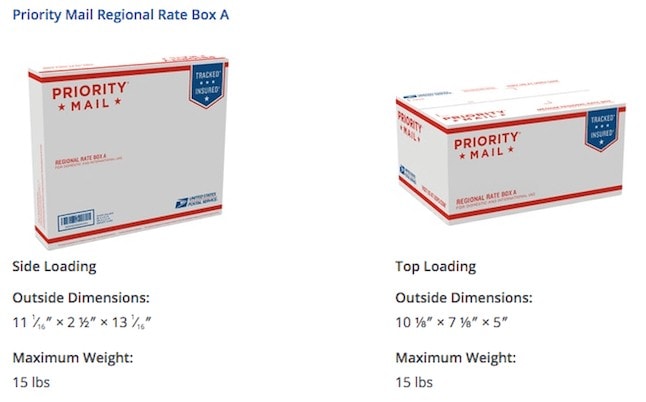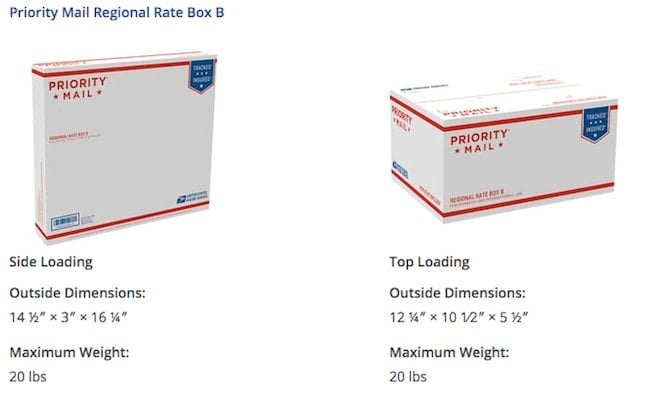 Here are a few key things to keep in mind regarding mailing your Pacific Crest Trail resupply boxes:
If possible, select one individual to mail all your boxes. You'll want to stay in close communication with this individual as your estimated schedule will change often.
Always use USPS Priority Mail for boxes; unless a location requires something different.
If you change resupply locations or decide you don't need a box, USPS offers free forwarding of USPS Priority Mail boxes, as long as they have been unopened. This will be very helpful.
Write "HOLD FOR PCT HIKER HIKER NAME. ETA: MM/DD/YY" on every side of the package.
Use easily identifiable duct tape to seal your boxes so you can quickly locate them when visiting pick-up locations on the trail.
Allow at minimum 1-2 full weeks for your boxes to arrive at each location. The post office will hold packages for up to 30 days.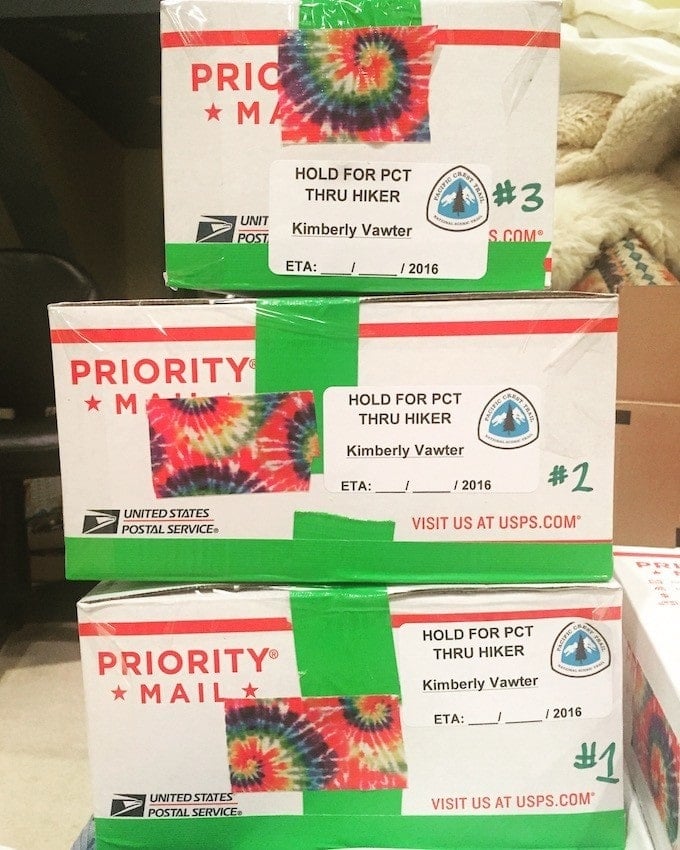 My parents did an incredible job of stuffing surprises here and there into my resupply boxes. My best friend coordinated for all of my friends & family to write me letters of encouragement on the trail. They mailed these letters to my mom & dad, and they stuffed them in my boxes. Given that I had packed my own resupply boxes, you can imagine the pleasant surprise when I open my boxes and found letters, notes, and pictures from friends & family.
I had a few friends send me packages on the trail, and it brightened my days & kept me cruising. I shared 5-10 locations where friends could also send packages and was clear with directions as to what was ok to mail and what was not. At my last resupply stop in Stehekin, WA, I received 5 finale boxes from friends, and let me tell you, I savored every bit of those boxes—they had boxed wine in them, endless bags of candy, homemade banana bread and so much more. I highly encourage you to allow friends to send you mail on the trail, but make sure they tell you when and where they sent a package as you have to ask for all of your mail.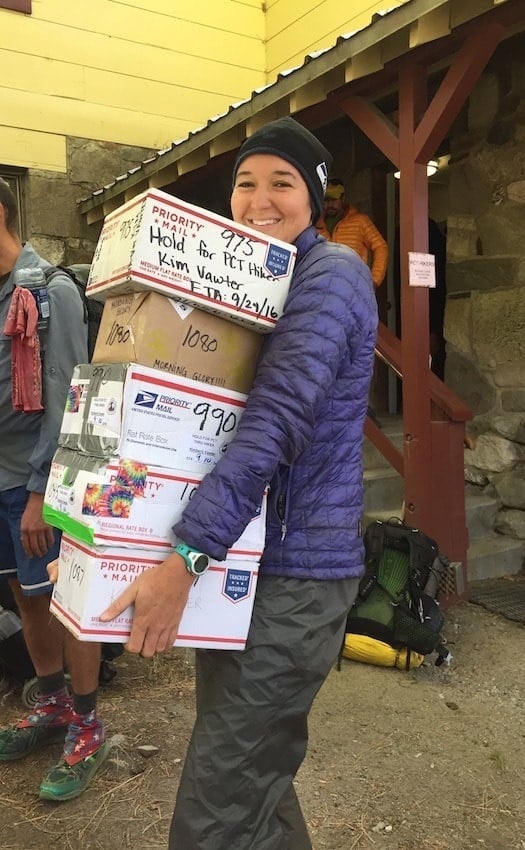 Do you have questions about Kim's PCT resupply strategy? Or resupply tips from your own PCT thru-hike? Leave us a comment below!