Doubtful Sound Overnight Kayak Tour with Go Orange
Doubtful Sound is a little known secret in New Zealand….waterfalls, lush rainforest & giant cliffs with a fraction of the people as Milford Sound. Escape the crowds on a quiet overnight kayaking tour and experience Pure. Wild. New Zealand.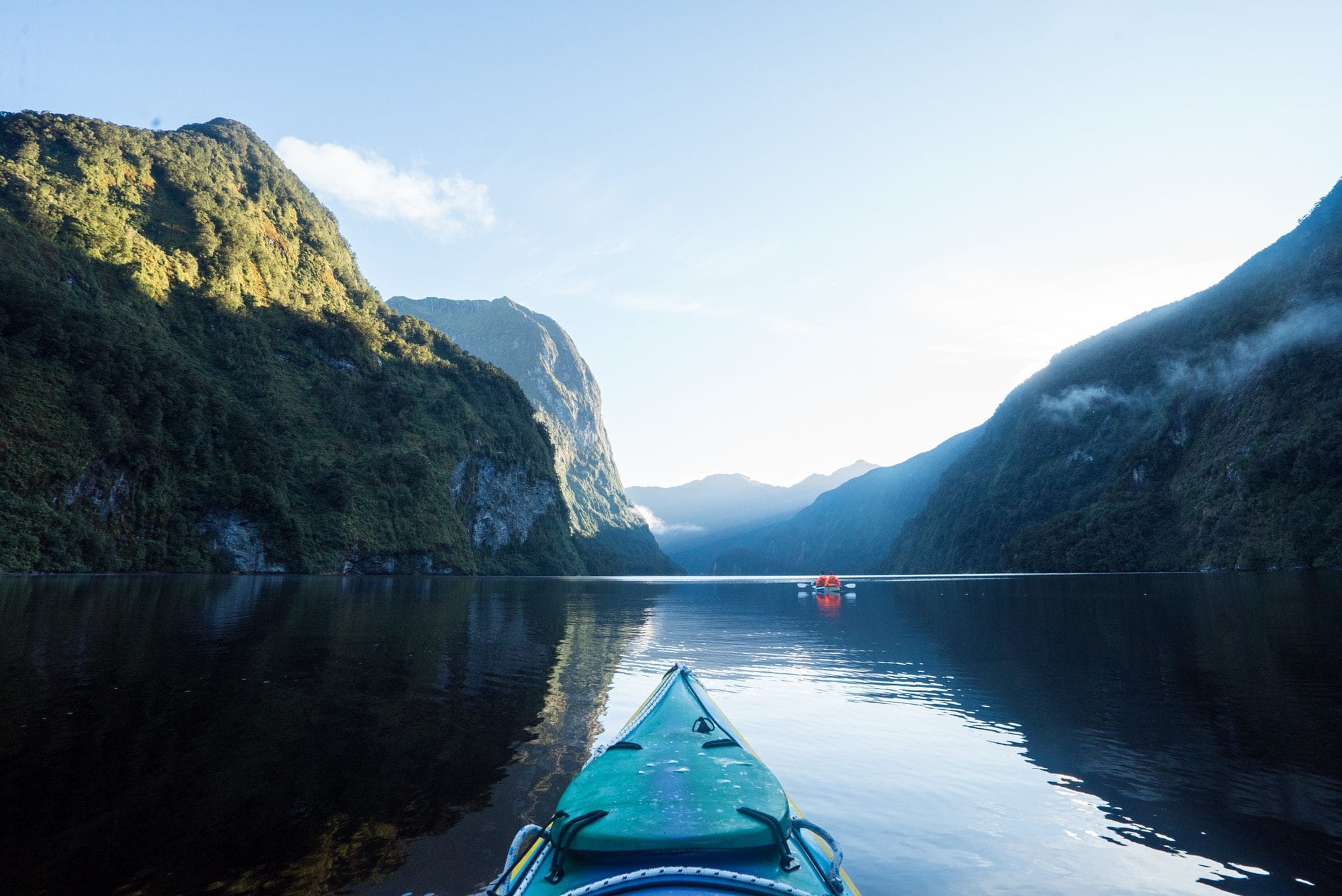 Review: Overnight Doubtful Sound Kayak Tour with Go Orange
Fiordland National Park is home to lush rainforest, waterfalls, and some of New Zealand's most rugged mountains, and one of the best ways to explore it is by getting out on the water. Most people arrive in Te Anau, the town that serves as the jumping off point for Fiordlands, and immediately rush up Milford Sound for a cruise. Now I did a Milford Sound cruise and can say that it's a must-do. After a hard rain fall, the waterfalls are like nothing I've ever seen…but there's also a lot of boats out there.
For those looking for a looking for a more intimate wilderness experience, a little-known secret is that Doubtful Sound, Milford Sound's southern sister, offers similar landscapes with a fraction of the people. Since Bearfoot Theory is all about active and off-the-beaten-path experiences, I decided to do an overnight kayak trip on Doubtful Sound with Go Orange.
Spreading the trip out over two days, I'd be able to paddle deeper into the Fiord, camp below the incredible cliffs, and have a higher chance of seeing some wildlife.
Here's my full review and my favorite photos from my overnight Doubtful Sound Kayak Tour with Go Orange.
** Looking for more overnight kayaking adventures? Check out my review of my 3-day kayak tour on the Abel Tasman Coast **
Getting To Doubtful Sound
Doubtful Sound is the second largest Fiord in Fiordland National Park, located at the southwestern edge of New Zealand's South Island.
The main jumping-off point for trips to Doubtful Sound is Te Anau, a cute little town that the closest hub to Milford and Doubtful Sounds.  For the overnight trips, your guide will pick you up at 6:30am. It takes about 2.5 hours to get to the launching point called Deep Cove – including a ride in a van, boat, and bus – and because of transportation logistics, the only way to explore Doubtful Sound is on some sort of guided tour.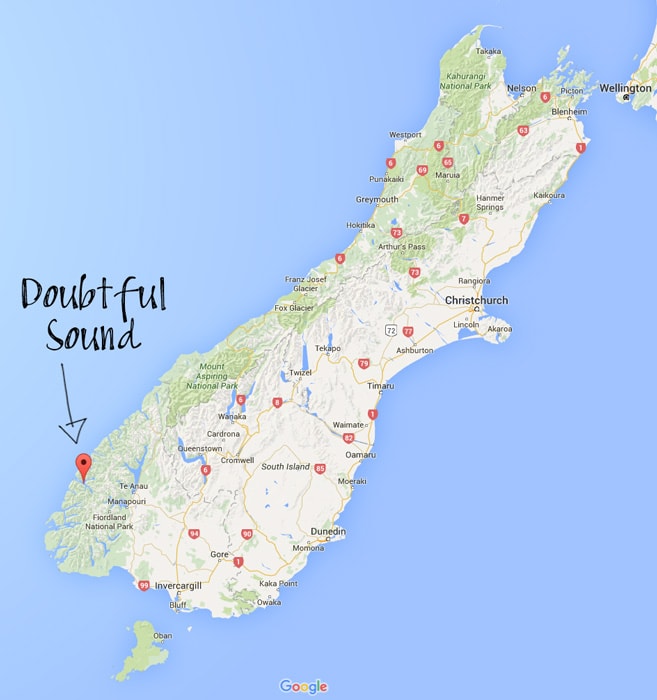 Getting to Doubtful Sound is an adventure in itself with the highlight being an hour-long water taxi trip across Lake Manapouri.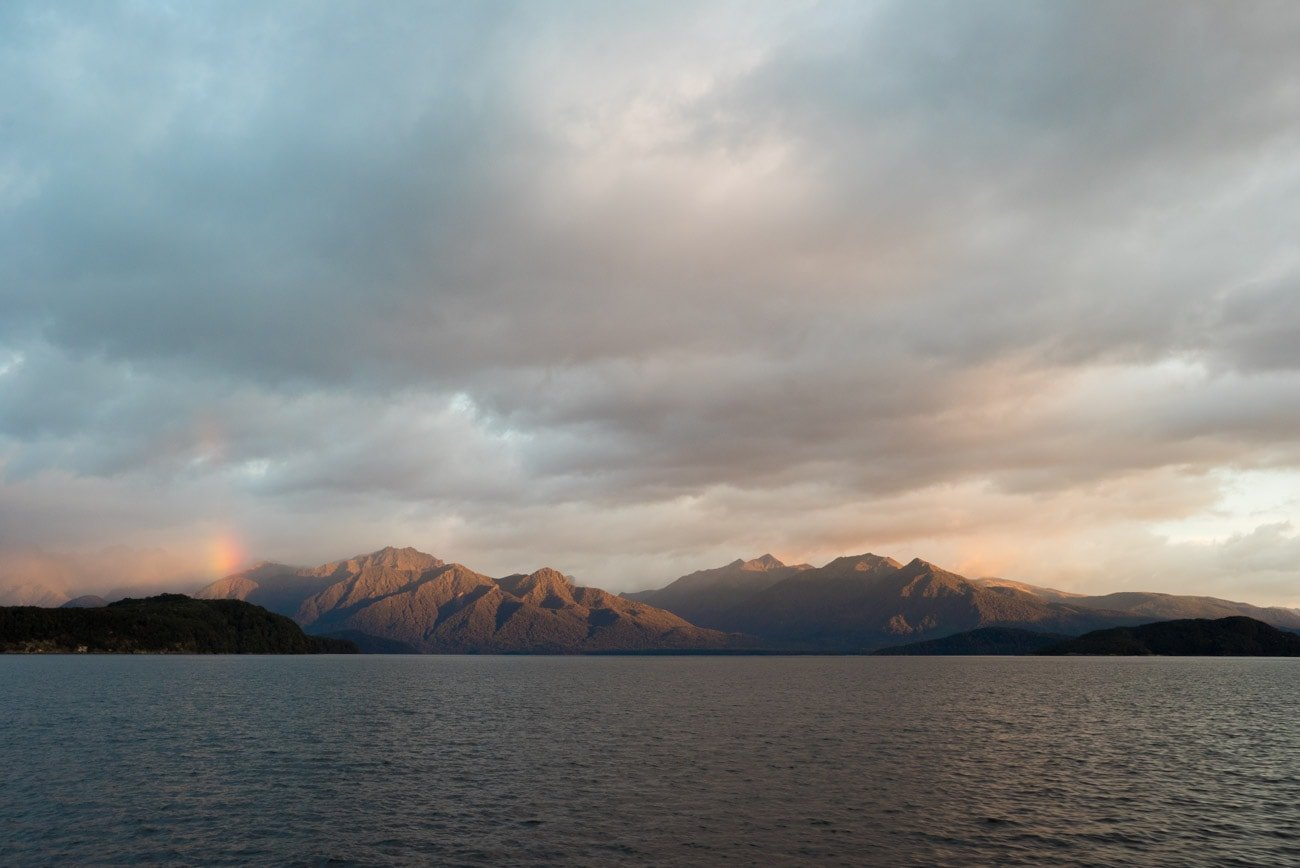 Overnight Doubtful Sound Kayaking Trip Report
Once you arrive at Deep Cove, your guide will set you up with your kayaks and all the gear you need, including dry bags, wet suits, and life jackets. If you are a solo traveler like I was, you'll also double up with someone else in the group, as everyone paddles in two-person kayaks. My guide Robbie paired me a young German traveler named Fabien.
We worked together to load up the kayaks, splitting up all of the group gear and soon we set off towards the Hall Arm, the first major finger that shoots off from the main Fiord.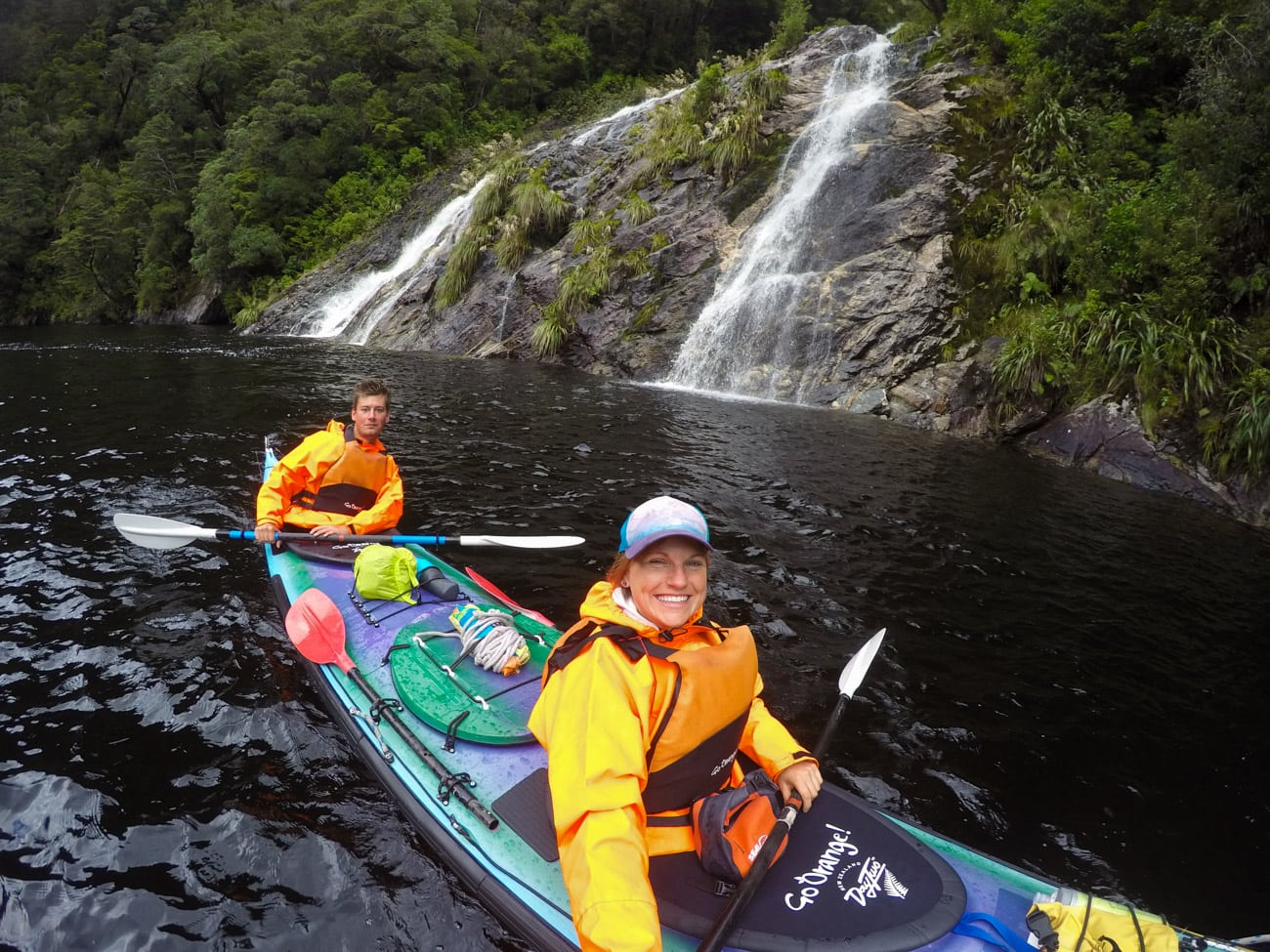 A recent spell of rain had come through Doubtful Sound that week, and the forecast for our trip was a little iffy. That morning, we experienced some drizzle and low-hanging fog, but the good news was that the waterfalls were going OFF, and the mist created a magical mood (I'll let the pictures do the talking).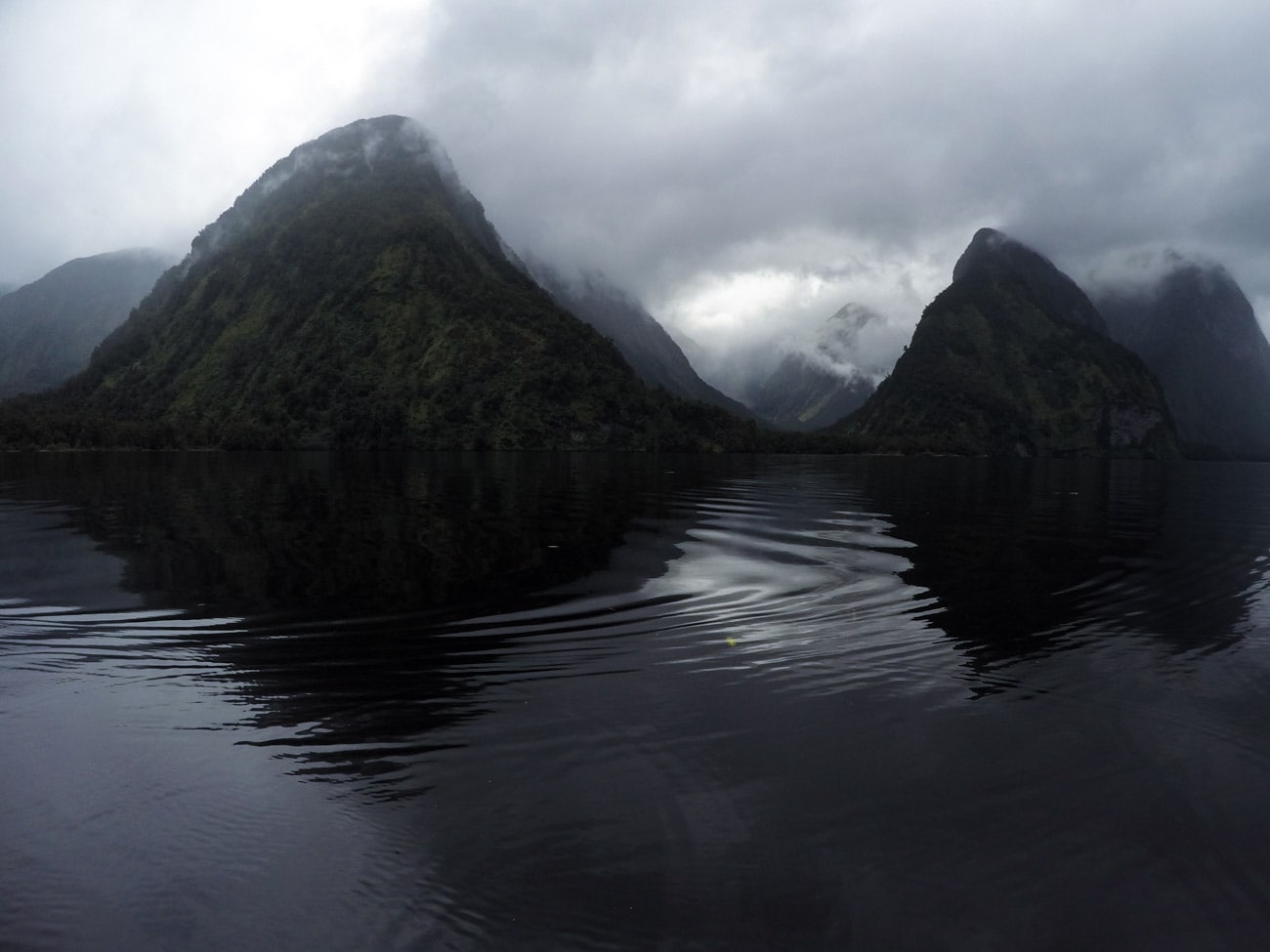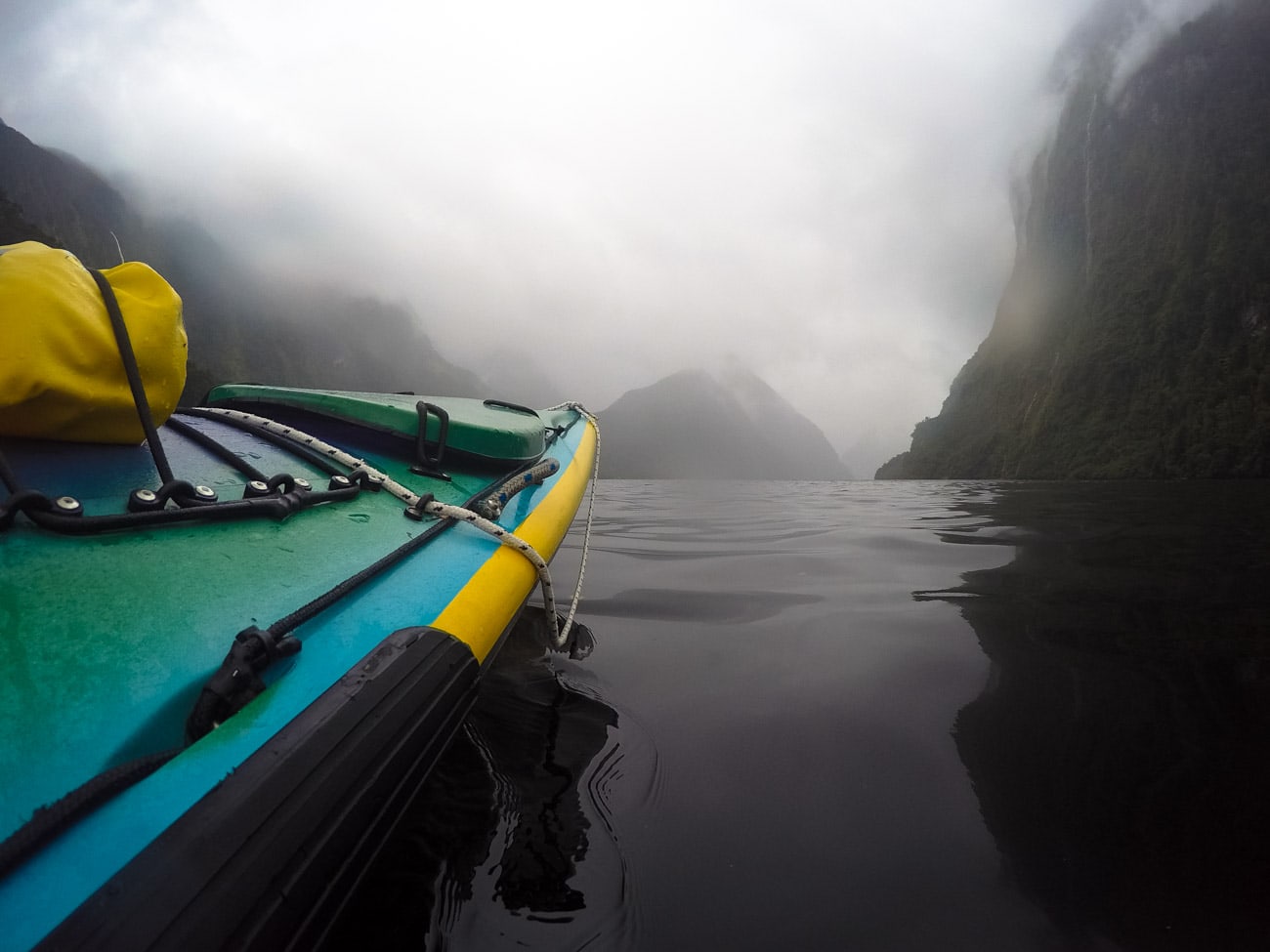 Luckily after we stopped for lunch, the rain cleared up, and the water was like glass creating some incredible reflections. We paddled all the way to the end of the Hall Arm before turning around and backtracking a little ways to our campsite.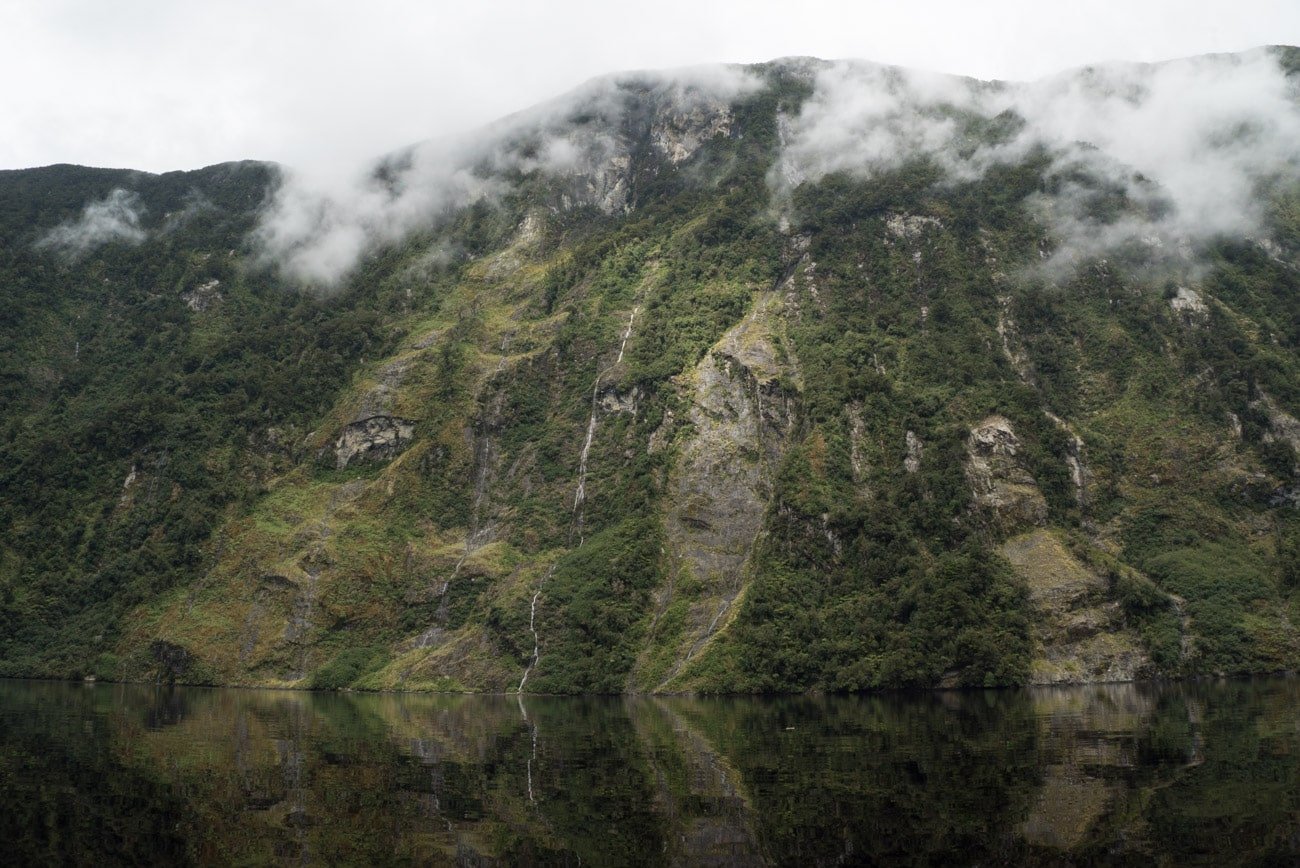 One of the best parts of the day was we only saw one or two other boats. We literally had Doubtful Sound all to ourselves, and in a country with as many tourists as New Zealand, this really was special.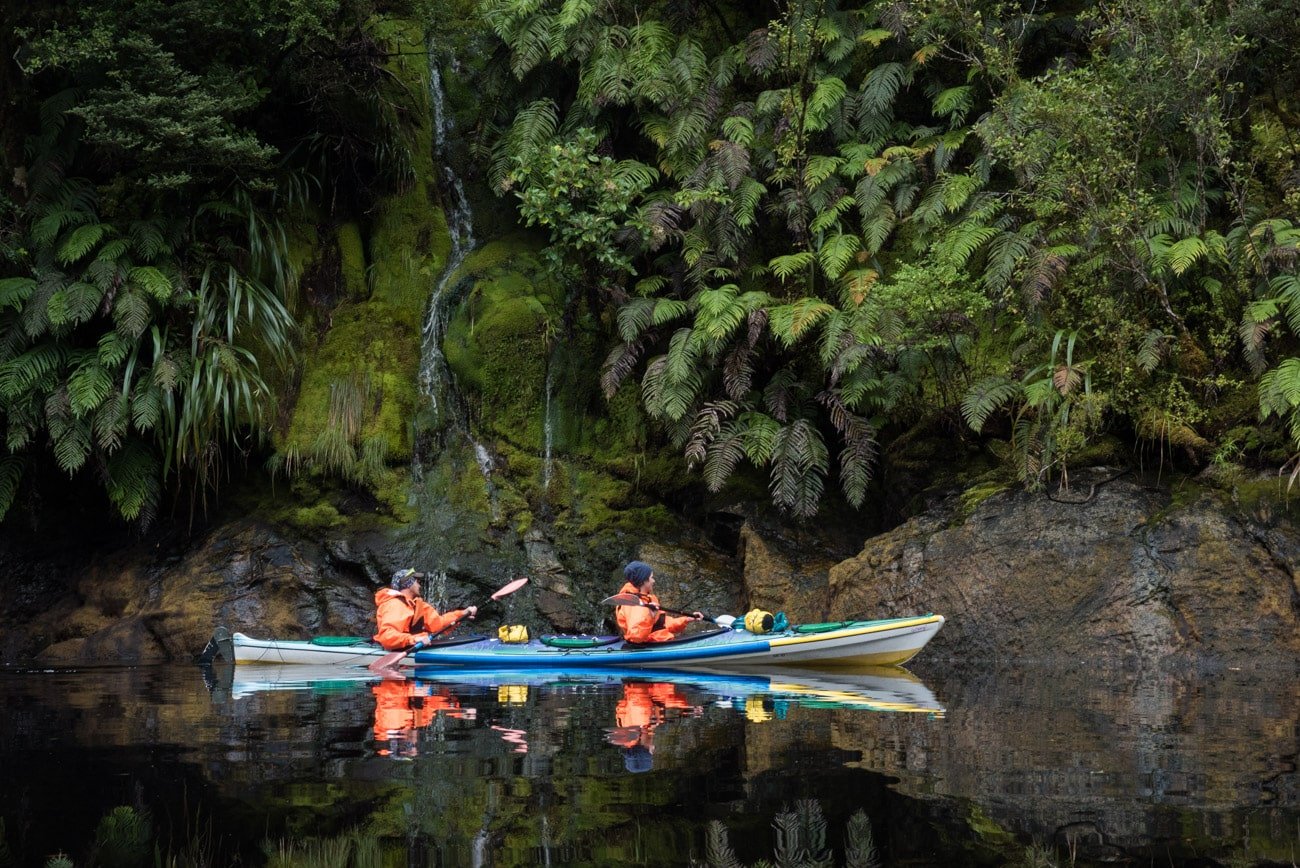 Our campsite was located directly below some of the most dramatic peaks in the Hall Arm. Once we pulled the boats up, we were given a tour of camp, and Robbie showed us where to set up our tents. Throughout the entire trip, Robbie was extremely professional and did a great job keeping our group of 8 entertained, relaxed, and comfortable.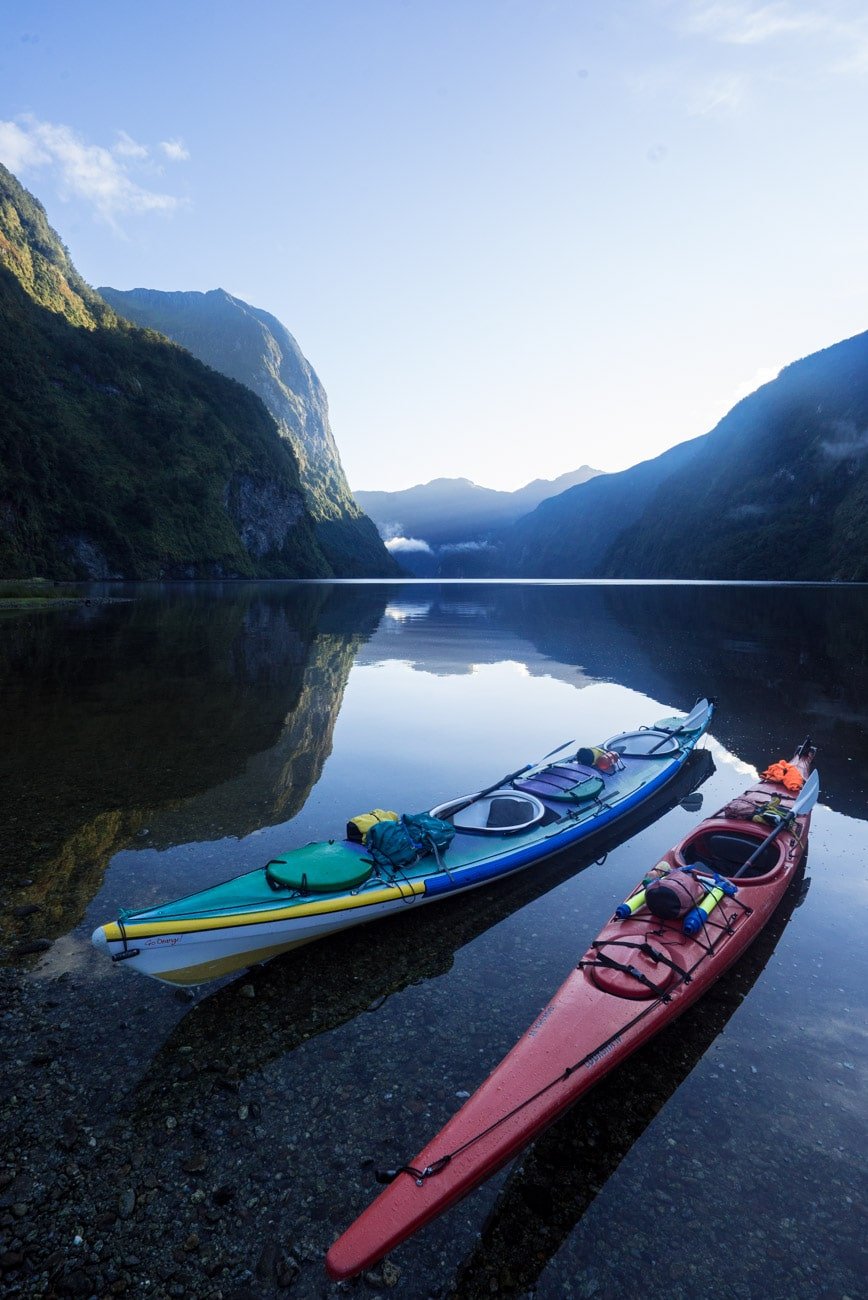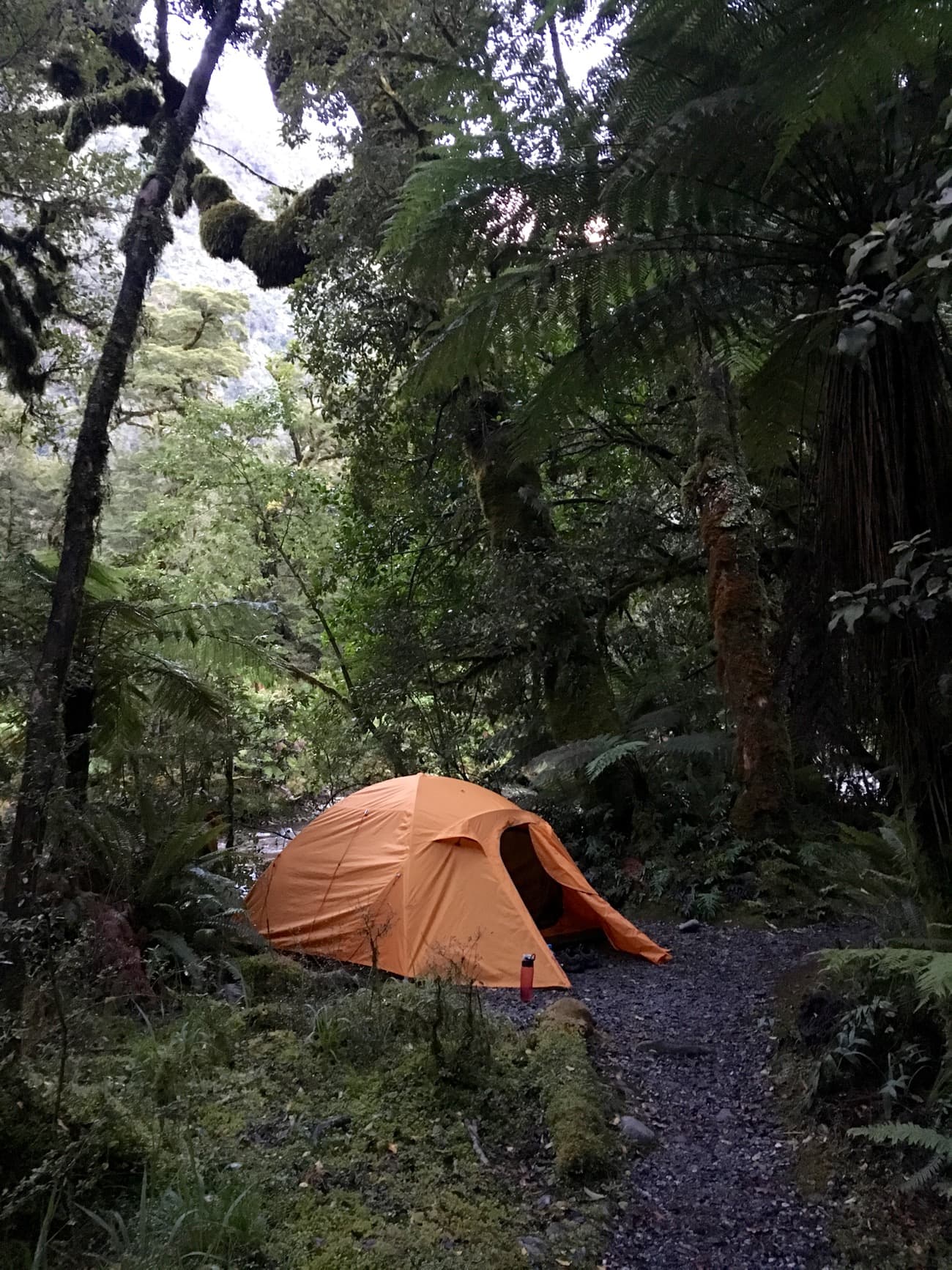 After getting all situated, we had plenty of time to explore. Myself and two other the guys on the trip decided to take a dip (with our wetsuits on) in the Fiord. It was chilly, but it felt amazing to be swimming underneath the sheer cliffs in that salty ocean water.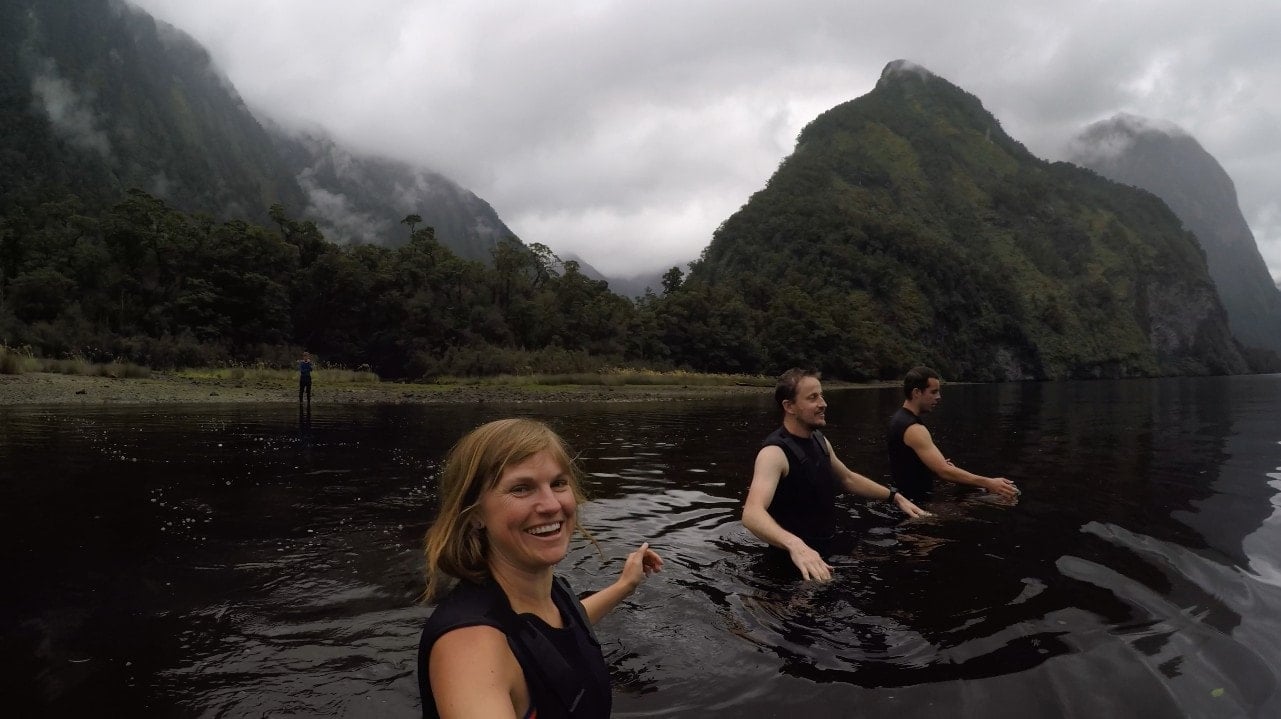 Now the sandflies in Fiordland National park are blood-sucking little devils, and they are everywhere. They don't bother you on the water, but they are definitely a nuisance on the shore (bring DEET!). Luckily, Go Orange has a permanent sand-fly shelter set up at the campsite where were all able to hang out, cook, and eat in before turning in for the night.
The next day, Robbie woke us all up around 6:45am. I wasn't too thrilled about having to get up so early, but we wanted to have time to cover some new ground in the kayaks. The weather had also cleared up, and it was nothing but blue skies.
Just as we were loading up, Robbie called us down to the water. He had spotted a small (and rare!) pod of resident bottlenose dolphins, including a few babies. We felt very lucky, considering we were 30+ kilometers from the open ocean.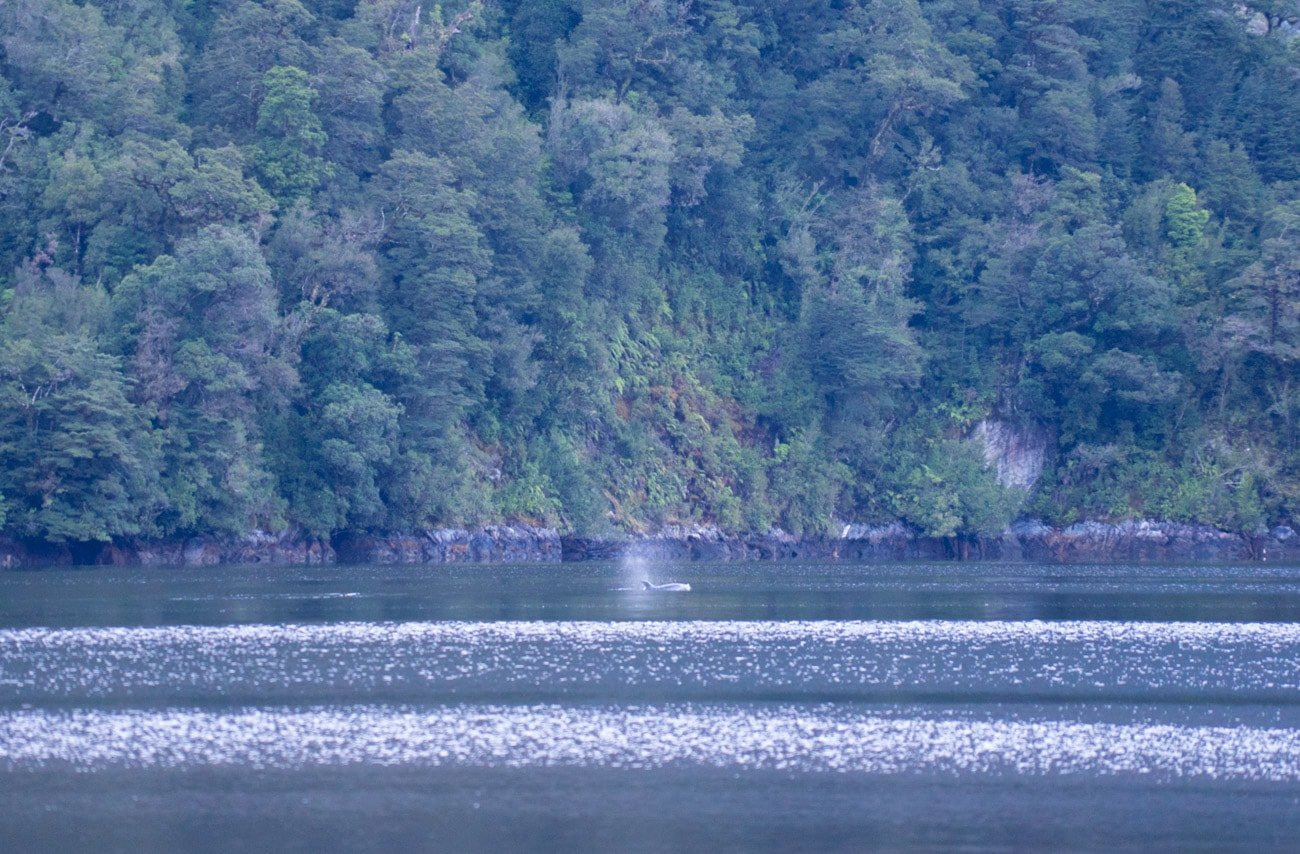 After taking some pictures, we got into the kayaks and paddled back out into the main fiord where we circled Elizabeth Island before heading back to Deep Cove. We took our time, checking out all of the giant waterfalls along the way, learning about some local Maori legends, and stopping for a quick snack break.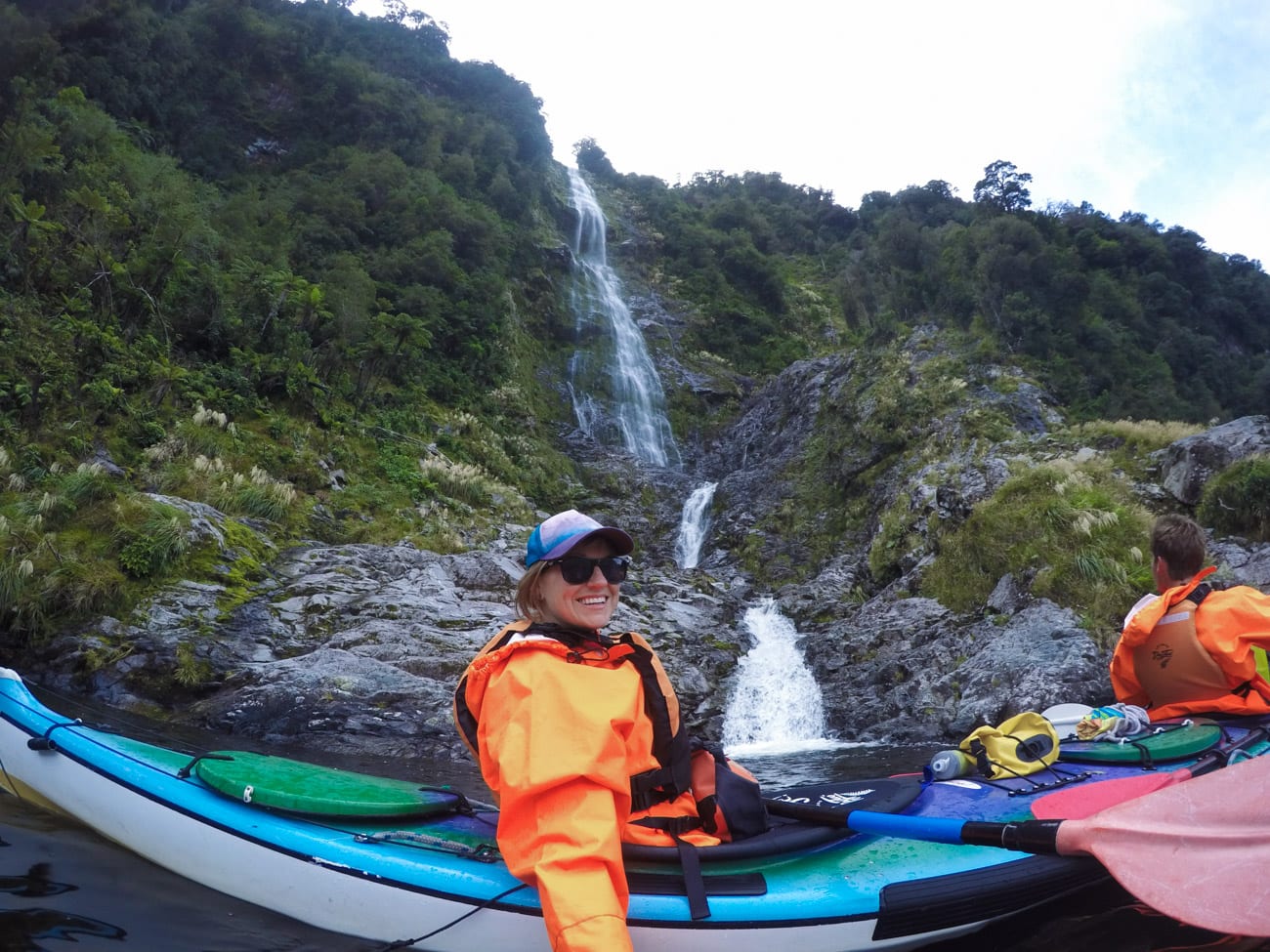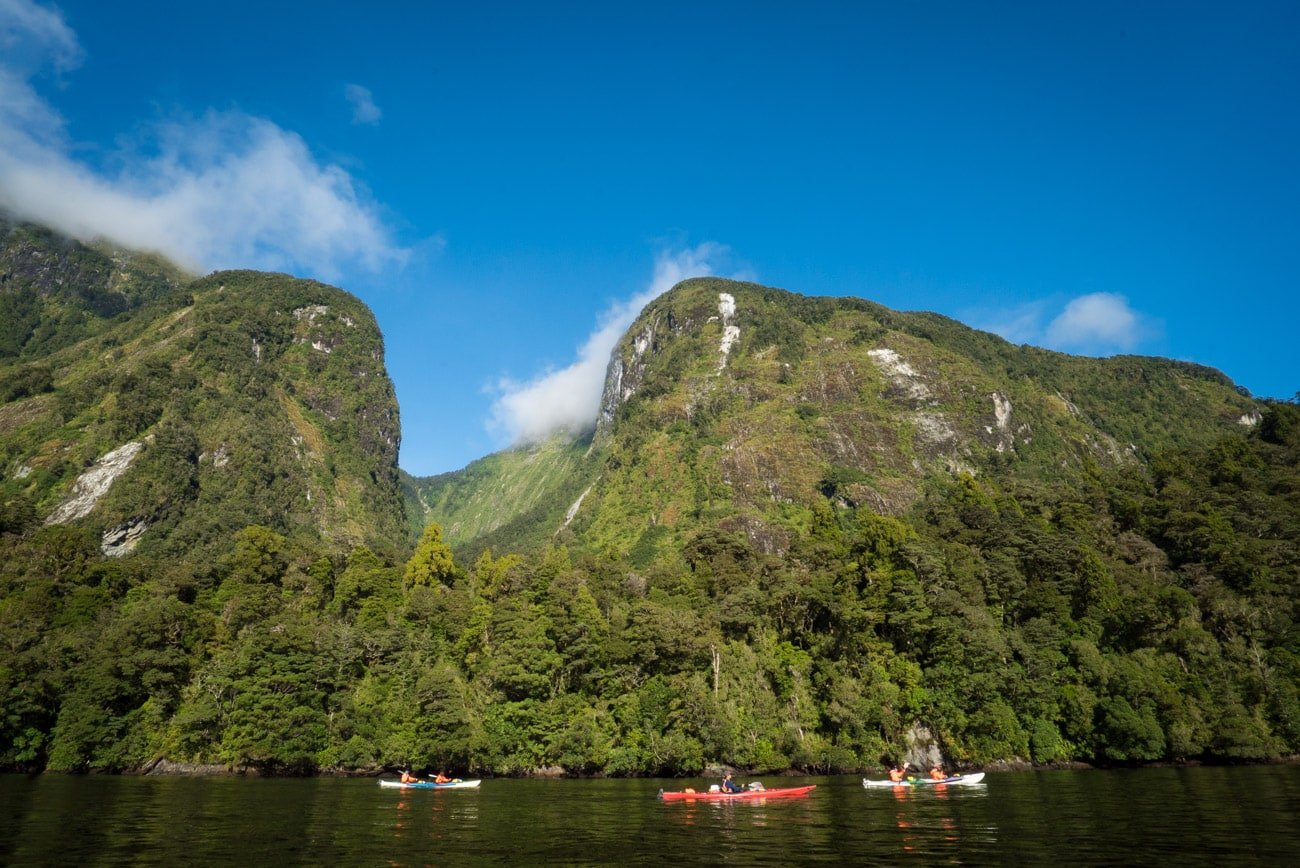 We arrived back at our launching point just after 12pm where we unloaded the kayaks, and were back in Te Anau by 4.
What to Bring on your Overnight Doubtful Sound Kayak Trip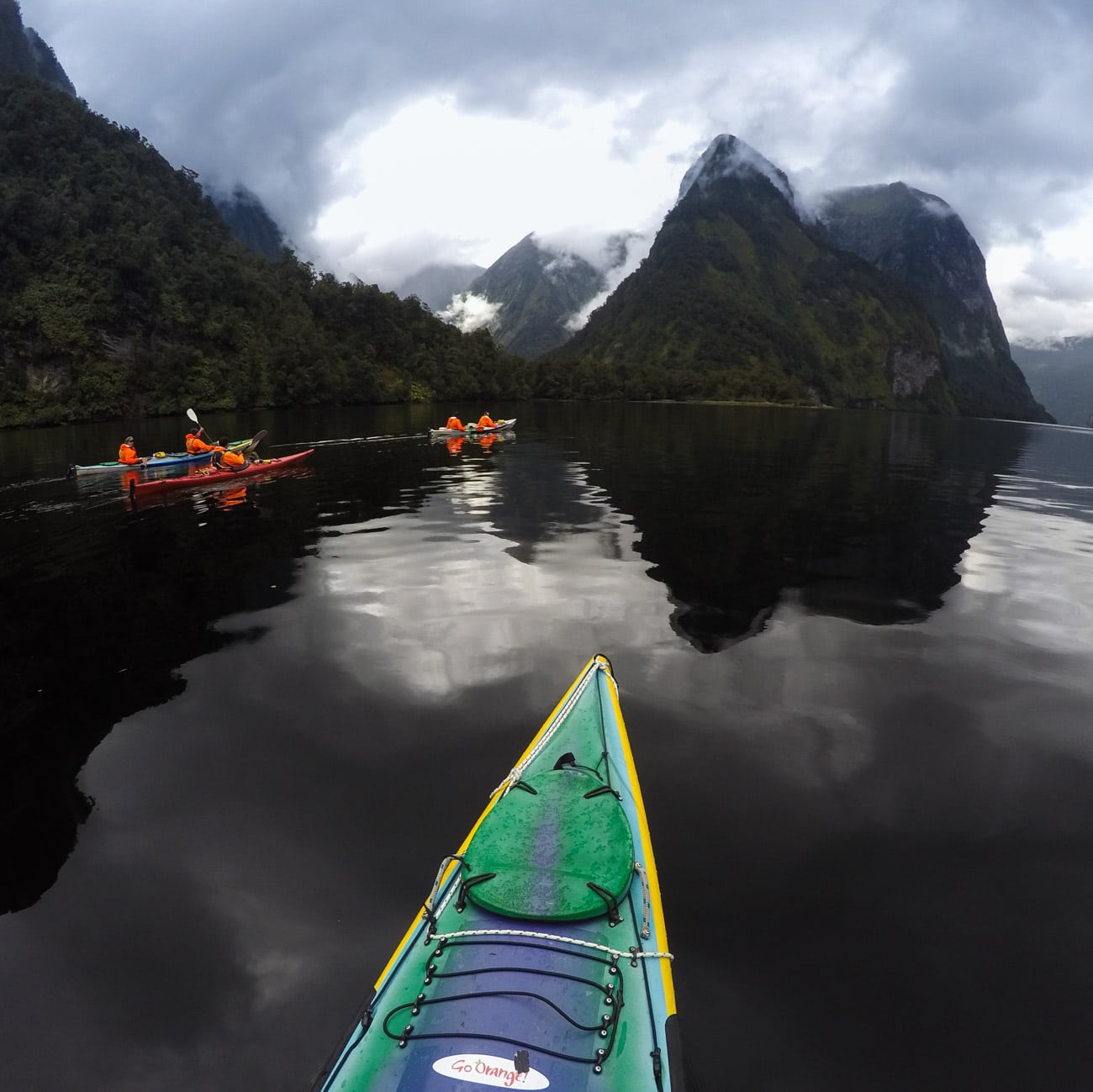 Food: Snacks and meals are not provided, so you'll need to bring two lunches, one dinner, and one breakfast, plus some snacks to tie you over on the water (and maybe a beer or two for the evening). There is a big grocery store in Te Anau where you can stock up, and if you don't want to hassle with cooking something fancy, look for these Backcountry Cuisine meals in the store. All you have to do is add boiling water, wait 10 minutes, and feast.  *I went back and forth on whether or not I thought they should have provided the food…but in the end, it helps reduce costs and makes the price of the tour more affordable.*
Cookware: Go Orange provides stoves, gas, and other cookware, but you need to bring your own eating utensils, a plate/bowl, and a cup. If you don't have these, they can provide them with advanced notice.
Camping Gear: You need to bring a headlamp &  a sleeping bag. If you don't have a sleeping bag, tell them you need to rent one when you book. Go Orange provides the tents and sleeping pads (which were very comfortable).
Clothes: During the day, all you need is a swimsuit (or bra and undies) to wear under the wetsuit. Go Orange provides the outer layers. I'd also recommend bringing a pair of shoes or sandals that you don't mind getting wet. For the evening, you'll want to bring warm clothes, a hooded rain coat, and bug spray.
Misc: If you are a night-owl like me, I'd also recommend bringing a book, headphones, or something to do if you want to stay up later than everyone else in the group.
For a full list of what is provided and what you need to bring, see this link on Go Orange's website.
Final Thoughts
If you are looking to experience the real wild side of New Zealand that few people get to see, an overnight kayaking trip on Doubtful Sound is your ticket. Even the first day when it was wet and gray, the scenery was incredible…and like any Kiwi will tell you, you haven't seen the real Fiordlands until you see it in the rain.
Should you go to Doubtful Sound over Milford? It depends on how much time you have, and I think in an ideal world you would do both. I really don't think you should skip Milford…the drive alone is worth it. I also thought the scenery and waterfalls in Milford were more dramatic and your chances of seeing fur seals, penguins, and other wildlife is greater on a Milford cruise . That said, thousands of people are out on Milford Sound cruises every single day, so if you want a peaceful kayak trip, that's where the Go Orange overnighter on Doubtful Sound really shines. I also think this kind of tour attracts the adventurous type of traveler, so you might just end up making some friends.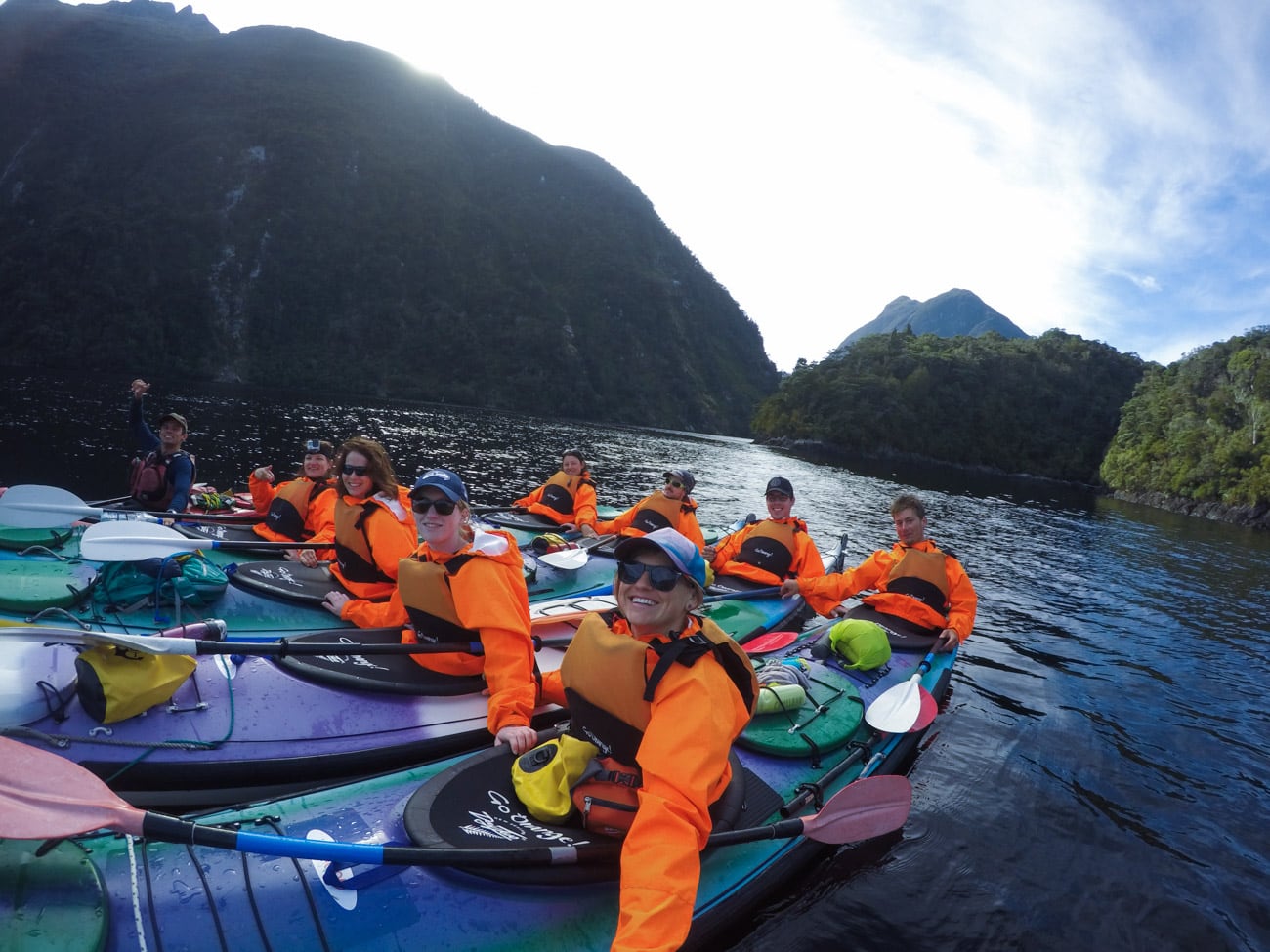 The cost of the overnight Doubtful Sound kayak tour is $399 NZ ($270 US at the time of writing), including transportation, and can be booked by contacting Go Orange.
WHAT WOULD YOU LIKE TO DO IN NEW ZEALAND ? LEAVE A COMMENT BELOW, TWEET ME, OR WRITE ME A POST ON FACEBOOK. 

A big thanks to Go Orange and Destination Fiordland for hosting me. As always, all content and opinions are entirely my own.