15 Awesome Outdoorsy Gifts that Give Back
Give outdoorsy gifts that gives back this year! Our 2016 holiday gift guide showcases 15 awesome outdoor travel and adventure gifts from companies who are socially and environmentally conscious.  By choosing outdoorsy gifts from this list this year, your generosity will have a ripple effect in local and international communities. Many of the products come with lifetime warranties as well–meaning they are great for those working towards minimalism.
••• Outdoorsy Gifts: Clothing & Accessories •••
Toad & Company Women's Tunic Dress
A perfect winter tunic available in three rich color options to compliment a favorite pair of warm leggings. Toad & Company works to create meaningful change and inspire others to live their fullest lives. This past year, T0ad & Company drove an initiative that gave 1,000 adults with disabilities the opportunity to explore our National Parks.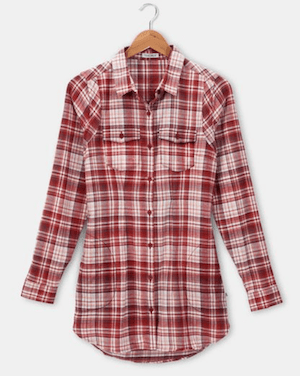 Patagonia Women's Bivy Down Hooded Vest
Function meets style with this stunning Patagonia quilted vest that comes in three unique two-tone color combos. It gets better than that though–the vest is filled with 100% recycled down that is reclaimed from used down products. At the bottom of Patagonia's product page you'll also be able to learn about the four suppliers who impacted the production of this vest–all of which promote fair labor practices, safe working conditions and environmental responsibility. Patagonia also donates 1% of its sales to environmental organizations and has active environmental campaigns related to clean air, water, and soil.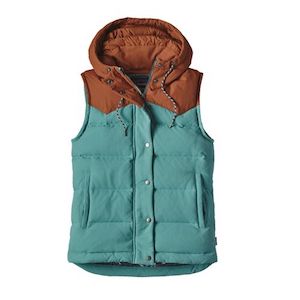 Proof Eyewear Scout Eco Sunglasses
These Proof Eyewear sunglasses offer 100% UV protection with polarized lenses and sustainably sourced wood frames–what more could you need? Why do we love Proof even more? Not only do they support international communities but they also partner with local organizations in the United States, like closing down their offices midday to lend extra support during the hectic holiday season at the Boise, Idaho Rescue Mission. They believe in an active socially conscious business model "to do good" and have donated over 12% of their profits to incredible projects around the globe.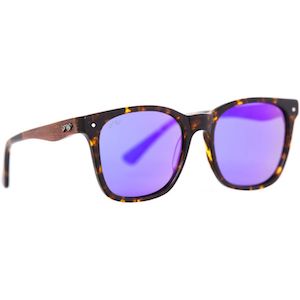 Leave it Better Leather Wrap Bracelet
The Parks Project works to generate funding to connect consumers with conservation. This speciality bracelet was handmade in the US and profits from the product go directly to cleanups, trail restorations, invasive plant removal and so much more…the mantra on the bracelet isn't just a reminder for the person wearing it, it is a symbol of the work being done by The Parks Project in our nation's most beautiful places.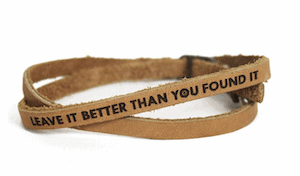 Pura Vida Bracelet Packs
To many the holidays are all about finding true appreciation for life's simple treasures. "Pura Vida" means choosing to live life to the fullest–what a great reminder for the New Year ahead. Pura Vida Bracelets, whether the "Save The Sea Turtles" pack or "1% for the Planet" pack give back to the environment in a big way. For example, for each sea turtle bracelet sold, Pura Vida donates $6 to the Sea Turtle Conservancy. All of their products are hand-made in Costa Rica and work to support the livelihood of 100+ Costa Rican artisans.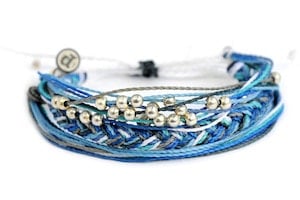 ••• Outdoorsy Gifts: Gear •••
United by Blue John Muir Enamel Steel Mug
A durable mug that is truly tough enough for the mountains but even tougher in terms of its impact. With every purchase, United By Blue will remove one pound of trash from our world's oceans and waterways. Raise a glass or two, towards cleaner oceans!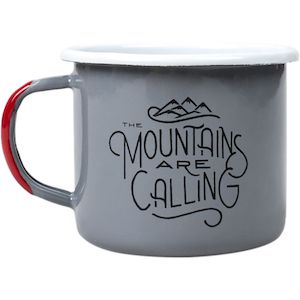 Kammok Roo Hammock
Built to survive, seriously, this Kammok hammock has ripstop fabric with reinforced stress points, and triple-stitched seams–but don't worry it's still ultralight, weighing in at less than 2 pounds. Did we mention it comes with a lifetime warranty? And with every Kammok purchase you are supporting their mission to provide underserved youth with meaningful outdoor experiences. Lay back and relax knowing you are empowering future generations to protect our lands!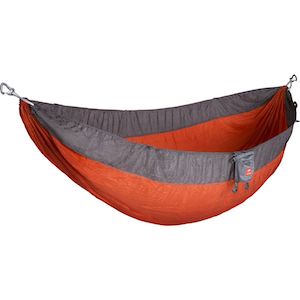 Ethnotek Hand-Crafted Acaat Ballistic Nylon Laptop Messenger Bag
Ethnotek's unique bags scream creativity and culture. They are big supporters of the Standing Rock movement and #waterislife and have ongoing initiatives for access for all to clean water both here and abroad. Not only is each messenger bag's outer flap uniquely hand-woven but the bags come with a lifetime warranty! Oh, and they are available on Amazon, allowing for a great last minute gift for Amazon Prime customers!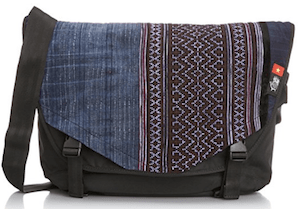 Cotopaxi Luzon Del Dia 18L Daypack
Shopping for that unique individualist outdoor friend? No two Luzon Del Dia bags are alike in design, but they are alike in that they are easily packable and durable for that next big adventure with ripstop nylon and an internal hydration sleeve to keep you out exploring longer. Cotopaxi is a certified, fully transparent B-corp committed to improving health, education, and alleviating poverty around the globe, so you know your purchase is doing more good than just delighting that lucky friend.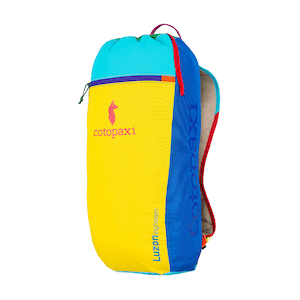 ** Gear Review: Cotopax's Luzon Del Dia Backpack  **
LifeStraw Go Water Bottle
Give the gift of water to a child while also reducing plastic waste in our country! The LifeStraw Go Water Bottle is great for adventure friends who need a water bottle with a built in filter for the backcountry and international travel. For each LifeStraw you purchase, one school child in a developing community receives safe drinking water for an entire school year.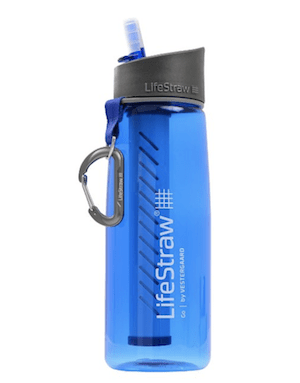 ••• Outdoorsy Gifts: Home Goods •••
GO Mountain Print
For that outdoor adventure friend that lives by John Muir's famous words, "The mountains are calling, and I must go," this unique handmade print by Western Rise promises to offer inspiration. Western Rise partners with the Western River Conservancy to maintain public access to our nation's rivers, and a portion of the proceeds for this print are specifically donated to preserving New England's special outdoor places.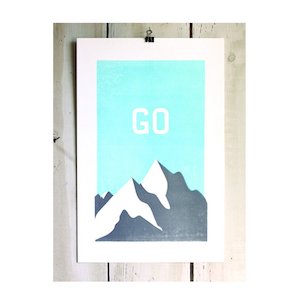 Protect Our Winters Vintage Mount Wilson T-Shirt
A great outdoorsy gift for your ski-bunny friends. This cool t-shirt supports "Protect our Winters", which is a non-profit working to mobilize the global snowsports community against climate change.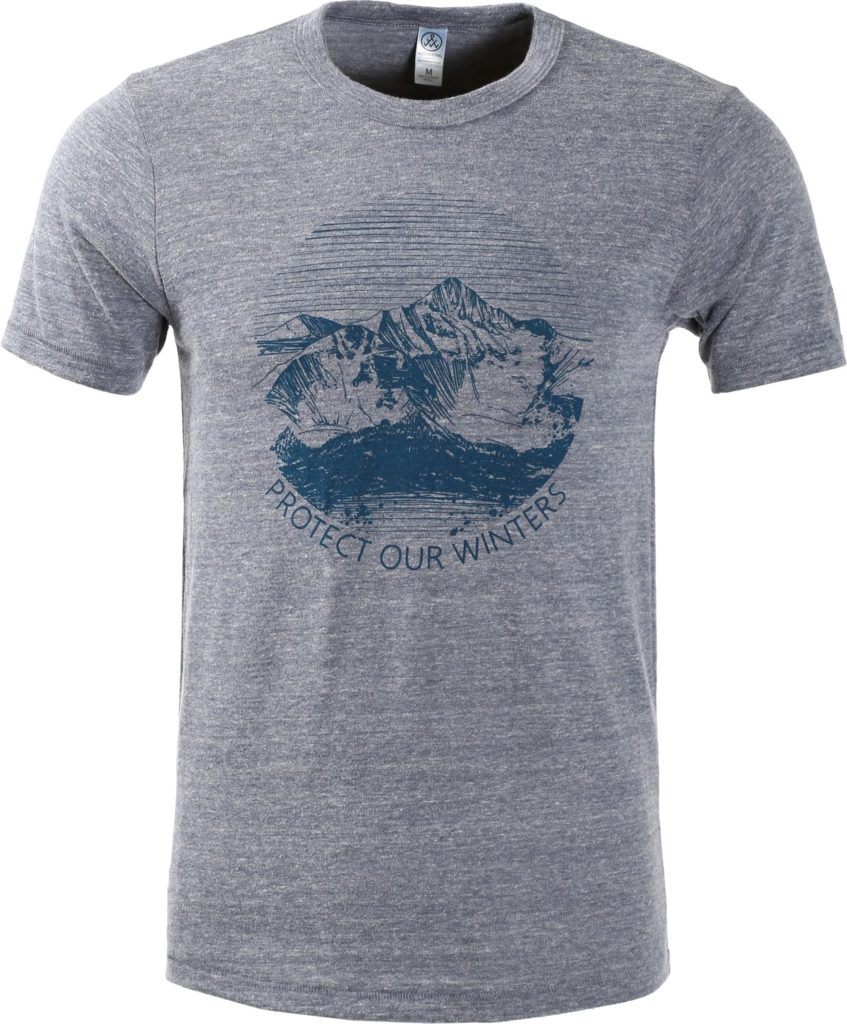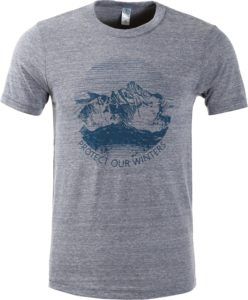 Sunset Navy Sackcloth & Ashes Outdoor Blanket
Get one—give one, a blanket that is. For every Sackcloth & Ashes blanket purchased a blanket is donated to your LOCAL homeless shelter. I just this blanket in my Sprinter Van, and I love how the colors make everything pop.
Bob Dalton, the founder of Sackcloth & Ashes, isn't unfamiliar with our nation's growing homeless population as his own mother found herself living on the streets just three years ago. He quickly learned the #1 item needed in homeless shelters was blankets, and more blankets! Spread the warmth this holiday season outside of your own friend circle.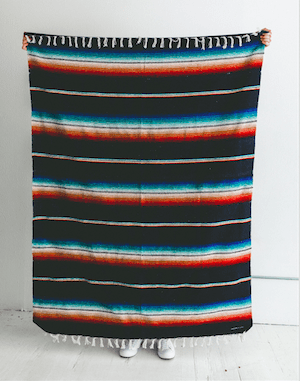 100% Recycled Lobster Rope Mats
Why not greet people at your home with a message of reusing and reducing waste? Perfect for East Coast friends, these bright and vibrant Lobster Rope door mats are created with 100% reclaimed Maine Lobster ropes from lobster traps. As a 1% for the Planet member company, 1% of their annual sales also go to preserving our ecological environment.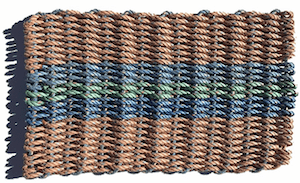 Looking to give "an experience" this year?
OARS Adventure Tours
Give the ultimate outdoorsy gift this year….the gift of adventure, and all without the stress of having to plan a trip! OARS Tours offer 1 day and multi-day adventures exploring our nation's National Parks. From whitewater rafting to sea kayaking to hiking to multi-sport tours they offer something for everyone! Ohhh, did we mention, 1% of all national park trips are donated directly back to the parks. Get out there and make memories with those you love and cherish the most. For a detailed write-up on an OARS Trip I took this year, see this post.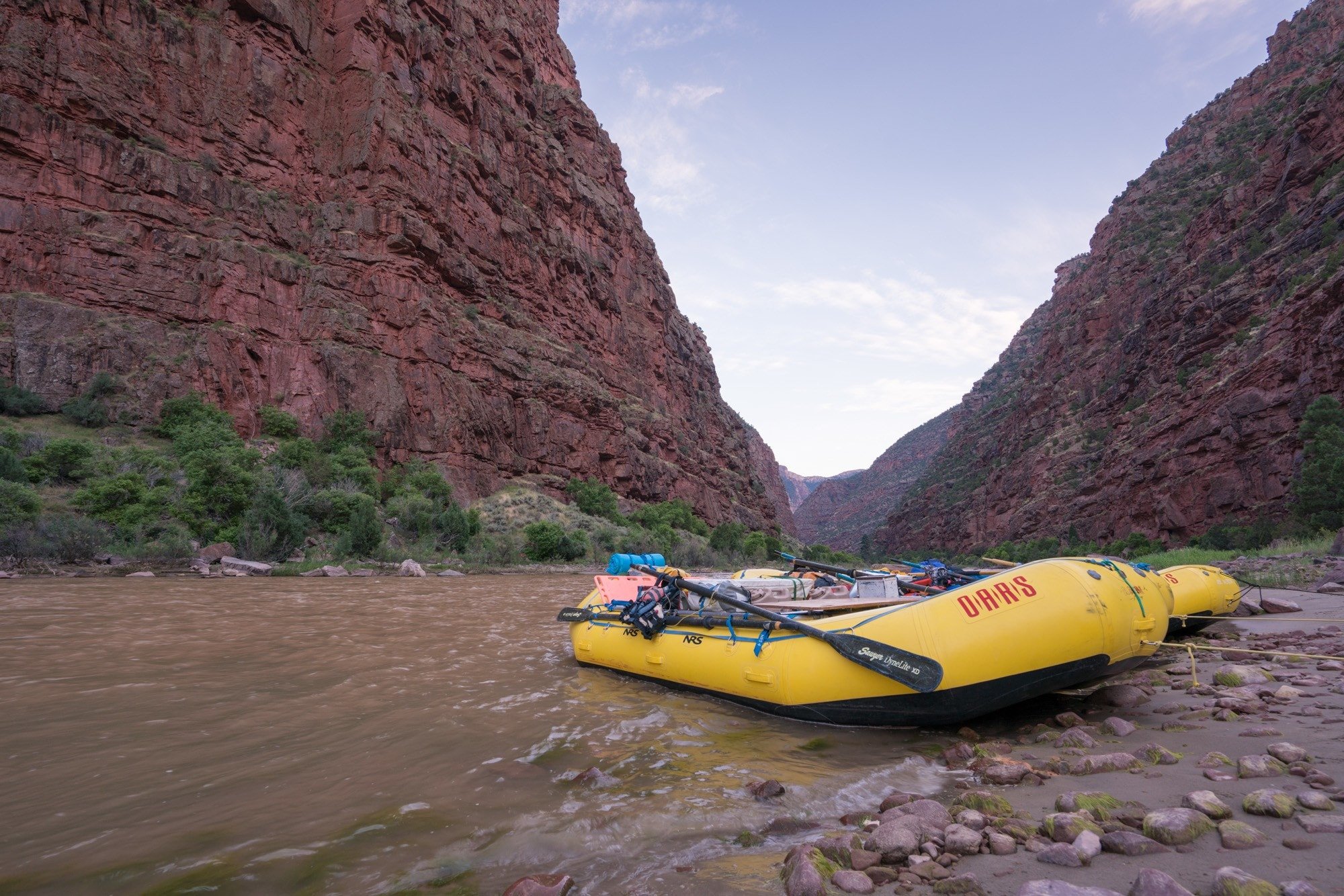 Need more Outdoorsy Gift Inspiration?
Check out these posts for more outdoorsy gift ideas!
•••••••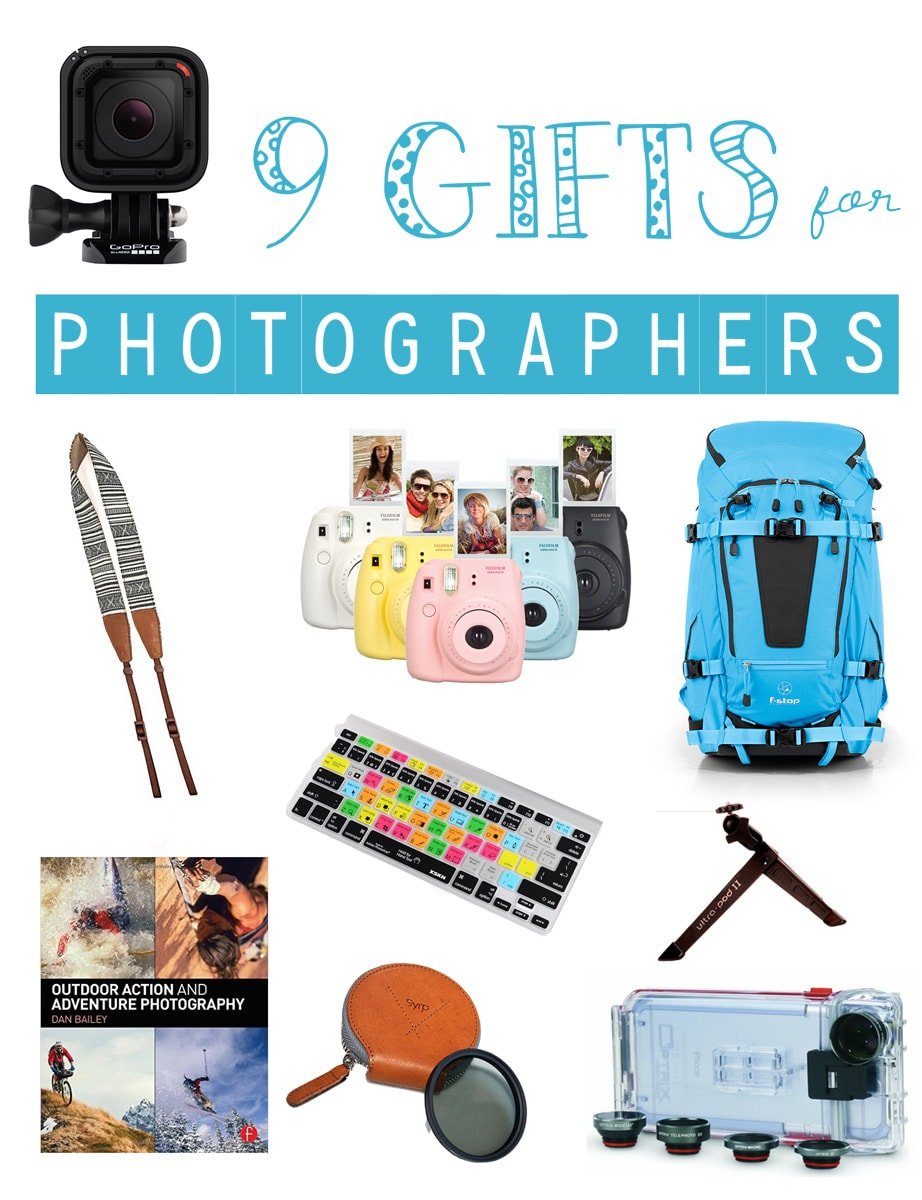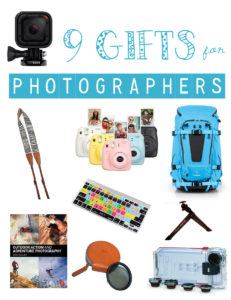 •••••••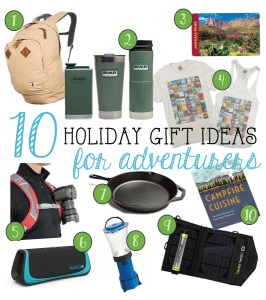 •••••••

WHAT'S ON YOUR OUTDOORSY GIFT WISH LIST?  AND WHO ARE YOUR FAVORITE OUTDOOR BRANDS THAT ARE GIVING BACK? 
LEAVE A COMMENT BELOW, TWEET ME, OR WRITE ME A POST ON FACEBOOK. 

Disclosure: Some of the links in this post are sponsored and/or affiliate links. This means if you make a purchase, I receive a tiny bit of compensation at no added cost to you. I only write about products that I truly love, and any purchases you make help keep this blog going. Thanks for all of your support, and if you ever have any questions about any of the products featured on my site, please email me. Thanks! Kristen