New Zealand Road Trip Journal Week 3
My New Zealand trip is flying by! I can't believe I'm already done with the third week of my road trip. Make sure to check out Week 1 and Week 2 if you missed them. And also you can follow along on snapchat (name: bearfoottheory) where I'm sharing my misadventures in real time.
This week took me down the west coast of the South Island, known as the glacier highway. I hit up Franz Joseph Glacier, rode in a helicopter, got my ass handed to me hiking up Avalanche Peak in Arthur's Pass, and finally made it down to Wanaka.
New Zealand Trip: Day 16 – Driving to the West Coast and Pancake Rocks
It's Christmas! I've traveled before for Christmas, but this was the first time I'd be spending the holiday totally solo, or so I thought.  I really didn't have a plan, nor did I have much food in the van for a fancy Christmas dinner…I did have wine though 🙂
I started to drive down the West Coast, first passing through Buller Gorge. Then out of nowhere the bright blue, rugged ocean appeared. I stopped at Pancake Rocks National Park, famous for its stacked rock formations, and if you hit it right at high tide, there are a bunch of blow holes. Unfortunately I missed it, but still did a lap and took some photos.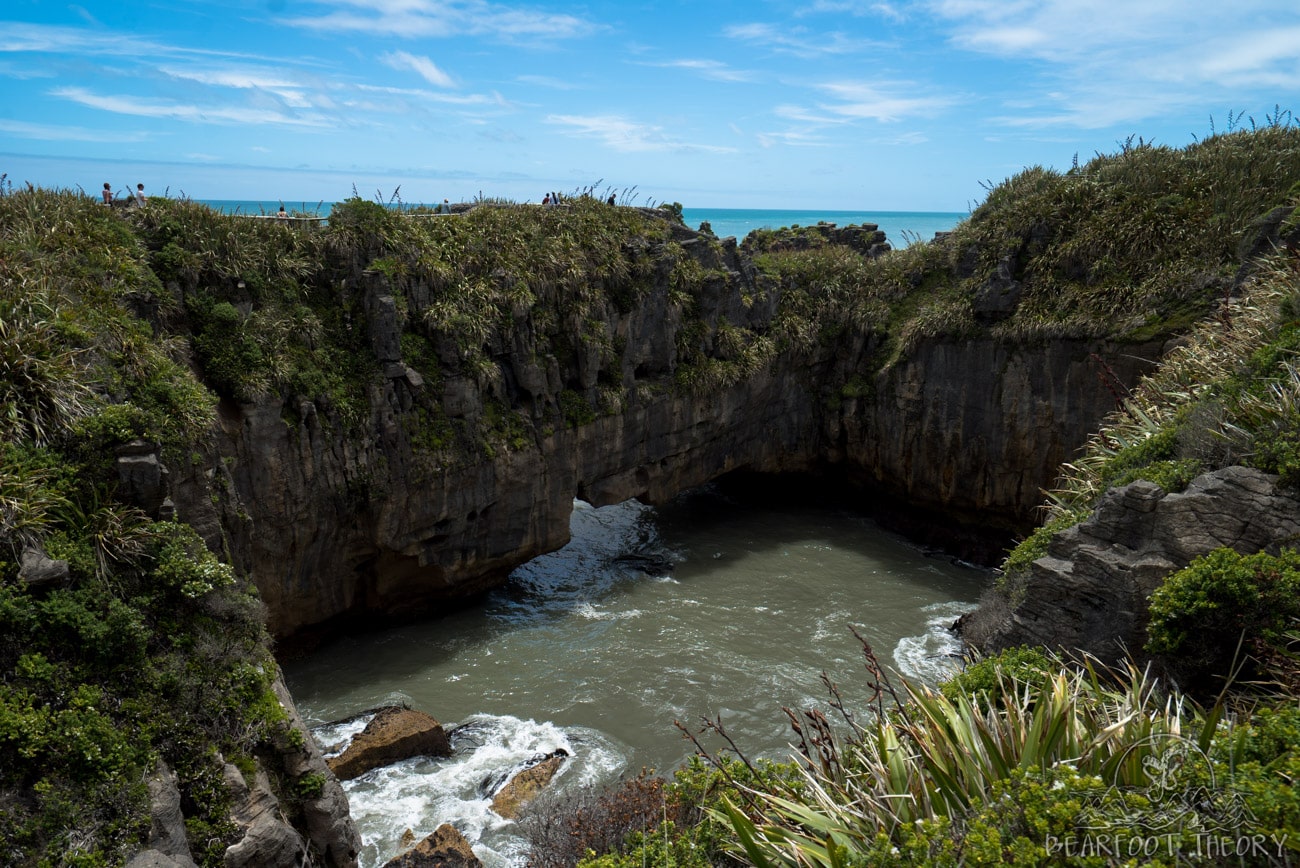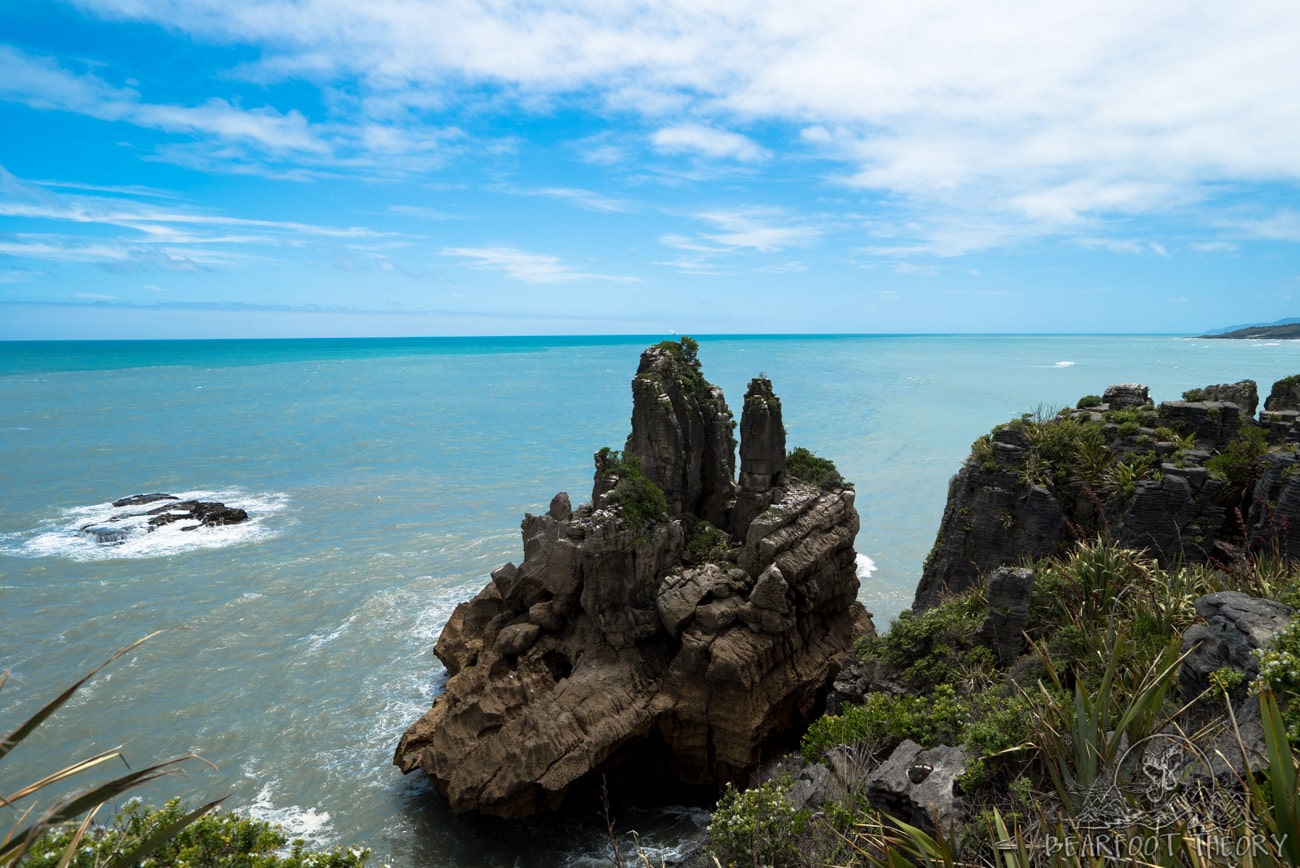 I continued south and started to think about where I wanted to stay for Christmas. I drove through a couple of towns, including Greymouth, which was kind of the pits…plus everything was closed. I was hoping to find a little pub where I could get some dinner, but no luck there.
Since nothing was open, I used my NZ Rankers app to find a $6 freedom campsite on Lake Mahinapua south of Hokitoka. So far I've found that I seem to mesh better with the crowds at these DOC freedom campsites. They tend to attract an international group of travelers typically 20-40s – lots of vans, tent campers, and a few RVs.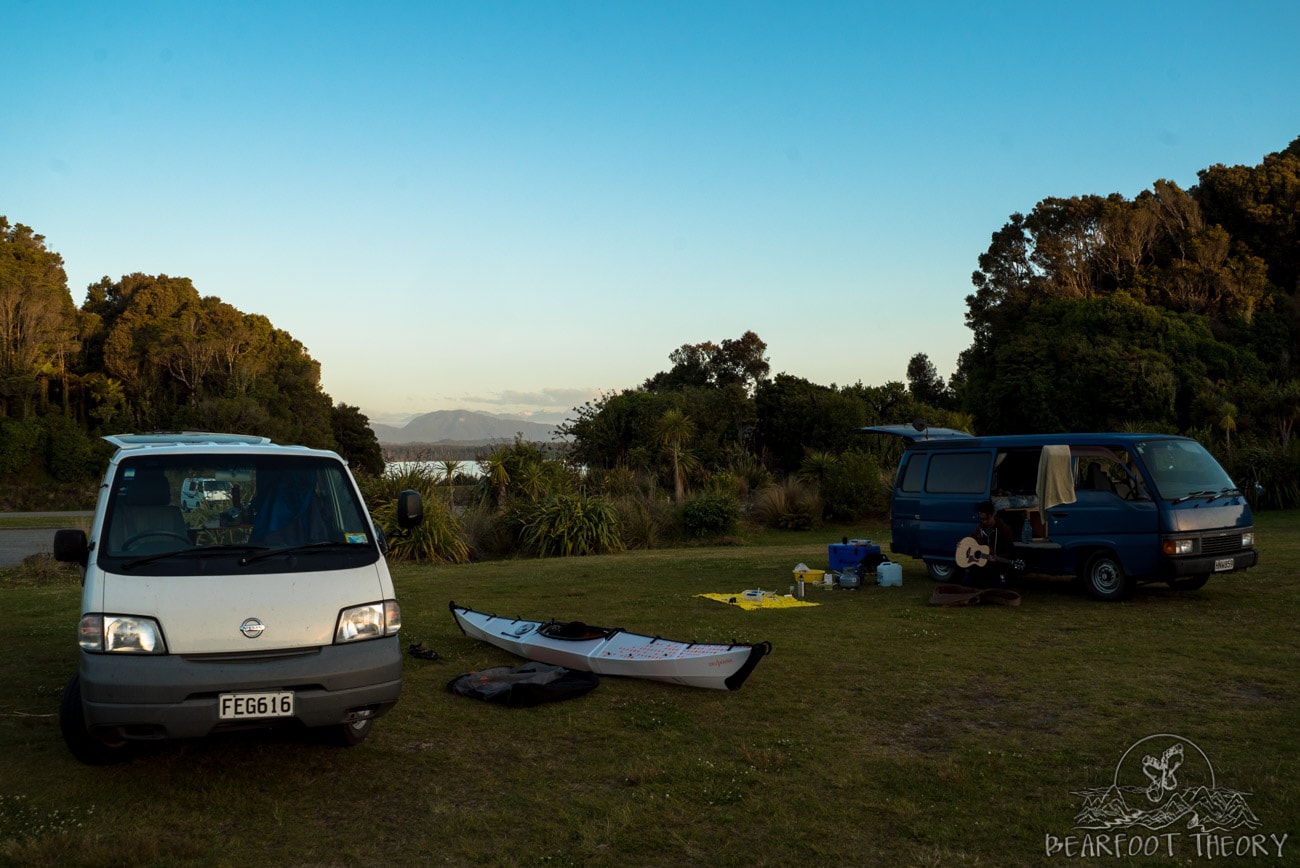 After getting situated, I took my Oru kayak for a sunset paddle, and it was the first time I could see snow on the distant mountains. Then when I returned back to my campsite, I found an awesome couple from San Francisco parked next to me. We swapped stories about Burning Man and our travels and ate Christmas dinner together (mine was a coconut curry with peas and canned tuna…yummmmm).
After dinner, there was another group next to us having a little jam session. Who would have thought I'd end up sitting in a circle singing Beatles songs on Christmas with a bunch of strangers from Israel, New Zealand, Scotland, and the states. I really missed my family today, but I'm thankful for what the day had become which was a total surprise.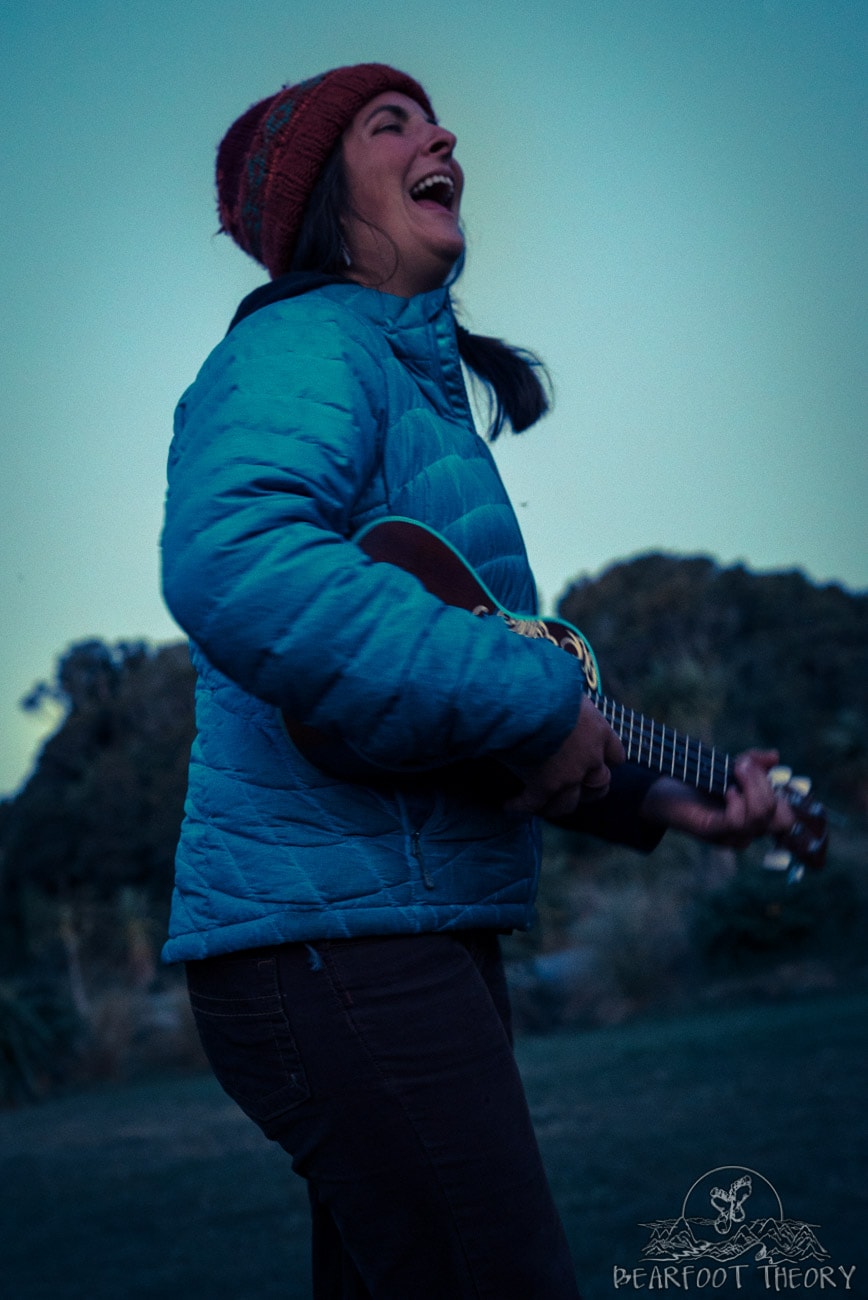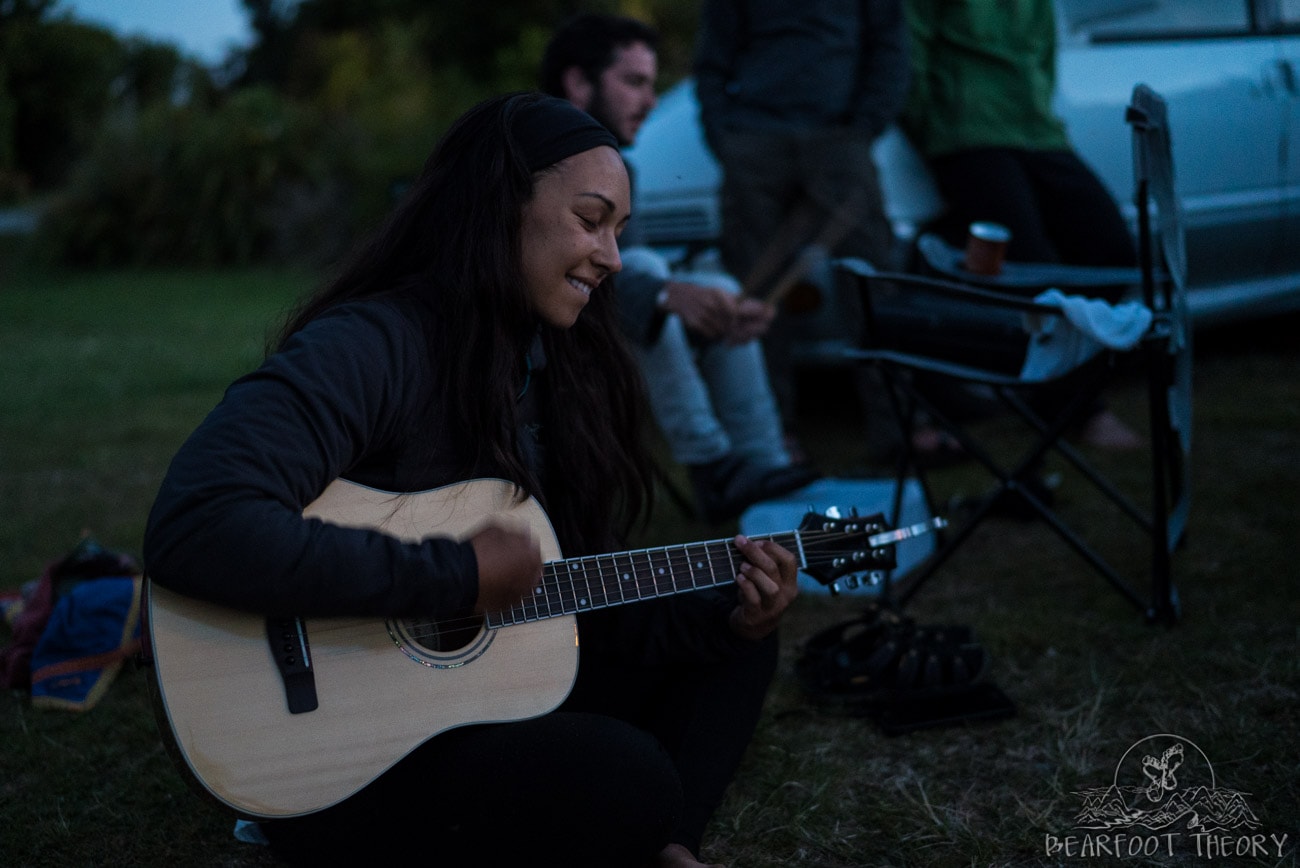 New Zealand Trip: Day 17 – Hokitika Gorge & Arthur's Pass
My day started with dawn patrol with my San Francisco neighbors.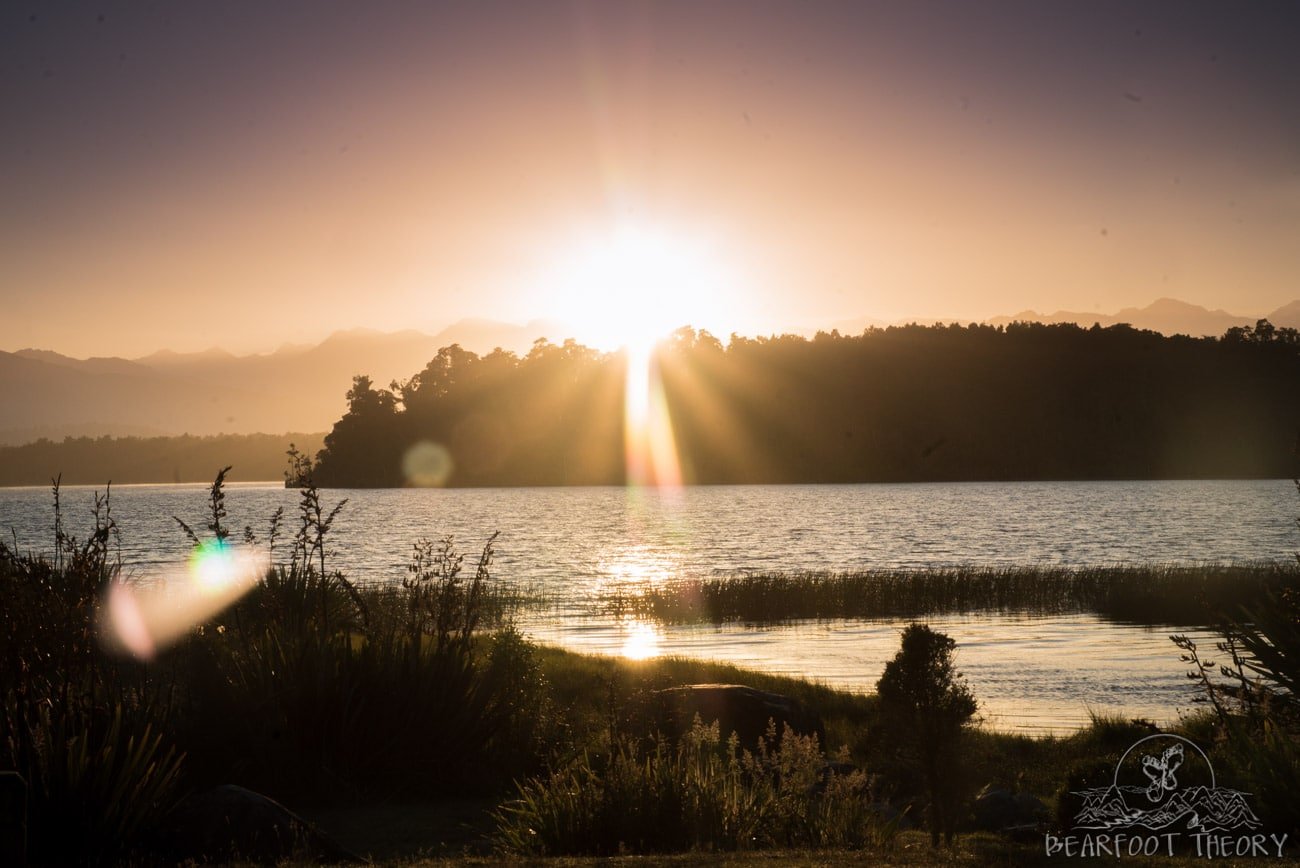 After a relaxing morning at the lake and running some errands in Hokitika the southern, cute sister of  Greymouth, I drove 35 minutes inland to the Hokitika Gorge. I read about it in my New Zealand Frenzy Guide and the San Francisco people also recommended it.
From the dirt parking lot, it was a 10 minute walk to a cool swing bridge over the Hokitika river which had to be the bluest water I have ever seen. Five minutes further led to a beautiful sandy (sandfly-infested) beach.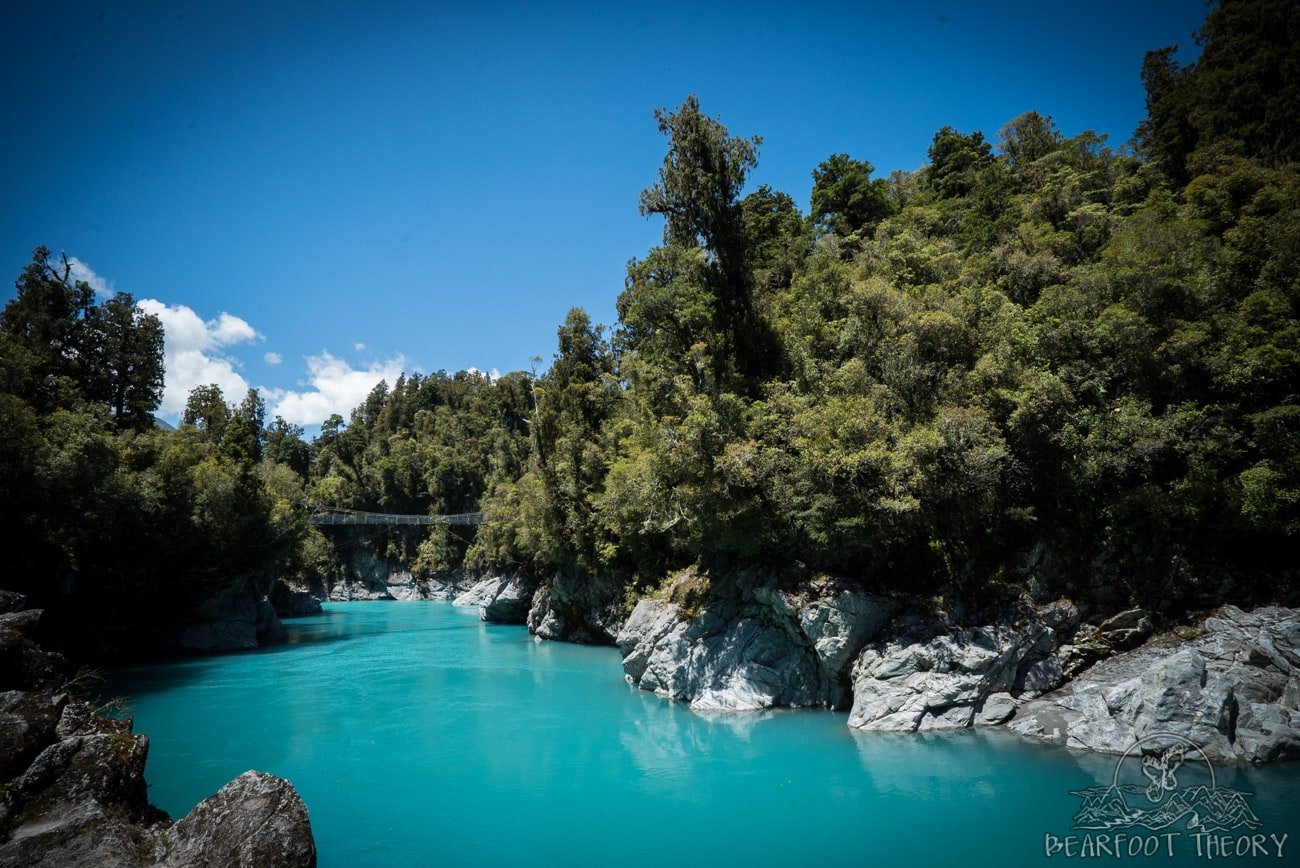 One other guy there jumped in off the rocks, and I myself couldn't resist taking a dip. The water was sooooo icy it took my breath away but man did it feel amazing. I almost felt sorry for the other people who weren't willing to brave the cold. They really missed out.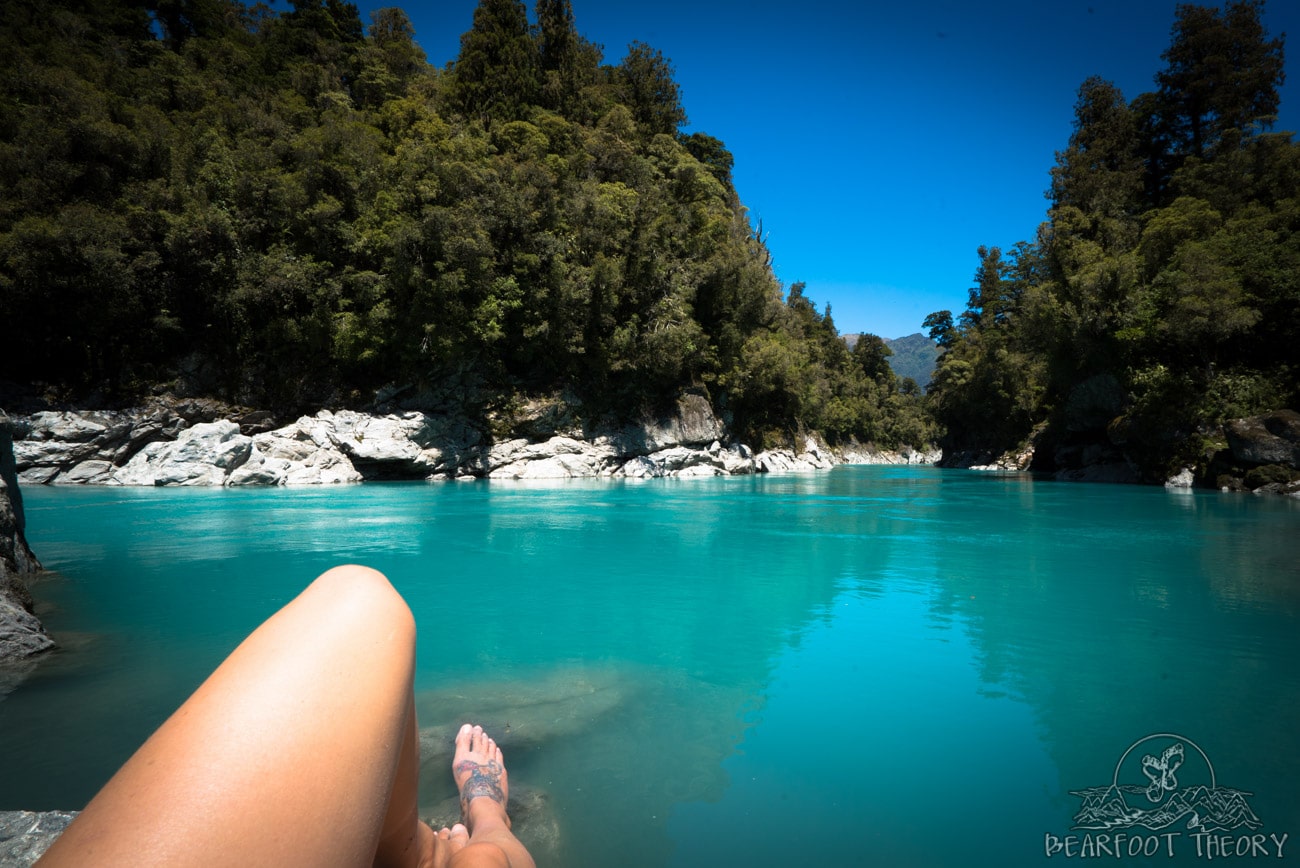 Next I heard that the drive up to Arthur's Pass National Park was not-to-be-missed, but it was all dependent on good weather. Since the weather report predicted sun for the next couple of days, I decided to make a detour. It was a pretty drive up through a valley, but initially I wasn't as impressed as I expected (that changed once I hit the trail). By the time I got to the Park headquarters, the visitors center was closed, so I found a secluded place to park for the night by the river at the Klondike Campground.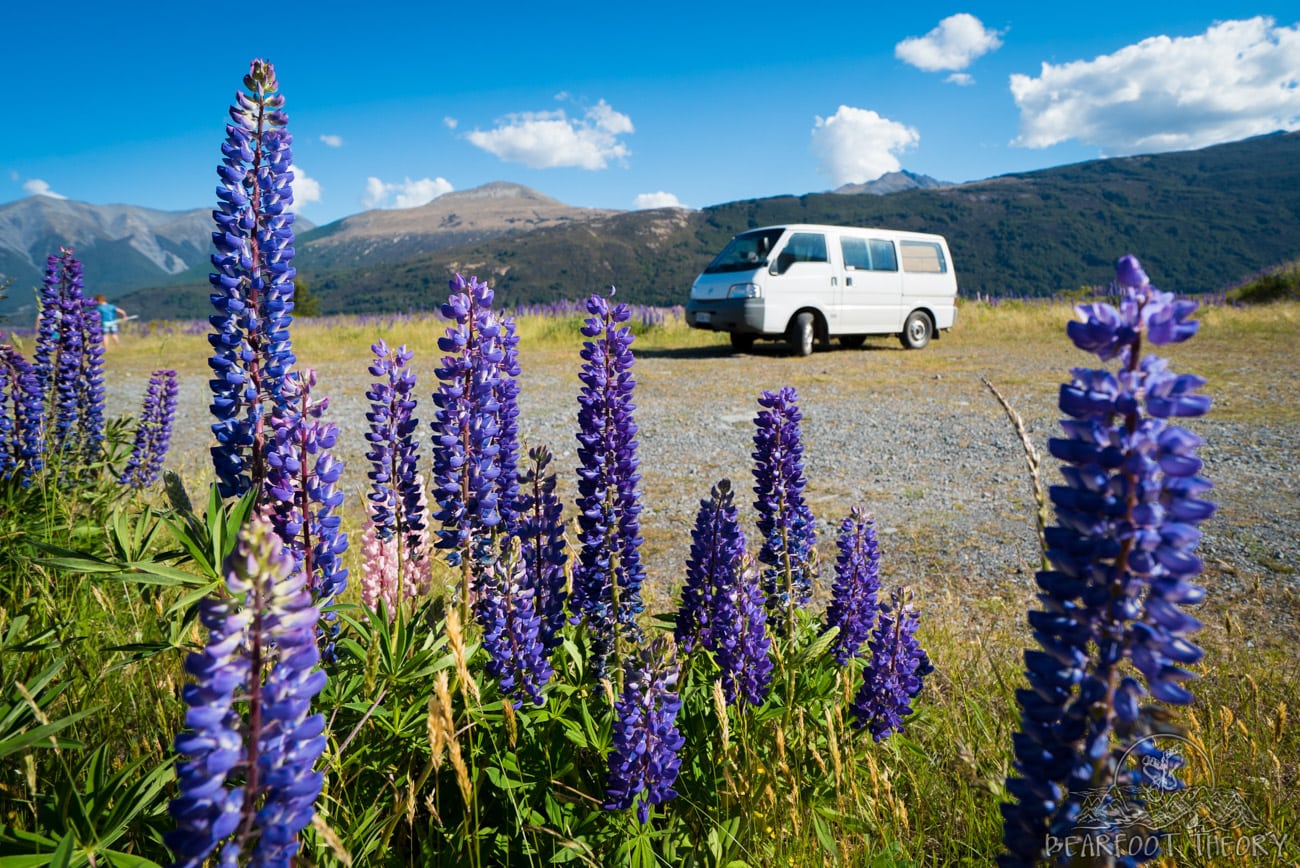 While cooking up some veggie curry (which has become a staple in my diet), a Kiwi named Mark strolled up. I invited him to take a seat and learned that he is a software developer living in his van and traveling around the country. Turns out he is also part of the New Zealand Burning Man community…I'm starting to see a trend here.
After eating, I went over to the main part of the campground and met three Frenchmen sitting around a campfire.
At the end of the evening, Mark ended up bringing a bunch of whiskey ginger ale cocktails and his fire dancing sticks over and gave everyone a lesson….seems like a good combination right?
New Zealand Trip Day 18 – Hiking in Arthur's Pass National Park
Today totally kicked my butt.
I joined the three Frenchmen I met the night before on a hike to the top of Avalanche Peak. I knew it was going to be steep….but I didn't know exactly how steep. Well…it was 3,300 feet in 1.5 miles steep. Damn. And the lingering effects of those whiskey gingers didn't help.
The first half was through the bush (what they call the forest here). During that part, I was grabbing on to tree trunks to pull myself up and was seriously short of breath. Once we were above the treeline, it was more climbing, but at least we had the view to enjoy.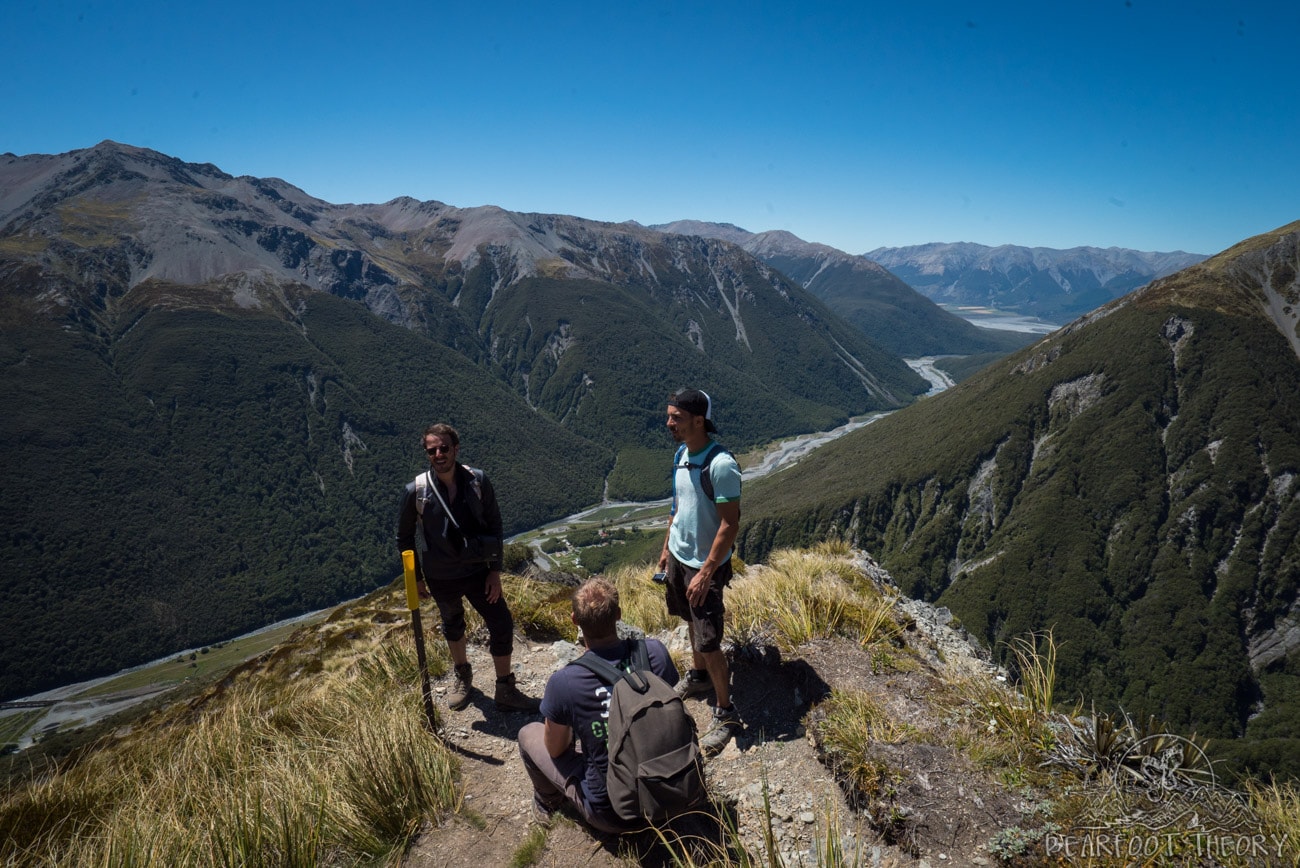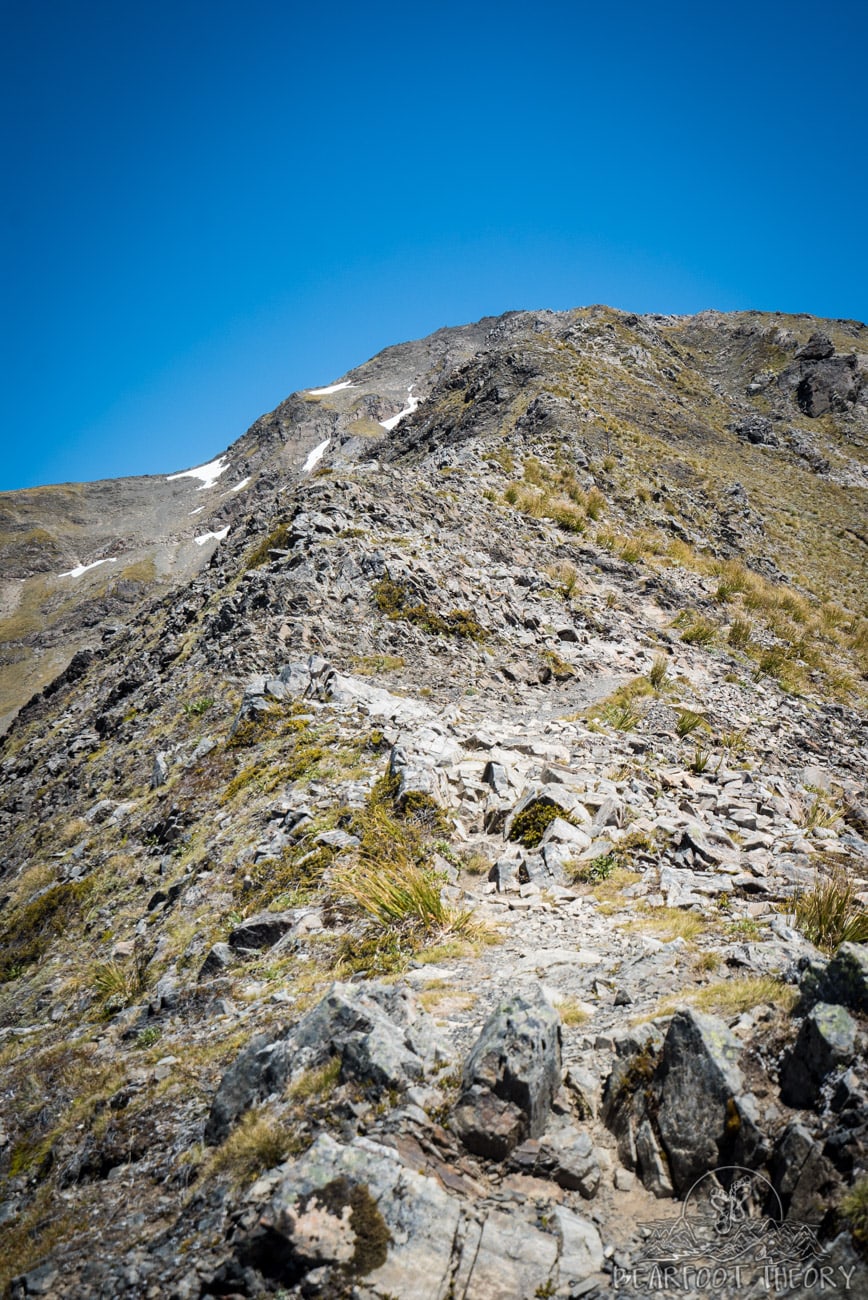 For the final ascent, we had to walk over a narrow, somewhat exposed ridgeline to the summit where we had views of a neighboring glacier and all of the surrounding peaks. There were also some obnoxious (and quite scary) parrot-like birds called kea that were trying to steal our food….although even as a bird-hater, I must admit they were actually kinda pretty.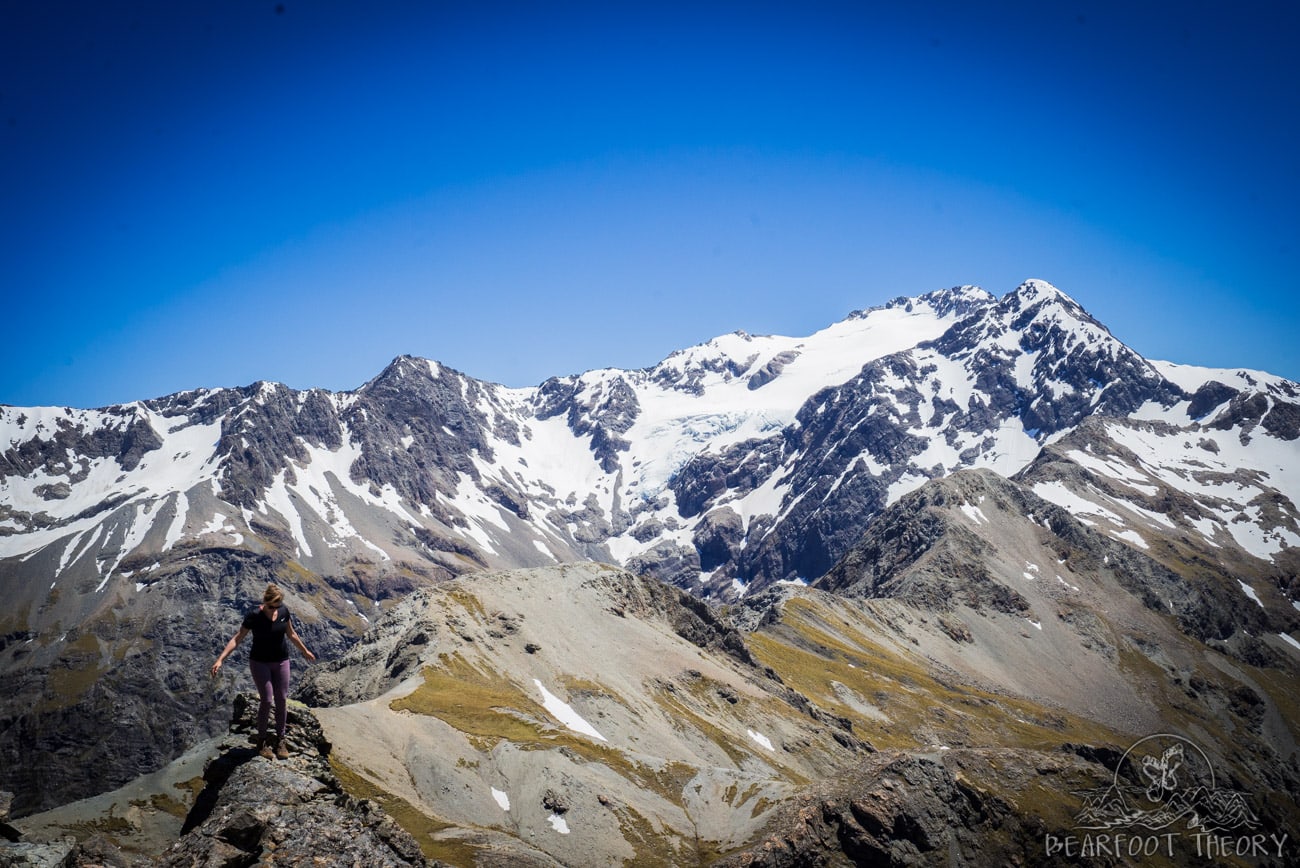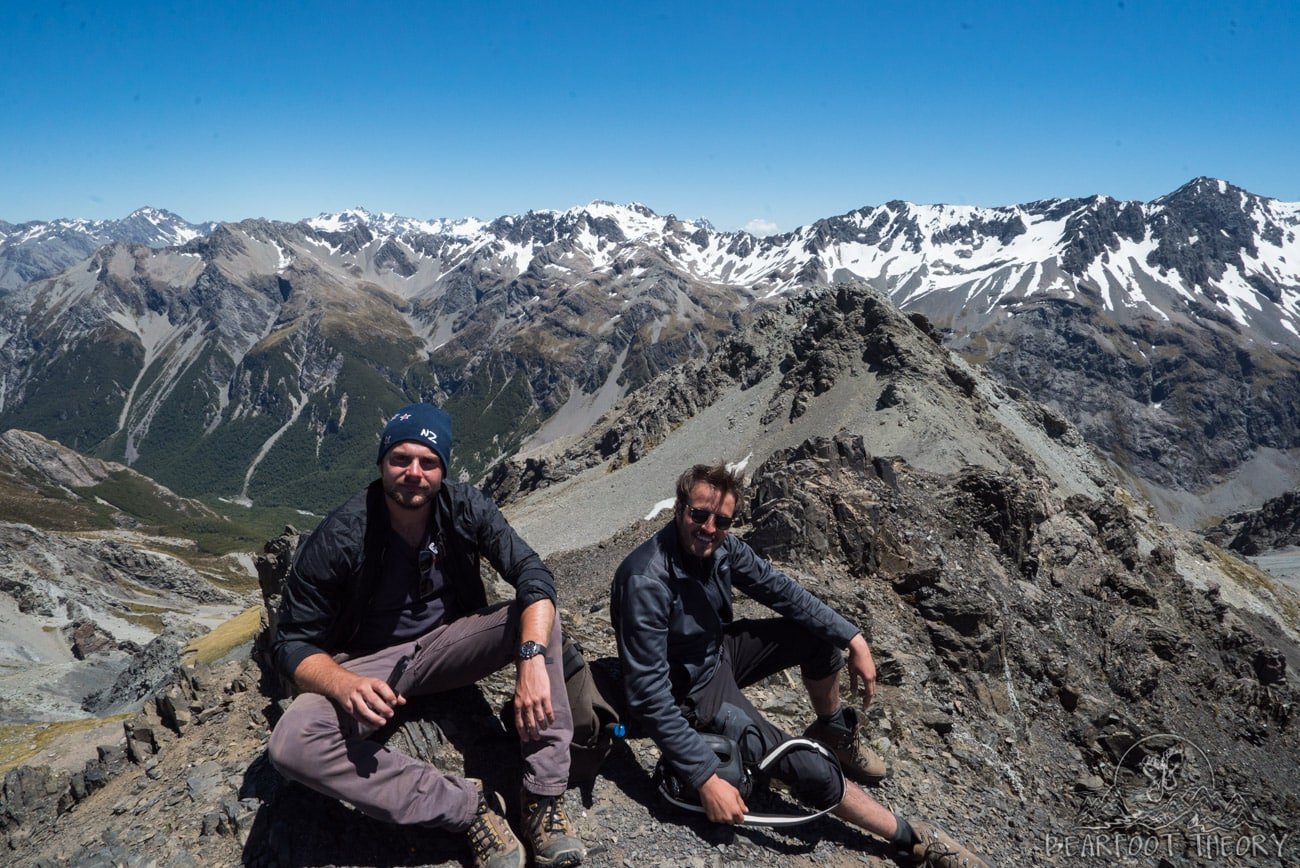 By the time we got to the bottom, my legs were quivering, but it felt good to get some hard core exercise after driving around in the van so much the last couple of weeks.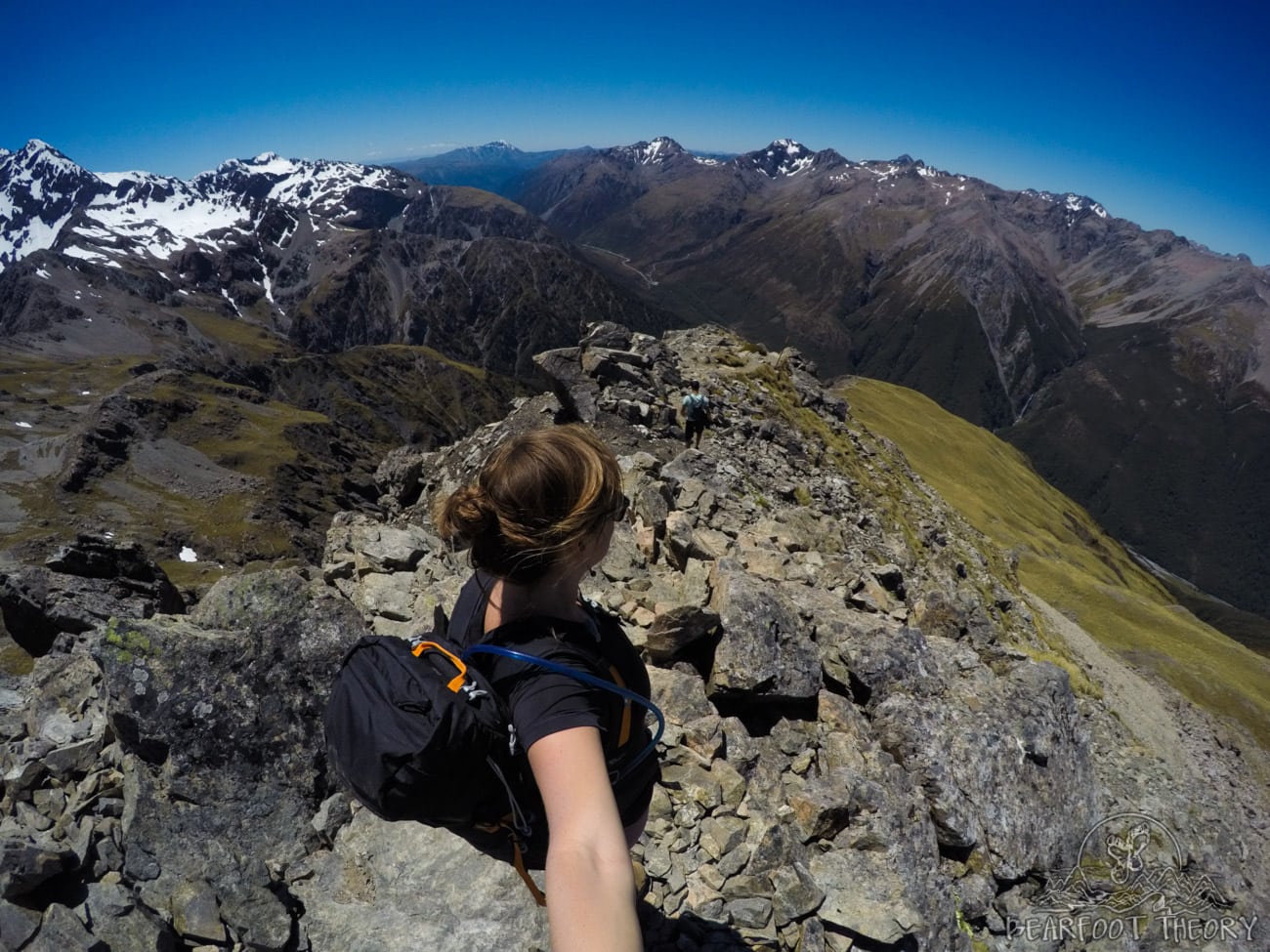 When we got to the road, Diana's Punchbowl, the tallest waterfall in the National Park was just across the road, so we figured we should go check it out. It was 2 kilometers round trip, along with another 150 or so steps to get to the waterfall base. My legs felt like cement. But again…worth it.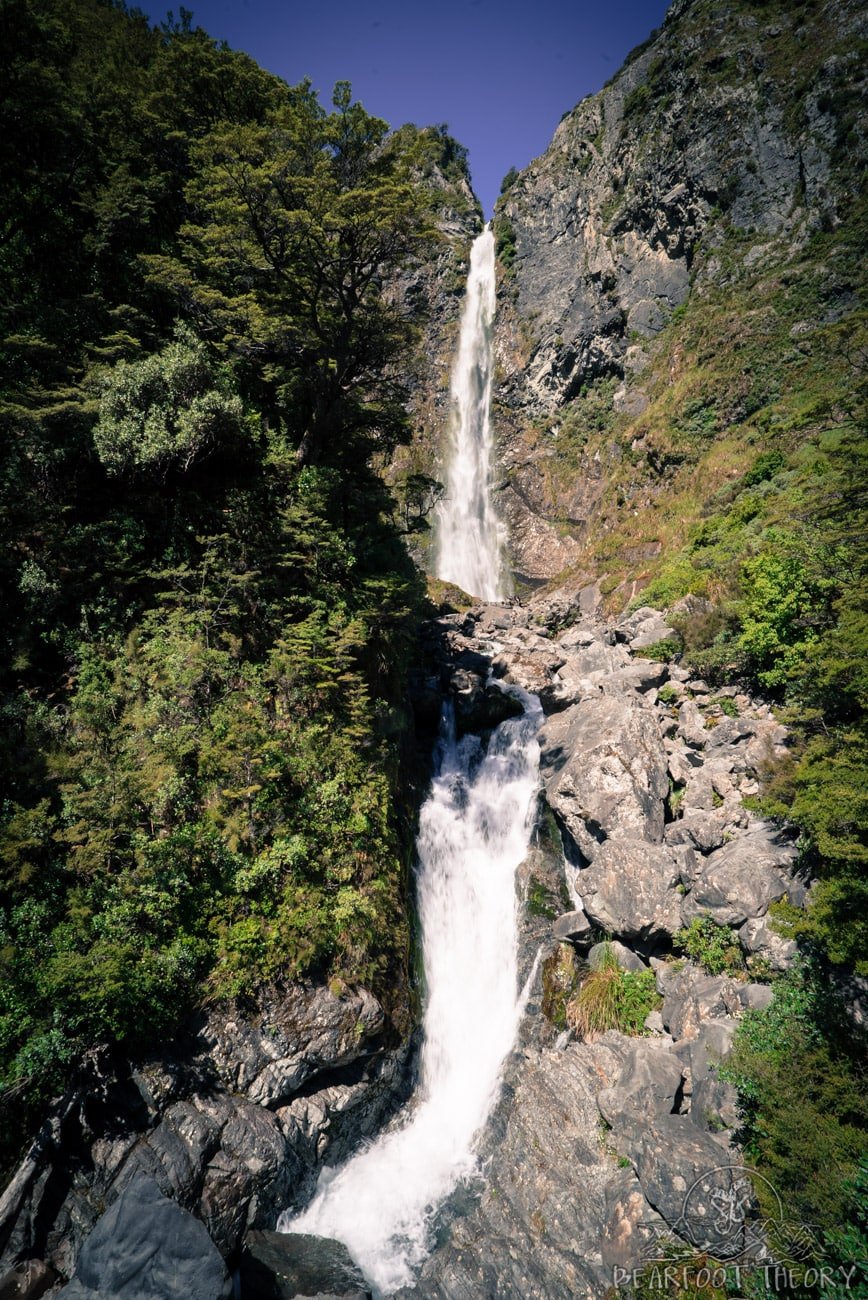 I had intended to go back to the West Coast that evening, but I was low on gas and the petrol station was closed for the day. So I drove up the road to the Lake Pearson freedom camping site, hung out with some Chileans, an Argentinian, and a Polish blogger who were all here on working holiday visas. I wish I had found out about the working holiday visa program sooner, since us older folk (age 30 and up) are no longer eligible 🙁
New Zealand Trip Day 19 – Franz Joseph Glacier
Day 19 was packed. I woke up early, filled up the tank, and drove back to the West coast. Eventually I arrived at a bridge over the Whataroa River, and once I saw the color of the water, I understood why there were hordes of parked cars. I quickly pulled a left and drove down a dirt road to a gravel lot on the river.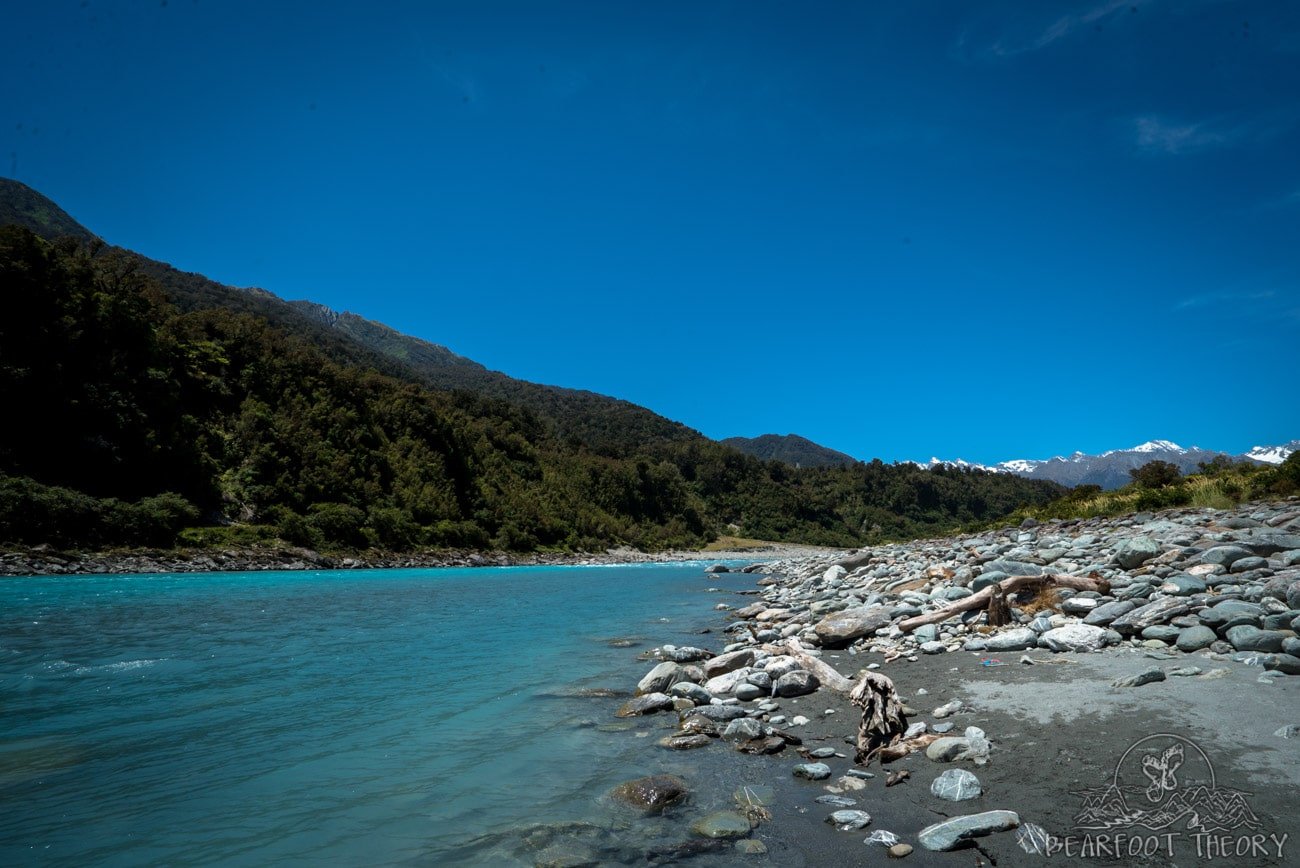 I took a few photos and was getting ready to make some lunch when a handsome young helicopter pilot approached me. My detour happened to be the location of the Glacier Country Scenic Flights helicopter landing pad, and he told me there was room for one on the next flight. After a short discussion with the pilot's also hunky and persuasive boss, I caved, handed over my money, and hopped in the chopper.
The flight was short, but oh so sweet. We got incredible views of several glaciers, and it was the first time I realized the grandness of the peaks here. Until now, all of the snow-capped peaks I'd only seen from a distance, and this spontaneous adventure was a definite highlight of my trip so far. It was also the first time I'd ever been in a helicopter, and it was so cool!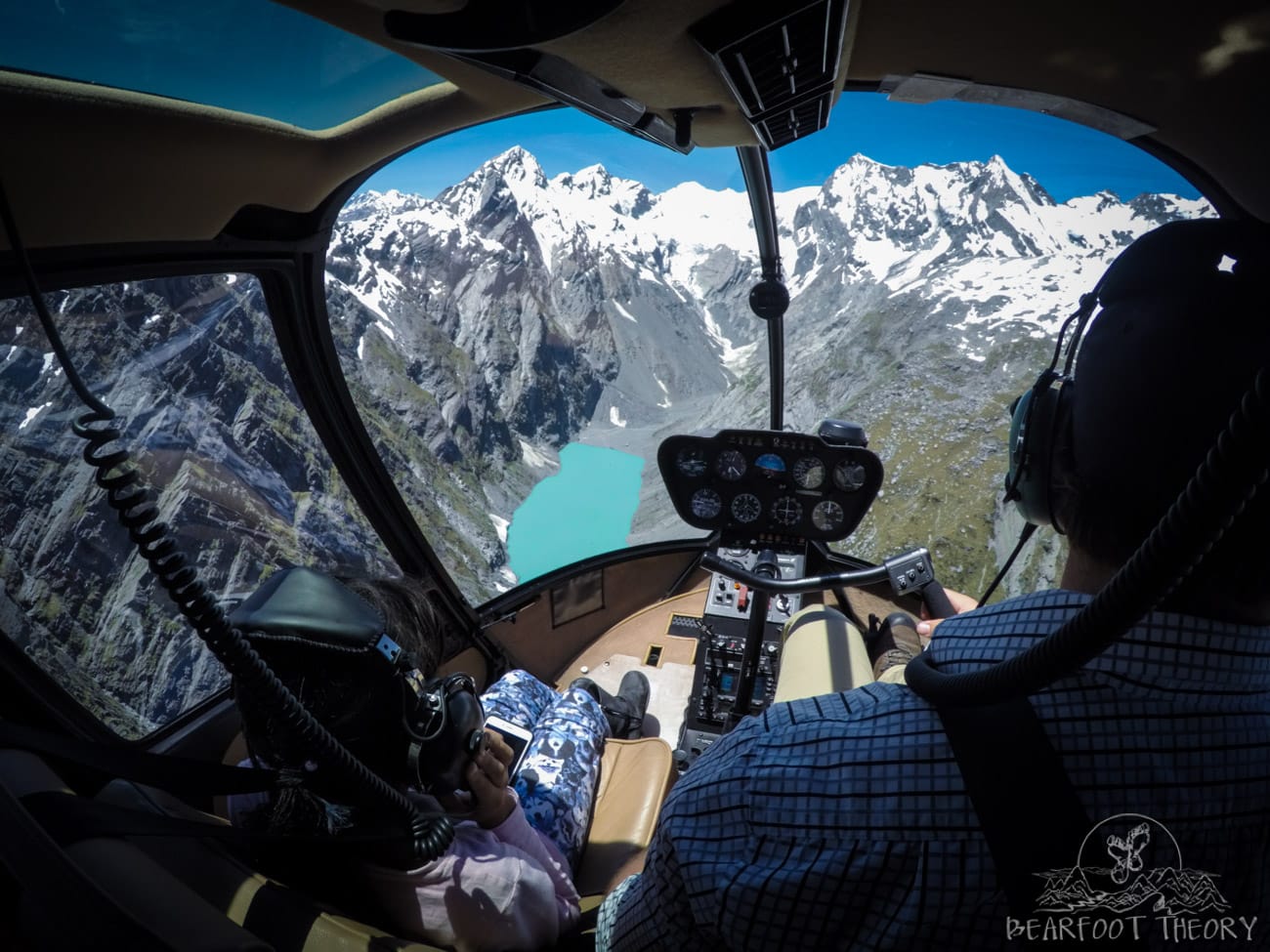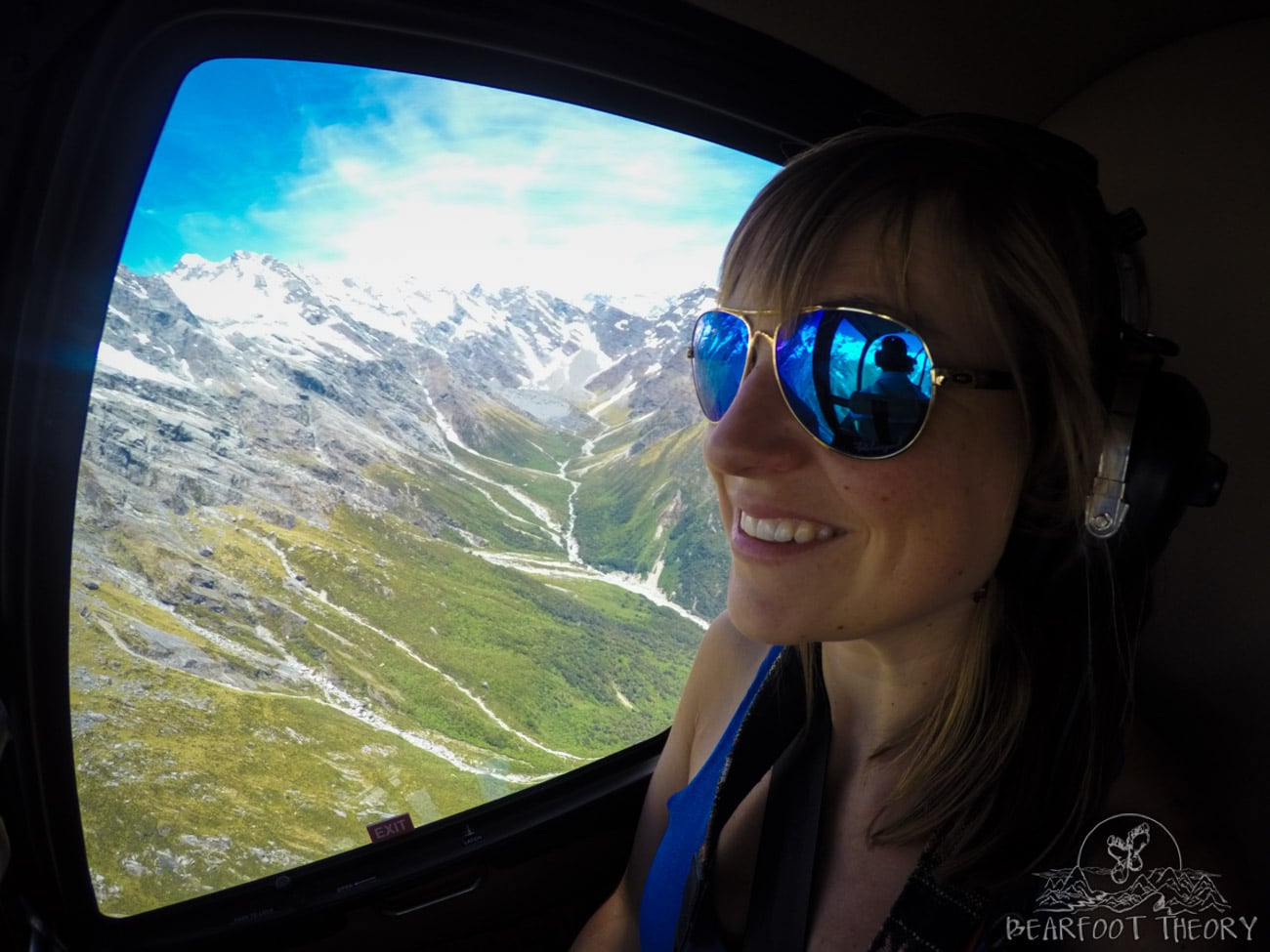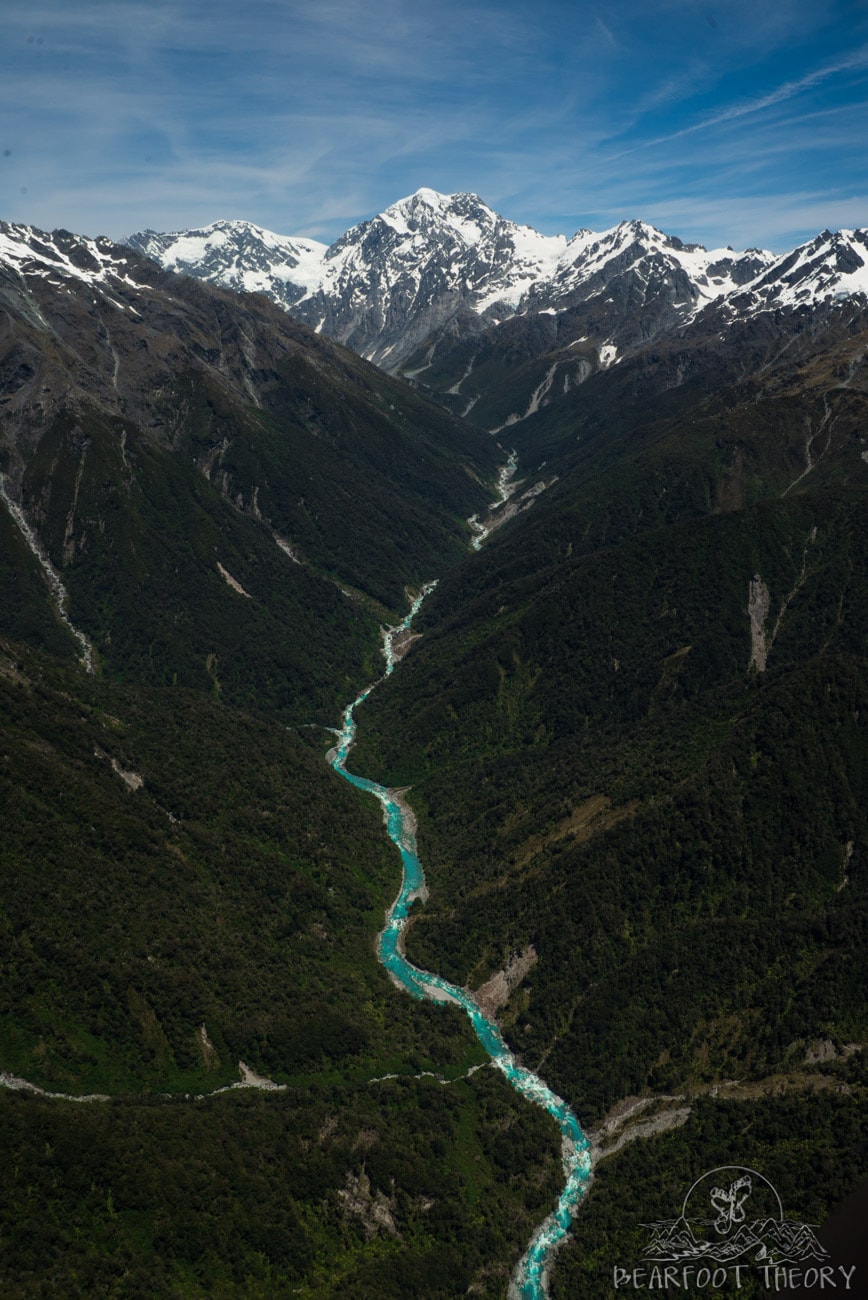 Next I stopped for a swim at Lake Mapourika. It was super refreshing on this particularly sweaty day.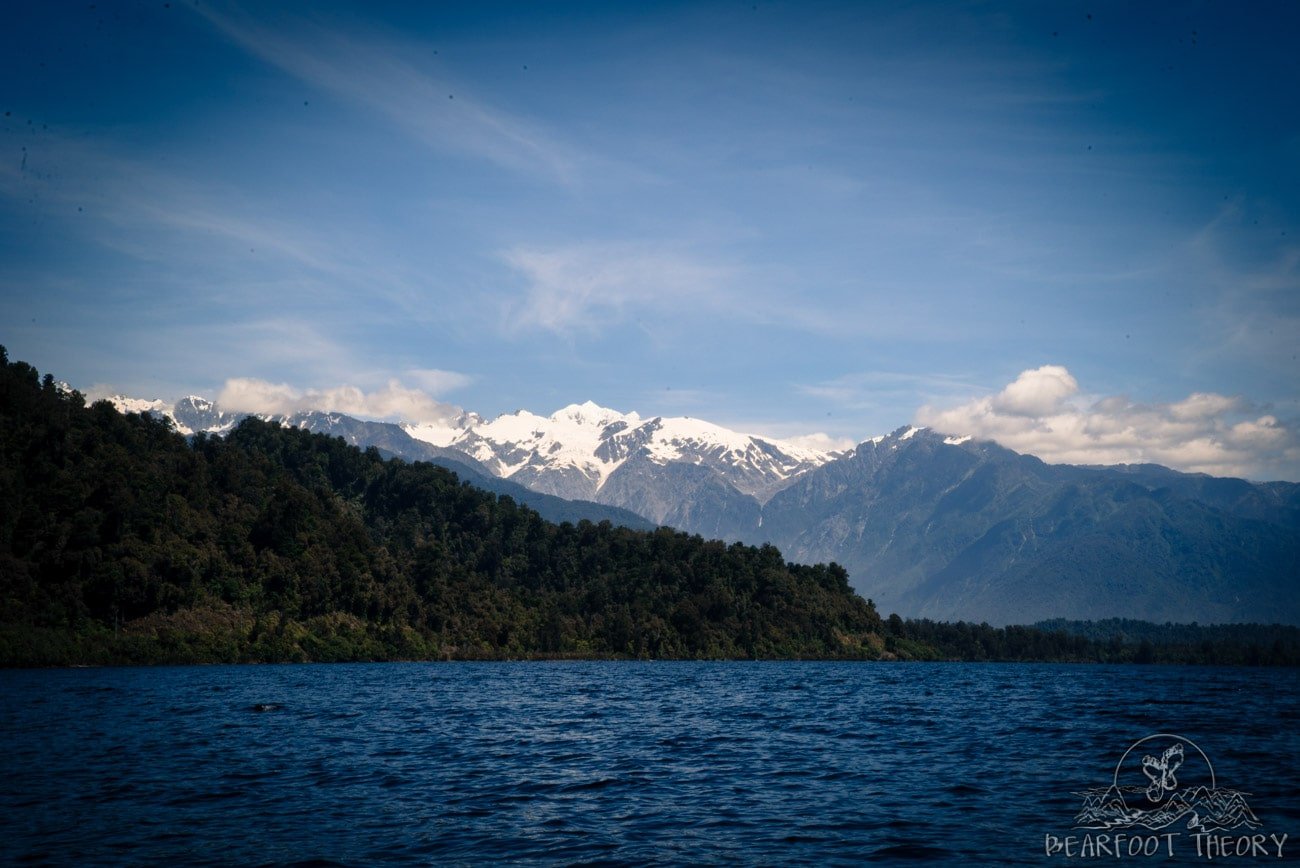 By now it was mid-afternoon, and I still wanted to do a hike up to the Franz Joseph Glacier….so I hoofed it to the Roberts Point trailhead as recommended in my NZ Frenzy Guide.  The trail was 11 km (7 miles) round trip with 1,800 feet of elevation gain, rising steeply from the lowland forest up to a view point of the glacier.
I ended up meeting two Germans and a Scotish guy in the parking lot who I ended up hiking with. The glacier was definitely cool, although a bit scary to think about how big it used to be compared to now. And while the glacier is considered the highlight of the hike, for me the coolest part were all of the massive swing bridges we crossed on the trail. I should also note that this is one of the few trails where you actually look down onto the glacier.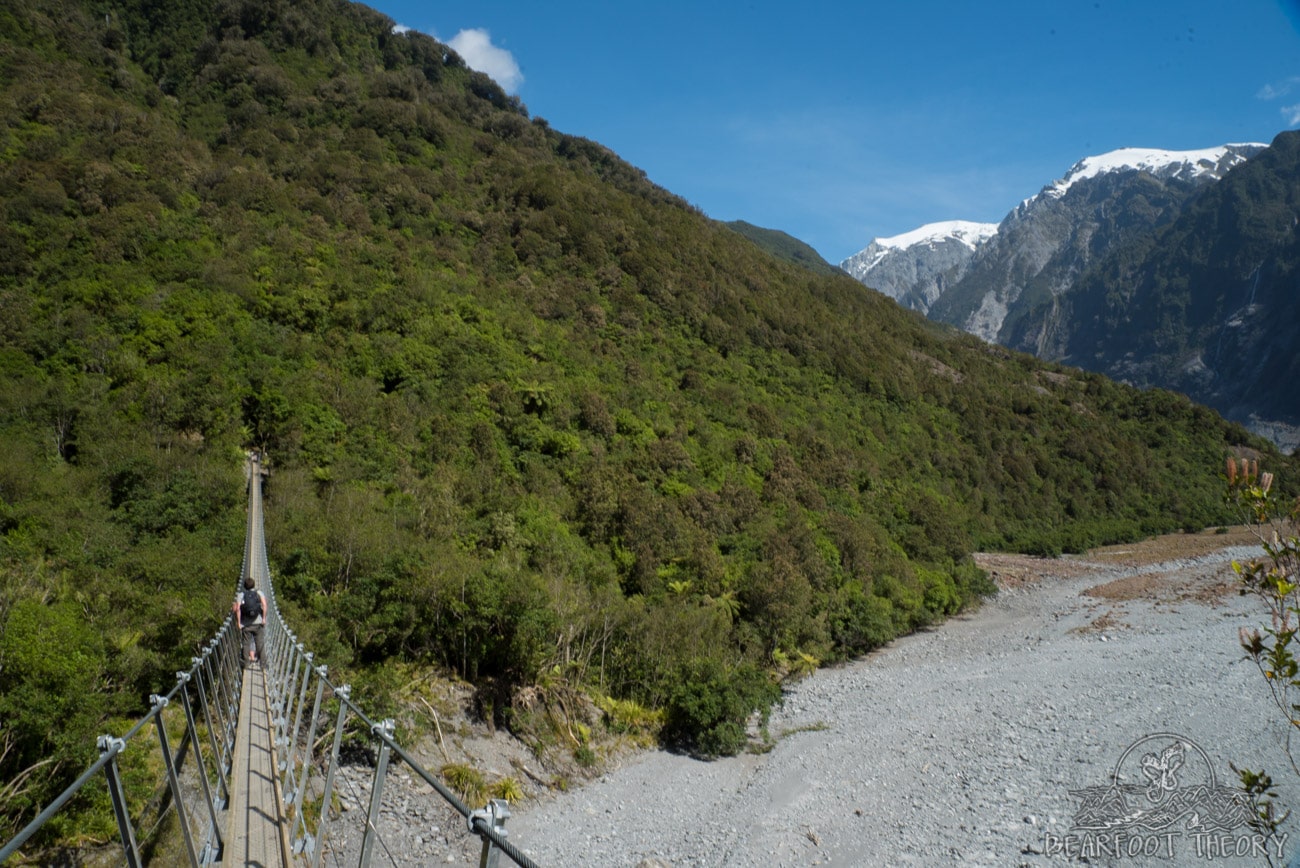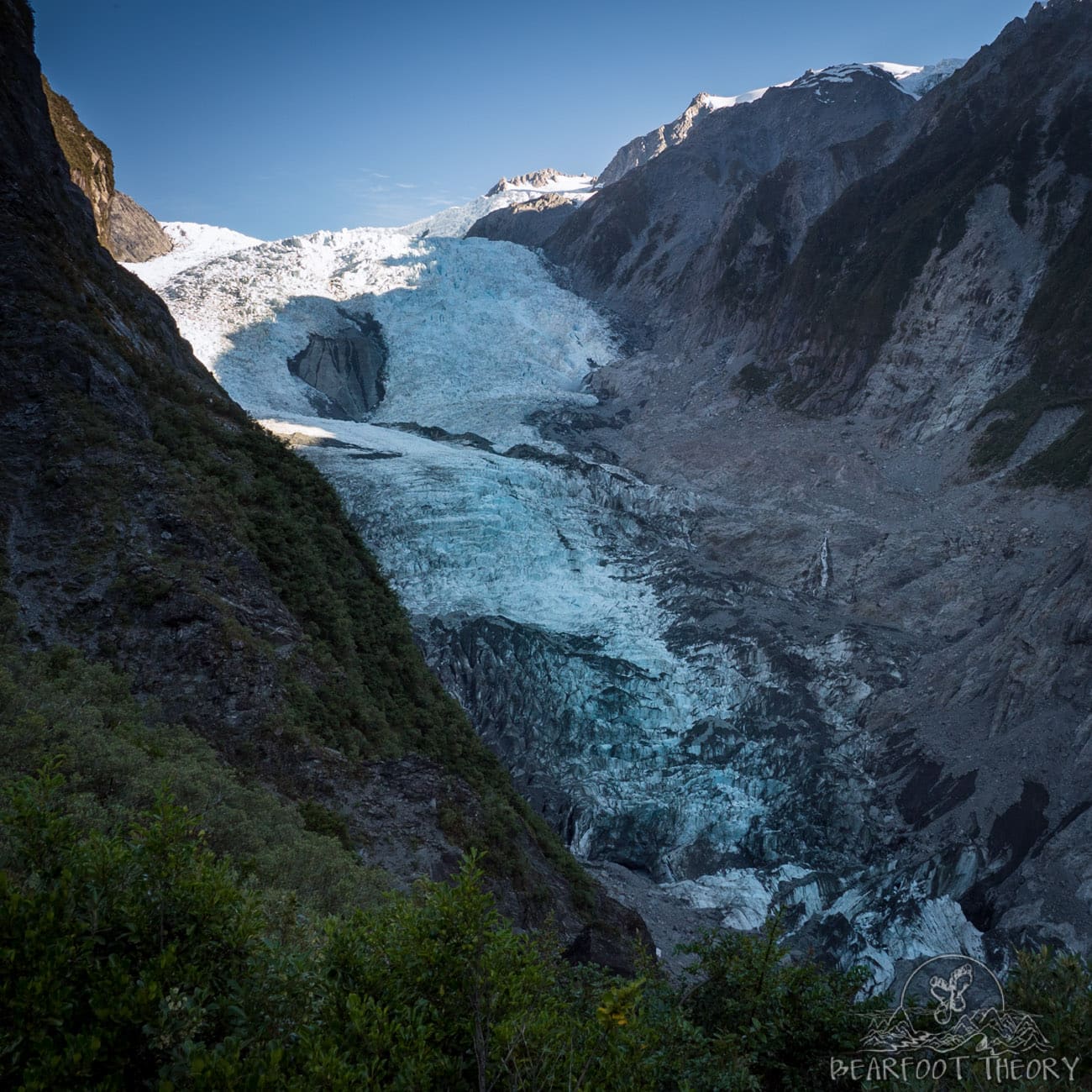 We arrived back in the car park around 9, right as the sun was setting. I went to the town of Franz Joseph to try to find a place to park for the night but everything was full. Rather than stress about it, I sat down for a long dinner/work session at the Landing (highly recommend the lamb salad if you go there) and afterwards made my way back to the $6 campsite at the lake I swam at earlier that day.
New Zealand Trip Day 20 – Matheson Lake, Fox Glacier and Haarst Pass
Day 20 was a lesson to not believe everything you see on Instagram. I had seen dozens of photos of Matheson Lake, otherwise known as Reflection Lake where the snow-capped mountains form a perfect mirrored image on the water. Maybe that's true, but there literally has to be zero wind for this to happen. Not the case when I was there…and without the reflection, the lake was pretty but really nothing special and in my opinion not really worth the hike out to the lookout point. Plus, since it's on the tour bus itinerary, you share the view with dozens of other people.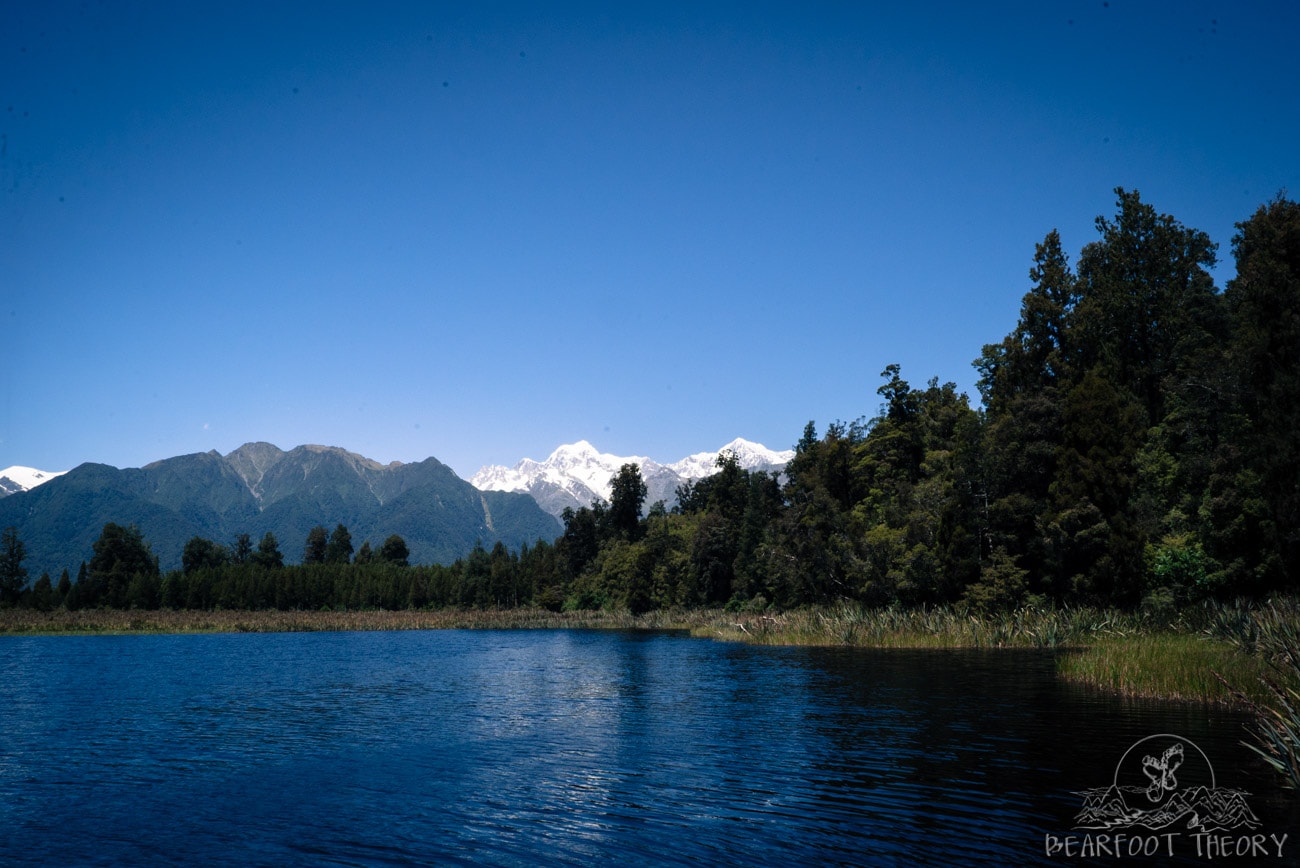 After my little excursion to the lake, I took the road up to Fox Glacier. The road out there was hot and dusty and when I arrived at the parking lot, the glacier looked real far (ok like a 30 minute walk down a gravel path)…but to be honest it wasn't that scenic. From a distance it just looked like a big chunk of ice with dirt hills on both sides.
After about 2 minutes of being out in the blazing New Zealand sun, I decided I didn't feel like walking all the way out there. I sort of felt guilty, but once I started driving away, I quickly got over it. I didn't take a single picture there….so you'll just have to believe me. (I honestly think that if you want to do Fox Glacier right, you have to go up in a helicopter….but for your planning purposes, flights that land up there run around $400 and up).
I got back on the road and headed towards Wanaka, hoping to make it down there in time for a big New Years Eve music festival called Rhythm and Alps.
The drive over Haarst Pass was the most scenic mountain area I've seen yet. Super blue rivers, remnants of snow on the mountains, and way less cars on the road than the West coast.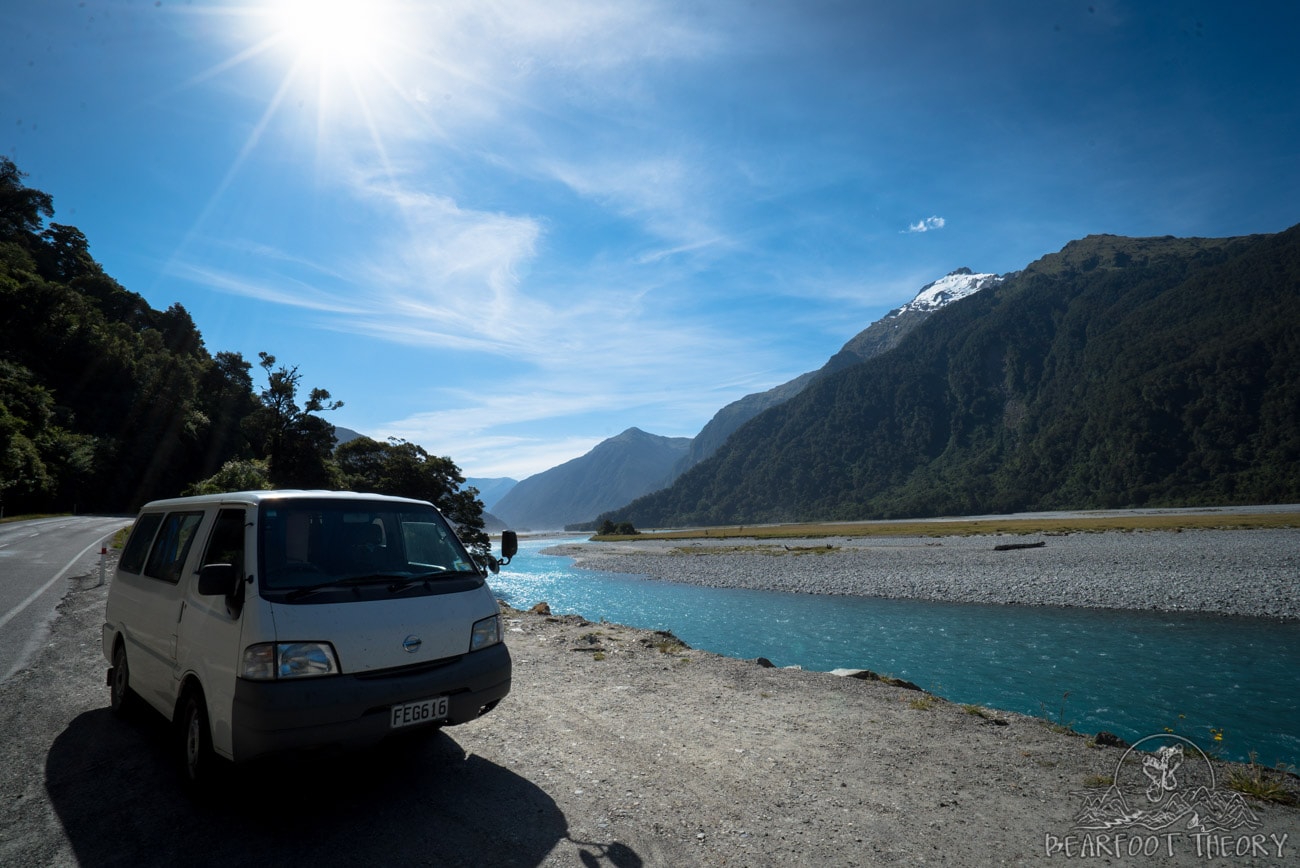 I stopped at a few sites on the way, including the Blue Pools. Had I gotten there before it got shady, I would have loved to swim here.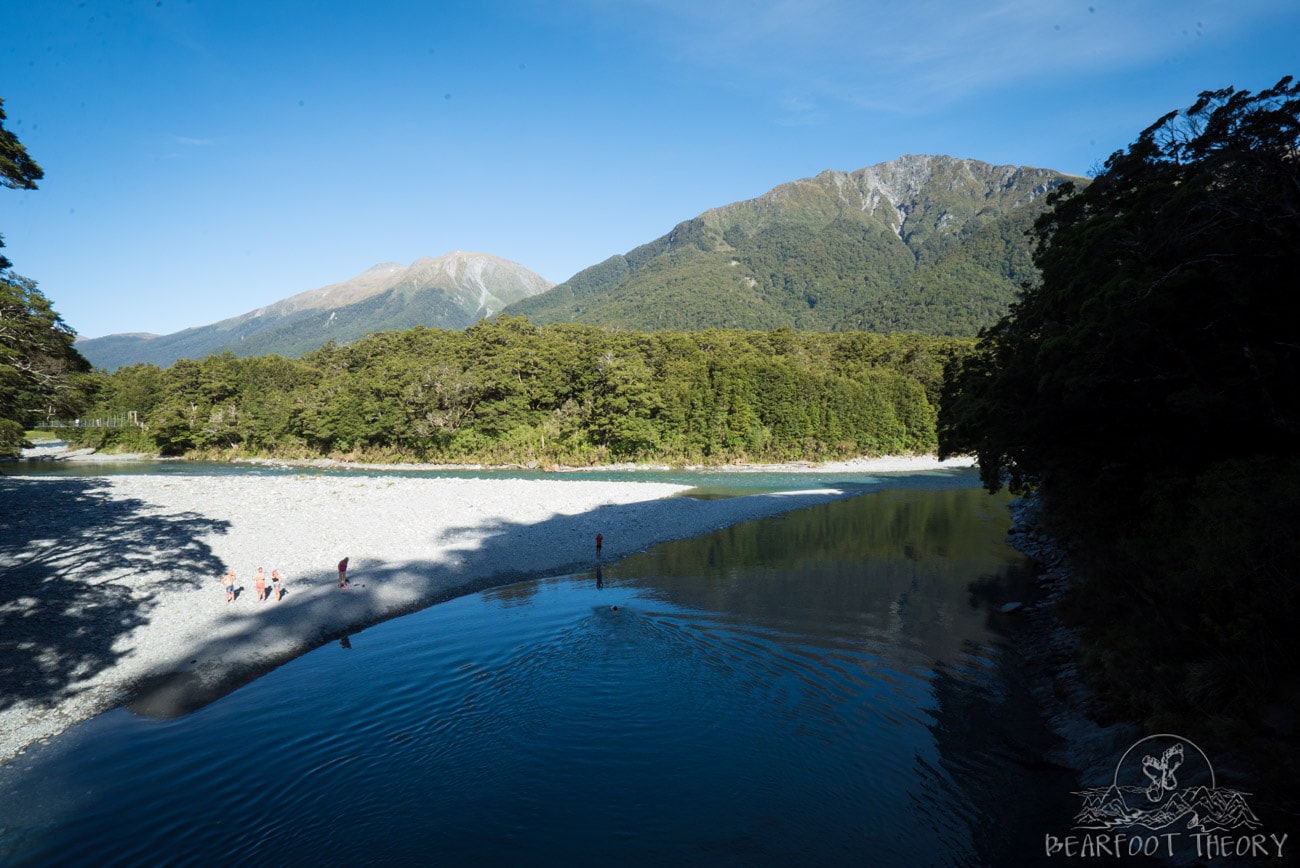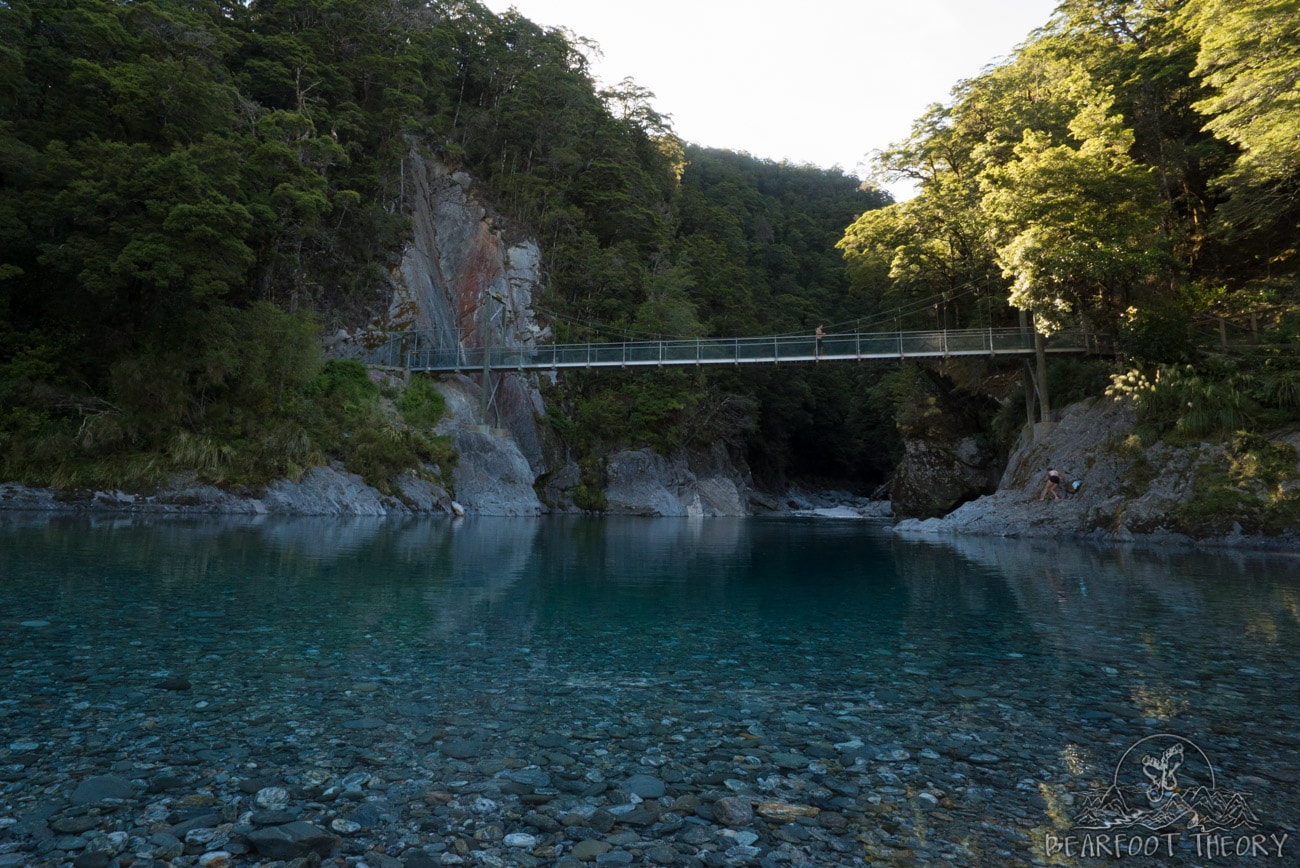 Late in the afternoon, I finally reached the shores of Lake Wanaka, and I had no idea how big this lake actually is. I found a freedom DOC campsite – called Boundary Creek – right on the shore . It looked like it was going to be a pretty sunset and it was windy (which meant no sandflies), so I called it a day.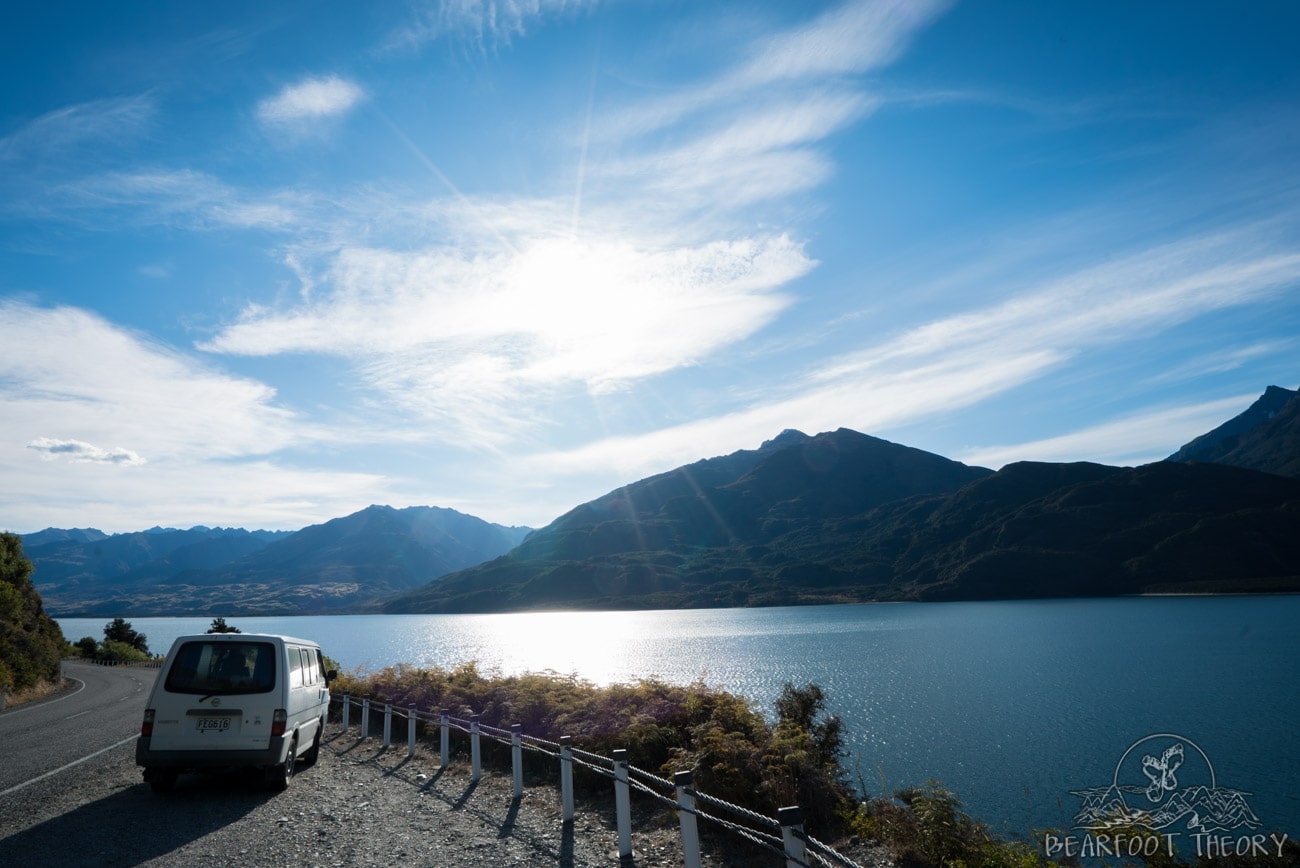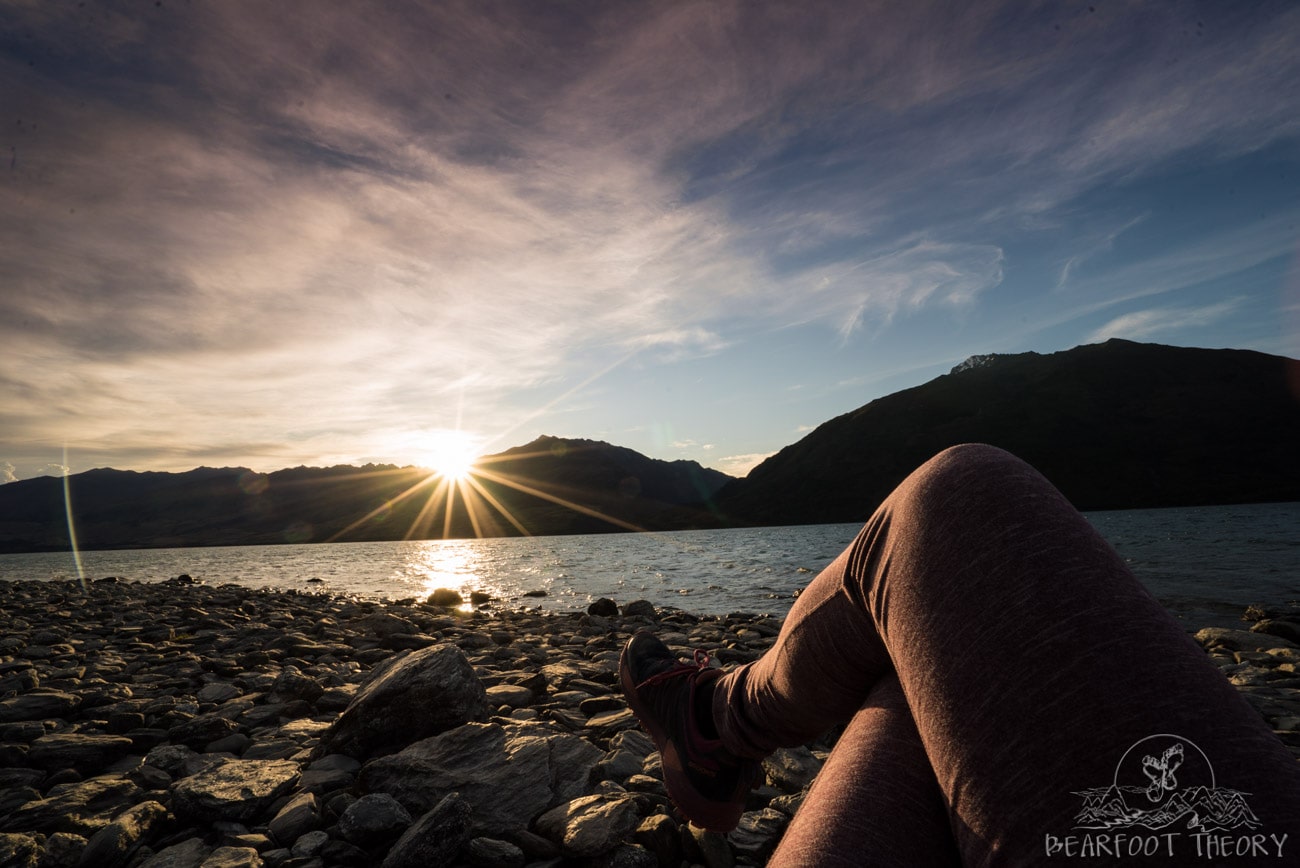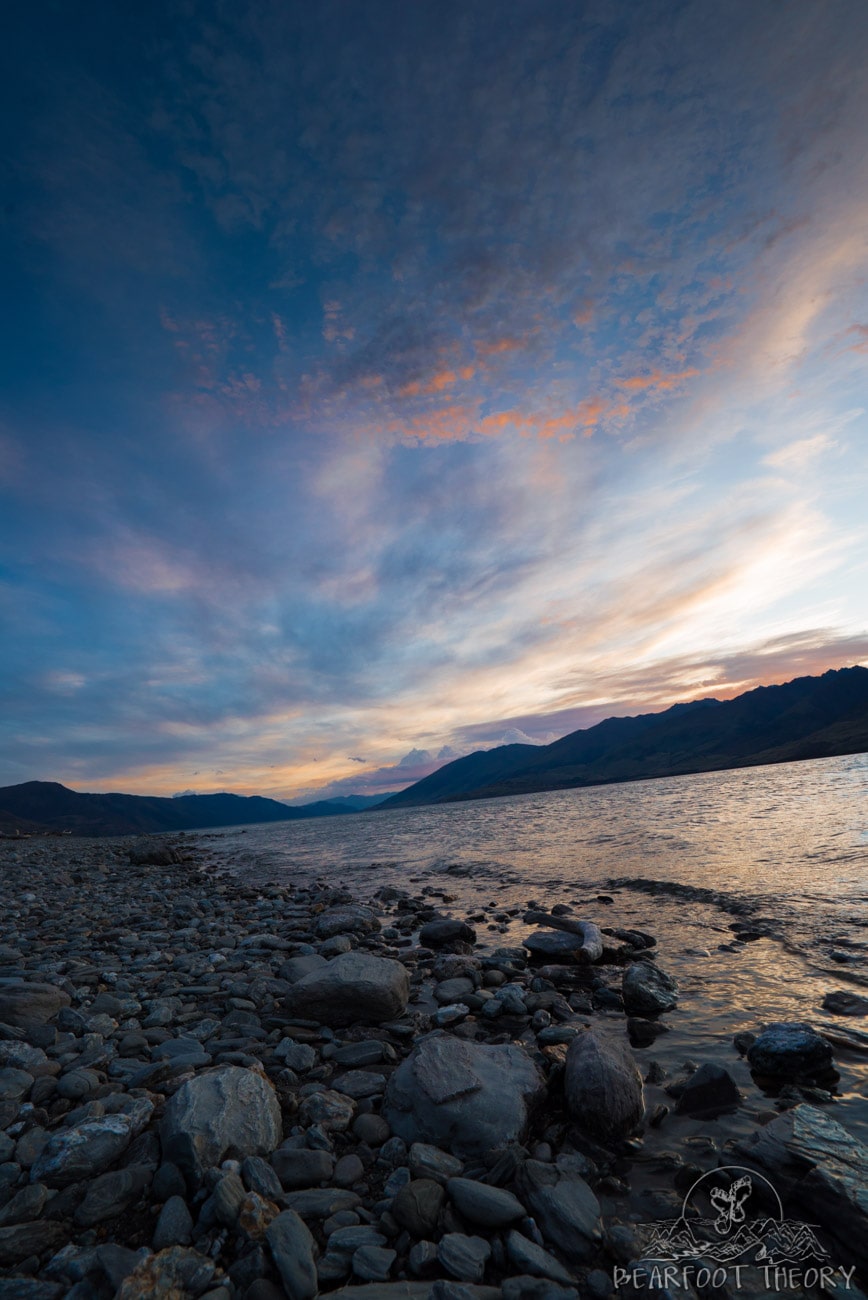 New Zealand Trip Day 21 – Wanaka
My first day in Wanaka was dreary. When I arrived, I was anxious to find a spot to camp with New Years Eve just a day away. Luckily there was room for me at the Holiday 10 Park…not the greatest spot, but I was three-days without a shower and so staying there got the job done.
After getting cleaned up and putting real clothes on for the first time in my entire trip, I went to town. It's got a super cute, bustling waterfront with bars, cafes, and spots to rent kayaks. I spent the whole day doing work and looking for an inverter with my car (so I can charge my laptop) with no luck.
After exploring for a bit, I can see why people like this town so much. I'm excited to explore more and to get my boogie on at the Rhythm and Alps festival on New Years Eve!
Ok that wraps up my third week of my New Zealand trip. Stay tuned for info on my wild New Years at the Rhythm and Alps Festival, hiking around Wanaka, and exploring the beautiful lake region.
– Read More on New Zealand –
I should also note that these journal entries are intended to get you excited about New Zealand, put some destinations and ideas on your radar, and are an opportunity for me to share my solo adventures on the road. That said, my route hasn't been the most efficient. So once I get home, in order to help you plan your own trip to New Zealand, I'm going to put together a couple different succinct itineraries for you to follow so you don't waste your time backtracking like me.
WHERE WOULD YOU LIKE TO TAKE THE ULTIMATE ROAD TRIP? 
LEAVE A COMMENT, TWEET ME, OR WRITE ME A POST ON FACEBOOK.